Elegant Country Store Canister Set Of 4 Flour Sugar Coffee Tea Sealtite Lids New
Set of 4 canister in Vintage style. Includes canister for coffee, tea, flour and sugar. It has lids with comfortable handle for easy carrying. Stylish accent for each kitchen.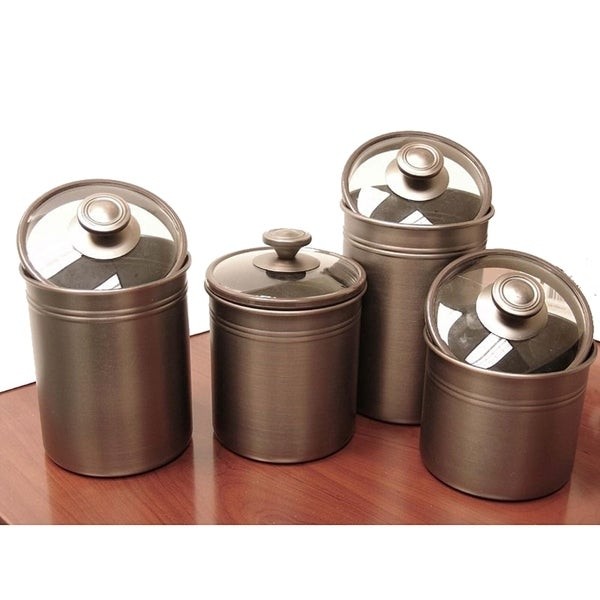 Kamenstein brushed bronze 4 piece kitchen canister set
An elegant contemporary canisters made of metal with a beautiful light bronze finish. These round canisters differ in terms of height. They have decorative collars near top edges. Round lids are of metal framed transparent glass and have metal knobs.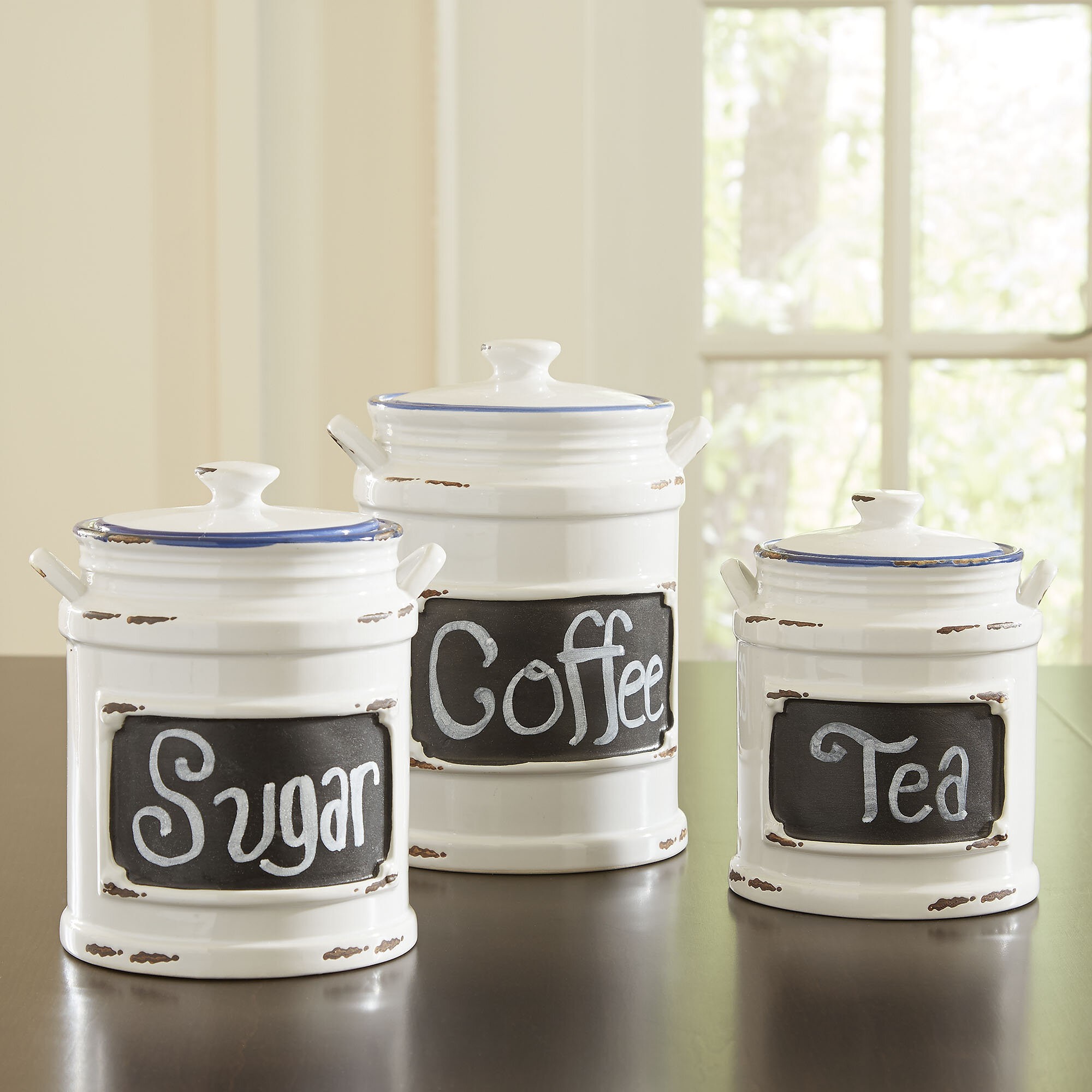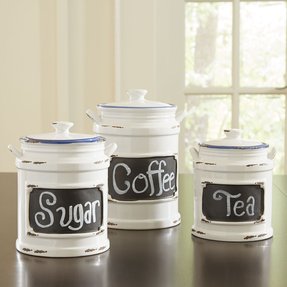 Caswell Canisters (Set of 3)
Sugar, coffee, tea...and you can have your soiree even today. These lovable canisters come in a set of three. They have that rustic feel - they look very classic and a bit old, even if they will arrive in a fresh condition - it is their charm.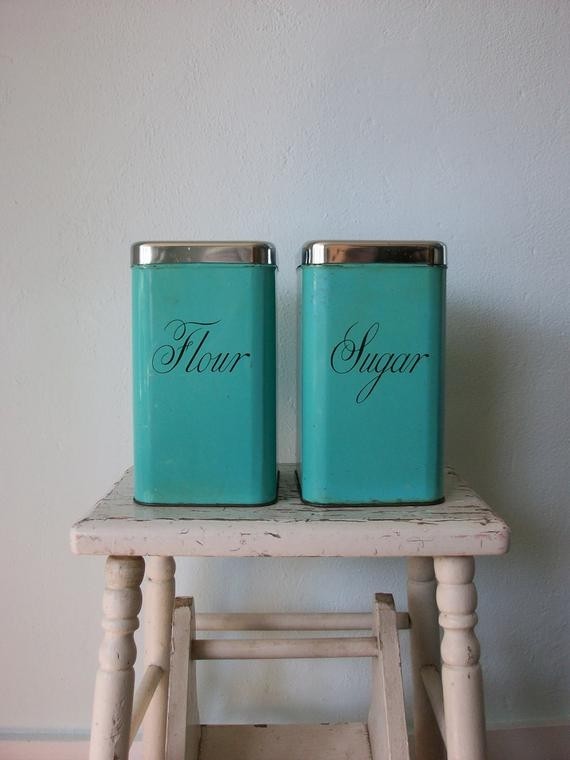 Vintage kitchen canisters 1950s flour
Words vintage and kitchen go hand to hand because everyone treasures the memories of their mothers or grandmothers in the kitchen. That's why a vintage set of plate kitchen canisters is a timeless, popular choice among kitchen owners.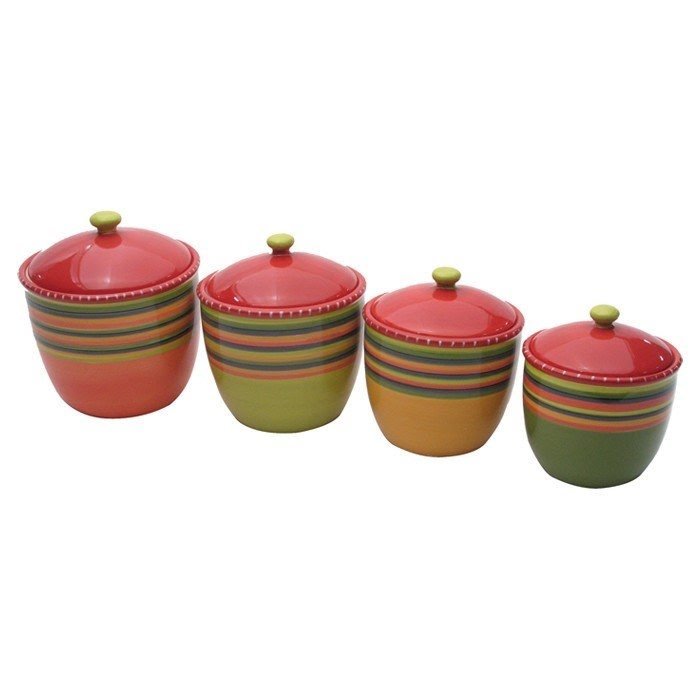 Hot Tamale 4-Piece Canister Set with Lid
Pretty size-varied contemporary canisters for dry food. Their round bodies are of stoneware in green and brown with decorative hand-painted colourful stripes around. Round caps are red and have small mushroom-like grips. They're dishwasher safe.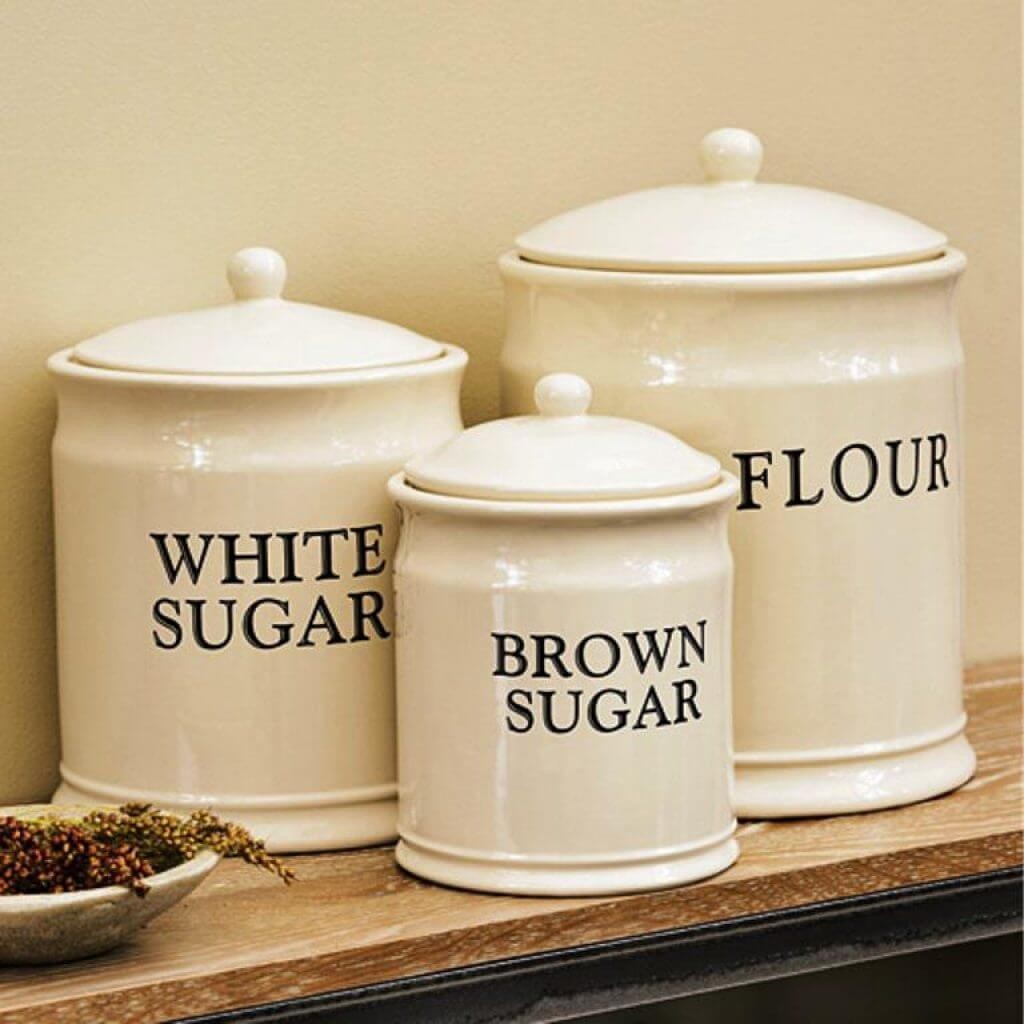 Set of 3 kitchen canisters for storing flour, white sugar and brown sugar. It is made from high quality ceramics and fitted with convenient lids. Neutral and functional accent for any kitchen.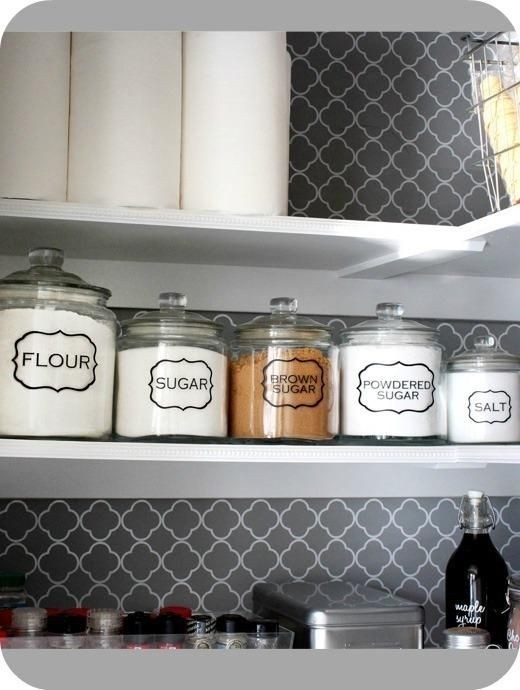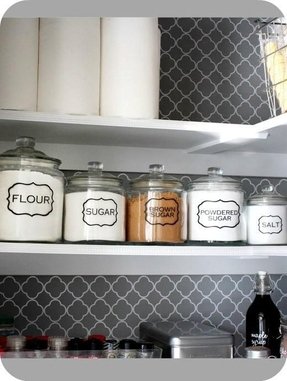 A lovely set of canisters for decorating kitchens, and dining rooms. Consisted of 5 clear glass canisters (flour, sugar, brown sugar, powdered sugar, salt), the set also comes with stylish round lids with matching handles. Easy to clean.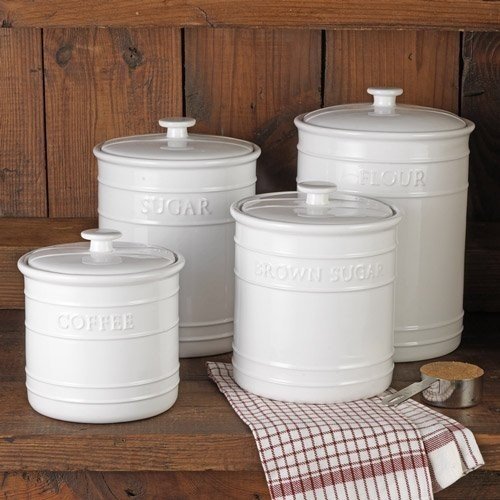 The gorgeous flour canister set made of white porcelain is a stylish and very delightful set for the kitchen or pantry. All in different sizes, it allows you to store the necessary ingredients to create a unique whole.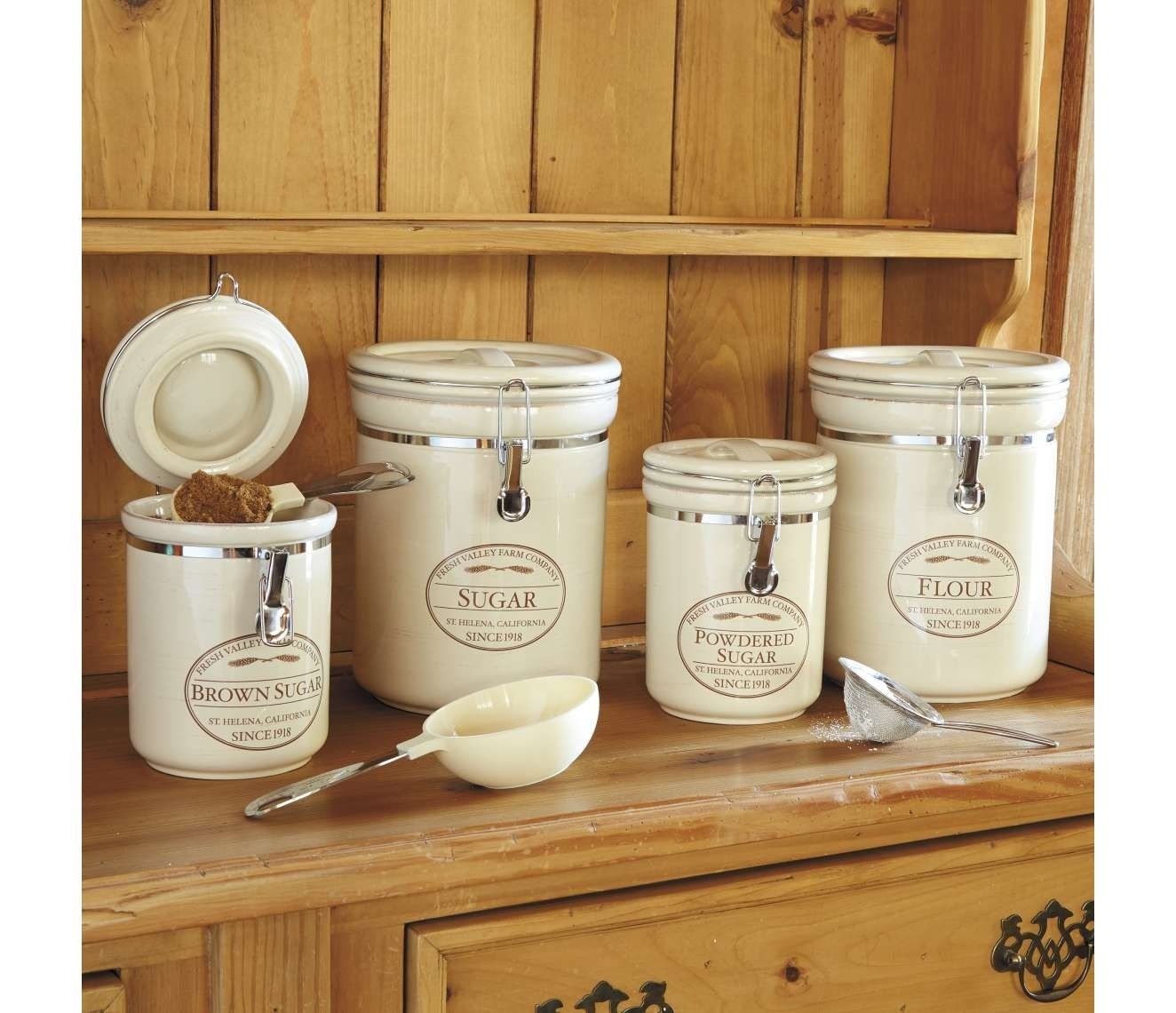 Classic canisters for flour, sugar or salt - in an appropriate style, ideally connected to the kitchen made of natural wood. Ceramic, slightly beige - seem to be taken out of the Provencal kitchen. They aso don't threaten the products stored in them.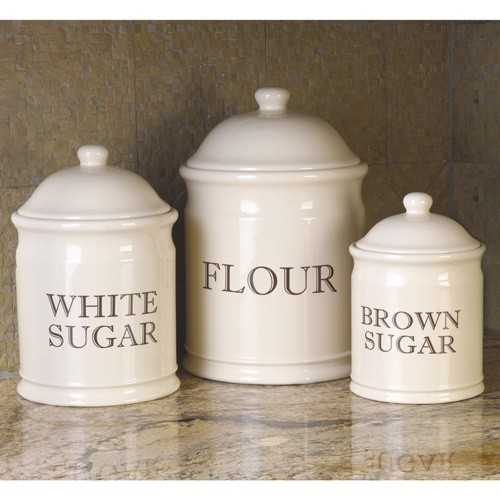 Beautiful composition of different sizes flour canisters for the kitchen is an excellent way to original and functional decor of the kitchen or pantry. Lovely containers with lids contain the necessary ingredients.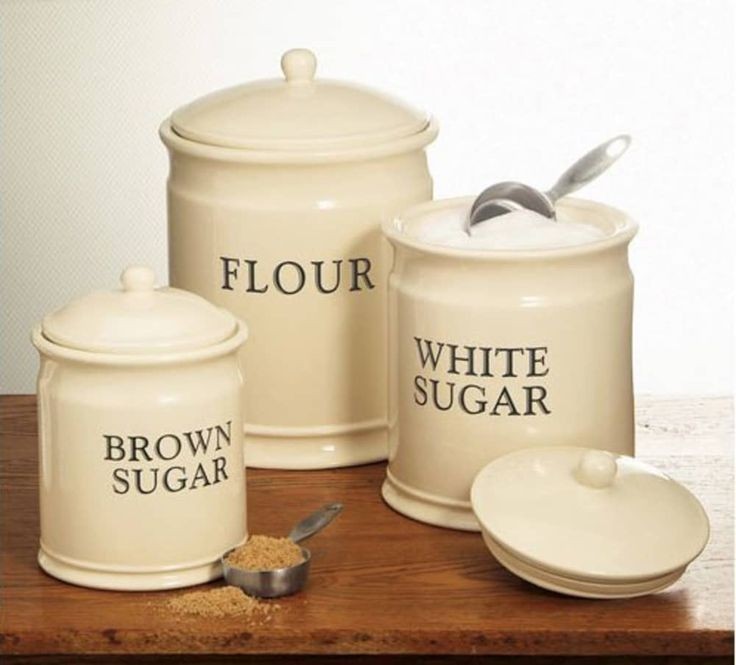 Elegant canisters, they are made of ceramics and have a cream color. They are cylindrical in shape and have lids with round grips for easy removal. These canisters can be used to store different things and are labeled accordingly.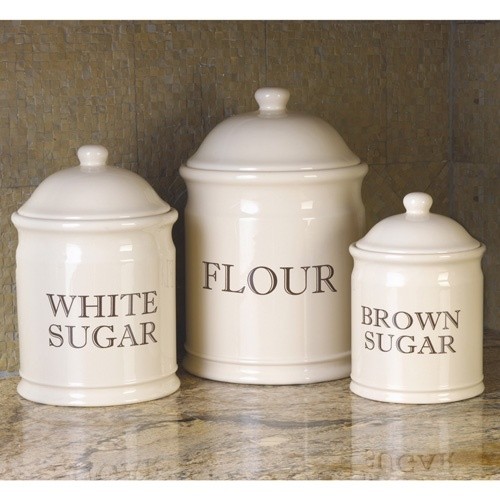 Ideal to store sugar, flour, spices and other products, this set of porcelain canisters will be a lovely and functional way to keep your kitchen space organized. Solid, high-quality finish guarantees long-lasting usability.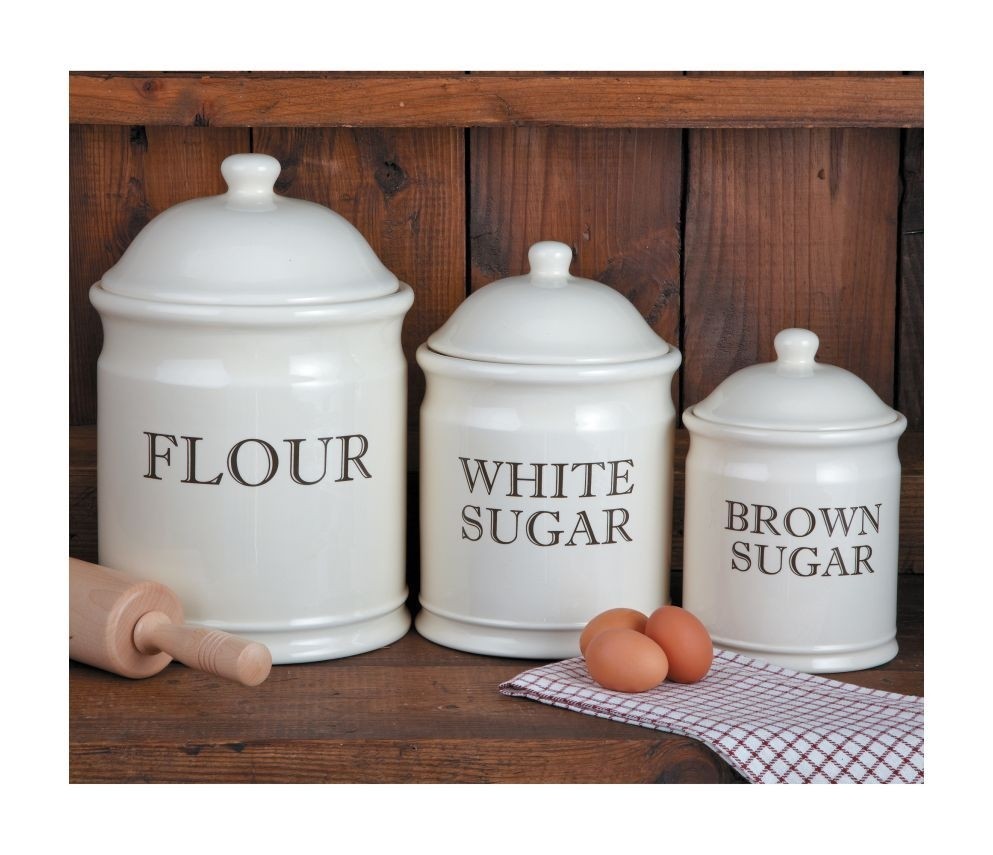 Looking for a spacious canister set for the kitchen island? The English Baker's set with stoneware construction and wide mouth opening is easy for cleaning. Now, the flour, white sugar and brown sugar will have own storage space.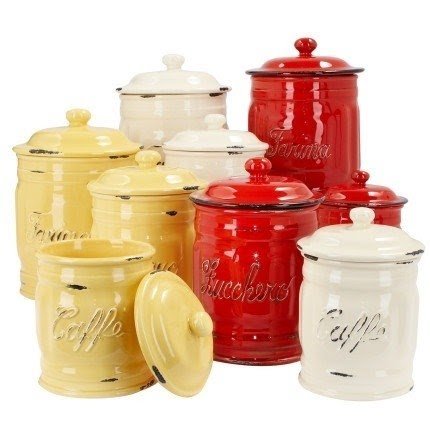 Ceramic food storage utensils are a perfect decoration - set of 3 canisters are in red, white and yellow colors to revive the interior of the kitchen. Solid lids and engraved categories will help you with your daily cooking.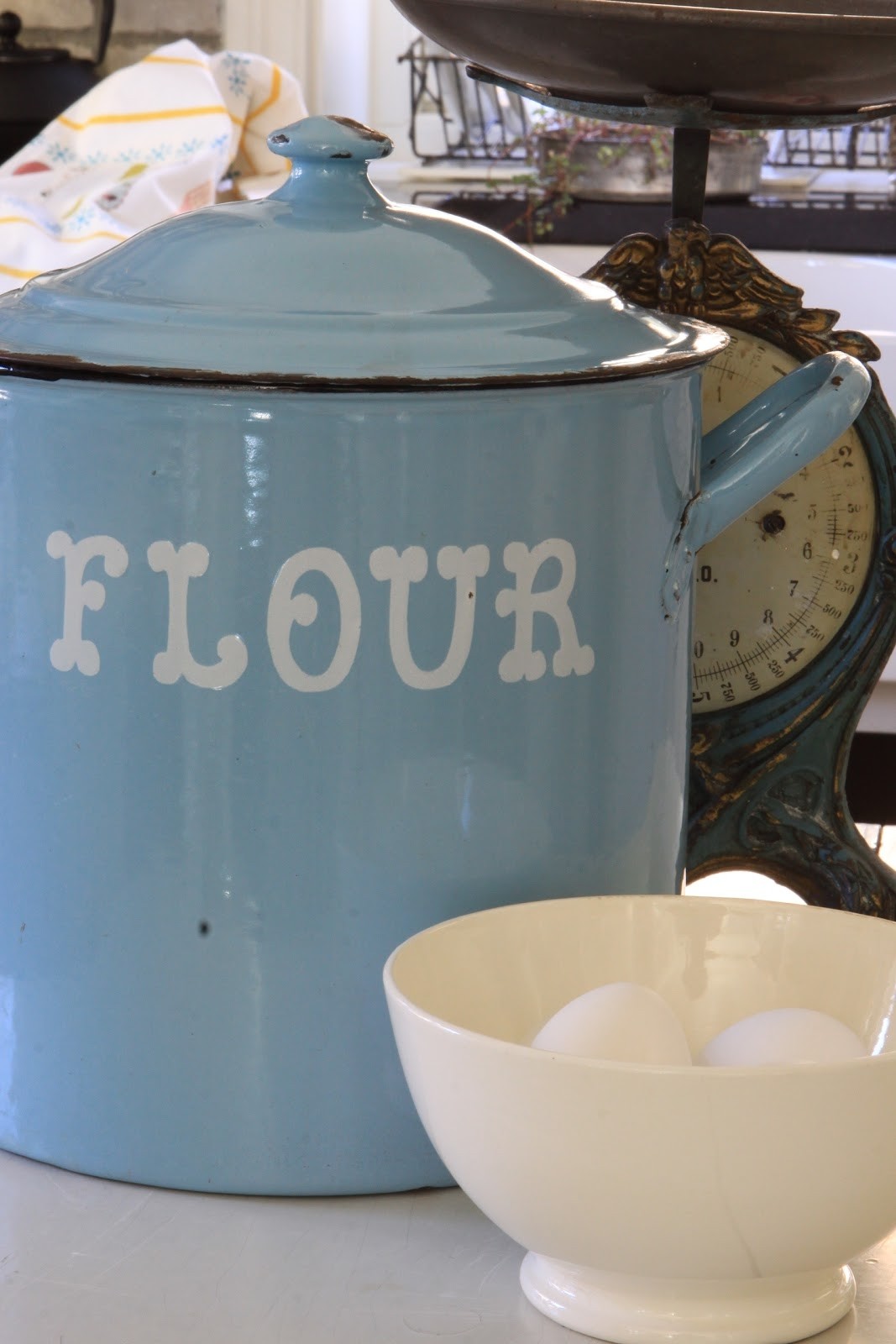 Organize dry foods in your kitchen with ease all thanks to this canister set. Although it is marked for flour, the canisters are ideal for several different foods as long as you re-label. They are constructed from porcelain and finished in a beautiful sky blue palette for incredible beauty.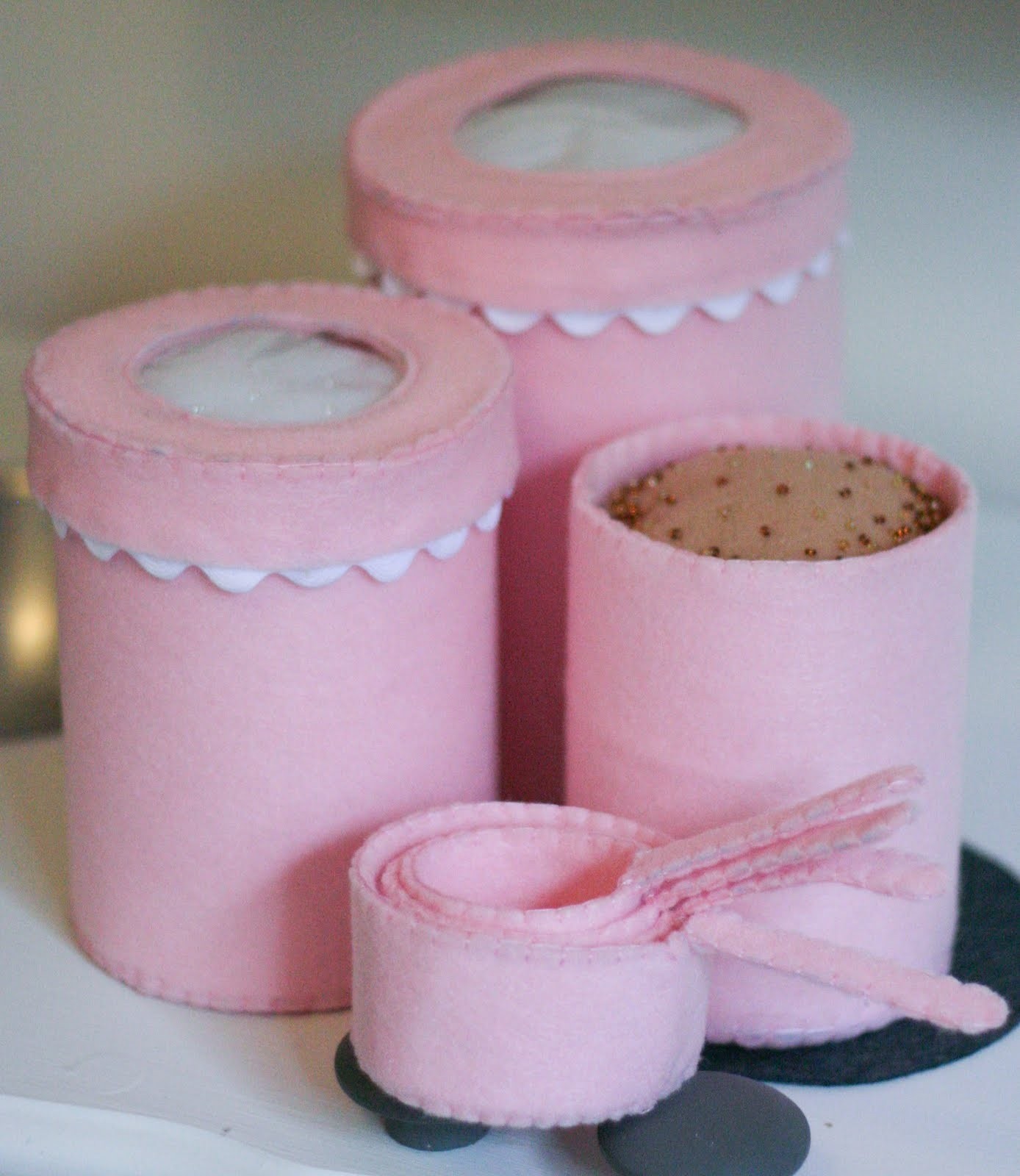 DIY Felt Brown Sugar Canister + Sugar Canister + Flour Canister + Measuring Cups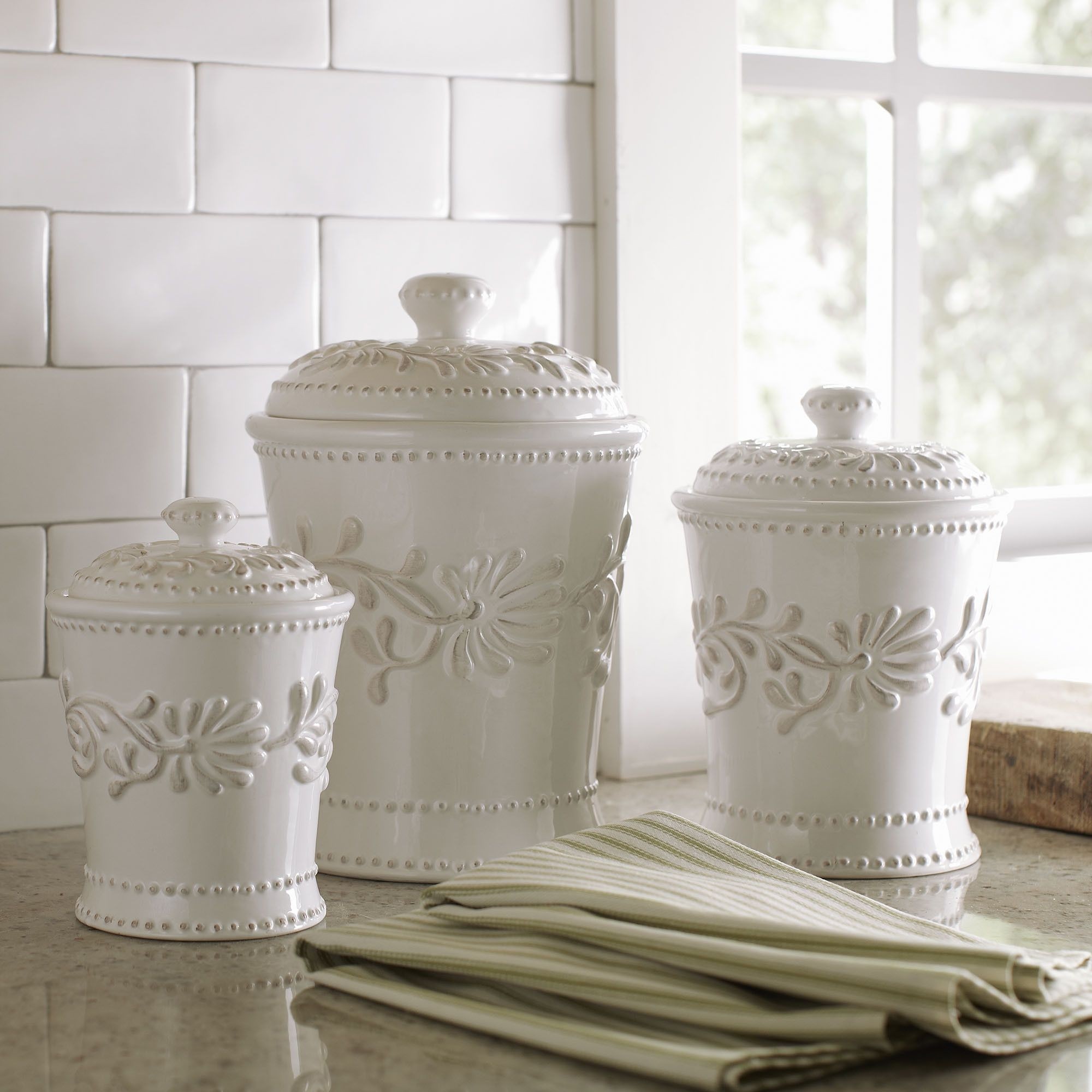 Newport 3-Piece Canister Set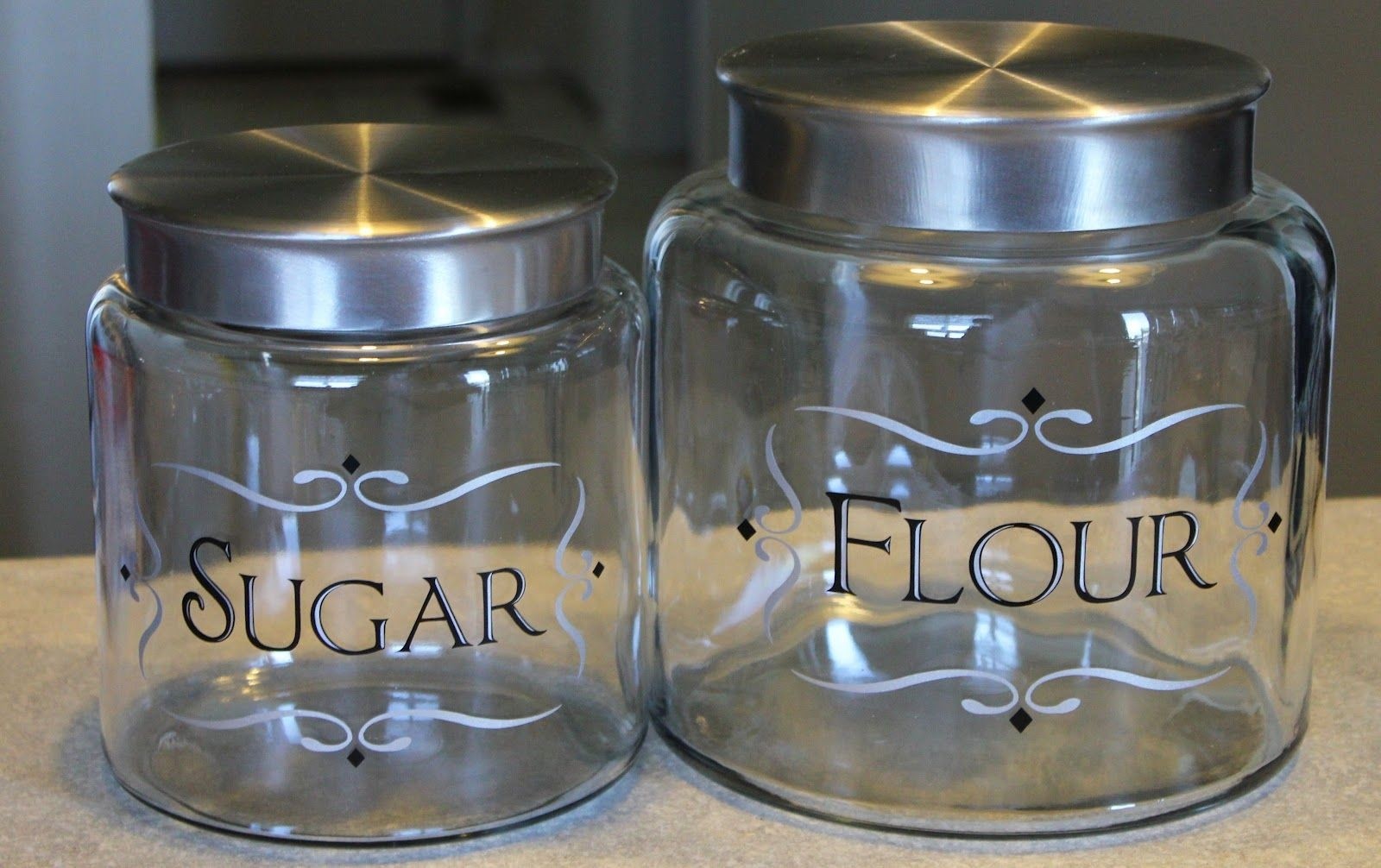 flour sugar canisters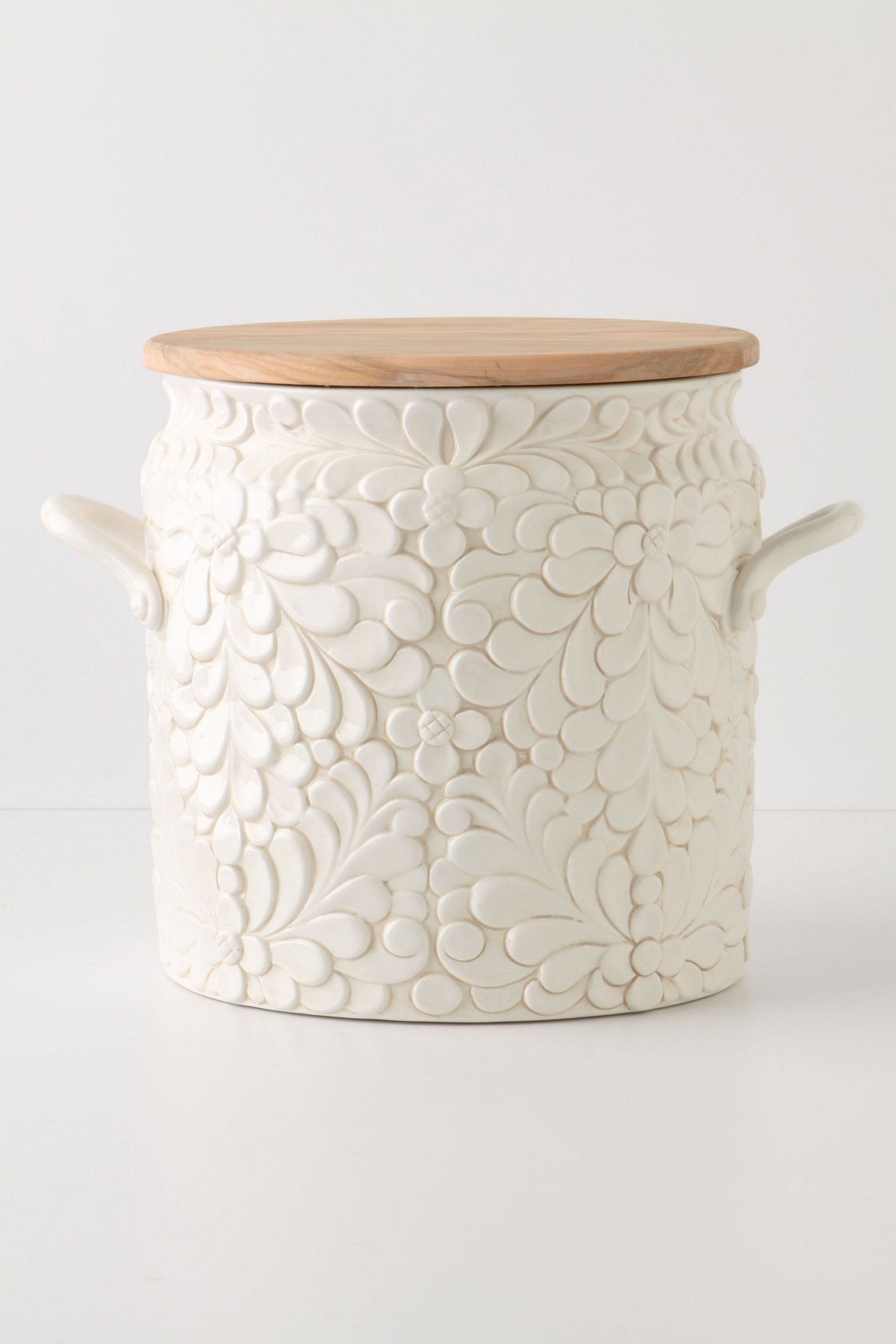 Verdant Bread Bin #anthropologie - I'm in love with this. Beautiful storage solutions are always a good idea.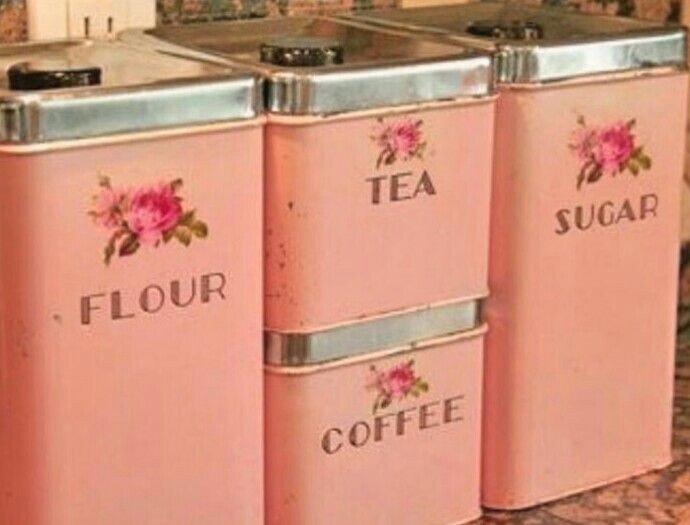 Pink canisters. My grandma had a pink kitchen.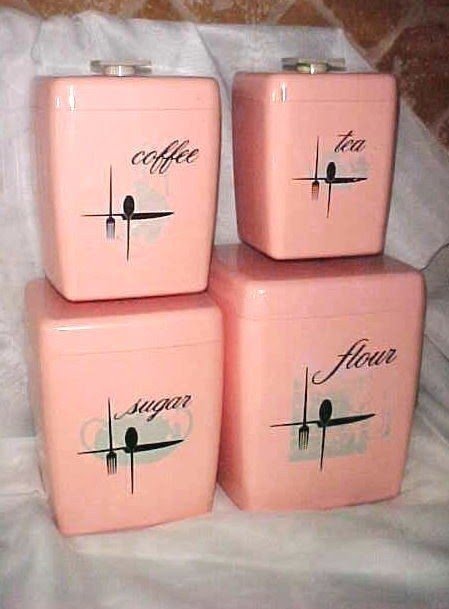 Vintage pink plastic canister set from the 1960s. Canisters are labeled in descending order of size, Flour, Sugar, Coffee, Tea. Knife, fork, and spoon stylized decoration on the sides of each. The lids are topped off with clear plastic knobs.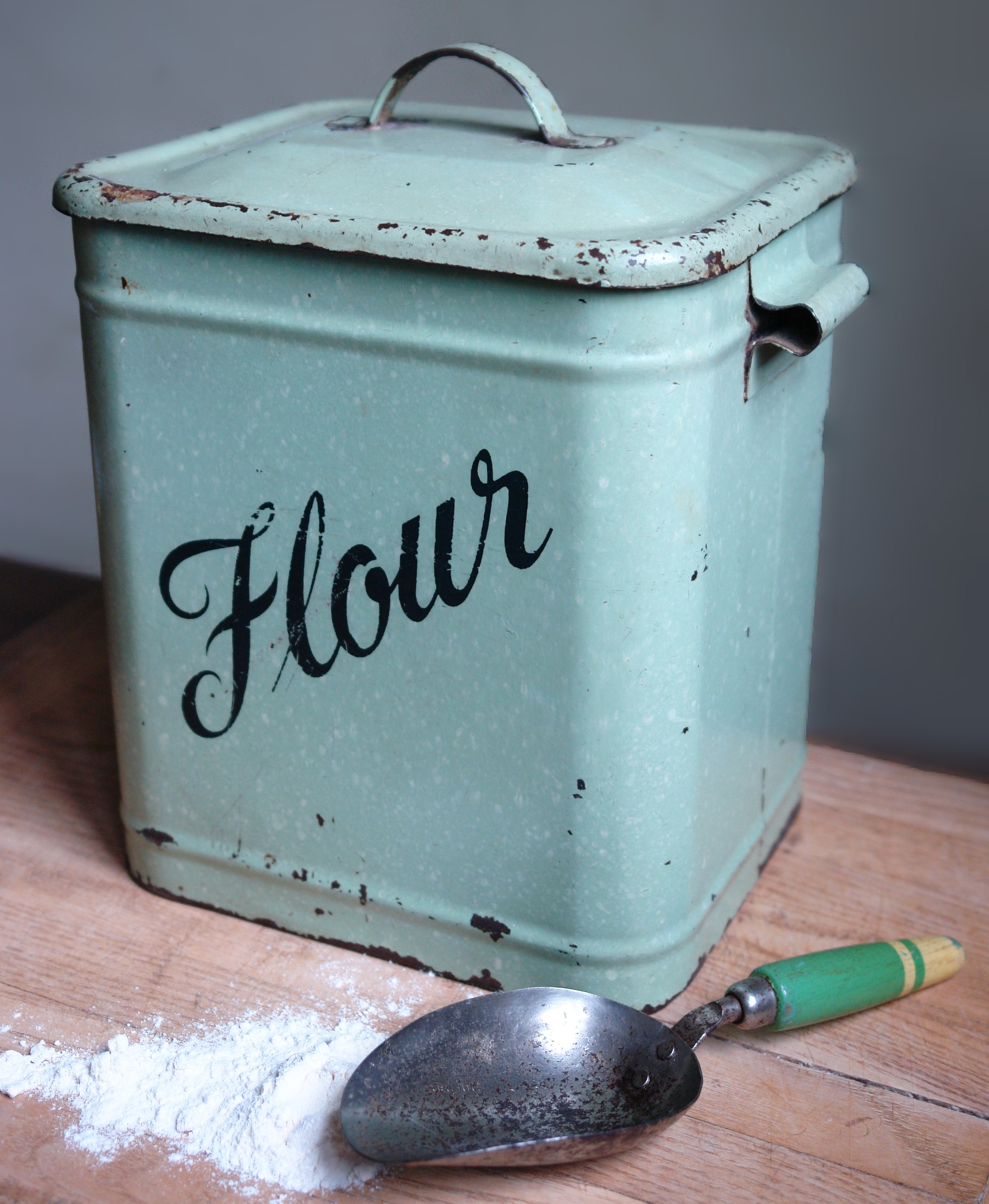 small vintage green enamel flour container with green painted wooden handled scoop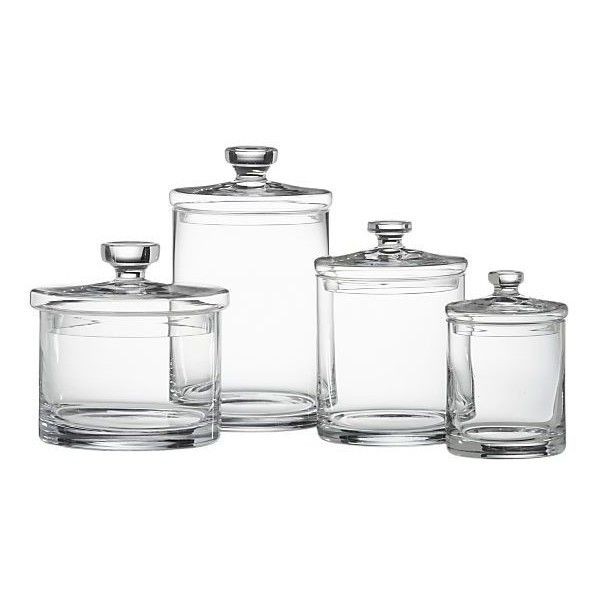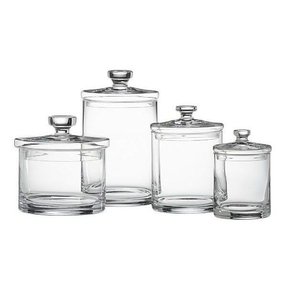 A fashionable decoration for spicing up modern and contemporary kitchens. This lovely set of 4 barrel canisters is designed of clear glass, offering easy to clean pieces - each covered with a matching round lid with stylish handle.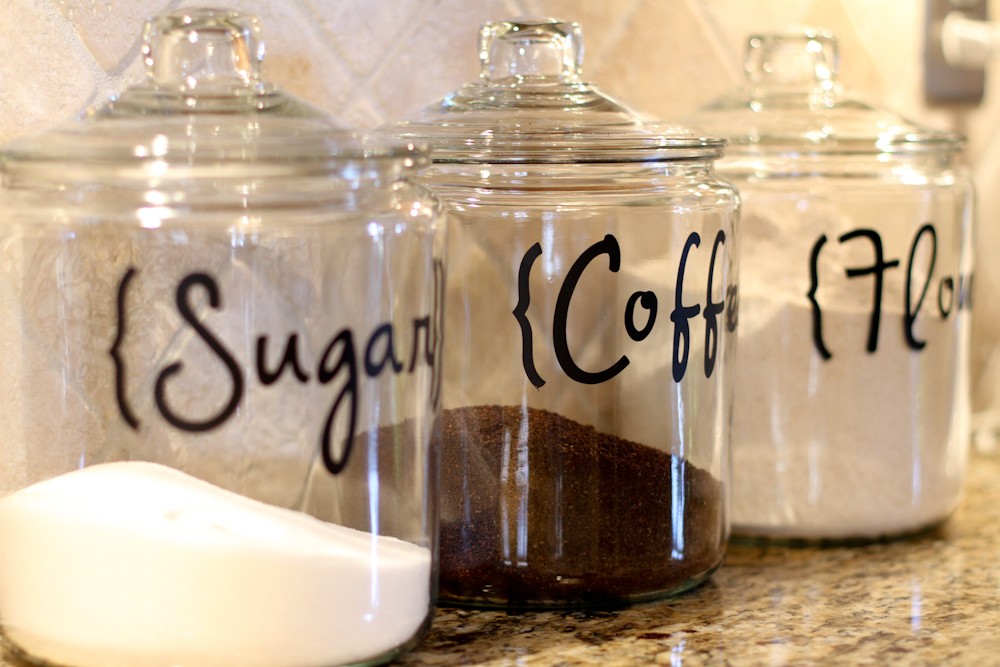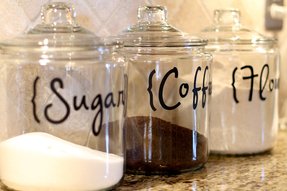 Boasting of a beautiful design and old-fashioned font, this set of 3 canisters will be like a cherry on top for your contemporary kitchen. Each canister is capacious, made of clear glass, and destined for holding flour, coffee, or sugar.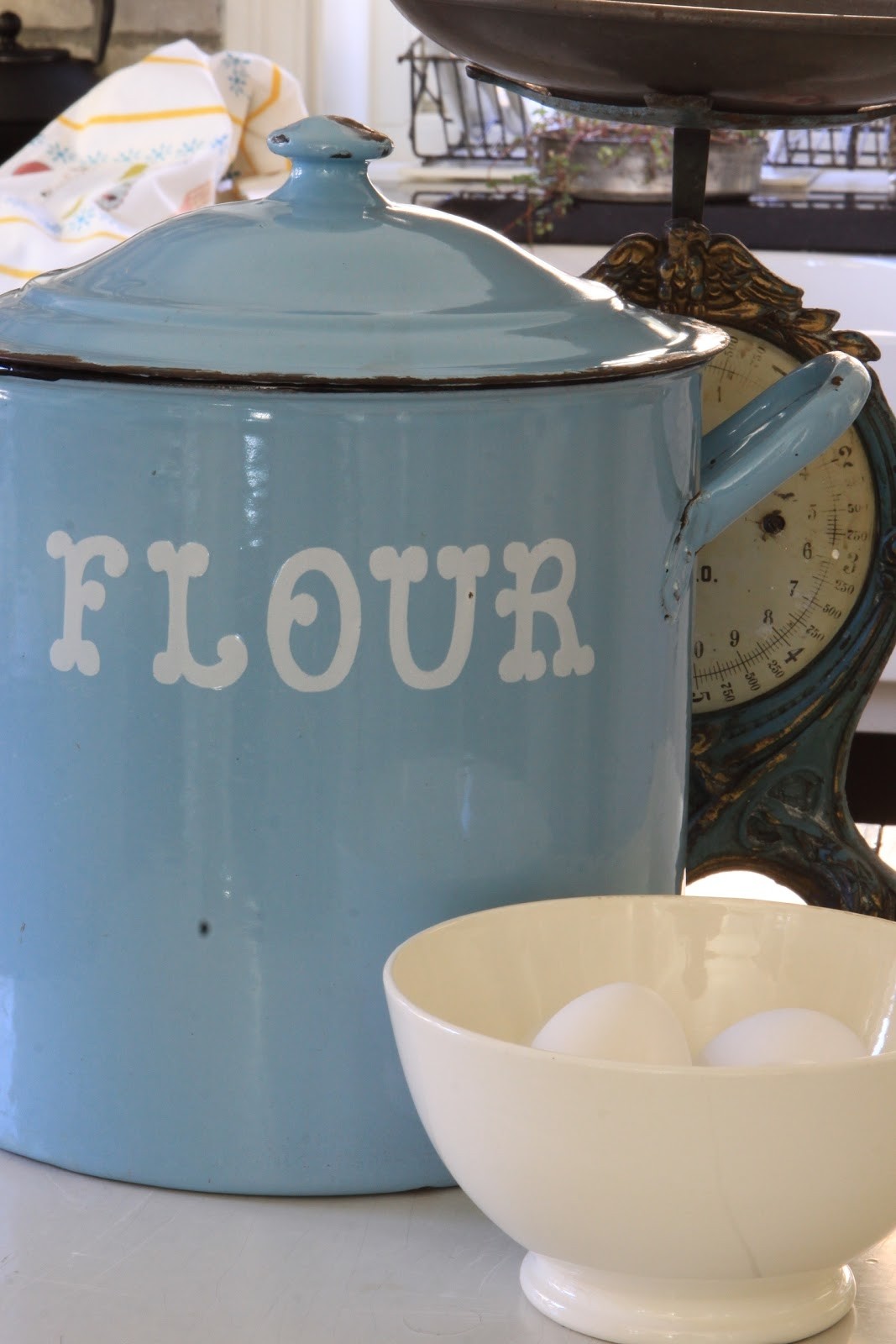 Flour Canister Set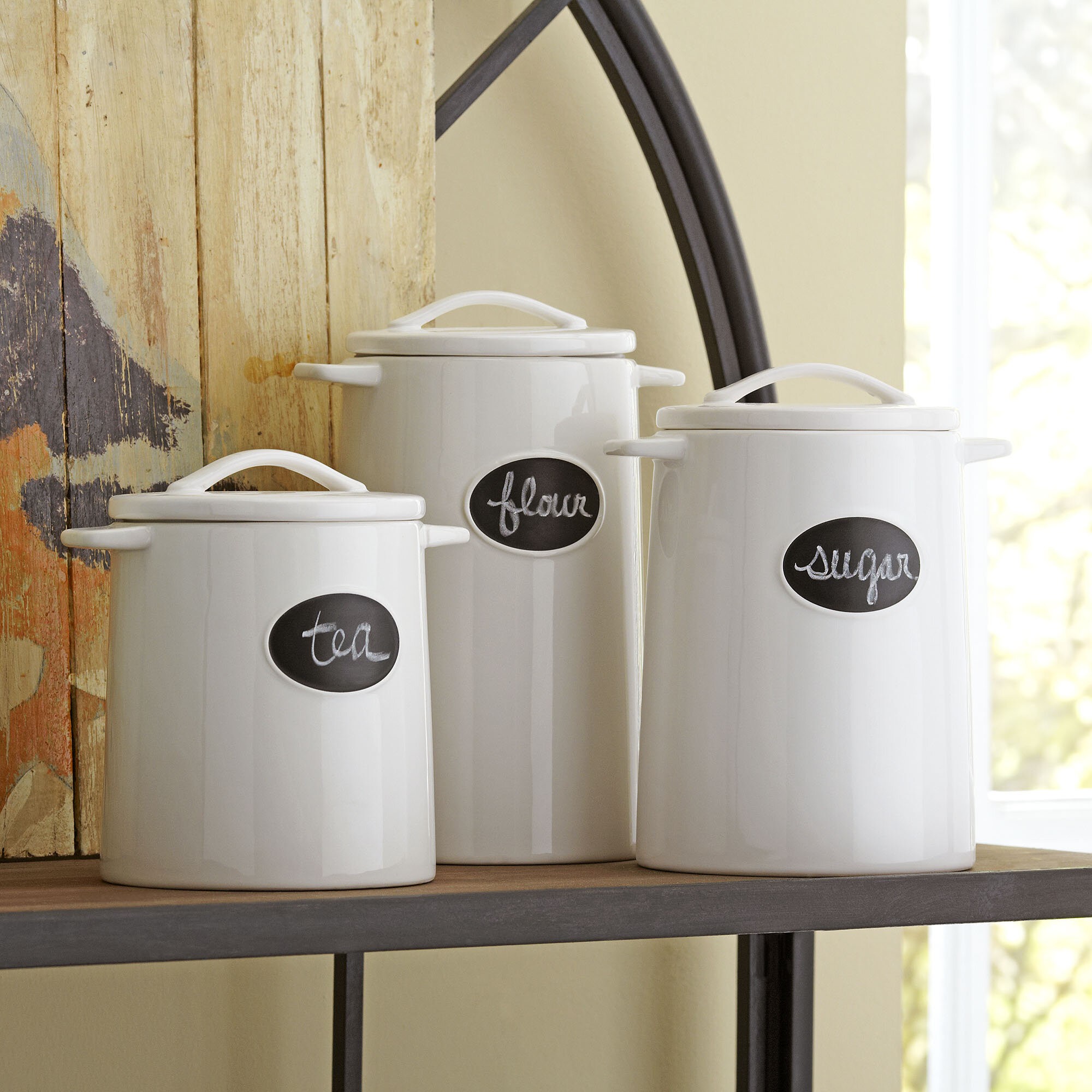 Chalkboard 3-Piece Canister Set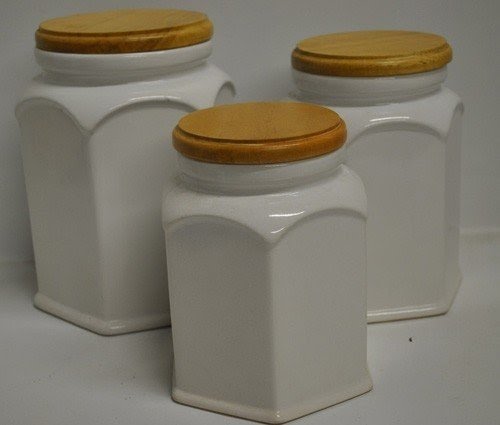 PIECE WHITE CERAMIC CANISTER SET (FLOUR/SUGAR/TEA)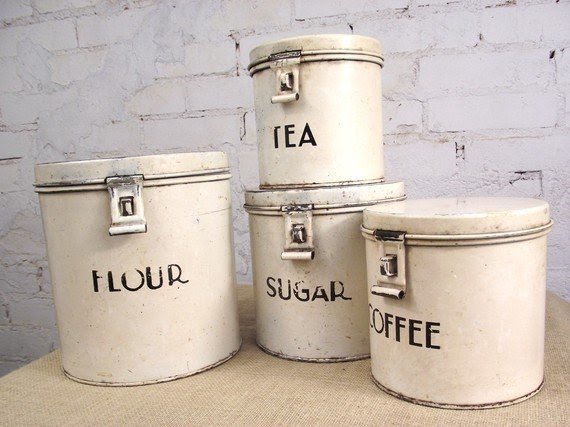 Simple Farmhouse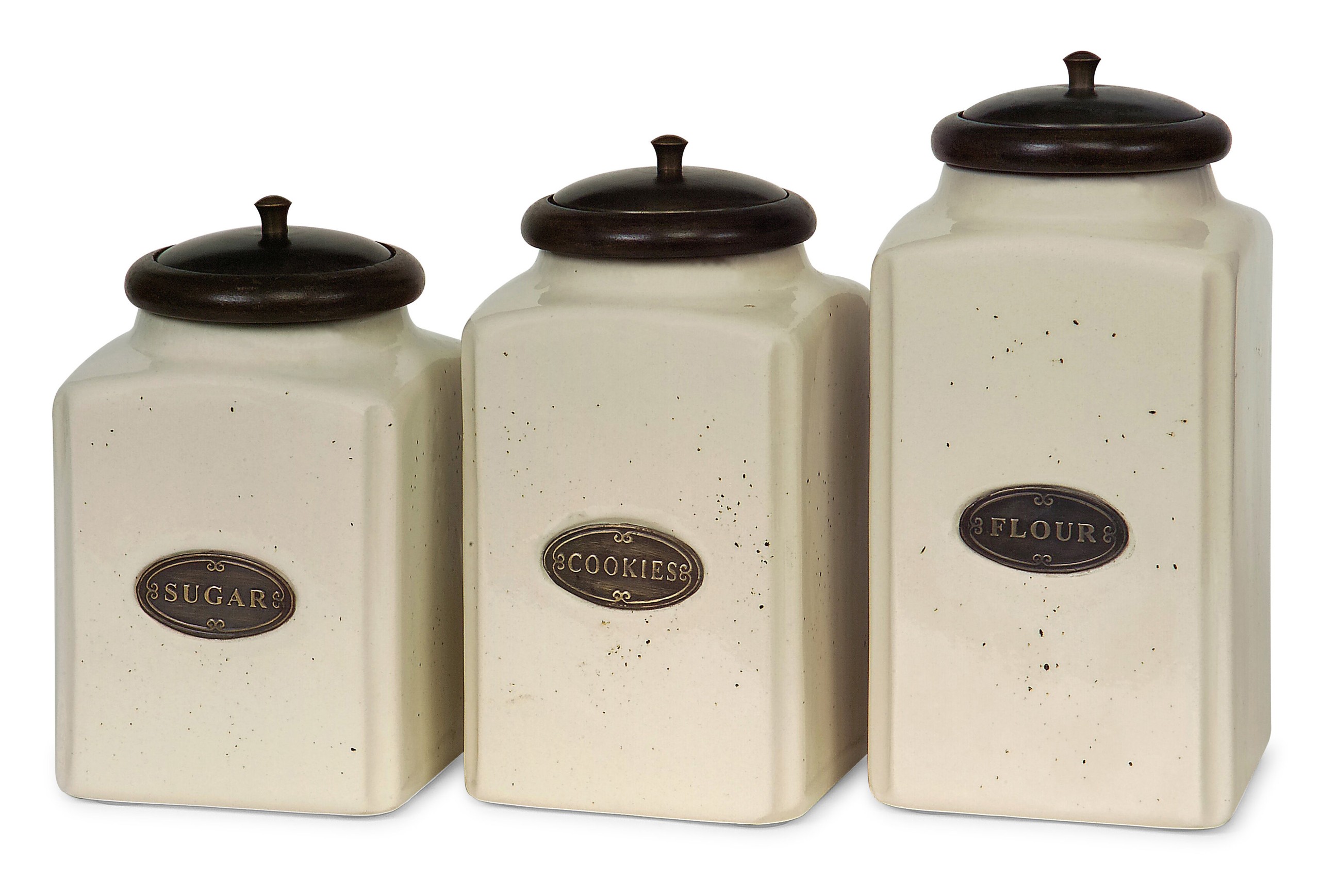 3-Piece Canister Set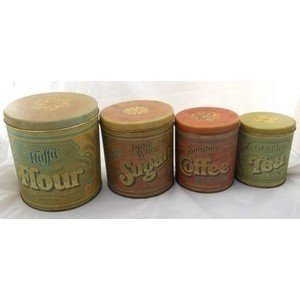 ... set flour sugar coffee tea ebay com vintage ballonoff tin canister set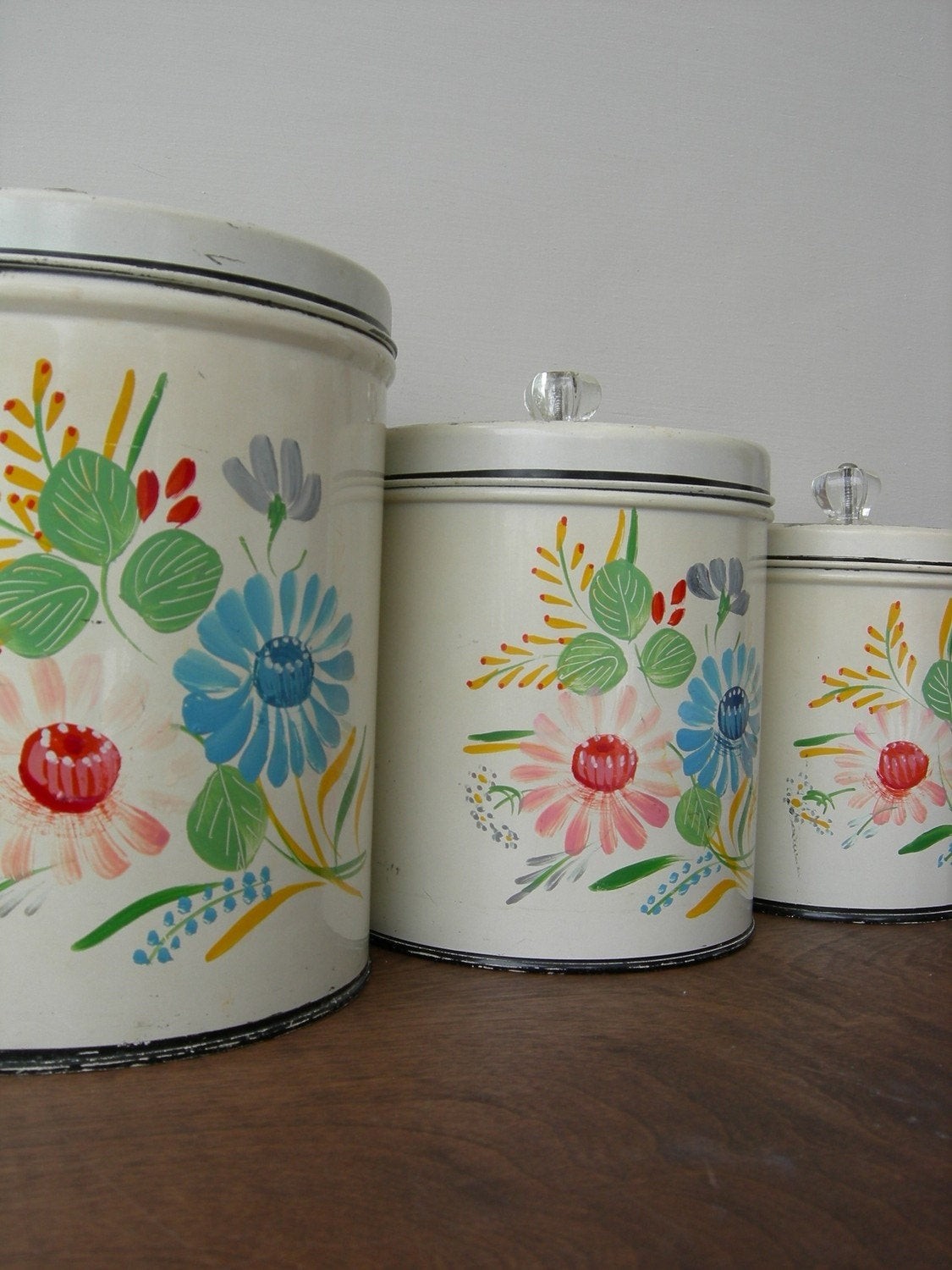 Ransberg Tins, vintage canisters with pink and turquoise flowers... 3 of 4 canisters... adding to the Laundry board to show it has a matching soap canister that matches this set...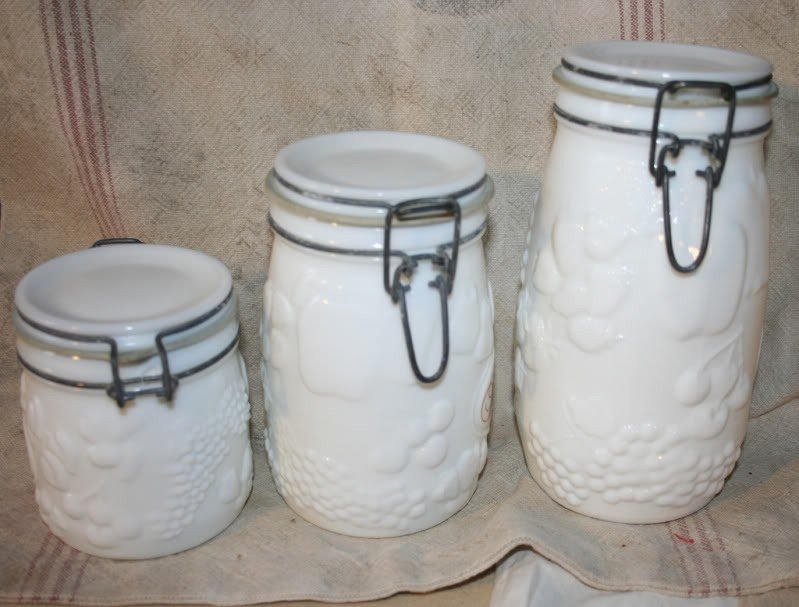 ... Vintage Wheaton Canisters Flour Sugar Tea Milk Glass Set Kitchenware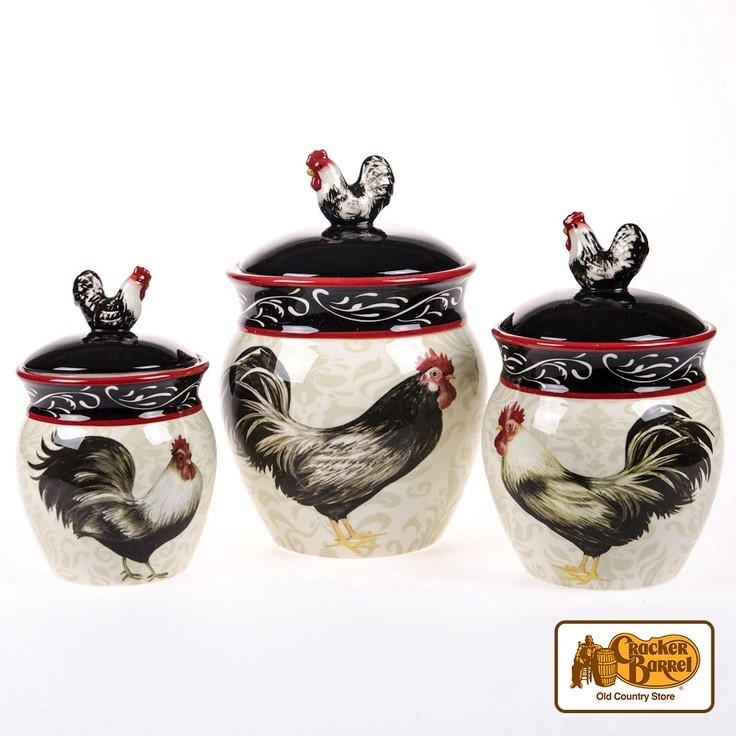 Keep flour, sugar, or snacks handy and fresh in this set of three pretty canisters. The handsome rooster motif will wake up your kitchen's décor, featuring painted roosters as well as ceramic ones atop each lid. These are beautiful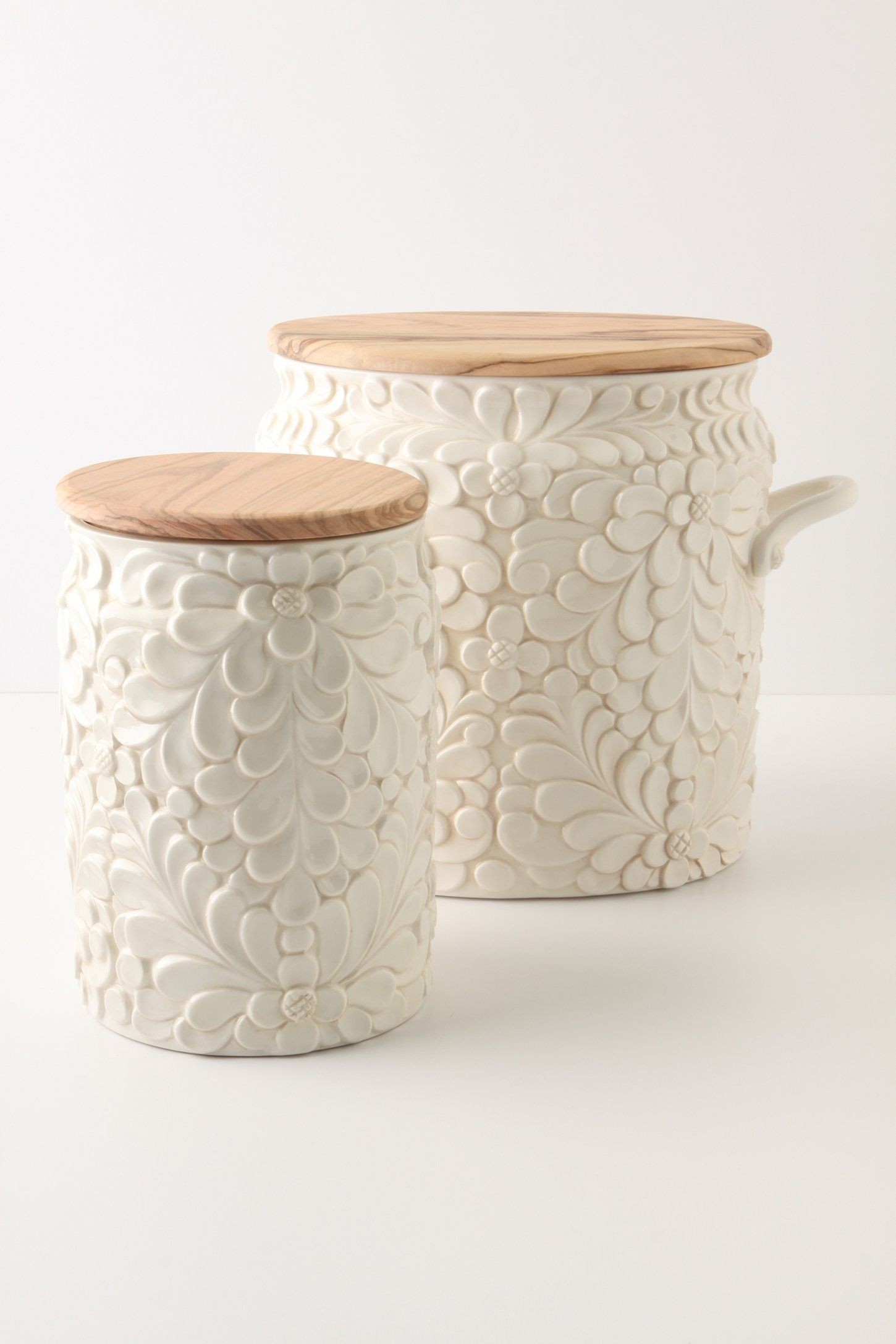 Made of clay and olive wood, this set of beautiful containers is a great example of handmade crafting. Made in Italy, these dishwasher-safe items have the size of 8"H, 5.5" diameter each.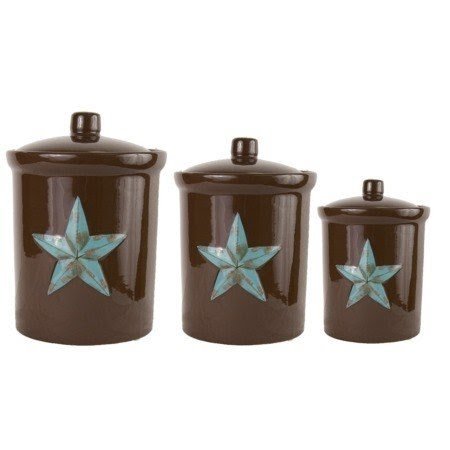 Laredo Star Western Decor Kitchen Canister Set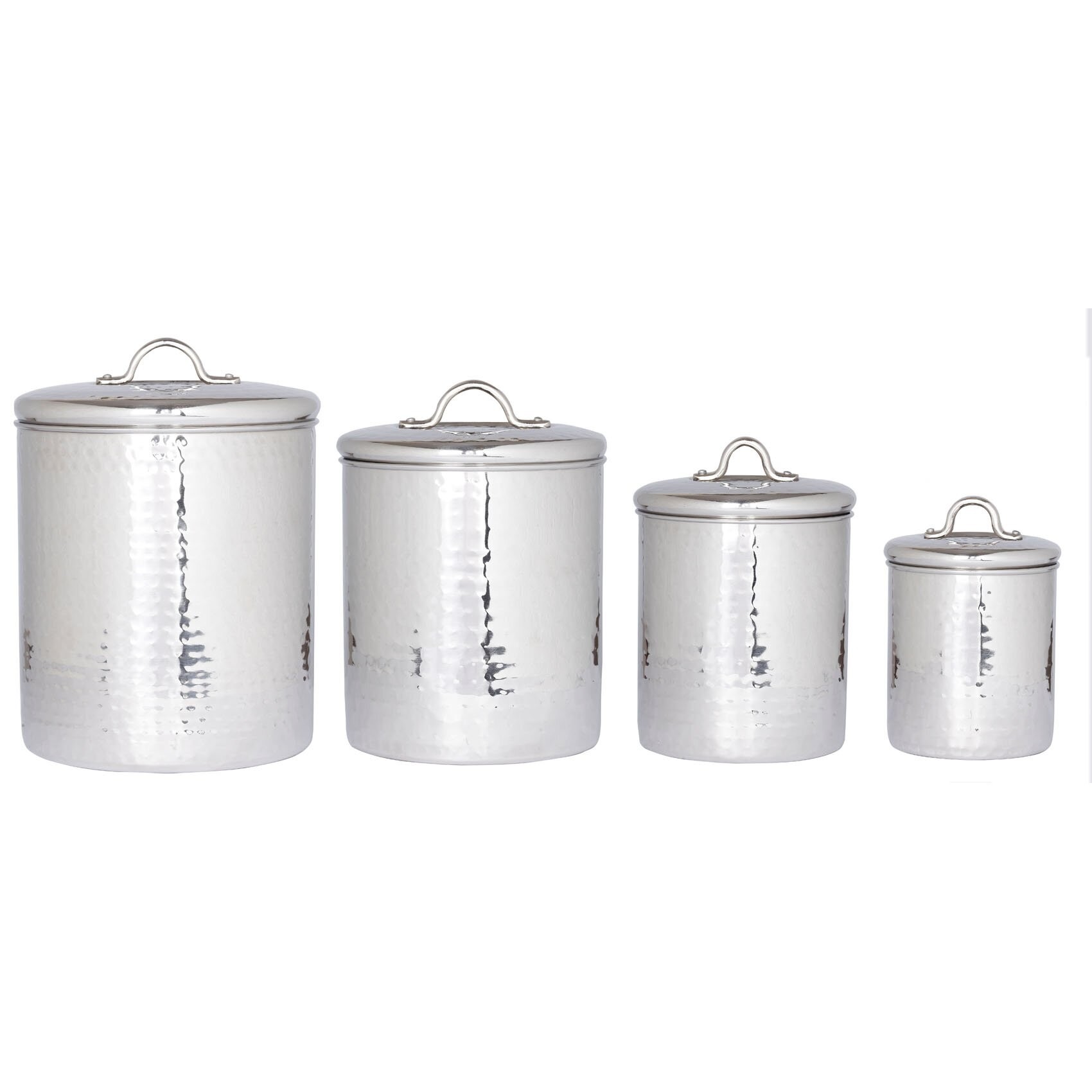 Hammered 4 Piece Canister Set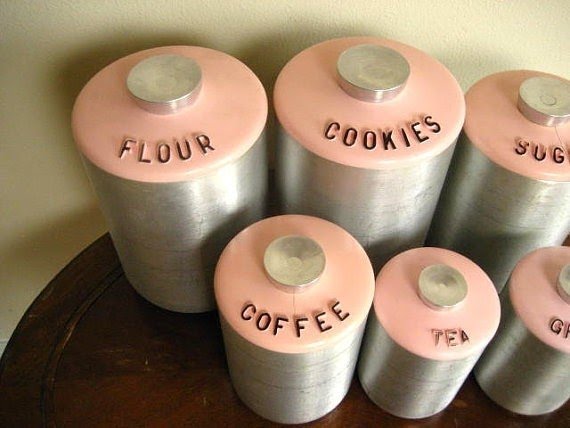 Vintage 6pc Pink Brushed Metal Tin Canister Set by Kromex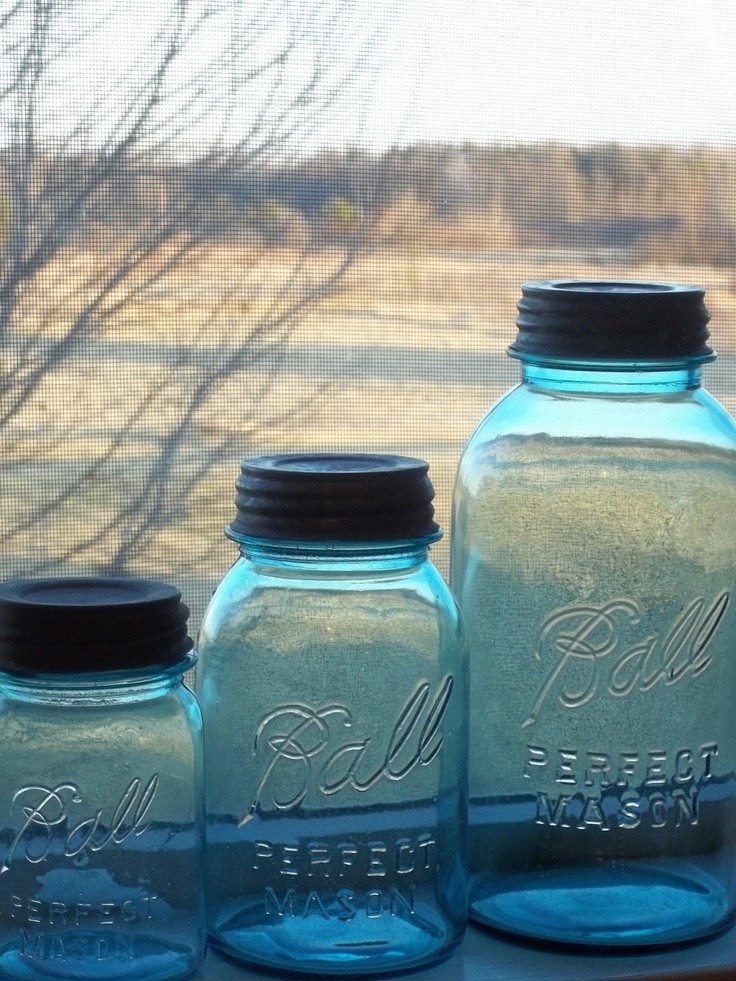 Set of 3 Blue Ball Mason Jar Canister Set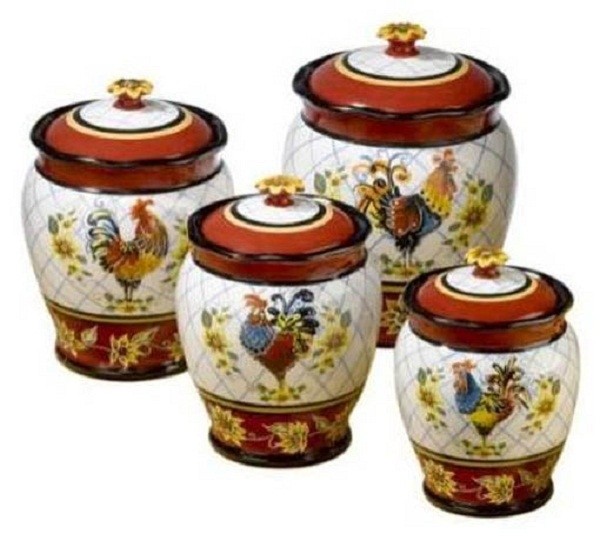 Rooster Canisters: Ceramic canisters not only make a nice decorative touch, but are a great way to store sugar, flour, and other necessities.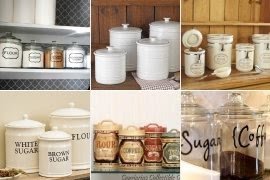 A great Courtly Check solution for organizing the little things.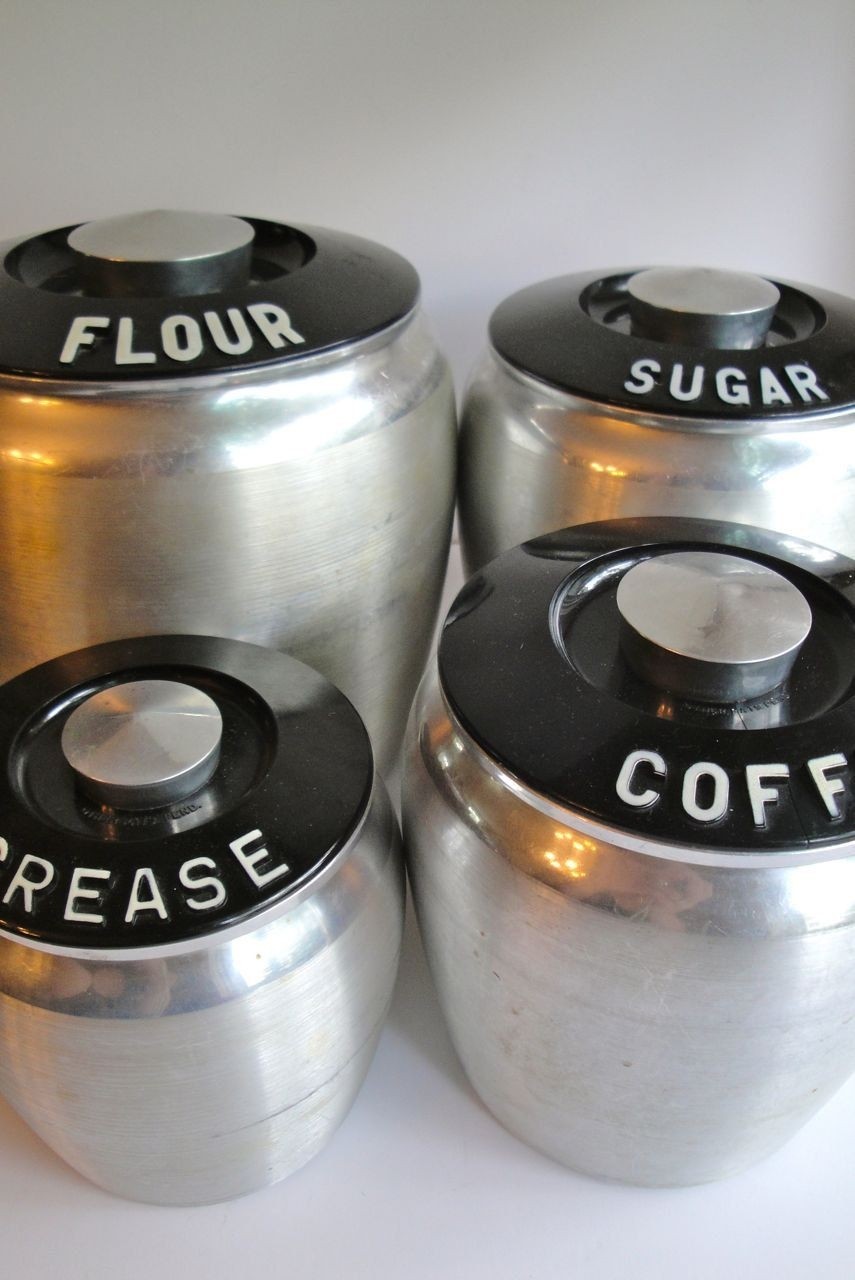 This same set was in our home, notice the one with the grease, yummy!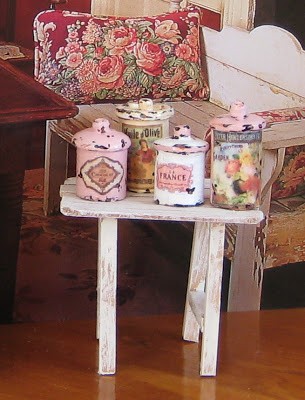 Miniature canisters for the dollhouse made from "A piece of dowel (I found it in the garage), a button and a bead!!" Very simple way to make vintage containers for the kitchen (e.g. flour) boudoir or bathroom (scented talcums) | Image Source: Liberty Bib