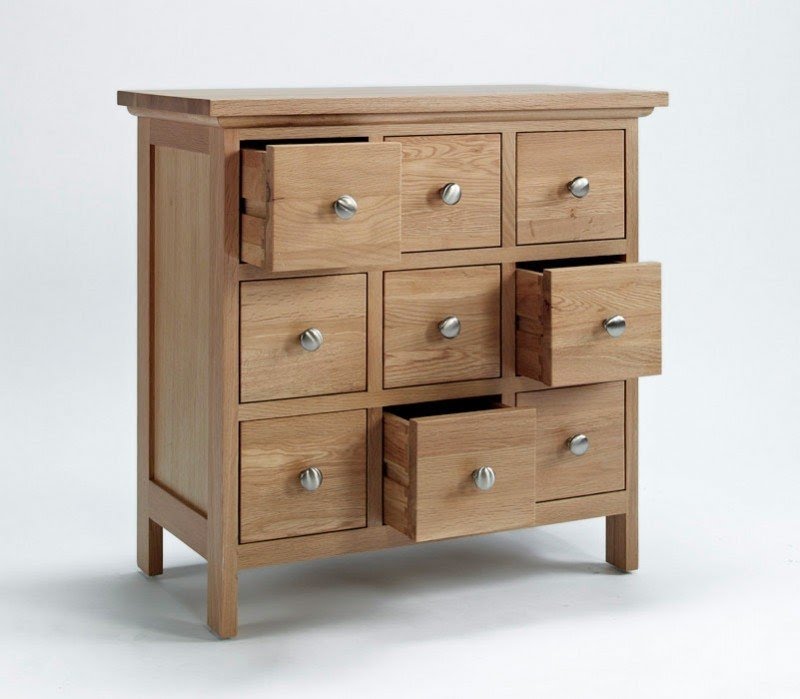 Solid Oak Storage Chest / DVD/CD Cabinet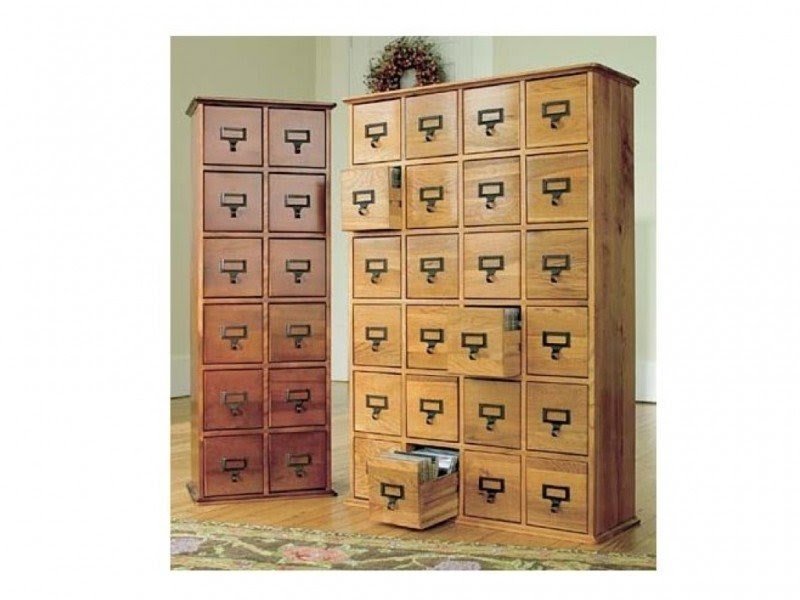 Compact and extra high DVD storage cabinet made from wood and featuring a neat light brown stain. The piece allows you to organize your collection in a simple manner thanks to the two dozen pull out drawers, each with stunning black metal accents.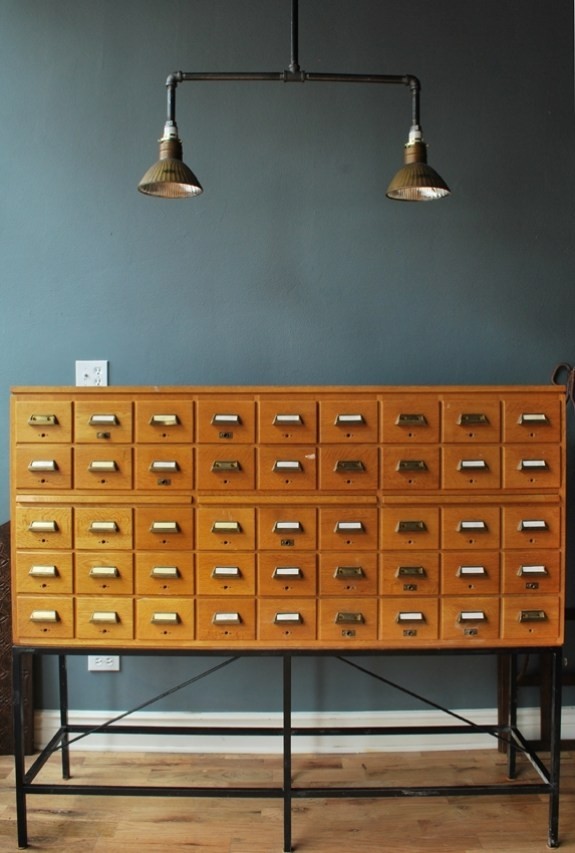 Thanks to this storage cabinets, your large CD collection will be properly stored and organized. It's made of oak-finished wood and stands on a powder-coated metal frame, offering number of small drawers with name plaques and metal pulls.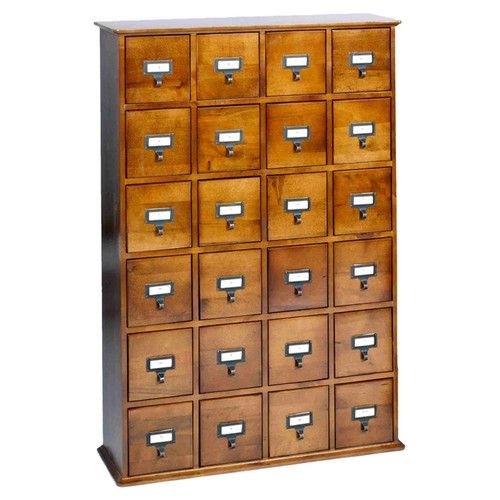 Charming apothecary drawer fronts, somewhat like old library file drawers, are the perfect size to hold your CD or DVD collection and to keep it safe. The slip in label holders make it easy to file your collection for easy access.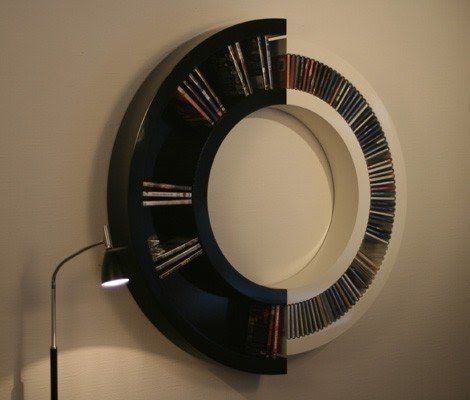 Half Moon DVD and CD rack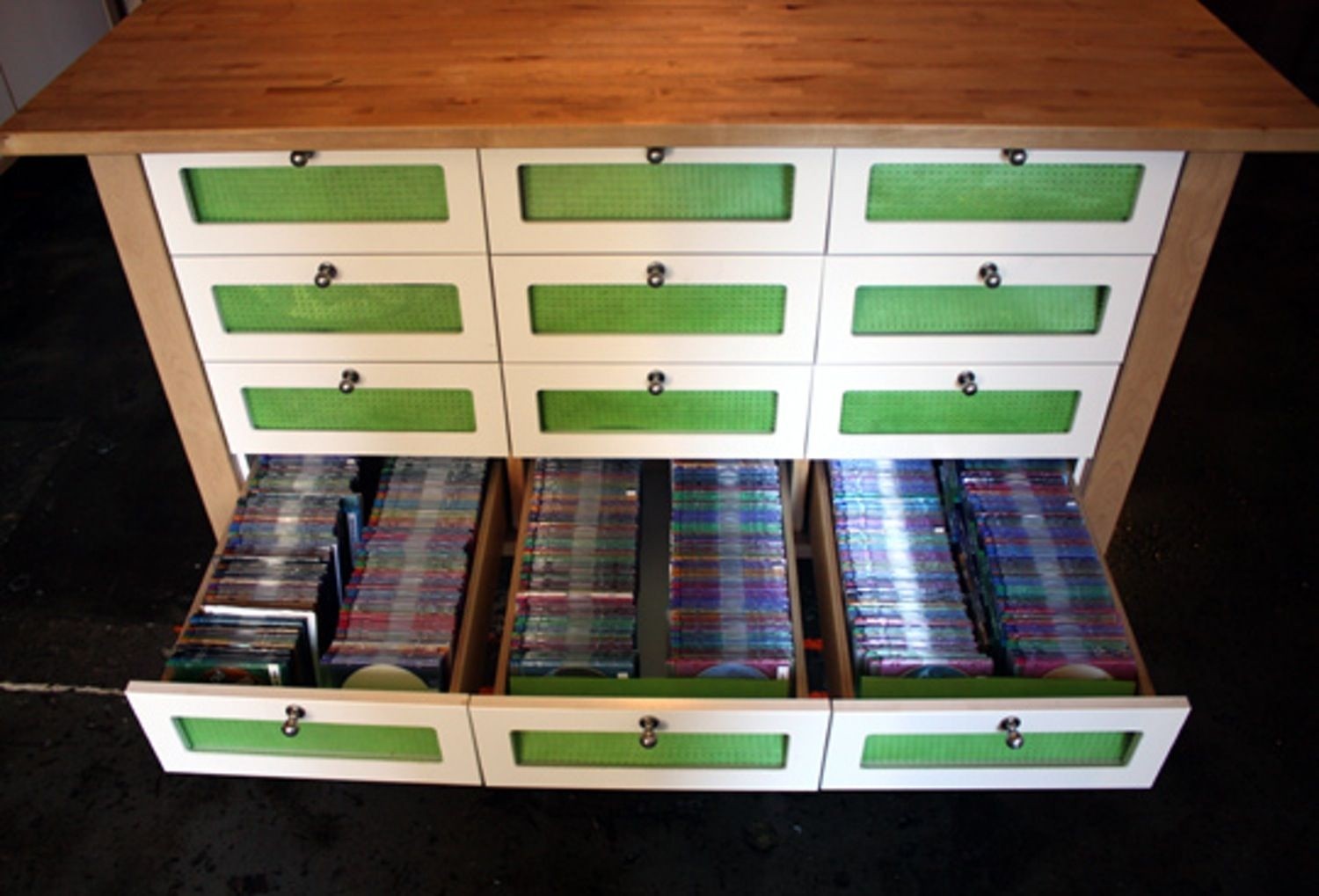 If you had such a piece of furniture in your house - to make an order in storage dvd discs would be pure pleasure. The wooden chest of drawers has the color of natural alder wood, while its drawers are painted white and green.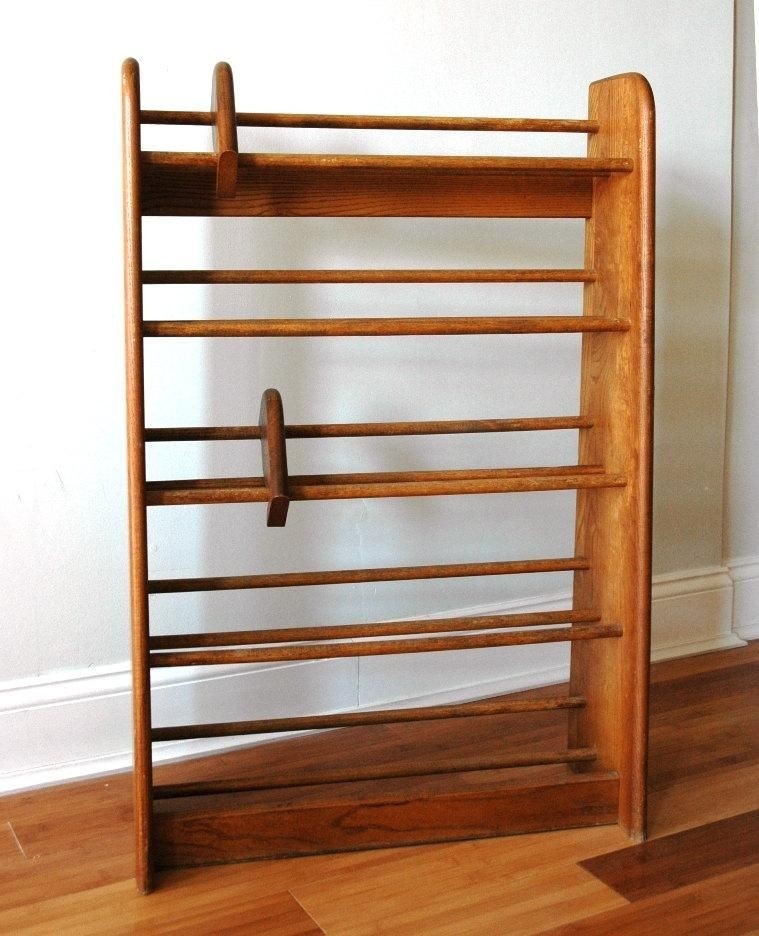 DIY DVD Storage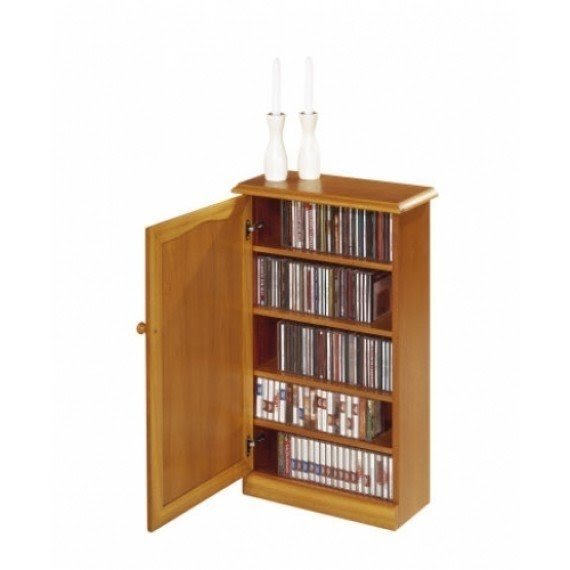 815 CD-DVD Storage Unit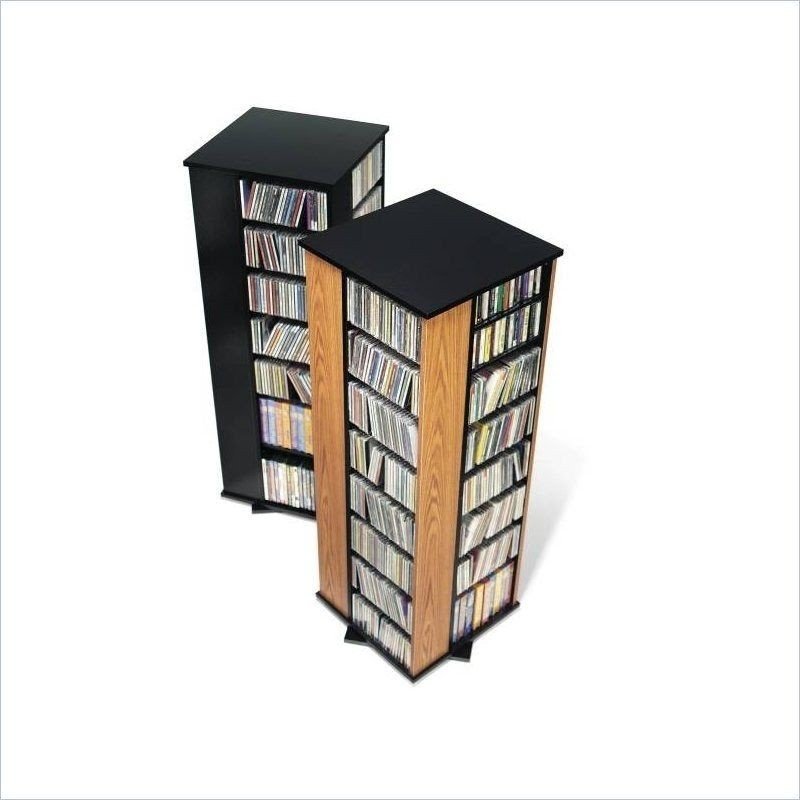 A DVD Storage Cabinet is a valuable addition to your home's decor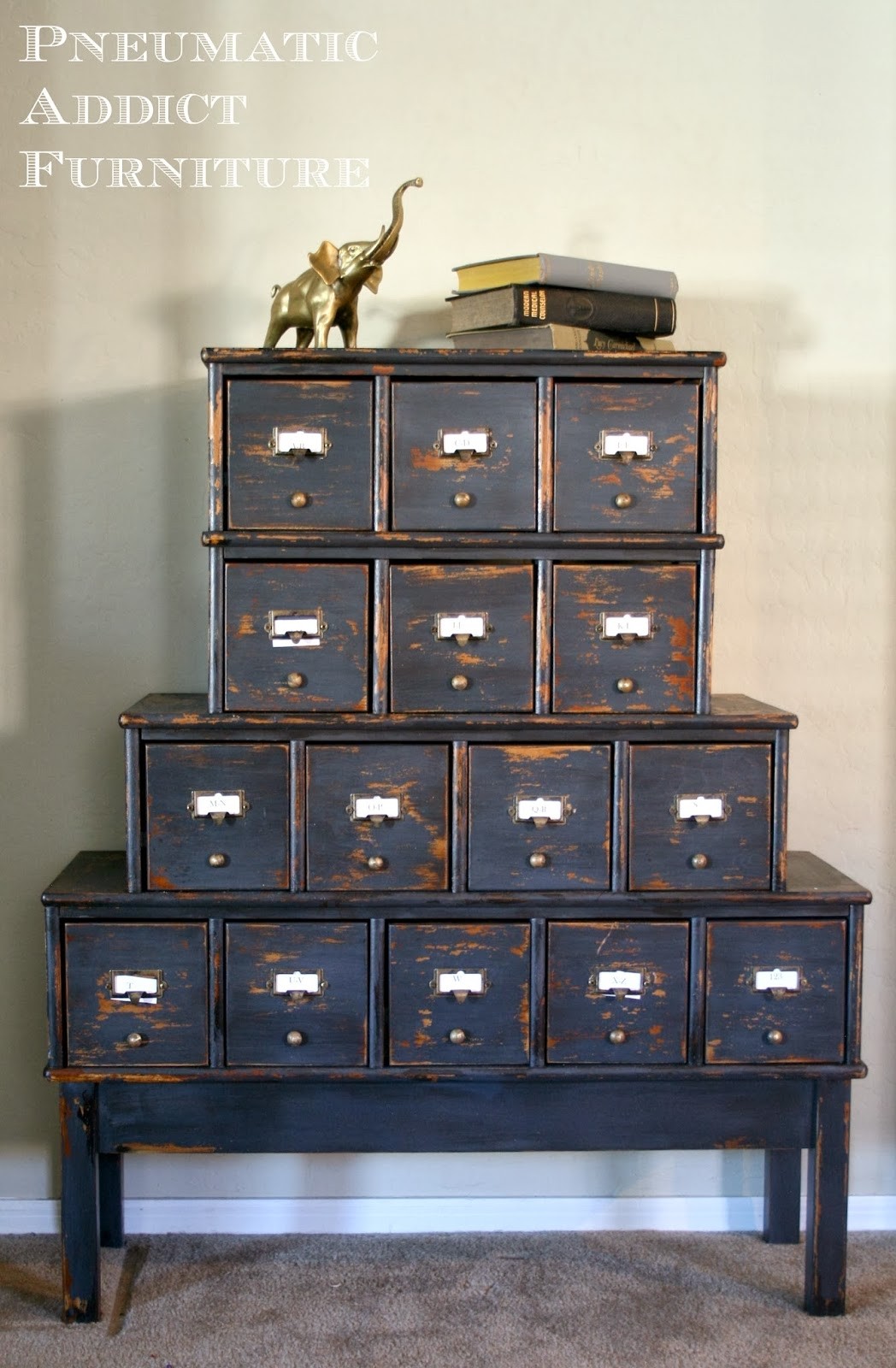 I could remember those cubic drawers from hotels and old fashioned drug stores. It occurs that wooden drawers serving before as card catalogs can store CDs and DVDs pretty efficiently. Check this distressed storage cabinet out.

Creative Stuff: Build a custom storage cubby unit for your craft supplies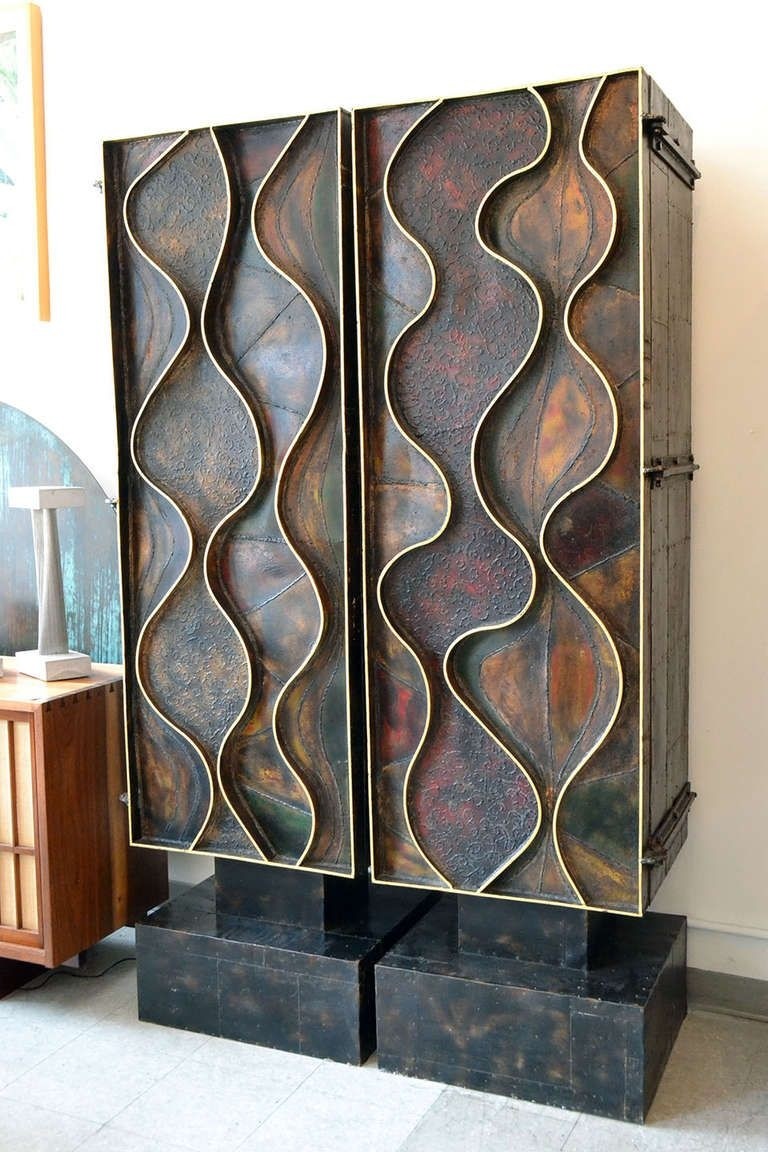 Pair Of Wave Front Cabinets Paul Evans 1971
Sophisticated cabinet finished with carefully made carvings. Suitable for storing clothes and other necessities. Elegant design for each place according to taste.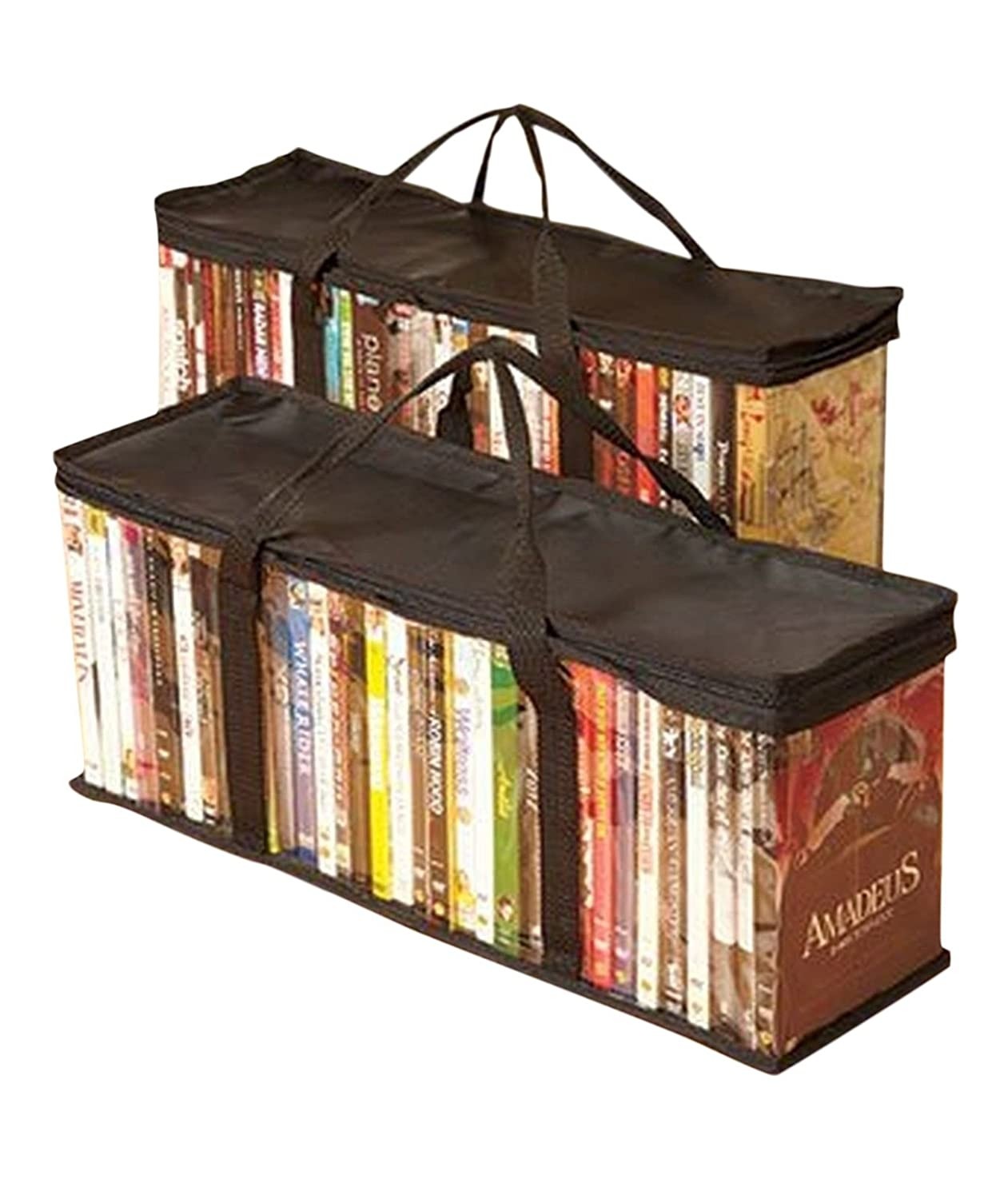 DVD Storage Bags. we could just stack in the coat closet without having to fit another piece of furniture just for our movies!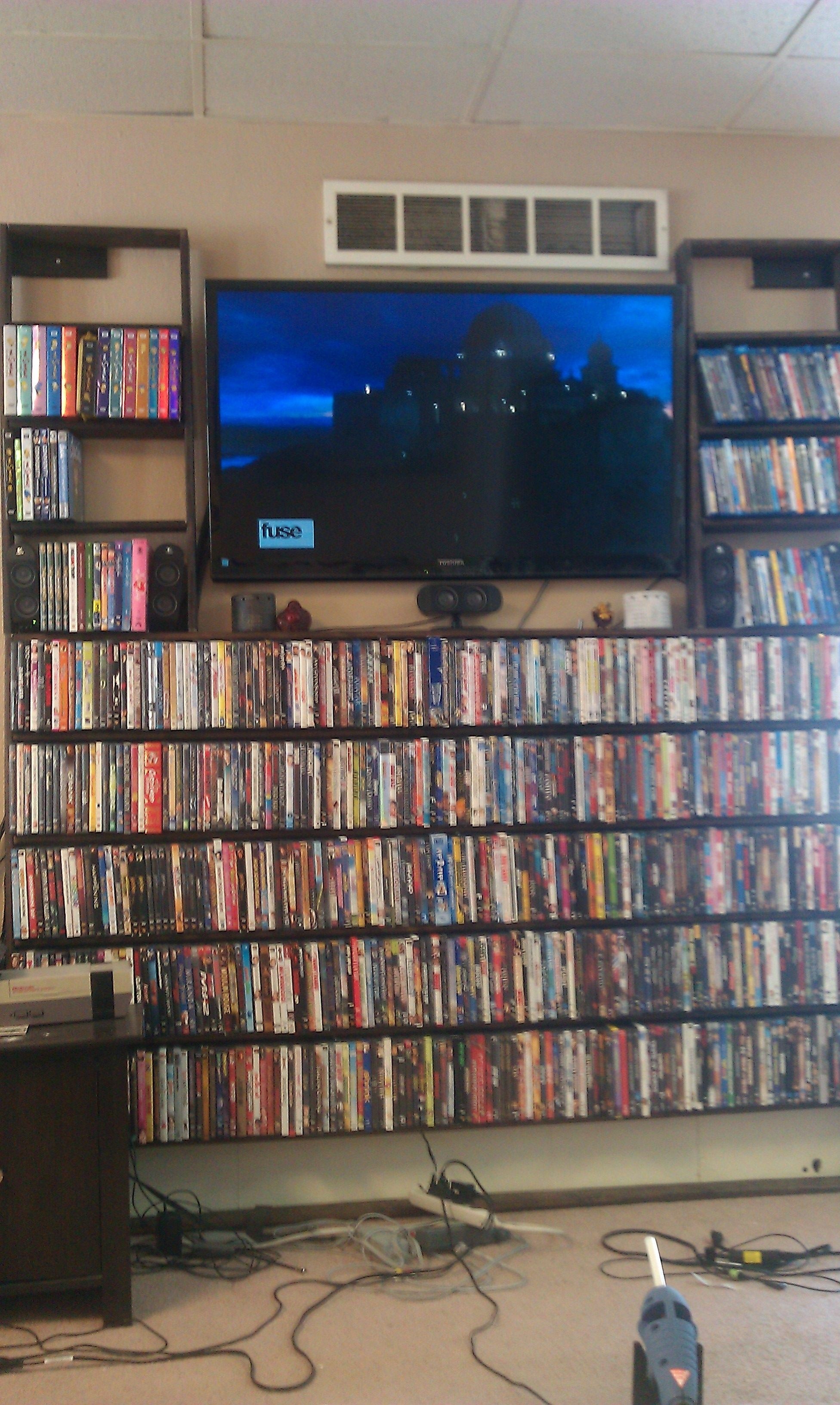 Blu Ray/ DVD Shelves built around my flat screen in my living room. I used only 1"x4" (fur) and decking screws and a can of wood stain. Total cost was less than $30!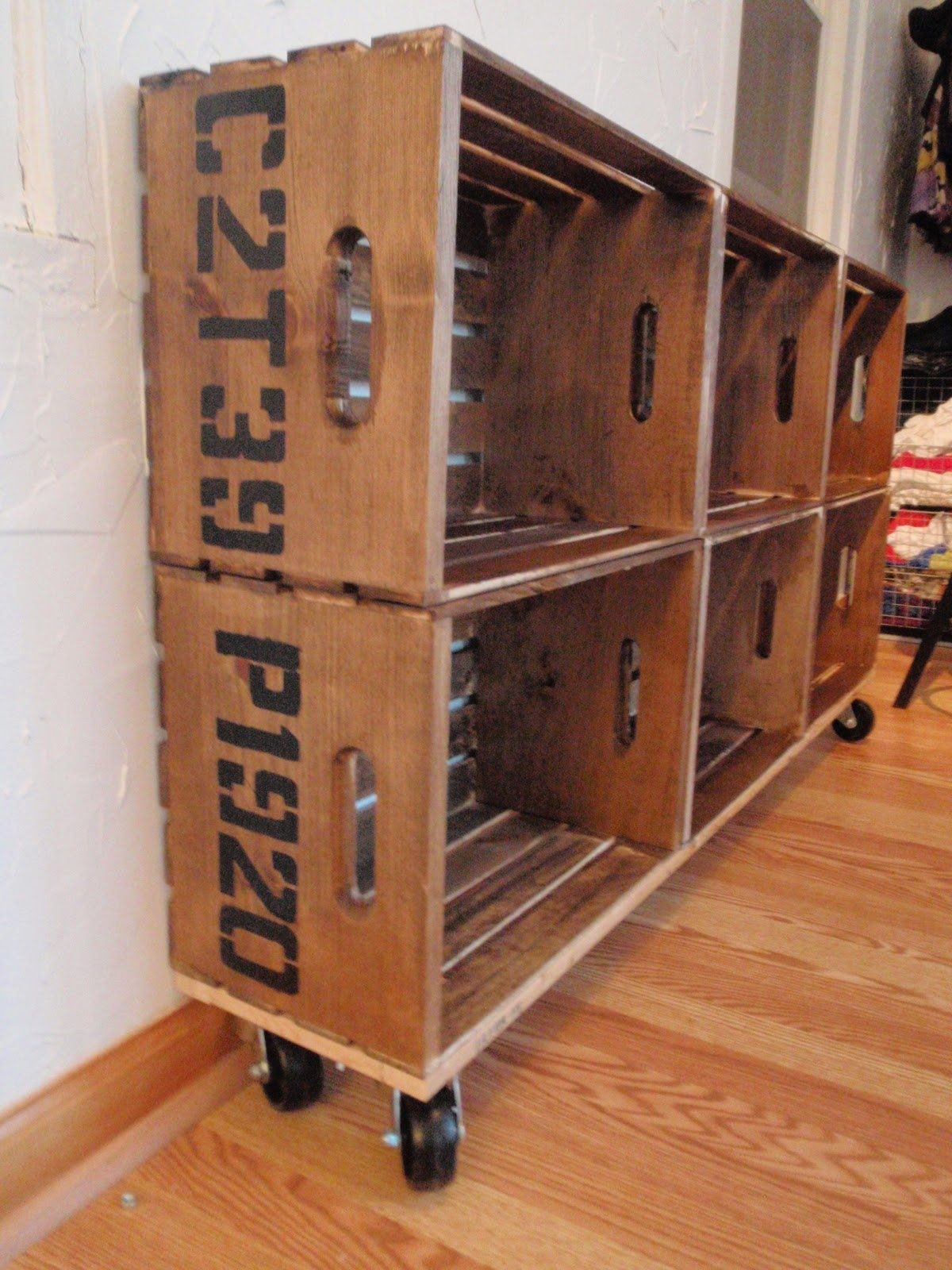 Hammers and High Heels: DIY Vintage Crate Shelving Unit and "C2T39"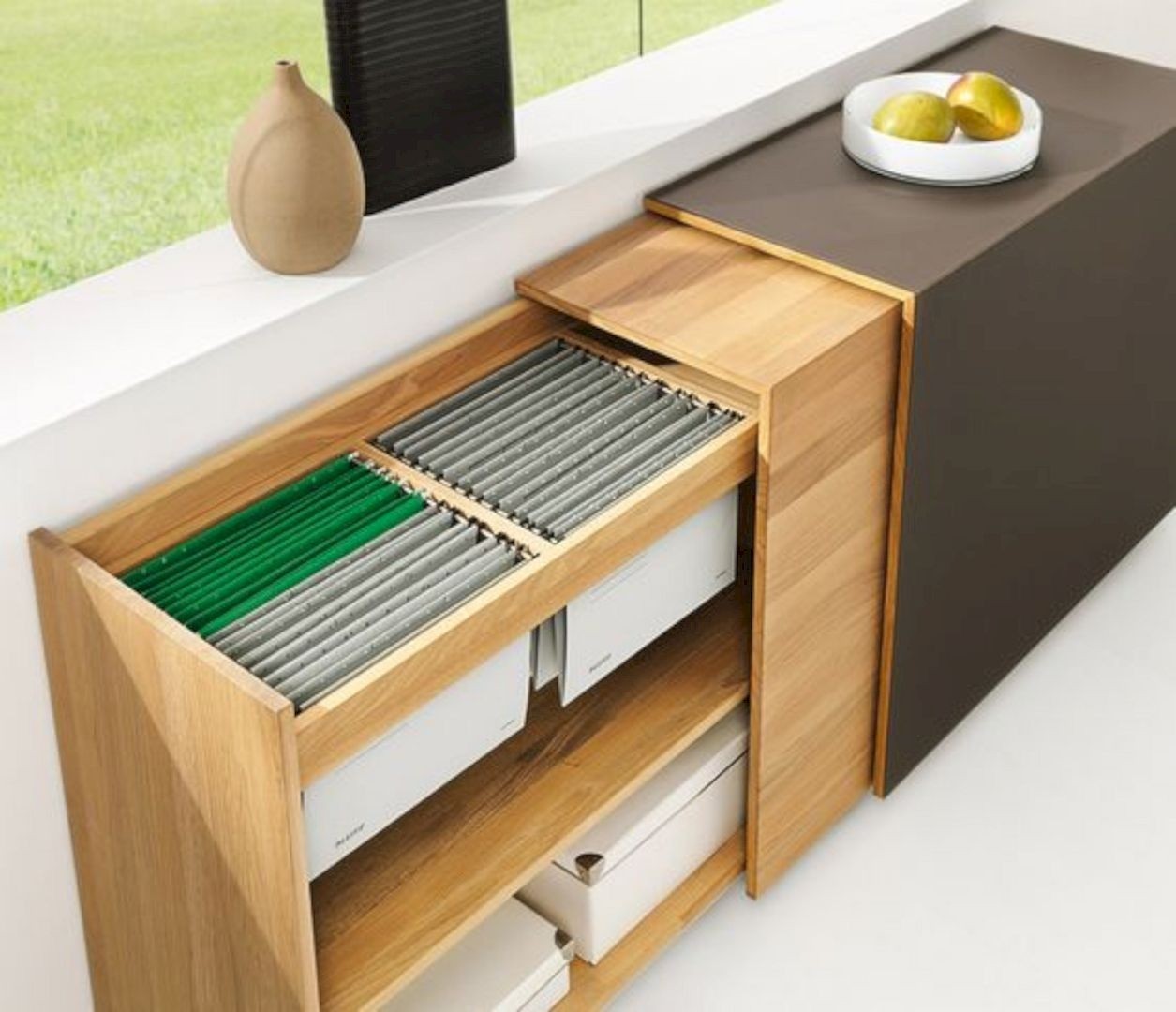 Cubus Office Storage Cabinet image 1 - medium sized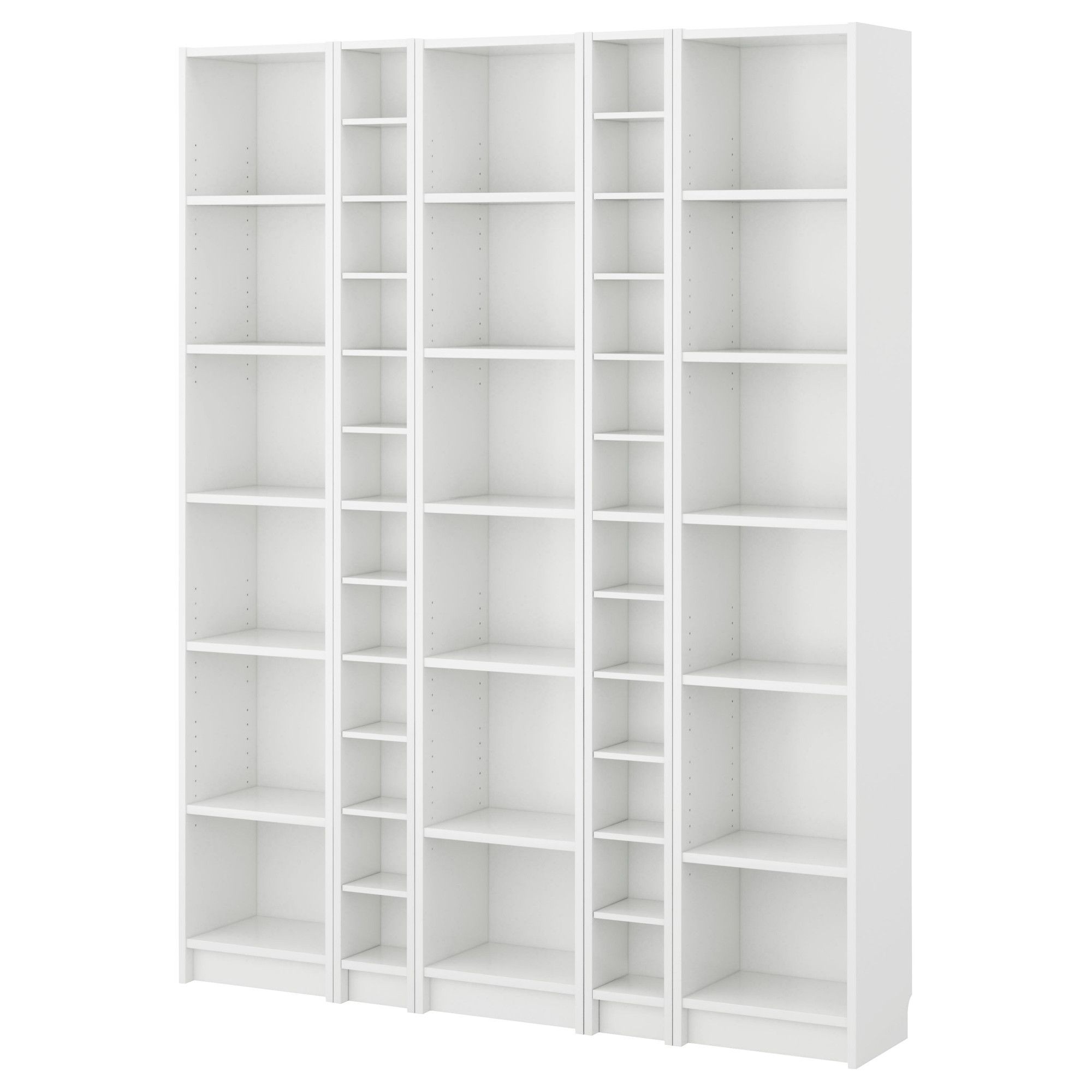 every other shelf is adjustable and could be used as mudroom furniture with shoe storage. Thanks IKEA!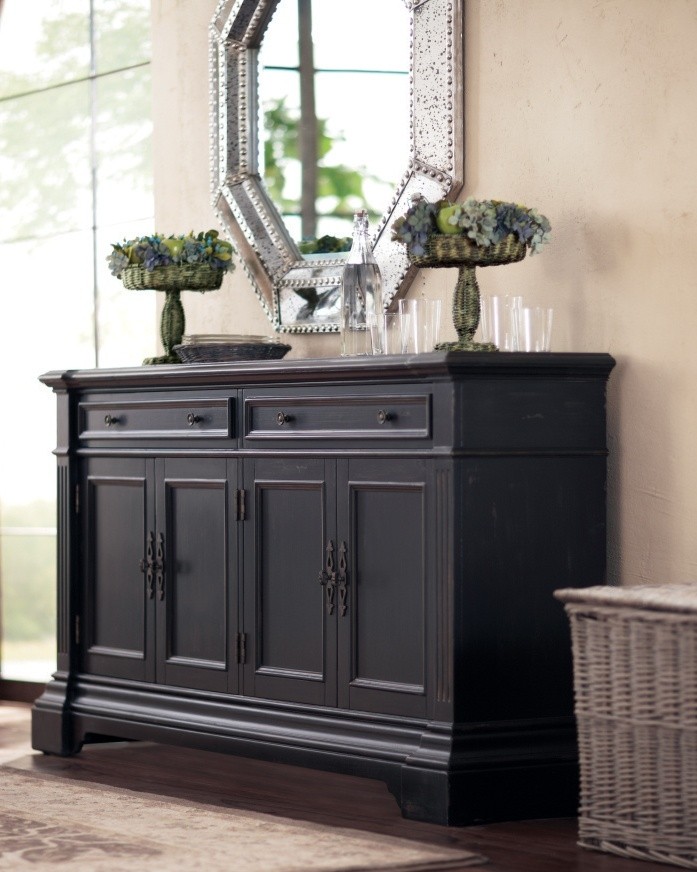 Stylish organization of different items and accessories. This element of furniture includes storage drawers and compartments with durable wooden doors. Its wooden construction is finished in black color.
With apertures of varying size, this shelving unit is ideal for storing anything from books to DVDs and CDs. With a matt lacquer finish, it will look great freestanding or against a wall. The designers have added a slight curve profile to the edges to max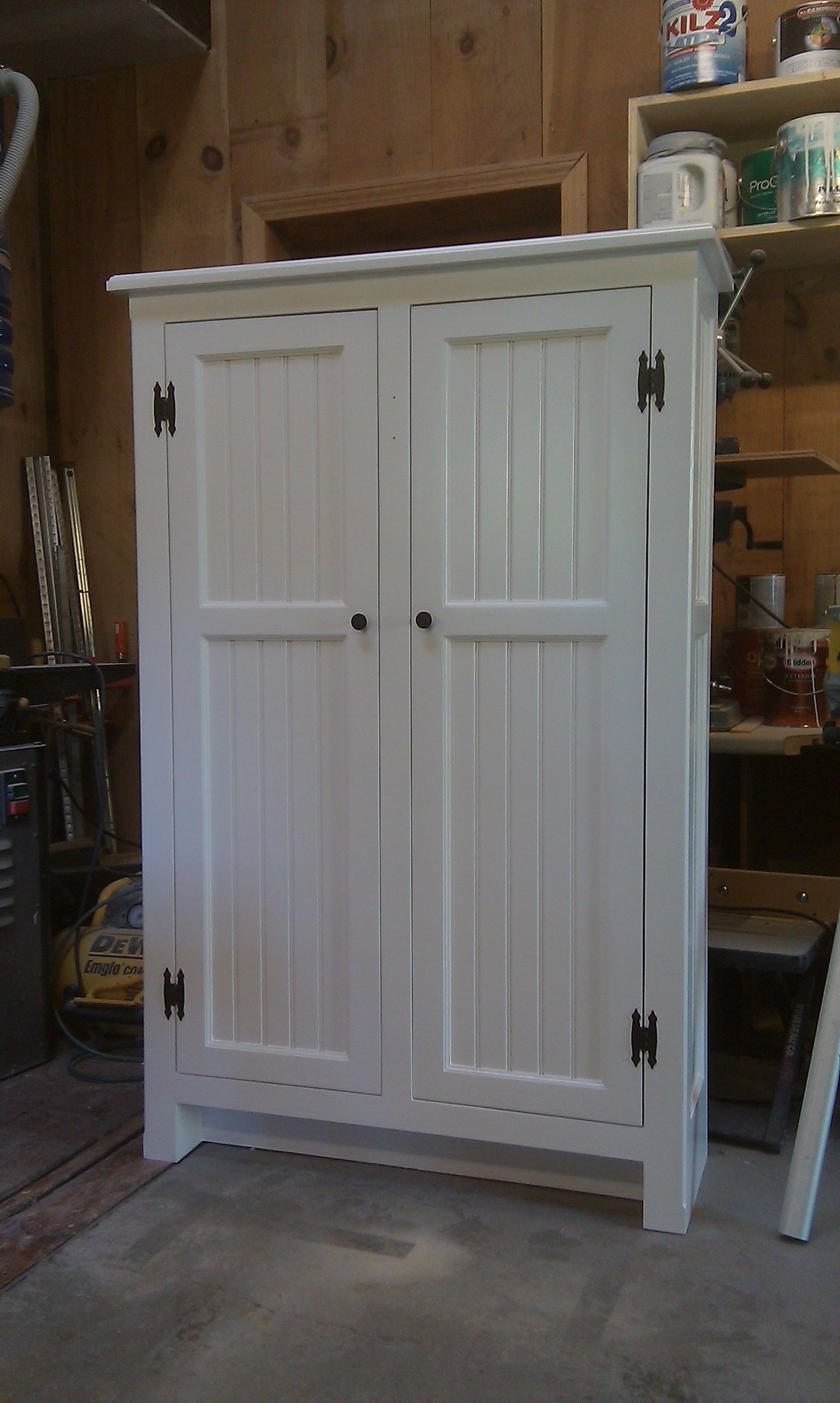 An old-fashioned wooden cabinet with a traditional, vintage look and a plenty of storage space inside. Great for an entryway storage solution if you'd rather have a closed wardrobe than hanging coat racks.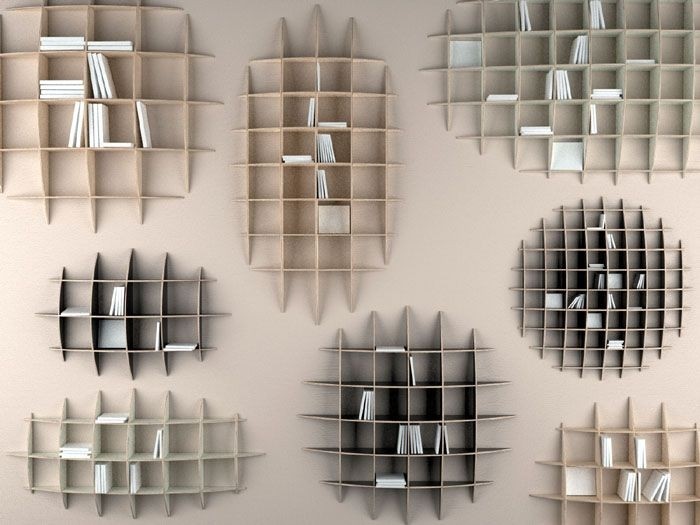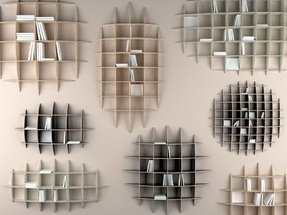 Creative and cool hanging racks for CDs and DVDs. Their oval or round frames are handmade of crisscrossed plywood slates in brown tones. Racks can have varied amount of pigeonholes and be mounted vertically or horizontally.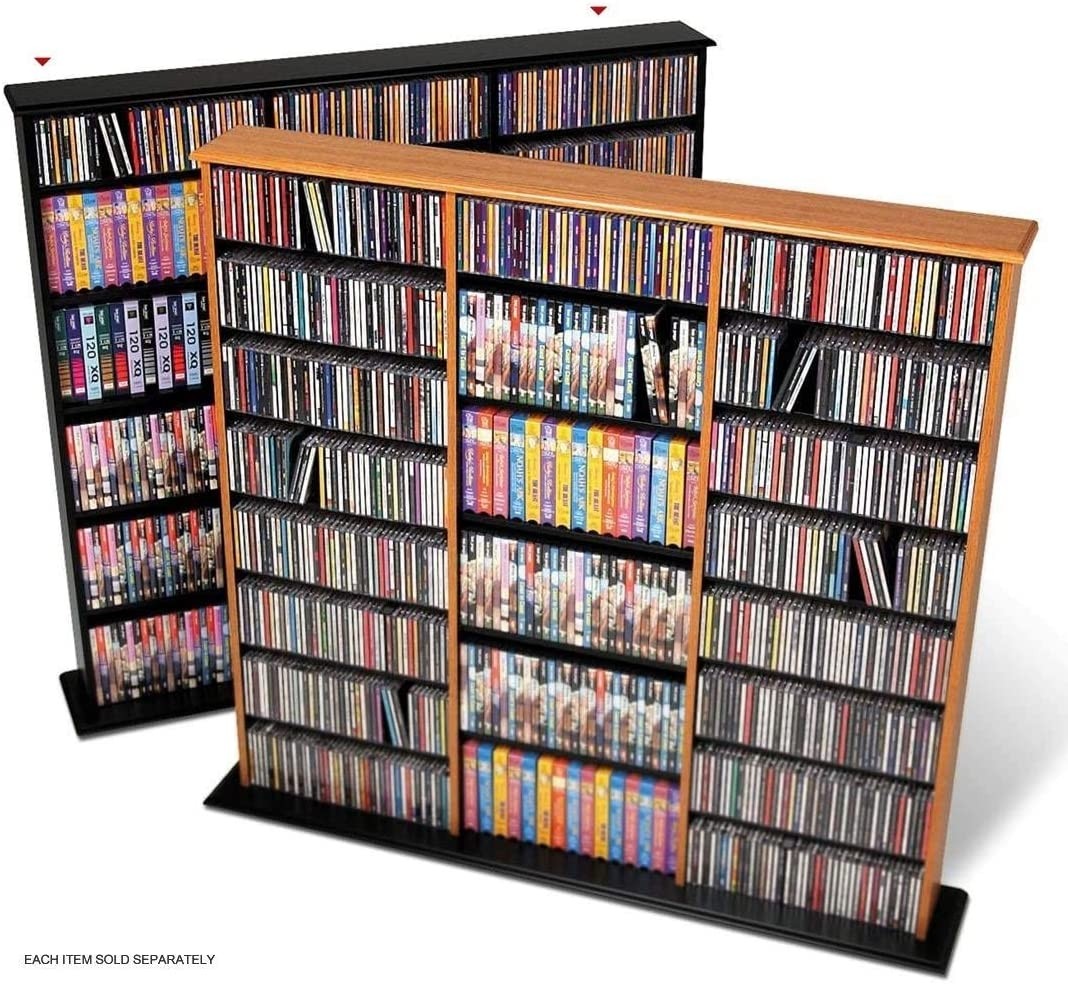 Cool DVD Storage Ideas: Astonishing Dvd Storage Ideas Diy With Elegant Design Of Wooden Racks For Your Entertainment Room Inspirations Also Full Of Various Dvds And Cds Black Along With Natural Items Photos ~ Closet Inspiration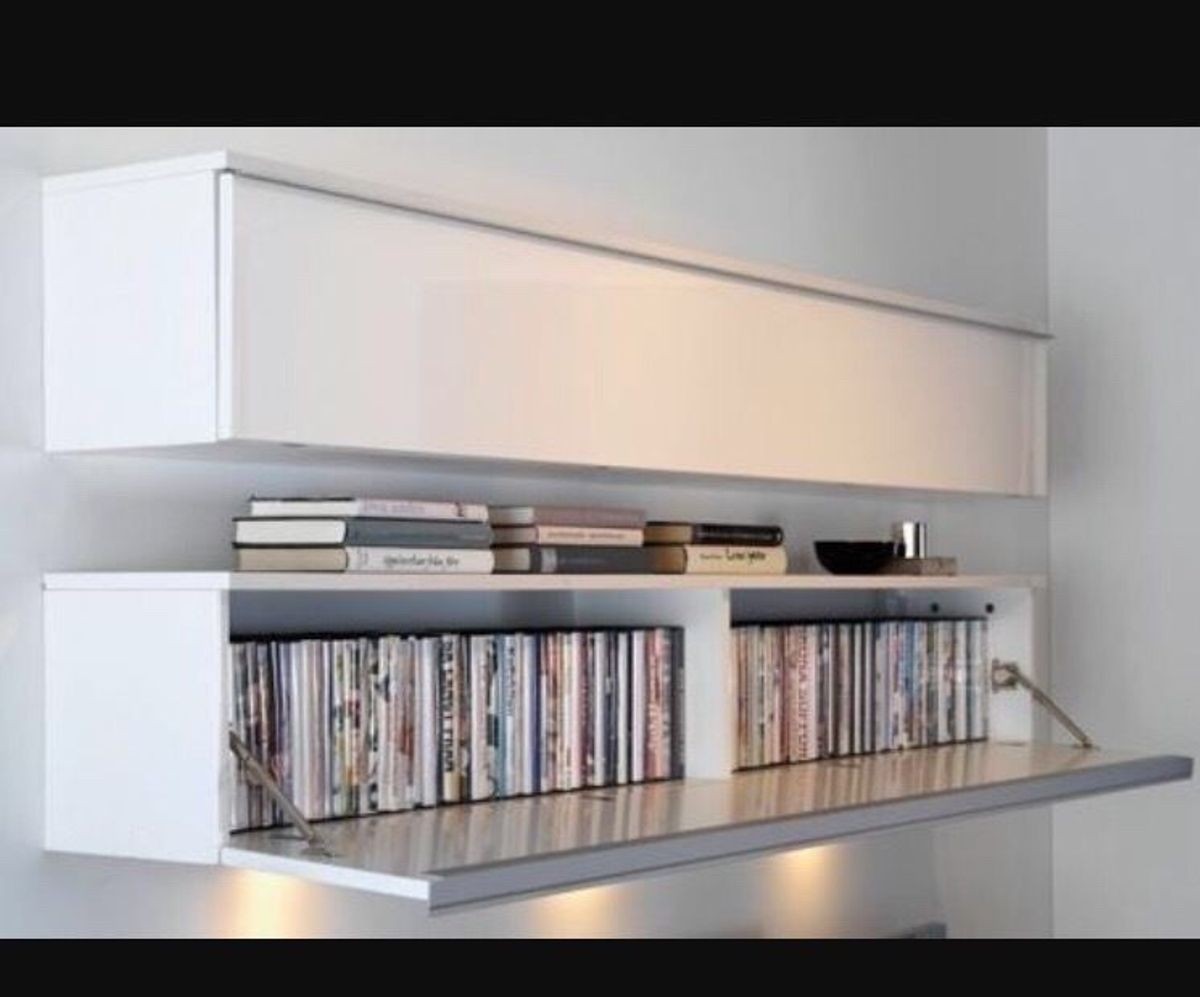 Hide CDs and DVDs in a wall mounted storage unit; from outside, it looks exactly like a floating shelf, but it has drop down door mounted on hinges, so you get plenty of extra space inside. It's sleek white.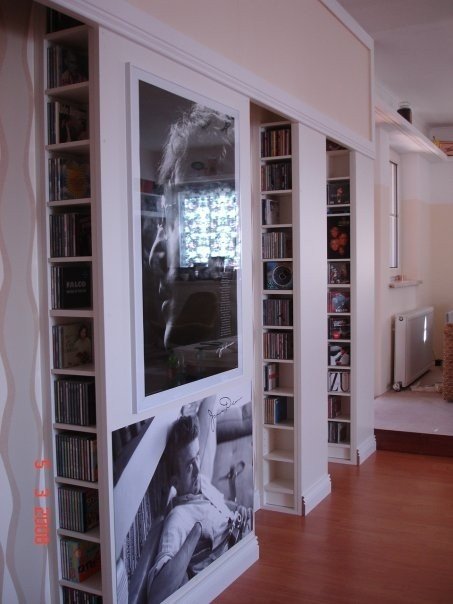 DVD rack in neutral form. Construction is made of wood. Functional accent for each place according to taste and need.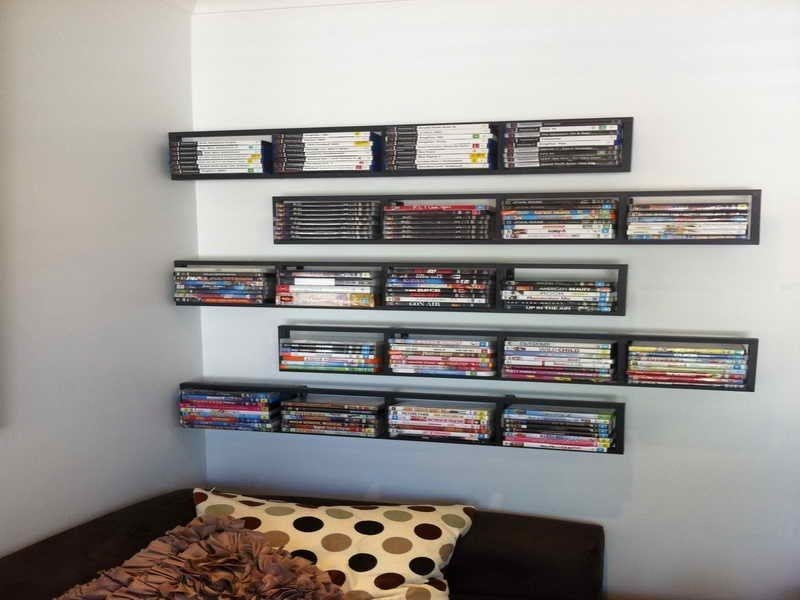 An unexpected solution for the development of DVDs. Not as in a pre-arranged rack, placed vertically, but horizontally arranged on narrow black shelves, with compartments. Which in the amount of 5 wall mounted cd storage are swept asymmetrically on the wall.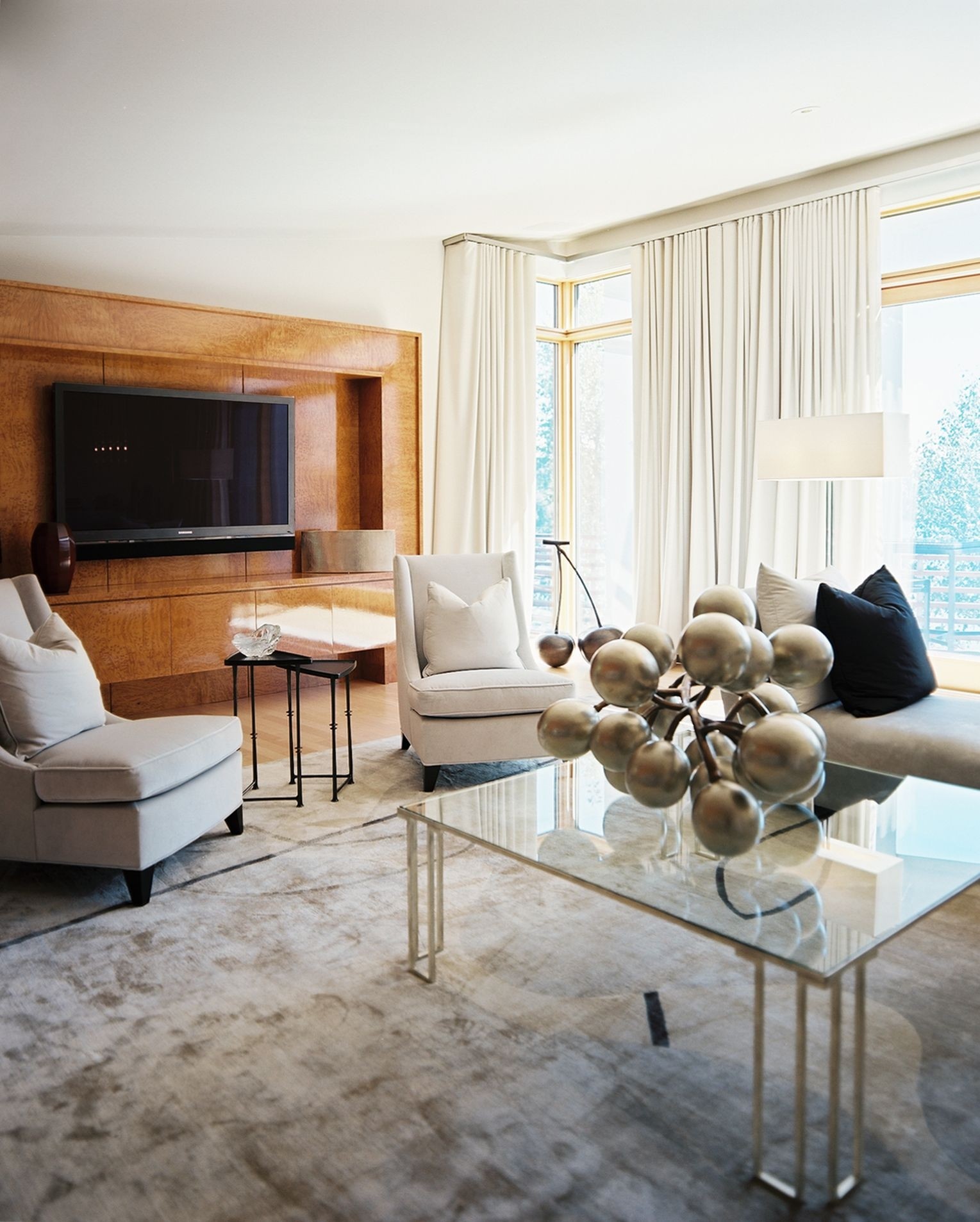 It seems to inspire 50's and 60's in a slightly retro nature thanks to the color of the wood used and the lacquer. But it is a very modern media storage - the wall is covered with closed cabinets and has a recess in the middle - ideal for TV.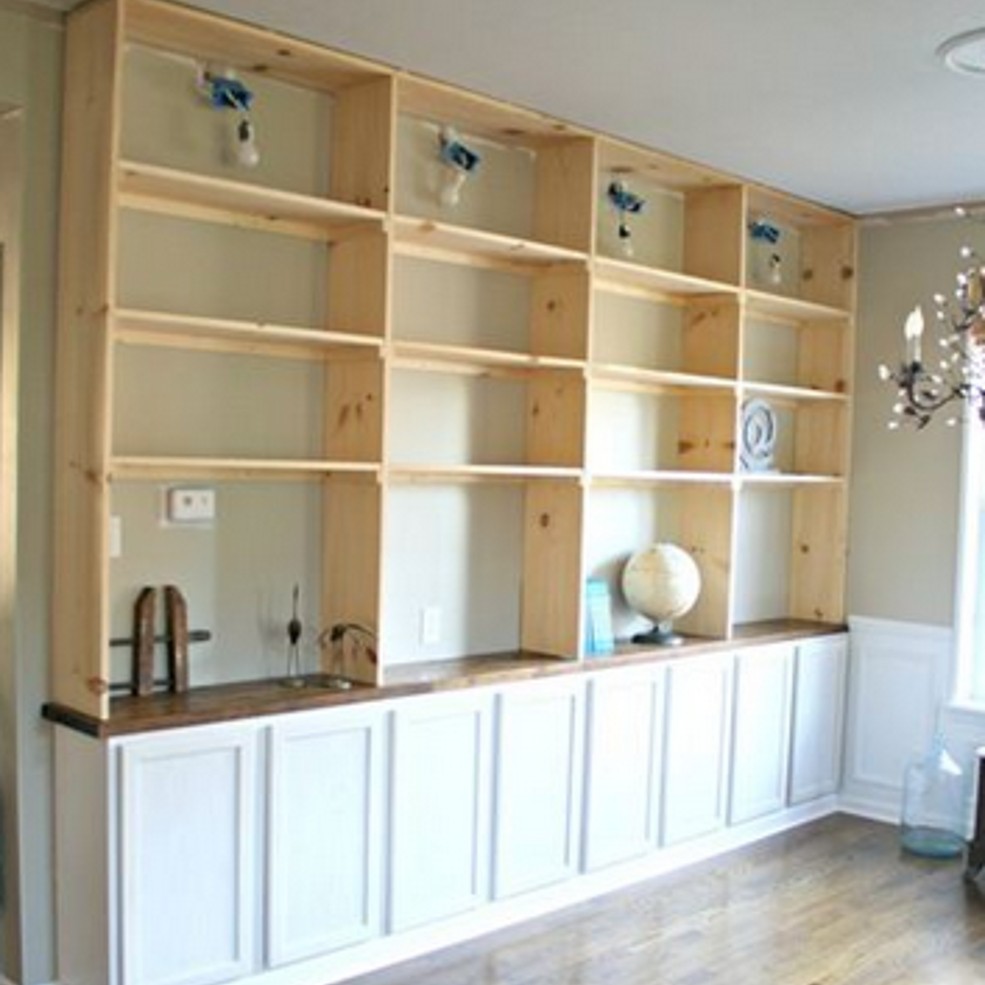 Large DIY built-in bookcase with white panels style base, merged with counter. Running all the way from the floor to the ceiling, using the vertical and horizontal space to maximum. Upper shelves of the bookcase have bulbs lighting.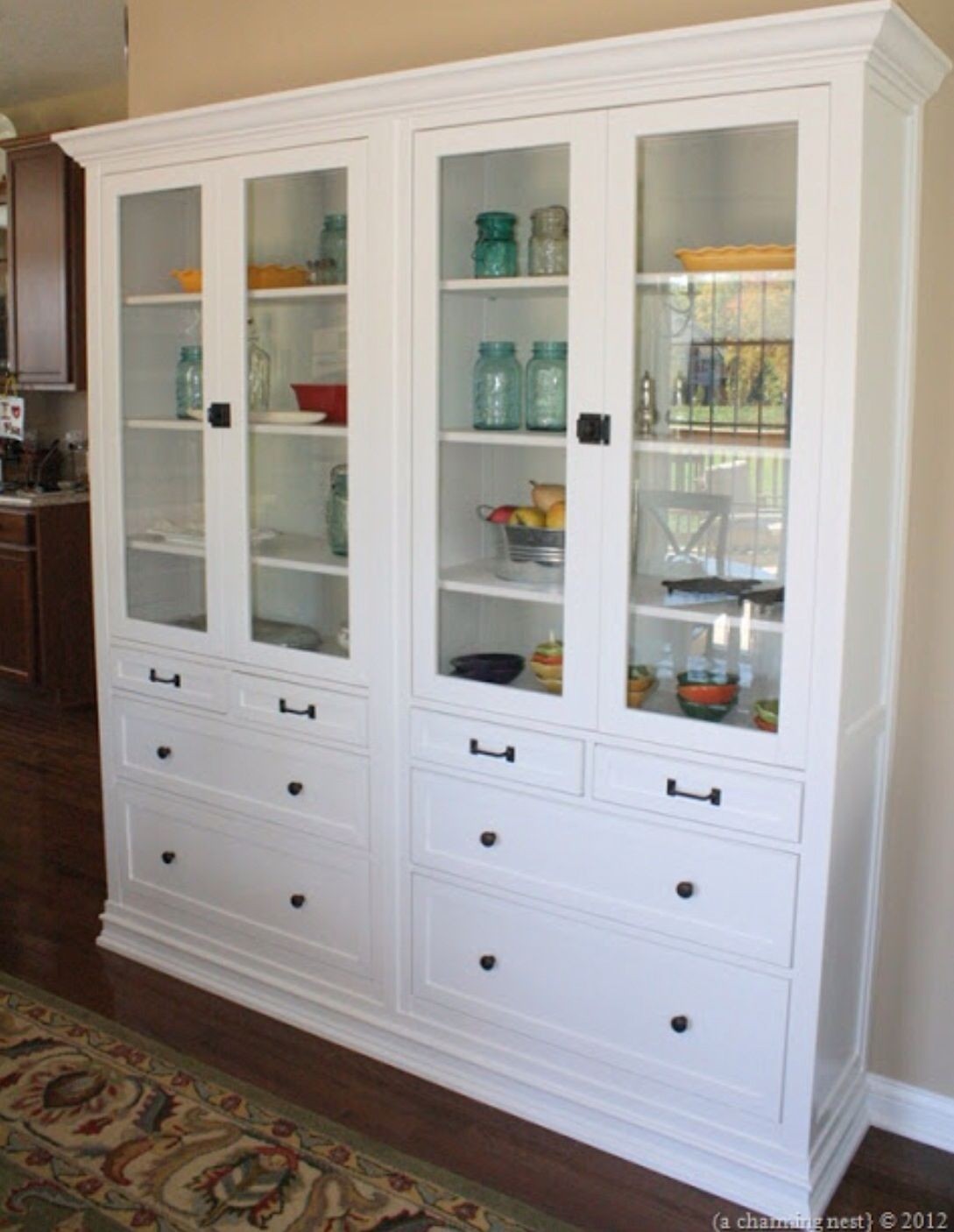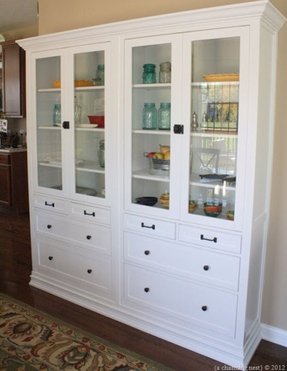 Element of kitchen furniture that serves for storage purposes. This cabinet offers wide storage and display shelves with glass doors. Lower parts include small and large storage drawers. The whole wooden frame is finished in neutral white color.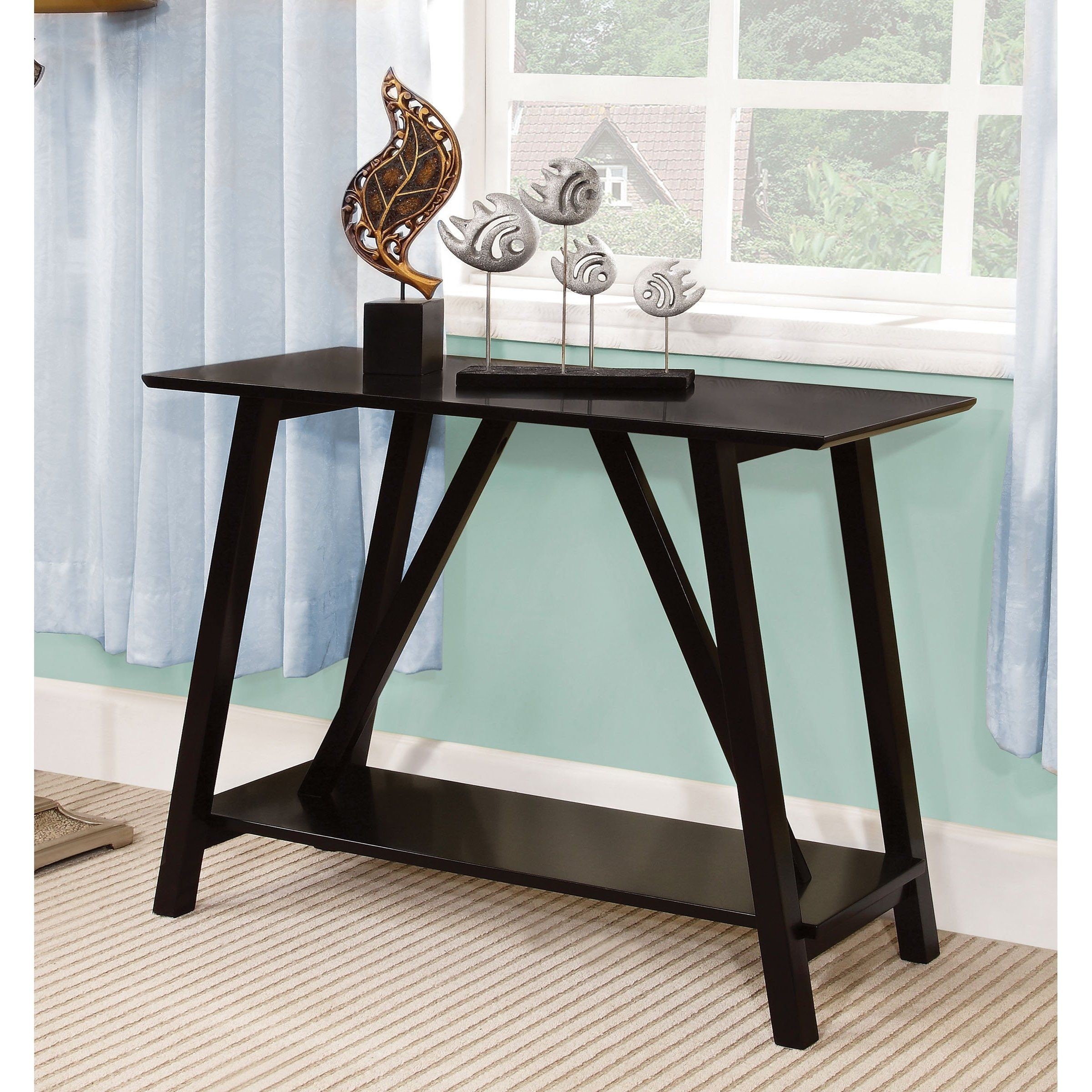 This rectangular console table with shelf is extremely practical yet stylish piece of furniture for the living room.It brings out favorite items. Its design itself is incredibly beautiful.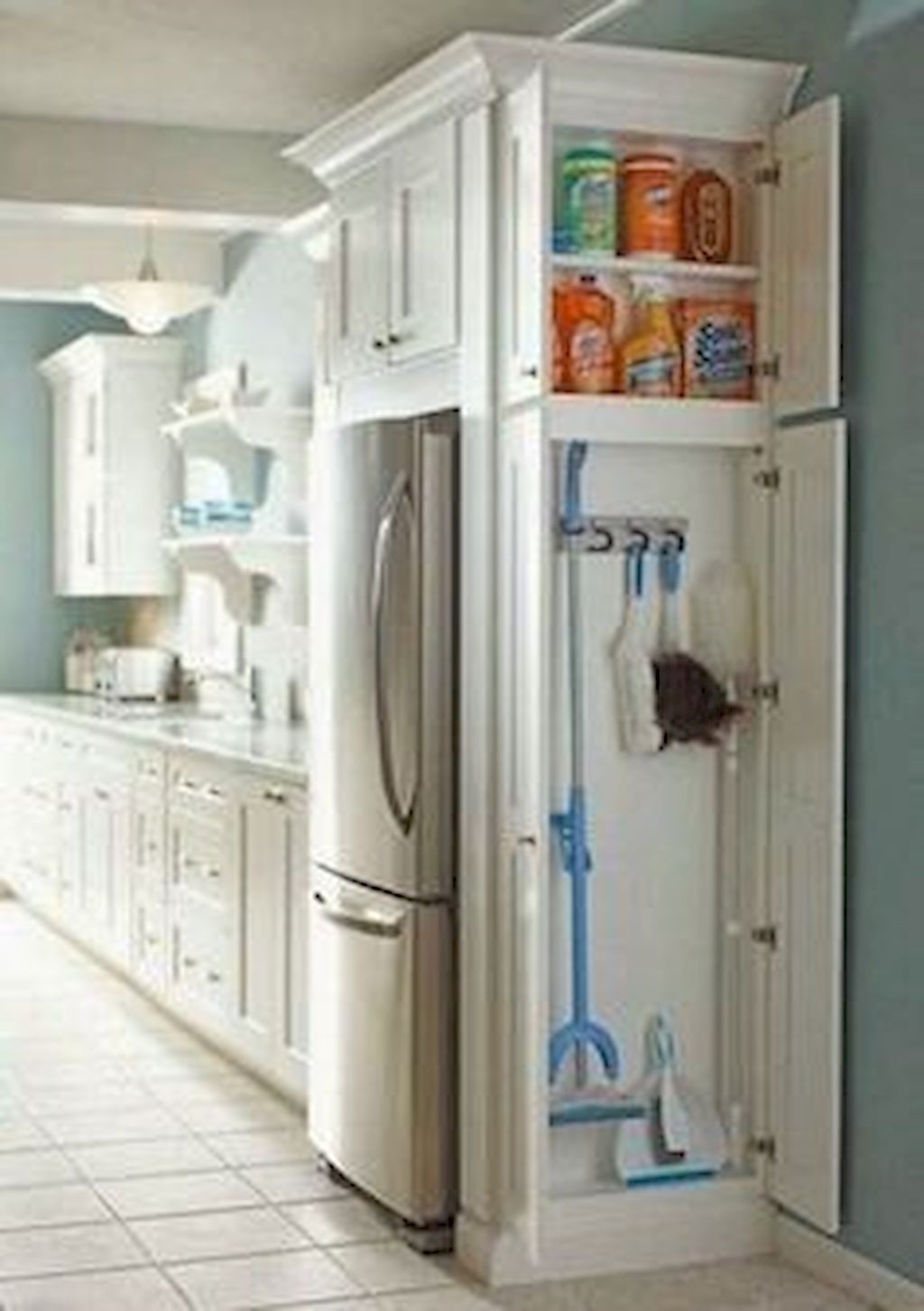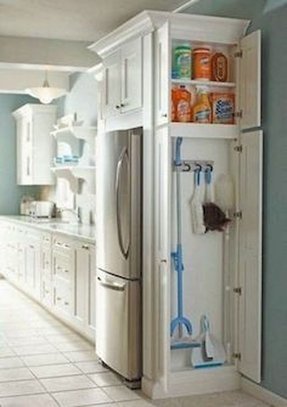 Smart kitchen organization idea: a tall narrow cabinet flanking the refrigerator. Classic crown molding on top. The closabl cabinet with opaque doors hides away brushes, broomsticks and cleaning products.