Bring 1970s back into your life, thanks to this retro stereo rack. The whole structure is made of wood and nicely-polished, including a long open shelf for storing vinyls, and a long top for placing your record player, along with speakers and couple of decorations.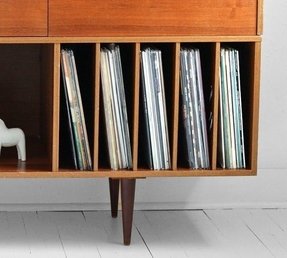 Low profile storage cabinet for your stereo and vinyls. The cabinet comes with several storage compartments, something that makes it easier for you to sort out your collection. It sits atop four tapered legs, each finished in dark walnut for outstanding contrast.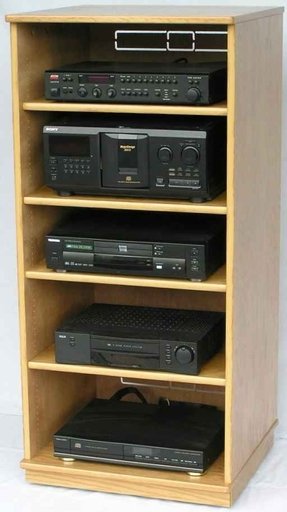 Stereo Cabinet entertainment centers in Black, Natural Oak or Maple ...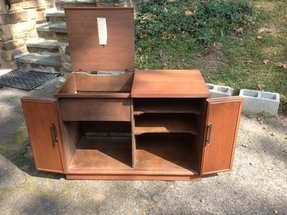 Go for a nice stereo cabinet that provides plenty of storage anywhere it goes and thanks to its neutral and classy looks will ensure an easy and seamless fit with any possible decor, allowing for a perfect combination of style and practical use.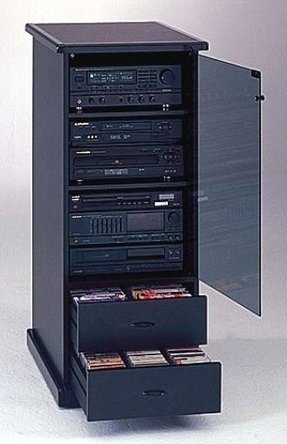 Audio Cabinet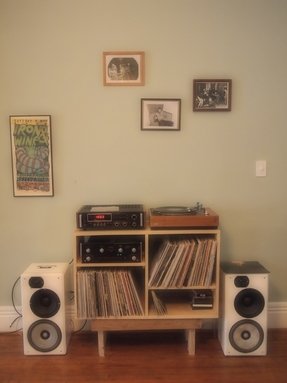 A modest traditional floor stand for audio equipment, LPs and CDs. It is made of wooden materials with a light brown finish. It has a rectangular top, a base with recessed straight square legs and an apron, 4 alternate open shelves in 2 sizes.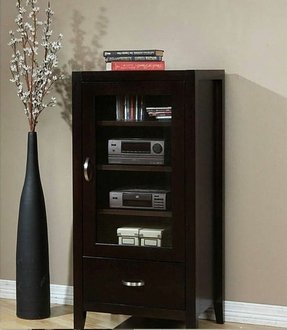 Axium Audio Cabinet
This wooden piece of furniture features the highest level of solidity and attractive appearance. It is made of rubberwood and has got three fully adjustable shelves. The product is 46.5 inches high x 18.5 inches deep x 22.2 inches wide.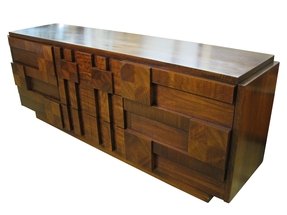 Mid Century Modern Credenza Buffet brutalist credenza by GreStuff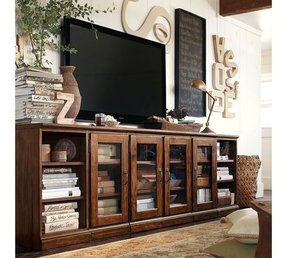 Terra Cotta Floral Rug Red
Hih solidity and a stylish look - these are the biggest advantages of this TV stand. It is equipped with 6 storage compartments (4 of them are equipped with glass doors). This product connects the decorative and functional features.
Solid Walnut Record Cabinet Handmade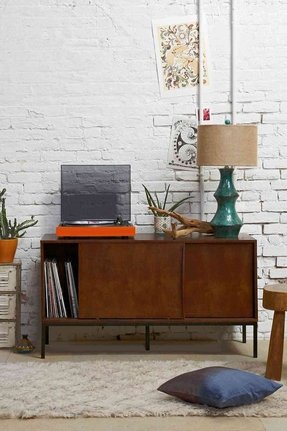 A functional console table for storing your vinyl collection and displaying your old-fashioned record player. Made of wood in a walnut finish, it offers a capacious storage concealed by sliding doors, while standing on durable metal legs.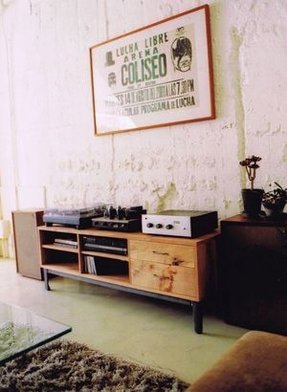 It's time to take your living room back to the 1970's with this classic, old-fashioned audio cabinet. Its wood construction and oak finish offer 2 drawers for storing your DVDs, and 4 open shelves for your electronic devices.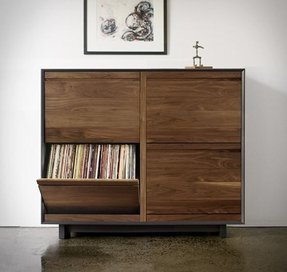 AERO LPC-400 LP Storage Cabinet & Symbol Audio LP Storage Cabinet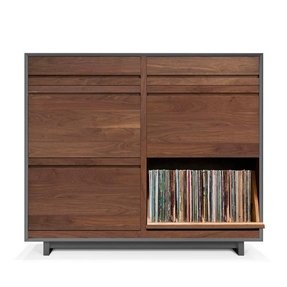 LP Storage Cabinet 402 & Symbol Audio LP Storage Cabinet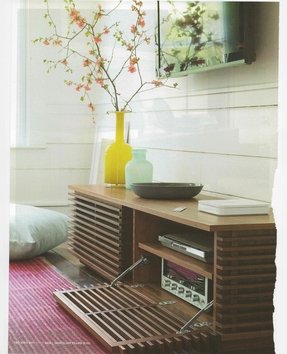 Ideally corresponding to the modern surroundings, this wooden cabinet will add a smooth, vintage character to the space. Its two-tiered construction will add enough storage space for one's multimedia sets.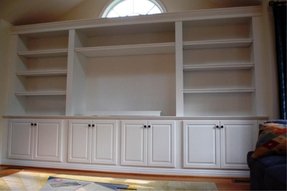 An aesthetic traditional wall-size media centre of white finished wooden materials. It has a crown top and a full grooved base. Open front shelves surround a TV-set niche on sides and over it. Shelved cabinets have 2 doors each with black knobs.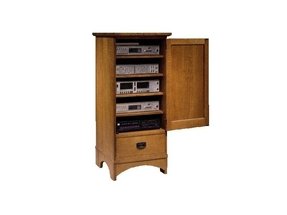 Mission audio storage cabinet Stickley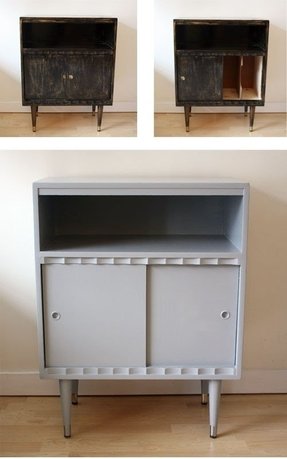 record_cabinet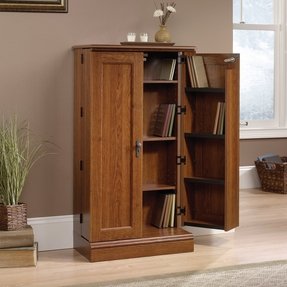 Video Games

This cabinet provides storage space for different items thanks to its open shelves of different size. It also includes two storage compartments hidden behind solid doors in its lower area. The whole wooden construction is resistant to wear and damage.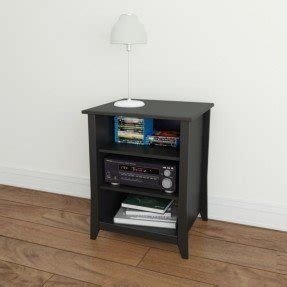 Stereo Cabinet
Clean structural design of this compact cabinet ensures durability and provides useful storage space. Four chamfered feet comprise a well-balanced base. Three shelves allow to accomodate books and media components, while the top may serve as a display space.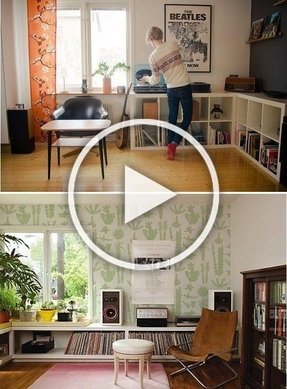 Music fans that want to show off their impressing collection of vinyl records should undoubtedly consider having a spacious stereo storage cabinet in their surrounding. Vinyls, of course, are at home in vintage style interior.
Record Player Console
A sturdy and fashionable stereo cabinet for living rooms, bachelor pads, and guest rooms. Its hardwood construction and oak finish make the whole long-lasting and stylish; offering 2 open shelves - one for vinyls and the other for your record player.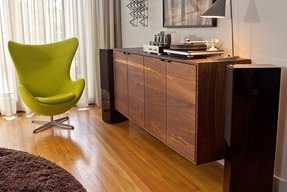 Merging contemporary elegance with strong mid-century inspirations, this lounge area corner is style & fun. Turntable console & floating vinyl record cabinet gains personality with appropriate accesories.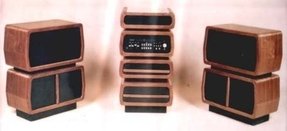 Stereo cabinet (1975) 22 x 20 x 40 kerf bent walnut plywood.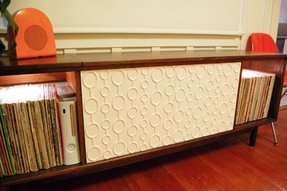 How To: Make Your Own Record Collection Storage Unit… …All for Under $100 | Apartment Therapy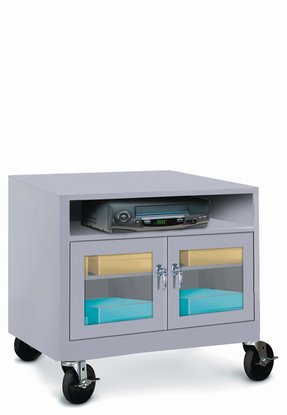 In the office in the company or in the house-storage cabinet moving along with our overworked work pace, such as this low square cabinet,with frosted glass on the fronts and gray veneer, is of extraordinary value.It has strong casters in black and one shelf.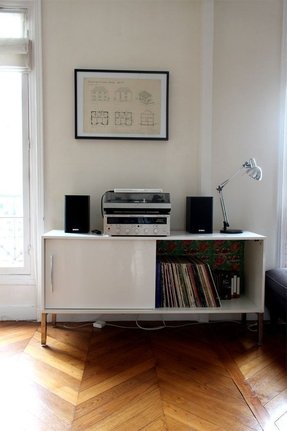 This element of furniture provides some storage space in its compartment with sliding doors. Its traditional construction includes white top and walls. This cabinet stands on four stable and solid wooden legs.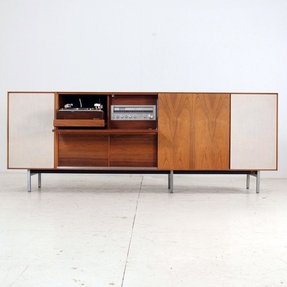 1960s George Nelson Thin Line Stereo Cabinet | USA Stereo cabinet from the thinline series by George Nelson in rosewood. Two audio boxes on the outside. Inside ful catered Awai tuner and tapedeck and pick up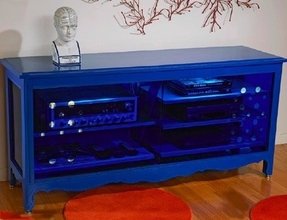 Stereo cabinet for living room and others interiors as needed. Frame is made of wood and fitted with sliding glass doors. Great solution for each home.
DIY Shoe cabinet from Ikea? Totally doing this. Today.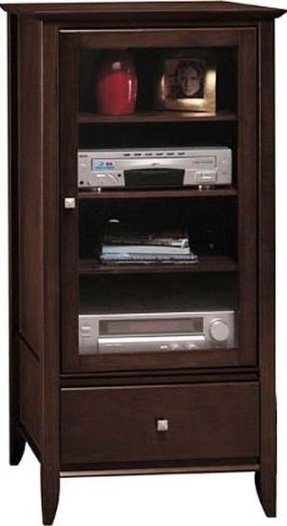 Bush AD05840-03 Audio Cabinet, Sonoma Collection, Mocha Cherry Veneer ...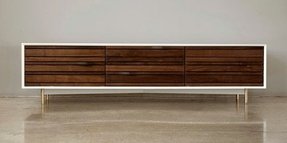 From RAAD studios.Part mid-century, part futuristic, all rock 'n' roll. A high-end stereo system is incorporated into this living room piece — a solution to all of those ugly stereos and speakers. Hand-carved, oiled walnut doors conceal electronic equip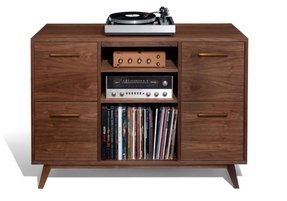 Open/Close Series. Lots of the new cabinets have drawers instead of shelves. Interesting.