Our Choice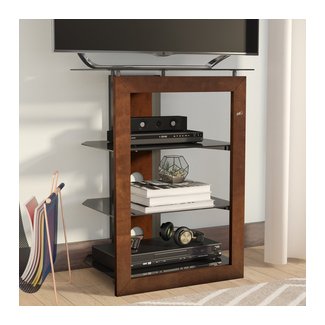 Wood Audio Rack
Inject a little retro style into your entertaining area with this mid-century modern audio rack. Handcrafted from solid wood with luxurious walnut veneers, this gorgeous and functional rack features a two-tiered design with round tapered legs and a wire slots on the center shelf for storing your favorite vinyl records. The smooth tabletop has a 100 lb. weight capacity to support a vintage record player or your latest sound system.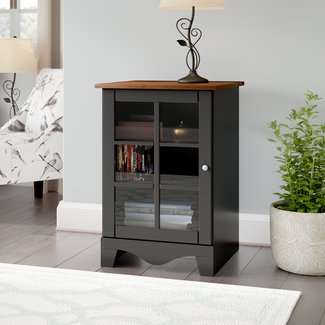 Kew Gardens 1 Door Audio Tower
Keep all your multimedia items within easy reach with this transitional style audio cabinet. The manufactured wood frame is covered in stylish, low-maintenance laminate and features elegant crown moldings on the tabletop and a curved apron kickplate. The glass door has windowpane overlays that allow you to display your multimedia collection and your favorite curios, while three adjustable shelves offer ample space for storing digital players.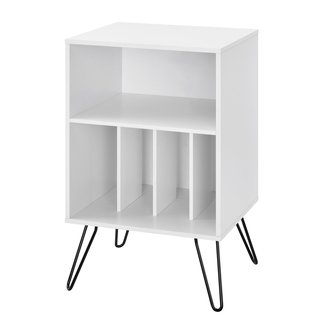 Concord Audio Rack
Combining mid-century and industrial styles to perfection, this sleek and stylish audio rack is a wonderful addition to your modern home. The smooth 21" tabletop is ideally suited for a retro turntable, while a bottom cubby features 3 dividers for storing your classic vinyl collection. Black hairpin legs made from powder-coated metal support the rack, and a spacious upper shelf provides storage for books, CDs, or accessories.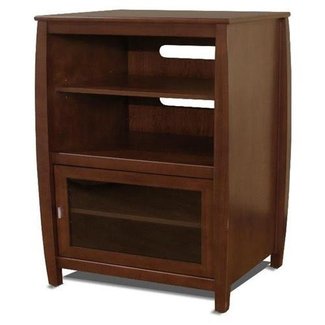 Glass Audio Rack
Designed for film buffs and music lovers, this sleek and minimal glass audio rack is the ideal solution for storing and organizing your extensive collection. Supported by 4 powder-coated hollow steel legs, this rack features tempered safety glass shelves that are fully adjustable or can be left off to suit the size and shape of your sound system and multimedia items. The clear glass shelves add a bright, airy feel to your entertainment area and is an excellent addition to a modern, urban or contemporary home.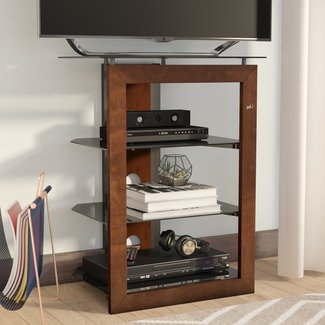 Modern & Contemporary Wood Audio Rack
This audio rack strikes the right balance between form and function and is an excellent choice for a modern or contemporary style living area. The sleek wood and glass design perfectly complements your audiovisual equipment, while the compact dimensions make it a space-saving storage solution for small homes. The tempered glass shelves can support up to 4 digital players, and the rack features a cable management system in the back to hide unsightly cords and wires to keep your living room free from clutter.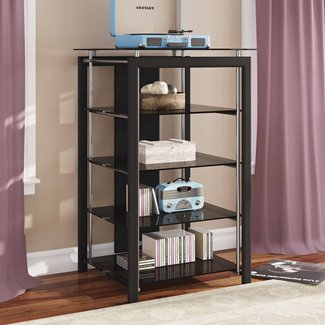 Jacobi Audio Rack
Glass, brushed metal and chrome accents combine to give you an audio storage system that epitomizes contemporary style. The 41" tower has an open design with 5 adjustable shelves. Each black tinted tempered glass shelf has a 50 lb. weight capacity, which means they can easily support any type of audiovisual player as well as store an extensive collection of CDs and DVDs. A rear-panel secures and conceals cables to keep your audio rack sleek and organized. The entire structure rests on vibration dampening pads to improve the sound quality of your audio system.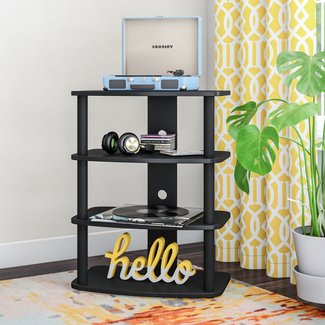 Pottsville Audio / Video Rack
Simple and streamlined, this contemporary wood and metal audio rack blends beautifully with any style home and allows you to customize your multimedia storage to suit your needs. The open design is supported by heavy-gauge 1½" steel posts and provides ample ventilation to prolong the life of your audiovisual equipment. Four black oak shelves feature a high gloss finish, a subtle curved design, and support up to 60 lbs. each. Ideal for gamers or audiophiles, this rack has a cable management system to secure all the wires and cords from your equipment safely.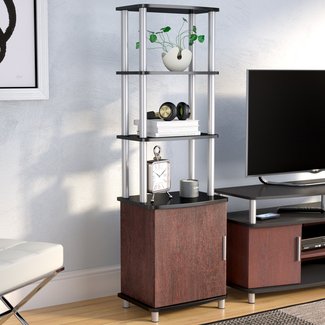 Elian Audio Rack
Combining multiple storage options in a single stylish design, this audio rack is the perfect complement to your TV stand and offers ample space for CDs, DVDs, and vinyl. The 55" system features a manufactured wood cabinet as the base which has a fixed and an adjustable shelf for storing sensitive items. The open shelf system above has 4 wooden shelves with a 10 lb. weight capacity ideal for housing audio players and speakers. This piece will look great in traditional, modern, and industrial homes.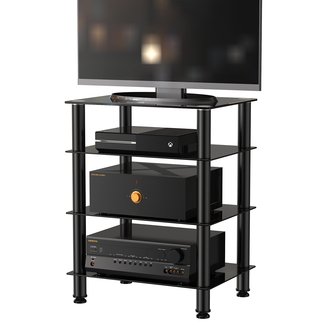 Modular Racks
Use as a stand-alone display case or incorporate it into your entertainment unit, this metal and glass audio rack is a versatile piece of furniture that is a worthwhile addition to any home. Constructed from powder-coated steel and black tinted tempered glass, this rack is a stylish contemporary piece that showcases your audio collection. Each leg features a height-adjustable floor leveler to create a stable and secure base for your storage no matter the surface. Quick and easy to assemble, this audio rack comes with simple step-by-step instructions so you can enjoy an uncluttered, organized entertainment area.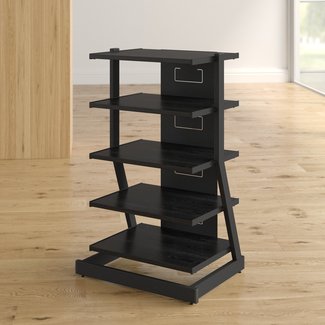 Audio Rack
Ideal for a modern or urban industrial home, this minimal audio rack crafted from heavy-gauge steel and glossy high-density plastic for a low-maintenance piece that is big on style. Featuring a 5-tiered design with removable shelves, you can customize the storage to suit your needs. The rear-panel has a cable management system for an uncluttered display, and the base features floor levelers that both stabilize the structure and protect your floor.