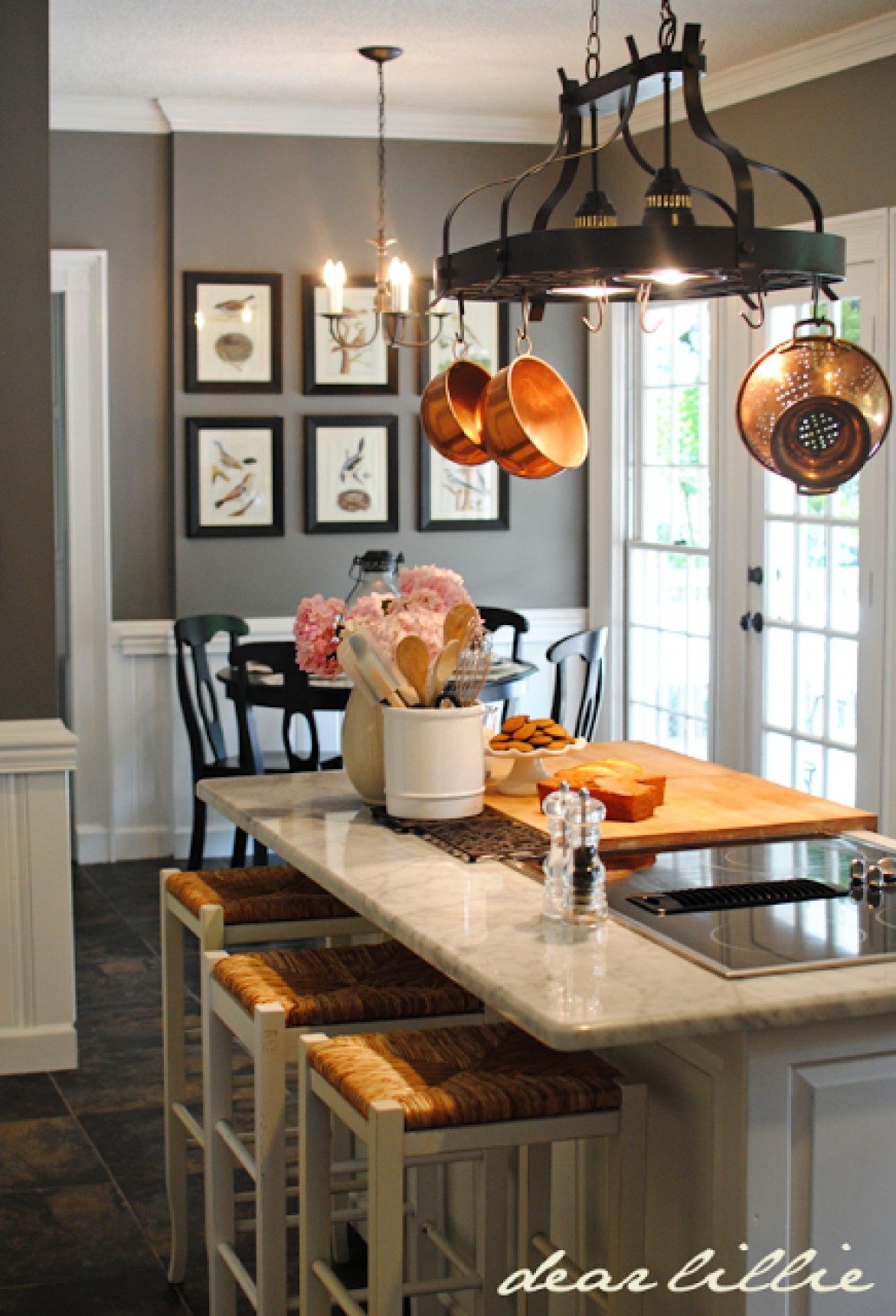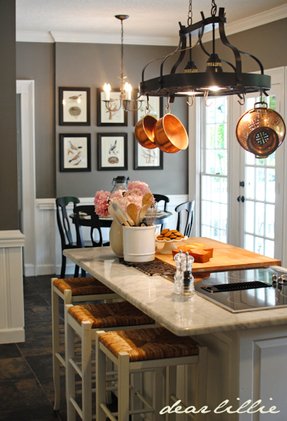 Bring industrial flair into your contemporary kitchen with this practical and durable pot rack that is suspended from a ceiling. Crafted of powder-coated iron, the rack is stylishly curved, and equipped with a built-in lighting system and a bunch of metal hooks.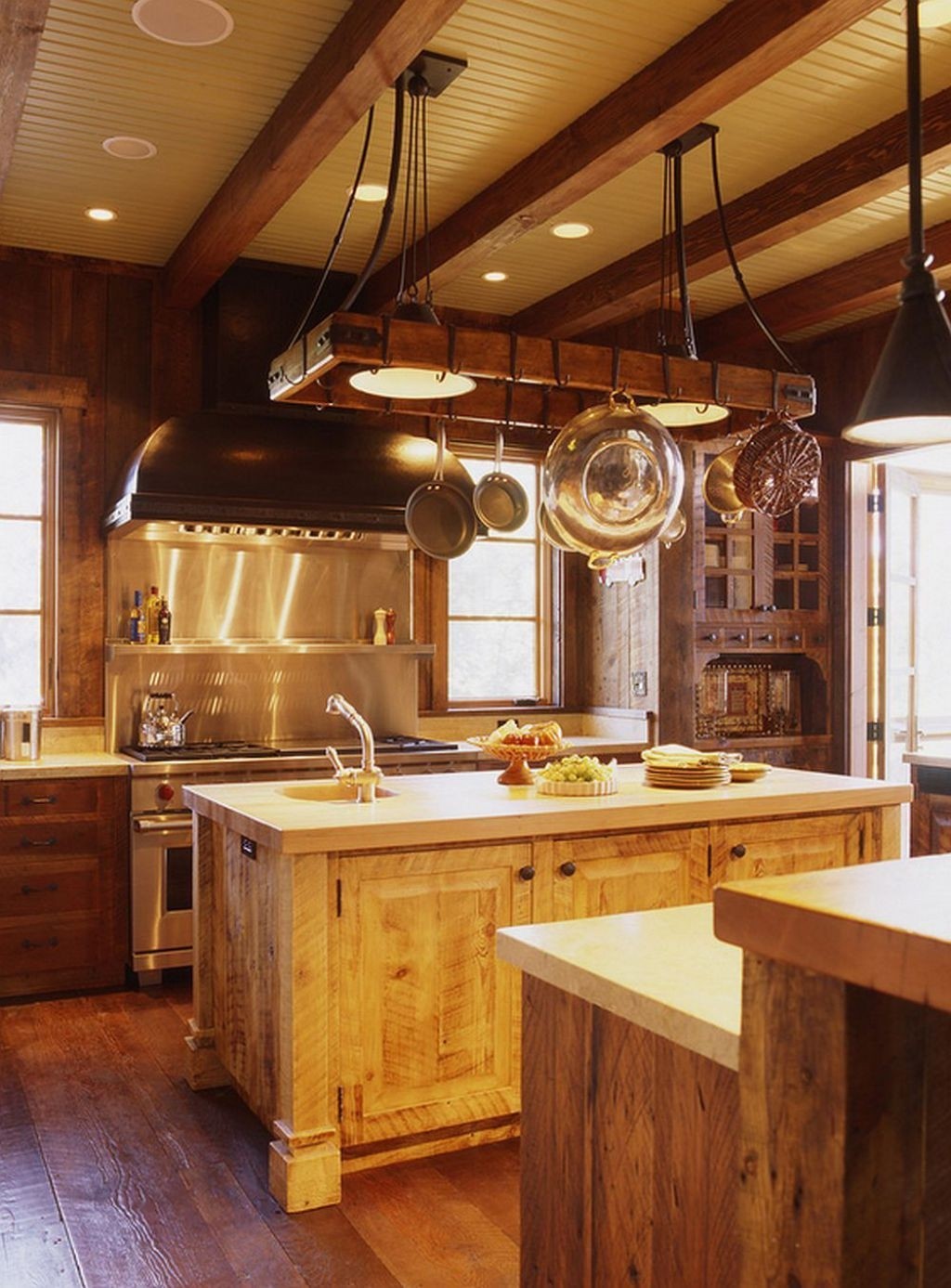 Increadibly cozy and old-fashion loft style wooden kitchen with modern accents. We are in love with the warmth of this interior design. Modern style coocker and lights ideally complement this cozy interior.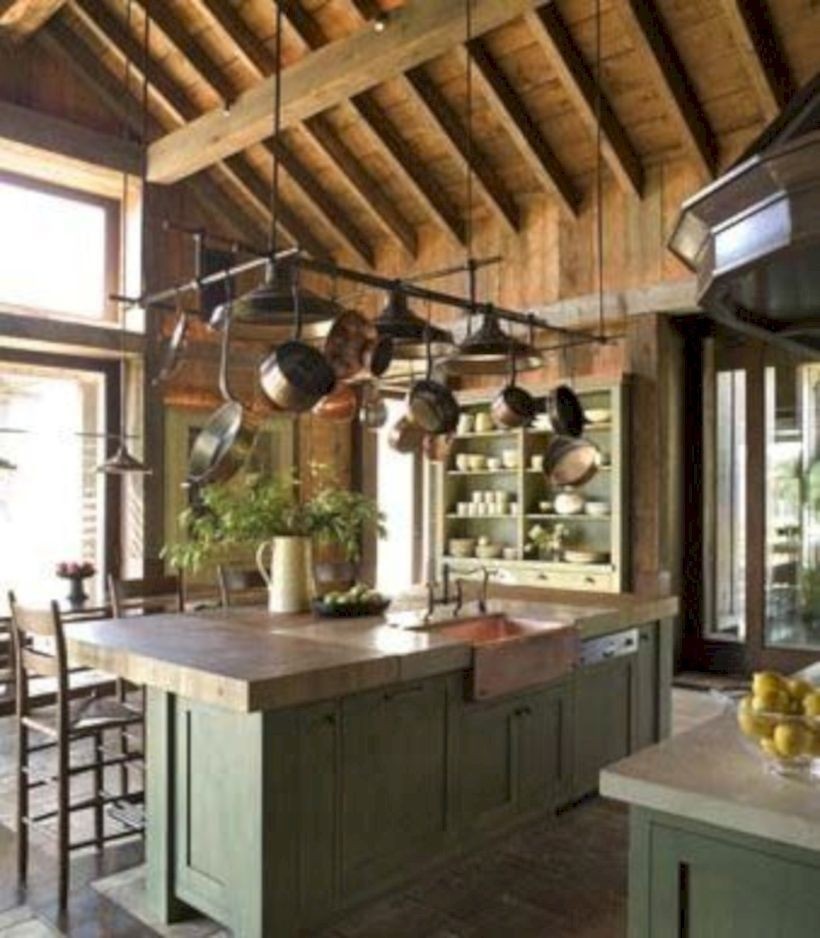 Why is it that having a pot rack over an island automatically makes you a cuisine chef?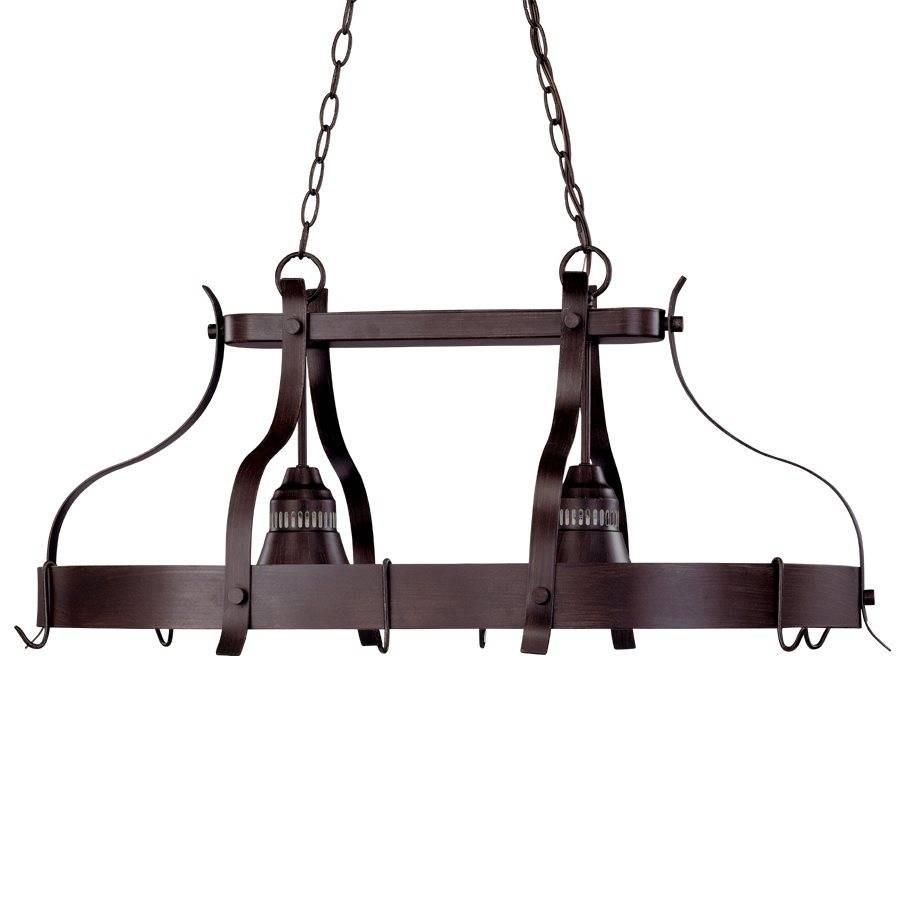 This hardwired antique bronze pot rack chandelier can be a great way to add some character to your kitchen or dining area. With plenty of chain for very high ceilings and simple, quick assembly it constitutes an interesting proposition for all customers.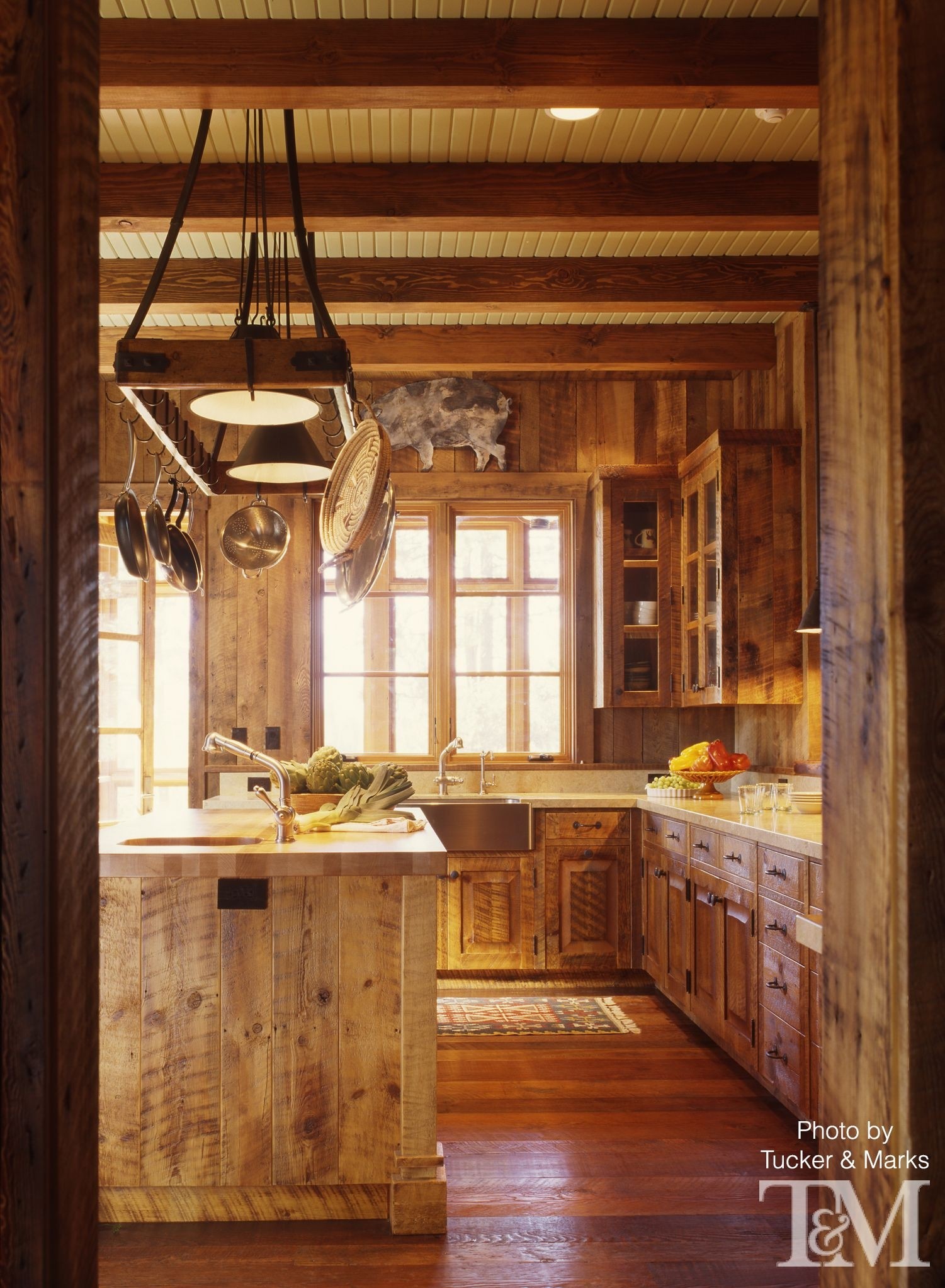 In this photo, we can see a kitchen in a rustic style. Wooden kitchen island and pot rack lighting slacking by the ceiling look astonishing. The second fiddle plays the wooden floor and this combination is worth remark.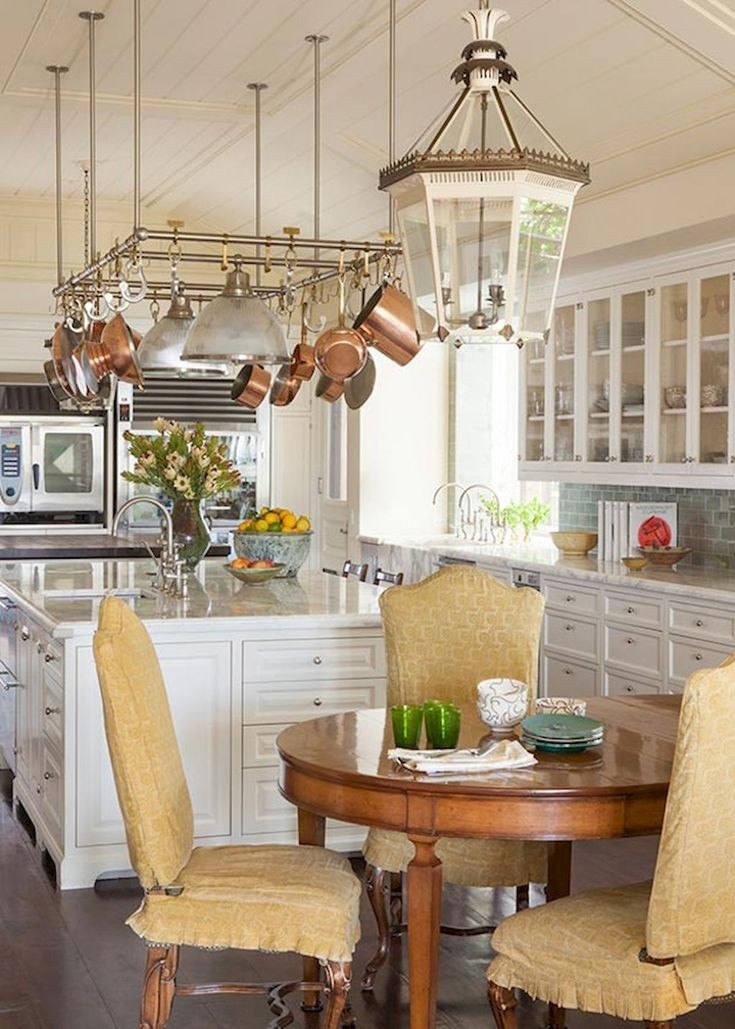 Every kitchen lover dreams of a spacious kitchen island,with a sink,marble countertops and a white wooden finish.And copper hanging pot rack above.Next to it may be an alder table.The chairs with interesting covers made of an yellowish fabric,hand-embroidered.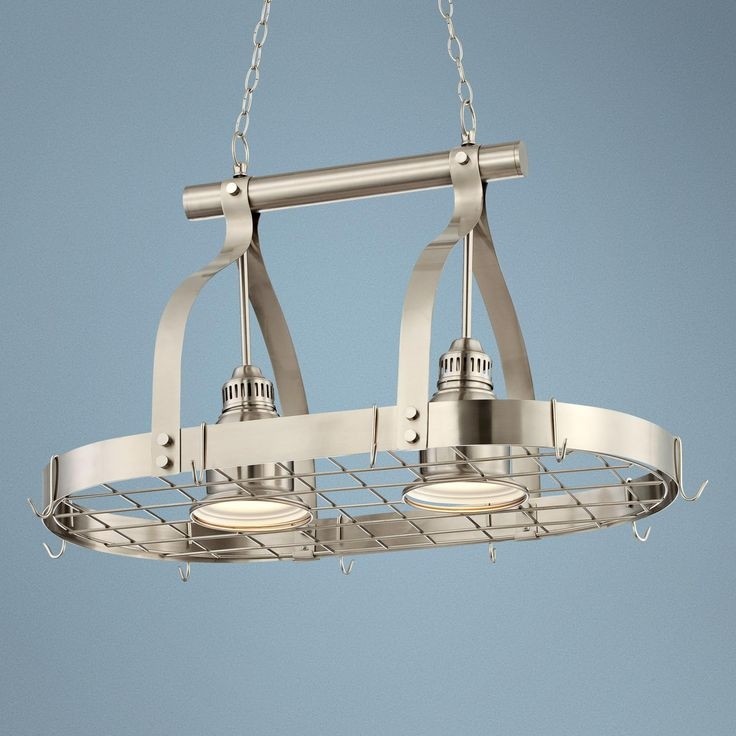 Check out other gallery of Kitchen Pot Racks With Lights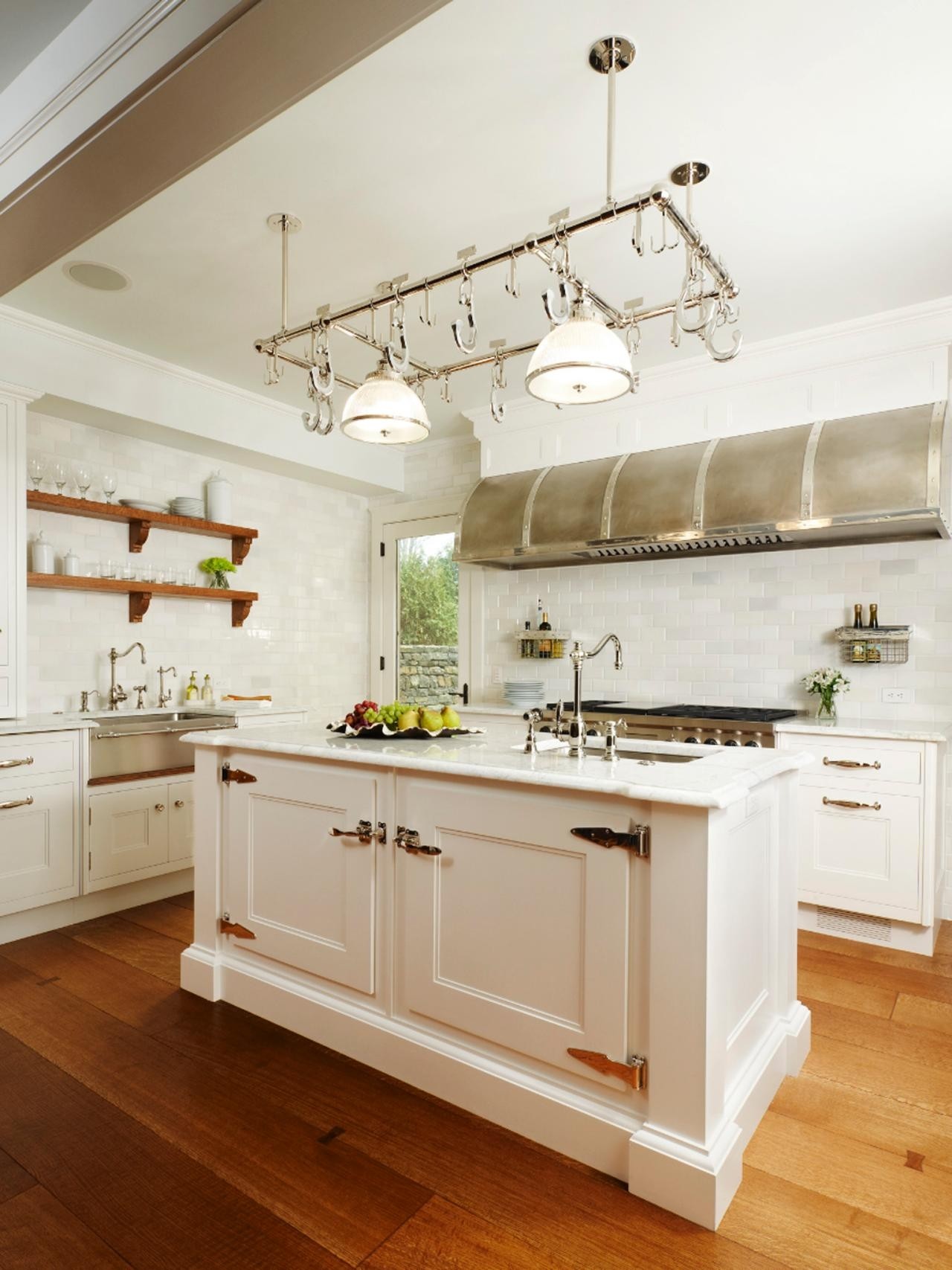 Kitchen. White Kitchen with pot rack. Pot Rack is from Ann-Morris Inc. #Kitchen #PotRack #KitchenDesgn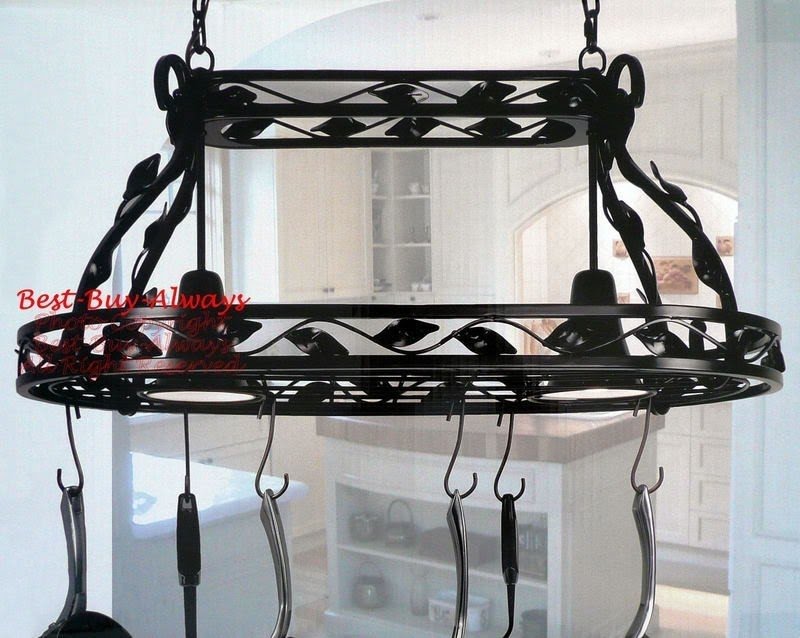 Country Kitchen Lighted Hanging Pot Rack Island Light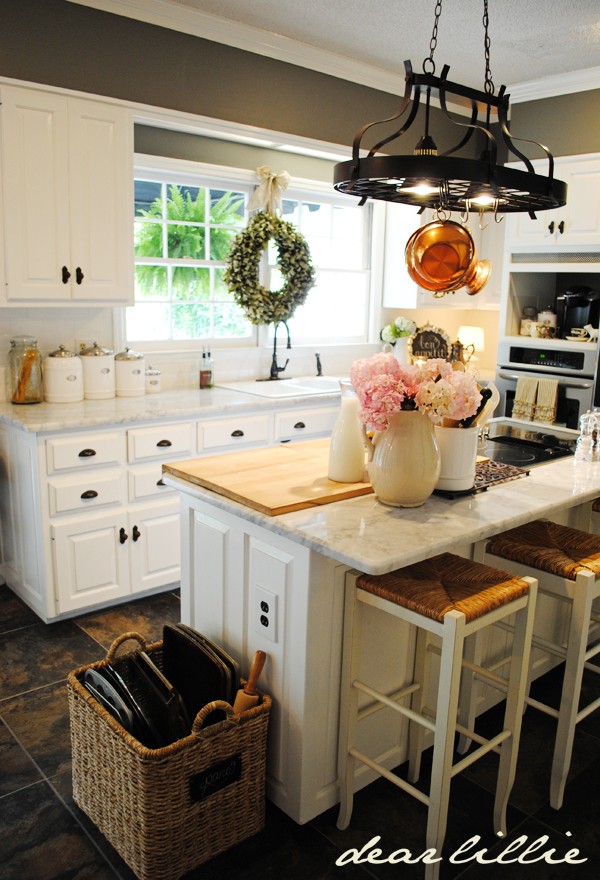 A wonderful kitchen set that features white shelves and drawers with beautiful, marble countertops. What makes a real character of the kitchen are the accessories such as a solid lamp above the island, a decorative wreath or a cute basket.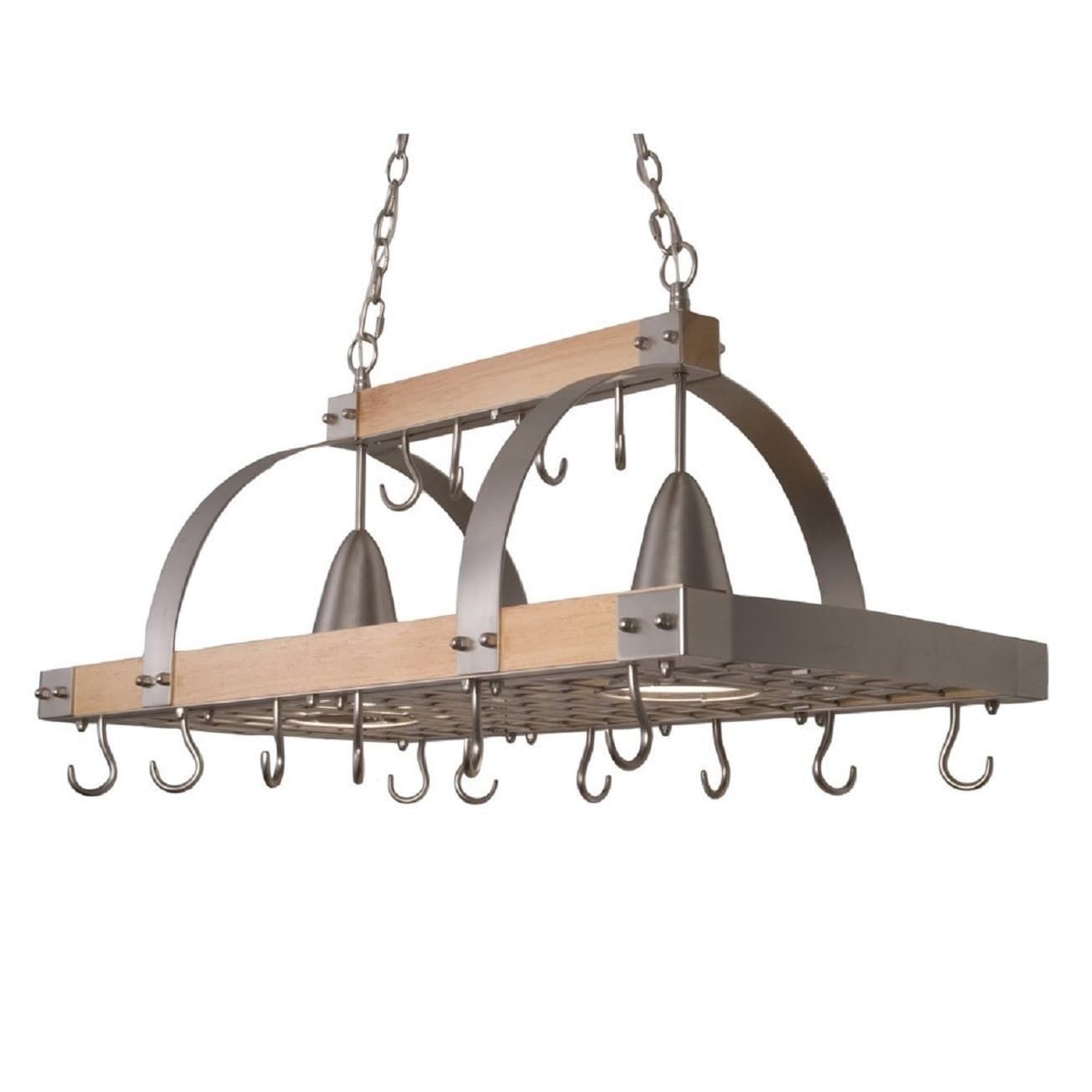 I really like pendant lights over an island and this combination pot rack is a neat idea.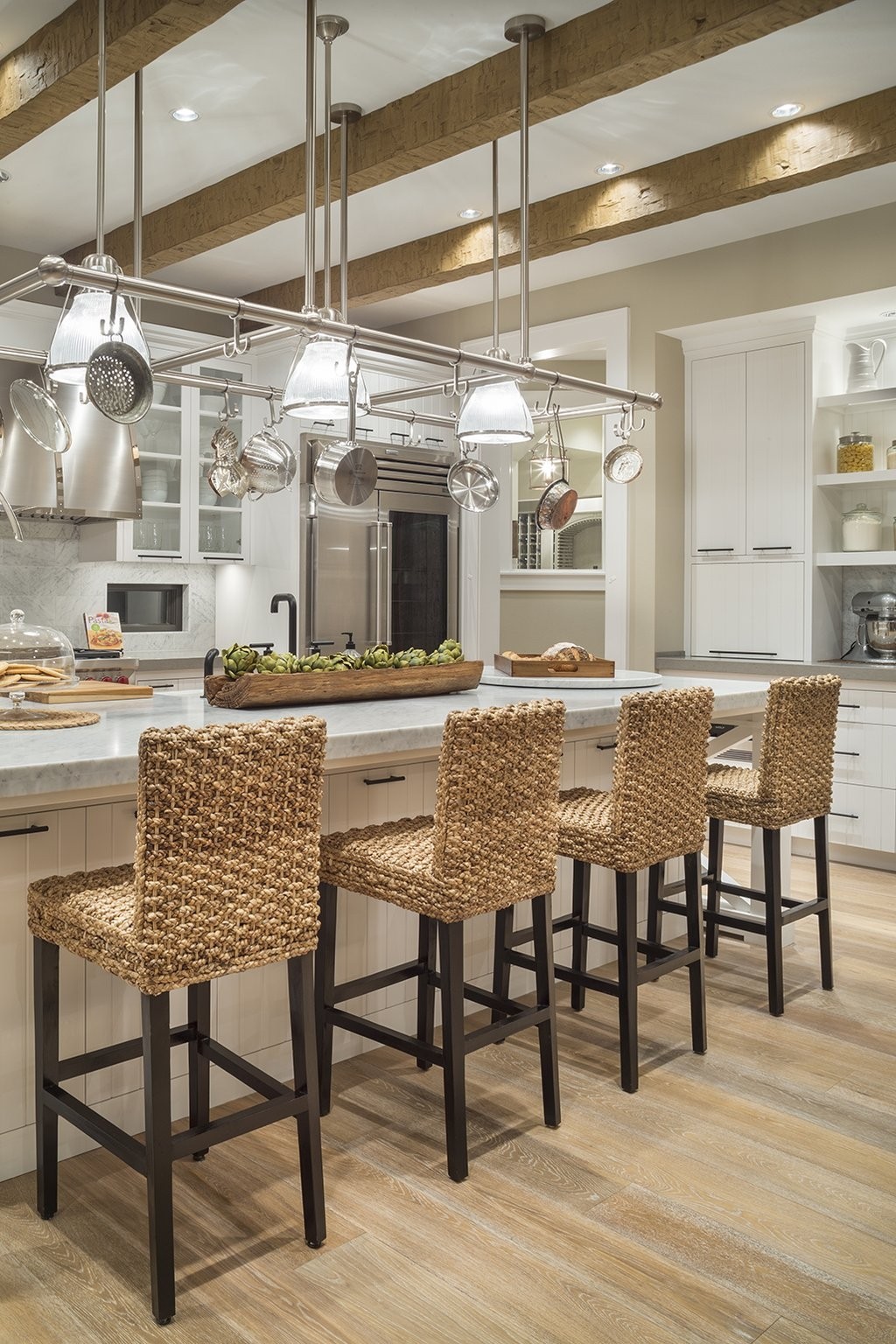 Nice-looking contemporary kitchen stools with tall wooden frames finished in dark brown. A stool has straight angular legs, simple footrests and stretchers. A square seat and a medium-height backrest are woven of natural fibres in light brown hues.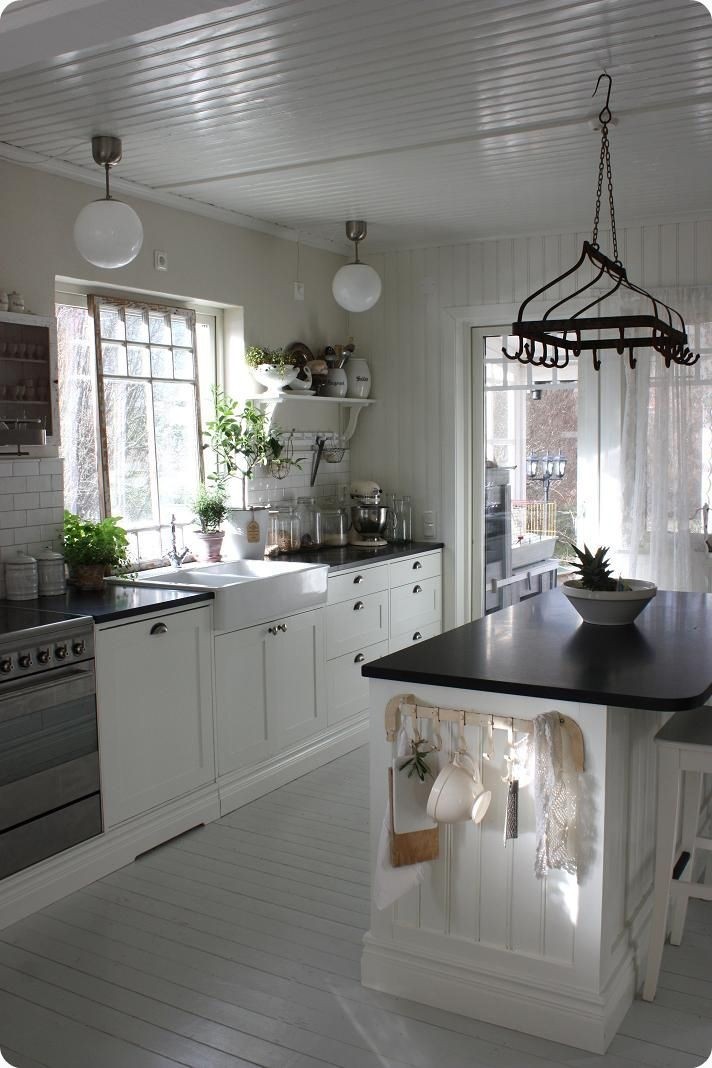 An astonishing and chic kitchen! It features white furniture with black countertops, which creates a nice contrast. This kitchen has a slightly rustic style due to a lighting fixture that looks like a pot rack.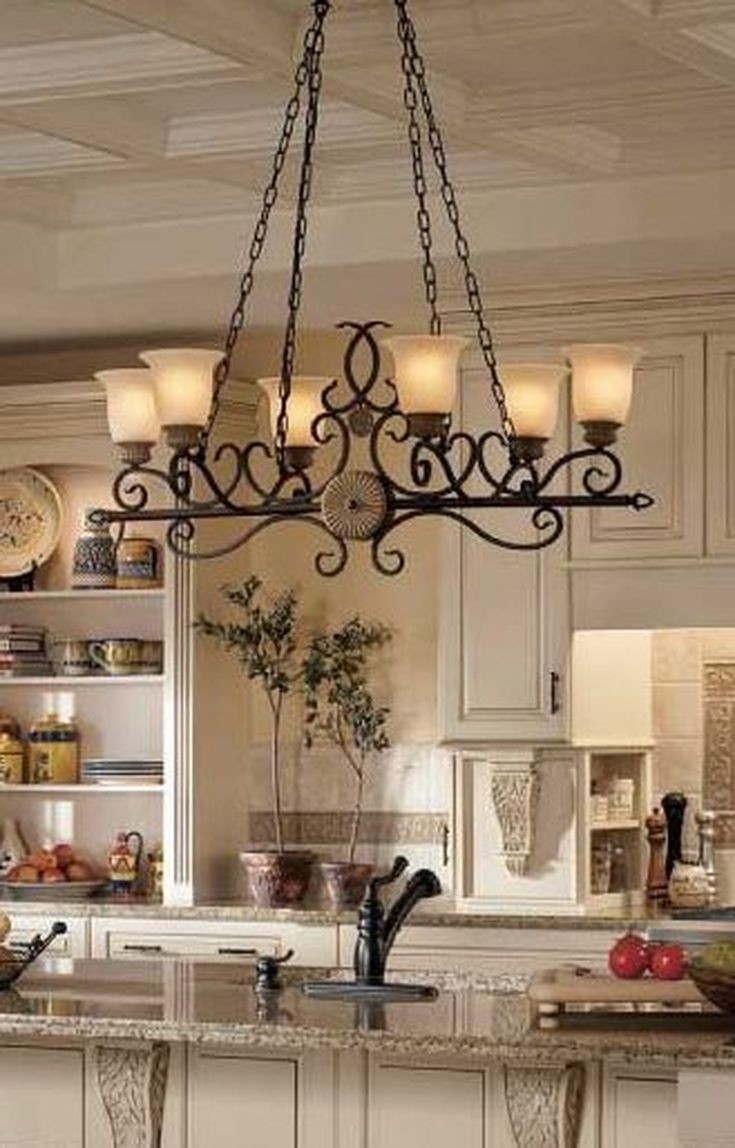 possible over the island lighting option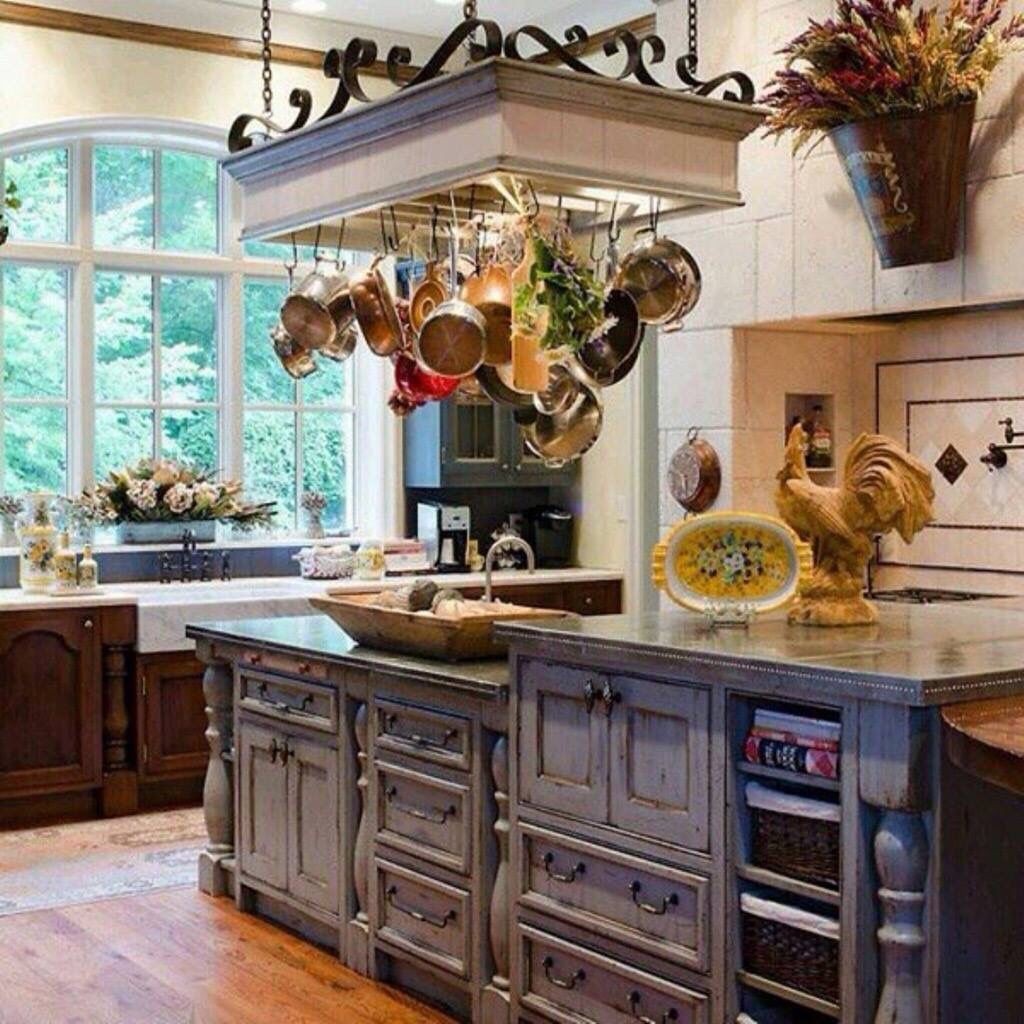 If you like the charm and warmth of rustic decors, this ingenuine dining room lighting shall appeal to you. Illuminating the prep space, a typical countryside hanging pot rack towers over the kitchen island.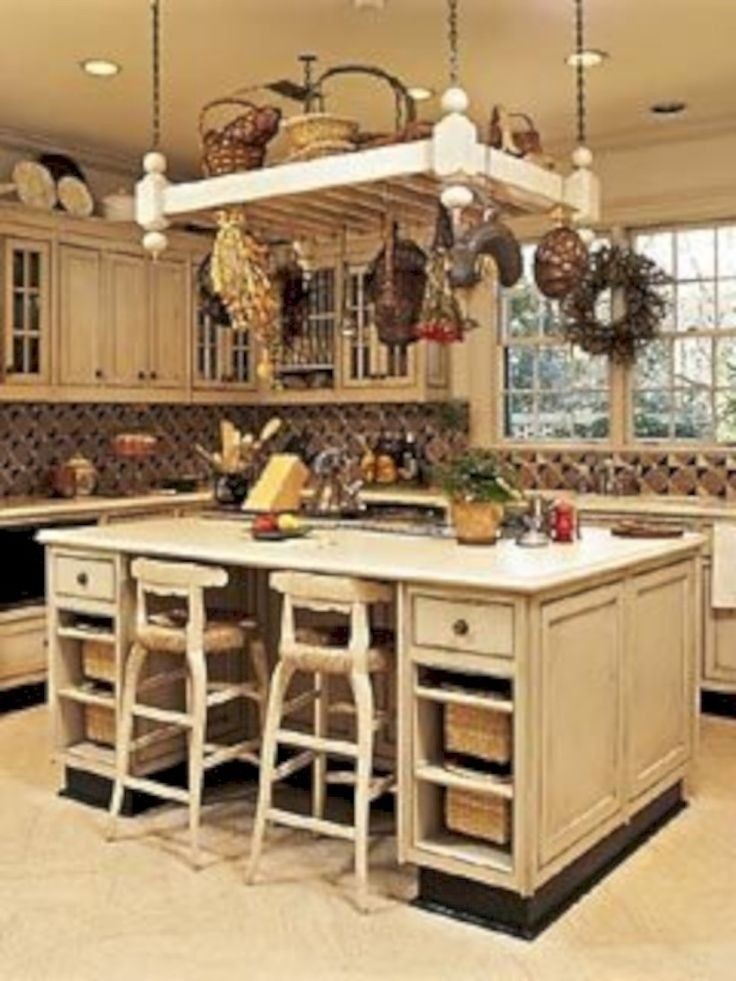 This kitchen decor embodies a smooth cottage design, characterizing with old-time, white wooden kitchen island two ladder bar stools with round seats. The kitchen island features multiple drawers and shelves to store various items.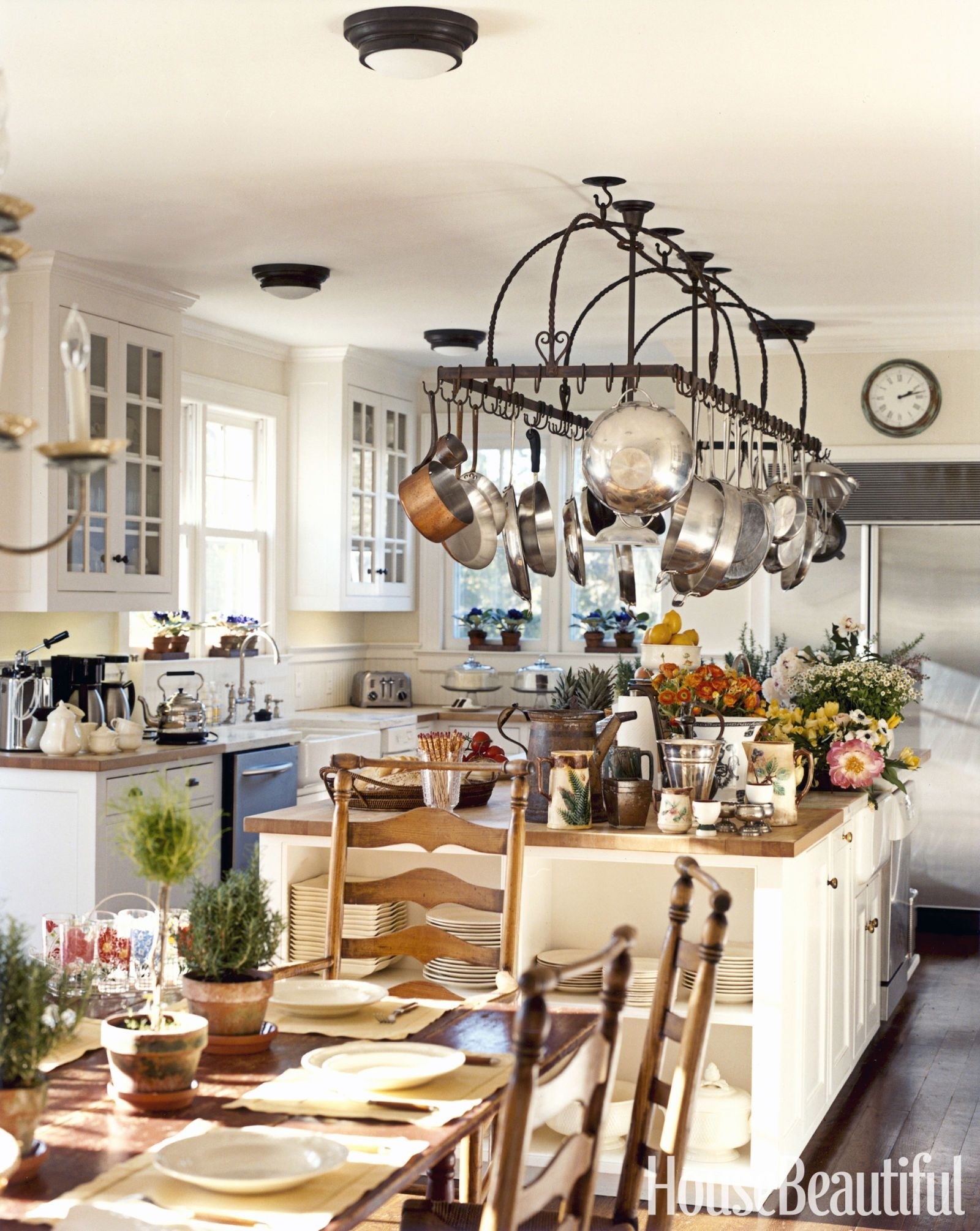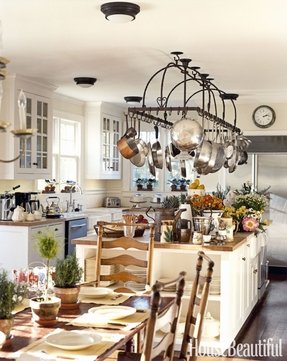 Cottage Style Designs - Decorating a Home with Cottage Style - House Beautiful. "Harvest Table"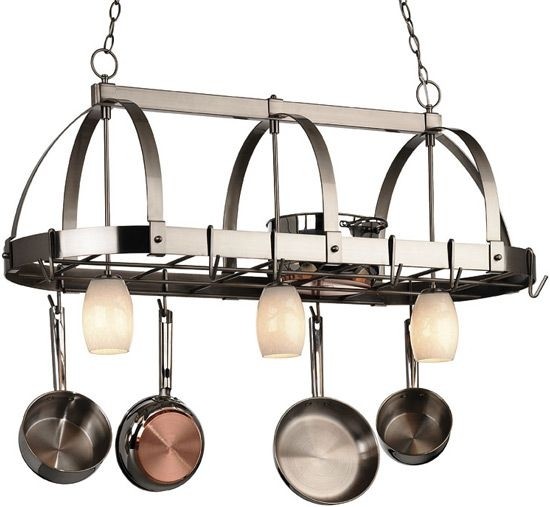 Not only does this piece allow you to easily hang your pots but it is also a great lighting fixture, since it provides that extra source of light for your kitchen island, letting you become more comfortable while preparing meals.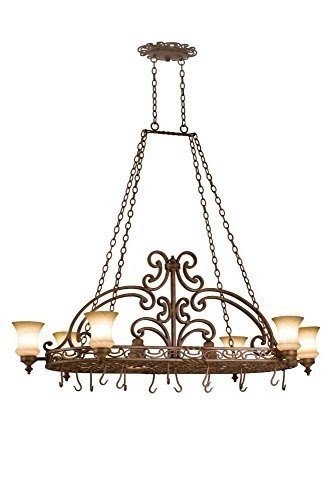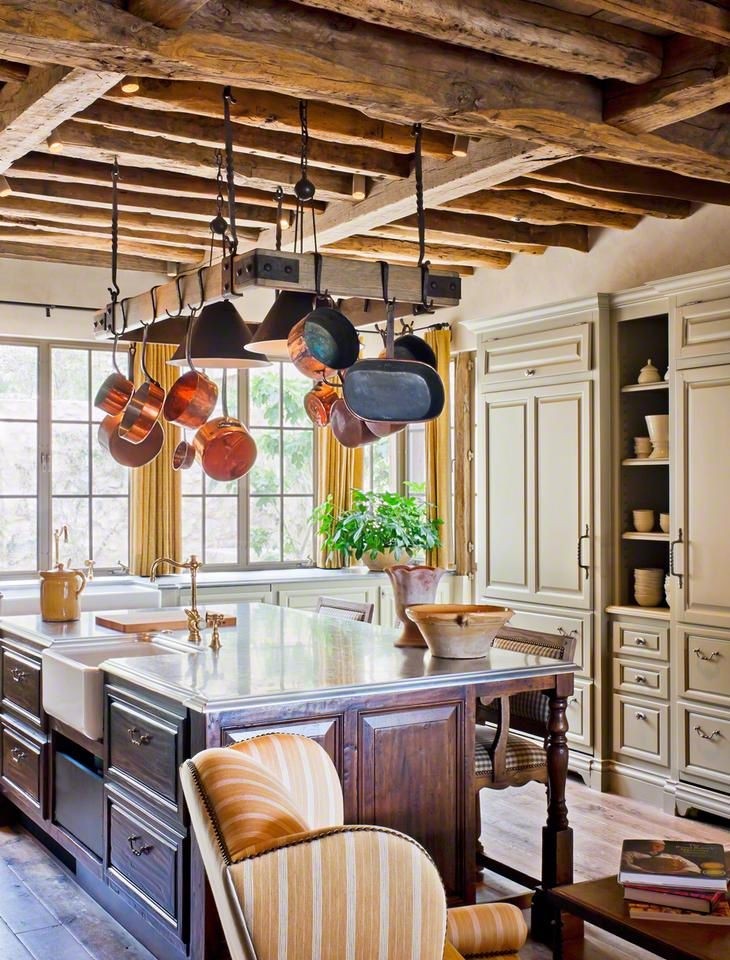 South Shore Decorating Blog: 50 Favorites For Friday (#44)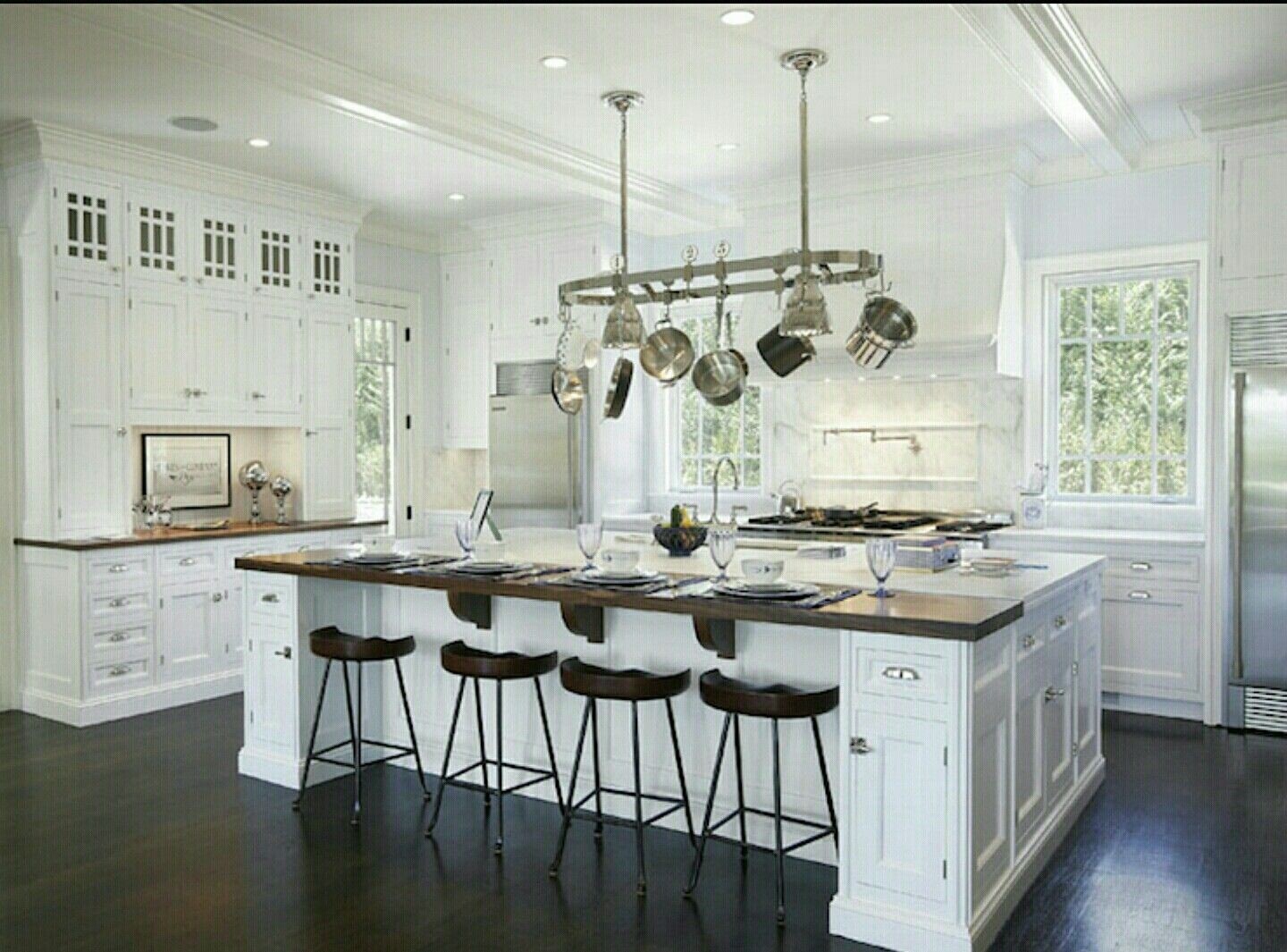 Large Kitchen Island with Seating | ... and images gallery related to Large Kitchen Islands with Seating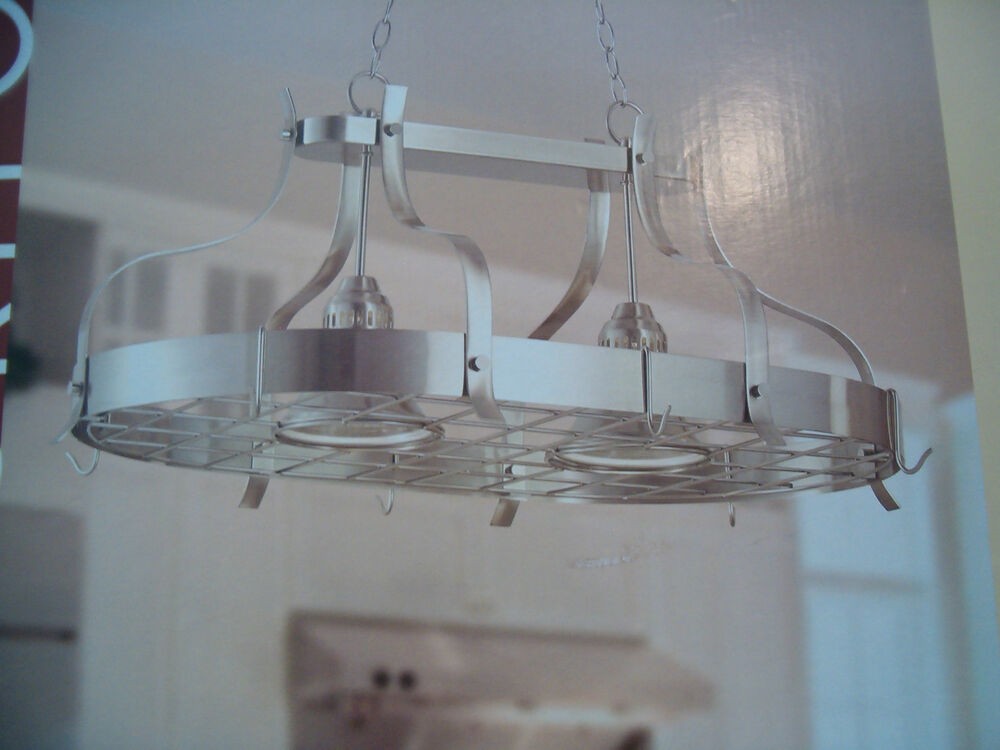 Details about Kitchen Island Pot Rack Light Brushed Nickel Bar Hanging ...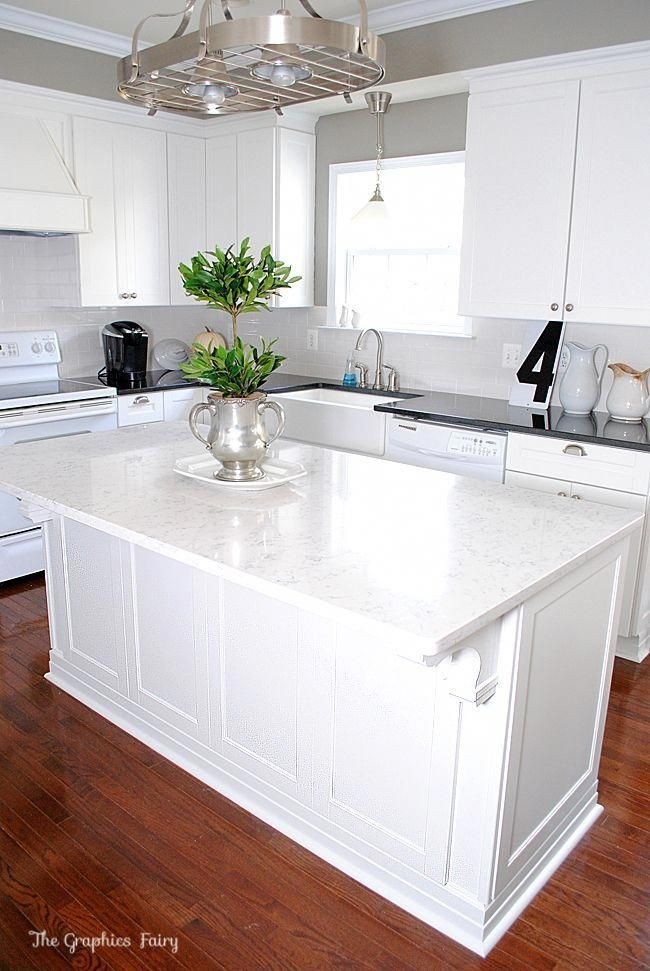 A fantastic kitchen layout that is characterized by a white island with a light gray marble counter in the centre. There is a unique lantern over the island. It's surrounded by a beautiful set of white kitchen furniture.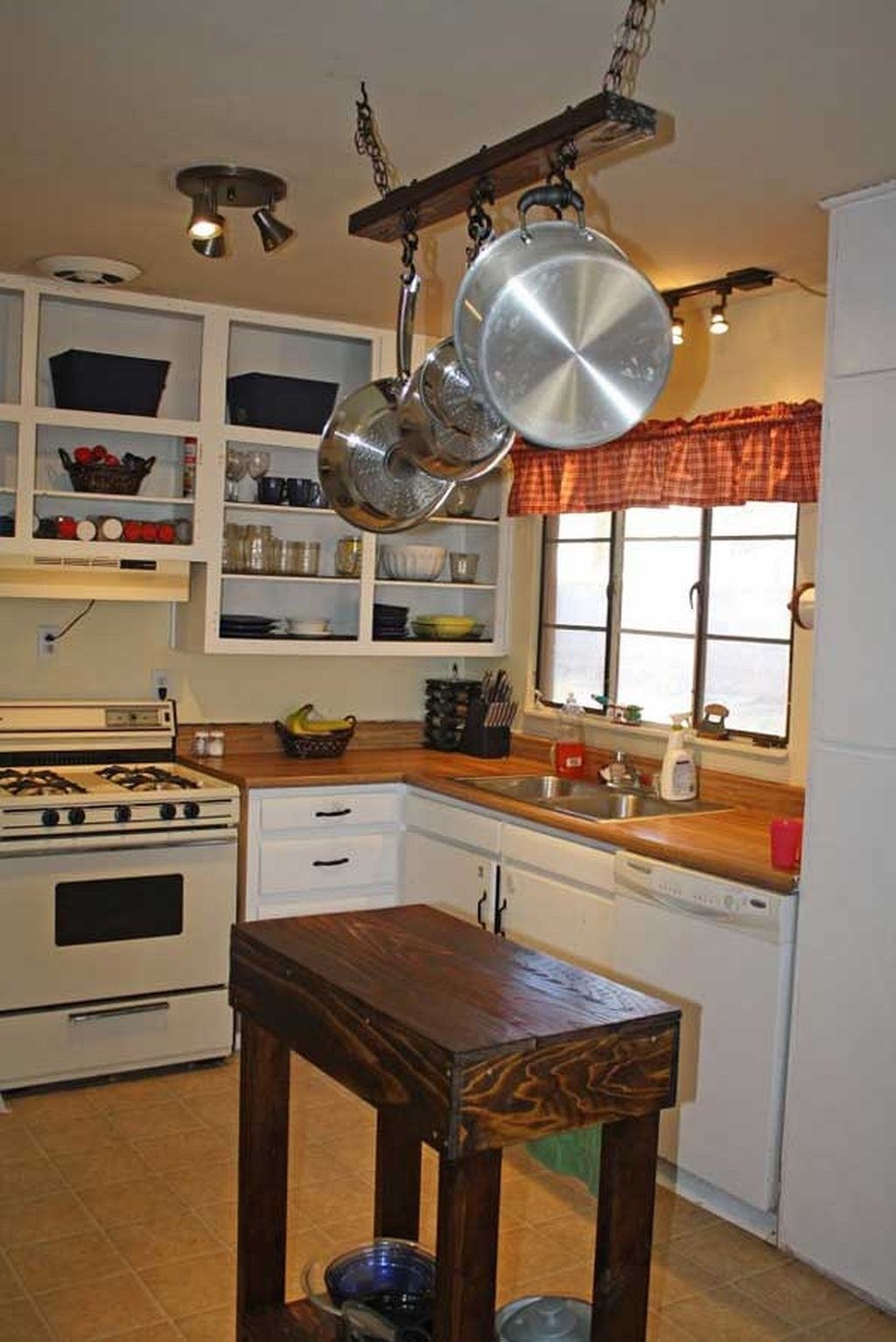 And here it is in the kitchen! I love it!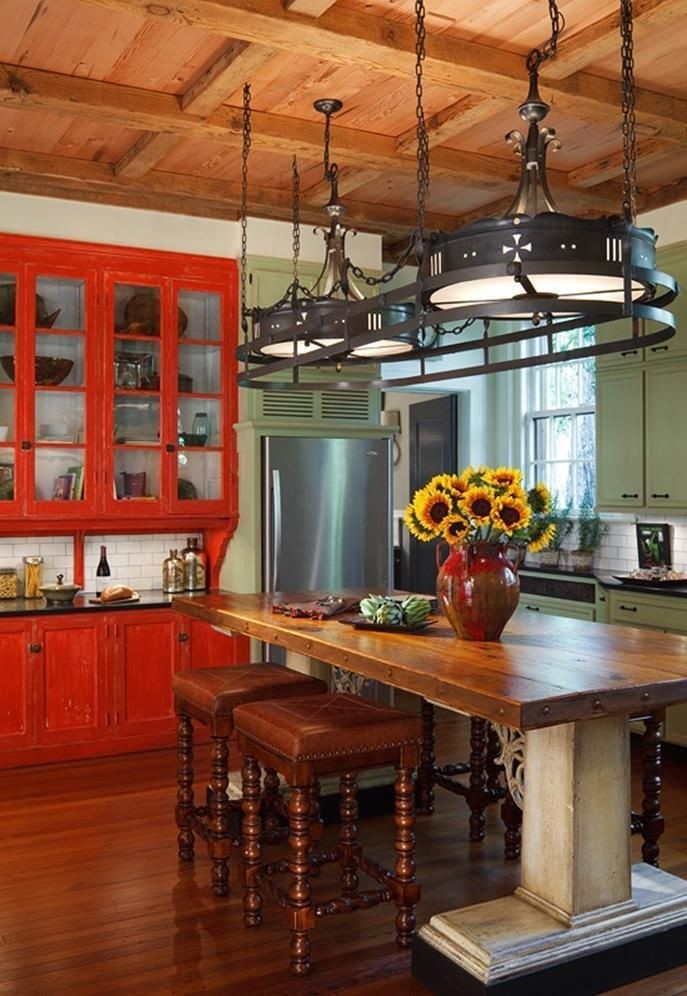 Vintage fixtures and salvaged materials. You would never know it.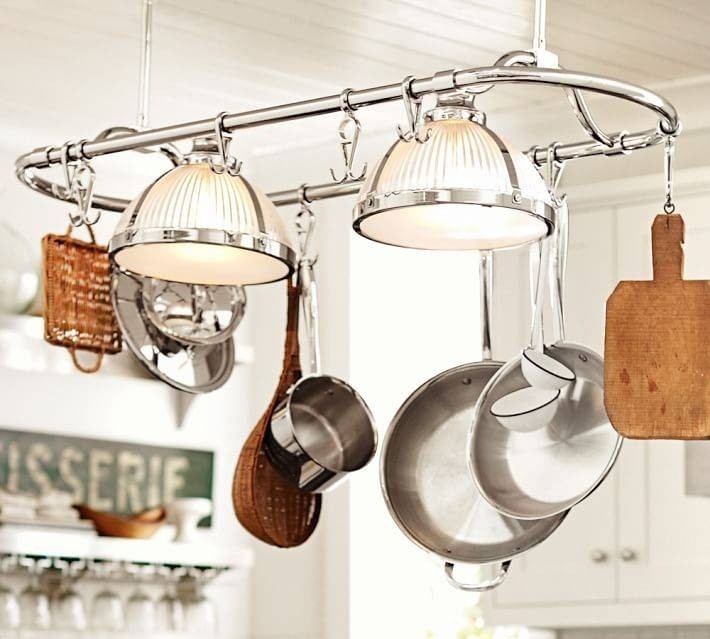 Interior, Incredible Pot Rack Pendant Lighting Design With Traditional ...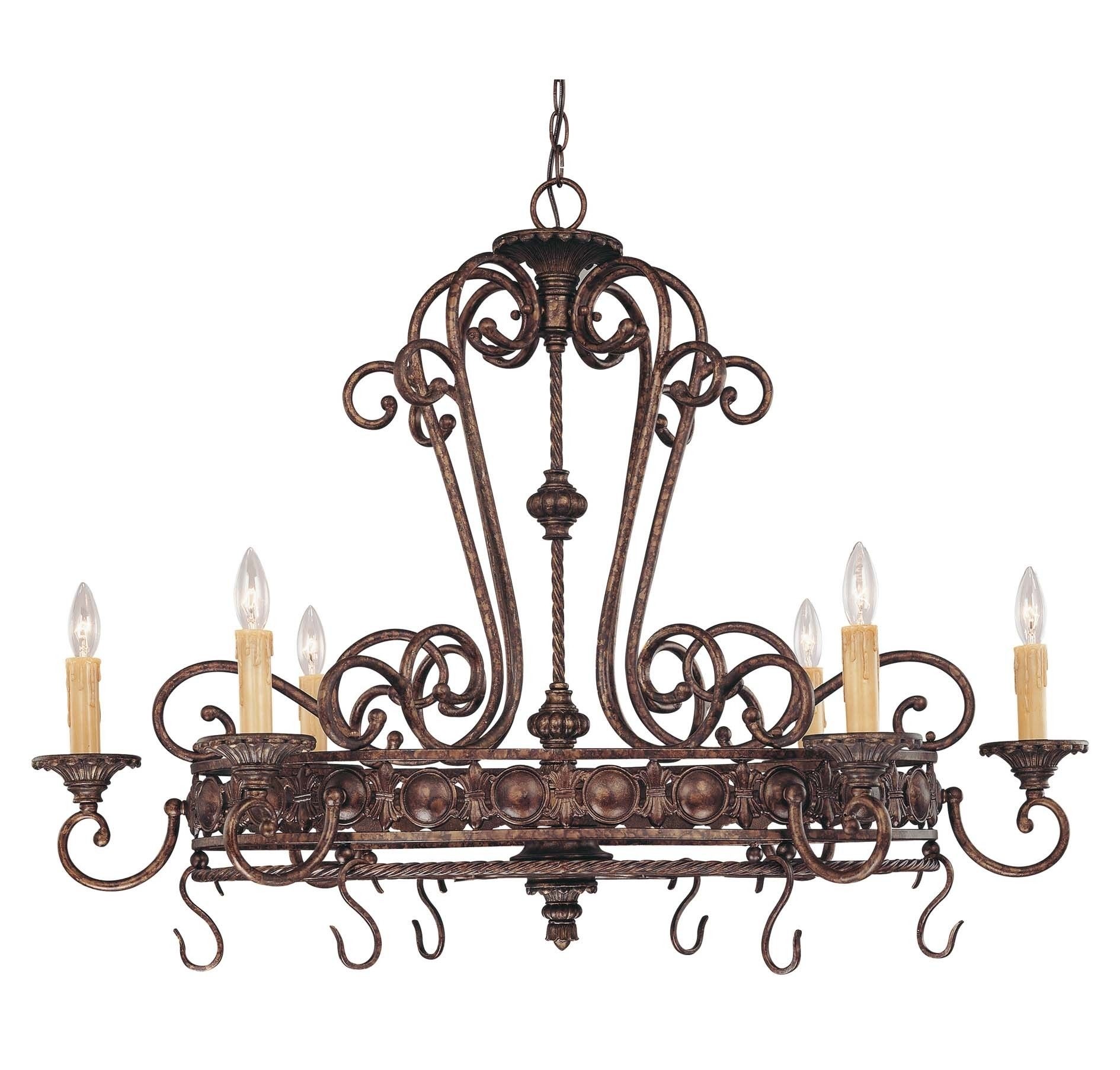 Cannon 6 Light Hanging Pot Rack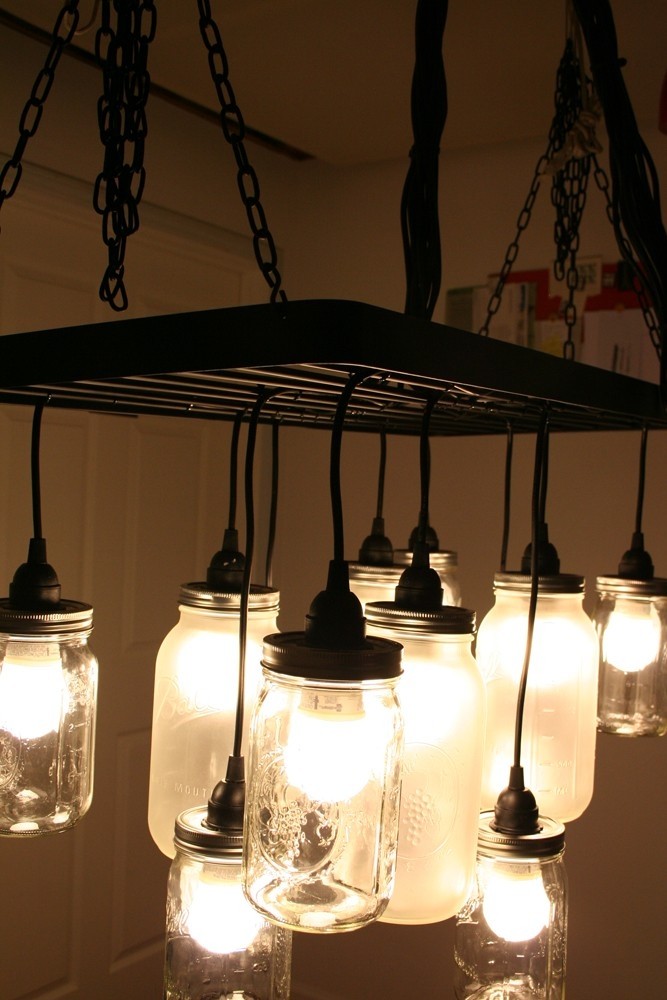 Original and attractive illumination in the form of hanging pots. They are located on a durable and good looking metal frame finished in neutral black color. These decorative elements provide good level of light.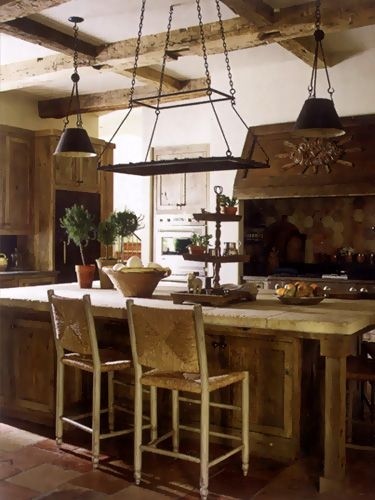 A Texas Home Straight out of Italy Kitchen. Designer turned an Italian window grille into a hanging pot rack. "But when we put the pots on it, it seemed gimmicky. So we've kept it as kind of an art installation."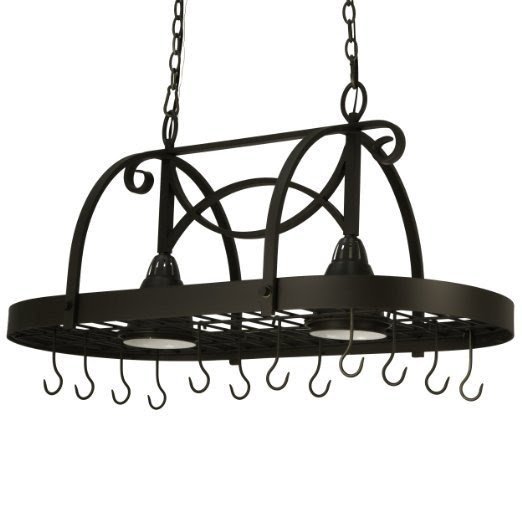 A cleverly designed oval pot rack combined with a lighting fixture. An ideal solution for modern lofts or industrial kitchen or dining spaces. Hanging on a thick chain, will be a solid, durable construction.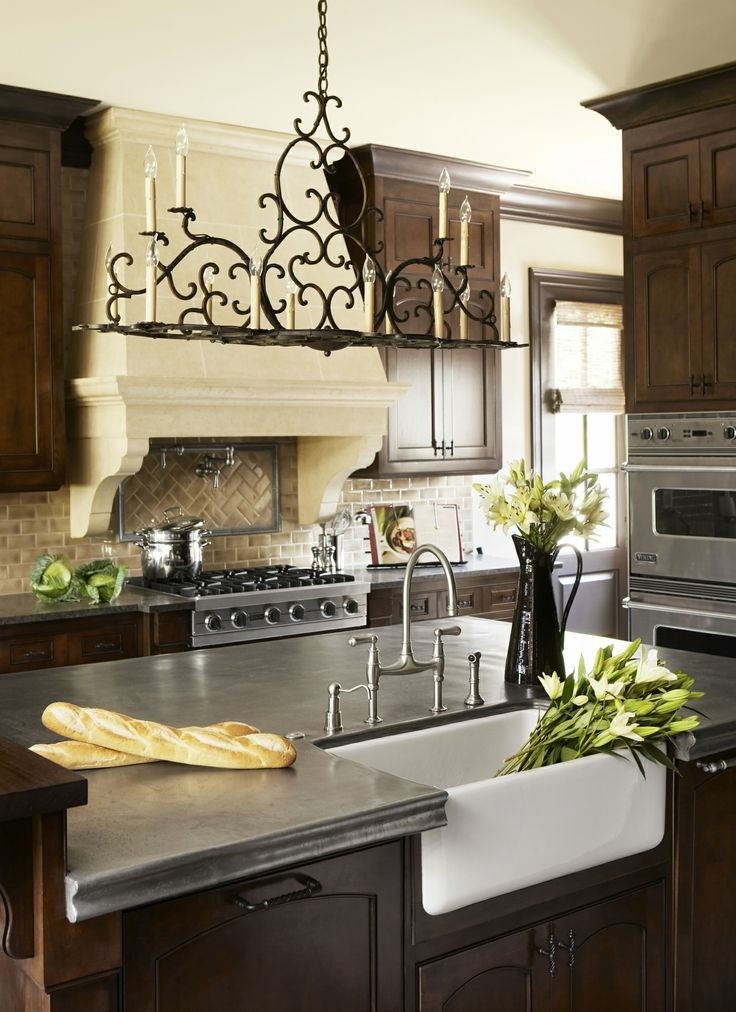 Dream kitchen- stainless steel counter tops add a fun feel to a more traditional kitchen. Also plays off the stainless steelmappliances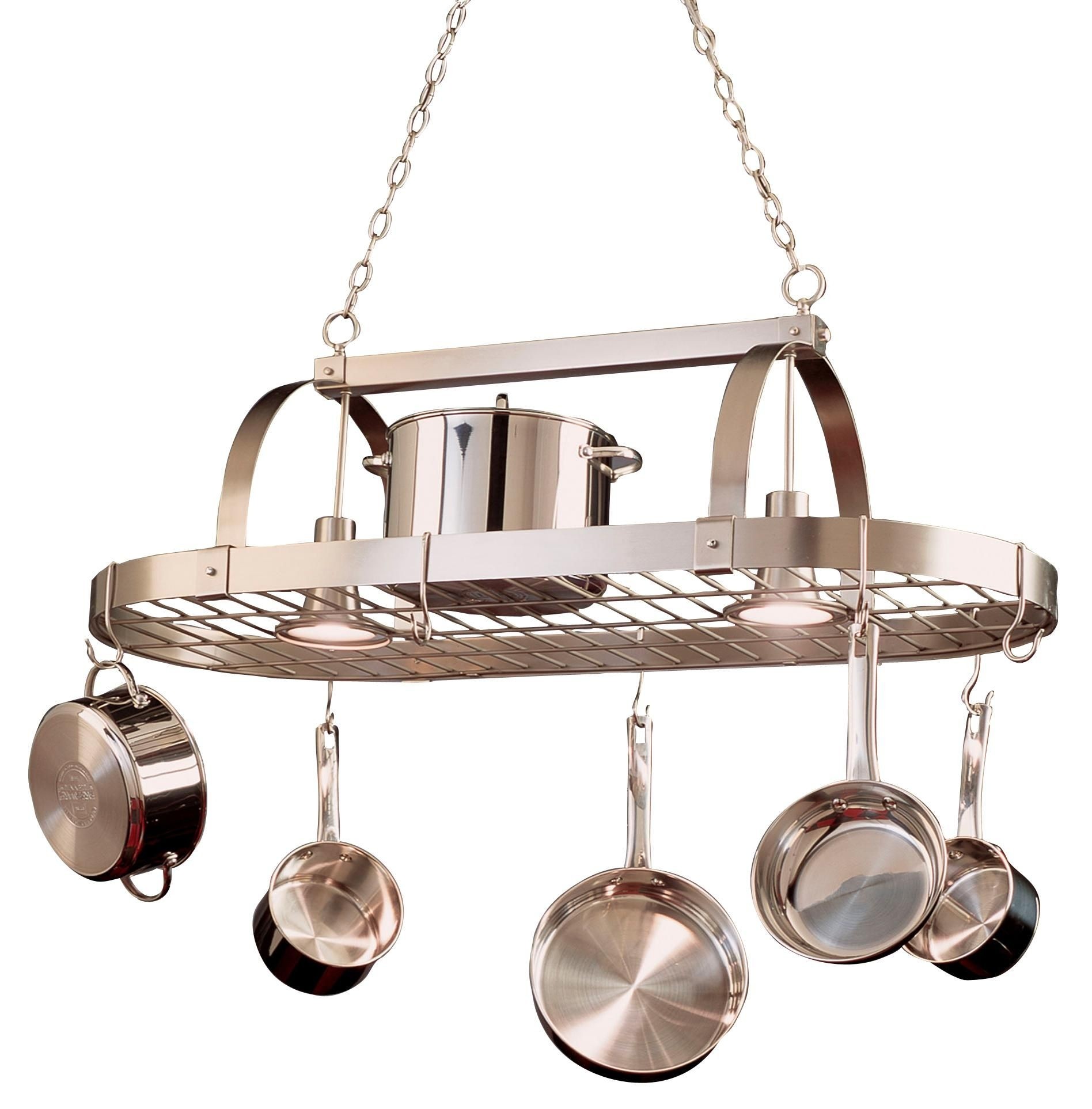 Satin Nickel Pot Rack Kalco Lighting Lighted Pot Racks Pot Racks Kitchen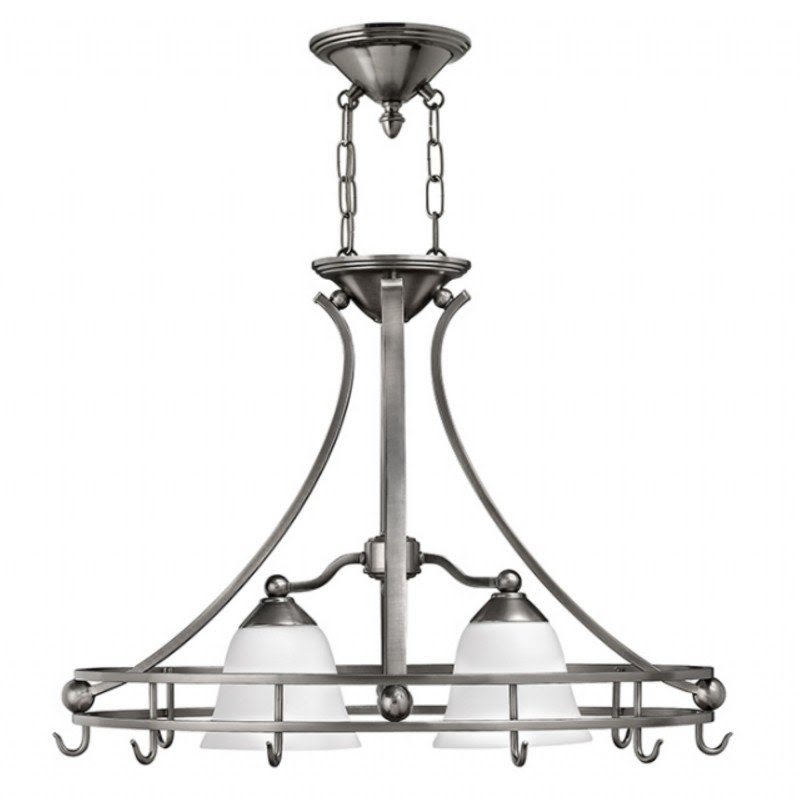 A surprising proposition for one's kitchen, combining two items, which are far from each other by default. Original lighted hanging pot rack will for sure catch the attention of everyone entering the space.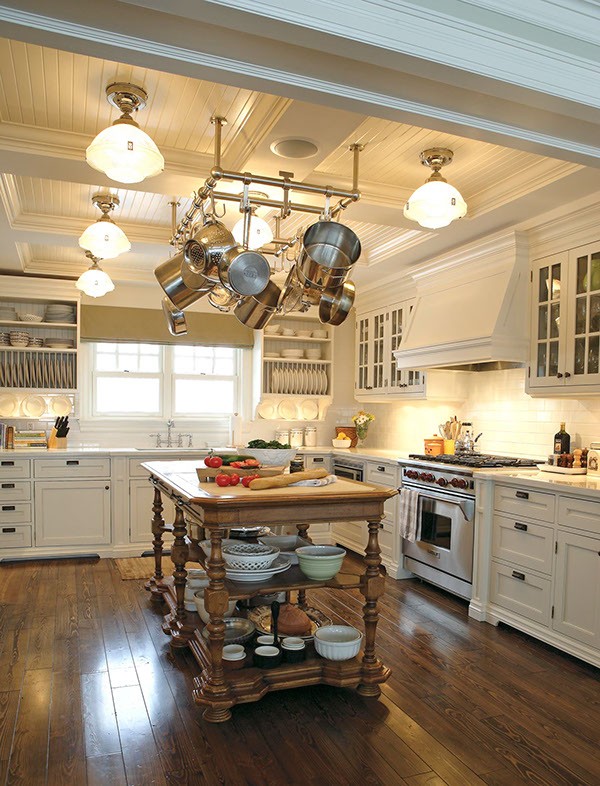 Spacious White Country Kitchen Spectacular architectural details create a sense of grandeur. Keeping everything either exposed or behind glass doors allows easy access to cooking utensils, implements and pots and pans when preparing a meal. A coun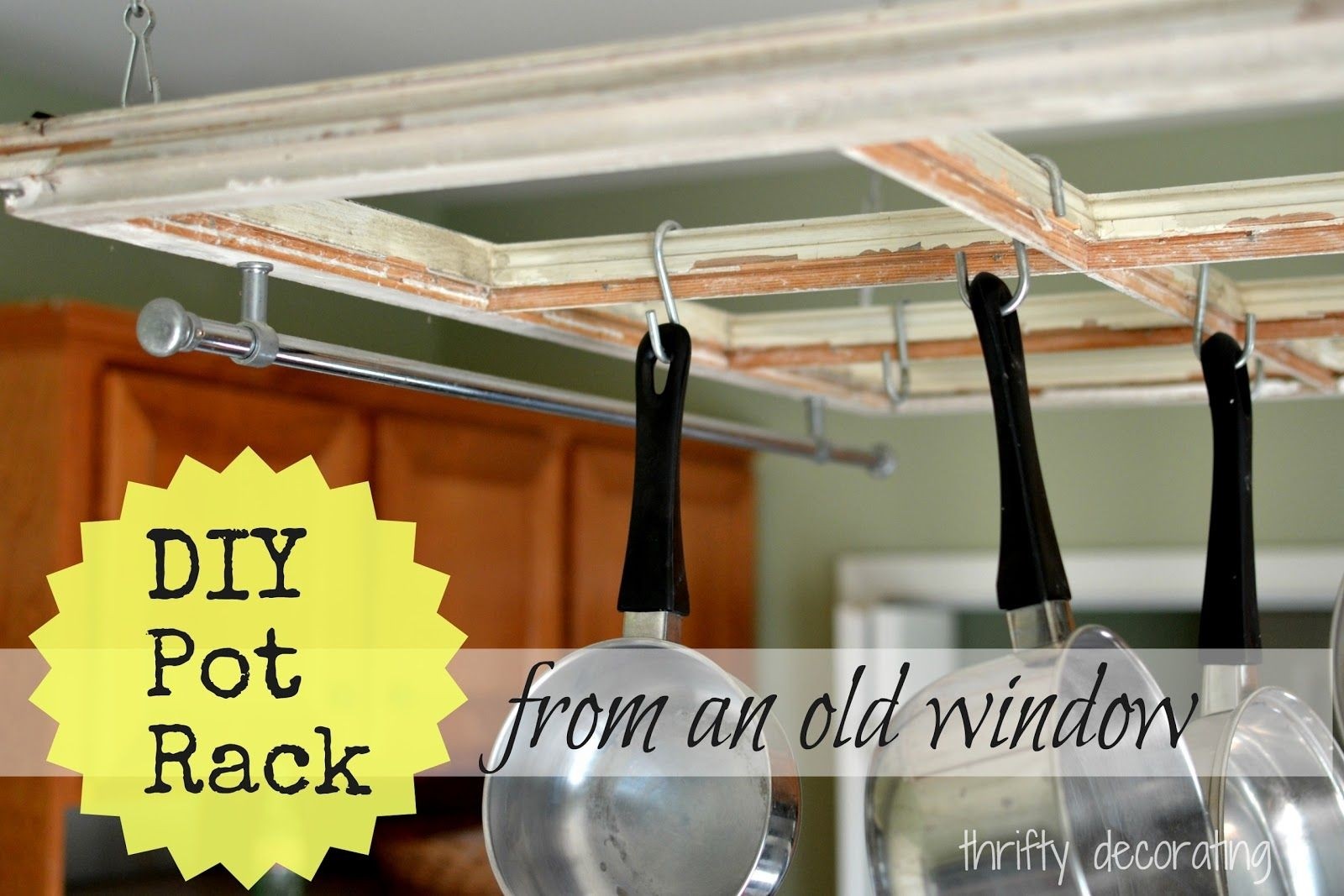 This is the best way to save space - hanging pans, saucepans at the top over the kitchen island. To achieve this effect of pot racks with lights, you can use an old wooden ladder with metal elements that will serve as a hanger under the ceiling.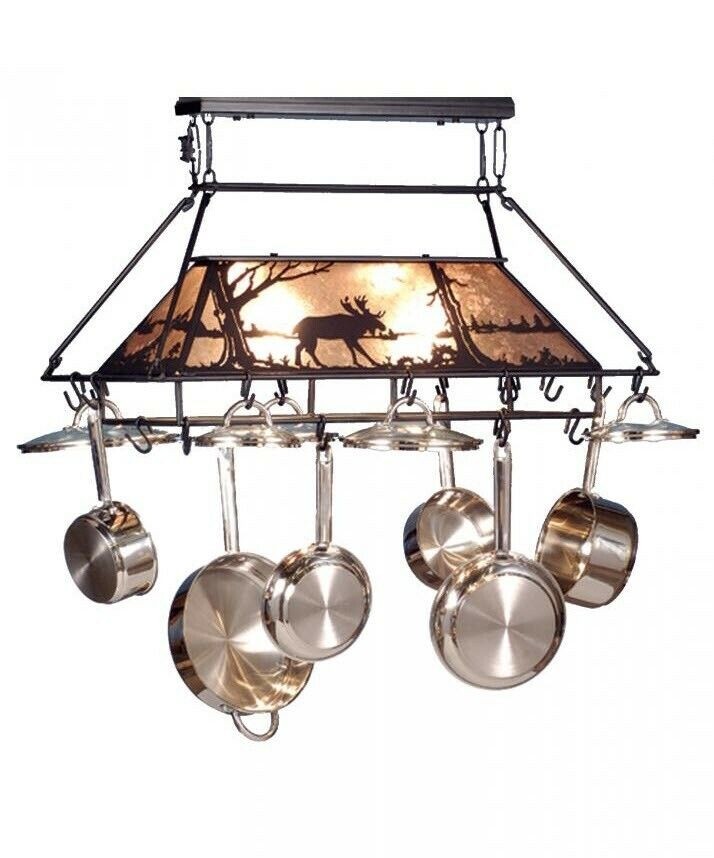 Pot rack decorated with reindeer theme. Frame is made of metal. Designed for mounting on the ceiling. It is fitted with a lot of hooks for storing pots and others kitchen tools. Great solution for space saving in any kitchen.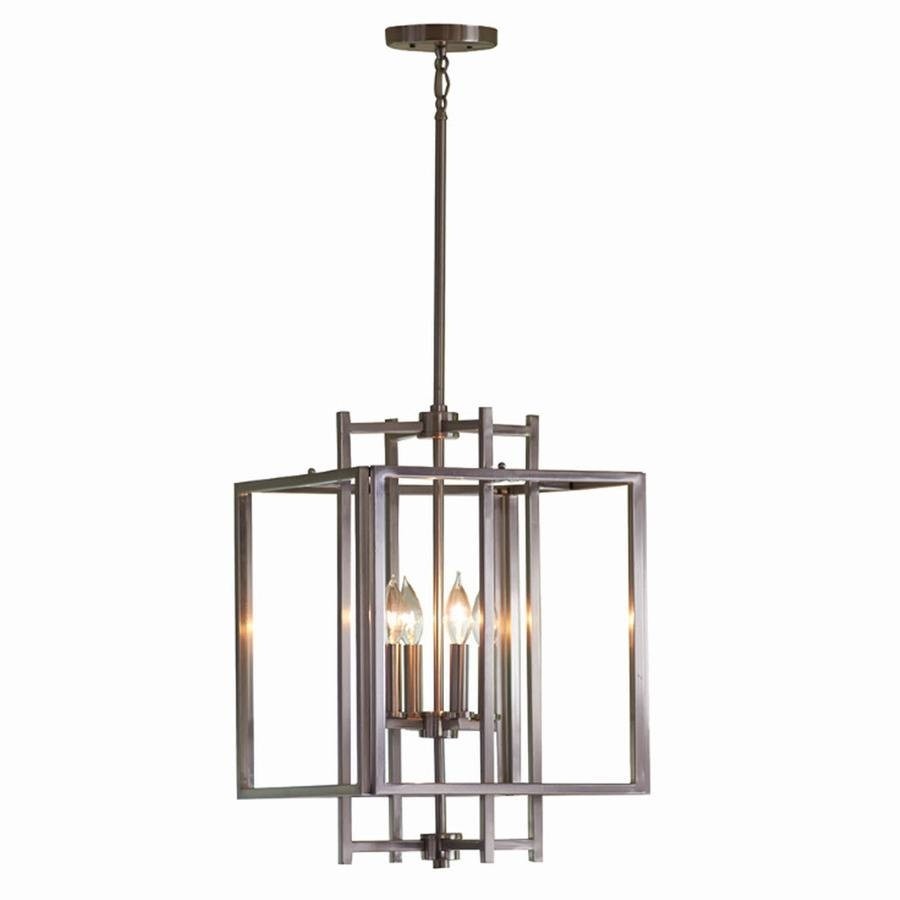 This allen and roth 13-inch width oil-rubbed bronze ceiling flush mount is such a great option for kitchen ceiling light or living room light. Nicely and neatly finished with black iron frames, gives soft but warm light.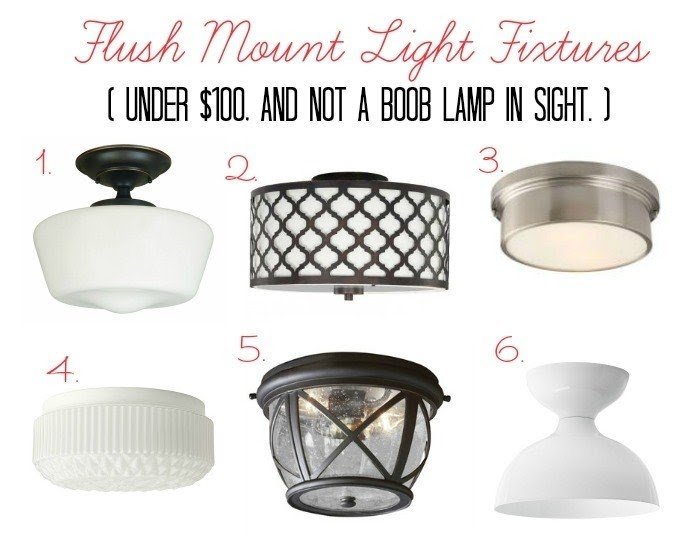 These kitchen flush count lights look super simple, but really curious at the same time. Most of them have white shades. Finished with silver or black accents. Ideal for simple kitchen area or dining room.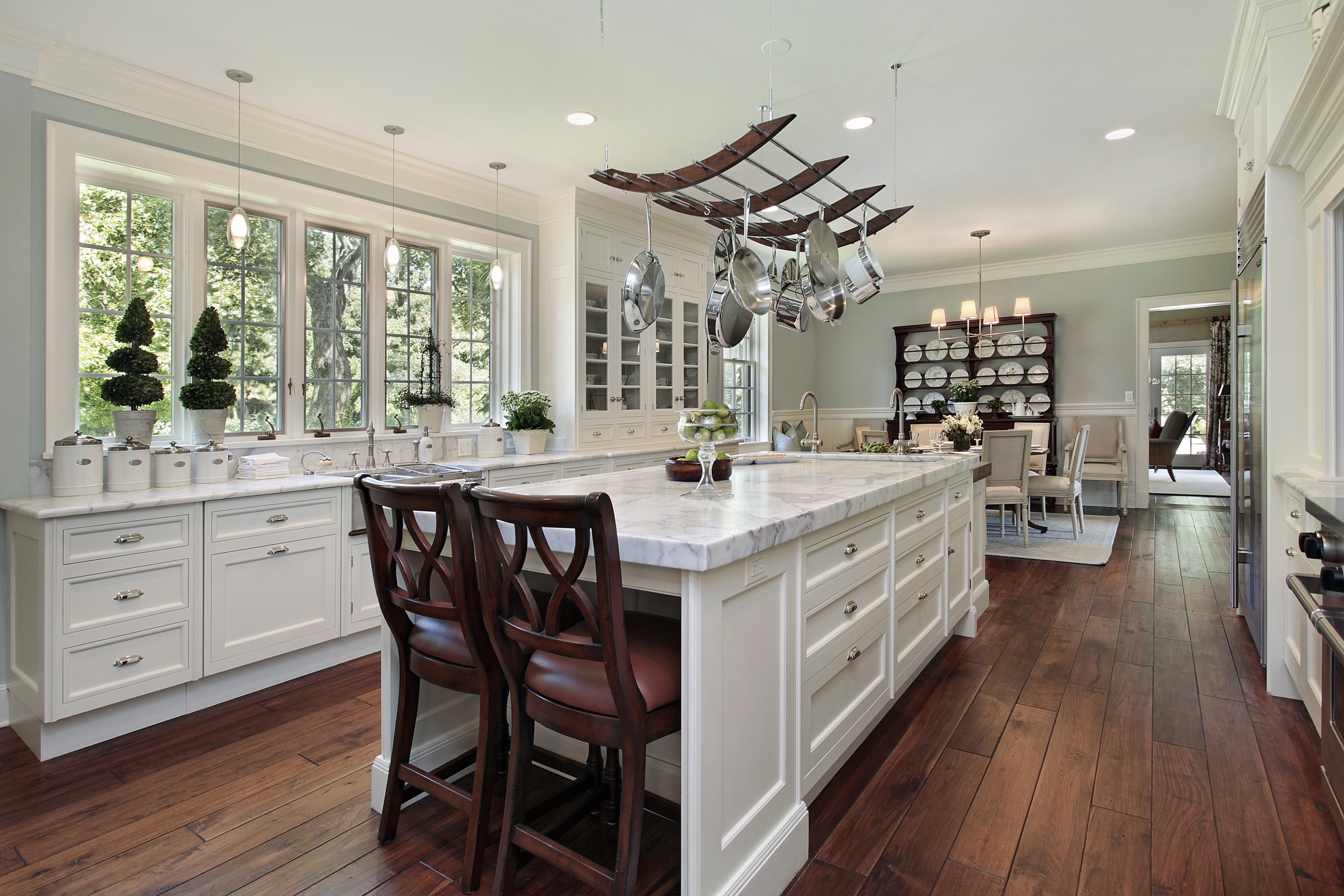 Splashed with a touch of snow-white elegance and crafted of sturdy wood, this kitchen island emanates with clean lines and impeccable aesthetics. Features a white marble counter top, capacious drawers with metal pulls, and hollow sides under the top for hiding your dining chairs.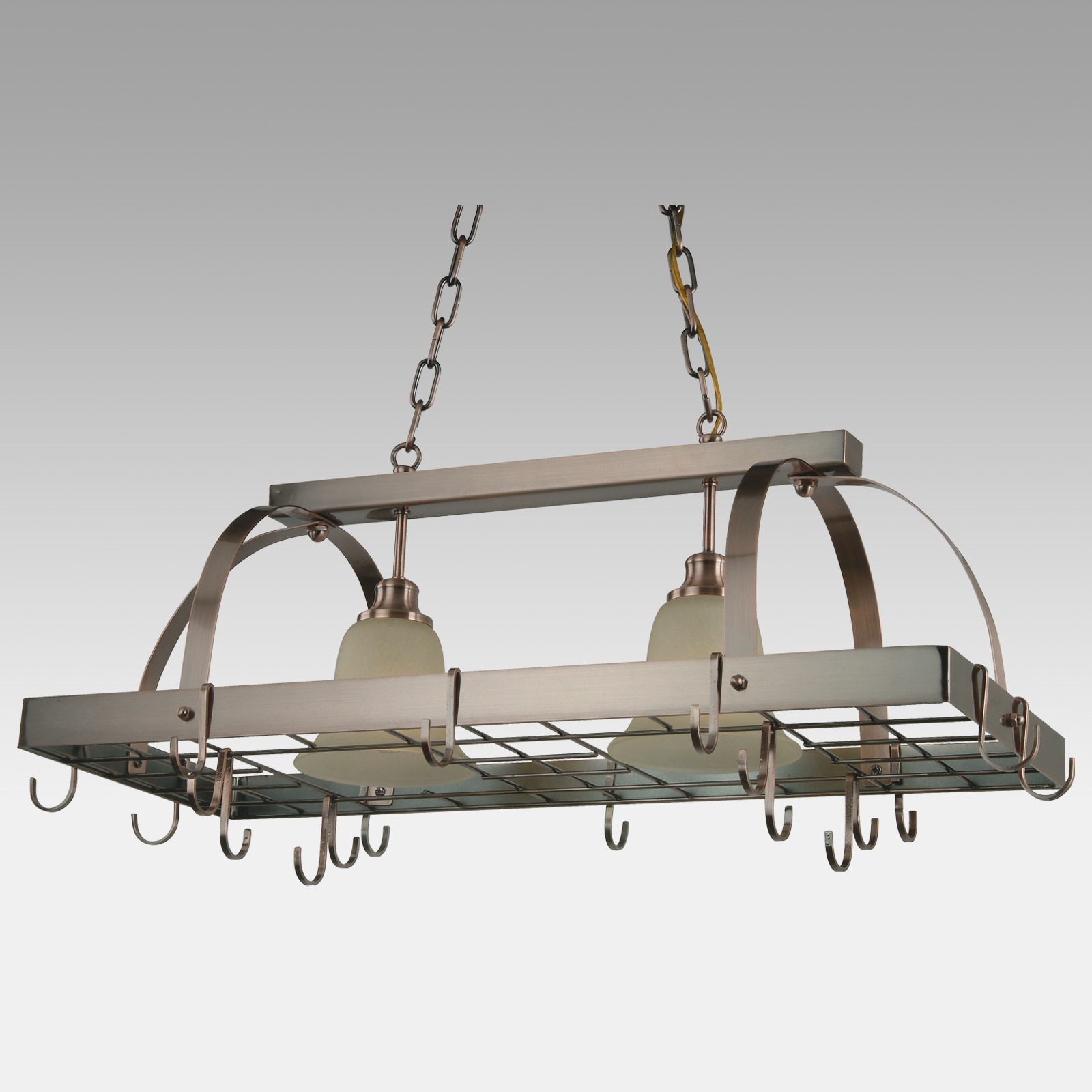 master:ROY126.jpg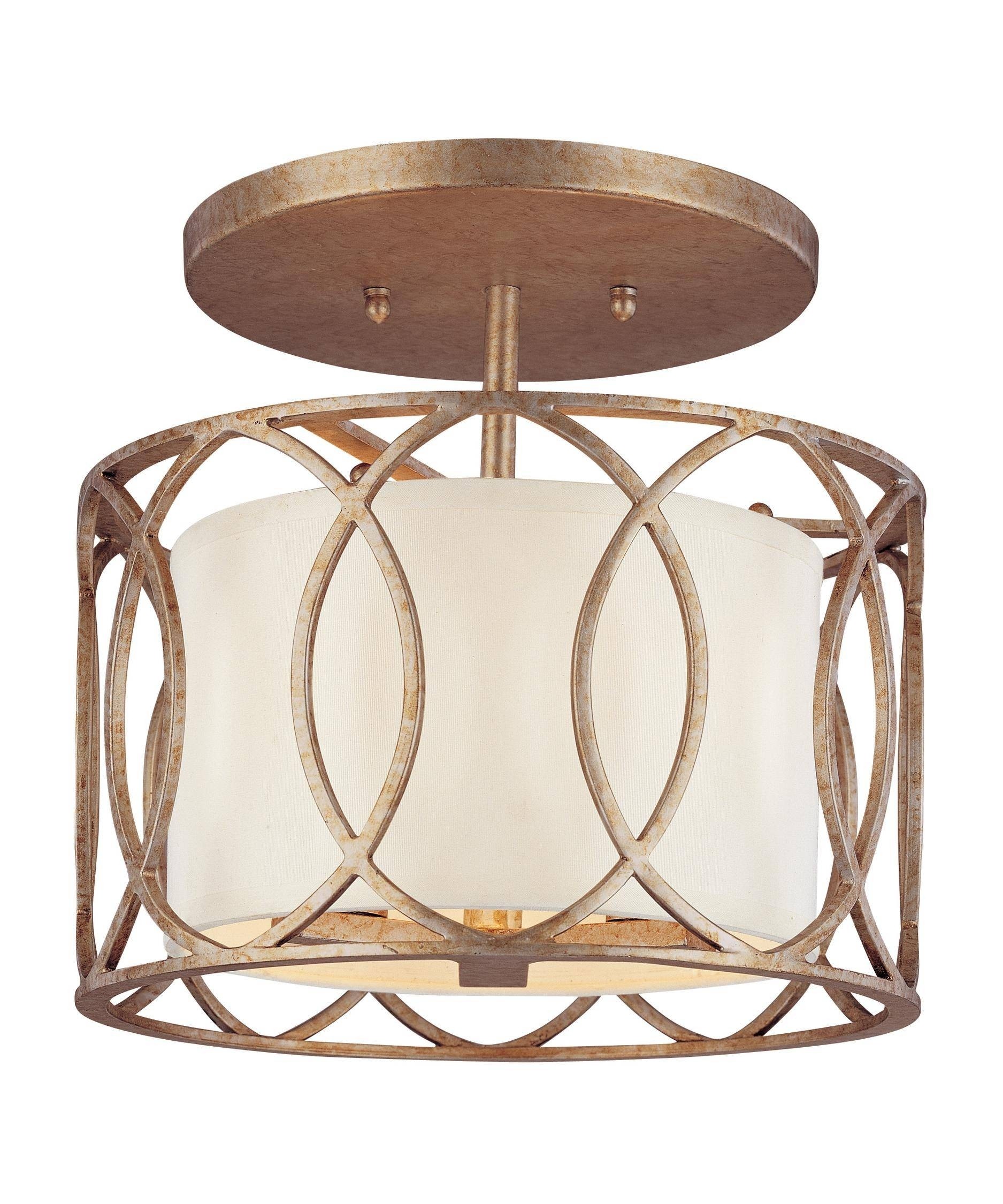 Flush mount lighting is a good solution when you're looking for a universal, easy to fit kitchen lighting. Coppery garnishing hides a graceful glass lampshade, which combined together create a fresh, modern addition to your interior.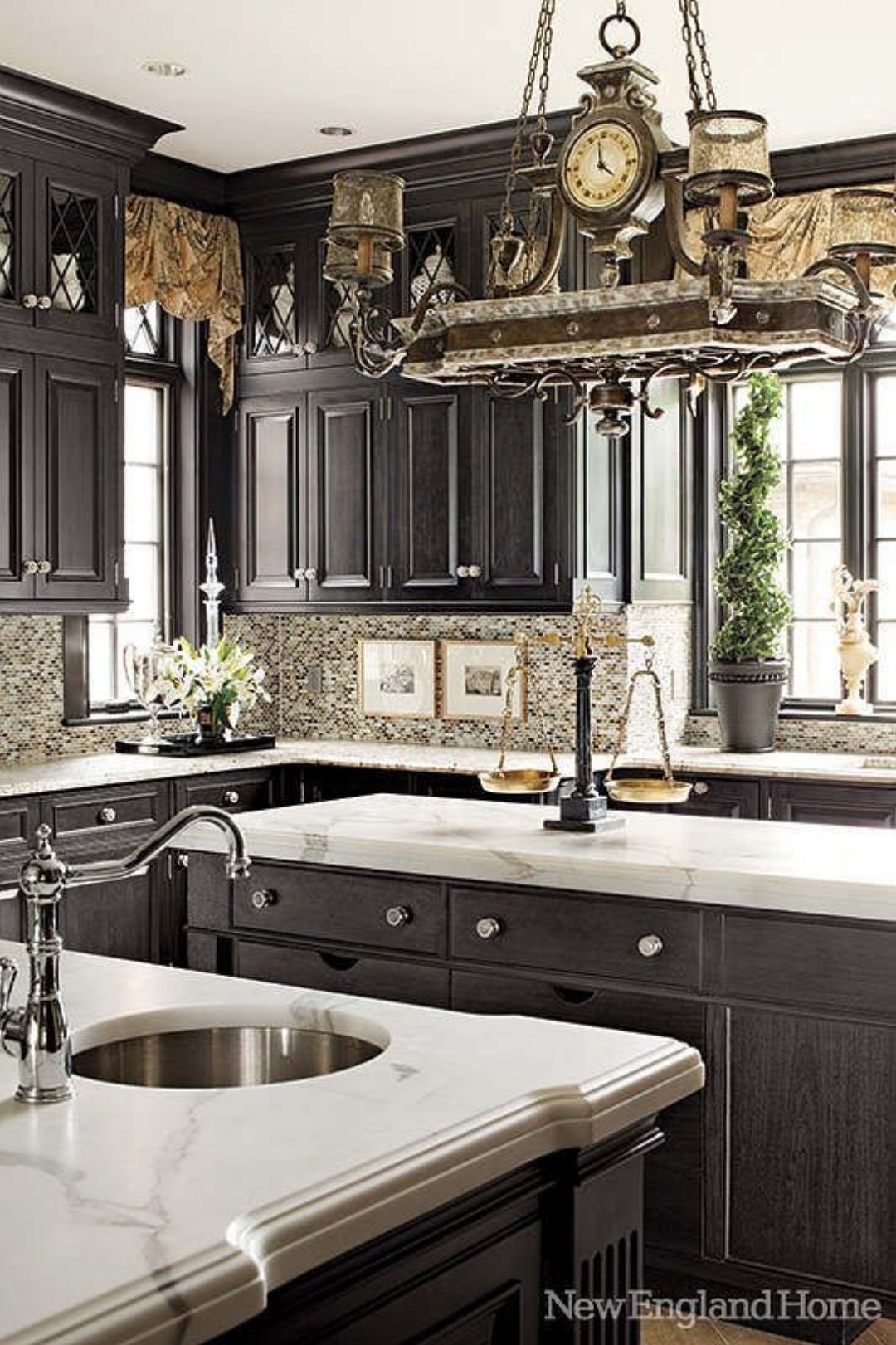 Looking at the edging choices on the counter tops--will be using a thick slab for my project.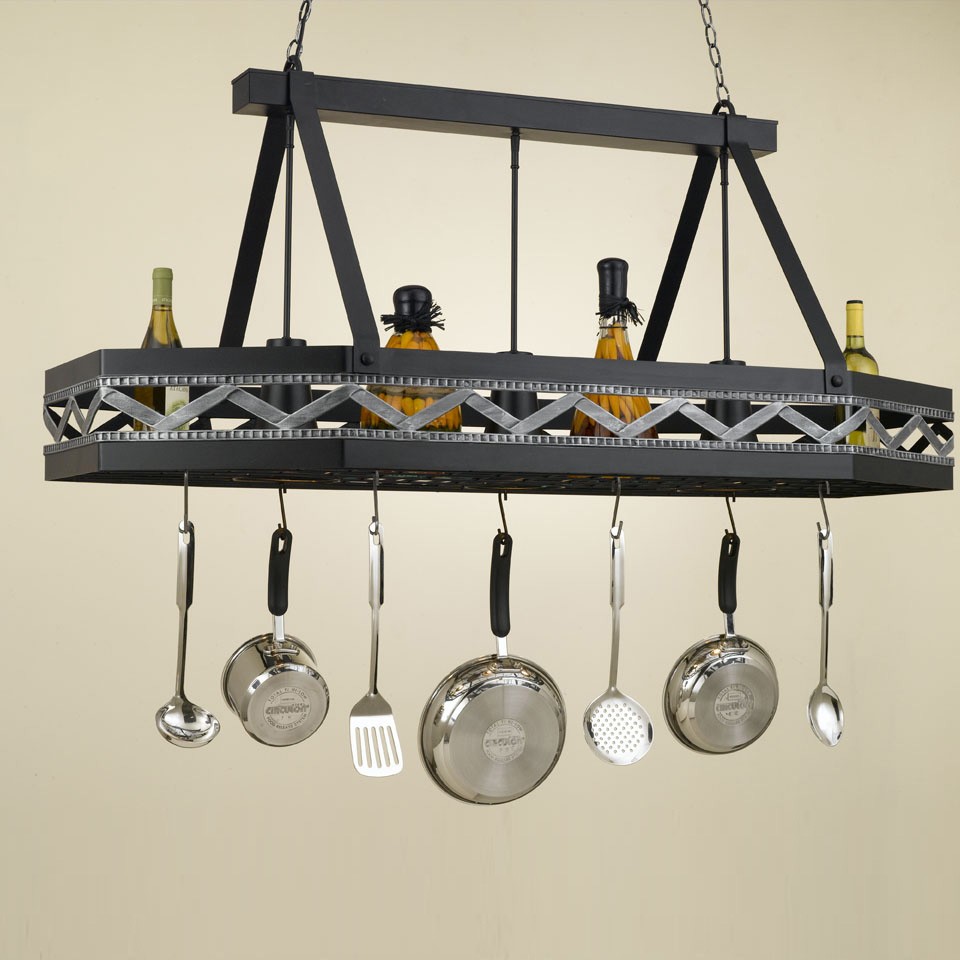 Hi-Lite Manufacturing H-66Y-D-A-SIL 25" Tall Pot Rack ...