In interior design, lighting is a powerful, transformative tool. Good lighting has the ability to not only enhance a space in a functional sense, but stylistically as well. But the term "good lighting" is a little ambiguous; there are many ways to light your space in a complementary manner. On top of that, home lighting products are constantly evolving, with new, high-tech options being added to the market frequently, so your options are quite endless. But the secret to a well-lit home can actually be quite low-tech. We recommend taking stock of your space and using simple and tried-and-true lighting solutions to breathe new life into your dark corners, window-less rooms, and flatly-lit spaces.
1.

Invest in LED light bulbs

If you're still using fluorescent and/or incandescent light bulbs in your home, it's time for an overhaul. A much better investment for your home are LEDs, which are today's gold-standard of light bulbs. LED should be the only bulbs you even think about purchasing these days because they're energy efficient, long-lasting, non-toxic, and generate very little heat.

Swapping out all of the bulbs in your home for LEDs will instantly modernize and unify your home's lighting system. If you can afford it, we also suggest paying a little more a higher quality product. With light bulbs, you get what you pay for.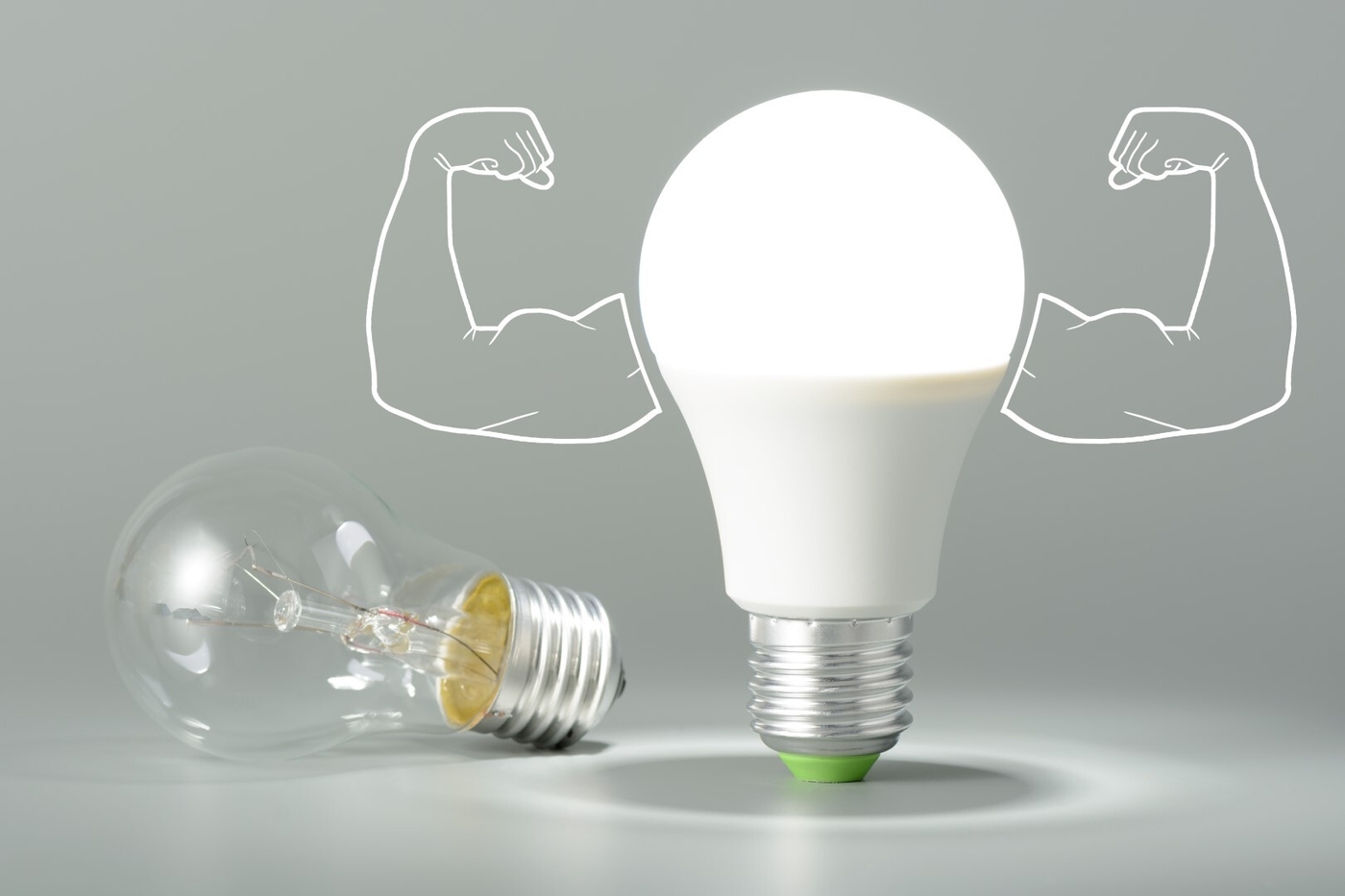 TIP:If you don't have the budget to replace all of the light bulbs in your home with LEDs, replace the fixtures you use the most to maximize your savings and energy efficiency. Keep in mind that LEDs tend to give off a distinct glow, so it's best to use LED that have the same color temperature (measured in Kelvins) and brightness (measured in lumens) throughout a given room to achieve a unified look.
2.

Layer your lighting

Interior lighting fixtures tend to fall into three main categories—ambient, task, and accent lighting—and a properly-lit room utilizes all three types. Ambient lighting is meant to disburse uniformed light to a space, usually in an overhead format. Ceiling-mounted fixtures and wall sconces are the most common types of ambient lighting. Task lighting is a localized light source that serves a specific function. For example, a desk lamp or under-cabinet lighting. Accent lighting is used to draw attention to objects or features in a stylistic way. Recessed or track lighting is often used as accent lighting to highlight things such as artwork, plants, or bookcases.

Mixing ambient, task, and accent lighting is one way to layer lighting in your space. Another way to create interesting layers of light is by diffusing your light sources in different ways. Diffusing allows for a softer intensity of light, because it decreases the contrast between light and shadow. A common way to diffusing the light from a lamp, for instance, is by using lampshades of varying degrees of thickness and opaqueness.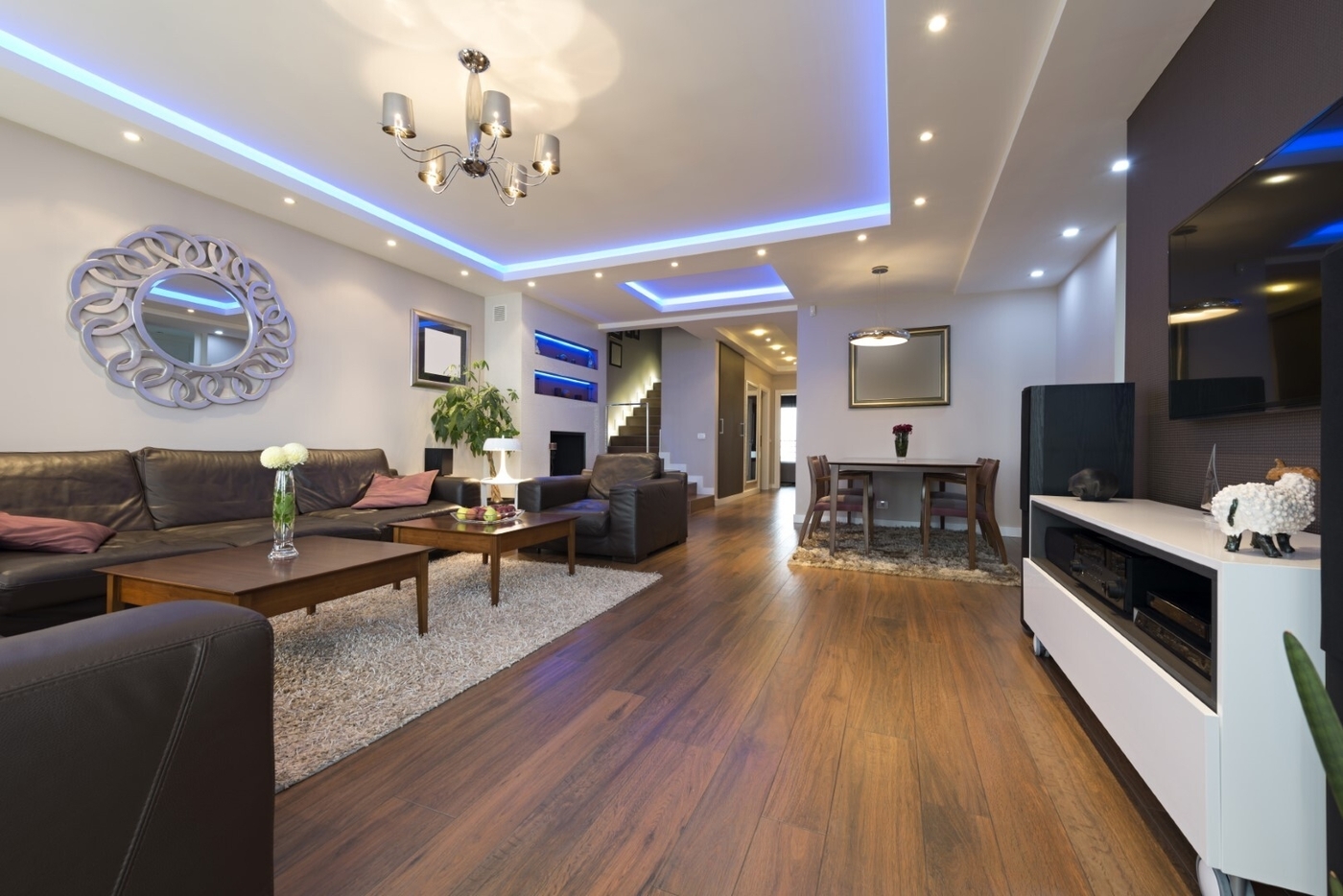 3.

Use candles and tea lights
If you're looking for a cost- and space-efficient way to add another layer of lighting to your space, look no further than the soft glow of candles and tea lights. Candles and tea lights can be purchased at a nominal cost and can be used in combination with your other lighting layers to instantly transform the mood of your interior spaces.
TIP:If you're worried about children or pets knocking over candles or tea lights, you can stabilize them by placing them in glass jars. The candle or tea light will be less accessible and the light will interact with the glass to create a warm, whimsical glow.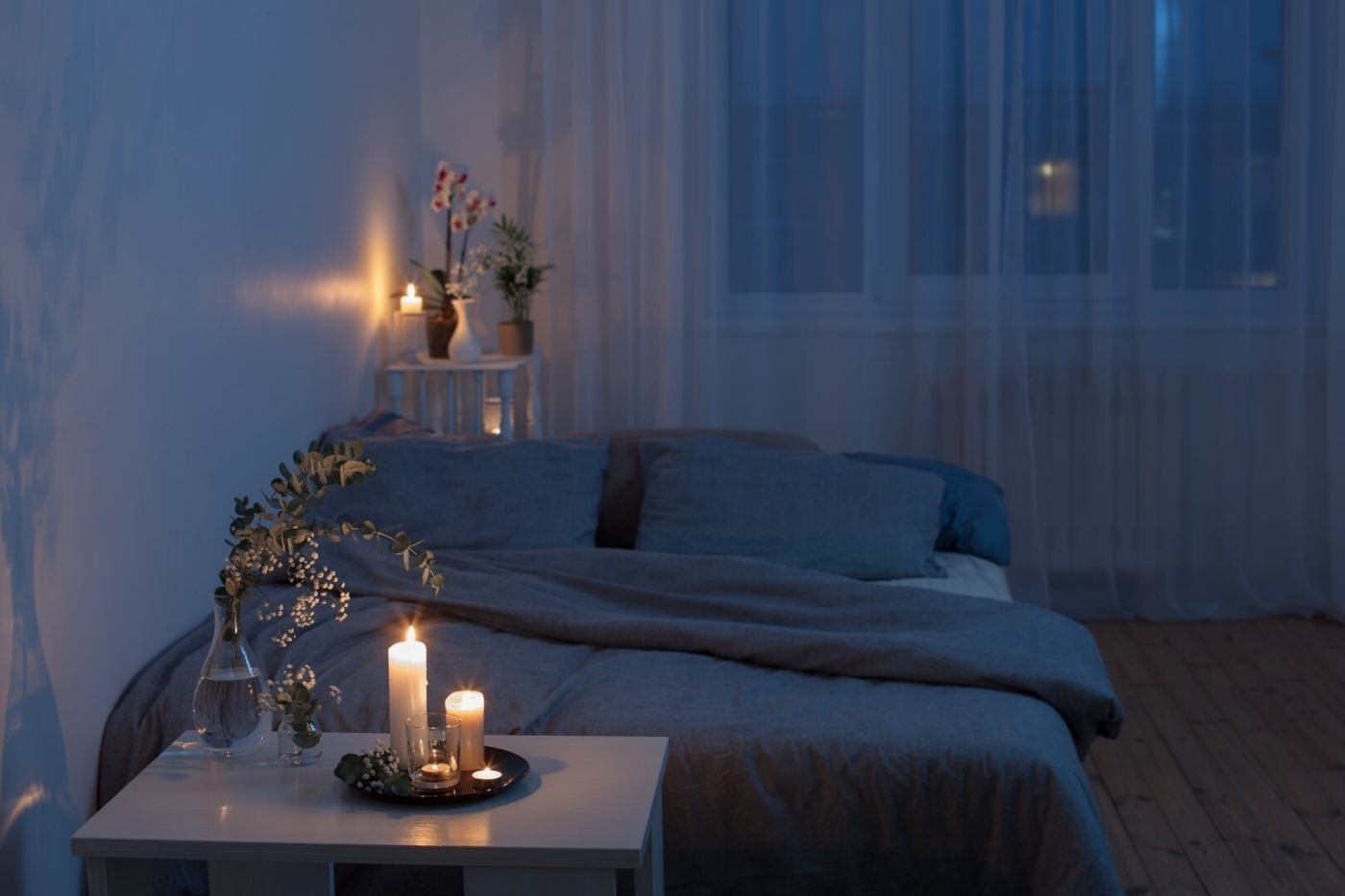 4.

Upgrade your light switches

Light switch covers aren't often thought of stylistic element of a home lighting system, but they should be! At best, light switch covers are neutral, blending into the wall and serving a purely practical purpose. At worst, they can be scuffed, eternally dirty looking, and outdated---which is a shame, because there are actually some stylish, contemporary options out there, including plates in wood, brass, brushed nickel, matte black, and powder white.

If you're planning to replace your switch covers, it's worth considering dimmable options. Dimmable lights can help to cut your electricity costs significantly, and they're a smart, resale-value-friendly addition to bedrooms and living rooms, where a softer level of light is often preferred in the evening time.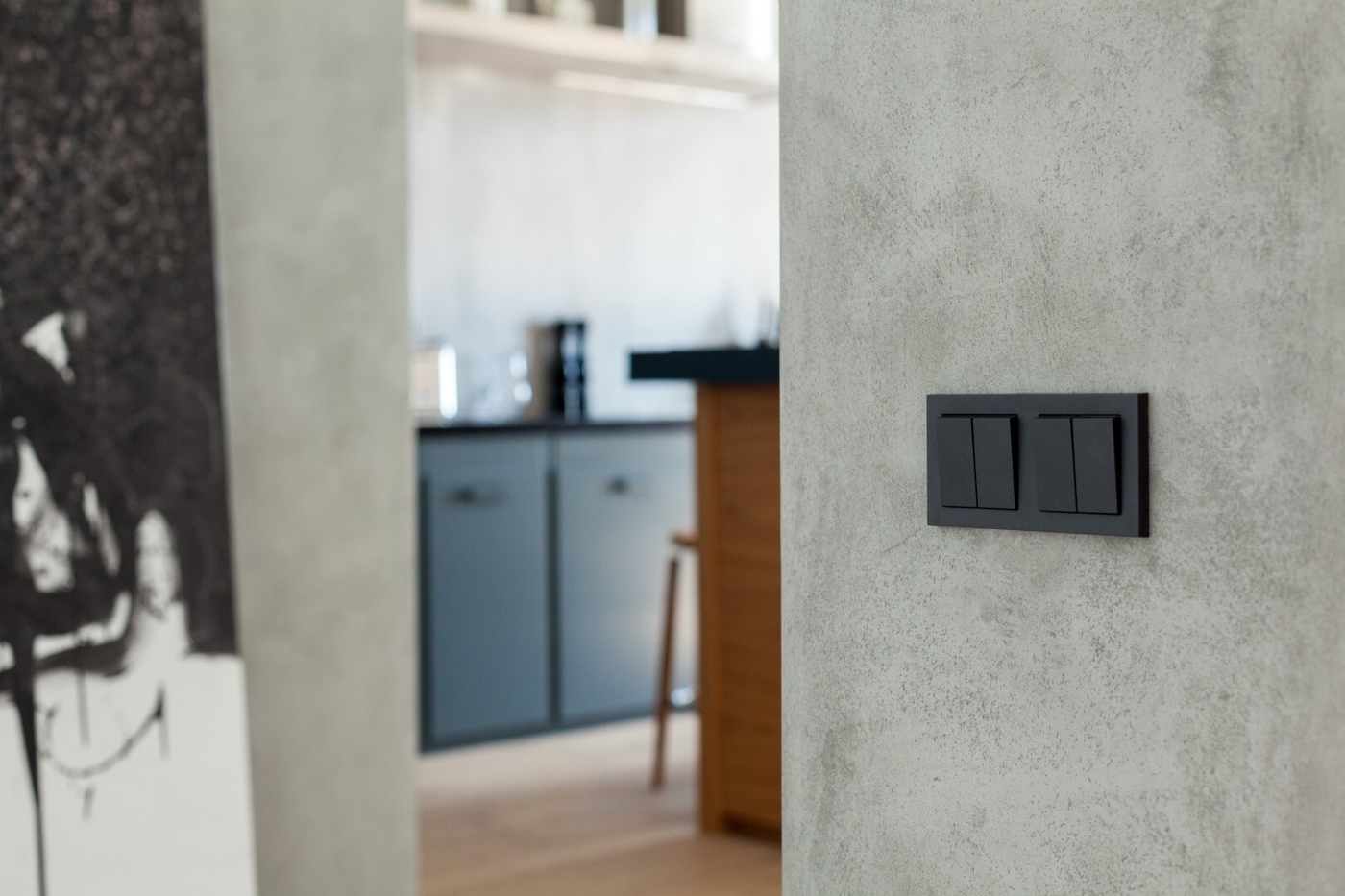 5.

Customize light temperature based on the function of the room
Different light sources emit different color temperatures. If you're dealing with LEDs, light temperature is measured with the Kelvin scale. If a light bulb ranks high on the Kelvin scale, the color temperature it will emit will be cooler. If a bulb ranks lower on the Kelvin scale, the color temperature will be warmer.
In general, a color temperature that's on the warm side (between 2,700 and 3,000 Kelvins) is best suited for residential spaces. That said, you might want to opt for a lower Kelvin rating for fixtures in the bedroom, living room, and dining room, which will give the impression of coziness, and a higher Kelvin rating for the kitchen and home office, where bright light is more important than ambience. Any room that lacks natural light can also probably benefit from bulbs with a higher Kelvin rating.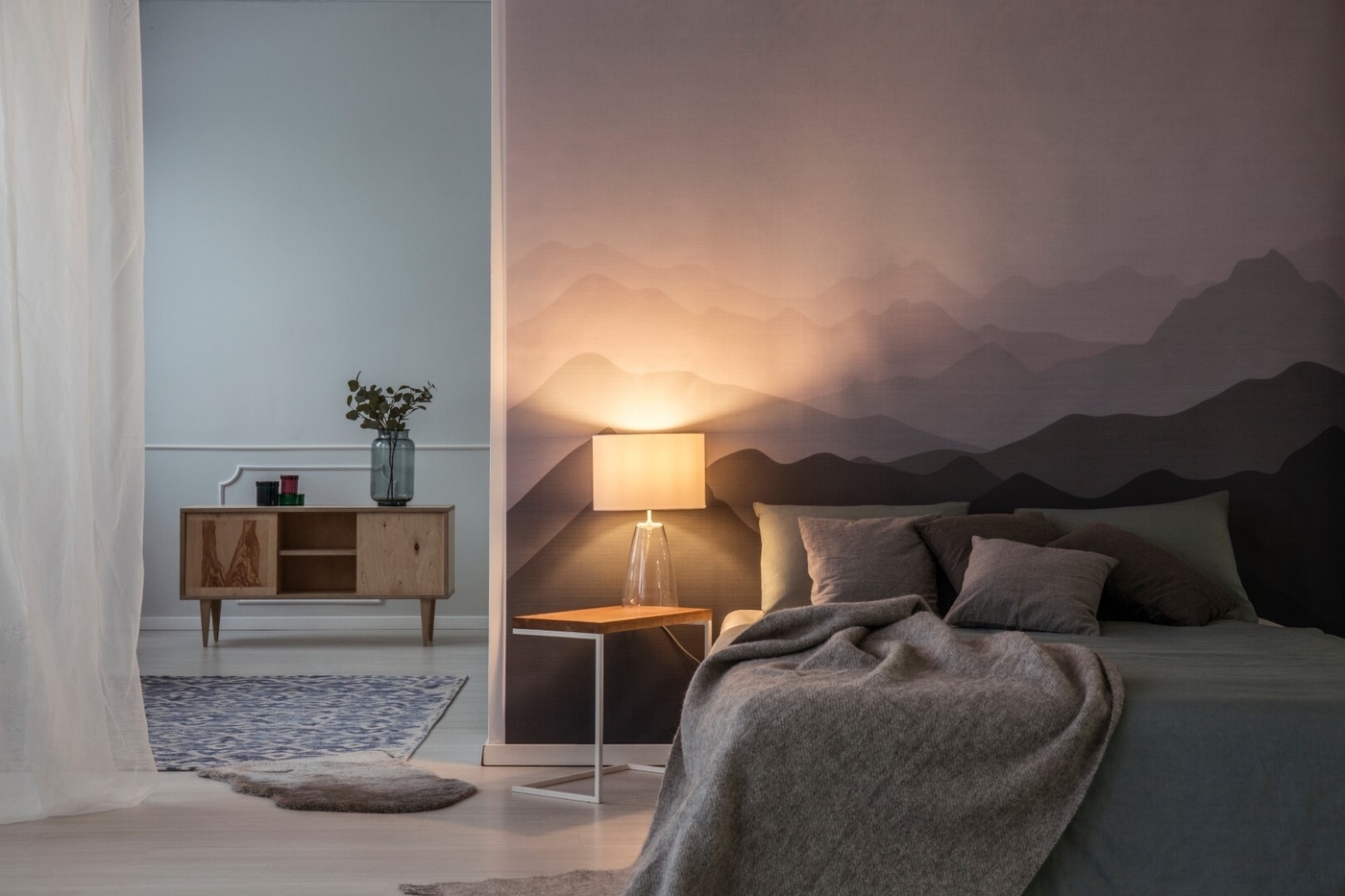 6.

Install a chandelier in an unexpected place

If you have high ceilings or a particularly large room, a chandelier is a great way to draw the eye upwards and fill your space in an intentional, functional, and awe-inspiring way. If you're working with a smaller space, you can still make a chandelier work by installing it in an area that will benefit from a burst of ambient lighting—maybe somewhere that is high-traffic and/or tends to lack natural light.

One area that usually ticks those boxes is the entryway or foyer of the home. Installing a chandelier in your front entryway will lend a grand, energetic first impression to your home, while providing brightness, the impression of spaciousness, and a bit of designer flair to the utilitarian space.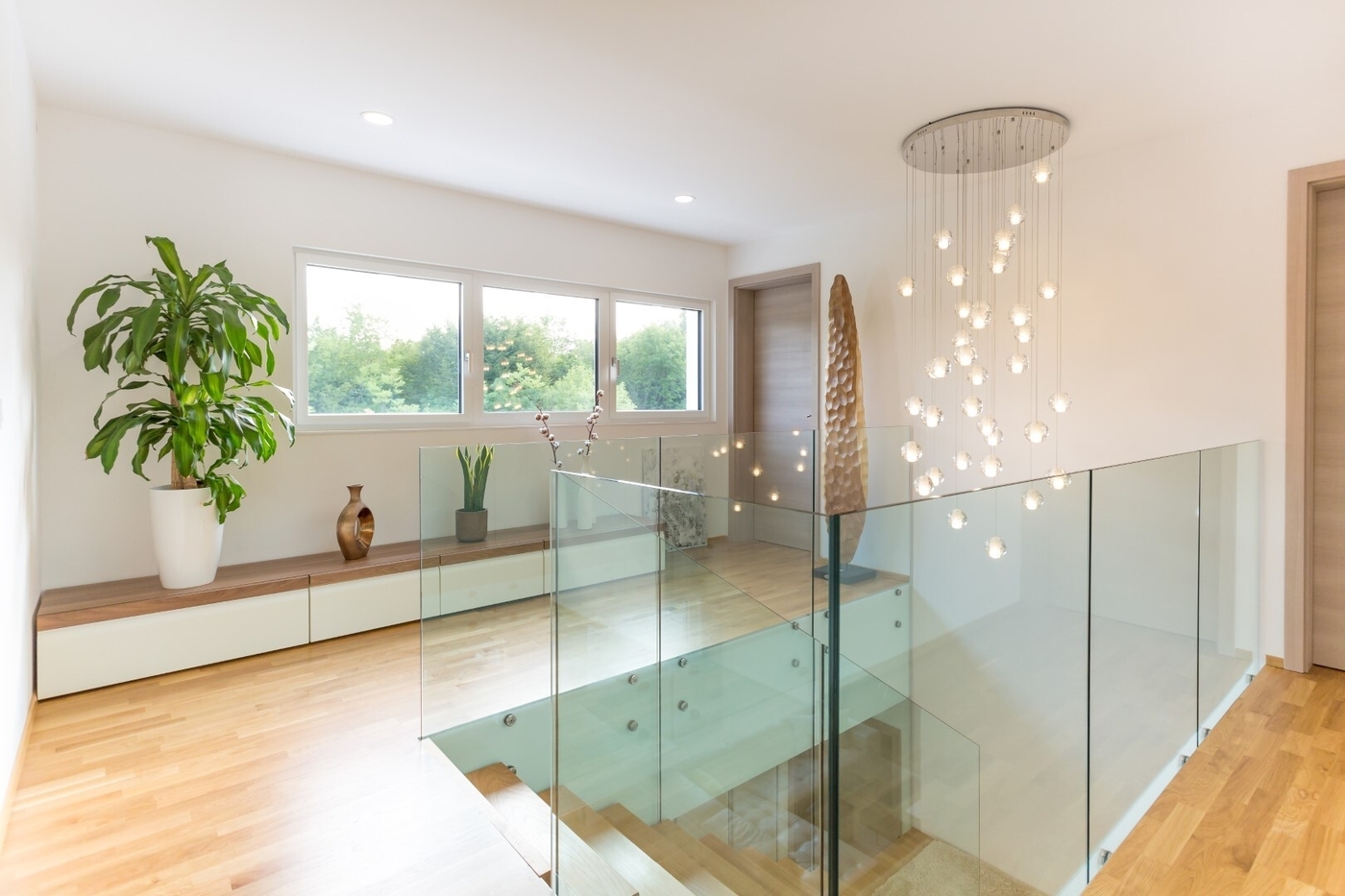 7.

Put some thought into exterior lighting
Just as you would inside of your home, you can use a variation ambient, task, accent lighting to illuminate your home's exterior and draw attention to pathways, doors, and aesthetic highlights. For instance, path lights, floodlights, and motion sensor lights can be used to illuminate your driveway and entryway, and spotlights, step lights, garden lights, uplights, and downlights can be used to highlight your landscaping, outdoor seating, impressive architecture, or any water or fire features—aka, your home's selling points.
Putting some thought into exterior lighting is great for curb appeal and resale value. Exterior lighting also provides better overall visibility, helping to improve safety for yourself and your guests.