Our Choice
Haller Kitchen Cart
Create portable functionality in your kitchen with this compact multi-surface cart. You can use it for a mobile workspace in case you want to chop the onions on your terrace during a sunny morning. It features two shelves and one drawer for keeping all the necessary kitchen wares handy. The 360-degrees casters allow smooth sailing and they can also be locked in place for safety and stability.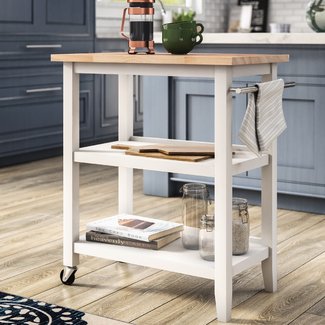 Raabe Kitchen Cart
This solid pine wood/rubberwood cart is a quintessence of style and function. The white-brown finish will blend seamlessly with white or natural wood kitchen furniture but its neutral tones will easily match more colourful decor as well. Its sturdy construction can hold up to 150lbs so you can utilise the bottom shelves to store all your cookbooks. It comes with a metal rack for added convenience and an opportunity to dress it up with a decorative towel.
Domenique Kitchen Cart
This multifunction cart is a perfect addition to a home where togetherness during meal preparation is cherished. It can serve as a work surface for your kid who is eager to help you with baking. The closed cabinet, drawer, and 3 shelves enhance its mobile storing abilities, giving you easy access to all your kitchen essentials. The solid/manufactured pine wood combined with steel hardware ensure durability during your daily cooking endeavours.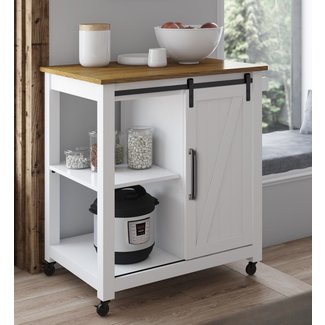 Dionisio Rolling Kitchen Cart
Enhance the look of your cottage/farmhouse kitchen with this portable storage unit sporting a rustic look. Every stand comes with a unique variation of wood knots and grain patterns. If you like to simplify its look to make it more suitable for an entryway table, you can remove the wheels. If used by the front door, the side rack will be ideal to hang your umbrella, scarf or a dog leash, and the spacious storage will accommodate a few pairs of shoes.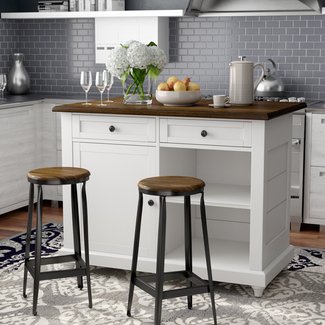 Gilchrist Kitchen Island Set
This elegant island set provides generous storage while serving as an interesting breakfast bar. The combination of solid wood white base and dark manufactured MDF chip membrane board creates a classically warm rustic vibe. This freestanding piece comes with two matching black iron stools that fit neatly underneath the generous overhang of the beveled detailing on the antique counter-top.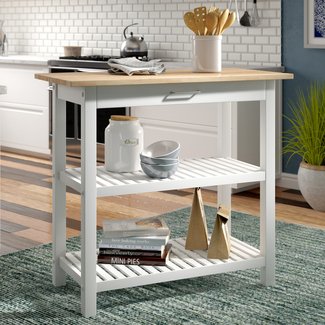 Lakeland Prep Table
Invest in a timeless quality by acquiring this preparation table. It's manufactured from solid maple/pine wood with natural wood grain colour variation and featuring stainless steel hardware. Its protective oil finish is resistant to water and stains. To keep it pristine, just wipe it with a damp sponge using a gentle cleanser. Avoid harsh chemicals or abrasives and you can enjoy its mint condition for many years to come.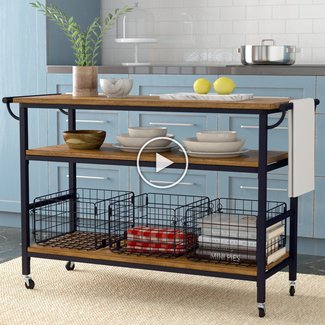 Fresnay Kitchen Island with Wooden Top
This voluminous island will fit perfectly in a kitchen full of vintage decor. The black rustic iron frame base is combined with 3 distressed wooden shelves in an antique bronze finish. It comes with a bonus, 3 wire baskets providing space for your cookbooks or canned foods in an industrial style. Use it for kitchen storage or as a console for your party appetisers and drinks.
Prep Table Stainless Steel
This unbreakable 20 Gauge Steel table is ideal for a busy kitchen filled with cooking passion and food experiments. It will please a conscious parent as it's NSF-Certified—everything from the product design to materials has been tested and conformed to 3rd party food equipment safety and sanitation standards. It's designed with personalisation in mind—you can adjust the bottom shelf and remove the casters if necessary.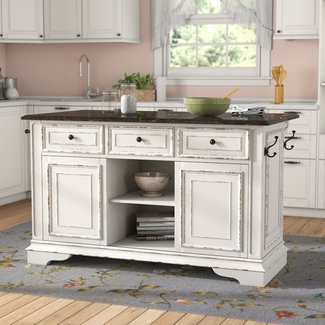 Tiphaine Kitchen Island with Granite Top
If you're looking for a substantial island with roomy counter space and generous storage, this French countryside-inspired piece is your best pick. The 100% granite top paired with birch/poplar distressed base and antique pewter hardware create an authentic look. Indulge in its uniqueness—no item has the same grain colour, finish, or wood knots due to natural factors.
Serita Kitchen Cart Tile
This compact yet spacious rolling cart will surprise you with functionality and versatility. It features 2 drawers, 2 chrome-finished open wire baskets, 2 slatted shelves, wine rack, and a towel rack to satisfy a highly-organised individual. It works great as a food prep trolley, coffee table station, or extra storage to hold appliances, serve-ware and linens. It offers plenty of additional storage while fitting in tight spaces and narrow nooks of small apartments.