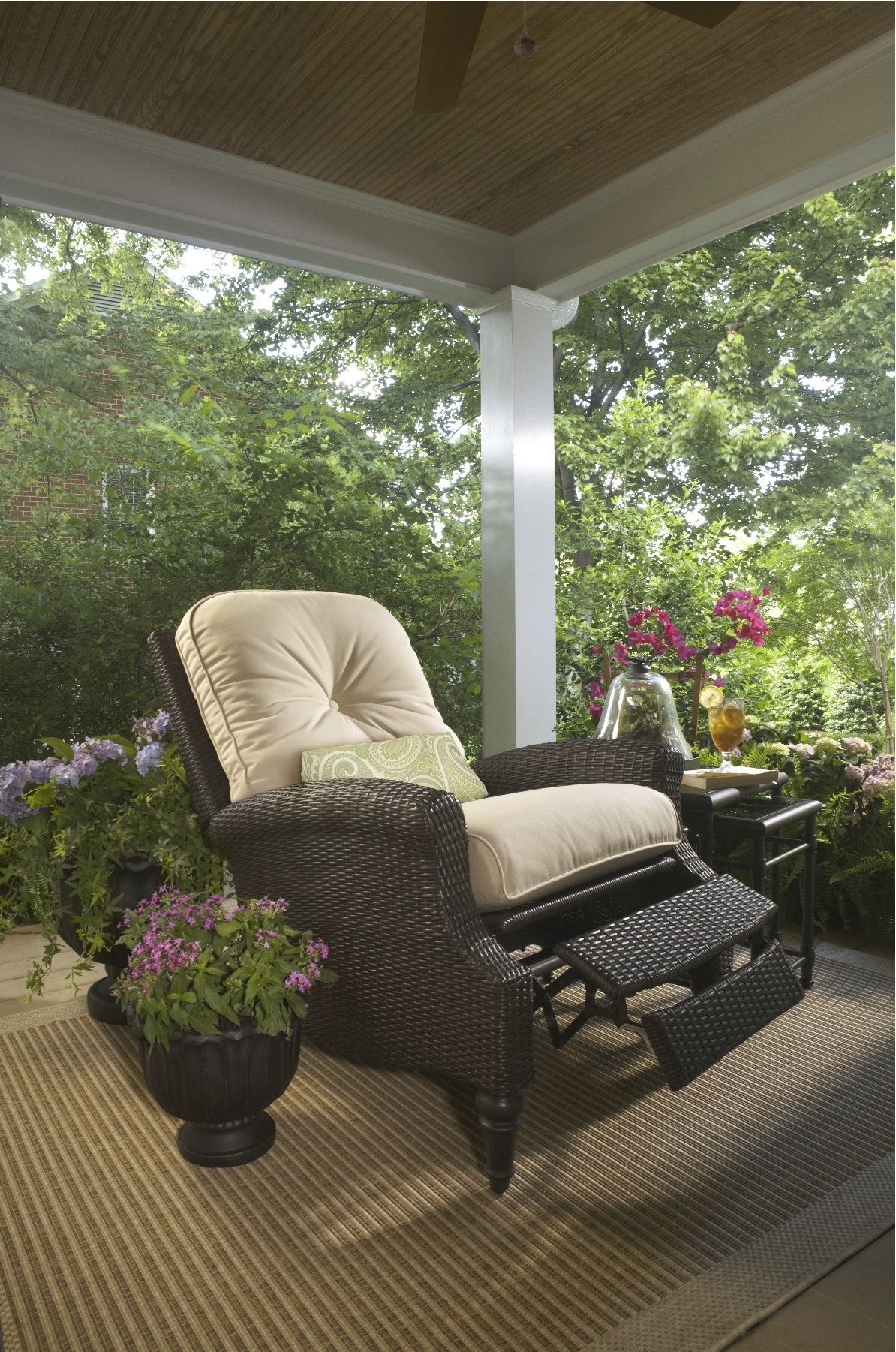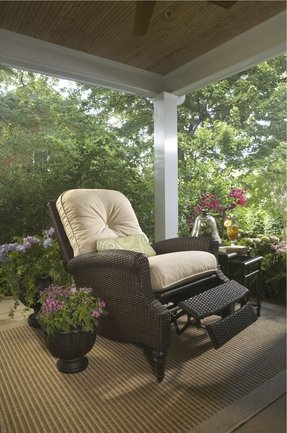 This is an extra comfortable recliner chair especially designed for enjoying it outdoor on fresh air. Smooth design and the monochromatic set of dark and light brown colors fabric brings to it a very pleasant look.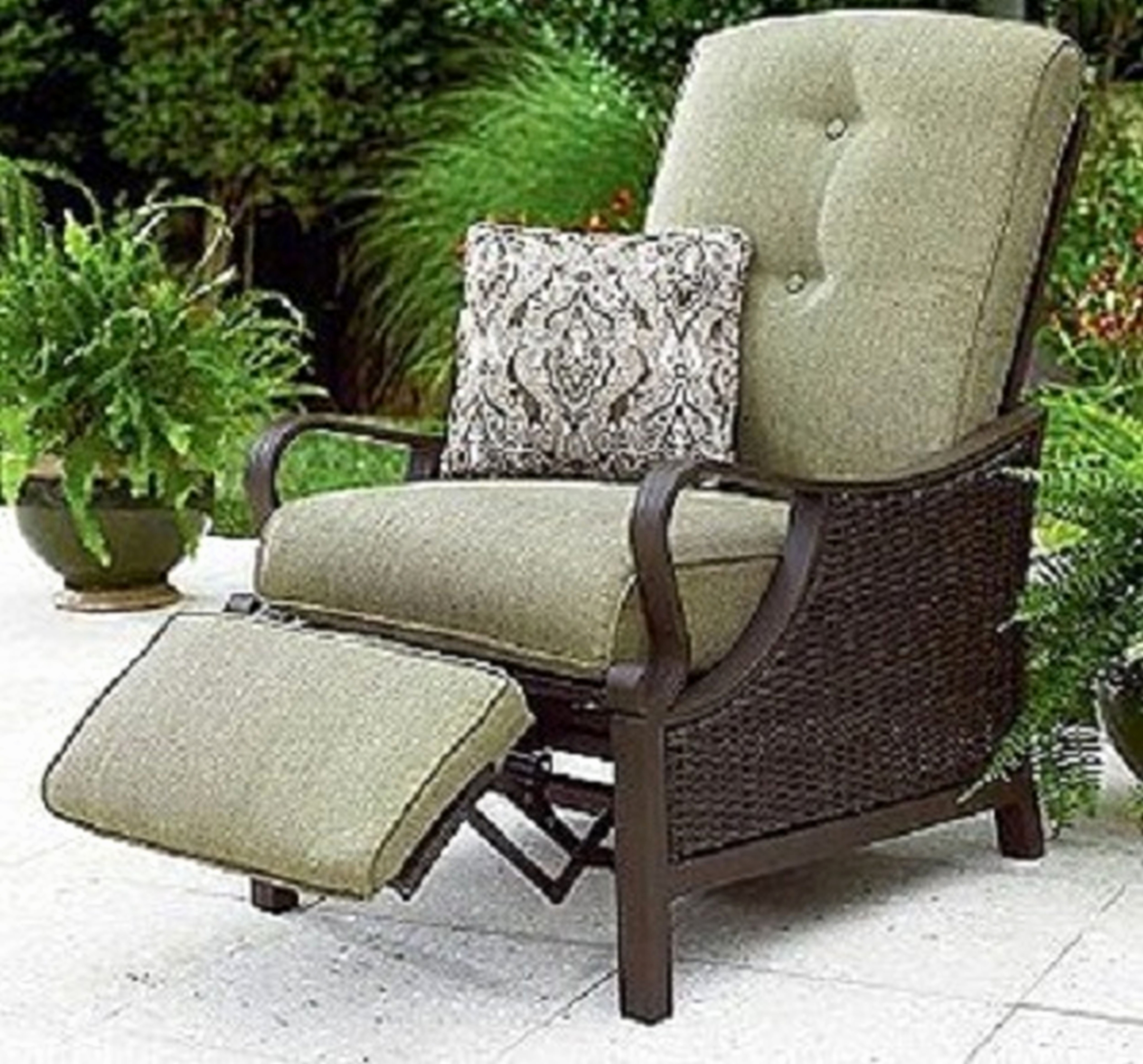 Wicker furniture is an excellent offer for lovers of natural materials and sophisticated forms. This outdoor patio recliner has a dark wicker shade on the sides, with a gray-greenish upholstery in the thick cushions on the seat and backrest and footrest.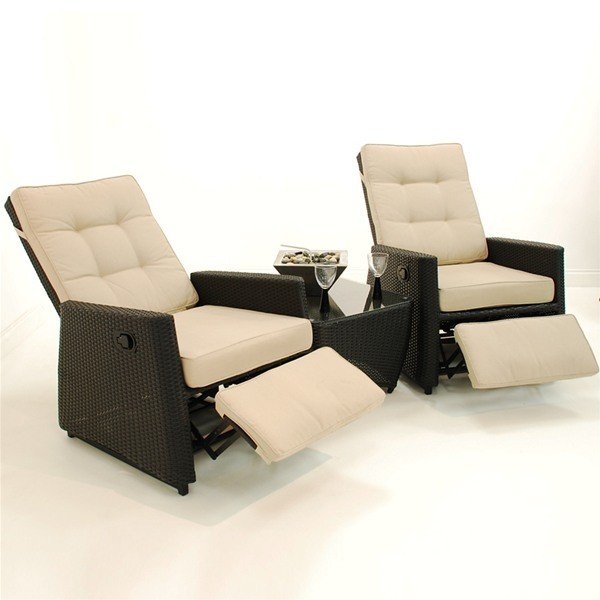 Companion Seats Garden Benches Garden Furniture Sets Garden Sofa Sets ...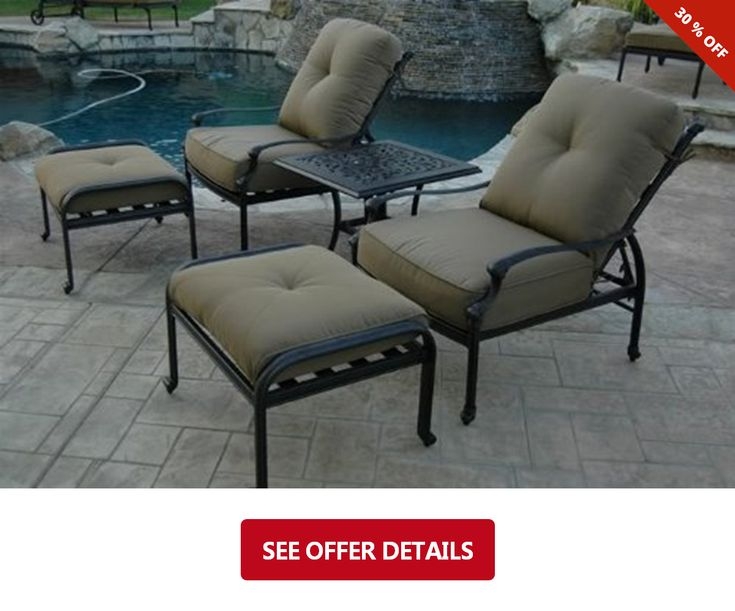 Thanks to this 5-piece set for outdoors, you will be able to experience quality sun baths by your swimming pool. The set consists of 1 patio table, and 2 chairs with adjustable backs, durable metal frames, and softly padded, upholstered in a walnut fabric cushions.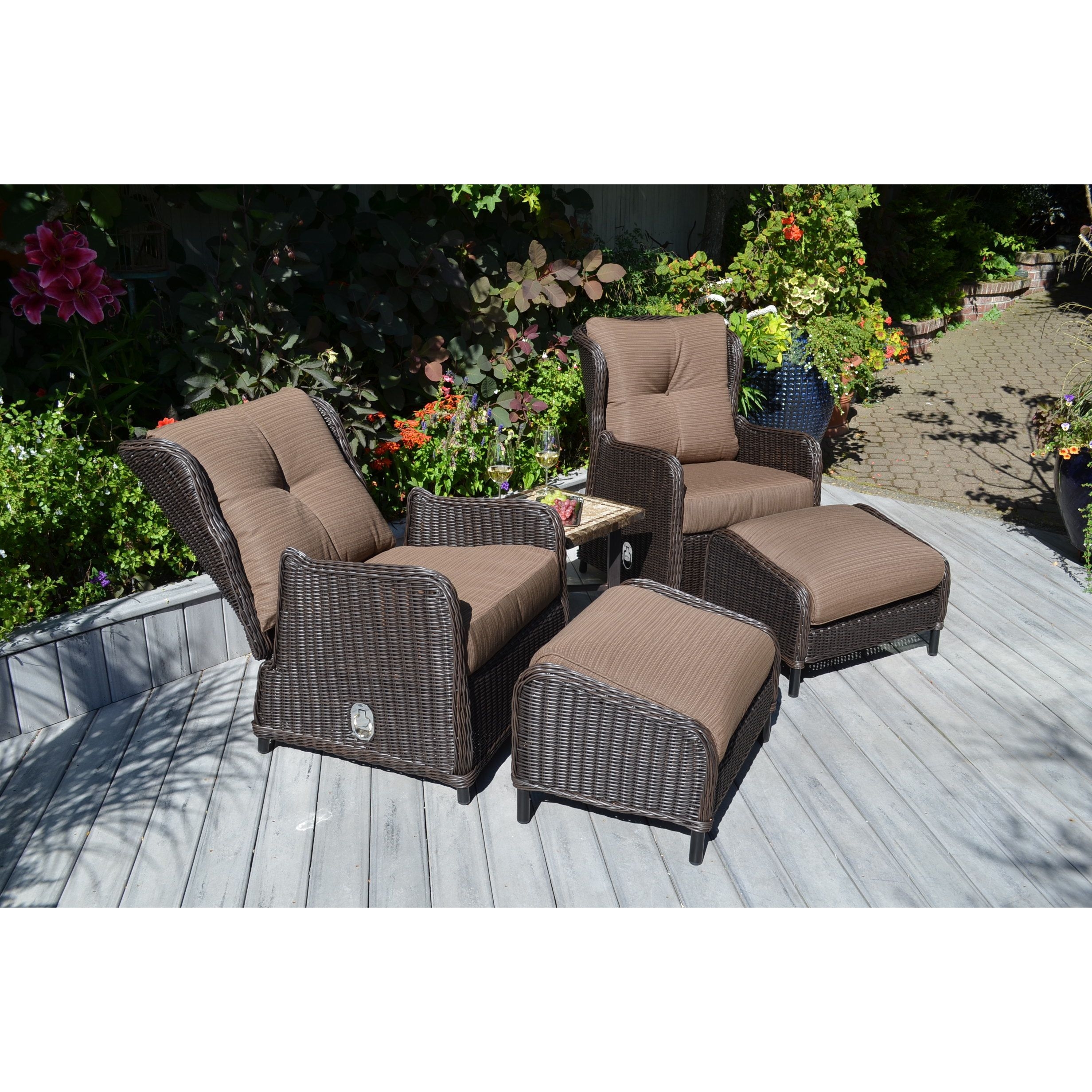 Westport 5-piece All-weather Wicker Sunbrella Reclining Group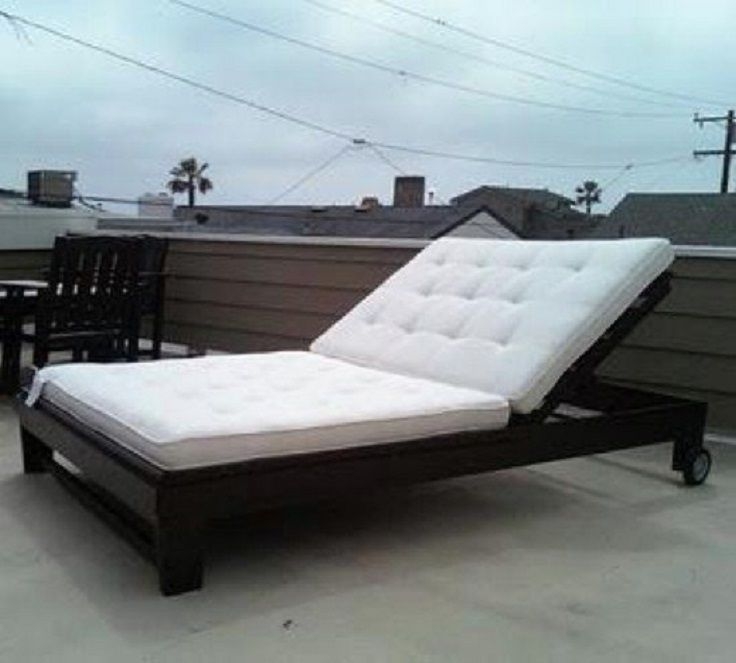 Ultra wide patio recliner fitted with white cushioning. The low-sitting base is black, and its one side may be propped up. There are two wheels, so moving this outdoor piece around can't be very troublesome.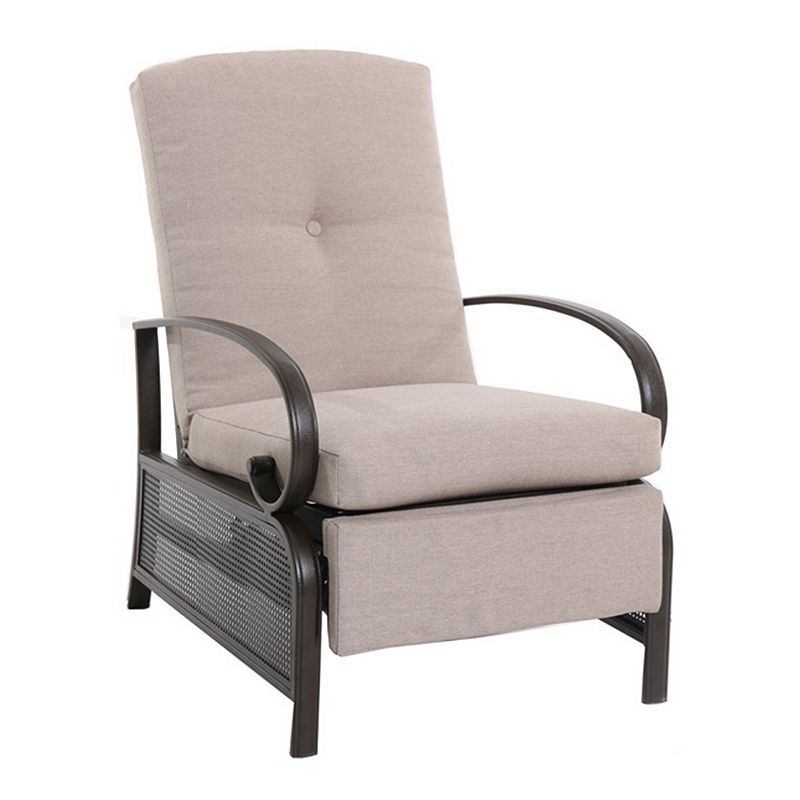 Recliner mounted on aluminum frame and reinforced with solid supports. Removable pillow is covered with fabric and finished with decorative quilting. Suitable for indoor and outdoor use. It is resistant to rust and harmful weather conditions.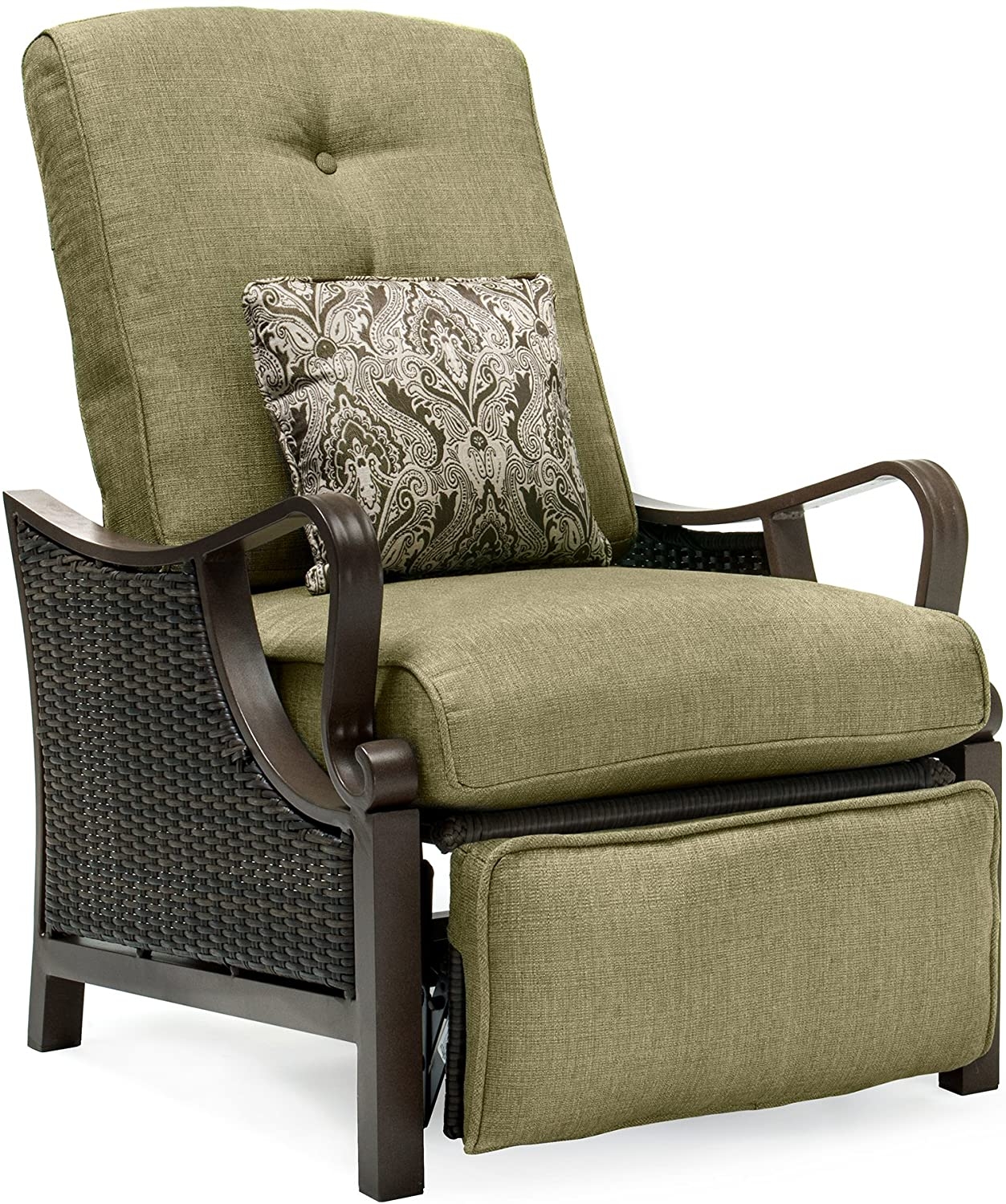 This patio recliner offers a seat that is wider than standard, and fanciful contoured arms don't take up the seating space. khaki green cushioning covers both the seat and the footrest. Sides feature wicker weave detailing.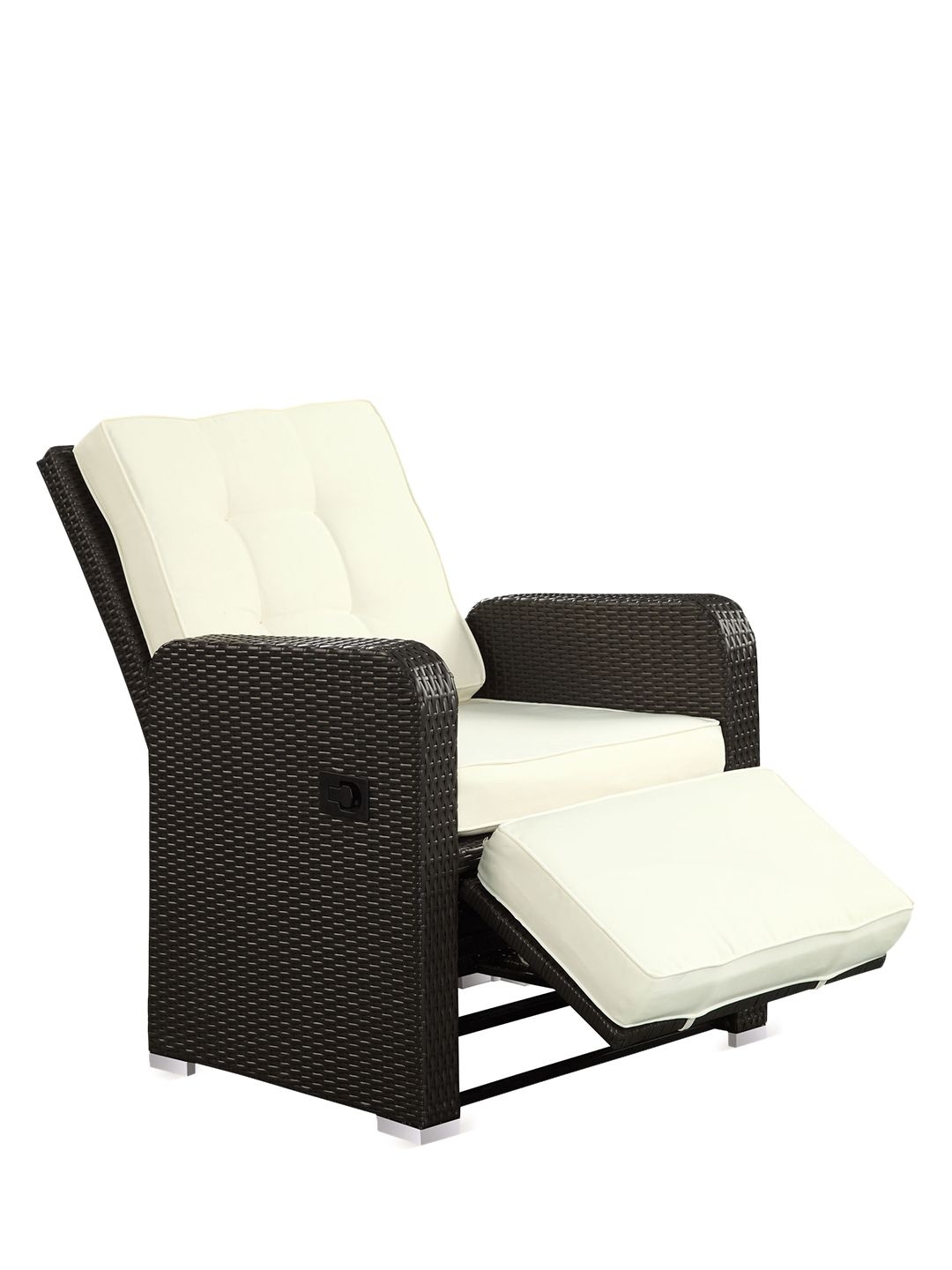 Wicker Outdoor Patio Recliner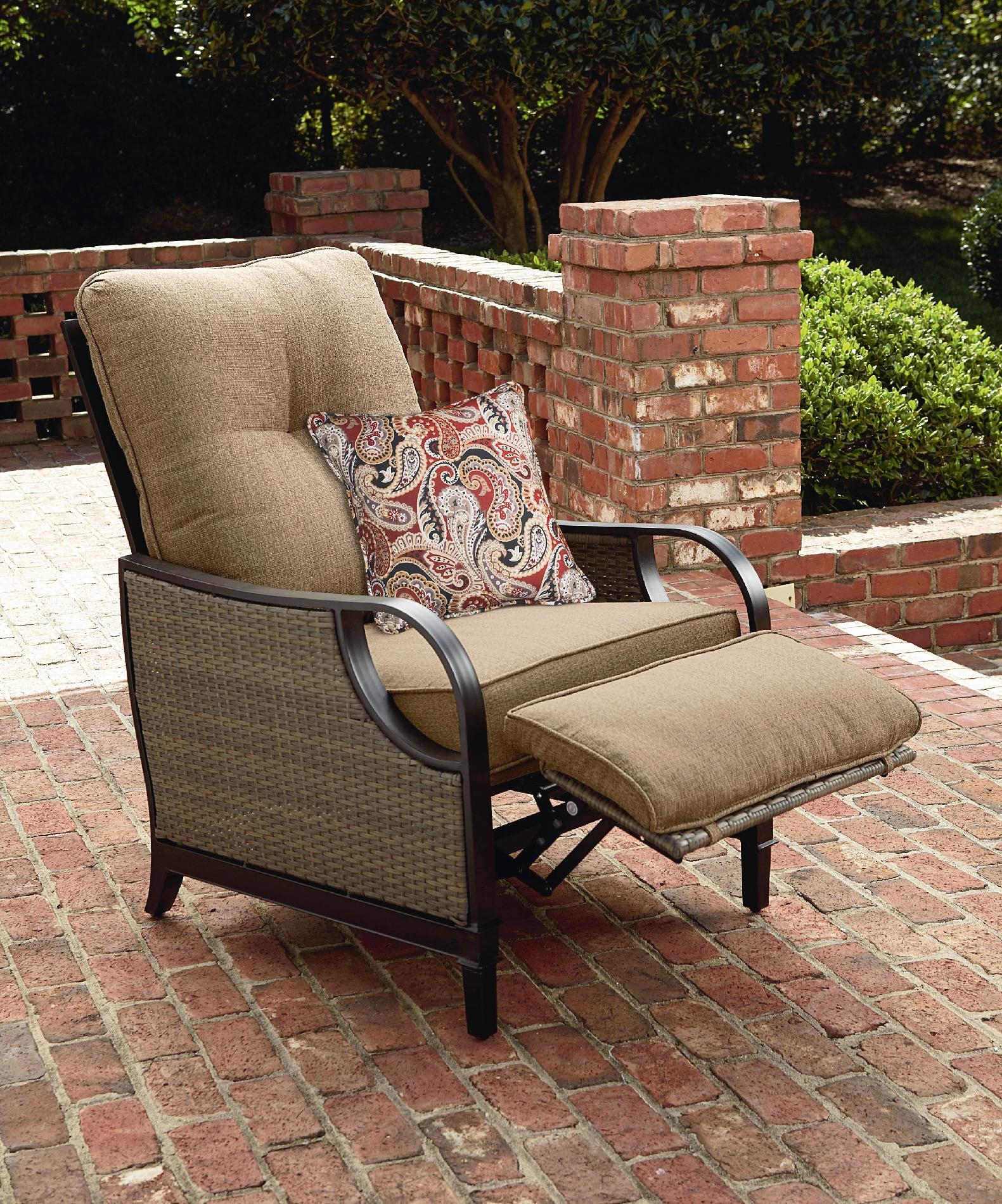 La-Z-Boy Outdoor Charlotte Recliner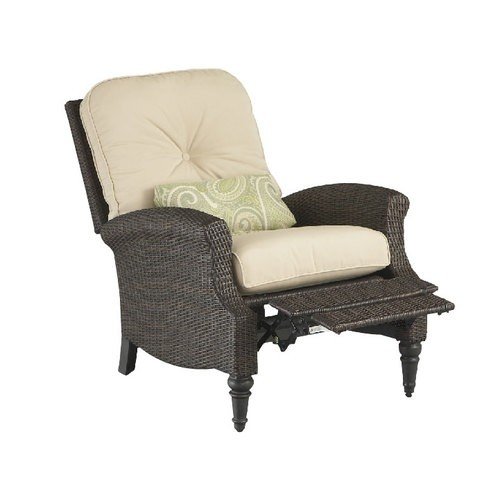 Outdoor Recliner, but could be cute indoors as well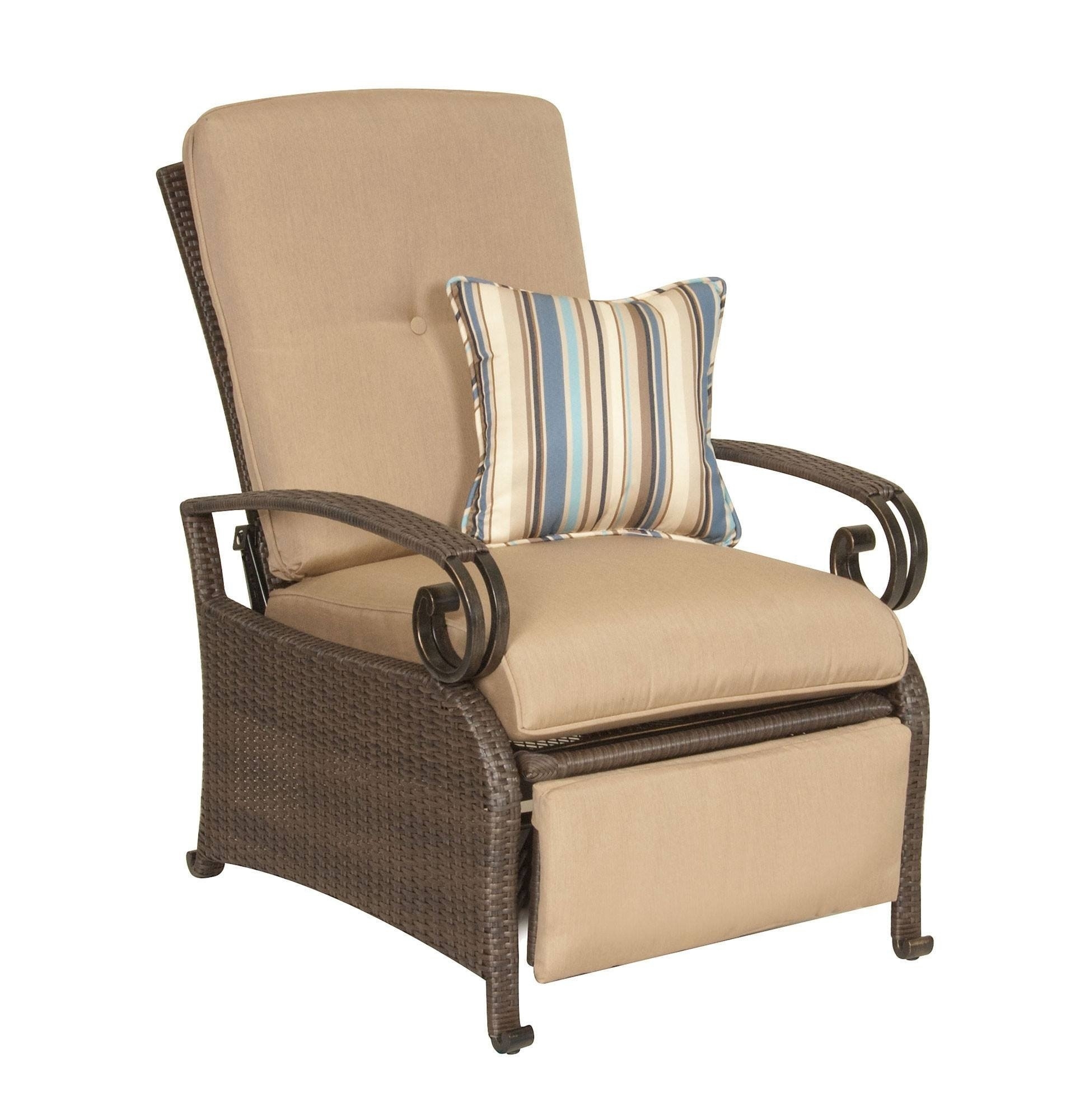 This stylish recliner can be use both indoor and outdoor, and was made of weather conditions and water resistant materials. Its sturdy yet lightweight aluminium frame has a warm brown finish, Thick cushions are included.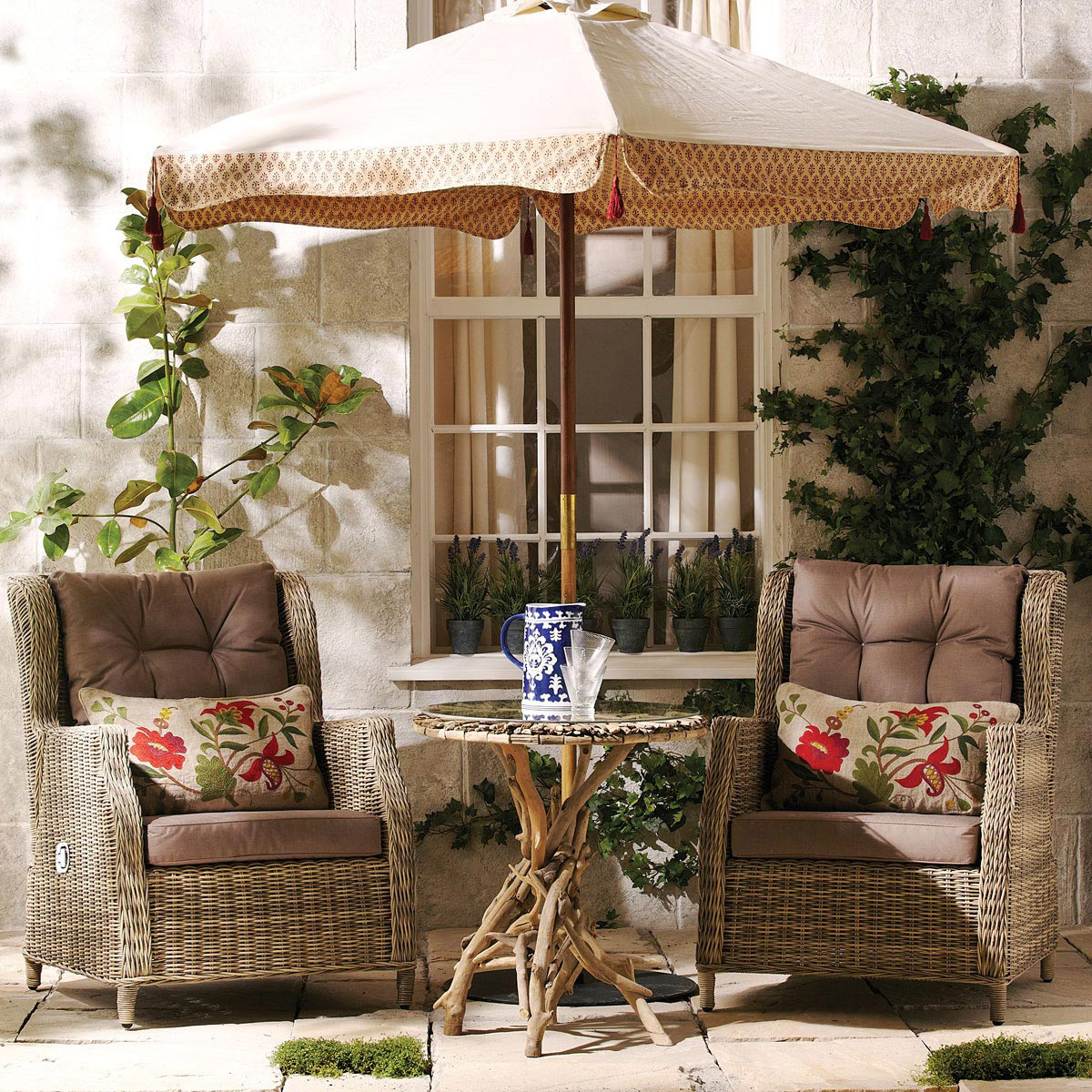 OKA Direct | Rimini Rattan Reclining Armchair - Light Grey | 739.00 retail as shown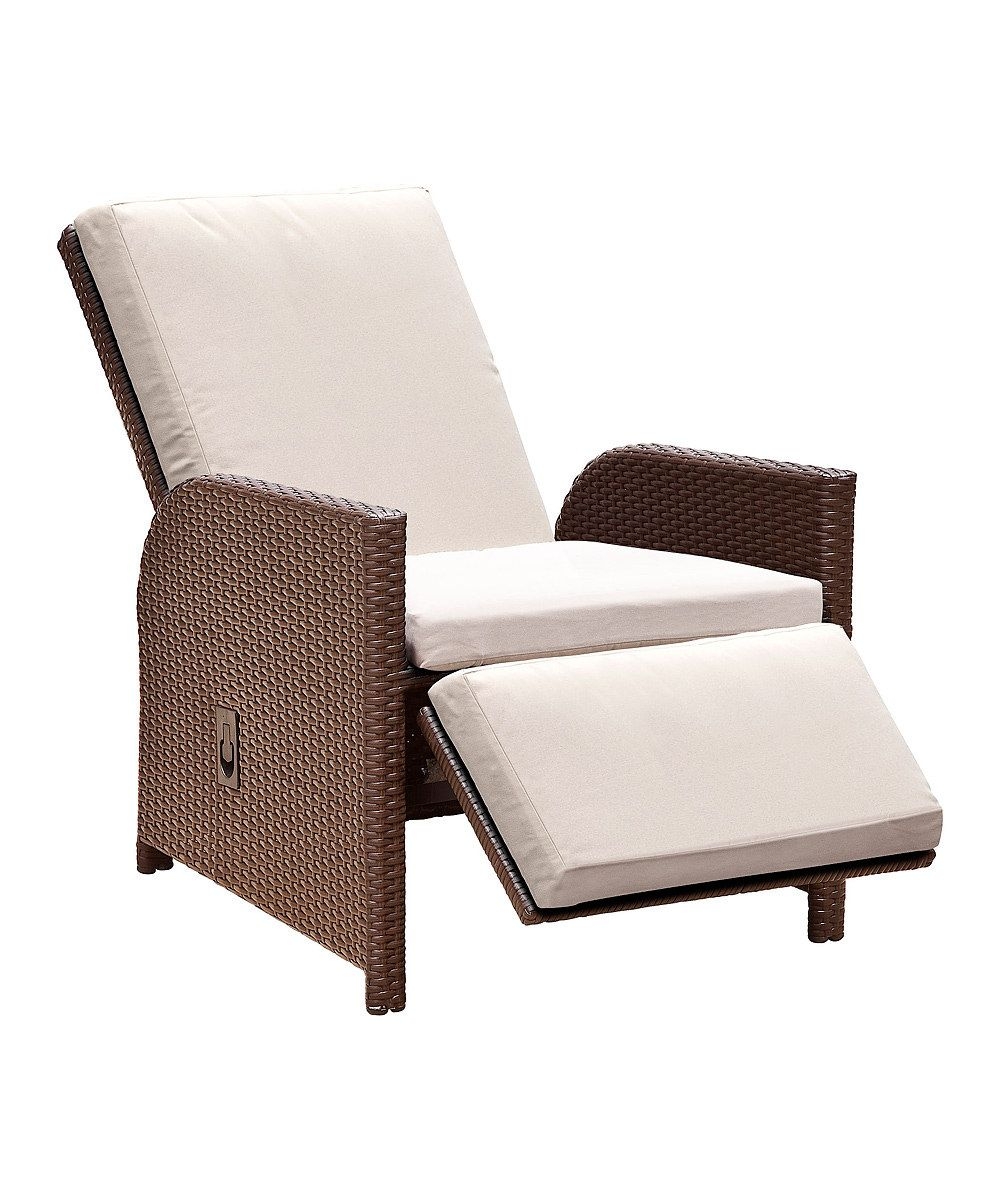 Take a look at this Bahama Outdoor Reclining Chair by Patio Perfection: Outdoor Furniture on #zulily today!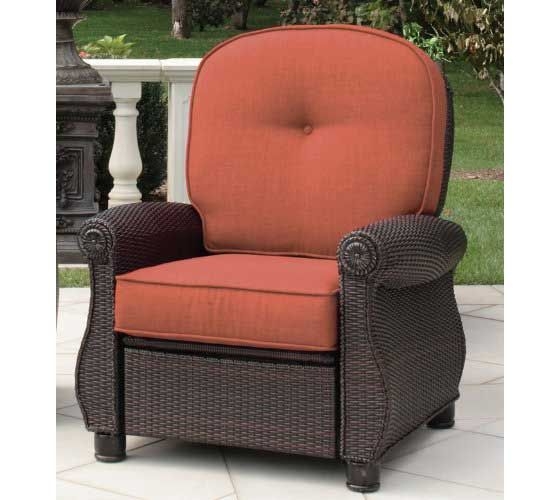 A comfortable patio recliner with a dark, wicker frame and plush cushions for the seat and the back. The cushions are upholstered in an orange, cotton material which is both nice to touch and gives the piece a vibrant detail.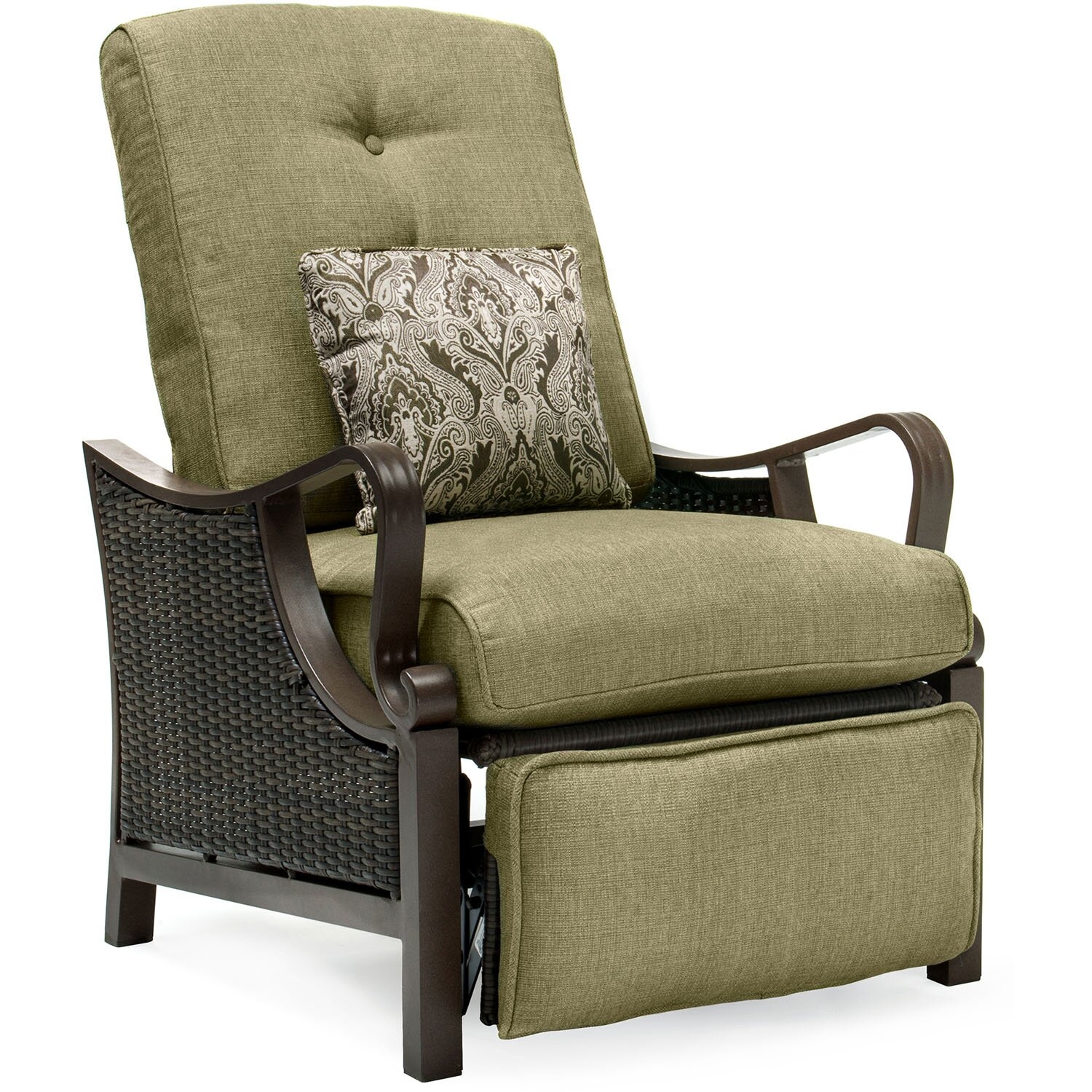 Recliner designed for outdoor use. Frame is made of aluminum and rattan. It is resistant to rust and harmful weather conditions. It includes removable cushions for easy cleaning.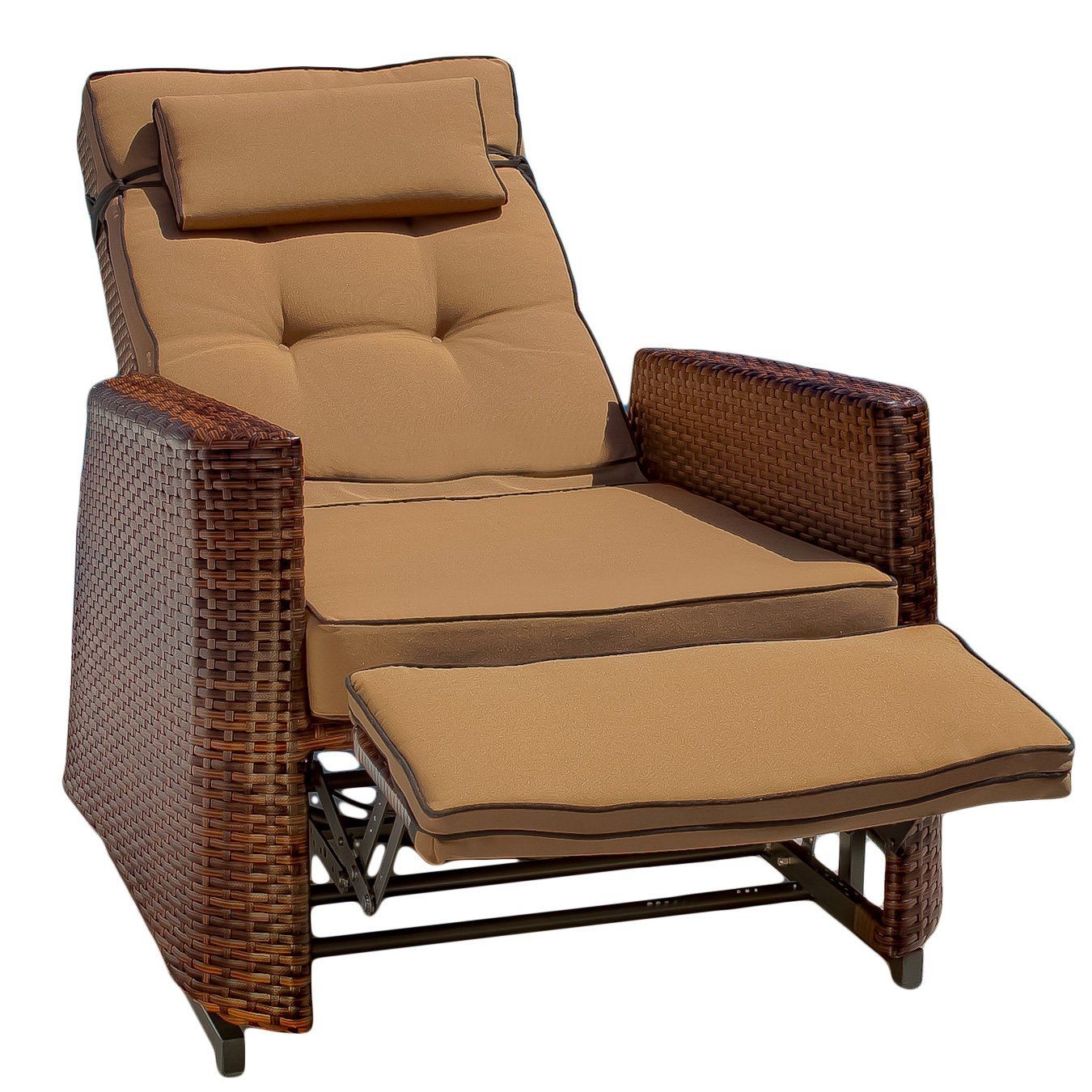 With this 2 amazing recliners you don't have to worry about the comfort of your porch or patio, anymore. Each recliner features a sturdy aluminum frame, both sides wrapped in weather-resistant PE wicker, and weather-resistant cushions.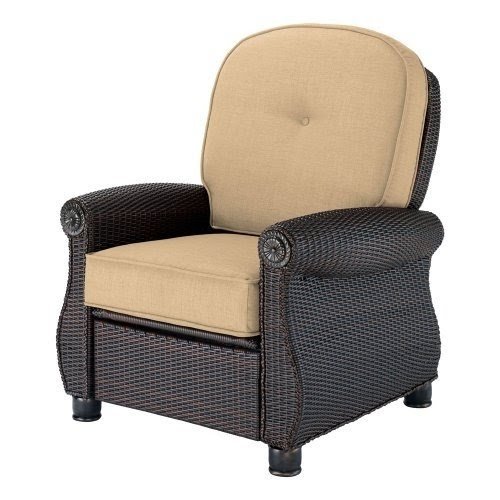 Why not just relax in comfort with this luxury, outdoor patio furniture recliner? It offers the quick-drying deep seat cushions that are covered in a high-performance fabric that allows for superior durability.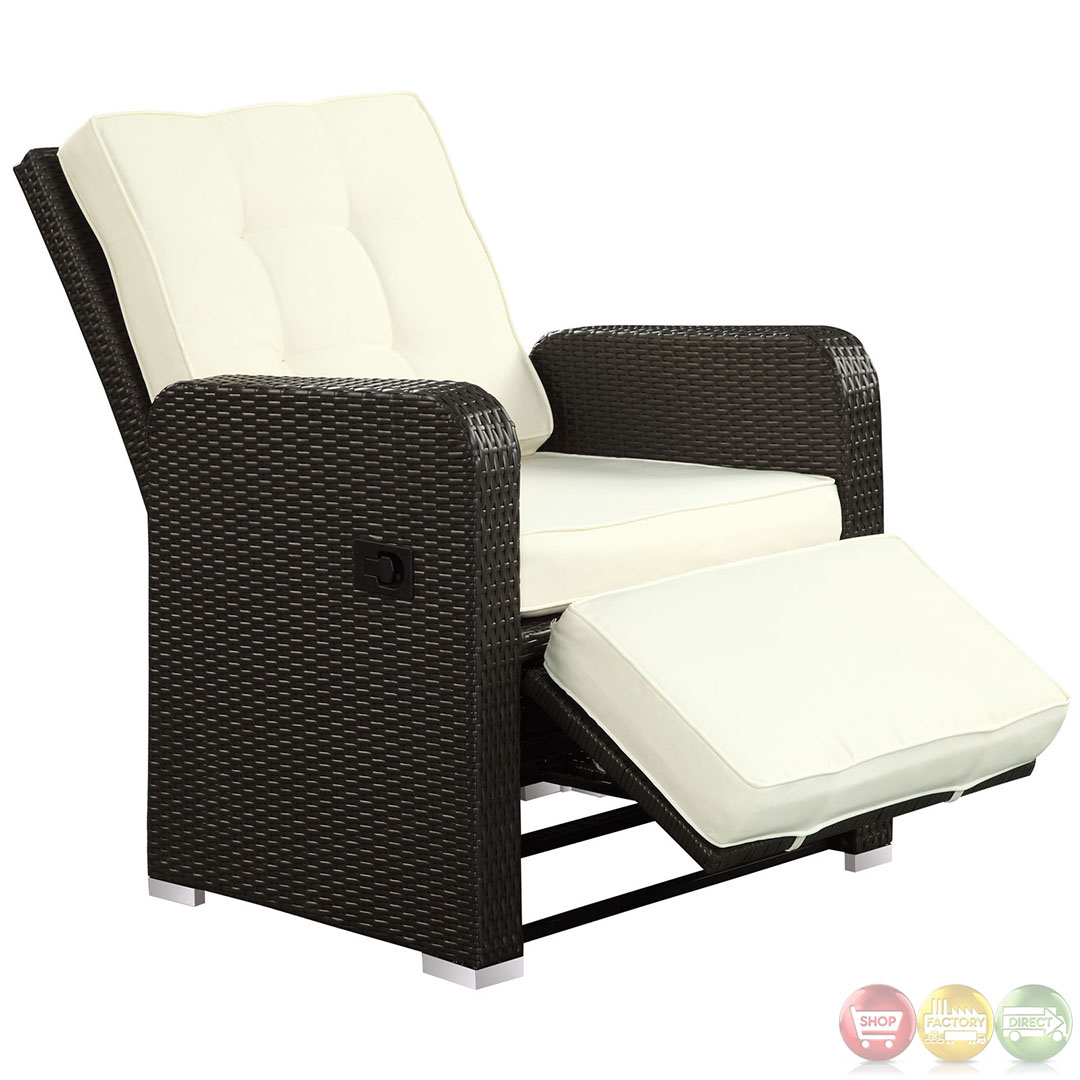 Commence Modern Outdoor Patio Armchair Recliner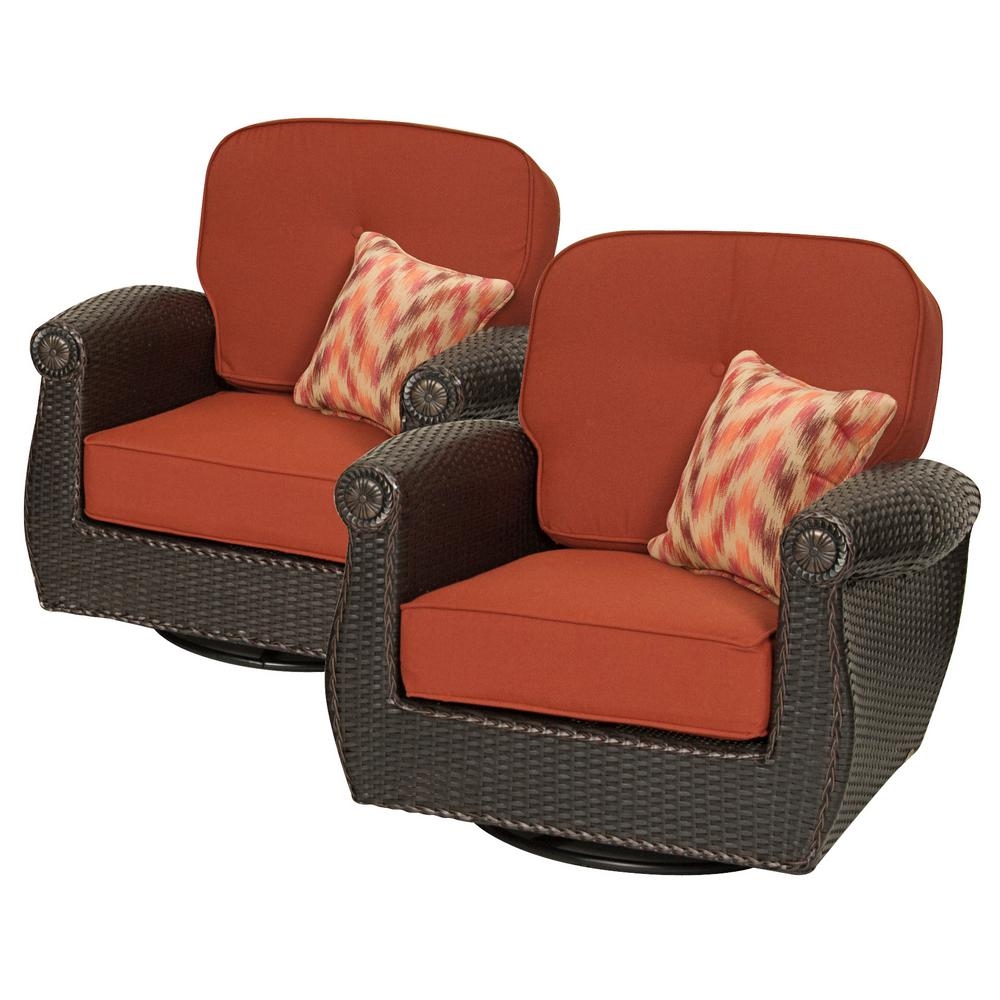 Swivel set of chairs for outdoor use. The construction is made of aluminum and coated with resin wicker. Pillows seat and back are downloaded for easy cleaning. It has a lot of good evaluations from customers.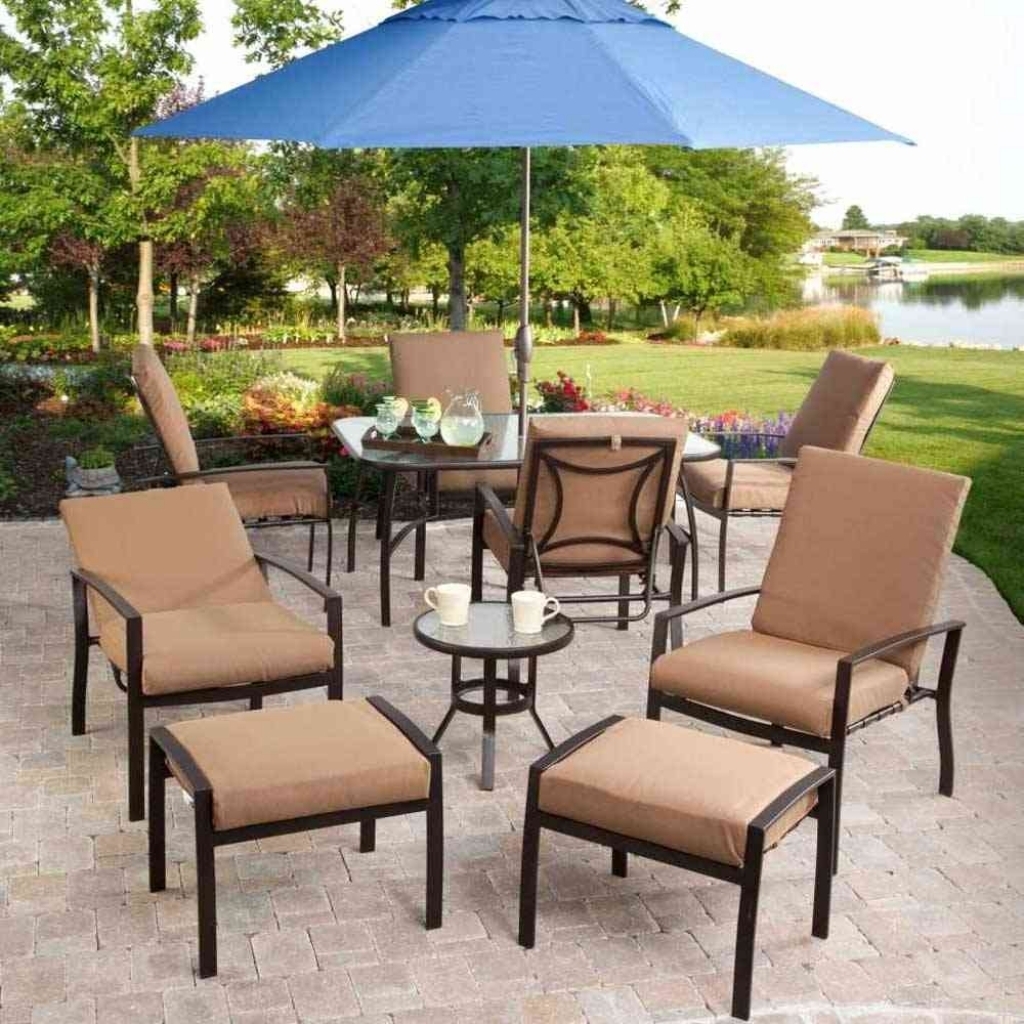 Brown Outdoor Patio Furniture Set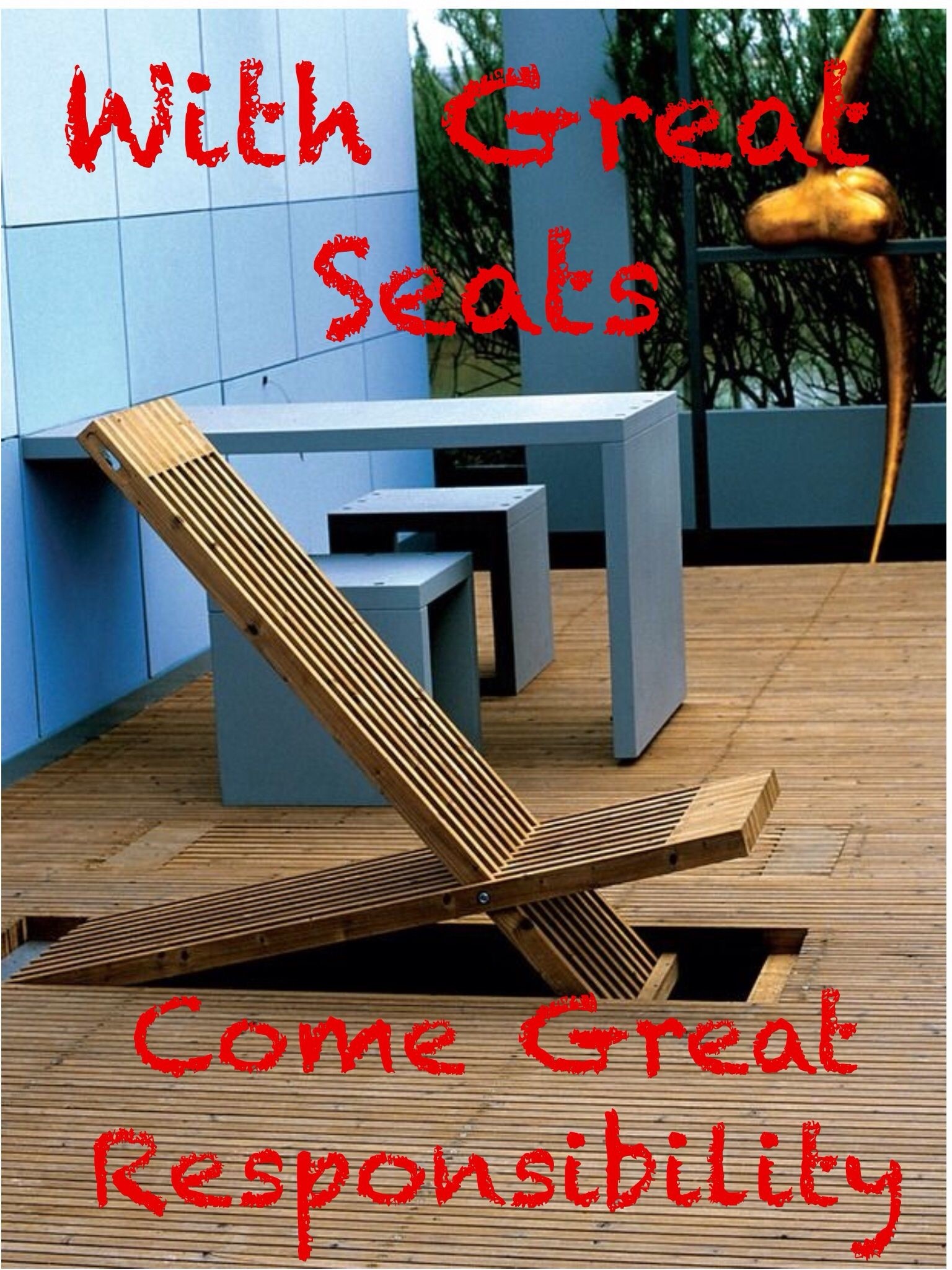 Modern furniture looks right at home in concert with nature.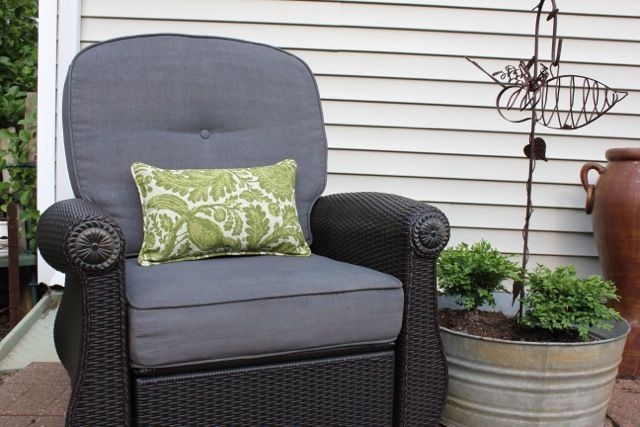 A touch of outdoor style and comfort. This patio recliner features an attractive gray wicker construction resistant to weather conditions. This wicker frame gives this chair a natural appearance. Its soft cushions provide comfort of sitting.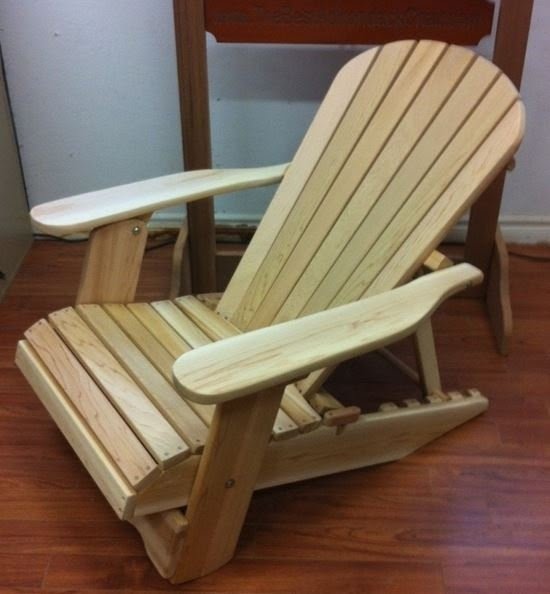 The winner of Facebook contest for the new four position reclining and folding #AdirondackChair has been chosen! Find out who it was here!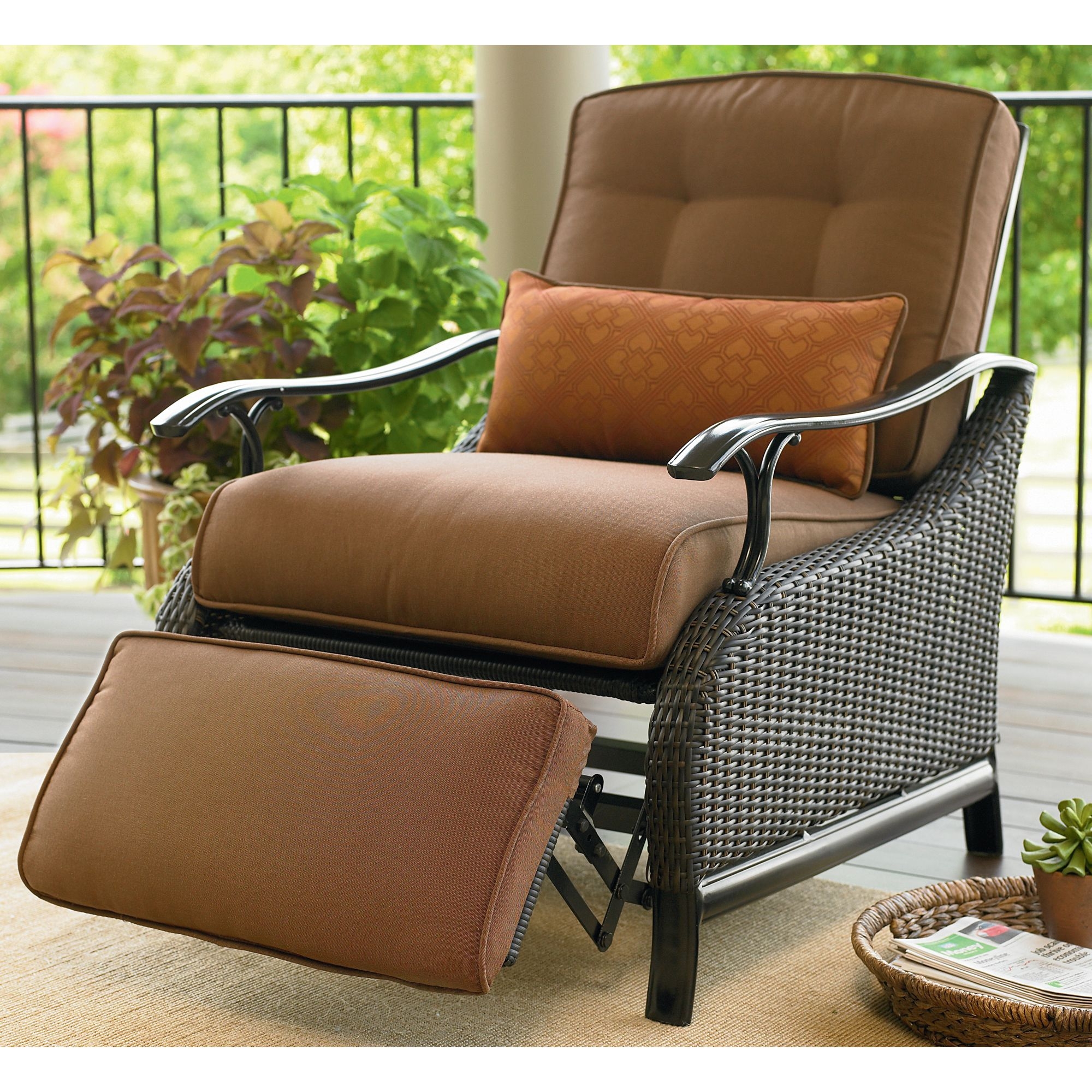 Giving myself a HIGH FIVE for coming up with something for Father's ...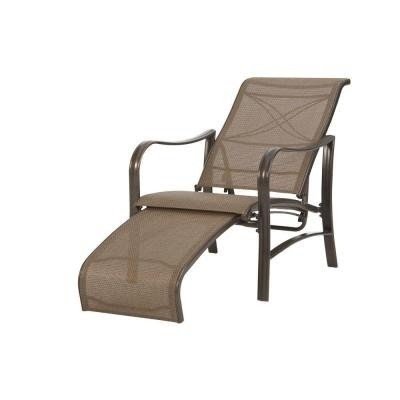 Lounge chair with reclining function. It supports very comfortable postures. Durable construction is resistant to weather conditions so the chair is suitable for outdoor relaxation. Neutral colors look good in any patio or garden design.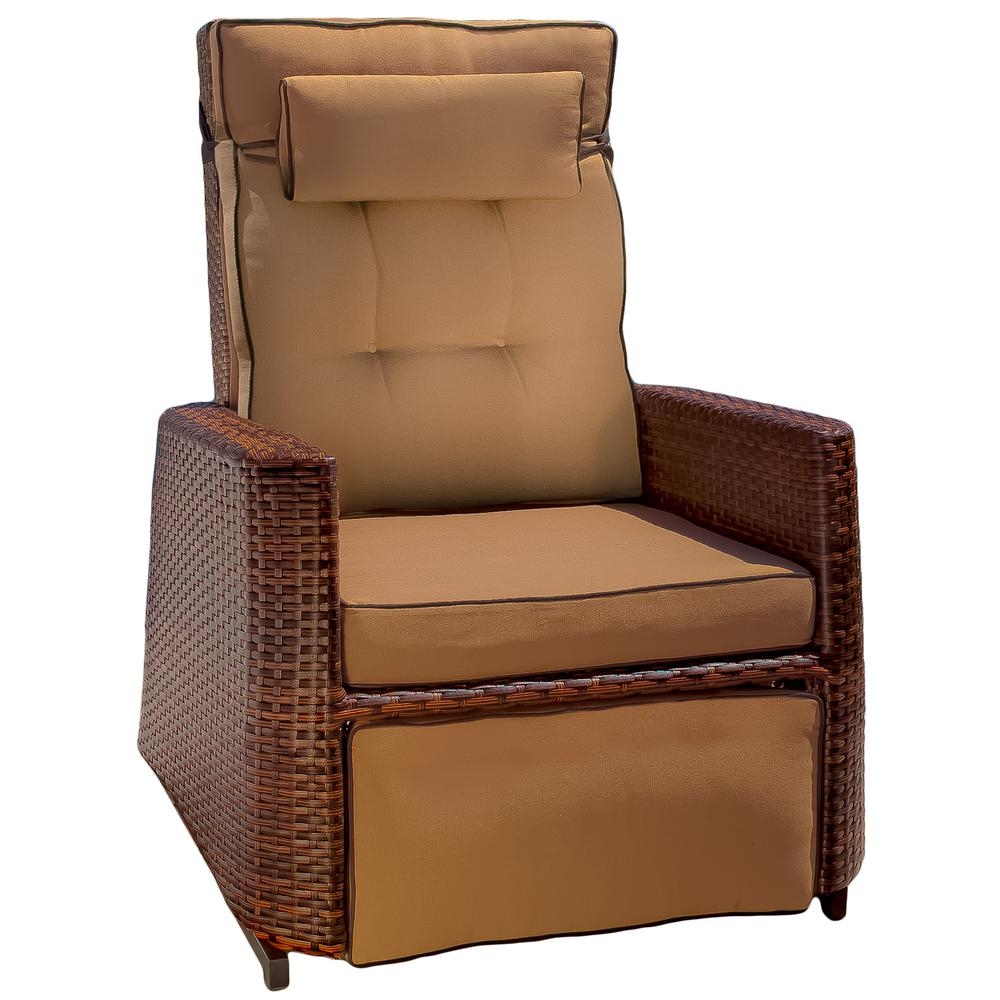 Wicker patio recliner, traditional in style, blends with grace with any outdoor setting. Dark brown wicker design is complemented by light brown cushioning. The back provides additional support at the neck level.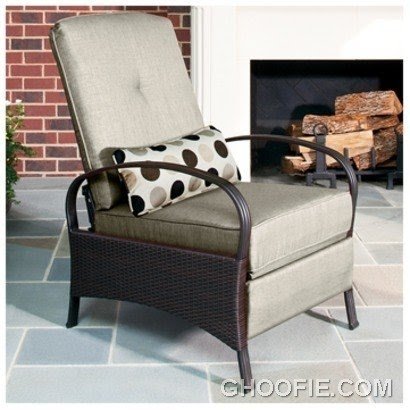 Recliner mounted on aluminum frame and covered with rattan. It has cushions covered with soft fabric. Elegant design for the garden, patio and others outdoor places according to taste.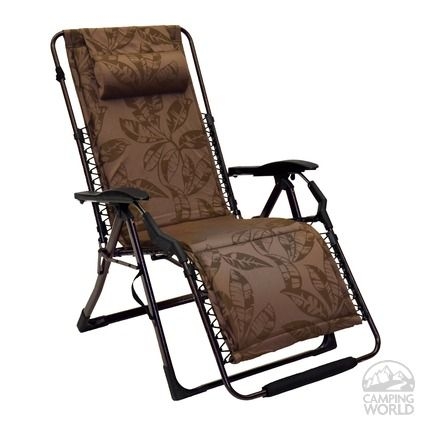 Elegant design for a sophisticated outdoor recliner with an adorable of the upholstery. The cushion on the aluminum frame is covered in a cotton fabric with a classy, dark-brown color and a floral pattern printed on it.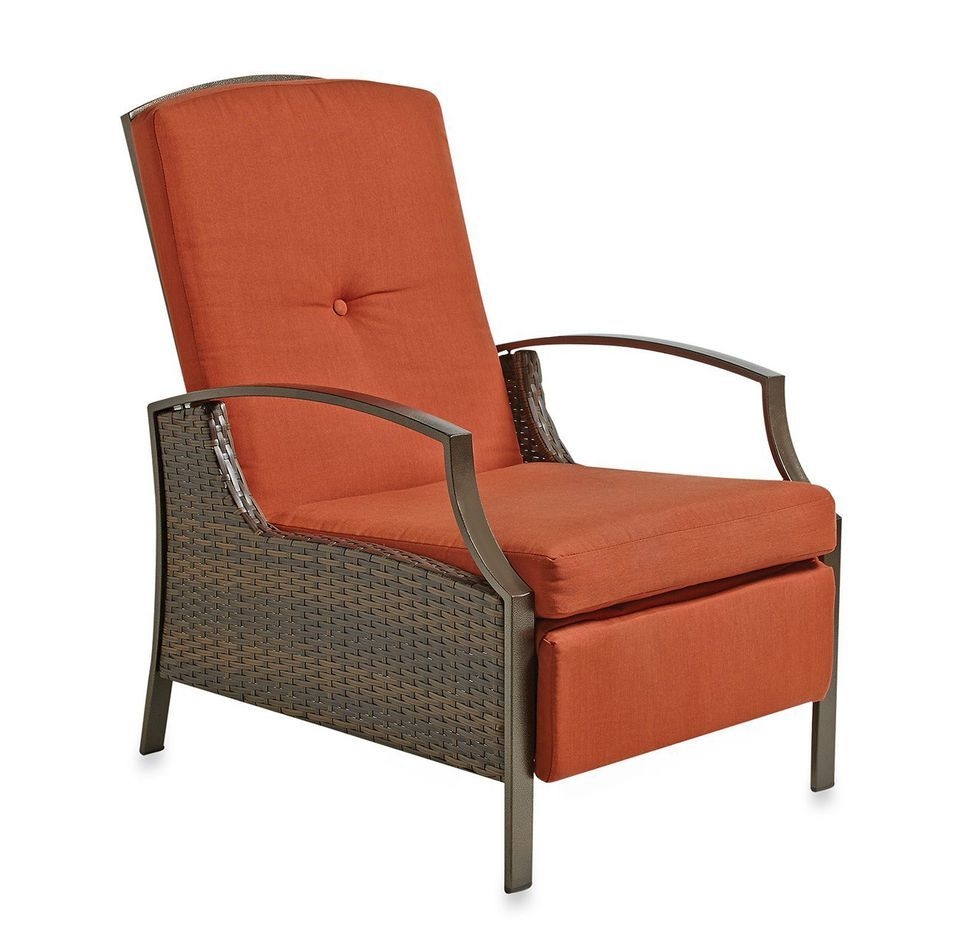 Elegant modern 3-position adjustable recliner with arms. A frame with thin flat arms and legs is made of durable steel, sides of everlasting brownish wicker. It has filled cushioning covered with fade resistant terracotta-coloured fabric.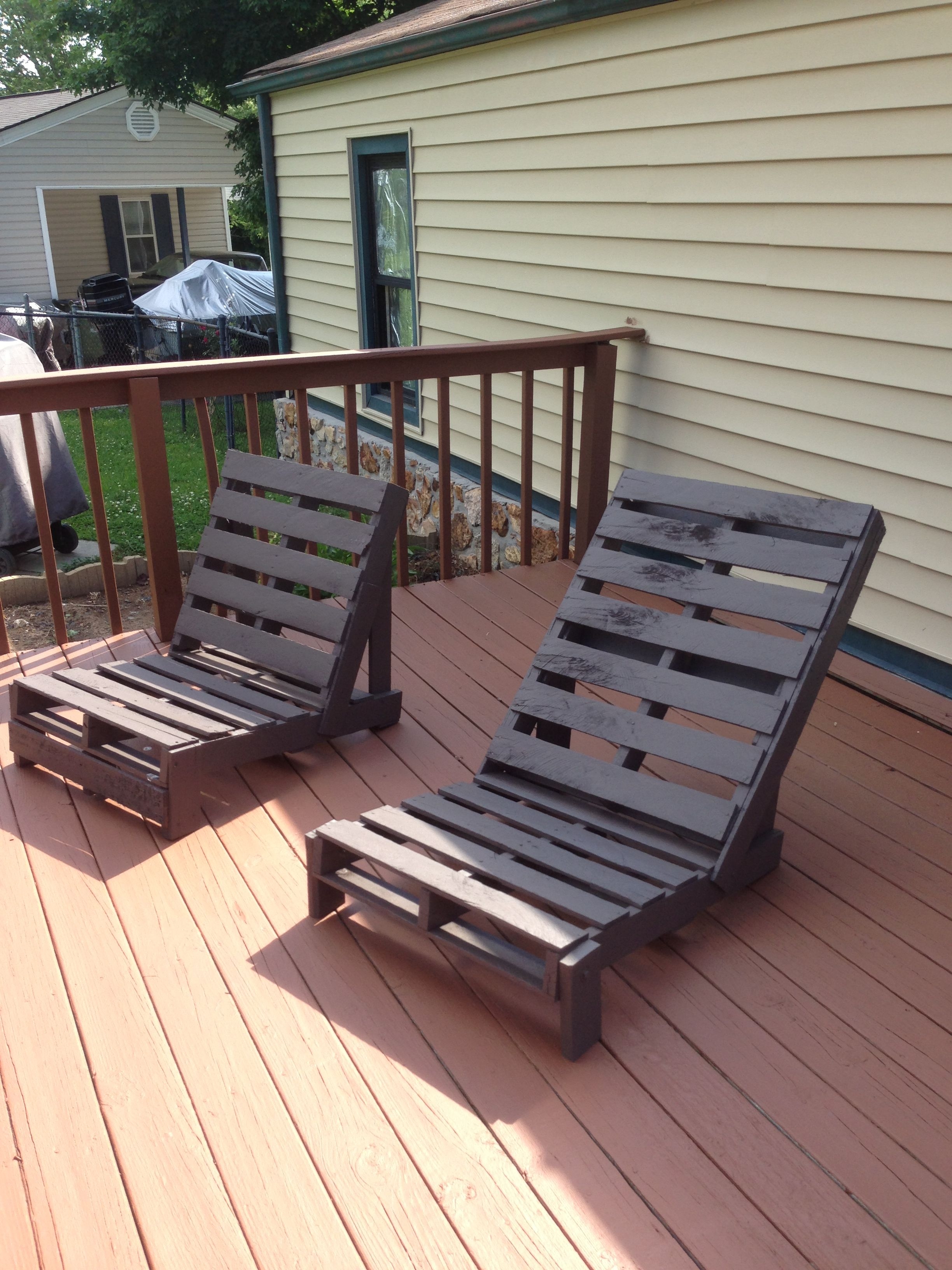 diy projects with pallets | Affordable DIY Pallet Furniture: 3 DIY Projects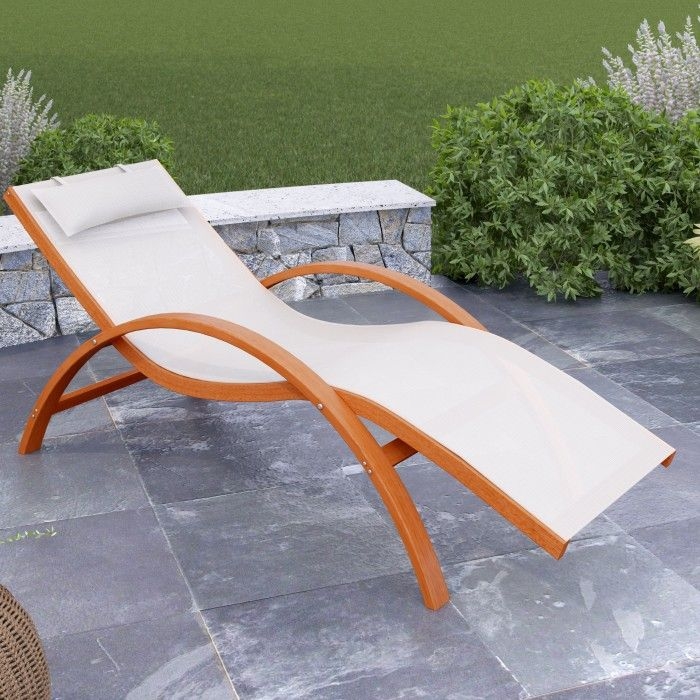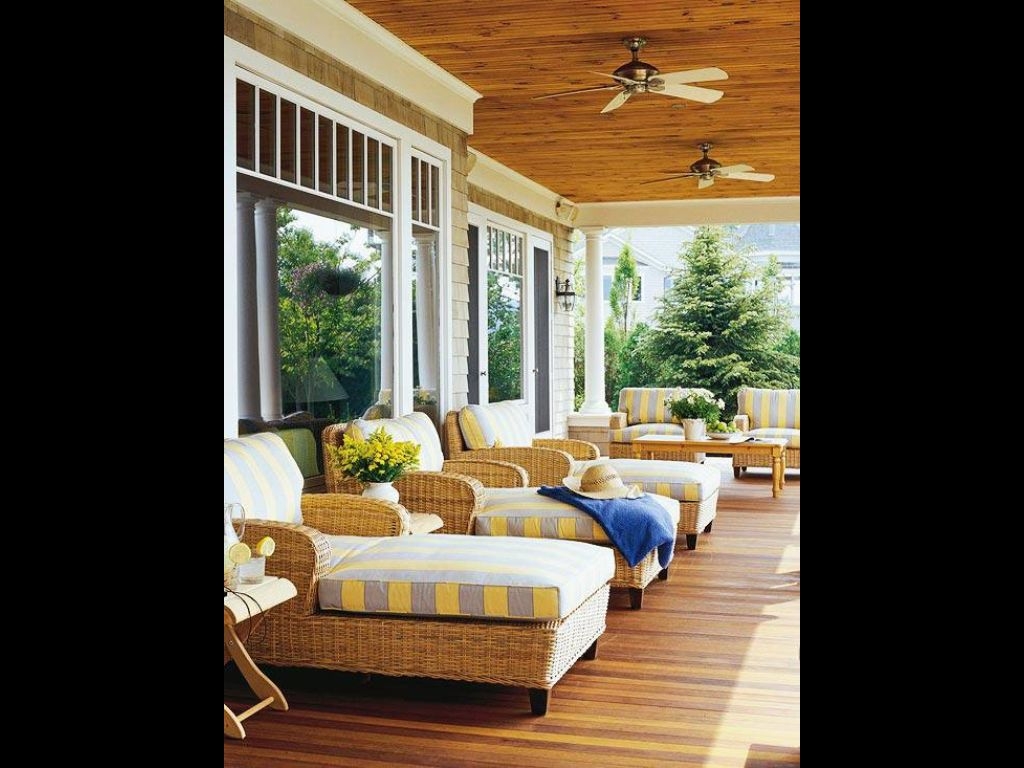 Love the wood used on this deck and the ceiling fans. Better Homes and Gardens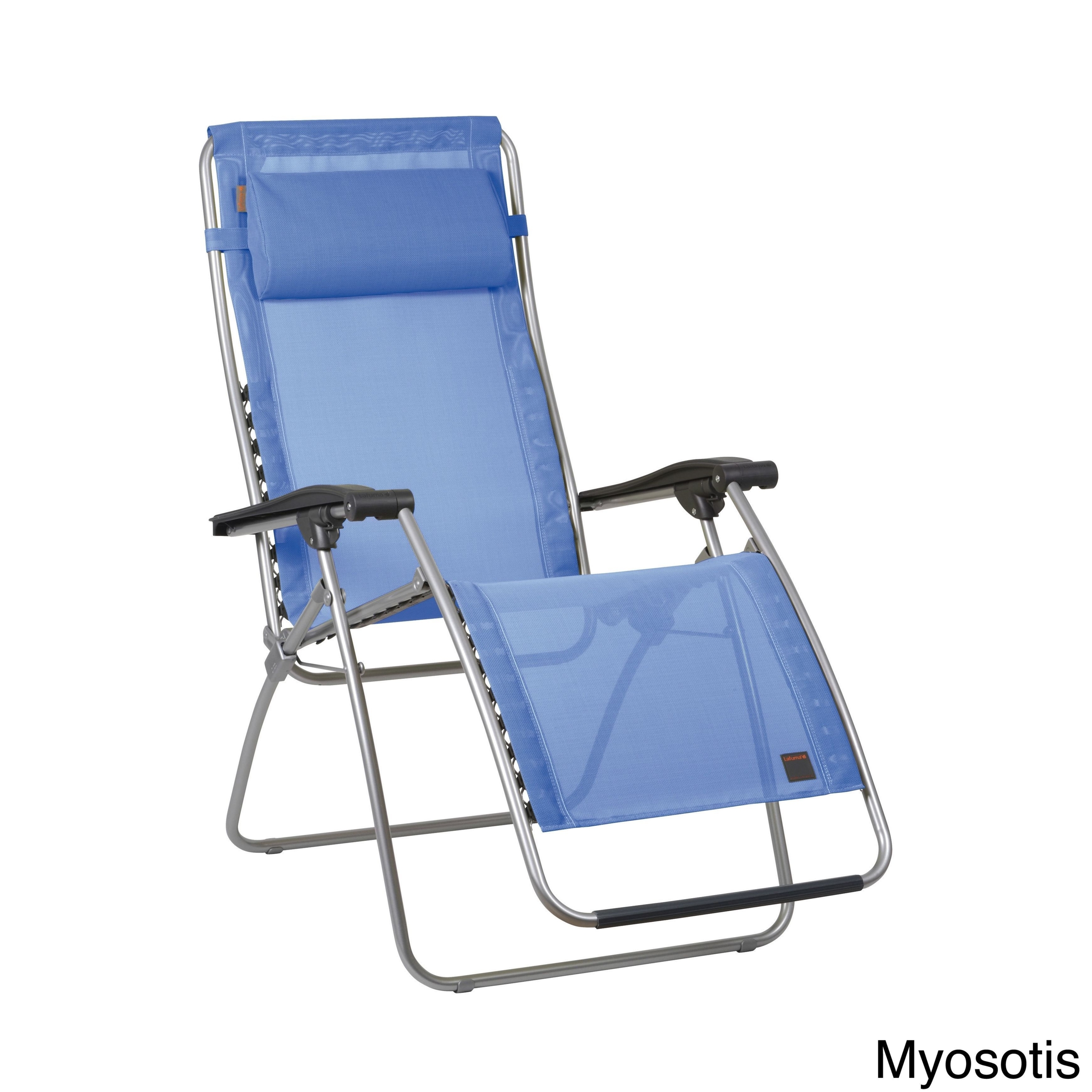 It is a chaise lounge with the possibility of placing a variety of settings. It is made of metal and a special, flexible material that provides comfort and convenience resting. A lounge chair is folded and very practical.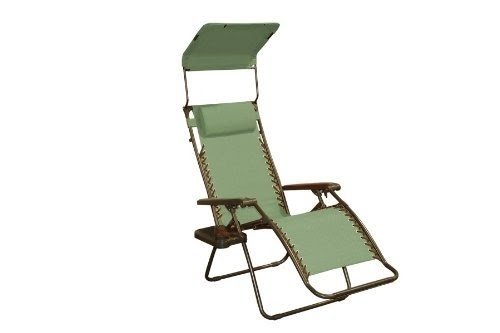 Comfy and utilitarian outdoor recliner equipped with a sun shade, canvas seating and drink tray to enjoy your restful downtime on patio or at poolside. The canvas has a khaki green shade that blends well with natural themed exterior decor.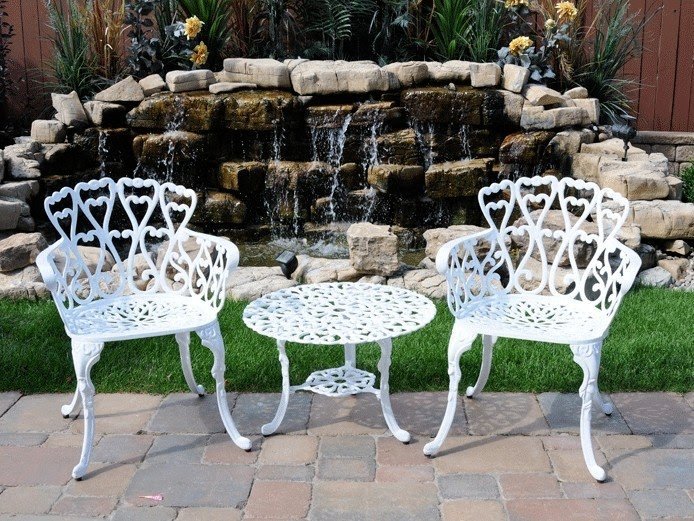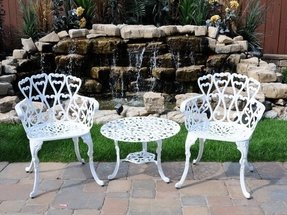 Traditional and classic set of patio furniture, consisting of a low coffee table with a hexagonal shelf underneath and two matching chairs with unique backs, all made out of painted cast aluminum giving them a classy look.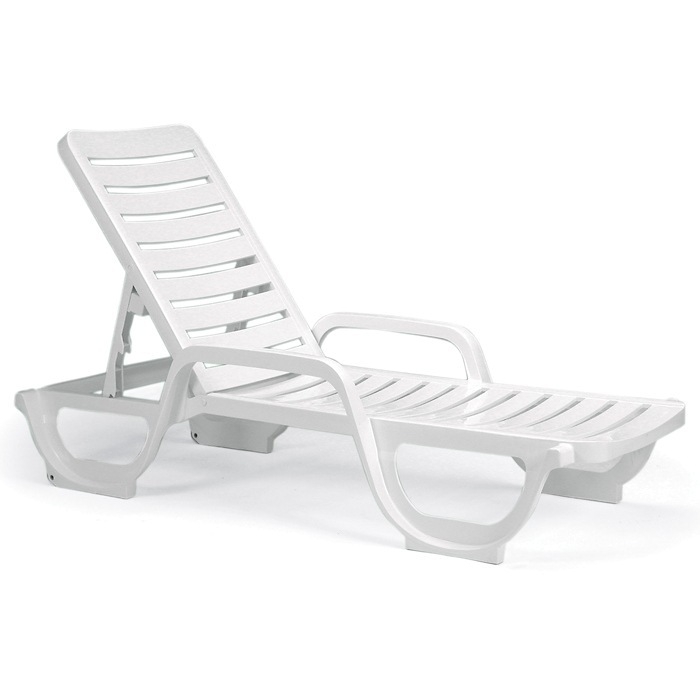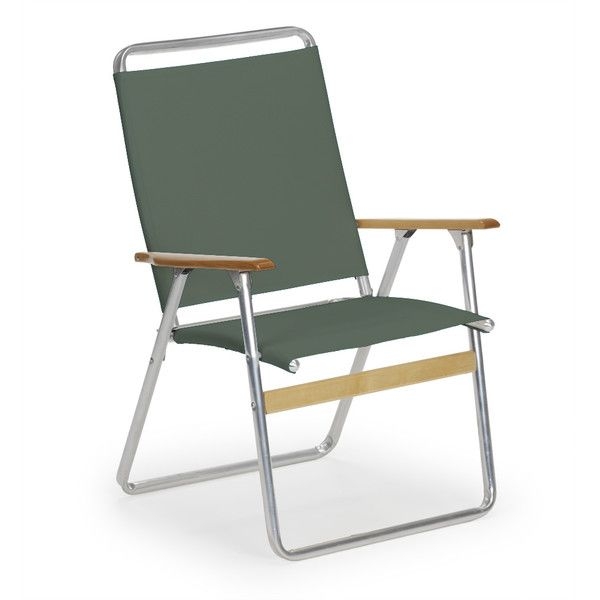 Nice-looking modern beach arm chair. A frame is made of durable light aluminum tubes and covering is of strong bluish weatherproof fabric. It also has 2 wooden arms. Practical and convenient folded chair, easy to carrying and storage.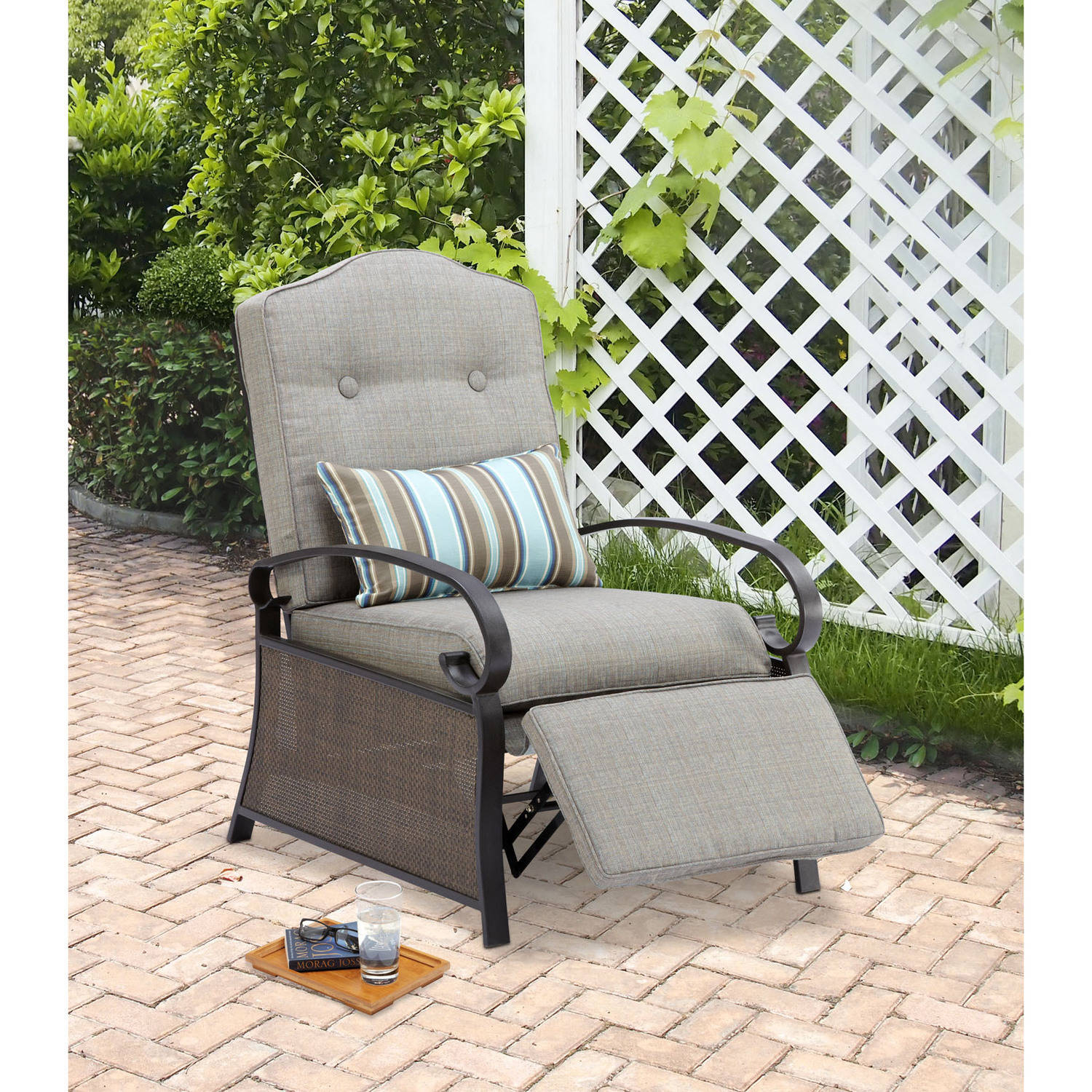 A solid and comfortable recliner chair with a durable powder-coated steel frame. Its sitting space supports different comfortable postures. Seat, footrest and backrest are soft and finished in neutral grey color.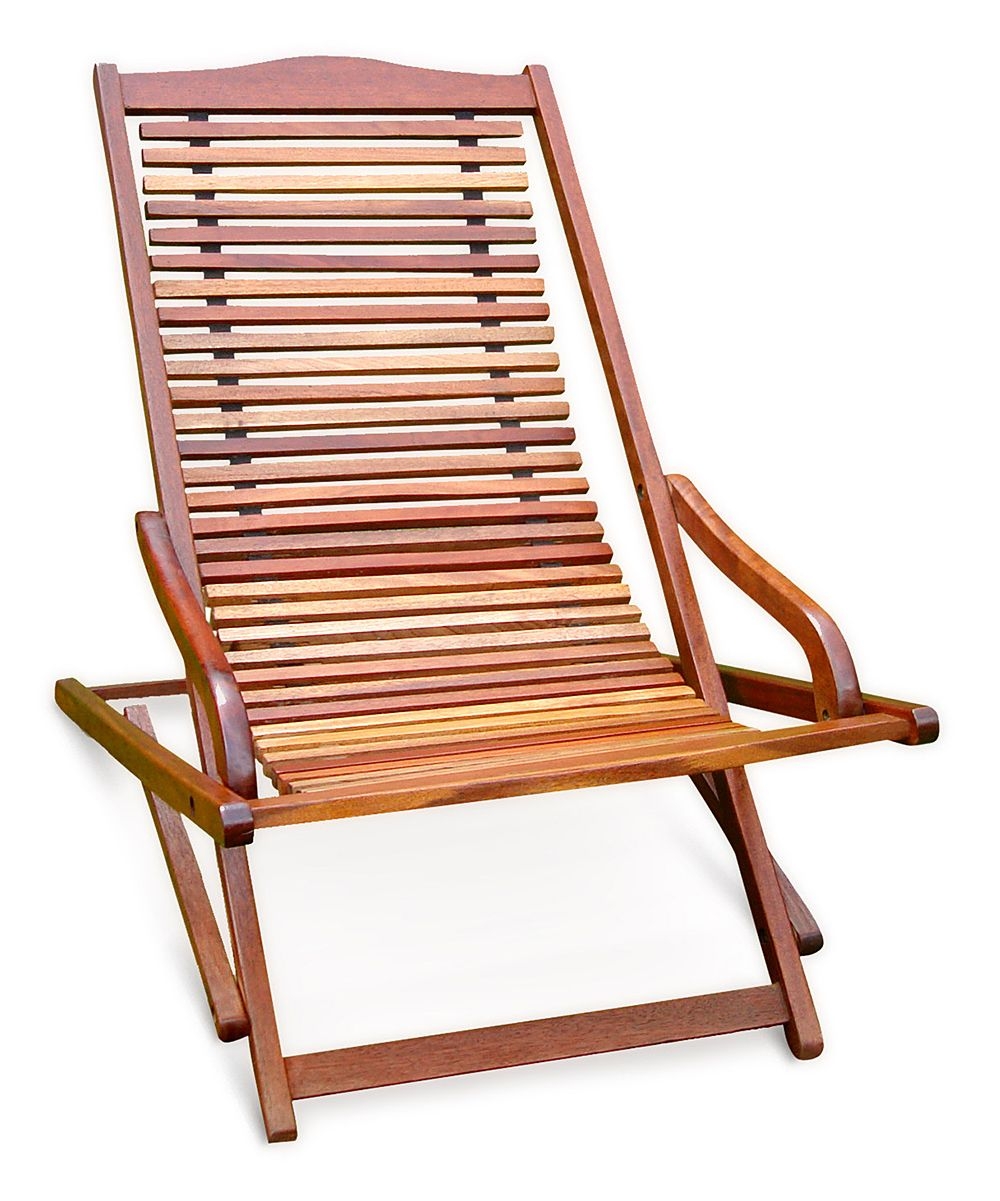 This unique take-down piece of furniture is very useful and multi-functional - you can used it as a chair during guest visit or as deck chair. It is very simple and classic. This chair is must-have in every garden or terrace.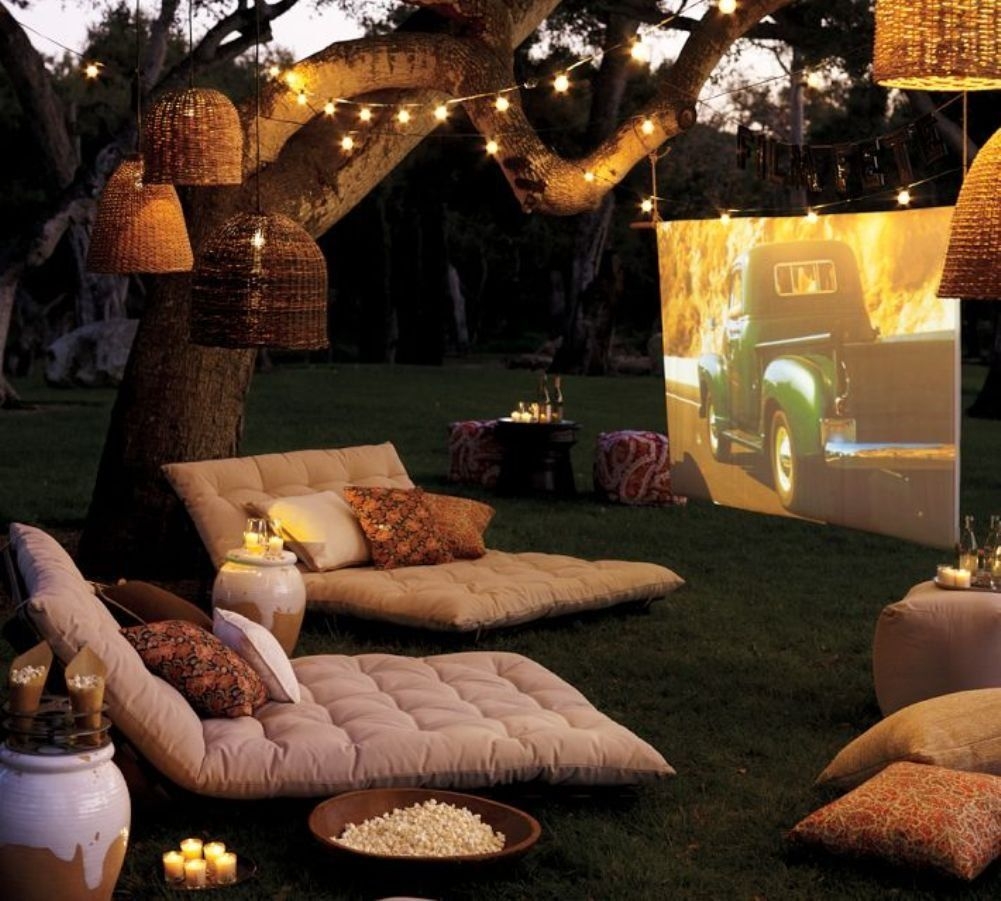 Backyard movie night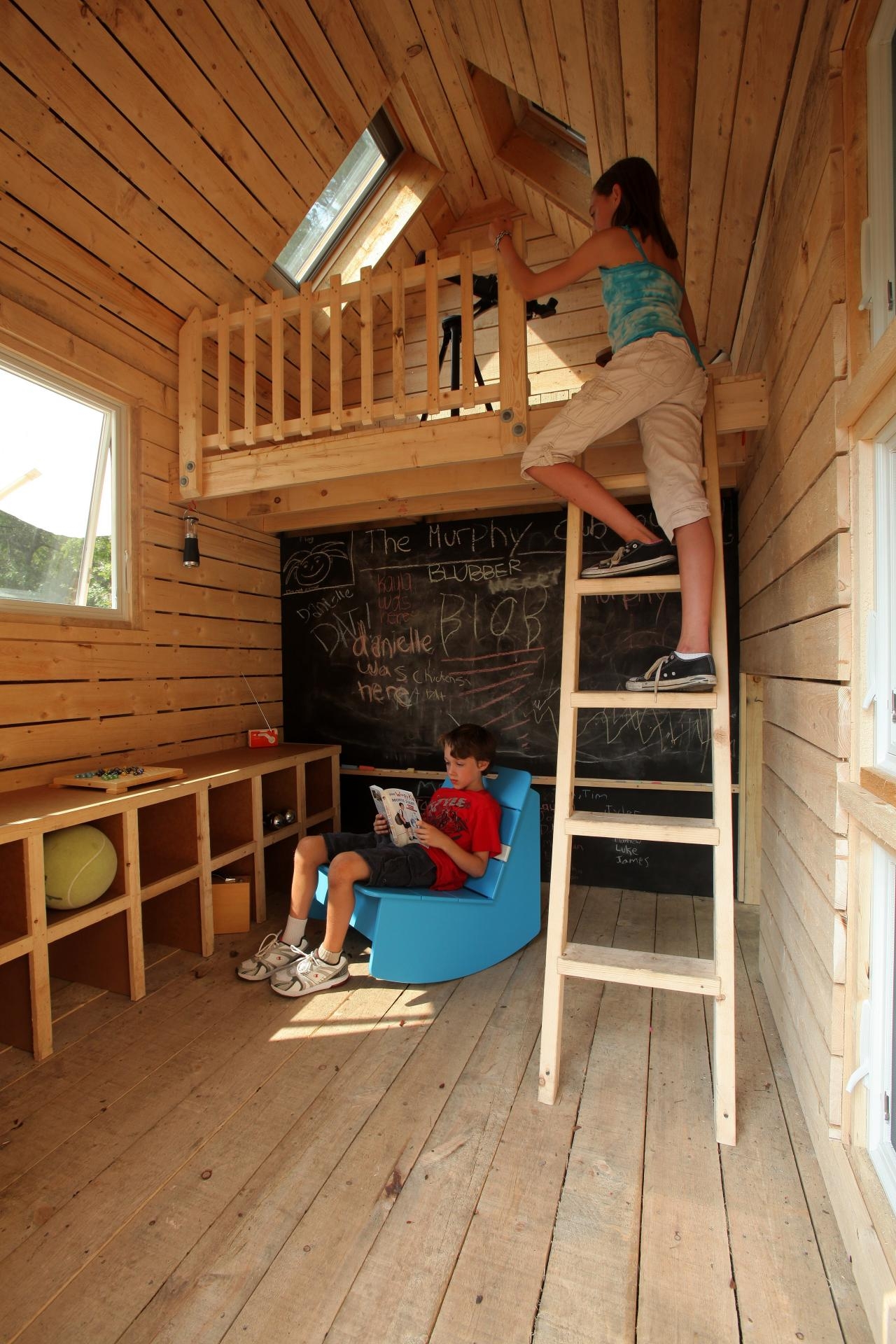 Outdoors Living: Dream a Little Dream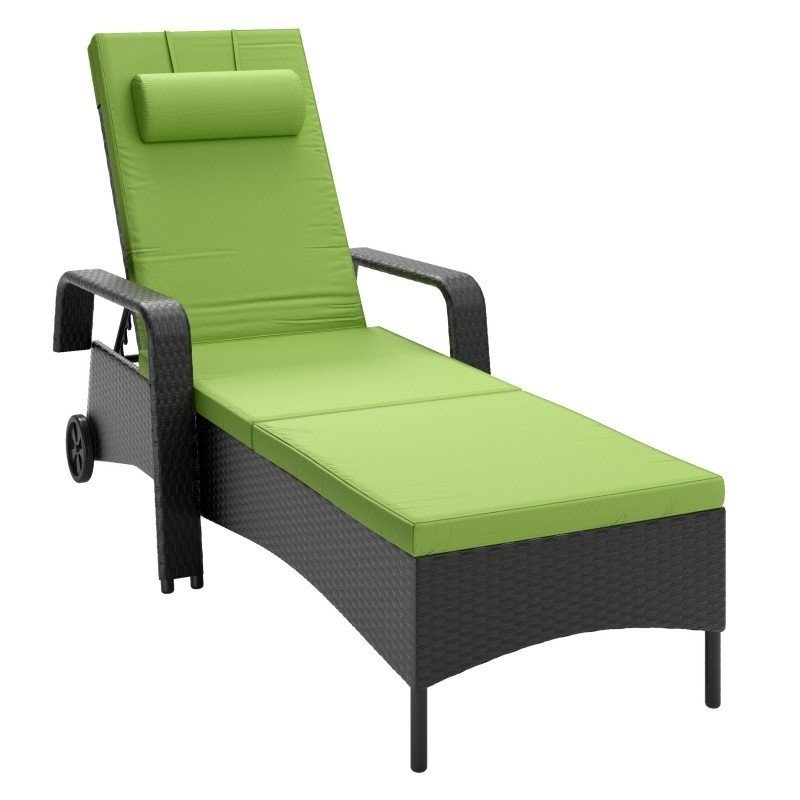 If you'd like your patio lounger to be wide and spacious, this outdoor rattan wicker recliner seems perfect. It provides a range of pleasant features: UV-resistant blue cushioning, wheels to make it move with ease, and wide arms.