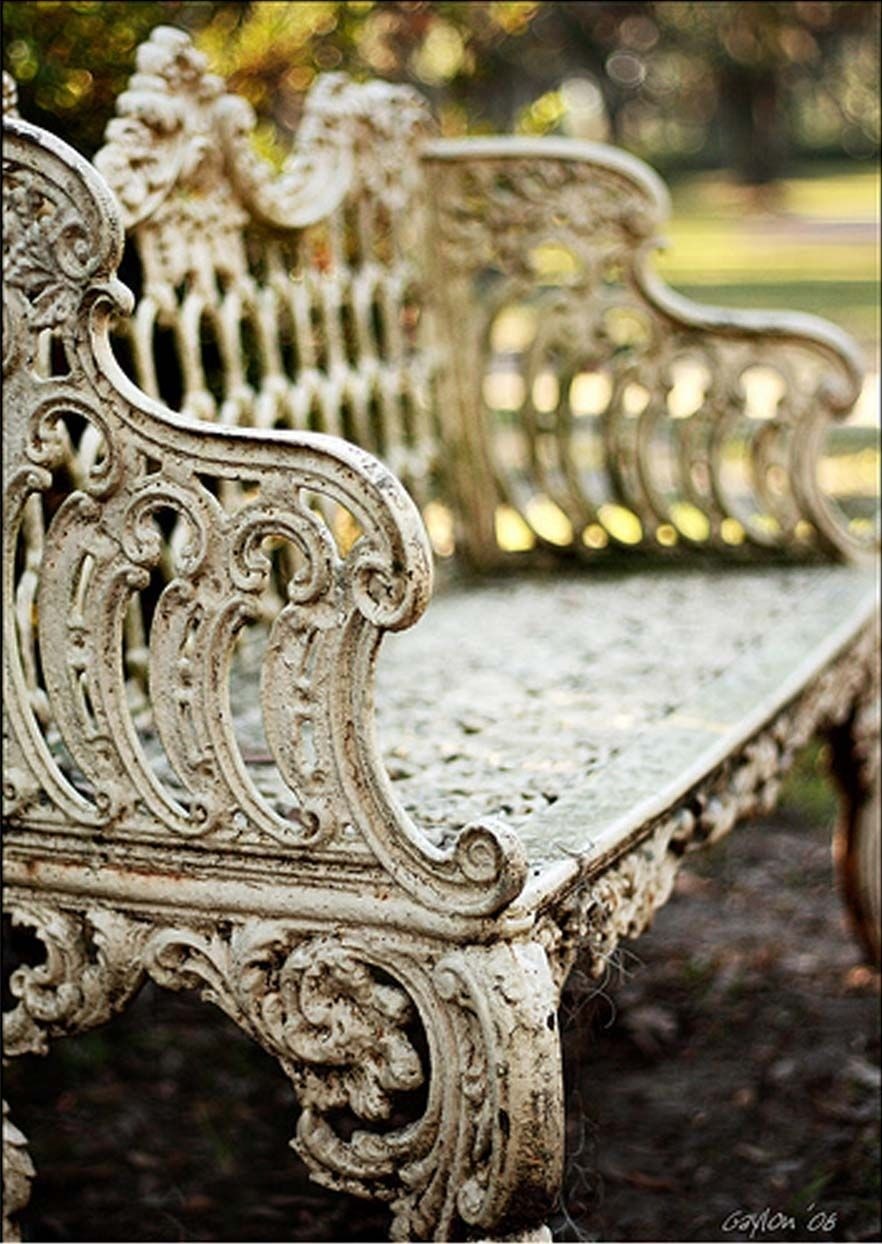 Park bench in vintage style. It is made of metal and finished with sophisticated ornament. Elegant accent for each outdoor place according to taste.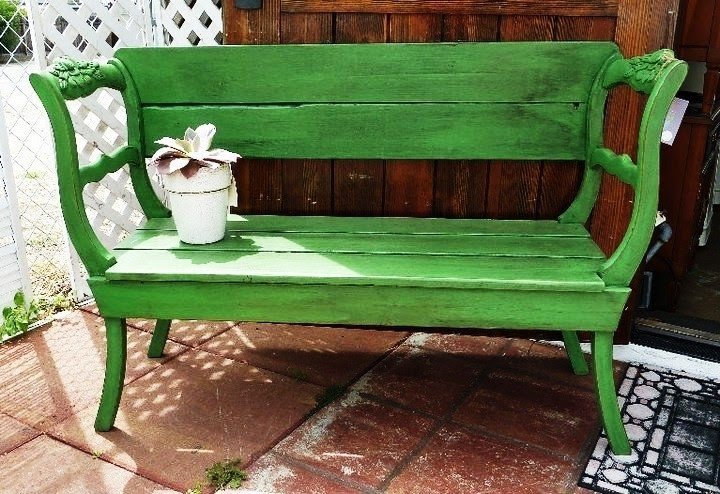 This upcycled garden bench enchants with its simplistic, traditional design and of course the vibrant green painting. A really clever, upcycling idea, using two chairs and a special chalk paint.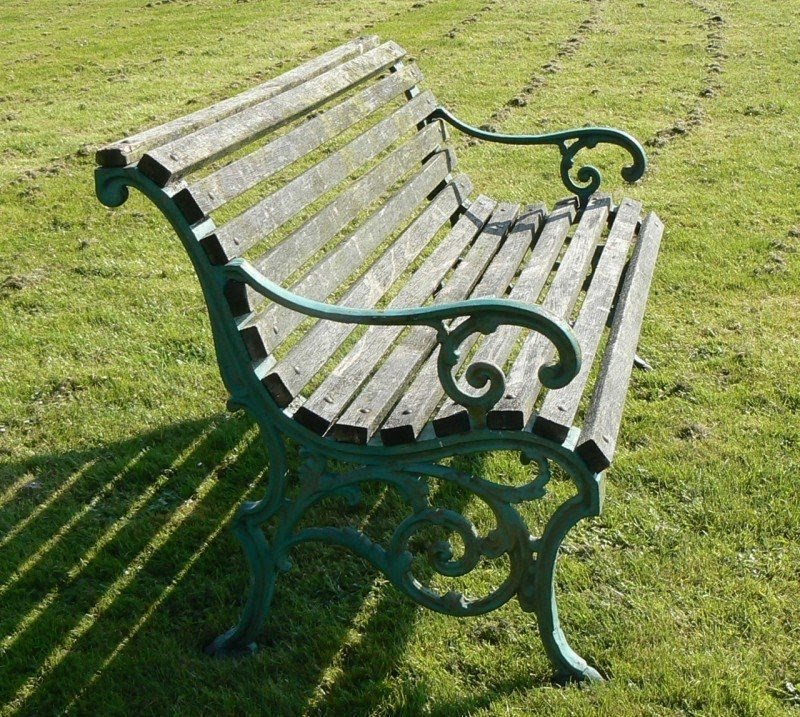 larger image available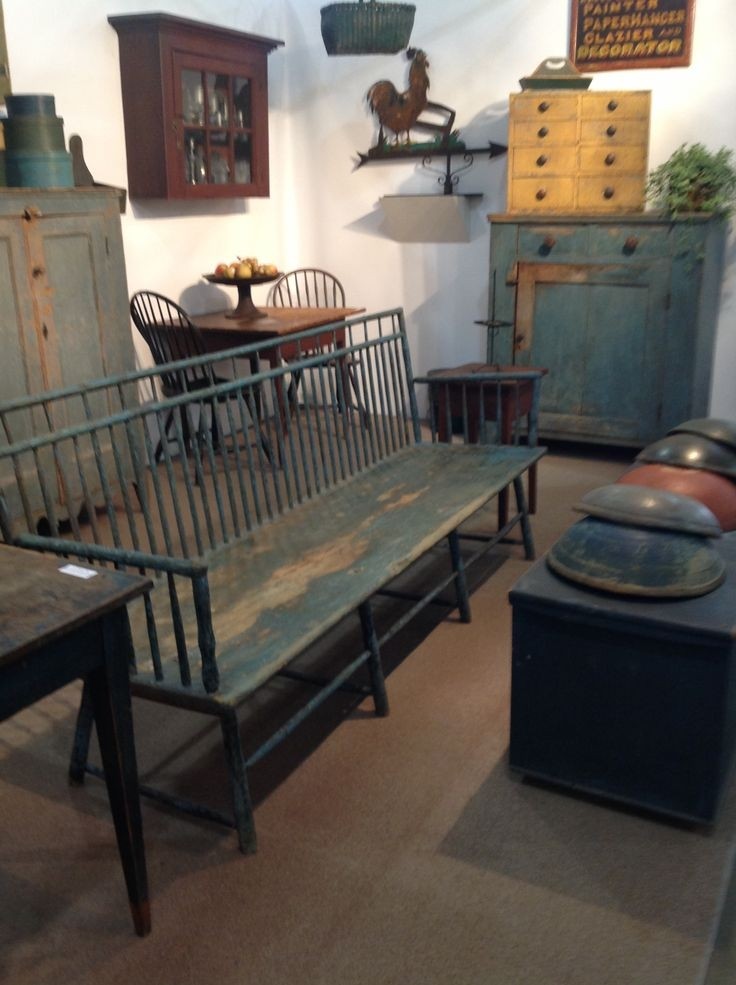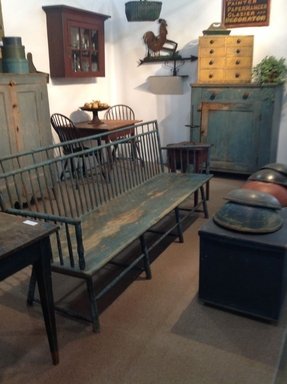 Opt for a piece of true refined style with this sublime country styled and antique-looking bench that will prove to be suitable for both your indoor and outdoor setting, while the distressed look provides a certain doze of uniqueness.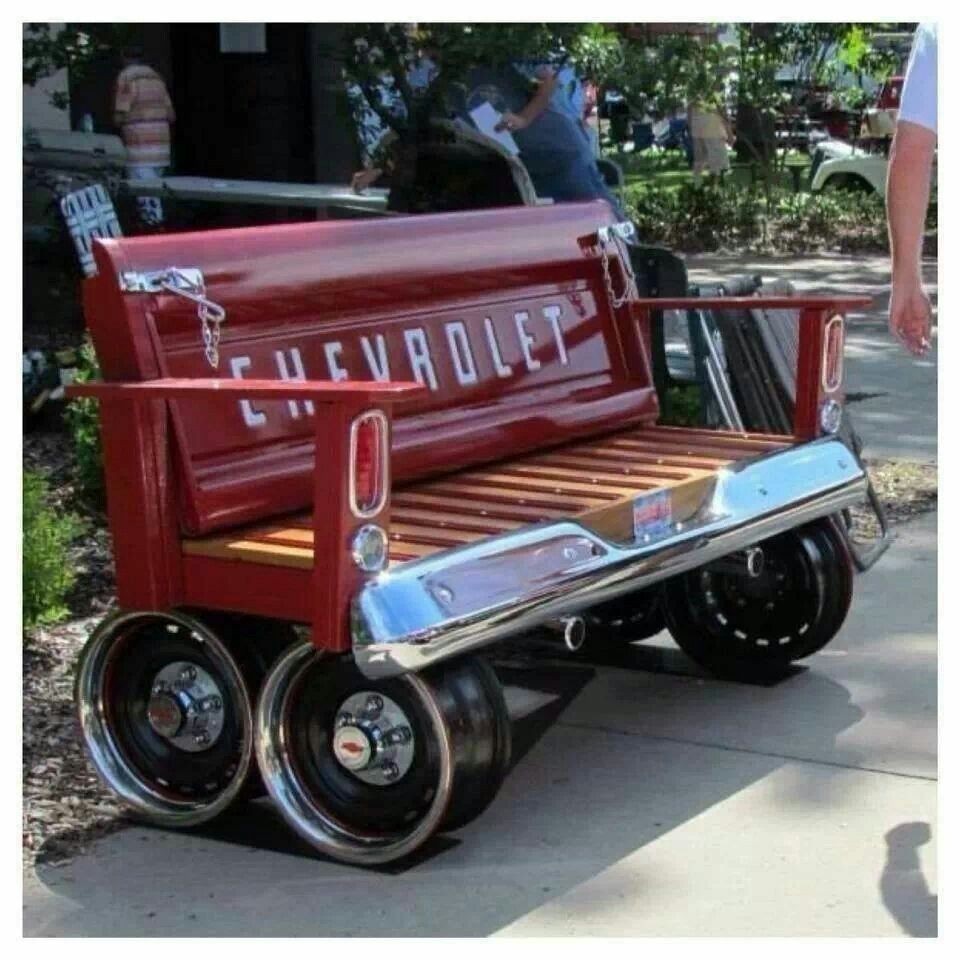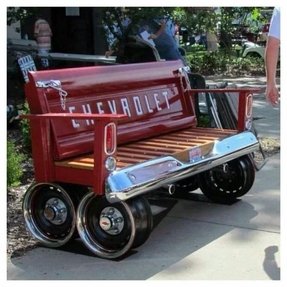 Chevrolet themed outdoor bench. Has wheels, of course. A lustrous red finish can't be missed either. Large white Chevrolet sign runs the full backrest length. Wonder if it's DIY! Either way, a cool product.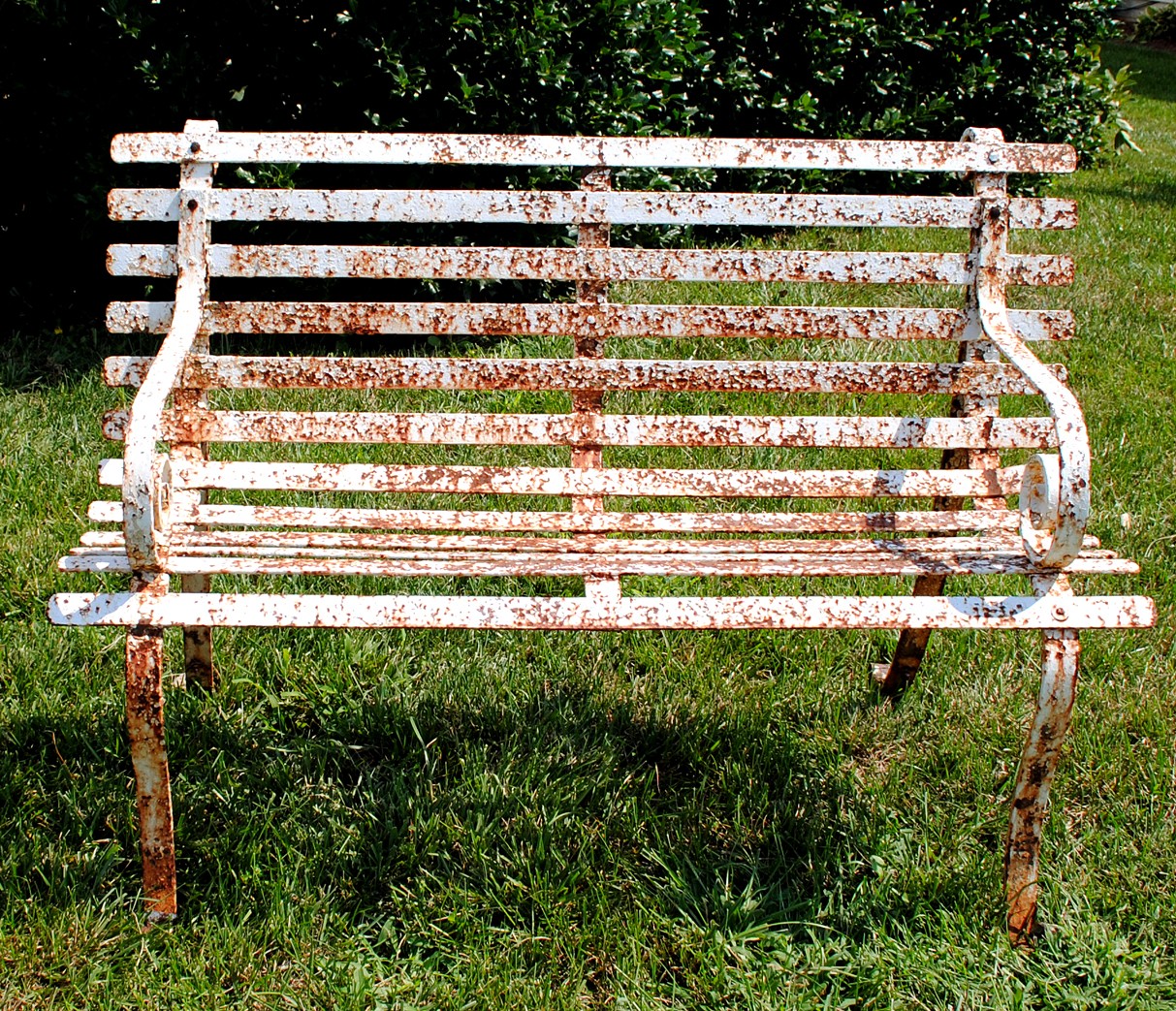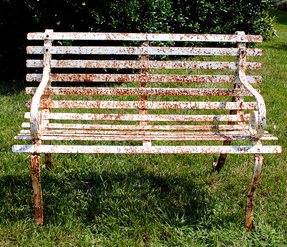 ve had this bench for many years. When I bought it, it had the ...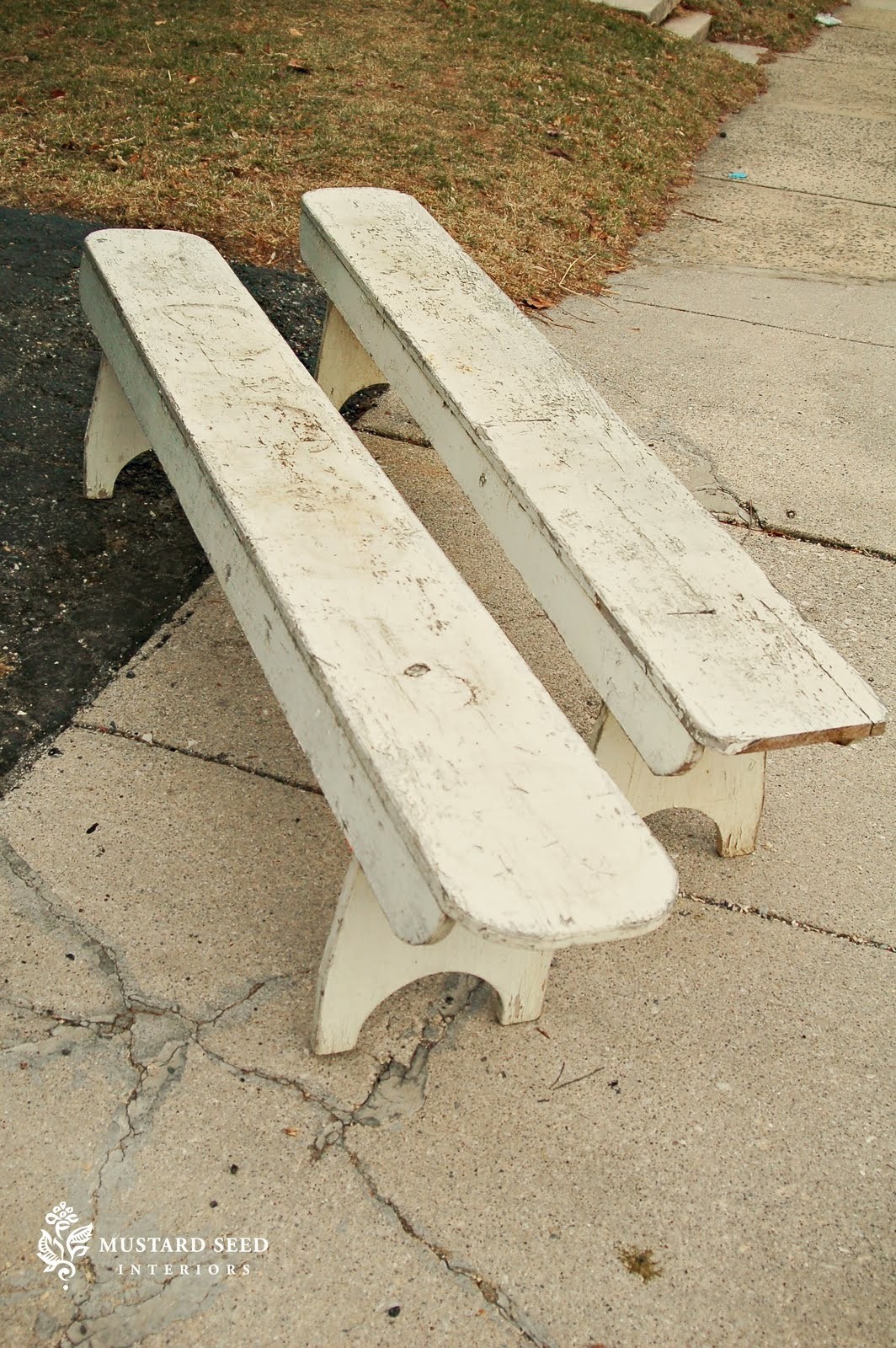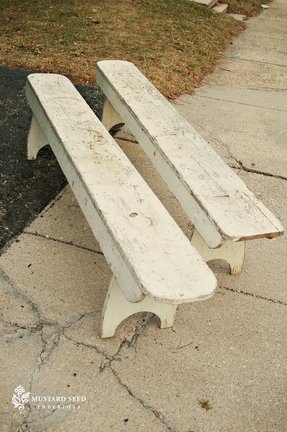 A pair of vintage benches for park alleys, backyards, or gardens. Each of those weathered beauties will emanate with rustic accents. They are entirely crafted of wood and bathed in an off-white finish.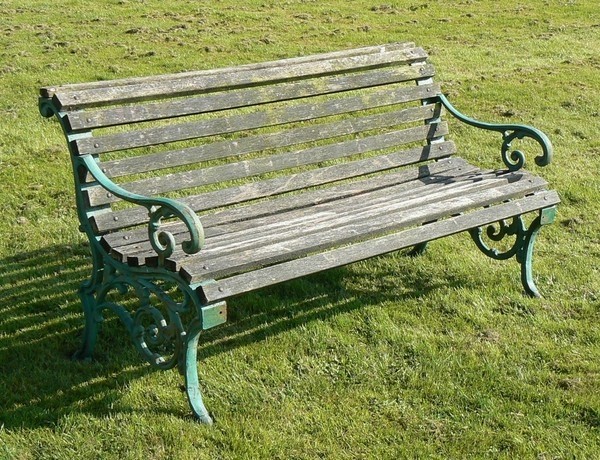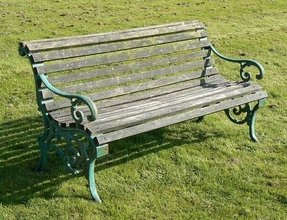 larger image available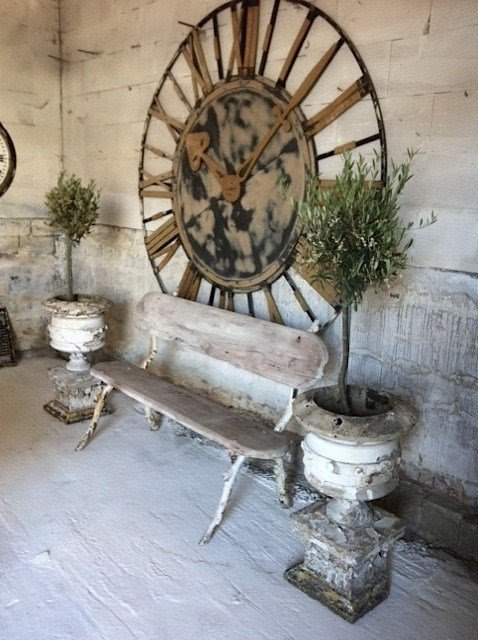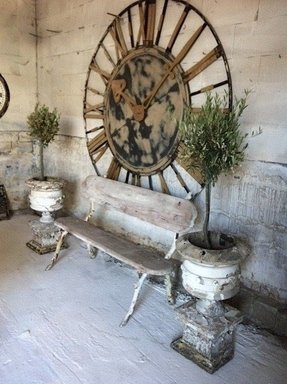 You sit on your chair like all alone, and on such an ancient garden bench - always in good company. Enriched with white paint, it has an extraordinary romantic shape and has survived the years of lovers who had their first kiss sitting on it.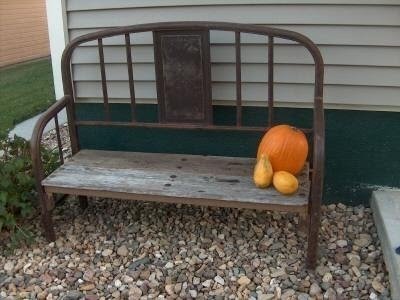 This picture shows an original element of outdoor decor. This bench features a solid construction from bed. Sitting space is very solid, because it is based on durable, horizontal slats. This comfortable bench looks very stylish.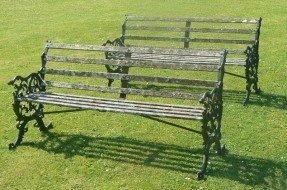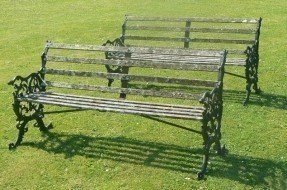 larger image available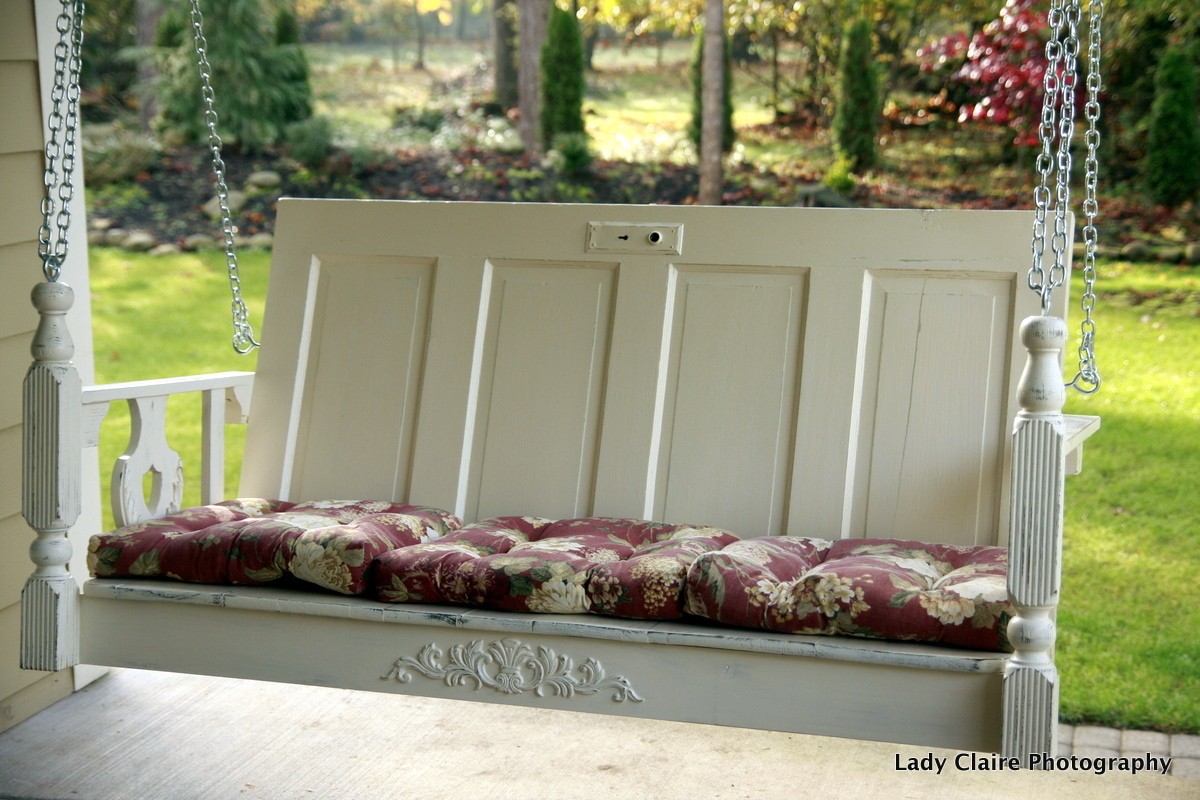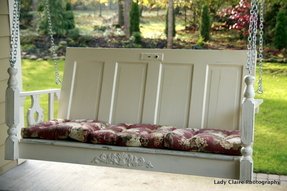 While this porch bench enchants with an antique appeal, it is actually a great example of a DIY upcycling project. It uses an old door, a table top and its legs, now serving as a marvelous shabby chic outdoor item.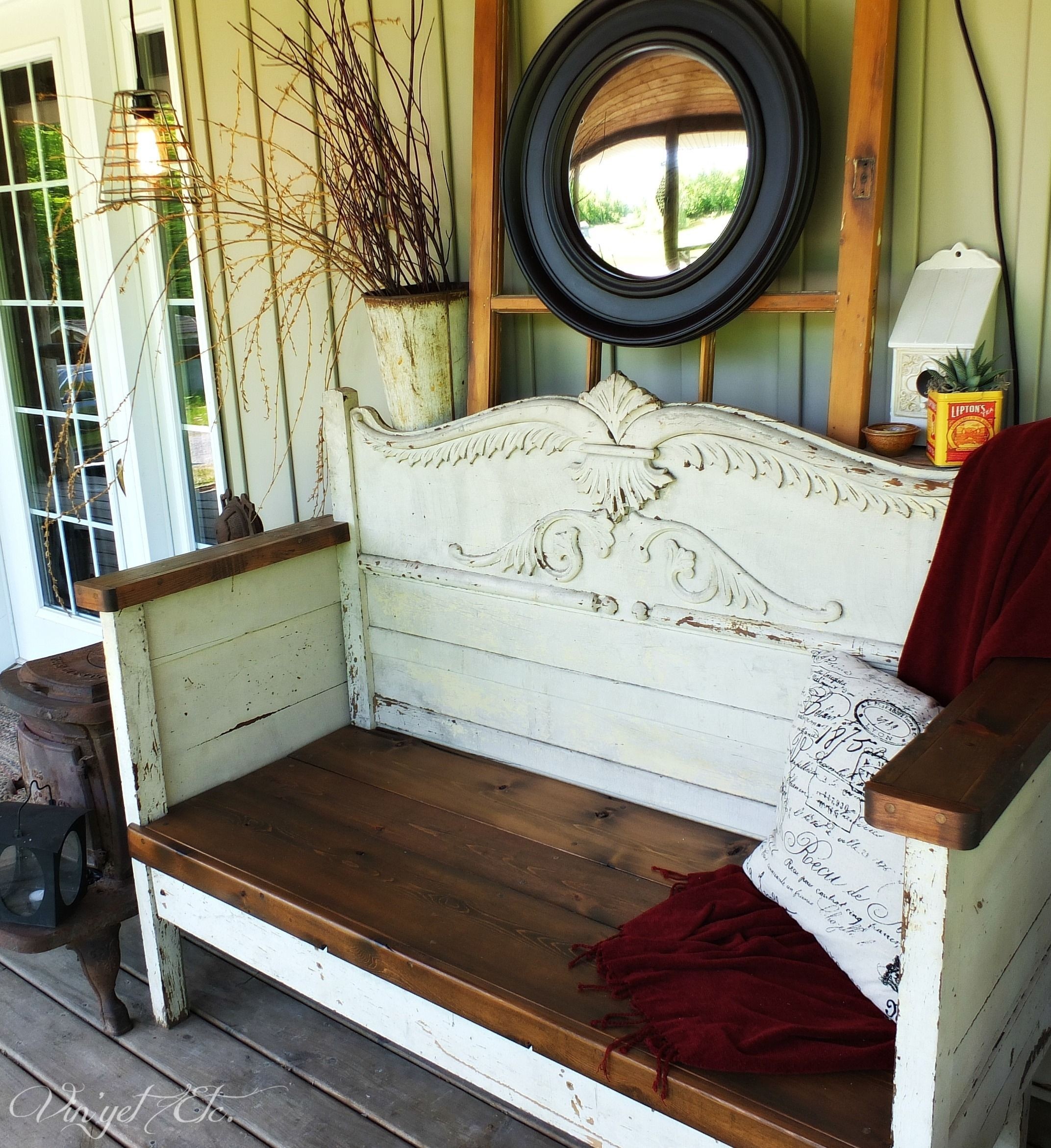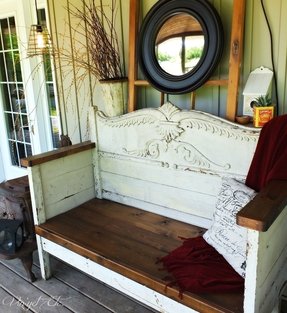 A vintage 2-person porch bench crafted of solid wood with a distressed 2-tone finish. Its rectangular seat and flat arm tops are brown. Straight legs, full sides and a fullback (it has a wavy top with floral carvings) are white.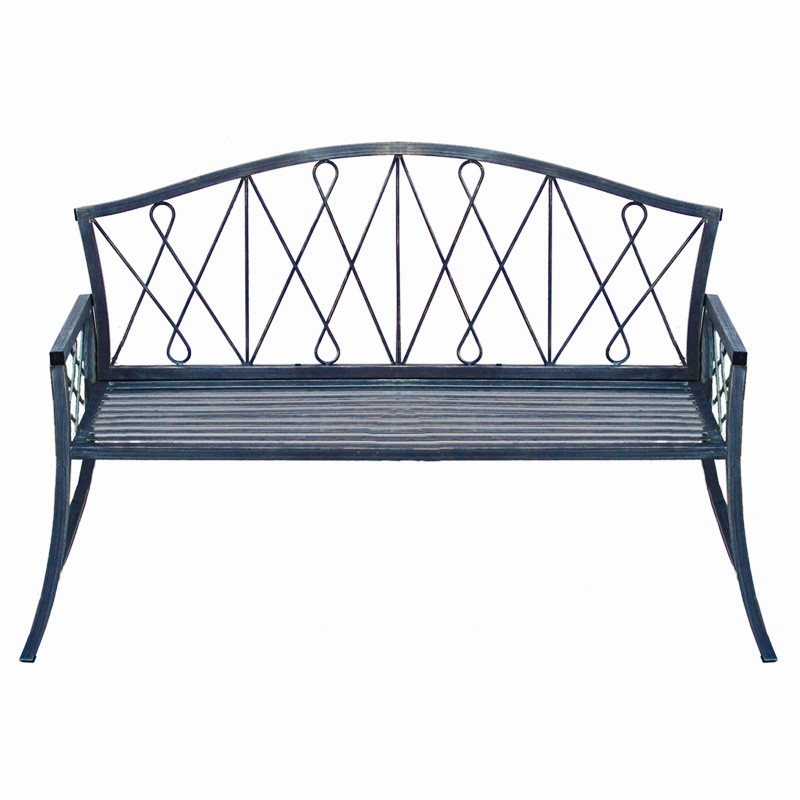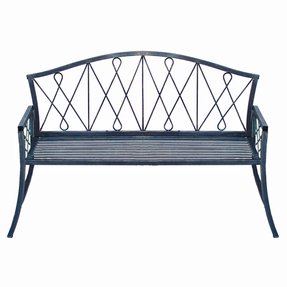 Unique design of this outdoor bench has been crafted thorugh the hand-welding technique of metal tubes; the arching back tops off the sleek openwork detailing of diamonds and tear-drop hoops. Green powder coat finish is applied to zinc plating.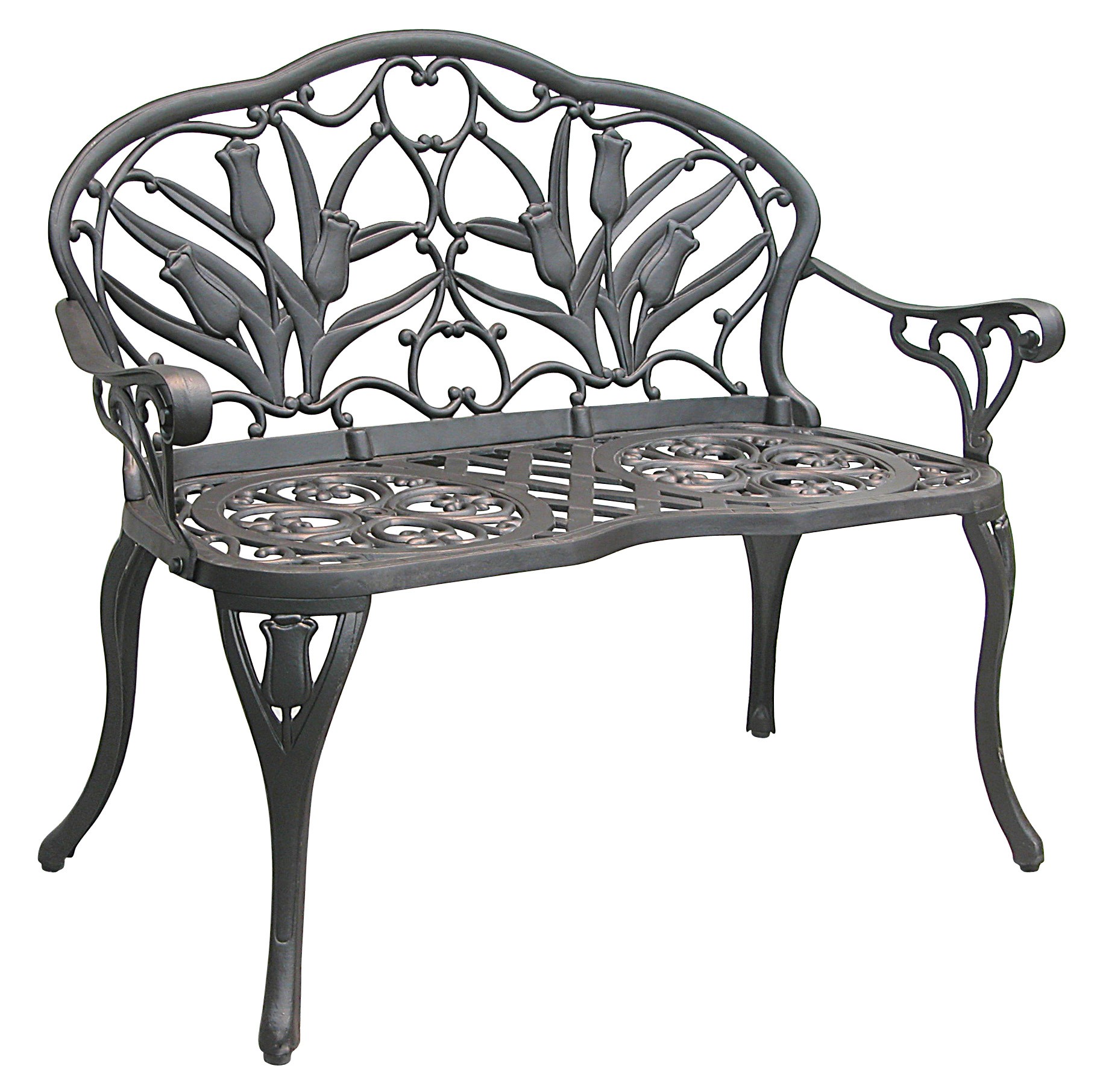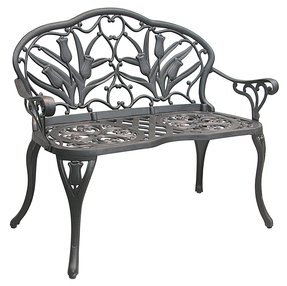 Featuring beautiful tulip flowers on the back and gracing your garden with the stunning iron and aluminum finish this garden bench will allow you to seat your guests comfortably, when taking a nice, relaxing walk in your backyard.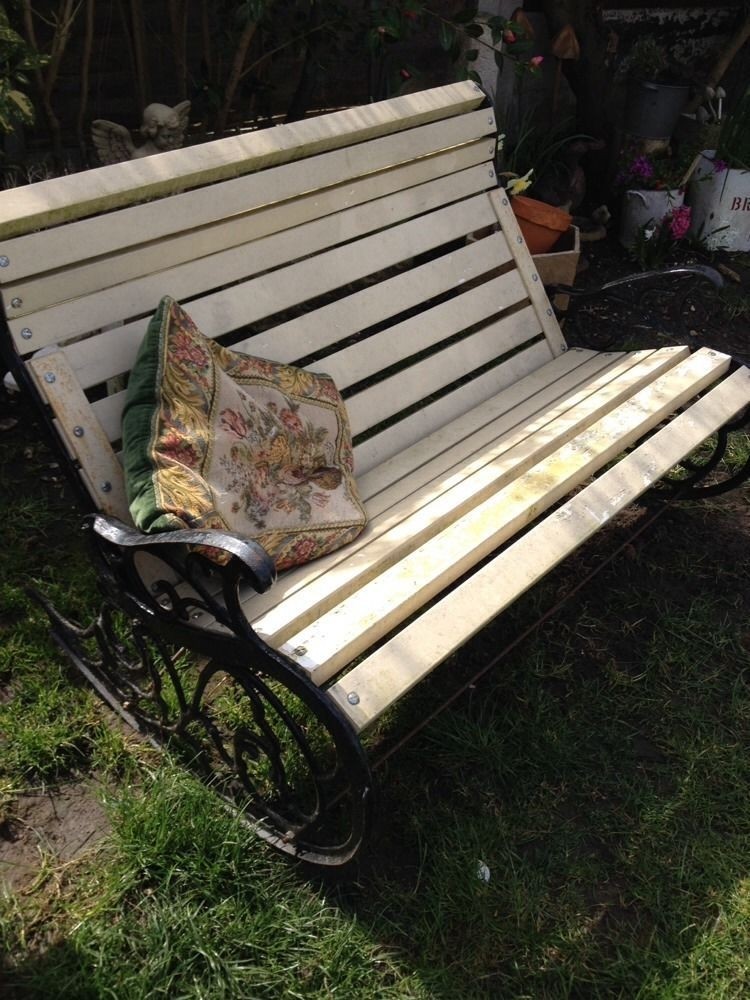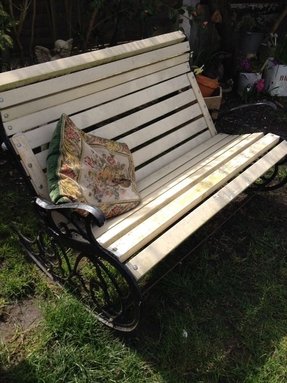 Antique Victorian Black Wrought Iron Rocking Garden Bench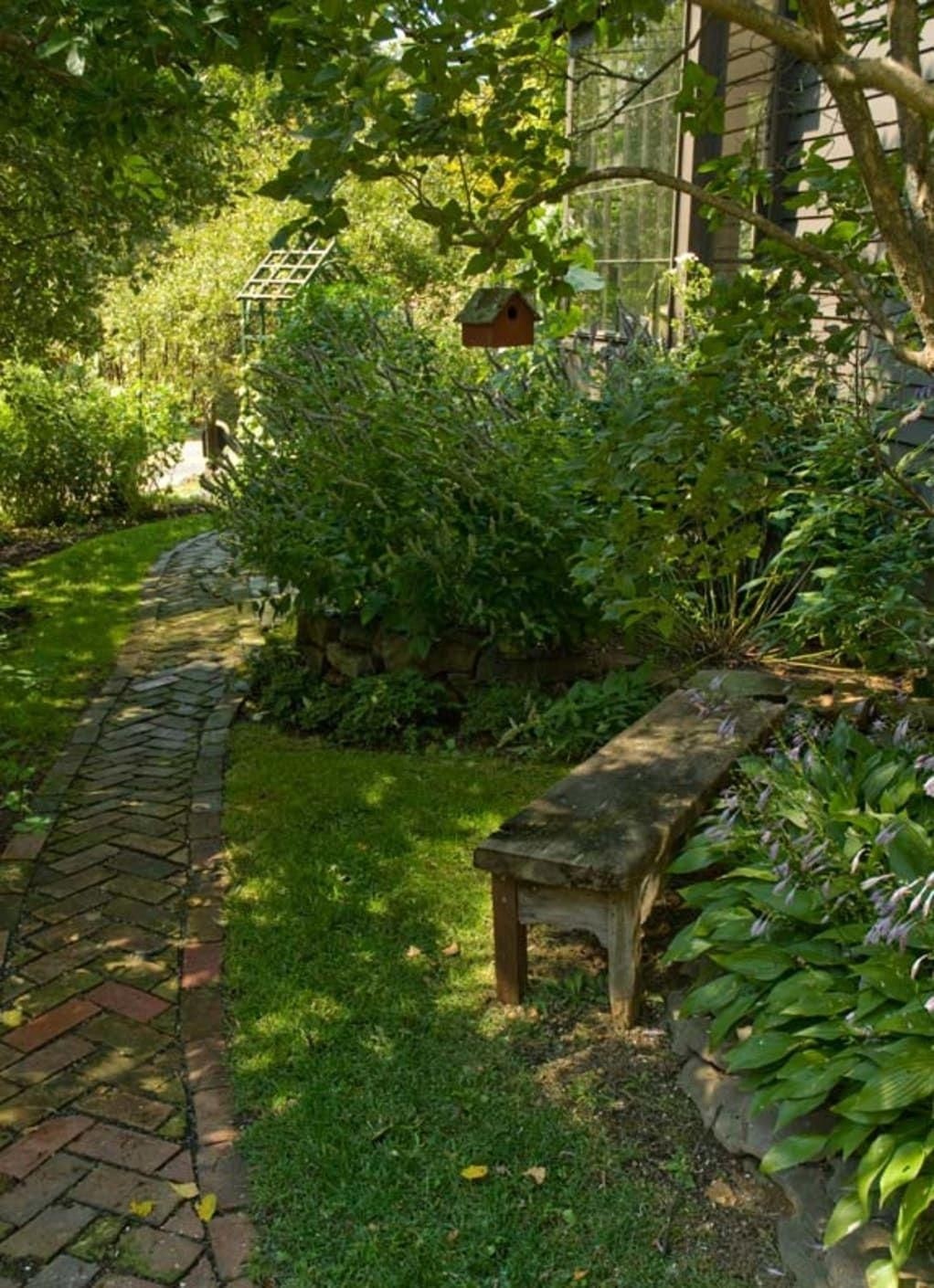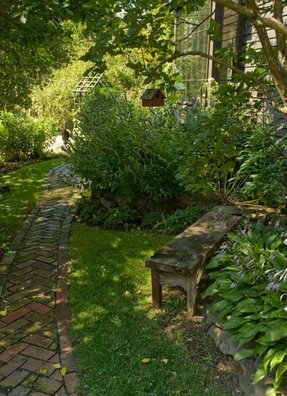 Add an unique and fabulous accent into your garden, and choose this antique old weathered bench. It adds comfort, style, beauty and elegance into your outdoor space.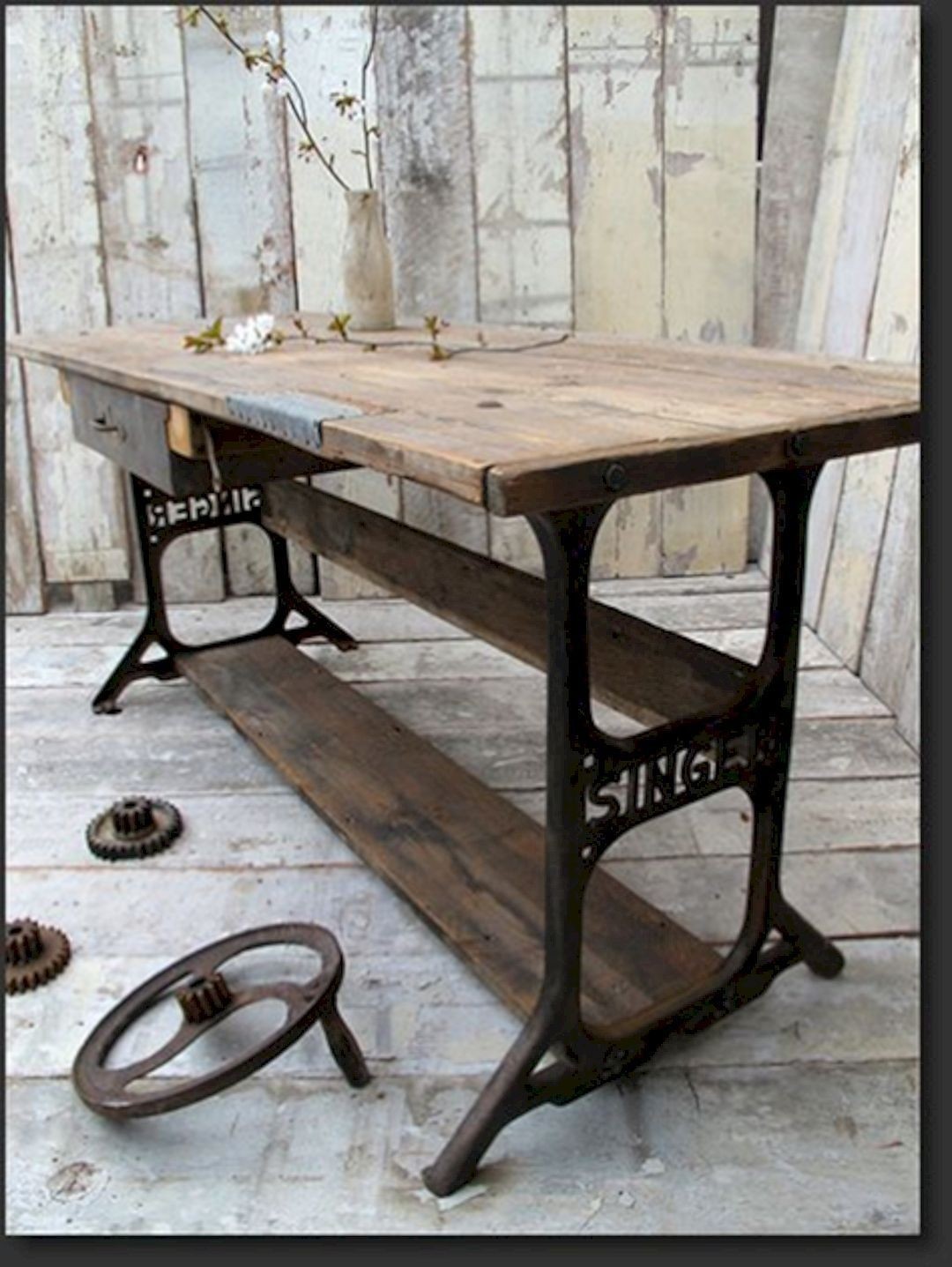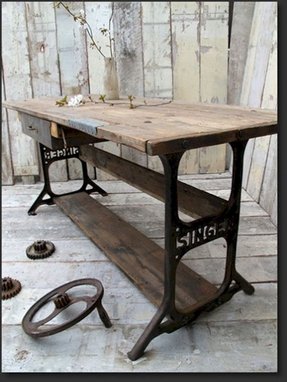 A fine piece of industrial craftsmanship, suitable for outdoor areas. Designed of a repurposed sewing machine, the table offers a robust metal frame with 1 bottom wood shelf with a stretcher, and a matching top with metal drawer mounted right underneath.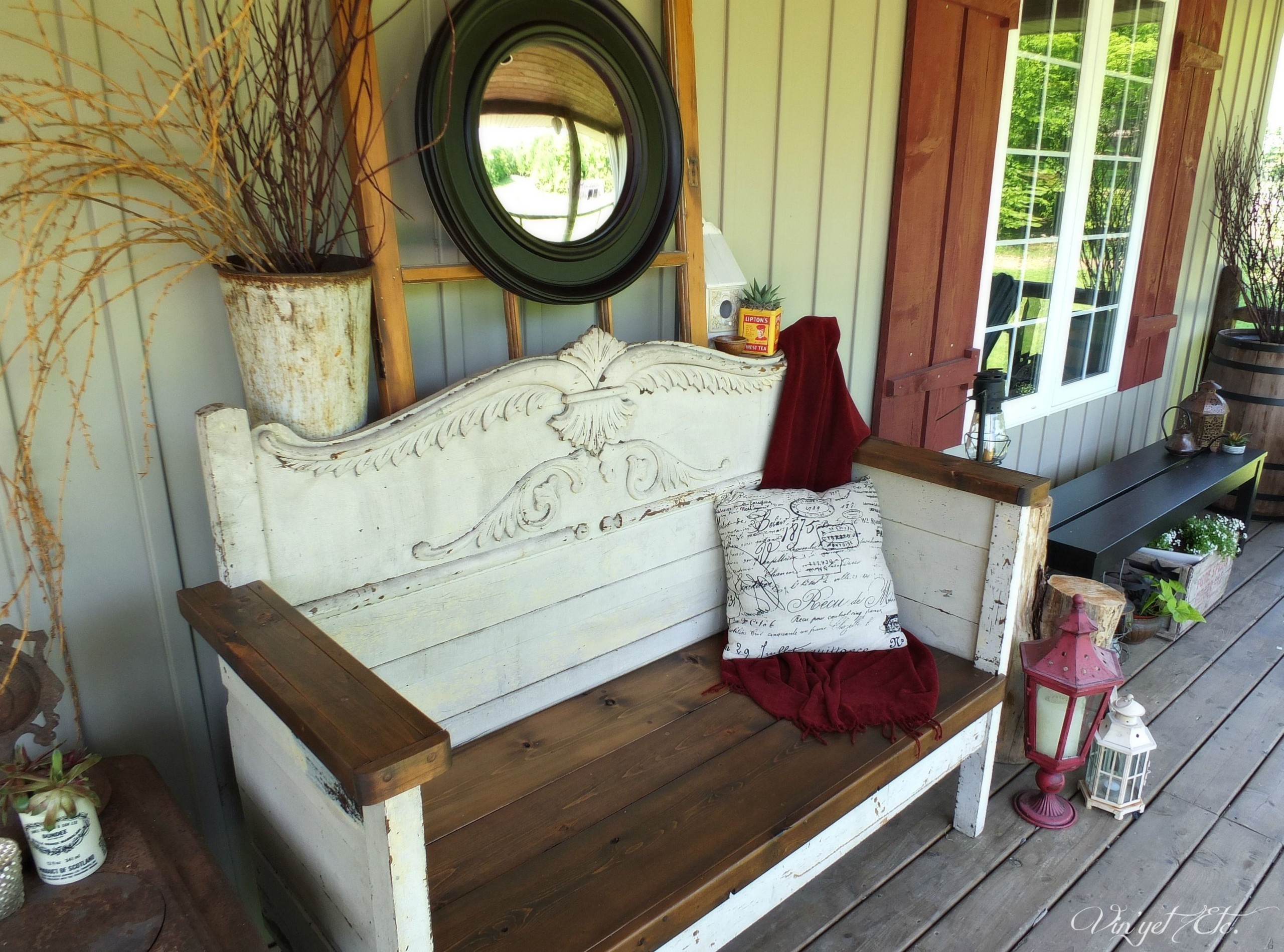 finished bench | Vin'yet Etc.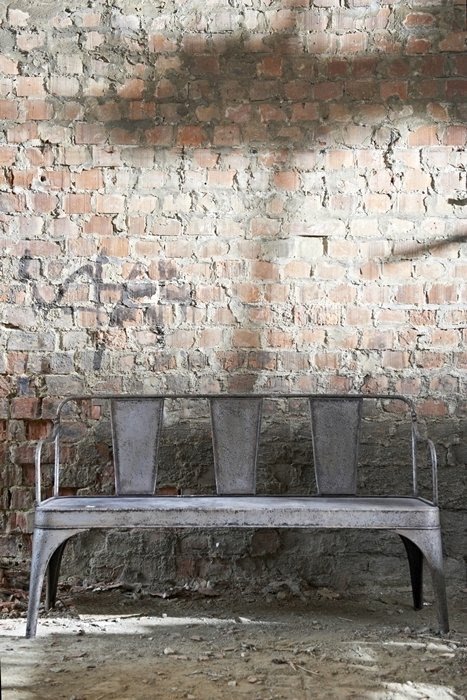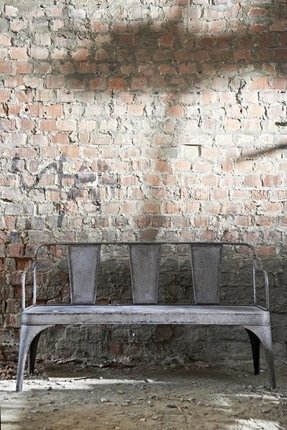 Sometimes the antique garden benches could be reused in the totally new project! This one, when repainted, could be a great pot stand. It will create an impressive green island in the concrete city jungle.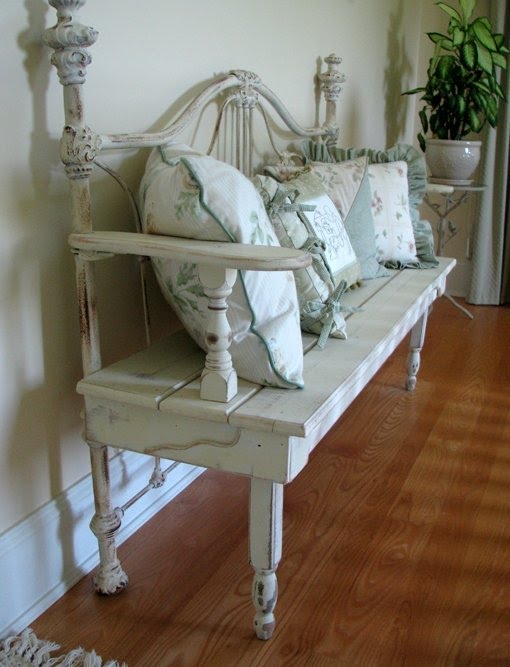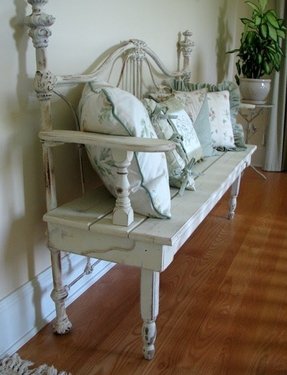 Made in an ancient style cast iron bench is a beautiful detail of the interior. The vintage style adds charm and beauty, and the functionality of the furniture makes it perfect for everyday use. The white raw finish is captivating.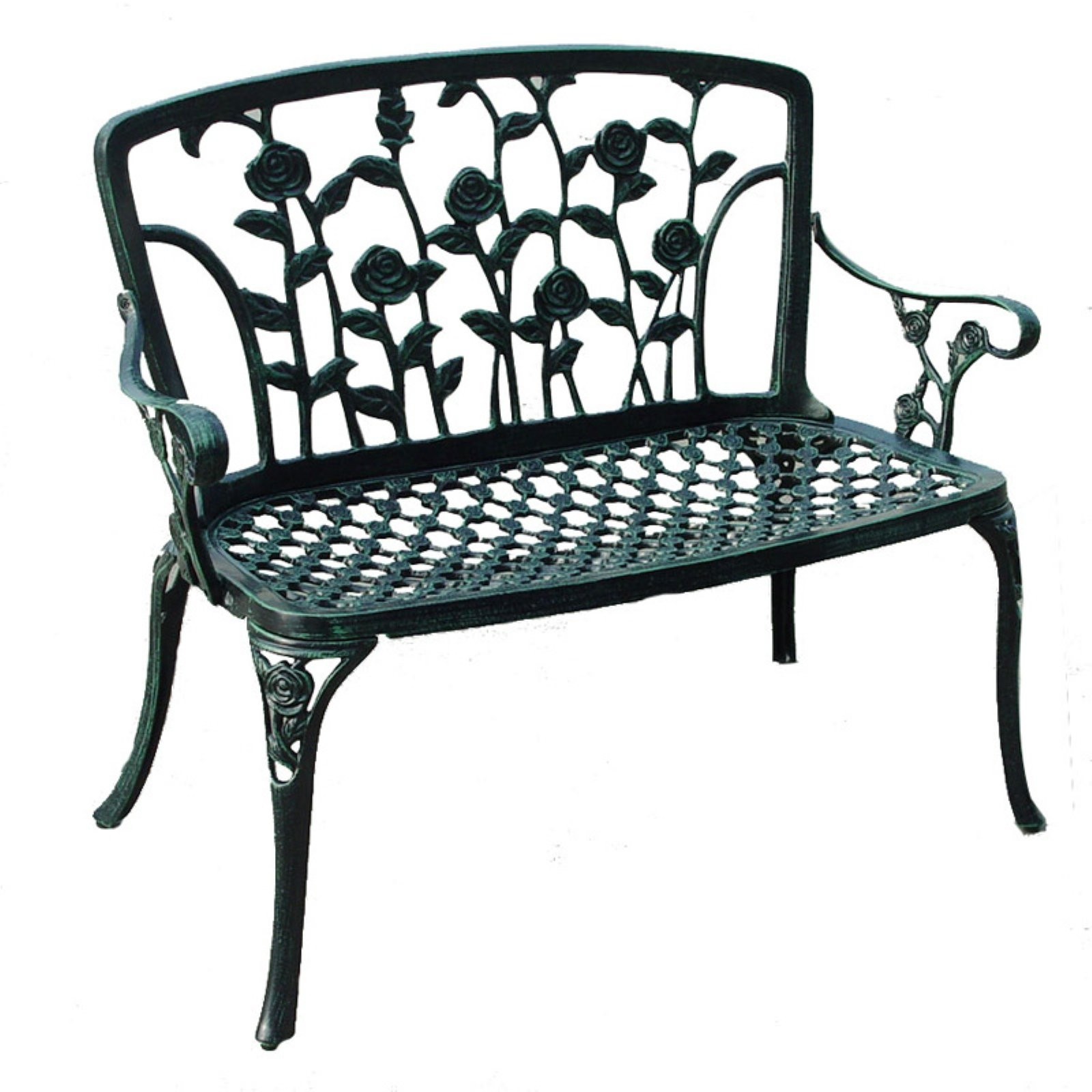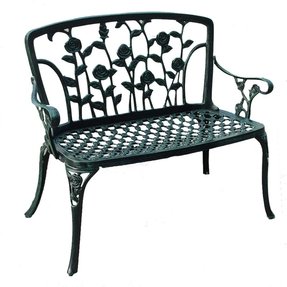 With the most stunning decorative back, this aluminum bench will prove perfect for your garden, while the green finish will prove both stylish and won't overwhelm your setting, making it the top-notch choice to add to your setting.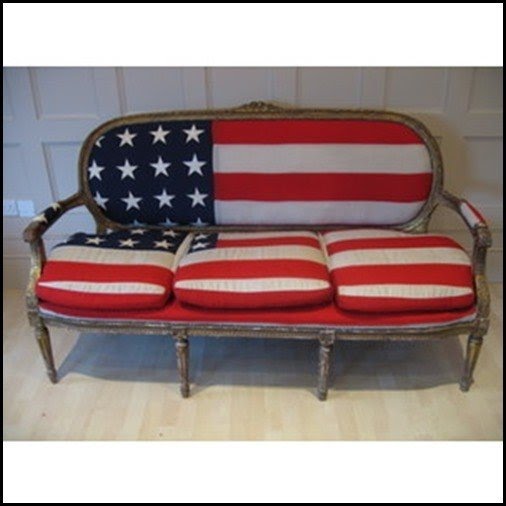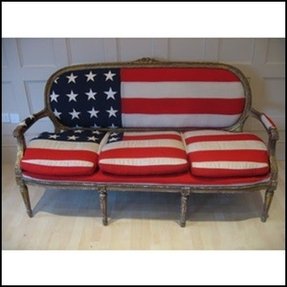 Indoor bench upholstered with soft fabric and decorated with American flag theme. Frame is made of wood with antique finish. Perfect as additional seating in all kinds of interiors as needed.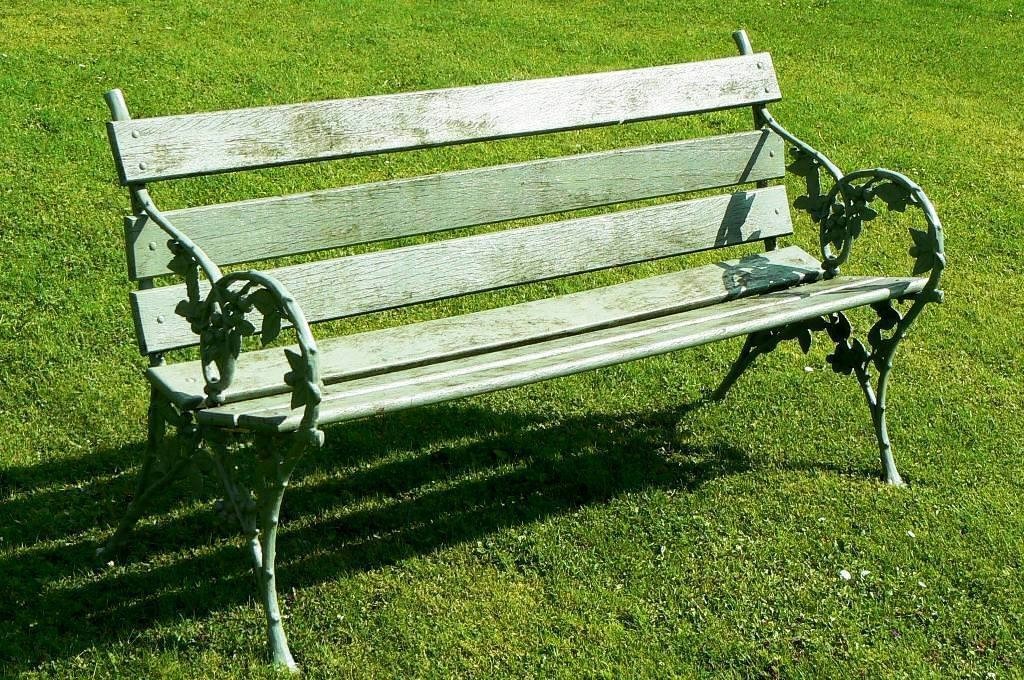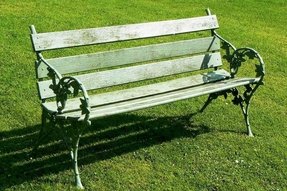 larger image available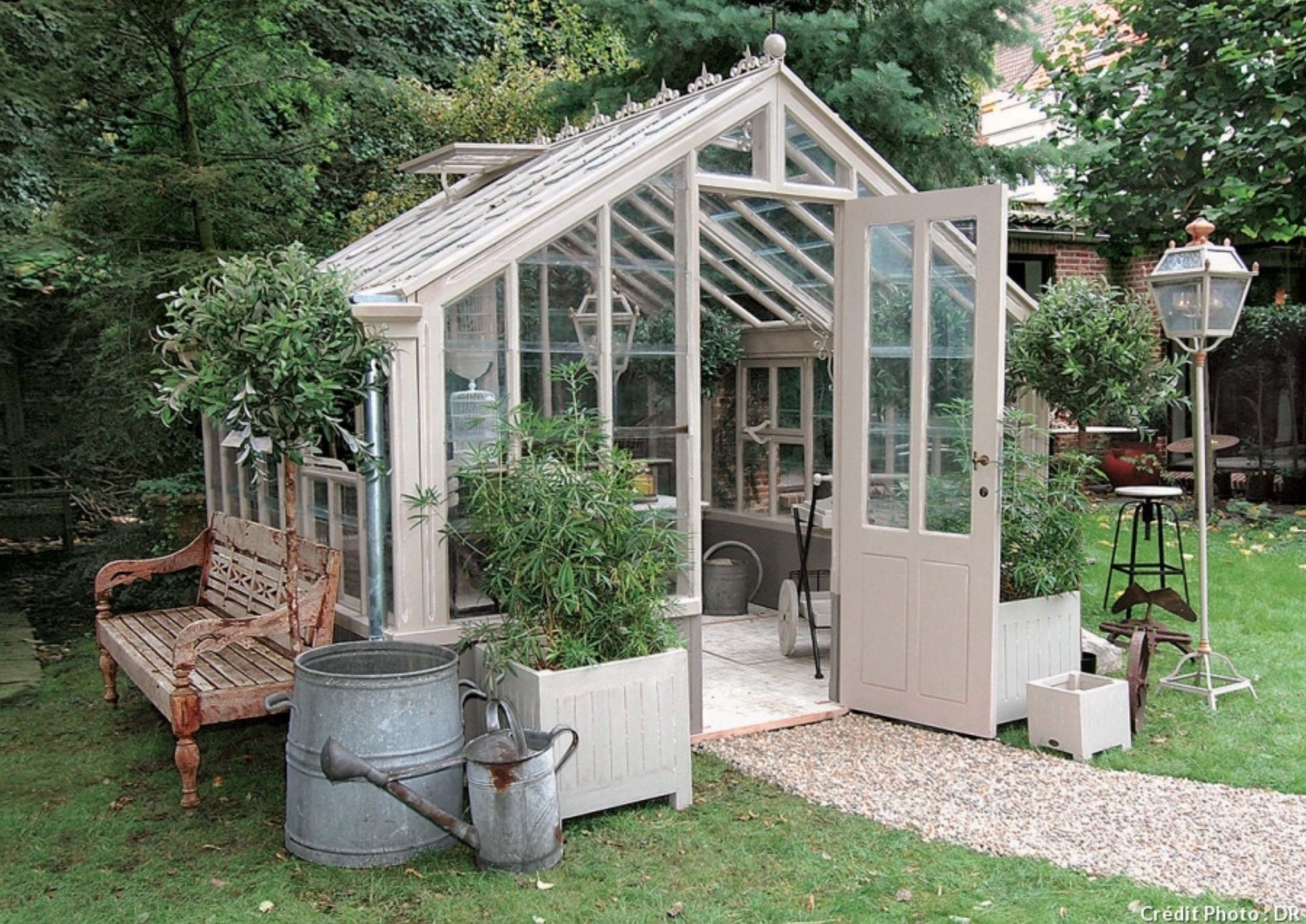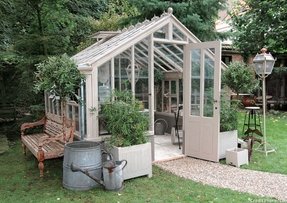 Create the perfect setting for you to take excellent care of your flowers with this Victorian greenhouse that comes with the hinged glass skylight and sports a truly durable structure, ideal for withstanding the harsh weather conditions.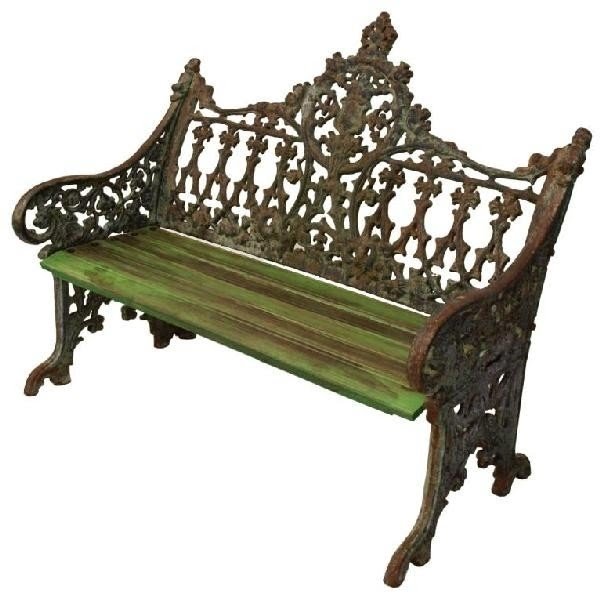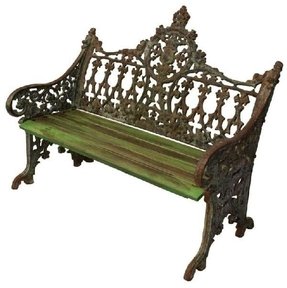 Beautifully accented and structured, this garden bench offers the antique cast iron structure and will simply astonish you with all of its charming and lovely moldings, especially on the back of its design.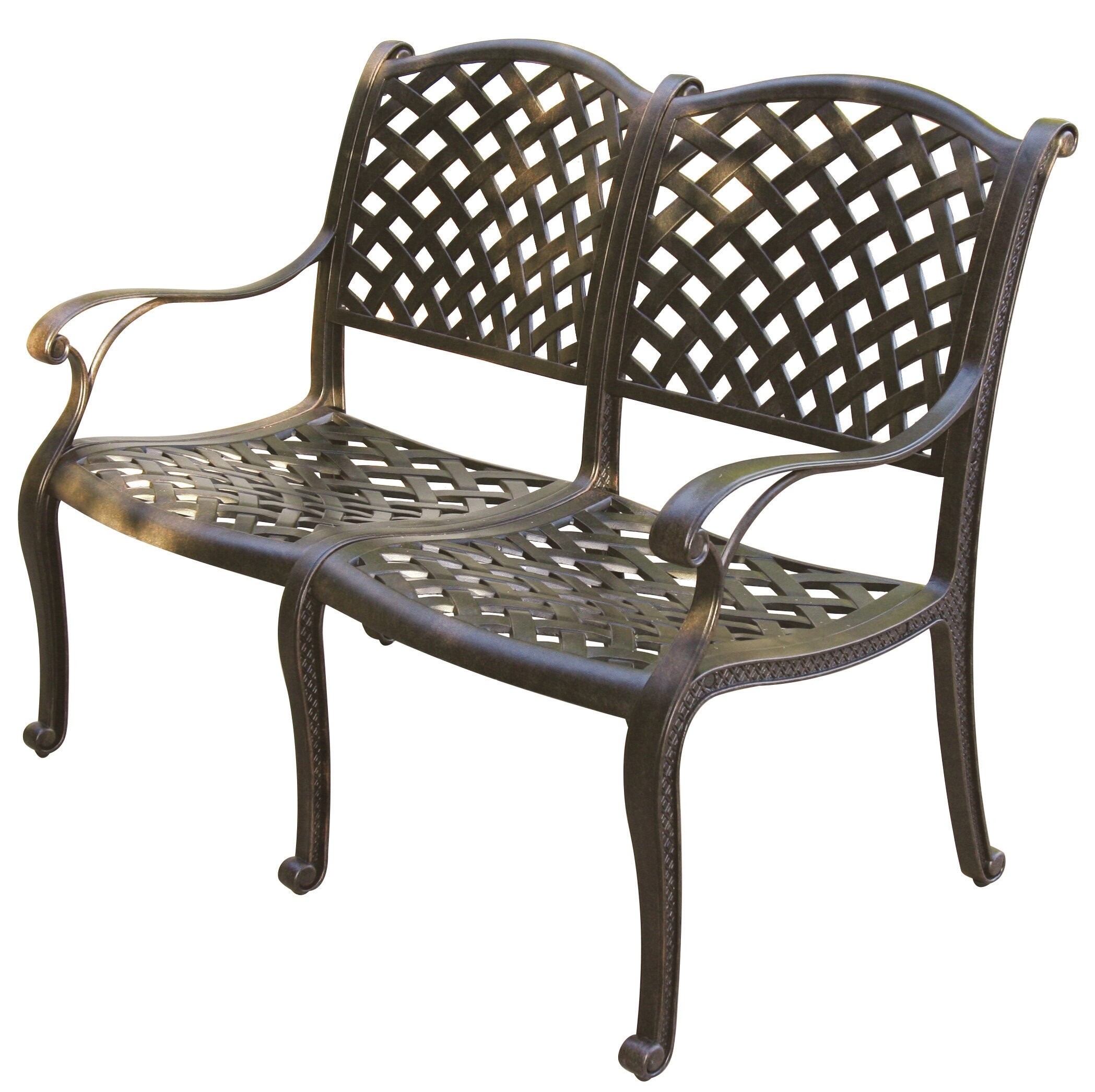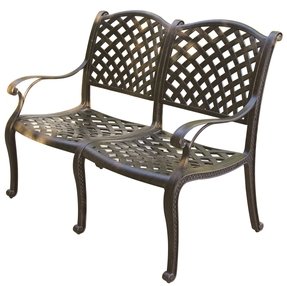 We've got something interesting for you and your friend. The two-seats bench to any outdoor space. The aluminum construction is light and durable.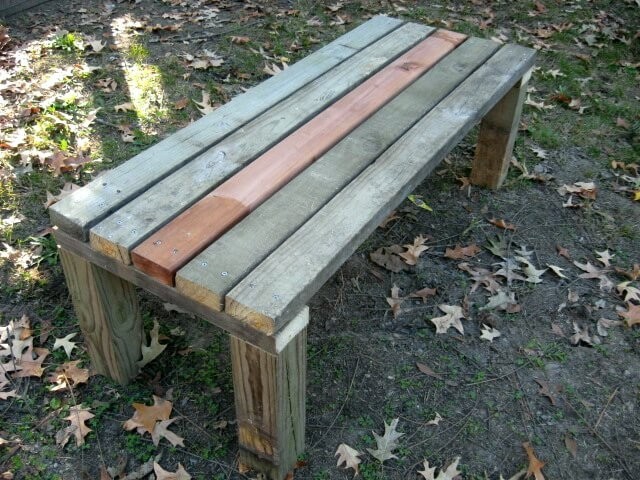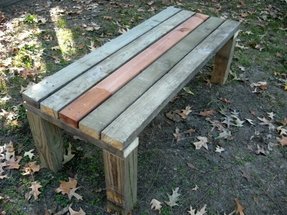 This unfinished straight wooden construction is a perfect combination of attractive styling and endurance. Antique execution and wood construction make a compelling whole to the garden or terrace.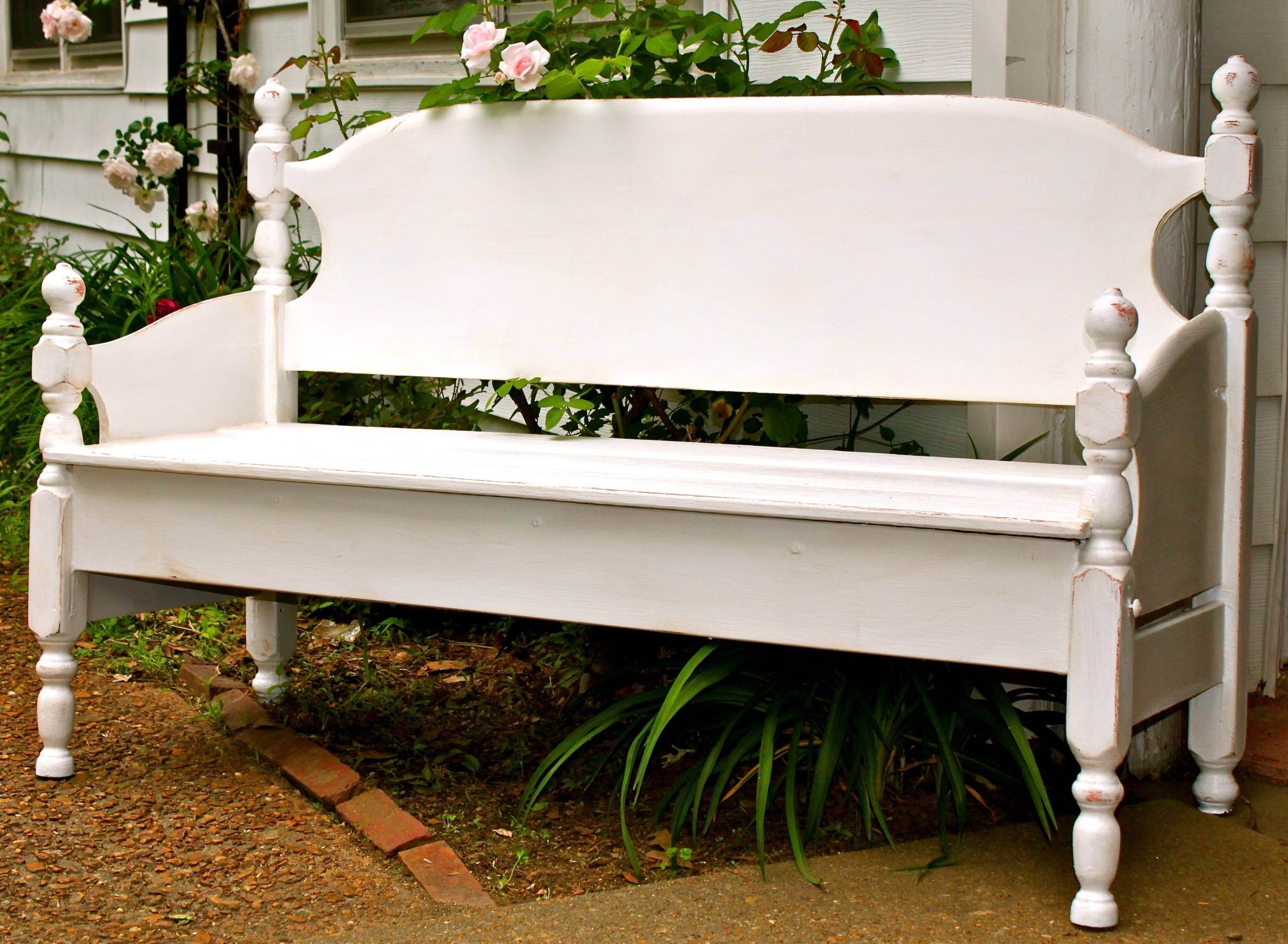 Achieve rustic elegance with these DIY weekend projects!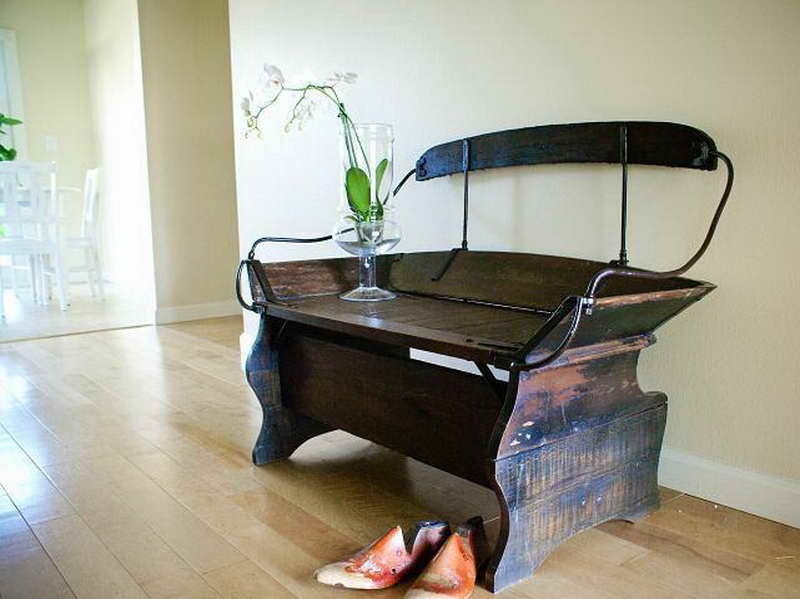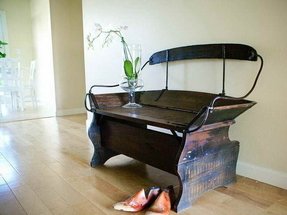 Sometimes the attempt of reuse the old equipment to decorate your apartment could looks strange. The antique horse carriage maybe is an important historical element, which should be saven from oblivion, but putting it to the antechamber looks strange.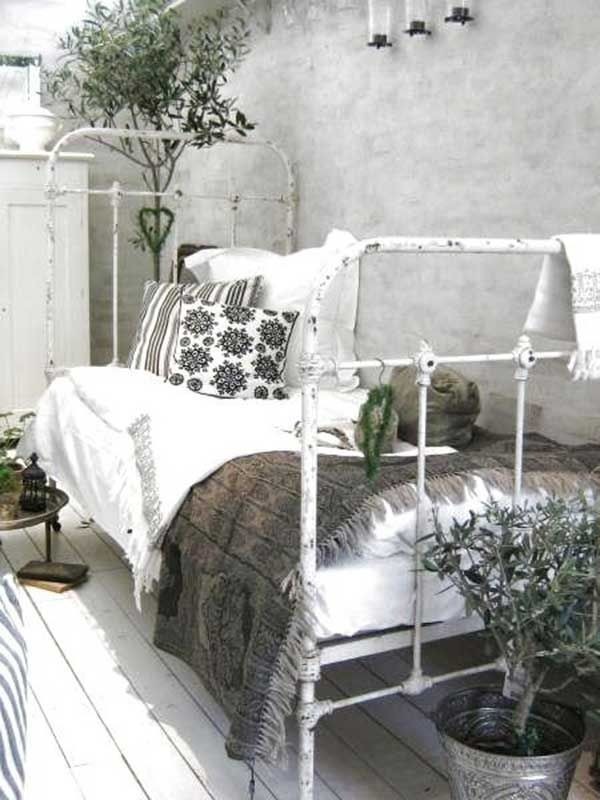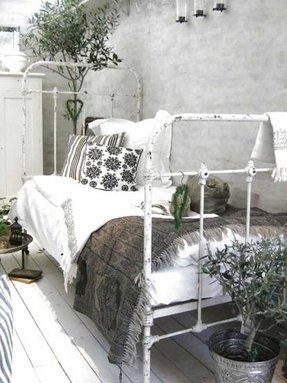 Guest Bedroom Whitewashed Cottage chippy shabby chic french country rustic swedish decor Idea.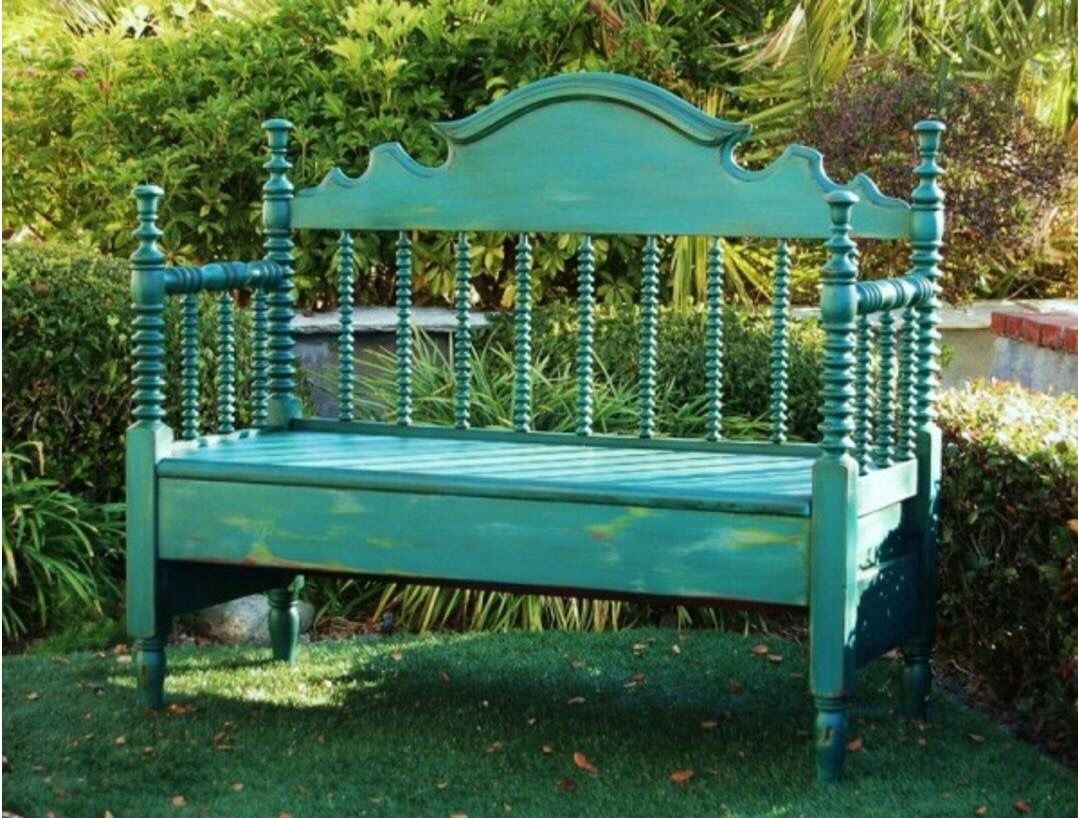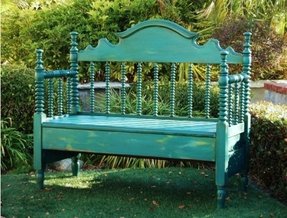 A unique headboard turned bench finished in Florence & Napoleonic Blue Chalk Paint® decorative paint by Annie Sloan & recently featured in This Old House Magazine | By stockist MaK & JiLL of San Clemente, CA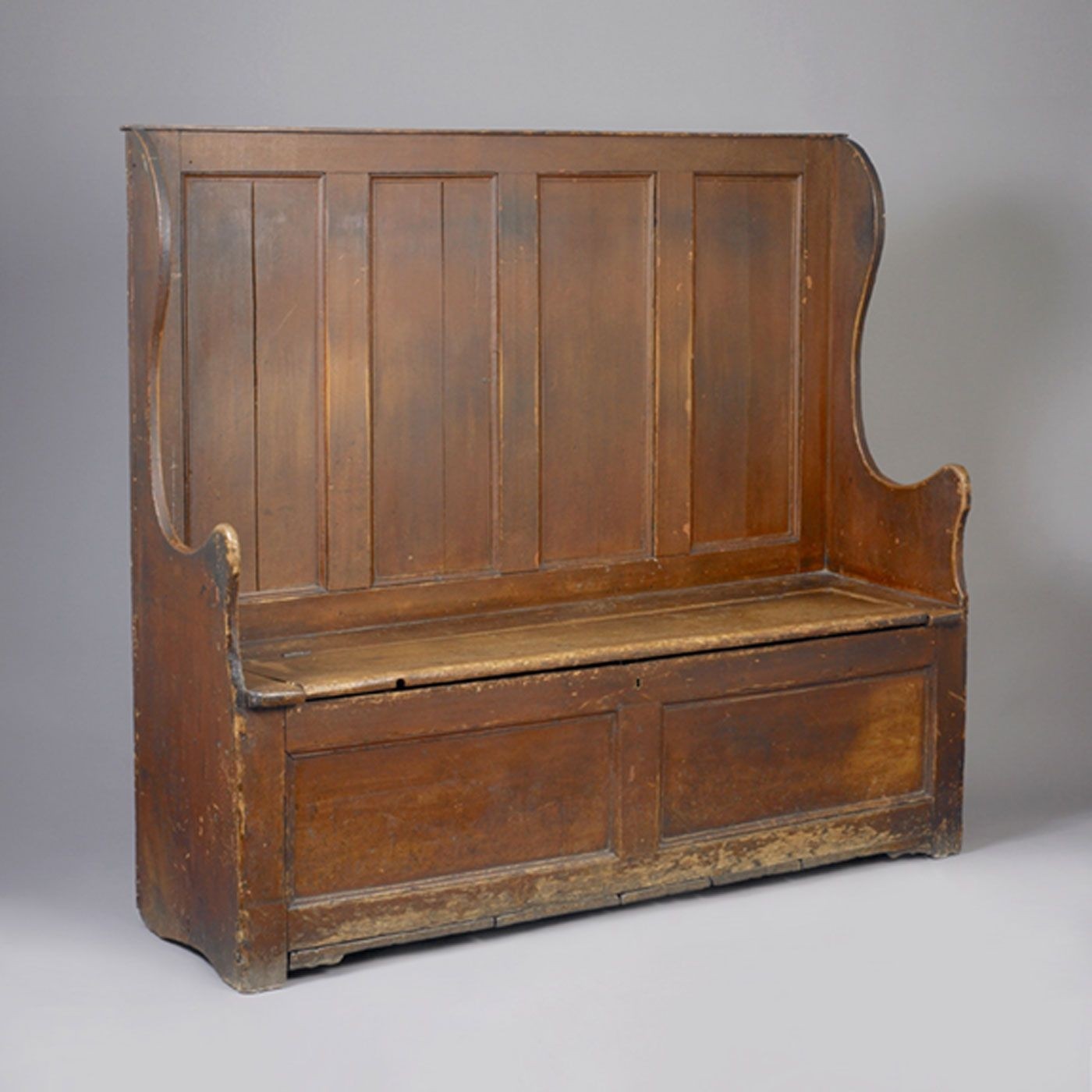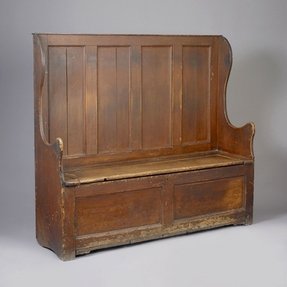 This element of furniture brings antique style into the house. The bench features a solid wooden frame with a durable backrest. Its removable top hides a quite large storage space. Simple brown color looks good in different interiors.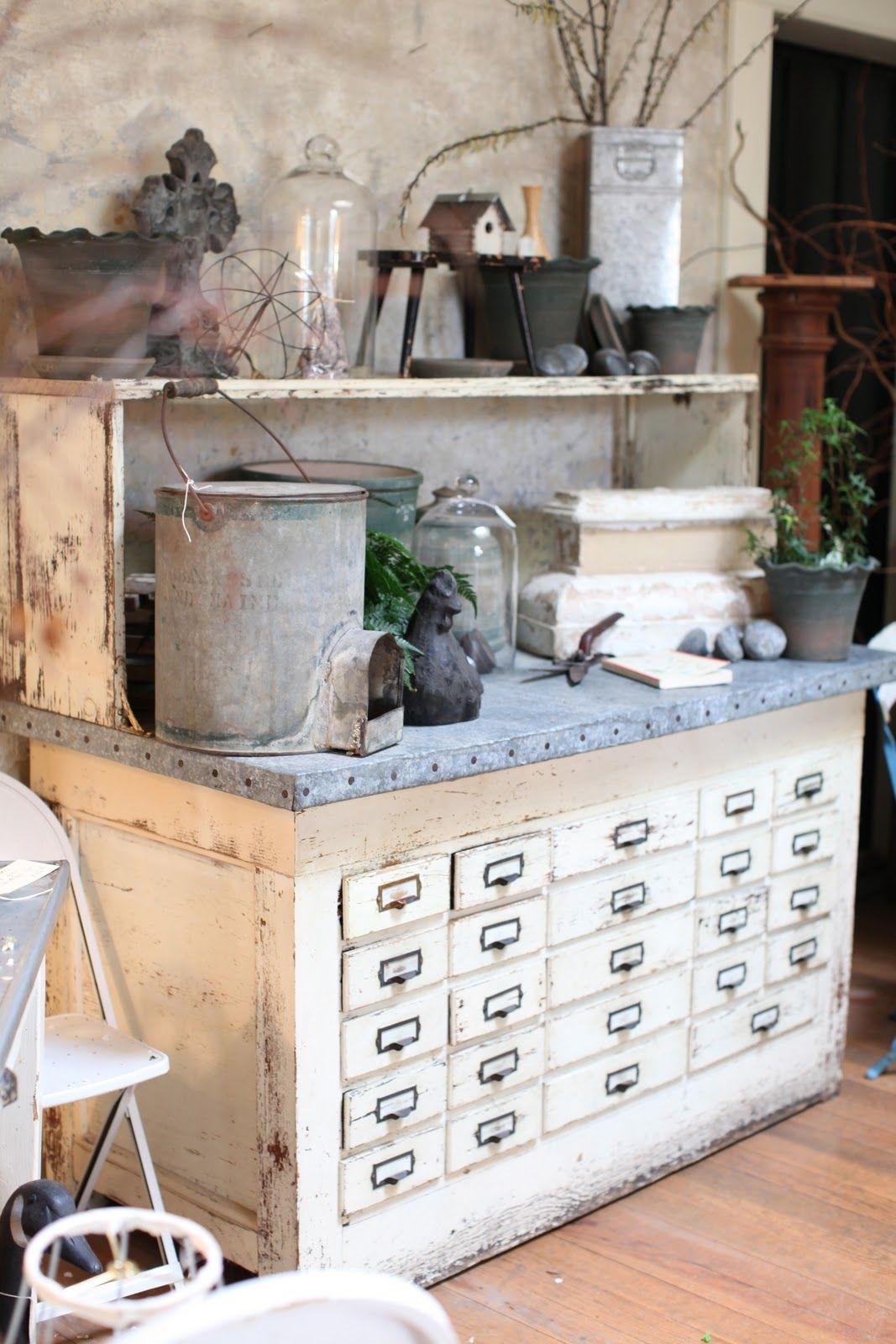 Lust this wonderful storage piece with the zinc top and fabulous cubbie drawers. Luv...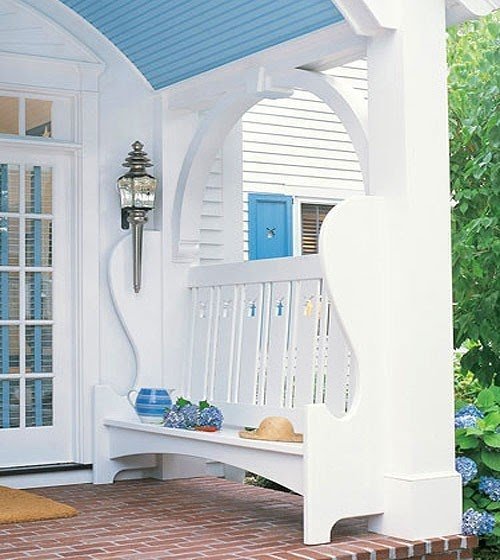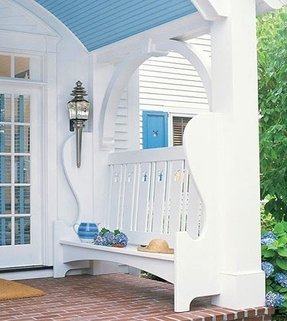 Designers William Diamond and Anthony Baratta made structural changes to the home, adding a front porch with built-in benches and antique carriage lanterns.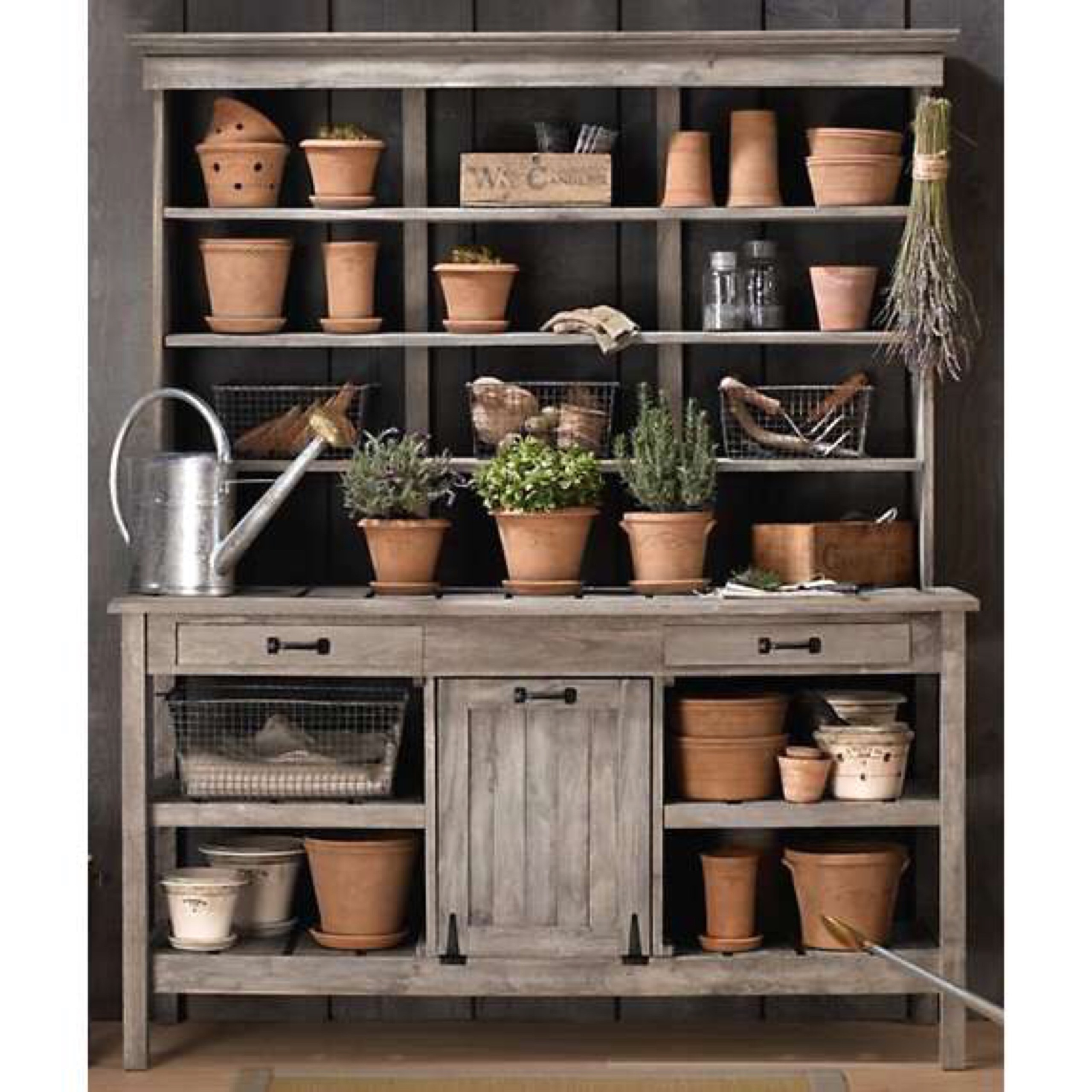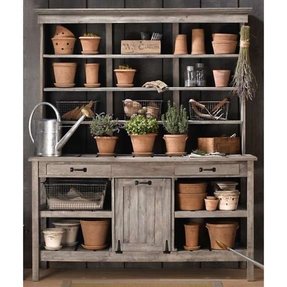 Green Wellies I live near the sea in a tiny gray cottage I garden I glean I gather I walk the beach with my dogs I reuse I recycle I compost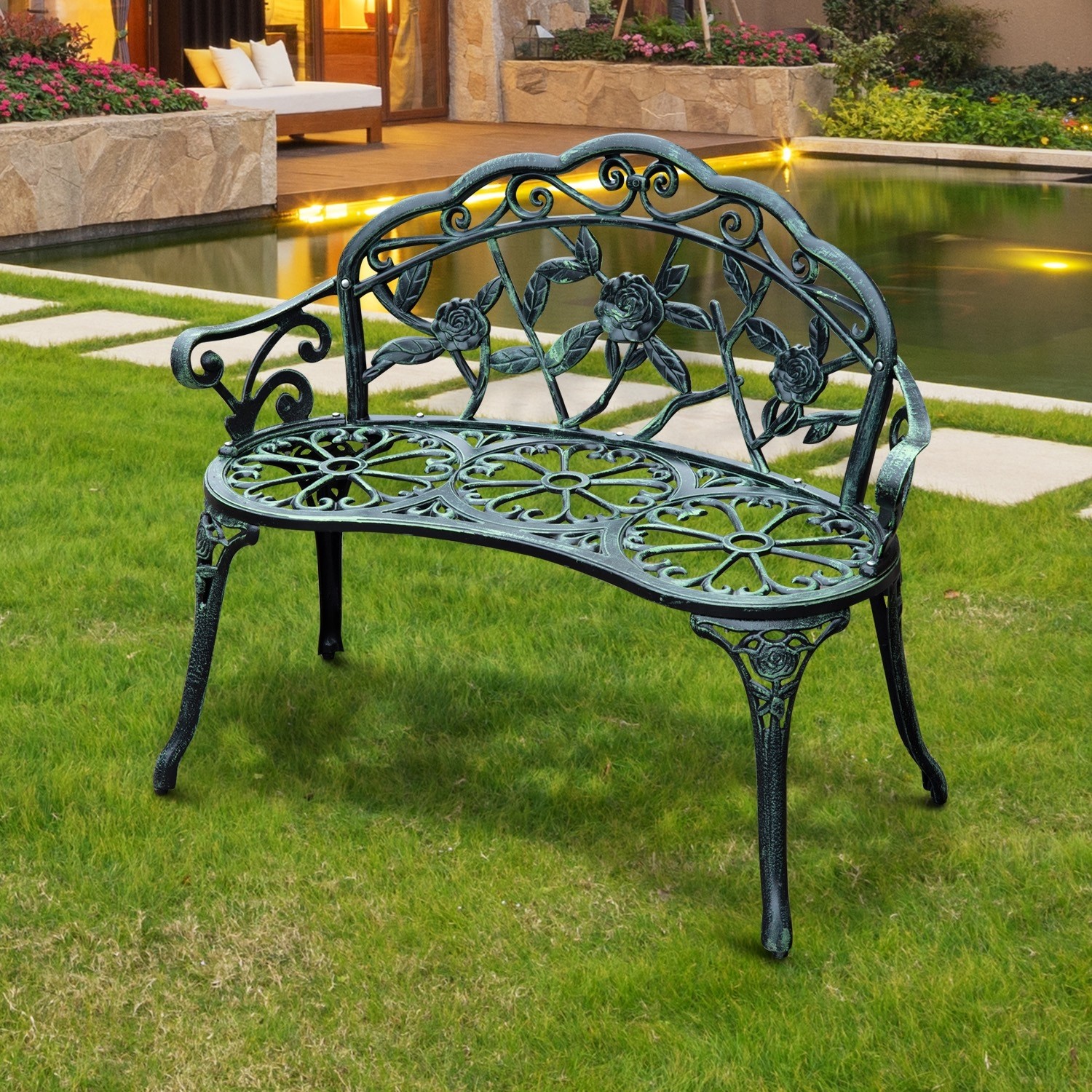 Outsunny Cast Iron Antique Rose Outdoor Garden Bench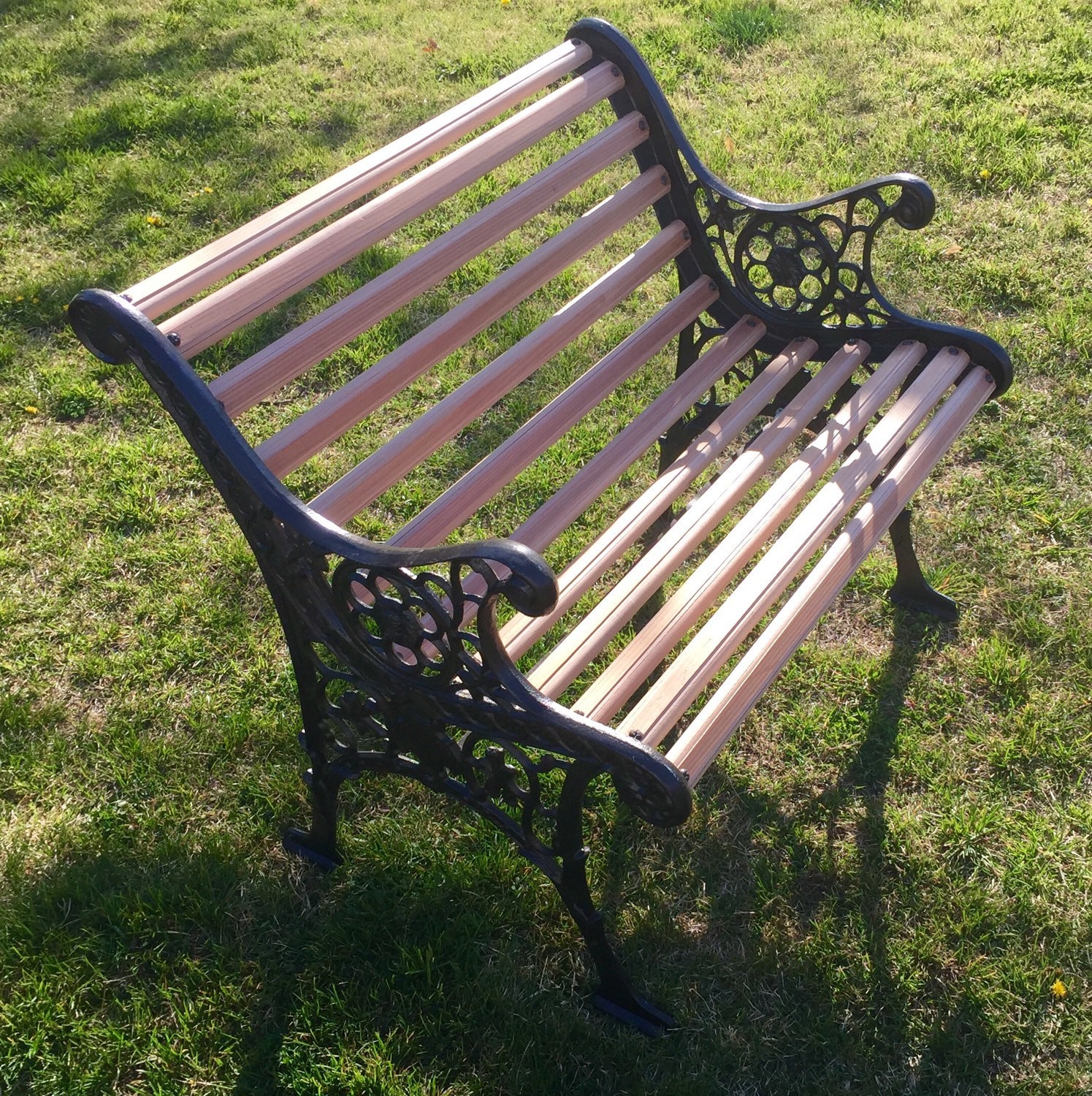 Vintage cast iron garden bench with cedar by ...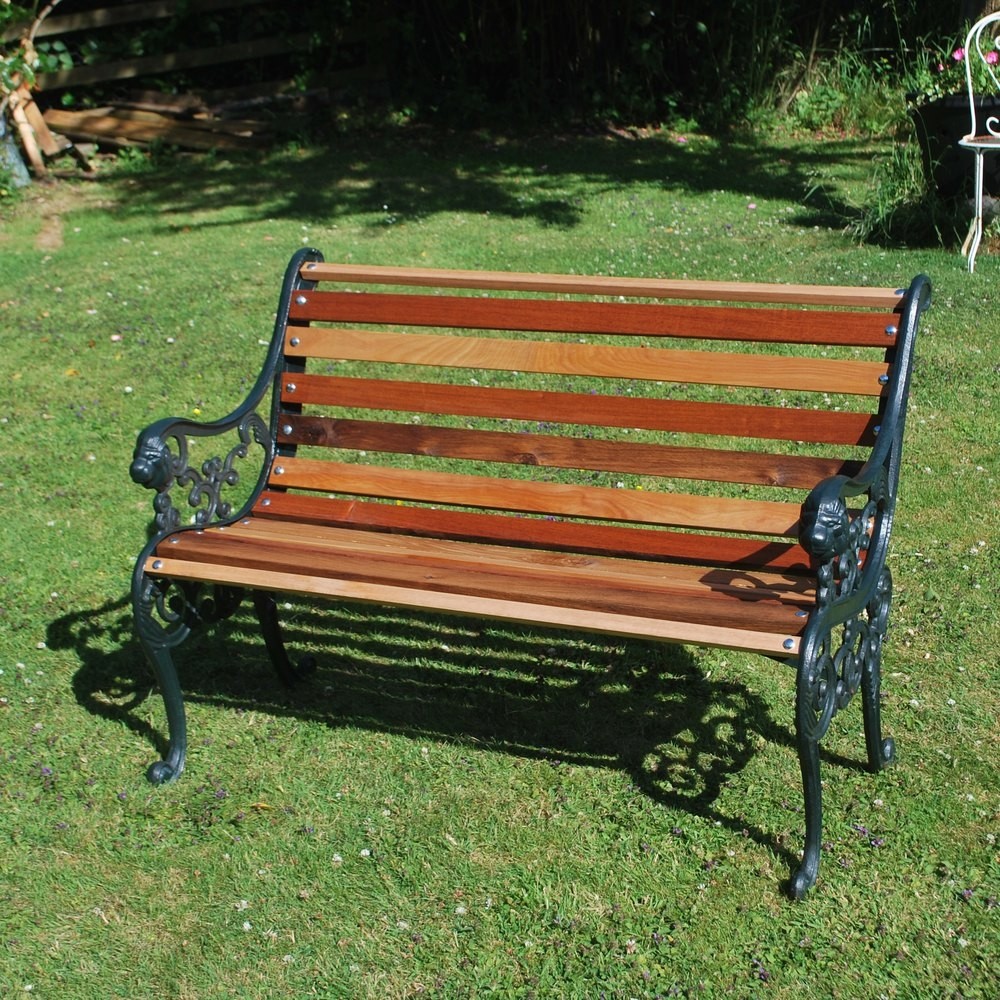 Antiques Atlas - Small Cast Iron Garden Bench.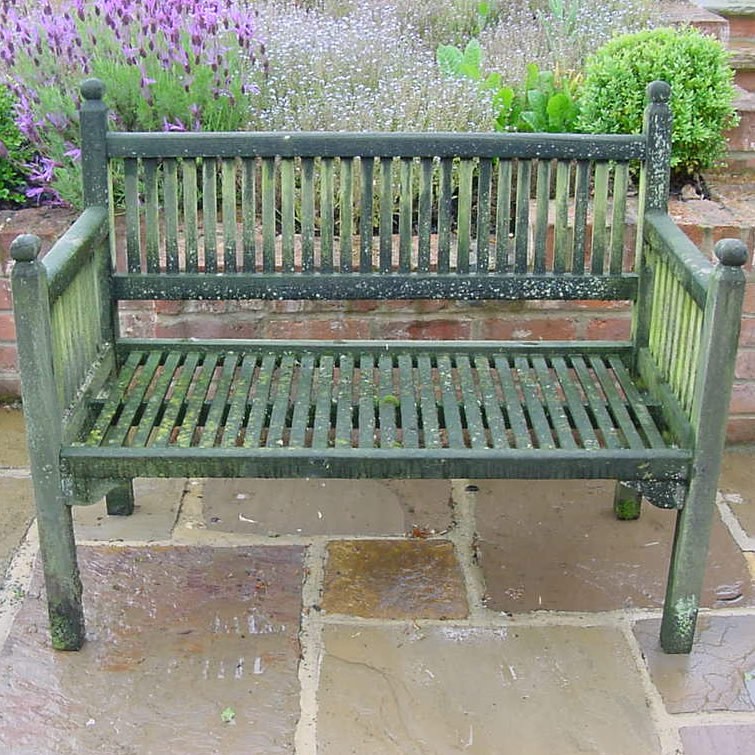 Antique Wooden Garden Bench - Antique For The Garden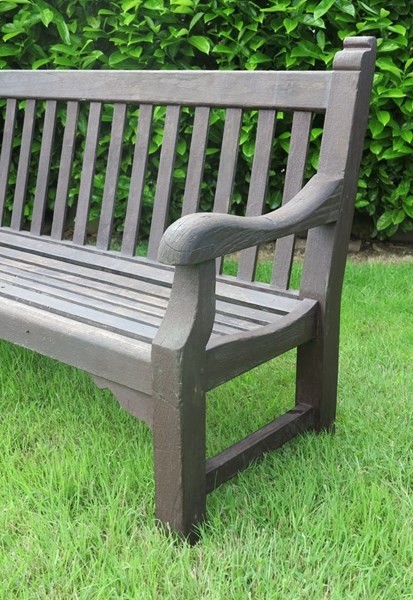 Large Vintage Teak Garden Outdoor Bench