Large Slides for Kids
No matter how many new toys and video games we find on store shelves, let's be honest: good old slides are still the best! A large slide for kids is the perfect gift to help them have fun on their own, with their siblings, or whenever their little friends come round to visit them.
Depending on your budget and available space, there are a few different types of large slides that you can consider: a traditional outdoor slide, an indoor one for their bedroom, one with a swing or other playset elements, a water slide, or an inflatable version with more or fewer features.
Not sure where to start? Get some inspiration by sliding into our list!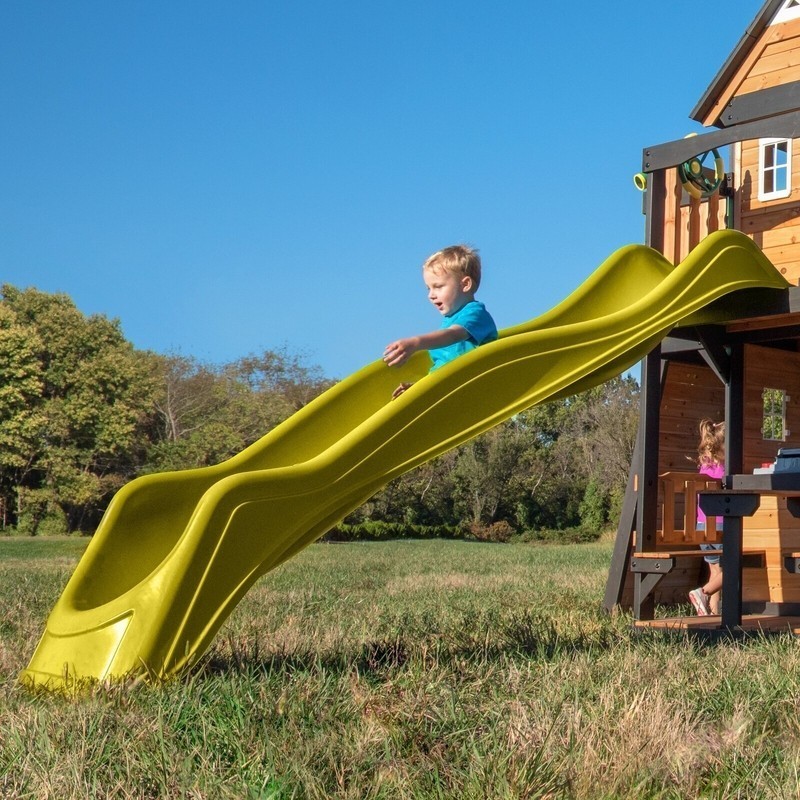 Simple backyard slide

A traditional slide is usually the most space-saving and cost-effective option for your backyard, but it surely doesn't make it any less fun.
From funky colors to creative shapes, you can easily find the right model to entertain your kids.
While a freestanding playground slide is obviously a versatile option, you can also look for sliding boards for sale to attach to your deck roof (that way, you'll save even more space!).
$330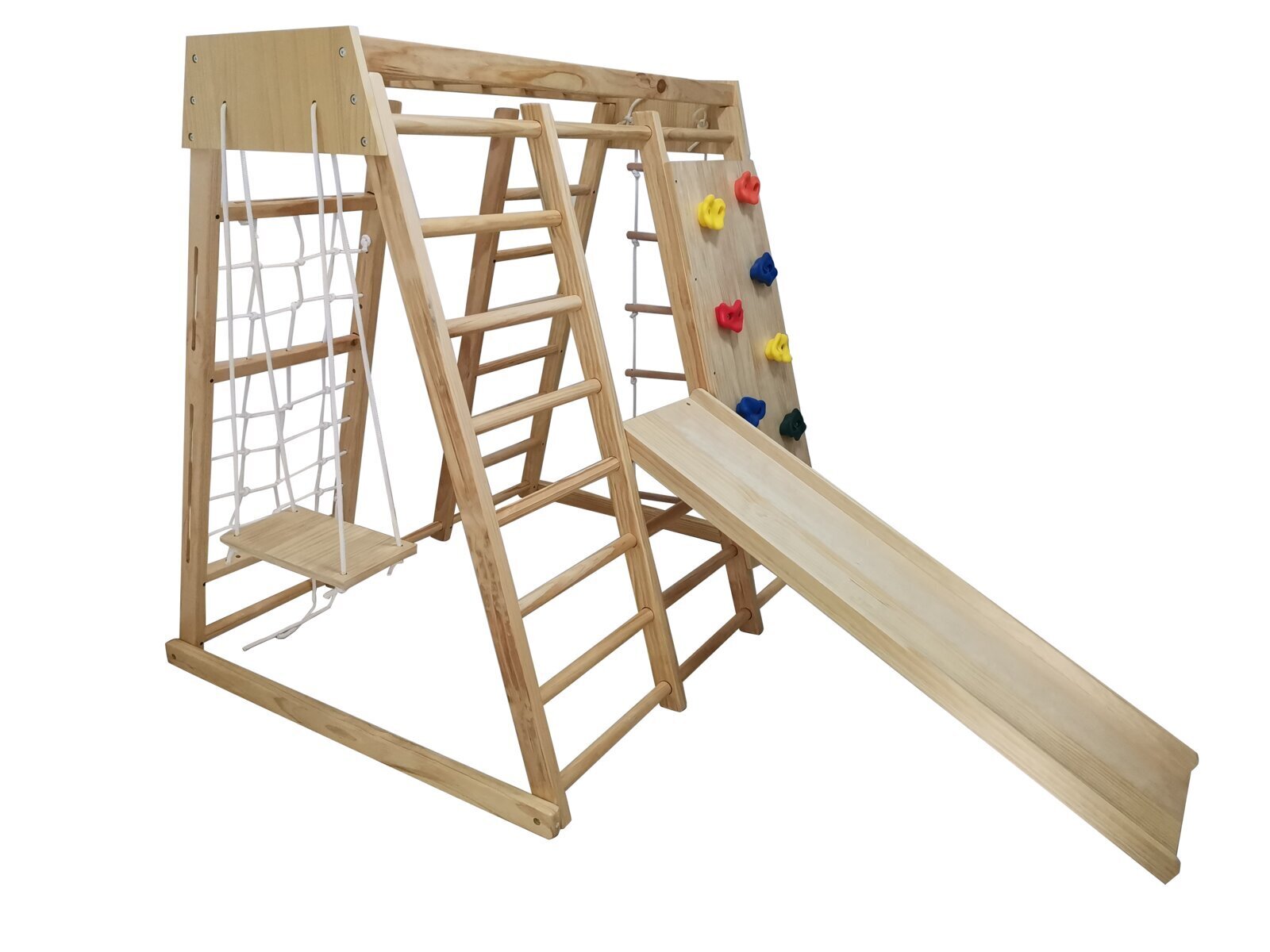 Large outdoor slide & playset

In for a penny, in for a pound. Since you're at it, why not get a large outdoor slide that comes with a fun playset, too?
You can find them in lots of different combinations (with swings, ladders, ropes, rock climb walls…), but the most important thing is obviously to keep your kids' safety in mind by sticking to the right age group for them.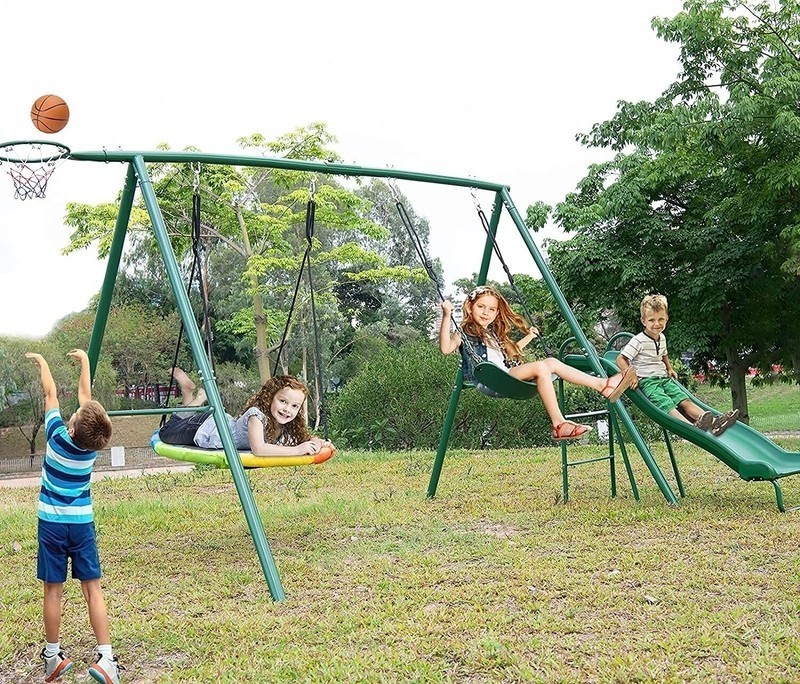 Monochrome large garden slide with playset

Have you promised your kids that you'll get them a large slide but are now a bit put off by all those bright colors that will inevitably ruin your perfect decor? It's ok, we won't tell them.
Instead, we have a practical solution that won't take away from the fun: a monochrome slide or swing set in a more neutral or decorative finish.
$259.99 $289.99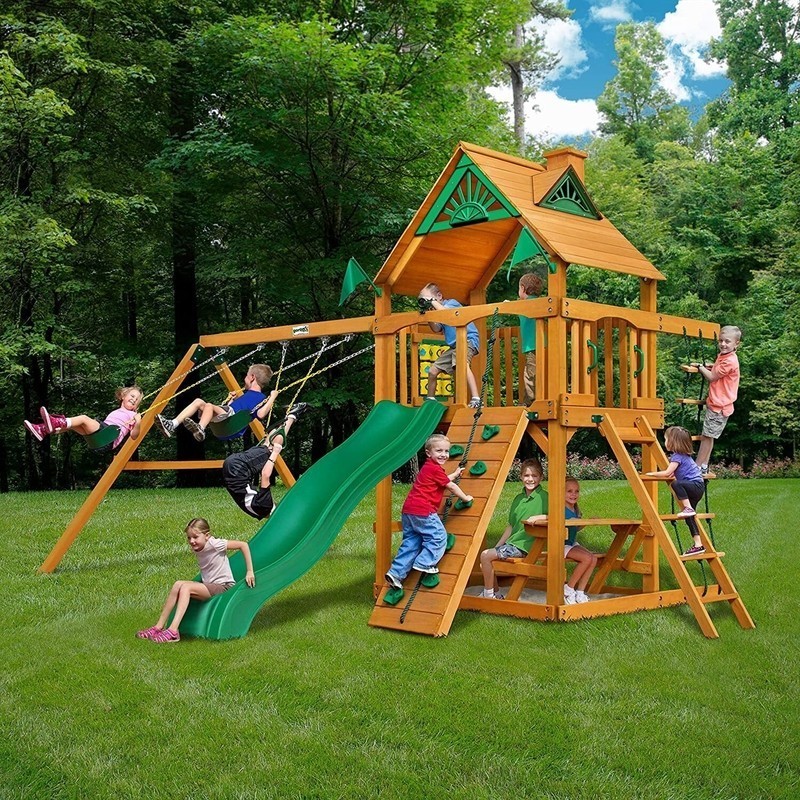 Huge playset & outdoor slide for kids

If you have a fairly large backyard, you can turn that new big slide into an opportunity to create a whole play area for your kids.
As well as a set with a few more games, consider choosing one that includes some seating space. That way, they'll get to use it independently to spend some more time reading or snacking in the garden, too.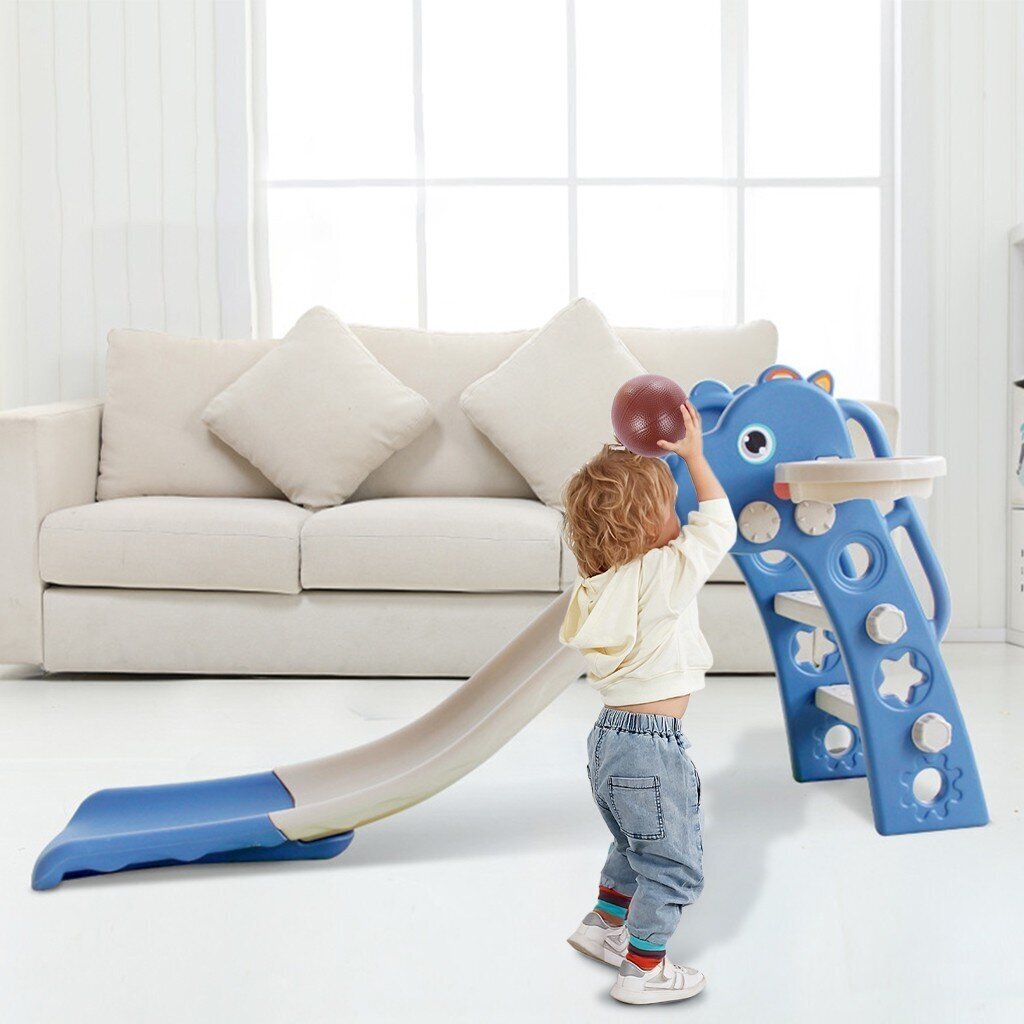 Large indoor slide for young kids

Is your backyard not big enough for a slide? Or perhaps you haven't got one at all? As long as you can guarantee enough room to prevent your kids from hitting other furniture elements, you can place a large slide in their bedroom instead.
In that case, it might be worth considering simpler models in colors and styles that are more similar to traditional toys rather than one of the classic bright plastic outdoor models.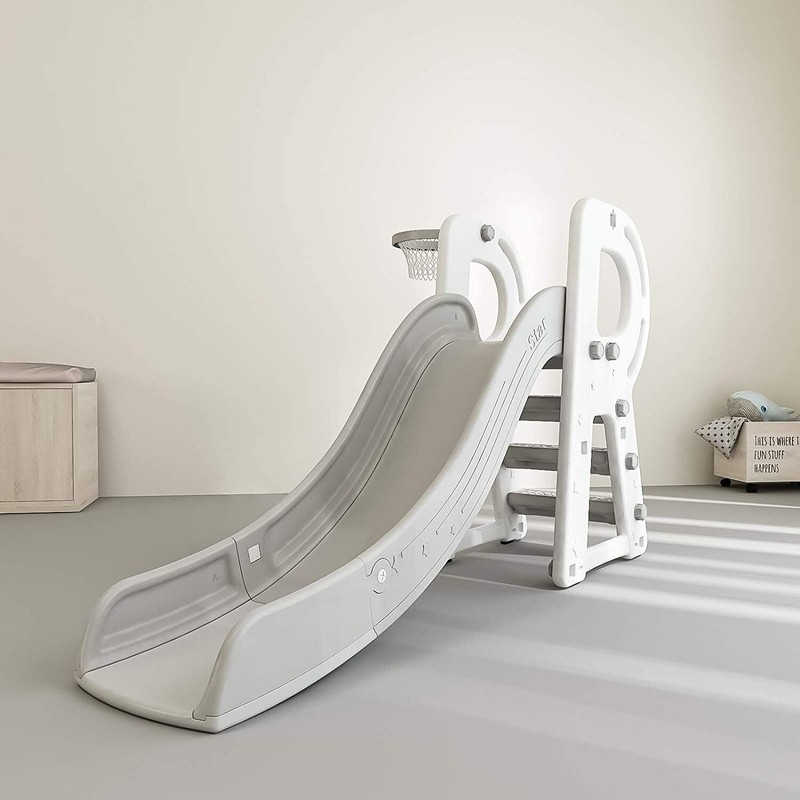 Indoor slide with basketball hoop

If you can spare a little more room in their bedroom, then why not look for an indoor slide with other fun features?
We especially love this adorable model with a basketball hoop, but you can find them with small swings or other toys, too.
$179.99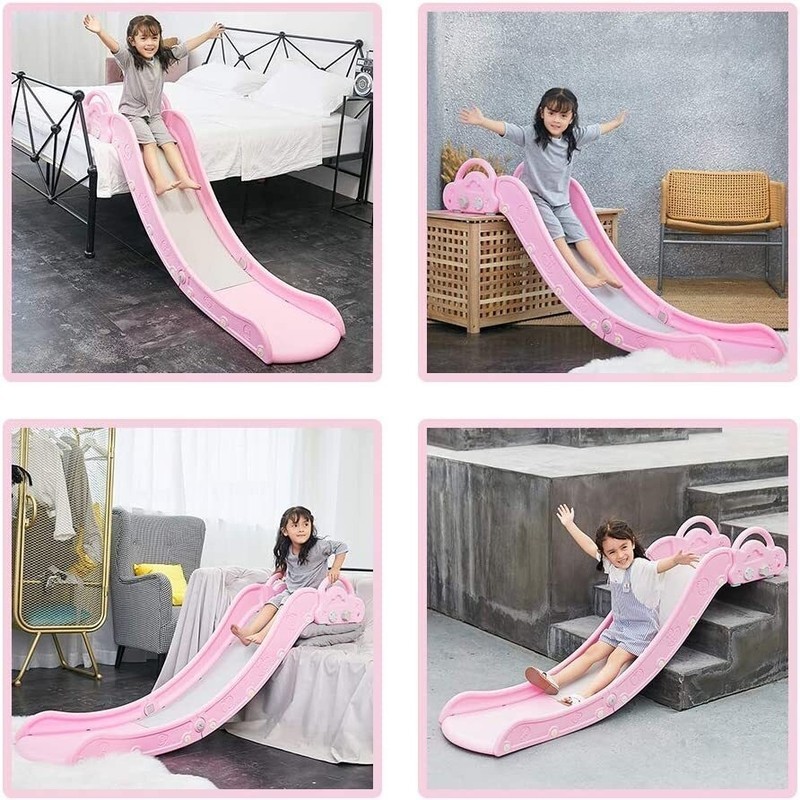 Sliding board for kids

A more space-saving and portable solution is an indoor slide that can turn corners of your house into fun playgrounds whenever you want… and be stored away when you need more room.
Whether that's your sofa, their bed or the bottom of the stairs, a sliding board is ideal for the most adventurous and restless toddlers.
$99.99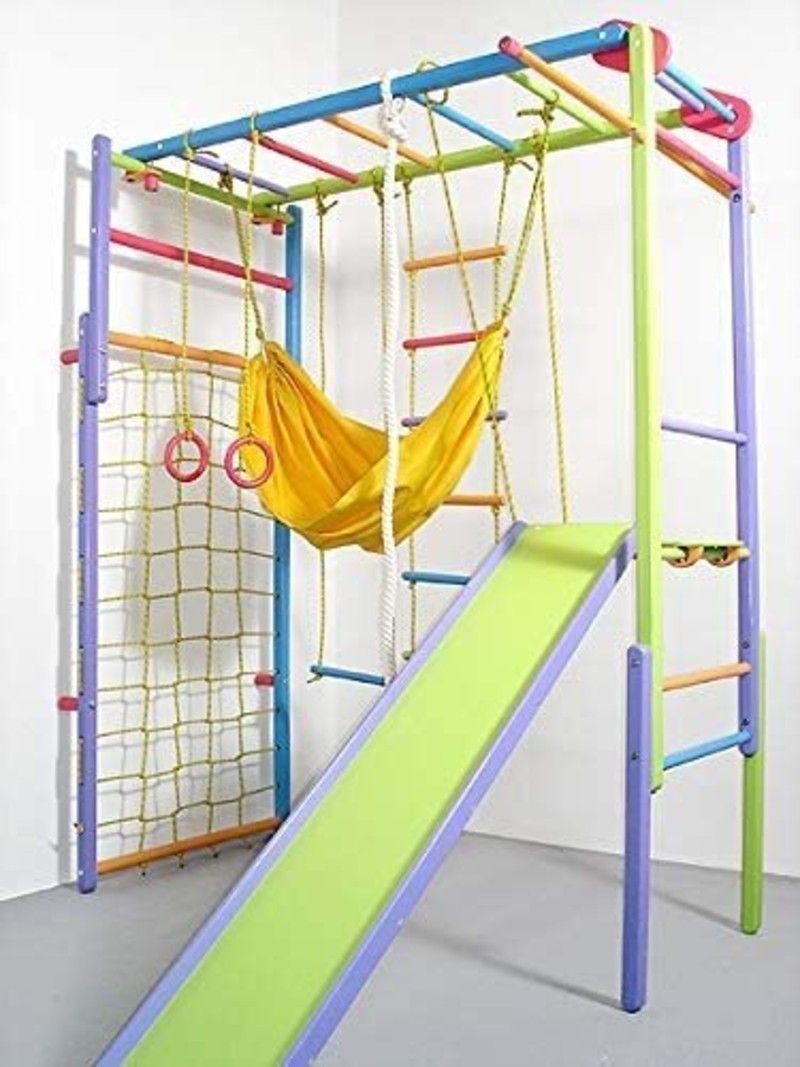 Indoor climbing playset with large slide for kids

Playtime is fun, but it's also essential for your kids to develop their motor skills. An indoor playset with ladders, ropes, and hoops as well as a large slide will allow them to do so even when the weather isn't great outside.
While it's certainly a cumbersome addition, don't forget that some models can be folded away whenever they're not being used.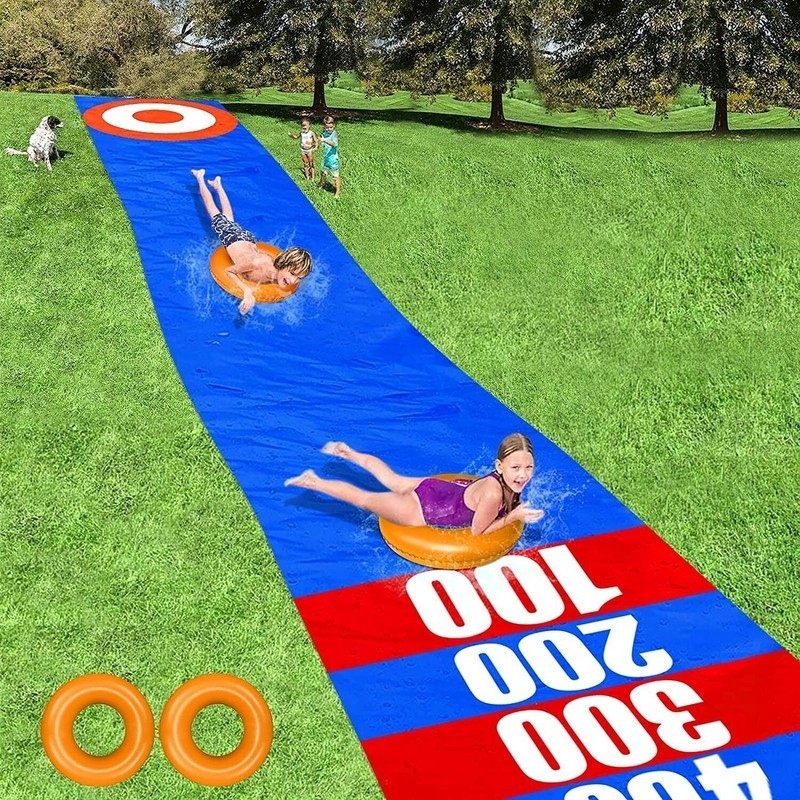 Lawn water slides for kids

Who says that slides have to be vertical? (Shut up, gravity!)
A portable alternative that can be brought outside whenever you fancy is a lawn water slide to add a splash of fun to the hottest summer afternoons.
This is certainly one of the most logical options in smaller backyards where a freestanding slide would end up taking up too much space.
$79.99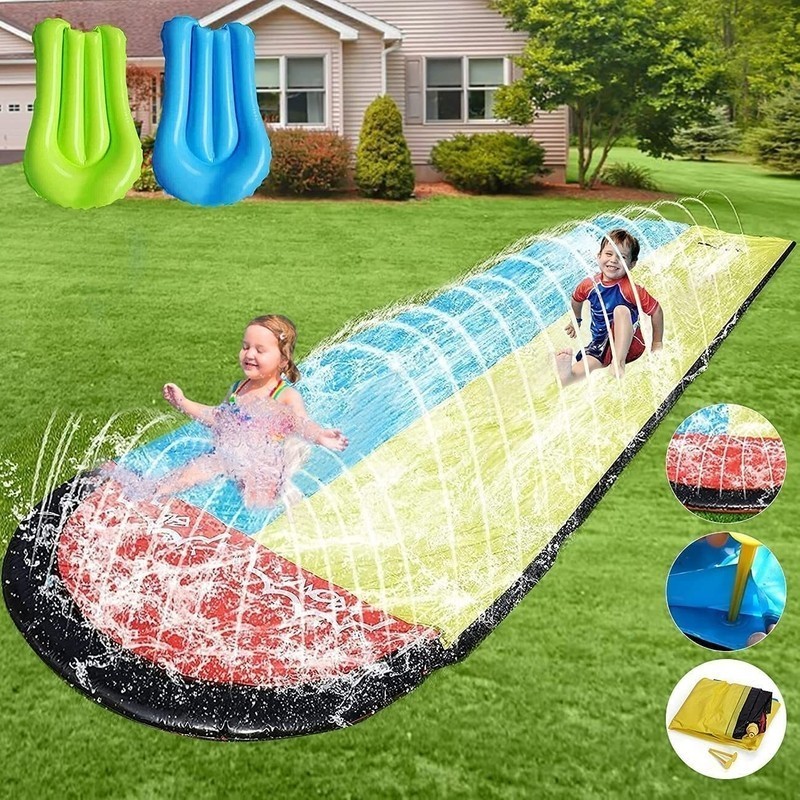 Slip & slide for kids

If you like the idea of a lawn water slide, how about adding to the fun with a little sprinkler as well?
These long and large slides are guaranteed to become the highlight of your kids' summer, especially during the hottest days when a cold ice cream just isn't enough.
$15.99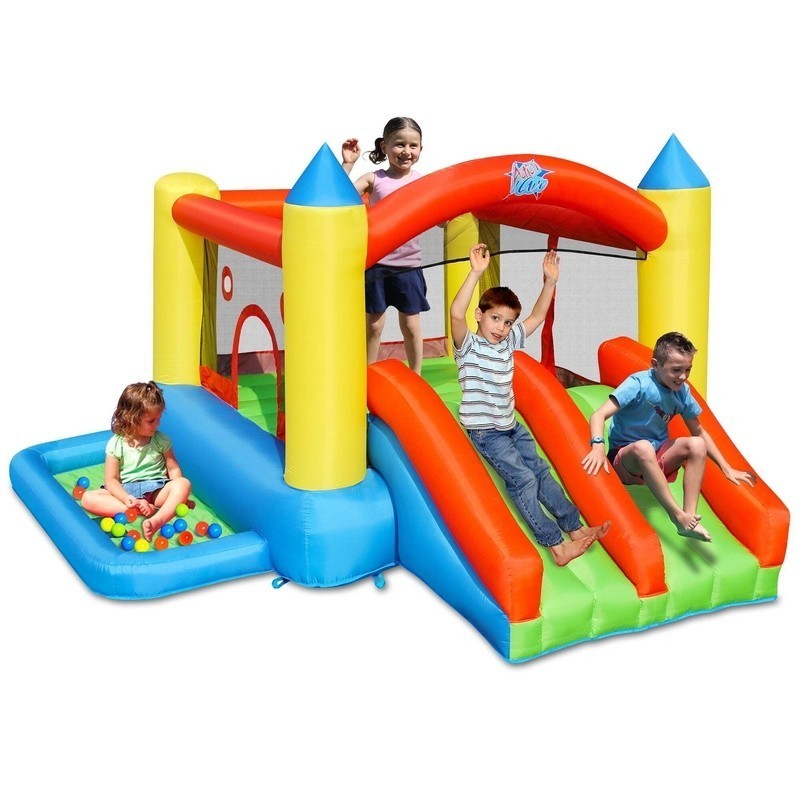 Colorful inflatable slide

A big slide for kids doesn't necessarily need to be a permanent freestanding structure: how about some inflatable fun?
These large slides offer so many opportunities for games and activities, particularly when you choose models that include a few more features like a bouncy castle or a ball pool.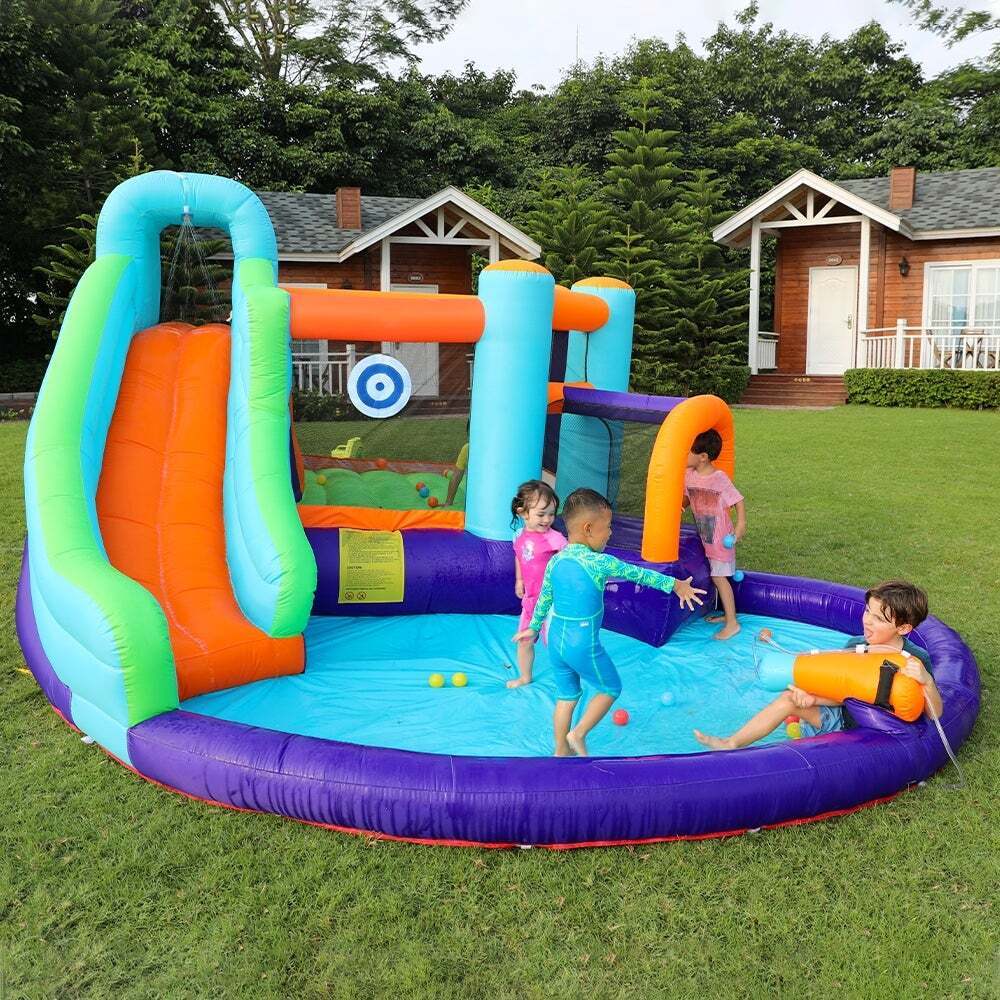 Inflatable bounce house with water slide for kids

There's only one thing that's more fun than inflatable slides, and that's inflatable slides with water!
From water guns to a splashing surprise at the end of the actual slide, we bet your kids won't get tired of them even after hours of playtime.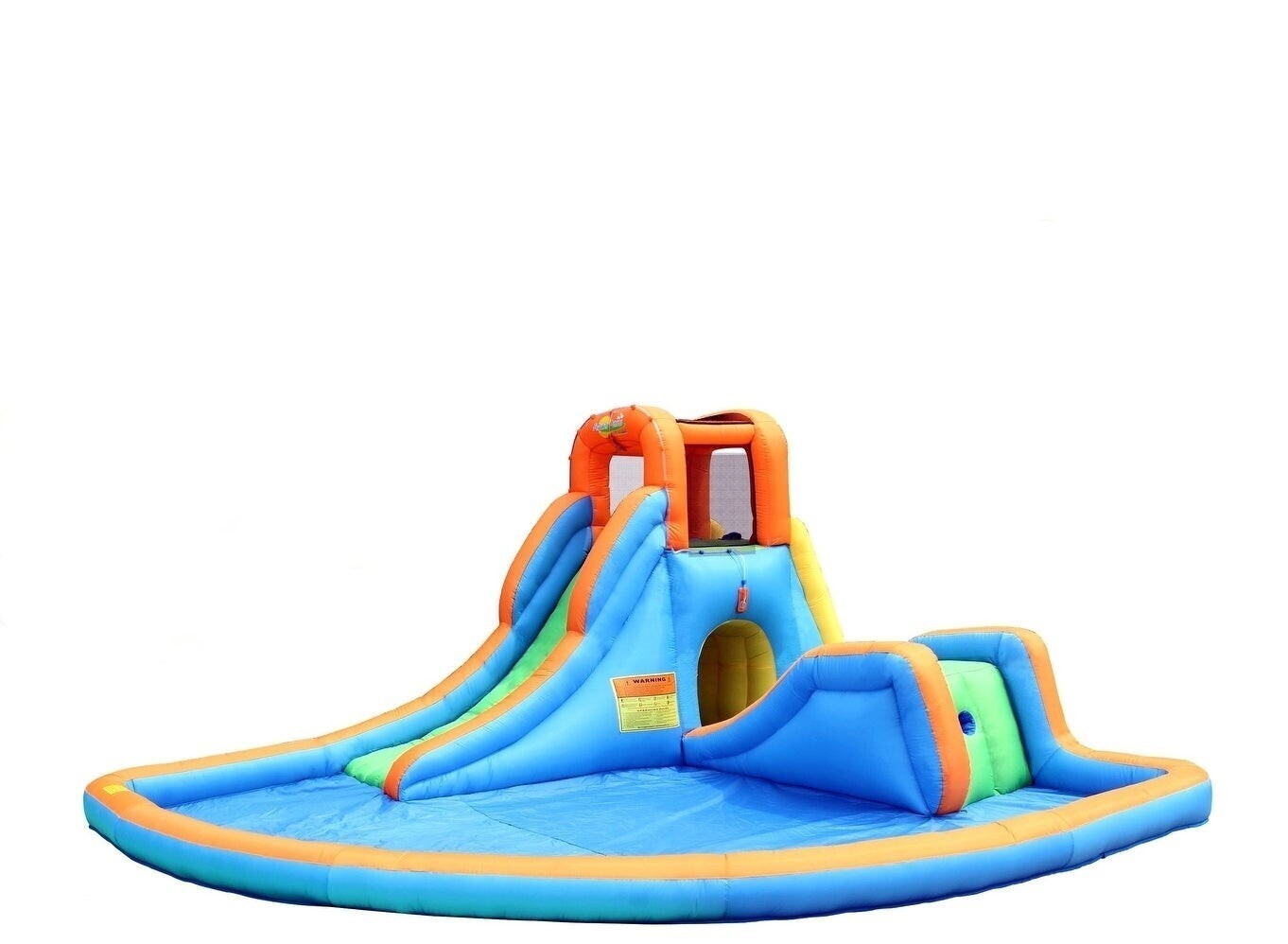 Large kids slide with pool

Like the idea of a large slide but are now intrigued by the water side of things? Some big kids slides prioritize it by turning the bottom into an actual pool.
While they're fun all year round even when used as a normal slide, filling them up with water will make all those hot summer days truly unforgettable.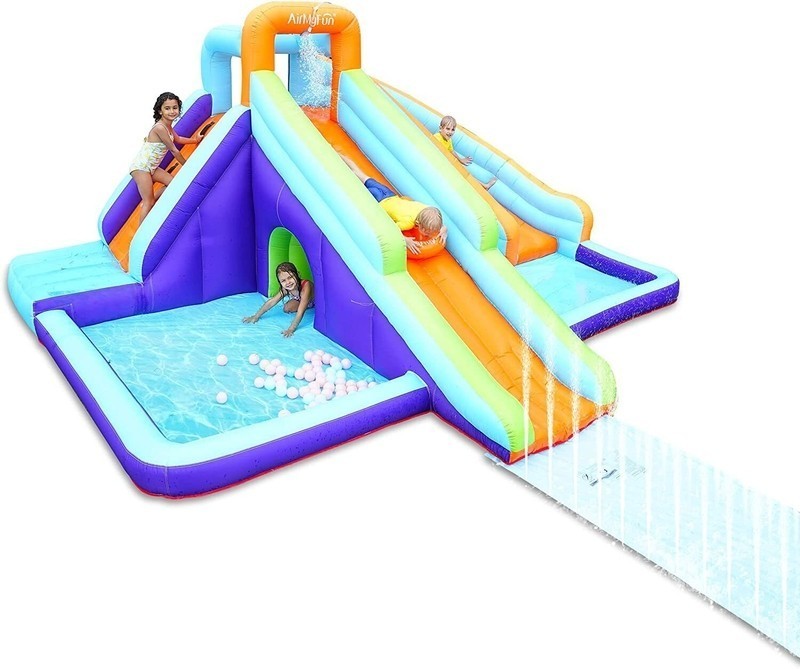 Bouncy water park with large outdoor slides

Have you got more than one kid? Do they often have their cousins or some school friends round for playtime?
Then a model that consists of two or three large water slides coming together into one pool might be an even better idea (especially to avoid arguments!).
$499.99 $529.99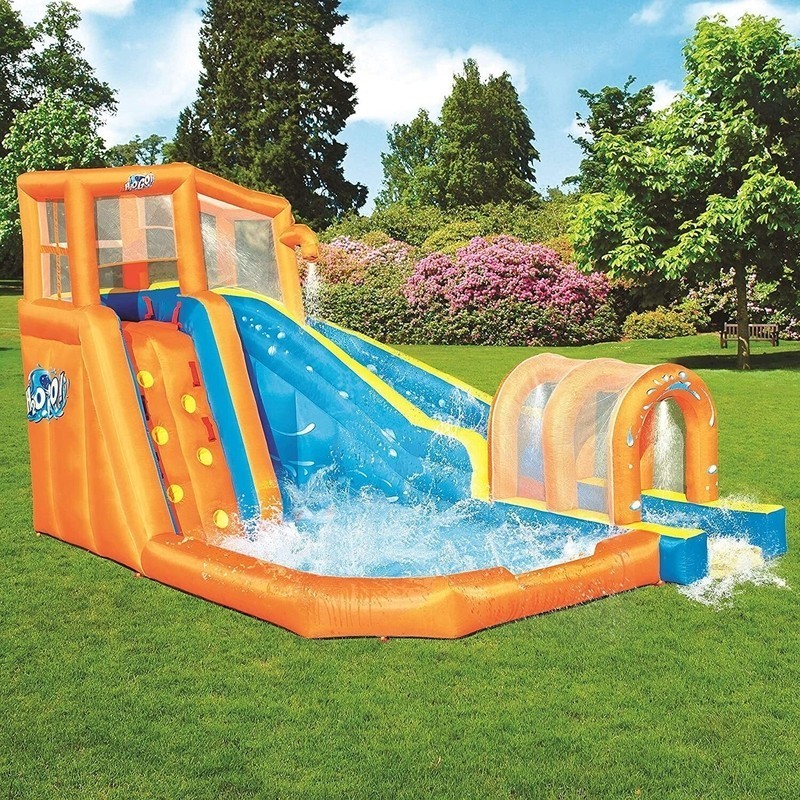 Big kids slide with hurricane tunnel

Surprise your kids by adding fun features to your initial large slide idea.
As well as a pool or a bouncy castle, did you know that you can now find models that combine the slide and water elements in creative ways? For example, we bet your kids are going to love this hurricane tunnel.
$345.84 $779.99