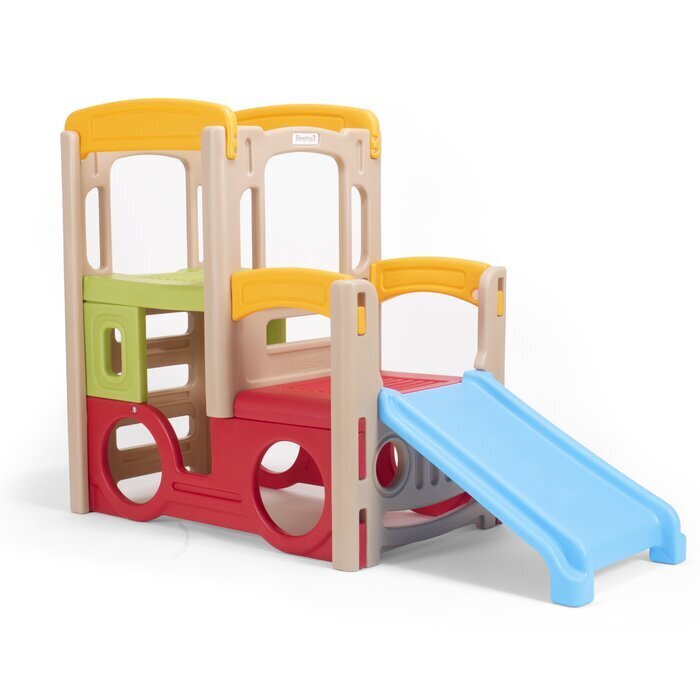 Vehicle Styled Play Center
Simplay3
What We Like: Cute vehicle theme
What We Don't Like: Kids may try to climb sides; slide has no safety rails
Perfect For: Multiple children
Not So Good For: Muddy outdoor use
Sturdy construction, UV, fire, fade-resistant plastic, and a weight capacity of 180 lbs. will make this durable, indoor playhouse with slide a playtime favorite for your kids. An easy-grip climbing ladder, extra-wide slide, and high rails on the top platforms guard against falls during imaginative play.
Four wheel-like openings lead into the cab that forms the vehicle's fort, complete with a steering wheel to add extra fun while sliding, climbing, and steering into adventures. The bright colors and all-weather materials make this playhouse with slide indoor or outdoor friendly for playtime anywhere.
$299.99 $319.99
Merchant links are sponsored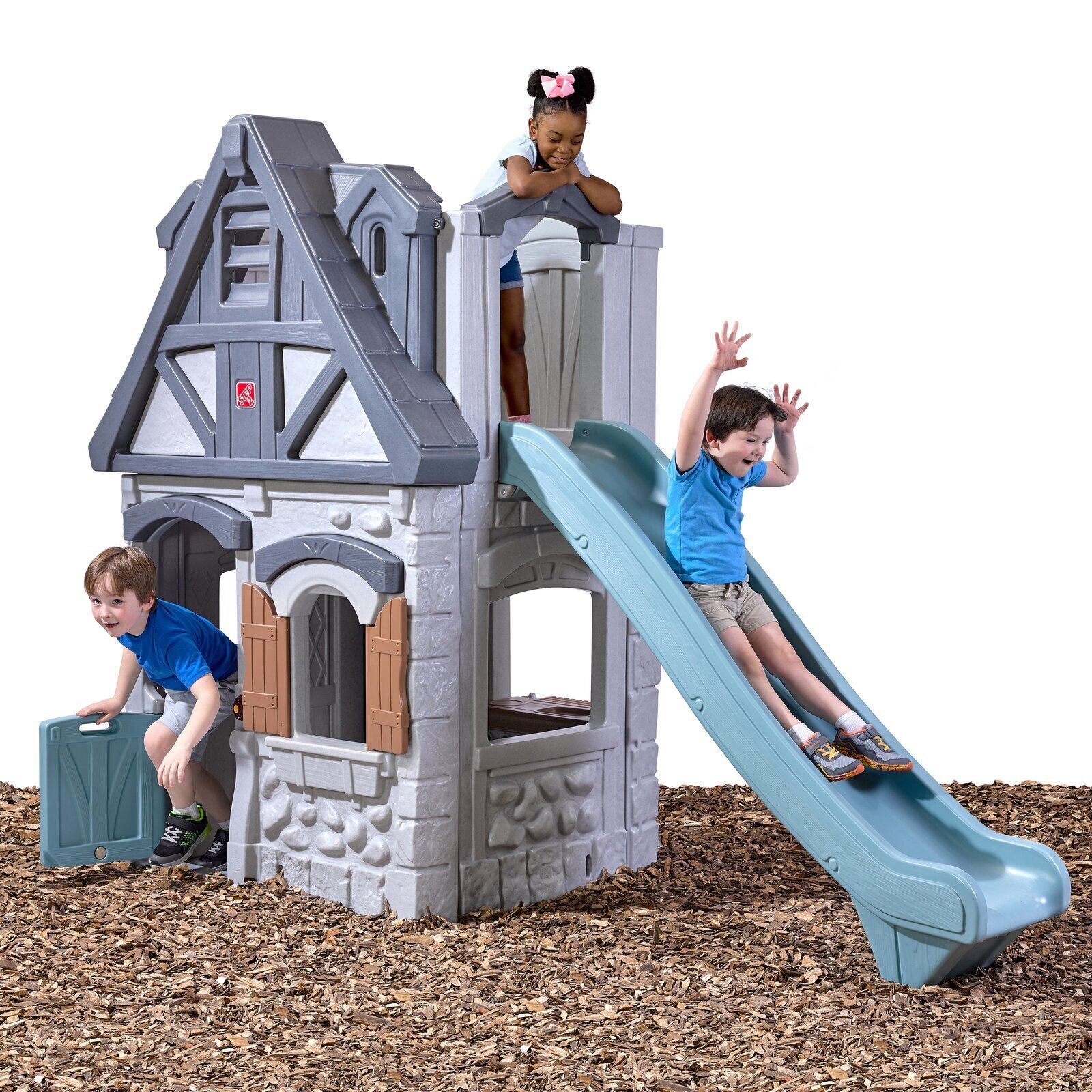 Two Story Indoor Playhouse With Slide
Step2
What We Like: Full pretend kitchenette for multiple kids to play
What We Don't Like: Doorbell battery not included
Perfect For: Preschool and early elementary school kids
Not So Good For: Low clearance indoor spaces like an attic
This whimsical indoor playhouse with slide has everything your child could want for fun indoor or outdoor fantasy adventures. This playhouse's tough and durable plastic is styled to mimic wood and stone, giving it an adorable cottage-like look complete with a battery-powered doorbell, Dutch-style door, and working shutters.
A complete kitchenette, including a play oven, sink, and cooktop, will inspire imaginary culinary delights to entertain your child's friends during fantasy feasts. A rugged, built-in ladder leads to the platform on top of the indoor playhouse with slide, so your kids can keep a watch for attack (or mom), and the extra-long slide offers a quick way to get to Mom's snacks.
$917.56 $899.99
Merchant links are sponsored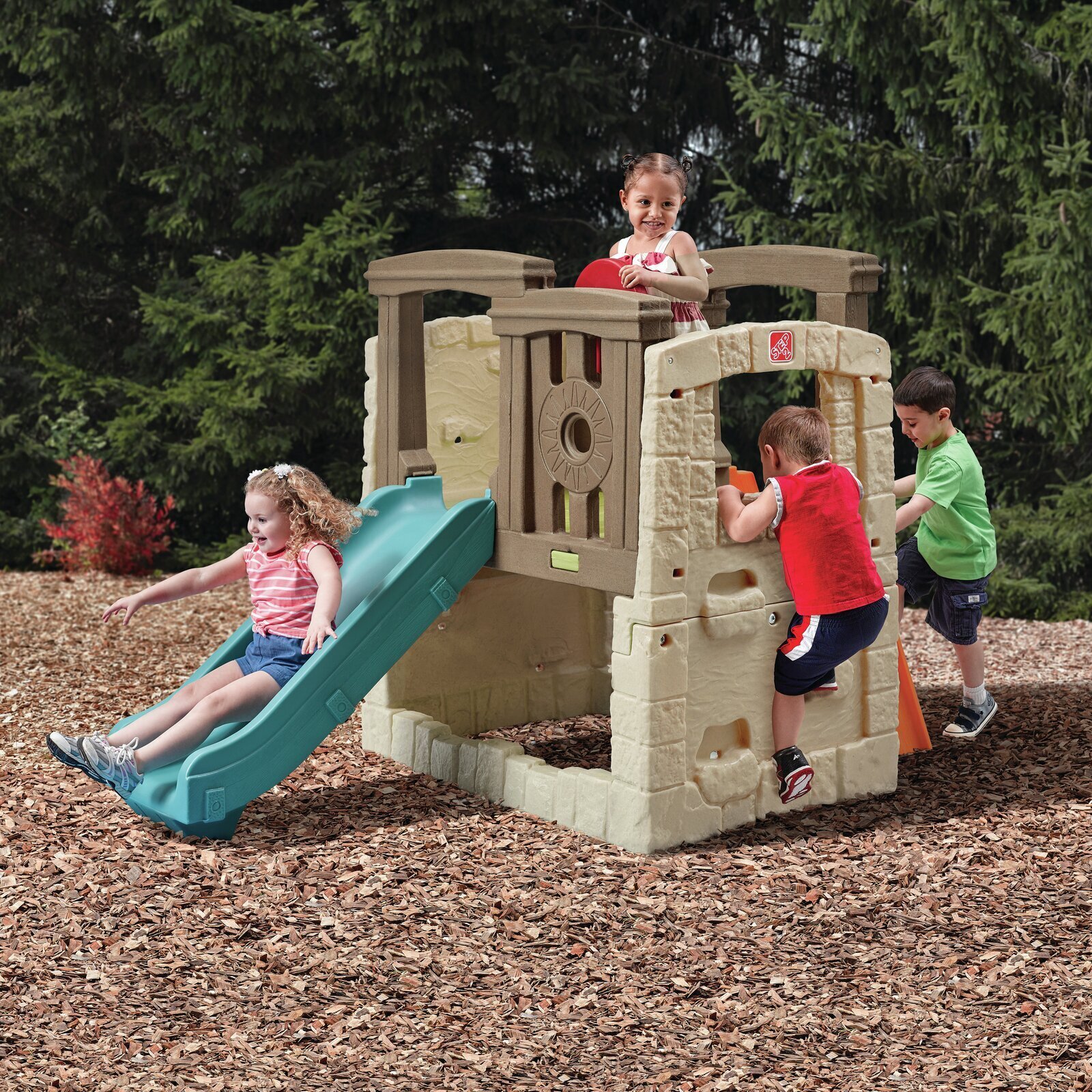 Playhouse Climber With Slide
Step2
What We Like: Large weight capacity to hold more kids
What We Don't Like: Second climbing wall doesn't have a portal to climb through
Perfect For: Kids who love to climb
Not So Good For: Children with balance or inner ear issues
Water, rust, and corrosion-resistant plastic create a sturdy frame for this indoor playhouse with slide designed for adventurous climbers. Two rugged climbing walls on each side, plus a ladder lead up to the "ship deck" platform with two captain's wheels for steering the imagination toward adventure.
A large spacious cubby underneath provides more room for playtime fun, and high rails on the platform add security for your climbing adventurers. The strong, durable slide creates a fun exit from the platform, and the entire indoor playhouse with slide has a weight capacity of 240 lbs.
$324.04 $449.99
Merchant links are sponsored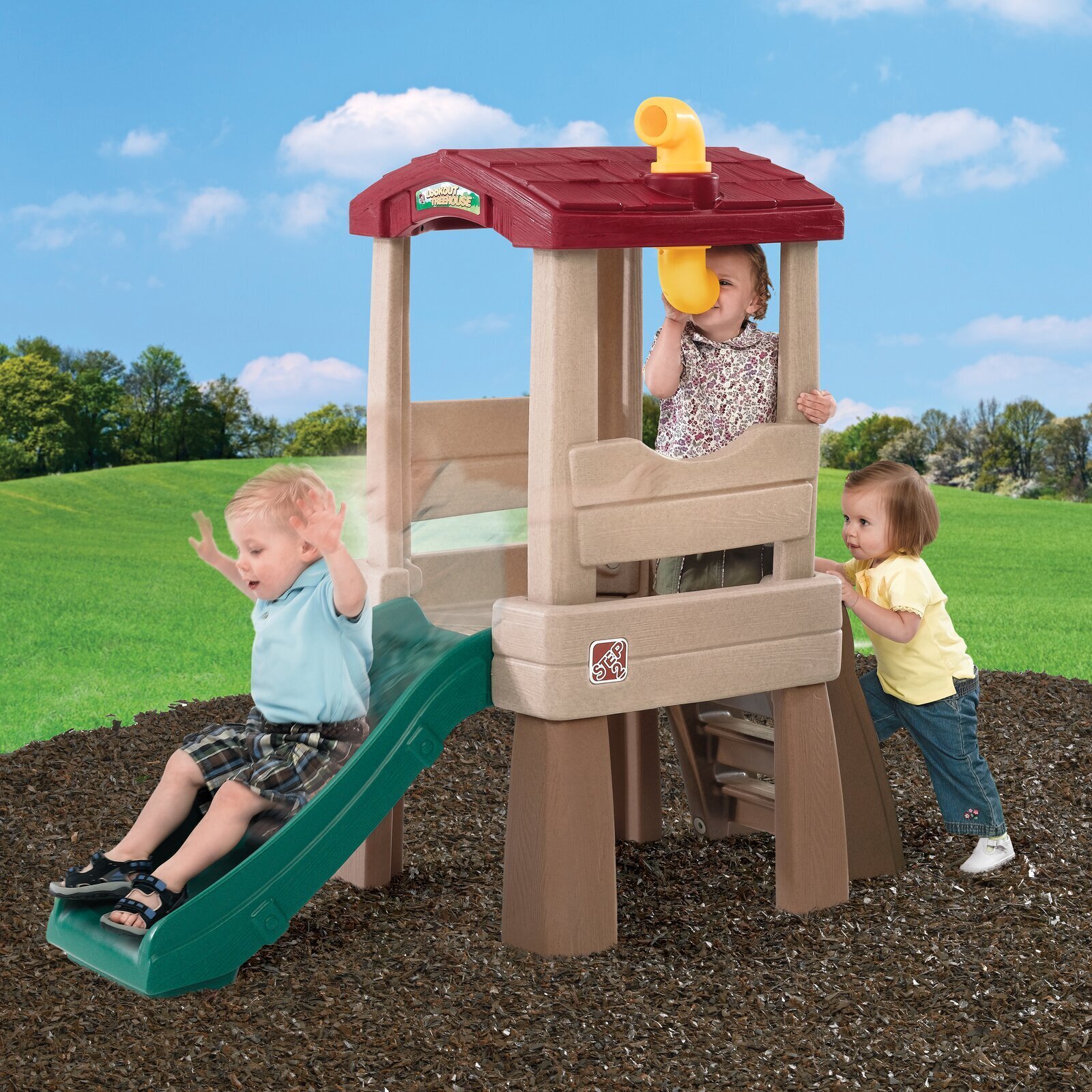 Indoor/Outdoor Treehouse Slide
Step2
What We Like: Functional periscope
What We Don't Like: No extra features underneath the fort
Perfect For: Toddlers up to 4 years
Not So Good For: Children not adept at climbing
This adorable indoor playground slide includes a treehouse for fun times indoors or out. The durable and easy-to-wash rust, water, and corrosion-resistant plastic have a wooden texture and shingle-style roof for splinter-free fun. A weight capacity of 120 lbs. ensures multiple kids can play in the treehouse simultaneously, ideal for play dates.
Large, easy-to-climb steps lead up to the spacious treehouse and the top of the slide. Kids can use the space underneath the treehouse to store toys in containers or create an additional fort. With this indoor playground slide, your child can use imagination to find all sorts of fun with the periscope that lifts, lowers, and rotates.
$179.99 $259.99
Merchant links are sponsored