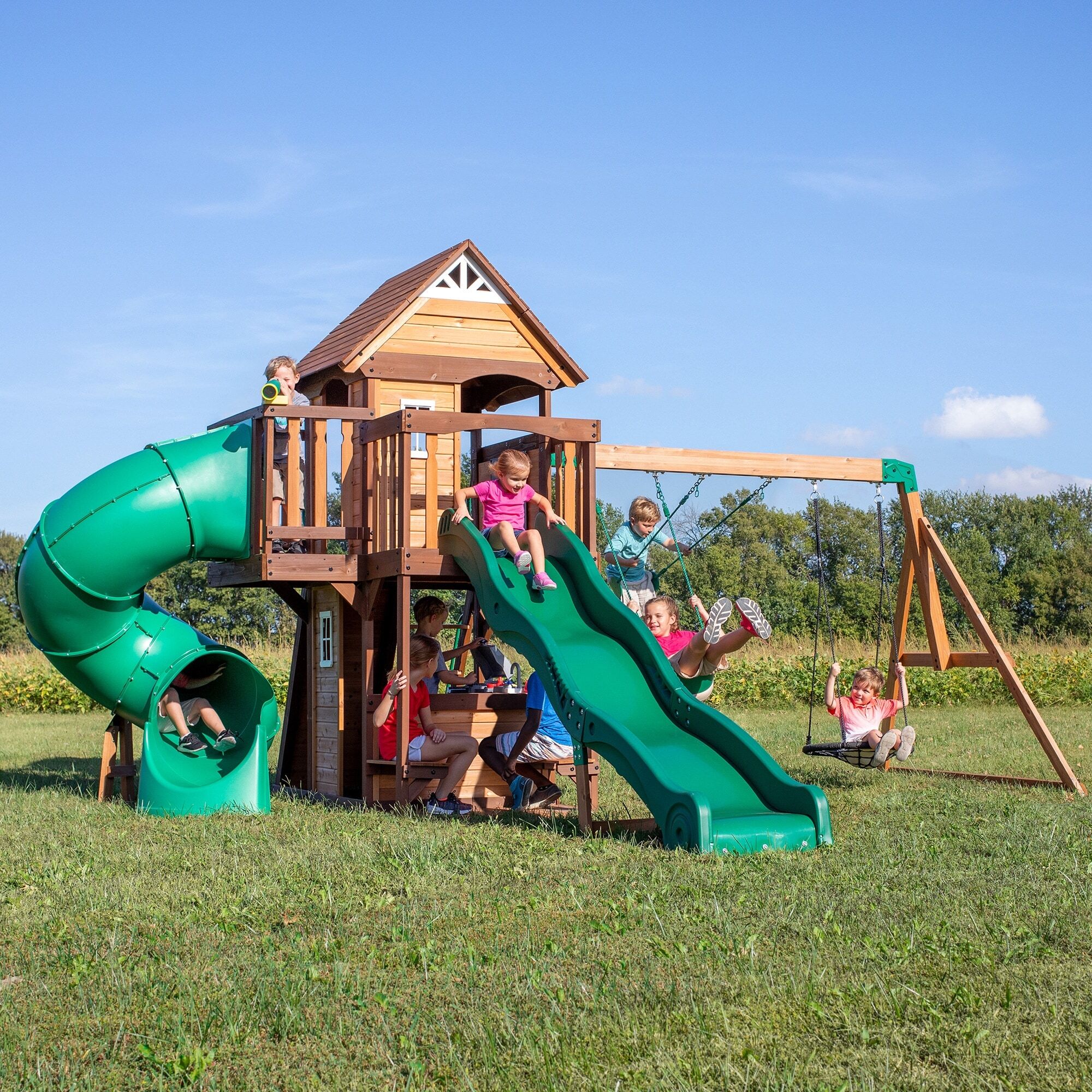 Wooden Playhouse with Slides and Swings
Encourage your kids to swing, slide and climb about with this dual-slide wooden playhouse. The sturdy frame is packed full of fun features that can keep up to nine children happily amused! As well as the spiral tube slide and 10-foot wave slide, the treehouse has tons of fun features, including belt swings, a web swing, telescope, built-in chalkboard, 5-foot climbing wall and a ladder leading up to a shaded clubhouse. Plus, there's a pretend snack bar below for your little ones to cook you up a storm!
What we like:
● Clear assembly instructions
● Good quality and sturdy cedar wood construction
● Extra-long safety handles, wide swing lanes, and high slide rails
What we don't like:
● Takes a few days to put together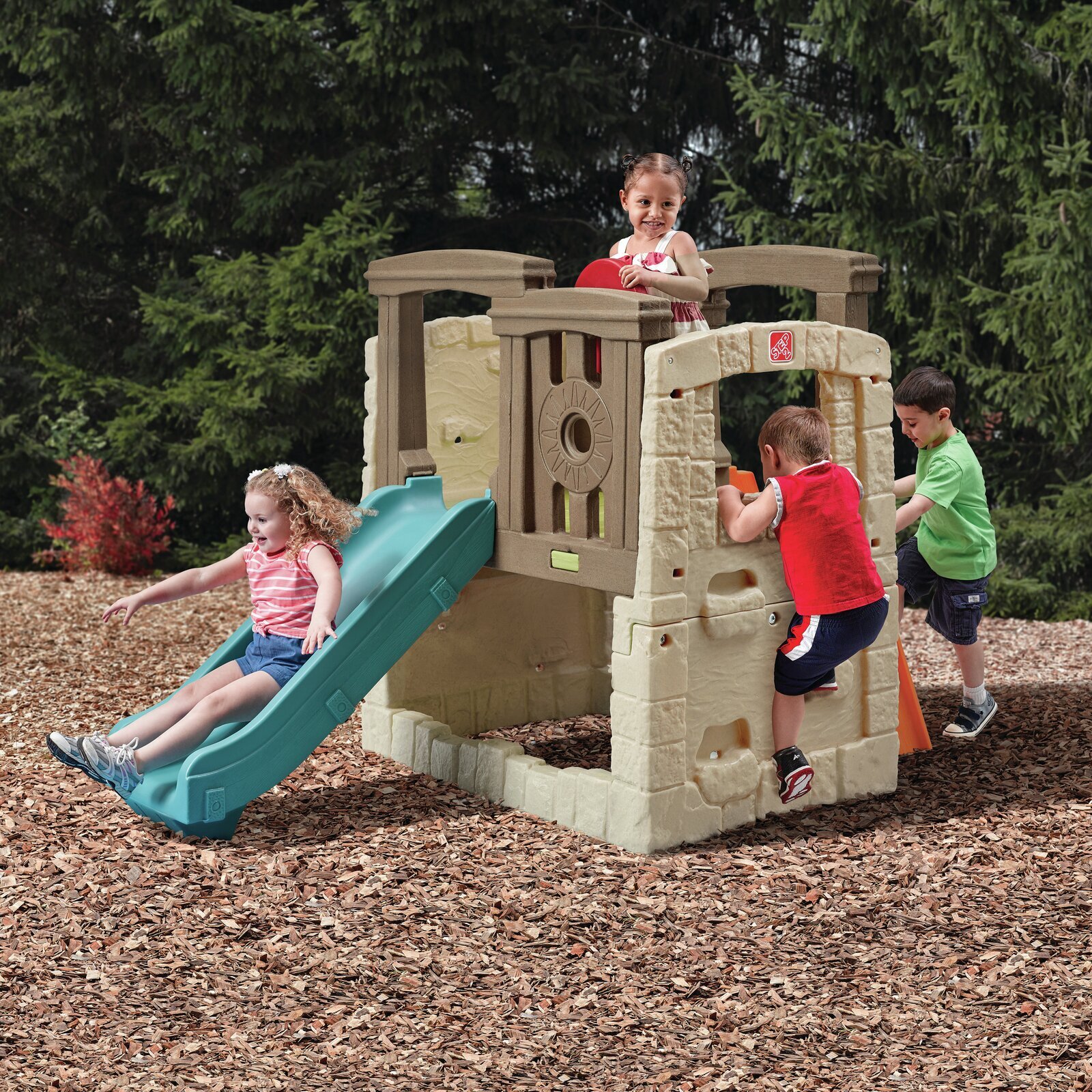 Plastic Outdoor Playhouse with Slide
Step2
Do you have an energetic and adventurous little toddler? Fuel their inner explorer with this plastic playhouse designed for kids aged 1 to 2 years. The set includes two climbing walls, a slide, ladder, steering wheel and built-in hiding spot to encourage the development of their gross motor skills, balance and coordination. Made from hard-wearing plastic, the playhouse is sturdy and weather, rust and UV resistant.
What we like:
● Easy to assemble
● Easy to clean
● Very sturdy and safe
● Indoor and outdoor use
What we don't like:
● Steering wheel is tight and difficult to turn
$339.99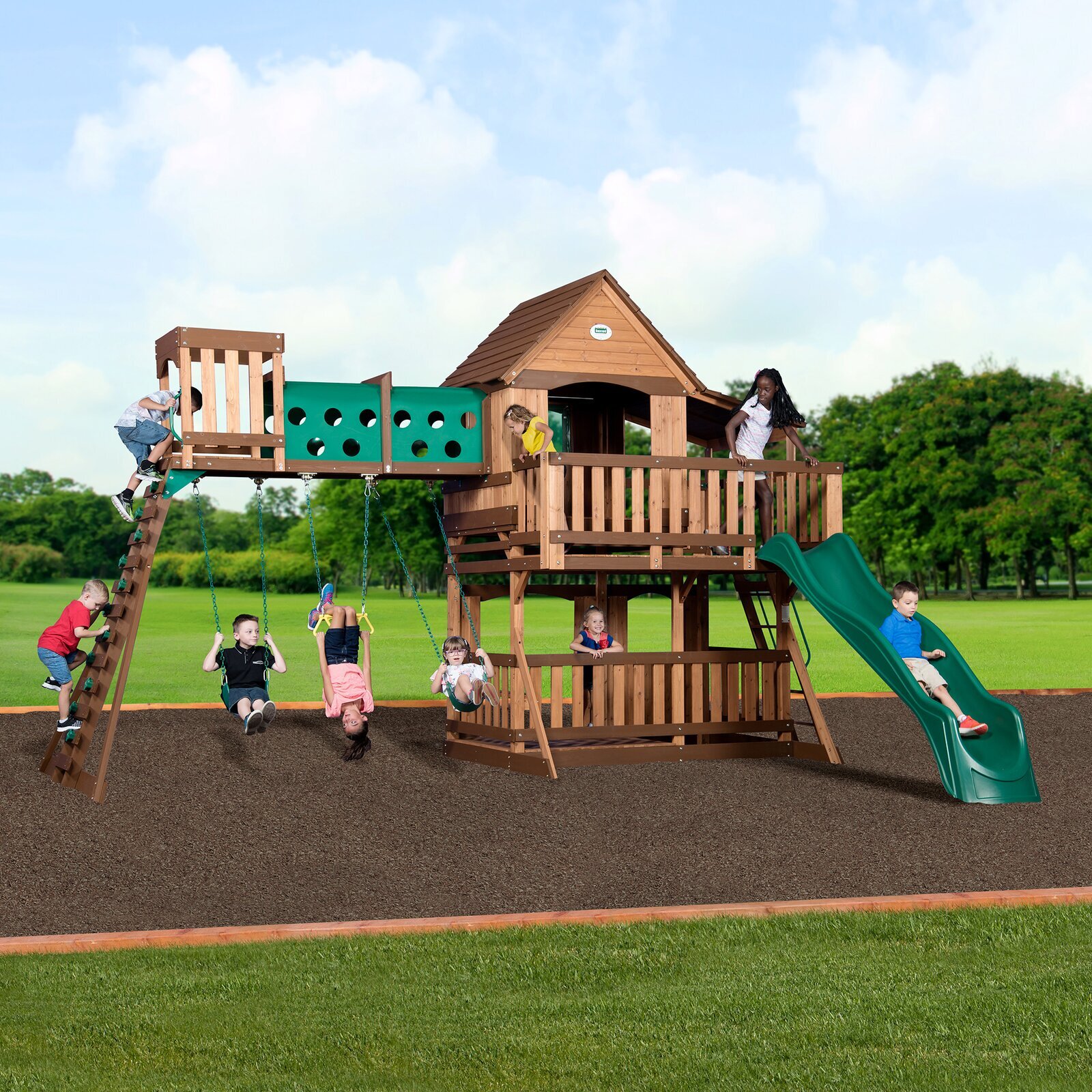 Big Two Story Playhouse with Slide
Backyard Discovery
Give your kids an action packed summer with this big outdoor playhouse. Designed for children aged 3 to 10 years, it is decked out with a two story fort and plenty of outdoor play features. The 10-foot wave slide, climbing wall, ladder, elevated tunnel with viewing ports, and large crows nest allow your kids to dart from level to level. Meanwhile, the swings, trapeze rings, sand pit and built-in bench provide a more relaxing play-time alternative. Made of a durable solid cedar wood frame, the treehouse is sure to bring years of outdoor fun and activity for you and your family.
What we like:
● Highly detailed instruction manual
● Good quality, durable materials
● Rust resistant
What we don't like:
● Takes a long time to put together
● The pieces aren't marked clearly for installation
$2299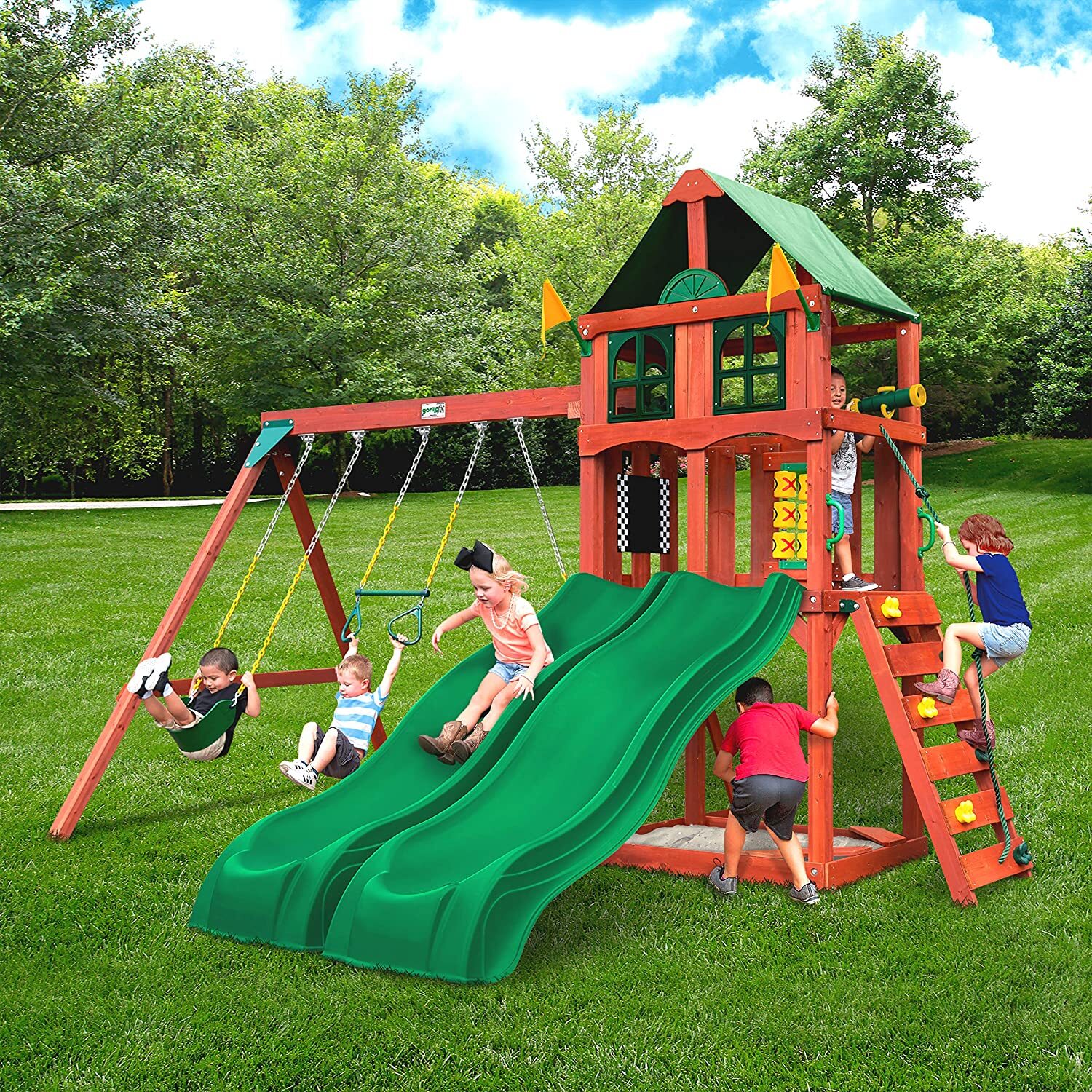 Kids Outdoor Playhouse with Dual Wave Slides
Gorilla Playsets
Keep your little ones entertained for hours on end with this fun-filled playhouse. Two wave slides placed side-by-side create maximum excitement as the kids race to the finish line. Not to mention the two belt wings, trapeze swings, rock wall with climbing rope and sand pit for added entertainment. Play sailors and pirates on the upper deck; allocate your ship captain to take charge of the steering wheel and keep the ship on course, whilst the crew raise the flags and look out for pirates through the telescope! This playhouse provides the perfect platform to spark your kids' creativity with endless games and adventurous activities!
What we like:
● Includes tic-tac-toe and chalk board
● Easy to install
● Detailed instructions and clearly marked pieces
● Safe and sturdy
What we don't like:
● Wood is not the best quality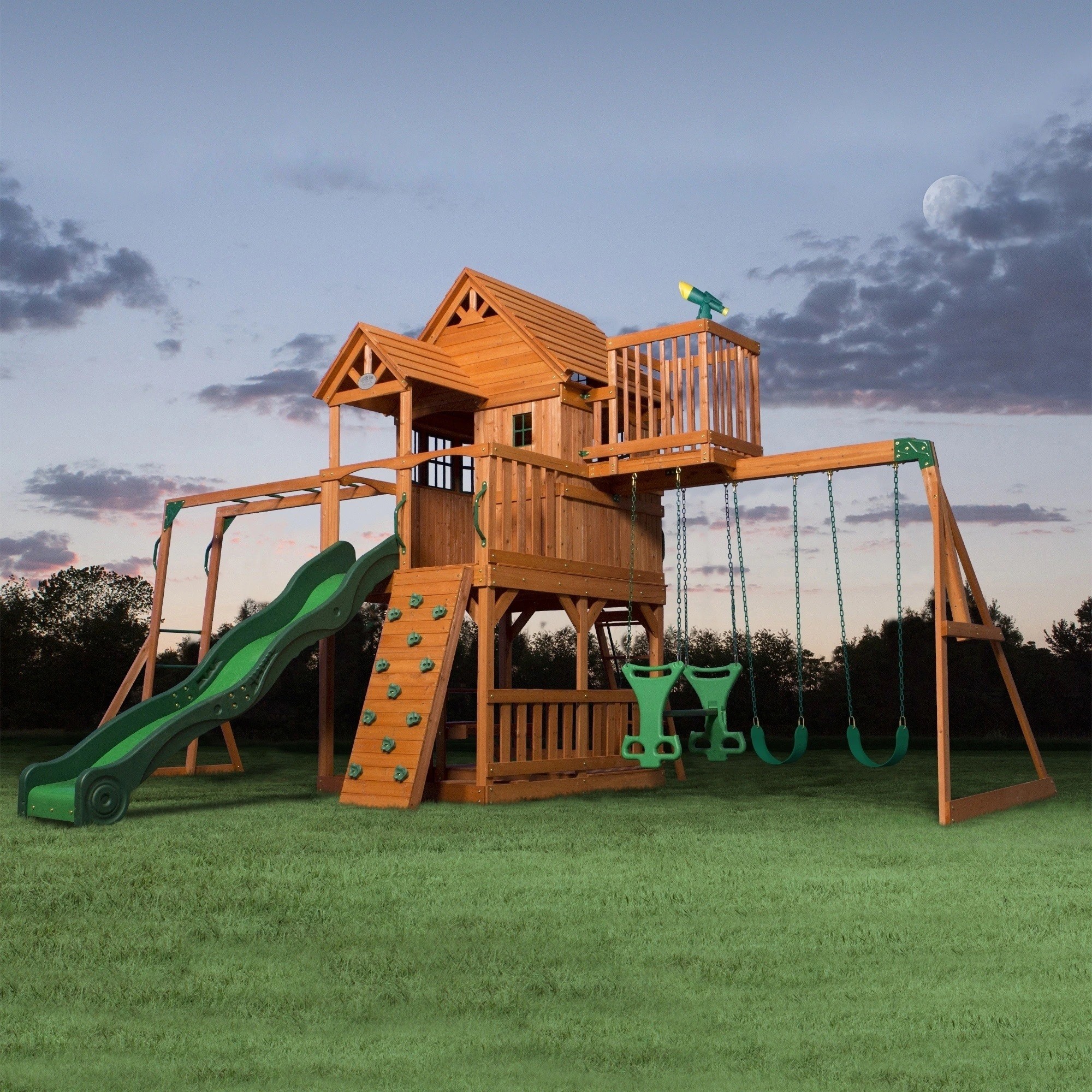 Three Story Outdoor Playhouse with Slide
TV and video games will be a thing of the past with this multi-story playhouse. Fulfilling every child's dreams, it comes complete with a wave slide, climbing frame, two belt swings, a two-person glider, monkey bars, sand pit and upper lookout deck with a telescope. After hours of racing and monkeying about, the lower level hide-out provides the perfect shaded spot for your little explorers to restore their energy with a yummy picnic. What's more, thanks to its large size your kids are unlikely to grow out of this treehouse quickly, guaranteeing years of happy memories!
What we like:
● Easy to assemble
● Cedar wood structure is natural decay, rot and insect resistant
● Powder-coated metal brackets provide extra strength
What we don't like:
● Takes a long time to build
● Wood not as heavy and sturdy as had hoped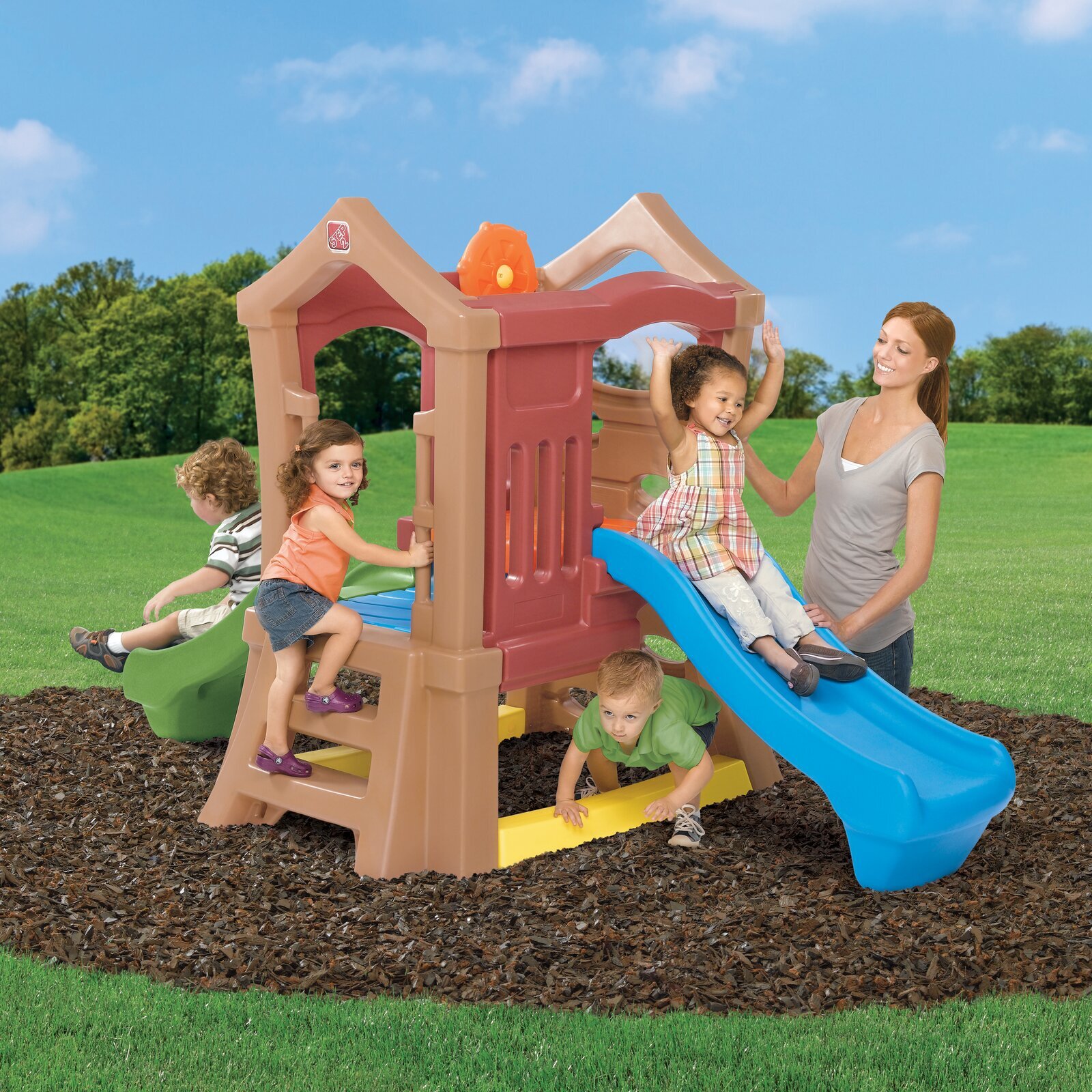 Toddler's Playhouse with Double Slide
Step2
The perfect playhouse for little people and little yards! Made of hard-wearing weather resistant plastic, this playhouse has a modern design fit for indoor and outdoor use. Specially made for toddlers, the modern design comes with two slides, a steering wheel, climbing wall and a ladder with integrated handholds to help toddlers when climbing.
What we like:
● Easy to clean
● Easy to assemble
● Solid and sturdy
● UV and rust-resistant
What we don't like:
● Unclear instruction manual
$456.13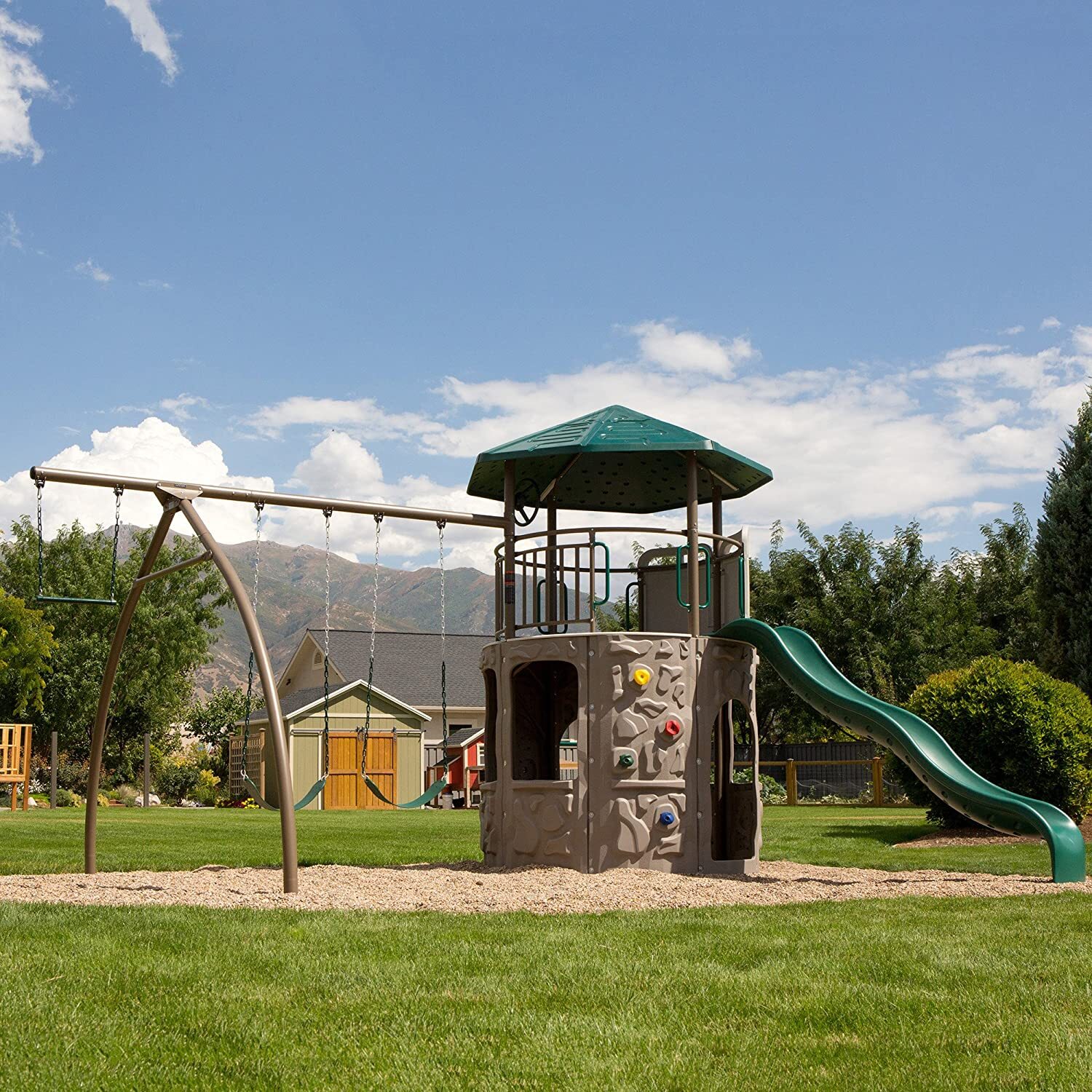 Garden Playhouse with Slide
Lifetime Products Inc.
Create long-lasting childhood memories with this adventure tower outdoor playhouse. The set features a trapeze bar, 2 belt swings, 2 sturdy 3D climbing walls, a slide and a two-level sheltered club house or hideout. There's no better way to let your kids' imagination run wild as they climb the tower to rescue a princess, pretend they're scaling a mountain, or show off their prize-worthy acrobatic skills!
What we like:
● Clear step-by-step instructions
● Easy to assemble
● Super sturdy and durable
● UV and weather-resistant
What we don't like:
● Metal parts are subject to rusting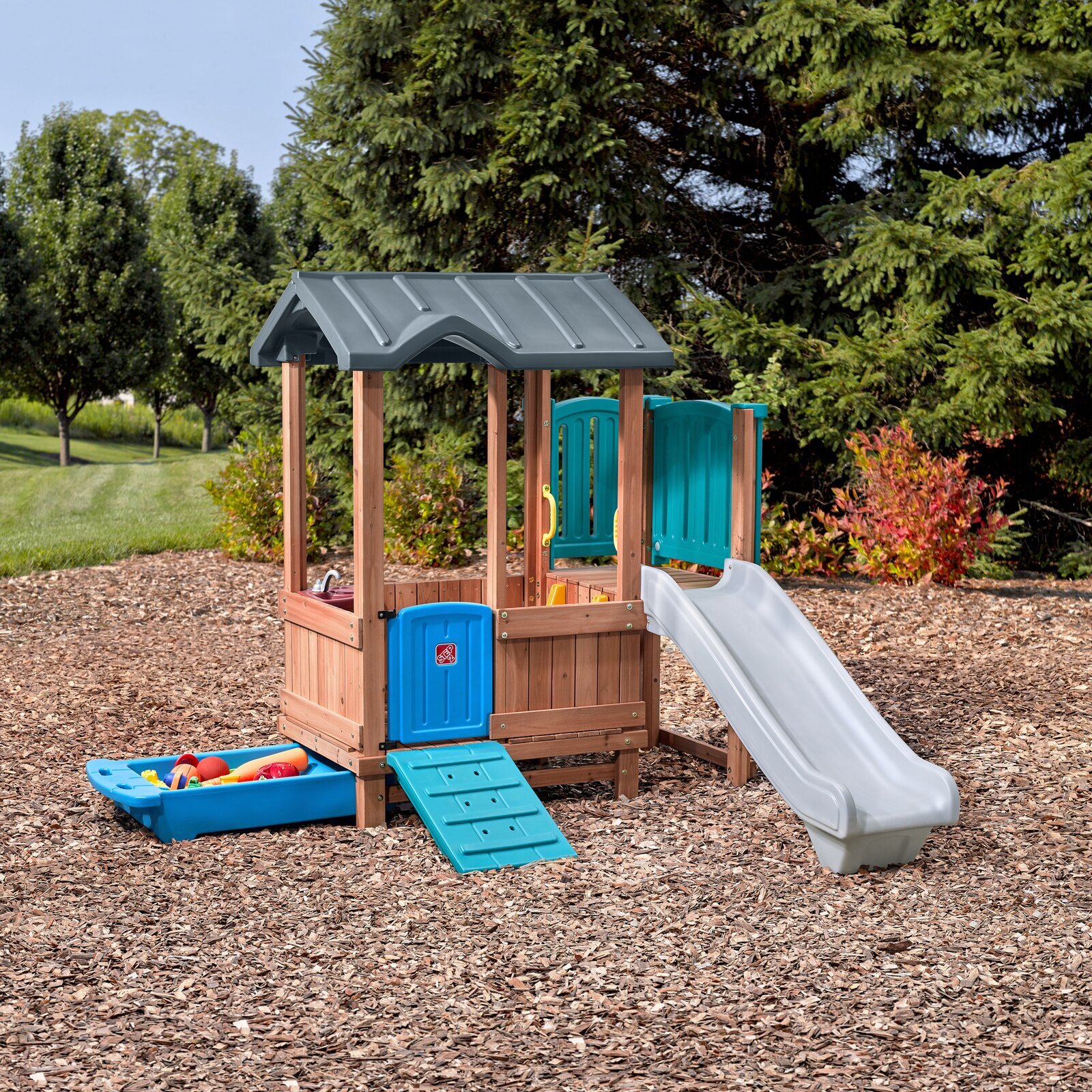 Kids Playhouse with Slide
Step2
This playhouse provides the perfect outdoor entertainment for your littlest one. Watch as they totter up the ramp into their humble woodland abode and cook up a feast on the built-in stove, before ordering their elder siblings to wash up in the pretend kitchen sink! The long slide brings an added bit of fun to the set, whilst the pull-out storage drawer provides bonus storage space and practicality. Use it to store away kitchen utensils and other toys, or fill it with sand and turn it into a sand pit.
What we like:
● Durable and sturdy wood and plastic construction
● Very safe and good quality
● Tall roof fits bigger kids
What we don't like:
● Takes a long time and patience to build
$549.99