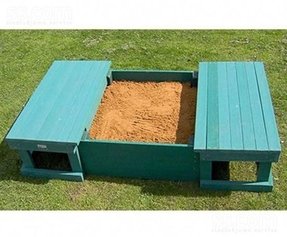 Painted in turquoise, this stylish wooden sandbox features a convenient cover. When undrawn, it offers two small benches to seat. When covered, it protects from any undesired weather conditions.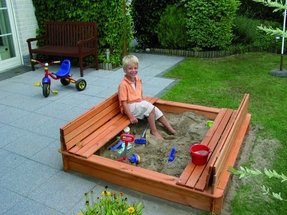 This is a perfect playground for your kids to build their sandcastles and give them that beach feeling right at home. It has adjacent pews that the kids can sit on while playing. This will definitely keep the little kids occupied. It doesn't take up much space either so the garden won't be congested from its presence.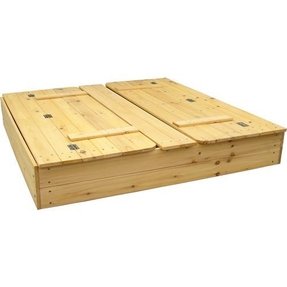 Well-built wooden sandbox with an easy to close and open cover. Constructed from wood, the sandbox also comes in a natural wood grain, making it easier for you to customize it with additional colors if you want. The piece is also quite large and should offer enough space for your cat.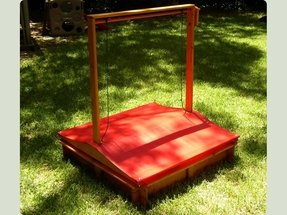 This colorful sandbox is a perfect fit for kids in the summertime. The sandbox also comes with a collapsible canopy which helps to protect its interior. It has a metal railing just over the top of the sandbox where the ropes used to suspend the collapsible canopy can be hung.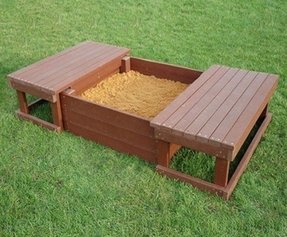 This wooden sandbox cover will be a stylish and functional playground for your kids. Natural bright wood will embellish the space with its warm appeal, while the clever covering system will protect it from undesired weather conditions.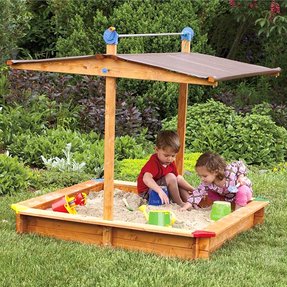 Sun Smarties Sandbox with Canopy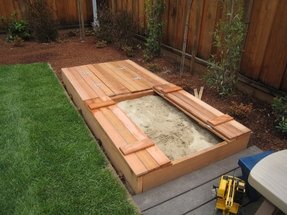 Lazy Hacker Babble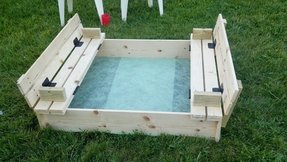 Sandbox fitted with 2 benches. Construction is made of wood. It is resistant to rust and harmful weather conditions. Neutral and functional design for the garden, patio and more.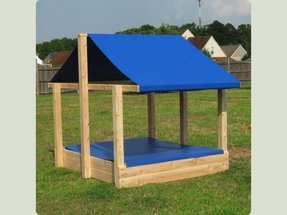 A great addition for outdoors, which is going to make your little ones very happy and your backyard more appealing. This square sandbox is crafted of natural Cedar wood, also offering a high-pitched blue canvas roof and a matching sandbox cover.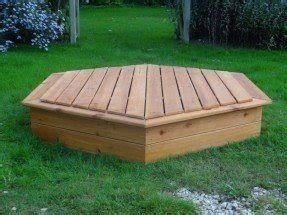 Wooden Sandpit Lid Sand Pit Lid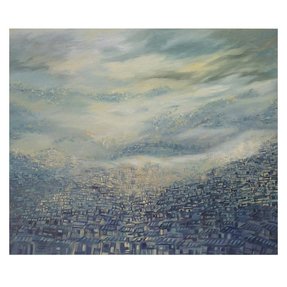 Garden Games > Sandbox Wooden Lid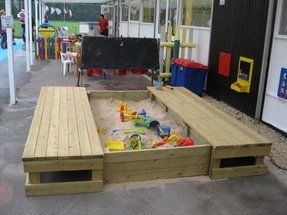 Found on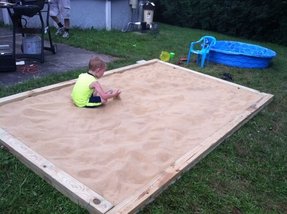 A large sandbox for backyards, that will keep your children busy and creative for hours. The frame is made of pressure treated wood, and with a weed cloth surface stapled to the frame. Measurements: 6' x 10'.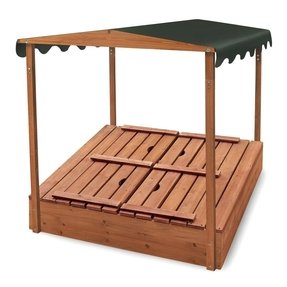 Badger Basket Covered Convertible Cedar Sandbox
An excellent accessory for backyards that will bring your little ones tones of sandy fun. This outdoor sandbox is made of wood planks, featuring a pair of doors that cover the whole sandbox, and a green material canopy that offers protection from rain and sun.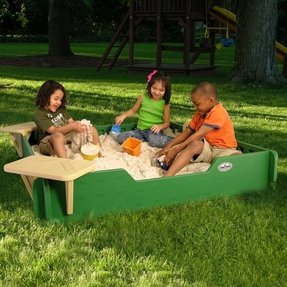 Square Sandbox with Cover
Easy-to-maneuvre sandbox cover with removable corner seat. It is constructed od sturdy and hygienic HDPE plastic in green. Ground barrier ensures that no insects,worms or weeds will get into the sand.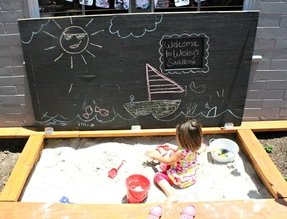 Look What Jeff Did: A Chalkboard Sandbox Cover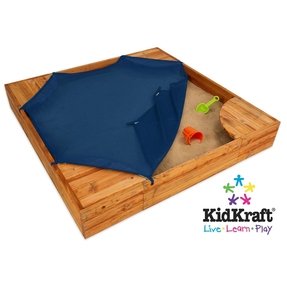 Backyard 5' Square Sandbox with Cover
Pretty practical bottomless sandbox for kids. It is made of wood with a natural weatherproof finish. It has 4 corner rounded seatings and a plastic liner. Practical, portable so it can be used in various places.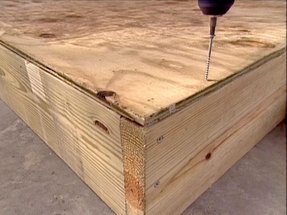 cut wood to match dimensions of box and attach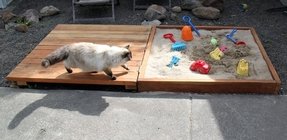 A simple but practical and cool sandbox for kids. It is crafted of solid wood with a pretty natural-stained finish. The sandbox has a rectangular frame and is equipped with a robust triple-hinged lid.

wood pallet sandbox, with bench seats that unfold to cover the sandbox ...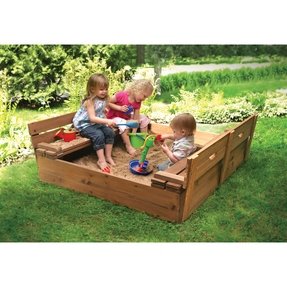 Badger Basket Covered Convertible Cedar Sandbox With 2 Bench Seats
Sandbox fitted with benches. Construction is made of wood. It is resistant to rust and harmful weather conditions. Suitable for residential and commercial use. It is very well appreciated by the customers.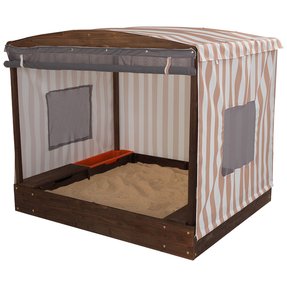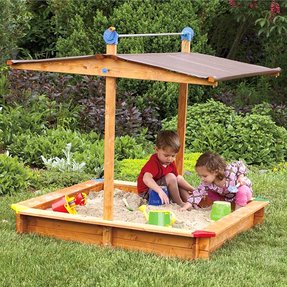 KidKraft Backyard Sandbox: Kids love this spacious wood sandbox because it's such fun, with plenty of room for friends to play and four built-in corner seats. You'll love it because it's sturdy and smartly designed, with reinforced panels and a mesh, stay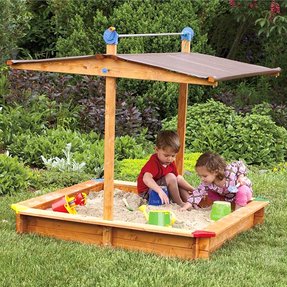 The exceptionally functional sandbox cover is an excellent combination of attractive design, color, and functionality that will allow you to take advantage of the sandbox to other games. The whole serves as a bench and cover.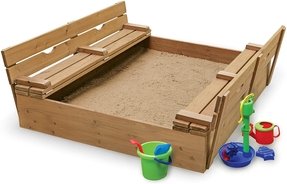 Covered Convertible Sandbox with bench seats.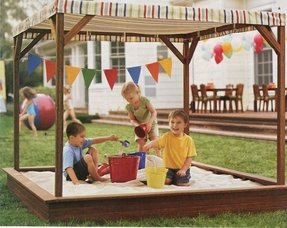 Josh, this is the sandbox I want with benches on 3 sides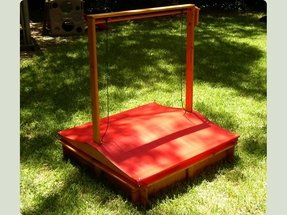 EasyStart Wood Sandbox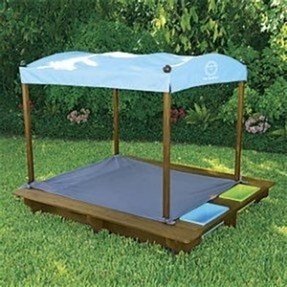 A unique sandbox that your kids will love. The box is made of wood with two containers for toys in it. There is one cover which protects the sand from pets or rain and there is also a canopy that protects your child from the sun.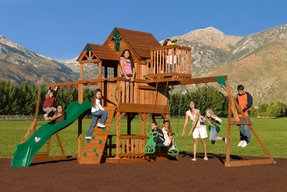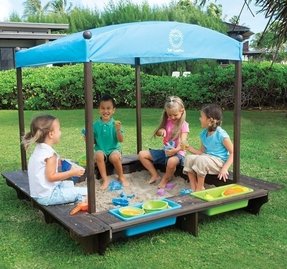 Looking for something for your kids to play with while spending time outside? This Sandbox with Canopy for Outdoor Use is designed of a sturdy wood frame and quality fabric canopy. The canopy provides great protection from the sunlight, while the sandbox is equipped in two plastic baskets.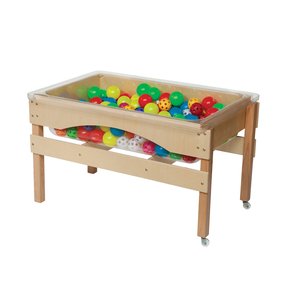 The Absolute Best Sand and Water Sensory Center Table without Lid
A decent sand and water sensory center table with a clear tub which is a perfect addition to any classroom. It is made with plywood and a UV finish. It promotes a healthier early learning environment.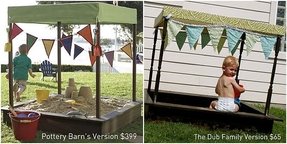 Attractive outdoor construction for children. This sandbox features a solid wooden frame with four decorative posts. Upper area includes a piece of material that protects children from the sun, so it assures safe fun outdoors.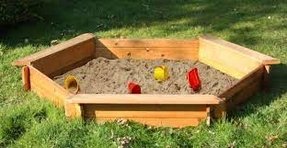 1000x1000.jpg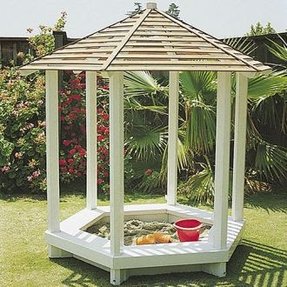 Shade for the sandbox...and after the kids are too big, a shady lounging spot --- when the opening is covered with flooring!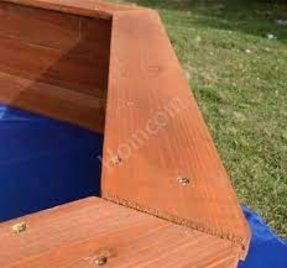 WOODEN SANDPIT SANDBOX & COVER GARDEN SAND PIT/BOX BRAND NEW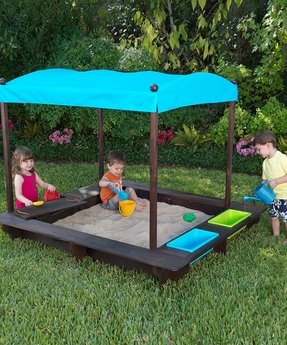 A great addition for outdoors and for making your little ones very happy. This superior sandbox comes with durable wood construction and distressed espresso finish, also offering a pair of cut-out holes with plastic baskets, and a blue material canopy that will protect your treasures from the scorching sunlight.
This little deck is where I like to sit while Jude plays. It's a great ...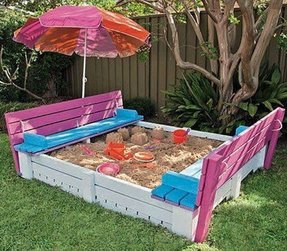 Home Dzine - Build a covered sandpit - Young children love a sandpit and can spend hours with a bucket and spade make sandcastles and having fun. This sandpit has a lid that can be easily placed over the top to keep out cats and ensure the sand stays clea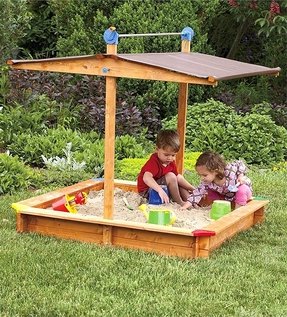 A charming sandbox with a cover is a great place to play for the little ones. The wooden construction has sun protection and a rain canopy that adds all functionality and fun to play. Perfect for the garden.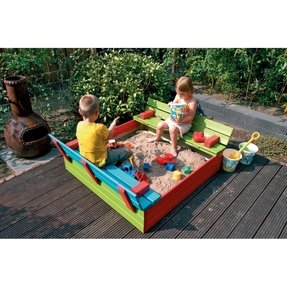 Wooden sandbox handmade covered with benches by R4repurposed, $250.00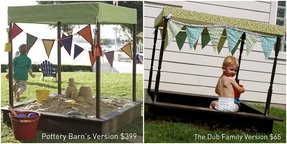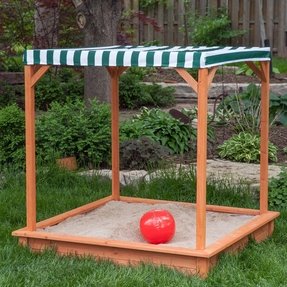 master:SHOW028.jpg