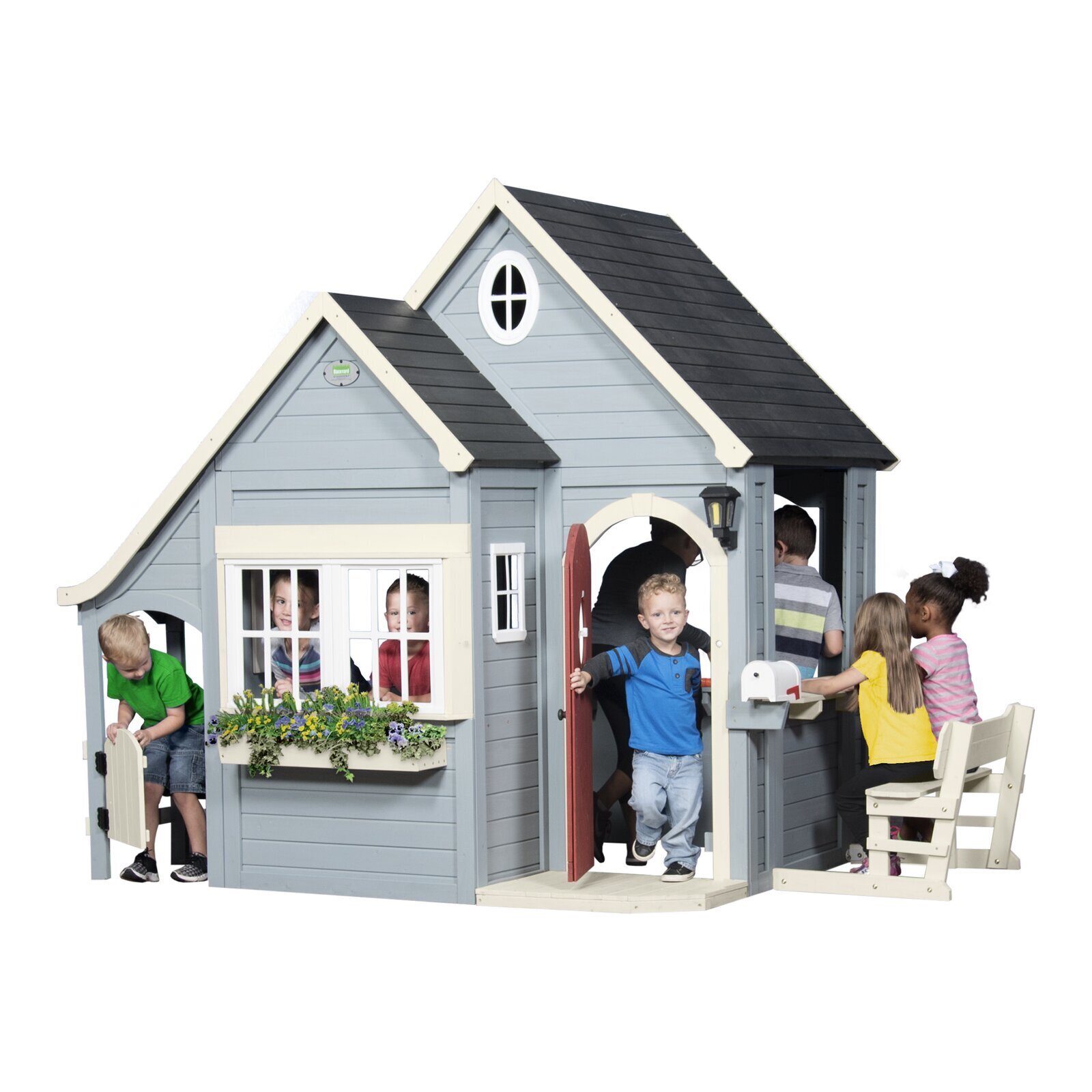 Large Solid Wood Boys Playhouse
Backyard Discovery
This weather-resistant boys playhouse is built from solid wood with a beautiful painted finish. It's big enough for four or more children with a capacity of up to 9 children in total and is suitable for ages 3-10 years.
Designer Advice:
Packed full of charming details including a built-in kitchen, phone, and even a mailbox, this wonderful playhouse is sure to keep your children's imaginations busy! Because of its size, this playhouse is recommended for larger outdoor spaces. Assembly will require at least two people, but the good news is, the boxes will fit in most SUVs for easy transportation.
Merchant links are sponsored
Boys Playhouse With Slide and Sandbox
Outdoor Living Today
This boys playhouse is built on a raised platform, with a ladder and slide to get up and down from the playhouse, and a sandbox in the covered area below. It features three windows, a skylight, and a window box.
Merchant links are sponsored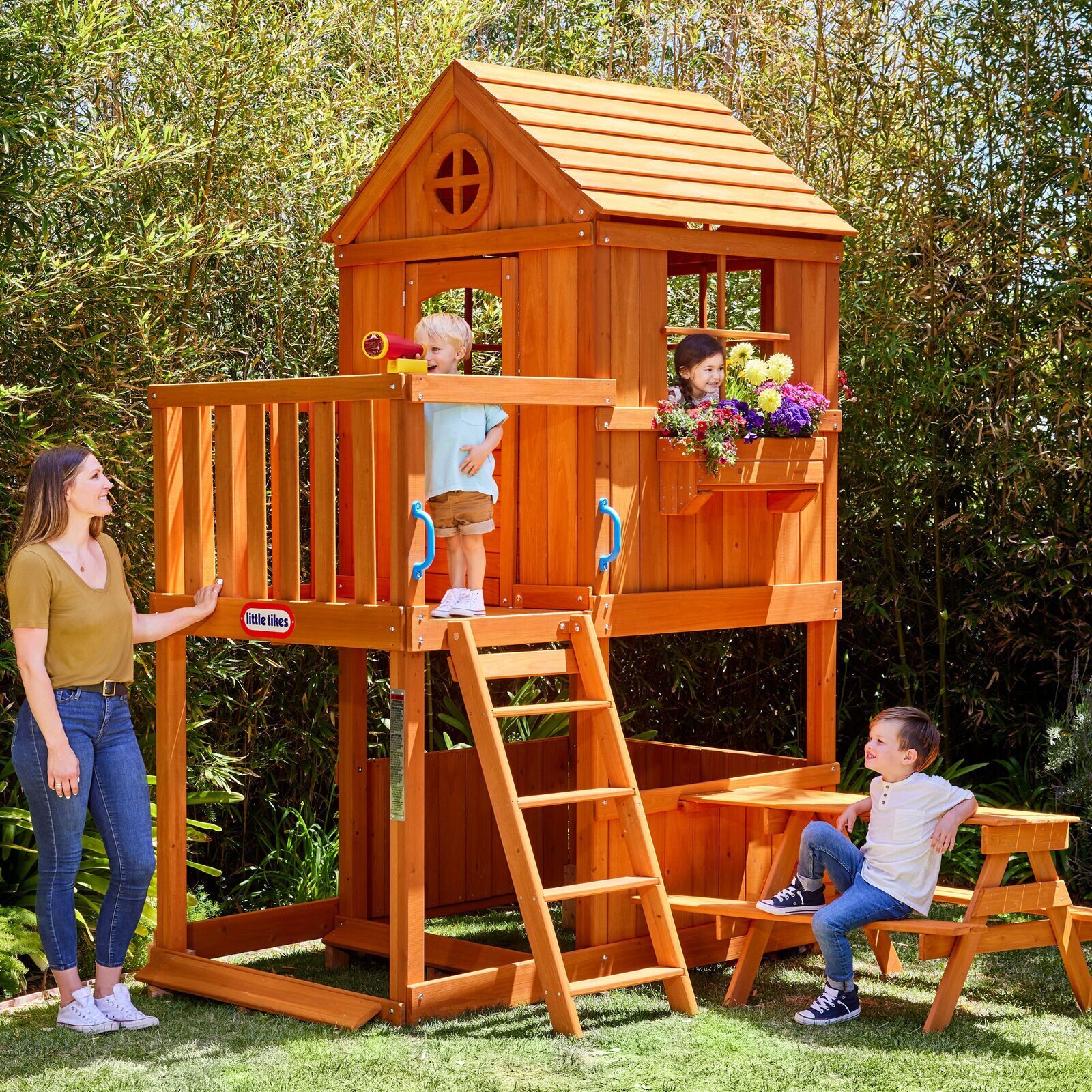 2 Story Outdoor Fort For Kids
Little Tikes
This exciting outdoor fort would make an ideal boys clubhouse! It comes complete with a picnic bench, playhouse, and large undercover play area below. Thoughtful details such as window boxes and a built-in kitchen are sure to spark the imagination!
Designer Advice:
The covered area below this outdoor fort creates the perfect shady area for outdoor play during the hot summer months. A sandbox, water play table, or even a small hammock could be placed in the covered area to create somewhere fun to play out of the sun.
Merchant links are sponsored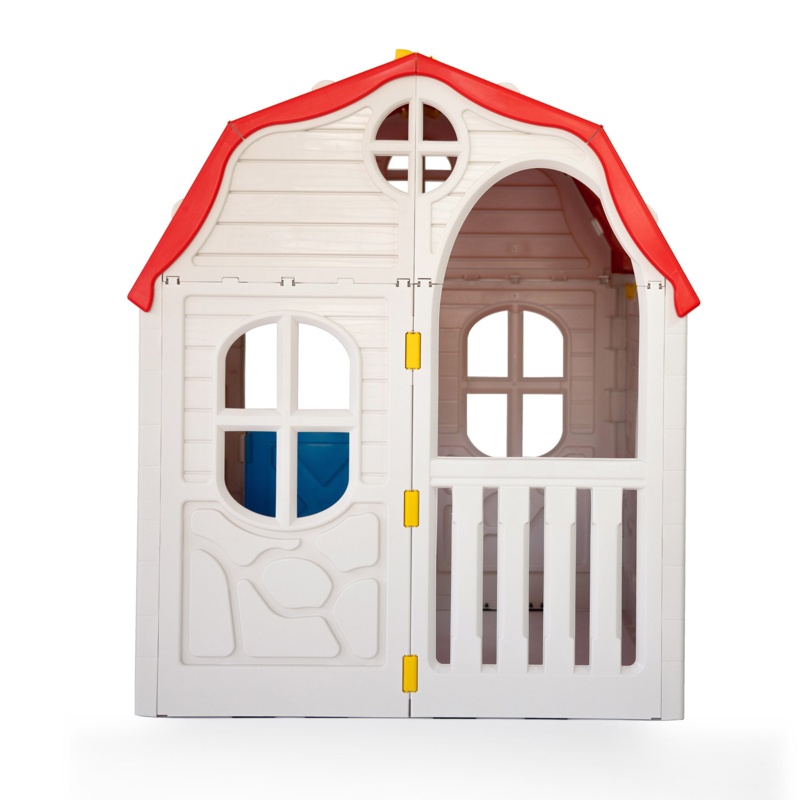 Foldable Plastic Kids Cottage Playhouse
RAM Quality
Perfect For: Encouraging outdoor imaginative play for children
What We Like: The portability and easy assembly for convenient use wherever you go
This foldable plastic kids cottage playhouse is a versatile and engaging addition to your backyard or playroom. The playhouse boasts a real cottage feel with bright colors, a tiled roof, open windows, uneven wall textures, and a lockable door. Its design features rounded corners and an open interior for a safe and spacious play area. The environmentally-friendly, non-toxic plastic material ensures a safe play environment for children ages 2 years and up. Enhance their playtime experience with this easy-to-assemble and portable playhouse.
$130.63 $199.99
Designer Advice:
Place this playhouse on a soft surface like grass or a padded play mat to ensure optimal safety and enjoyment for your little ones while they explore their new cottage.
Merchant links are sponsored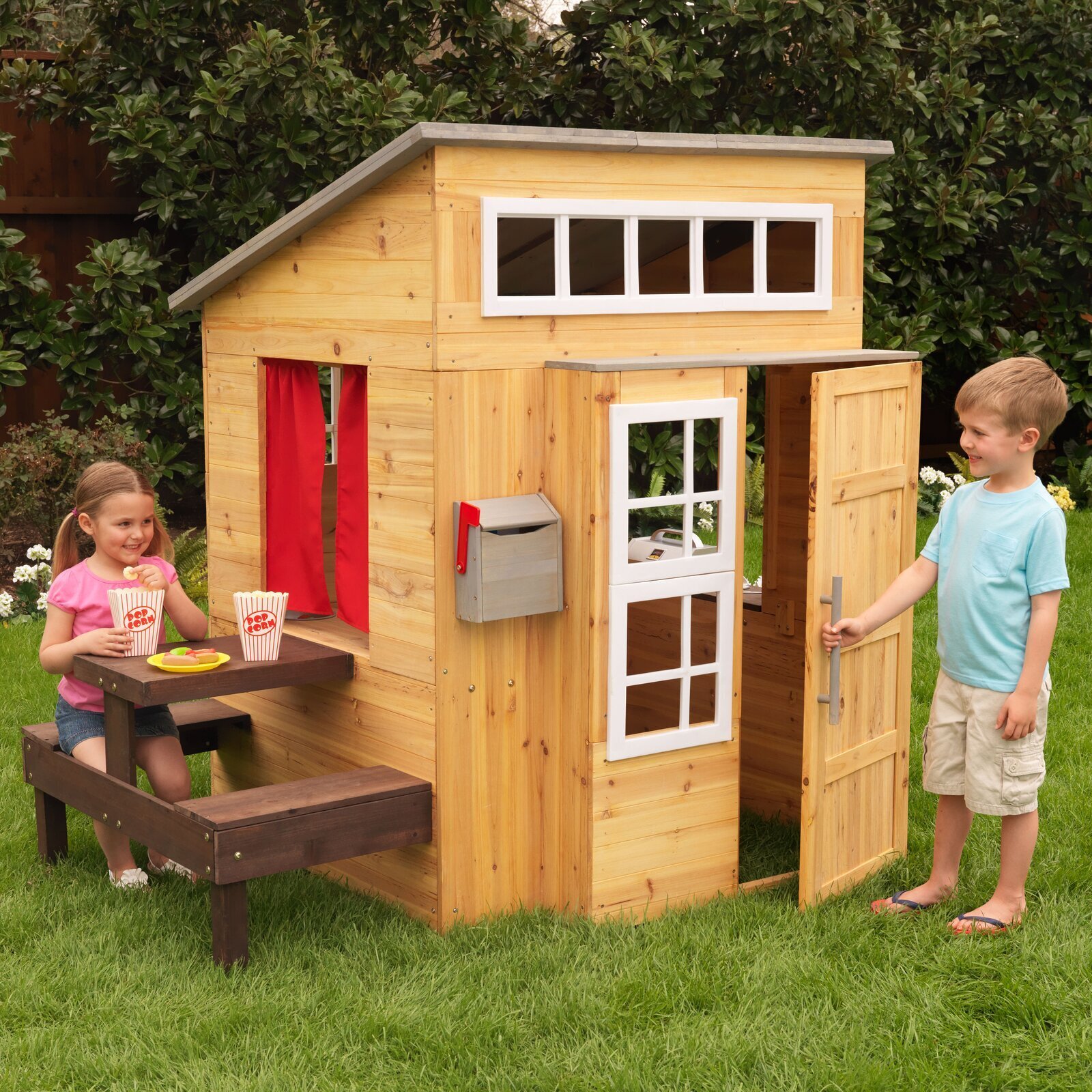 Modern Boys Outdoor Playhouse
KidKraft
This outdoor playhouse features a stylish modern design. It includes a built-in kitchen, a picnic table, and a mailbox. The playhouse is easy to assemble and can be built in just a few hours with two or three people.
$335 $499.99
Merchant links are sponsored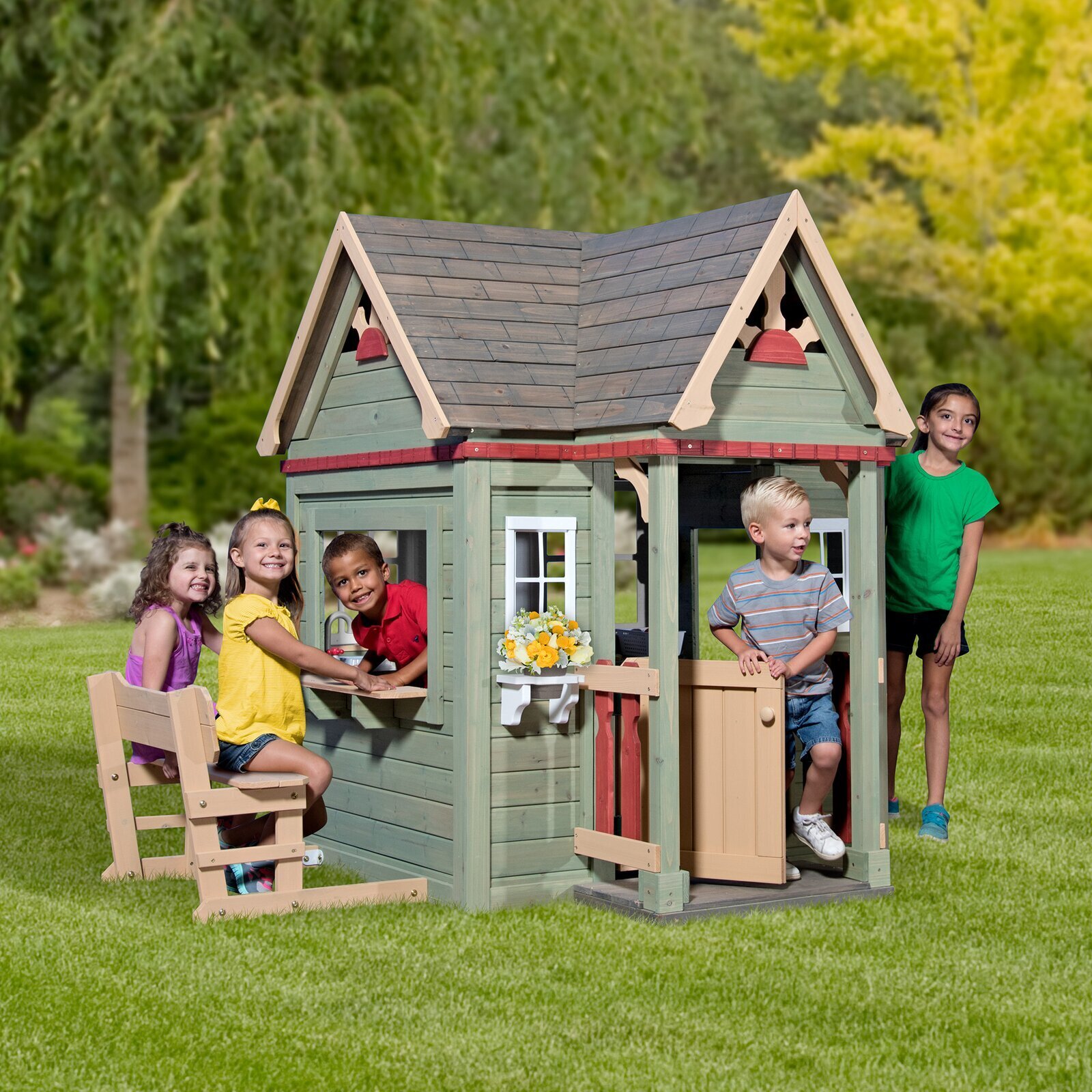 Victorian Inspired Playhouse for Boys
Backyard Discovery
This charming playhouse for boys features a classic English design complete with a large bay window, garden bench, and fully stocked kitchen! Made from 100% cedarwood, this sturdy playhouse is built to last, and will provide years of fun.
Designer Advice:
At 74" x 65" this playhouse is on the smaller side and has an official capacity for up to four children. However, the design cleverly combines outdoor and indoor space, meaning that in reality, it's suitable for more children. Unlike typical many wooden playhouses for boys, the Victorian-inspired design will add to the beauty of your garden.
Merchant links are sponsored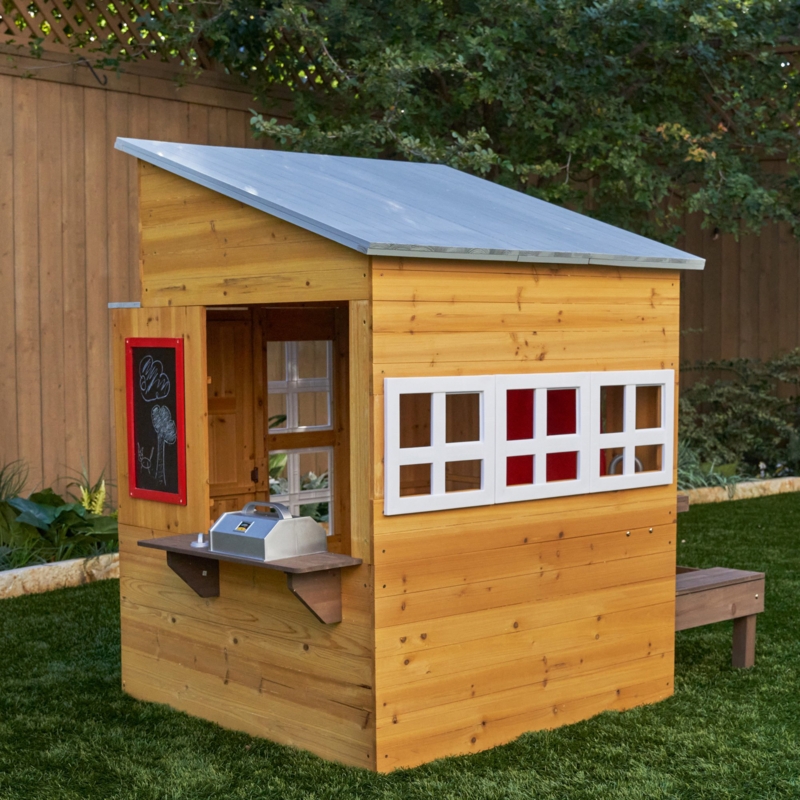 Charming Children's Outdoor Playhouse
c&g outdoors
Perfect For: Young children who enjoy outdoor imaginative play
What We Like: Multi-functional play space with a built-in kitchenette
This delightful children's playhouse offers a variety of fun activities, from cooking play with the kitchenette and picnic table to engaging in creativity with the attached blackboard. The charming childlike design features an espresso picnic table with benches and an open-close front door. Made from high-quality materials such as cloth curtains, waterproof roof boards, and reinforced wood - the playhouse is built to withstand weather conditions and wear. Delightful extras like the logo mailbox and outdoor grill with removable cover add a unique touch.
$446.84 $479.58
Designer Advice:
To create the perfect playful atmosphere, add cozy cushions and a colorful outdoor rug beneath the picnic table for extra comfort, and personalize the mailbox with your child's name.
Merchant links are sponsored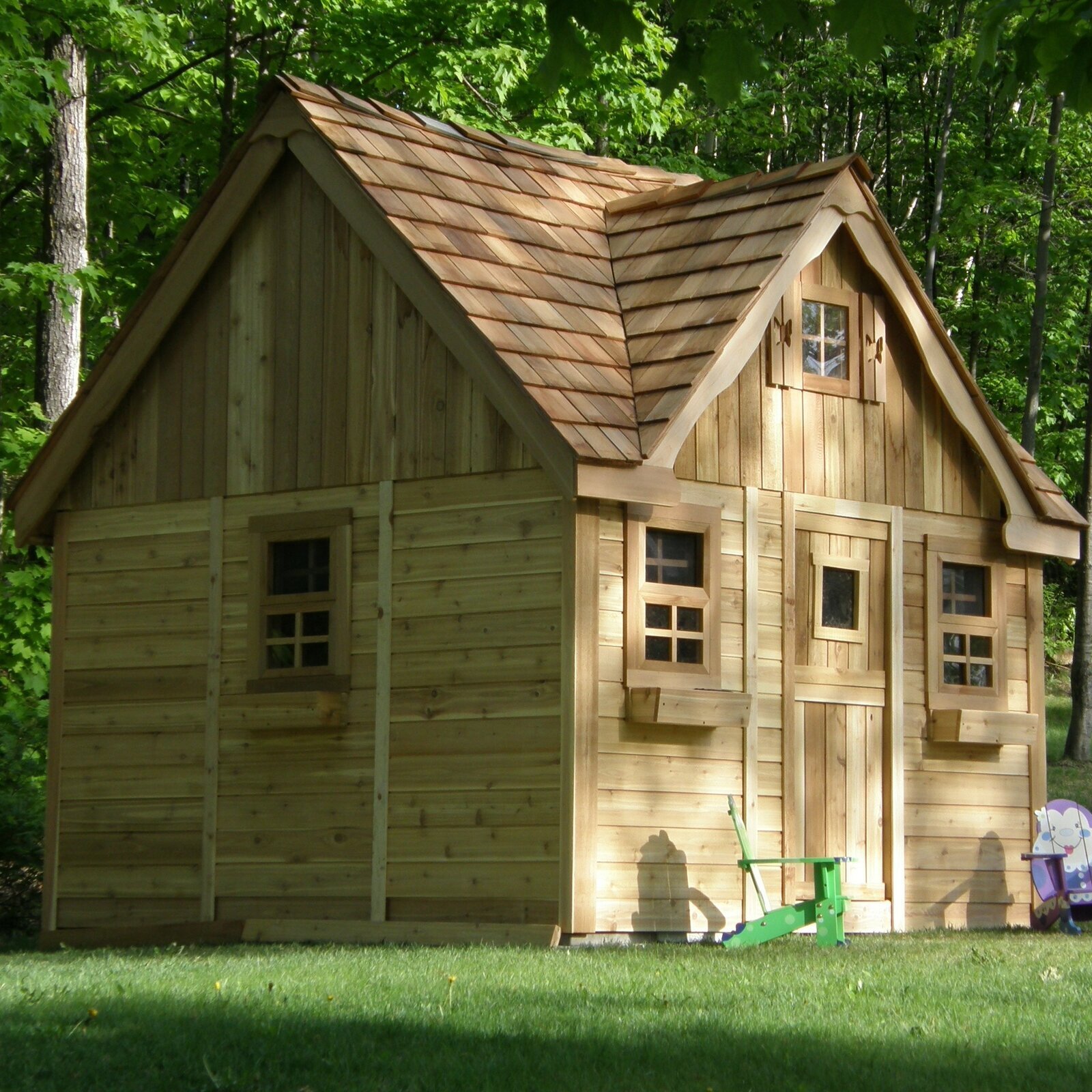 Two story Luxury Boys Playhouse
Outdoor Living Today
If you're looking for outdoor clubhouse ideas for older boys, this is a fantastic option. At 9' x 9' it offers plenty of space for children of all ages thanks to the two-story design which includes a ladder for access.
$10900 $9249
Merchant links are sponsored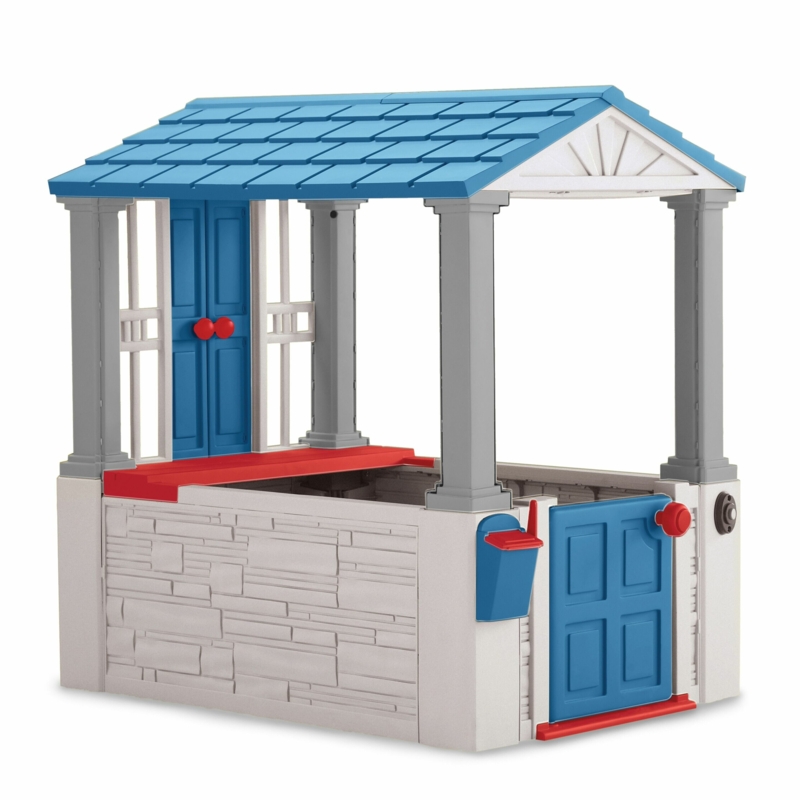 Indoor-Outdoor Kids Playhouse with Mailbox
American Plastic Toys
Perfect For: Engaging playtime and promoting imaginative play for children
What We Like: Realistic features and easy transportation
Invite fun and creativity in your child's life with this indoor-outdoor playhouse, equipped with a realistic mailbox, working doorbell, and an easy-to-clean tabletop for crafts or snacks. The playhouse is roomy enough for playtime with friends and is made from durable, BPA and phthalate-free plastic, ensuring both quality and safety. Conveniently designed to fit through standard 36" doorways, this playhouse can easily be transported between indoor and outdoor environments.
$101.78 $106
Designer Advice:
To enhance the play experience, add some colorful outdoor-safe cushions, a small rug, and a toy kitchen set while ensuring proper adult supervision during playtime.
Merchant links are sponsored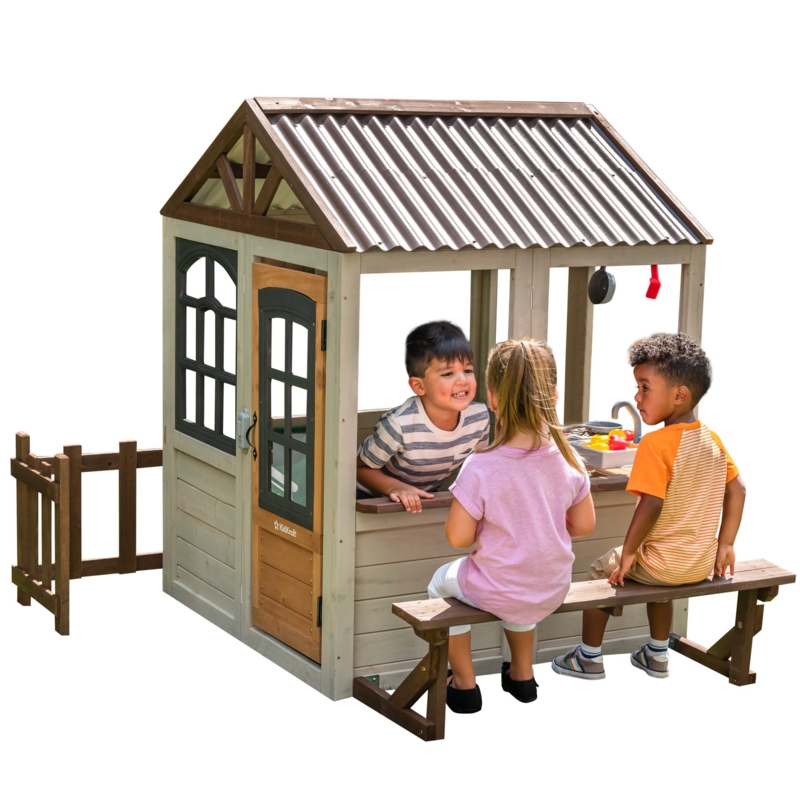 Interactive Wooden Outdoor Playhouse
c&g outdoors
Perfect For: Encouraging imaginative play and social interaction among children
What We Like: Multifunctional features and charming antique fence yard design
This interactive wooden outdoor playhouse combines a cozy atmosphere with engaging functions, providing a comfortable space for children to have fun and learn. The antique fence yard features a working doorbell, and the playhouse has a built-in stove, sink, and 13 kitchen accessories to encourage role play. Ventilated windows ensure a pleasant breeze, and service windows and pet doors offer additional ways to interact. The charming design and interactive elements spark creativity and imagination.
$373.01 $399.86
Designer Advice:
Place this playhouse in a safe outdoor area with a soft surface like grass or rubber playground tiles, making sure there's enough room for kids to play freely and safely.
Merchant links are sponsored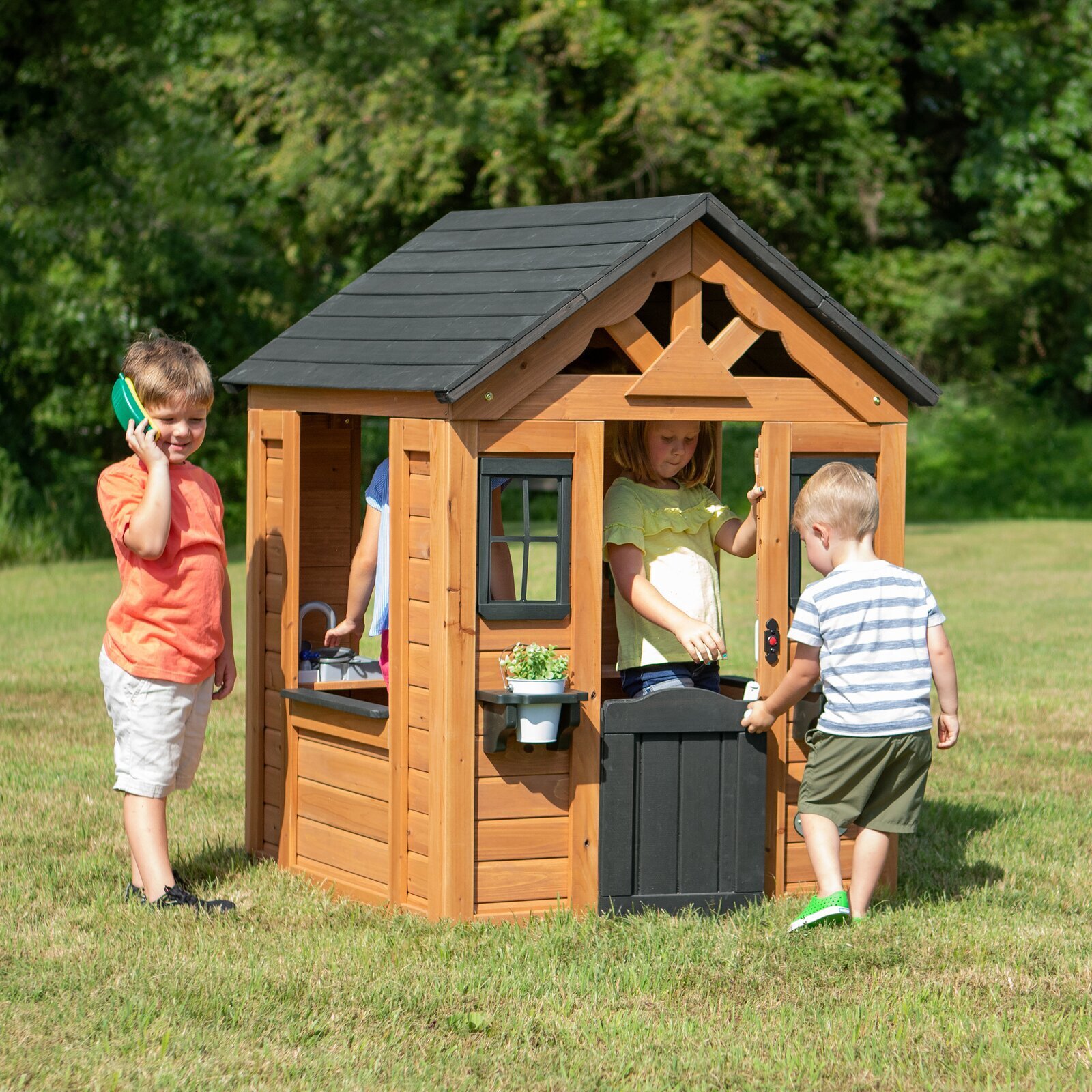 Indoor/Outdoor Boys Playhouse With Kitchen
Backyard Discovery
This wooden playhouse includes plenty of features to spark your child's imagination, including a built-in kitchen, phone, doorbell, and flowerbox. Large windows and a half-size door allow plenty of light in enabling you to observe younger children as they play.
Merchant links are sponsored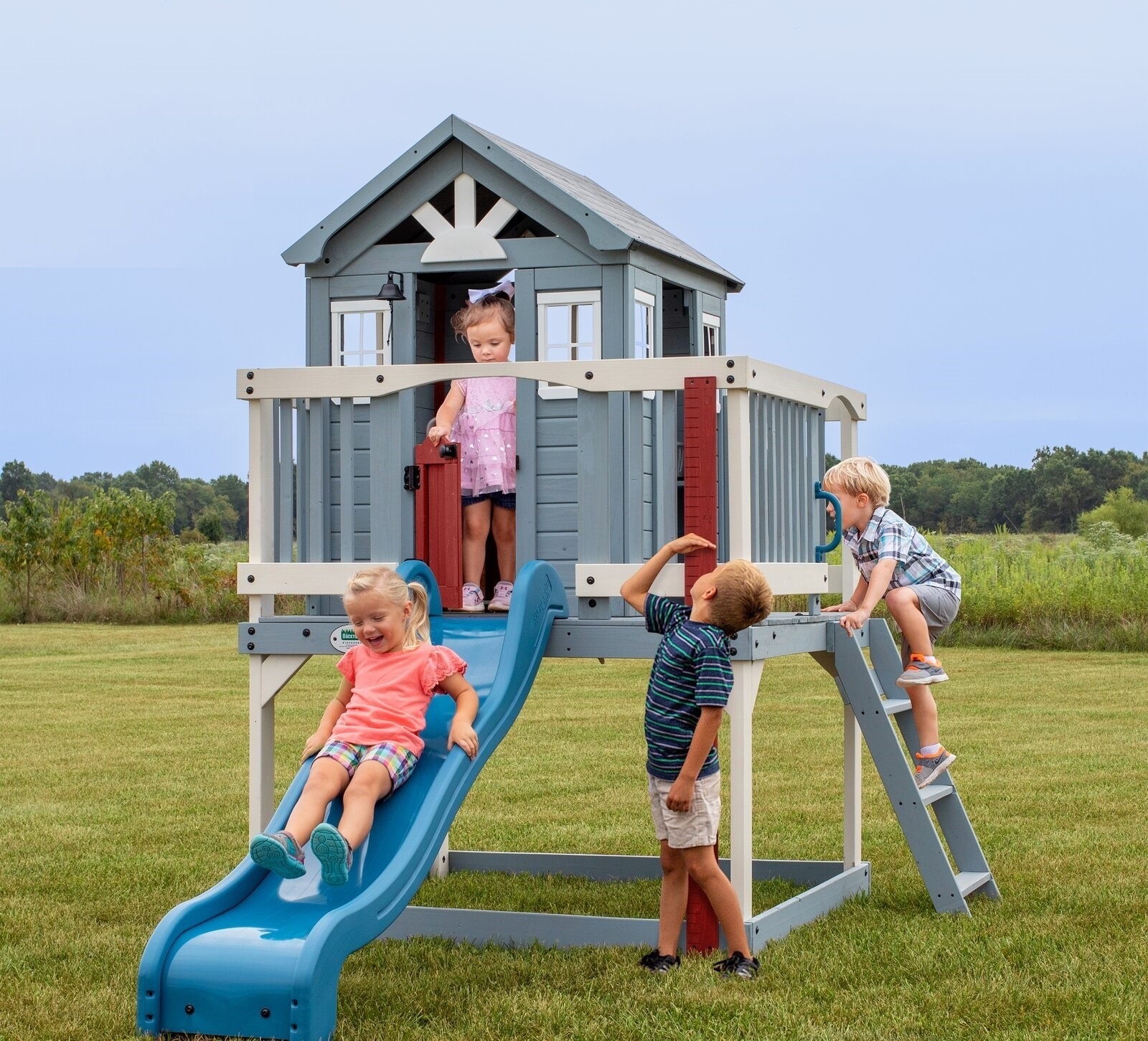 Outdoor Boys Playhouse With Ladder and Slide
Backyard Discovery
This compact playhouse on stilts is guaranteed to provide hours of fun! It includes a ladder with wide steps for easy access and a fun wavy slide. Inside the playhouse, you will find a kitchen complete with battery-powered appliances.
Merchant links are sponsored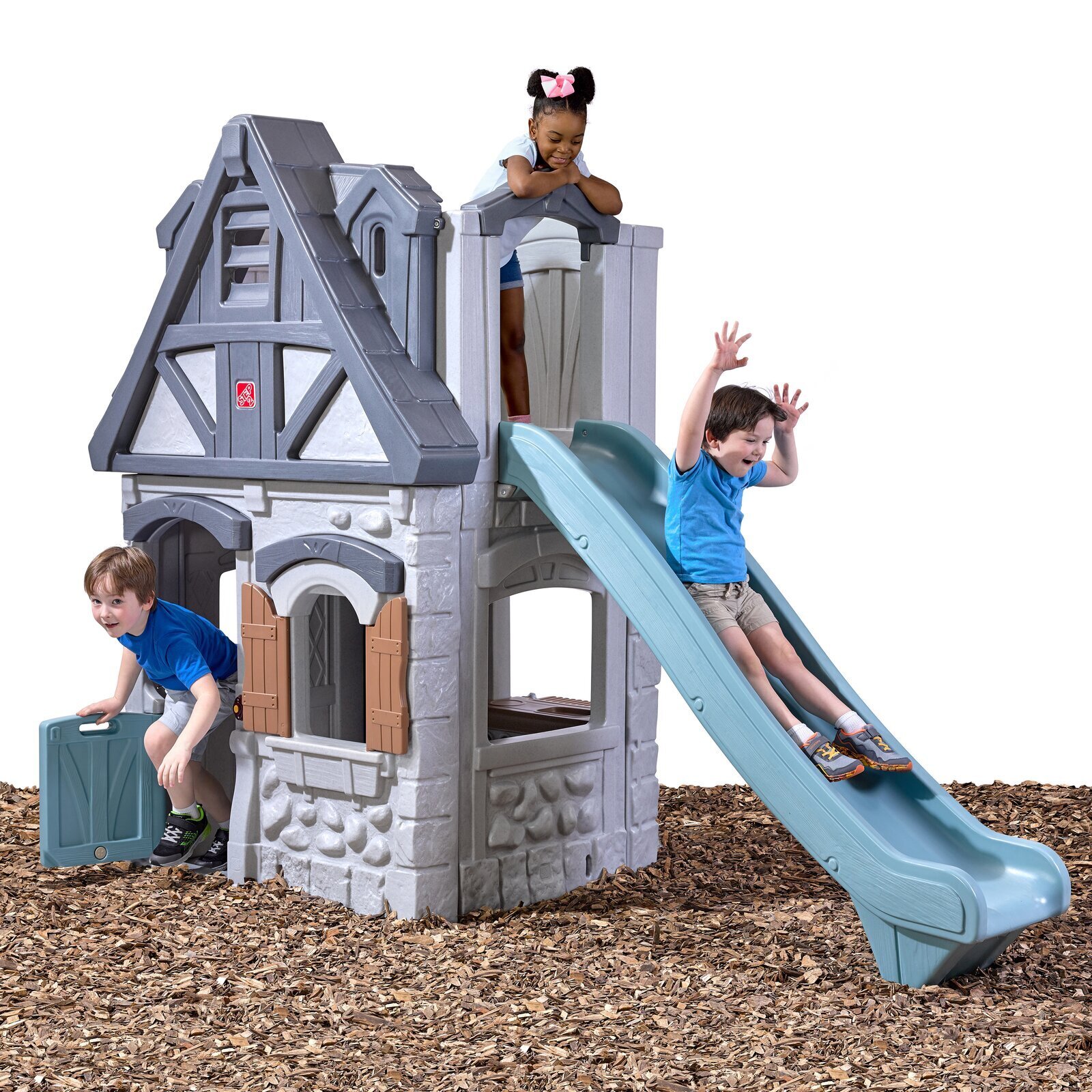 Durable Plastic Boys Playhouse With Slide
Step2
This sturdy boys playhouse is packed full of charming features including a Dutch-style door, and window shutters. It includes a built-in kitchenette complete with an oven and sink, and a lookout platform at the top with a slide.
$917.56 $899.99
Designer Advice:
If you're looking for a durable playhouse that will stand the test of time, this is the one for you! It's made from EverTough plastic and requires almost no maintenance apart from the occasional wipe down if it's kept outdoors. It's very easy to put together too but will require two people.
Merchant links are sponsored