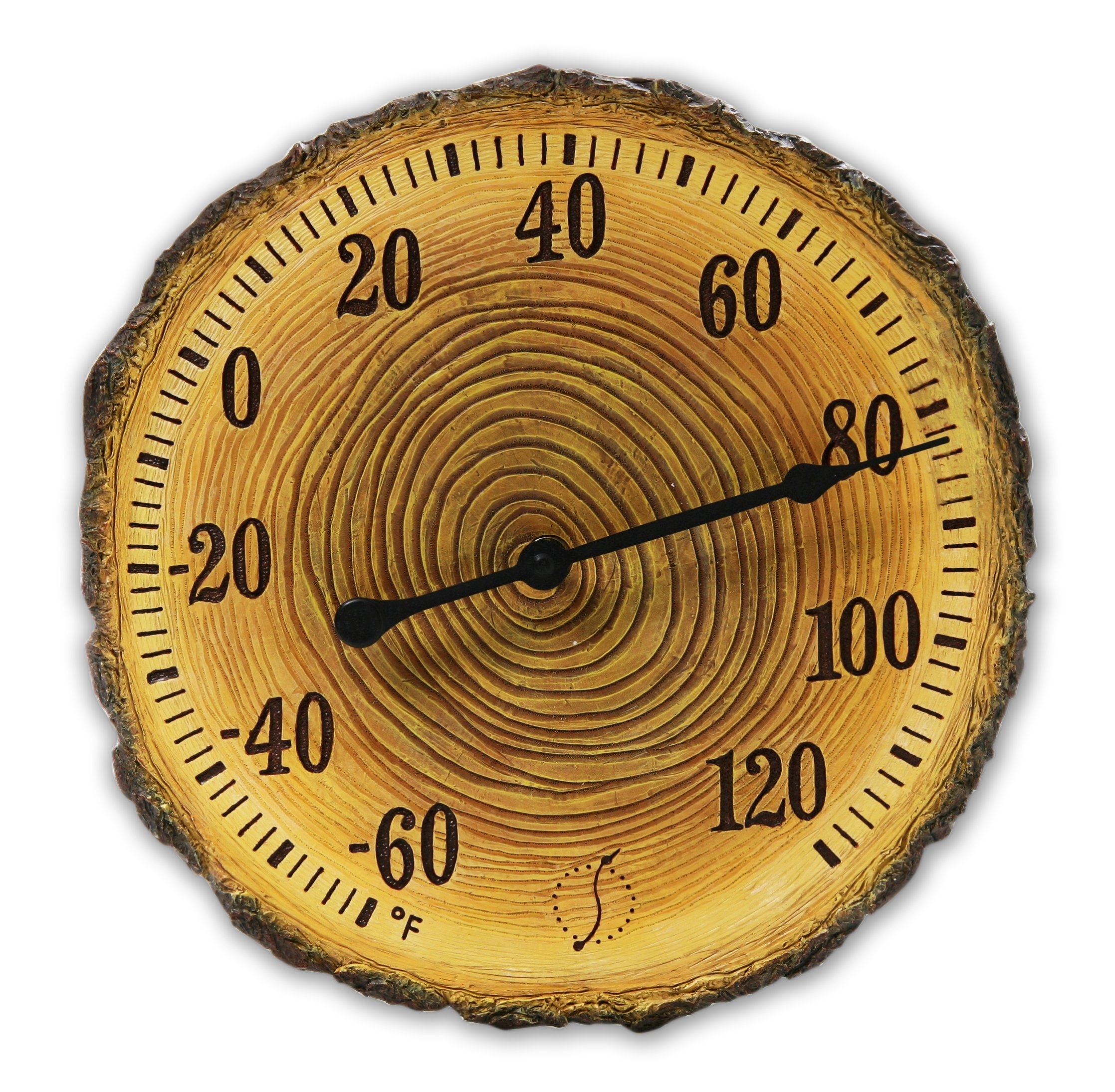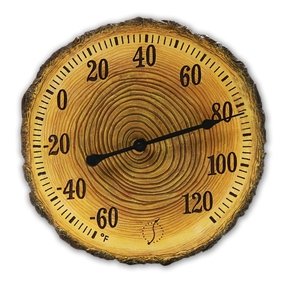 Springfield Precision Instruments Tree Trunk Cross Section Thermometer
Wall thermometer with design resembling tree trunk. The thermometer features only Fahrenheit scale and it's fitted with coils for accuracy. It can be used indoor as well as outdoor and was painted with fade resistant paint.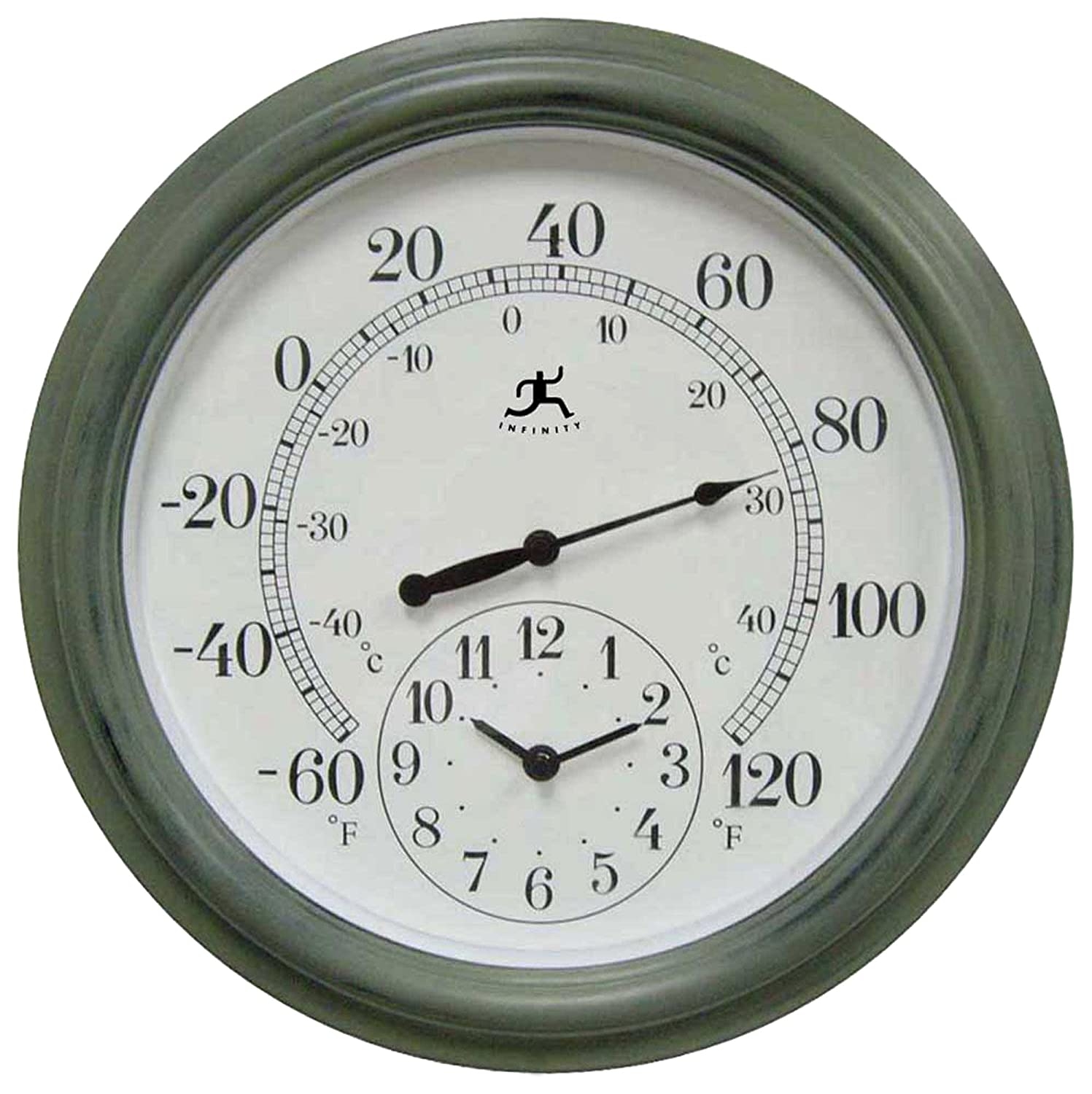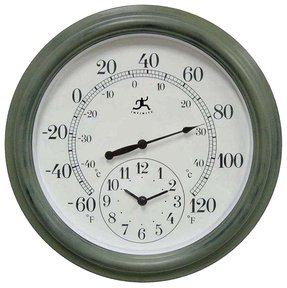 Contra 16 inch indoor outdoor sage green thermometer with clock
This large wall thermometer not only reads temperature but also time. The temperature is displayed in Fahrenheit and Celsius. Round shaped, resembles a clock. It can be used both indoors and outdoors.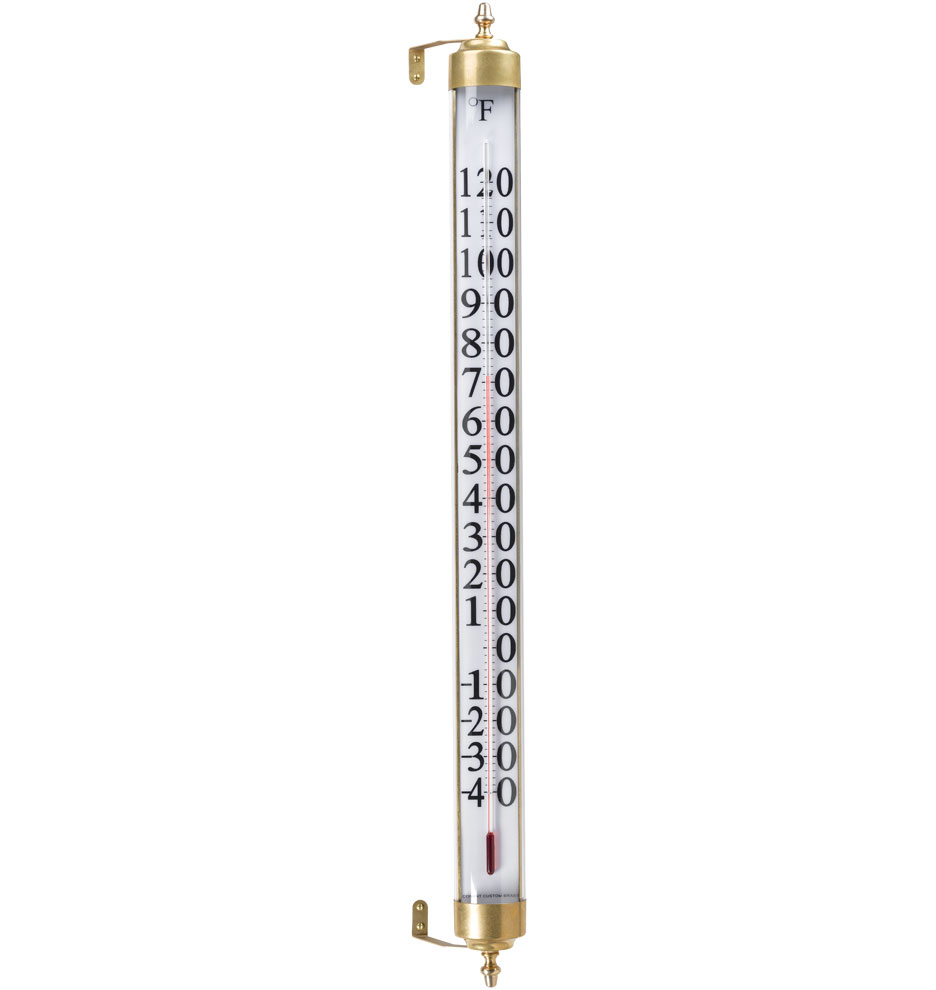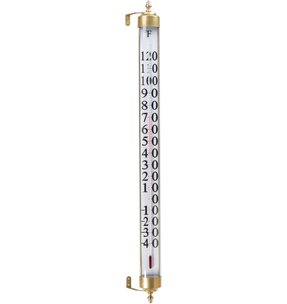 This large thermometer is suitable for outdoor use, and easy to mount. Features an accurate scale, embedded in a durable metal frame with a brass finish. Plus, it can easily withstand weather conditions, and is easy to clean.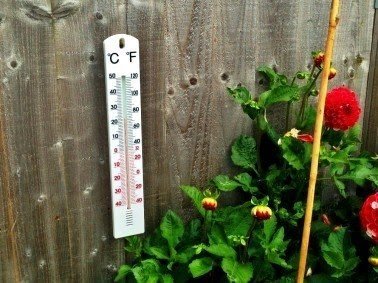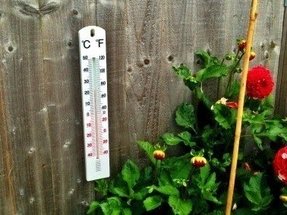 Large thermometer designed for mounting on any flat surface. Suitable for indoor and outdoor use. It is resistant to rust and harmful weather conditions. Neutral and functional design for each place as needed.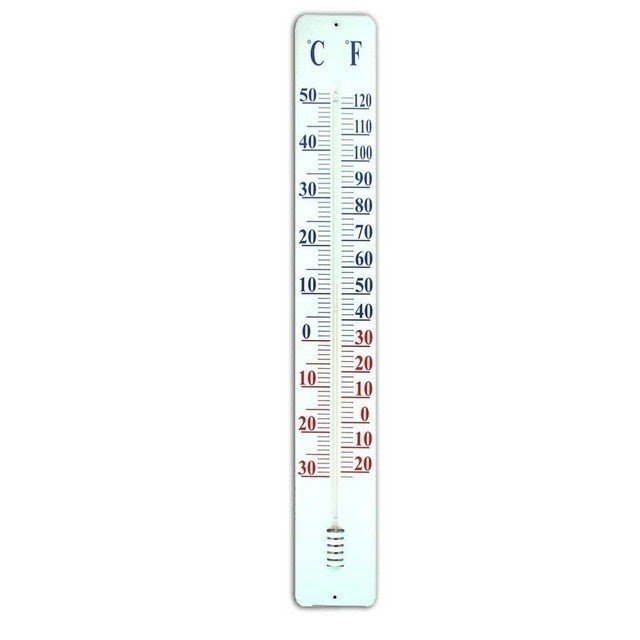 This large metal thermometer offers the perfect boost of functionality, allowing you to always tell the temperature precisely even before you go out. It will work for hanging on your wall outside the house.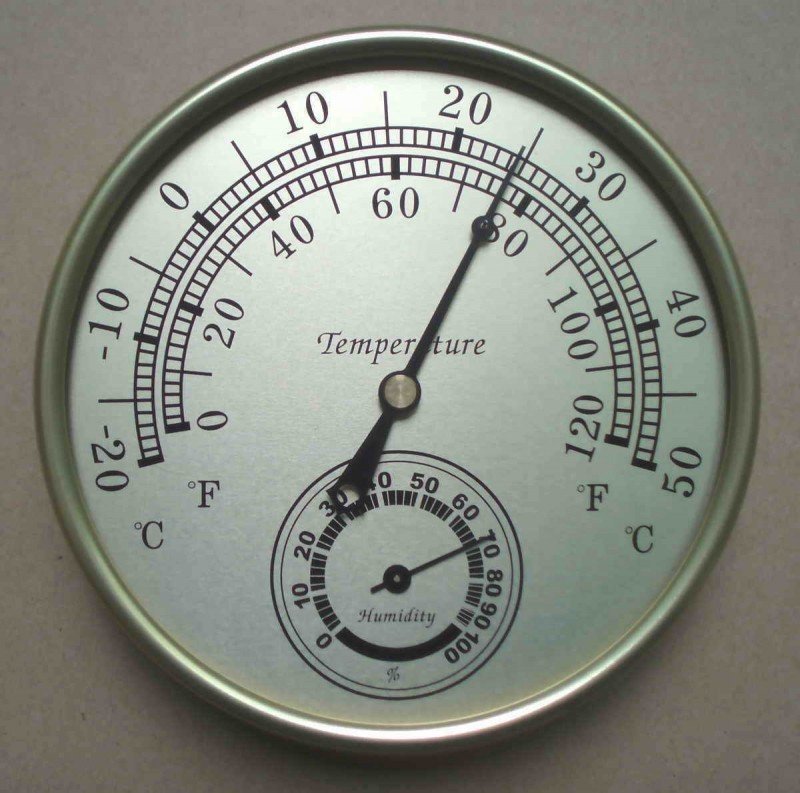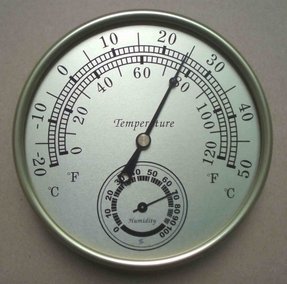 The outdoor thermometer is one of the most useful home utensils, especially when you would like to be dressed good according to the actual weather. This specimen is additionally equipped with the hygrometer.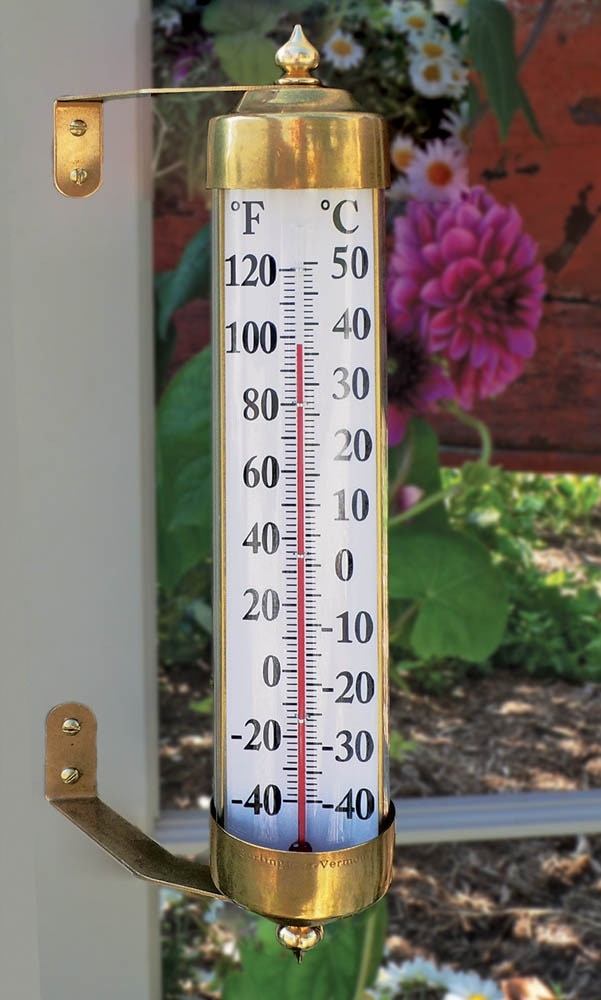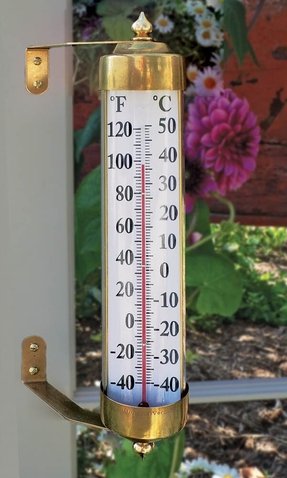 Every home needs a thermometer! We found something special for you: the giant wall thermometer with the brass finish. It will be perfect for indoor and outdoor use.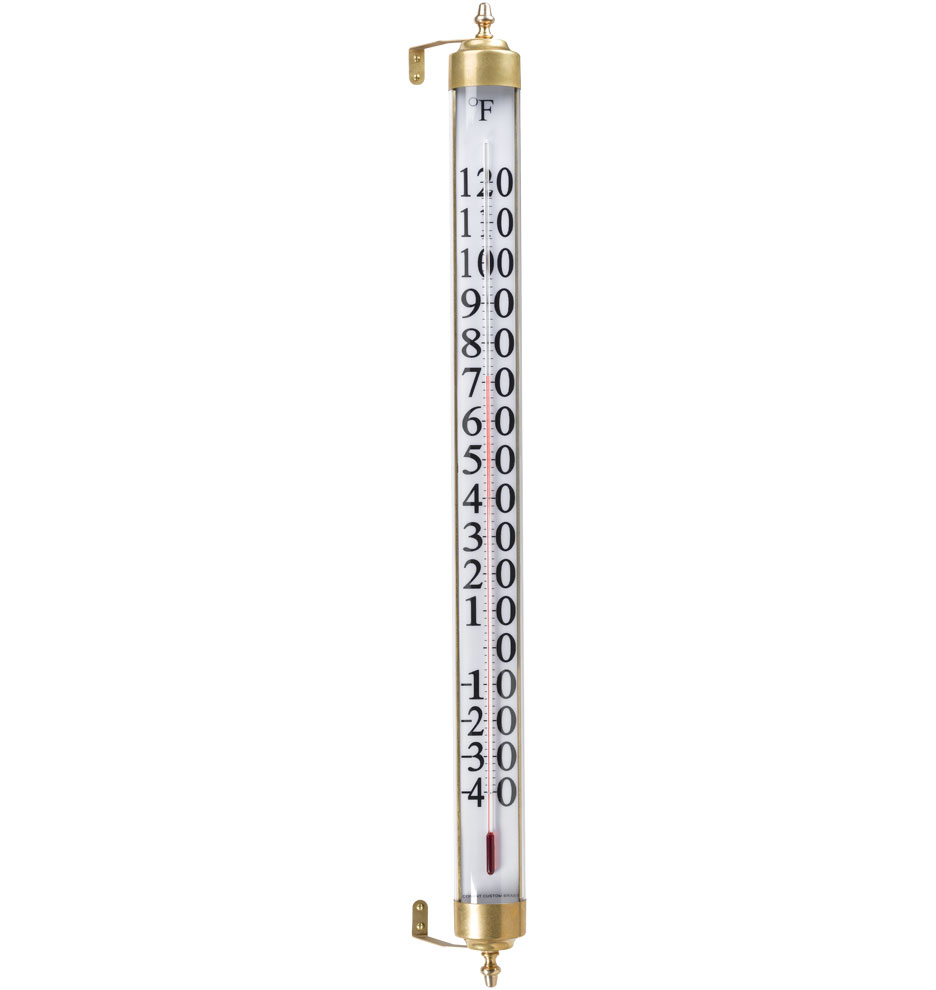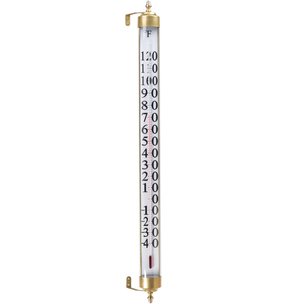 This large outdoor thermometer with a Fahrenheit scale enchants with its retro design, referring to the old, vintage examples. It measures temperature from - 40 to 120 F degrees.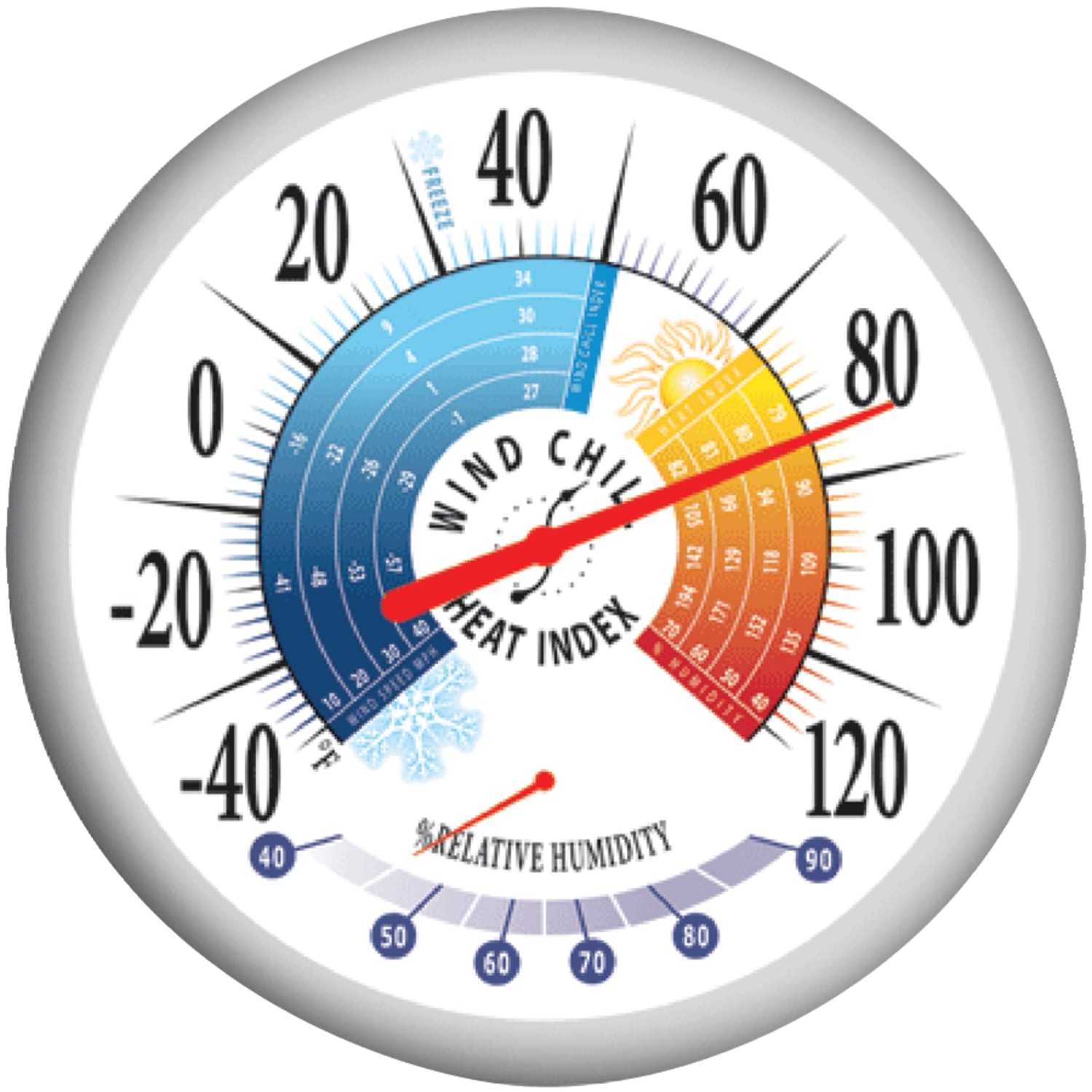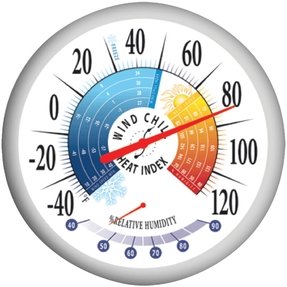 A large and very practical outdoor thermometer is a great way to get a fun and functional detail that will work for you. Straight circular form and strong shield combine to a very handy whole.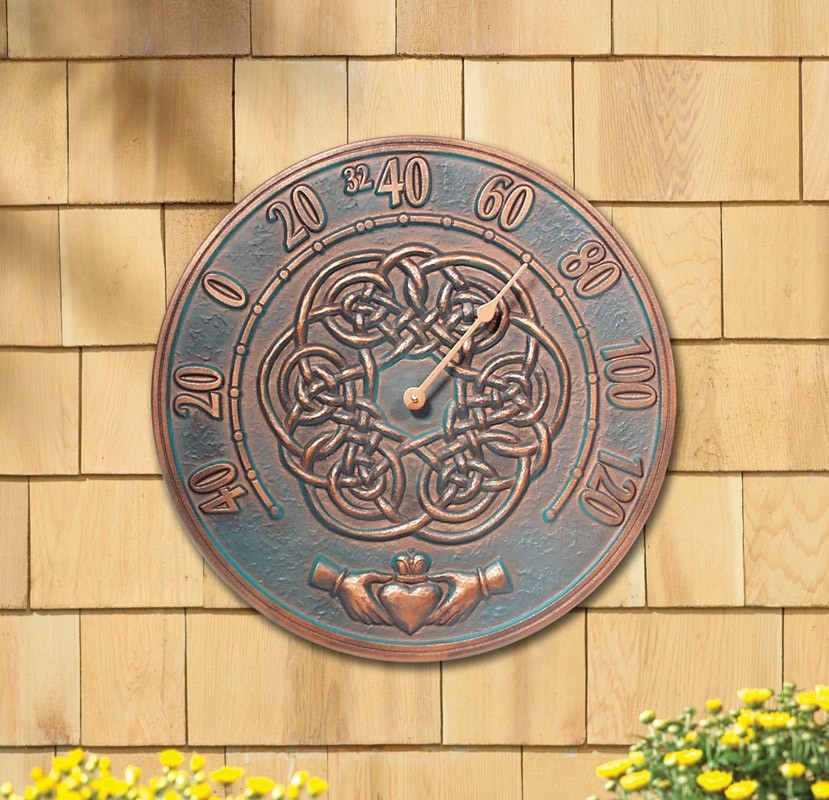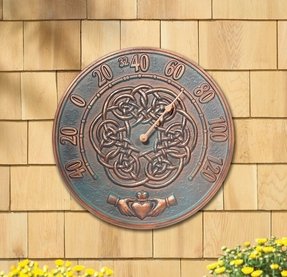 This decorative piece will not only beautifully accent your outdoor setting but will also allow you to always tell the temperature outside. It comes with the all-metal structure in the copper finish to add a splash of vintage appeal.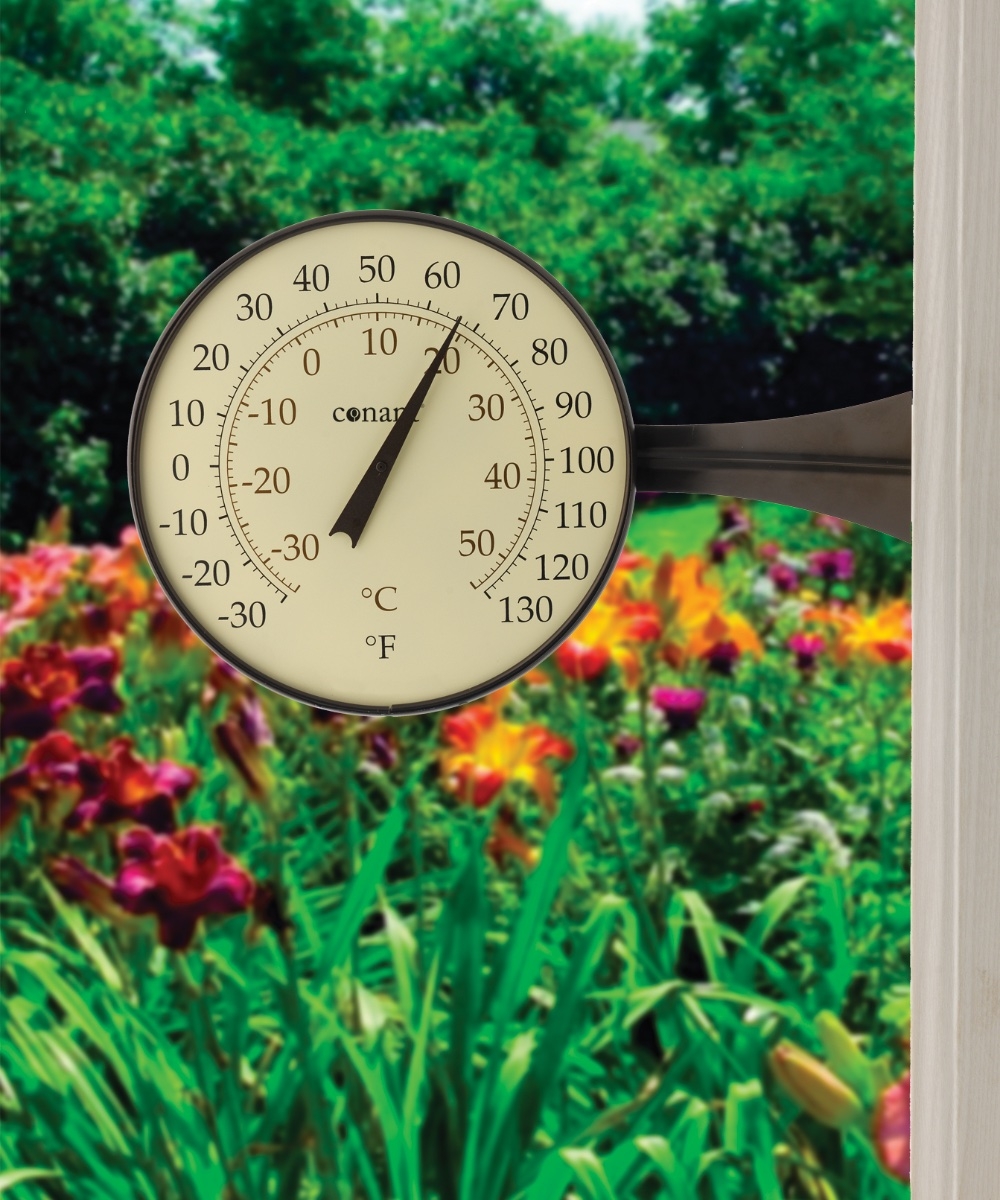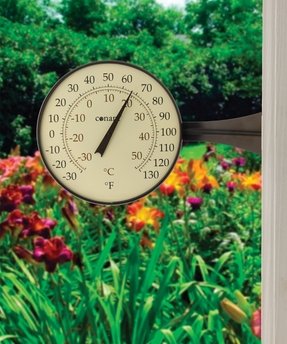 Now you will have a chance to easily read the outside temperature, while spicing up your outdoor area with vintage flavor. This large thermometer features a round dial with very visible scale, and gives accurate measurements in any weather condition.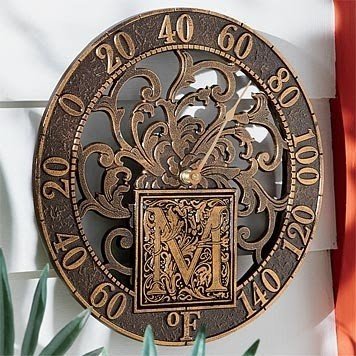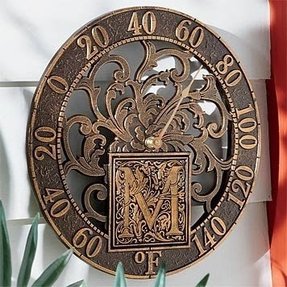 Click to view larger image(s)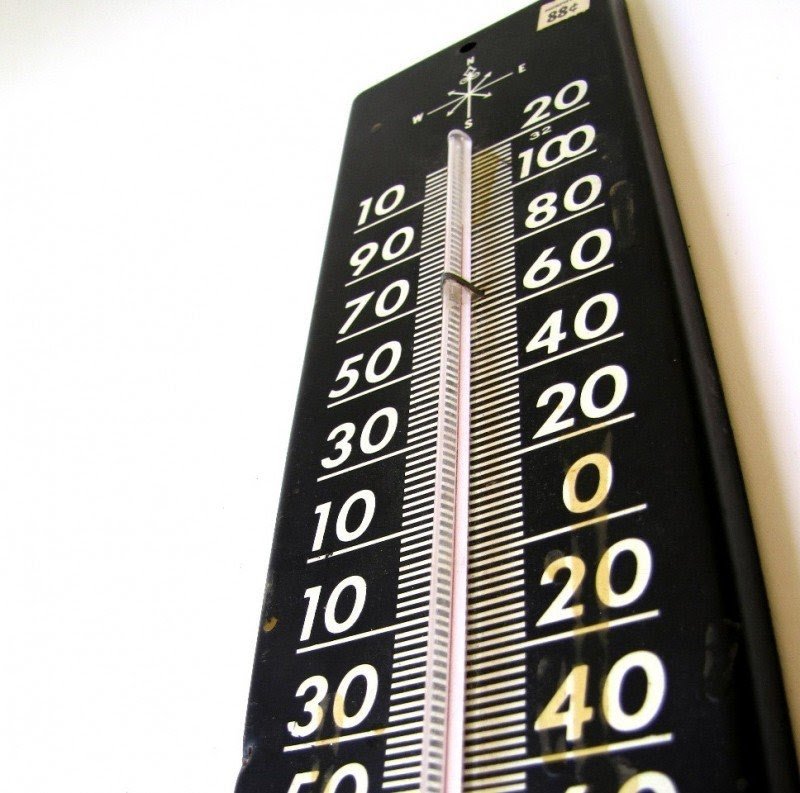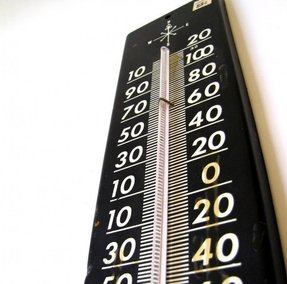 Like this item?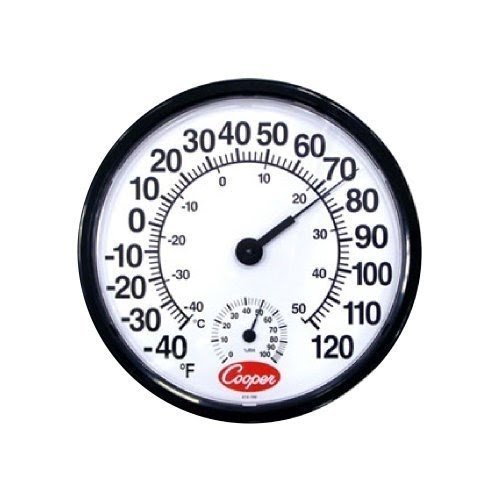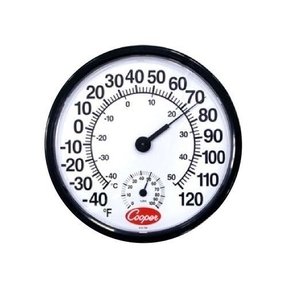 So should a take a coat or a bikini? Hard to say? Not anymore with this large outdoor thermometer. If you put this round wall piece on the wall outside, neat to the window you will get all informations from the simple white dial with black frame and numbers.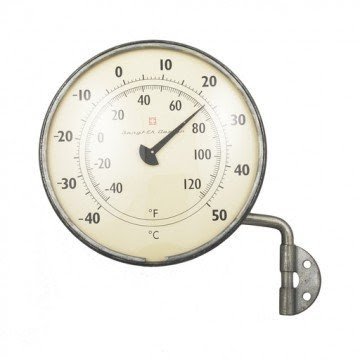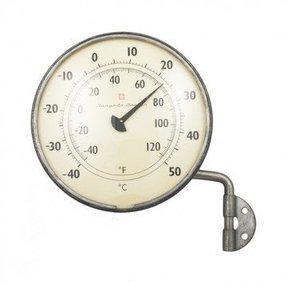 Made on a steel outdoor thermometer is a great way to have an attractive decor and functional element at home. Simple round shape on a sturdy and easy to mount handle is a beautiful and very practical accessory.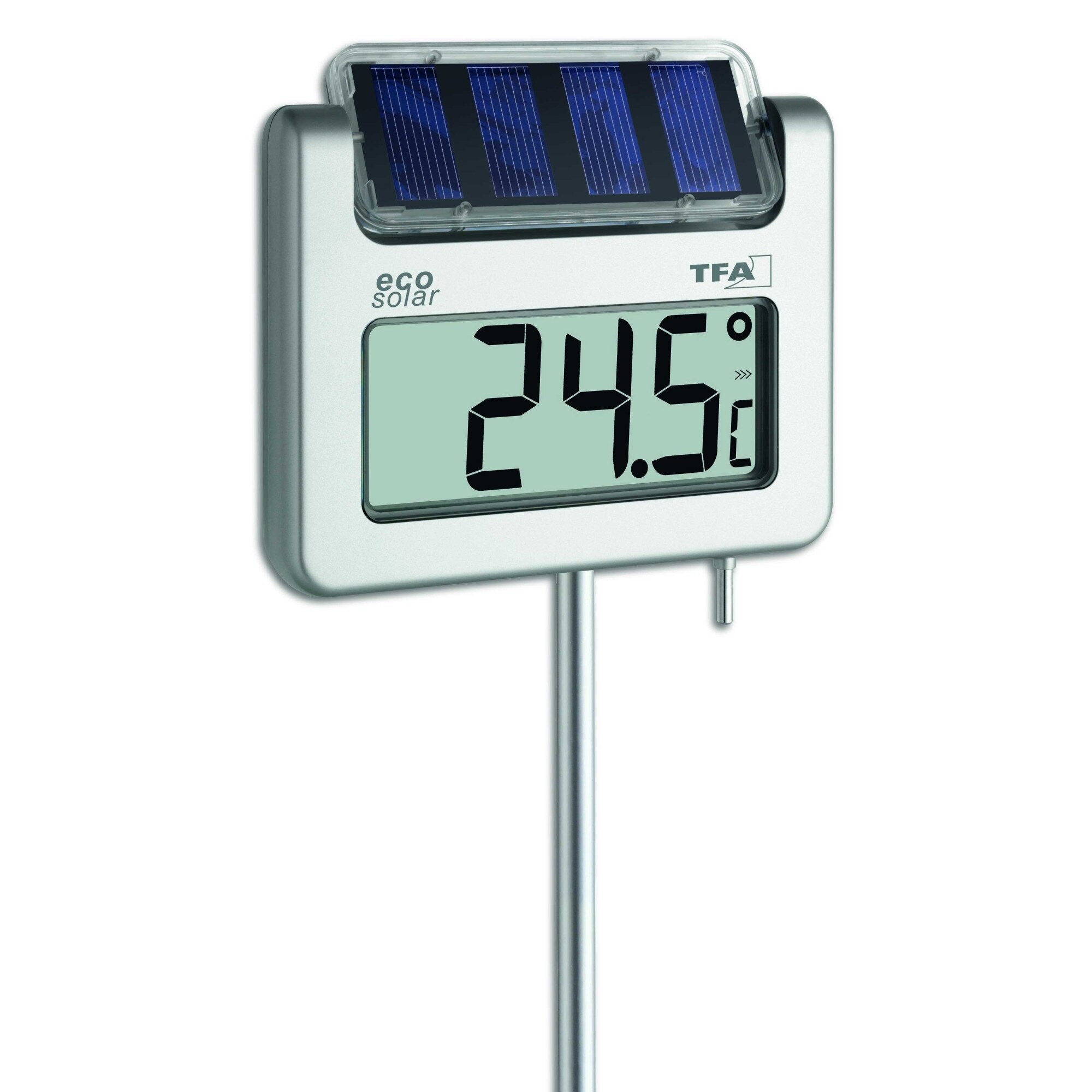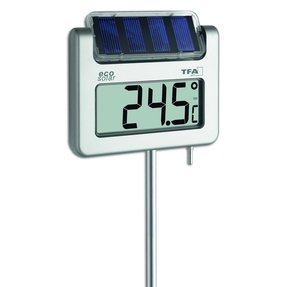 Thanks to this wireless thermometer for outdoor use, you will have an energy-efficient piece with solar powered backlight. The thermometer has a large digital display with an auto reset function, and ability to record min. & max. temperature.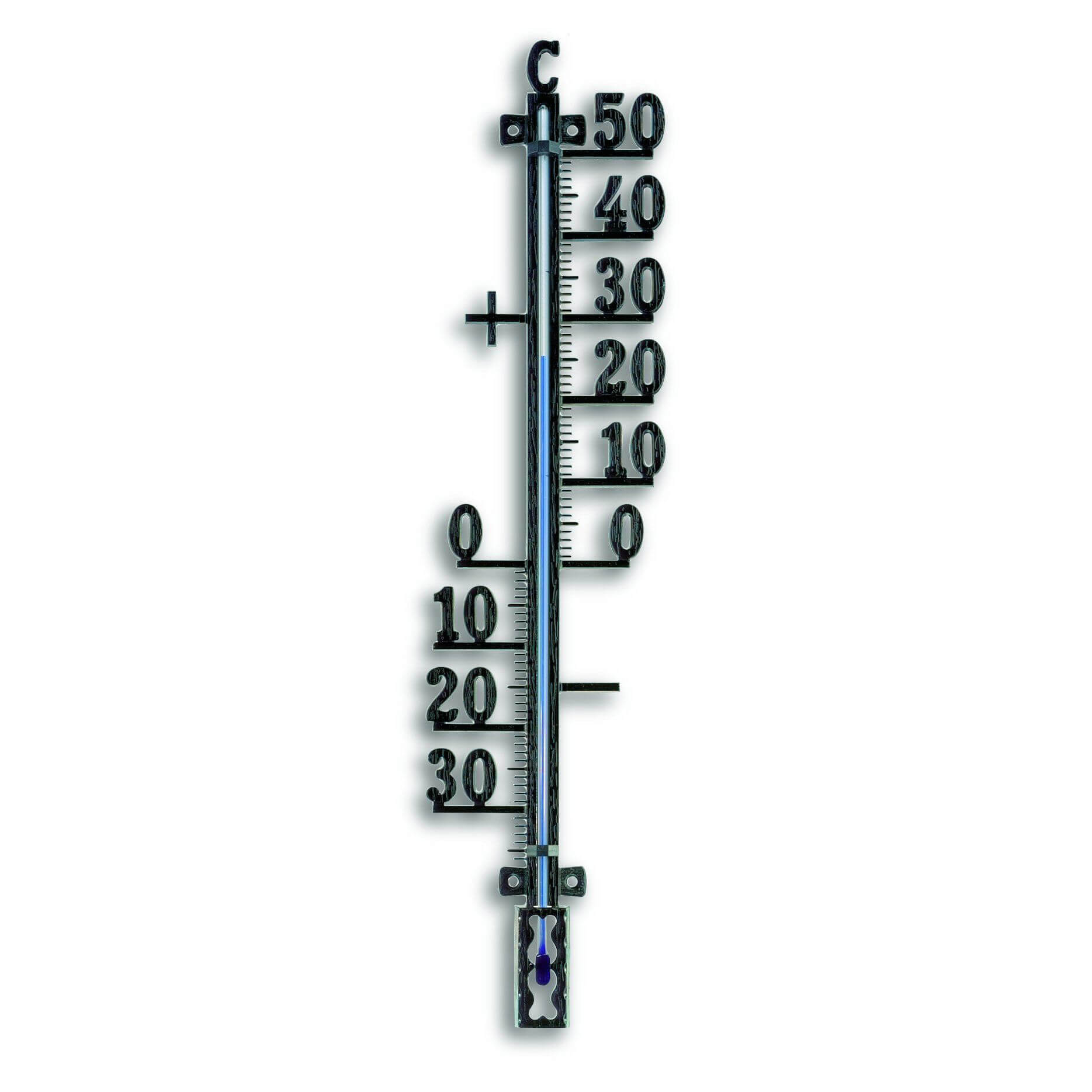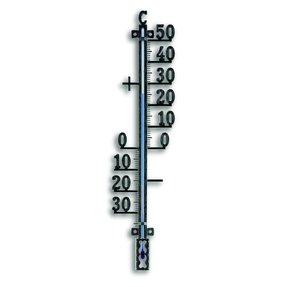 It is cold, it is hot? How can you know when you don't have large outdoor thermometers. Simple metal form with an adequate substance inside-mercury stained blue and dark blue. On two sides he points you through metal numbers - be it time for a hat or a bikini.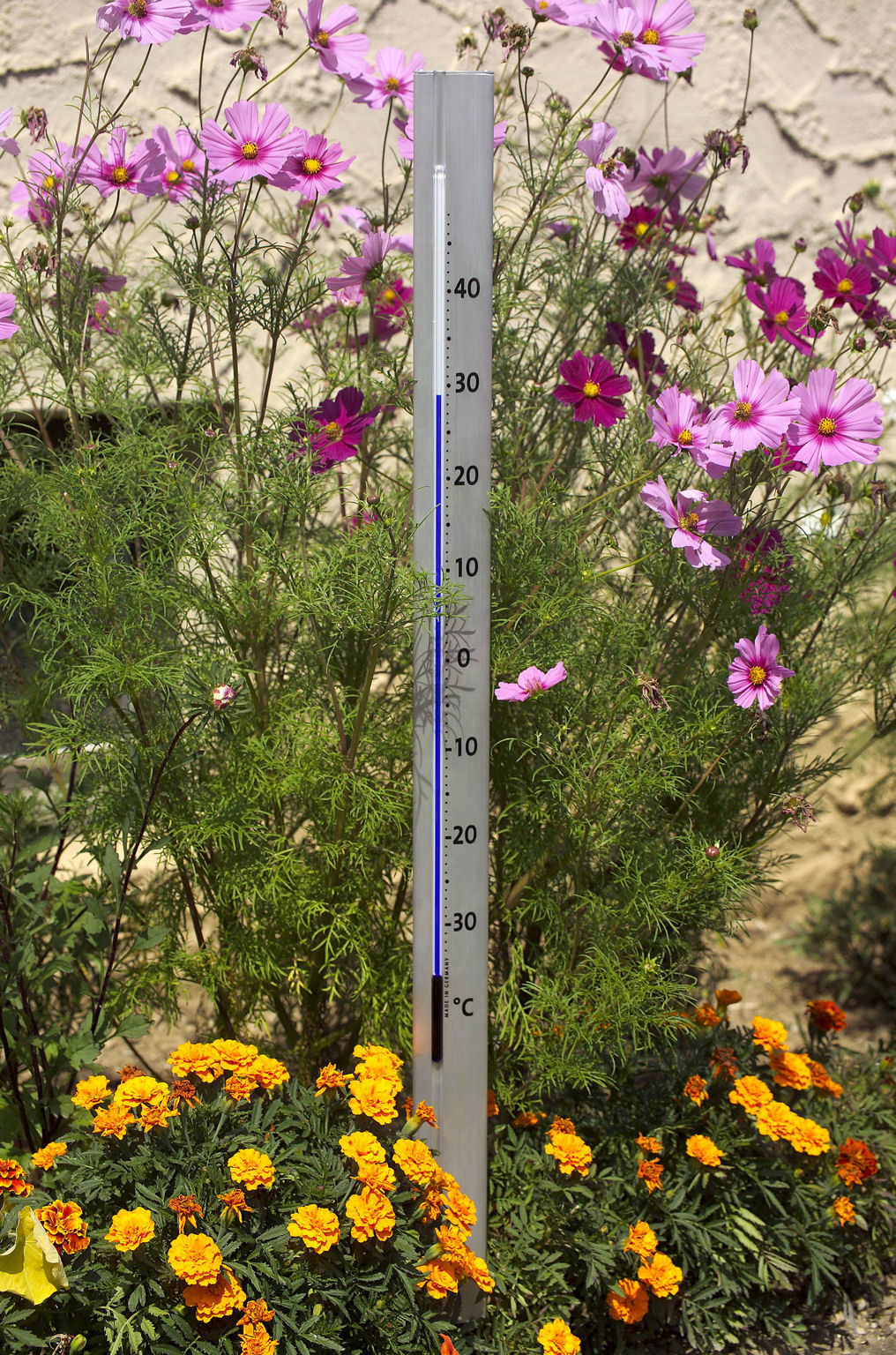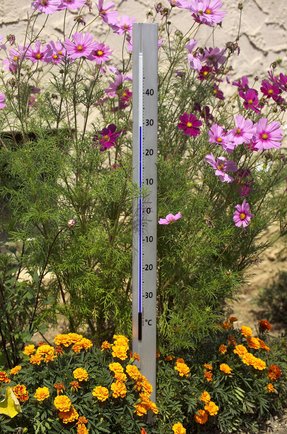 Designed for outdoor use, this modern garden thermometer is consisted of a clear blue thermometer and an anodised aluminium case. It can be easily hanged, or put into the ground thanks to its 2 stainless steel rods.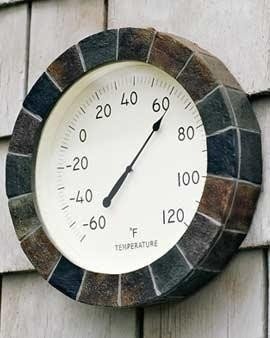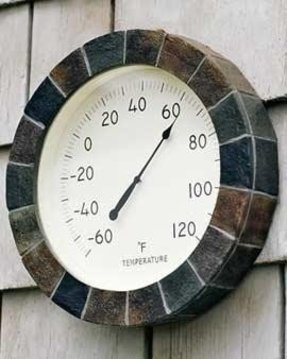 outdoot thermometer a faux slate rim gives this thermometer a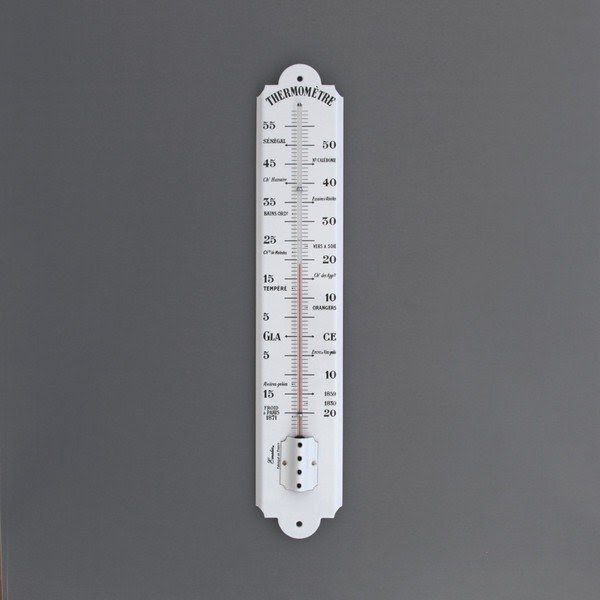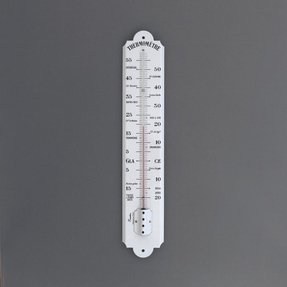 Designed in France, this large thermometer is suitable for indoors or sheltered outdoors. It comes with enamel coating, and ability to display various events such as the great Paris freeze of 1871. Resistant to rust and UV rays.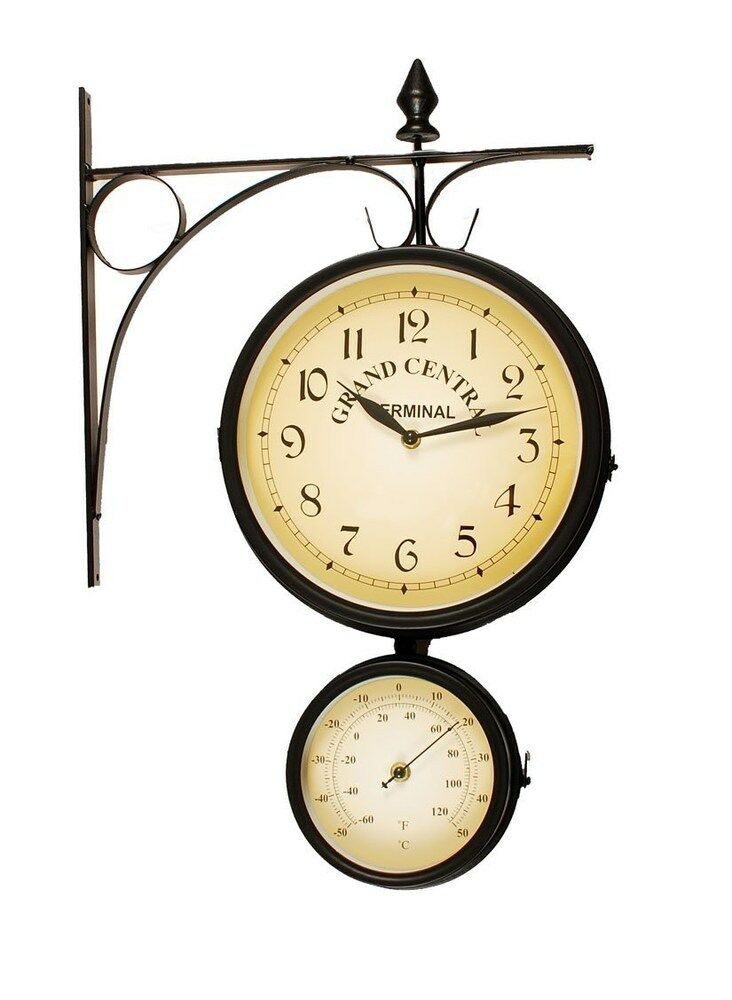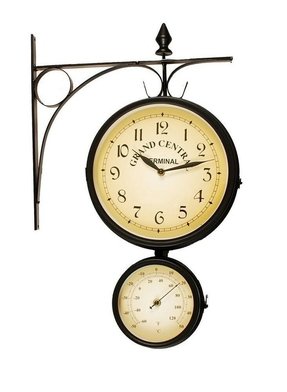 Always wanted one of these for my garden...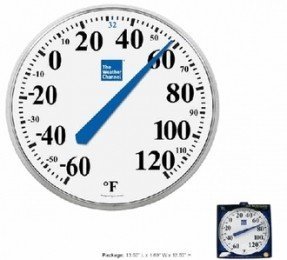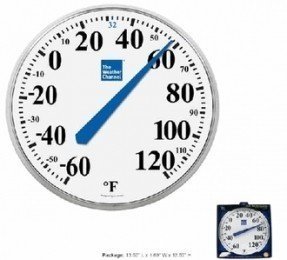 Large Print Outdoor Dial Thermometer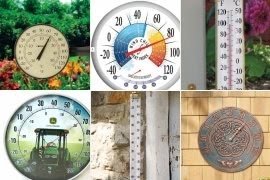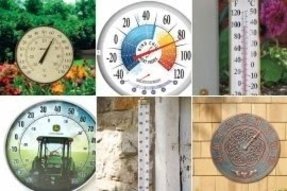 Large Outdoor Thermometers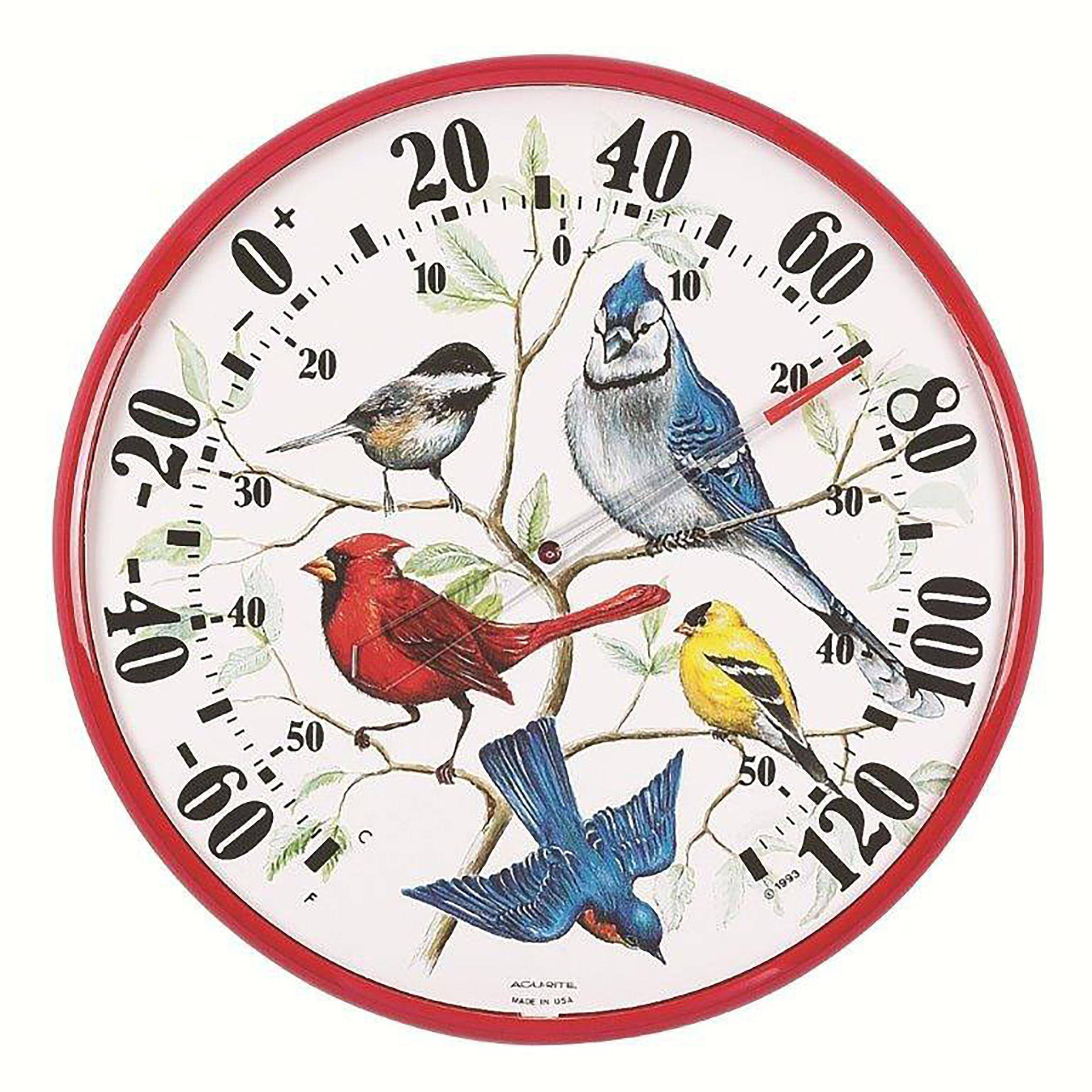 Designer Edition Indoor / Outdoor Songbirds Thermometer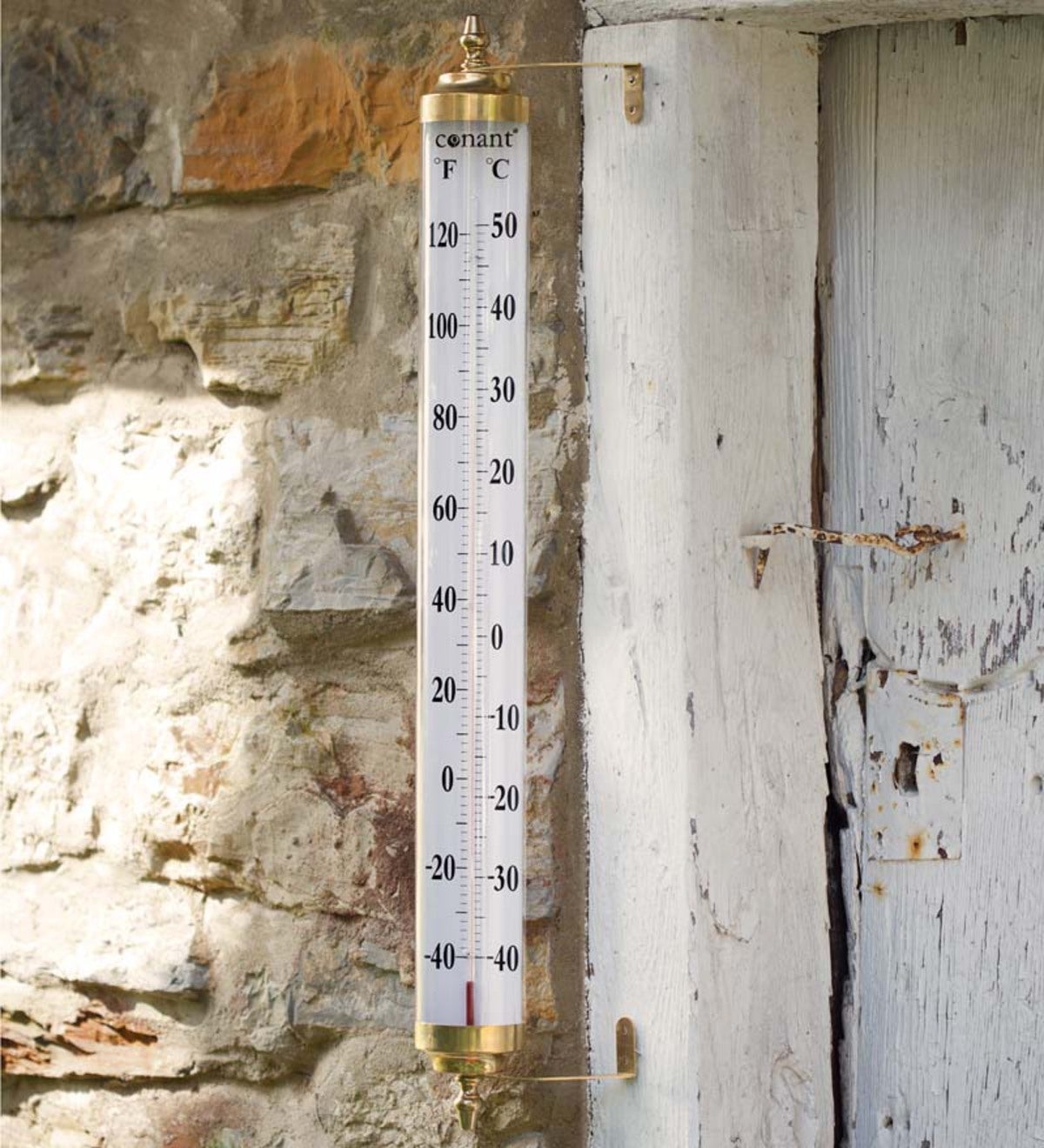 I did a lot of searching for the thermometers, before I bought this one. It features the extra large size and brass finish, and is excellent for outdoor use. It makes a grand impression.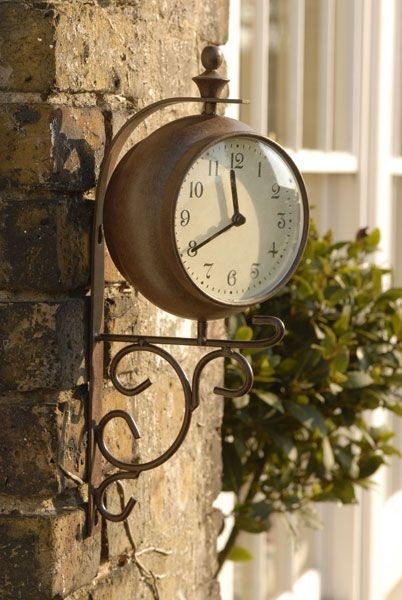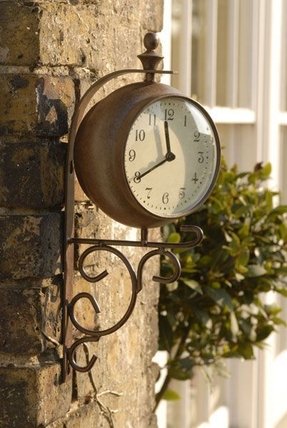 The beautiful rustic styling of this glamorous clock with wall thermometer is a perfect combination of style and functionality. The outdoor wall clock is beautifully presented outside the house, and bring an exciting atmosphere.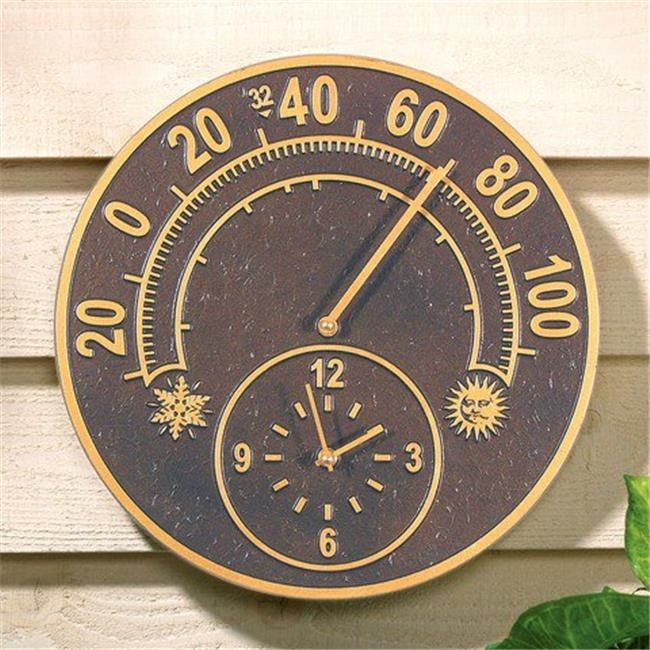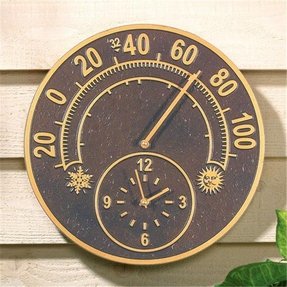 Solstice Thermometer Clock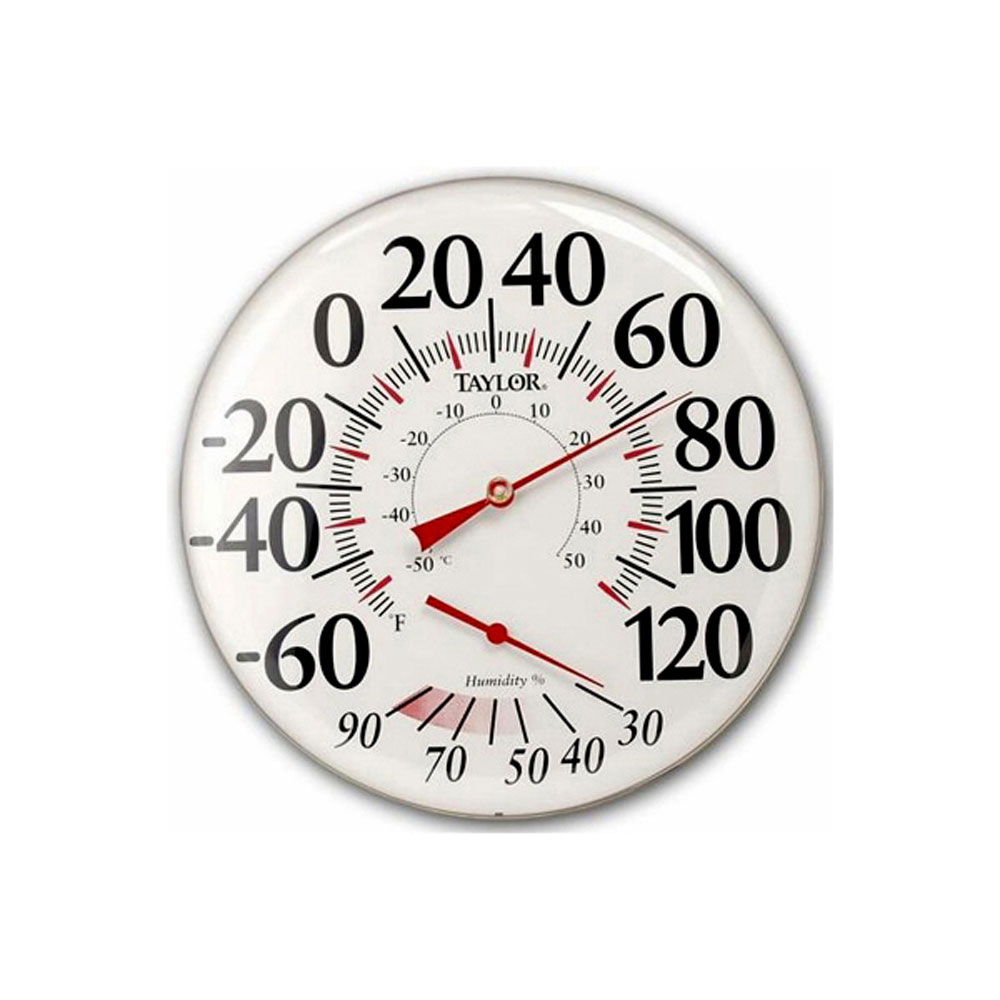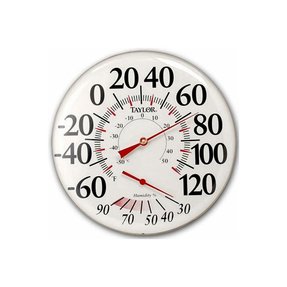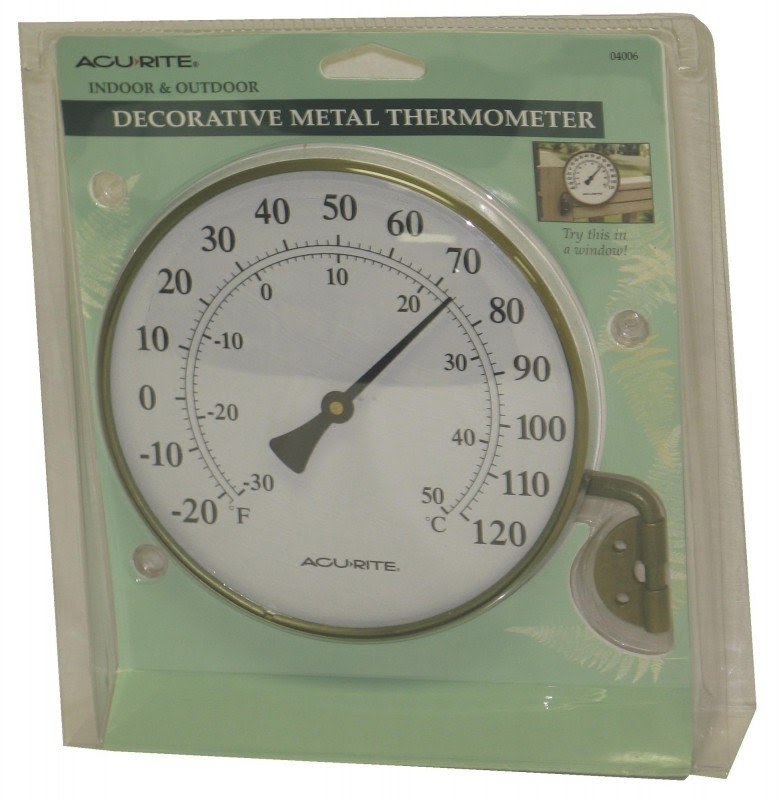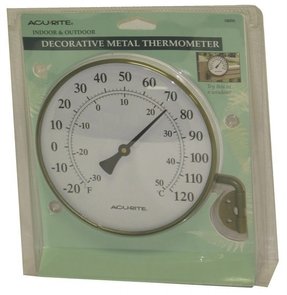 Thermometer Soil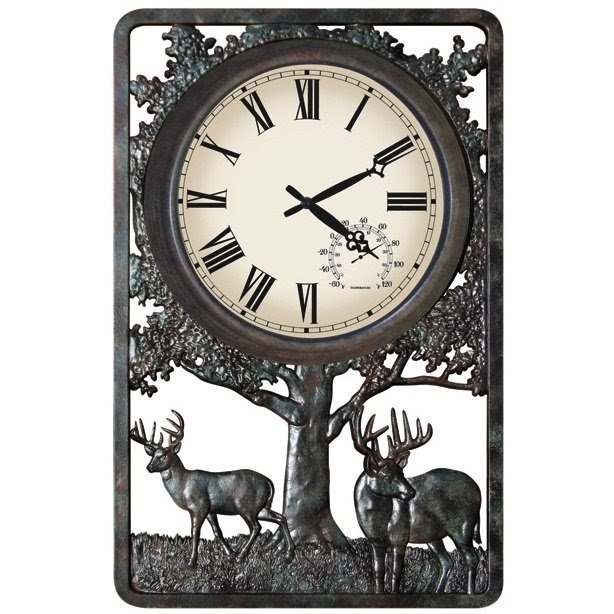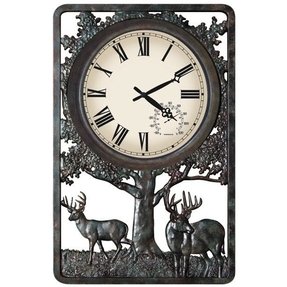 Deer Outdoor Wall Clock Thermometer For dad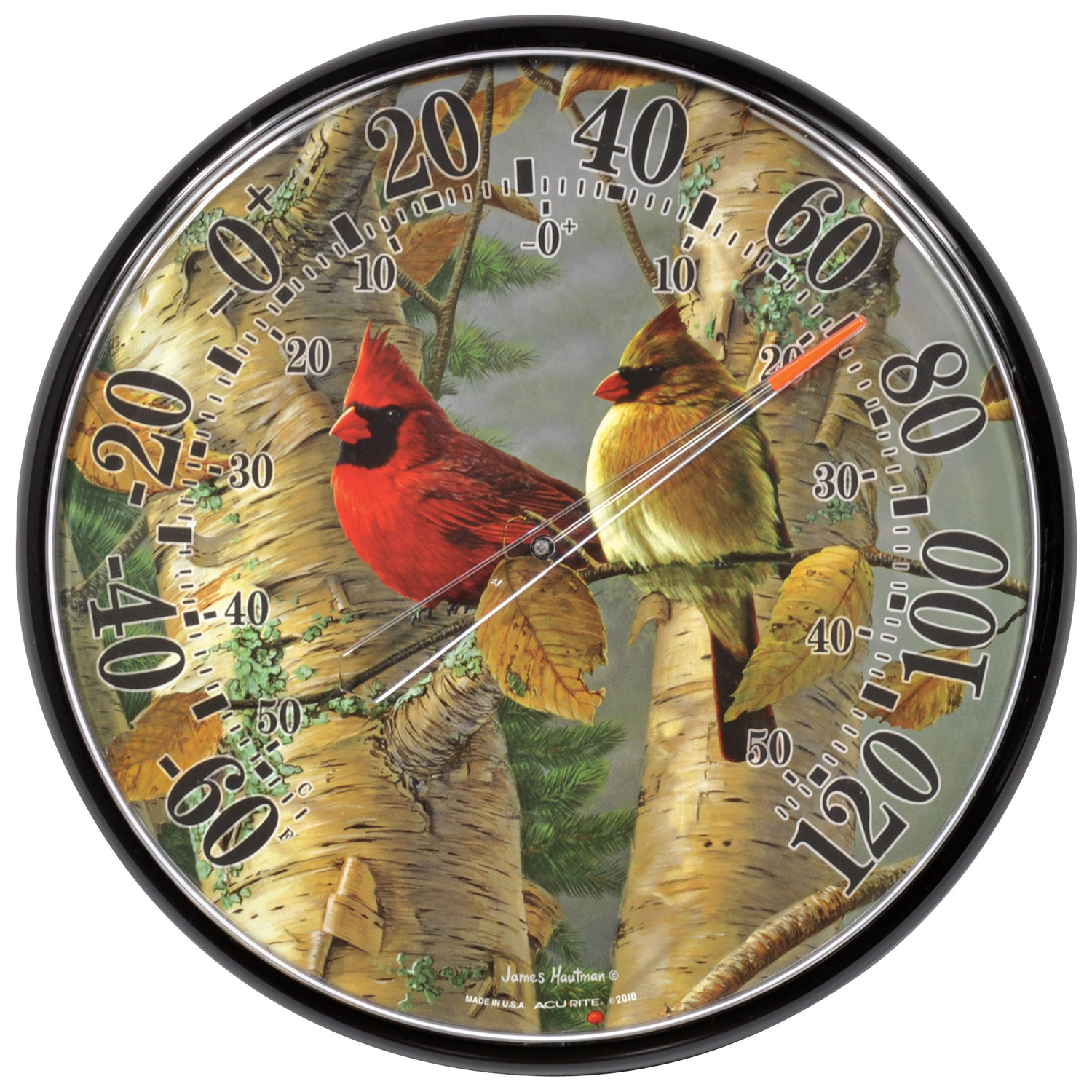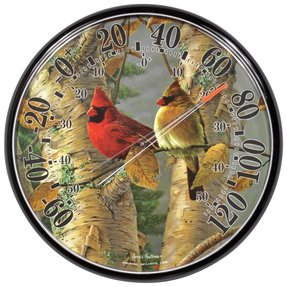 James Hautman Indoor / Outdoor Cardinals Thermometer


Tube Thermometer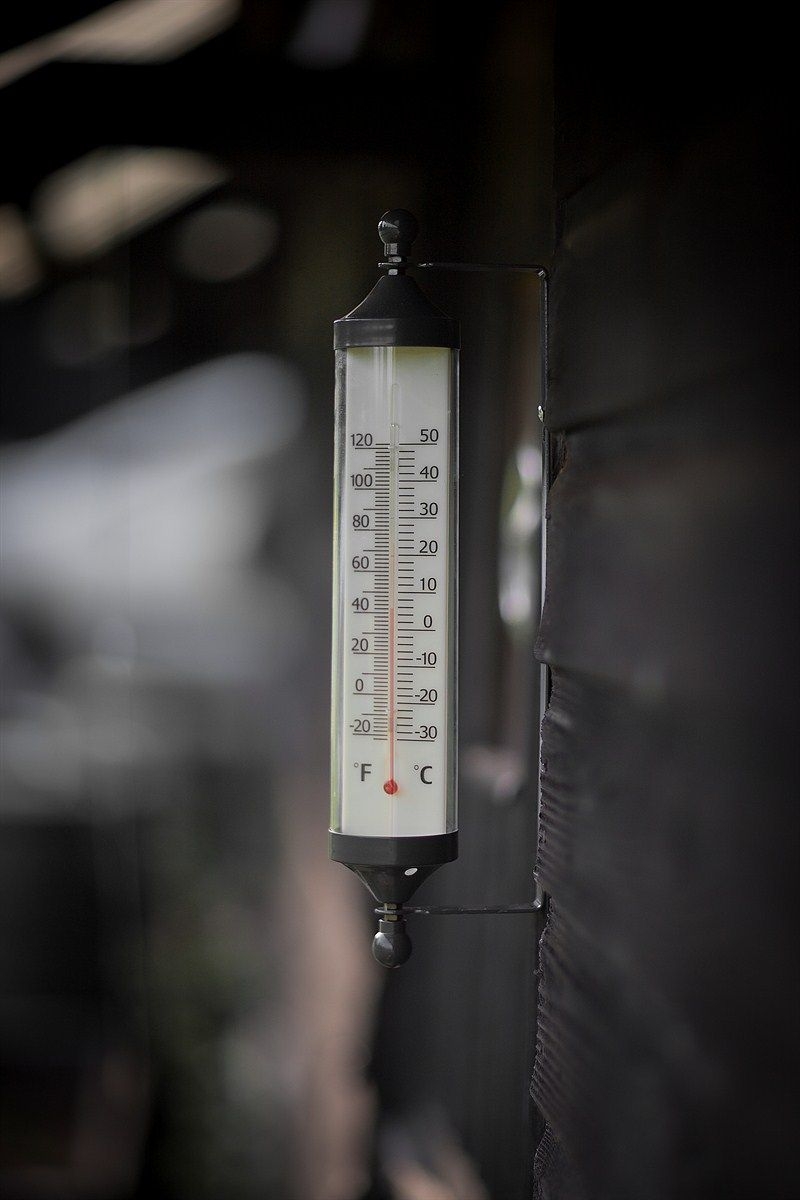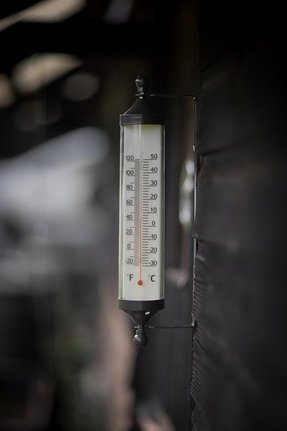 Tube Thermometer- Slate How hot is your day?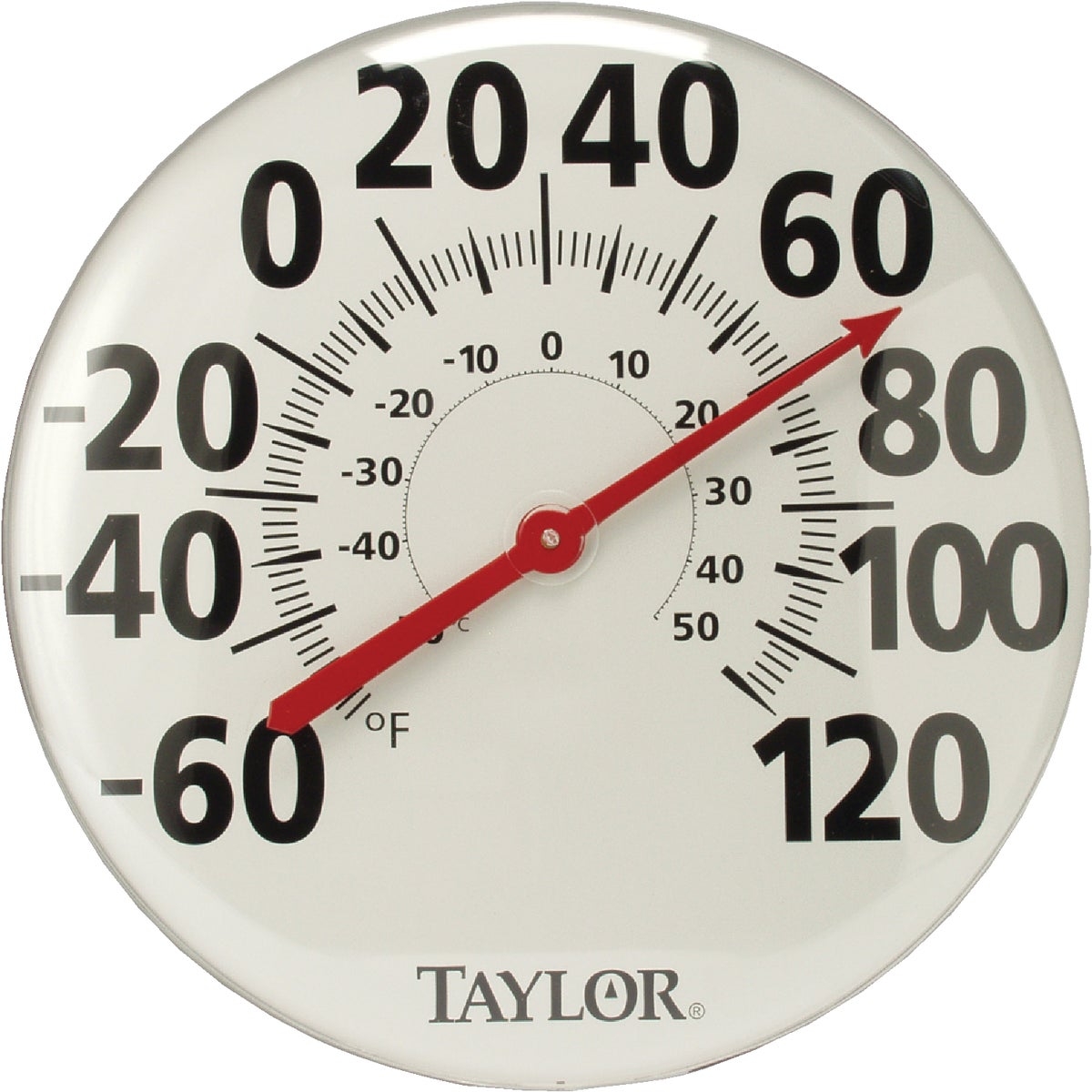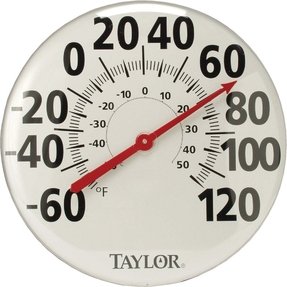 thermometers large tube thermometer http www garden gear co uk outdoor ...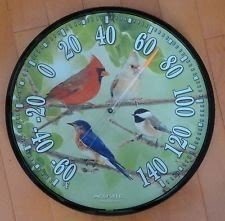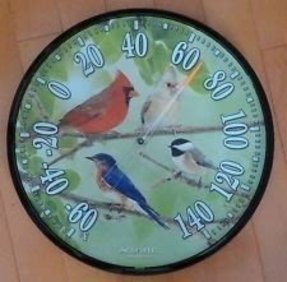 Large Outdoor Dial Thermometer Birds Bluebird Cardinal American Made ...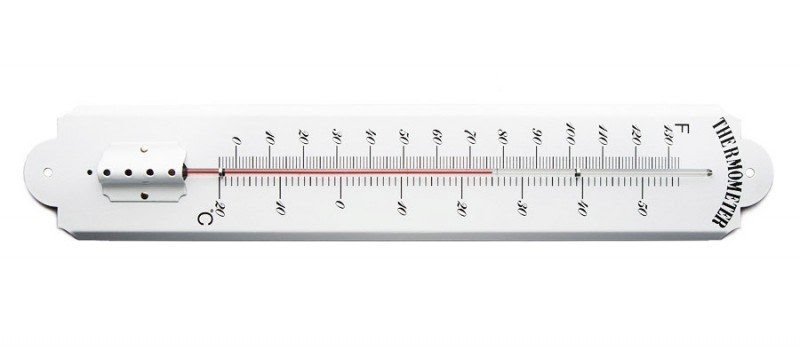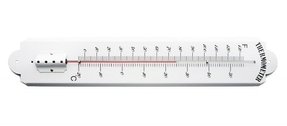 French Enamel Thermometer (Large) - Kaufmann Mercantile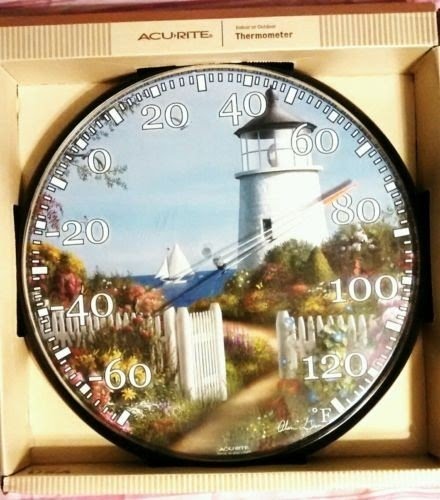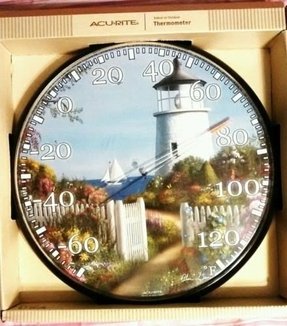 Acurite 12 1 2 in Outdoor Large Dial Round Thermometer Seaside Lighthouse Sail | eBay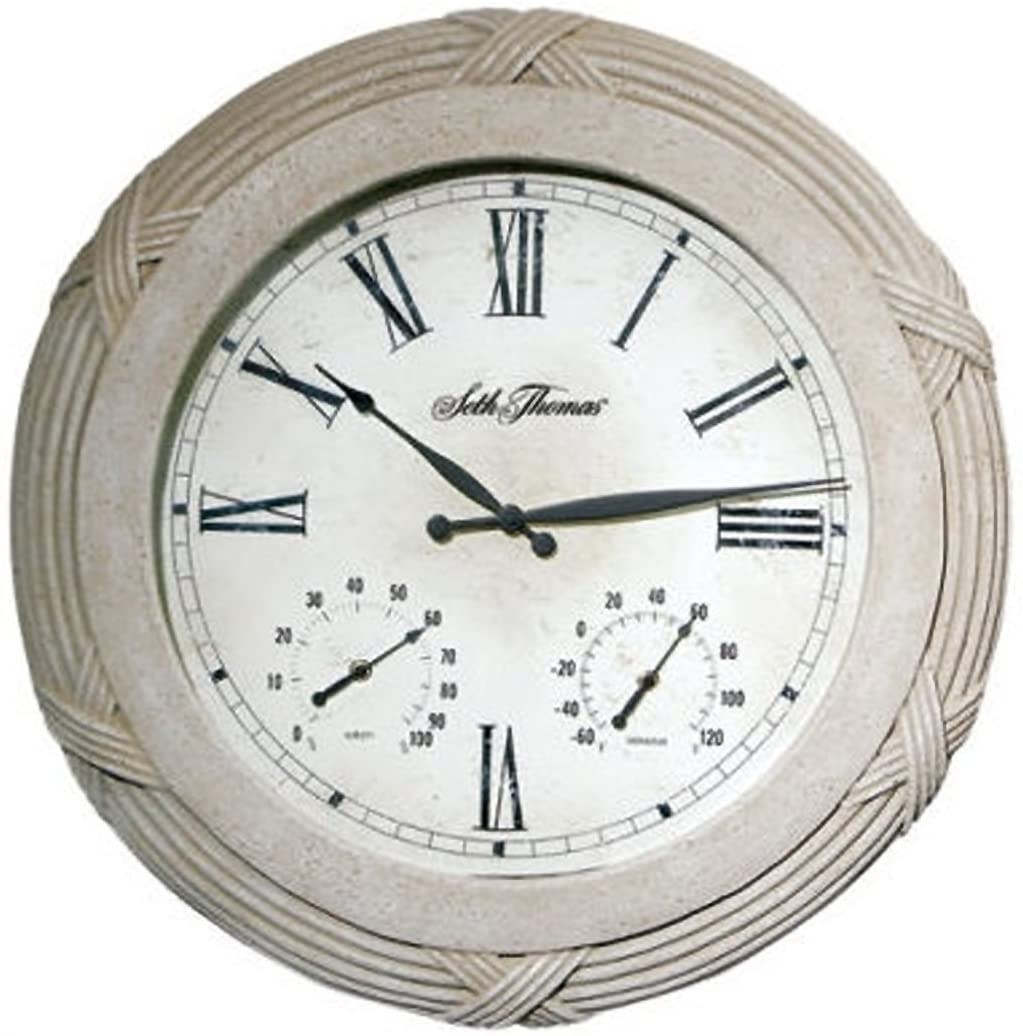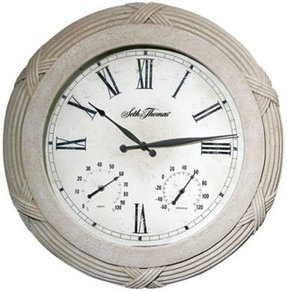 Large 24" Indoor-Outdoor White Wall Clock with Thermometer & Hygrometer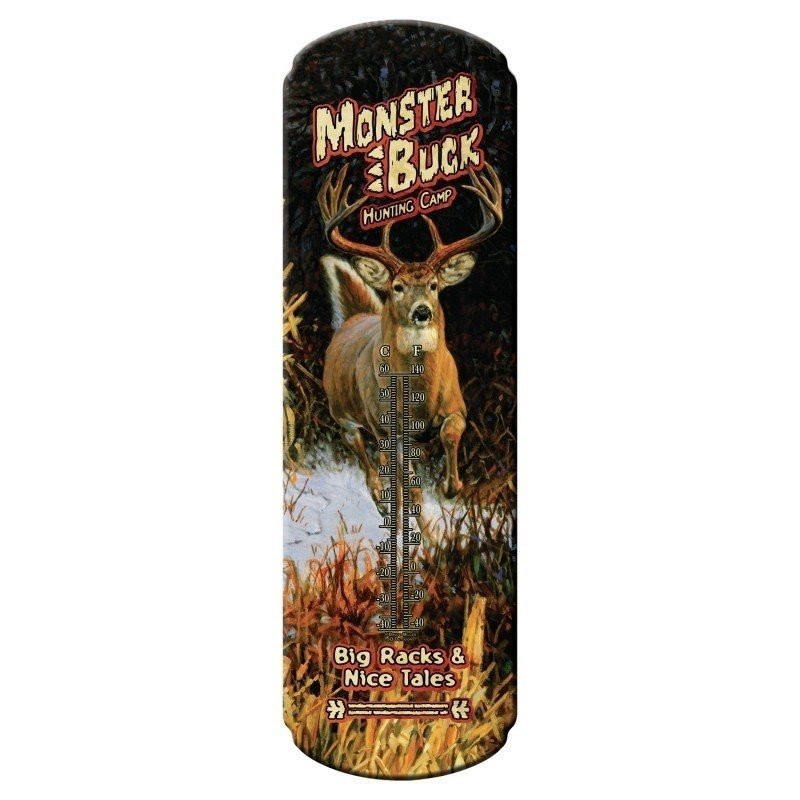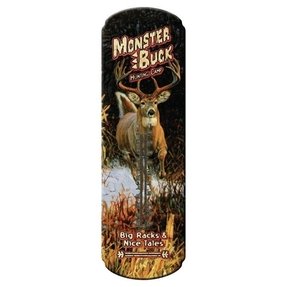 X-Large Tin Thermometer