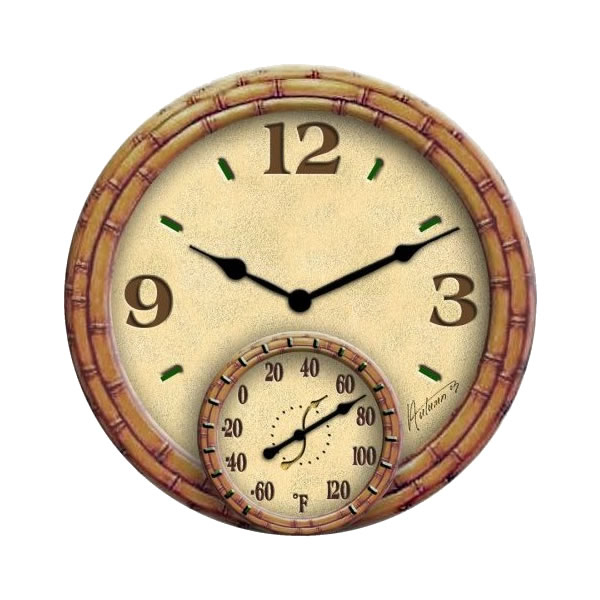 Spa inspirations yangtze indooroutdoor wall clock
A pretty wall clock in a design inspired by a bamboo tree. It is equipped in a small thermometer, which makes it a really functional gadget. You can hang it outdoors too as it features paint that is UV resistant.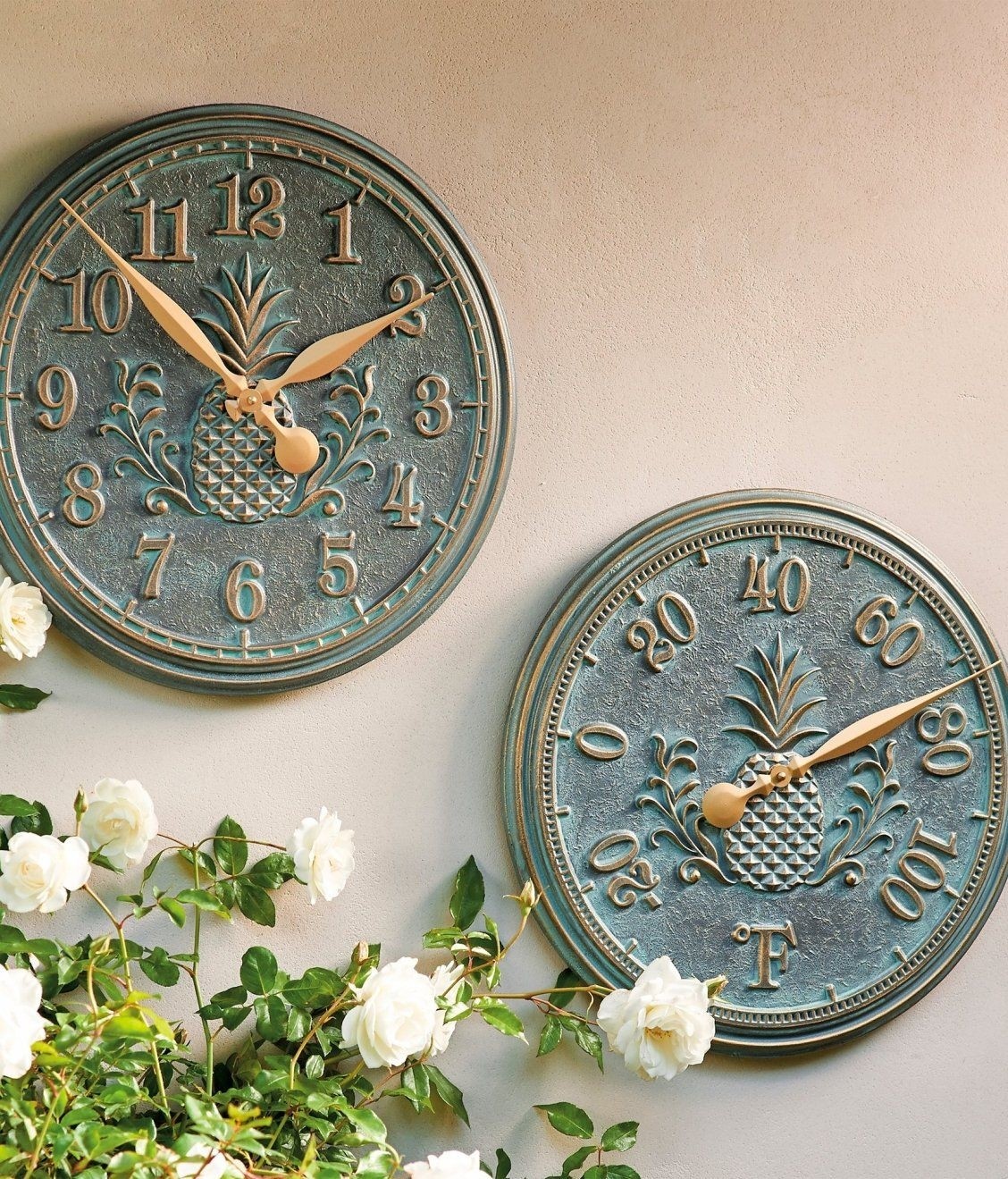 An exquisite pair of a pineapple clock and thermometer designed for outdoor usage. Their appearance is, simply, astonishing, with weather-resistant round dials, gold accented Arabic numerals and matching hands.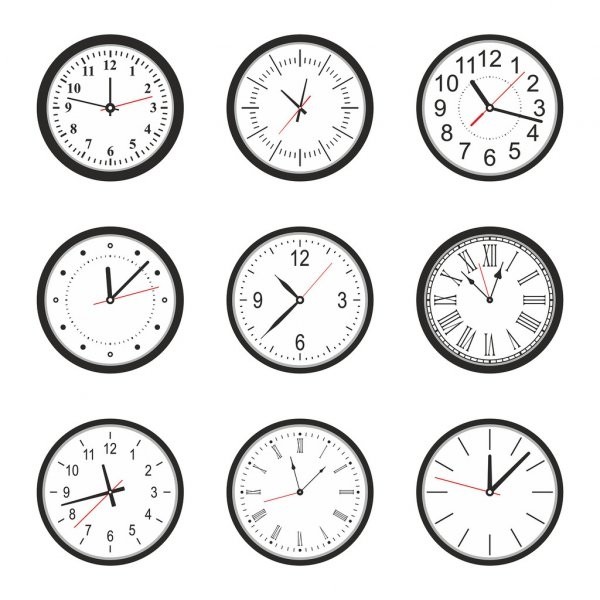 This National Geographic set comprises an outdoor clock and a thermometer showing the temperature in various scales. Its retro appeal shall attract all vintage enthusiasts, creating a charming accent.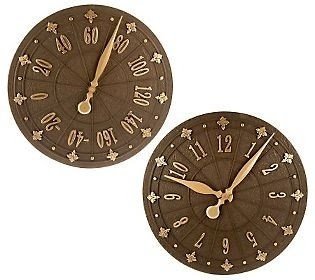 f you are looking for the fancy looking and interesting outdoor decoration for your home you should consider installing clock like this. Deep brown clock face with brighter numbers and hands creates a smooth monochromatic impression.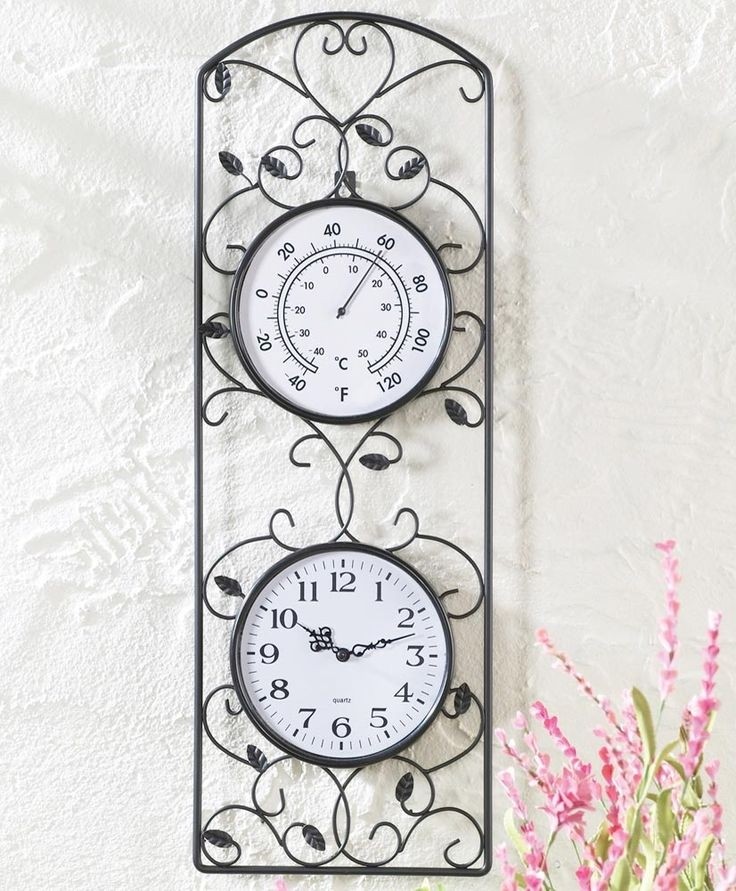 Outdoor Hanging Clock and Thermometer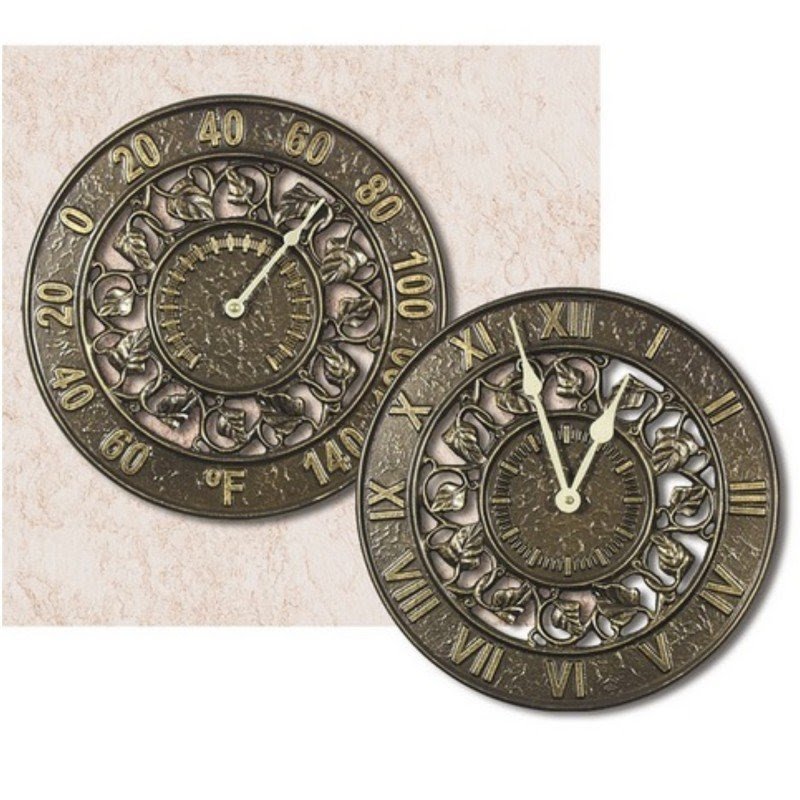 Wall clock and thermometer for indoor and outdoor use. It is made of durable aluminum. Suitable for residential and commercial premises. It is resistant to rust and harmful weather conditions.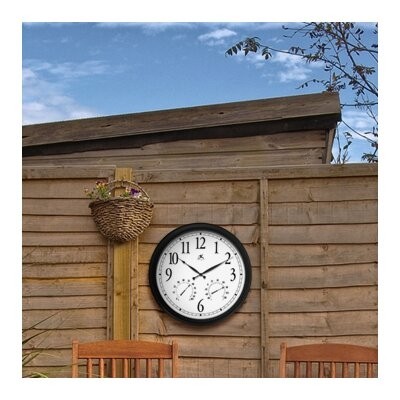 Outdoor clock and thermometer. Black and white design make it both elegant and stylish at the same time. It's entirely water-proof, so you don't have to be afraid of rain or anything else. The traditional design of letters is really nice.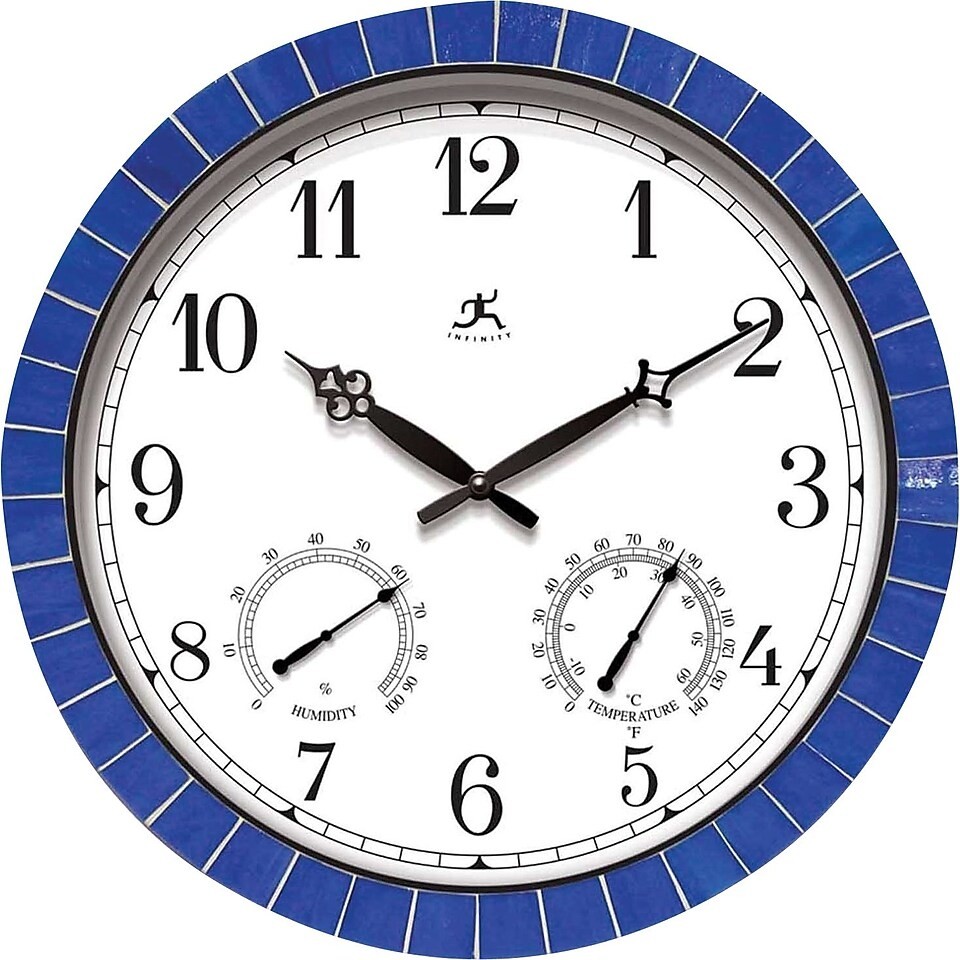 A simple and practical wall clock created for indoor and outdoor use. It features a nice, blue frame and a white dial with black Arabic numerals and hands. The clock is also equipped in a thermometer and hygrometer.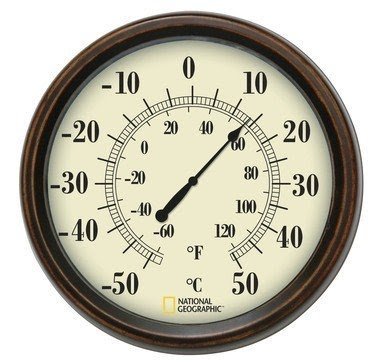 National Geographic Decorative Thermometer and Clock Set
The amazing terra-cotta clock with thermometer has the antique gold finish, sun and flowers details and the round shape. If you looking for an unique piece for the outdoor, choose this one.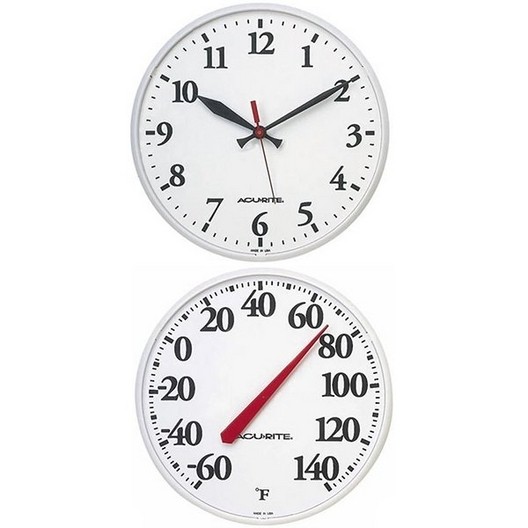 ... Home → Outdoor Clocks & Thermometers → White Clock and Thermometer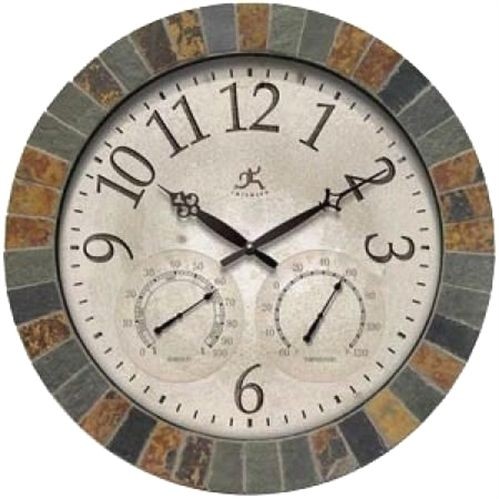 A stunning, antique wall clock created for the outdoor use. The dial, surrounded with a beautiful frame in the colors of the earth, has old-fashioned numerals and hands. Apart from the clock there is also a thermometer and hygrometer.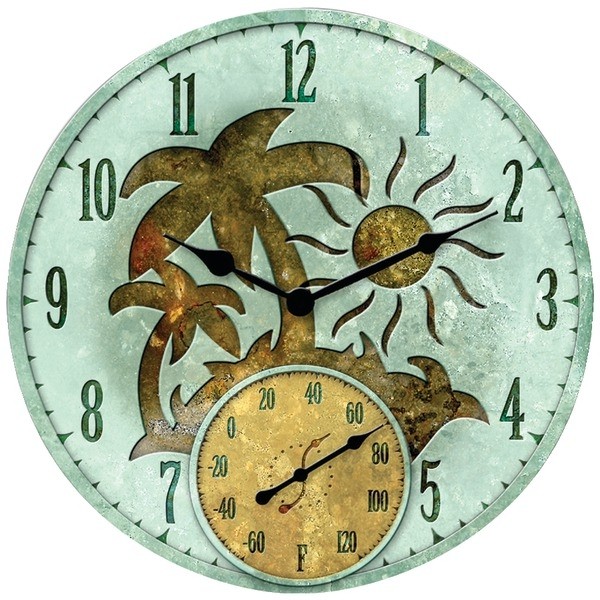 This 14 inches palm trees wall clock evokes memories of tropical summer sunshine. It is hand sculptured from durable, weather proof poly resin, hand painted with natural, fade resistant colors and features a precise quartz mechanism.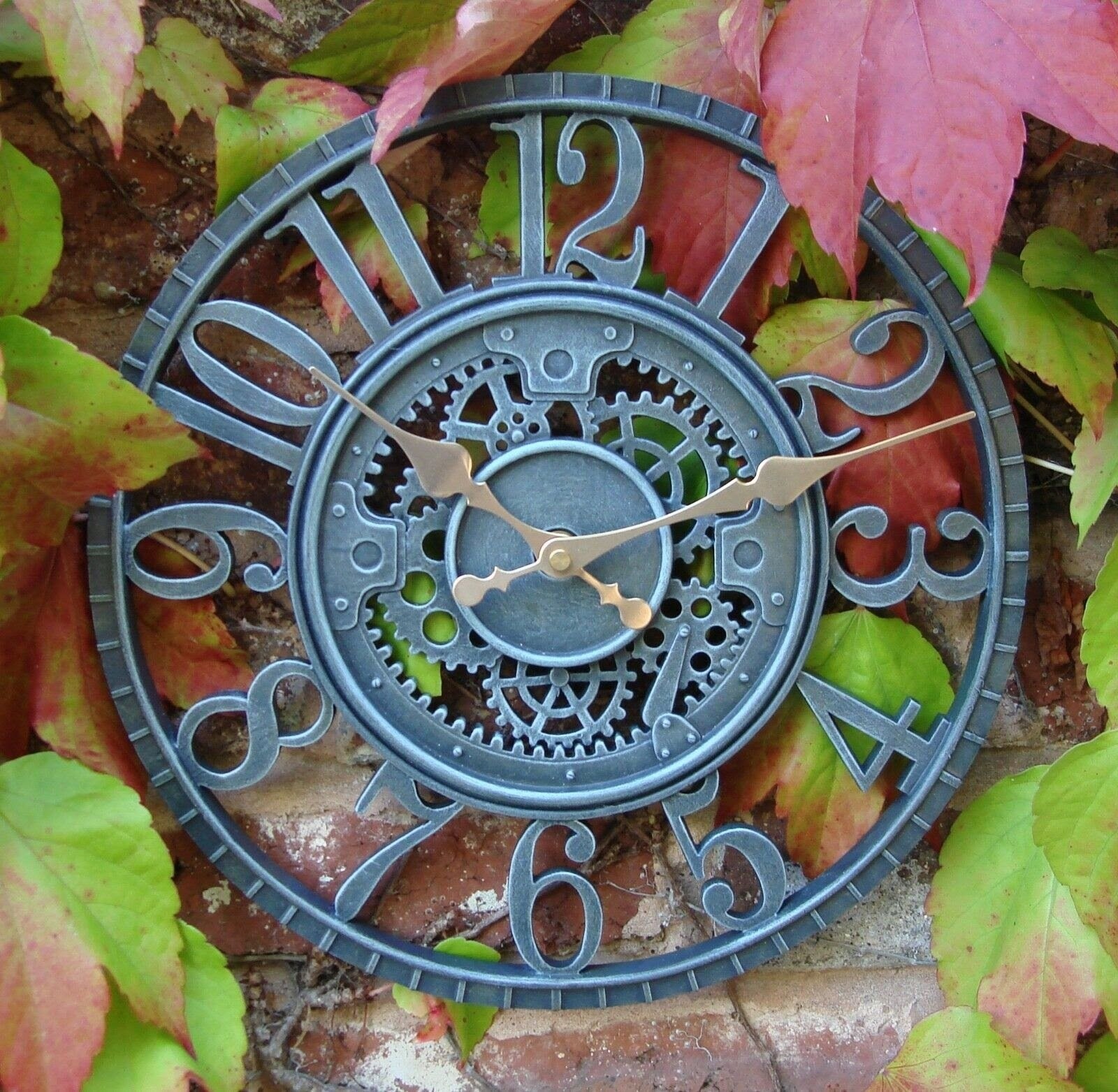 Outdoor Clock And Thermometer - Wrought Iron Images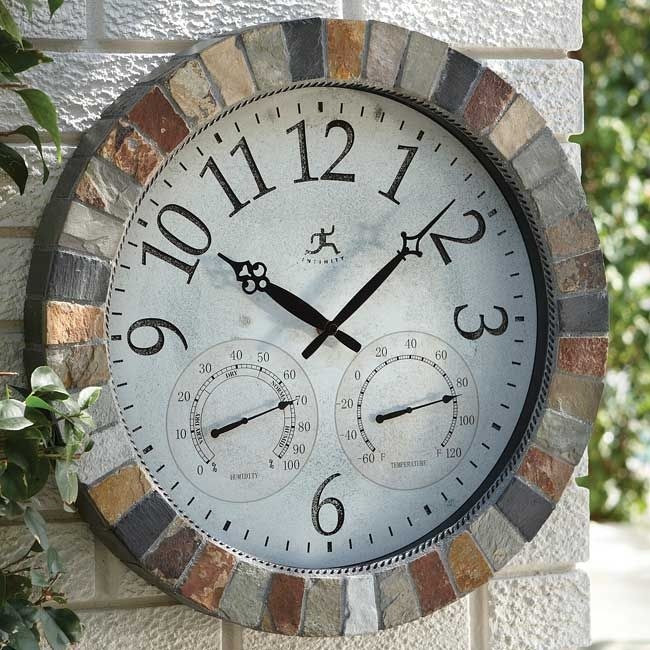 slate mosaic indoor outdoor clock this slate mosaic clock looks great ...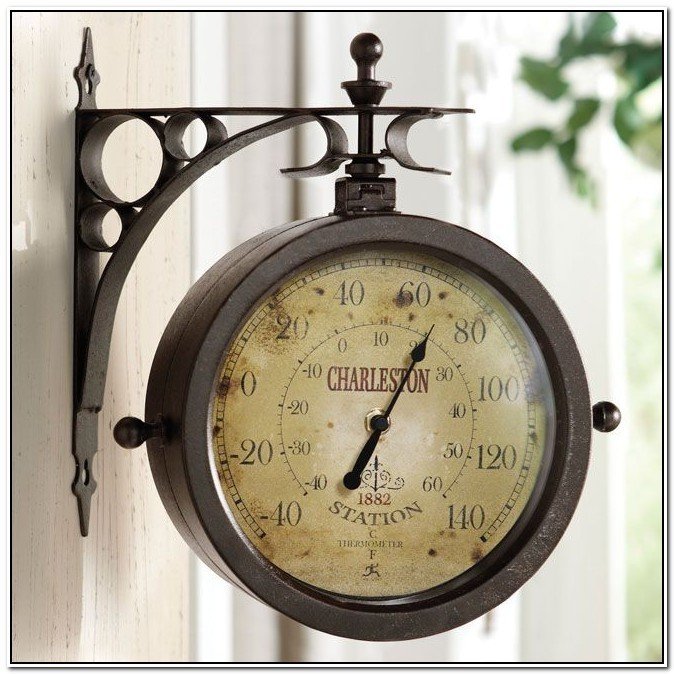 Two sided outdoor clock. First side is clock and on the other side - thermometer. Metal decorative bracket makes clock more elegant and antiquated clock face makes this item more vintage. This element diversify your garden.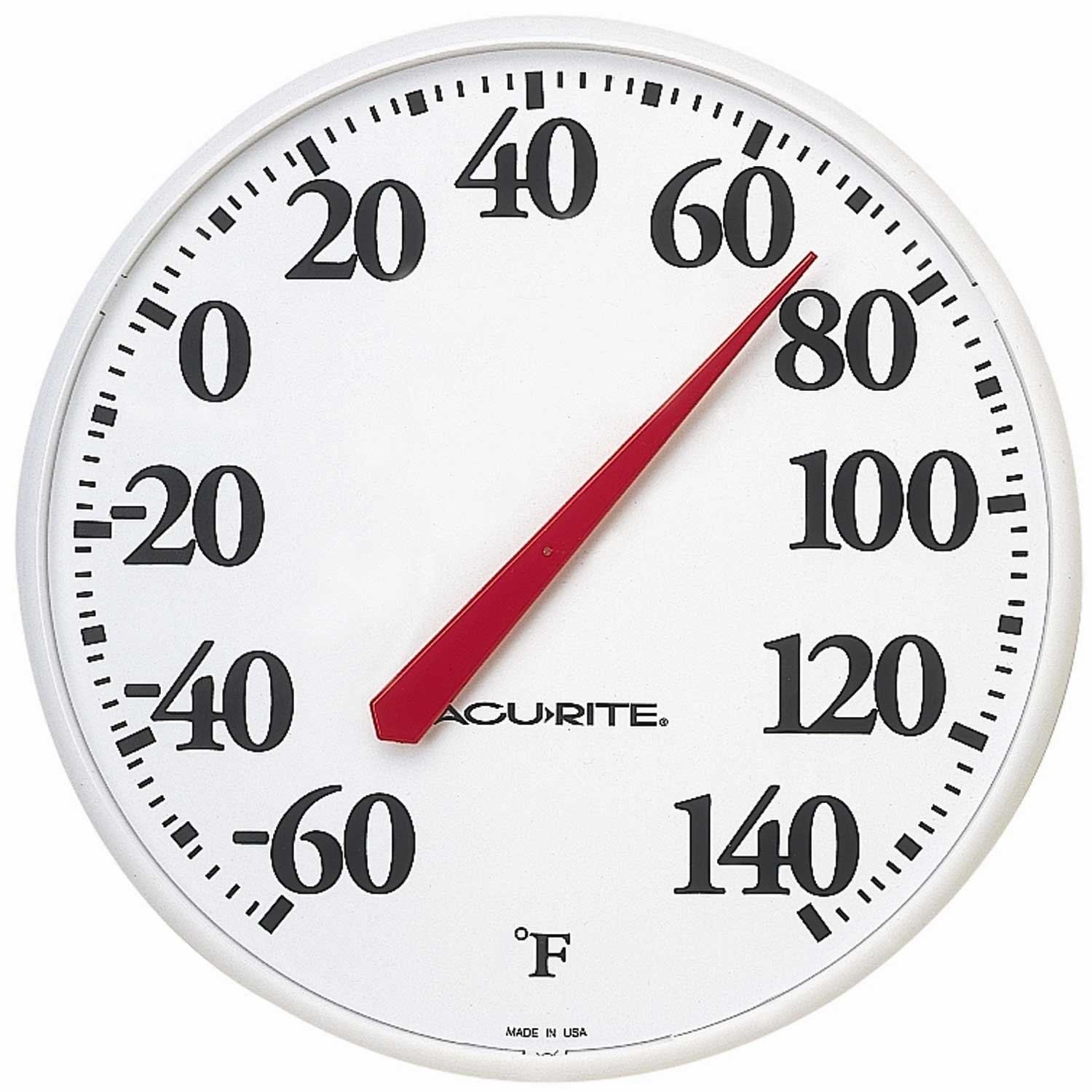 Outdoor Clock & Thermometer Set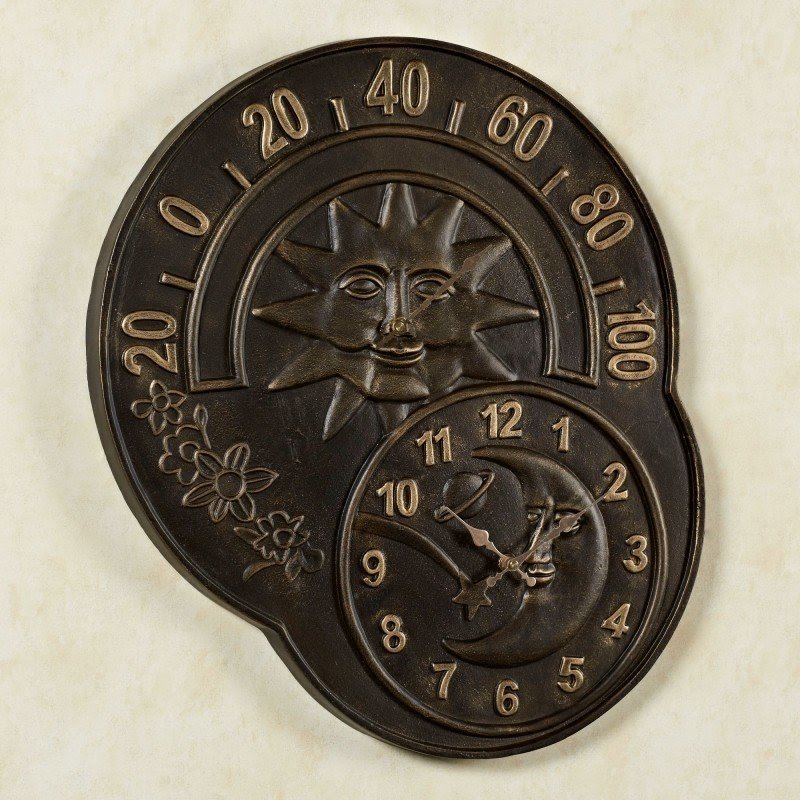 The sun and the moon live in symbiosis and give way to each other every day. In this case - in the wrought iron outdoor clock with thermometer set, there was room for both of them. The sun is carved on the larger clock dial and the moon on the thermometer.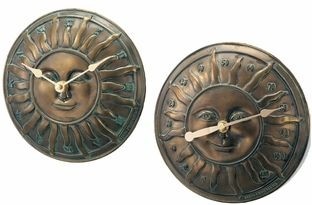 A pair of impressive accessories for outdoors, consisted of 1 thermometer and 1 wall clock. Those solstice masterpieces feature a quality metal dial that's shaped like an old-warrior's shield, with decorative hands and Arabic numerals.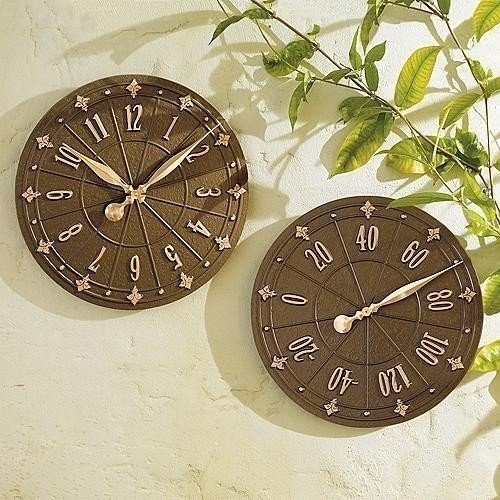 Fleur-de-Lis Outdoor Clock & Thermometer Set traditional-outdoor-decor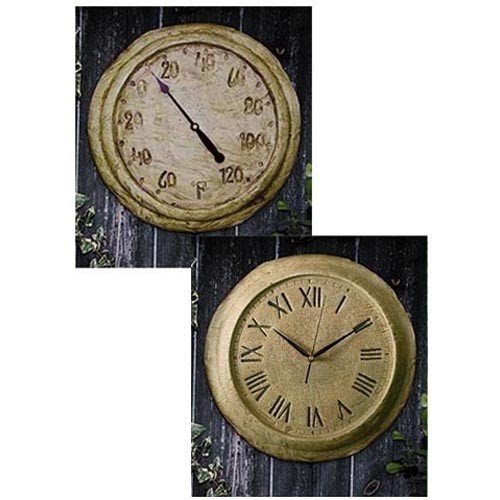 ... clock thermometer stone effect £ 14 99 thermometer and clock set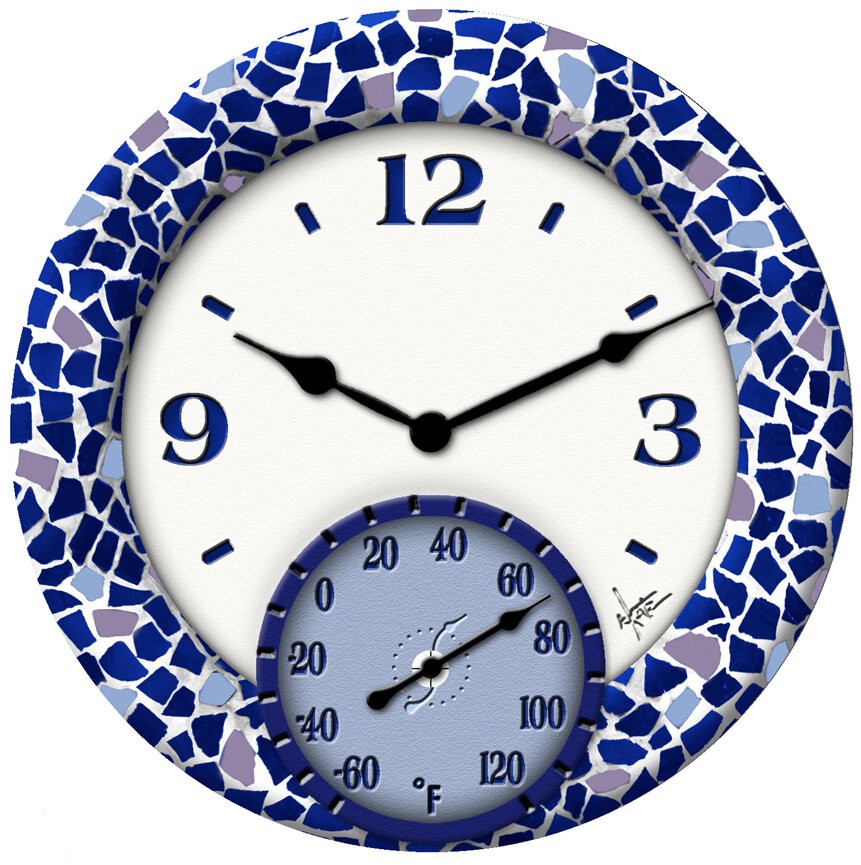 Totally awesome outdoor mosaic sea clock with 14'' thermometer. White and blue shades o mosaic elements look really fantastic. Instead of 6 at the bottom it has build-in thermometer, the hands of the clock are darker which is a really cool accent.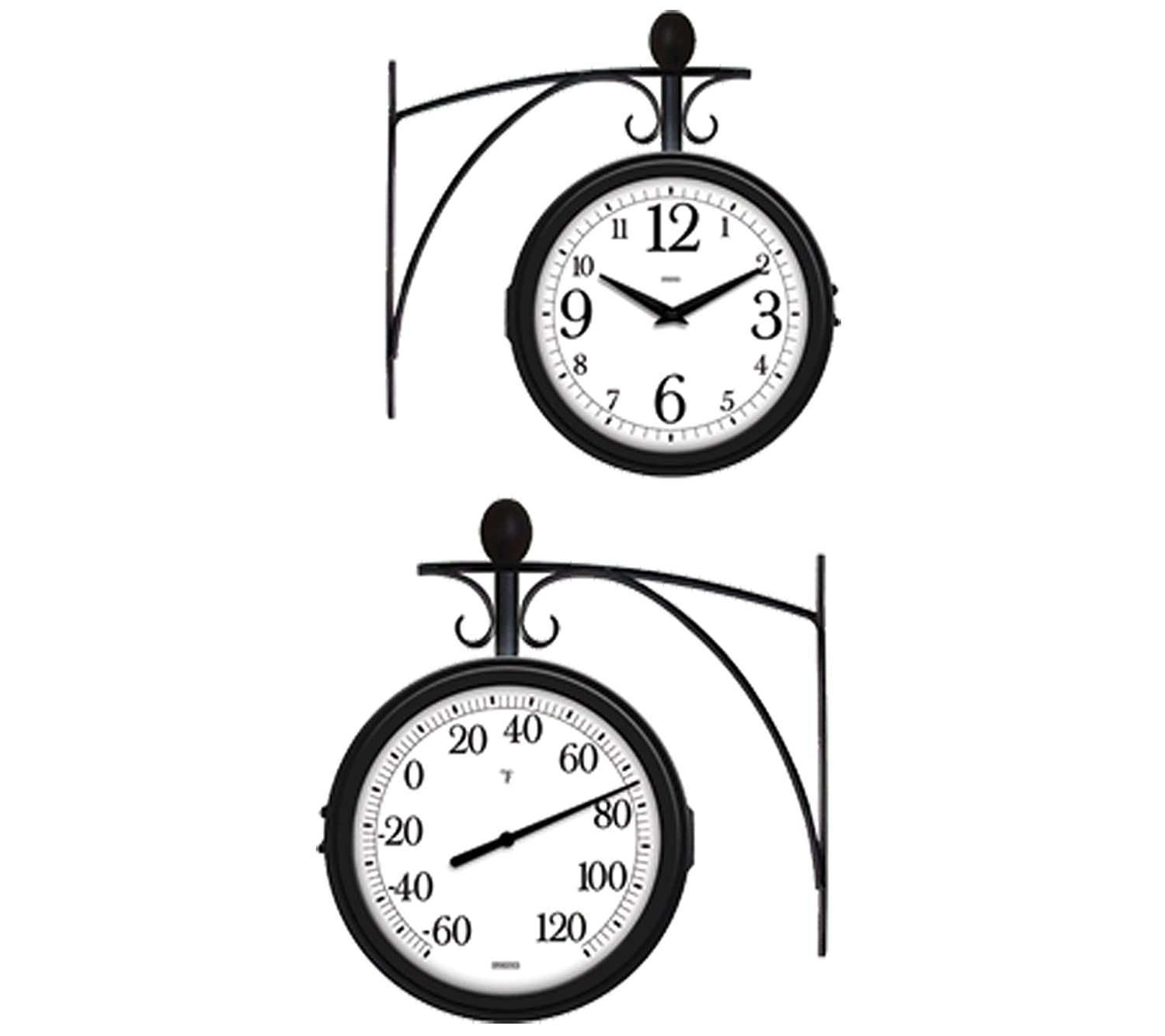 With these amazing outdoor clock and thermometer set your outdoor setting will surely gain ample visual appeal thanks to the traditional design of the construction, while boosting the practical side as well.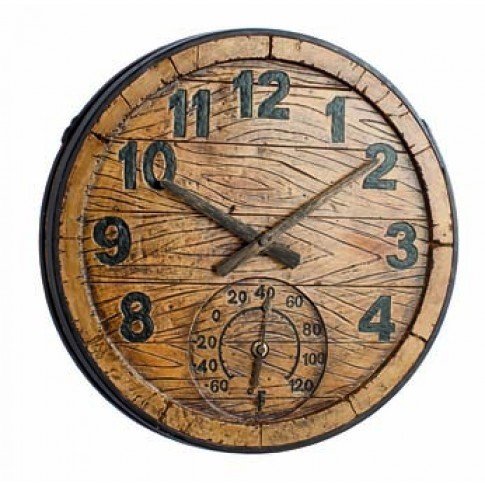 ... , Clocks & Wall Art > Gardman Gloucester Wall Clock & Thermometer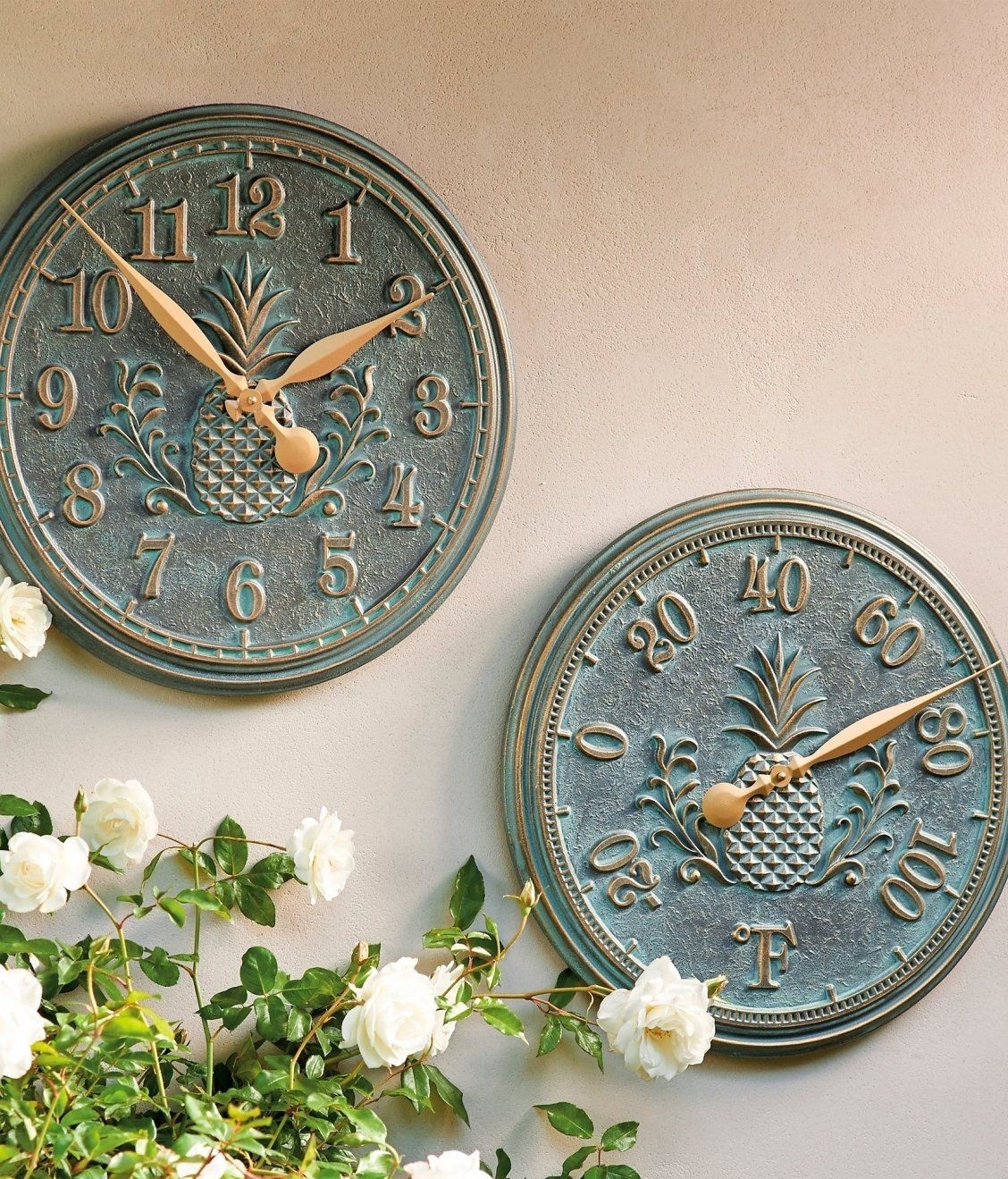 Frontgate - Classic Pineapple Outdoor Clock and Thermometer ...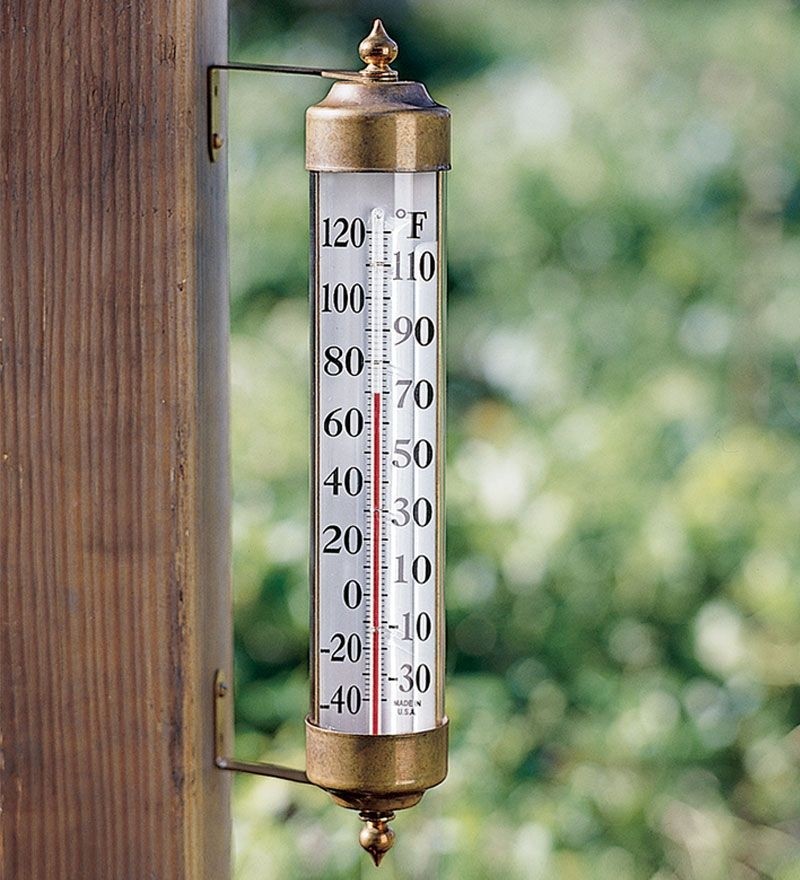 A functional and decorative accessory for outdoors, that will be a nice improvement for your kitchen window. The thermometer is placed in a brass frame with clear glass front, and it uses the Fahrenheit Scale.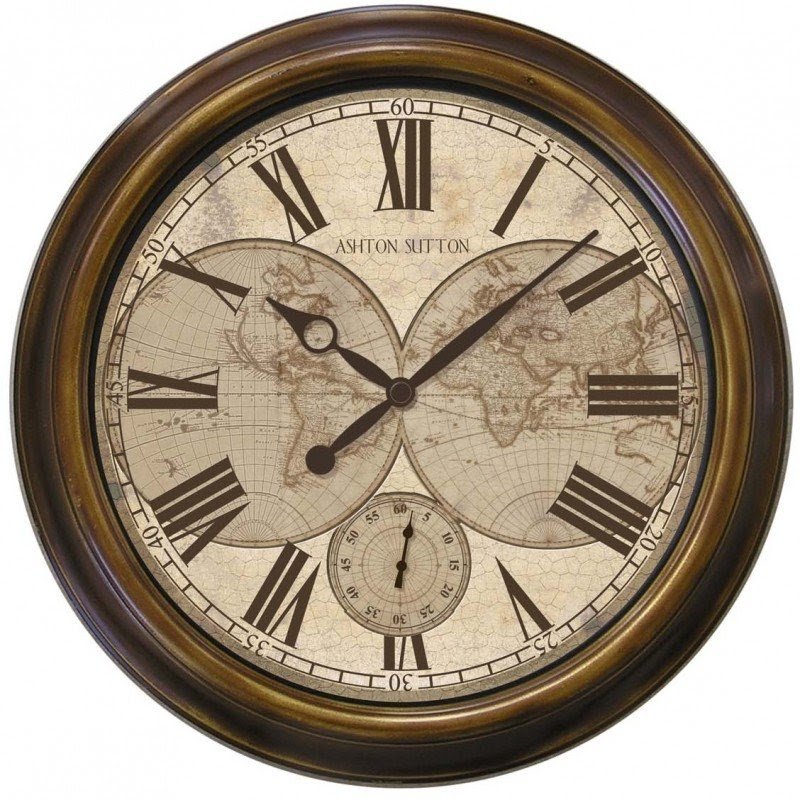 Classic 18" Wall Clock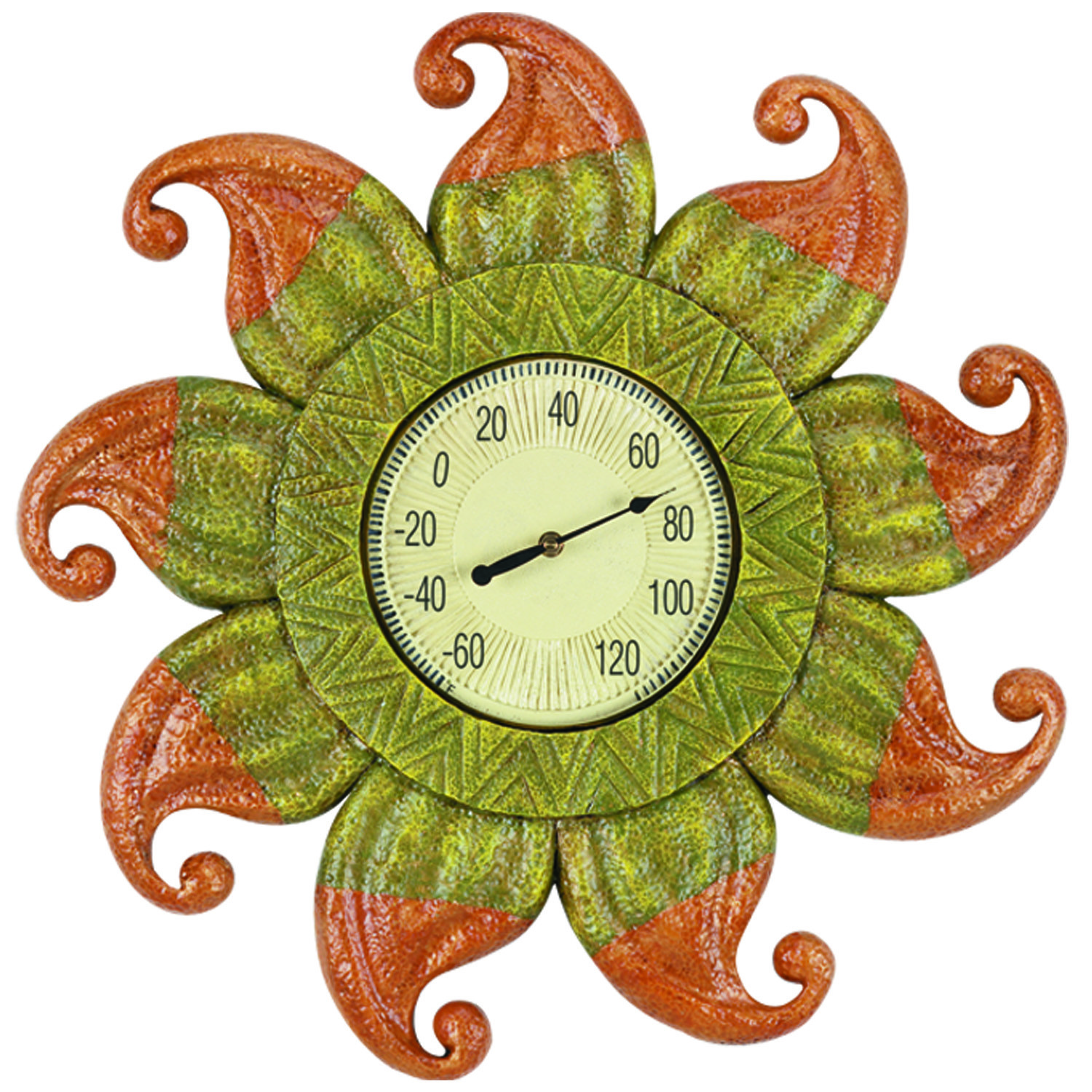 This colorful and super positive clock / thermometer was hand-painted by what ideally suited to the colorful decor and artistic character. Cute details and shape resembling a flower lubsłońce will add charm to any interior.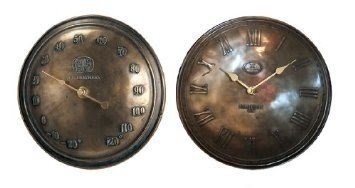 The beautiful combination of metal base in cooper and functionality makes this set of stylish circular shields with a clock and thermometer out to delight. Perfectly executed and beautifully captivating styling.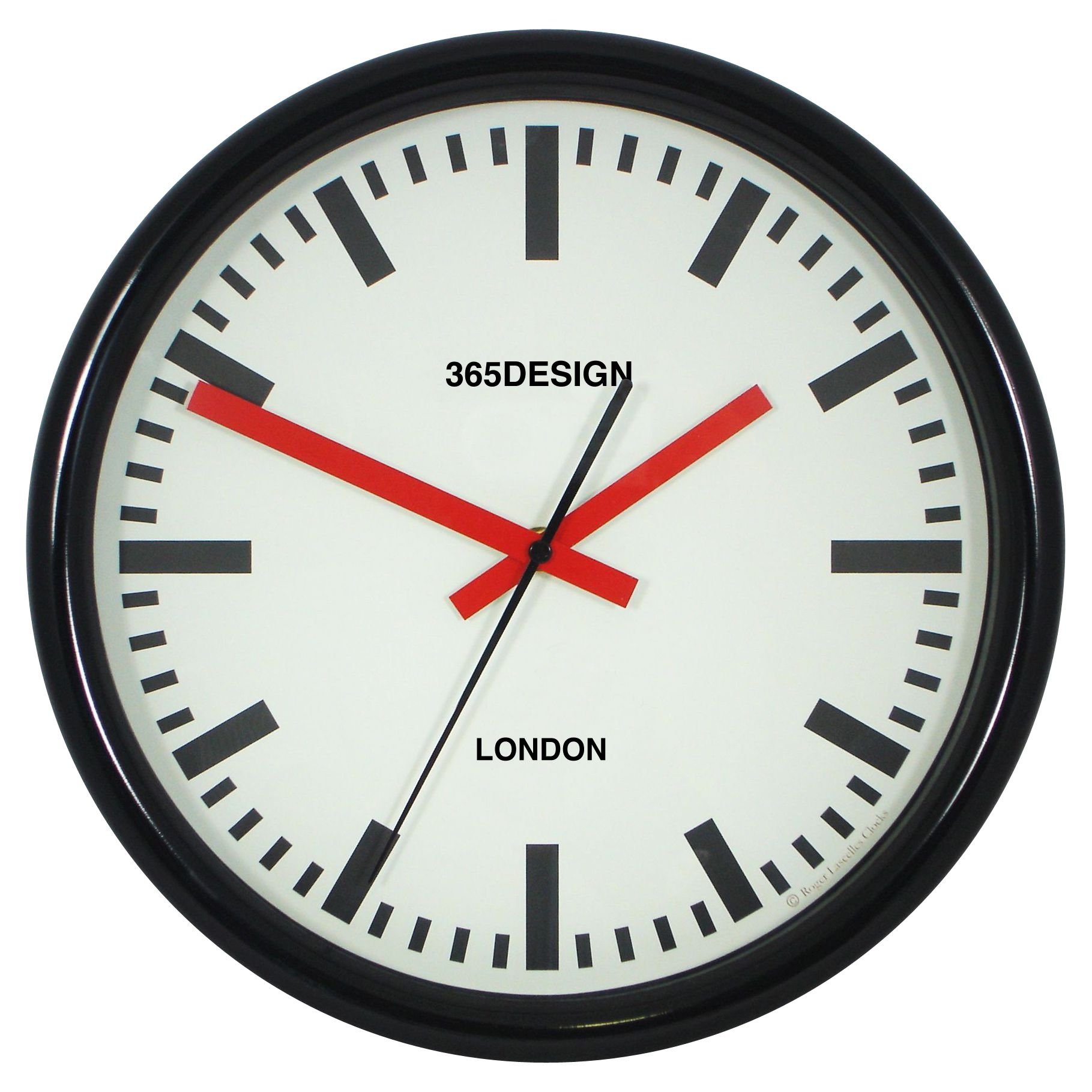 The pewter-finish 18-inch Metal Analog is radio-controlled and automatically sets the clock to the accurate time. With an analog thermometer and hygrometer, this versatile piece can be used indoors, or as part of your outdoor décor. quality atomic outdo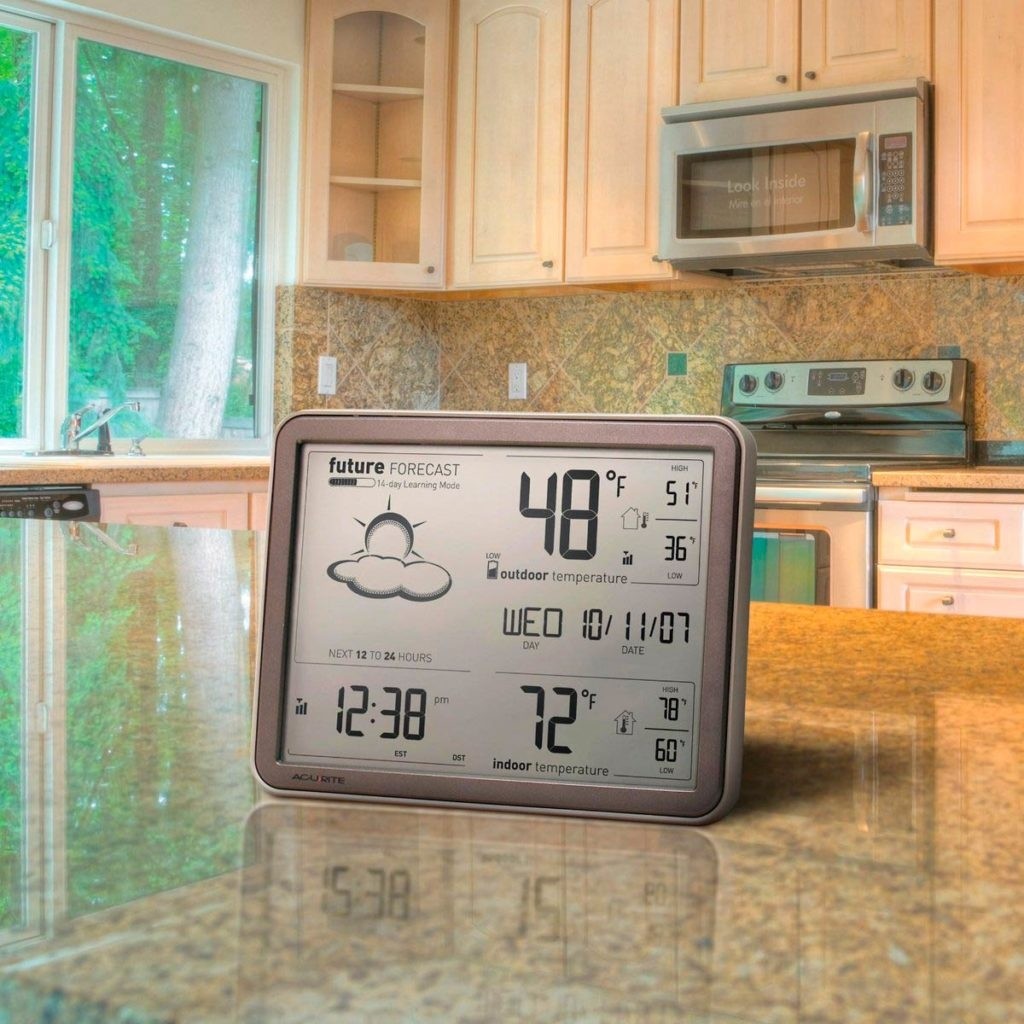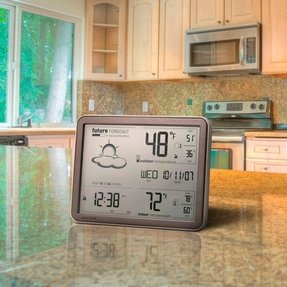 Big wireless weather forecaster combined with an atomic clock. It lets you know immediately what the weather is. It monitors temperature and other weather details. It has ultra large display with well-spaced data.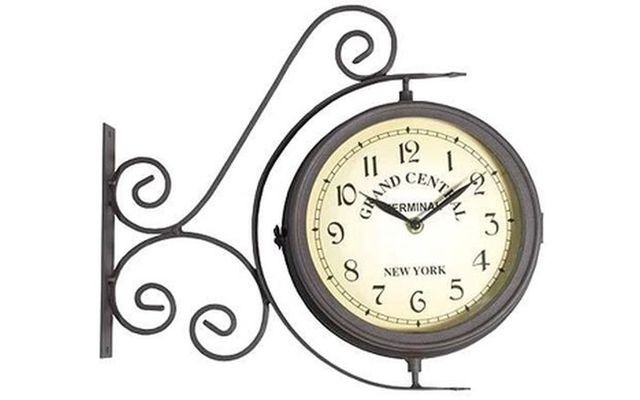 01 BEST FOR DRAMA DUAL-FACED OUTDOOR CLOCK AND THERMOMETER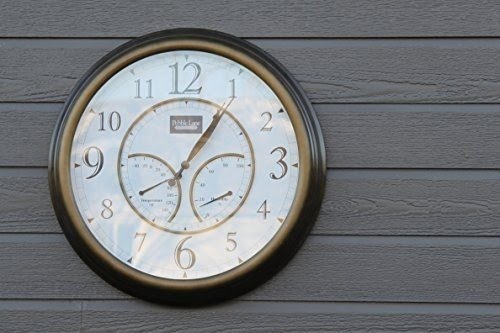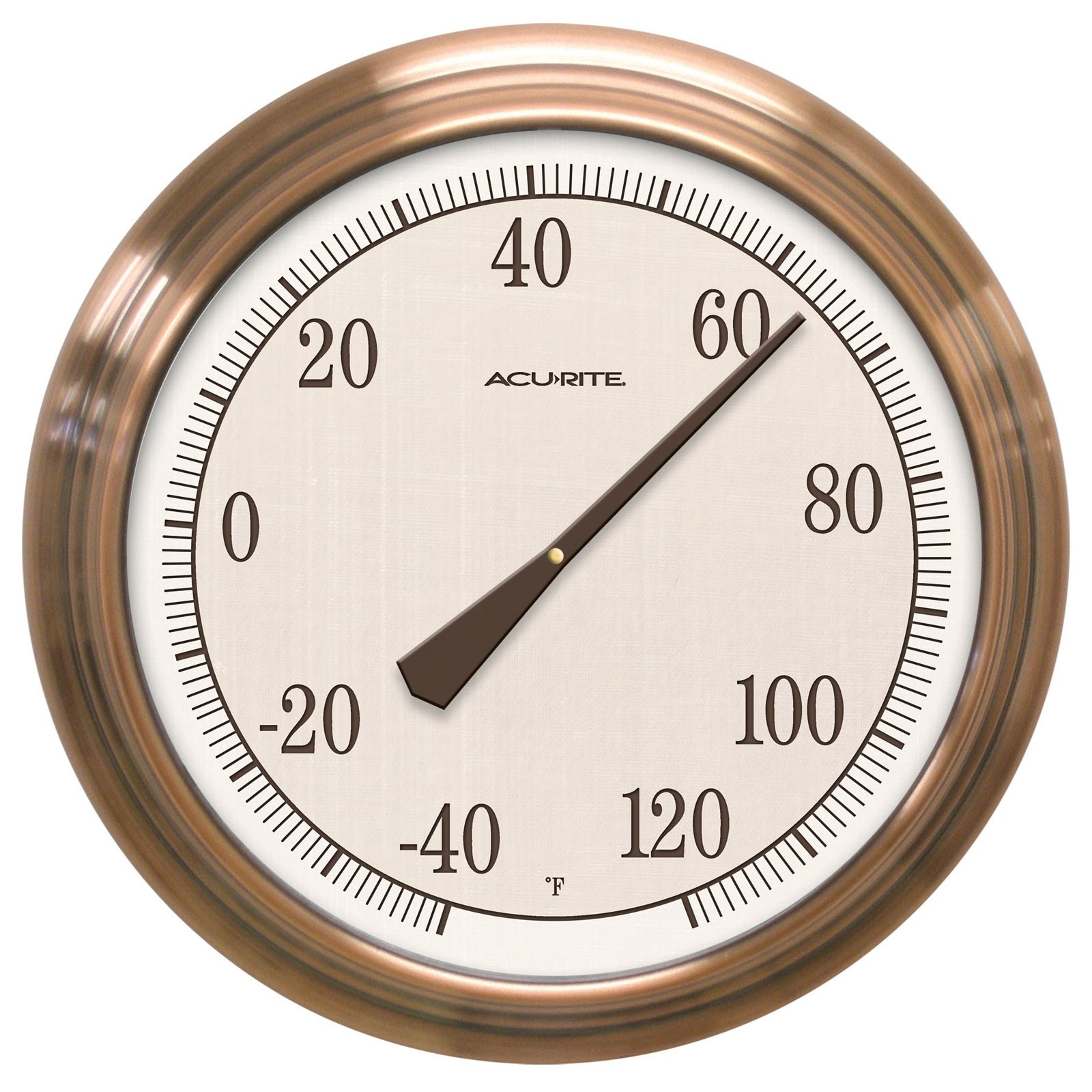 Buy Chaney 14 Inch Copper Thermometer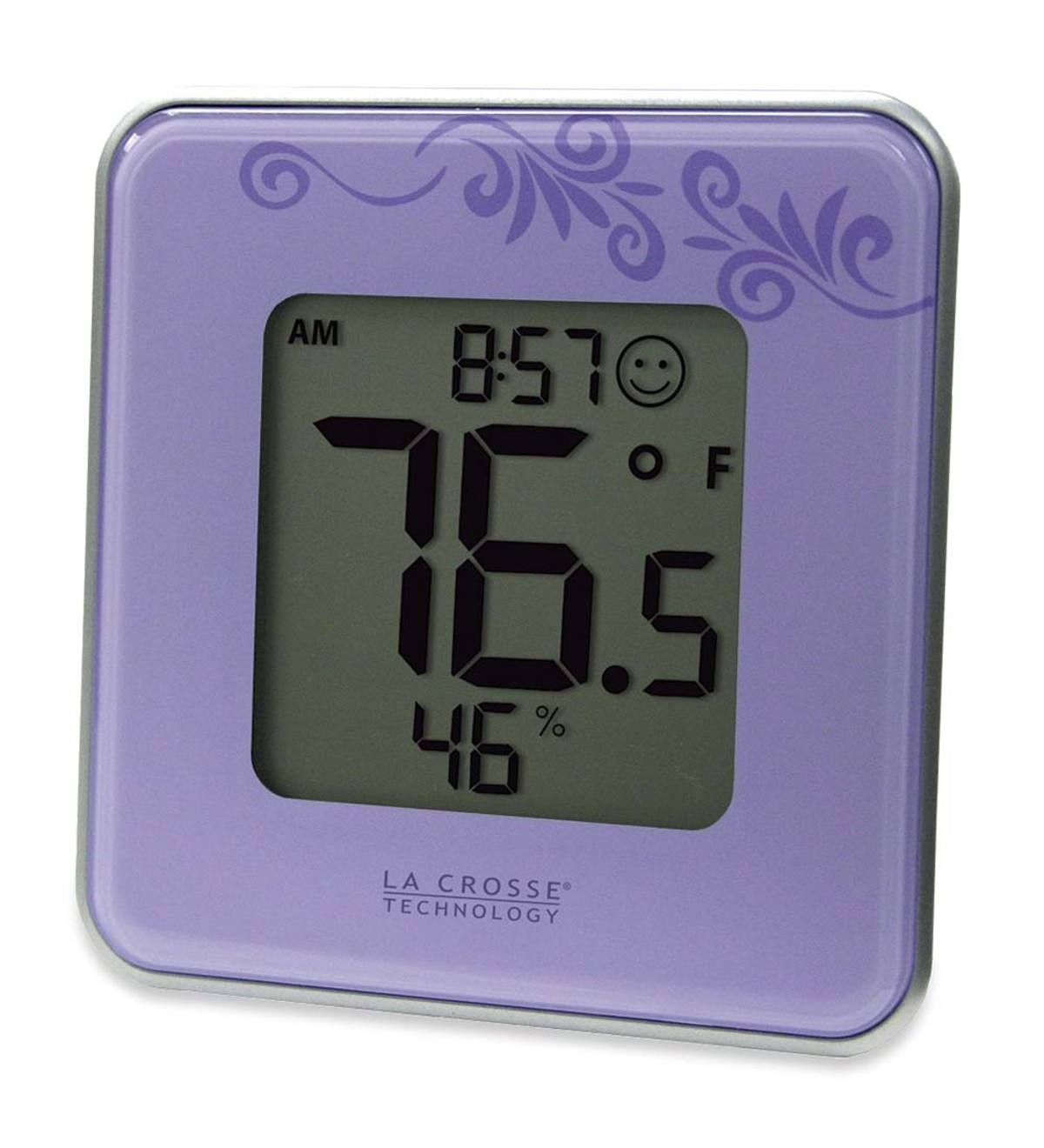 Indoor digital thermometer with subtle ornaments on beige plastic frame. It displays time, humidity and temperature in Fahrenheit's scale, it also has a practical comfort icon that lets you immediately know if you should change the parameters of yoour air conditioning.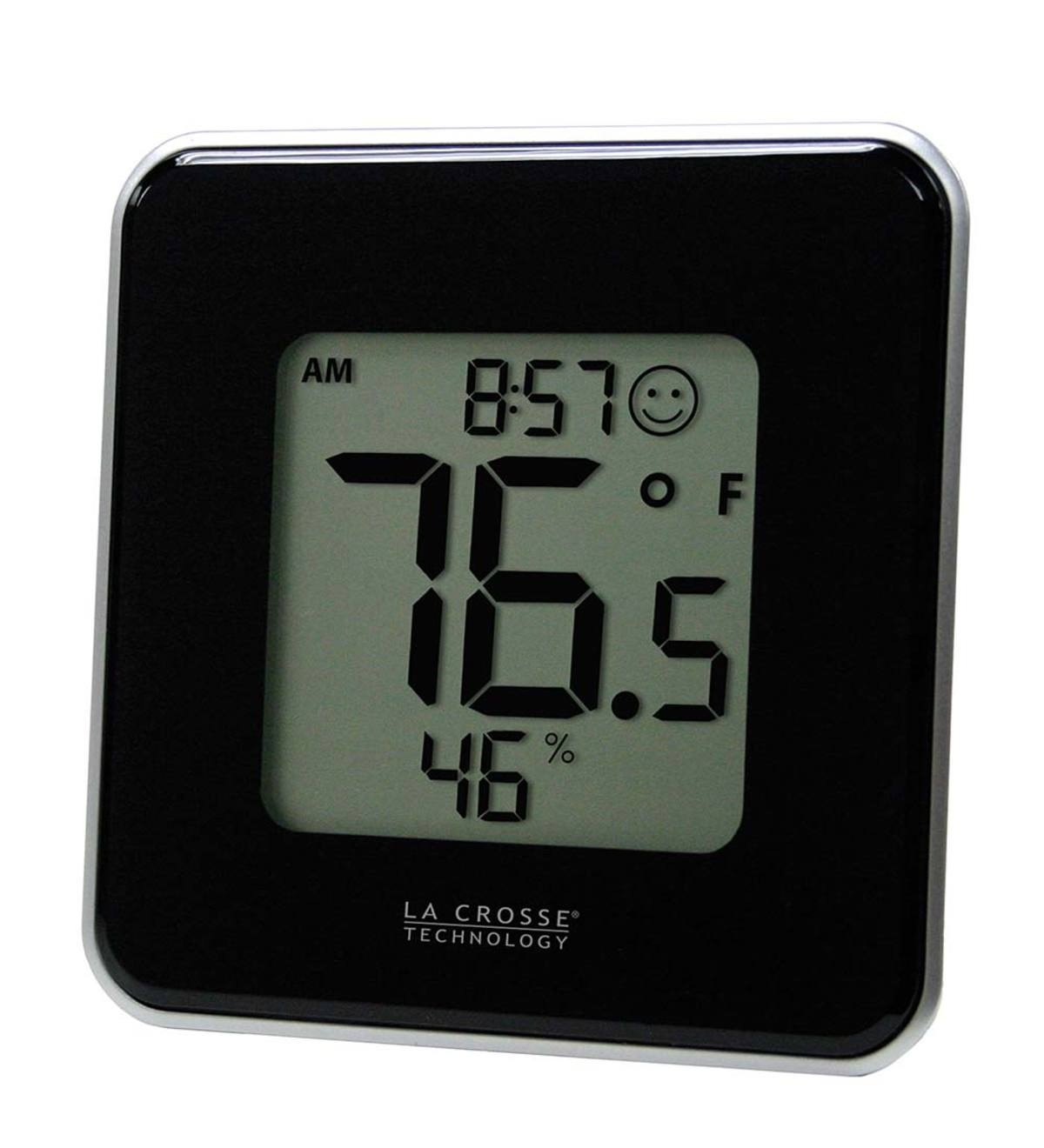 Indoor thermometer with humudity display, time and comfort icon. It's made of plastic and closed in thick black case. It is simple but pretty functional, it lets you know whether the temperature is OK.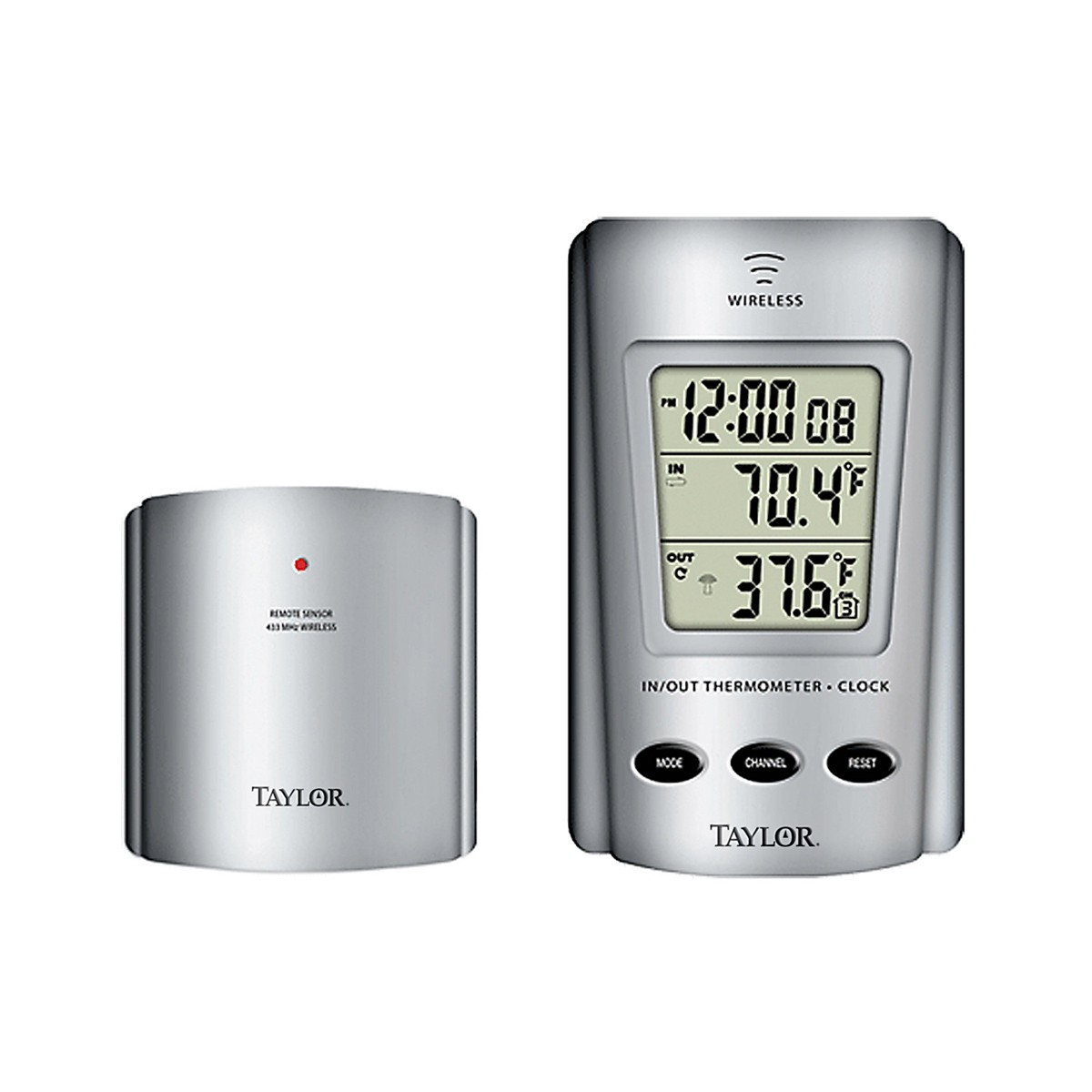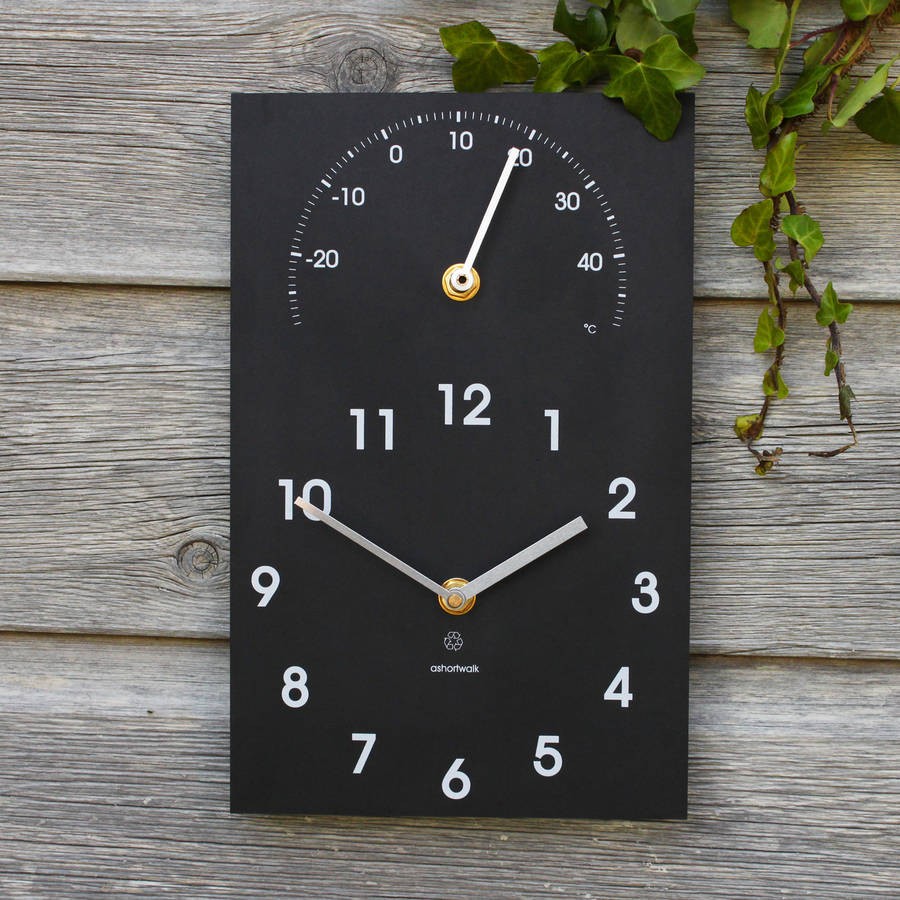 eco recycled outdoor clock and thermometer by ashortwalk ...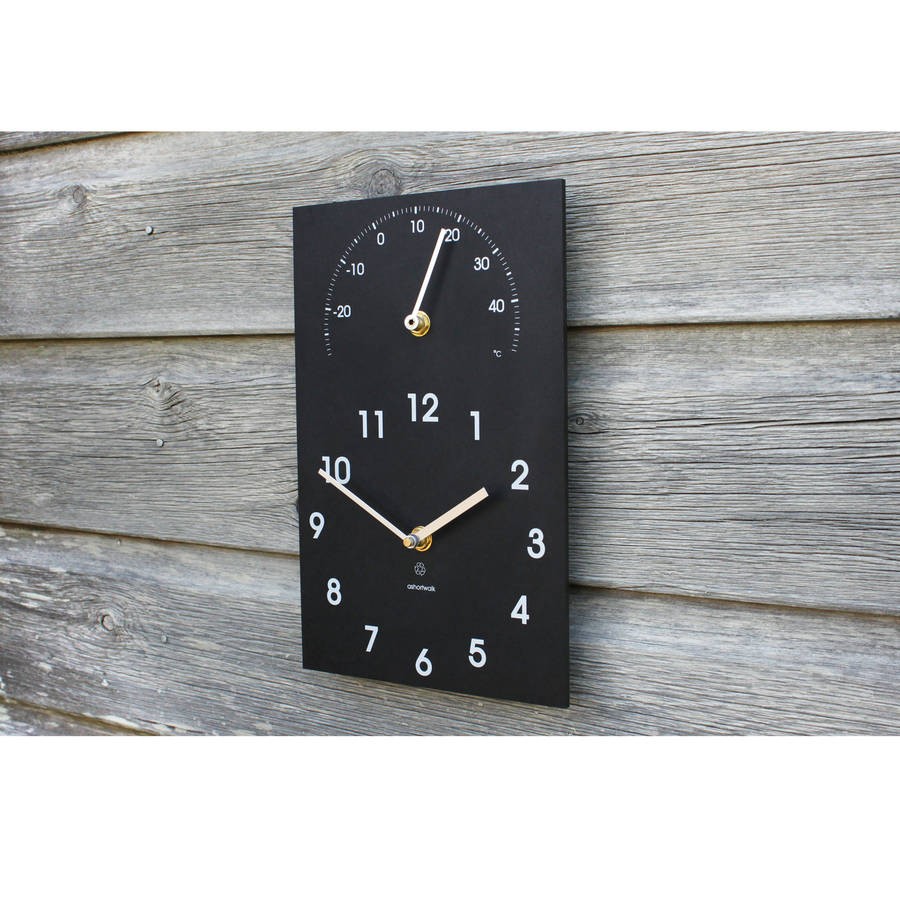 eco recycled outdoor clock and thermometer by ashortwalk ...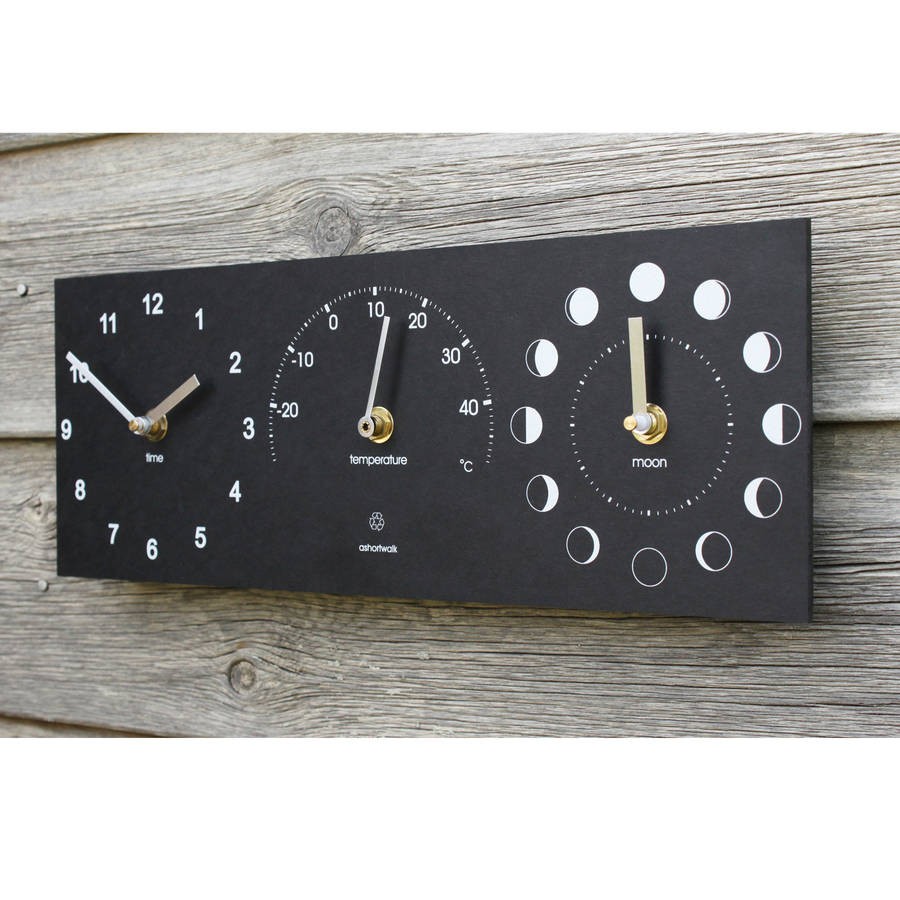 eco recycled moon phase, outdoor clock and thermometer by ...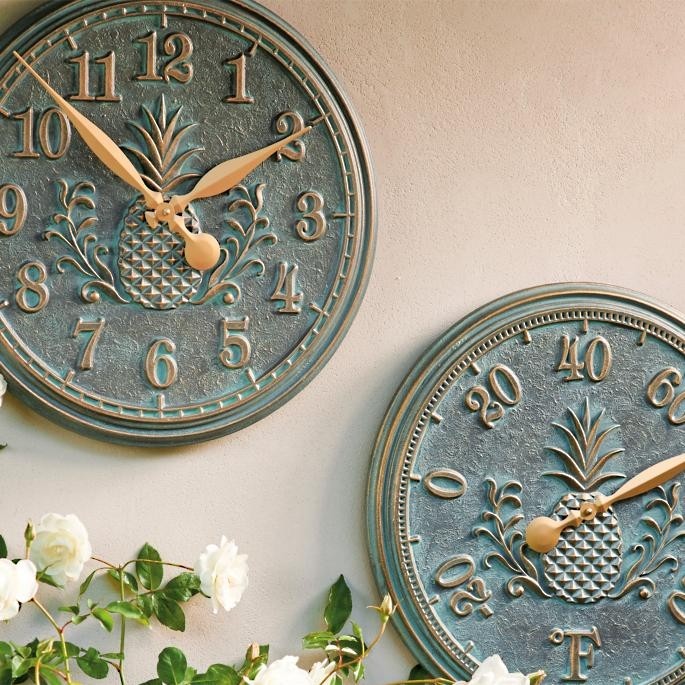 Frontgate Classic Pineapple Indoor/Outdoor Clock and ...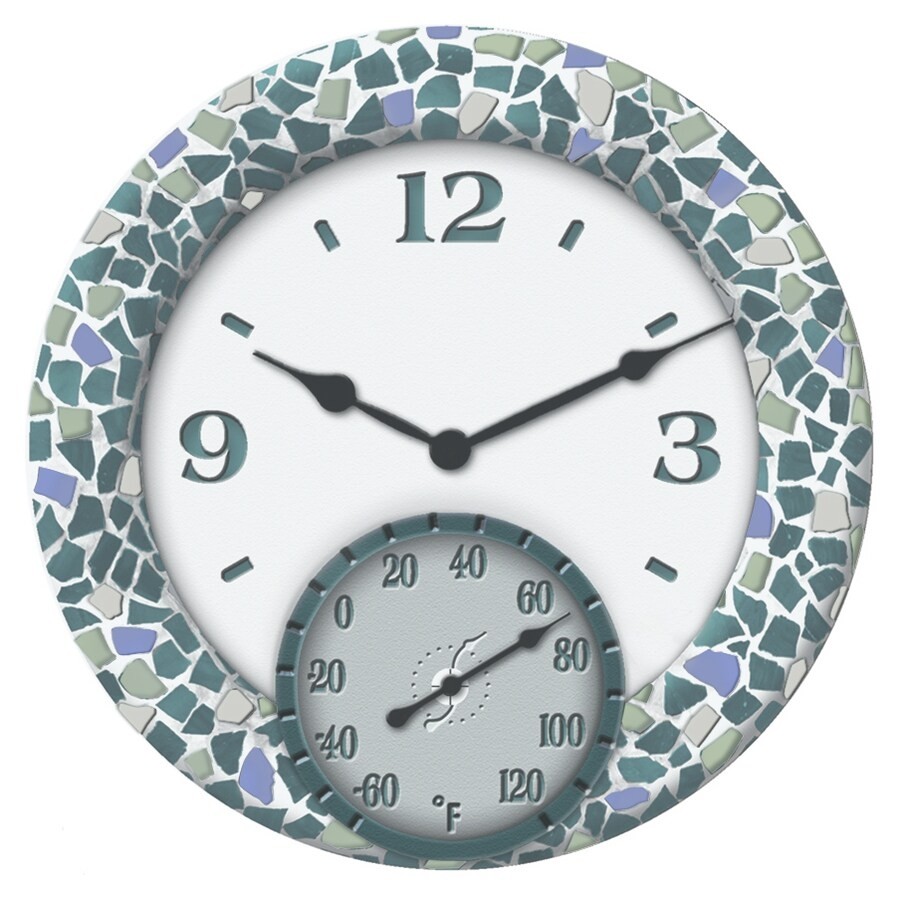 Garden Treasures 14" Indoor/Outdoor Clock and Thermometer ...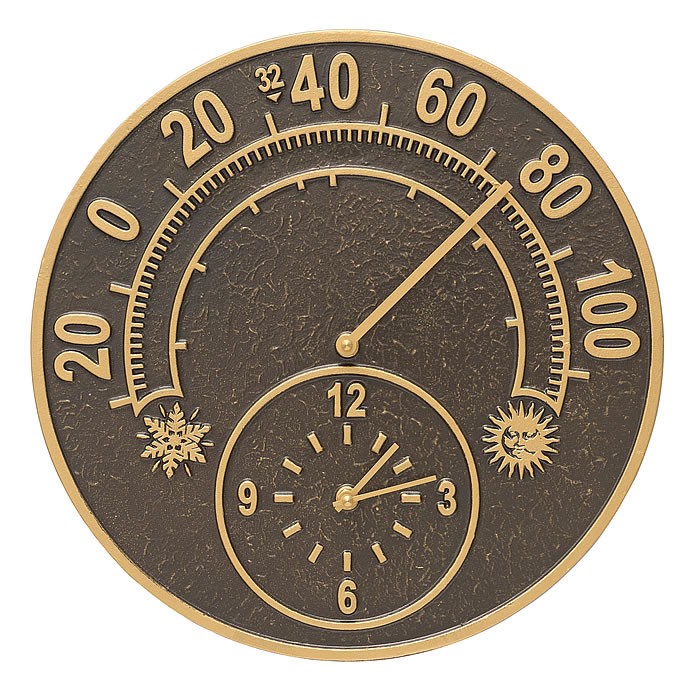 Solstice Indoor-Outdoor Clock & Thermometer: Clocks ...