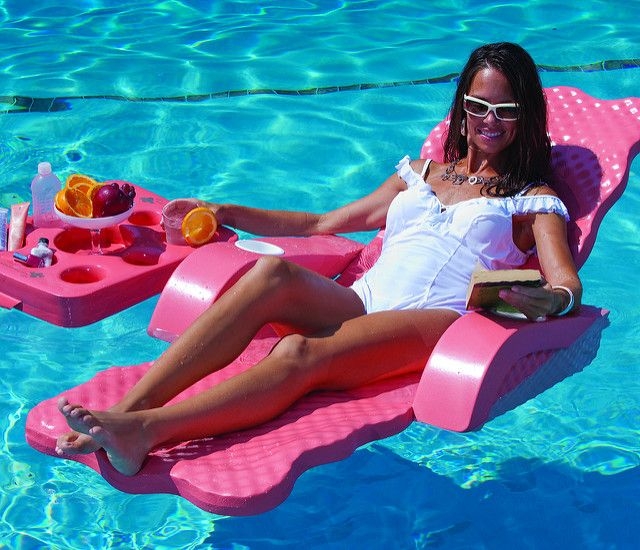 This non-inflatable floating pool chair can be a best way to experience outdoor relax. You do not have to do anything to enjoy the awesome feel of drifting on the water. Made from durable, non-corrosive PVC frame and stainless steel hardware.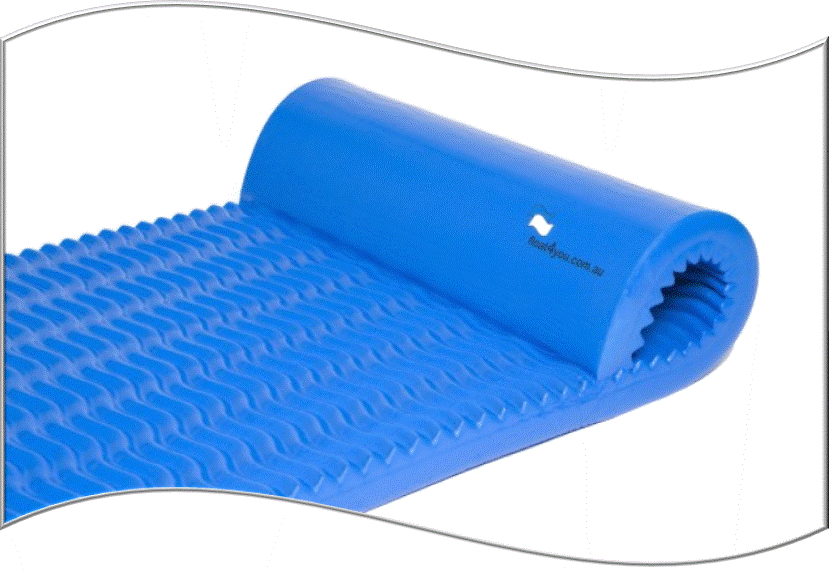 flex float ≈ ...comfort, durability & versatility...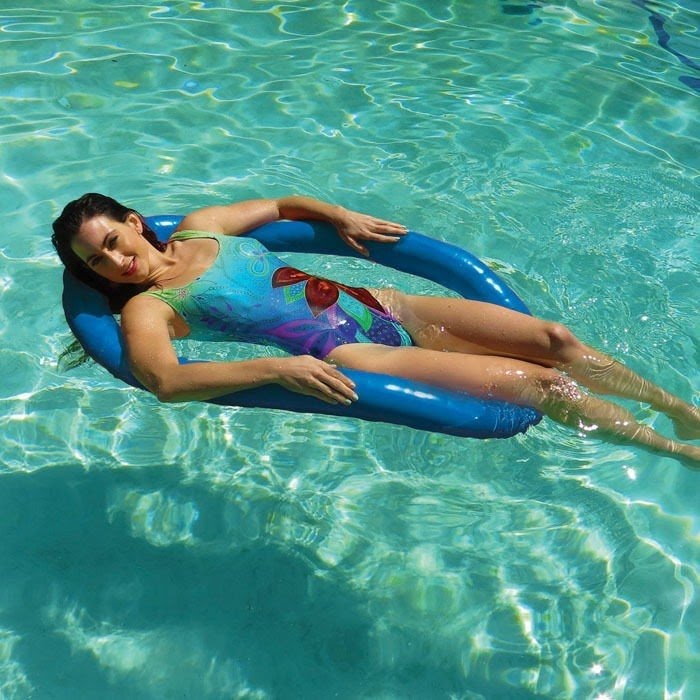 Kick back and relax with this "Texas Rec Pool Pod" that will allow you to easily float on the water surface in your swimming pool. It's non-inflatable and made of quality blue material, supporting your head as well as your whole body.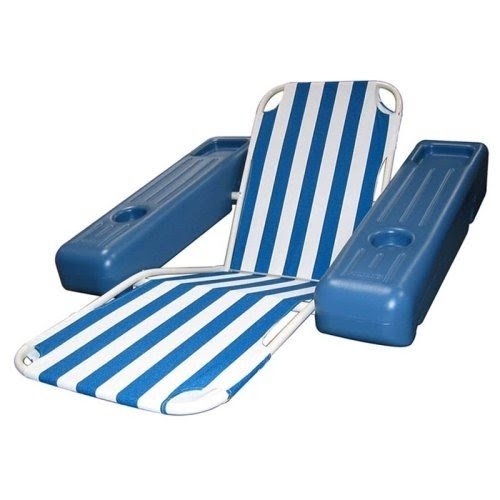 Striped mattress. It is very convenient and extremely comfortable. It is perfect for the beatch. It is the ideal solution to the beach and the pool. It is also very nice. It is white and blue vertical stripes.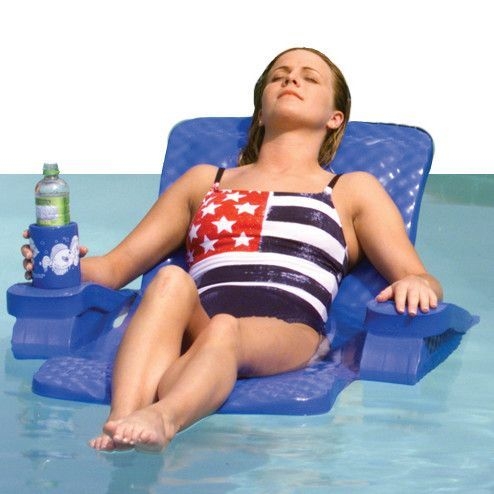 Baja Folding Pool Lounger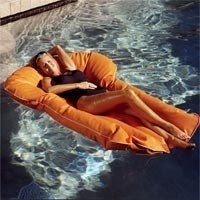 Aqua Shell Designer Pool Float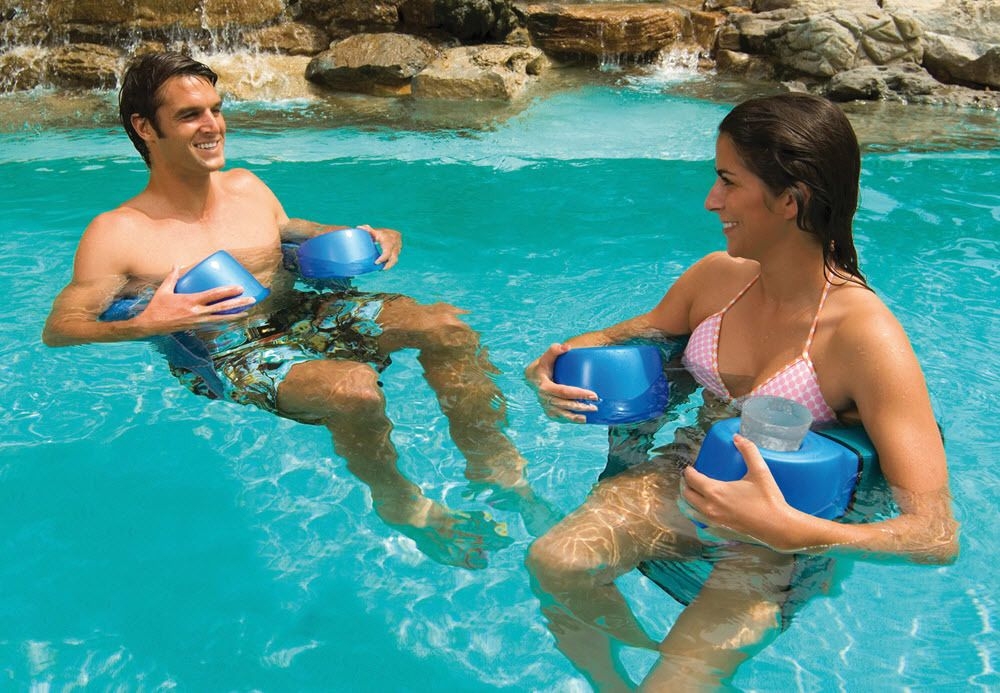 Non Inflatable Swimming Pool Foam Float Lounge Sling Chair Raft W Cup Holders
Non inflatable swimming pool foam floats that provide comfort to their users. They include practical, round holders for cups. Premium Aqua Cell foam is resistant to negative effect of water and provides safety of use.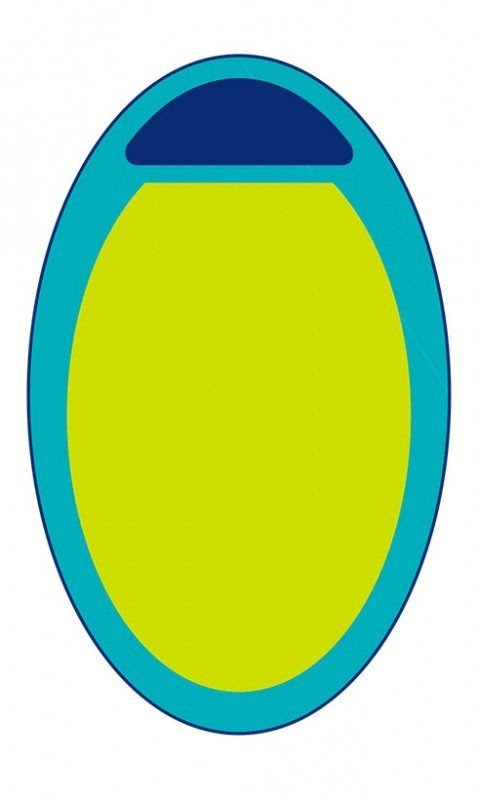 Pool Spring Float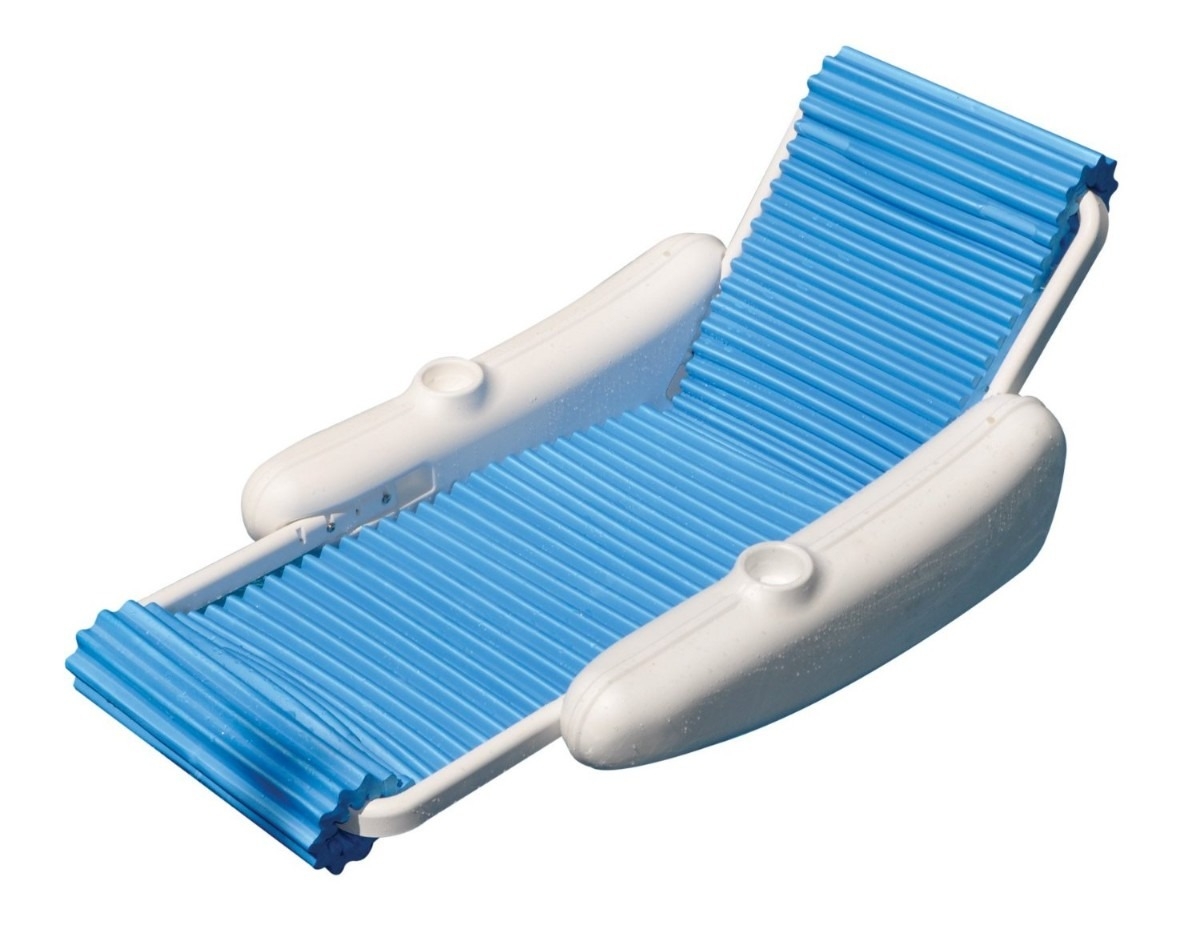 If you are looking for a pool partner that will give you an extra flotation for buoyancy and comfort, there you have it. The sling is designed of high density non-sticky foam, and the large arms come with built-in cup holders.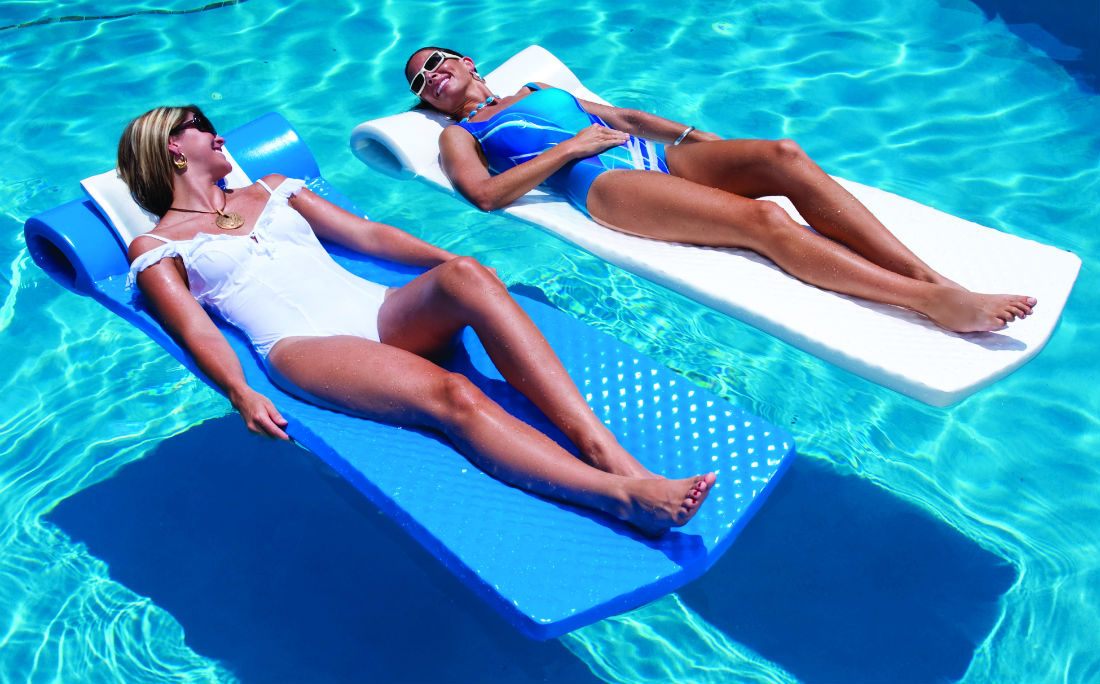 Made from honey-comb closed cell foam on one side and glossy smooth on the other side, this non-inflatable pool float. Available in white and blue colour variants, each of them measures 72" x 26" x 2"reversible.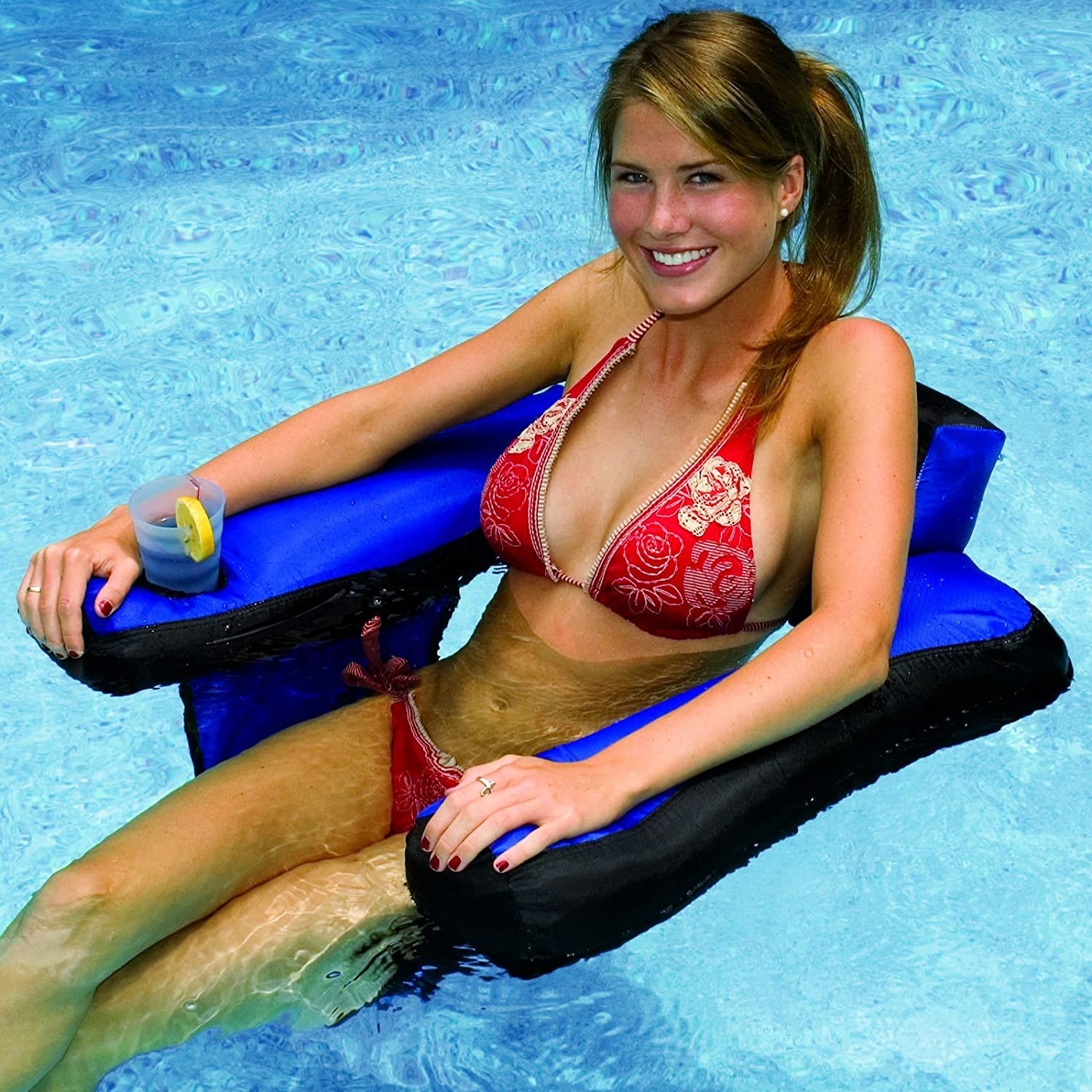 Covered U-Seat Inflatable Pool Lounger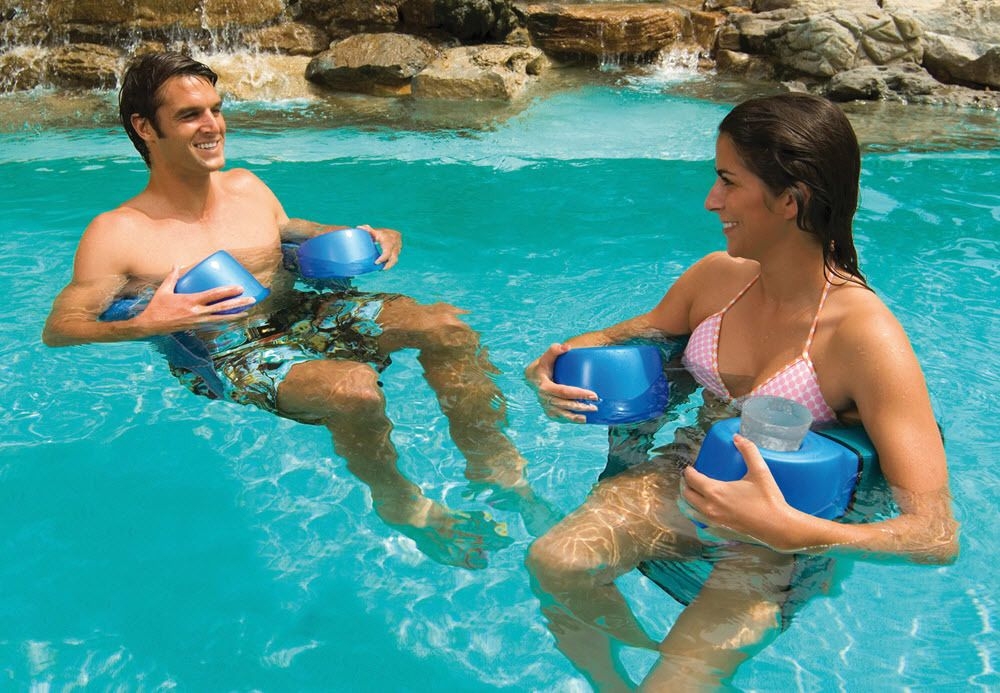 You can relax in the water without using even the strength to stay on the surface. With solution comes foam watler floats. Made with aqua cell foam. You want bring some drink and still stay in the water?Voile!Cupholders are included.Everything in blue color.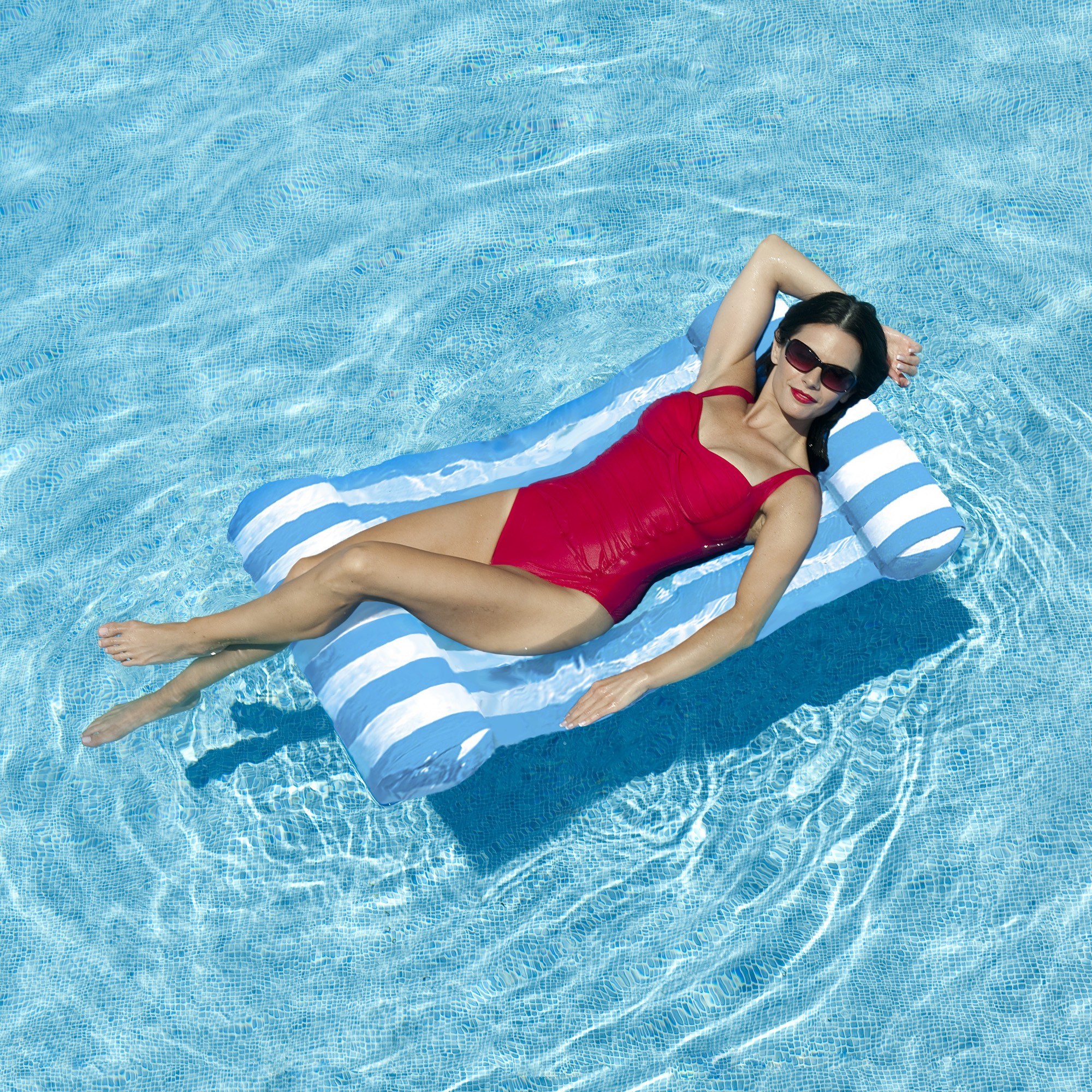 Blue Island Water Hammock Pool Float
Are you dreaming of an amazing rest and relaxation in your swimming pool? Then, don't hesitate, check out this extraordinary pool float and enjoy the summertime in the most stylish and functional way!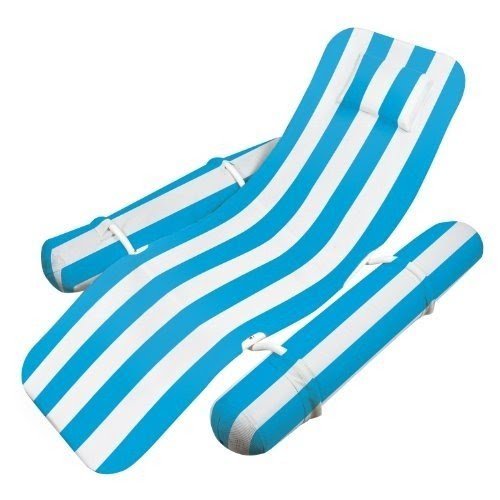 As you know, swimming pool doesn't ask you to swim all the time like a pro, you can sit on pool floats and relax yourself. This bulit-in pillow is made of long-wear woven fabric,weather resistant.It has the trendy white-blue wide stripe, nautical style.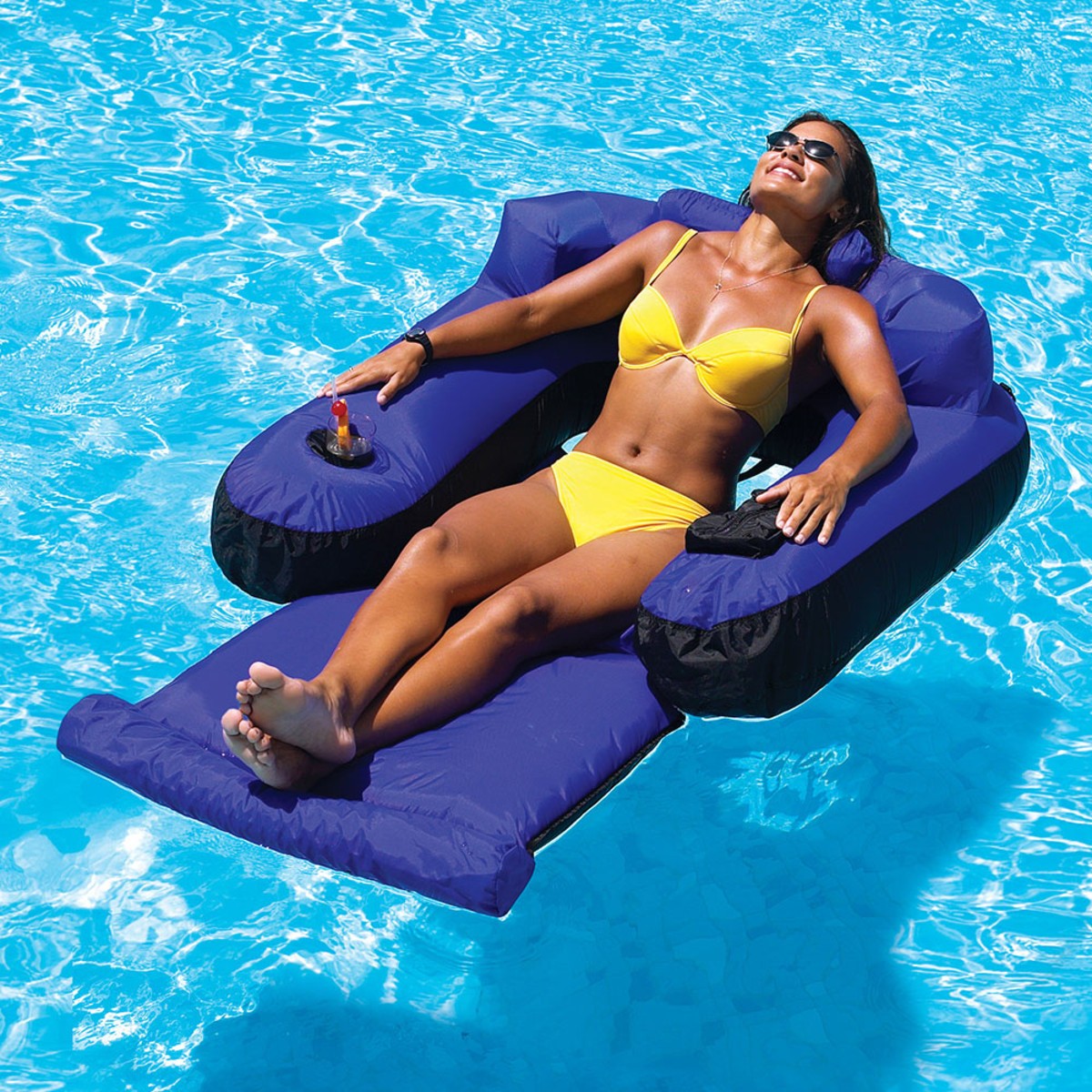 Ultimate Floating Pool Lounger
A floating pool lounger. Made of vinyl and covered in strong nylon material, finished in blue and dark blue. Durable and comfortable, with arm rests and head rests, includes a drink holder in one of the arm rests.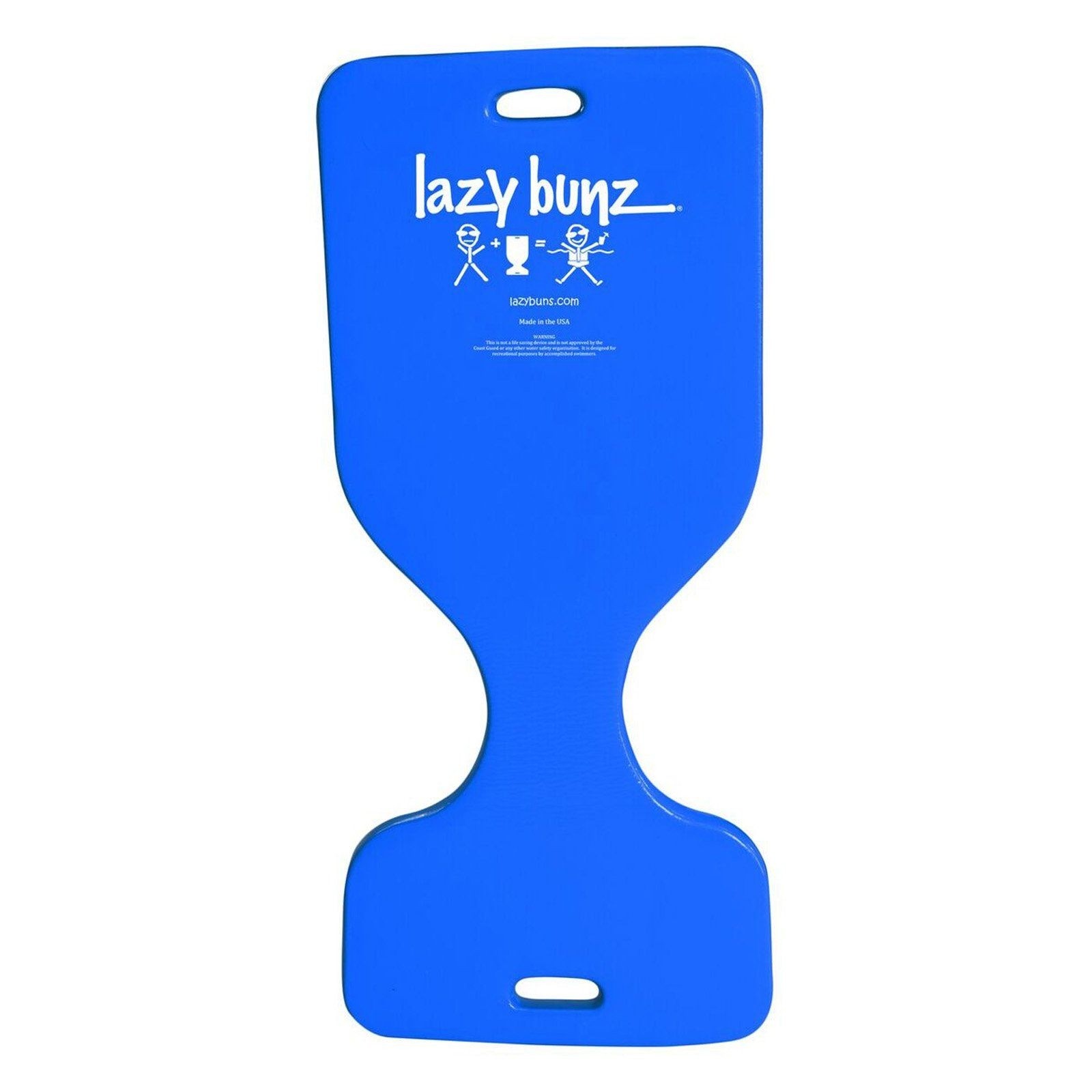 Lazy Bunz® Pool Float
Pool float made of closed-cell foam. It has a vinyl coating and is easy to clean. Made in the USA. Easily average size adult. It is resistant to harmful weather conditions and UV radiation.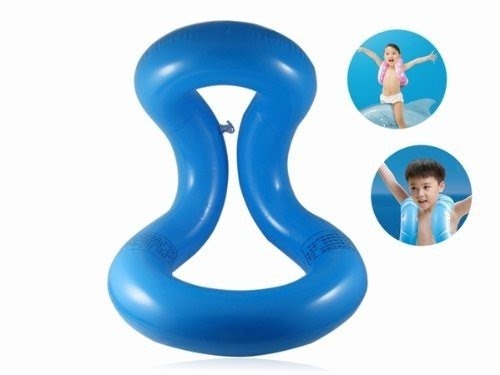 Don't be scared anymore of water!This noninflatable pool floats - a little, blue swim, ring boat ring tube is your best friend to not drawn in the water. It adapts and stays close to the body,it can not be easily pulled back and will overcome water resistance.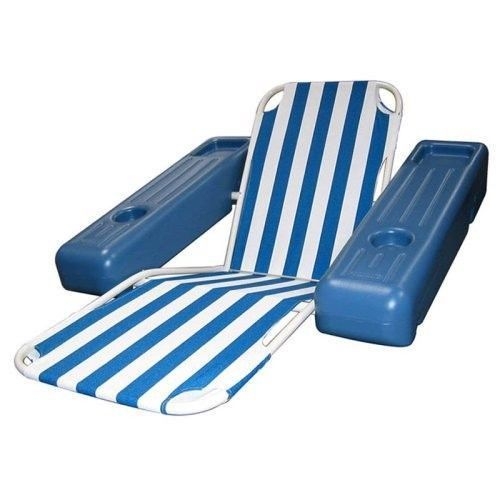 Inflatable Floating Loungers, Swimming Pool Water Lounge Chairs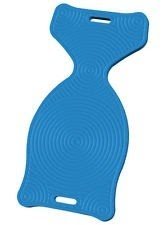 Non Inflatable Swimming Pool Float Foam Seat Pad Lounge Noodle Blue
Non inflatable pool accessory: an ocean blue aqua cell foam pad shaped as saddle with cutout handles. For those who are not sure of their swimming skills. Also for fun. Appropriate for children and adults.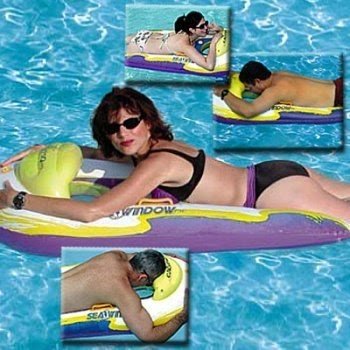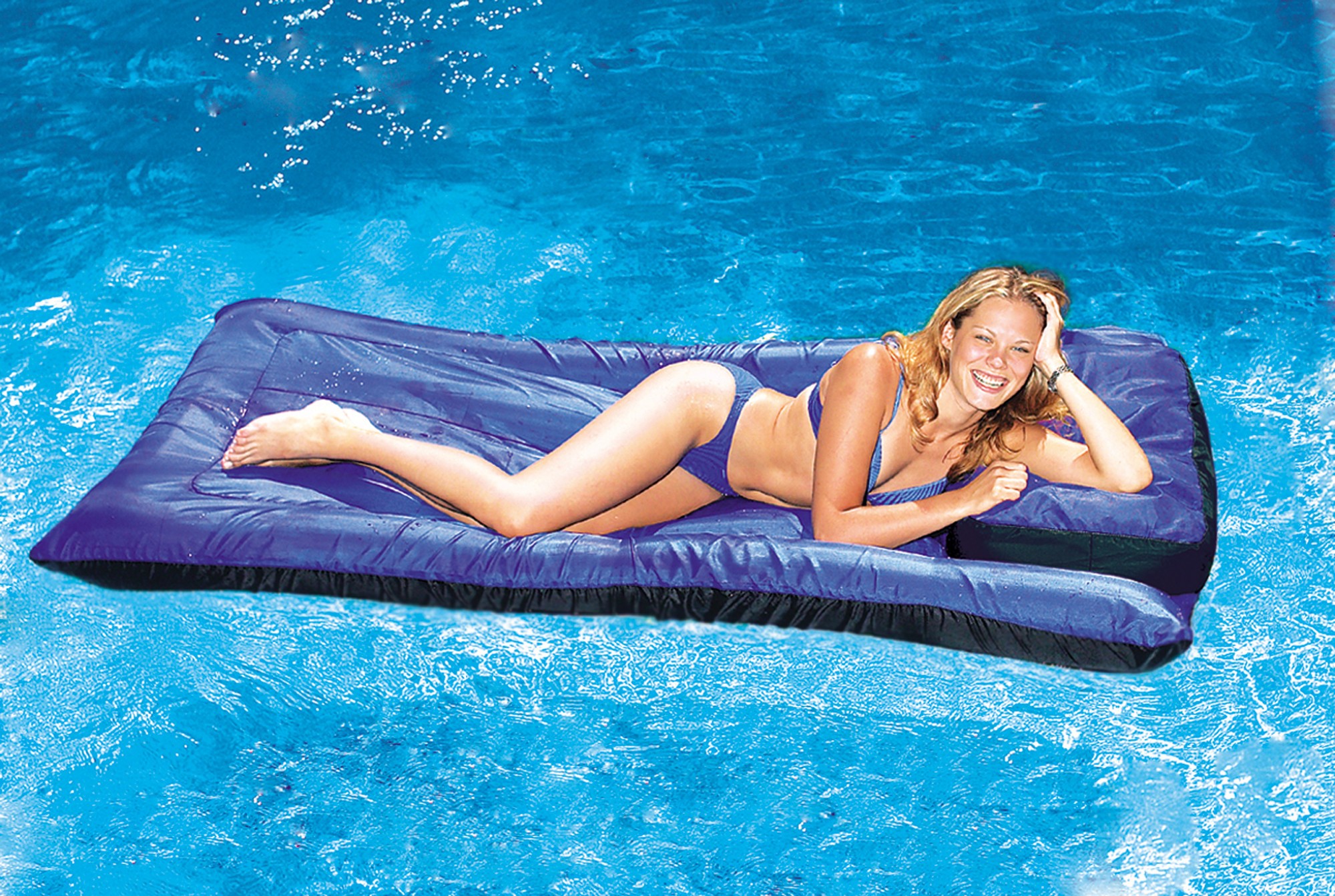 Ultimate Floating Pool Mat
Are you dreaming of a perfect rest and fun in a swimming pool? This amazing and functional floating pool mat is gonna provide you everything you need! Check it out and experience a perfect summer time.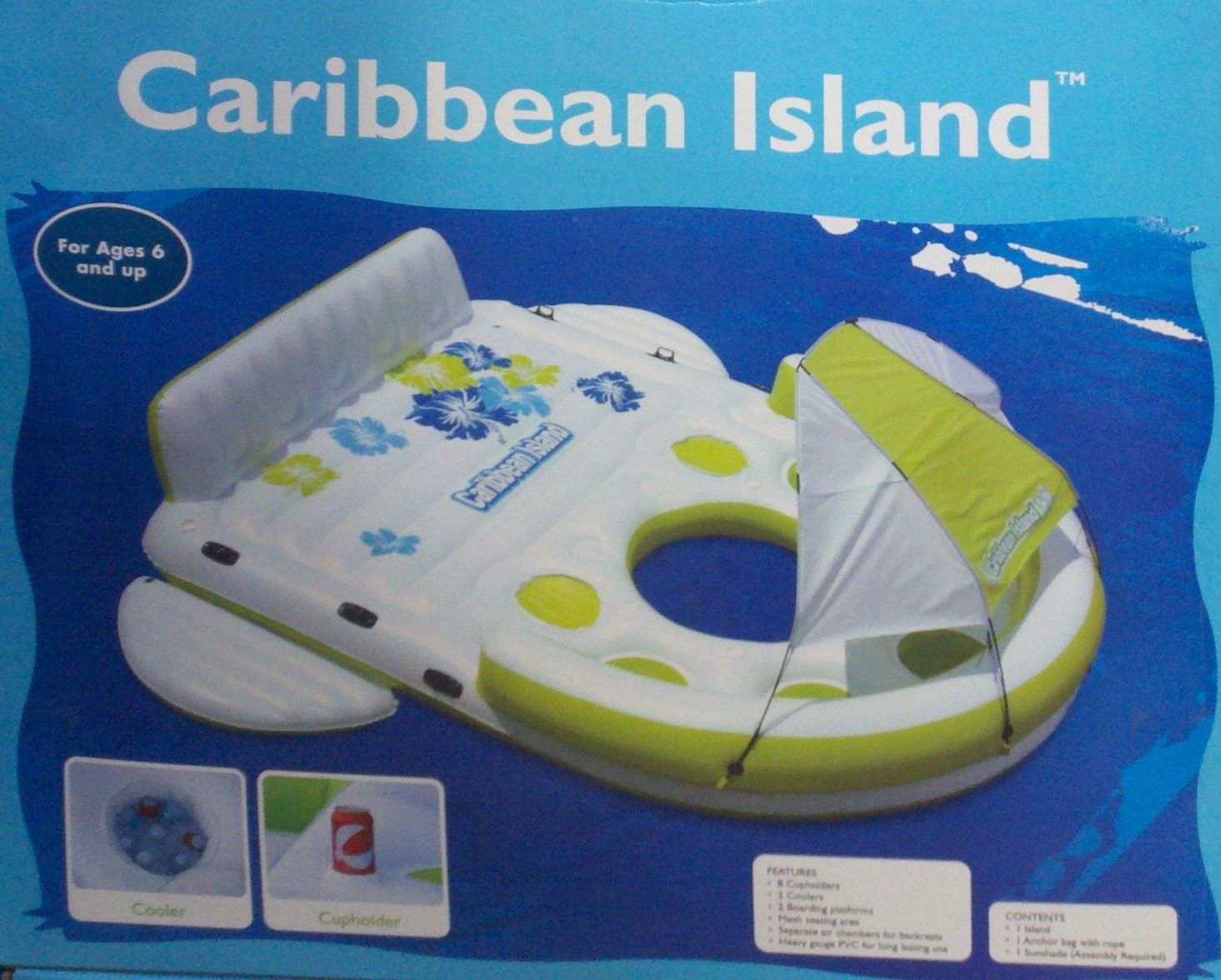 Inflatable Raft Caribbean Island Float Pool Lake Ocean
Let's feel like in the Caribbean in your own pool. The noninflatable pool floats mattress comes out against the comfort with inflatable light-green colors, built-in coolers, a mesh seat and cup holders, or a pull-out canopy.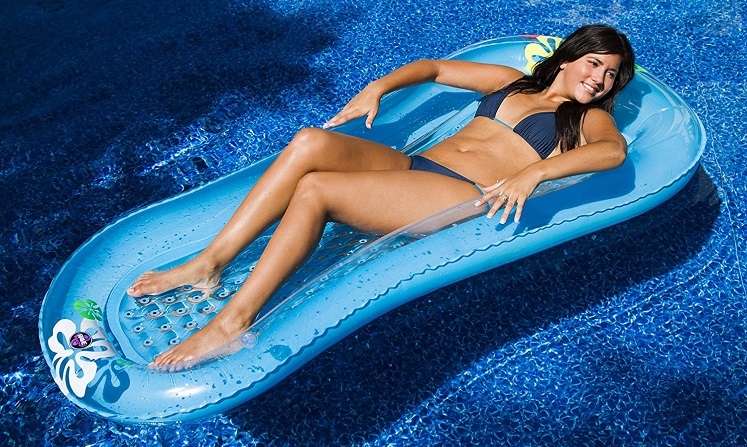 With this Air Mat Pool Float your quality pool time is going to be one of the best summer experiences. UV-stabilized 12 gauge PVC, non-yellowing vinyl with frequency welded seams provide impressive durability and comfy body.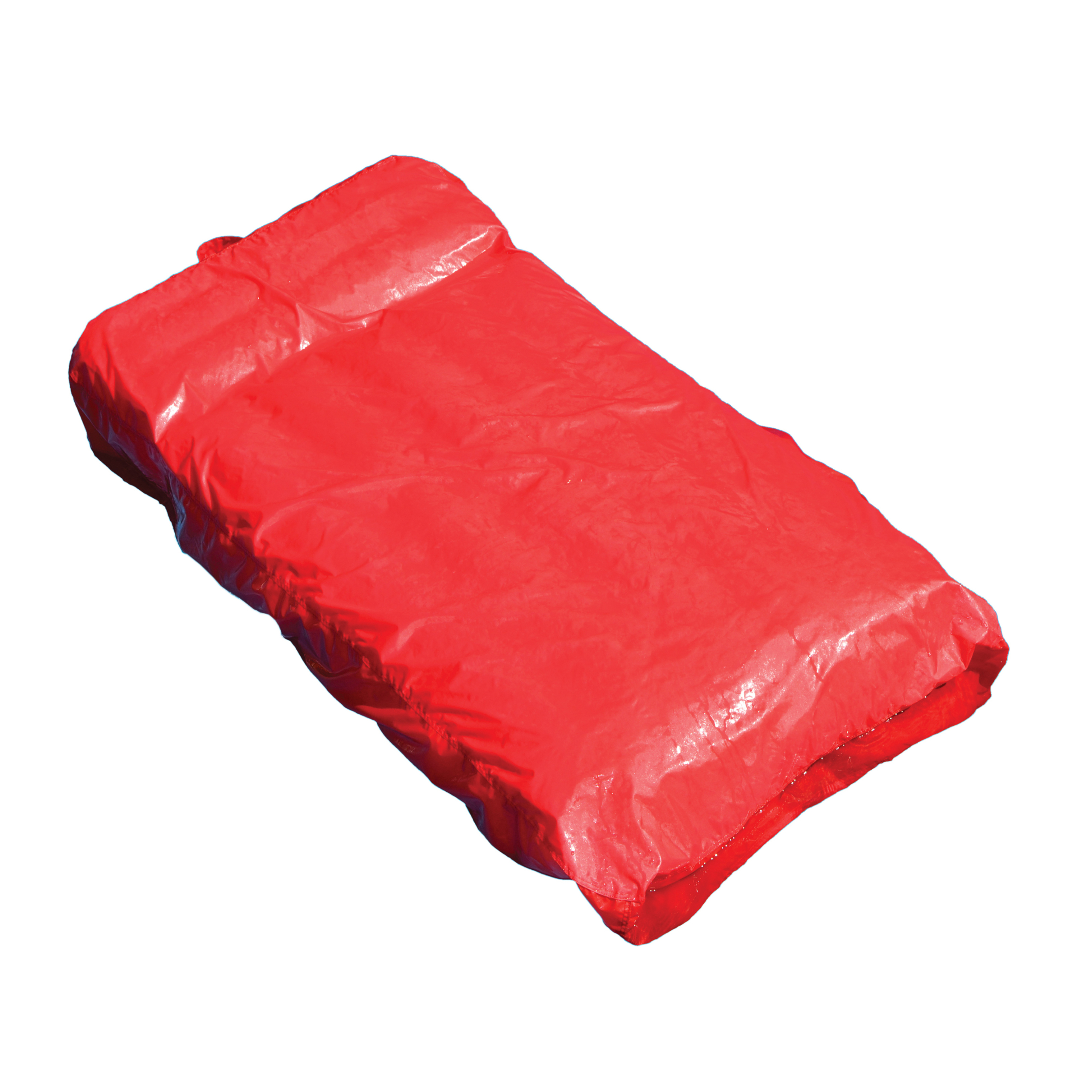 SunSoft Inflatable Pool Lounger
Classic inflatable pool lounger in a rectangular shape. Designed for use by one person. It is made of durable vinyl and covered with fabric. It is resistant to scratch and chip. Place to relax at the pool in the garden and more.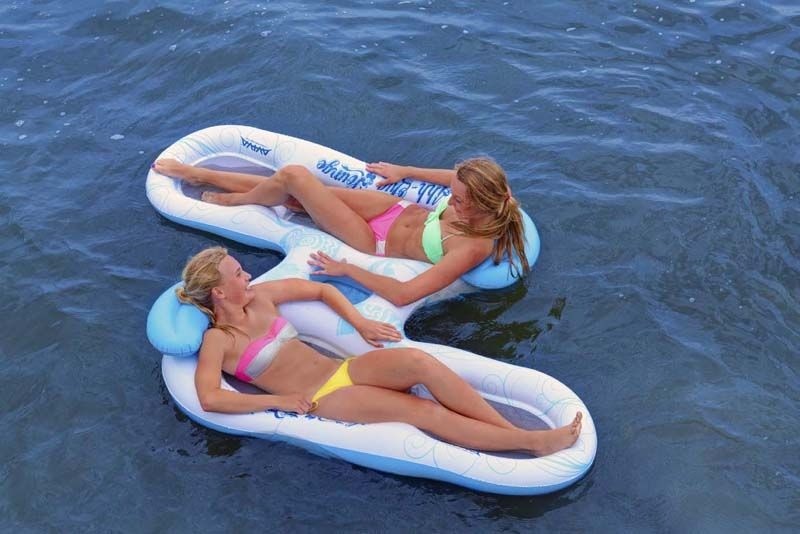 Ahh-Qua Lounge 2 Person Pool Float
This is an original piece of quipment designed for use in the swimming pool, lake, etc. It is a pool float that offers comfortable space for two people. It is durable and very soft, so it provides the highest level of relaxation.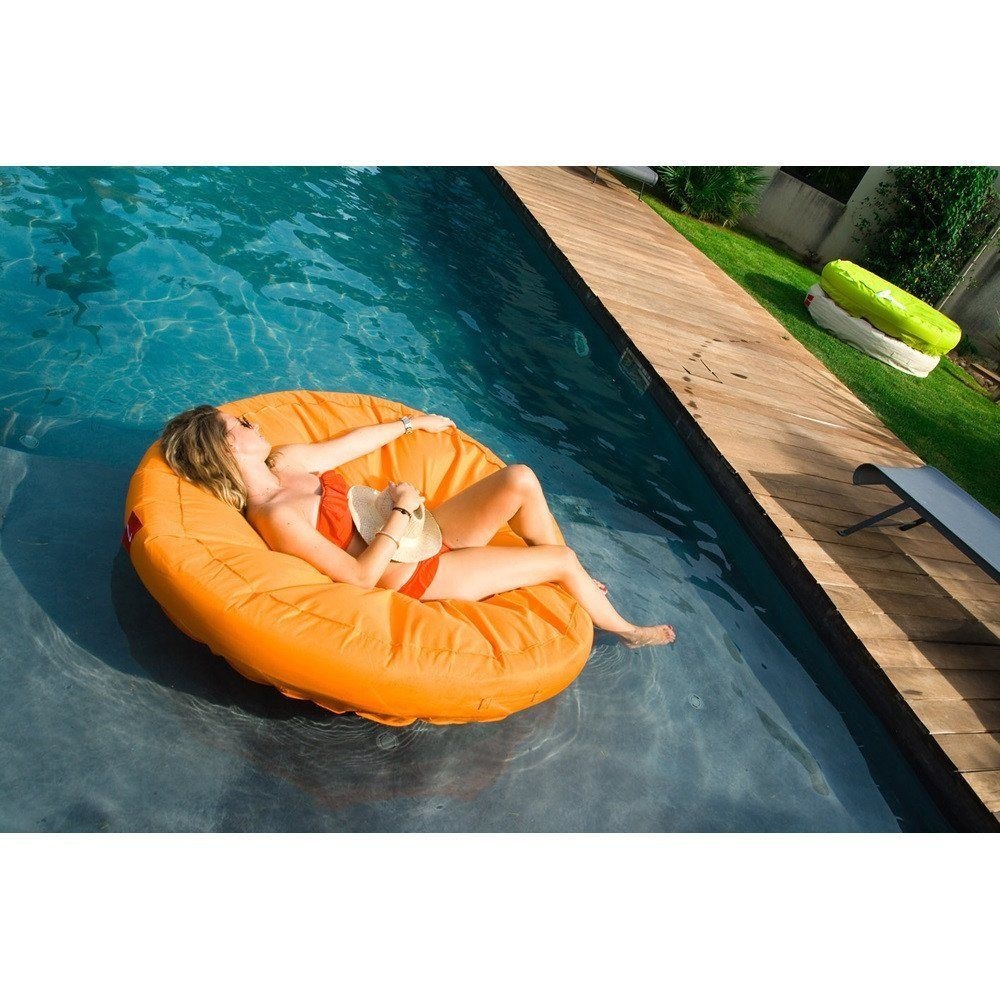 Sunsoft Circular Inflatable Pool Raft
Fantastic inflatable pool raft designed to provide comfortable and practical relaxing spot. Offers solid and durable construction made quality mesh fabric, sturdy design, and it's easy to transport and set up.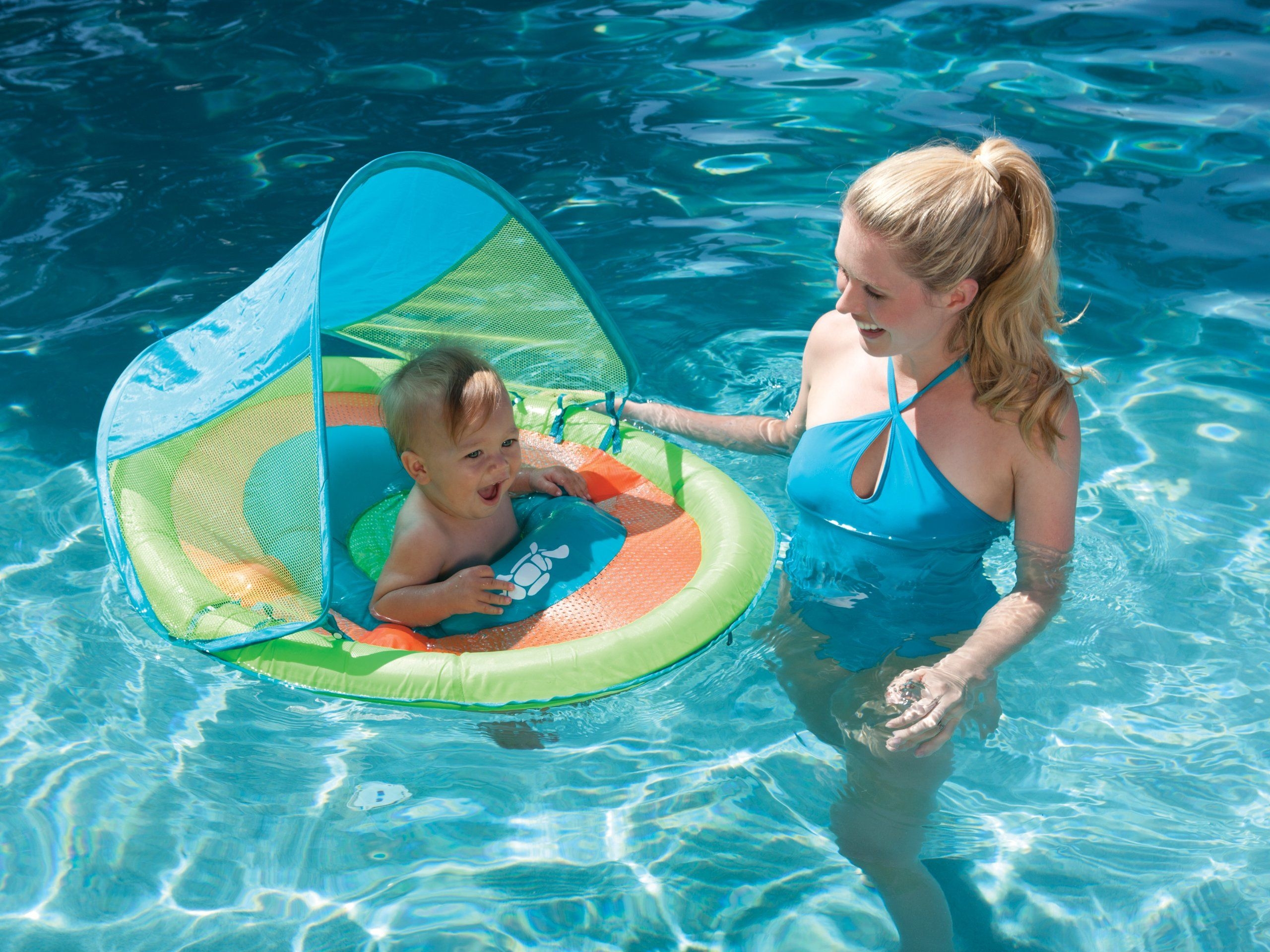 SwimWays Baby Spring Float Inflatable Pool Tube Raft w/ Sun Canopy ...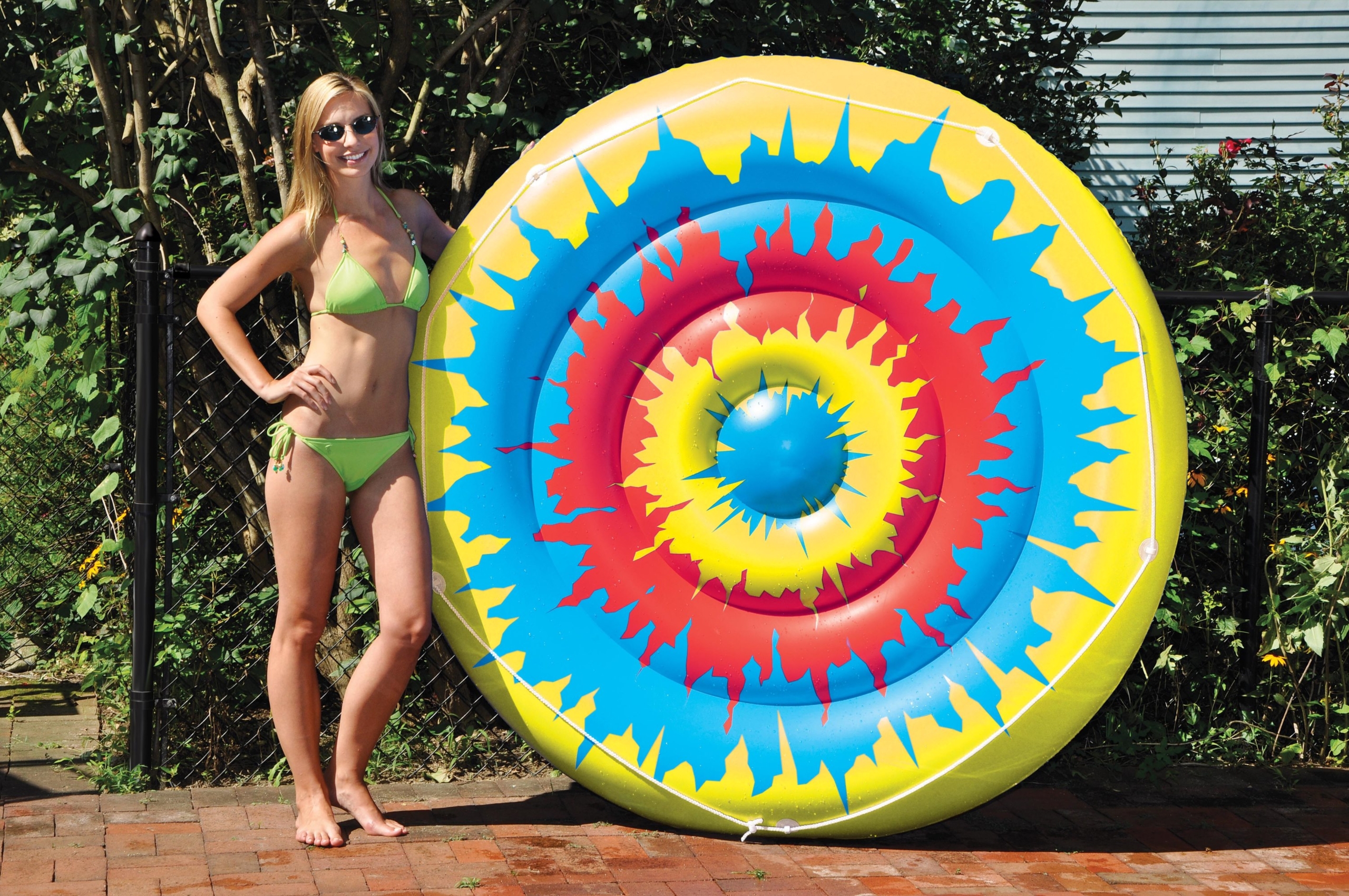 Tie Dye Island Inflatable Pool Toy
Inflatable round pool recommended for children over 3 years. It is made of durable vinyl. Dedicated to outdoor use. Received positive recommendations from customers. A great place for children to fun.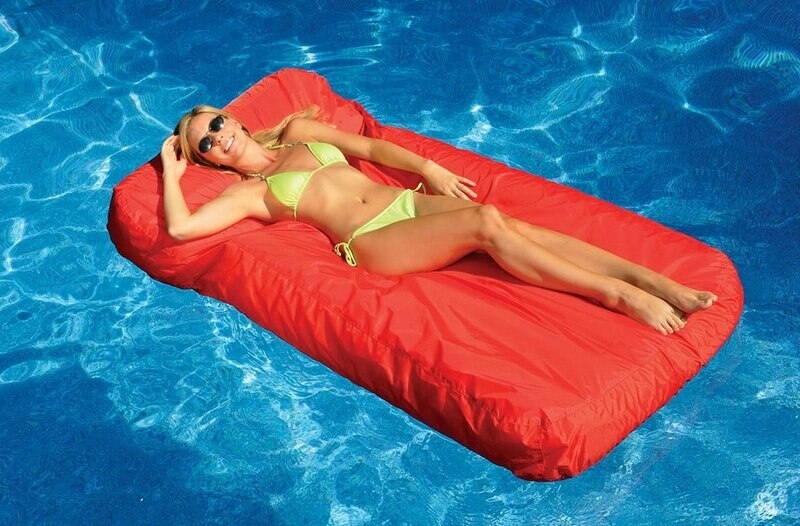 ... LARGE SUPER DELUXE SWIMMING POOL INFLATABLE LOUNGER FLOAT AIR MATTRESS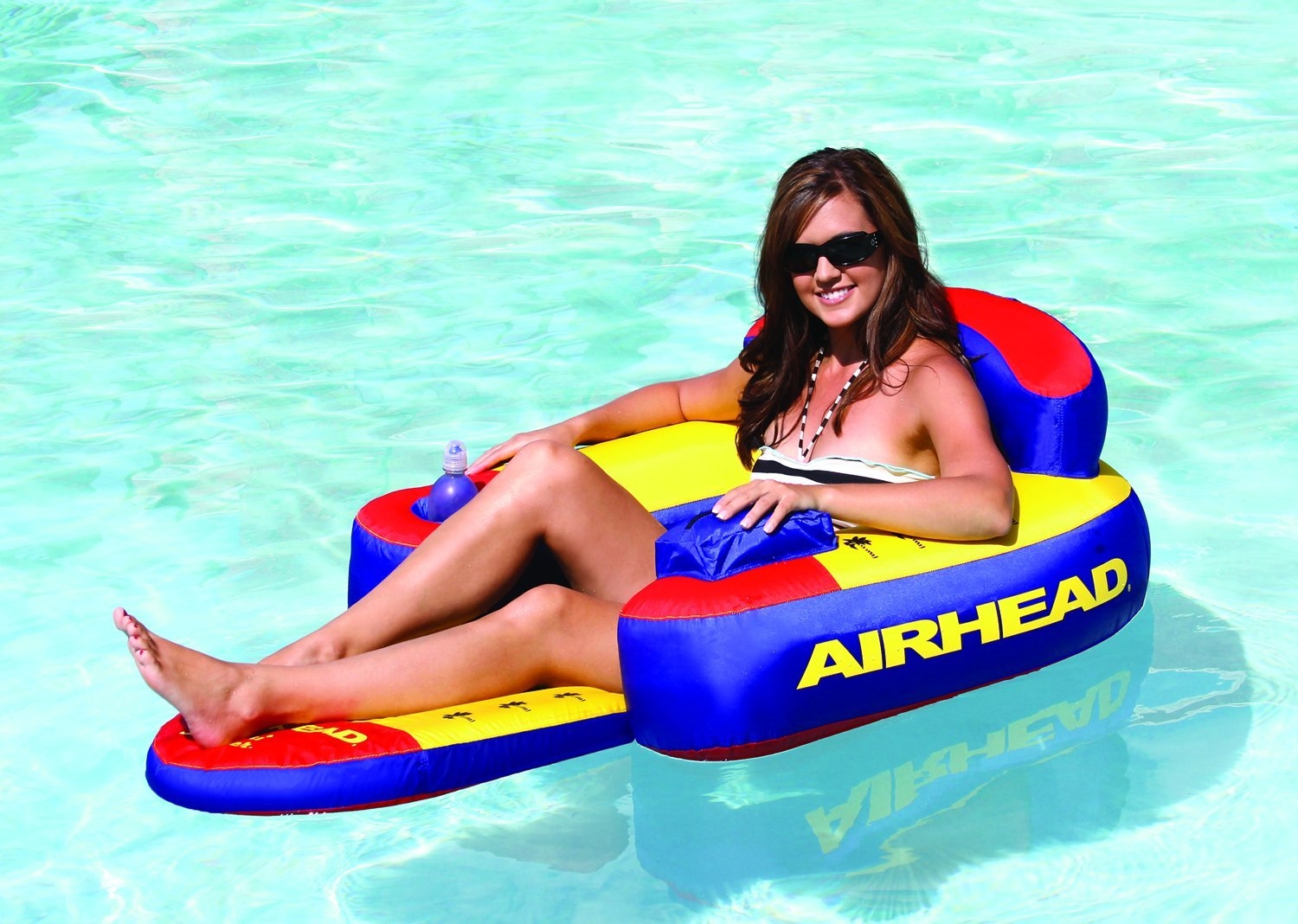 Bimini II Inflatables Pool Lounger
Inflatable pool lounger with a comfortable backrest and armrests. It has an extra cup holder and pocket. It is made of combining vinyl and nylon. It was highly praised by the customers.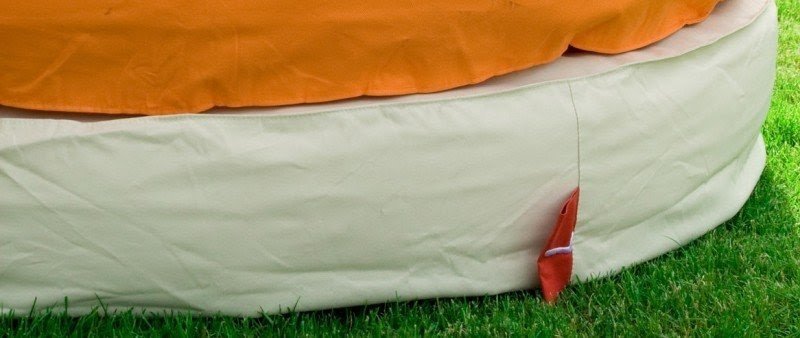 SunSoft Island Pool Lounger
Seeking more comfort by your poolside? This comfortable lounger will make a great relax spot both inside and outside the pool. Includes handles and a drainer. It provides pleasant seating place for one adult person.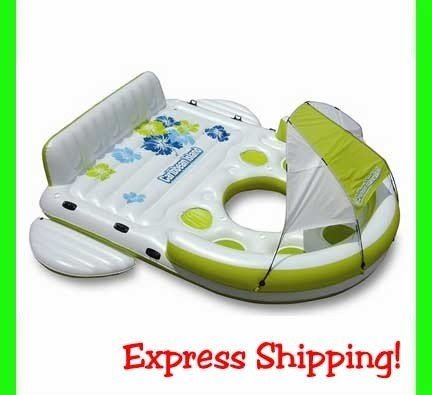 Inflatable Raft Caribbean Island Float Pool Lake Ocean
Floating island oasis with detachable canopy, separate air chambers for backrests, large sundeck for lounging and 8 cup holders for cold drinks. Heavy gauge PVC construction guarantees long-lasting use.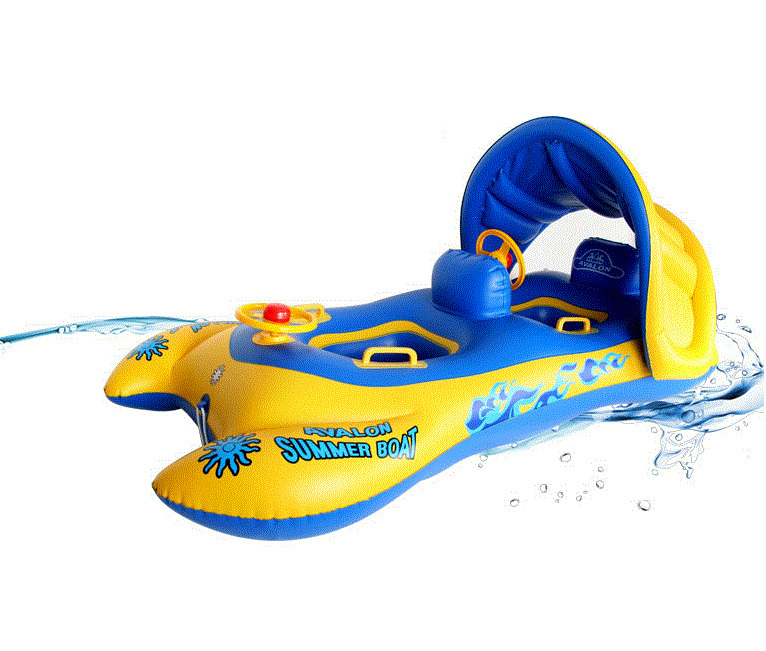 Simple inflatable pool float is an excellent way to have fun in the pool. Attractive colors and lovely details make the child very playful. A small canopy sheds in the sun and beautifully presents itself.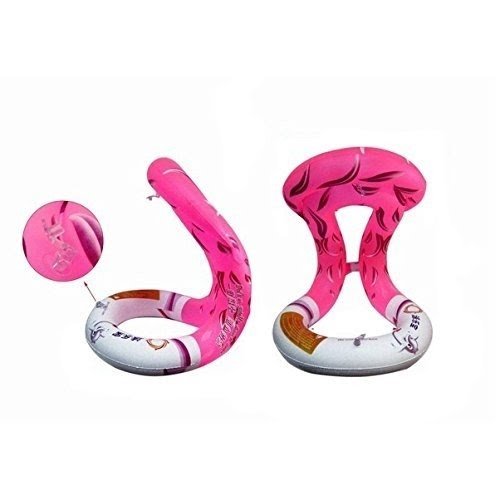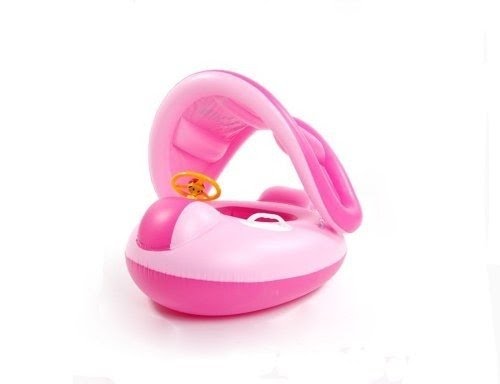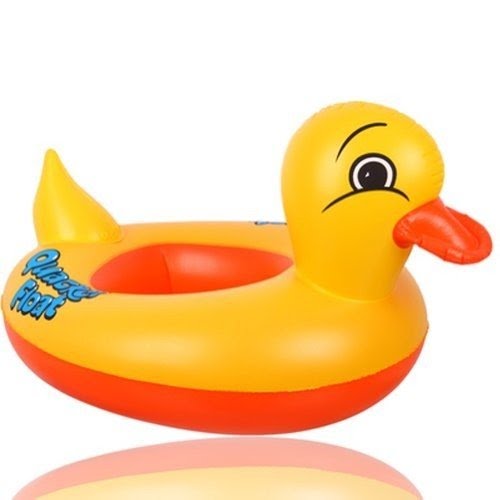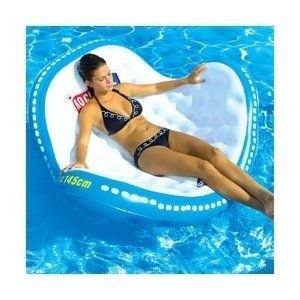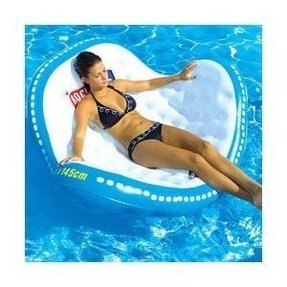 Rock N' Roll Inflatable Pool Lounger
This inflatable deck chair is the perfect way to unwind. Just inflate it and lie down on the water. Deckchairs, gentle rocking and relaxation. Can it be even better? Of course not. Just check it and you love it.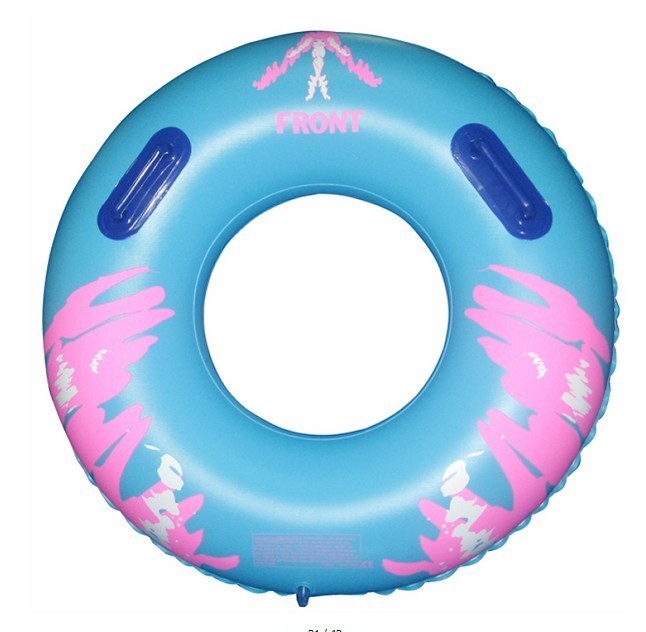 pvc inflatable water tube/round float tube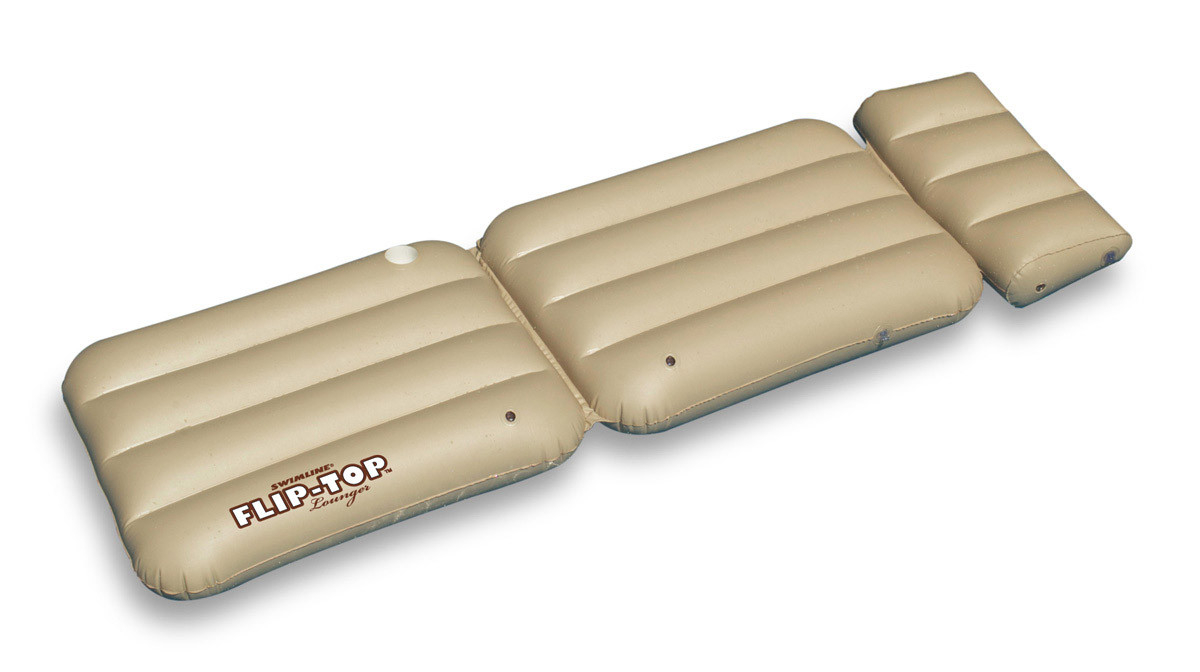 Flip Top Multi-Position Inflatable Pool Lounger
Flip top multi-position inflatable pool lounger is designed to provide you with even more comfort while taking a relaxing time on a poolside. It features two-piece center fold and adjustable pillow and can be configured in three ways.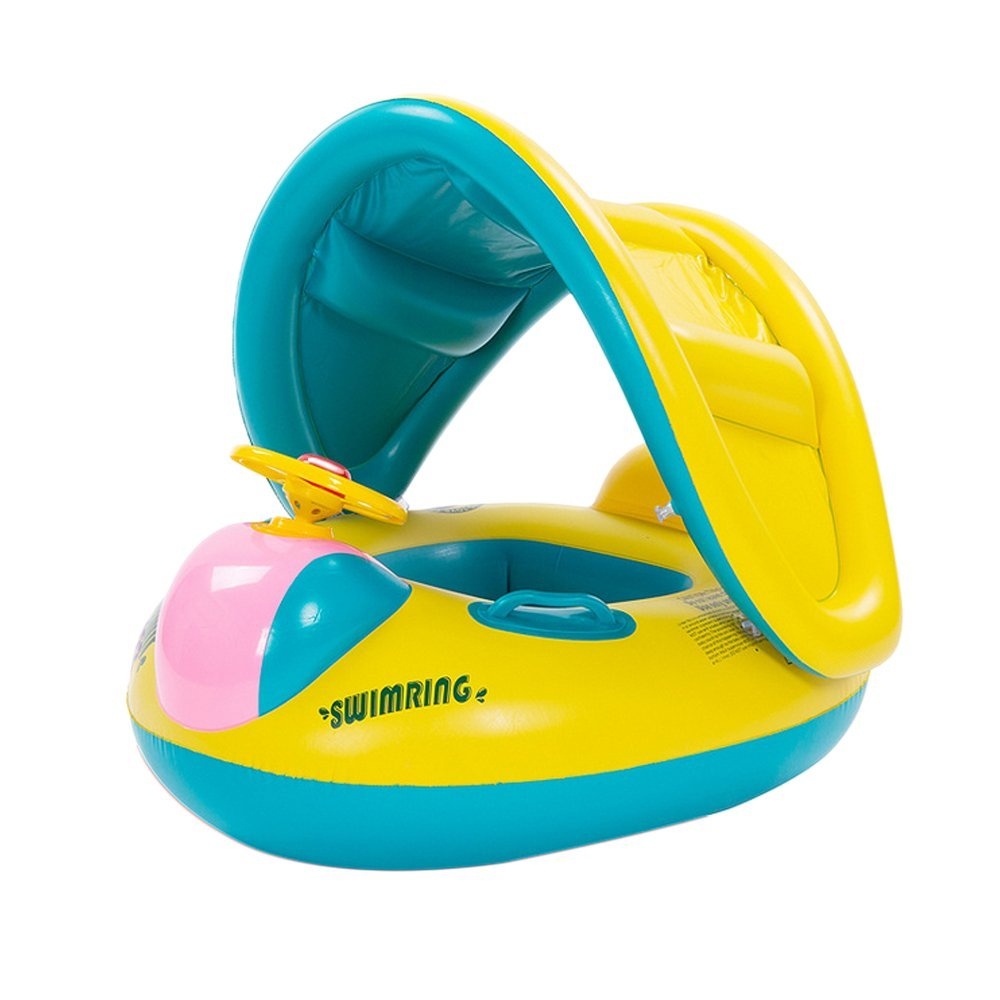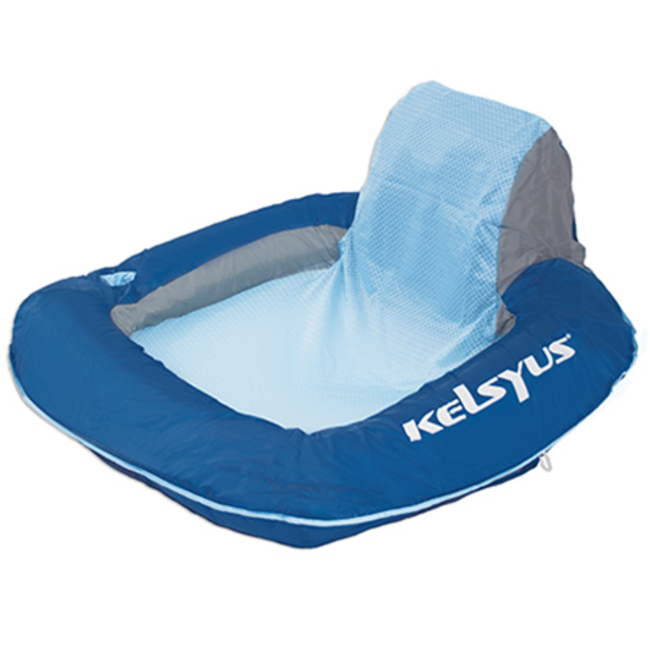 Floating Pool Chair, Floating Pool Chair Products, Floating Pool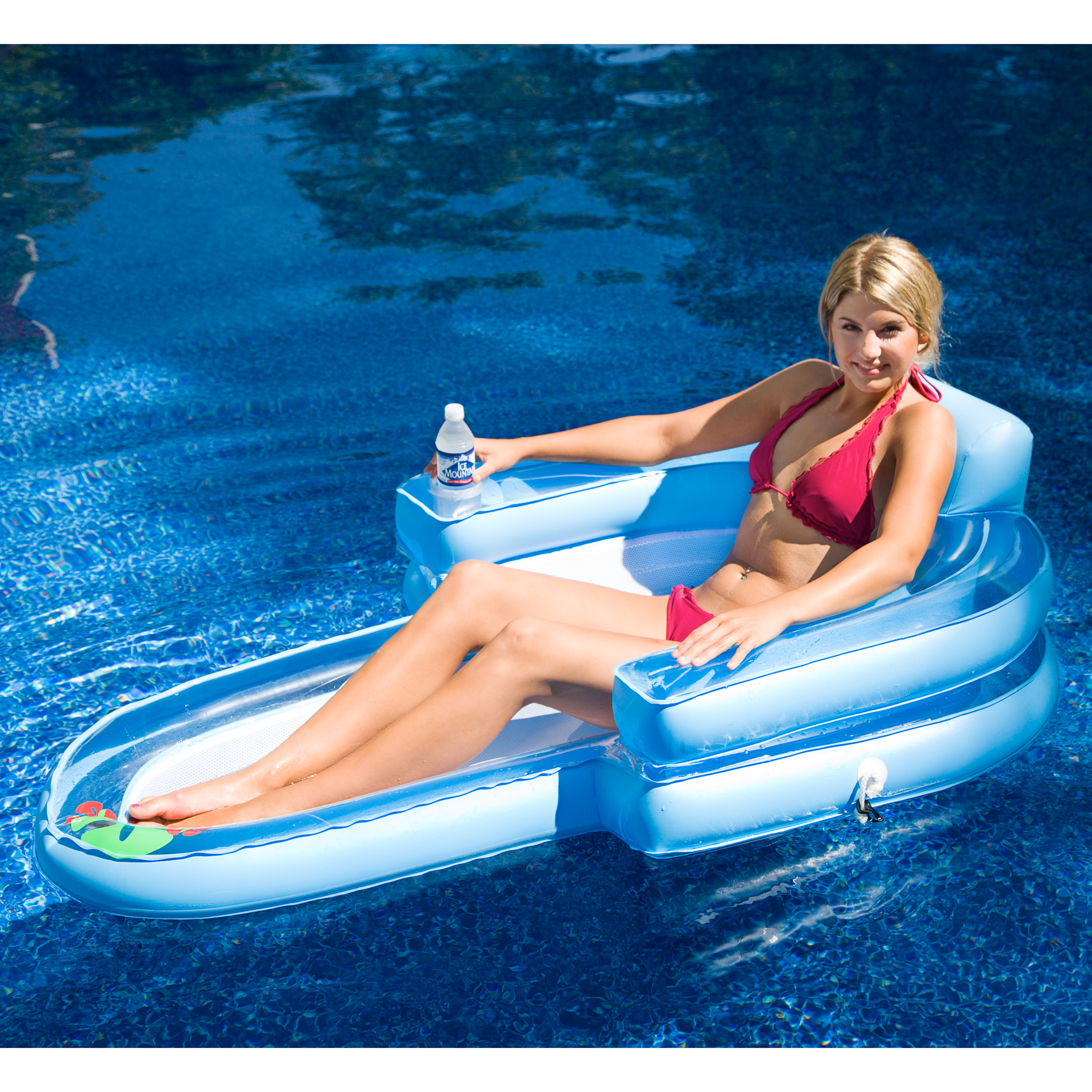 An inflatable raft in the form of a chaise lounge. Its PVC construction is durable and its inflated haead rest provides good comfort. This raft is also equipped with a cup holder. It is suitable for lakes and swimming pools.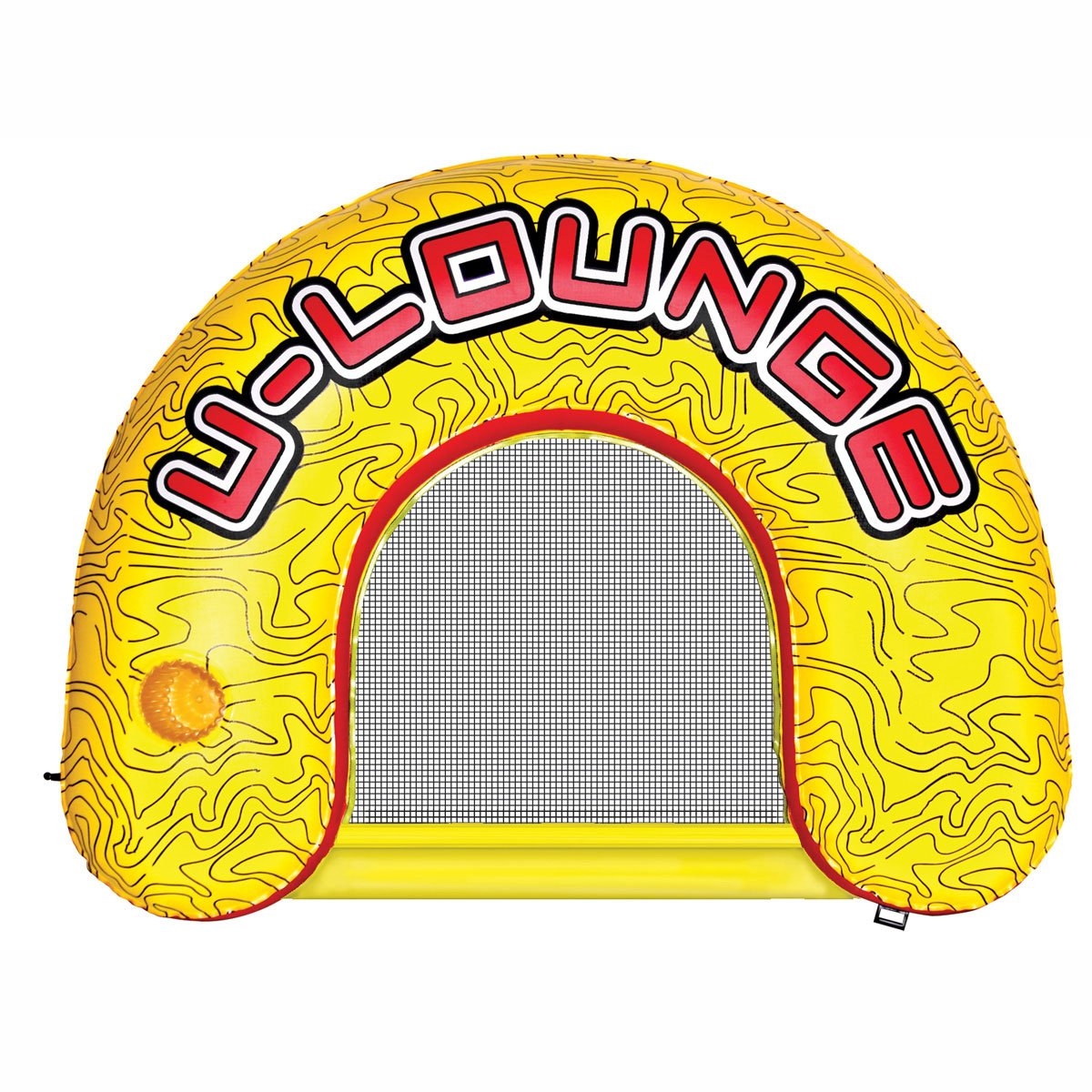 U Inflatables Pool Lounger
Inflatable pool deck chair is the perfect way to complete relaxation in a free warm days. You can really have fun, relax. Deckchair is soft and comfortable. It allows you to swim in a comfortable position without fussing about.