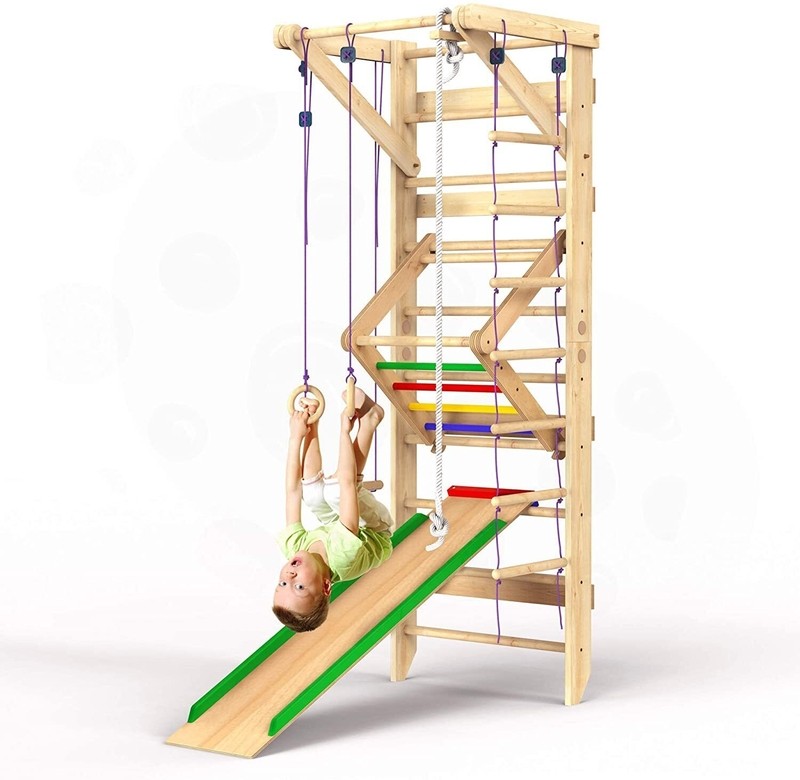 Wadanta Wooden Swedish Ladder Wall Set

For a home gym for kids that won't take up too much space, consider the intricacy and detail of this fun Swedish ladder concept. It has plenty for your kiddo to do to keep themselves occupied, and without realizing it, they are also exercising and building those muscles to help them grow stronger.
It comes complete with a ladder on one side, and a slide, trapeze, rope swing, removable pull-up bar, and many more fun features your kids will love. This is truly a gym experience for kids, while also being a blast to play on. Invite their friends and watch as they also grow in more ways than one.
What we like:
● Compact design
● Plenty of activities
● Holds up to 290 lbs.
● Non-toxic paint
What we don't like:
● Hard to assemble
$389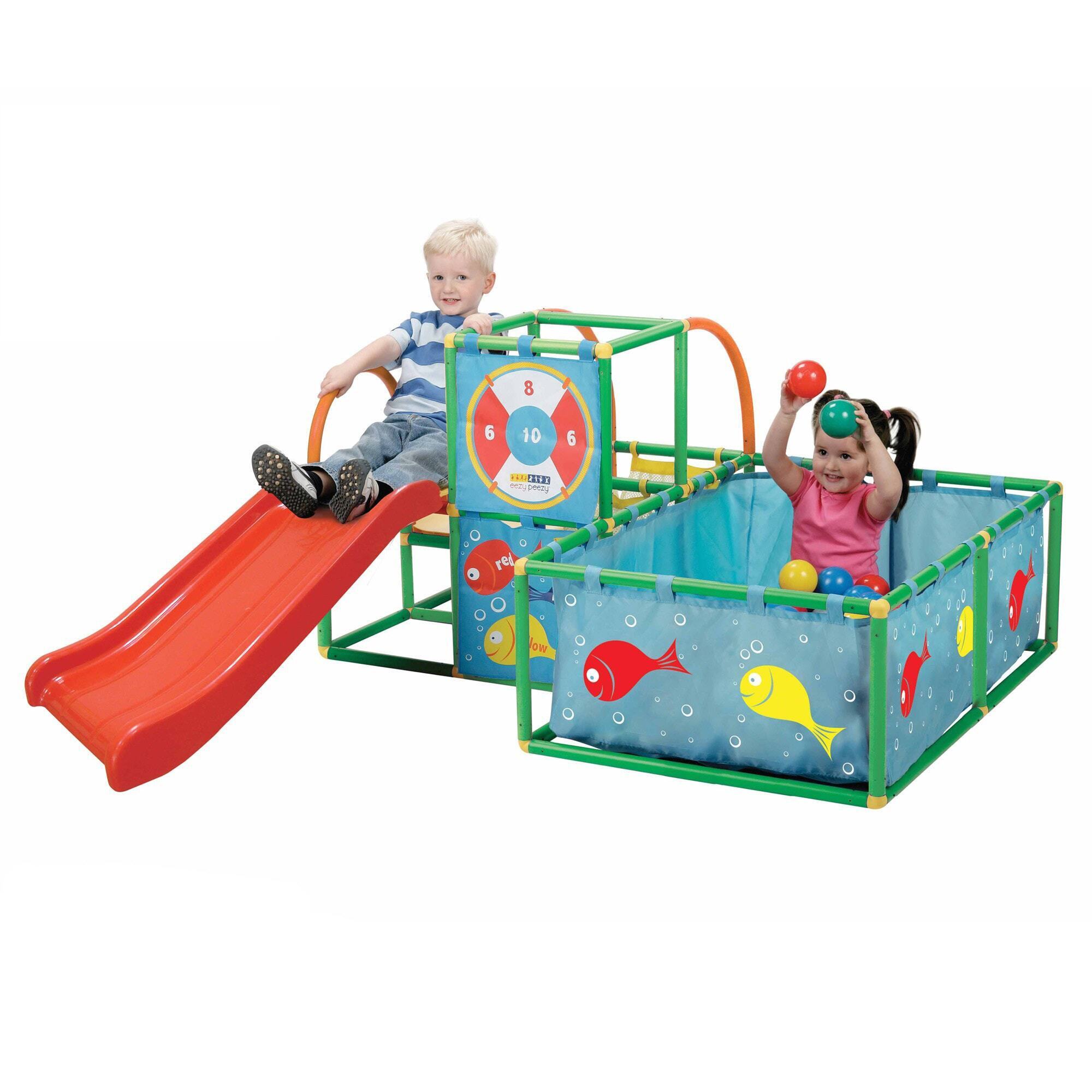 Toy Monster Active Play Set

This is definitely geared toward your younger children around toddler age. So full of fun and color, it will spark their little imaginations in a host of ways, while giving them a way to expend all of that excess energy. And it is entirely made of plastic, so you won't have too much trouble assembling this fun kids gym set.
Complete with multicolored wrap around, ball pit with 50 included balls, and a slide, your kids will have so much fun they won't realize how much time has passed as they play their little hearts away. And did we mention there is a target next to the slide so they can improve their throwing skills and accuracy. For something so small, this play area has plenty of features.
What we like:
● Ball pit
● Easy to assemble
● Good price
What we don't like:
● Needs a lot of balls (400 minimum)
● Assembly instructions difficult to understand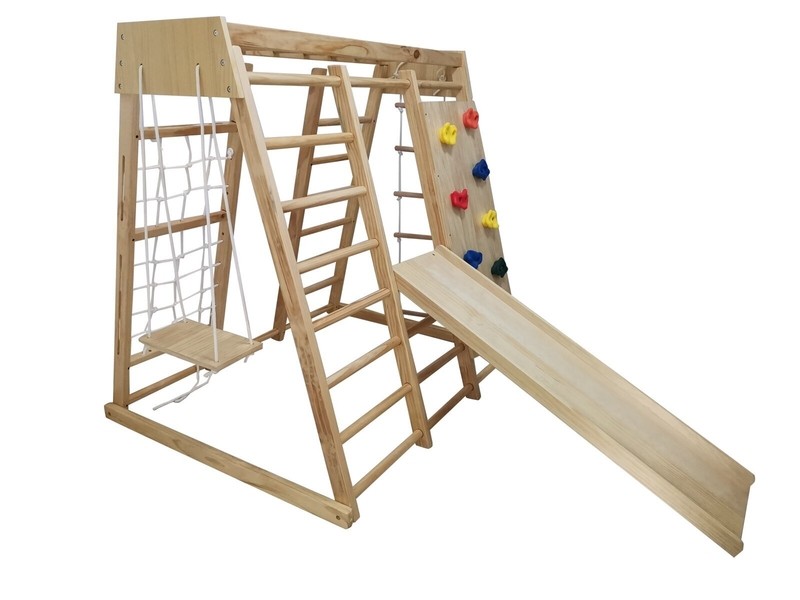 Child Indoor Play Gym

This 6-in-1 indoor gym equipment for kids will blow your child's mind when they enter their play area and see what you have for them. It is an incredible and intricate space for play and strength training, and so much more. Kids will get a kick out of all the activities available to them and you will love its well-crafted and safe design.
Form the slide to the swing and all the ladders, both rope and rung style, and lets not forget the rock wall. Your child will thank you again and again as they play endlessly. Every feature of this kids indoor gym is designed to spark their creativity and help them build strong bodies without them even realizing it. It is a wonder.
What we like:
● Plenty to do
● Rock wall
● Well-designed
What we don't like:
● Bad instructions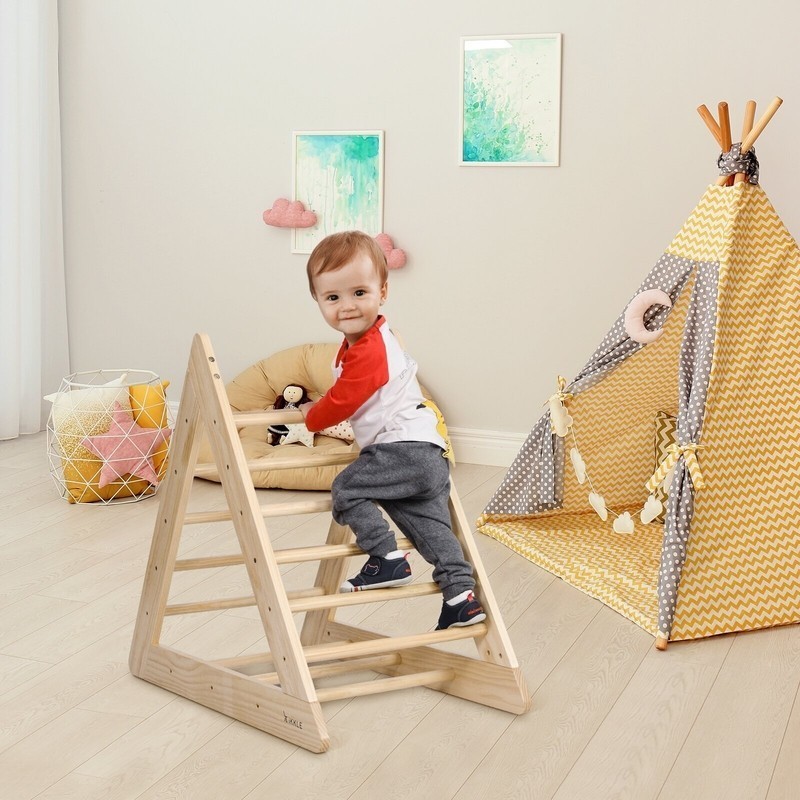 Wooden Children's Climbing Ladder

Just because it looks simple, doesn't mean your toddler won't get a mountain of insights from using this wonderful item each day. This triangle-shaped ladder is great for climbing on top of, and underneath, for lots of fun and exercise. And it si very sturdy so you can be sure your little one will not be in harms way.
Help them build muscles, learn balance, develop ways to overcome fear as they summit the ladder and then descend it on the other side; the benefits are vast. Let your child develop on an attractive medium, and we assure you that, while it is made of solid wood, you won't have to fear those tears caused by splinters.
What we like:
● Simple design
● Well-made
● Eco-friendly
● Adjustable rungs
What we don't like:
● Nothing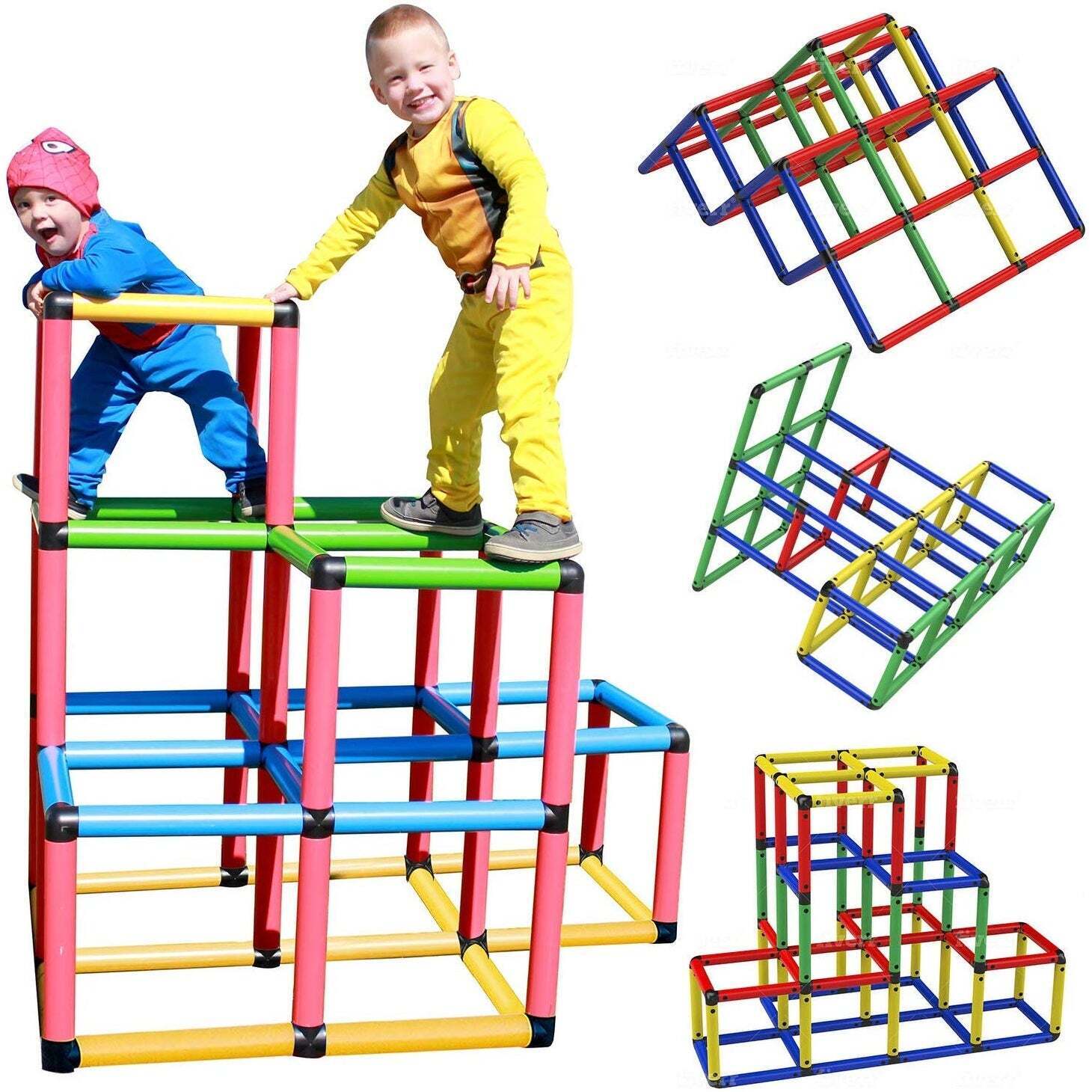 Funphix Climbing Gym

This will definitely give your kids some perspective and enhance their ideals about physics and structural engineering. These may seem like complex ideas for a small child but everything they do involves fundamentals that we as adults naturally accept. You have seen those climbing frames at the park, and now your child can build their own.
You read that correctly. All of the pieces for their very own DIY climbing frame are easy to attach and disassemble, and they can make it into whatever shape or size they desire, as long as the pieces line up. It is a fun and innovative idea for any kid who likes to know how things work. For a kids gym that will enhance their mind as well as their body, this is a lovely idea.
What we like:
● Customizable by the child
● Easy assembly/disassembly
● Very colorful
What we don't like:
● Nothing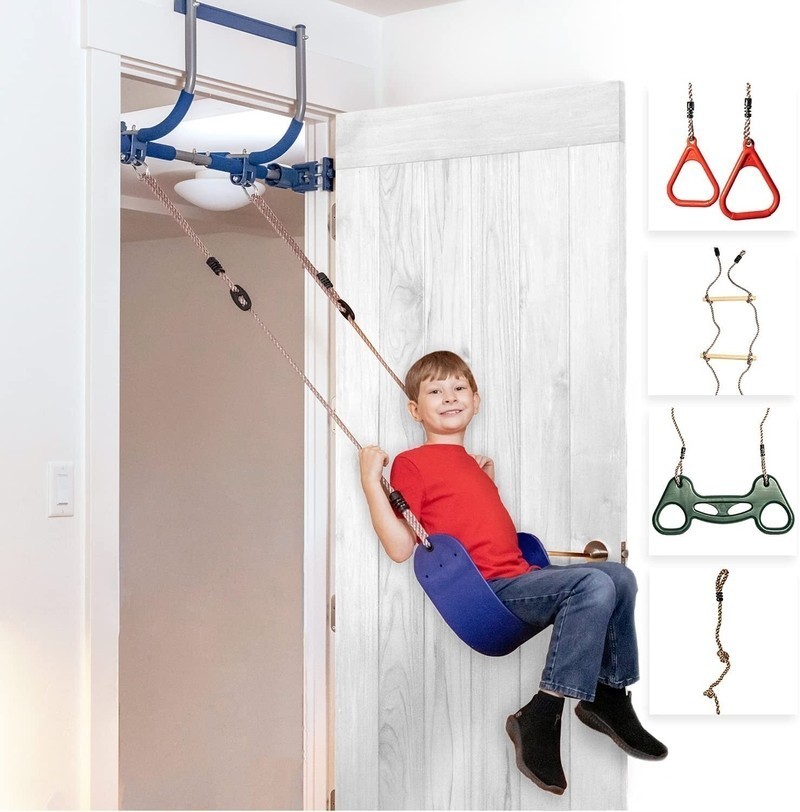 Deluxe Indoor Doorway Gym

You have seen those pull-up bars that easily install in your doorway for a quick workout and then they are easily removed. We have an option for children that will be fun and easy to store when done. The Deluxe Indoor Doorway Gym is not only a pull-up bar, but a medium for all sorts of gravity attachments.
Does your kid want a swing they can use in the home? It is that. How about a rope ladder? Yep, that, too. And are they interested in acrobatics? It comes with easy to attach rings for flips and other trapeze ideas. And when they are done playing on this easy to remove kids gym set, simply push it free and stow it away. A simple solution to any space management issues you might have.
What we like:
● Lots of features
● Easy to store
● Simple design
What we don't like:
● If used aggressively, it can fall on child
$144.99 $179.99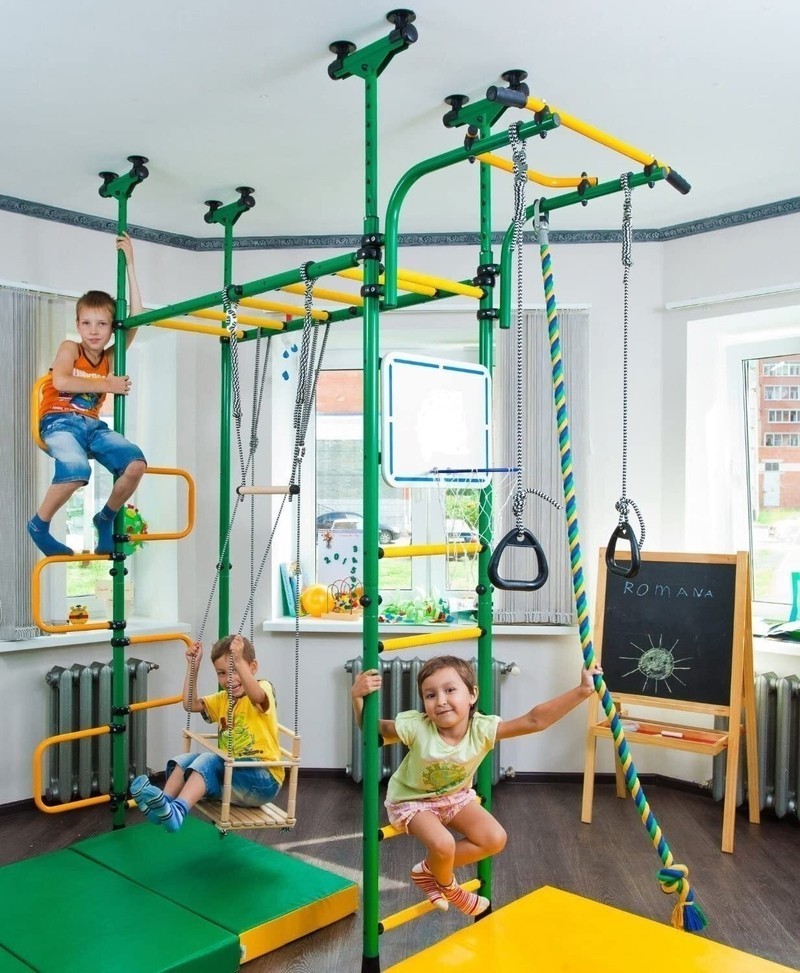 Pegasus Indoor Gym for Kids

If you have been looking for a way to fill that spare room without a purpose, you are going to want to see this. Yes, you can give your kids a play room, but that just covers the floor area. Add a Pegasus Indoor Gym for Kids and you have efficiently added fun to a much larger space, and your kids will spend hours exploring all the features.
This kid's home gym has everything: a basketball hoop, climbing rope, swing, monkey bars, trapeze rings, and so much more. It secures firmly to floor and ceiling, and is elaborate enough to engage your children in innovative and fit ways. And when coupled with foam floor matting, is doubly safe for all your kids creative play.
What we like:
● Comprehensive unit
● Easy to secure
● Non-toxic paint
What we don't like:
● Time consuming to assemble
$899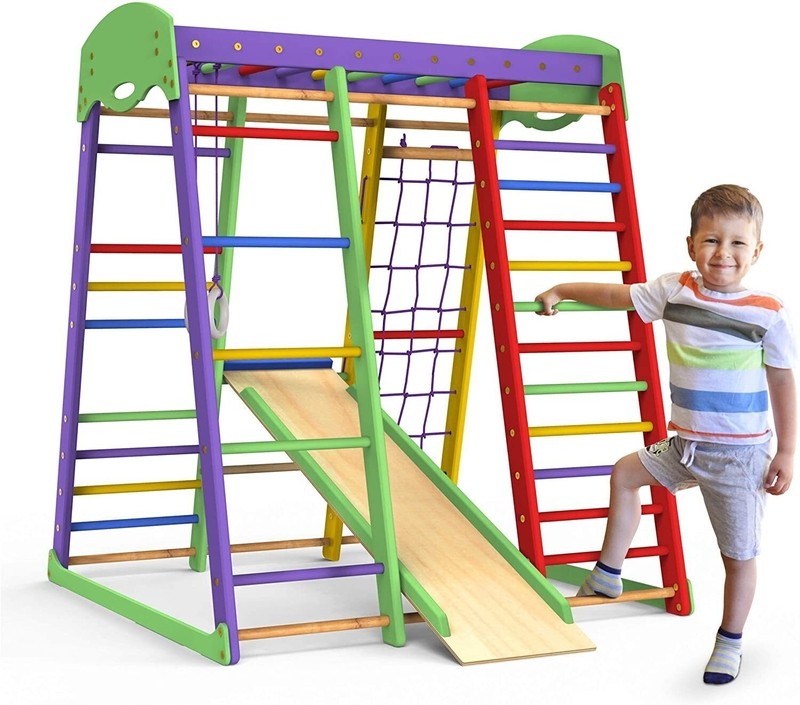 Indoor Toddler Climber

The short version of the product name doesn't do this playset justice, as there is a wide world of possibilities for your young child on this fun and interesting climbing scape, and a chance for them to broaden their mind with adventure and imagination. And it is only for kids up to 5 years old. Lets get your toddler interested in exercise early.
As far as a kid's gym goes, this is perfect for strengthening your young one in all the best and most fun ways. It has ladders and a slide, and even a monkey bars set up at the peak. And to help with coordination, one side actually has a rope web for climbing, too. And it is made of quality material that will last for years.
What we like:
● Lots to do
● Colorful
● Easy to Assemble
What we don't like:
● Bolts need occasional tightening
$399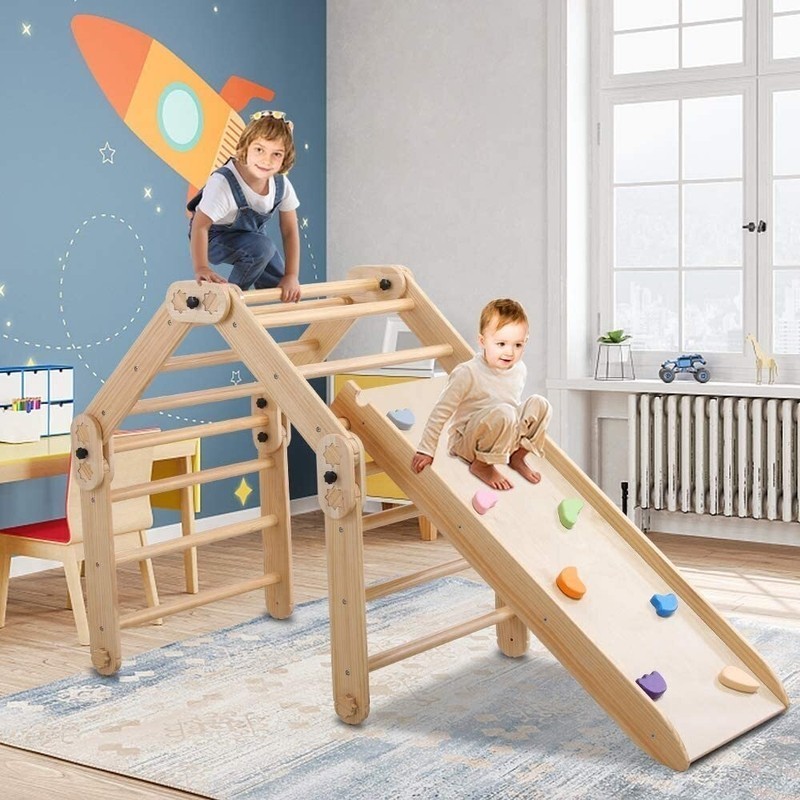 Dripex Foldable Pikler Climber

This wonderful play place is designed in the spirit of the home gyms that fold away for easy storage and convenience, with a much easier mechanism. And the Dripex Pikler Climber has fewer moving pieces giving a single person the option to fold it without struggling. But it is so much more than a convenient design.
It features a triangle ladder system that conforms to your desires in shape that lead to a slide, which in a moment can become an angled rock wall. It is not required to conform to just one shape, but many shape options, which can be selected by you or your child. Let them play and grow and discover new geometric ideals in a fun environment.
What we like:
● All Wood Design
● Fold-away for convenience
● Easy to operate
● Versatile
What we don't like:
● Must remove 6 bolts to fold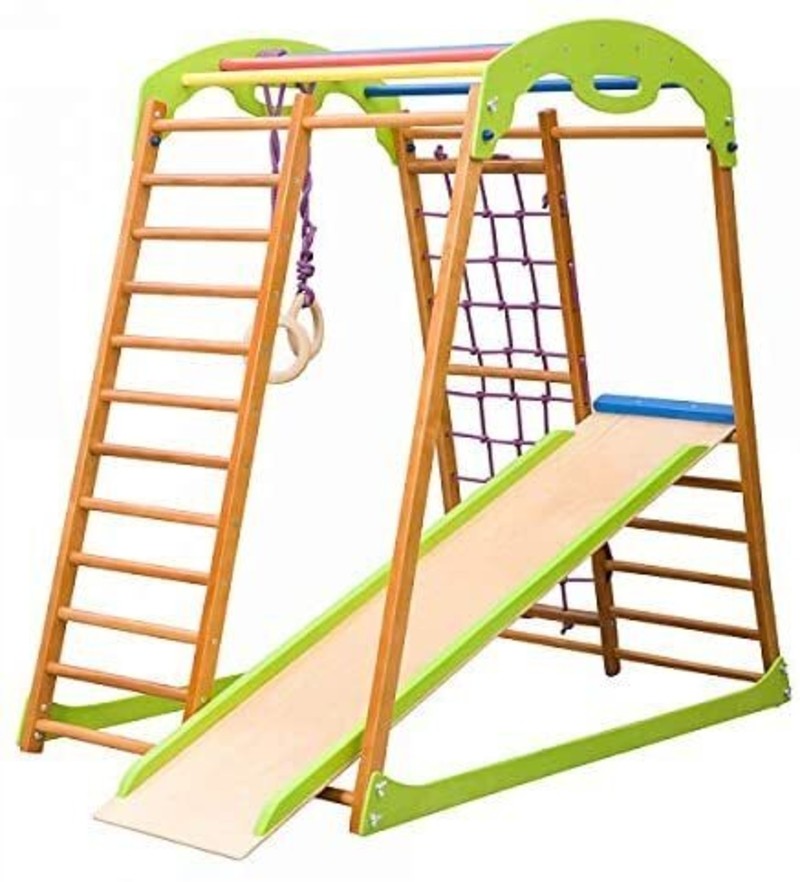 Indoor Wooden Playground for Kids

Of all the kid's gym equipment we have listed here, this one has by far the longest slide, and what kid doesn't love a long slide? But that is not the best feature. This indoor gym equipment for kids is easily foldable for lessening the space it takes up when not in use. And for activities, your kids need as much space as possible.
It has a rope climbing net, a Swedish ladder, of course the slide, and rings for your child's acrobatic desires. It is colorful, well-made, and will give your little grower hours of fun and exercise. Let their little bodies get big and strong without fearing the outdoor elements when you introduce on of these in your home.
What we like:
● Long slide
● Lots of activities
● Colorful
● Foldable
What we don't like:
● Some models come with misaligned ladder holes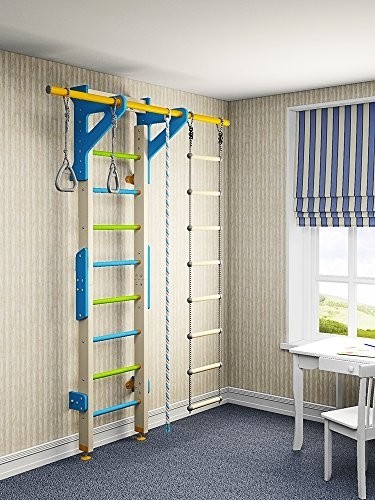 Wooden Indoor Training Gym

The second most compact option in indoor gym equipment for kids, this model fits nicely against a wall, and secures floor to ceiling. It is a perfect answer to your limited space if you are looking for a kid's gym set for inside the home. It has plenty to do and each item will give your kid added strength and new confidence.
Lets start with the easy to install design, not unlike an extension ladder, which makes sense because the first thing you will notice on this fun and well-made item is the ladder stretching the entire height. Then you see the rope ladder, the rings, the climbing/swinging rope, and the pull-up bar, and know you have come to workout and play hard.
What we like:
● Compact design
● High-quality
● All Wood
What we don't like:
● Not a user-friendly build
● Must line up with ceiling trusses for support
$699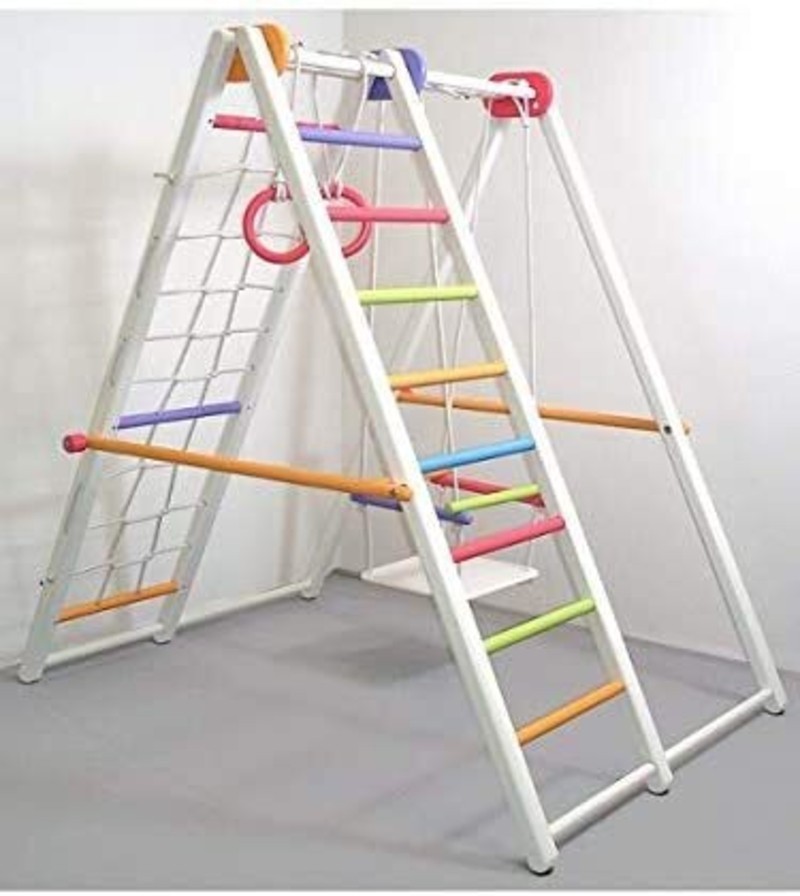 Dani Wooden Playground for Kids

Available in wood and painted options, this is more than just a playground, but an immersive gym set experience. And you wouldn't think it true to look at it but it was designed specifically for indoor use, giving you wonderful indoor gym equipment for kids that will keep your children occupied for hours.
It has a long slide, swing with control bar for smaller swing users, climbing net, ladder, rings, and every single piece is made of hardwood for safety. The painted model is very colorful, but if you wish to decorate your own, the plain model is ready for varnishing or adding of your own paint. Either way, you are sure to love the laughs of your kids playing on their new gym set.
What we like:
● All Hardwood Construction
● Comes in plain and painted
● Plenty of activities
● Easy to fold
What we don't like:
● None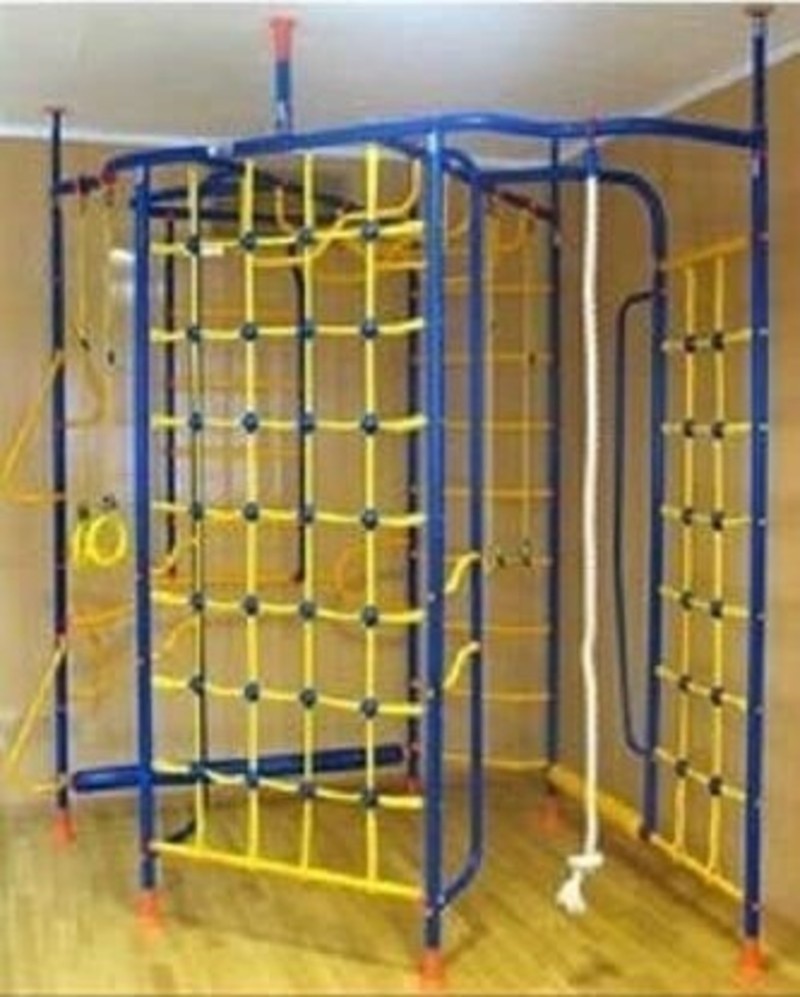 Funny Neposeda Gladiator

Its Christmas morning and your kids wander into their playroom and see this large yellow and blue kid gym, followed shortly by a flurry of praise and gratitude as they forget everything else under the tree. Yes, it is that cool. And not just because of the color, but for the comprehensive list of things available for them to do.
Diving right in, you have your rope for climbing that hangs from one of the pull-up bars, followed by the ladder in the corner, and the many places to climb including a lattice on two sides. Then add a swing, rings, and so much more, and it goes from floor to ceiling for safety, and you have the most interesting looking indoor gym equipment for kids you may have ever seen.
What we like:
● Intricate design
● Floor to Ceiling
● Fits in corner
● Non-toxic paint
What we don't like:
● There is nothing we don't like about this product!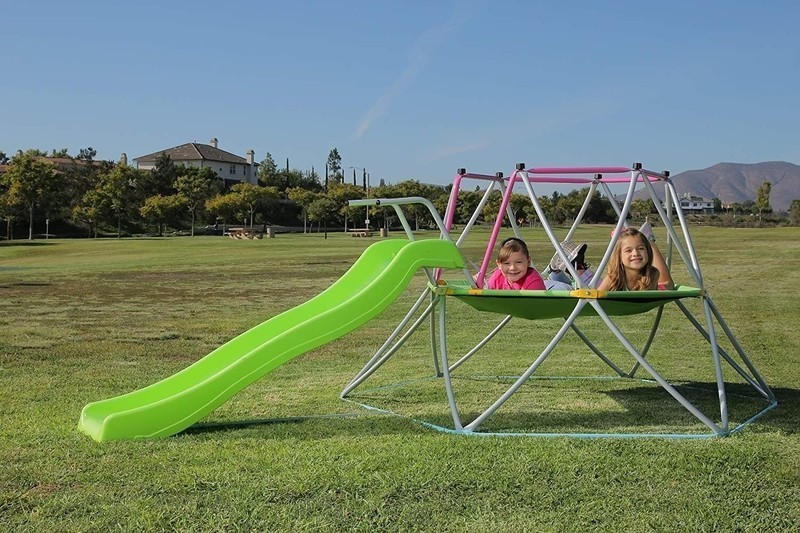 Kid's Dome Climber

Kids love to climb, which is why so many of these kid's gym sets have climbing features. And the Dome Climber is obviously not an exception. But instead of ladder rungs, it is designed like an outdoor dome with bars attached an many directions at many angles. This is a great feature to teach balance and coordination.
Once they have achieved the summit of the dome, they will be pleasantly surprised by a large nylon cradle that is great for standing, siting, laying, and waiting to use the slide. Don't be shocked if after hours of play you find your little one taking a nap on this large bit of nylon. It droops and will give them a nest-like resting place.
What we like:
● Well-made
● Humped plastic slide
● Steel frame
What we don't like:
● Hard to assemble
● Cheap/missing screws
$299.99 $499.99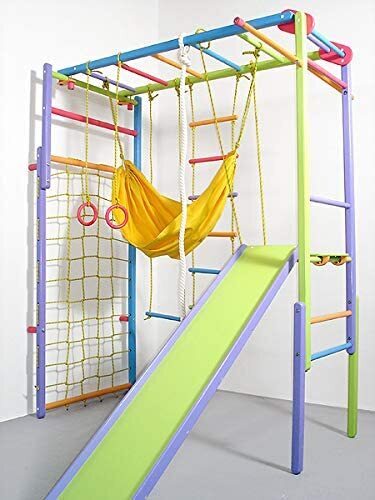 Wooden Indoor Foldable Climbing Playset

For kids from 3 – 14 we give you the kid's gym set to end all kid's gym set conversations. It is so comprehensive in design and activities, if your kids don't lose their minds when they see it in their play area, you might want to get their eyes checked, because this is epic. And it fits nicely in the corner of your chosen room.
For working out, for play, for naps or reading, you can be sure it has everything they need to have their best time. Help them grow and evolve as little people with the slide, ladders, rings, swing, and the best part, a hammock suspended from the monkey bars. It truly is a wonder, and we guarantee your kids will love it.
What we like:
● Colorful
● Well-made
● Lots to do
● Hammock
What we don't like:
● Needs to be anchored for safety