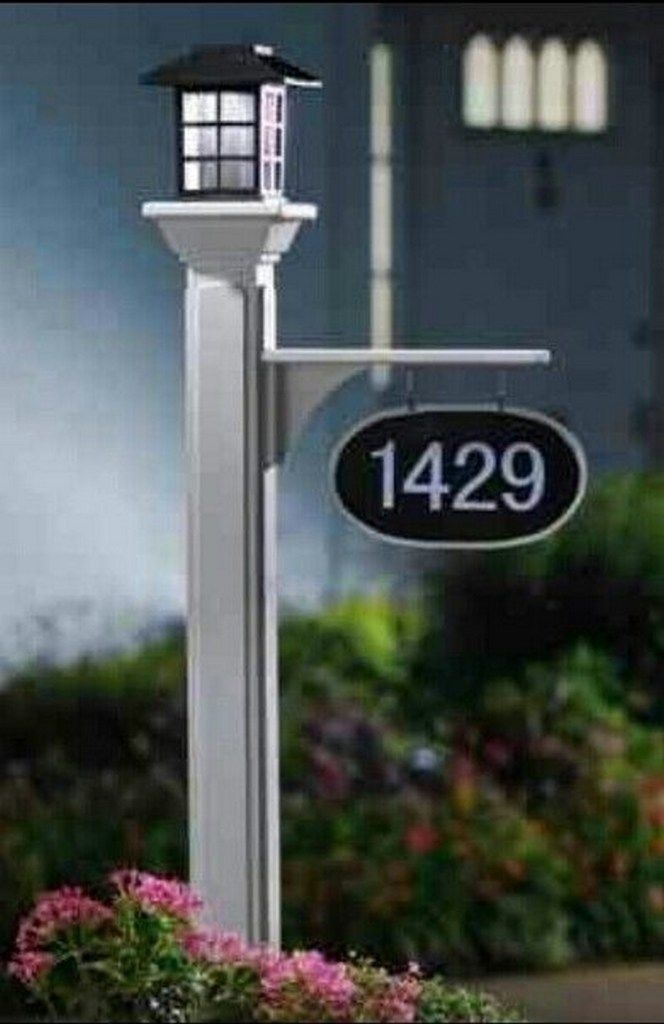 Solar lamp post address marker
Trying to find the high quality and nicely finished mailbox? We've got the excellent mailbox post with solar address light. It adds style to any outdoor space.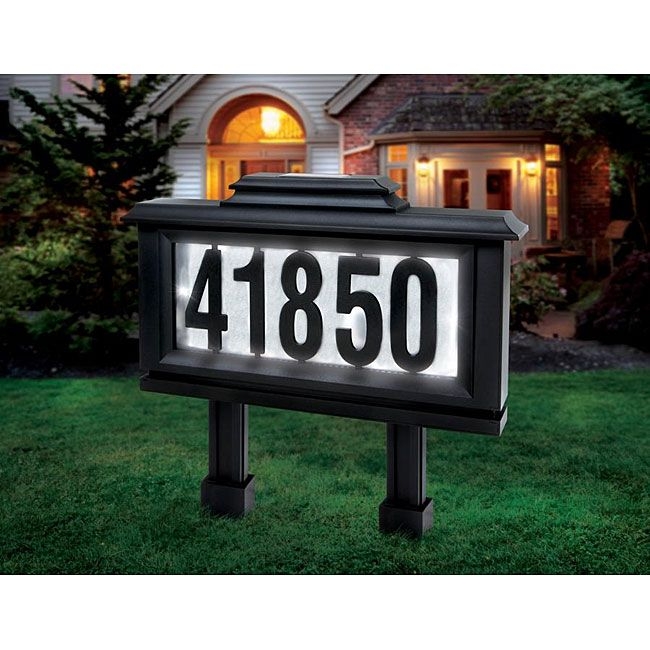 Sarah Peyton Outdoor Solar Led Address Plaque
If you trying to find the perfect solar address light, you have to choose this one. It features the solar LED address plaque, which is powered by the sun. It works without any batteries!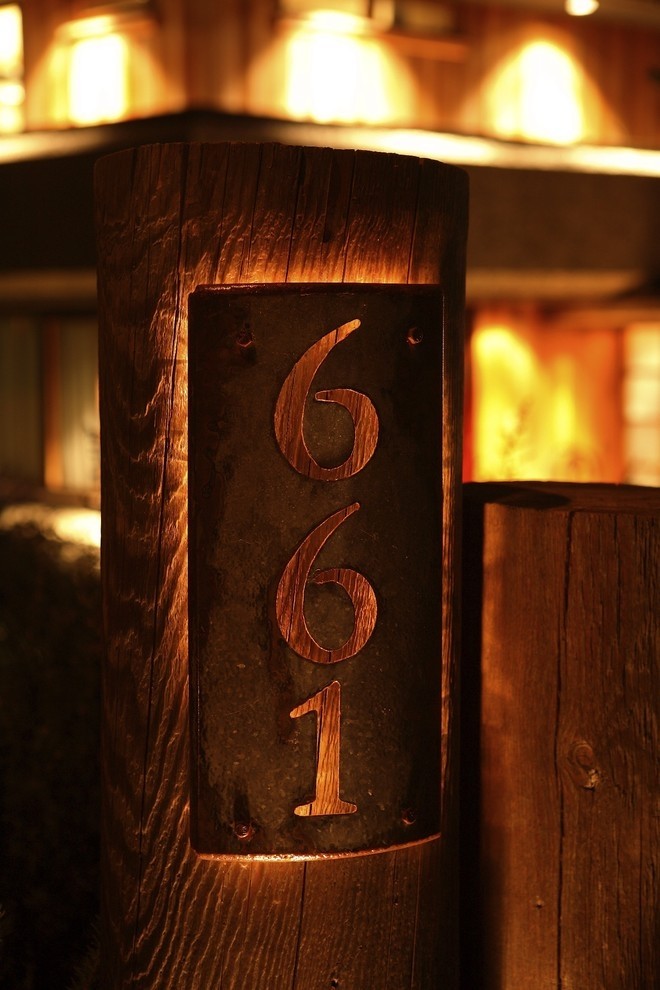 Irving residents eclectic landscape san luis obispo
Rustic and industrial design for a handy and easy way to decorate the front of your house with. This house number plaque made out of wrought iron with a backlight behind it makes sure the number stays visible even during the night.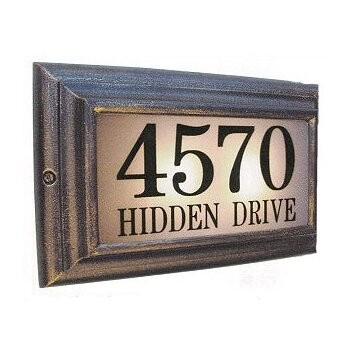 Edgewood Large Lighted Address Plaque
This plaque allows you to display your address in an elegant way with an alluring vintage vibe. The numbers are crafted of cast aluminium. As they are lighted, they are visible from up to 100 metres away.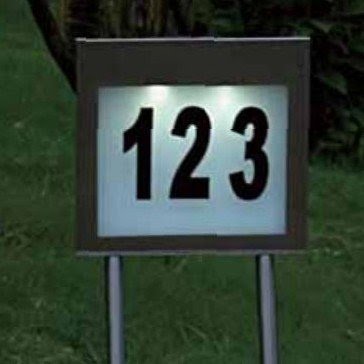 Solar House Address Plaque
Practical LED solar lamp for a house number outdoor illumination. Made of stainless steel with a black-finished border of a rectangular panel. It has 2 stakes and 2 sets of black adhesive house numbers. One charging holds out 8-hour burning.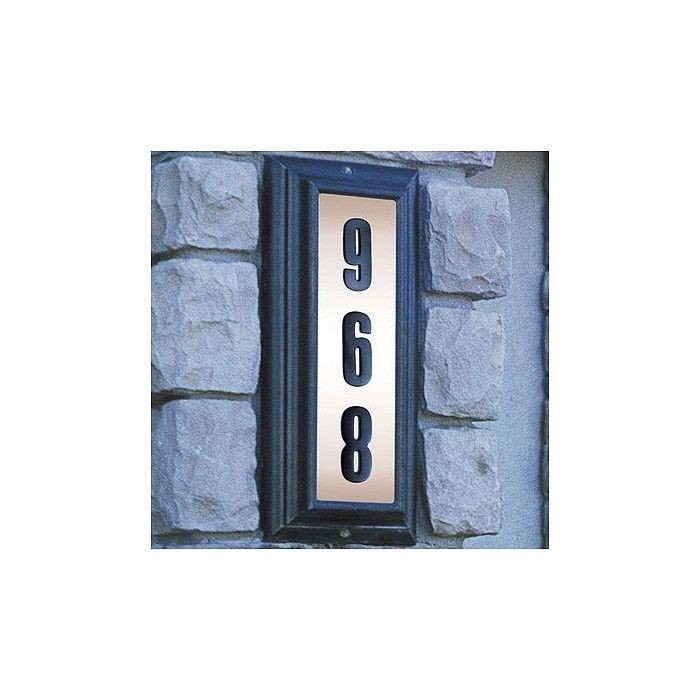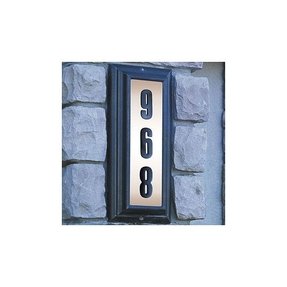 Edgewood Vertical Lighted Address Plaque
This address plaque is a bit different than others, as it is not only rectangular but also oriented vertically! A nice option when a surface you want to mount it on is somehow narrow. The frame is resistant to peeling and cracking!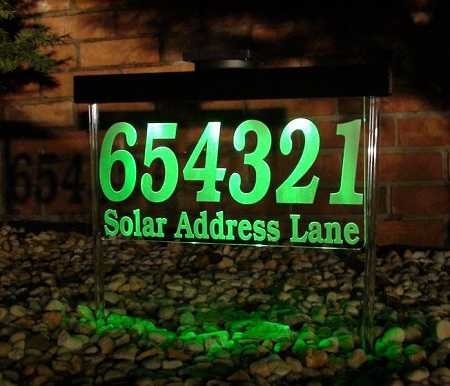 An interesting, personalized house number that is readable from large distances. It features a transparent frame and green numbers. This construction also includes a solar light, so the number is readable at night.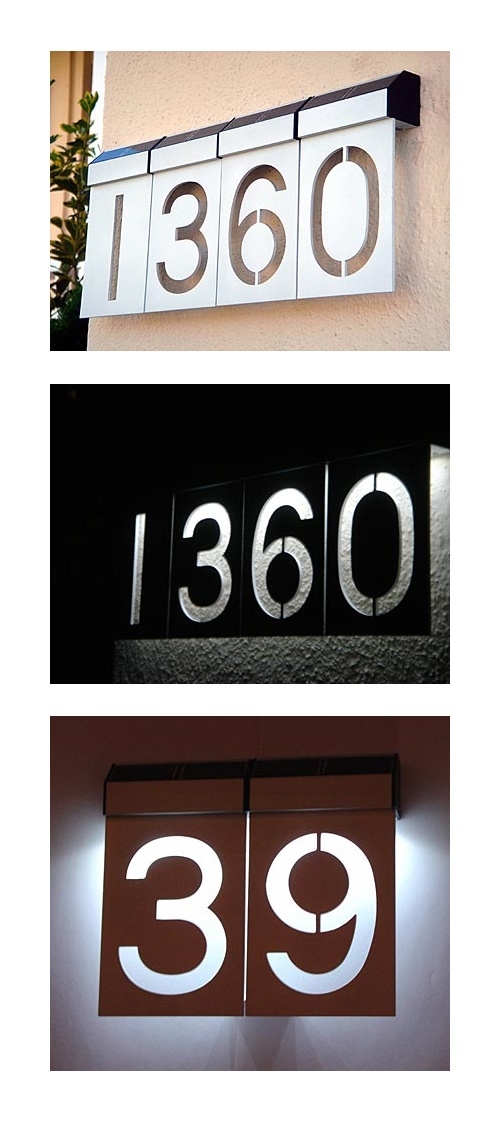 This small element is decorative and functional outdoors. It includes an address light that illuminates the street number at night. This solar product is a very functional, economic and ecologic solution.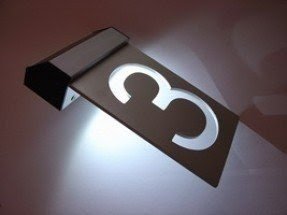 A very functional address number that is large and readable even from large distances. This solar number uses LED technology to shine at night, so it is readable in darkness. The whole technology of this item is reliable.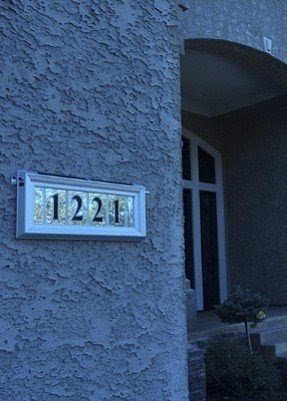 Cleverly designed, this solar address plaques glows at night, helping your guests easily find your house after dark. Apart from it, it is also a stylish accent, which will distinguish your house a bit.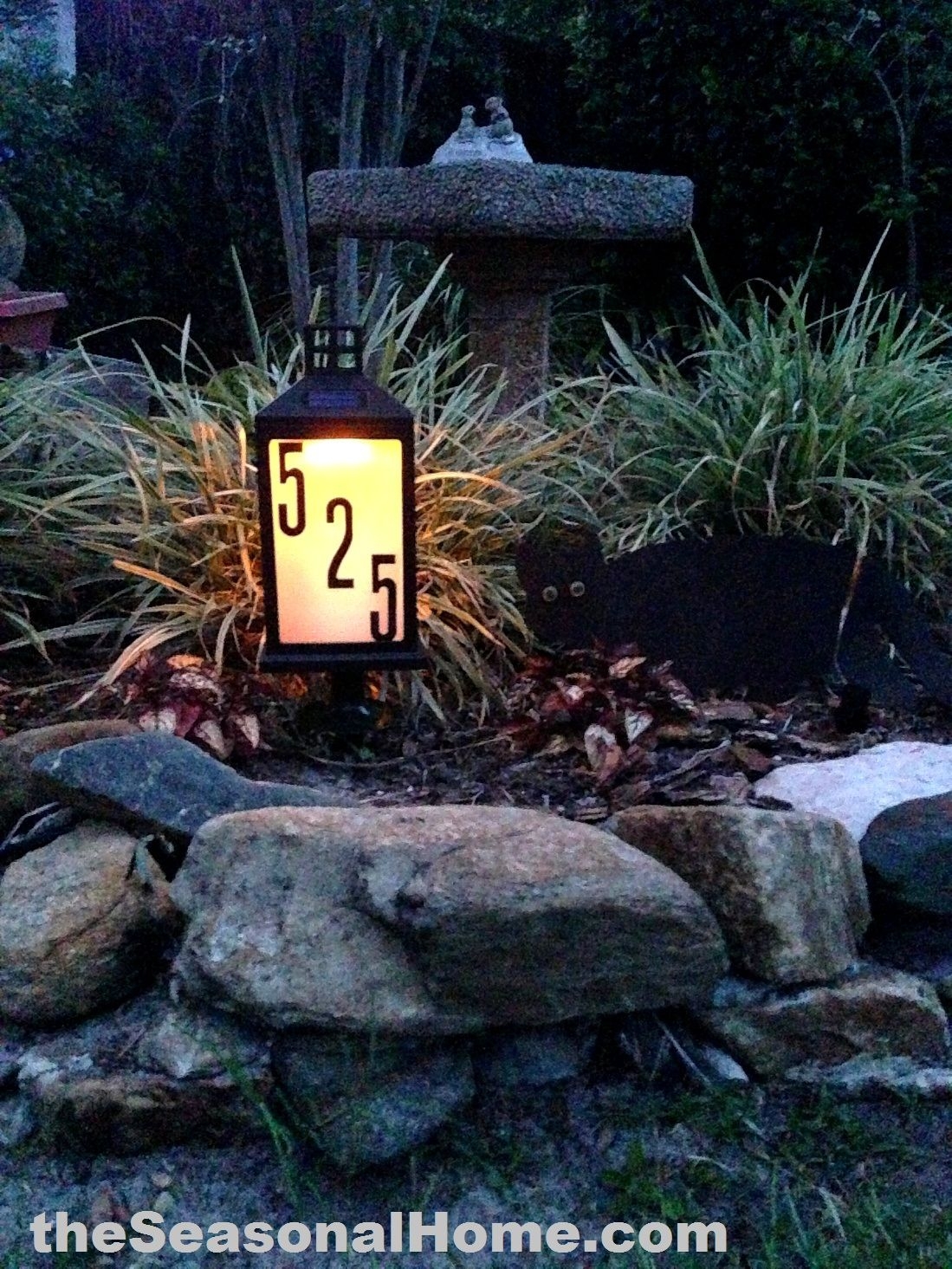 A functional element that also decorates garden areas. This address lantern includes a solar light that makes a street number visible at night, so this solution is not only decorative, but also very practical.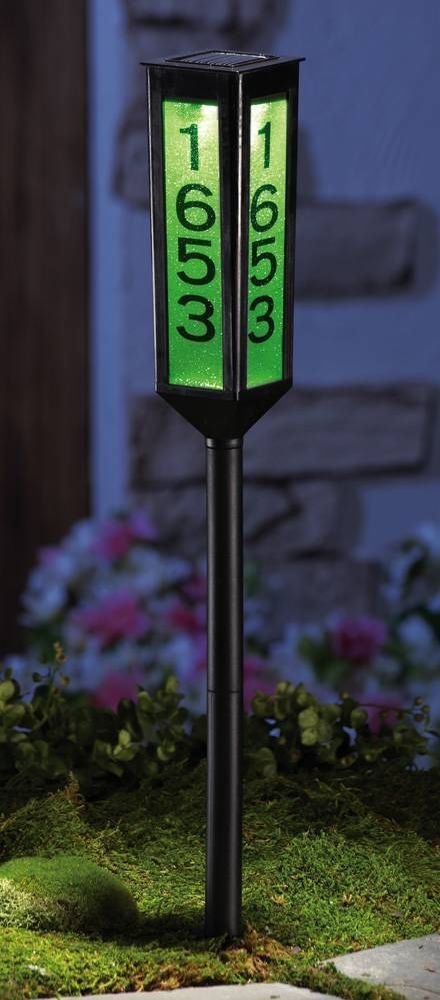 With this solar address marker stake, no one will pass your house, anymore. Designed of quality metal and covered in a black finish, the stake is resistant to weather conditions, and glows after dark, vividly displaying the number of your house.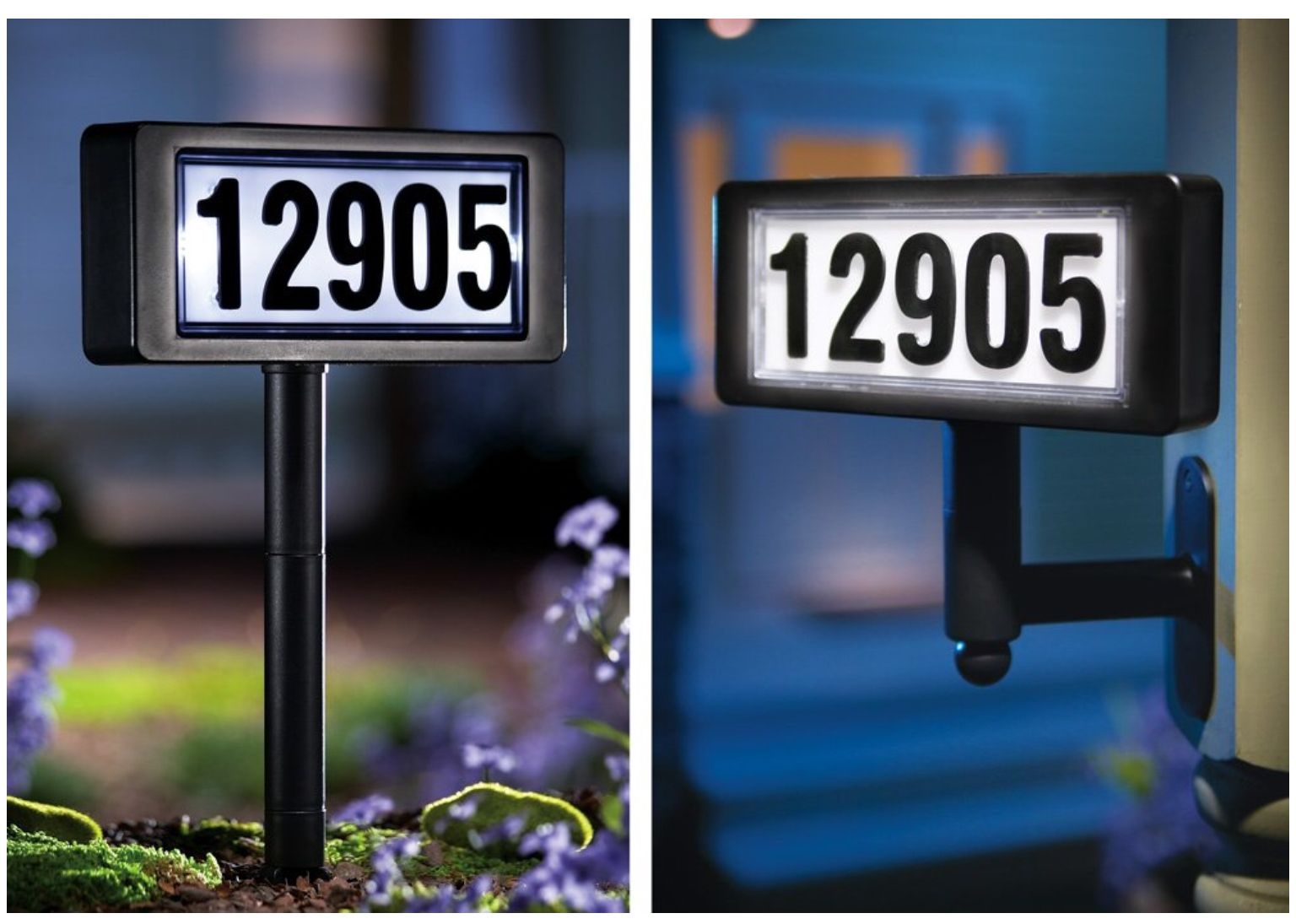 An original and interesting address light powered by solar technologies. This solid construction is wear-resistant and it is readable at night thanks to its solar powered light. This idea is very functional.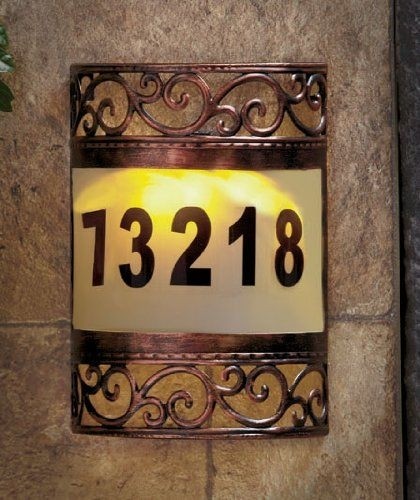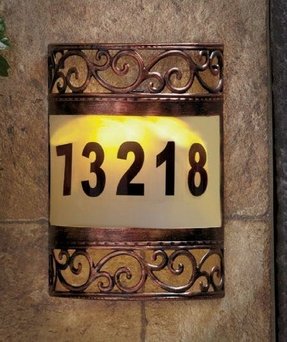 Luxurious house number. Decorative bronze finish underlines the design of your house, while the illumination system makes sure everyone is able to find your place. It's charged by solar energy, so don't worry about batteries.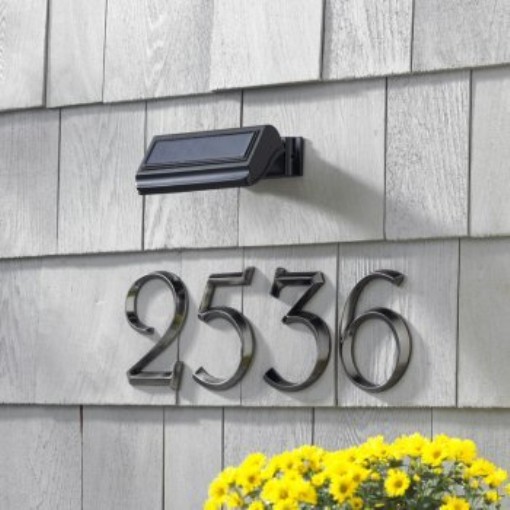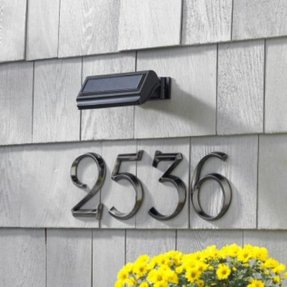 A eco-friendly way to equip your house with beautiful address signs that glow in the dark. Each of these address signs is has a solar panel that absorbs sunlight during day to recharge itself for effortless usage.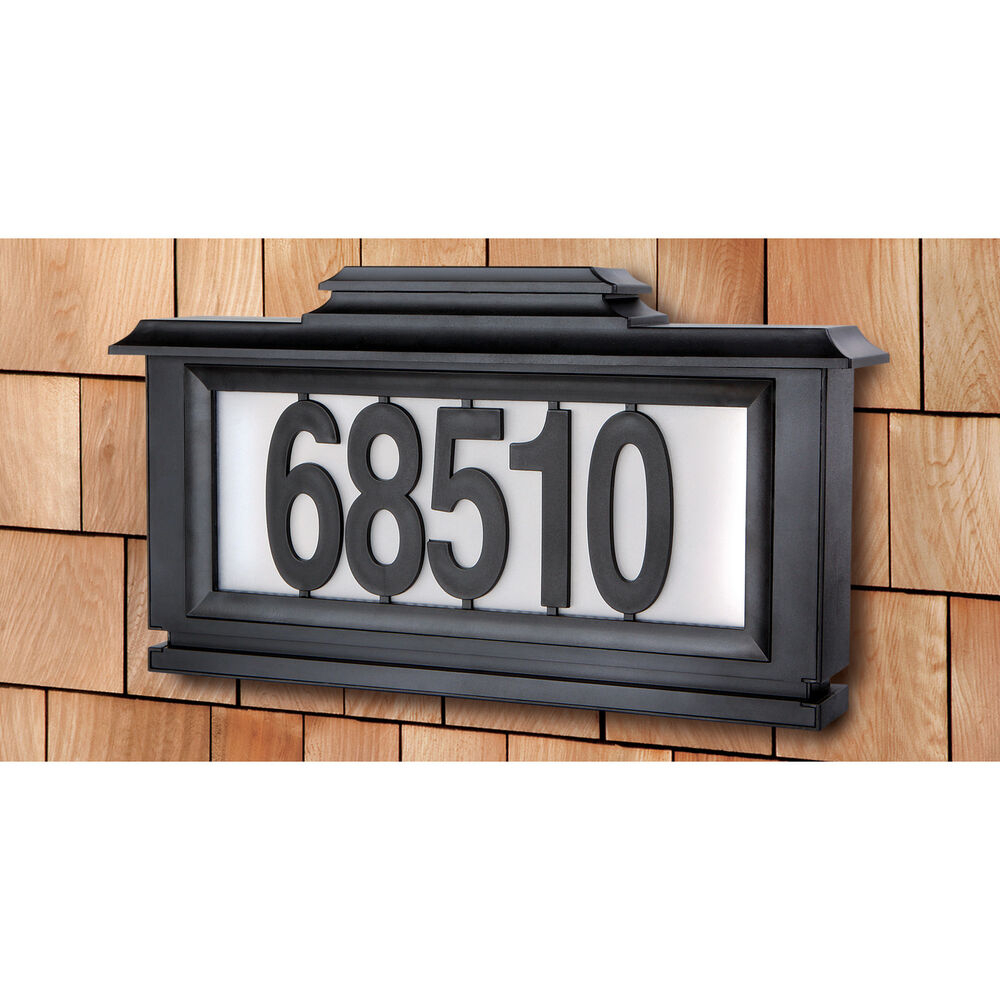 Solar house number with black Arabic numbers and black rectangular frame. These numbers are located on white background with a light. Thanks to this solution, the number is readable at night and it also plays a decorative role.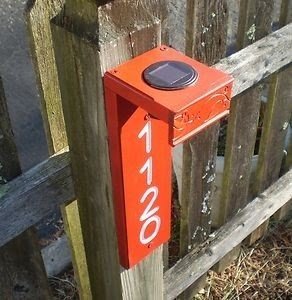 A very functional, state of the art technology. This element includes a house number that is readable. These are solar numbers so they get energy from the sunlight and they are able to shine at night for a better readability.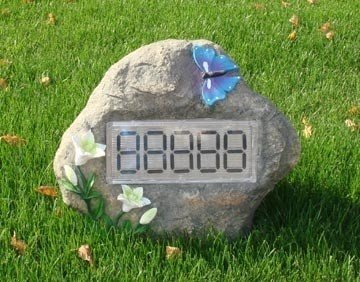 SOLAR ADDRESS PLAQUE LIGHT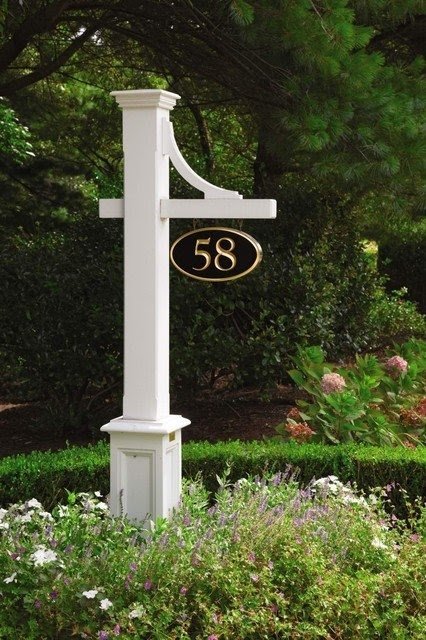 Always wanted a house # sign like this. Maybe even with a light!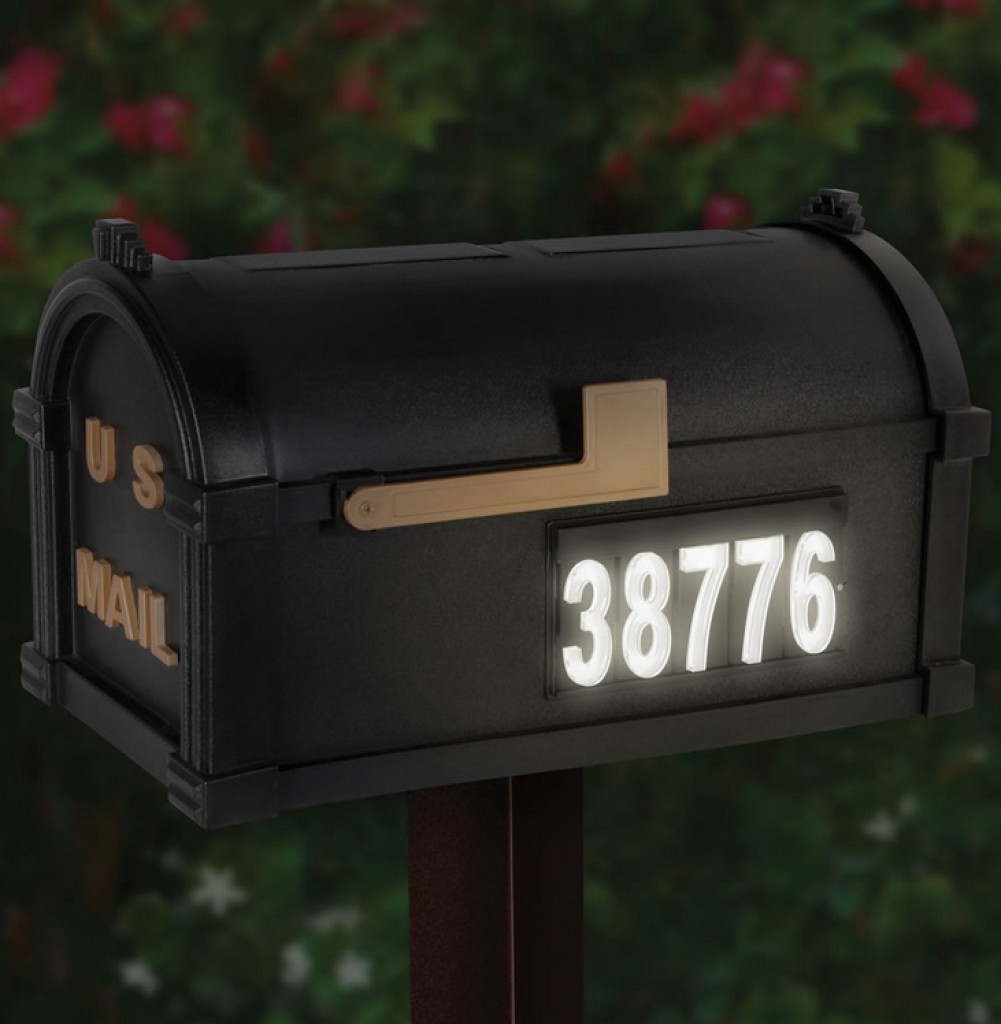 The Solar Illuminated Address Mailbox cool, glowing, illuminate, made ...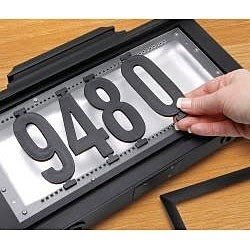 Blinking Dragonflies Solar Powered LED Light with Battery ›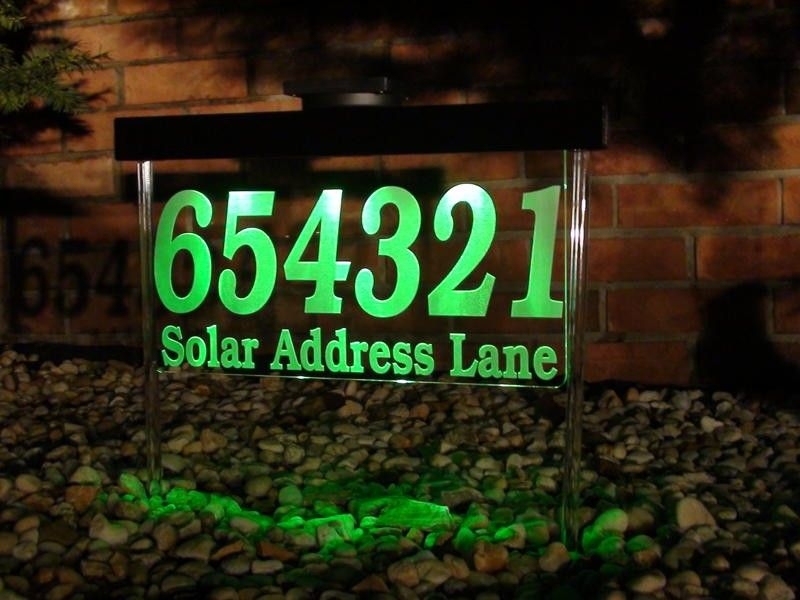 Gama Sonic GS-81 Prestige Solar Charged Address Light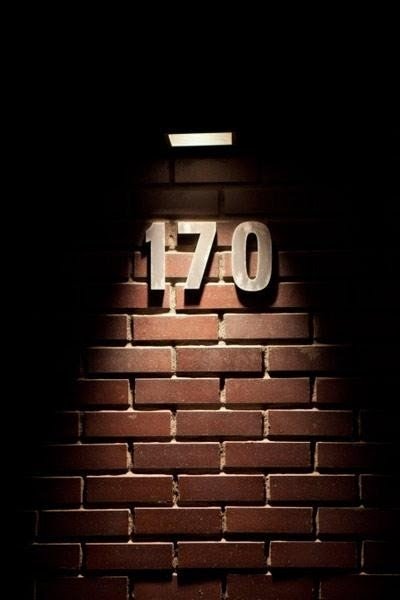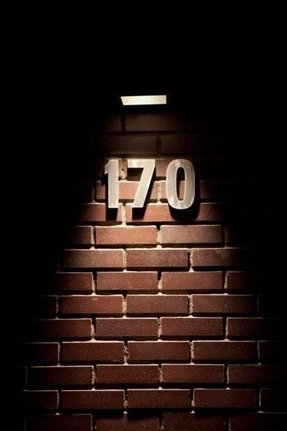 Everyone will find your home in the dark, because you will have the easy-to-install solar light house number. It works without any batteries and as got a large size.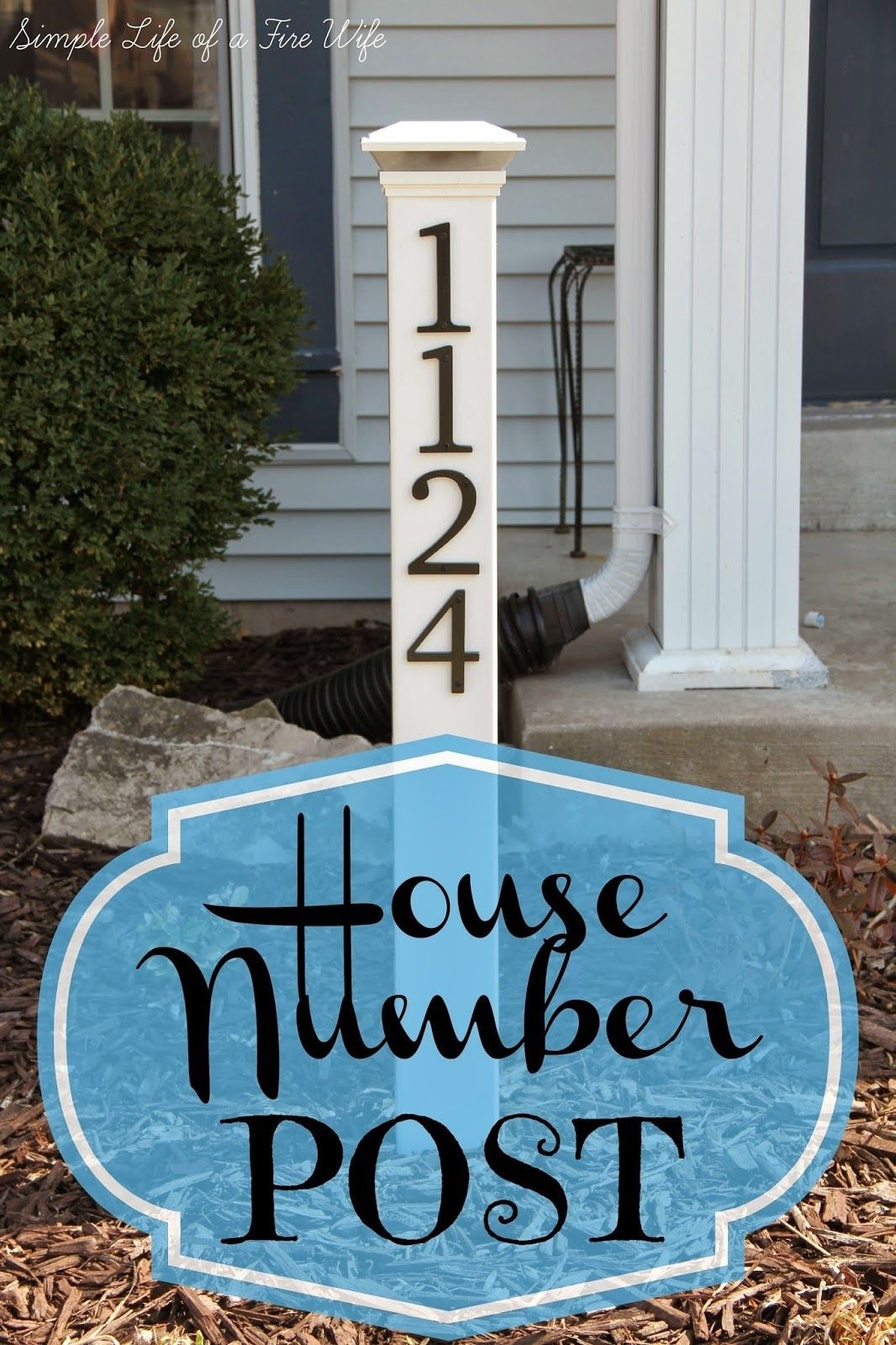 Simple Life of a Fire Wife: House Number Post I would not do jacket...numbers on 2 sides....solar light on top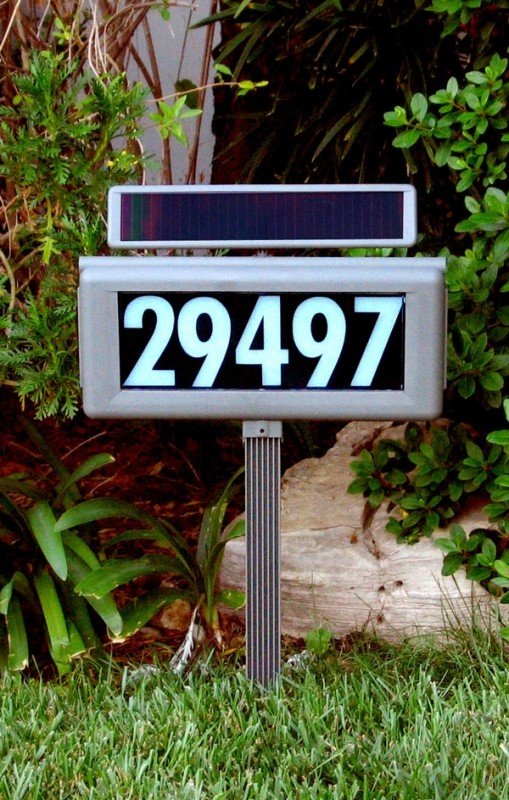 Solar Powered Address Light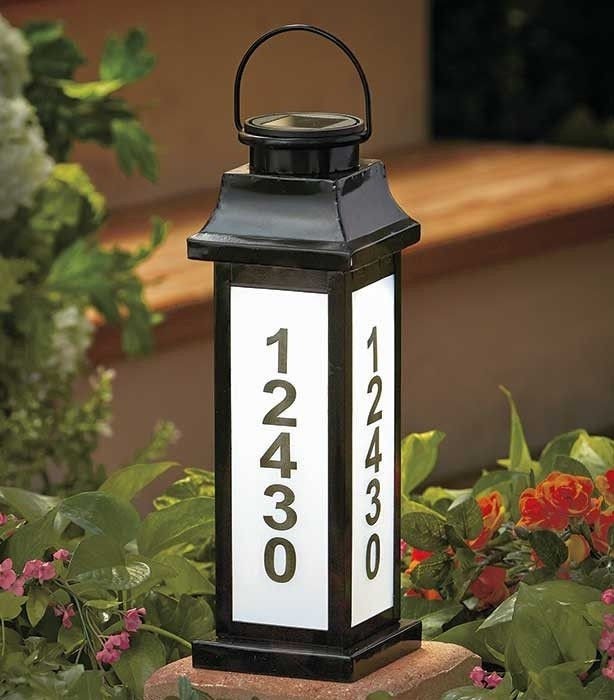 Solar Powered Address Lantern Front Yard Welcome Home Outdoor Light Lamp Sign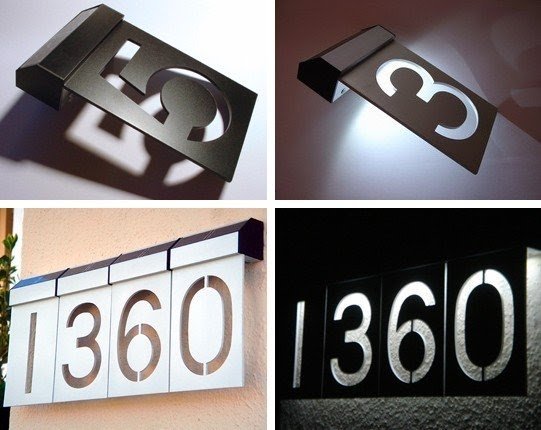 Beautiful First Impressions: Laser Cut Solar Address Lights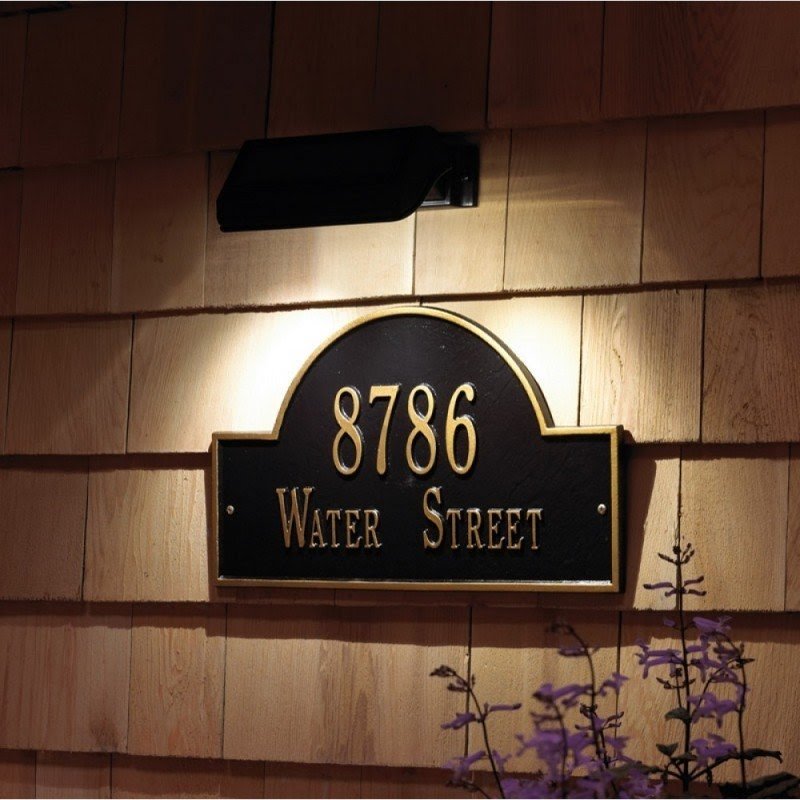 Unique an unusual decorative piece for the front entrance of the house, consisting of a classy, old-fashioned house number with a solar light above, which illuminates automatically at dusk and shuts off at dawn.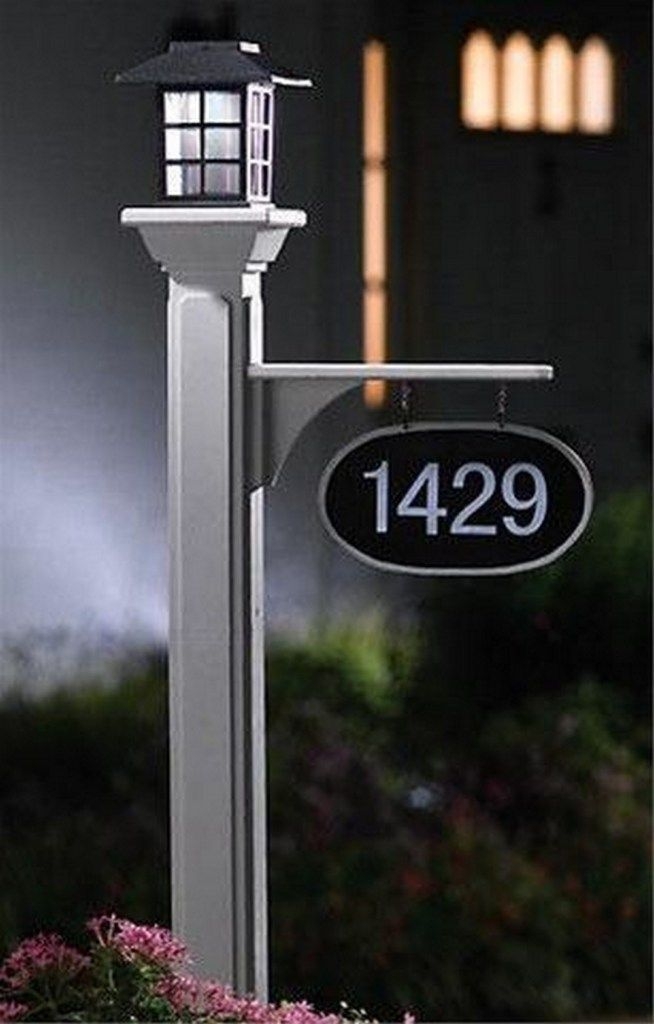 This type of post is an item that provides some space for a mailbox. It also includes a light and a plate with street number. This high-quality, nicely finished element adds style to any outdoor space.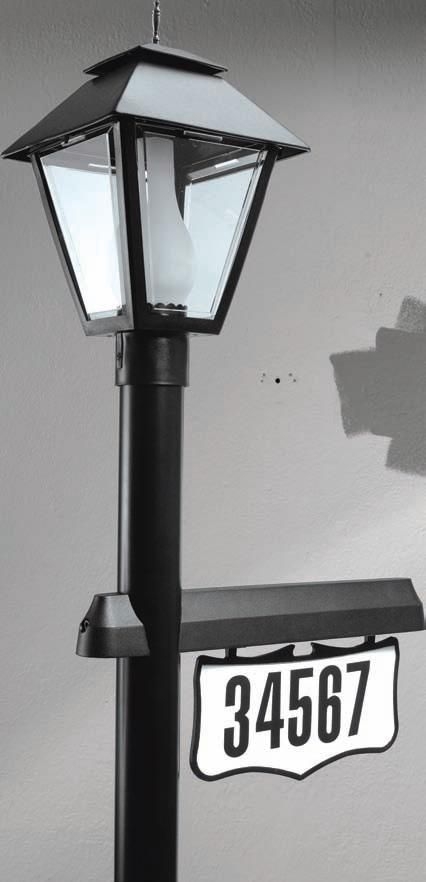 If you need bright illumination in your garden and you want to have visible address sign, you should insert this element in your garden. It connects elegant, vintage street lamp with fancy board with your house number.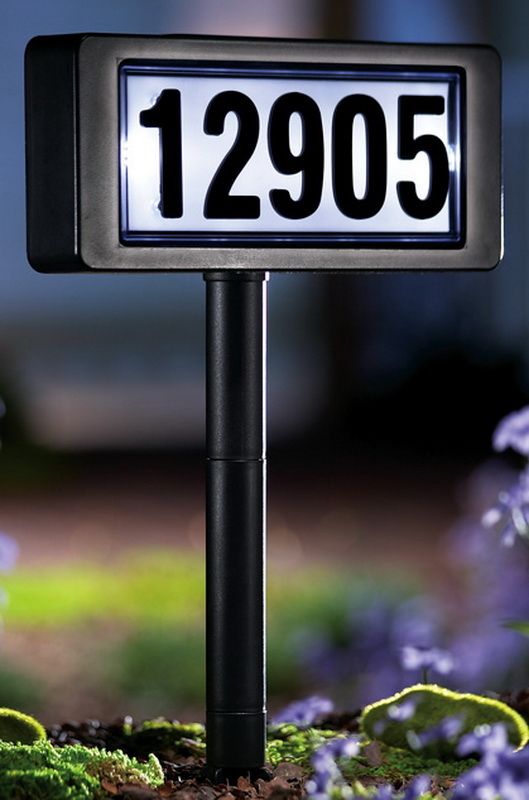 Way Solar Lighted Home Address Sign Address Marker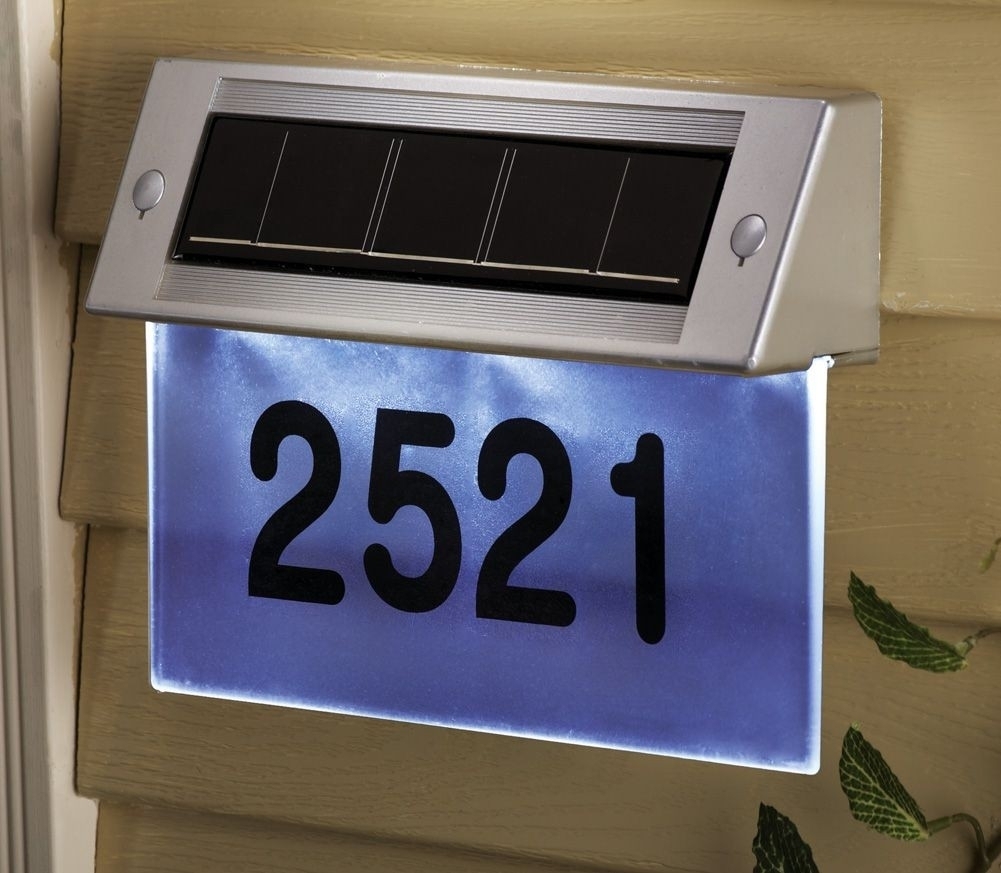 Solar LED Custom Address Wall Mount Light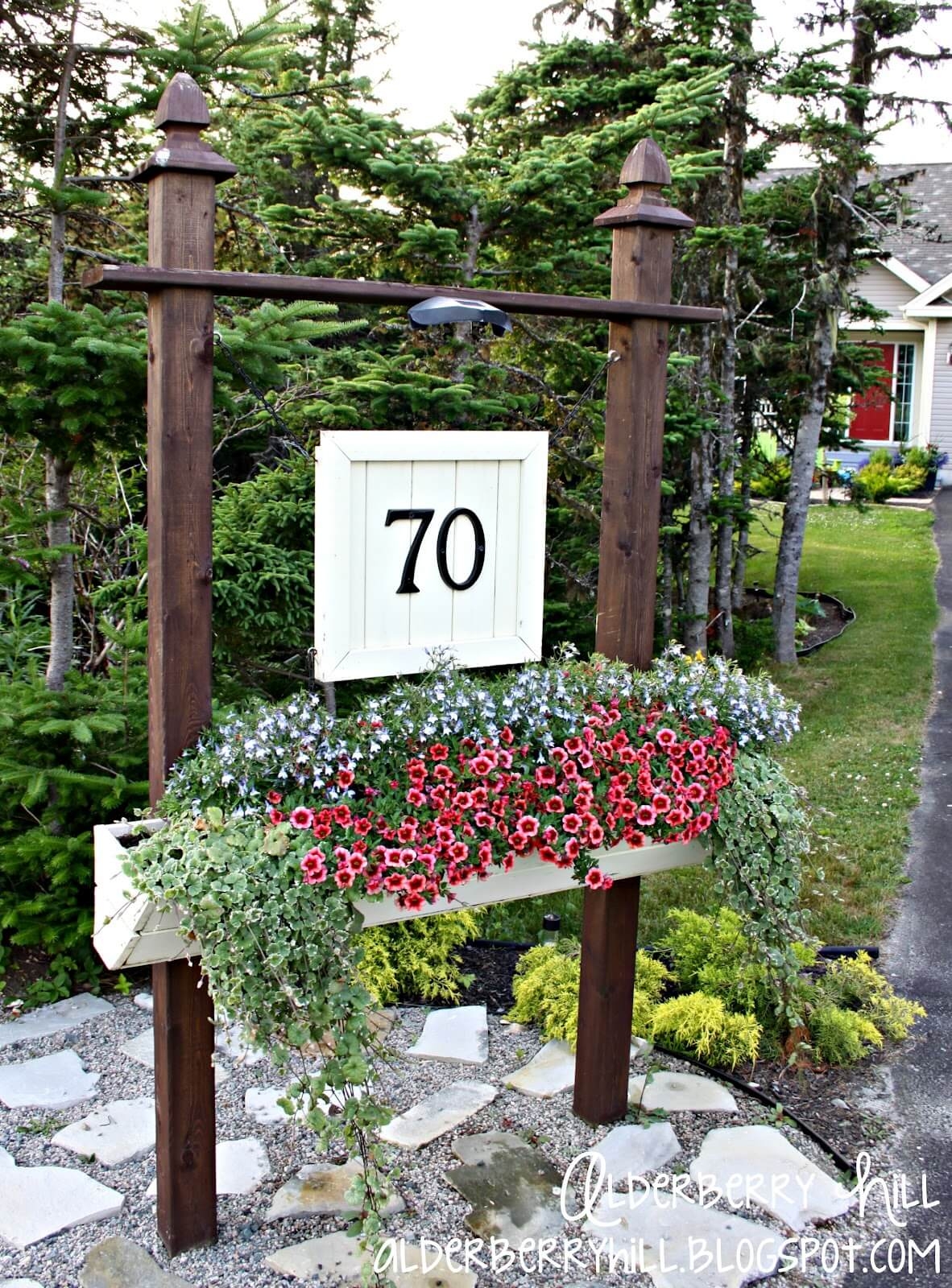 Number sign with built in planter (and solar light) for the end of the driveway. I love this.. now I need a bigger yard.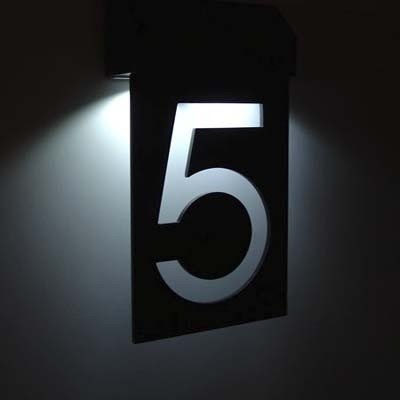 This solar powered LED number is going to keep your guests from wandering about. Constructed of quality aluminum and painted in black, the decoration has a large, cut out number, behind which is hidden a lighting system.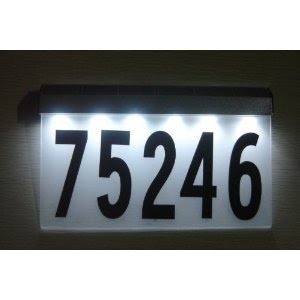 the solar address light this is a solar address light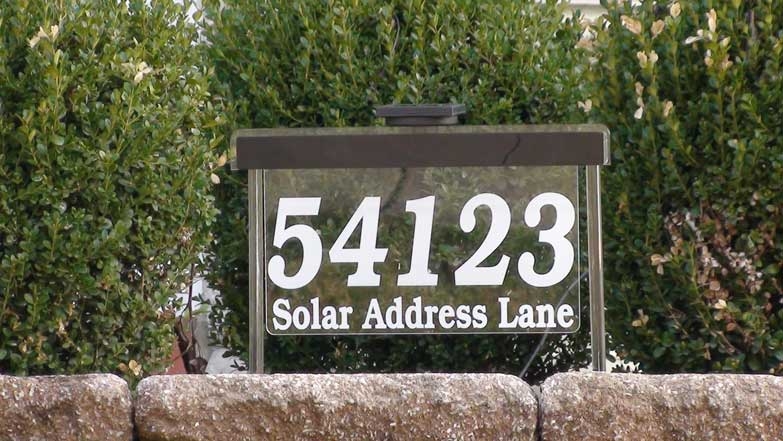 ... solar address lamp sure address markers address plaques and house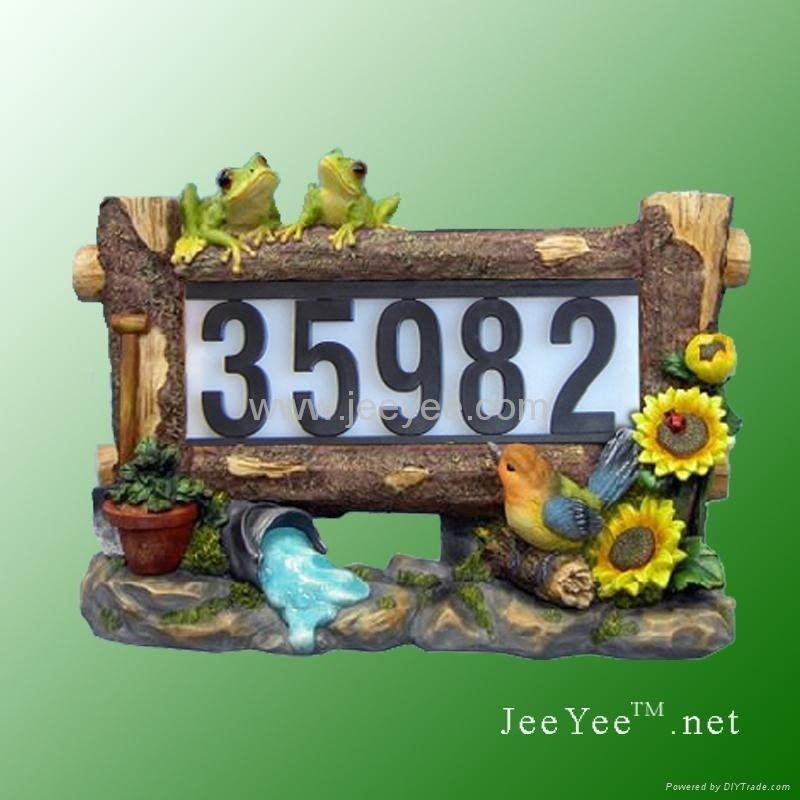 Garden Solar Address Light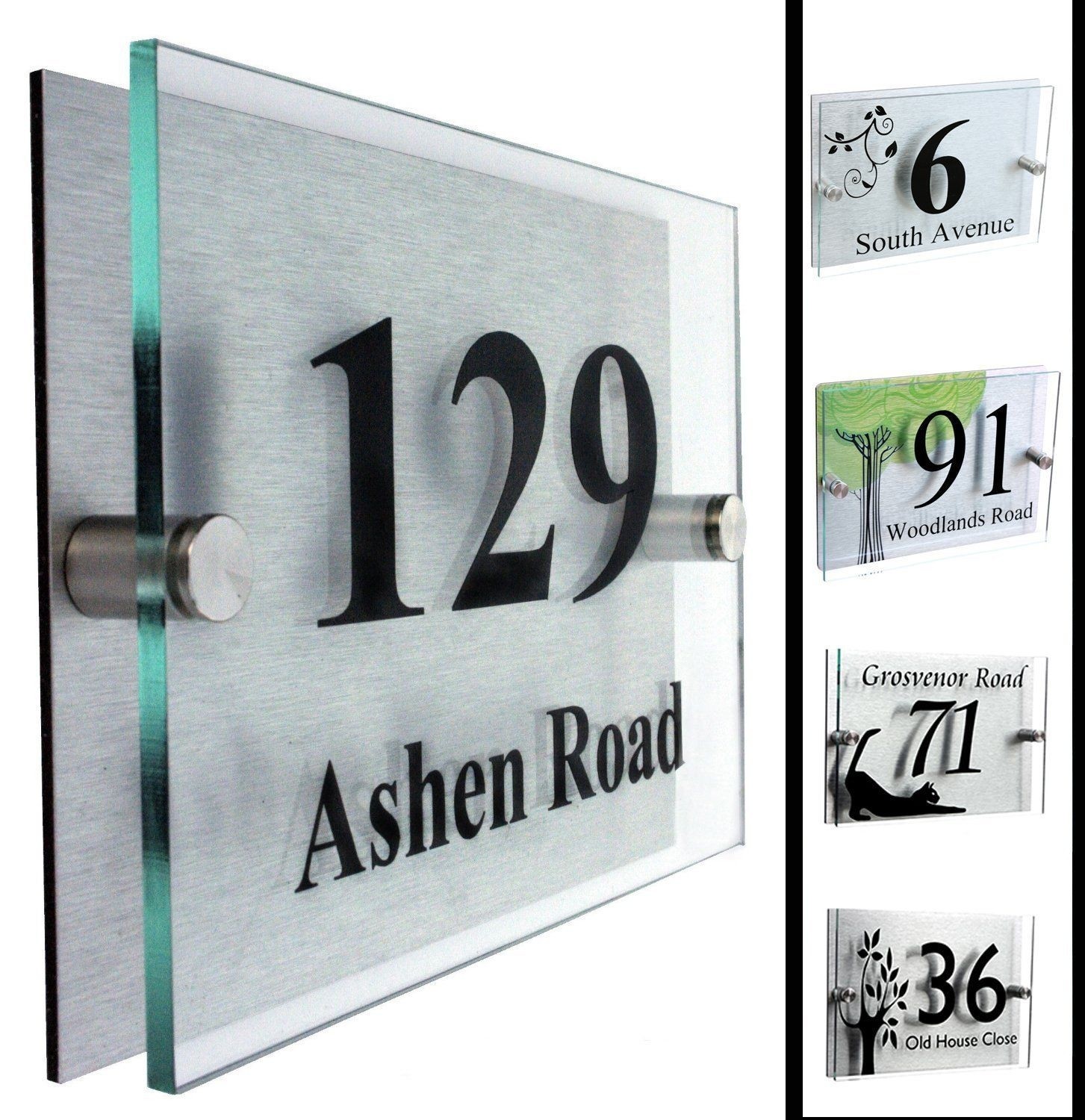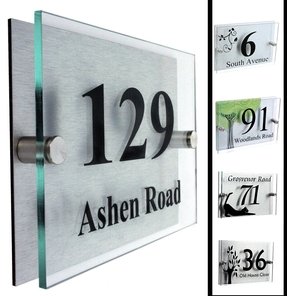 An excellent decoration for modern homes, this transparent address plaque can be a nice invitation for all your guests. Made of durable acrylic, the plaque includes black numbers printed on the inside, along with different themes that make the whole piece even more appealing.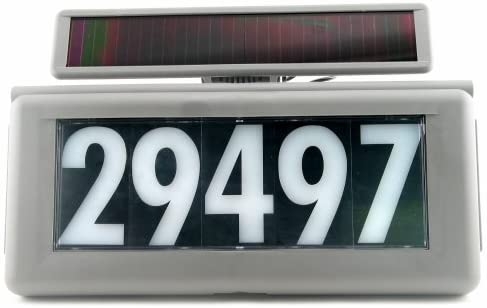 Solar Address Light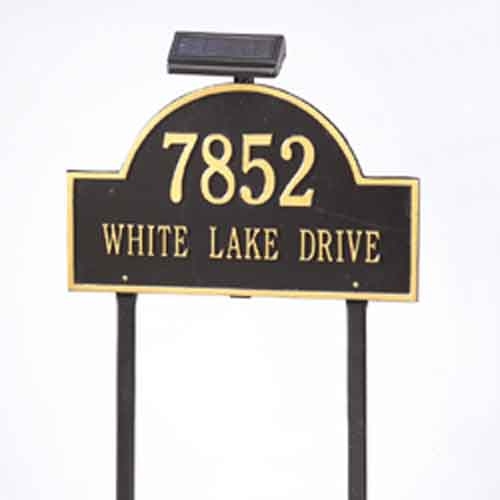 W14247 Solar Address Lamp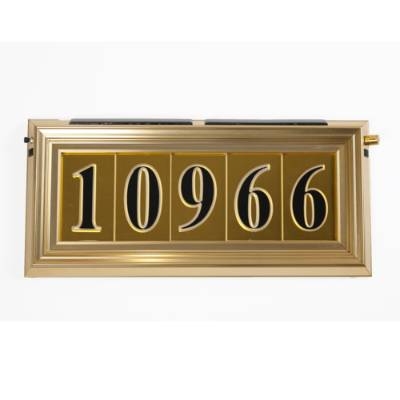 Solar Address Lights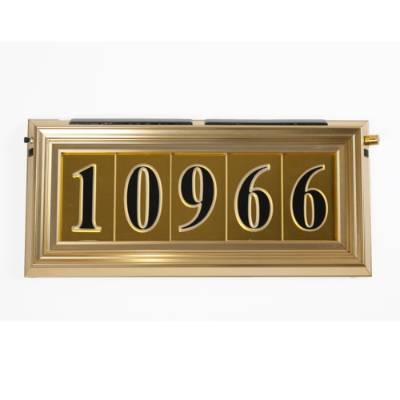 Solar 5-digit Address Lights