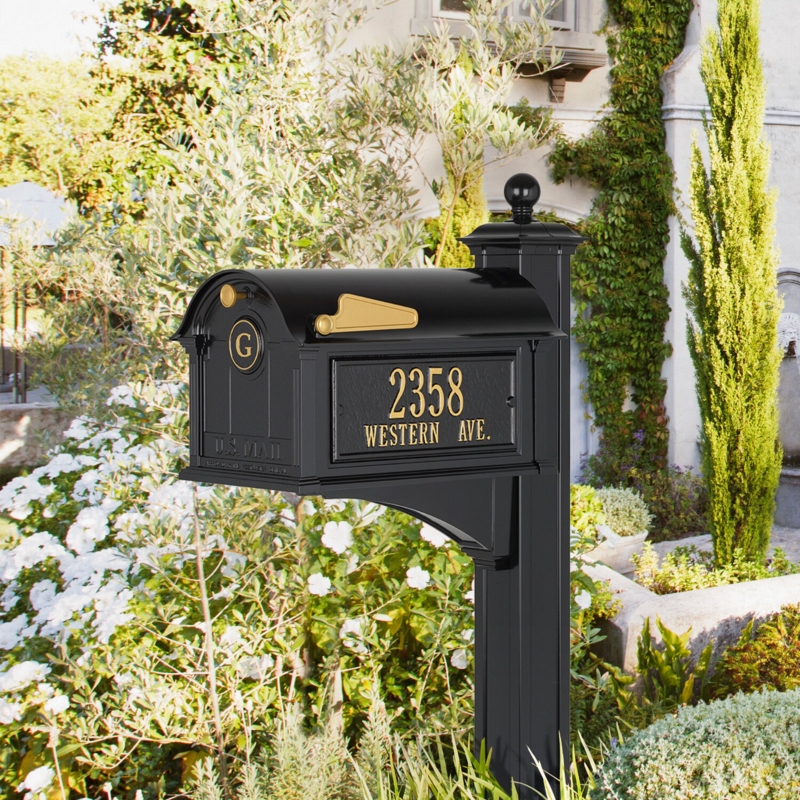 In-Ground Mailbox Post Attachment
Whitehall Products
Perfect For: Homeowners looking for a durable and secure mailbox solution
What We Like: Earth-friendly installation and stability
This in-ground mailbox post attachment offers a sturdy and lasting solution for attaching your mailbox. The installation process is simple: concrete a 48-inch wooden piece into the earth and attach the mailbox to the part sticking out. This environmentally-friendly method ensures stability and longevity for your mailbox, making it an excellent choice for those looking for a durable outdoor mailbox option that can withstand various weather conditions.
$459.99 $641.99
Designer Advice:
Consider choosing a mailbox and post that complements your home's exterior color scheme and style. This way, your secure attachment not only serves its practical purpose but also enhances your property's curb appeal.
Merchant links are sponsored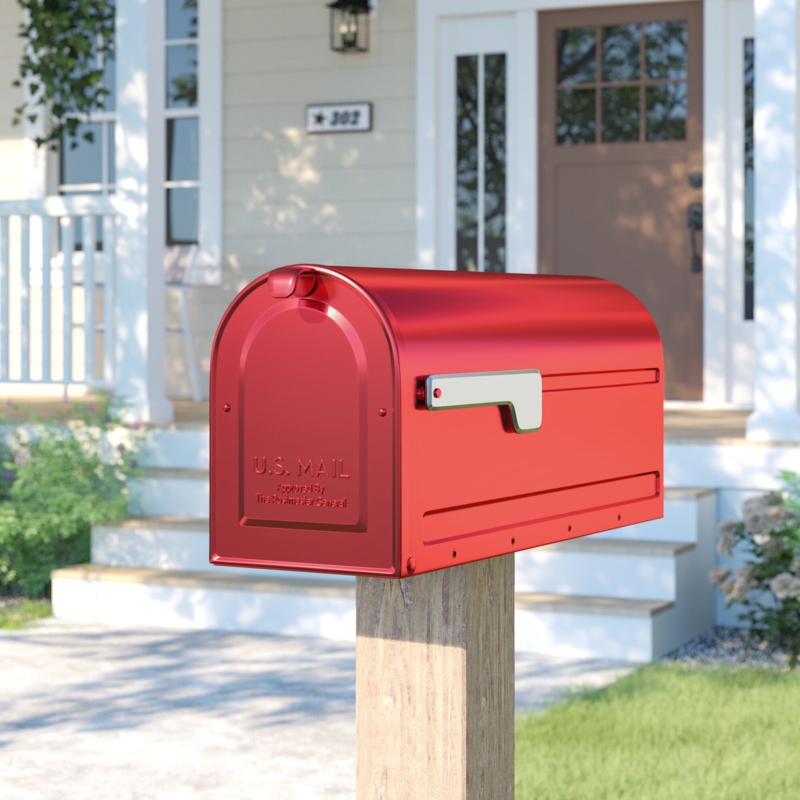 Classic Galvanized Steel Mailbox
Arlmont & Co.
Perfect For: Homeowners who want a stylish and durable mailbox
What We Like: UV- and water-resistant coating for weather protection
Welcome your letters and packages with this Classic Galvanized Steel Mailbox, a perfect combination of style and functionality. Its timeless shape ensures it complements any home, while the solid hue with UV- and water-resistant coating guarantees it'll withstand all types of weather. Made from galvanized steel for durability and robustness, this mailbox includes a flag to signal its contents. So, let the letters roll in while you enjoy a touch of charm and elegance to your home's exterior.
$32.99
Designer Advice:
Mount it at the correct height according to postal regulations and choose a visible location to make it easily accessible to mail carriers, ensuring prompt delivery of your precious correspondence.
Merchant links are sponsored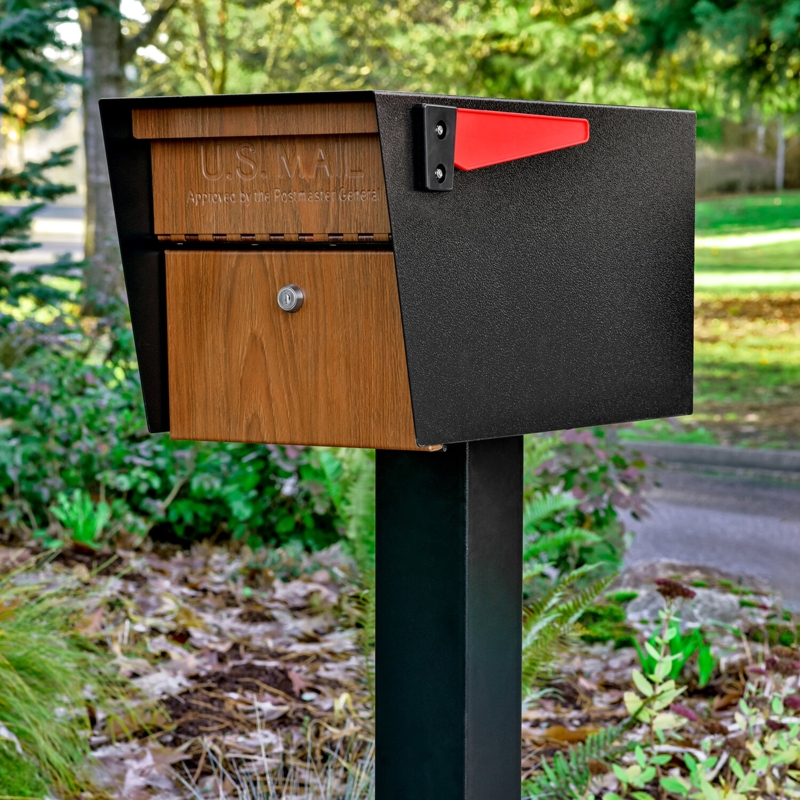 Locking Security Mailbox with Package Protection
Mail Boss
Perfect For: Safeguarding mail and small packages from theft and vandalism
What We Like: Innovative baffle door design for secure package delivery
The Locking Security Mailbox provides exceptional protection for your mail without compromising on style. Made from heavy gauge galvanized steel, this powder-coated mailbox boasts stainless steel hinges and a commercial-grade lock. Its innovative baffle door accepts small packages while deterring fishing attempts, and the patented anti-pry latch mechanism prevents leveraged entry. The mailbox is USPS-approved and comes with concealed outgoing mail clip, 12-disc wafer lock, 3 keys, and all necessary installation hardware.
Designer Advice:
To enhance curb appeal, pair this secure mailbox with a matching post and stylish mailbox numbers, and consider installing a solar light above for better visibility at night.
Merchant links are sponsored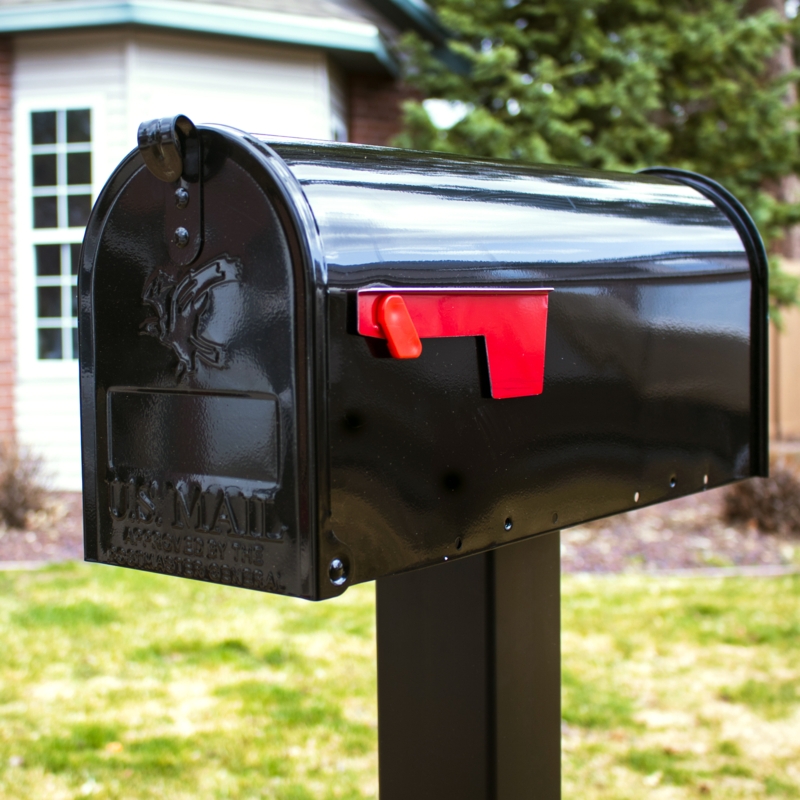 Matte Finish Post-Mount Mailbox
Architectural Mailboxes
Perfect For: Homeowners seeking a durable and stylish mailbox solution
What We Like: Its ability to accommodate small packages
The matte finish post-mount mailbox is a top choice for homeowners who desire both functionality and style. Constructed from tough galvanized steel, this spacious mailbox is designed to secure your mail while accommodating small packages effortlessly. The eye-catching matte finish not only adds a touch of sophistication to your curb appeal but also retains its shine throughout the years, ensuring your mailbox looks as good as new.
$35.72 $35.62
Designer Advice:
To enhance your home's exterior, choose a mailbox post that compliments your home's style and color scheme, and maintain the mailbox regularly by gently wiping away dirt or debris.
Merchant links are sponsored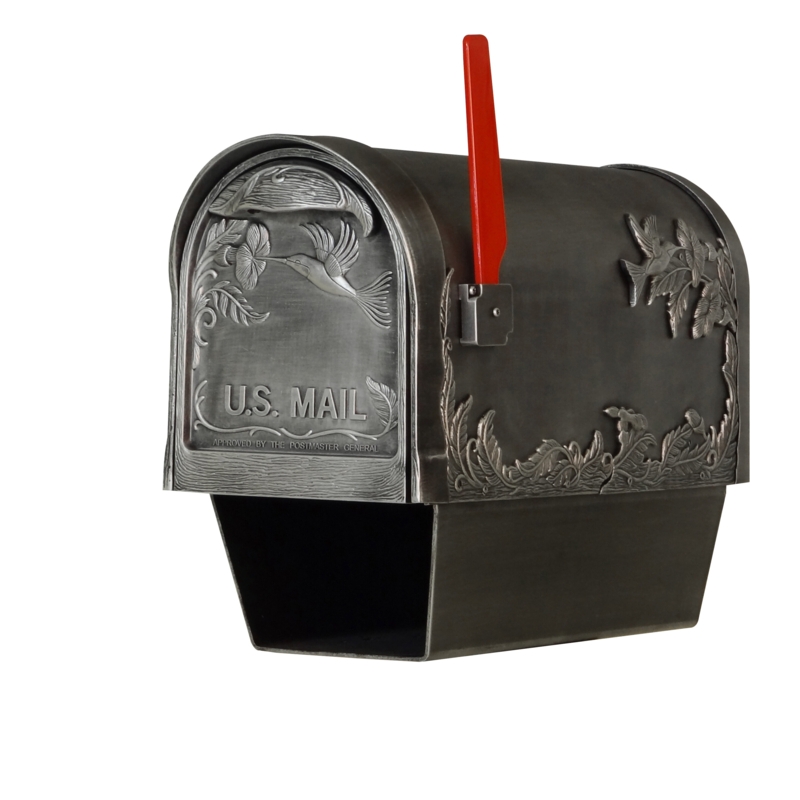 Hummingbird-Embossed Mailbox
Special Lite Products
Perfect For: Nature enthusiasts seeking a unique and charming mailbox
What We Like: Intricate embossed hummingbird design
This enchanting mailbox features a stunning hummingbird design deeply embossed on both sides, creating an eye-catching aesthetic for your country or suburban home. Crafted from weather-resistant, rustproof cast aluminum, the mailbox showcases a stainless-steel spring hinge and strong magnetic door latch for secure closure. The cup-shaped handle adds charm while remaining functional. Larger than average, this mailbox keeps your mail, documents, and packages dry with style.
Designer Advice:
Enhance the hummingbird theme by surrounding the mailbox with colorful, nectar-rich flowers to attract real hummingbirds and further beautify your outdoor area.
Merchant links are sponsored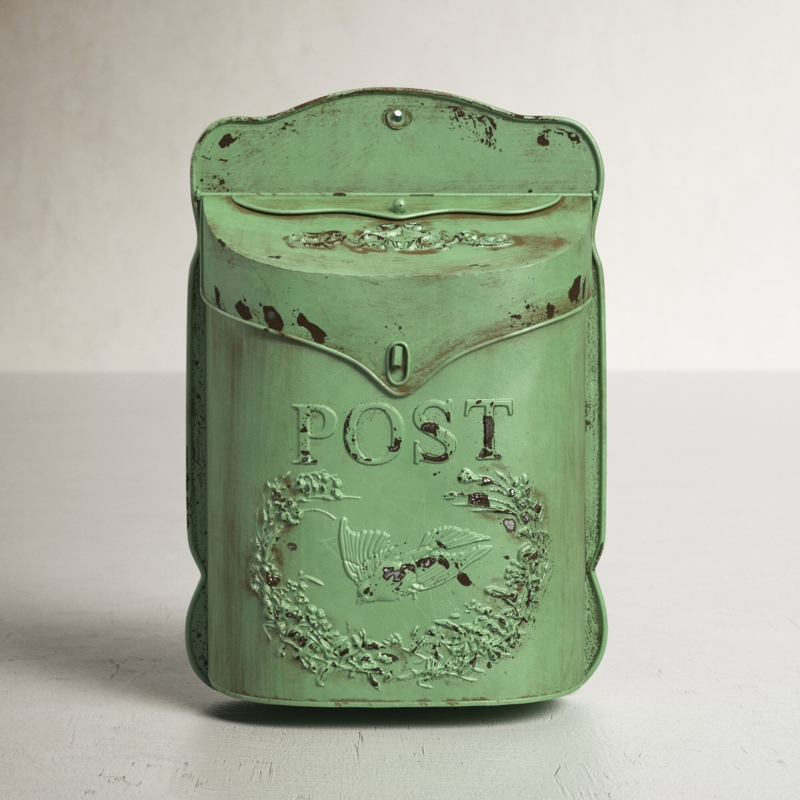 Vintage Bird Motif Hanging Mailbox
Birch Lane™
Perfect For: Enhancing curb appeal and adding a touch of charm to your home
What We Like: Adorable bird motif design
This vintage-inspired hanging mailbox features a delightful bird motif that brings character to any home's exterior. Weather-resistant construction ensures letters stay dry even in rainy conditions, while the option to add a small padlock provides additional security for your daily mail. Not only suitable for outdoor use, it also serves as a stylish and unexpected wall decor element inside your home.
$39.99 $67.99
Designer Advice:
Consider mounting this hanging mailbox near your front door for easy access, and complement it with other vintage or nature-themed decorations to create a cohesive and inviting entryway.
Merchant links are sponsored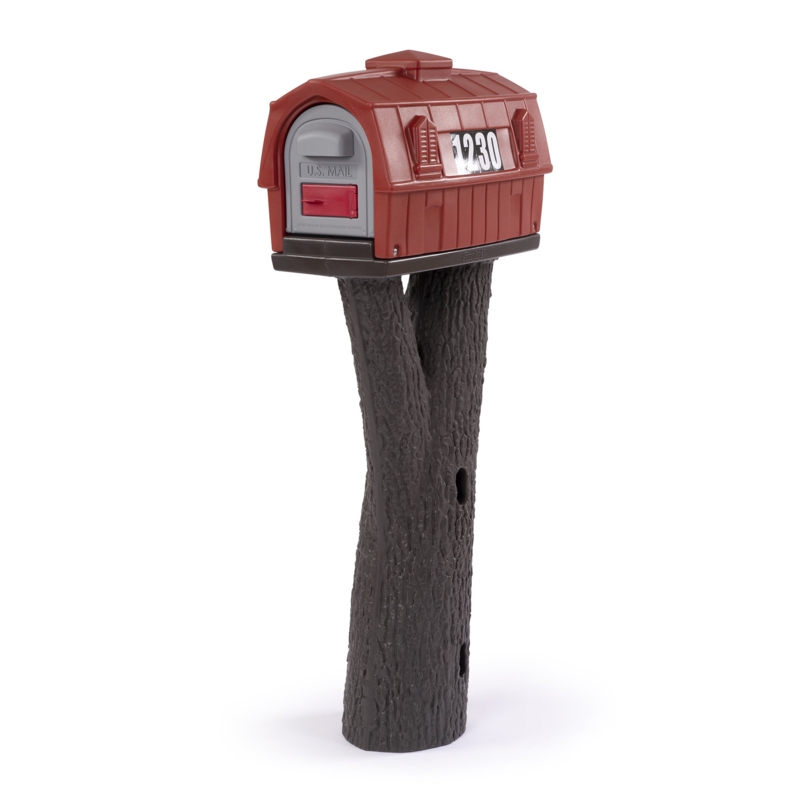 Rustic Mailbox with Tree Bark Post
Simplay3
Perfect For: Enhancing curb appeal and protecting your mail
What We Like: Durable, heavy-duty construction with a charming design
Meet our Rustic Mailbox, designed to keep your mail dry and safe with a touch of natural beauty. This residential mailbox features a realistic tree bark post and granite-look top that complements any home exterior. The double-wall, resin construction ensures it stands up to the elements without rusting or splintering. With heavy-duty magnetic access doors for easy and secure retrieval of mail, it boasts a large capacity to accommodate small packages, catalogs, and envelopes. The mailbox comes with all essentials, including mounting hardware, post cover, red flag indicator, and adhesive numbers.
$89.99 $99.99
Designer Advice:
Position this appealing mailbox on your front yard for an instant curb appeal upgrade, while also providing a reliable and sturdy solution for your mail and small packages.
Merchant links are sponsored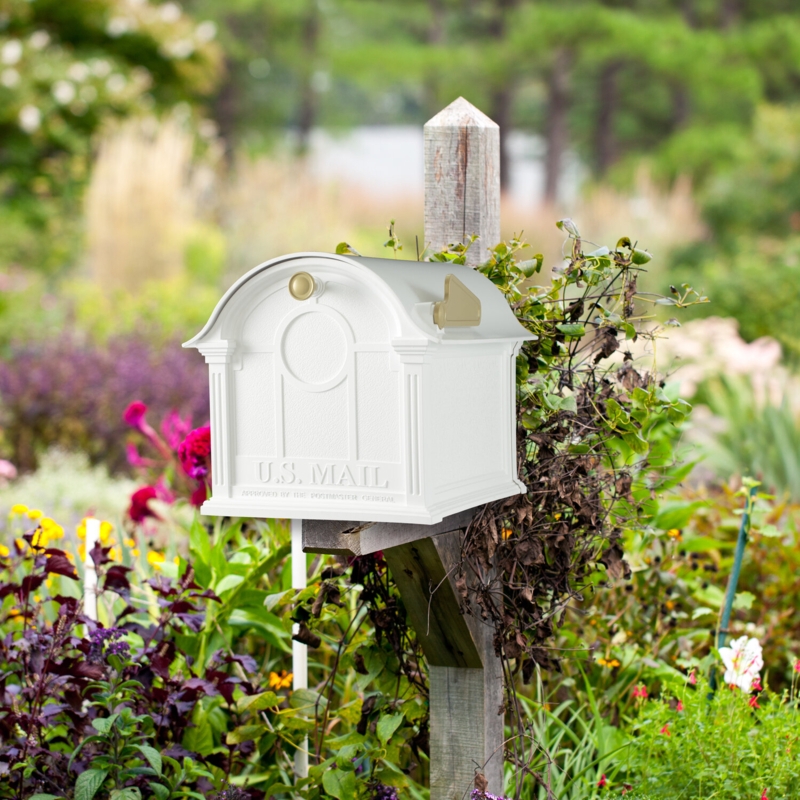 Elegant Post Mounted Mailbox
Whitehall Products
Perfect For: Enhancing curb appeal of your home
What We Like: Fashionable design combined with functionality
The Elegant Post Mounted Mailbox offers an eye-catching design to elevate your home's curb appeal while serving a practical purpose. With its stylish look and functional construction, it becomes an instant focal point for your front yard. The mailbox easily attaches to a post, providing a convenient and secure place for your mail to be delivered.
$199.99 $271.99
Designer Advice:
Choose a sturdy post in a coordinating color for the mailbox and consider adding plants or decorative elements around the base of the post to create an attractive and welcoming entryway.
Merchant links are sponsored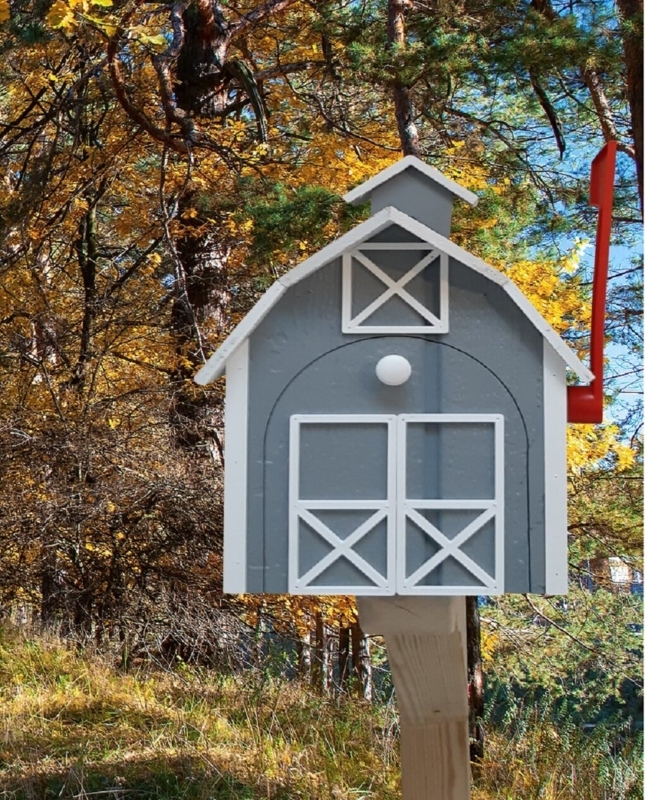 Dutch Barn Style Mailbox
Amish Mailbox
Perfect For: Enhancing your yard's aesthetic and receiving mail securely
What We Like: Handcrafted by Amish artisans and weather-resistant
This Dutch barn style mailbox, handcrafted by Amish artisans, brings a touch of rustic charm to your yard. Made of painted LP Smart Wood panel, it's weather-resistant, ensuring durability through various seasons. The mailbox features two screw holes at its base, making it easy to mount on a post, and a sturdy plastic flag keeps you updated on incoming mail.
$152
Designer Advice:
To accentuate the Amish craftsmanship and Dutch barn style, consider placing the mailbox near a wooden fence or a garden with traditional flower varieties like tulips and daffodils.
Merchant links are sponsored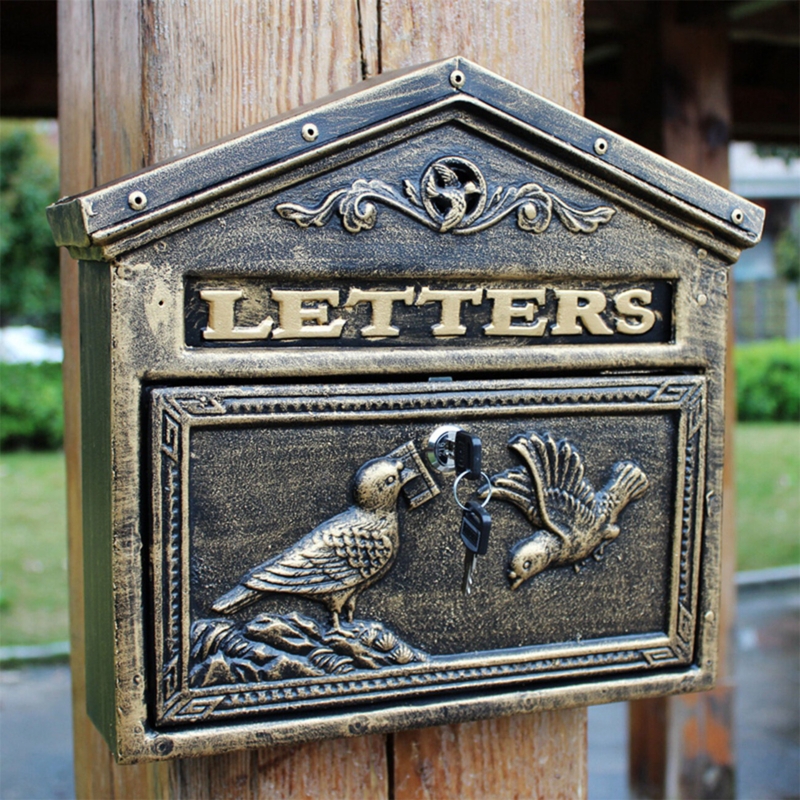 Bronze-Cast Aluminum Retro Outdoor Mailbox
YYBSH
Perfect For: Adding a touch of vintage elegance to your outdoor courtyard space
What We Like: The combination of European retro design with practical American style
This skillfully crafted bronze-cast aluminum outdoor mailbox offers a captivating retro aesthetic with its distressed appearance and classical design elements. The European elegance and sense of historical significance are complemented by the practical features of American retro style, including a large capacity for mail, waterproof and anti-rust materials, and a sturdy, safe high-security lock. Its universal wall-mounted design makes it easy to install on various types of walls, enhancing the exterior of your home with a warm, dignified cultural atmosphere.
$56.44 $74.29
Designer Advice:
Place it in a visible yet sheltered area of your courtyard or entryway, allowing for easy access to your mail while maintaining the elegant appearance of your home's exterior.
Merchant links are sponsored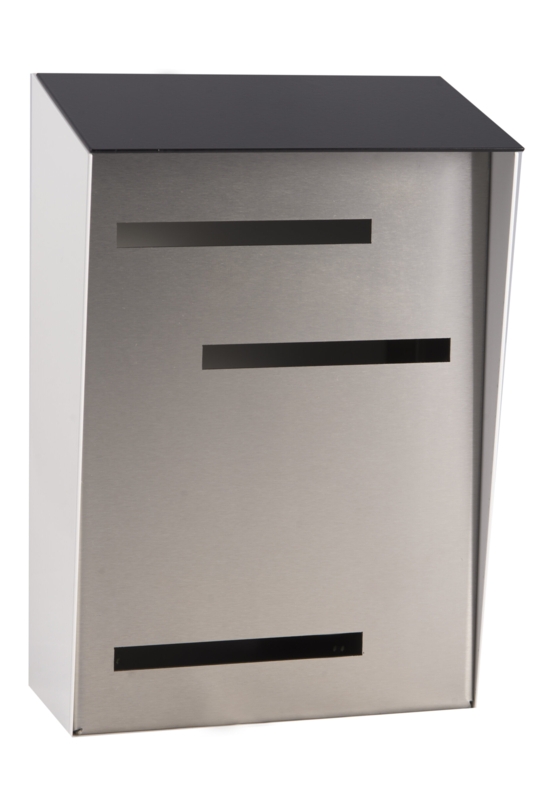 Wall-Mounted Gauge Steel Mailbox
Modern Aspect
Perfect For: Enhancing curb appeal and securely storing mail
What We Like: High-quality powder coating for long-lasting durability
This sturdy wall-mounted mailbox is expertly crafted from gauge steel, promising durability and protection for your mail. The high-quality powder coating ensures that your mailbox maintains its pristine appearance for years, resistant to wear and tear. With a well-thought-out design, the mailbox fastens to the wall using four keyholes, two on the top and two on the bottom, to provide extra support and stability.
$144.99 $147.99
Designer Advice:
Choose a matching mounting spot that complements your home's exterior design and color scheme. Proper installation will ensure stability and protect your mail from the elements.
Merchant links are sponsored