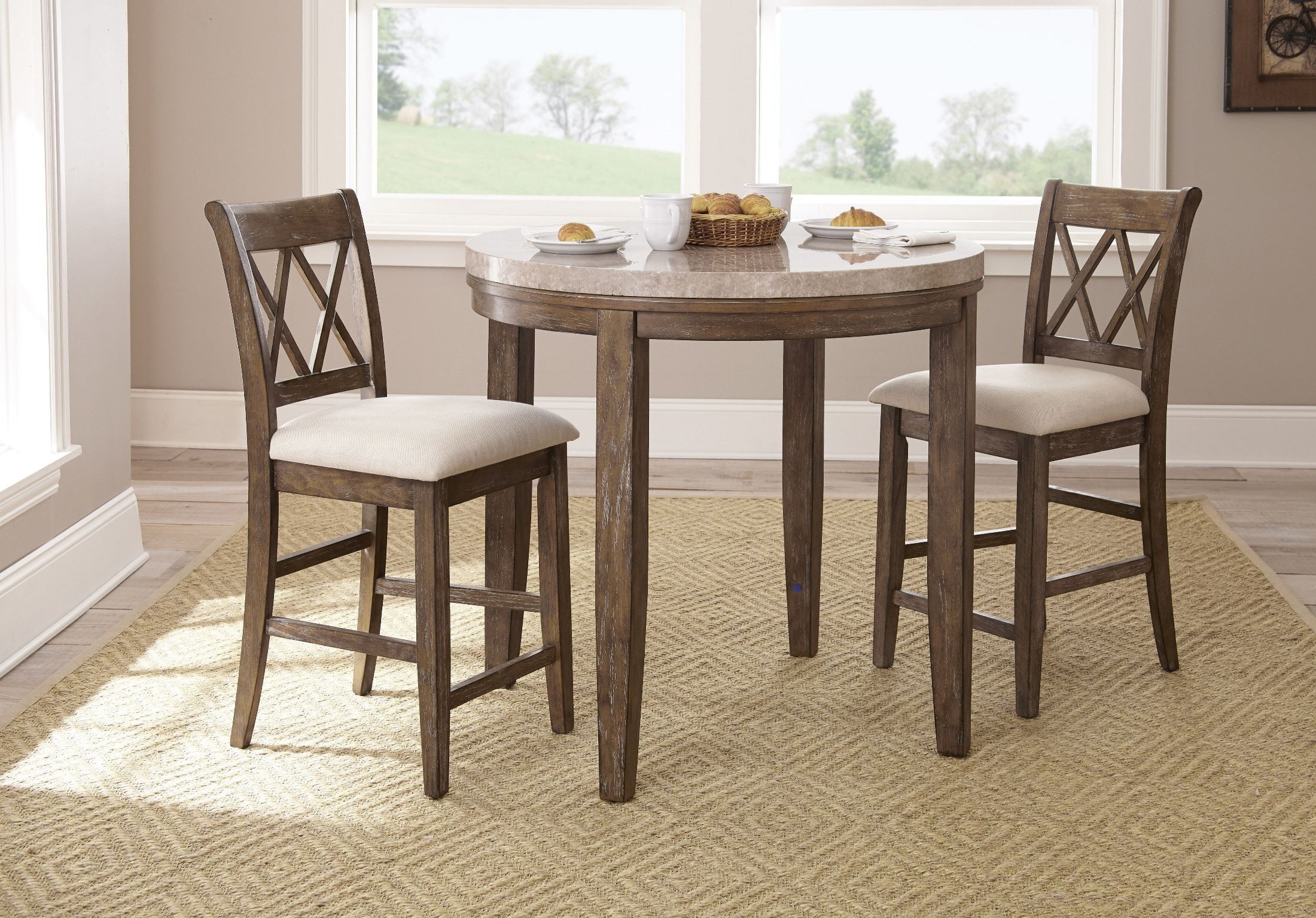 Franco 3 Piece Dining Set
Stylish 3 piece dining set with rustic flair. Made from durable wood, the set includes two sturdy chairs and compact table with smooth top. It is a comfortable choice for adaptable, timeless living. Perfect for smaller spaces.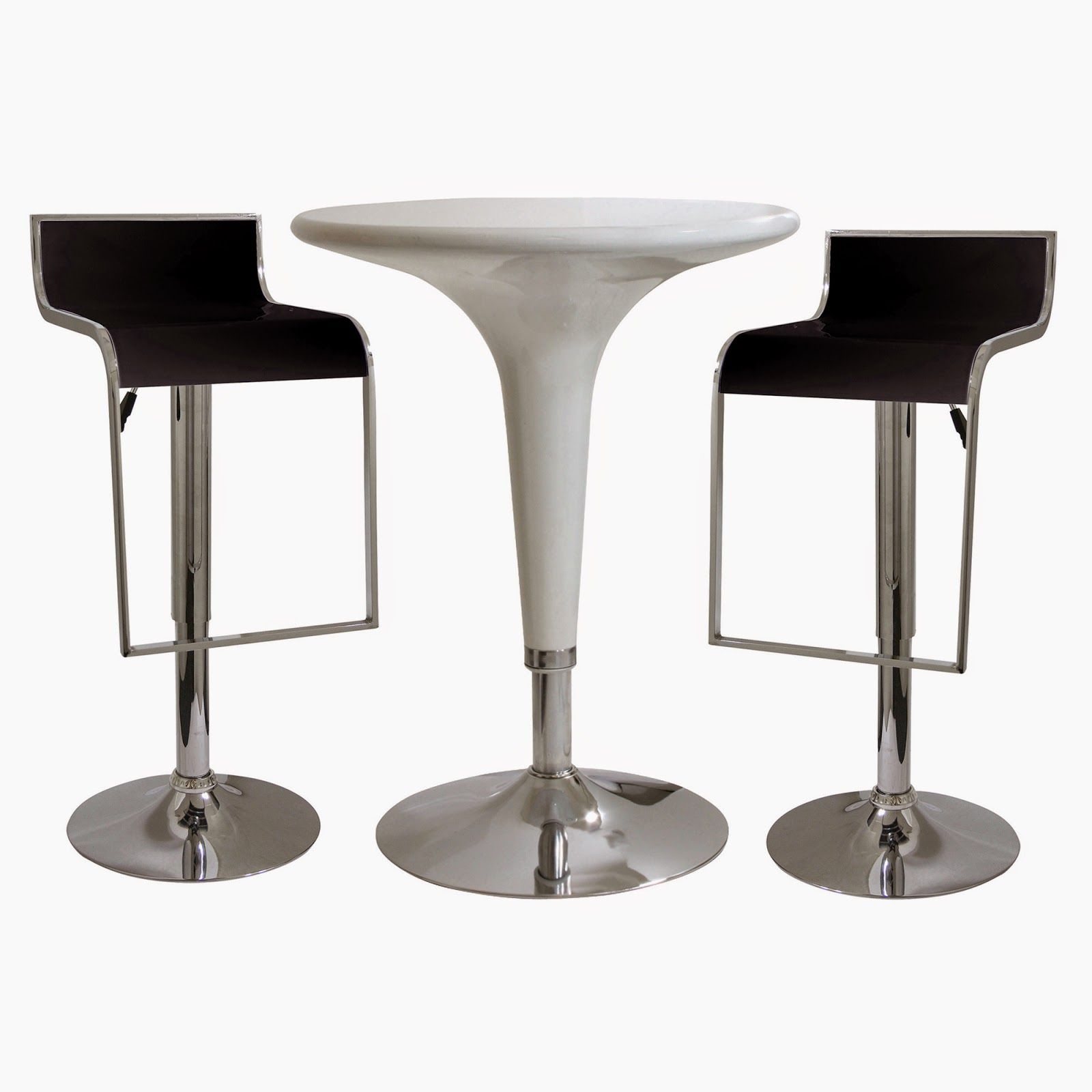 AmeriHome 3 Piece Adjustable Height Pub Table Set
Suitable for modern bars, pubs, and game rooms, this 3-Piece Pub Table Set is consisted of 1 adjustable bar height table and 2 adjustable counter height bar stools. Each piece features ABS plastic/acrylic and metal construction.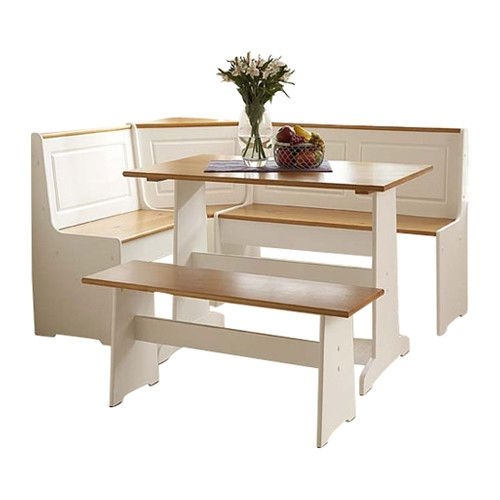 Lovely together 3 piece ardmore breakfast nook set
With the corner unit, bench and table this 3-piece breakfast nook allows you to finally seat your entire family with comfort during mealtimes and comes with the off-white finish to the pine strucutre.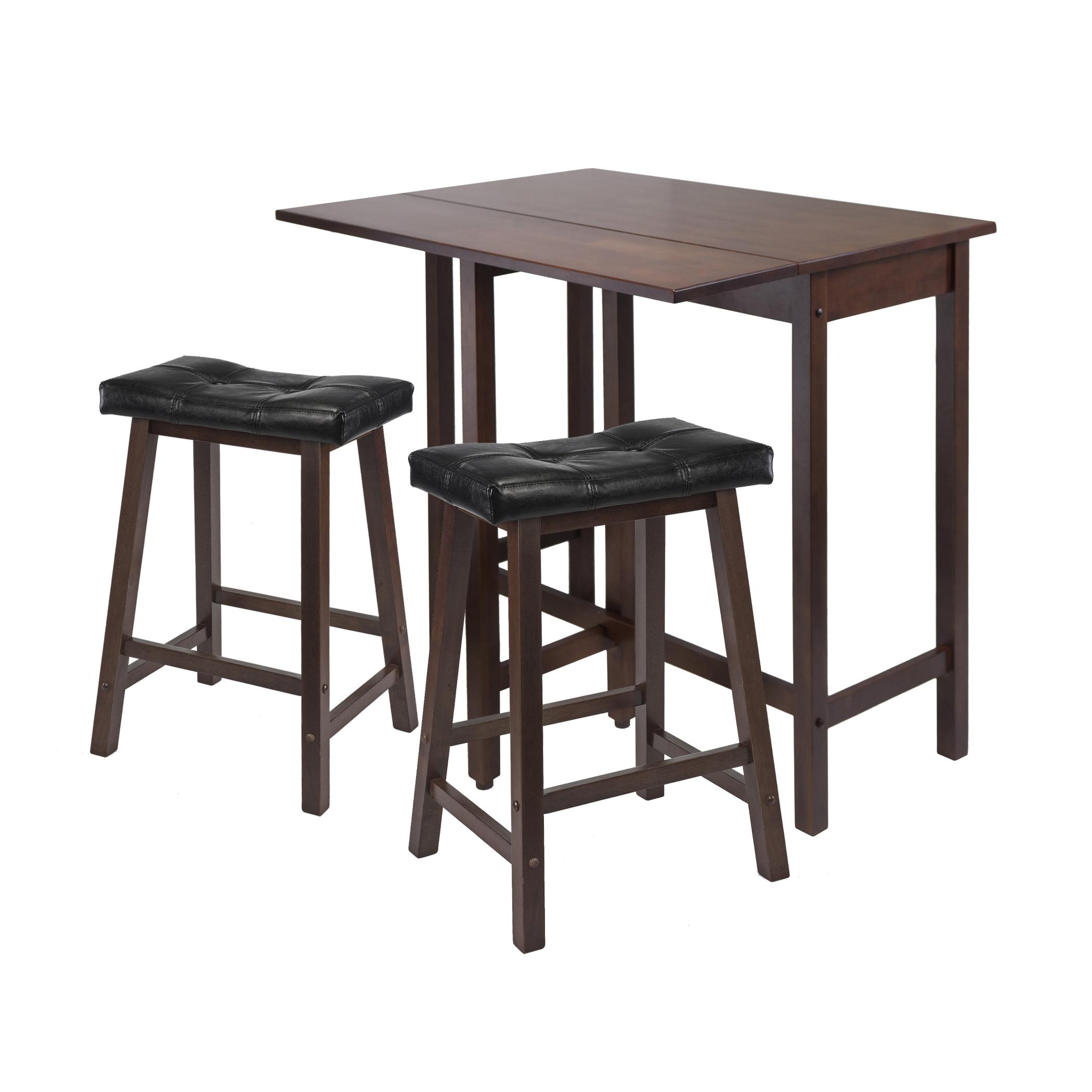 Lynnwood 3 Piece Dining Set
If your dining space is somewhat limited, this classically styled dining set may be just what you're looking for! Two saddled seat stools come with a drop leaf table on thick straight legs. The set is finished in espresso brown.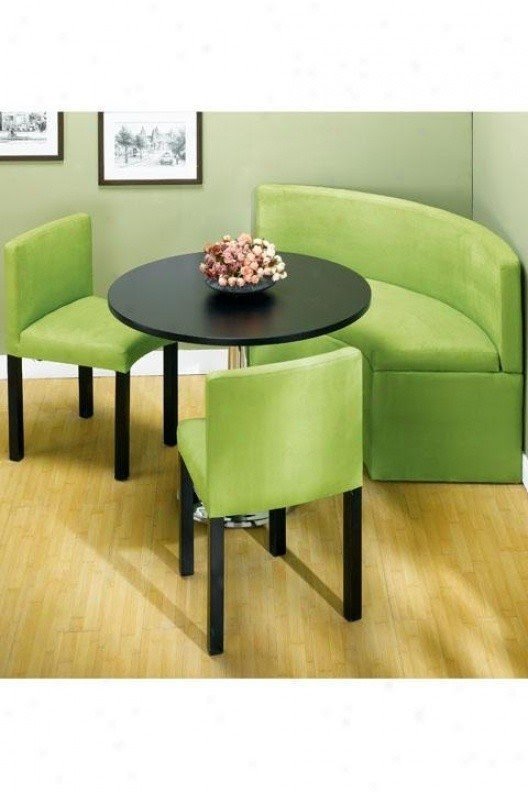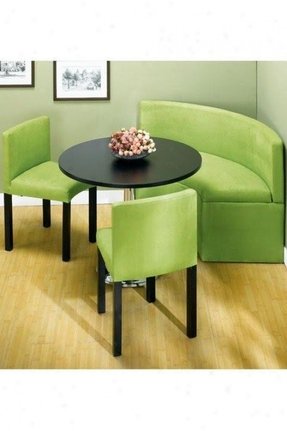 To create some extra space and a cozy place to dine and relax - use this stylish small nook corner breakfest set.A corner bench from this dining set, together with two chairs are upholstered in green light shades. To complet the look-the round table was added.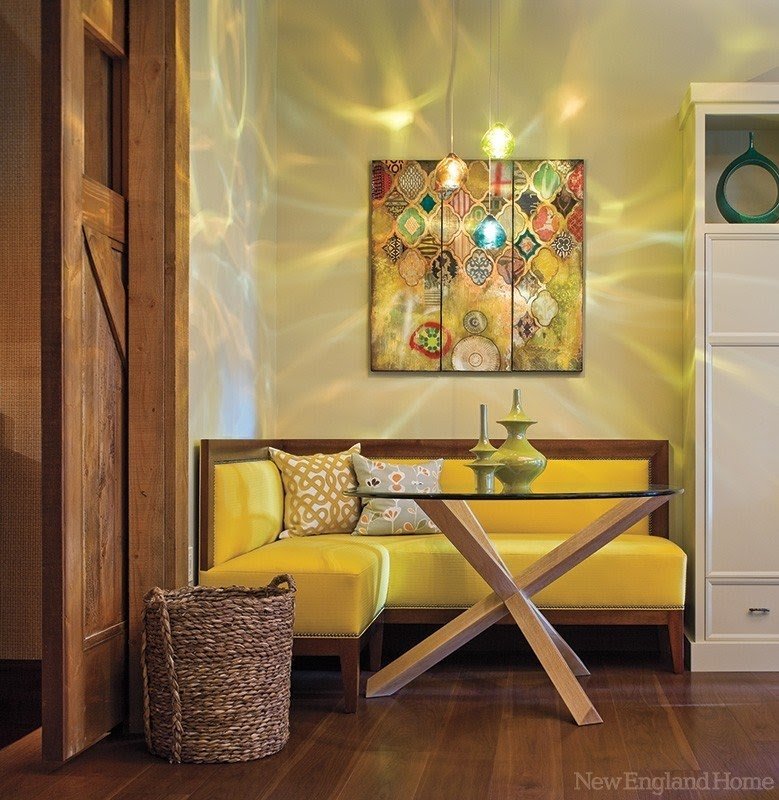 If you want to create a cozy dining spot in your house, why not consider a corner bench? This simple, wooden set comprising a glass top table and yellow-cushioned bench, creates a perfect nook for your family meals.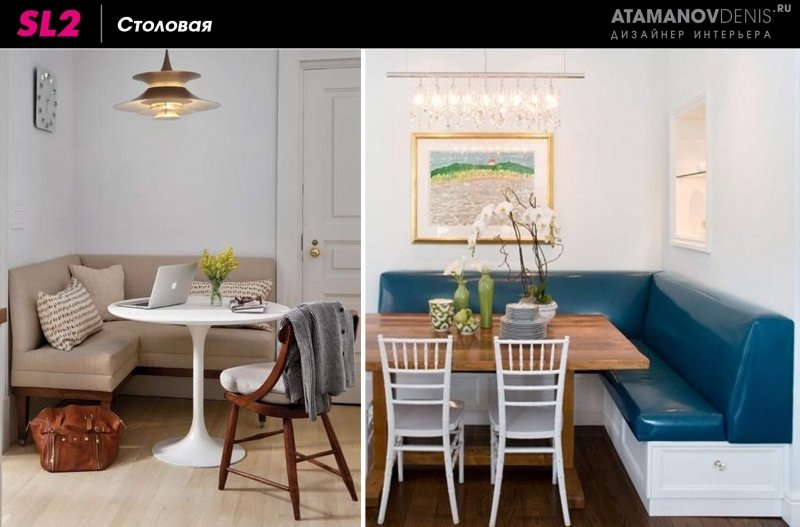 Small corner breakfast nook set to create the perfect banquette seating convenience in your home. The set includes a corner sofa, a small table, and an extra chair placed on the opposite side. It is a convenient space-saving setup for small apartments or kitchens.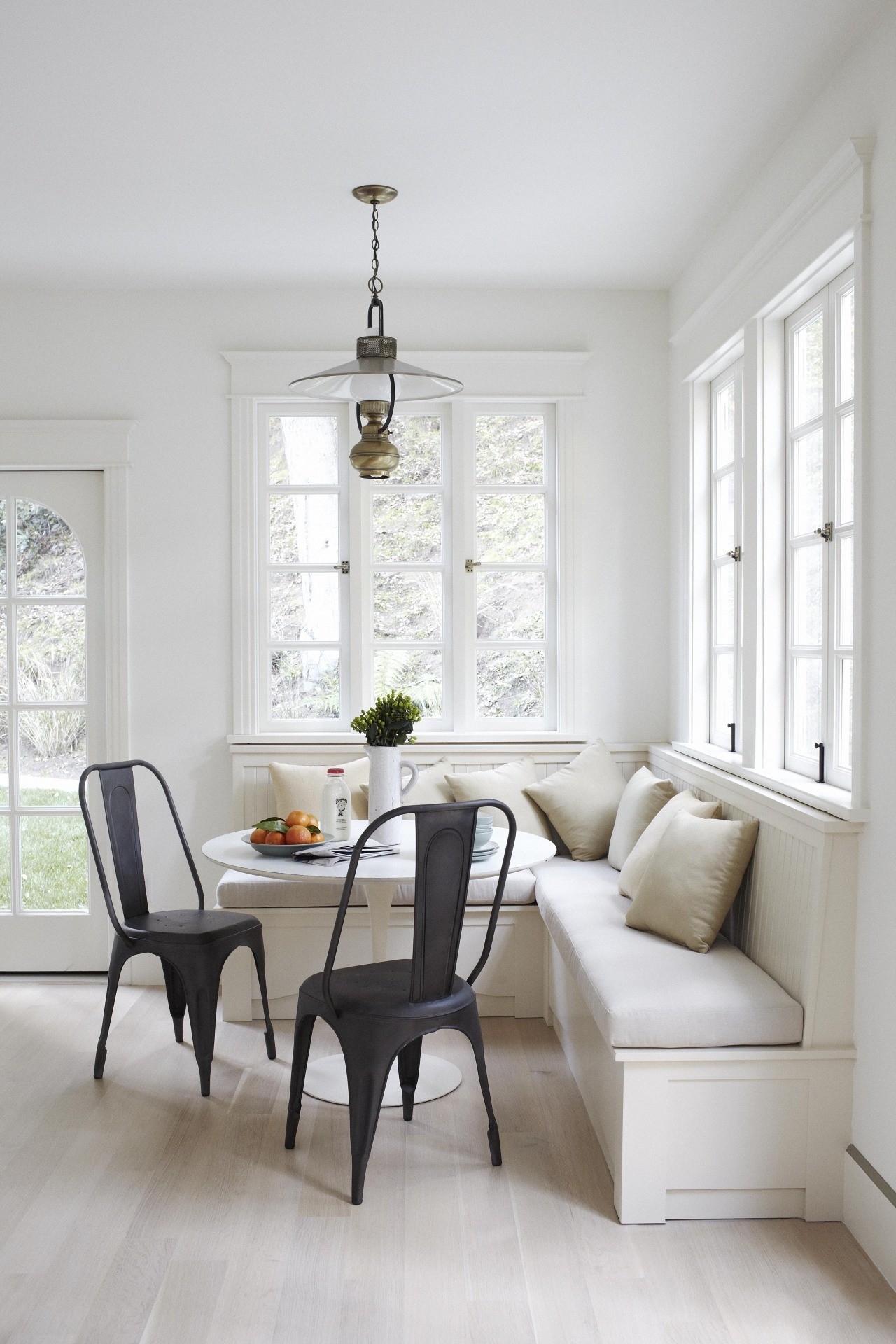 We love functional ideas! The built-in seat has a lift up lids for storage, white wooden frame and white upholstered padded seats. It will help you to create an inviting breakfast nook for you and family.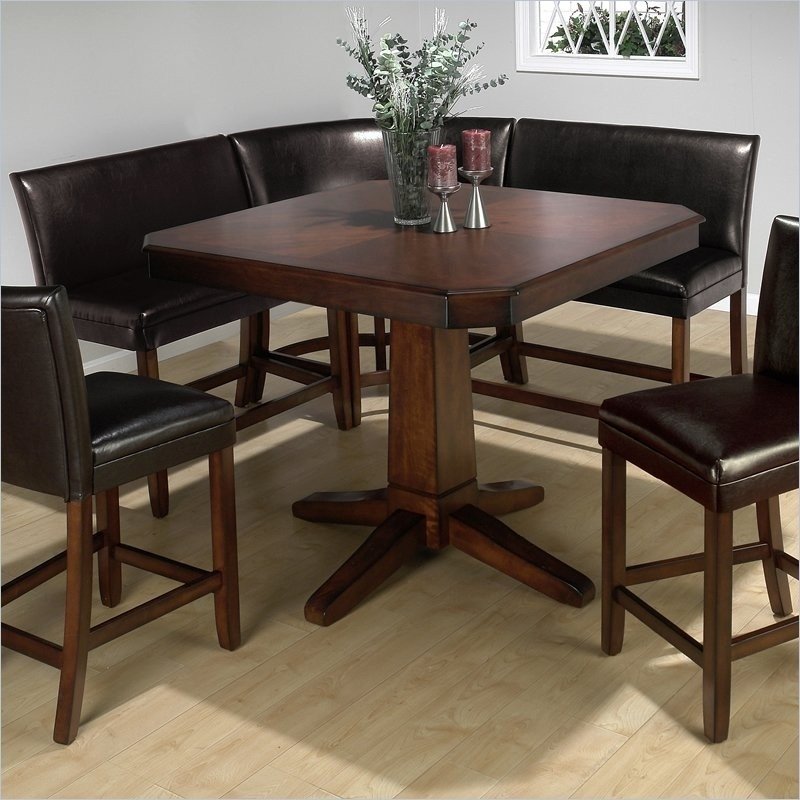 Small kitchen furniture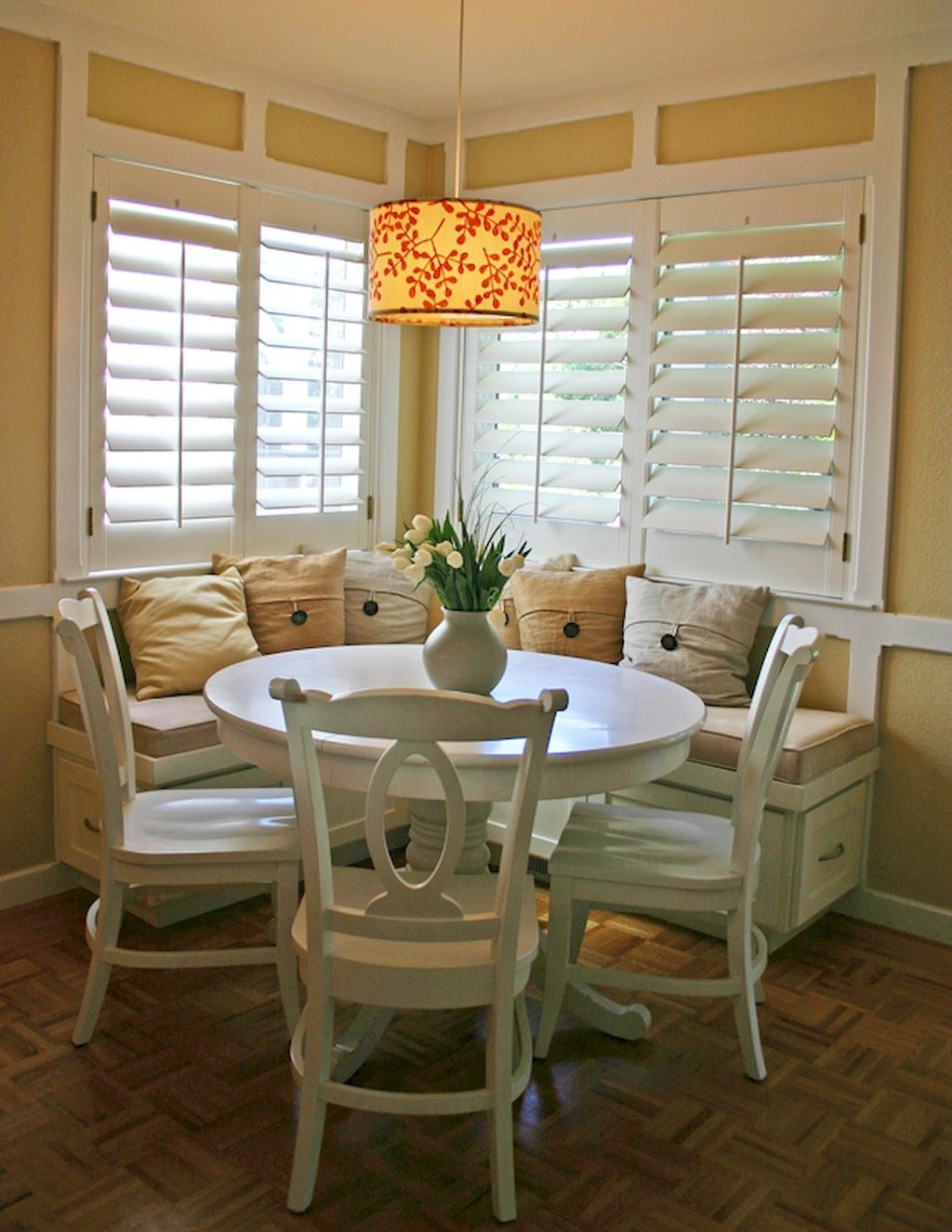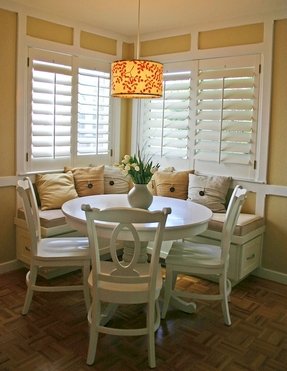 Turn a corner into a cozy nook with an upholstered, wall-hugging bench. Drawers under each end of the bench create hidden storage, while a shaped cushion makes for comfortable seating. Add some throw pillows for an added touch of snuggly warmth.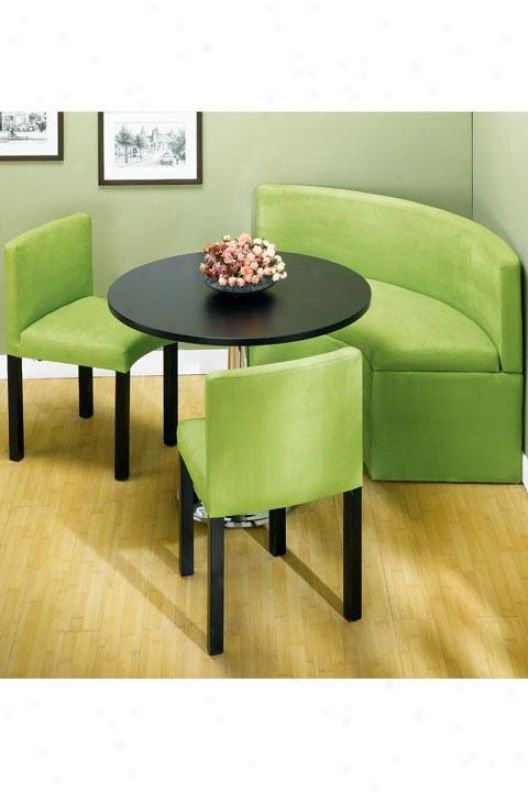 Corner Kitchen Table Green Corner Kitchen Table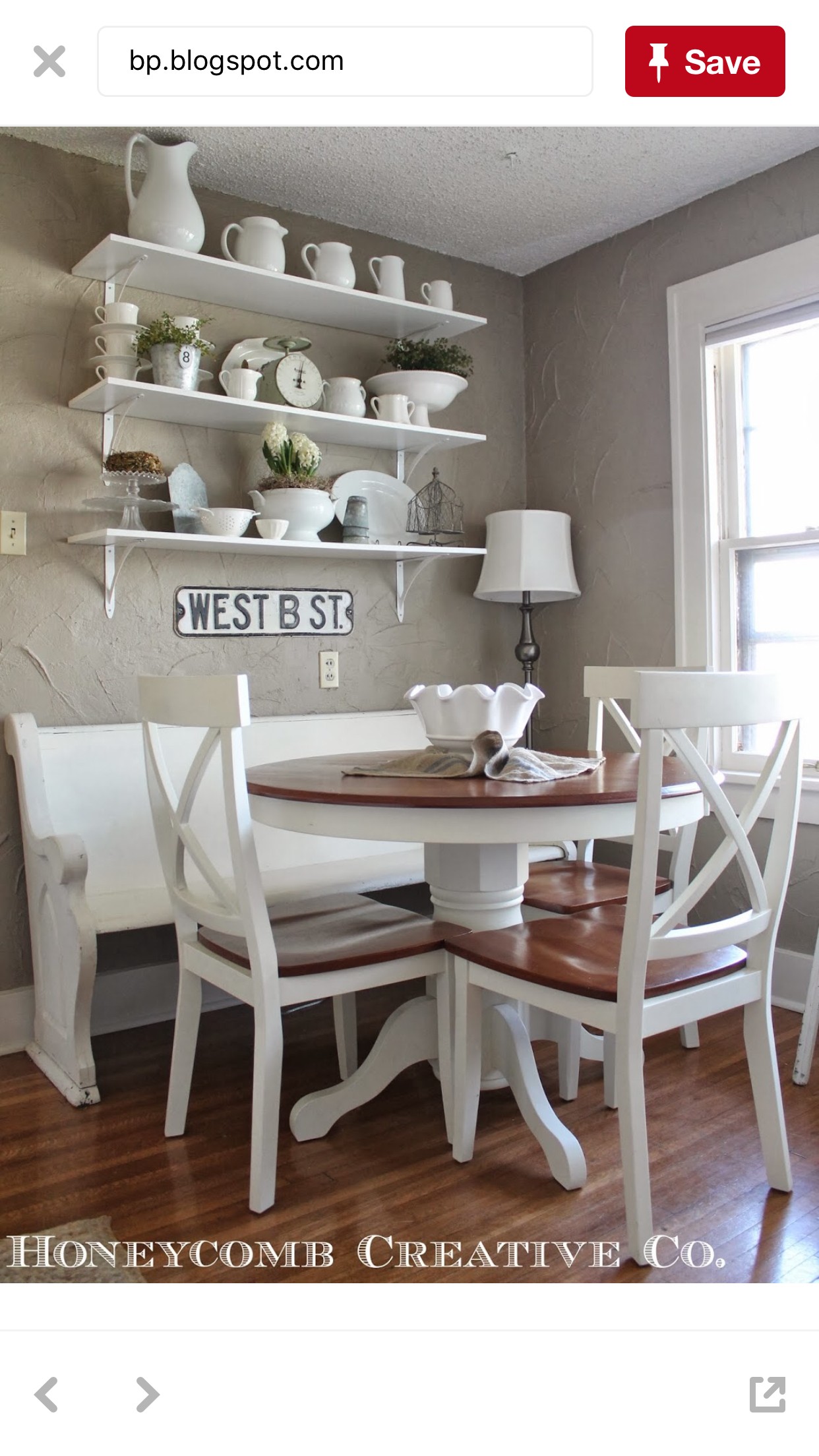 A breakfast nook is a lovely idea, if you've got a kitchen and dinette in one space. These white wooden chairs, table and bench are a comfy and inviting set. It remind me of the cottage style.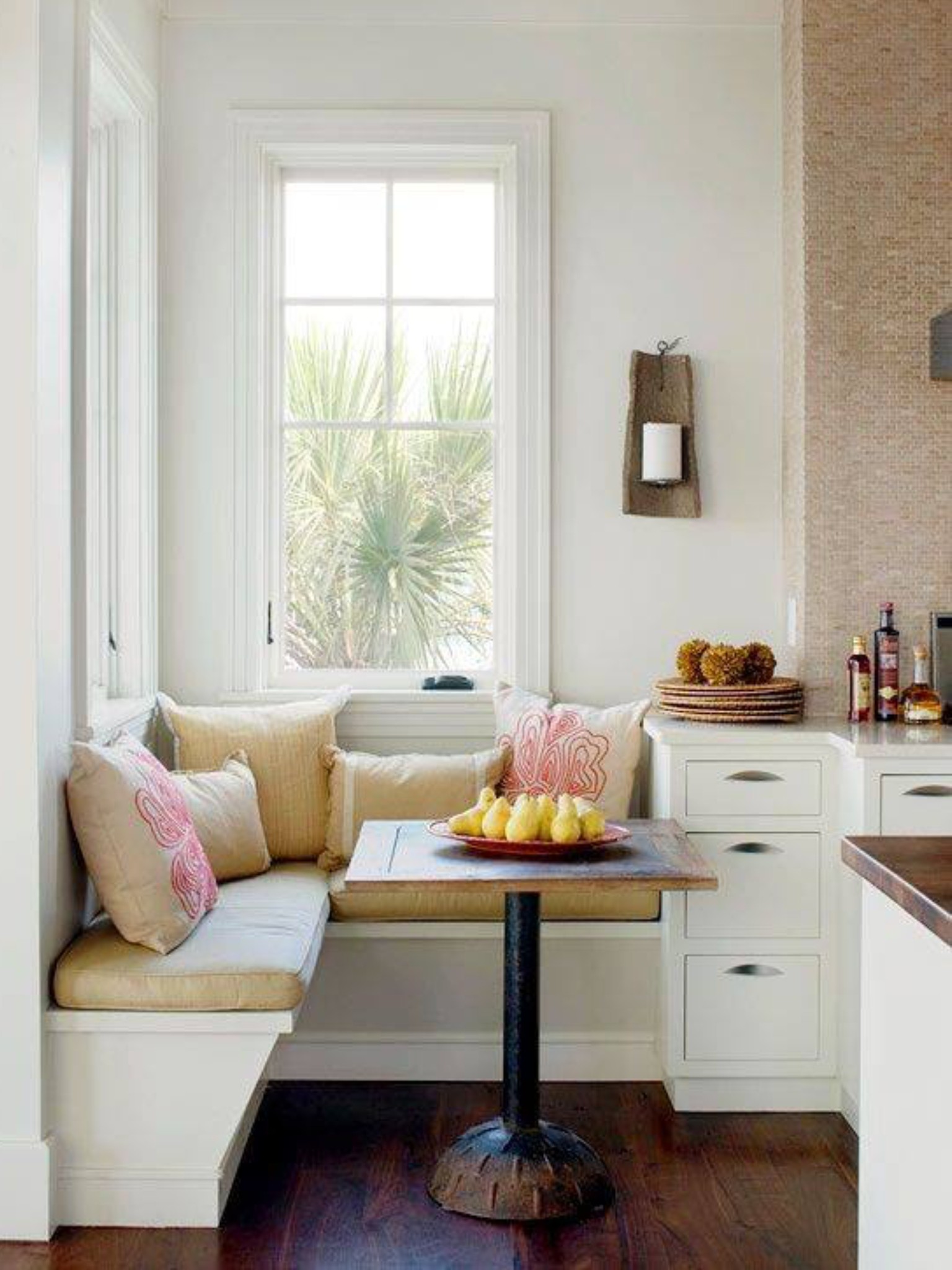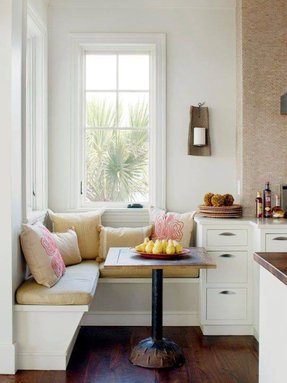 A pretty corner bench of wooden materials in white. It has an L-like seat and a canted side panel. Cushions covers are of plain beige fabric. A table has a square brown woody top. A black metal base is built of a round column and a hemispherical foot.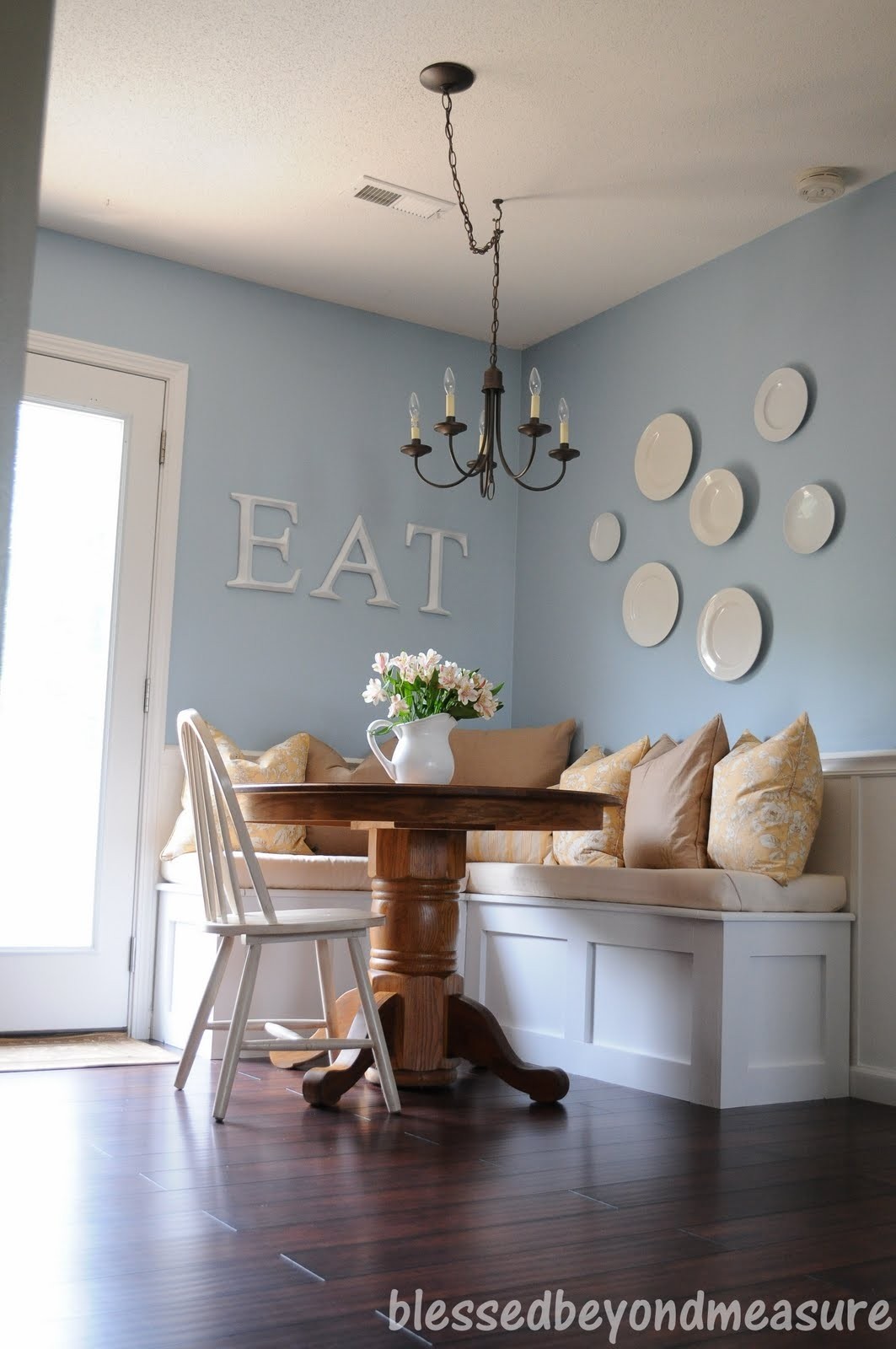 A nice contemporary breakfast nook with pastel light blue walls adorned with white plates and lettering EAT. Walls harmonise with a white corner bench. A white chair and a round table with a pedestal base in light browns complement the entirety.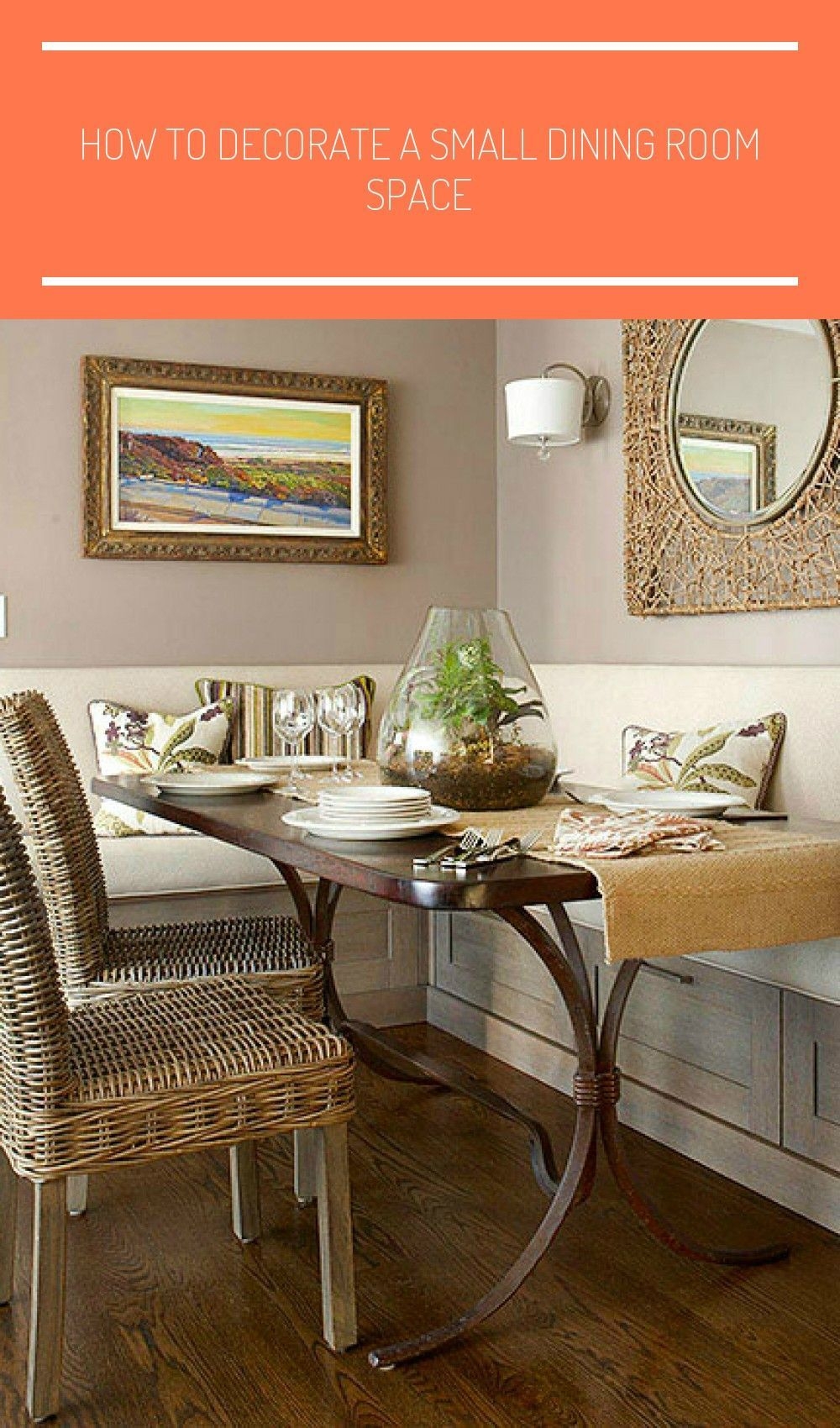 Neutral Dining Nook Neutral colors and a mix of textures give this dining nook a cozy feel. Wicker chairs contrast the sleek, smooth surface of the table. A simple corner banquette provides plentiful seating and drawers along the bottom add storage to the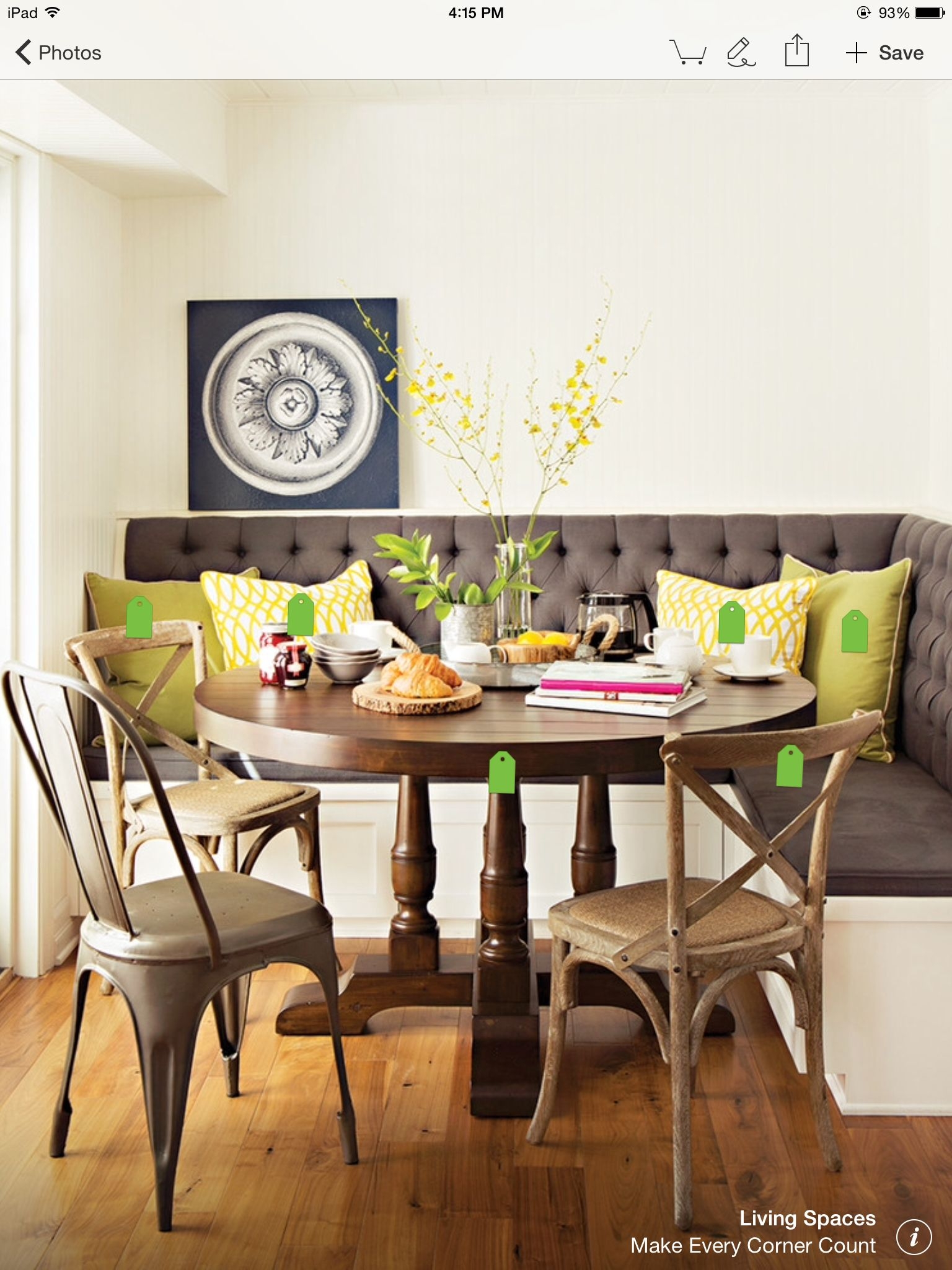 I love this delicious piece, the colors are rich and the room has its own personality. The nook is totally my style I am absolutely in love with the pops of color-- this is definitely a room I would love to have in my house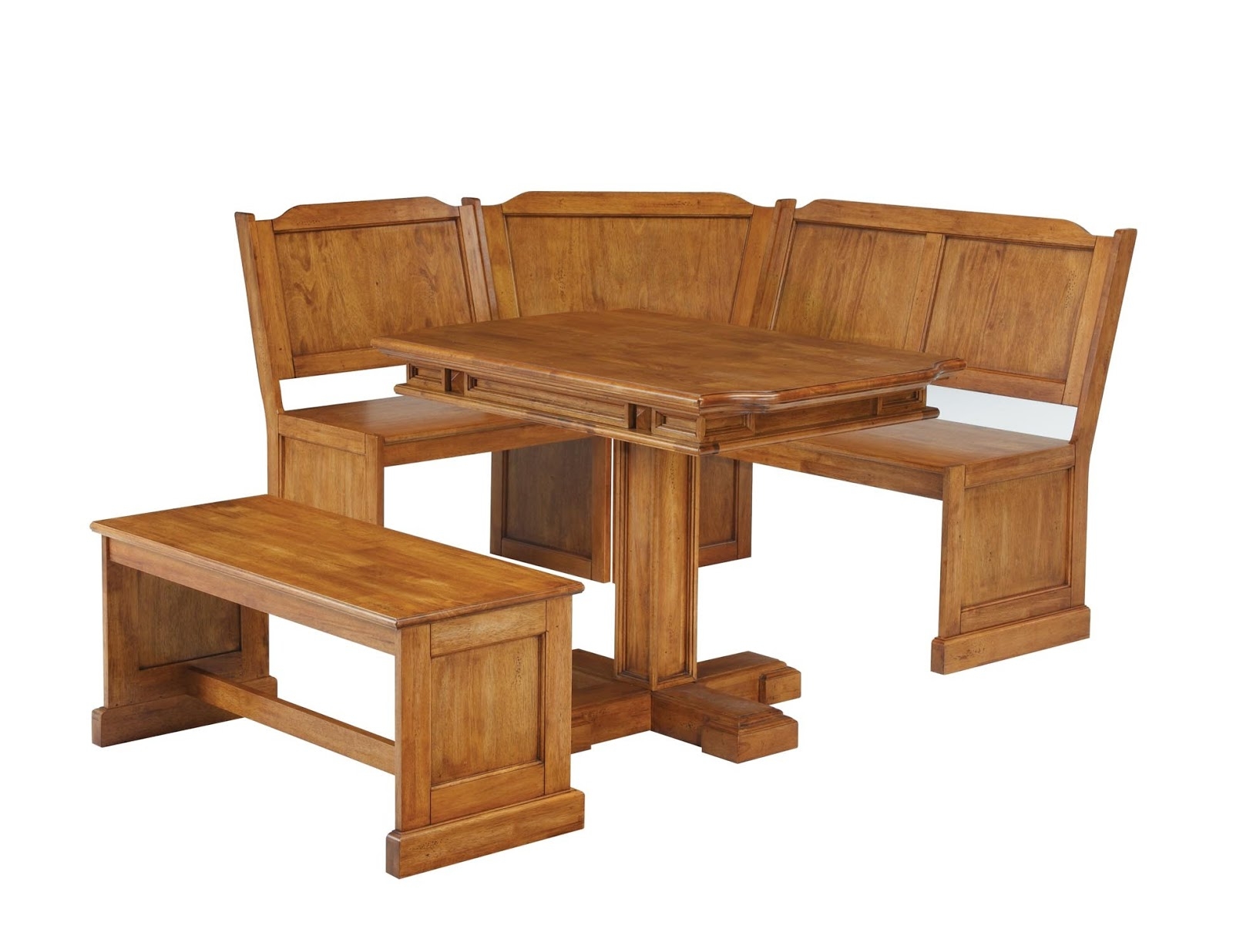 Corner Nook Dining Set Distressed Oak Finish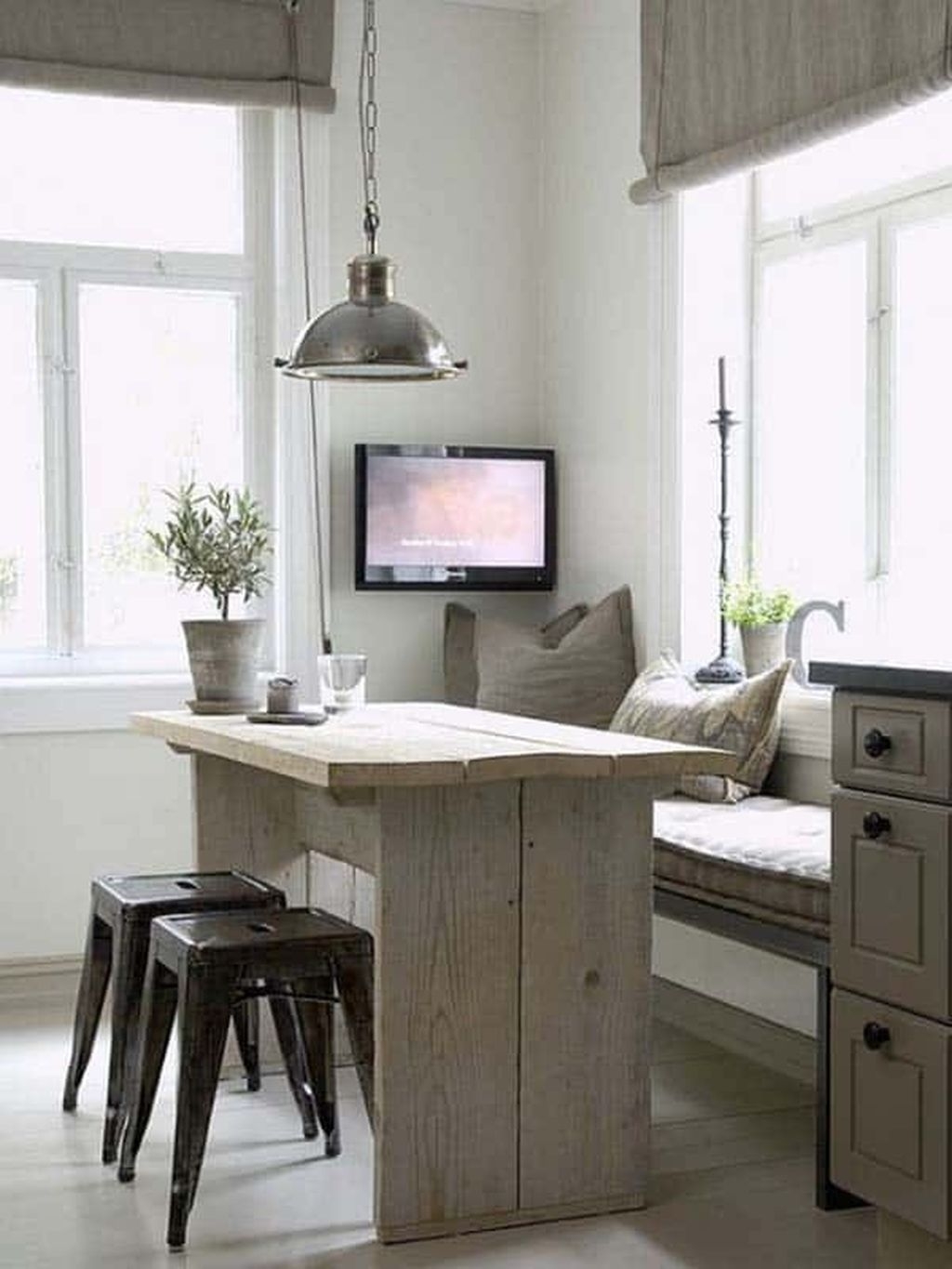 Dining table in rustic style. Construction is made of wood with antique finish. It has 6 seating capacity. Rectangular top has large usable surface. Suitable for residential and commercial premises.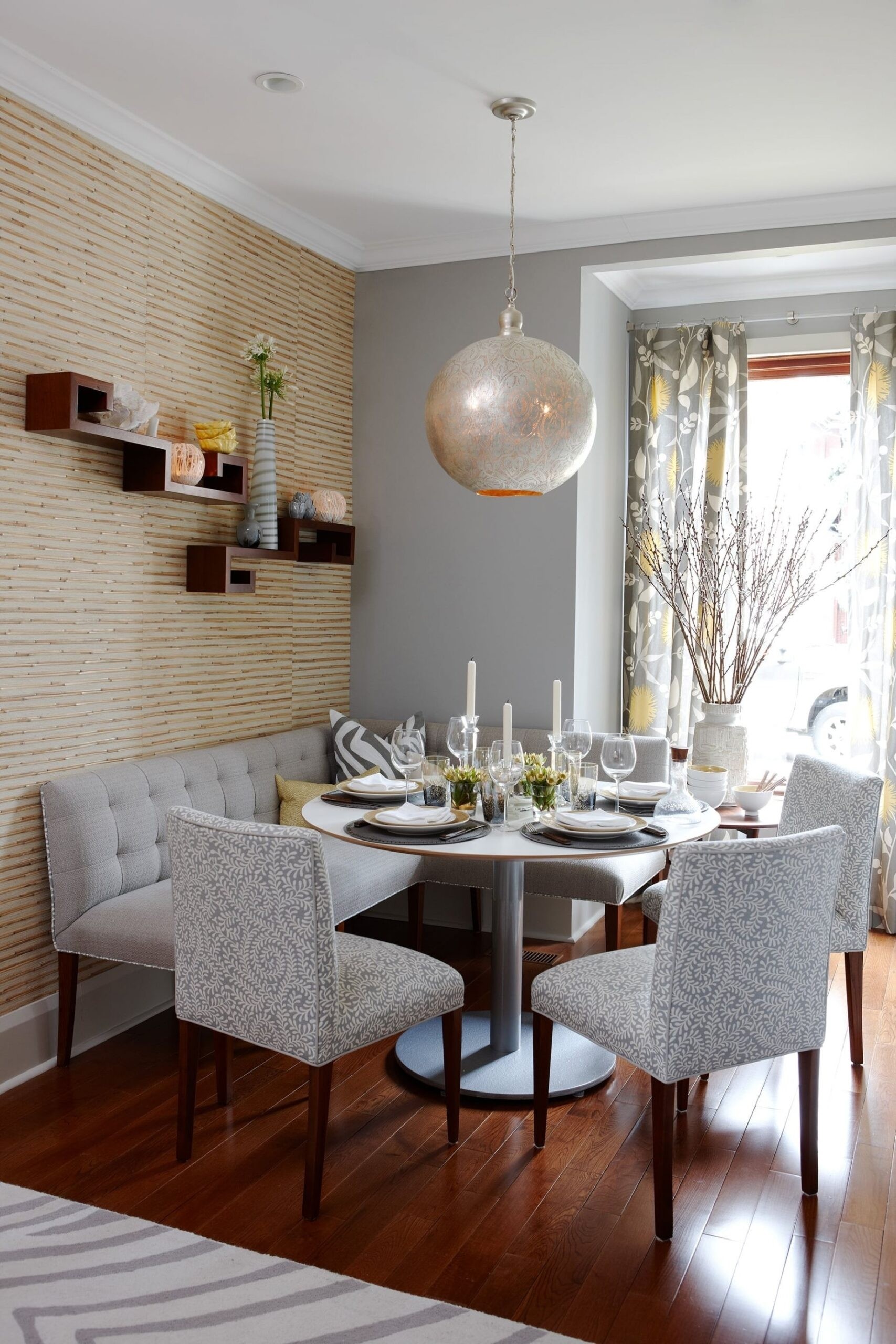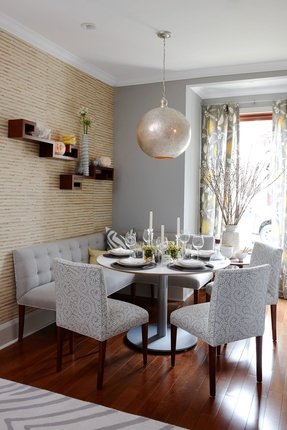 A beautiful set of 3 chairs and 1 coffee table in a gray color is going to put a little bit more class into your living room. Each chair has a wooden frame and is covered with a grayish, patterned fabric. The table is round, standing on a wide base for proper stability.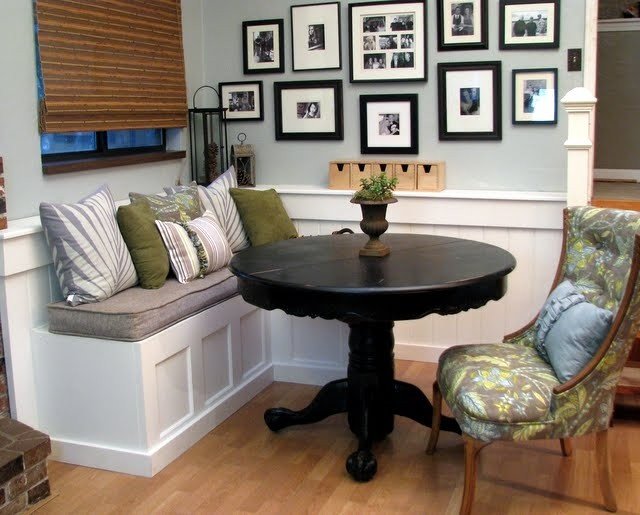 I wish I had room for a breakfast nook in my current house. This one is so cute!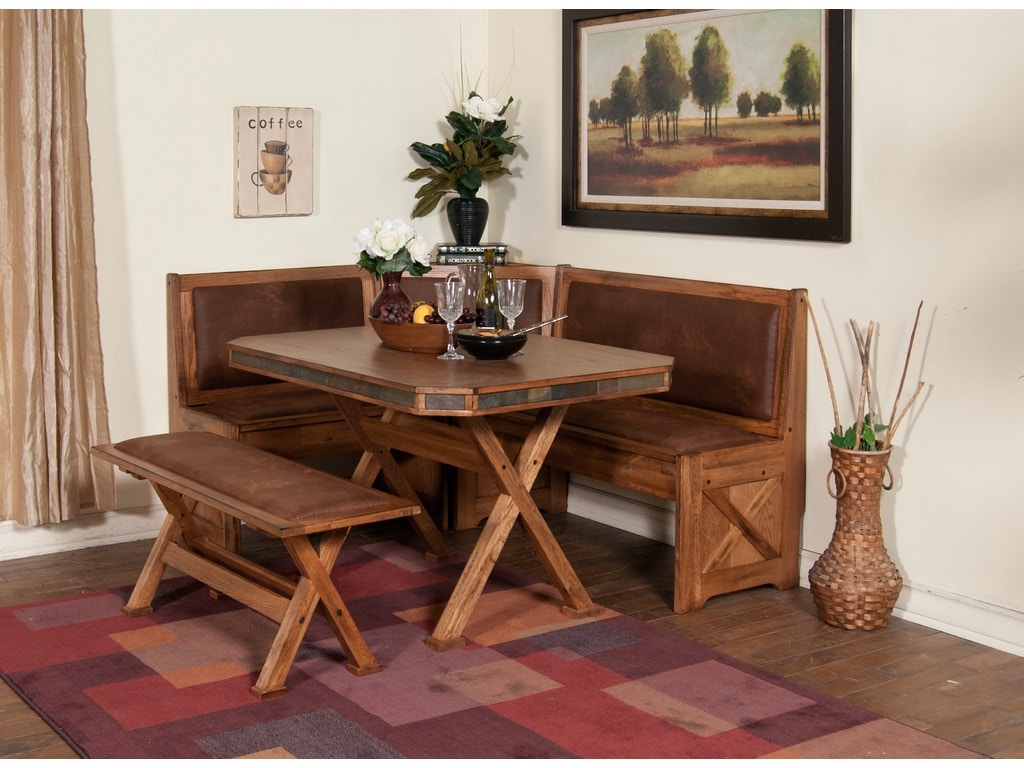 Sunny Designs Dining Room Sedona Breakfast Nook Set With Side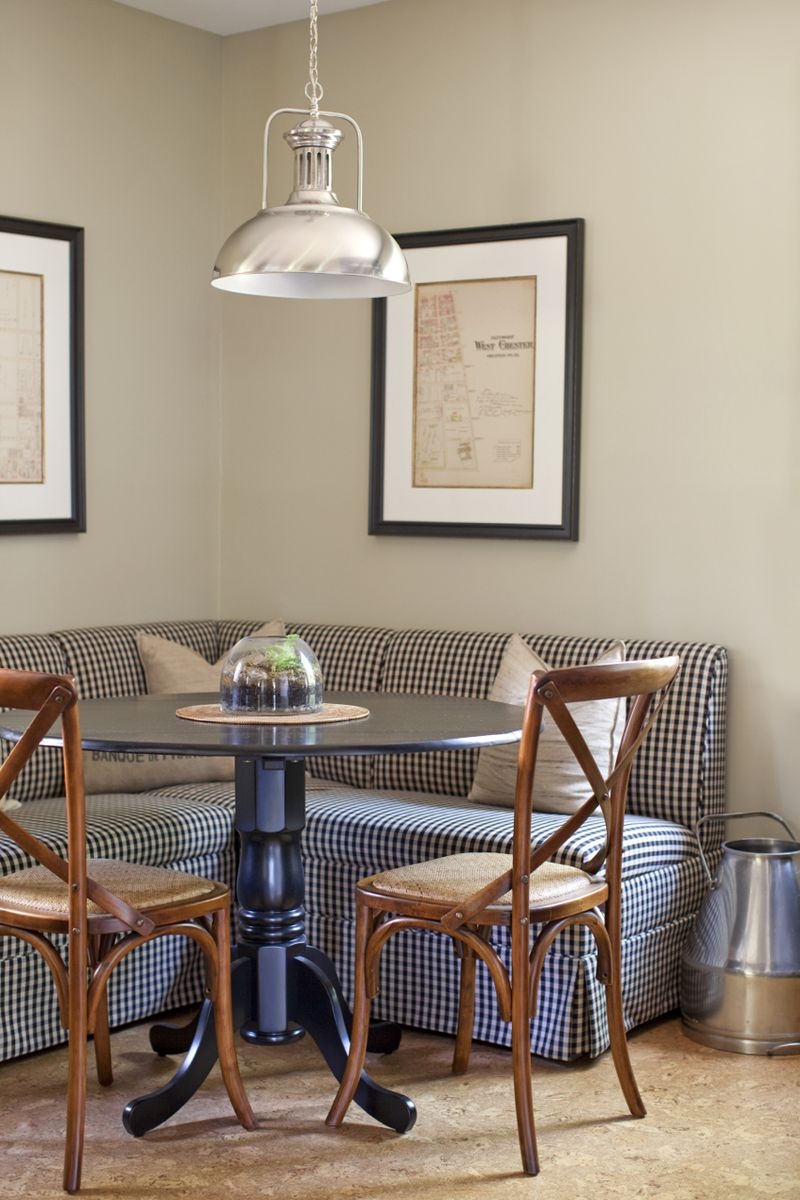 Been wanting a banquette (Ballard Designs) like this for a while, but don't have the space in the kitchen. Would it be so bad to ditch the rectangular table in the dining room and go with something like this?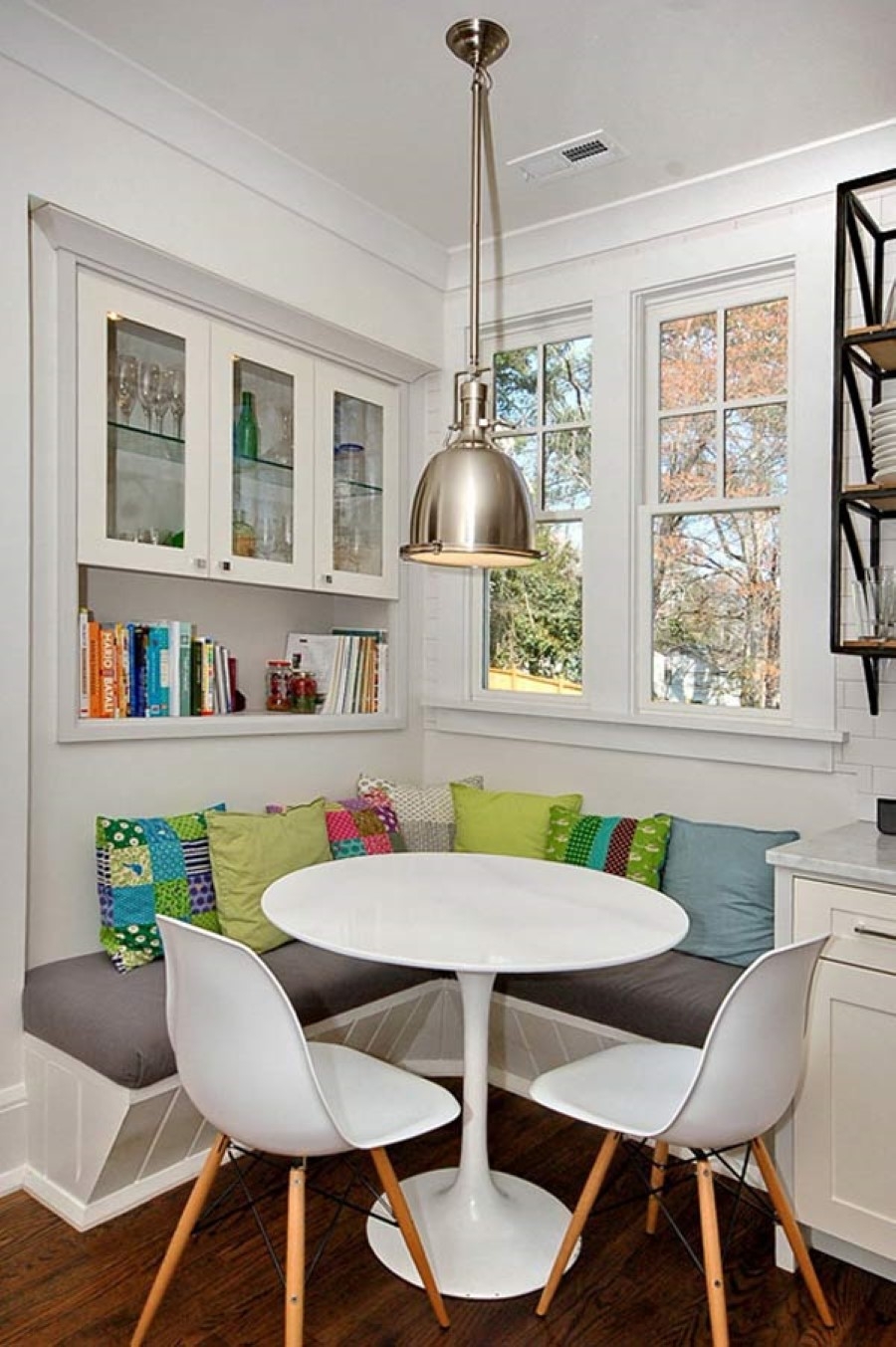 Hendersonville NC Historic Druid Hills Home for Sale, great breakfast nook!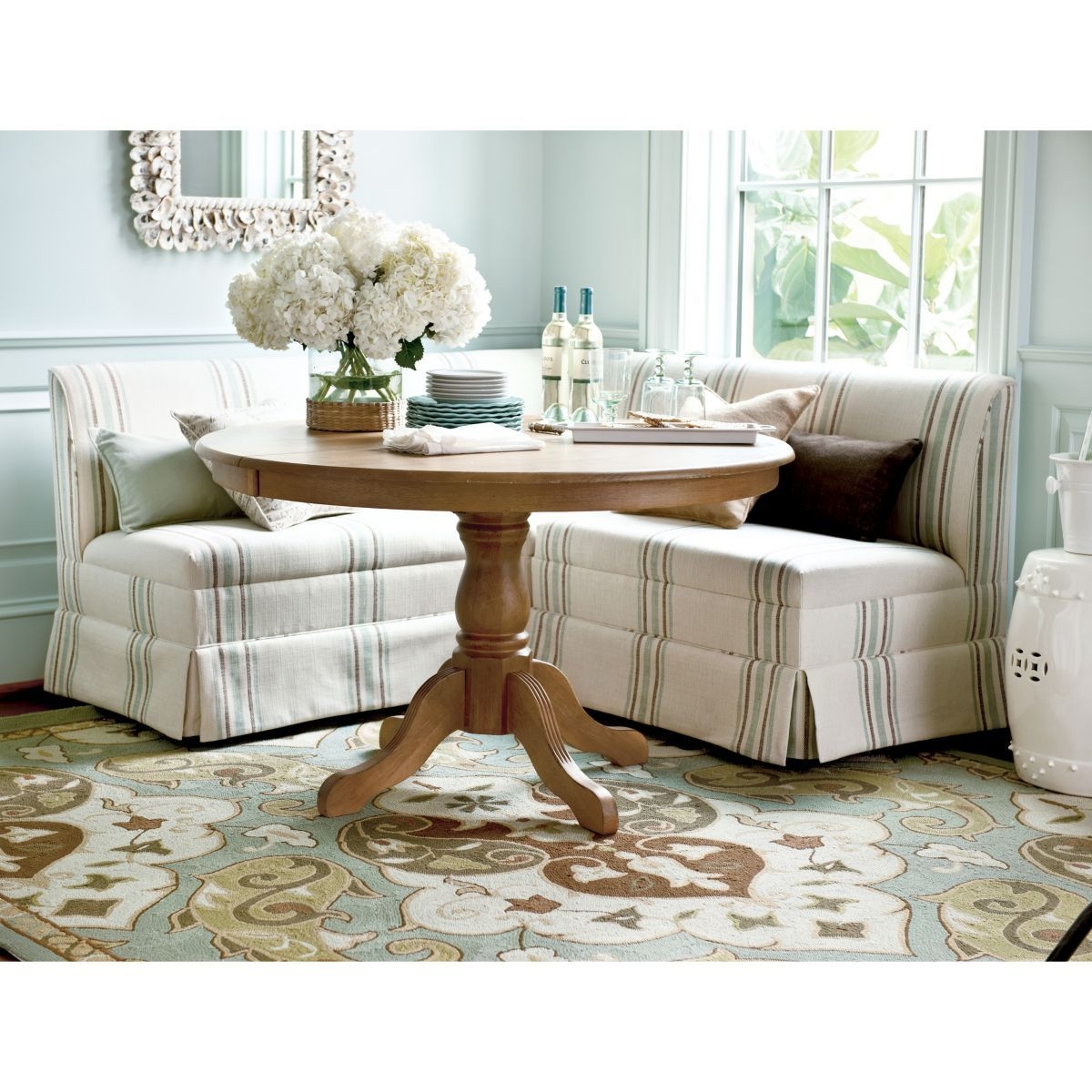 Coventry Sectional: Corner Bench, 48" Storage Bench and 36" Bench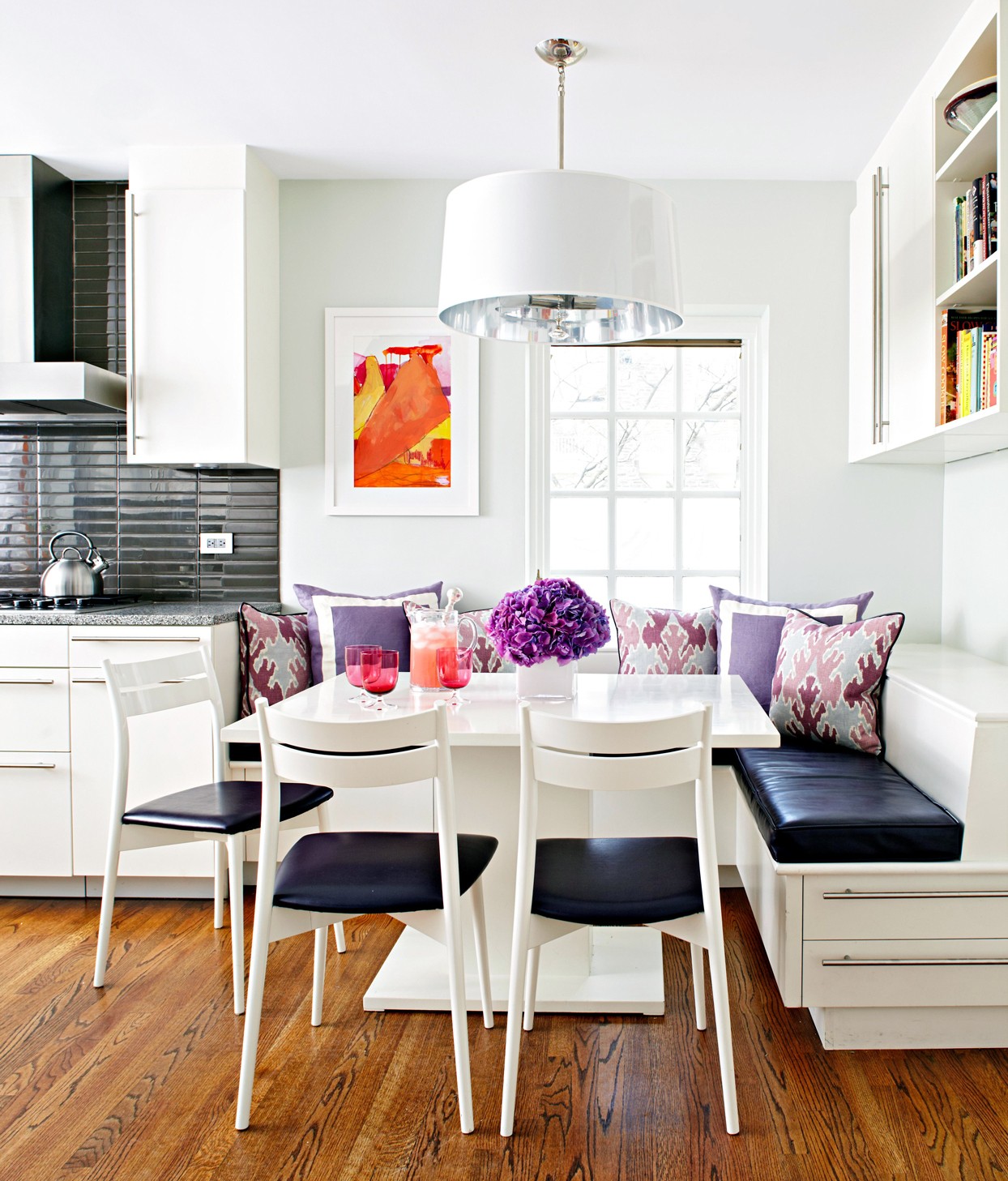 A beautiful kitchen arrangement, which is a combination of white and black. It features a white dining table with chairs and a fixed bench with black leather seats. The bench and the kitchen shelves are the same design.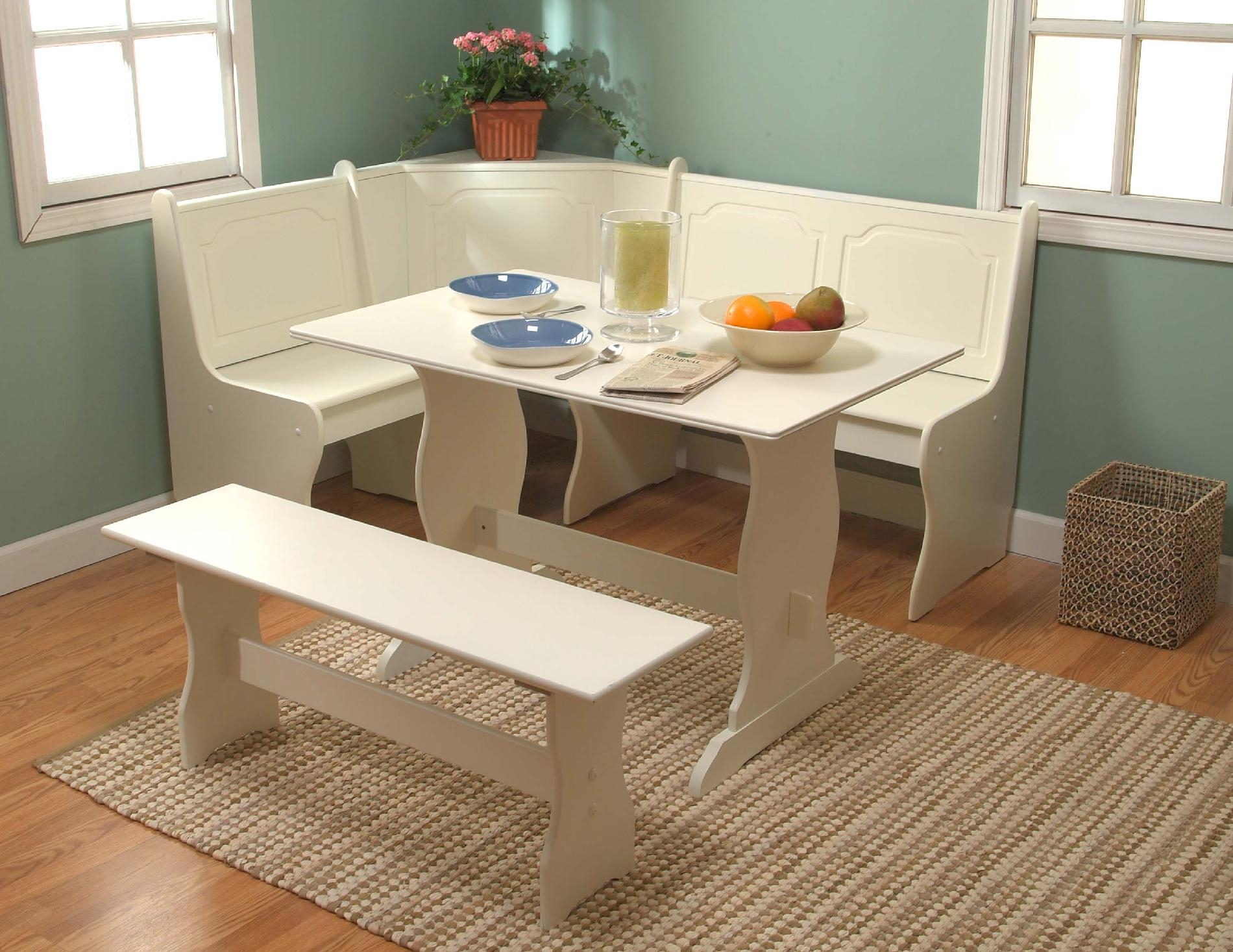 Nook Corner Dining Set White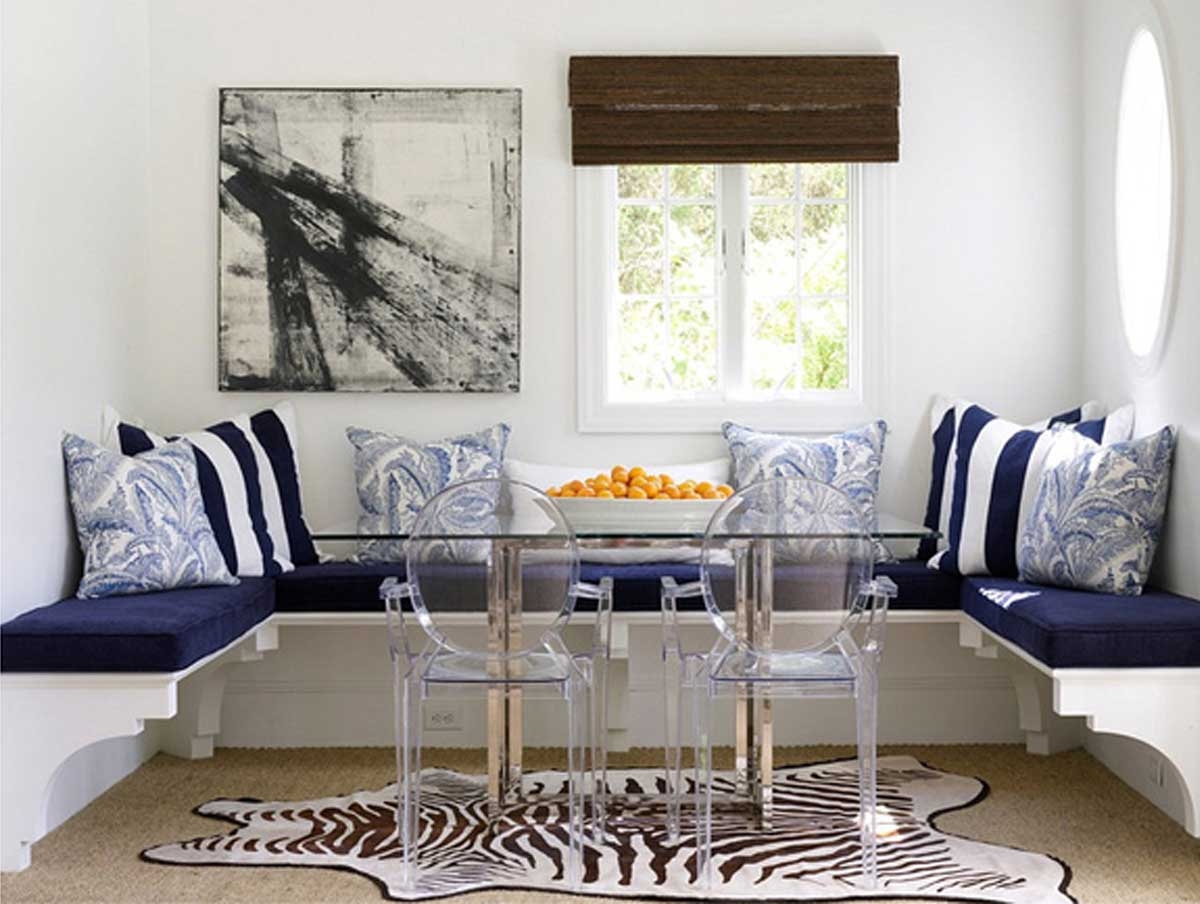 Great idea to make a small space appear larger; put clear chairs on one side!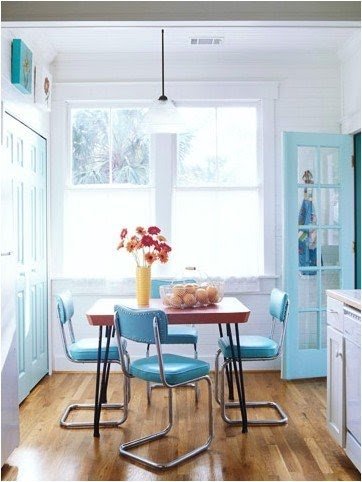 A 1950s-era laminate table and vinyl chairs set this cottage kitchen's vivid color scheme, which includes white, turquoise, and red. The overall look is one of fun and whimsy.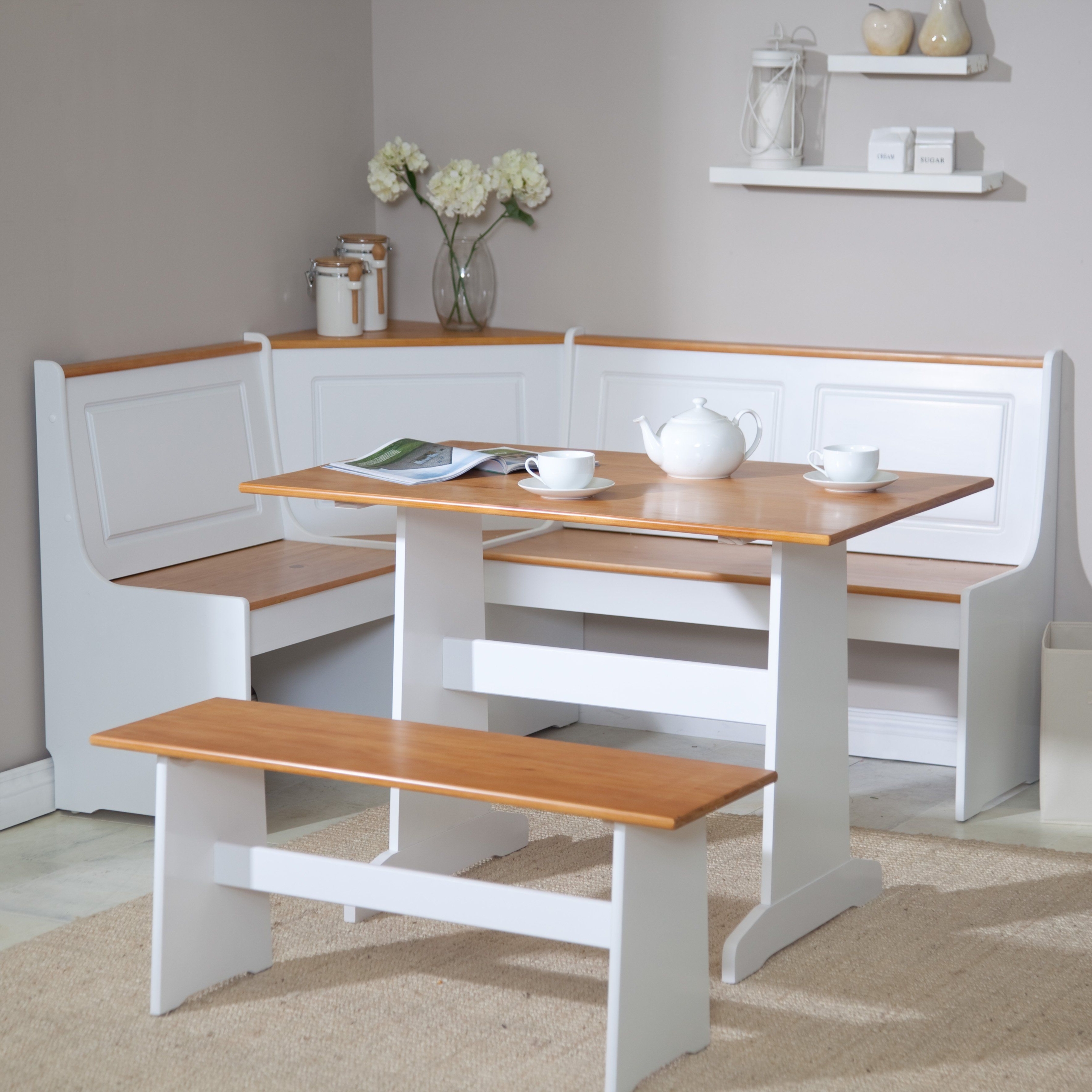 Comfortable and practical breakfast nook with a durable table, L-shaped bench with backrest and backless bench. Table top and bench seats are made of brown wood. Their bases and frames are also made of wood and they are finished in white color.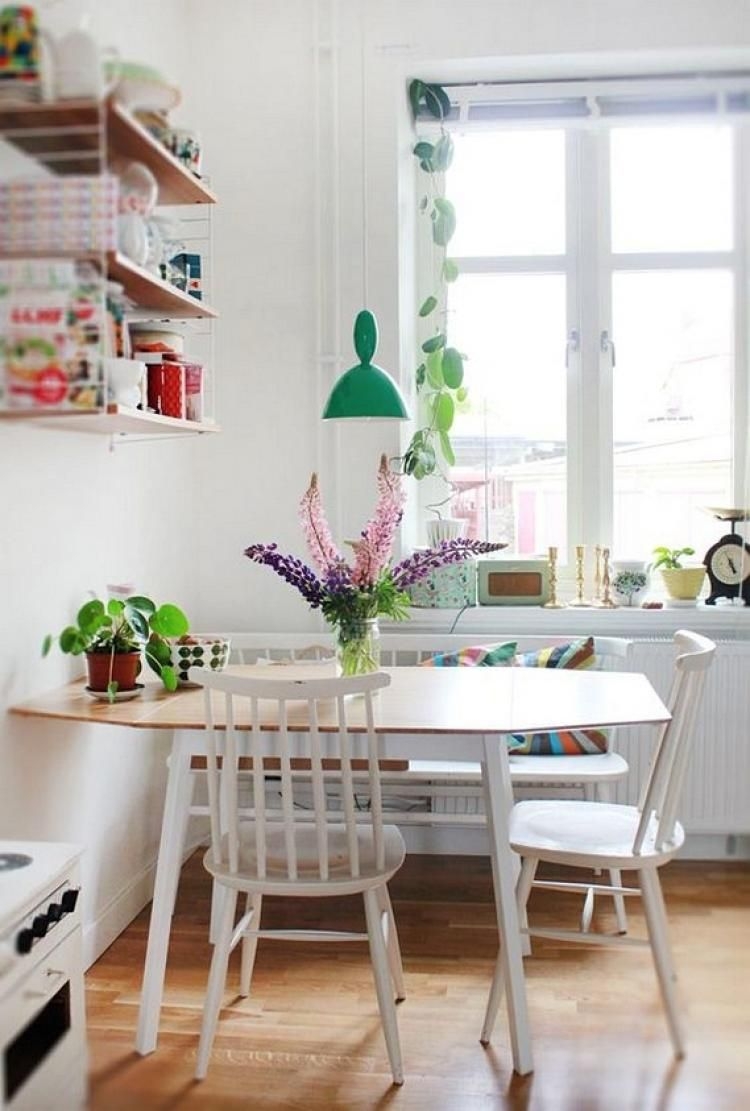 Our little kitchen corner - Bonjour Vintage - this would be a cute set up for the kitchen if we decide to sell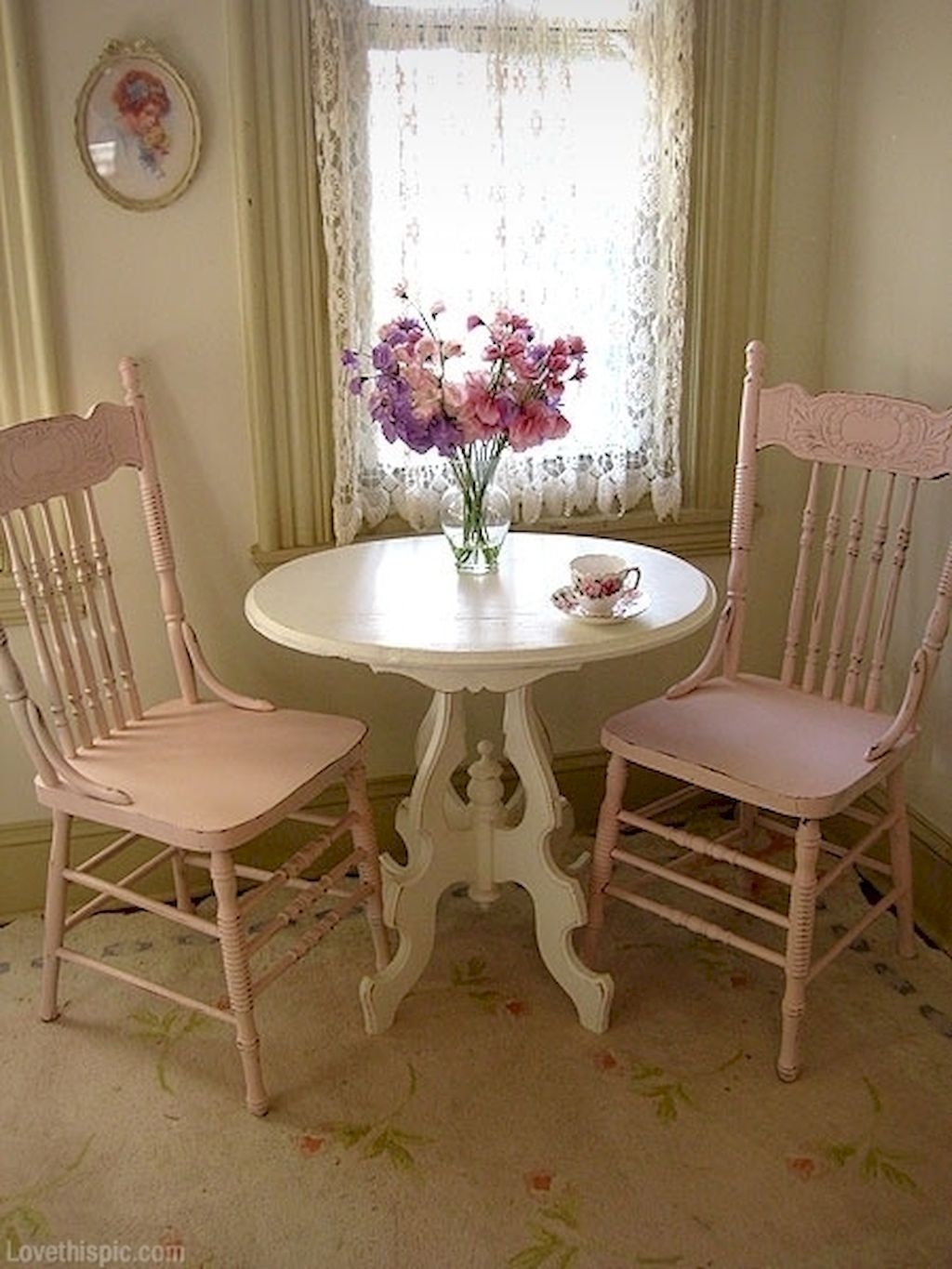 Wow! So adorable and lovely pink and white set, special for conversation nook. It includes the round table and two classic chairs. This set is perfect for everyday breakfast or tea with friend.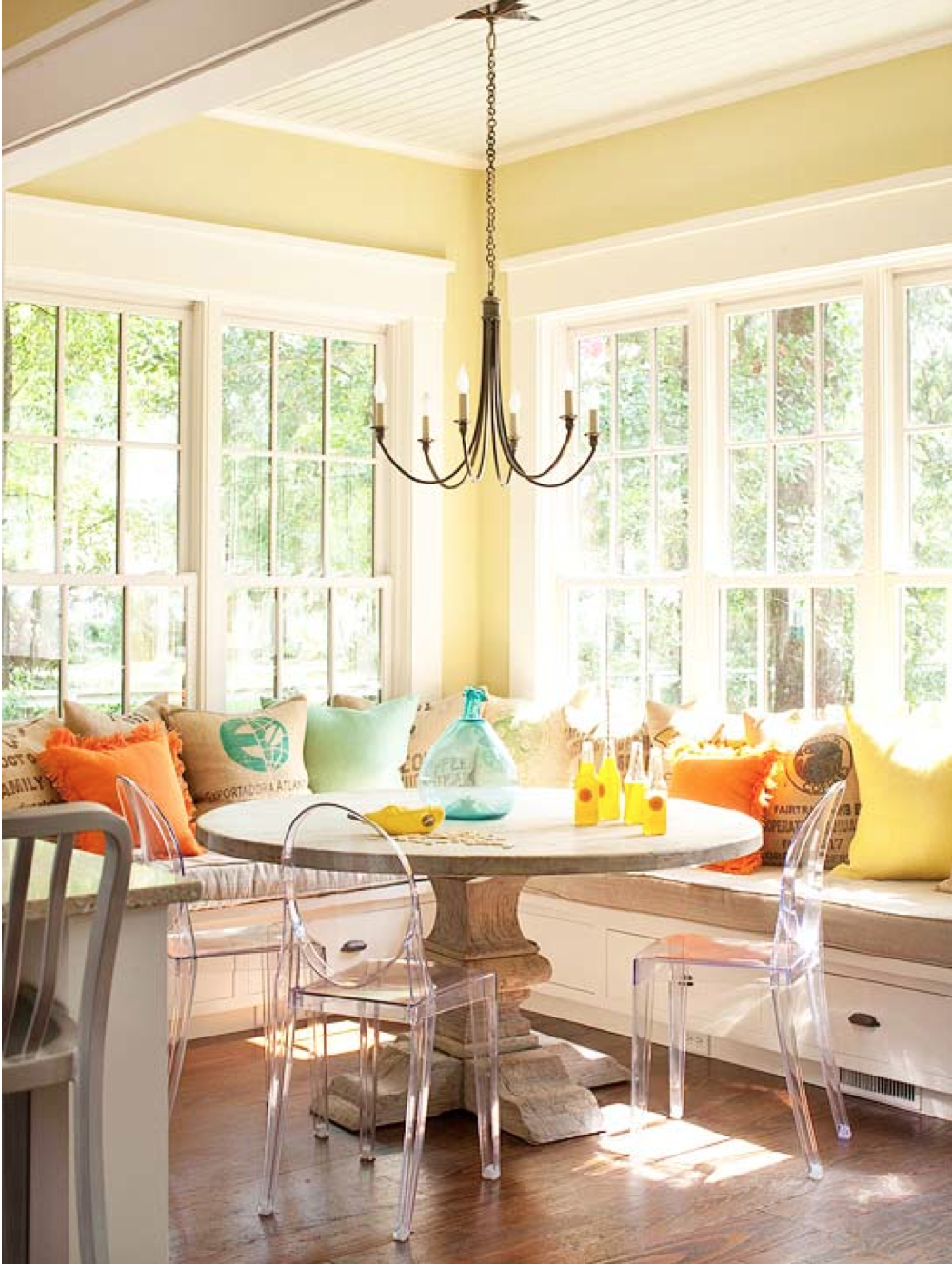 The extra light from the large windows brightens this small space. The storage provided underneath is a fun perk. And the neutral tones are free to match any blend of bolder colours, making it so versatile, it will last a long time.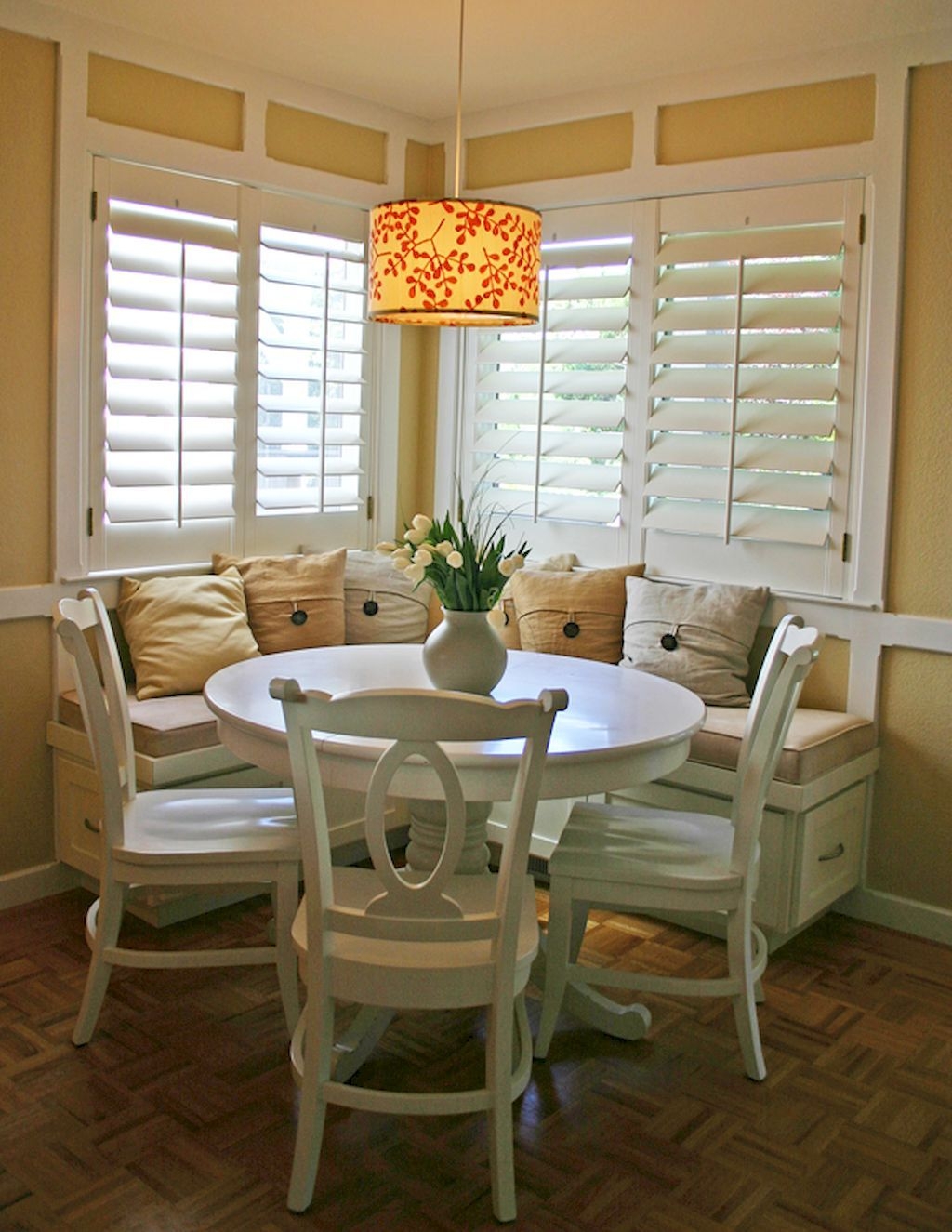 wish there was a better picture of this fabric somewhere. I've been obsessed with it ever since I saw it on an episode of sarah's house (farmhouse).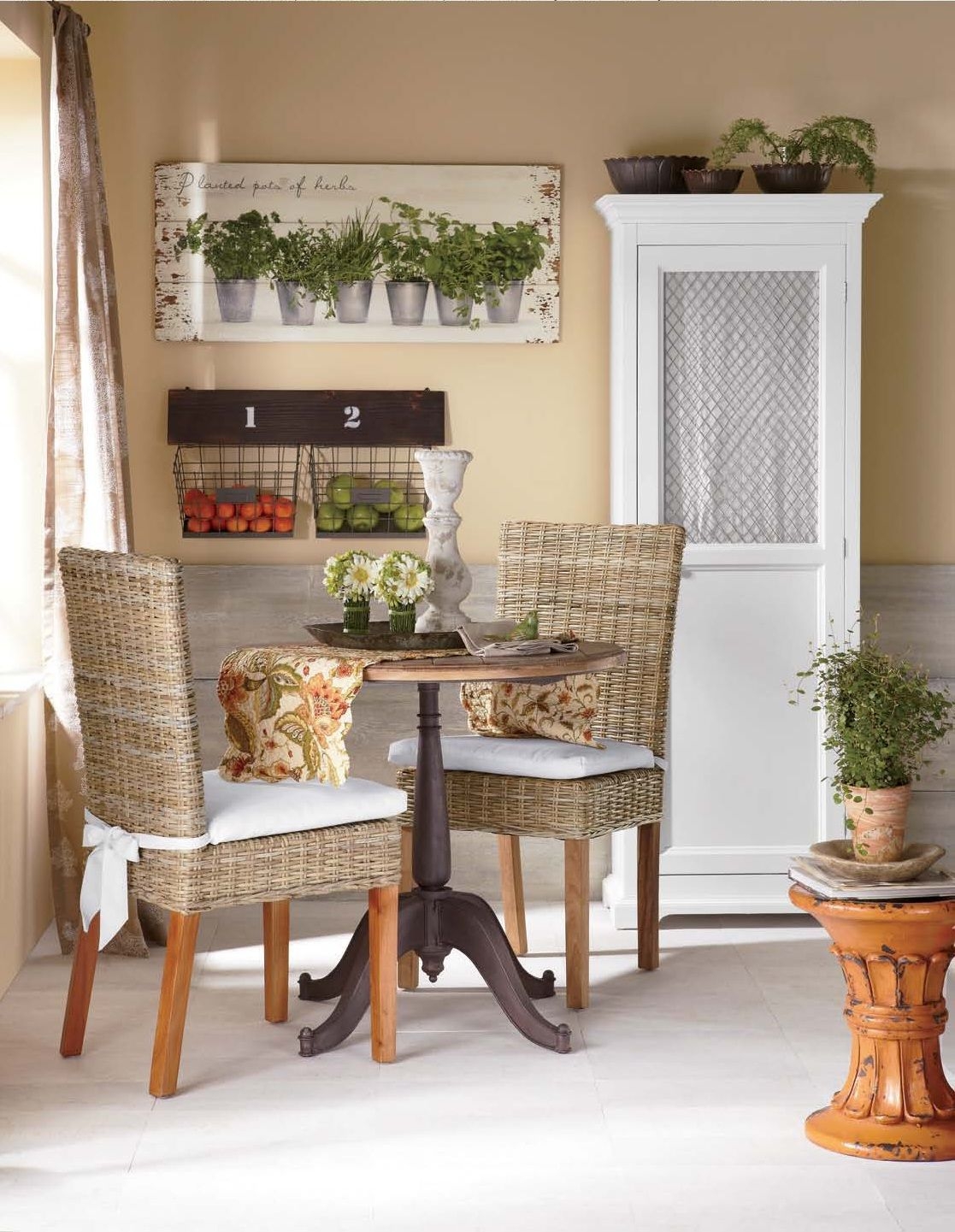 Cozy Kitchen Maximize a small dining space with a round table and armless chairs. A rustic or industrial look brings out the style in a small space. Shop this room!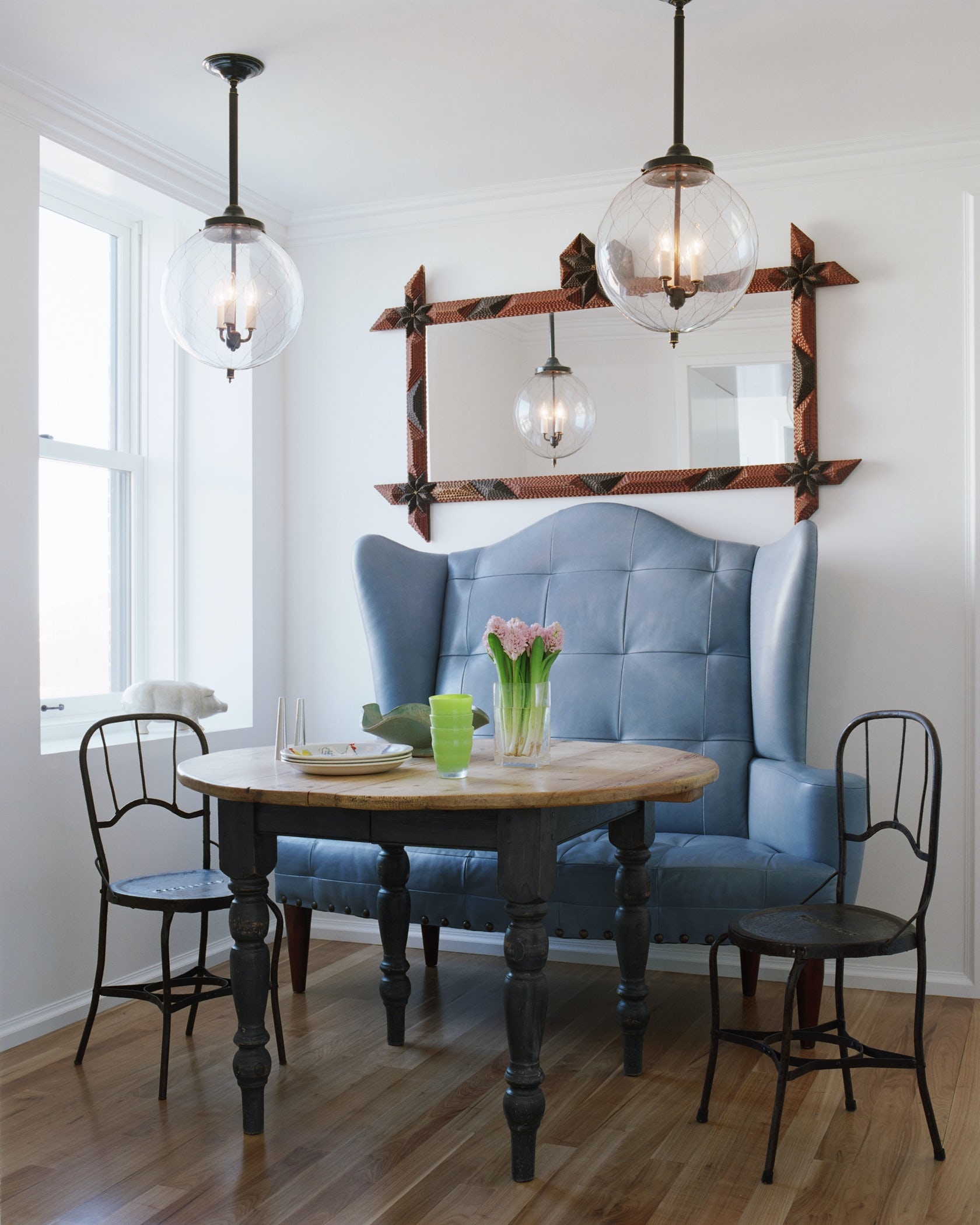 Ummm, totally need a double wide wingback chair for the kitchen nook... This is adorable and reminds me of one of my favorite details at Zoozacrackers at Wynn :)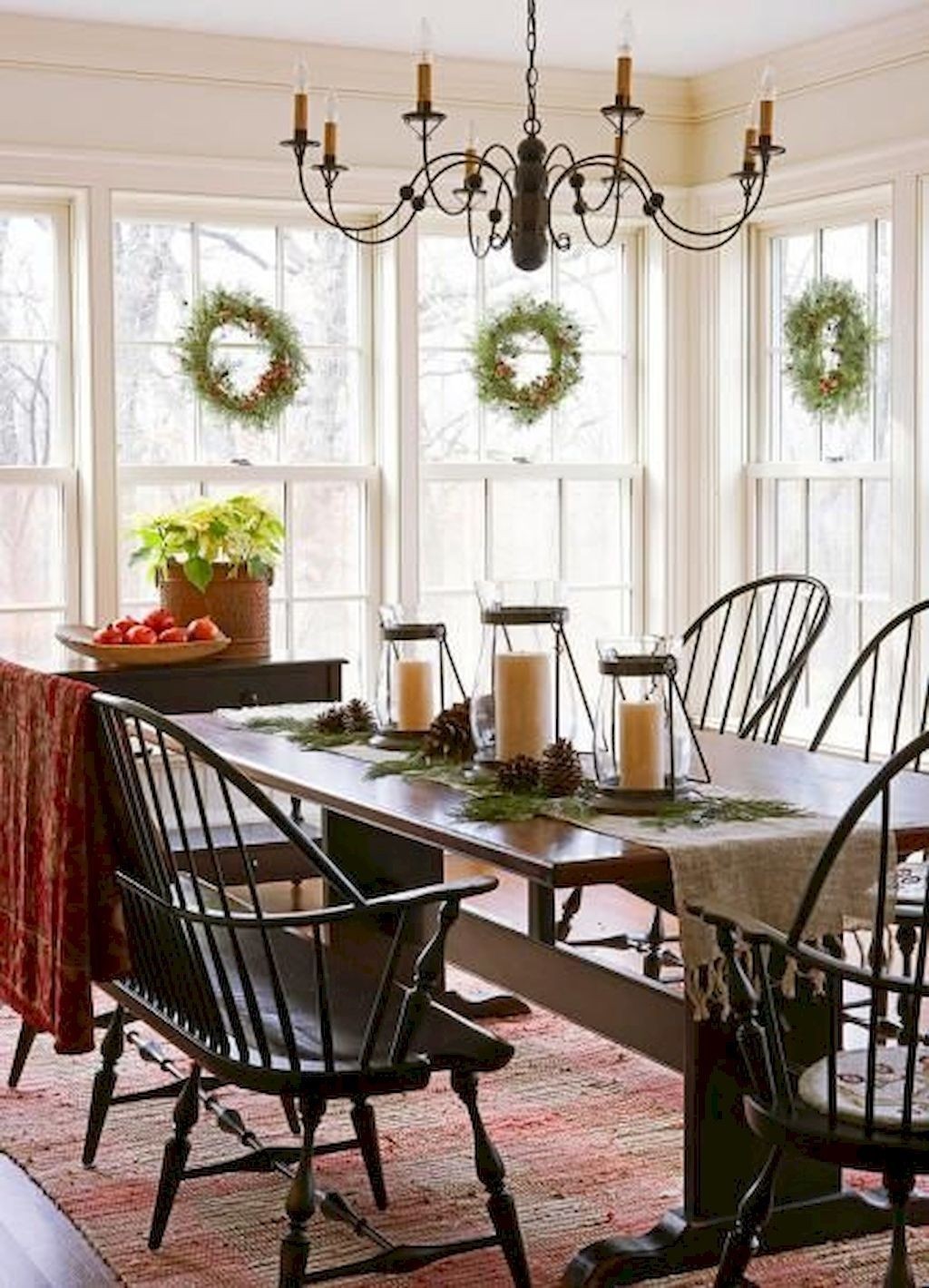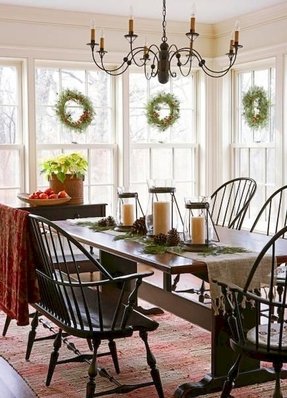 A chic traditional wooden dining set in dark brown. A table has a rectangular top, 2 panel supports (on long stepped feet) joined by a long straight stretcher. A loveseat and chairs feature spindle turned legs, rods in arms and arched backrests.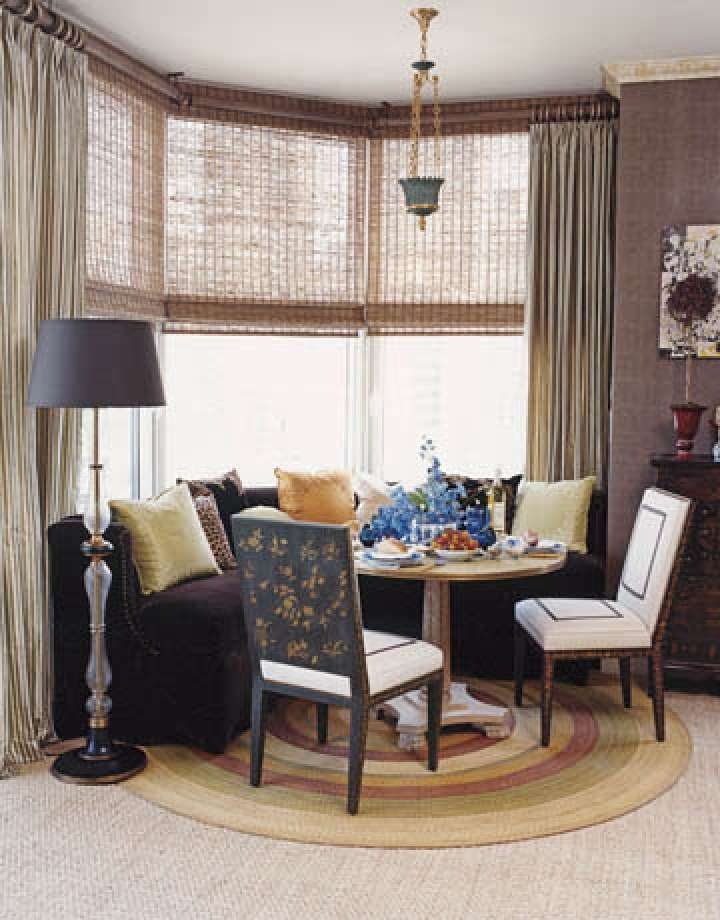 Isn't this a lovely little nook? the rug brings it together & seperates it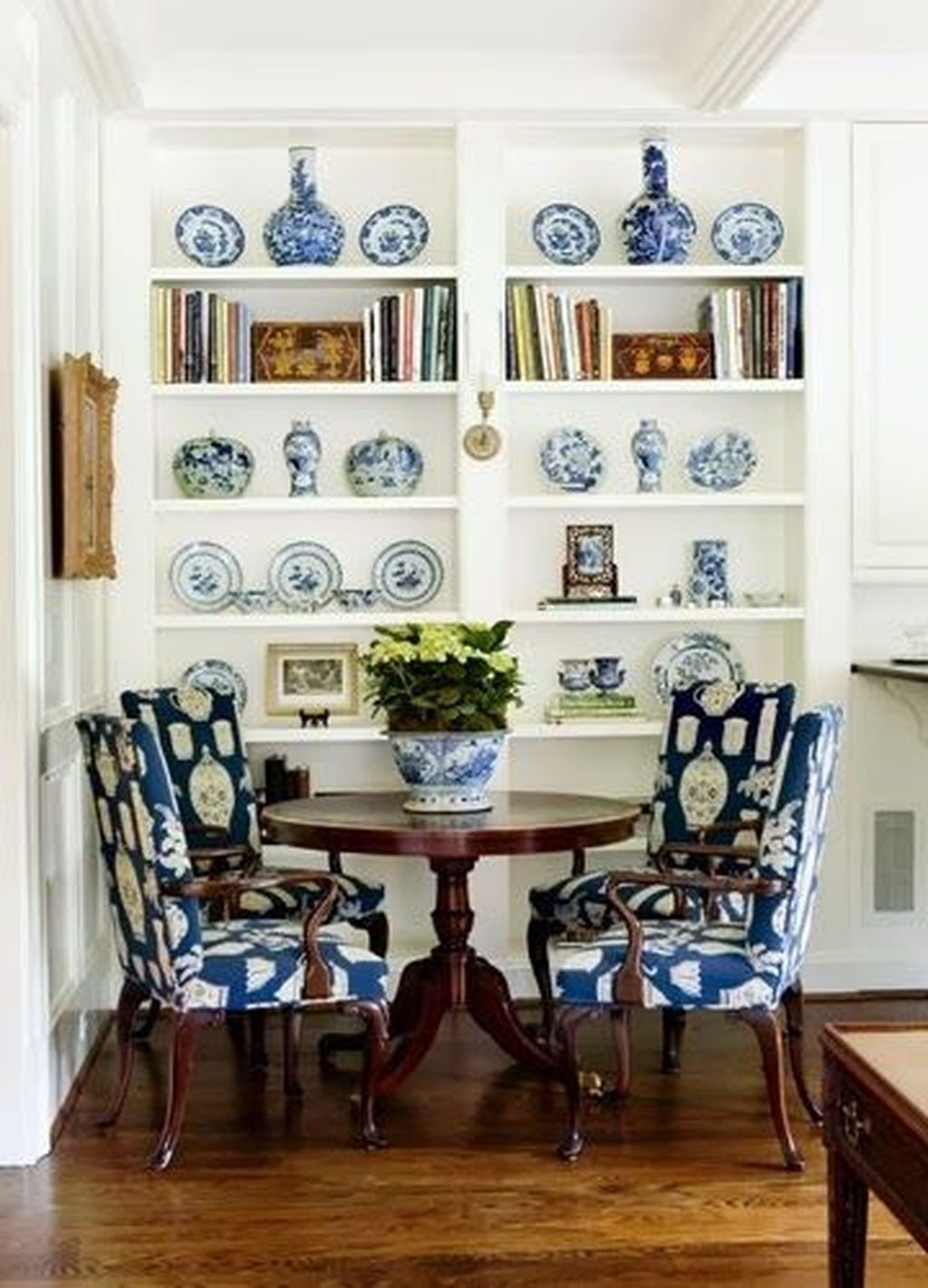 Judy Bentley Interior Views Photos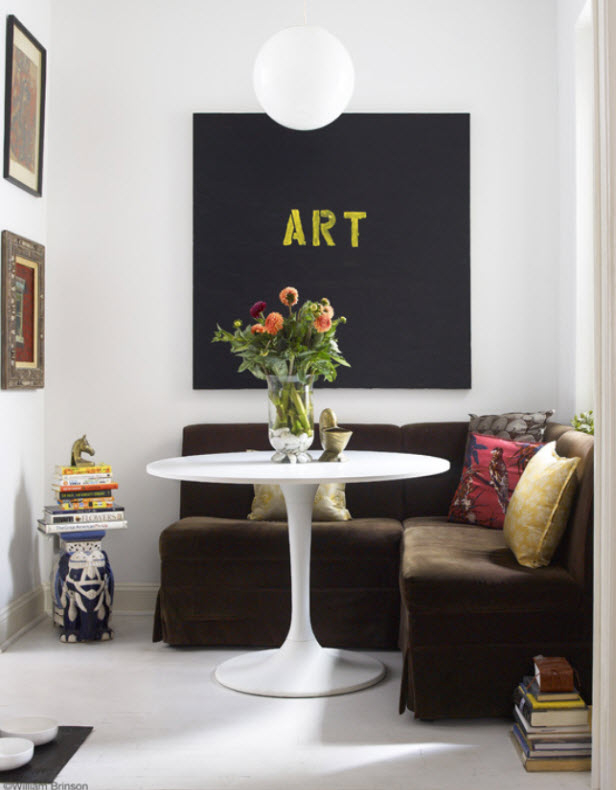 If this is the Ikea table paired with some awesome fancy banquette, I will love this set-up more than I already do.
LOVE this purple/orchid, lavender color used as pops of color. Really brings attention to the beautiful color.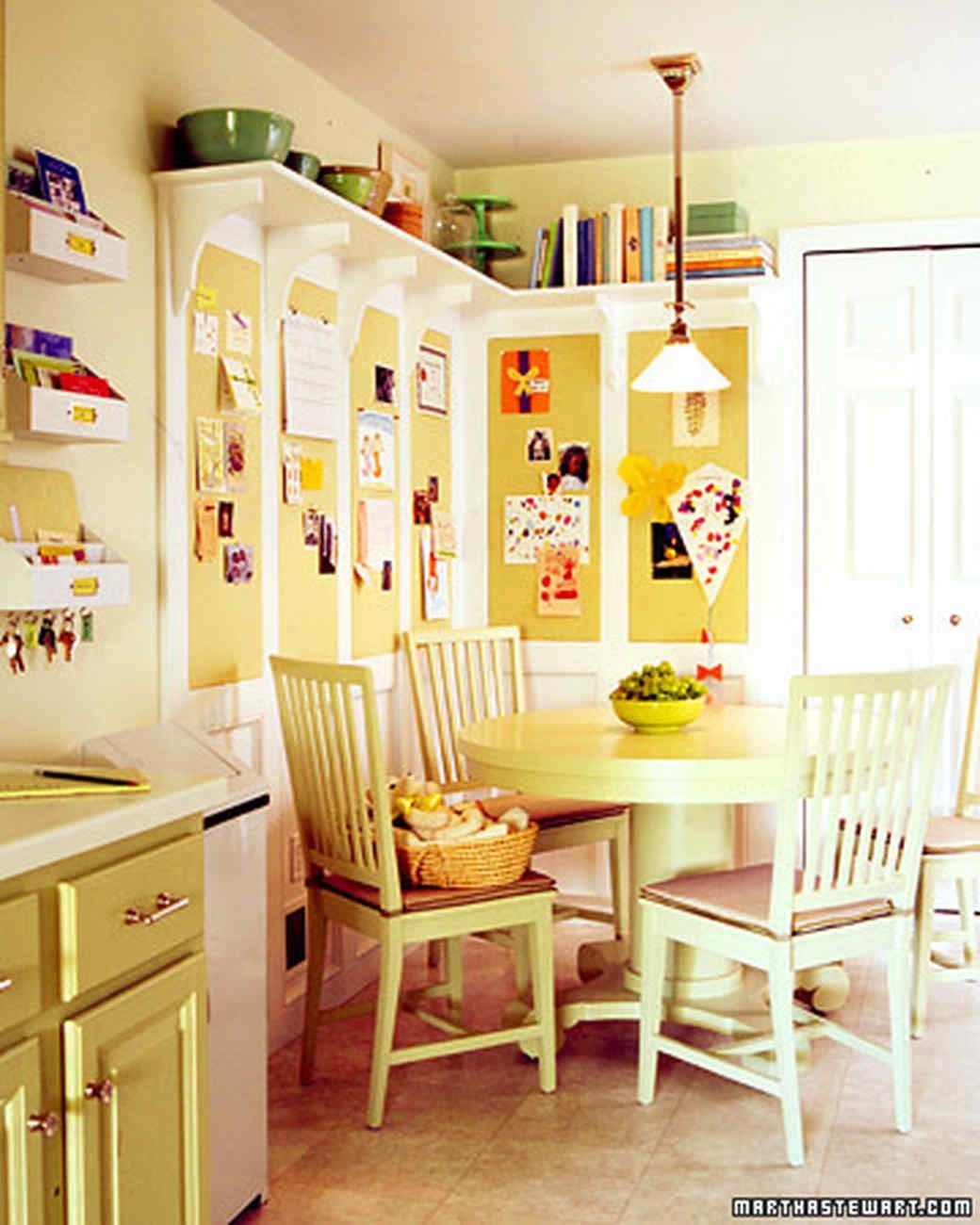 Line the area right underneath the ceiling with shelves. | 27 Lifehacks For Your Tiny Kitchen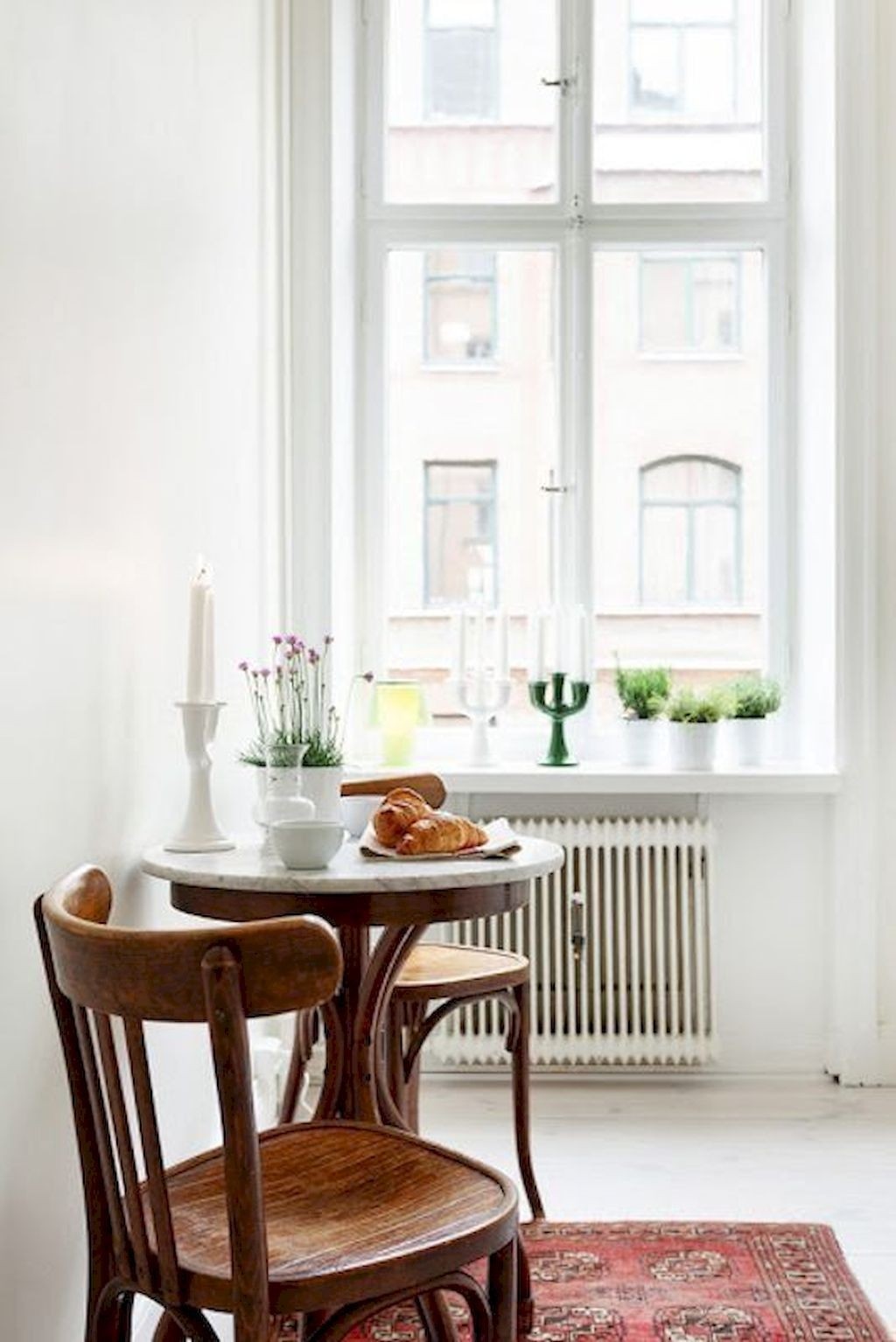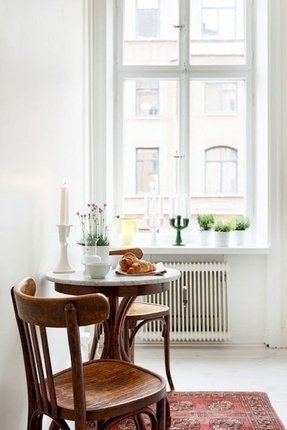 Scandinavian stylization in the house. This small breakfast nook set consists of a table with round marble top its frame and frames of two chairs are made of lightweight but durable wood. Each chair provides back support.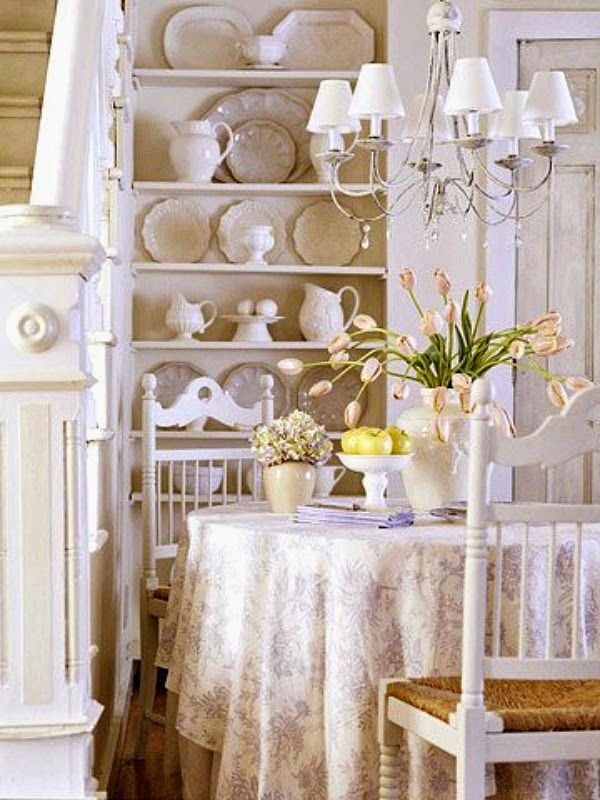 Cinnamon Rose Cottage: Decorating Cottage Style.add jadite to the plate area