Our Choice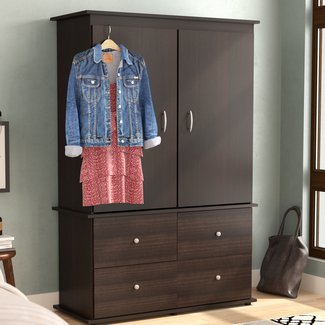 Burditt TV-Armoire
The ideal addition to a guest room or study, this durable yet stunning TV armoire can accommodate a flatscreen TV up to 46" across. A cable management system in the back keeps cords and wires hidden out of sight for a clutter-free room. Four smooth-gliding drawers and a spacious two-door compartment with adjustable shelves, allow this TV armoire to double as a wardrobe. With a dark wood finish and light silver-colored handles and drawer knobs, this stylish piece can fit with any interior design aesthetic.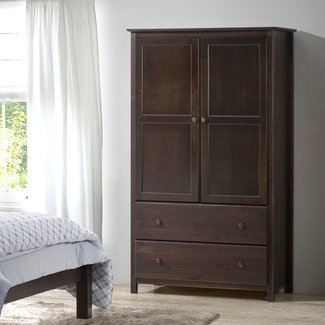 Shaker Armoire
A Shaker-inspired pine wood armoire, this piece boasts adjustable shelves, a clothing rod, and drawers crafted with secure metal slides. Available with either a cherry or an espresso finish, the armoire is compatible with many interior design styles, from traditional too shabby chic. Natural wood grain lends uniqueness to each armoire. Use it either to store your clothing or to accommodate a television up to 32". For easy installation of your multimedia equipment, this armoire includes a cable management system.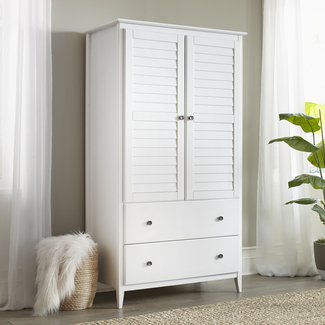 Greenport TV-Armoire
Elegant, with clean lines, this armoire strikes a unique balance between modernized, Shaker-inspired and coastal styles. The two large, louvered doors open up to reveal a spacious compartment with adjustable shelves and a clothing rod. You can use this space either to store clothing and linens or to mount a television up to 39". Two large doors at the base of the armoire provide additional storage. A tip-over restraint is included to keep the unit secure.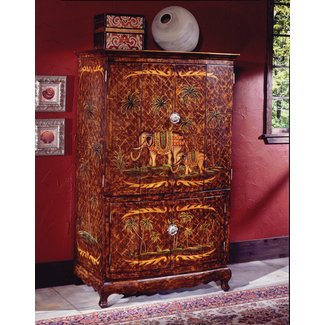 Reiter Hand-Painted TV Armoire
Evoking a tropical style with a hand-painted Asian elephant motif, this unique TV armoire is an eye-catching eclectic piece to create a focal point in your entertainment area. Bifold doors conceal a spacious compartment that can accommodate a 43" television with four interior shelves. With ornate red, yellow, and orange detailing, this beautiful armoire is crafted from solid wood. It makes for a unique and sturdy long-lasting heirloom that's sure to become a prized family possession.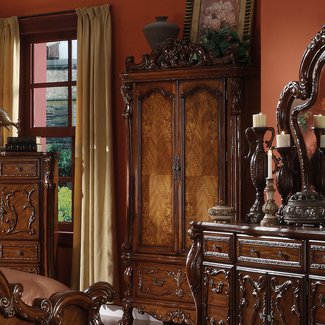 Welliver TV Armoire
A beautiful addition to any house, this armoire comes with decorative carving inlay veneers, claw feet, and distinguished hand-brushed golden contrast details. With the capacity to hold a television up to 82", this stunningly crafted piece also has two drawers and two shelves for convenient storage. With a timeless old-fashioned charm, this armoire effortlessly blends practicality with elegance. Make it a showpiece in your living room or master bedroom.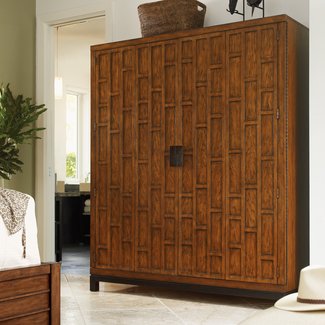 Ocean Club Samoa TV-Armoire
This beautifully crafted and functional bamboo armoire in a rich brown Sienna Bali comes with six shelves and four drawers, so you can easily organize and access your clothes, linens, and multimedia items. With smooth opening dual hinge-action wooden doors and a removable central divider, there is ample space for a television up to 52". The doors can fold flat against the sides of the unit to allow a full view of the screen.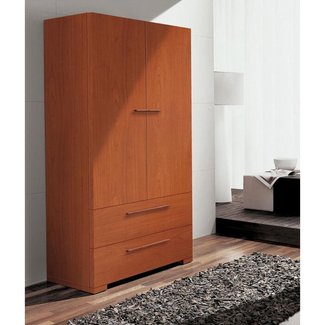 Wynd TV Armoire
This mid-century modern-inspired TV armoire features sturdy wood construction and clean, minimalist lines. With adjustable interior shelves, this 78-inch armoire offers a wide range of storage options for your TV, digital players, and sound system. But it also makes great storage for extra bedding in a guest room. It is constructed from manufactured wood using a unique folding technique and features solid wood handles and no visible joints for a smooth, modern addition to your home décor.
Lucie Large TV-Armoire
This heirloom-inspired, solid wood armoire can accommodate a television up to 35". With two large drawers and a spacious, two-door central compartment, this armoire can house a full entertainment unit. The main central compartment provides slots for gaming consoles or disc players. An above-TV shelf offers additional storage space. Shell detailing on the natural, wooden exterior of the armoire makes this unit compatible with a traditional or country farmhouse aesthetic and is an ideal focal point for a den, entertainment room or a bedroom.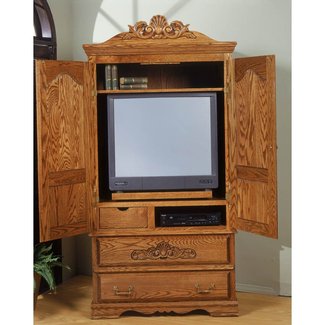 Lucie TV-Armoire
Perfect for individuals whose interior design is inspired by a classic farmhouse aesthetic, this TV armoire brings country-inspired style to your home. The armoire boasts a pull-out TV swivel so you can maximize your entertainment space. Its cable and outlet center organizes your cords, and raised panel doors feature durable, sturdy piano hinges. Hand-carved seashell motifs and other ornate details are the final touches on this focal point piece.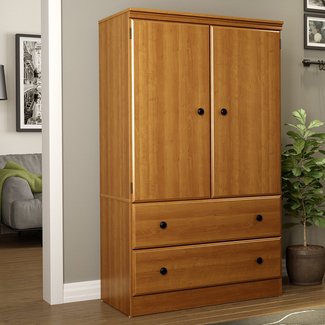 Caines TV-Armoire