Our Choice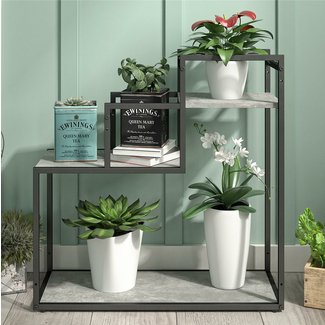 Weston Multi-Tiered Plant Stand
This small shelf is just the right size for displaying plants, antiques or books in 2-tiered fashion. Metal forms the outline of geometric design and is available in espresso or black oak. A full length bottom shelf serves as a balance to the dark metal in concrete or natural wood. The entire unit is only 8.9" in width and can easily be attached to a wall for sturdiness. 2 cubbie holes and 2 open areas bring a different type of style for decors that need a little spice. The unit is 23.4" tall and can hold up to 15 pounds on the lower shelf. Add an artful addition to your contemporary or modern living area or bedroom with items that you cherish. Switch out to holiday trimmings during the seasons and enjoy the different settings that are possible.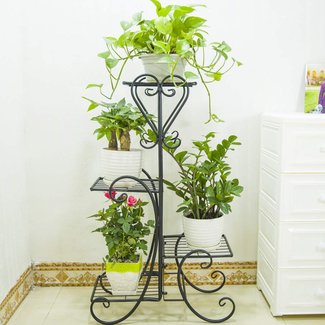 Deloris Square Multi-tiered Plan Stand
Squares, scrolls and open frames will give you endless uses for this multi-tiered plant stand. Country and rustic decors love live flowers. This creative stand has style, grace and layers for giving your living greens the room that they deserve. We all need to add a bright spot to our balconies, hallways or patio windows. This black metal offers 4 rising sections to showcase your plants, while giving them a decorative perch. Designed with a Tuscon Valley estate in mind, the scrolls and tiered presence has a glowing air of happiness that will make it your favorite area to relax in. Pamper your flowers and enjoy the elegance that this plant stand can provide.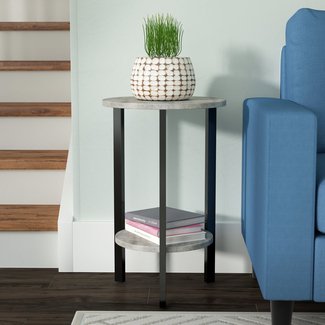 Vereen Multi-Tiered Plant Stand
Simple and unobtrusive, the Vereen Multi-Tiered Plant Stand is ready for that bouquet of roses, it will always be ready to be the perfect spot to place greenery, entryway decorations or couch-side items. Select either the 23.75" height or the 31.5" height for your individual needs. Two rounded shelves in gray/black, faux birch/white or weathered gray/black will suit any type of decor. The bottom shelf offers a height that gives you proportionate space for other plants or statues. Round shelves offer a wooden look that will compliment your contemporary decor well. Three metal legs with sustainable particle board and laminate mix metal and wood for a contemporary look. 
Heathcote Climbing Vines Multi-Tiered Plant Stand
Need a little harmony in your living space? The climbing vines metal plant stand brings 6 small platforms for a diversity of living plants. The dark green ivy, crafted of metal, will make a positive statement of your love for plants. Place in a corner where plants can get plenty of sunshine and enjoy the stair steps of vivid colors. It will only take up 24" of space and the ivy adds a nice decorative touch. Each shelf has a weight capacity of 44 pounds and measures 12"X12" in diameter. The assembly is easy with iron rods fitting one another. Minimal cleaning needed. Simply wipe with a clean cloth.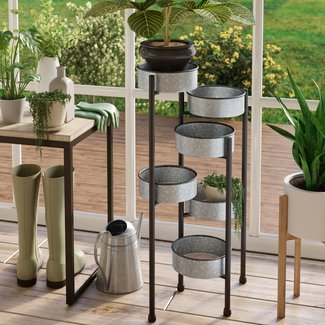 Charters Towers Multi-Tiered Plant Stand
This charming concept for an industrial style mixes galvanized metal and solid wood legs that create a circular pattern. 6 freestanding bowls that measure  7.75" in diameter and 2.25"high are supported by stainless steel hardware attached to solid fir wood posts. Greet guests at the front door of your rustic or country style home with an array of sweet smelling flowers or seasonal items with potpourri delivering a festive scent. Comes fully assembled and the entire stand folds up for easy storage. Padded feet on legs will protect your wood floor.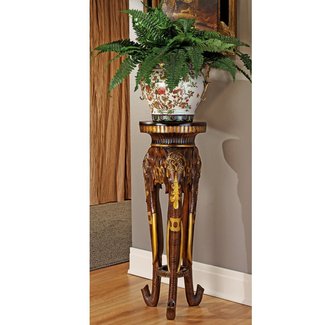 Majestic Elephant Pedestal Plant Stand
Elephants symbolize power and strength and this pedestal plant stand portrays these traits beautifully. 3 creative trunks form majestic curved legs in perfect symmetry and poise. Hand painted resin delivers a deep mahogany color with intricate designs of gold. A round platform that is 12" in diameter will support 100 pounds of your most treasured statue or vase. Bring an Asian flair to your high-end traditional or contemporary styled home or use as a focal point in eclectic or minimalist decors.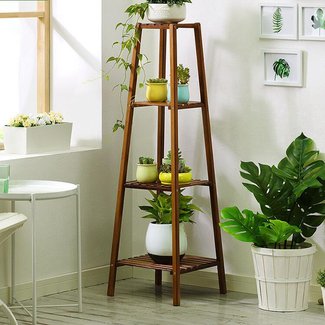 Taranto Multi-Tiered Plant Stand
Go green with this bamboo plant stand that fits any style with its tall sleek design and simplistic look. Towering at almost 4-feet high, you can show off trailing greenery like begonias, English ivy or philodendrons. 3 lower shelves expand below the 7.9" W x 7.9" D top platform in triangular form ending with a bottom shelf that measures 14.6" W x 14.6" D. Bamboo is a favorite for staying natural and adding air-cleaning plants may keep your room not only attractive, but healthier too.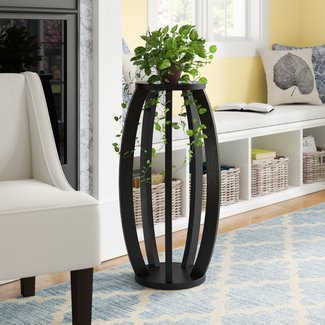 Newbern Round Pedestal Plant Stand
Bowed and beautiful, this round pedestal plant stand is transparent with long slim slats that flow from top to bottom. Cappuccino in color, the barrel-like construction suits all types of decors. Made from manufactured wood, the modern shade looks great in contemporary company. 32'' H x 15.75'' L x 16'' D, the rounded top is 11.5" in diameter. With the tower-like appearance, short flowerpots, small picture frames or a stout statue will be on display against the tall base. A bedroom, hallway or living space will be very accepting to this lovely contemporary piece with a modern design.
Solid Wood Mahogany Pedestal Plant Stand
Elegant and traditional, solid wood mahogany is graced with double types of ornamentation in its lust for unique old-world beauty. Hepplewhite period can be seen at the pedestal base and extreme curved feet are the designer's choice in making this piece an original. More modern straight leg design grows to the top where Chinese handiwork is evident. Standing 32" tall, this plant stand is meant to be an heirloom of distinction. Hand rubbed and hand finished to a sheen, your favorite plant or framed photograph will be proudly displayed. Arrives at your home completely assembled.