Finding storage solutions can be a significant struggle. Books, toys, and other knick knacks tend to clutter our living and family room spaces, making our rooms or apartment feel small and cramped.
Luckily, you can solve organizational challenges quickly and affordably by adding a functional and elegant corner cabinet with doors to your high traffic areas. These useful pieces of furniture help keep your clutter minimized by giving you a place to store your more commonly used items within reach but still out of sight.
You can find a great variety of corner cabinets at Foter Magazine. They are attractive, sturdy, and many of them offer full functionality from floor to ceiling. Choose the one that's right for your style and storage needs, and you're on your way to a more organized living space. For inspiration, here are our 10 favorite corner cabinets.
1.

Farnham Corner 2 Door Accent Cabinet

This beautifully accented corner cabinet lends itself perfectly to storage solutions without compromising on your style. Complement your decor with the rounded front, metal accent panels and antique hardware, for a great statement piece for any living room, dining room, or entryway.

Tuck your keys or wallet away in the top wooden drawer while hiding puzzles or handbags on the shelf behind the doors. Thanks to its small stature, it can fit in tight spaces such as behind a door.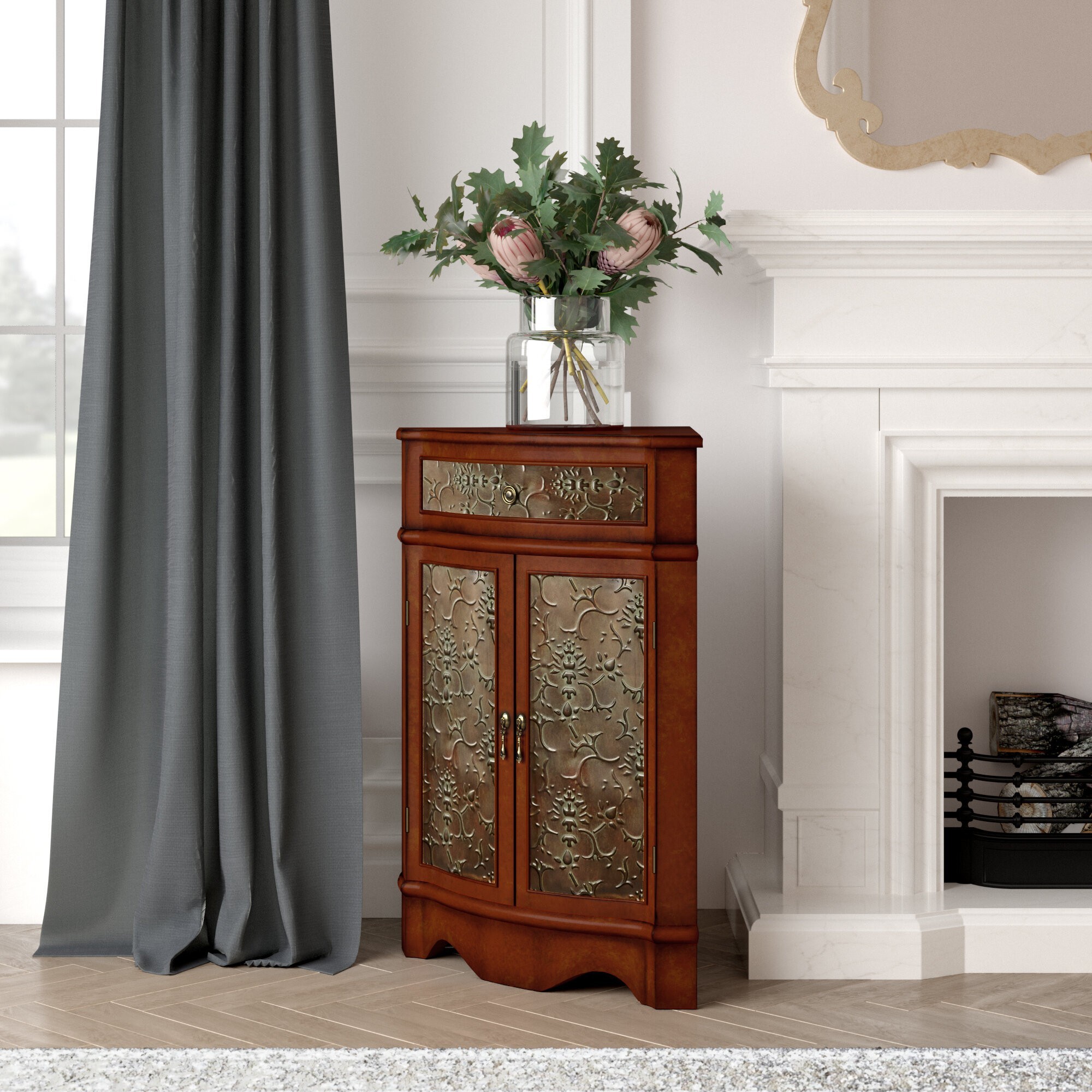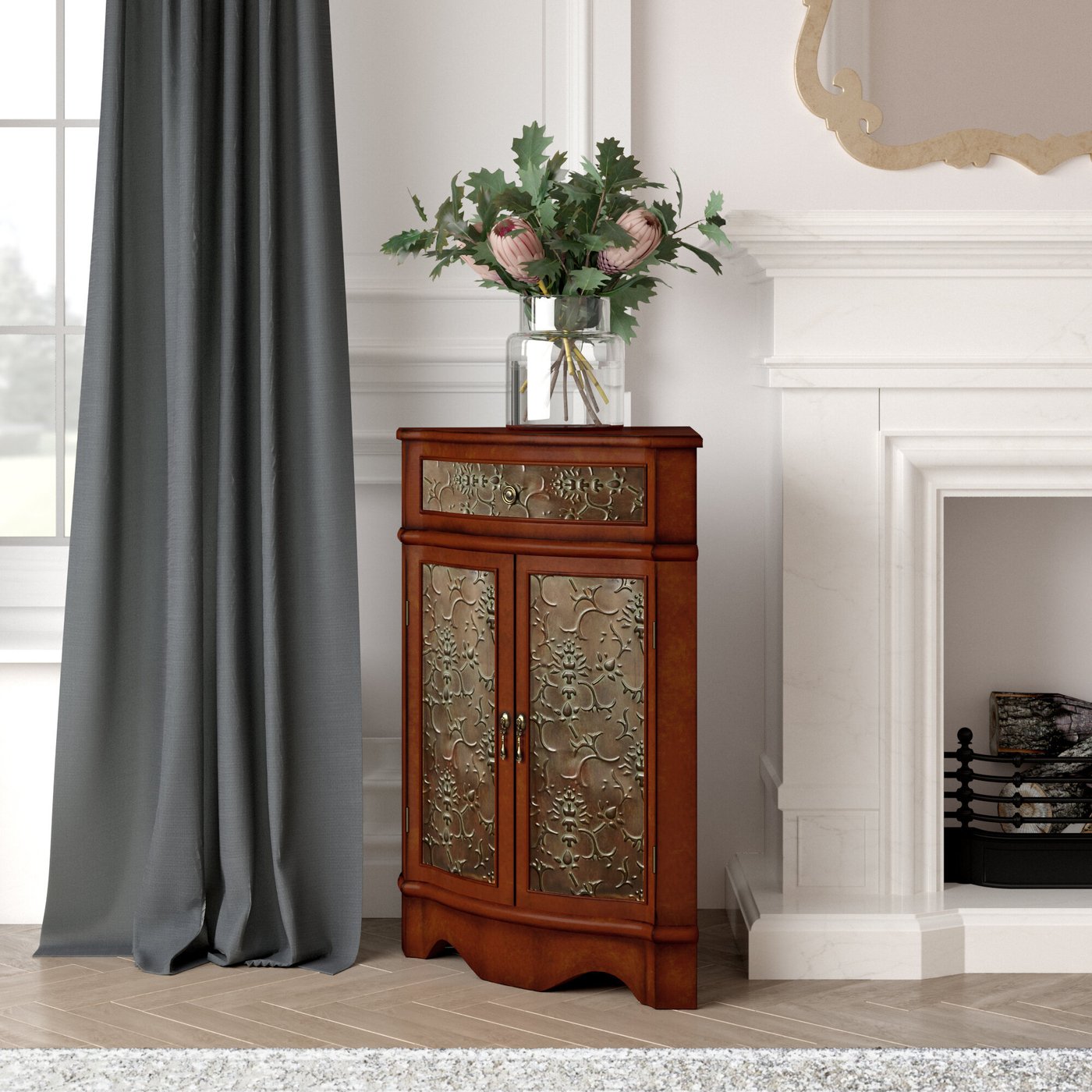 2.

Moretown 2 Door Accent Cabinet

The quatrefoil design of this art deco-style corner cabinet is a real scene-stealer. It's available in six different colors and it can fit in a variety of locations thanks to its compact footprint. The wood material makes it structurally dependable, while the lacquer finish and glass inlay on the doors adds a touch of sophistication to any room in your home.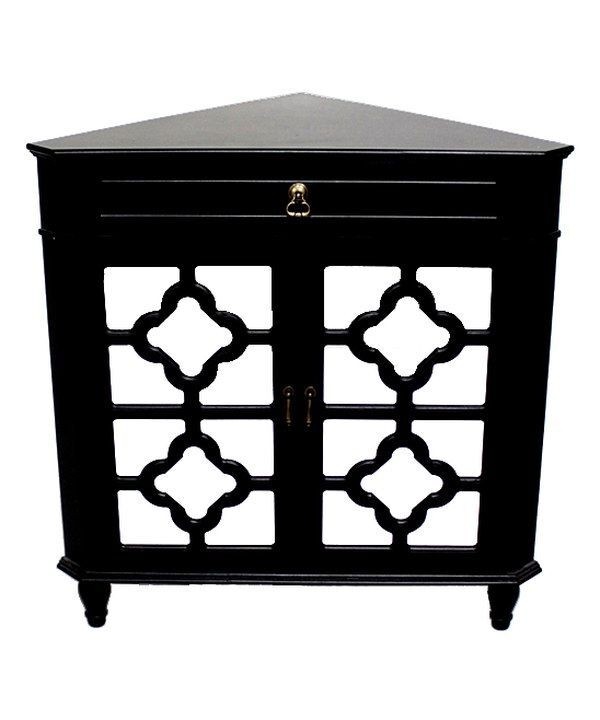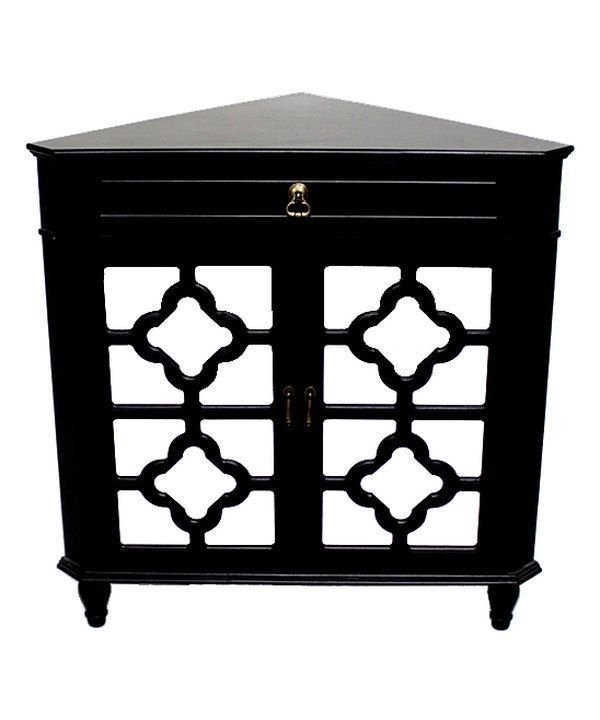 3.

Prepac Elite Corner Storage Cabinet, Tall 2-Door, White

Perfect for that wasted corner of your kitchen, this corner cabinet is adjustable to help you organize a wider variety of items. The cubbies are the perfect size to fit everything from regularly used coffee mugs to your favorite cereal boxes while the upper and lower door keeps everything snuggly hidden away until you need it.

The rounded bottom makes cleaning underneath easy. It's 72" tall which gives plenty of space for your storage needs, and the laminate veneer is quick to clean with a damp cloth.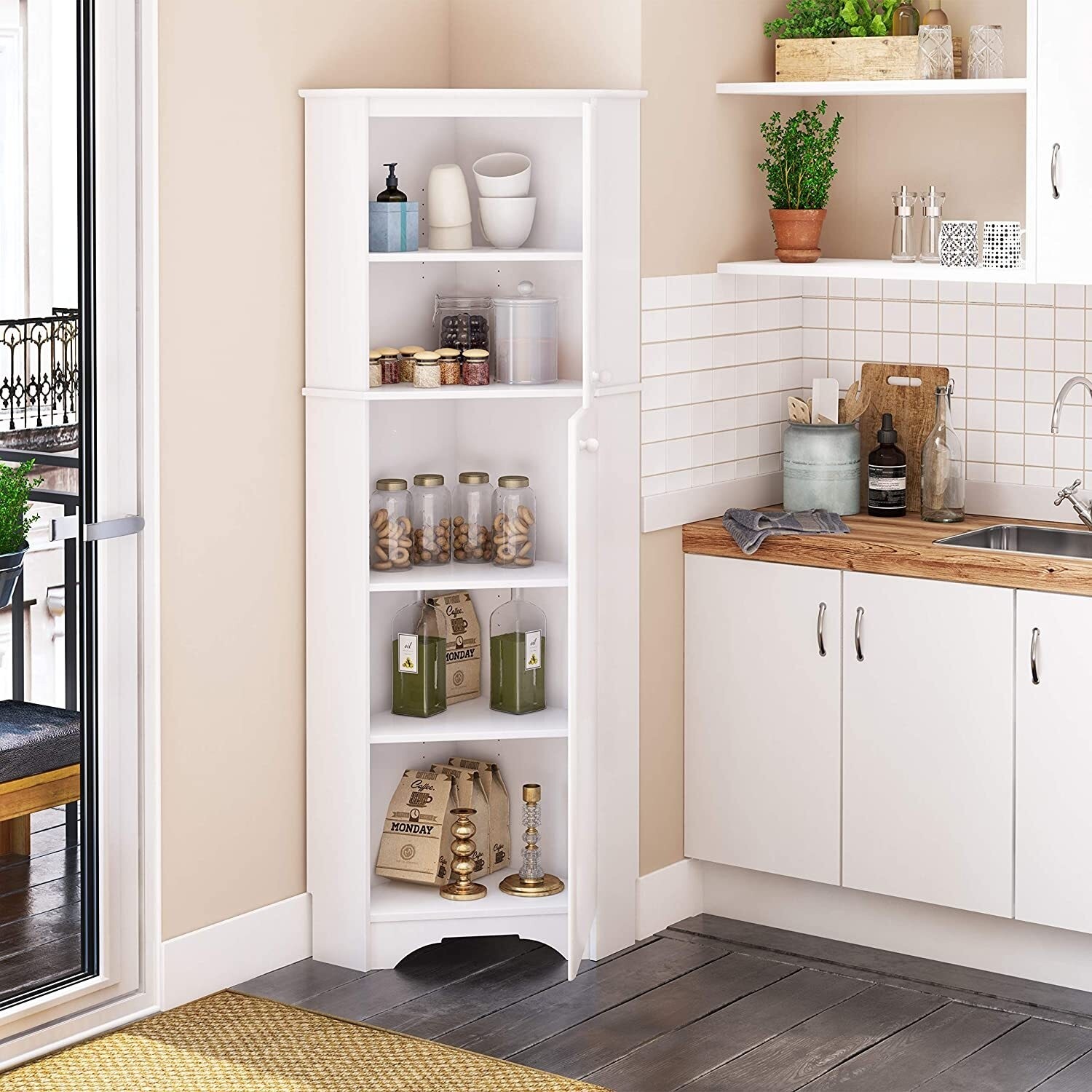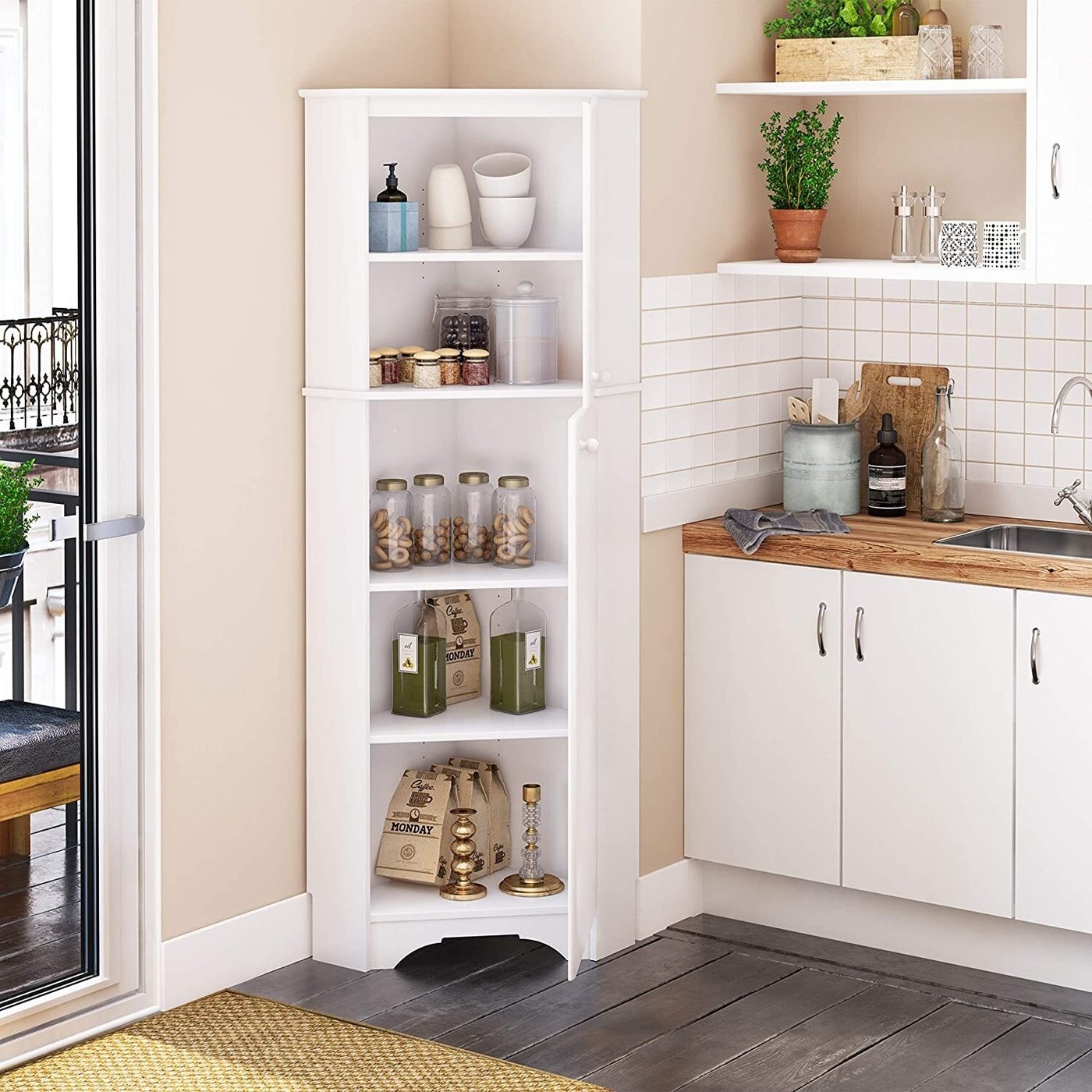 4.

RiverRidge Ellsworth Collection Tall Corner Cabinet, Espresso

The lovely espresso color of this slender corner cabinet model matches the deep mahogany tones that are popular in many modern kitchens. The horizontal angled slats give it a provincial feel that coordinates with your country cottage kitchen, while the glossy finish and clean angles give the cabinet a modern twist.

Three open shelves are perfect for displaying lotions and decor in your bathroom and the shuttered cabinets keep bathroom towels dust-free.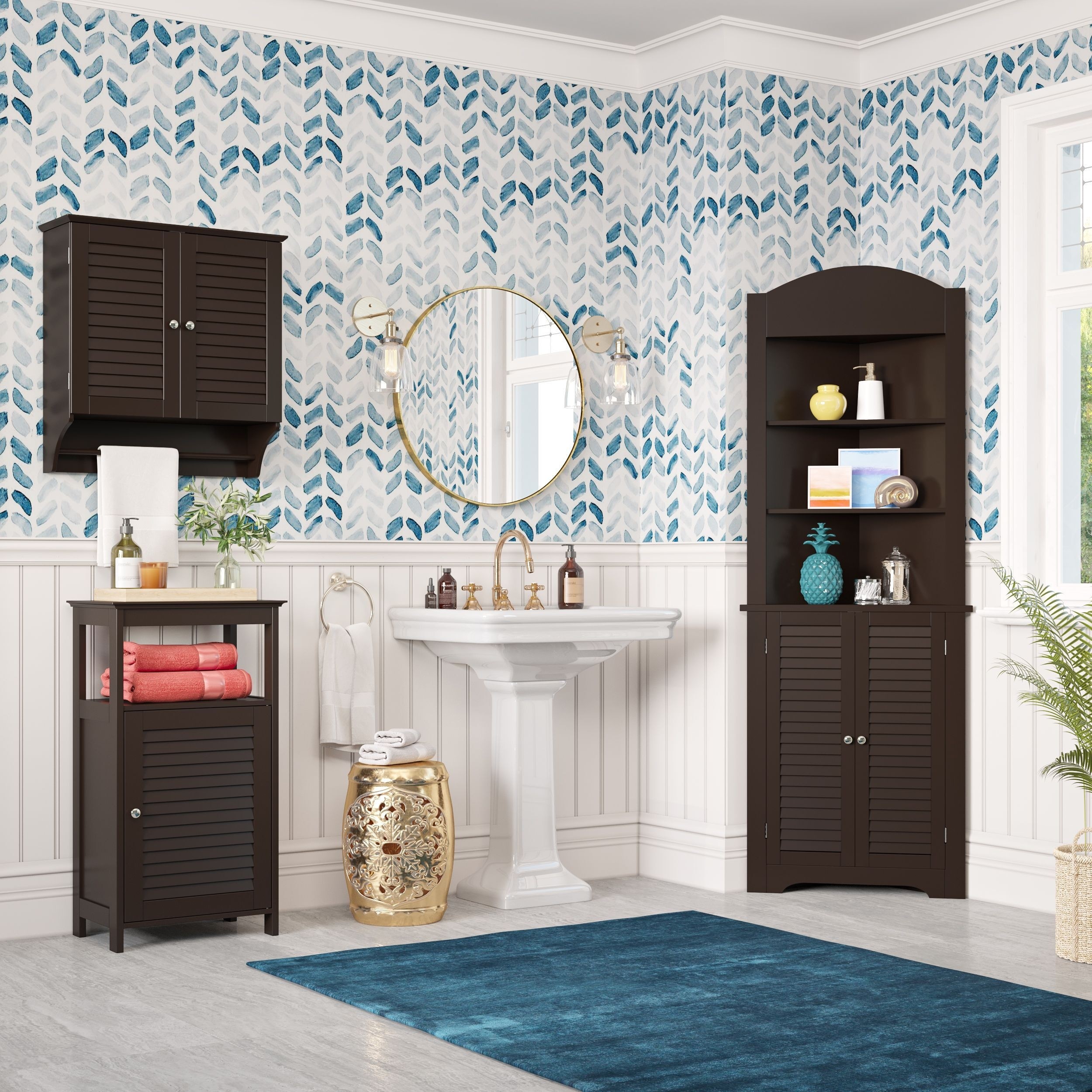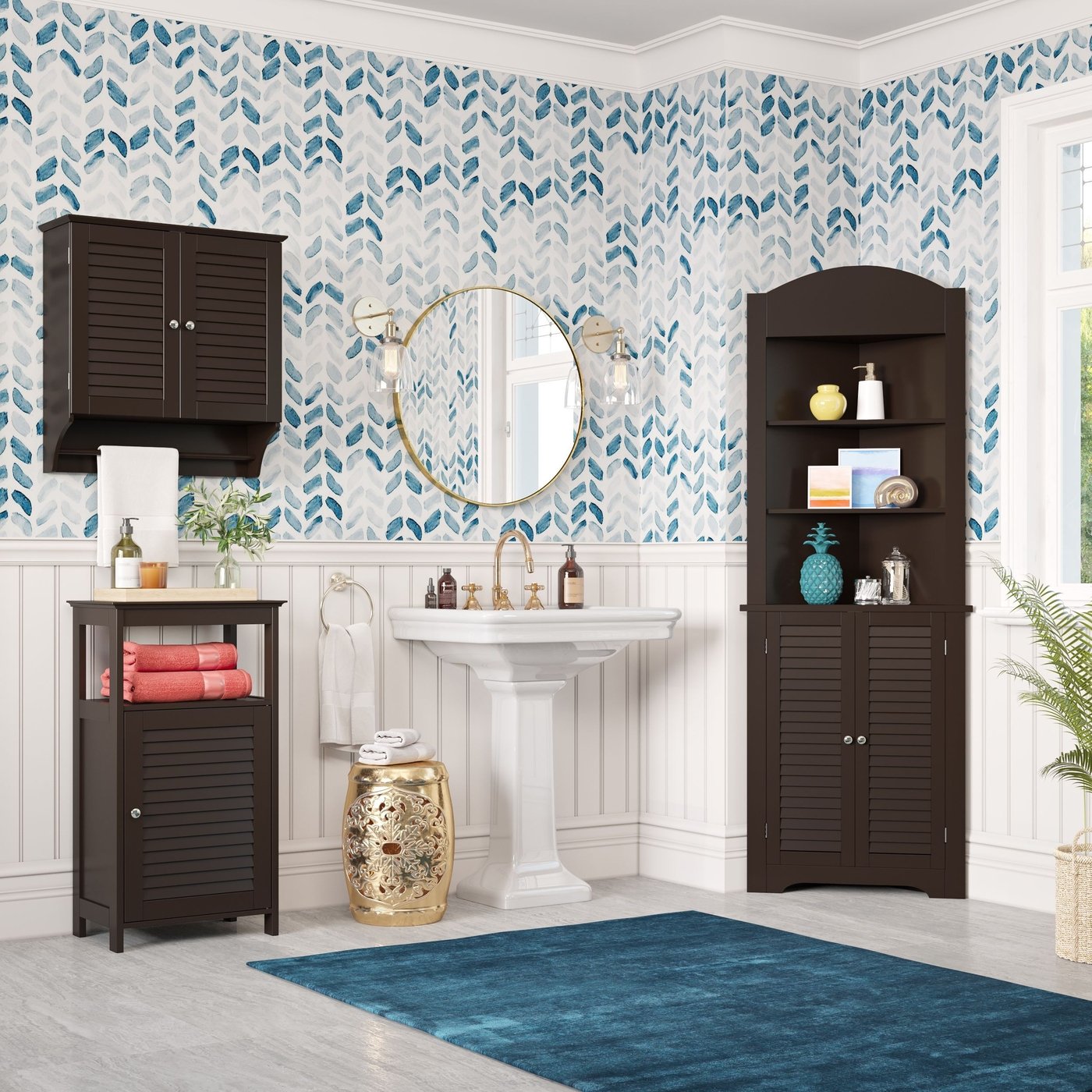 5.

Homecharm Corner Cabinet, White

The charming design of this unit lends itself well to country cottages and seaside getaways. It's perfect for a coffee bar with all the storage capacity for powdered creamers, flavored syrups, and air-tight coffee canisters behind its lower doors.

Shelves can be used to store your French Press, Chemex, or pour-over brewing systems without losing out on style.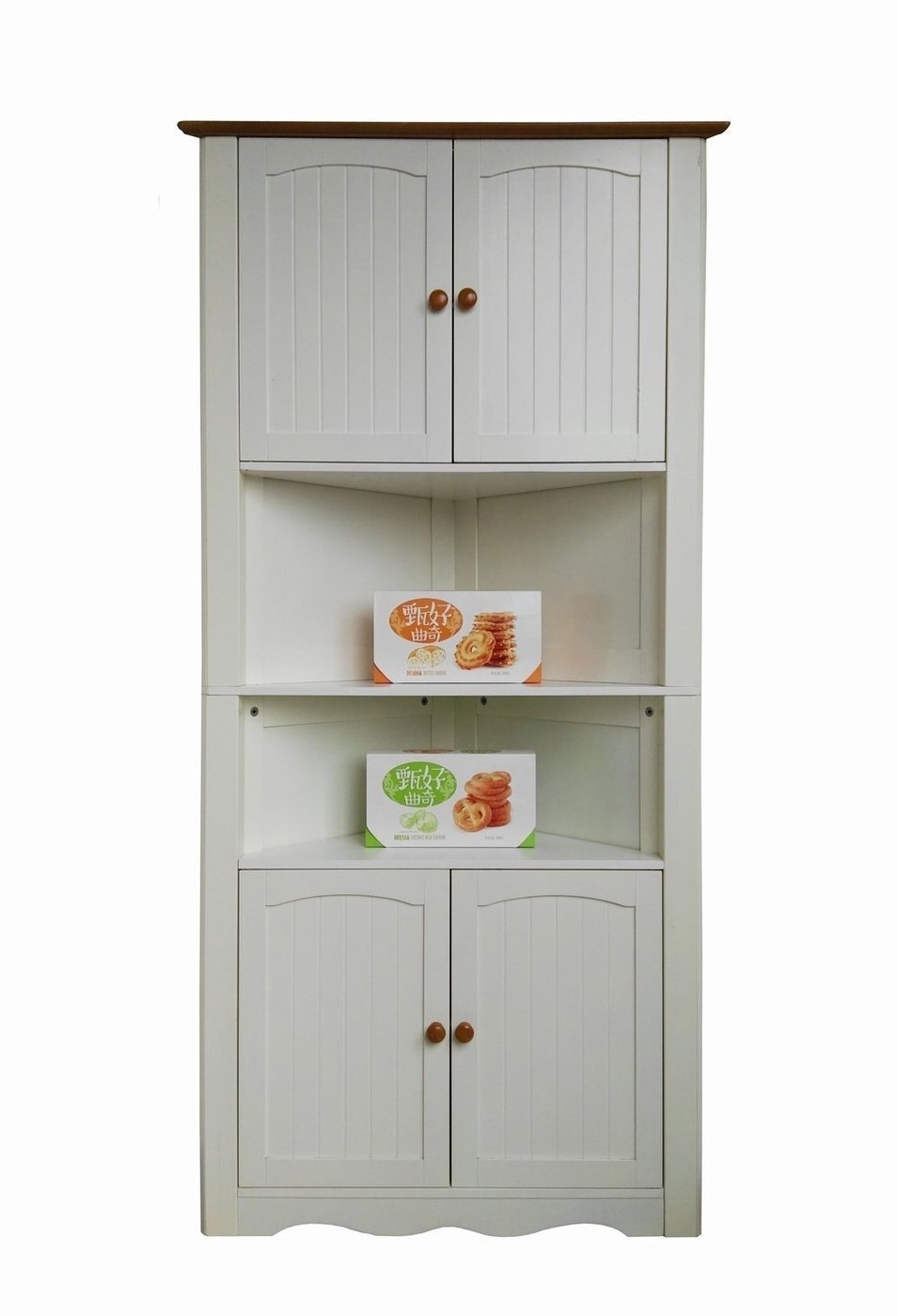 6.

Spirich Home Tall Corner Cabinet with Two Doors and Three Tier Shelves

Beautifully detailed with crown molding, beadboard paneled doors, and a curved kickboard, this cabinet offers both style and function for your home storage. The two-doored cabinet keeps your gadgets hidden away while accentuating the décor of your living room or even your kitchen.

The top three tiers let you display ornaments, photos or store other home essentials so none of your corner space will ever go to waste with this special cabinet design.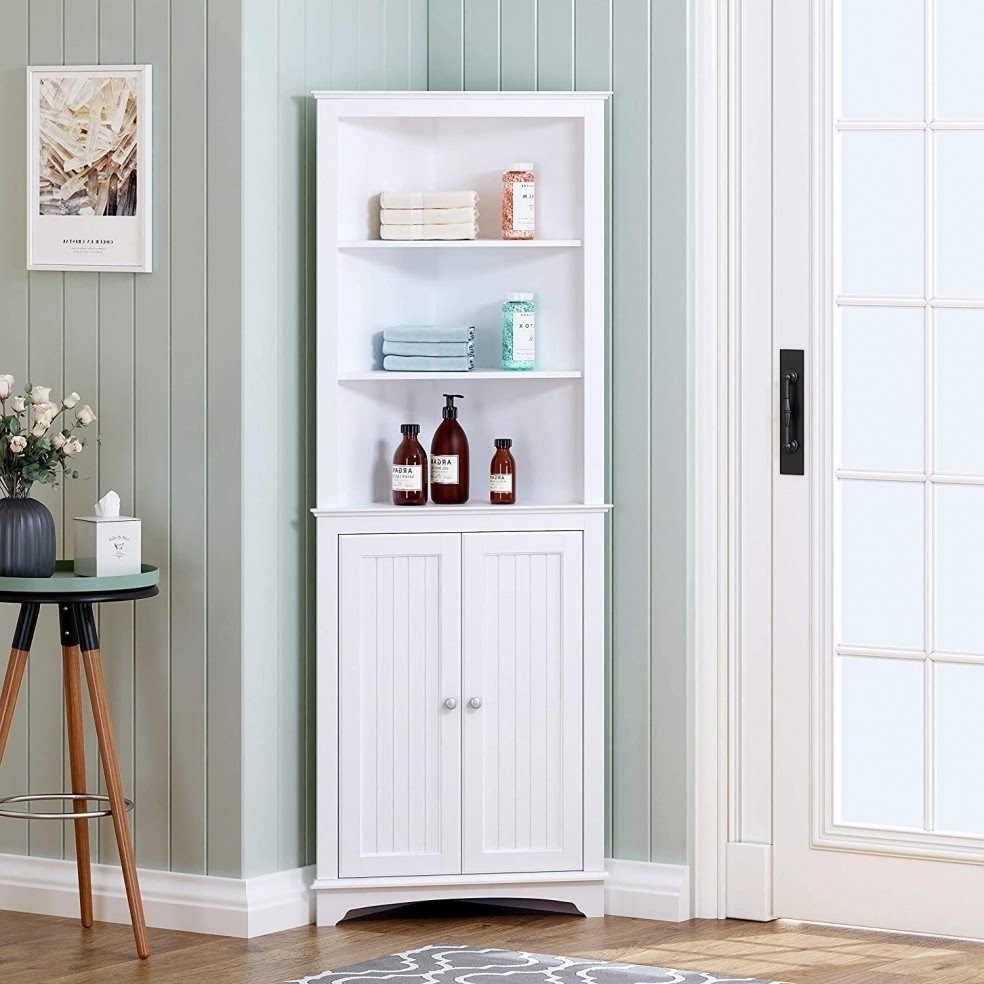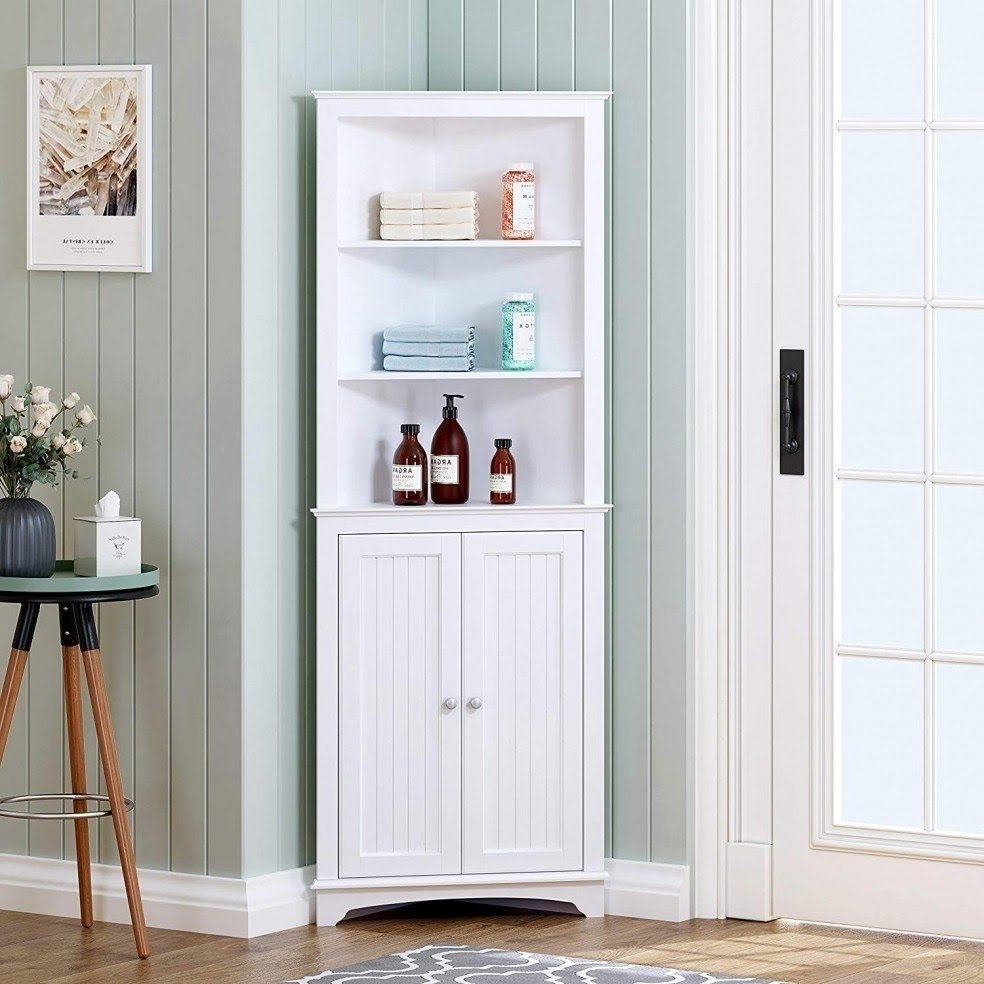 7.

Pemberly Row Corner Glass Door Curio Cabinet with 5 Tier Tempered Glass Shelves, Walnut

If you're looking for a chic place to store your favorite wine glasses, keepsakes, or heirloom China, then look no further than this beautiful corner curio with glass inlay doors. The rich walnut color adds elegance to every living room.

The mirrored backing makes your space feel bigger and brighter while offering a 360-degree view of your most cherished items. The doors are secure, keeping your items safe behind them.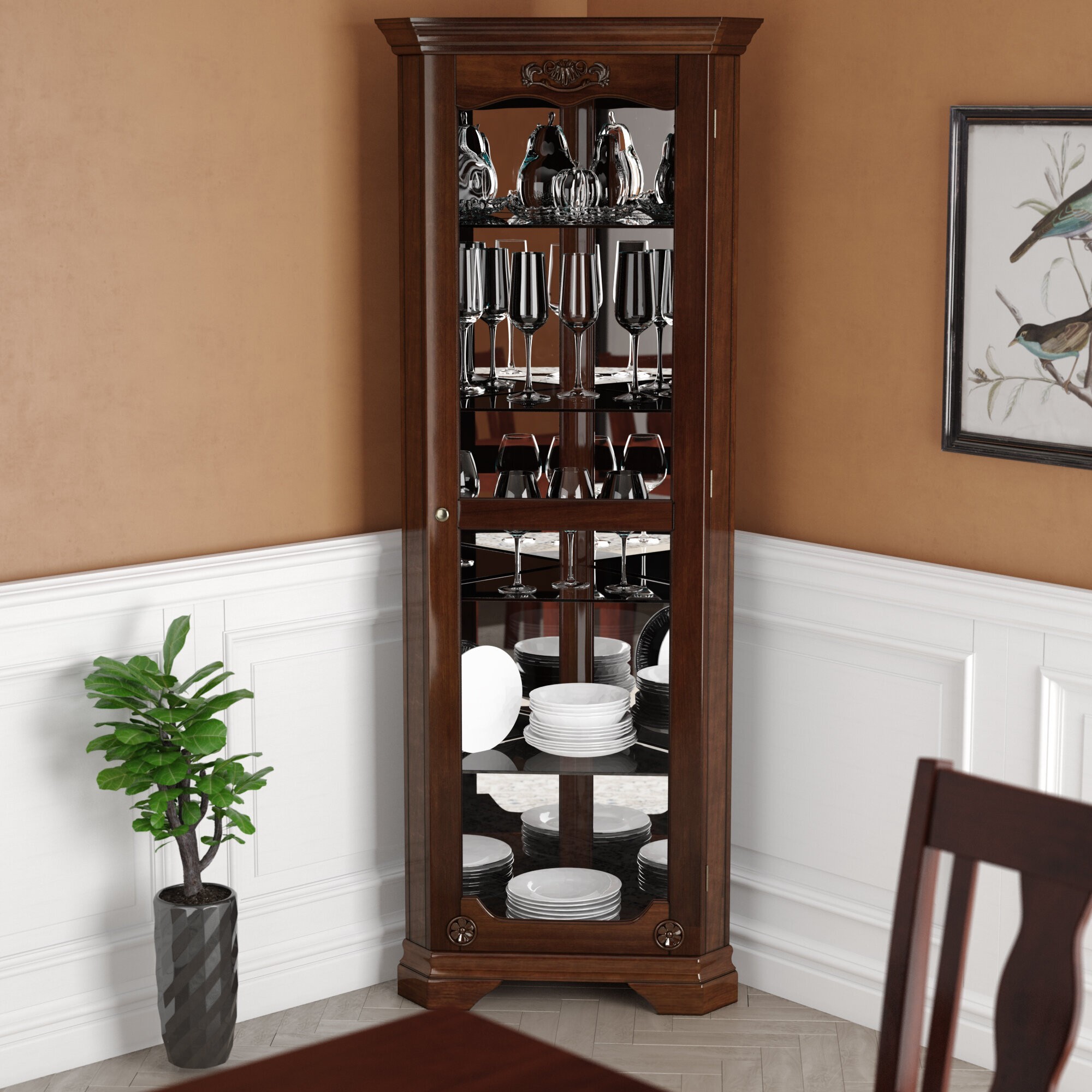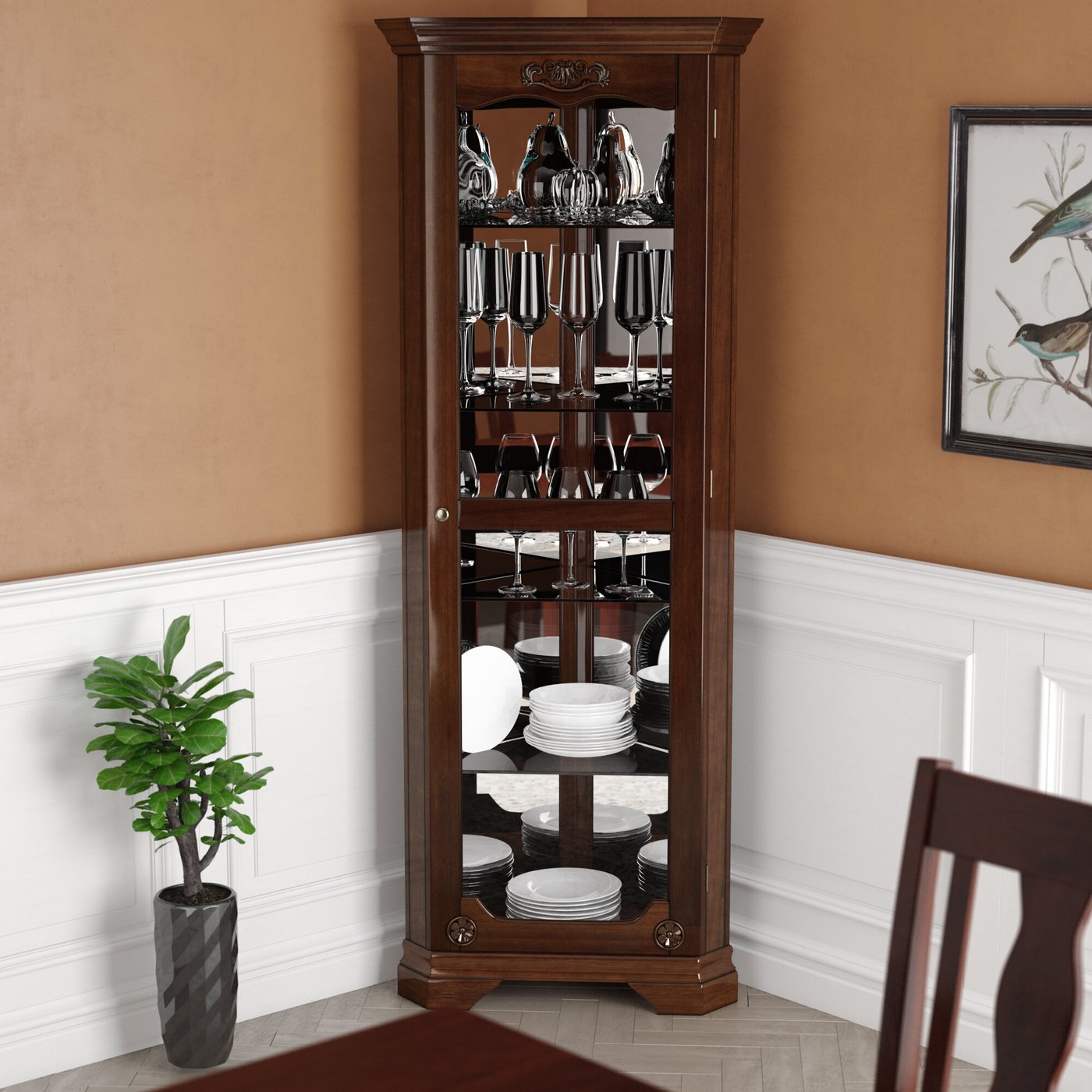 9.

Sawdust City Corner Jelly Cupboard & Hutch Set (Old Black)

As another fantastic model for shabby-chic or farmhouse décor, this corner cupboard does a great job of combining style and function. Instead of glass panes, this design uses a wire mesh to safely protect your items from the outside world giving the piece and industrial-chic appeal.

The popular beadboard style of the door hides three interior shelves that you can use to store video game consoles, board games, or book.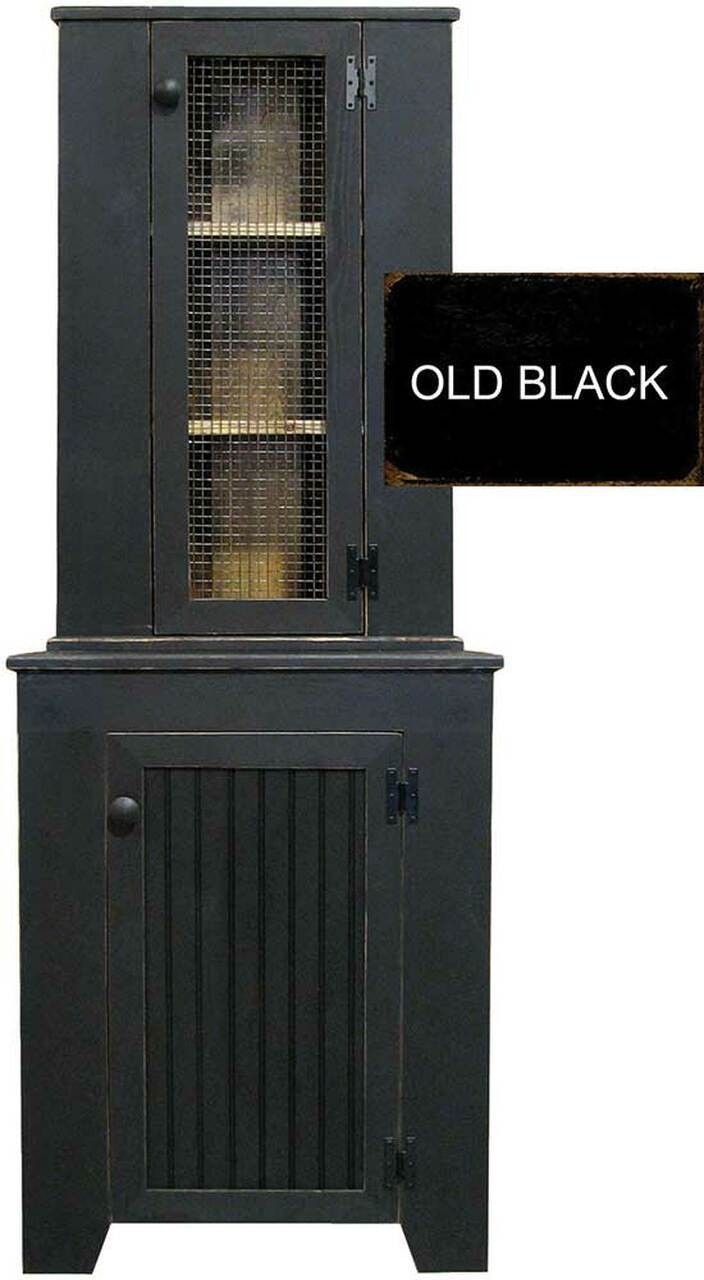 10.

Modern Metal Mesh Wood Corner Universal TV Stand

If your storage needs to include a space to put your television and video game units then why not tuck them into a free corner with this stunning walnut colored corner storage cabinet? It quickly takes command of your storage needs with seven open-air cubbies and four interior shelves. The wire doors accent your farmhouse living room, giving you the ability to be organized and stylish at the same time.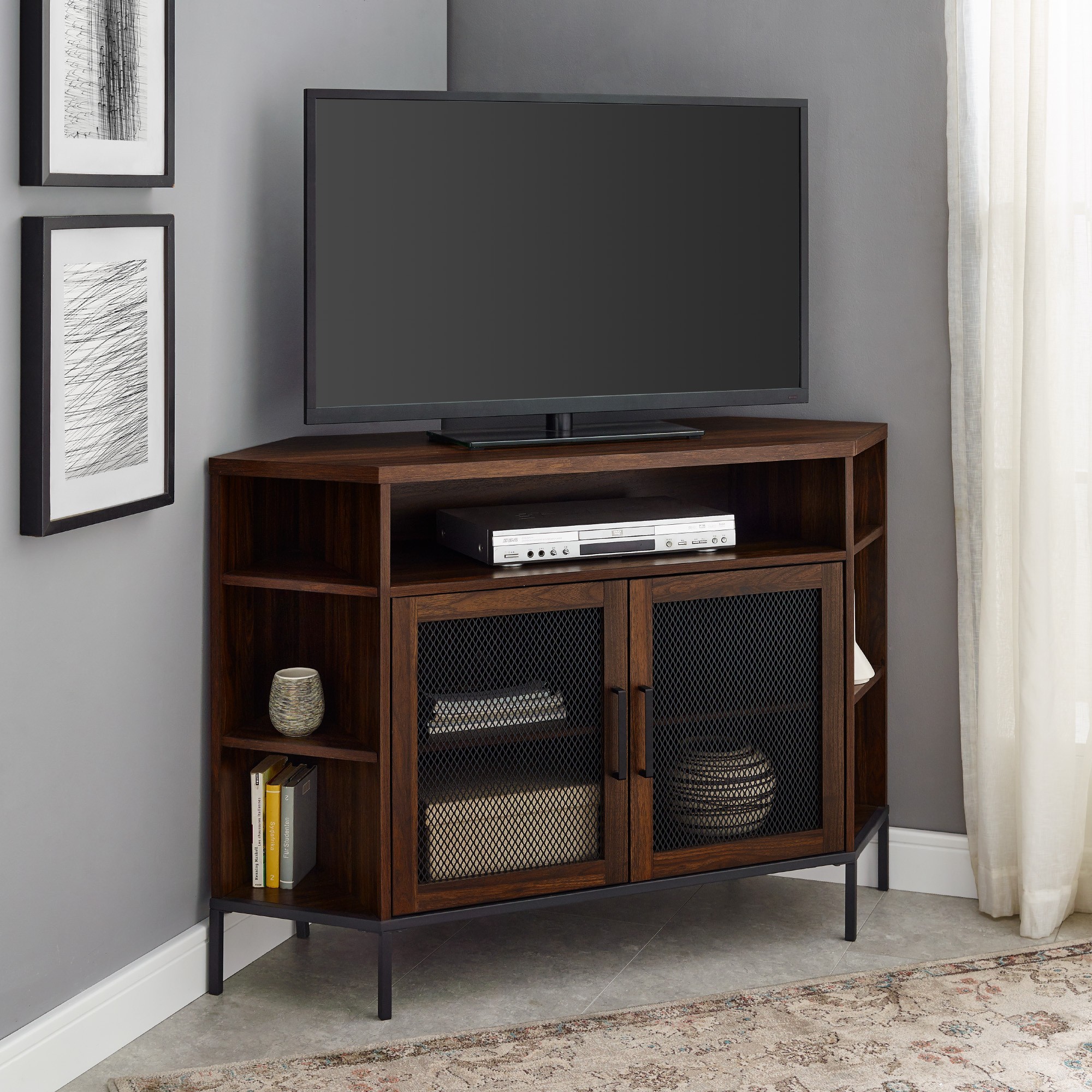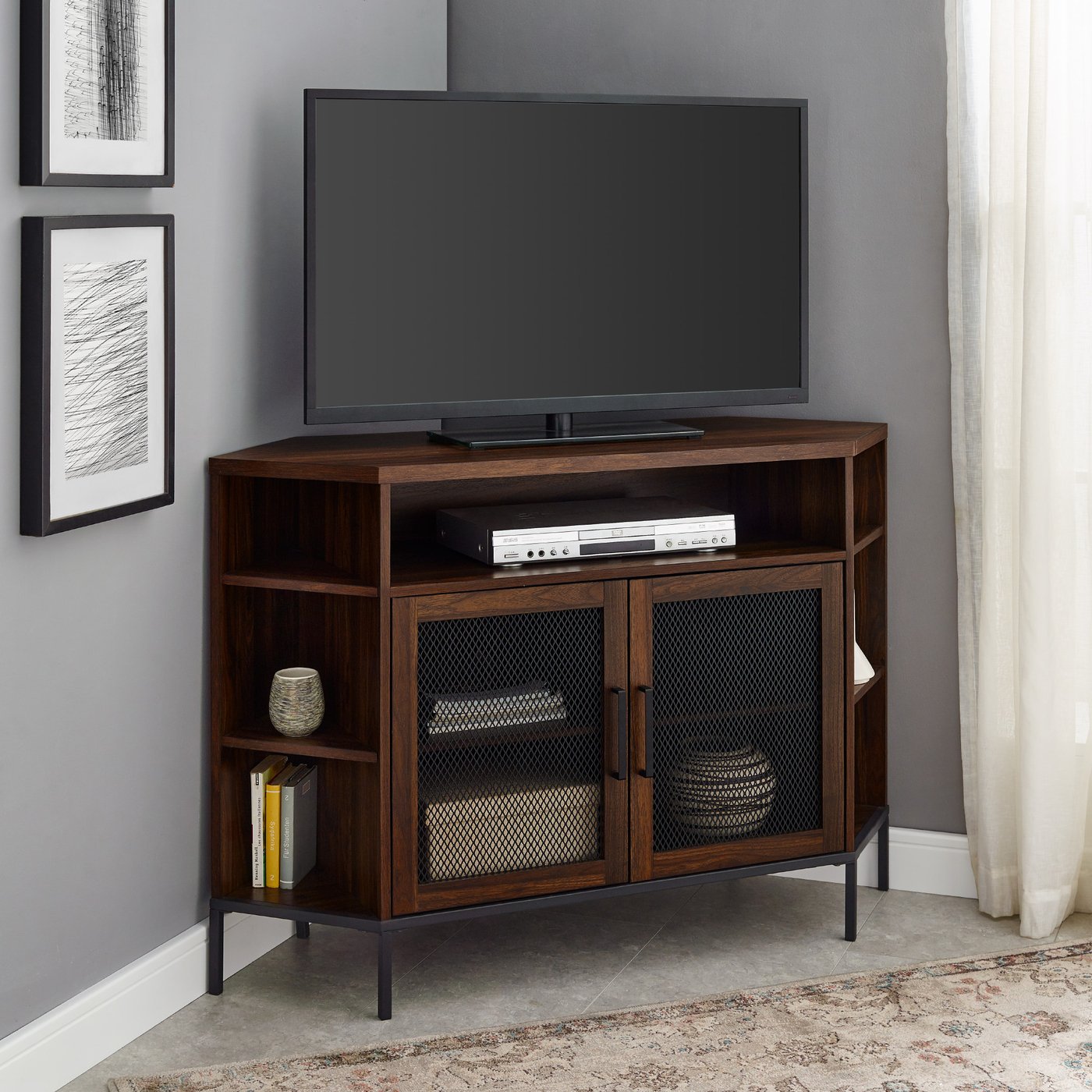 The Takeaway
Managing storage needs in a small apartment or condo can be just as challenging as optimizing your space in larger houses. Getting organized doesn't mean having to throw things away or putting them in hard to access places like a basement or attic.
Instead, choose to maximize every square inch of space in your living room, dining room, or family room by adding a corner cabinet. Doing so can help you reduce your clutter and give yourself the peace of mind you deserve.