Our Choice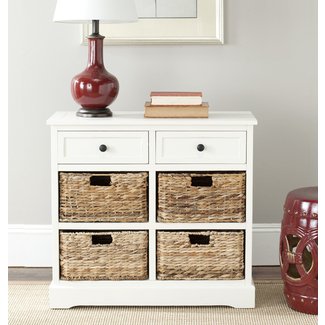 Sutherland 6 Drawer Accent Chest
This solid pine wood accent chest amazes with its wide array of distressed earthy hues. Every piece features a unique grain structure and streaks configurations that will surely create a feeling of authenticity in your surroundings. The 4 wicker baskets and black aluminum knobs amplify the overall raw appearance. It comes fully assembled so you can enjoy its spacious storage and natural look right out the box.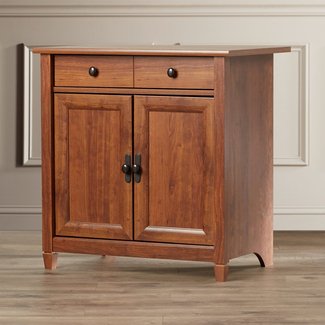 Lemire 2 Door Accent Cabinet
Add extra storage to any room with this robust manufactured wood cabinet. It offers ample storage with adjustable shelving in the lower section as well as two drawers above it. The drawers are operating on metal runners and enhanced with safety stops for smooth and guarded performance. The tipover restraint device is included making it an ideal choice for busy households where the safety of kids is of utmost importance.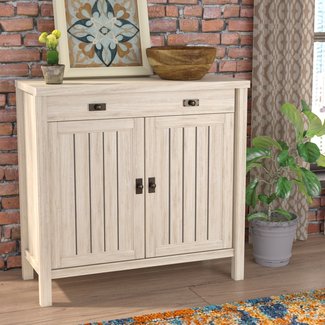 Shelby Drawer Accent Cabinet
Whether you need a stylish dining room storage, entryway accent piece, or even a unique nightstand, this cottage-inspired cabinet offered in chalked chestnut or coffee oak will astonish you with its meticulous construction. The slatted door design and rectangular knob handles produce a charming coastal vibe perfect for a vacation home or lake house. Arrange the top with a vintage lamp, wooden picture frames, and ceramic vases for a complete look.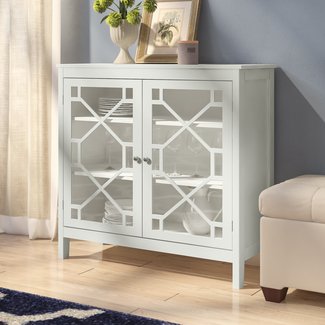 Friedlander 2 Door Accent Cabinet
Showcase your distinctive taste with this sleek design featuring octagon ornament embellishing the front door. The glass shields your book collection or party dishes from dust while displaying them in style. Set it against a muted wall with a circular mirror and decorate it with blooming flower bouquet, set of candles, or wine, cheese & crackers display for a lovely dashing look at your family gathering.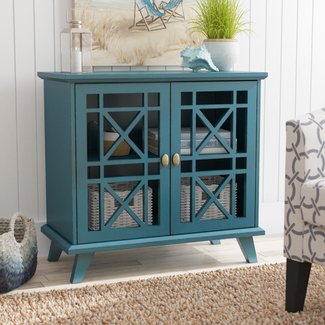 Matheus 2 Door Accent Cabinet
If you're on a hunt for a long-lasting kitchen/hallway/living room accent storage resistant to wear, water, stains, and scratches, this cabinet will meet your needs. It's produced with high-grade manufactured wood, covered with a durable laminate, and assembled with steel hardware to withstand the test of time. There is an adjustable shelf behind the door allowing personalisation based on your storage needs.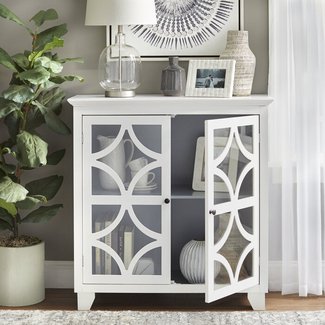 Centeno 2 Door Accent Cabinet
This solid wood cabinet inspired by Middle-East ornate designs is available in 3 simple, yet rich-looking shades of ivory, black and white. The circular geometric pattern of the facade topped off with crystal-like knobs will look great surrounded by Persian rugs, gold-framed mirrors, velvet sofas, and carmine-coloured accessories. The legs are removable if you wish to refresh its look down the road.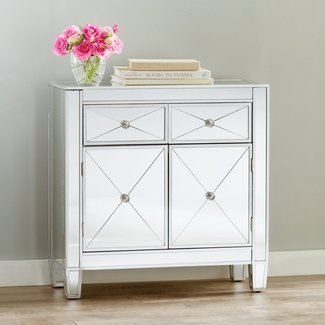 Lavinia 2 Door Accent Cabinet
Optically enlarge your small-scale dining room by adding this clever reflective accent cabinet. The Fir/MDF construction with a silver finish showcases mirror qualities which will add visual interest to your surroundings. Perfect for storing dinnerware in the lower compartment as well as utensils and napkins in the gliding drawers. Besides looking sophisticated, it's also easy to maintain—just wipe it clean with a dry cloth for a flawless impression.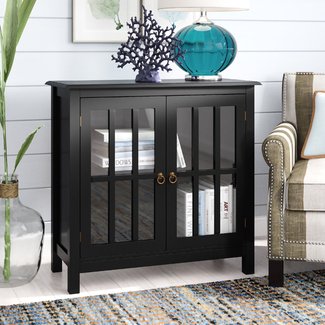 Purdue with Wooden Top 2 Door Accent Cabinet
This spacious storage cabinet can be used as an accent in your living room, bedroom or hallway. It can even serve as a TV stand—it can easily accommodate a 32" TV. The combined weight capacity of this classy cabinet is 40lbs. The tempered, super-clear glass allows you to showcase your collection of holiday souvenirs, books or fancy silverware. The assembly is simple and swift, and the product comes with a 30-day warranty.
Adalia 1 Drawer Accent Chest
Organise your clutter in traditional style with this hefty chest featuring a single drawer and 2-door cabinet with an adjustable shelf. Ideal for storing cognac in a fancy dining room or stationery in a foyer. The streamlined design with an accented base possesses a mid-century aesthetic emphasising classical fluidity and flare. Surround it with baroque-inspired mirrors, ornate velvet sofas and full-length heavy curtains for a complete ensemble.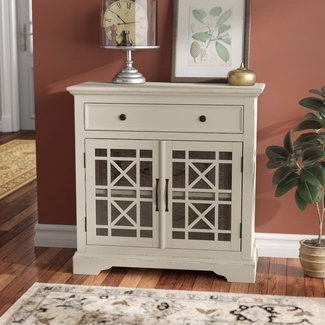 Daisi 2 Door Accent Cabinet
This mini chest is a perfect storage addition to any kitchen or casual dining room. It's crafted from solid acacia wood and engineered wood coated with distressed paint veneers. The knobs are made from a weathered brushed nickel intensifying the antique appearance. The dovetail joinery type assures exceptional stability and the tipover restraint mechanism provides extra safety around small kids and frisky pets.