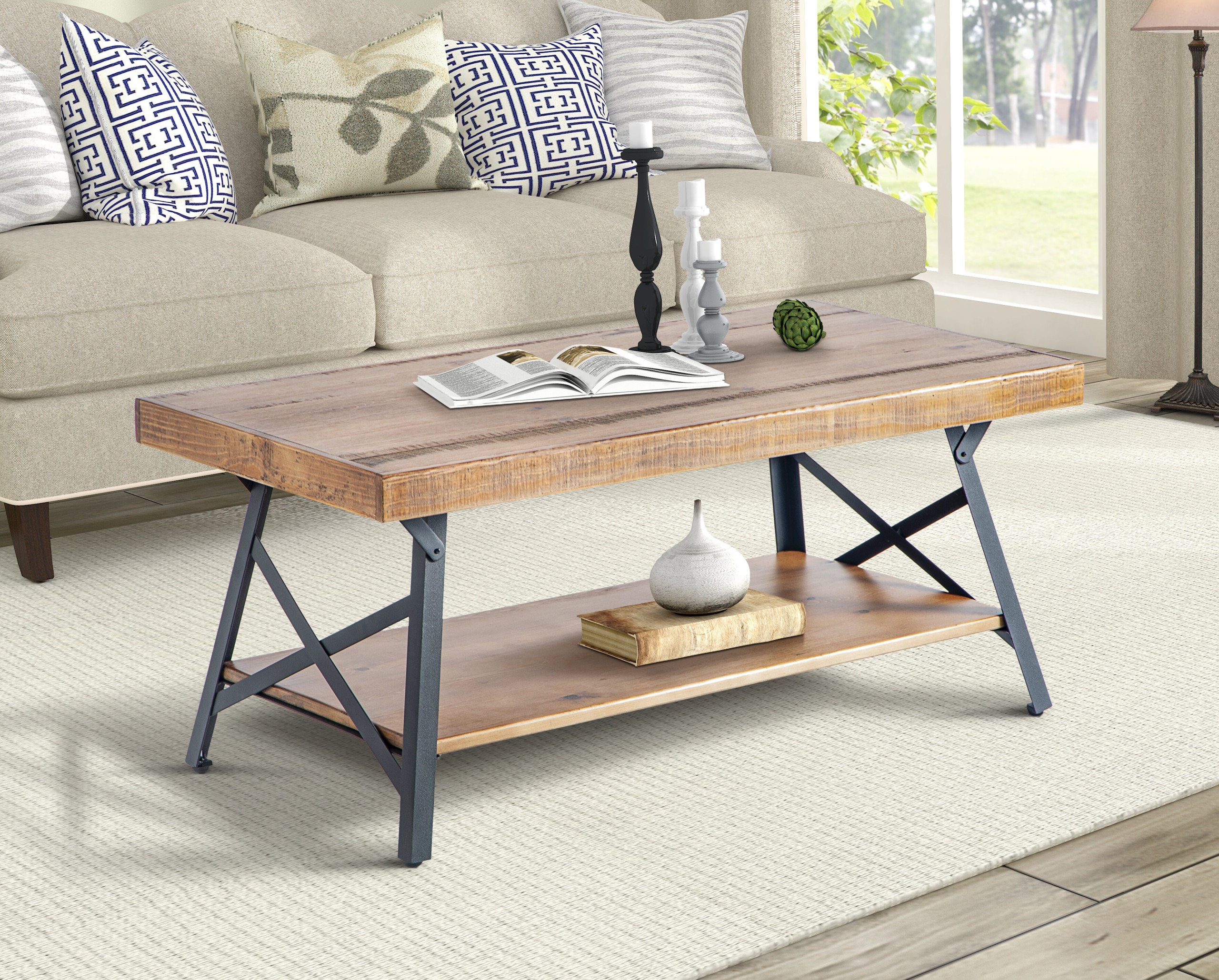 Iron and Pine Wood Coffee Table
This coffee table is extremely sturdy and durable with an iron construction that will hold up very well over time. The pine wood tabletop and lower shelf are also very durable and make for an attractive rustic furniture piece that will go well in any home. The distressed design of this table can add a touch of elegance to whatever room you put it in.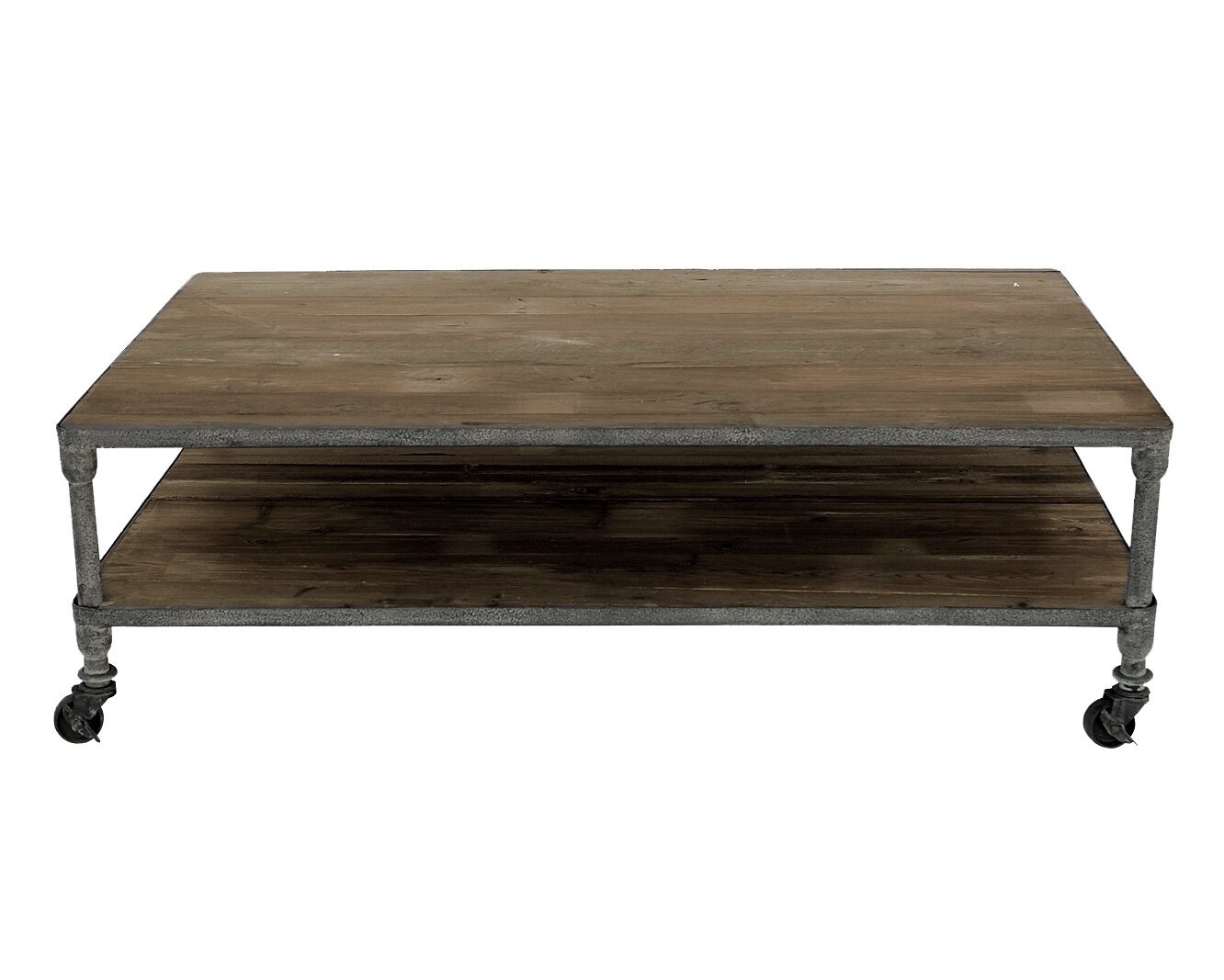 Rustic Gray Iron and Reclaimed Wood Coffee Table
This rustic style iron and wood coffee table features rolling wheels that make moving it to just the right spot a whole lot easier. The pine wood boards on this coffee table are sturdy and elegant, creating the perfect aesthetic in your living room. There is ample space for resting drinks as well as putting books and other items on the top and bottom shelves.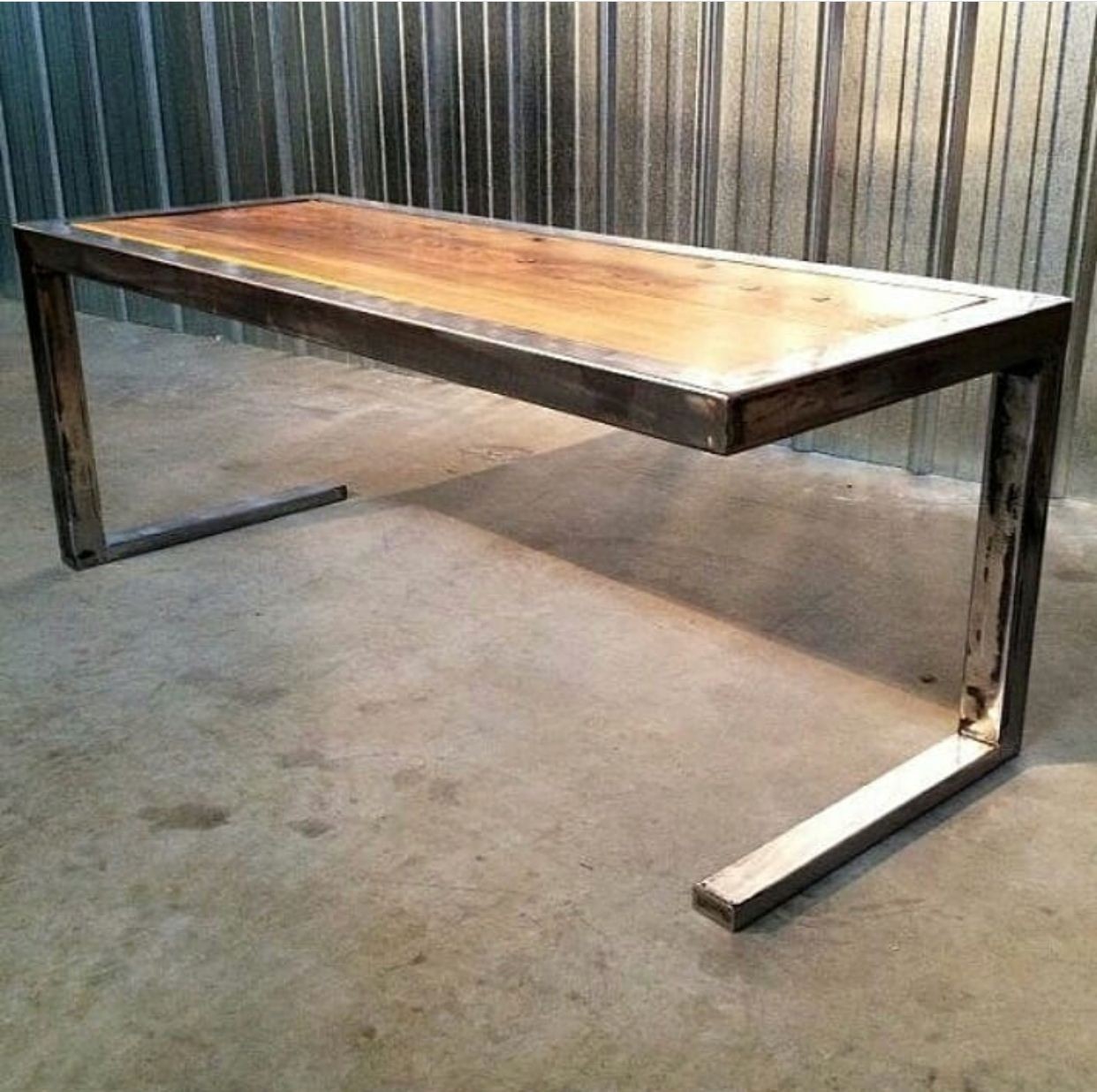 Handmade modern rustic coffee table with
Coffee table in rustic style. Base is made of iron and fitted with rectangular top made of wood. Neutral design for the living room and others interiors according to taste and need.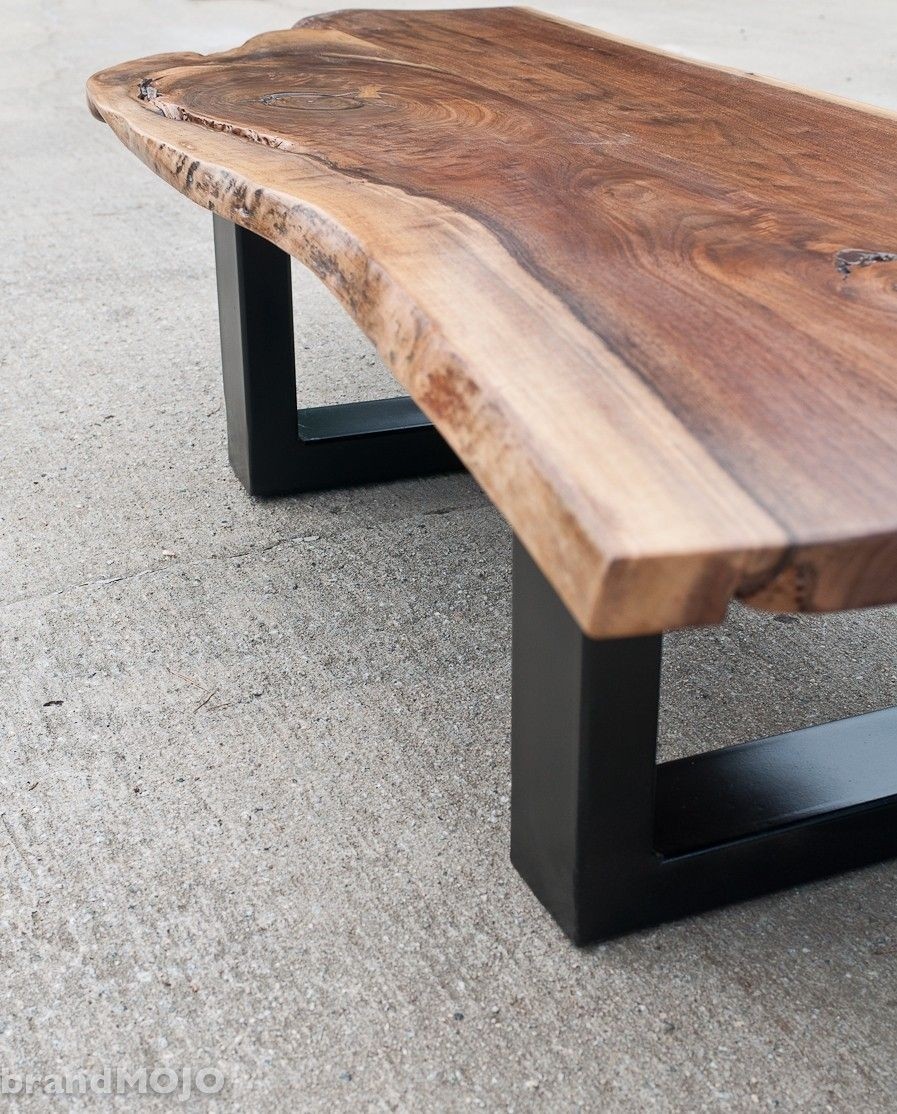 Acero steel base coffee table live edge
This neat coffee table is crafted from sturdy walnut, covered with clear lacquer, and equipped with black steel legs. The piece is entirely handmade, and quite heavy, providing a one of a kind look, and very good durability.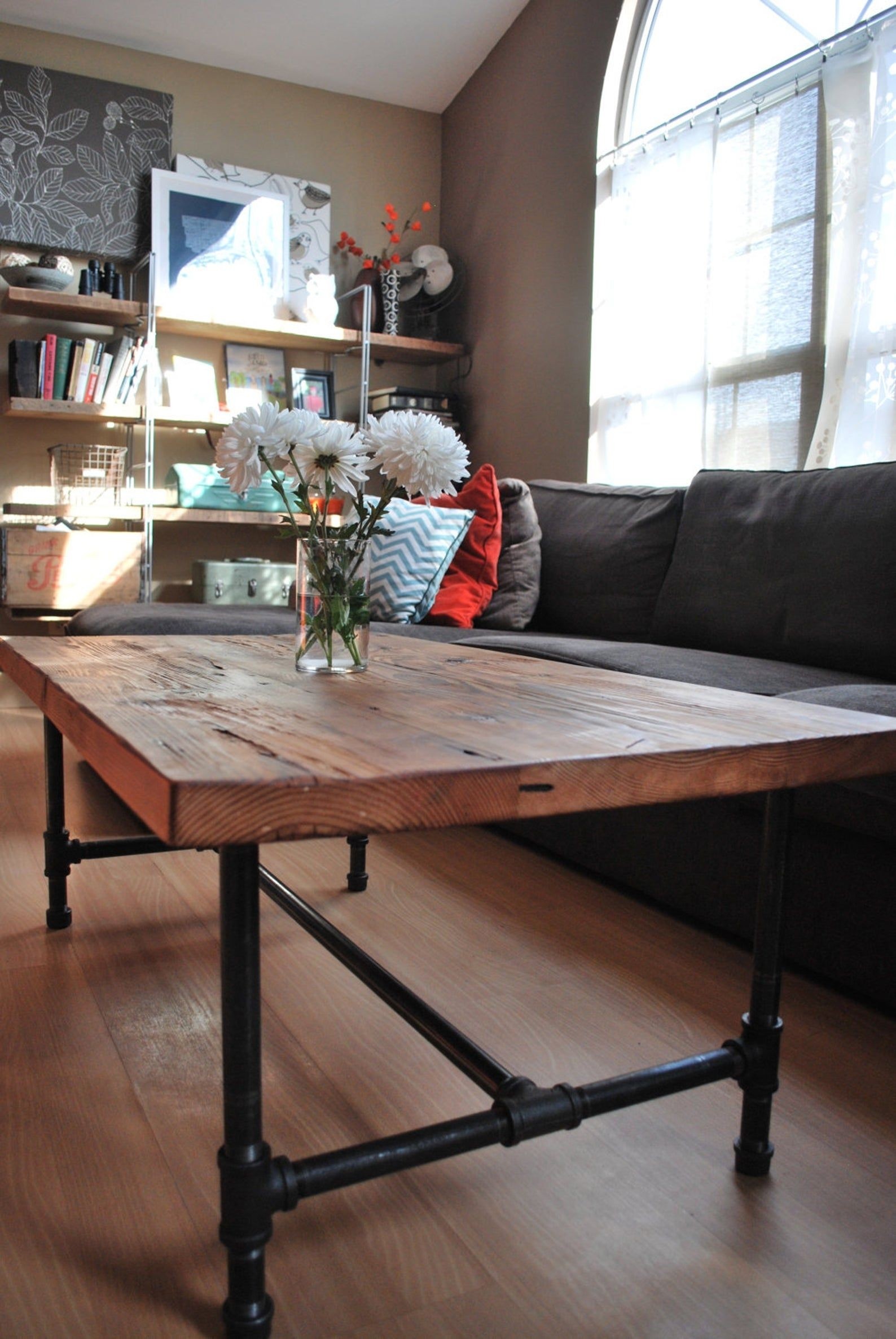 Wood Coffee Table With Steel Pipe Legs
A stunning wooden table top that comes with the industrial legs and is paired with painted colorful wooden chairs. It will elevate the look of your dining room and thanks to its durable structure - stay in your home for years to come.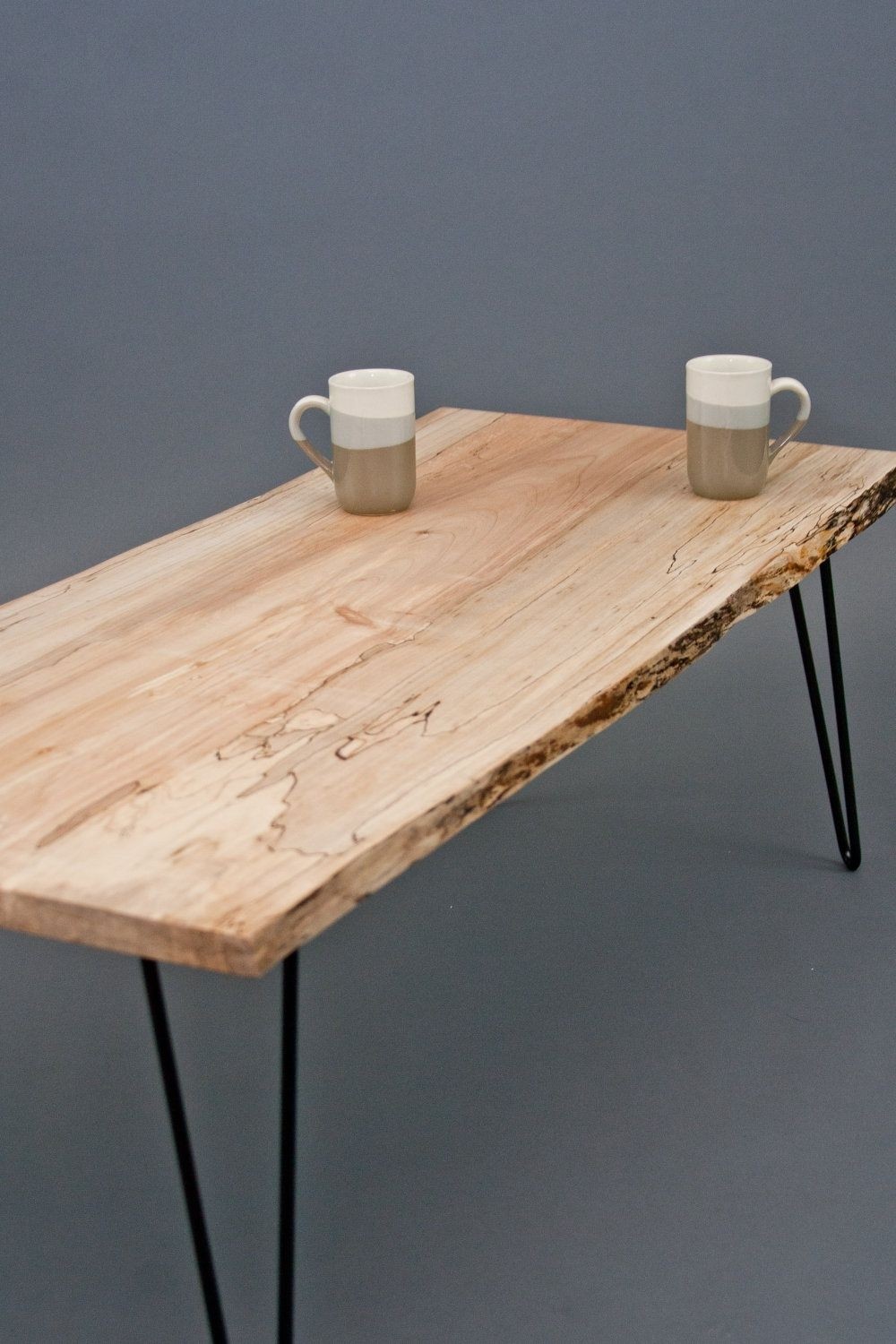 Spalted maple coffee table live
Coffee table made of maple wood and metal. Top has large usable surface. Application in all kinds of interiors according to taste and need.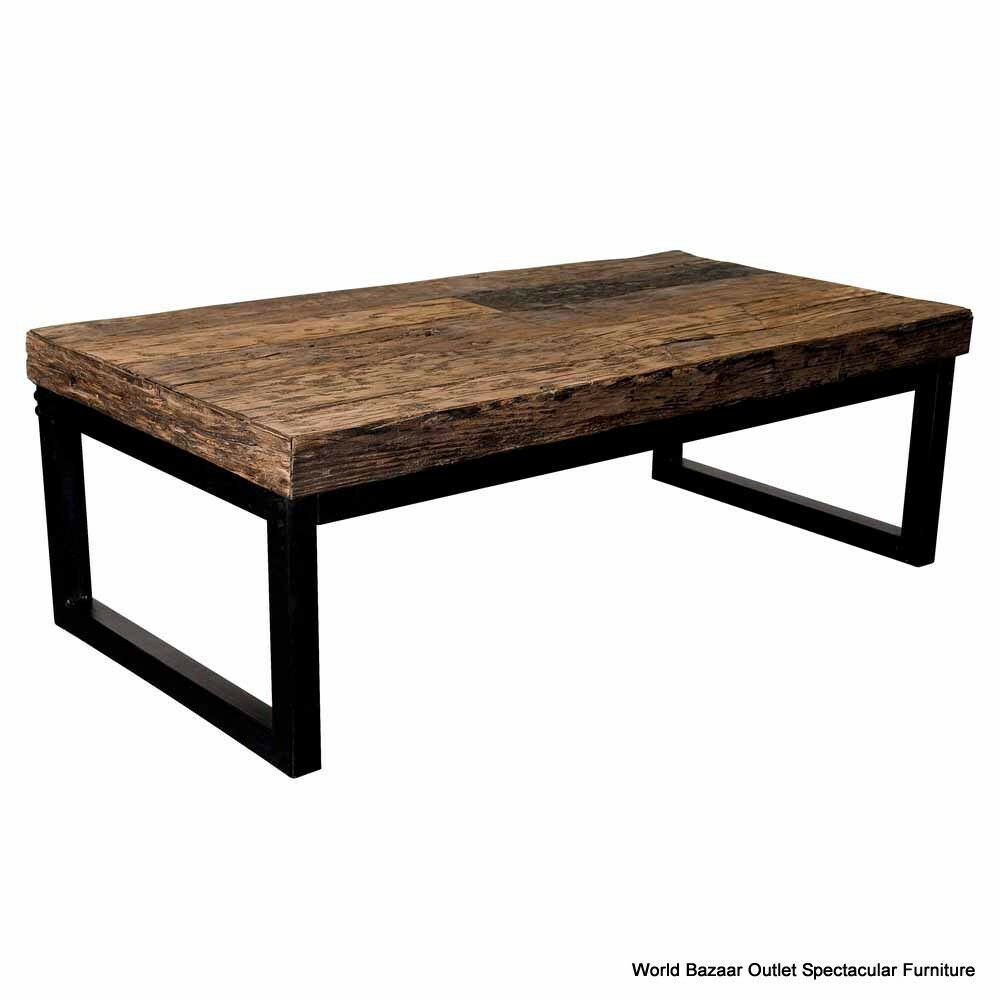 The ranch house kearny coffee table
Combining iron and wood results in an exquisitely solid and reliable furniture, which will serve its role for years. Its rough wooden top with graining emphasizes the natural character of this coffee table.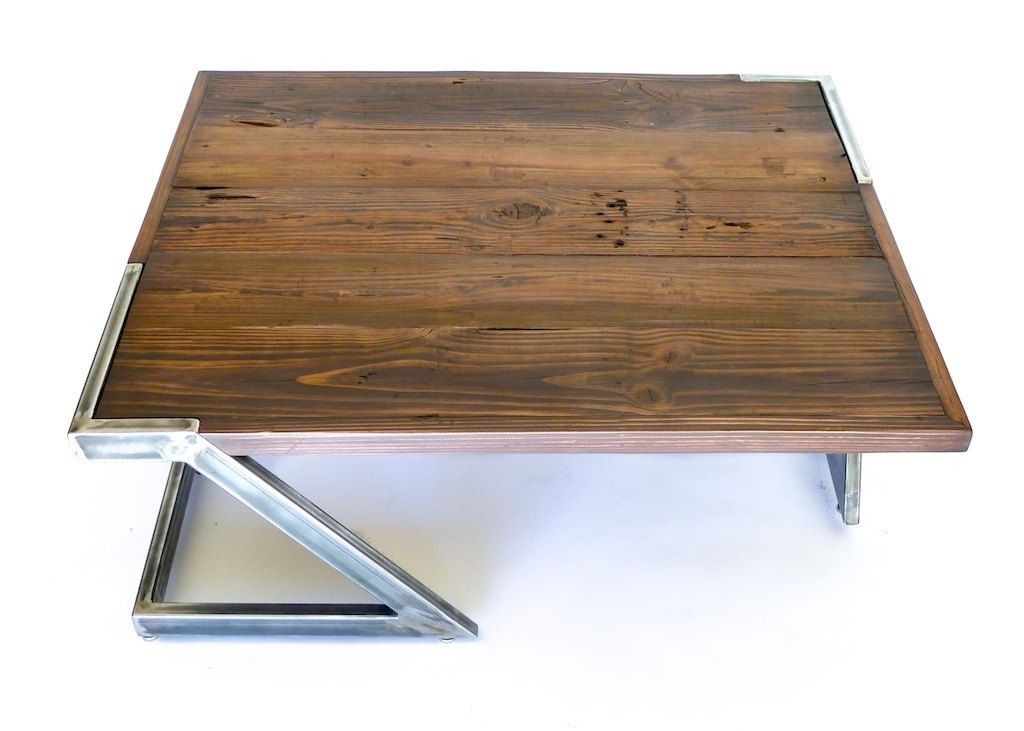 Reynolds coffee table rustic reclaimed
This wooden coffee table features a very attractive, rustic barn stylization. Its solid, welded metal legs provide stability and good support. This handmade element is a very unique item that also decorates indoors.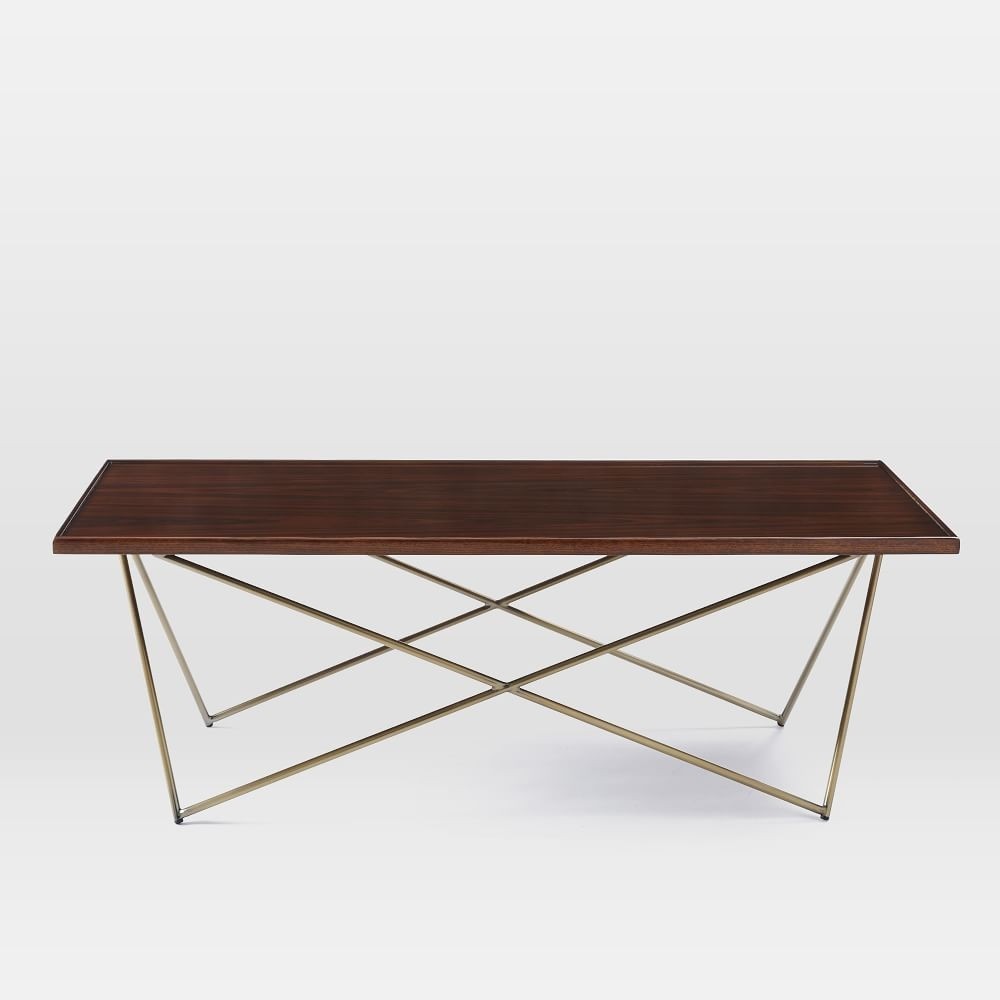 Waldorf Coffee Table
This table is not only very useful, but it also brings a classic style into the house. Its size (48"w x 20"d x 16.8"h) is good for different sizes of indoors. Its brass finished metal legs are very attractive and durable.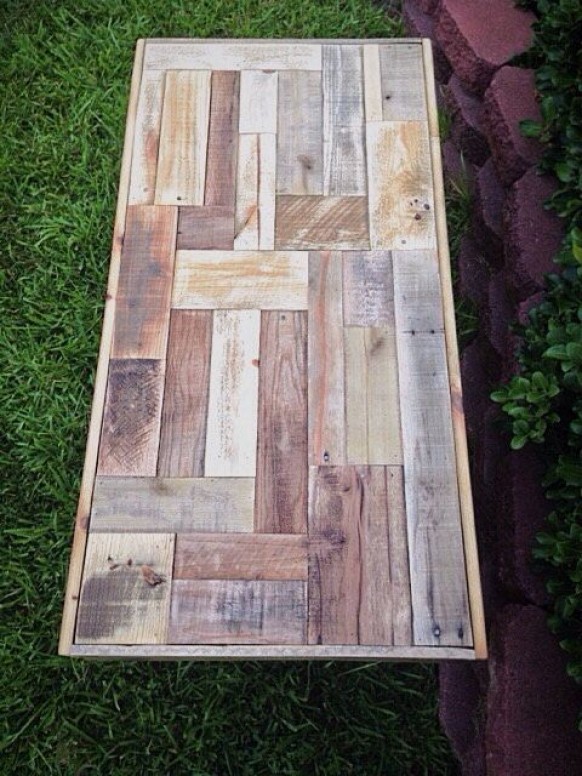 Coffee table reclaimed pallet wood
A wooden pallet can be reclaimed and transformed with little effort into a rustic or Scandinavian style inspired coffee table. If you never have enough of wood in your decor, no matter indoors our outside, use this idea to get a whole new table at almost no cost.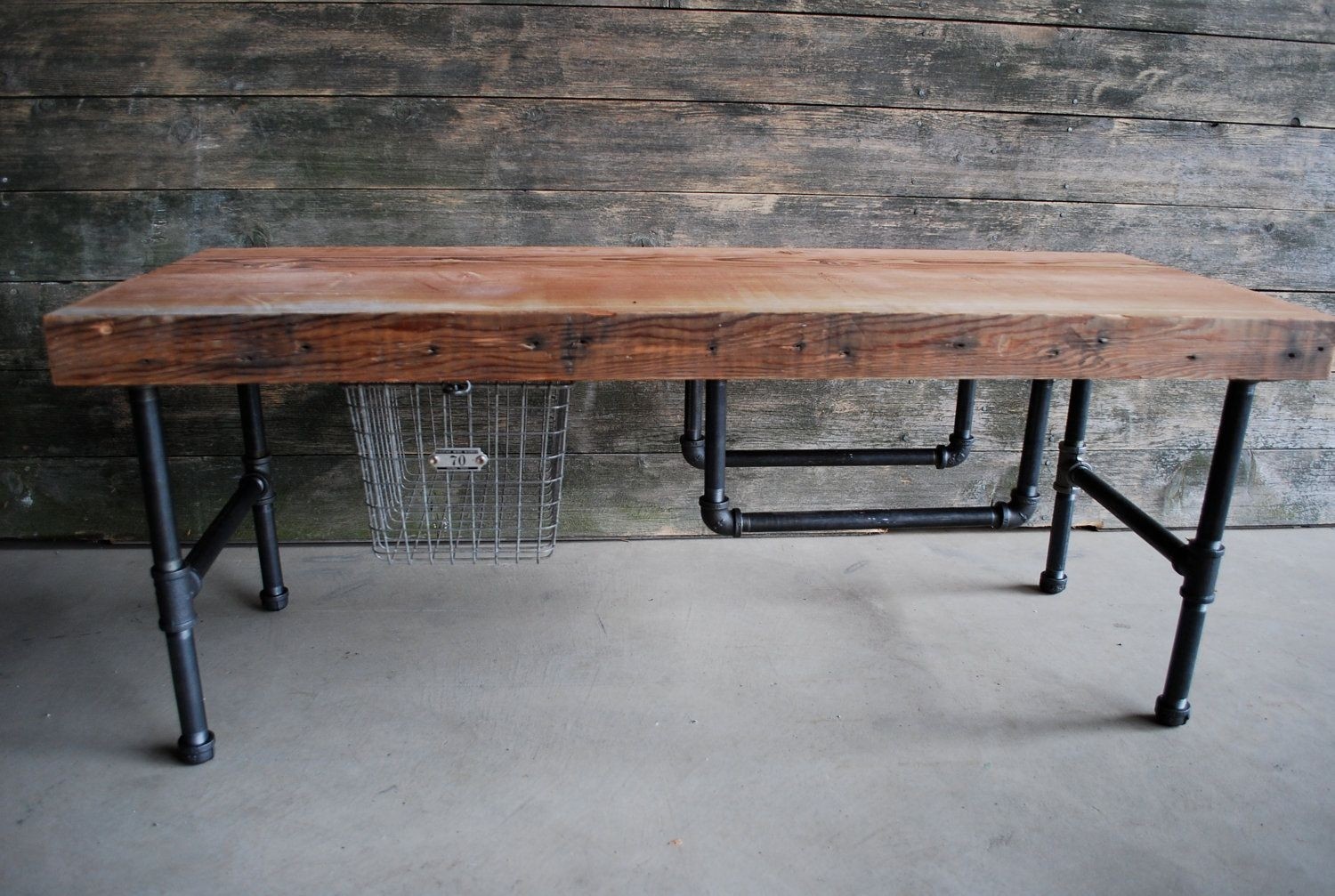 Industrial coffee table relcaimed wood
The chosen folding table should have a metal structure with clearly exposed rivets and screws.You do not need to buy new furniture. As a table in the living room, a converted workbench will work well - with a thick drained wood coffee table top of the red oak.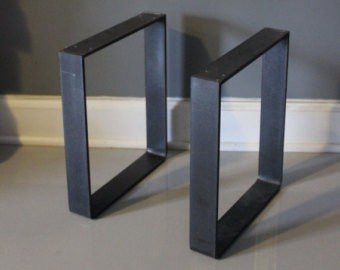 Furniture Legs
Maybe the old countertop is worn-out a little bit, but the legs stills looks ok! Is it not in accordance with the newest ecotrends to reuse it once again? You just have to buy the piece of wood, a voila, new decor of your room is ready!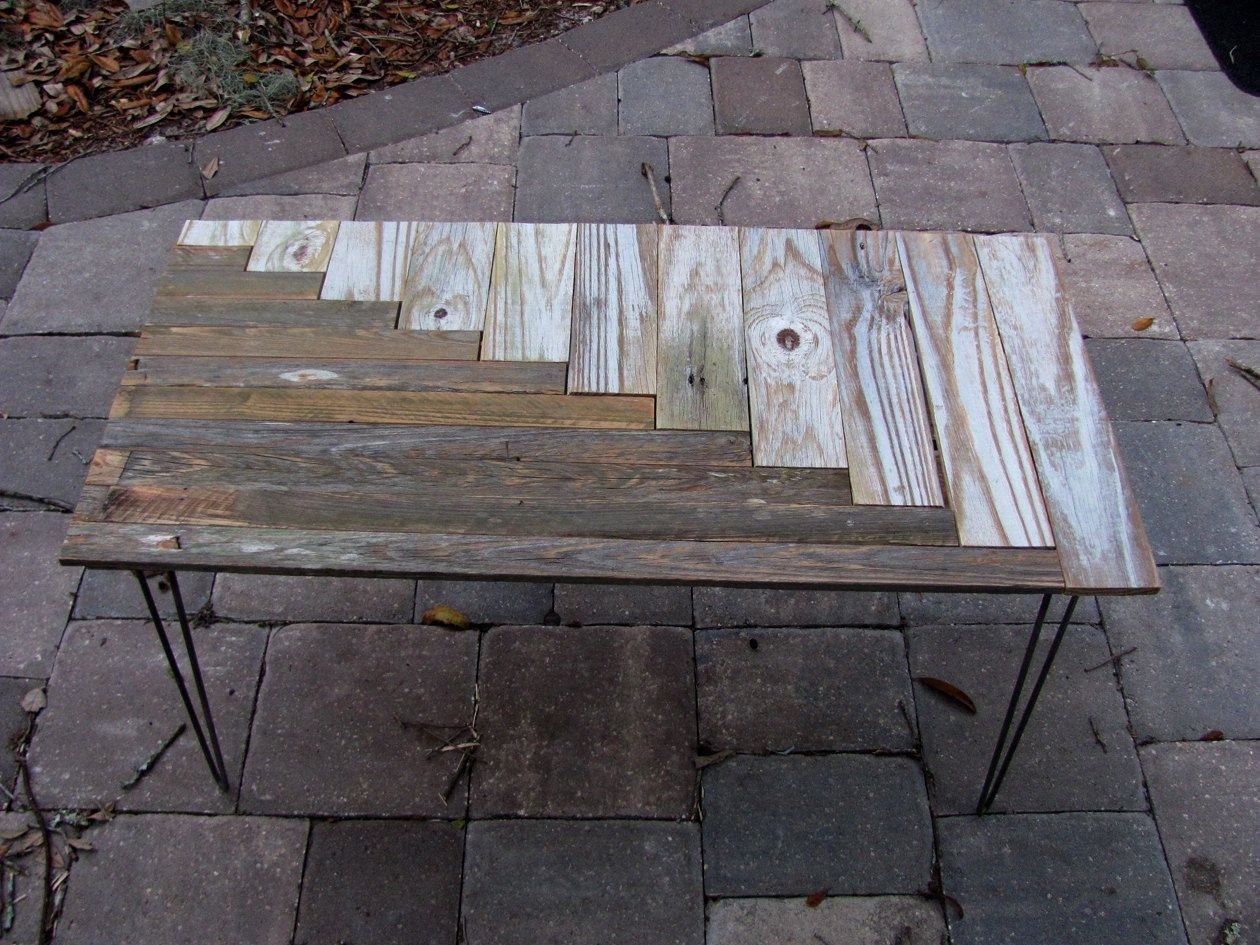 Upcycled coffee table mid century style
A simple mid-century style coffee table having a metal frame with a black finish. It has tapered legs of 2 very thin rods each. A rectangular top is constructed of length and width-varied recycled wooden planks in prevalent greyish tones.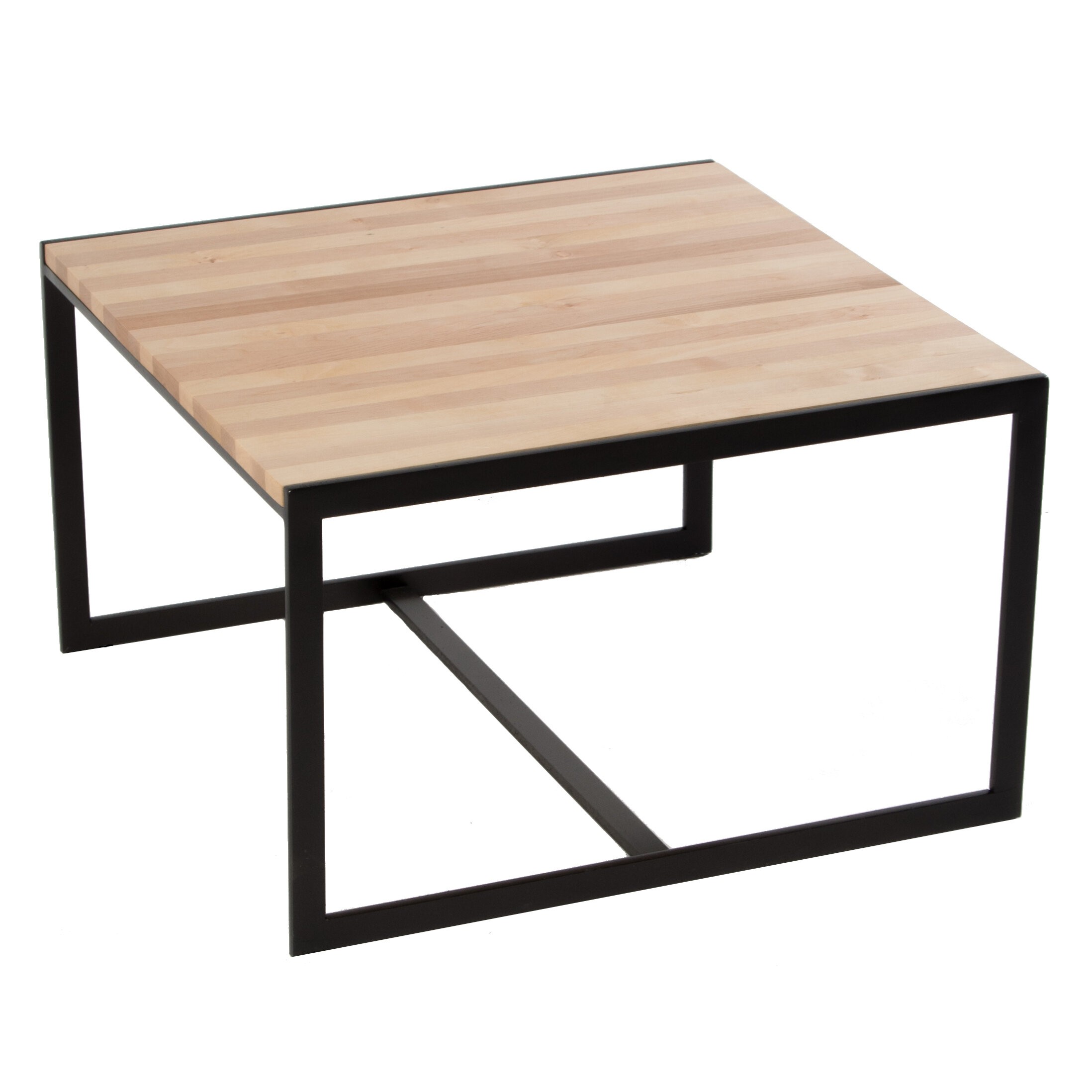 Ansted Coffee Table
A simple and very functional coffee table that is constructed the way to provide more comfort of usage and safety at the same time. It is built of two parts. A solid steel construction at the bottom and the solid wood top.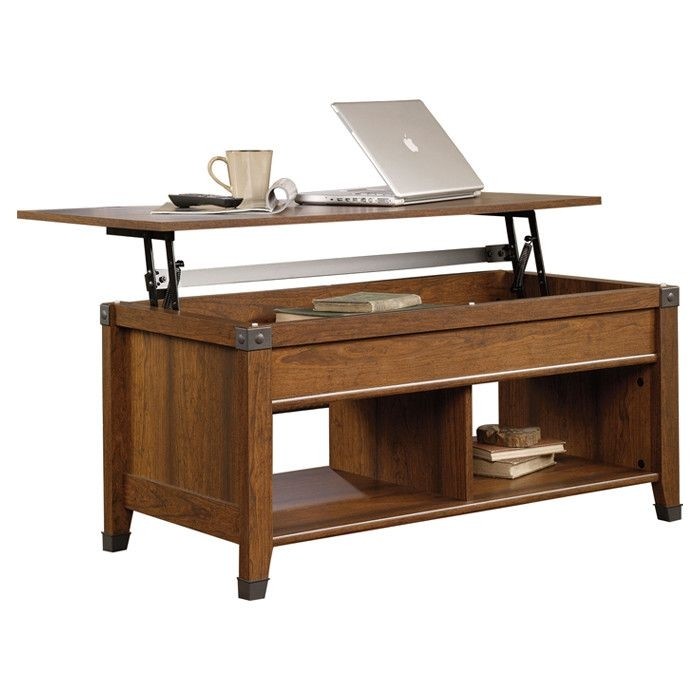 Carson Forge Lift Top Coffee Table
A stylish, functional and durable coffee table that has got a very useful lift top with a storage compartment. Lower part of this table includes two shelves that offer plenty of display or storage space.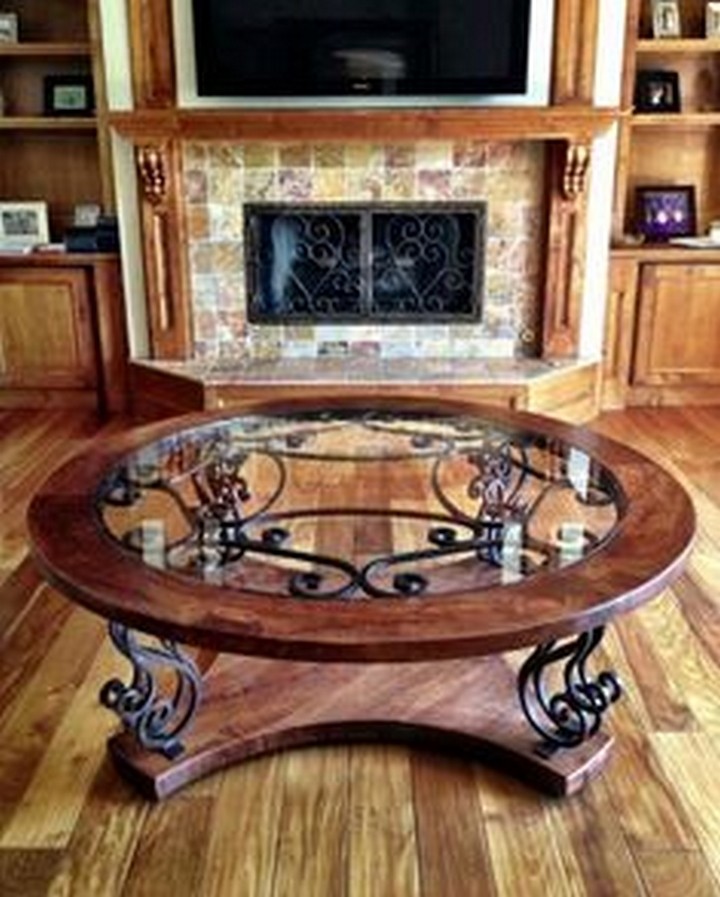 If you are a fan of wrought iron design, this custom coffee table is an excellent alternative for your basic piece of furniture. The round glass top has a wooden frame with solid iron base.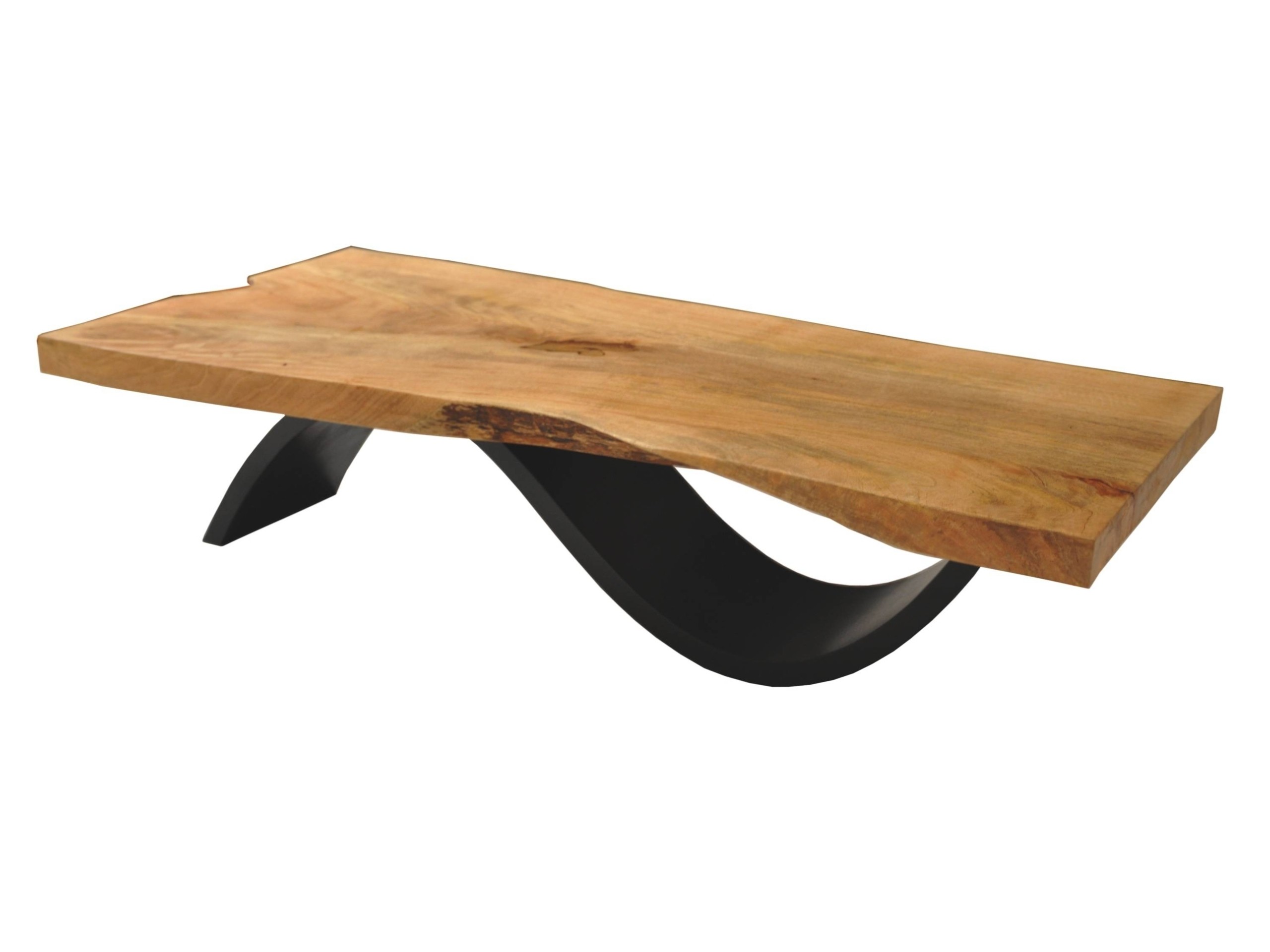 contemporary coffee table made of reclaimed wood with curvy black leg ...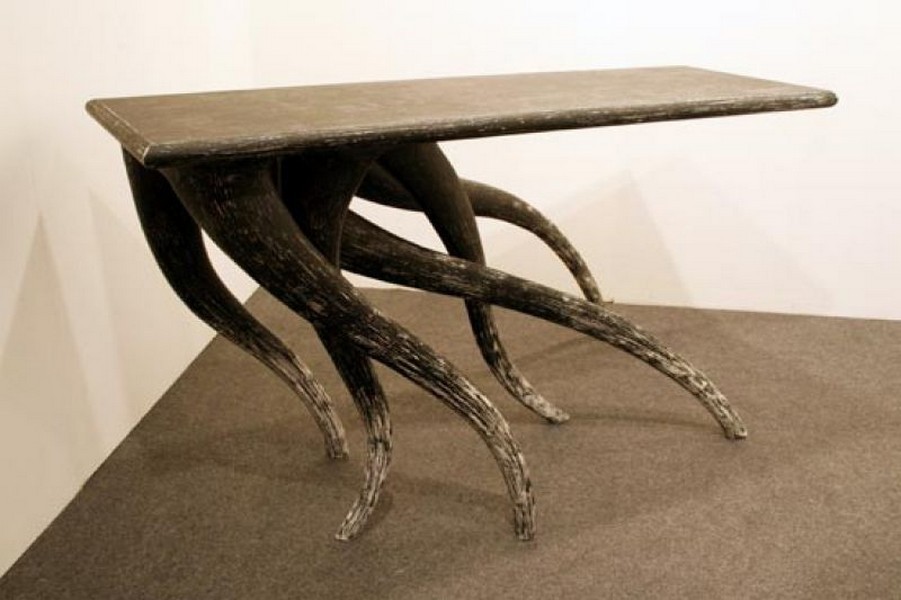 Unique coffee table: unique coffee table legs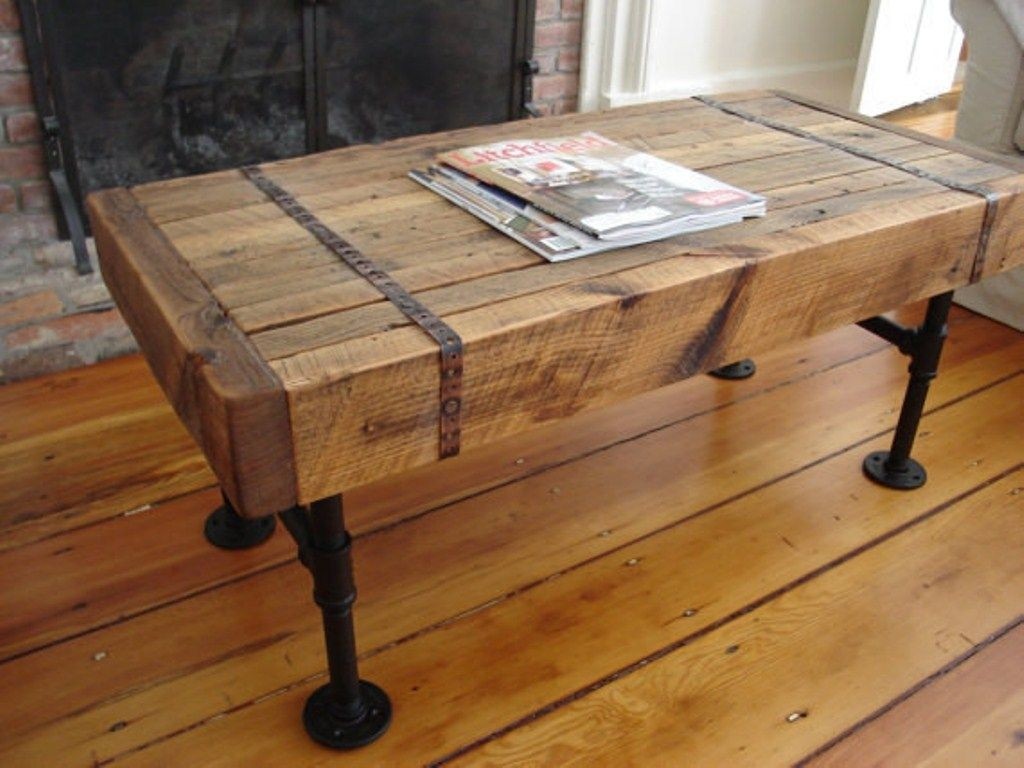 ... / Living / Coffee & Accent Tables / Side Tables & Accent Tables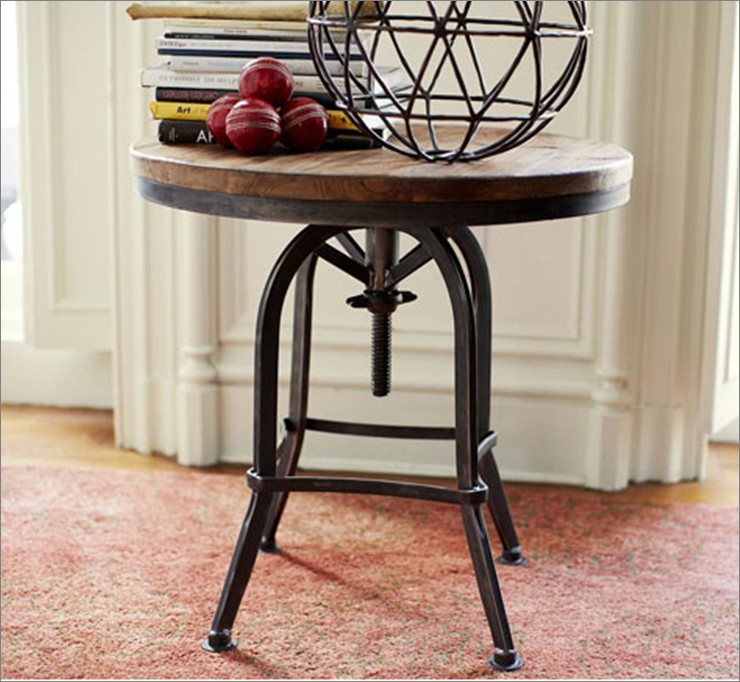 Combining dramatically curved metal base with raw wood top, this extraordinary coffee table draws glances for sure. Take notice of the irregular shape of its wooden top - a nice alternative for prissy rectangular forms.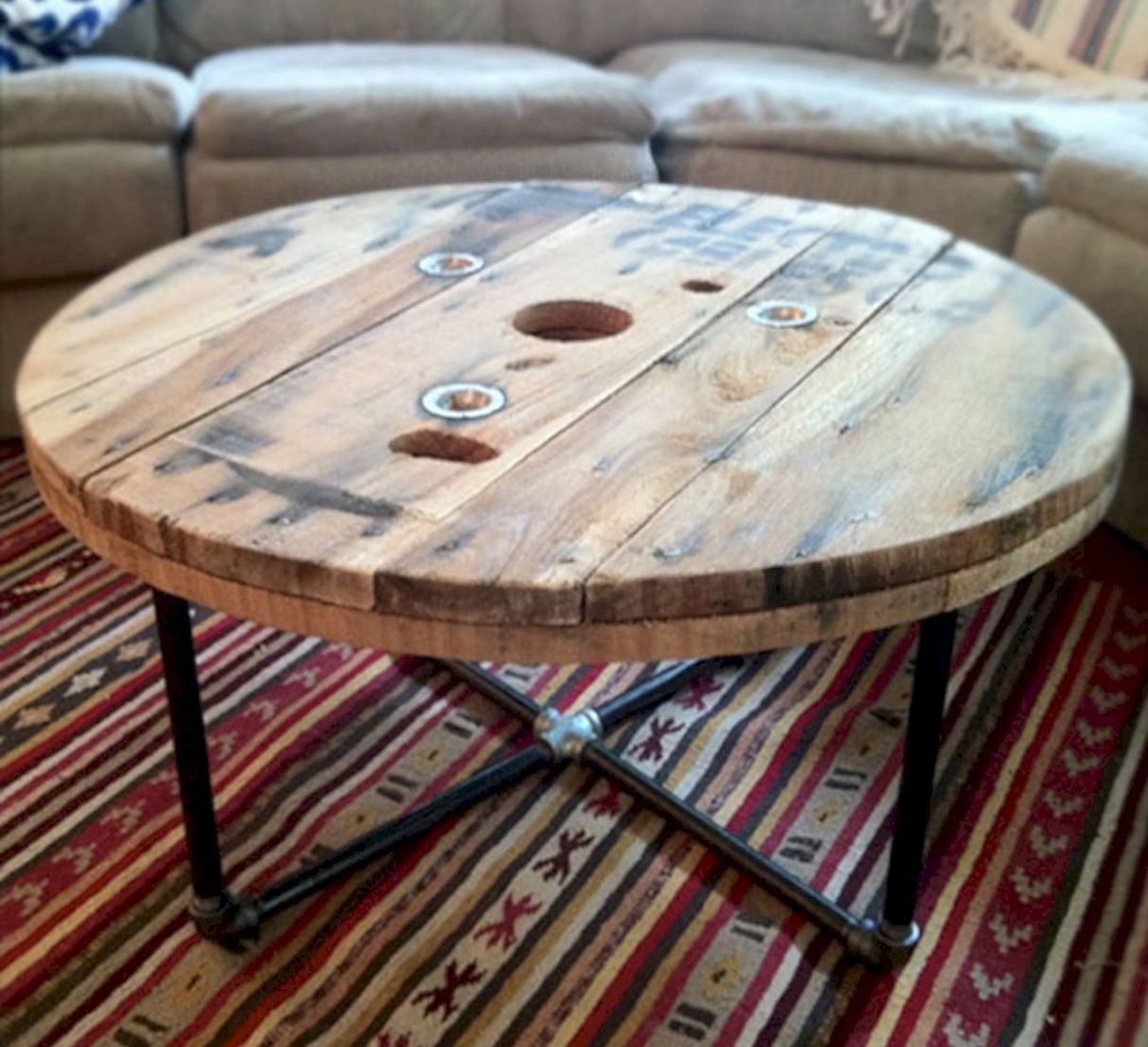 A rustic take on an industrial dining table made out of a metal frame assembled for old water pipes with a black coat of paint. The top of the table is made out of reclaimed wood with a sanded surface, providing a unique look.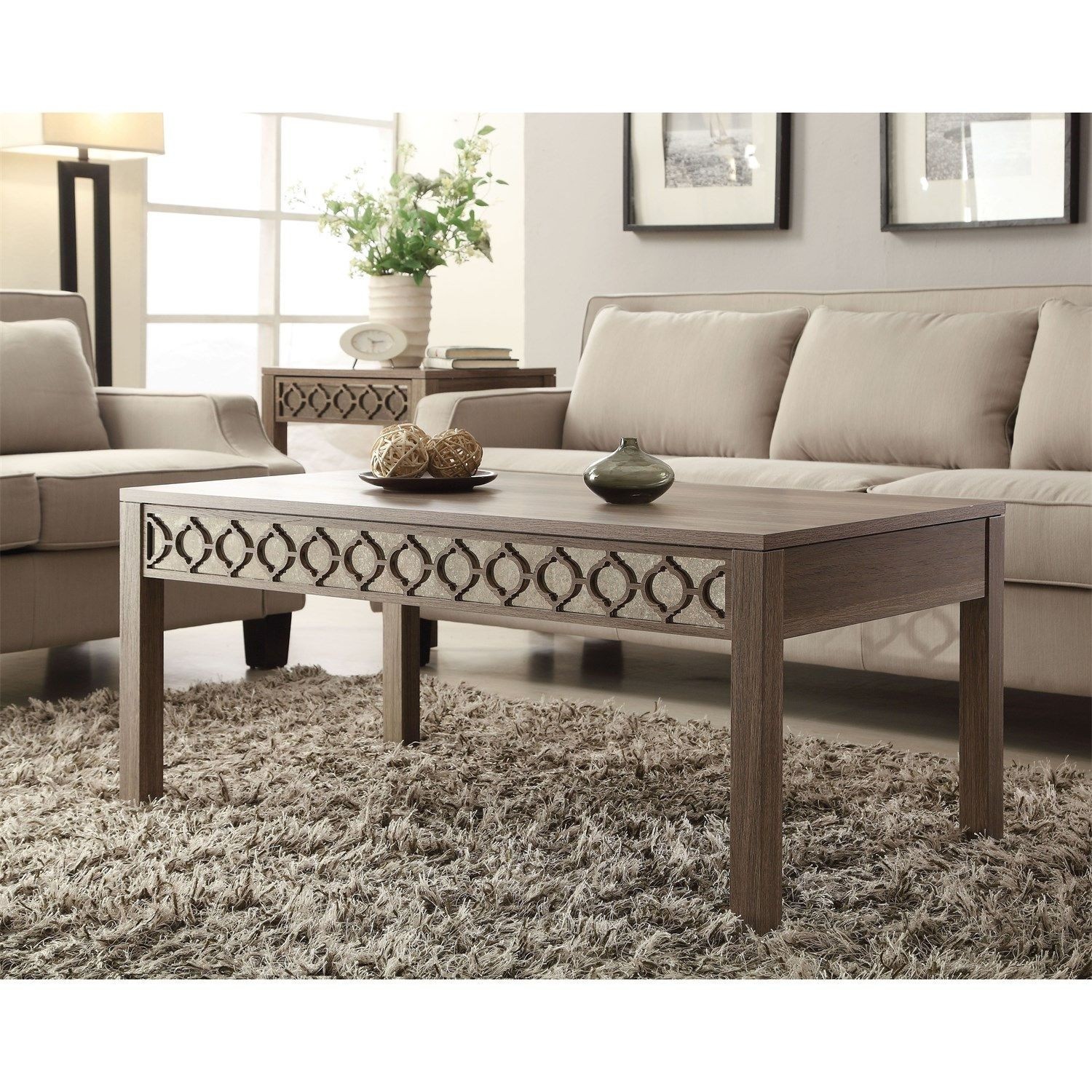 Beautiful coffee table, made from engineered wood in a charming greco oak finish. The decorative accents on the side lend some style and sophistication to the overall look, while the sturdy construction provides an easy and problem-free use.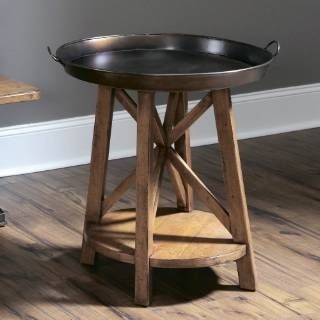 This tray top end table enchants with its tiny size, concealing a pretty impressive functionality. Its curved silhouette conceals a handy drawer along with the wooden tray on top, giving impressive storage possibilities.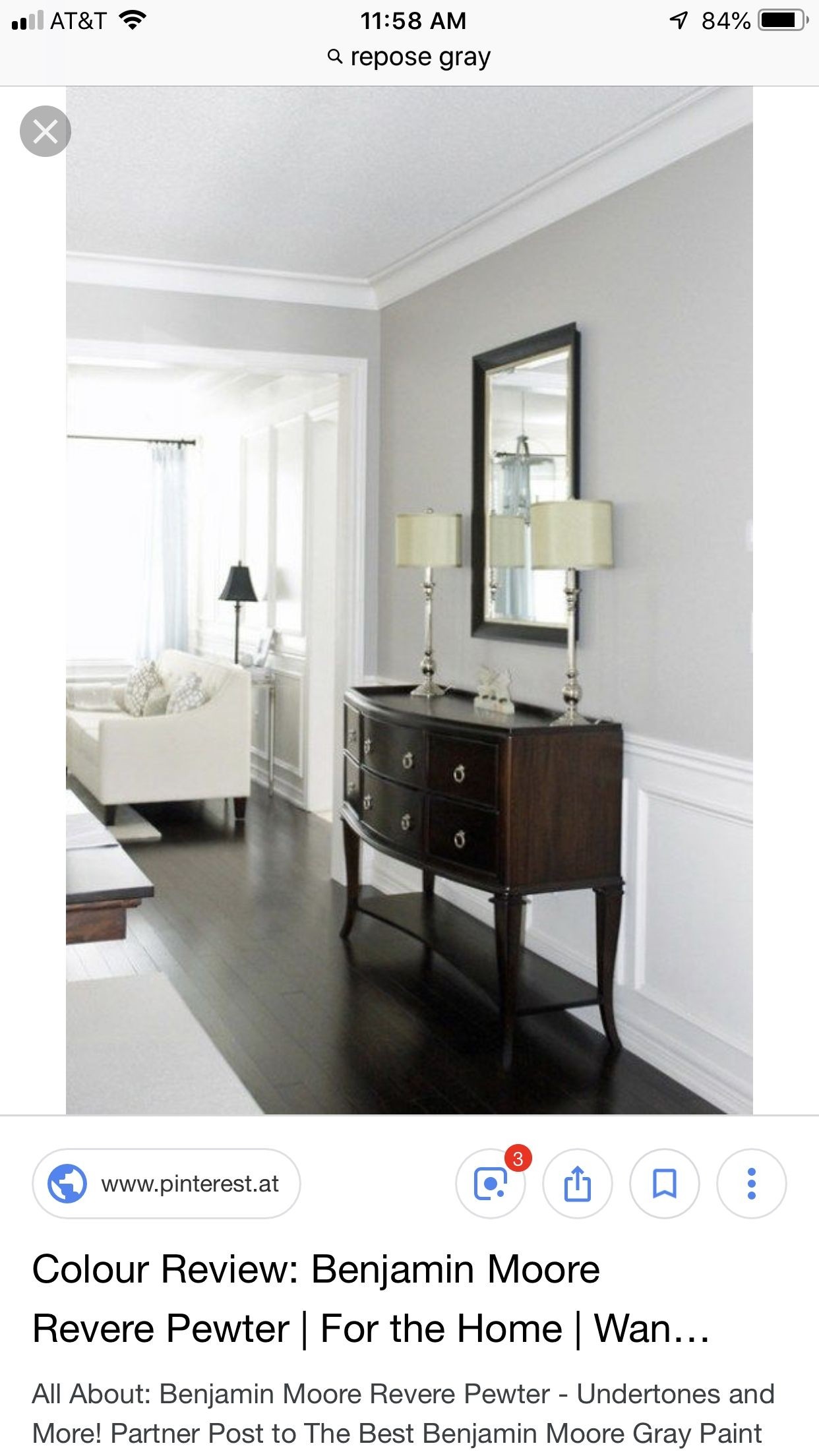 I've always gone for dark wood floors. Apparently, dark floor looks particularly nice when balanced with white walls and ivory accents, such as this rustic entry table crafted from light colored wood.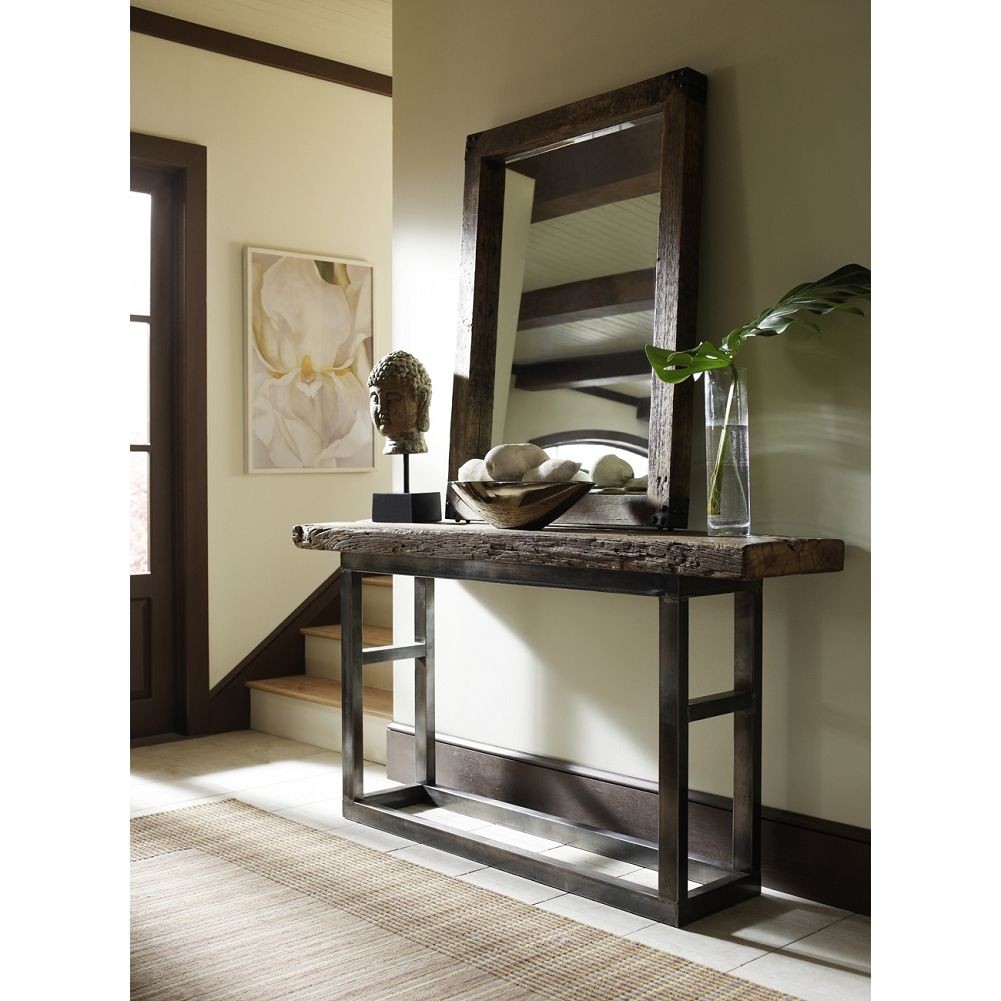 Rustic and majestic on at the same time, this subtly crafted sofa table from bright wood brings in a positive, warm appeal to the room. Practical in its form, it allows leaving your bits and pieces there.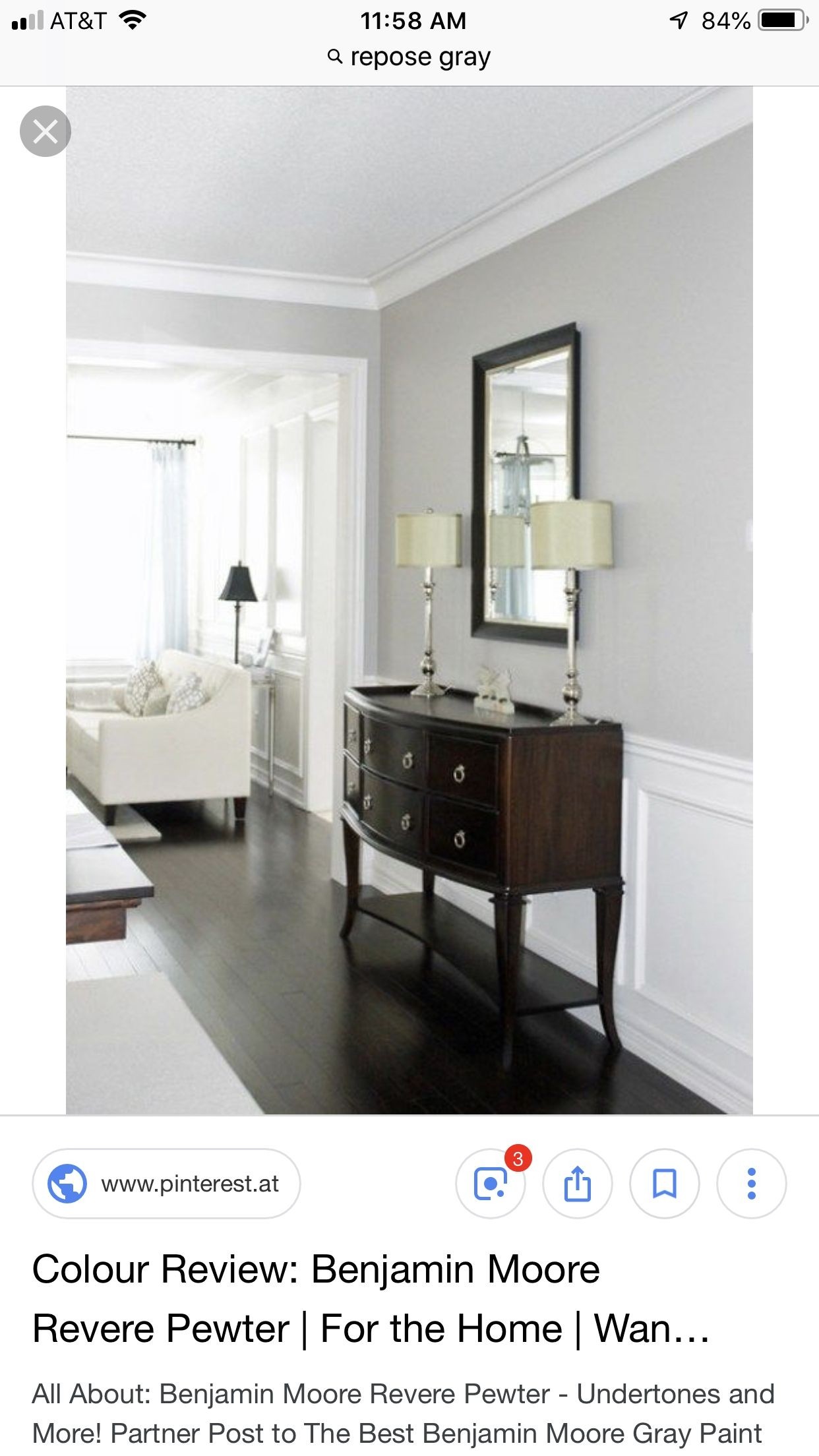 Console table with a solid wooden frame. This element of design can be used as a sideboard buffet. It also includes attractive and practical lamps for additional aesthetics and illumination. Three small drawers include metal handles.
funky coffee table at the Goodwill for $20, repurposed legs and upcycled wood <3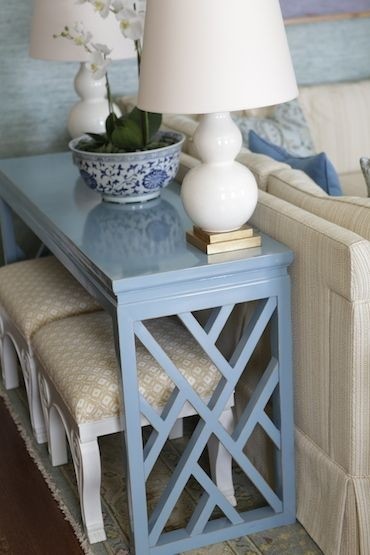 Console table made of wood and finished with pastel colors. Base is reinforced with solid supports. Rectangular top has large usable surface. Application in all kinds of interiors as needed.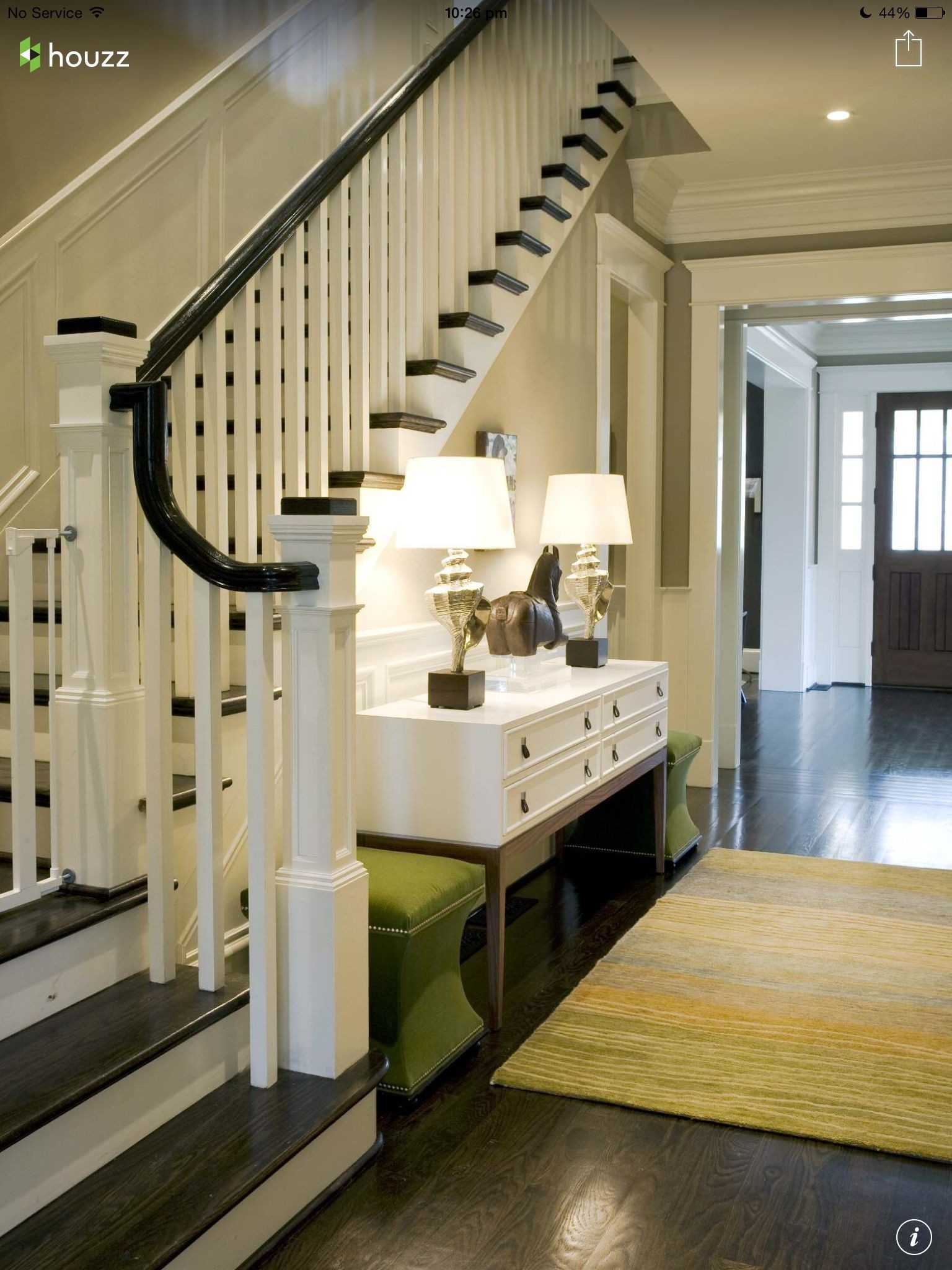 The classic mix of colors - the dark parquet composed with the light walls and white furniture. It should be done on that way, because using too much dark-colored elements optically make the user feel that the space is very limited.