A refreshing and joyous alternative to a neutral, dusty pink will make your home bloom with grace.
Dusty pink, also called dusty rose, is a gentle, subdued shade of pink with a beige undertone and soft violet notes. Its murky, dusty appearance differentiates it from pastel pink, which looks cleaner and brighter in comparison. Dusty pink feels mature, sophisticated, and elegant, while pale pink has a whimsical and juvenile character. The color's beige undertone gives it a soothing and versatile, near-neutral quality that can be dressed up or down to suit a classic or modern aesthetic.
What is the Psychology of Dusty Pink?
Like a delicate rose, dusty pink symbolizes love, care, affection, and kindness. The floral shade evokes a sense of tranquility, acceptance, and the comfort and safety of a nurturing mother. Like most shades of pink, it has a feminine quality. However, dusty pink is more aligned with an elegant young woman than the youthful naivety of a pastel or bubblegum shade. The pink tone inevitably evokes positive, joyous emotions, while the dusty beige notes contribute a feeling of warmth, neutrality, and nostalgia.
What are the Best Ways to Use Dusty Pink in the Home?
Paint the walls dusty pink for a soothing and comforting aesthetic, ideal for a bedroom or living room.

Brighten a dark, moody scheme with dusty pink accents, like a statement sofa or upholstered headboard.

Add warmth and sophistication to a stark modern decor with soft dusty pink textiles. Use velvet for a luxurious look or bouclé for a Scandi-chic vibe.

Opt for a dusty pink wallpaper print to create a soothing yet charming backdrop for a child's bedroom.

Test out the dusty pink shade with transient decorative accessories, such as scatter cushions, lamp shades, bed linen, and blankets.
What Colors Go with Dusty Pink?
Dusty pink is a timeless and versatile shade that has the potential to elevate, brighten, or soften a scheme. Use any one of the 5 principles of color combination to achieve a harmonious interior.
Dusty Pink + Gray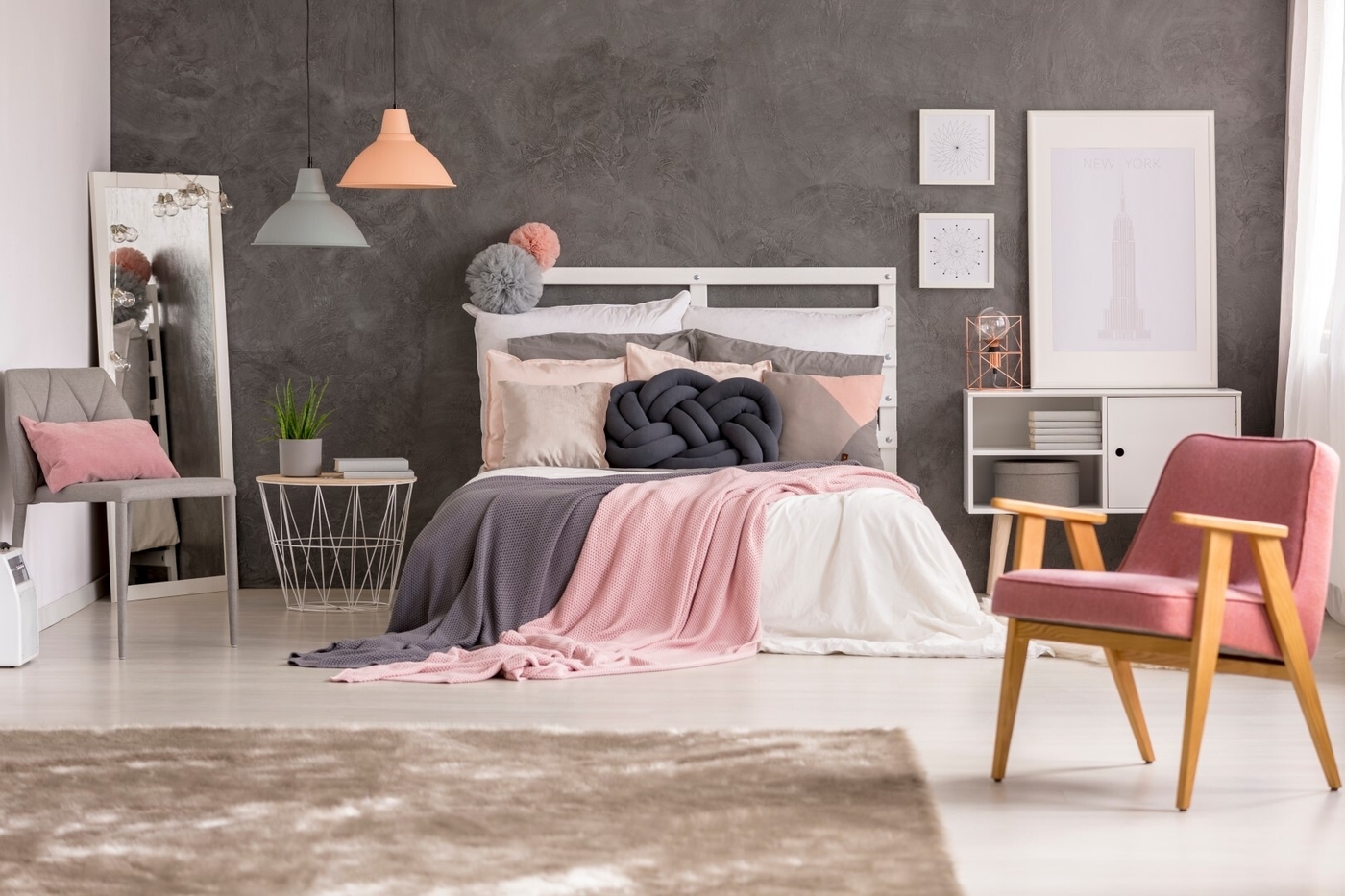 Add a sharp, sophisticated edge to your decor with a dusty pink and gray palette. Dusty pink pairs effortlessly with any gray shade; elicit a gentle, restful ambiance with light gray, or create depth and contrast with a dark charcoal shade. Add a romantic touch to a gray bedroom with sumptuous dusty pink textures. Implement the 60-30-10 rule to create a harmonious balance between the pink and gray shades.
Dusty Pink + Beige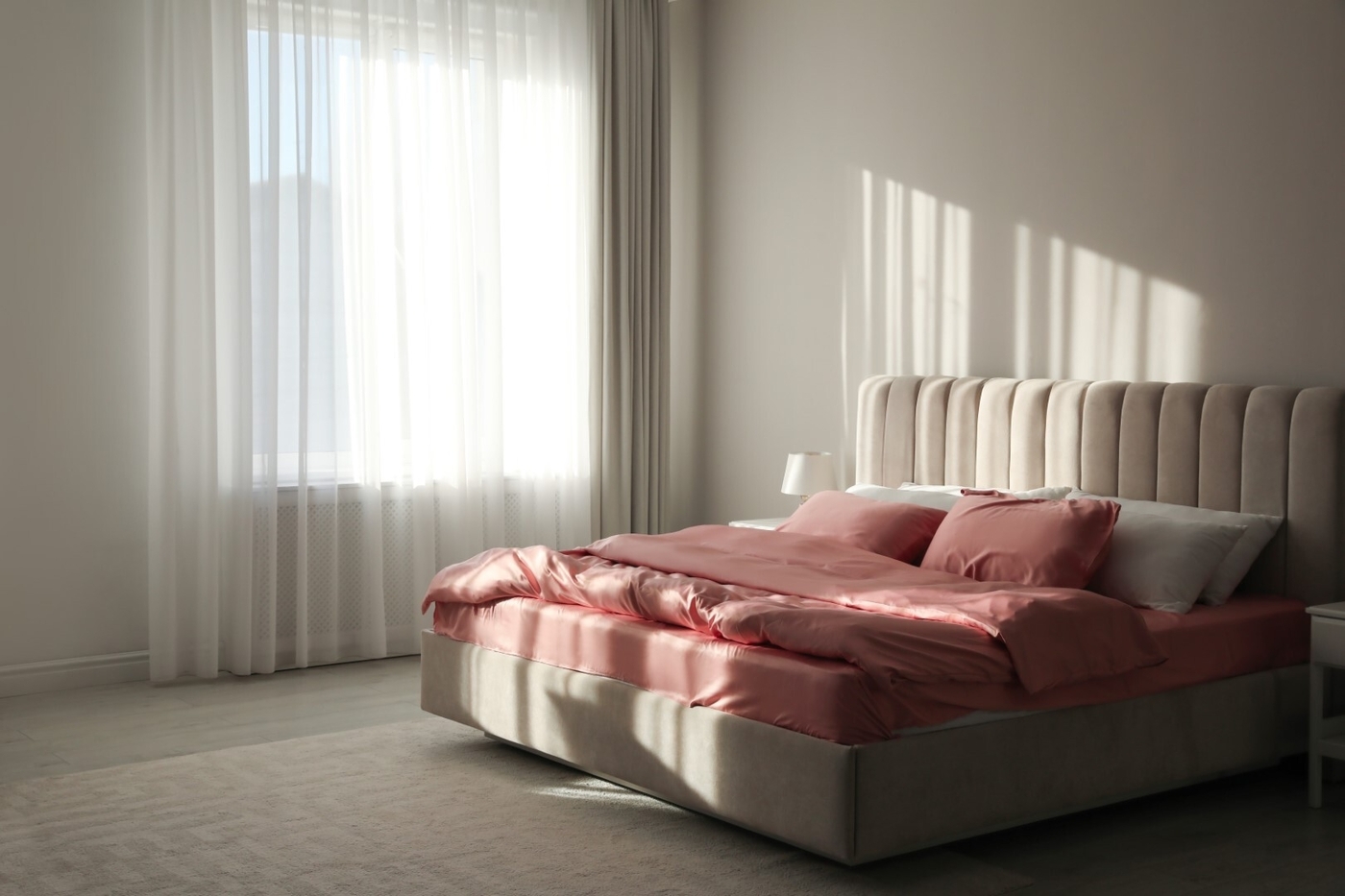 Pair dusty pink with beige for a decor that encourages, soothes, and inspires. Because dusty pink has a beige undertone, the colors blend seamlessly, resulting in a subdued, harmonious scheme that is pleasing to the eye. Beige is elegant in its simplicity and exudes an organic, wholesome warmth that immediately feels like home. Use beige as a canvas and dress it up with dusty pink furniture for a subtle rosy hint of color. Glam it up with gold accents, or keep it organic with light wood tones.
Dusty Pink + White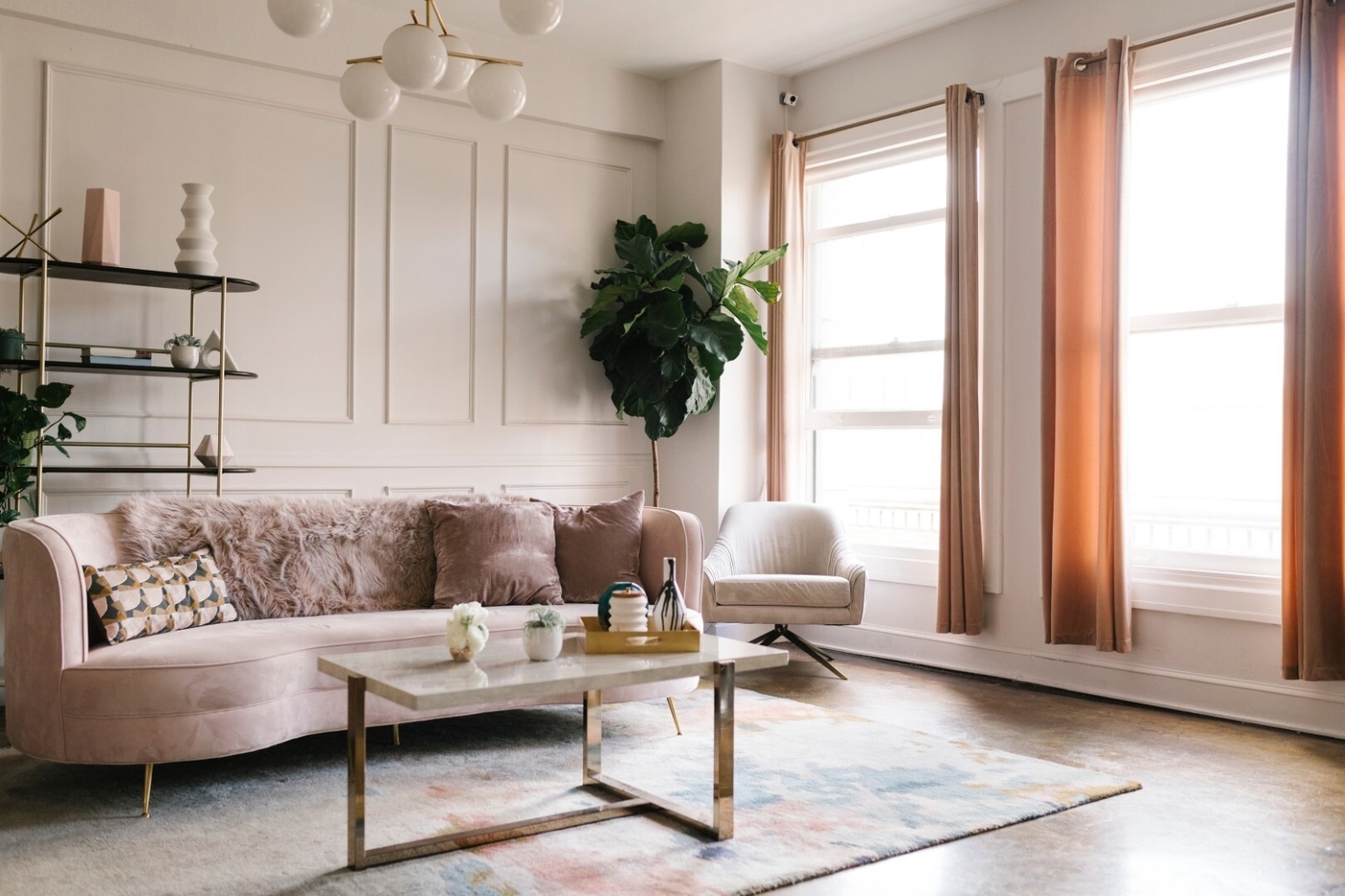 Dusty pink and white are a delicate and refreshing combination. White is a popular color for interiors because it makes a space feel brighter and more spacious. It is associated with purity and cleanliness, which is why you'll frequently see it in kitchens and bathrooms. Dusty pink lends warmth and depth to a white room, preventing it from feeling cold and sterile without dampening its bright and airy vibe. Opt for off-white over pure white, as its slight yellow-gray undertone makes a better match for dusty pink.
Dusty Pink + Dark Blue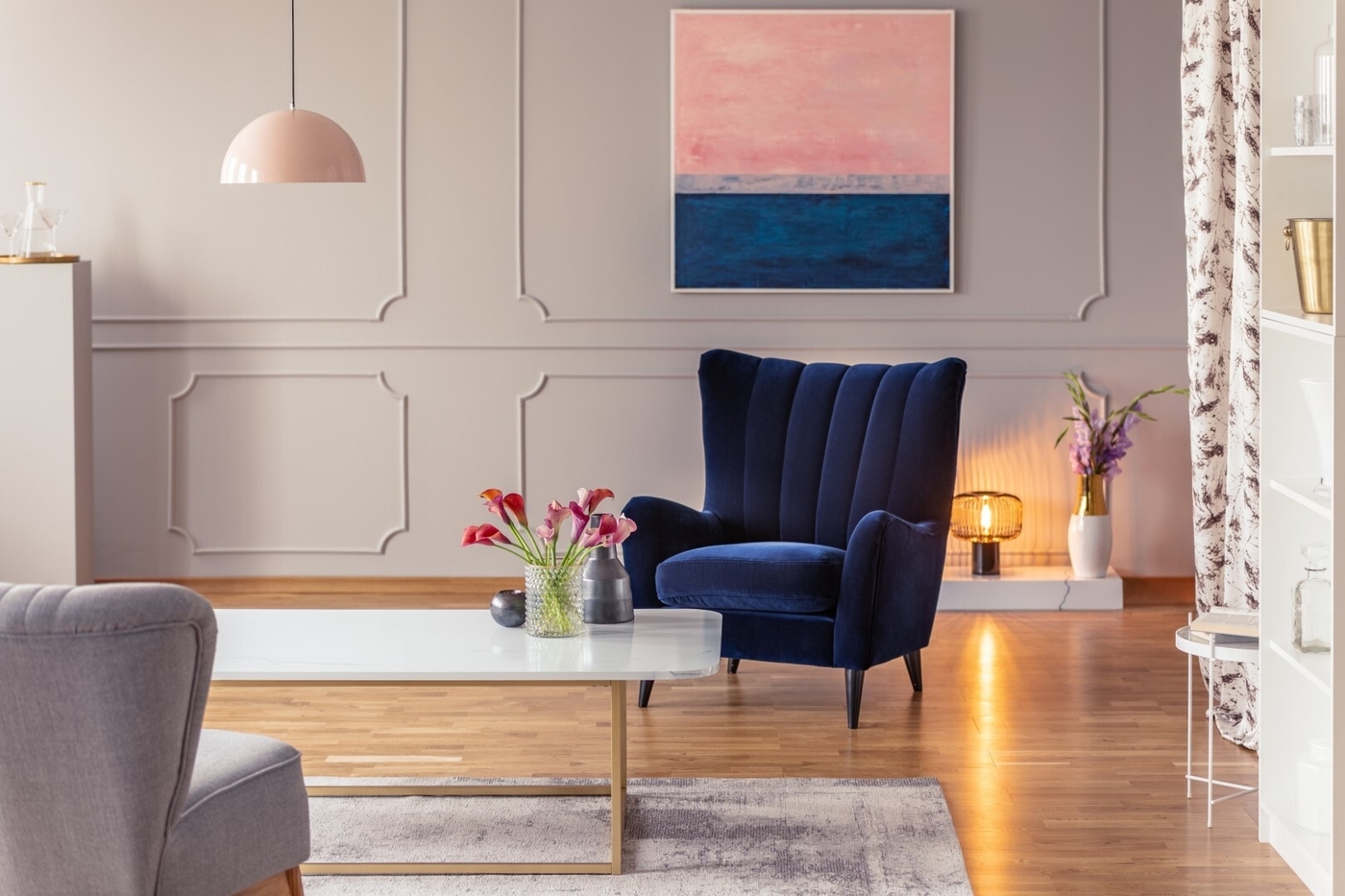 Counterbalance the delicate tones of dusty pink with the depth of a dark blue shade. The light-dark, warm-cool contrast creates an intriguing dialogue between the two hues, resulting in a harmonious and well-rounded scheme. Though the key, as always, is to match the undertones. Let the colors play out against a neutral backdrop - like white, beige, or gray - to temper the palette and make the tonal interplay the centerpiece of the scheme.
Dusty Pink + Wood Tones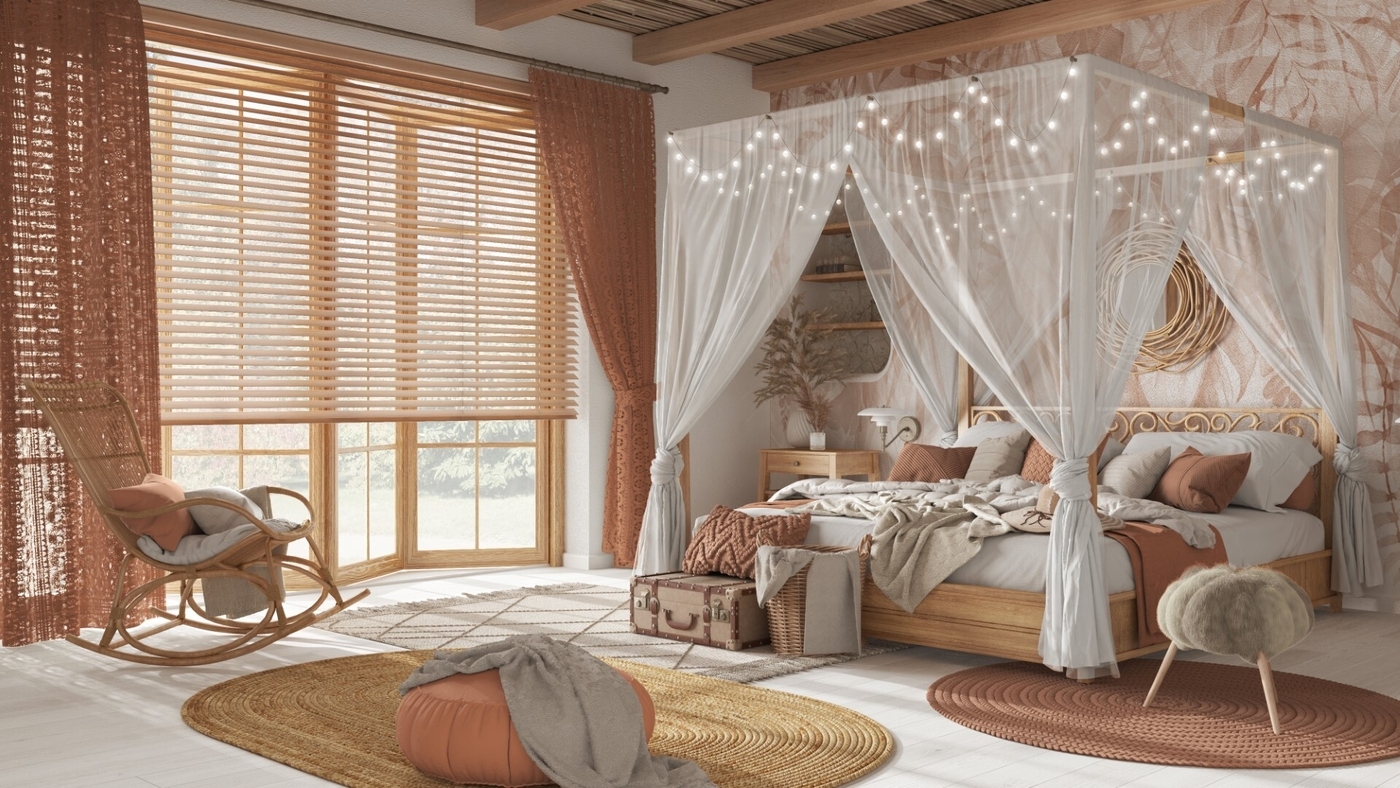 Wood may not be a color, but the beauty of this dusty pink boho bedroom obliged us to draw attention to the alluring combination. Wood has a natural grounding and soothing effect, and its organic warmth harmonizes with dusty pink's beige undertones. Complete the carefree vibe with a rattan rocking chair and mirror, a jute rug, and a romantic canopy bed with billowing white drapes.
Dusty Pink + Brown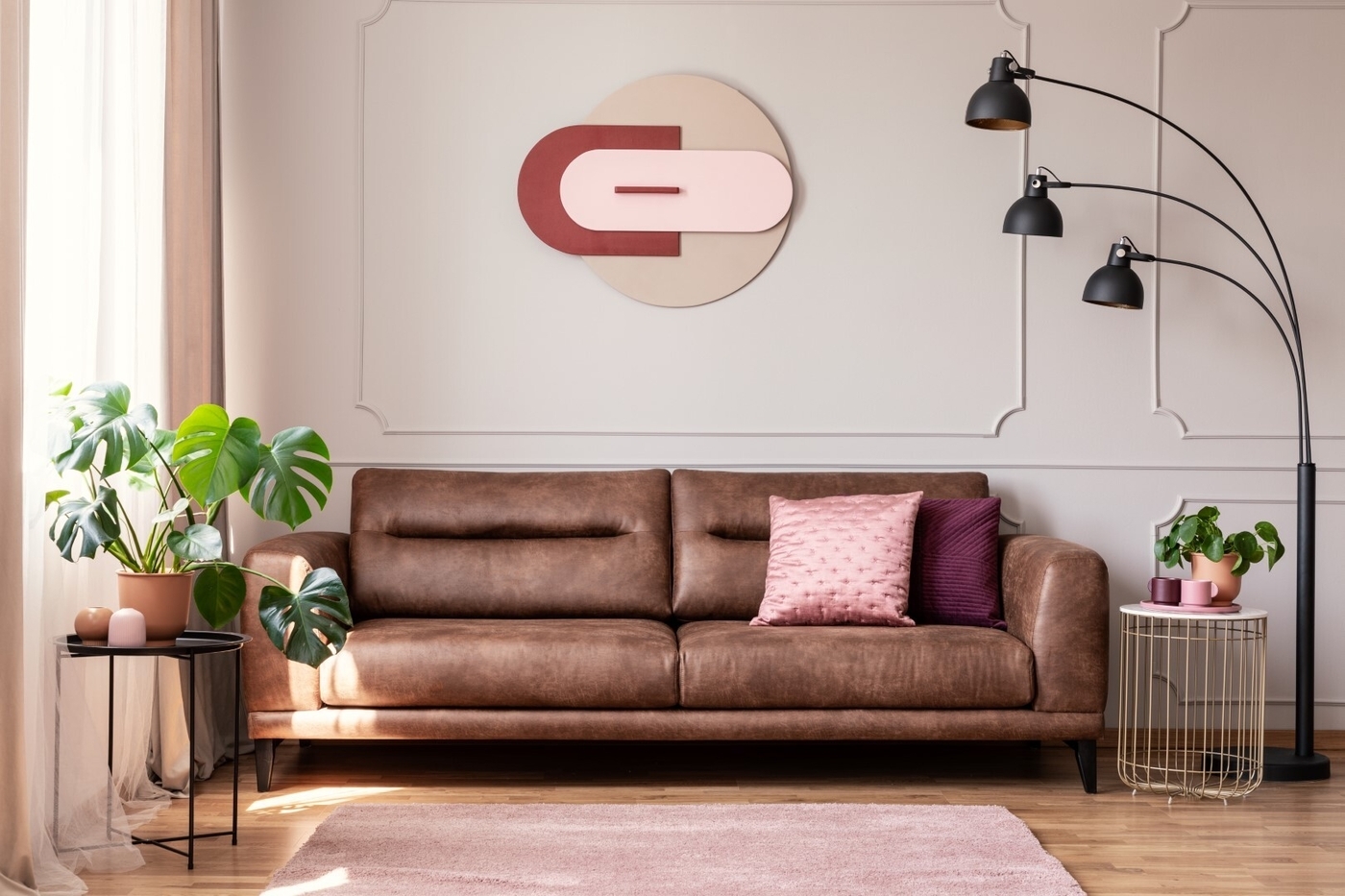 Ground the ethereal beauty of dusty pink with dark brown. The earthy shade symbolizes stability and reliability and has a warming and comforting influence. Admire how the brown leather sofa provides a solid neutral base for dusty pink accents, creating quiet contrast and a cozy and inviting look. This color combo is a favorite for retro and vintage-style homes and works well with a dash of maroon.
Dusty Pink + Turquoise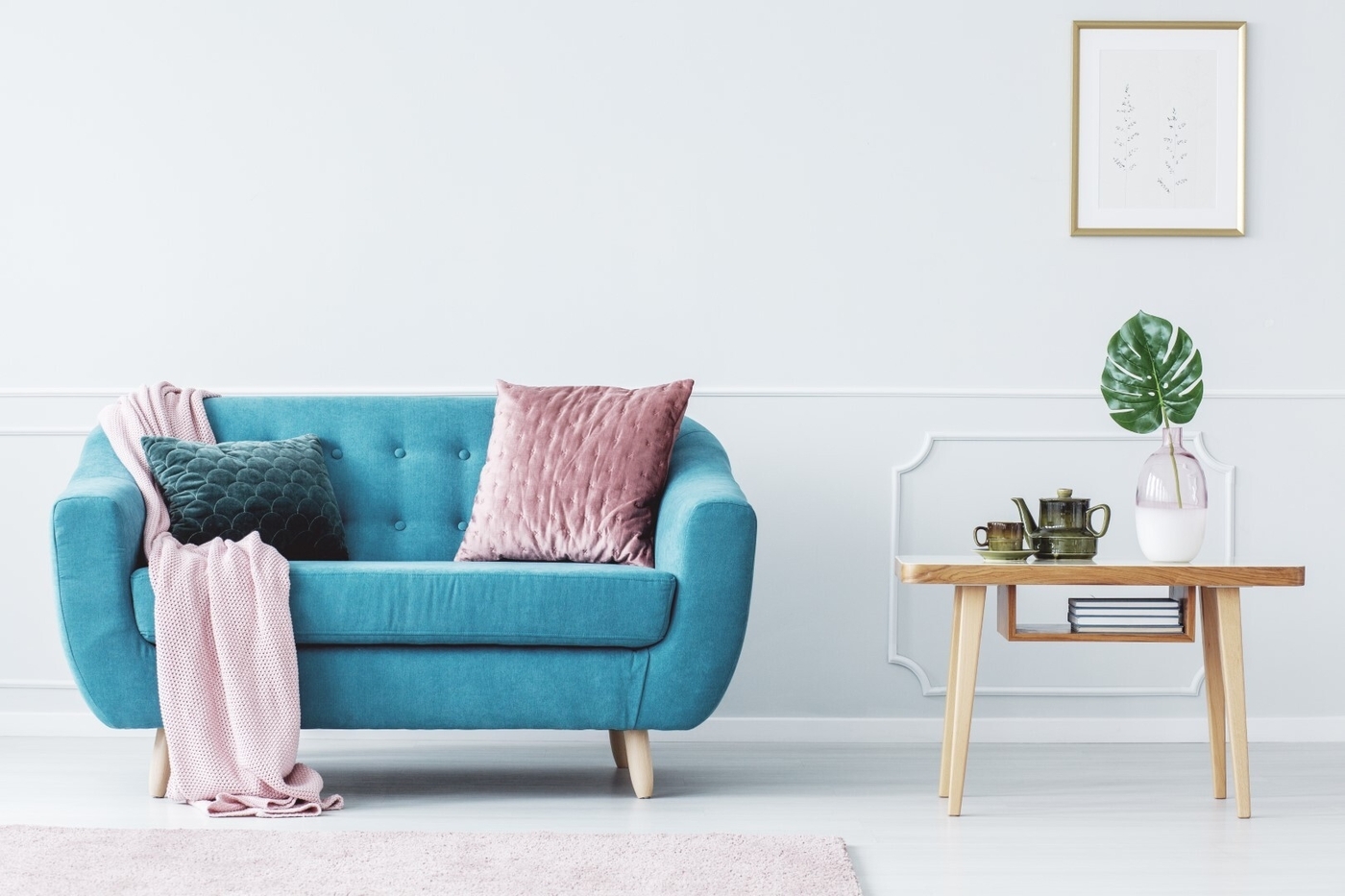 Radiate joy and creativity with a playful turquoise and pink color scheme. The bright blue hue possesses energizing and refreshing qualities and a sense of clarity that perfectly complements dusty pink's subdued nature.
You don't need much of the invigorating blue hue to make your point, so reserve it for an accent piece, like this vibrant turquoise sofa. Crank up the kitsch with pops of yellow to complete the triadic scheme, or pair it back with teal accents and a neutral backdrop.
Dusty Pink + Green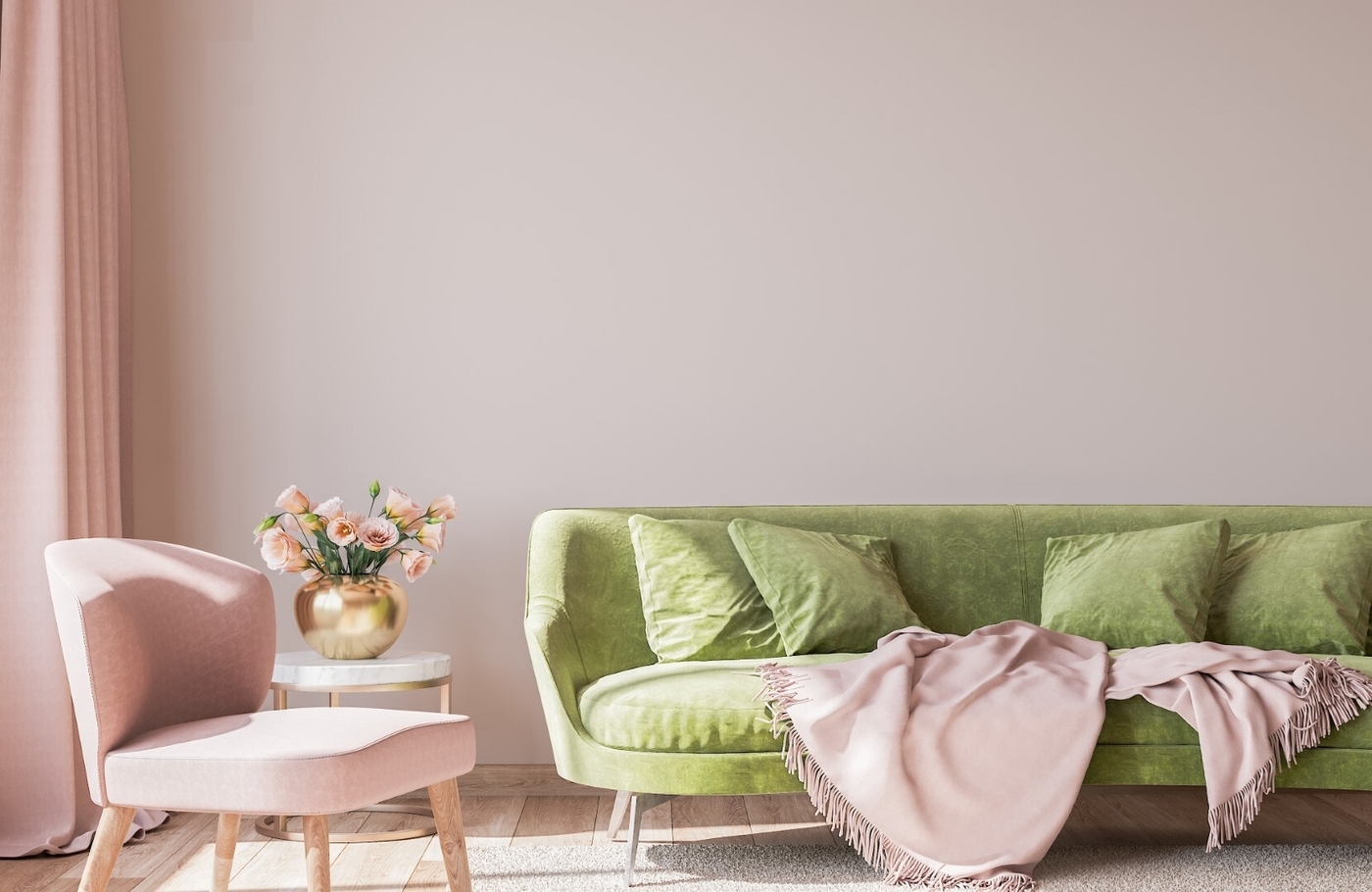 Favor a natural color palette where leafy greens nurture floral pink hues. Conjuring images of a manicured rose garden, the complementary shades are a natural match and achieve an energizing and gentle equilibrium. The green shade dictates the mood of the room; opt for a dark shade, like emerald green or forest green, to create drama and depth. A subdued sage green or bright lime green will feel soothing and amiable.
Dusty Pink + Burgundy
Anchor the light essence of dusty pink with a deep burgundy hue. The two blood-related colors share the same red parent, so they are naturally harmonious despite coming from opposite ends of the scale. Burgundy punctuates this dusty pink living room, providing depth and tonal contrast, while light wood flooring and furniture complete the seamless trio. Emulate the retro look with mid-century style furniture and a mix of bold patterns and textured fabrics, like boucle, velvet, wool, and chenille.
Dusty Pink + Gold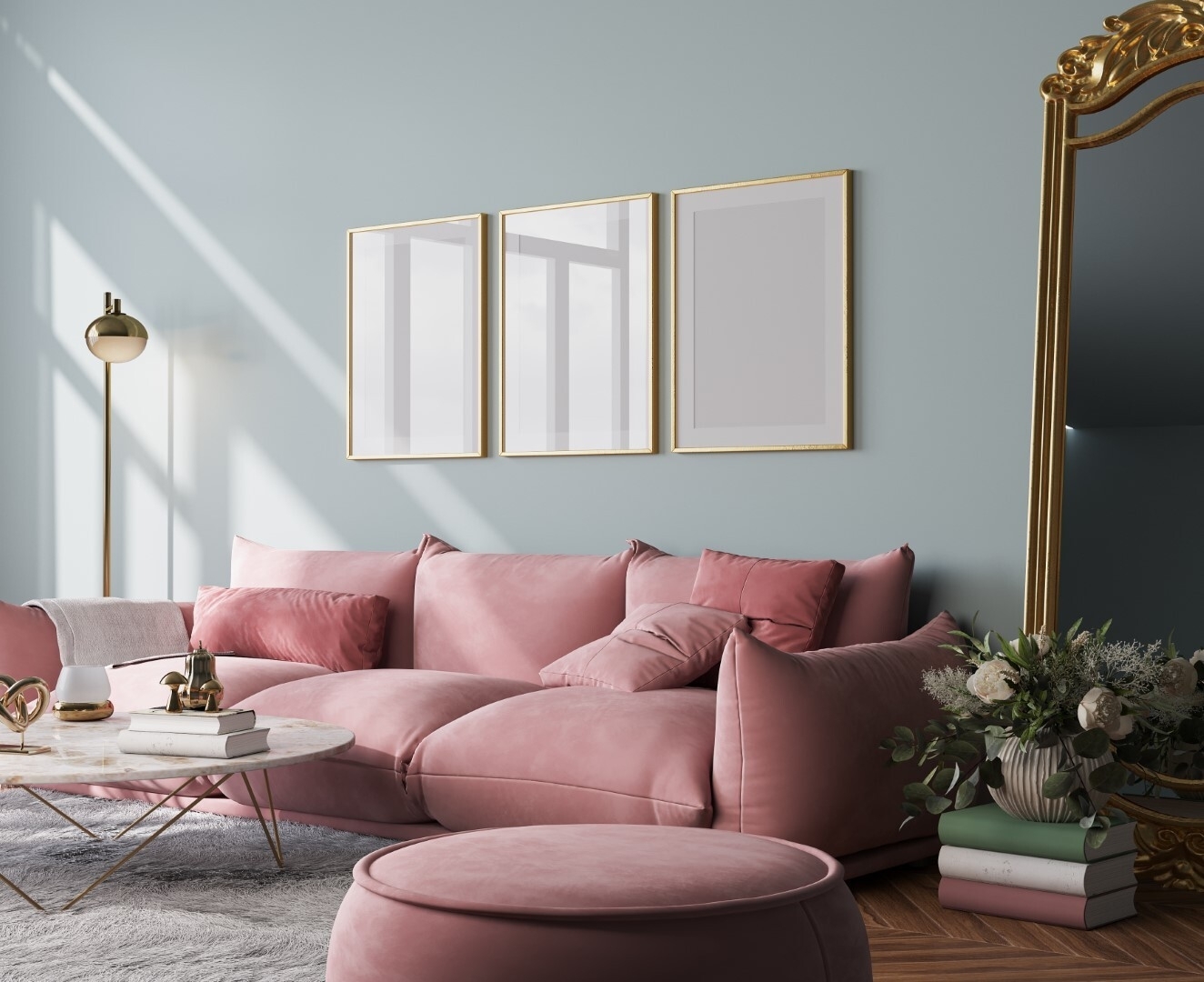 Gold accents lend opulence and glamour to any interior but look exceptionally classy paired with dusty pink. Brass and gold are members of the warm metallics camp, thanks to their radiant yellow glow that draws out dusty pink's warm beige undertone. Introduce gold accents with decorative accessories, lighting, and gilded furnishings. Prevent plain fabrics from eclipsing the luxe of gold by committing to sumptuous textiles, like velvet or suede, or gold-threaded fabrics.
Interesting Facts About Dusty Pink
Dusty pink has risen in popularity in fashion and interior design over the last decade.

Dusty pink is a popular choice for wedding schemes and is commonly paired with champagne and white.

Pink was used in prison cells during the 80s to reduce aggression amongst inmates, thanks to its calming effect. However, color psychologists found that the color's soothing qualities were short-lived.

In the 80s, the University of Iowa football team made tactical use of the color pink. They painted the visitor's locker room pink in the hope that it would reduce the opposing team's aggression, giving the home team a psychological advantage.