Discover the secret to achieving a perfectly balanced color scheme.
You've probably heard us mention the 60-30-10 rule before. The tried and trusted interior design technique is a go-to for balanced color scheming. If you're wondering what it's all about, you've come to the right place. Read on to discover what it means, how to apply the rule to your home, and how to break it.
What is the 60-30-10 Rule?
Put simply, the 60-30-10 rule is a technique used by designers in multiple industries to ensure the perfect color balance, be it for a print ad, an outfit, or, in this case, a home. The rule breaks down how to use color into an easy-to-understand concept that anyone can apply to build a harmonious interior.
Let's work backward. If a complete, balanced interior represents 100%, this technique takes that 100% apart to form a sort of "color hierarchy." It is broken down into three essential parts:
1. 60% is the main color.
2. 30% is the secondary color.
3. 10% is the accent color.
How to Use the 60-30-10 Rule
Think of the 60 hue as the foundation of a room. It is the most dominant color that covers the largest surface area, in most cases, the walls. This color forms the backdrop and starting point upon which you'll build the rest of the scheme.
The secondary color, or 30% of a scheme, is the real star of the show and a natural eye-catcher. It usually consists of a color that contrasts the backdrop, stealing the viewer's attention by adding depth and interest to the scheme and allowing the 60% to take a back seat.
Use half as much of this color as the 60 shade. This could be a sofa, curtains, or an area rug in a living room. Or, for a bedroom, a feature wall, accent chair, bedhead, or bedding. Have fun with textiles, and feel free to experiment with different tones of the secondary color to keep things interesting.
Last but not at all least, we have the 10 hue, also commonly referred to as an 'accent color.' It typically consists of a complementary color to the secondary hue. The cherry on the cake of interiors, the final 10% lifts the scheme, creates a sense of cohesion and balance, and adds that final touch of* je ne se quoi*. Bright, vibrant colors work particularly well as an accent, as do metallics. Introduce pops of color into a scheme through smaller items, like hardware, table lamps, scatter cushions and throws, sculpture and artwork, coffee table books, and other decorative accessories.
Putting the 60-30-10 Rule into Practice
Let's have a look at the rule in practice: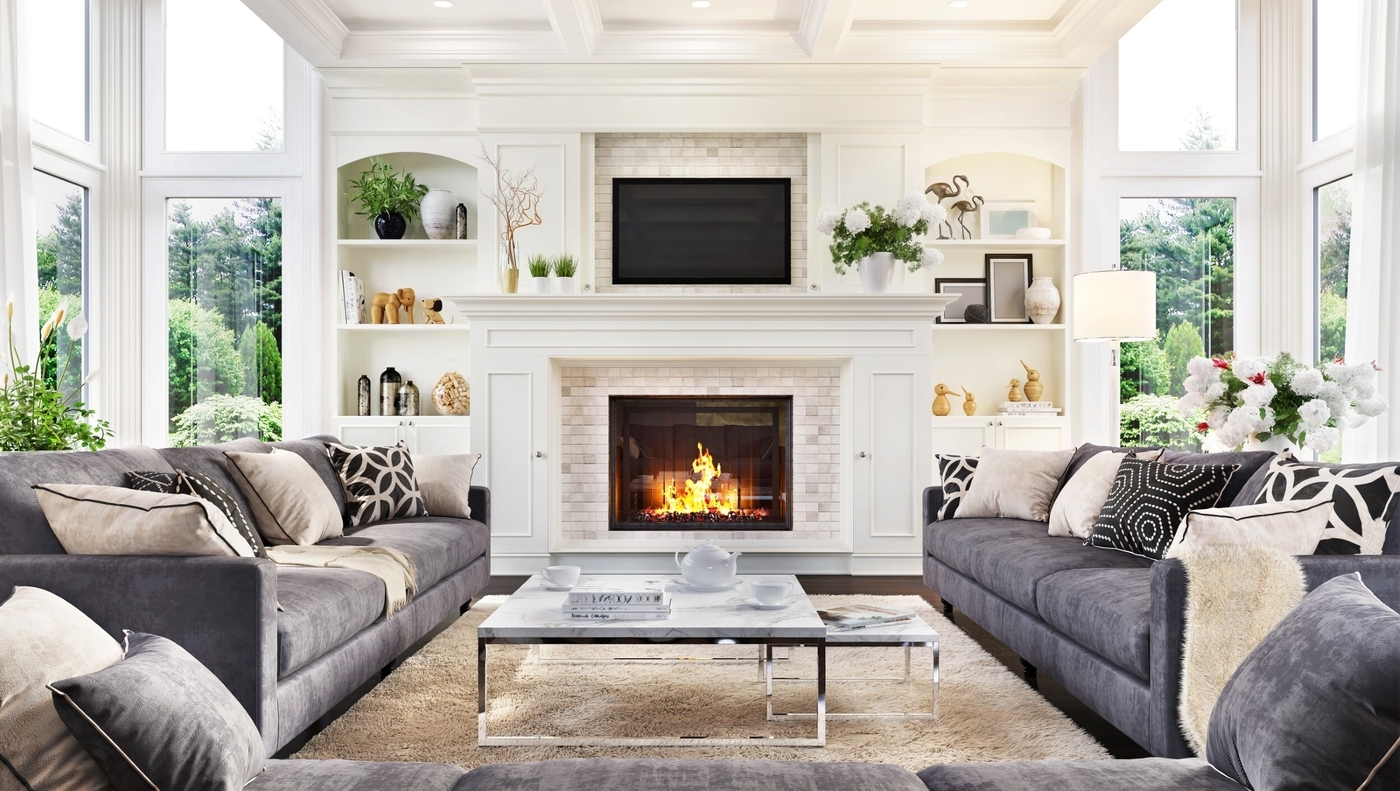 The 60-30-10 rule has been meticulously applied here to create a luxurious neutral living room scheme:
60% is cream on the walls, ceiling, brick fireplace, and central rug.

30% is mid-tone gray with the three sofas.

10% is black via patterned scatter cushions, black vases, sculptures, and picture frames.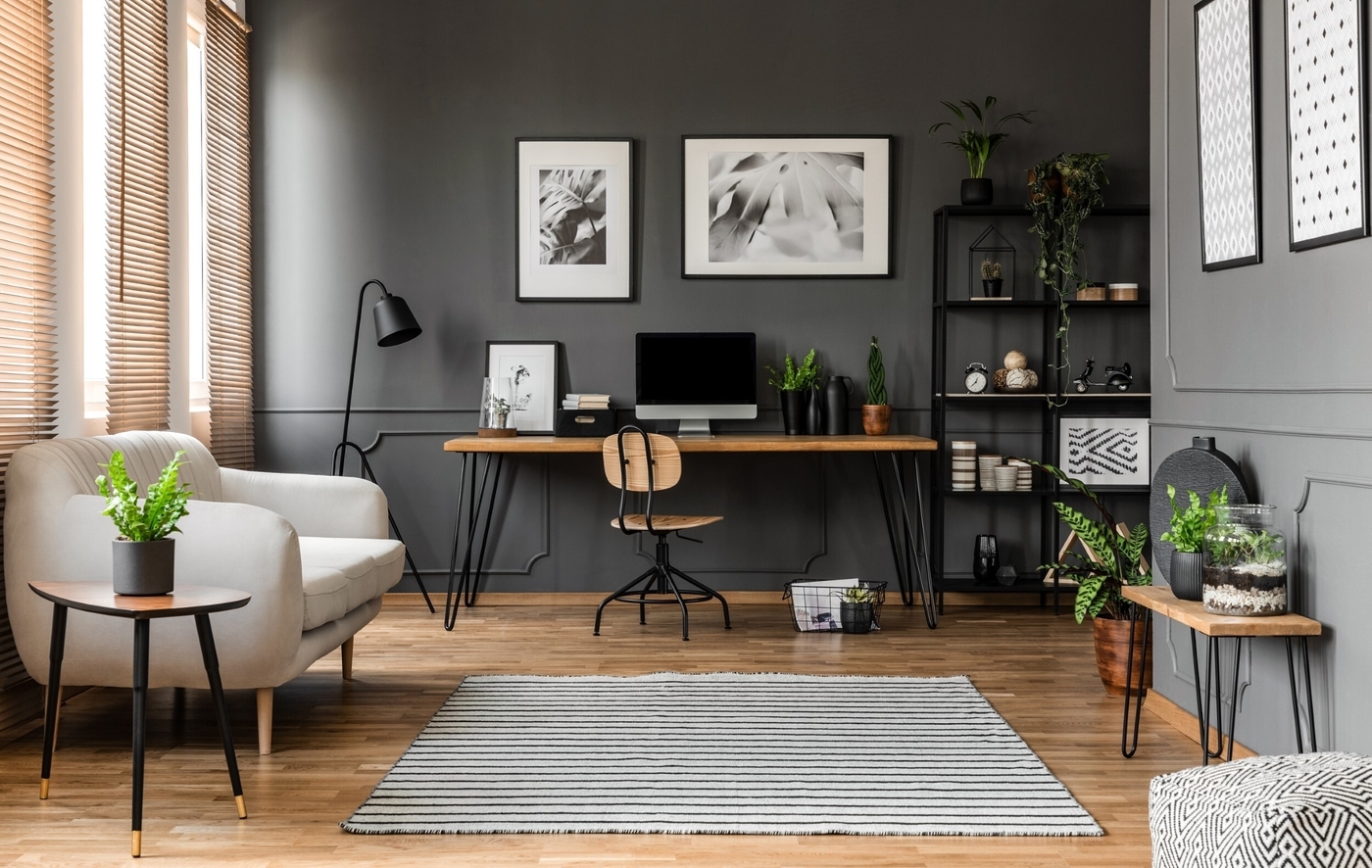 This home office is an excellent example of how to use the 60-30-10 rule with dark wall colors to create the perfect balance of a moody yet bright interior.
60% is charcoal gray for a dramatic scheme.

30% is brown or wood texture through flooring, blinds, and furniture.

10% is black and white via a loveseat, black and white prints and textiles, a black lamp, plant pots, and other decorative details.

There's also an extra 5% of green introduced through the plants. This is a clever way to add more color to your scheme without veering too far from the formula.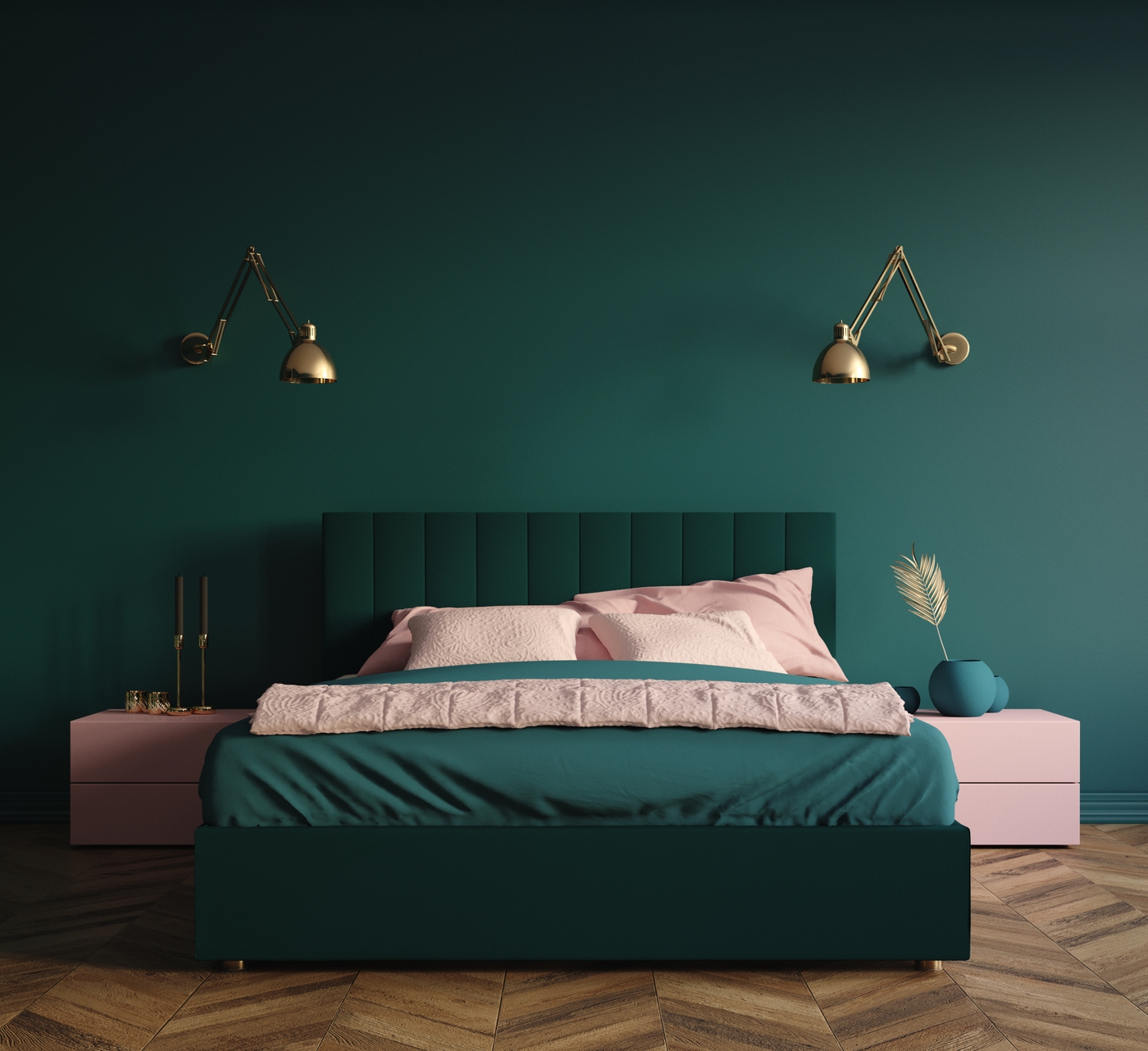 The 60-30-10 rule is a safe way to pull off a bold scheme and experiment with color without overwhelming, as this bedroom has done so effortlessly.
60% is a rich dark green on the walls, bed, and bedding.

30% is dusty pink via the bedside tables, pillows, cushions, and throws.

10% are materials, with wood on the floor and dashes of gold metallics through lighting and decorative accessories.
Can you apply this rule to any color combination?
It's important to reiterate that this rule isn't a recipe for the perfect color palette. However, what it is is a tool for achieving the perfect balance of colors within a scheme. You can use the 60-30-10 rule alongsidea color wheel to create a cohesive palette. A safe bet is combining colors that have the same undertone, keeping cool colors together (any hue with a blue, green, or purple undertone), and vice versa with warm colors (any shade with a yellow, orange, or red undertone).
Alternatively, look for color inspo in a fabric or wallpaper design or a nice piece of artwork. That way, the designer or artist has already done the hard work for you in putting together a tasteful color palette. All you have to do is extract the key colors to build your color hierarchy.
How does the 60-30-10 rule apply to a monochrome scheme?
You can apply the 60-30-10 rule to a monochrome scheme the same way you would usually. However, instead of using different colors, you would choose different shades of a single color. For example, in this chic bedroom, black represents 60% of the walls, side tables, and lamps, 30% is white via the ceiling, bed, and accent chair, and 10% is dark gray with the bedding.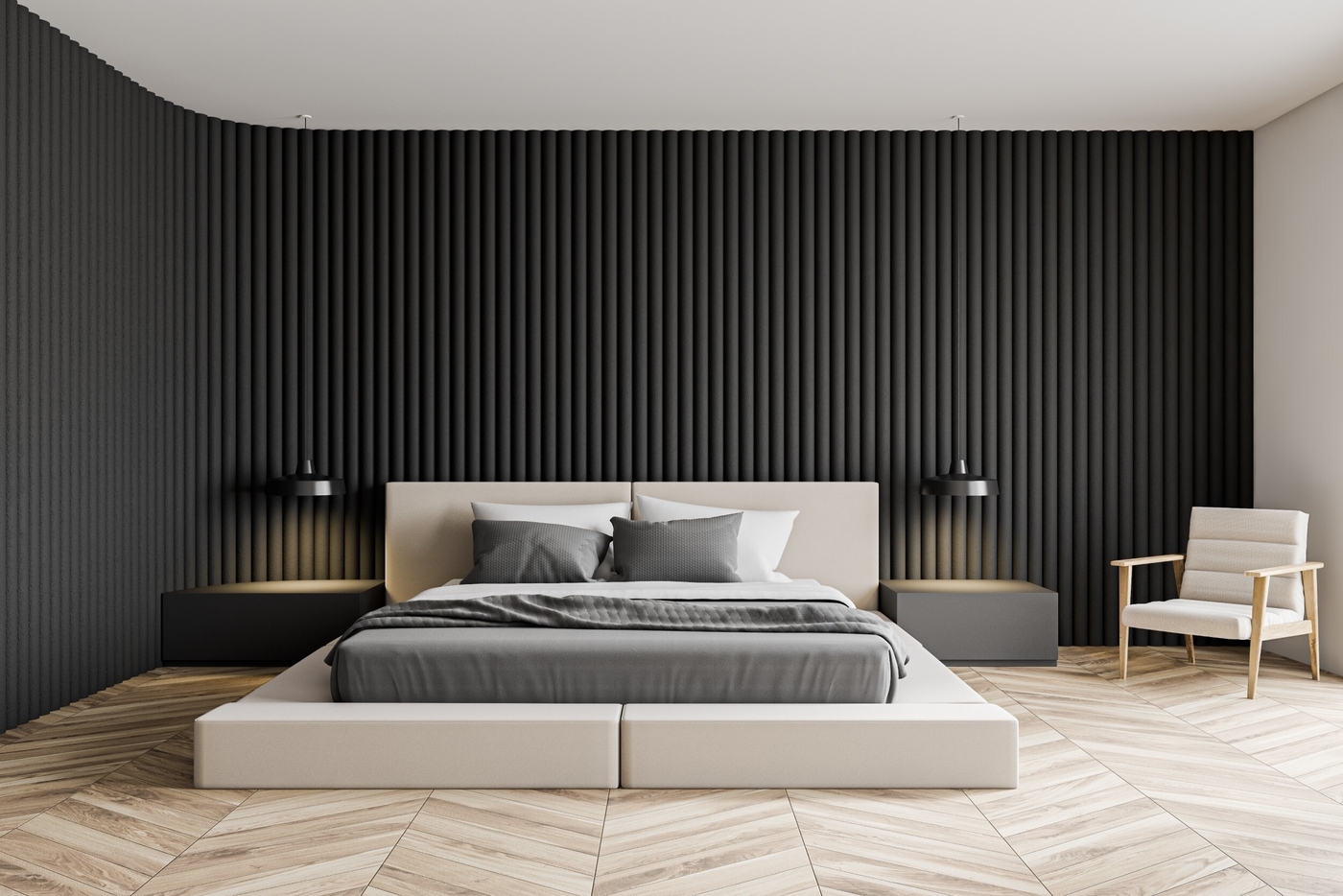 Breaking the 60-30-10 Rule
You can't break a rule if you haven't abided by it in the first place. Once you've grasped the basic premise of this 60-30-10 technique and put it into practice a few times, you're in a stronger position to break it. And, you'd be in your right mind to. After all, rule-breaking is the impetus for every new design movement.
Here are some initial ideas to get your creative juices flowing:
Give an Extra 10%
It never hurts to go that extra mile. Sometimes one accent color just isn't enough, so why not add another 10% of something else? After all, who said you have to limit yourself to 100%?
Write Your Own Rules