Leading paint brands have cast their votes for the color of 2022 and the winner is… [drum roll] … green! In tune with the world's environmentally friendly and wellness-focused tendency, the color green encourages our connection with nature and evokes a refreshing, revitalizing and calming influence. In the new year, we're welcoming soothing, restoring and optimistic shades to accompany us as we start afresh.
Green: The Basics
Conjuring images of lush forests and rolling hills, the color green in interior design is a symbol of nature, health, growth, hope, vitality and renewal. In feng shui, green belongs to the wood element and is associated with new beginnings, and abundance in health and wealth. In recent years 'green' has also become a verb, meaning to make something, or someone, more environmentally friendly and aware.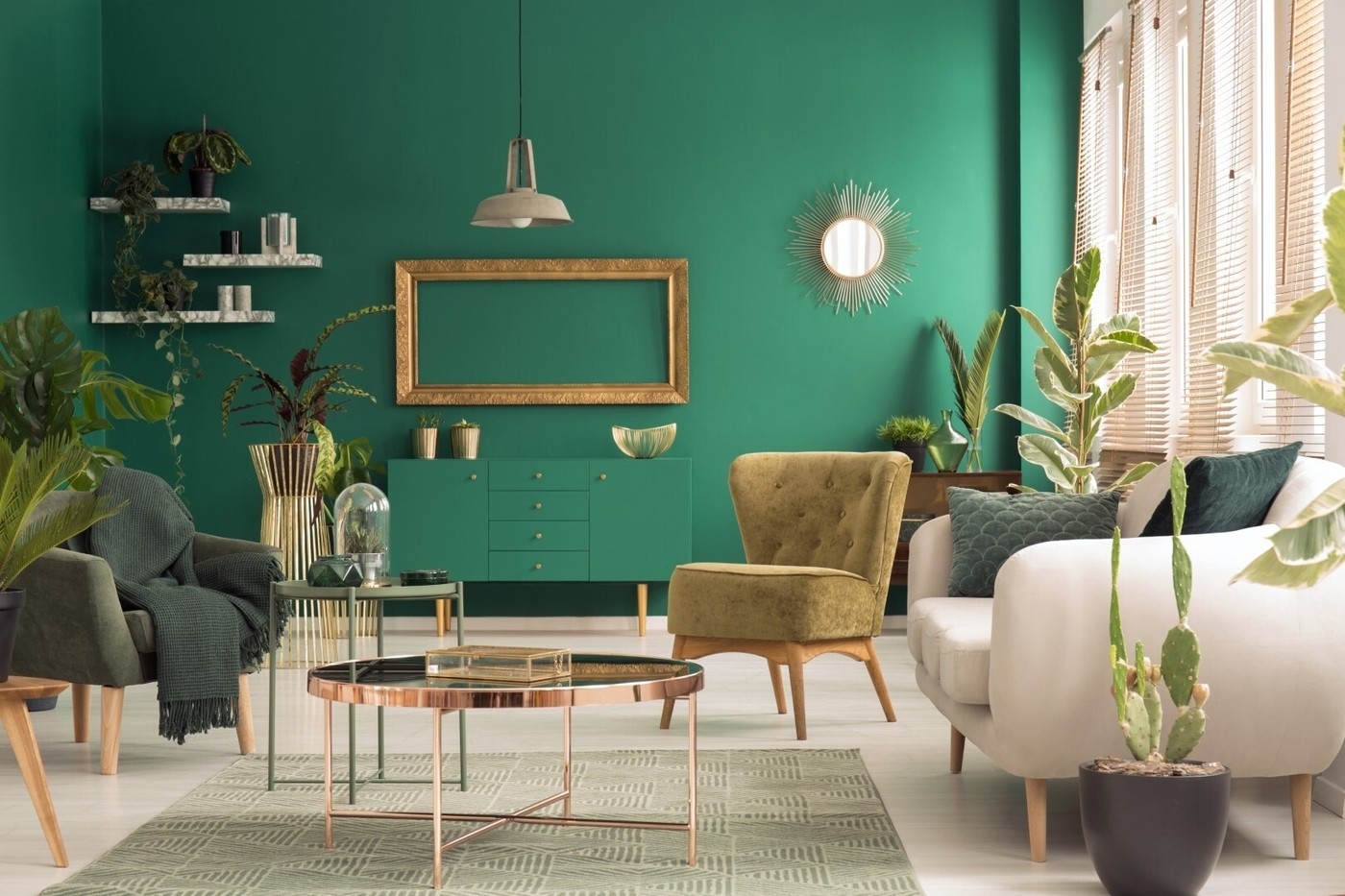 A secondary color produced from mixing blue and yellow, green carries both the energizing trait of yellow, and the calming effect of blue. In fact, scientific studies show that verdant environments have a relaxing effect both mentally and physically, decreasing the heart rate and alleviating depression, anxiety and stress. Of course, the tonal variety of the color greatly influences its effect; greens with a yellow undertone, such as lime, spring green or chartreuse, are stimulating and revitalizing, whereas greens with a blue or grey undertone, like celadon, sage, and jade are deeply soothing. Bear in mind, the same color can vary in appearance in different rooms and even on each wall, depending on the cardinal direction and natural light as it changes throughout the day.
The 'On Trend' Shades of Green
Forge a deeper connection to nature with these reassuring green hues: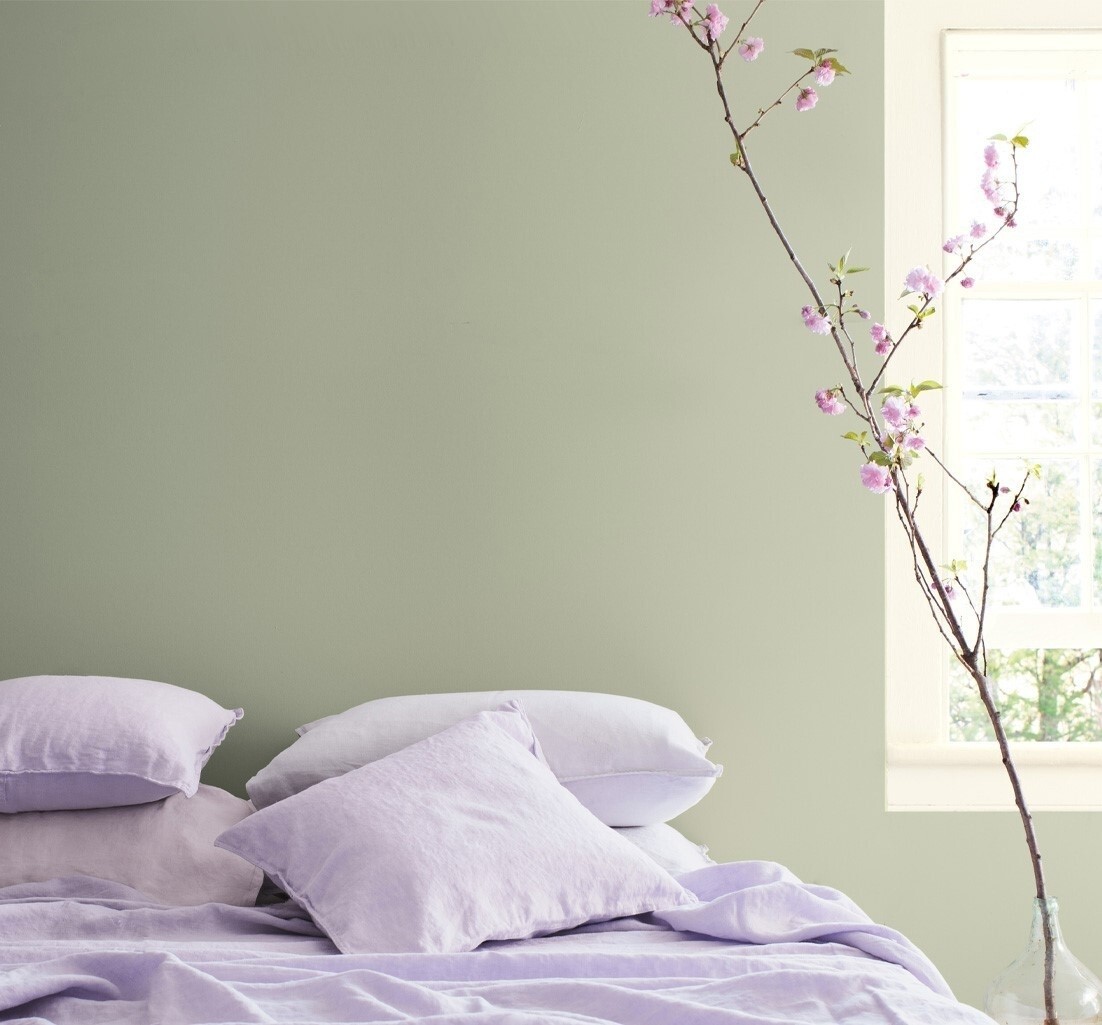 Fresh and uplifting, this nature-inspired shade evokes the silver-green stem of a flower. The mellow sage hue is a refreshing neutral, making a soothing and reliable foundation on which to get creative with endless color combinations. Benjamin Moore's Color Trends 2022 palette helps you do just that, with 14 diverse colors (including October Mist) which can all be effortlessly combined in a unique individual expression. Create a warm, earthy palette with Wild Flower red, or brighten up a north-facing room with soft Pale Moon yellow accents.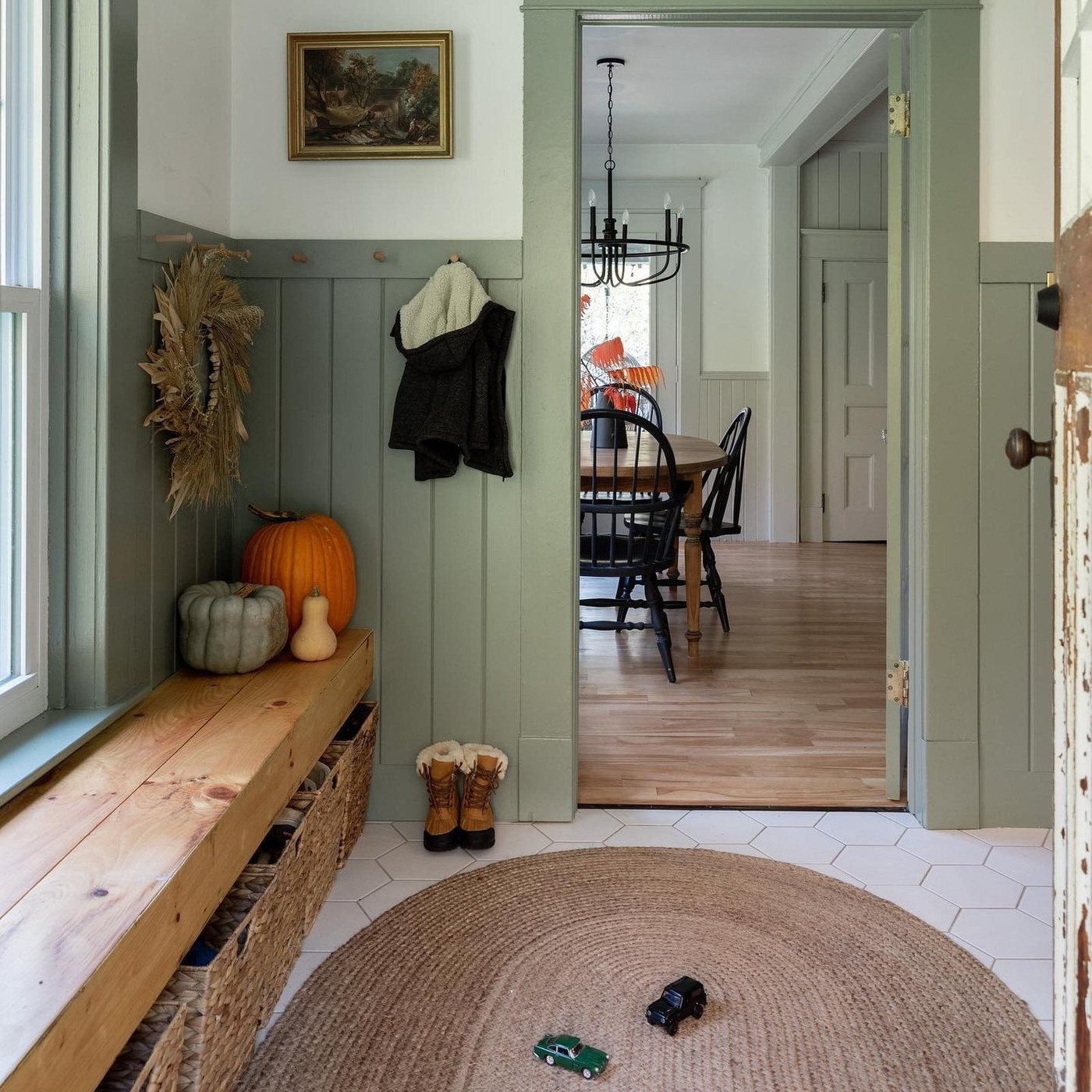 A sophisticated gray-green shade, Evergreen Fog gently anchors and revives both modern interiors and exteriors. The versatile shade excels both as areassuring base color and a comforting statement hue. For a dark, rich, cozy feel, use it in a north-facing room that receives less natural light; in a south-facing room the shade will appear lighter and it's greige undertones will come through to complement modern decor.
The natural hue forms part of the Sherwin-Williams Method palette, formed of a combination of organic neutrals that take inspiration from art deco, modern organics and postmodernism.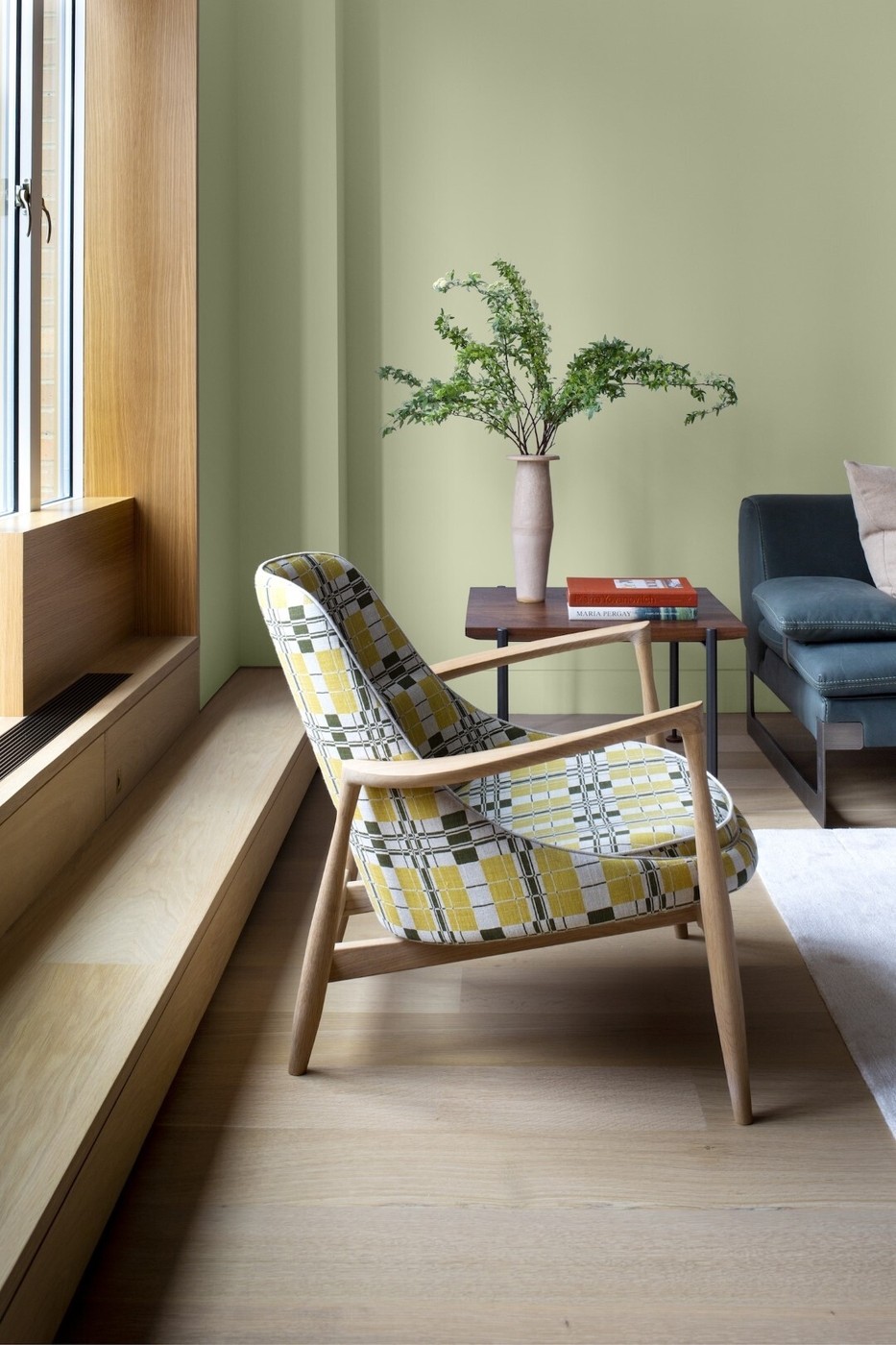 Inspiring new beginnings, this organic midtone evokes a feeling of harmony and peace of mind, making it the perfect backdrop for a serene sleep sanctuary. The versatile green shade is perfect for subtly lifting the mood in north-facing rooms, without overpowering the space. Liven up the grey-green canvas with soft floral accents and hints of brass, and use layers of natural textures and wooden furniture to ground the nature-inspired scheme.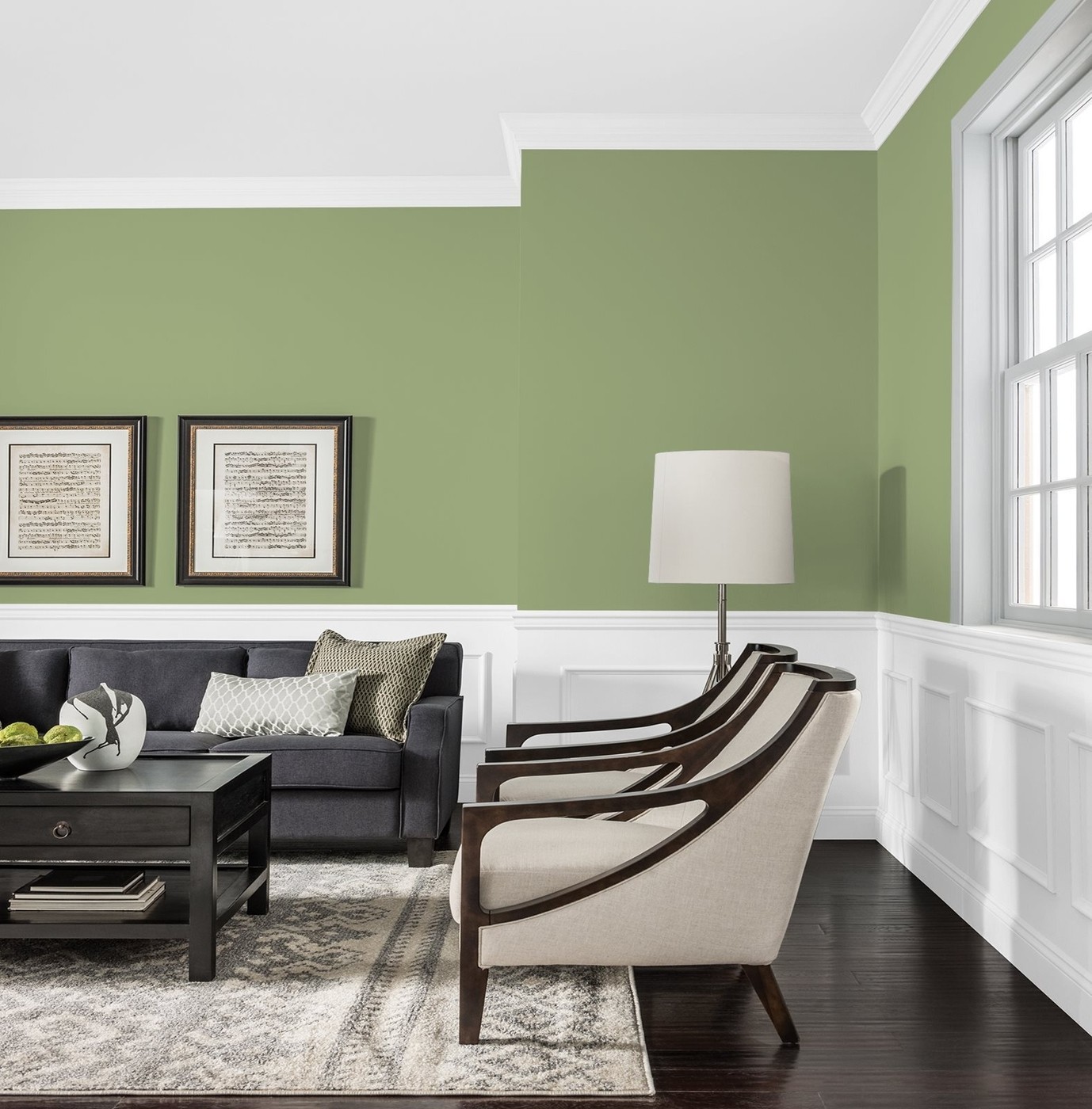 Delectably creamy and gloriously grammable,this invigorating shade is true to the popular avocado-based Mexican dip it was inspired by. A spirited green, the yellow undertone infuses a space with energy and a sense of health and rejuvenation, making it the perfect color to spice up your kitchen decor. The hue works miracles in north-facing rooms, as it bounces light around the space.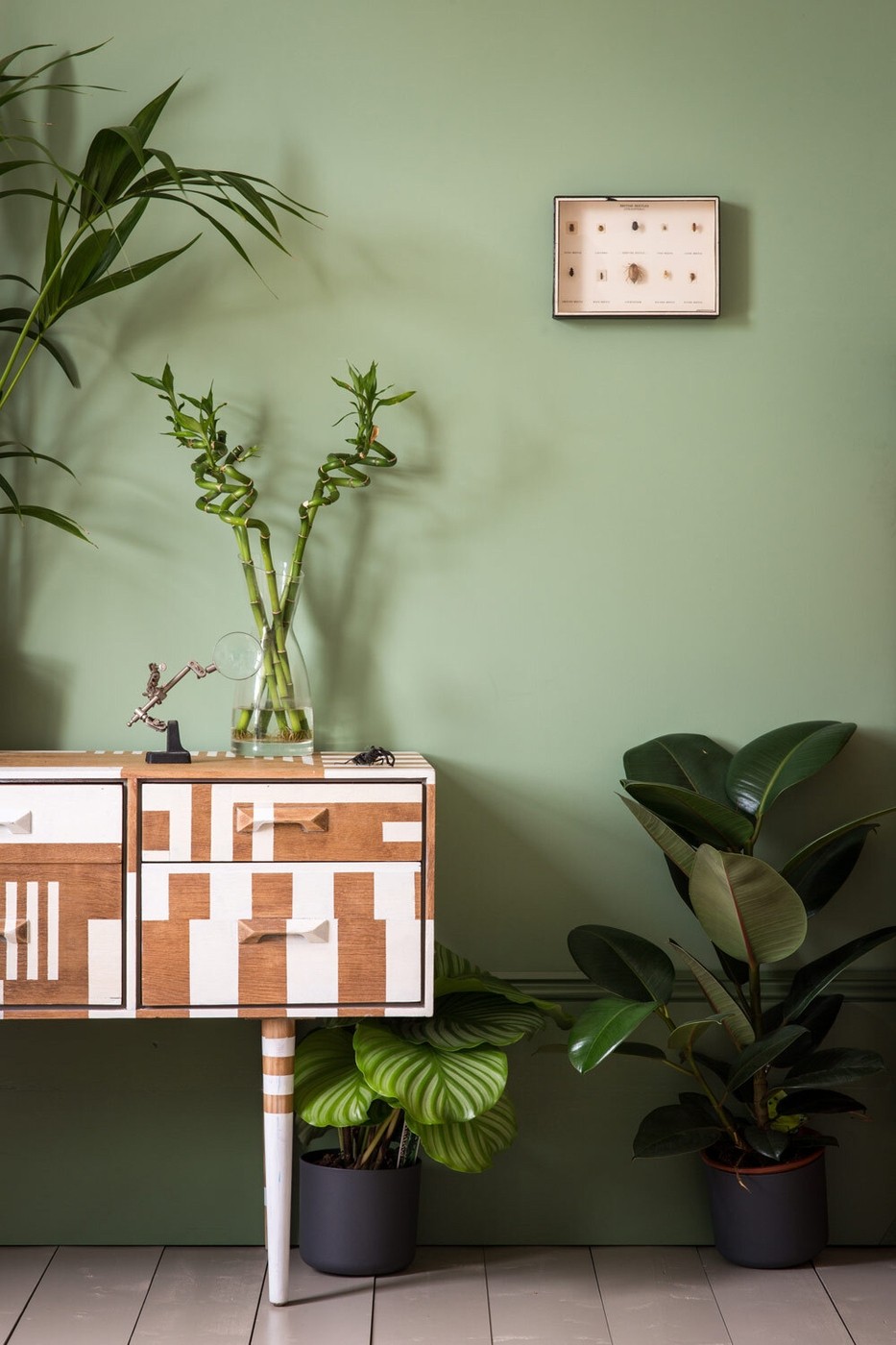 One of Farrow & Ball's five trending paint colors, this cheerful green hue is nostalgic, comforting and humble. The color's vigor shines through in both sunlight and candlelight, though it is particularly uplifting and revitalizing at first light. Use it on walls and woodwork to maximize the color's invigorating energy and make a striking statement.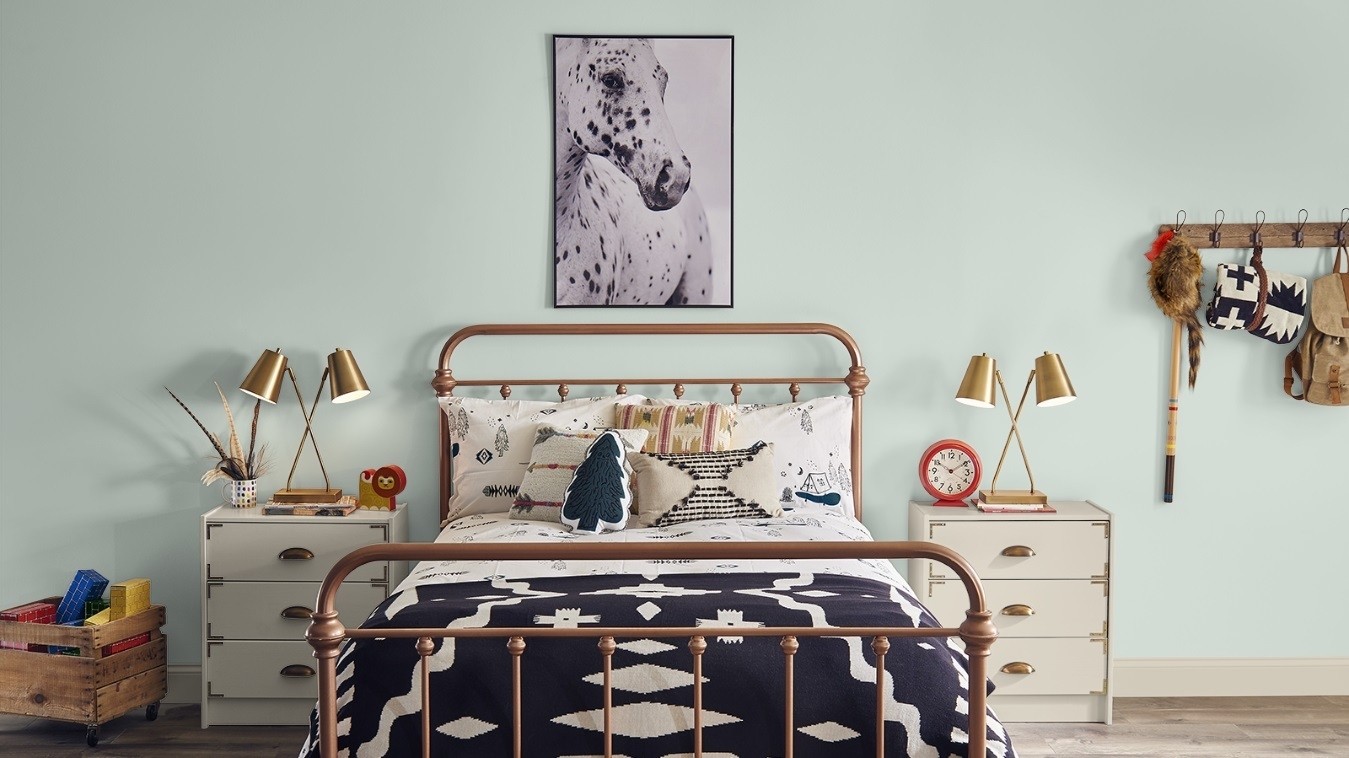 Inspired by the pastel-colored sea glass washed up on sandy shores, this cool silver-green shade is deeply refreshing. Welcoming the new year on a hopeful note, the light tone inspires new beginnings, a sense of restoration and healing, and the pursuit of untapped passions. The versatile color makes pairing a breeze, with colors like blush pink, taupe and laurel working particularly nicely. It's cool undertones mean it's destined for a south-facing room.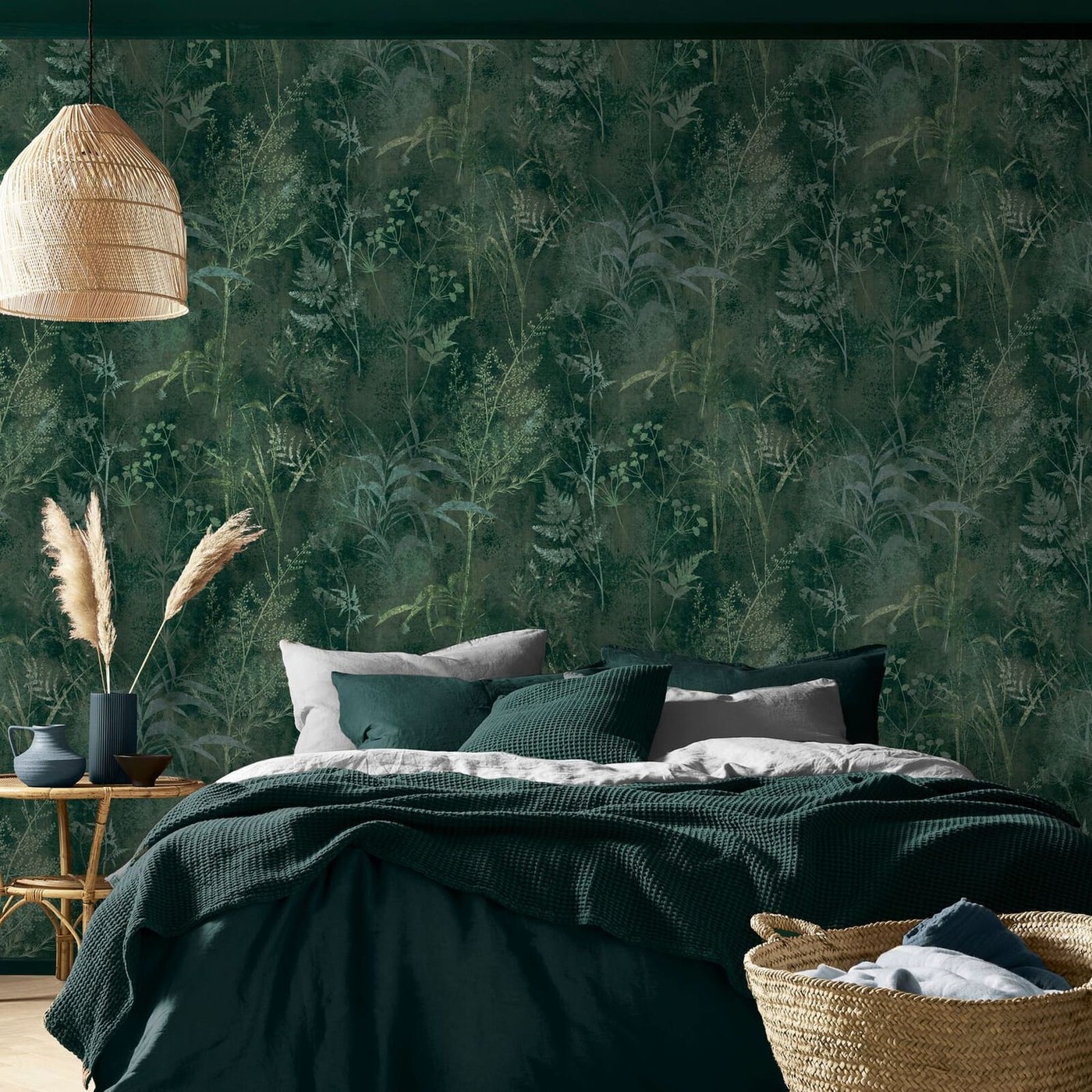 Dulux and Graham & Brown have opted for a blue hue as the color of the year, however green doesn't escape their trending palettes. Whilst Dulux features familiar, soothing green shades such as Calming Meadow and Fresh Foliage, Graham & Brown have put forward Restore Emerald, a strikingly rich wallpaper with exotic botanical prints that instantly transport you to the depths of a throbbing tropical rainforest.
5 Ways to Decorate with 2022's Verdant Palette
1.

Follow nature's lead with a green-based neutral

The predominant color of the natural landscape, green is without a doubt nature's neutral, so why can't it be yours too? A refreshing alternative to gray, beige, taupe and cream, soft shades of green - like Benjamin Moore's October Mist or Sherwin-Williams' Evergreen Fog - make a soothing and versatile backdrop. A green-based neutral can make even the tiniest drop of color pop. And, when considering the abundance of natural botanical pigments, we can see almost all colors pair well with the easy-going hue.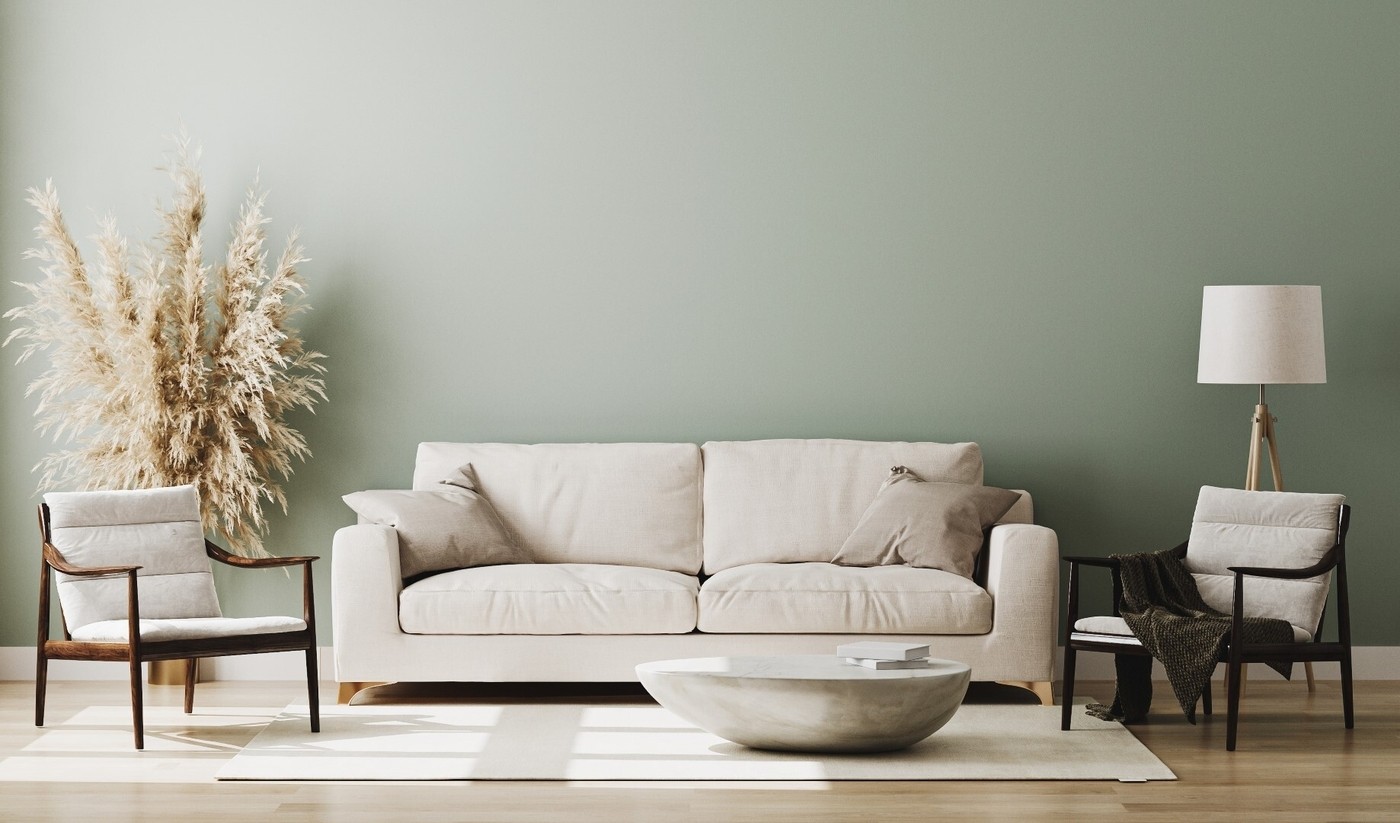 To pull off a neutral green understated chic scheme, the key is to inject interest and depth into the space with an abundance of texture. Consider trendy and sustainable rattan and bamboo, natural wood elements, linen, velvet and chunky knits. Add a spot of color and a dash of pattern through cushions, throws and lampshades and look for furniture or decor with grounding black and/or metallic features.
2.

Dress up your scheme with green accessories

Add a verdant punch to your color scheme with refreshing green accents. Bright, vibrant and eye-catching colors tend to work best, like Glidden's Guacamole or Graham & Brown's emerald shade. Think of accents as the accessories of your scheme; complementary or contrasting, they are used in small quantities to create visual contrast and interest, add personality, and complement the overall look.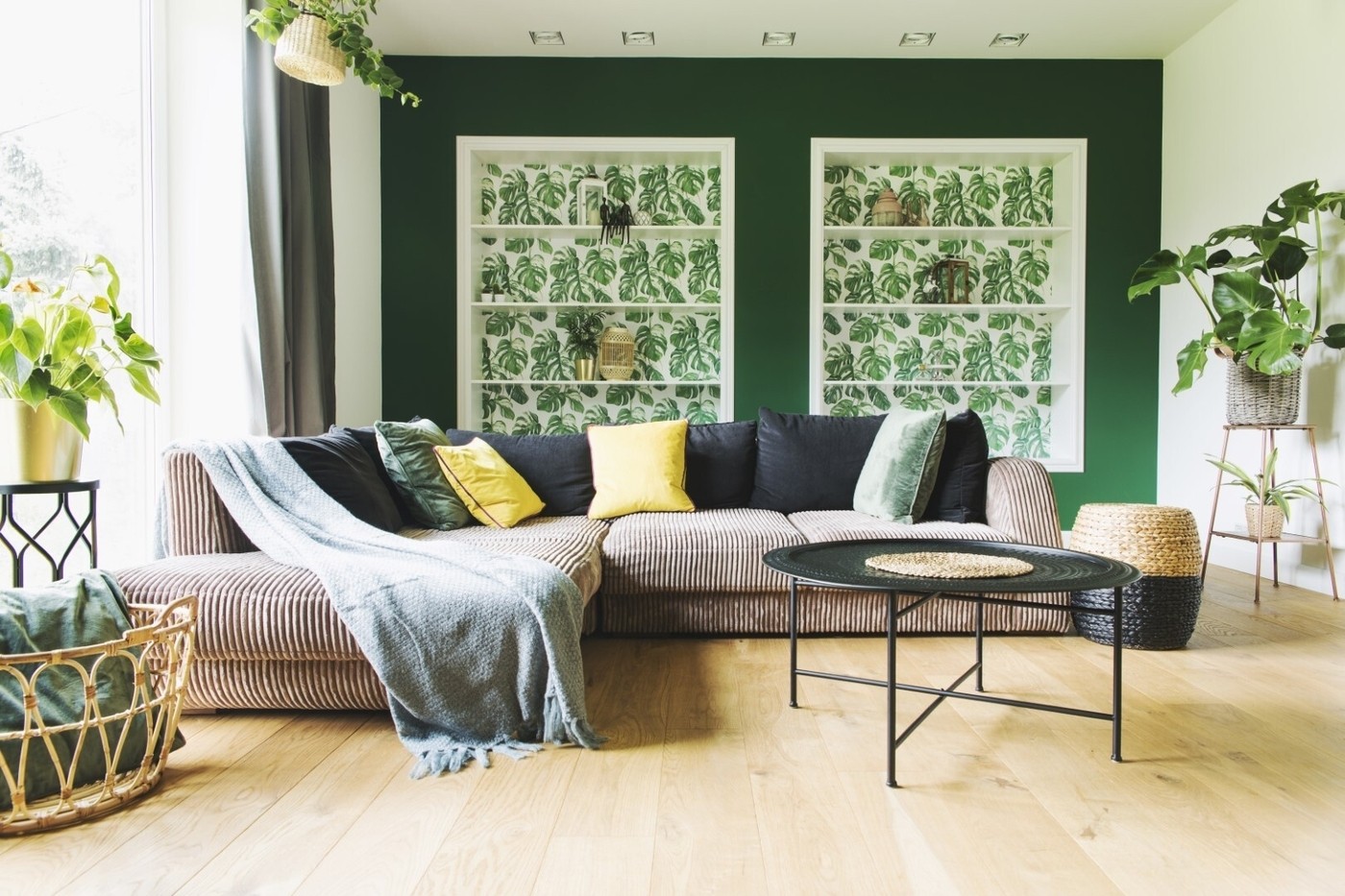 A conventional way to accent is with decorative accessories such as lamps, cushions, plants, vases, or maybe even a headboard or slipper chair. For a more playful technique, consider highlighting small, interesting architectural features like paneling, dado rails and picture rails, skirting boards, or window frames. Unexpected splashes of color in wall niches, alcoves or built-in bookshelves also liven up a space and infuse it with unique character.
3.

Harmonize walls and woodwork with one verdant shade

If you're looking for ways to make a room feel bigger or more high-end, listen up! Pick your preferred verdant shade and spread it across both walls and fitted furniture. By blending built-in cupboards and shelves seamlessly into the room's perimeters, it will appear less crowded, more spacious and create a cohesive feel.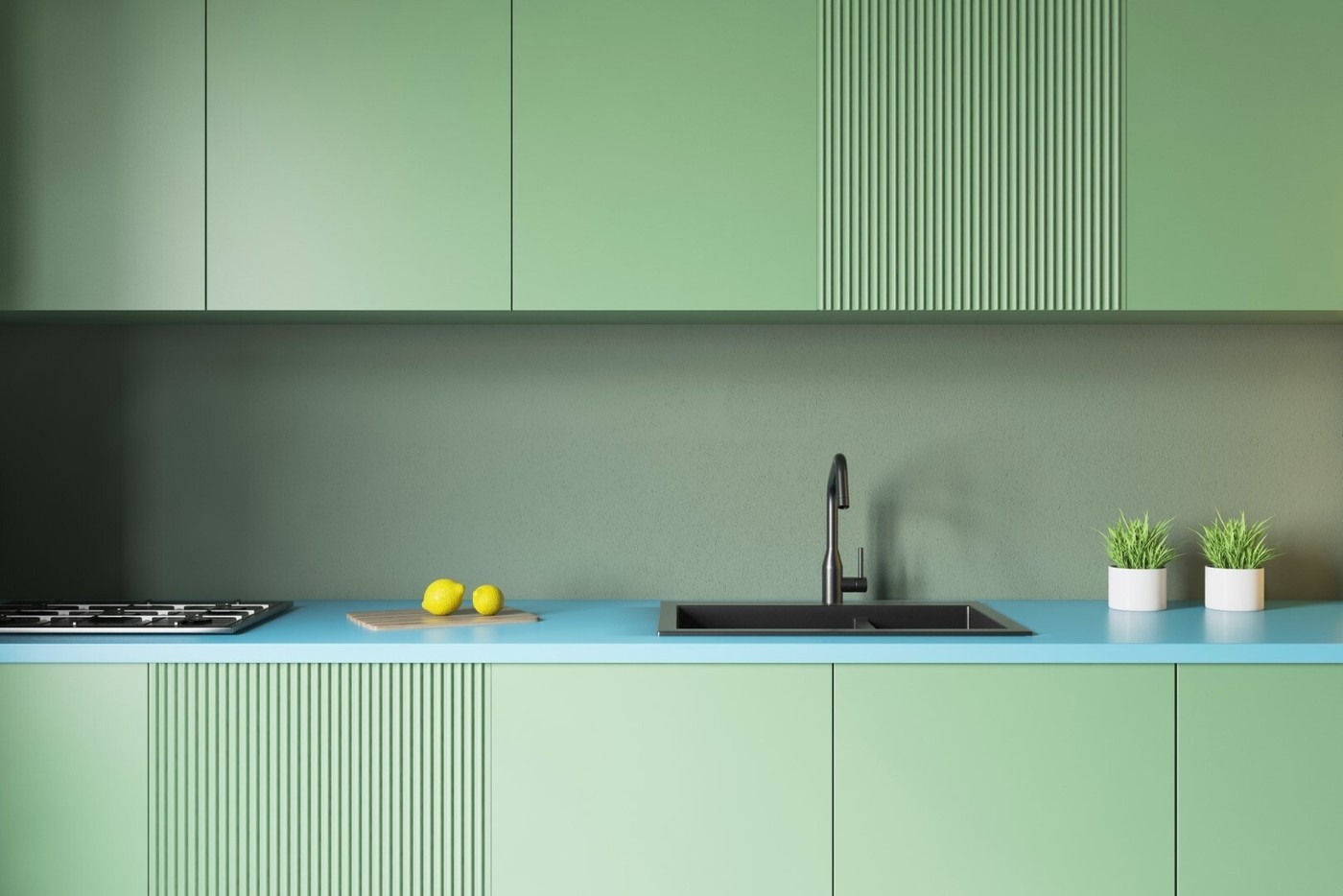 The same technique works magic on non-fitted furniture too; from shelves and cupboards, to benches or desks. Give it a lick of paint to match the wall color and it will immediately have that sophisticated, built-in look. Any green shade will work, it depends on the mood you want to create. For a comforting, tranquil living room try Olive Sprig, or opt for a livelier shade like Breakfast Room Green, destined for the east-facing room it's named after.
4.

Put your stamp on the scheme with green pattern

When it comes to creating a scheme, there is nothing that sings louder than pattern. It has the power to transport you around the globe, or time-travel back to an era you wish you'd lived. Let your imagination run wild with Graham & Brown's Restore Emerald wallpaper, or transport yourself to 18th Century France with a green vintage toile de Jouy. For can't-go-wrong timeless patterns, think classic stripes, refined fretwork, or blurry ikat.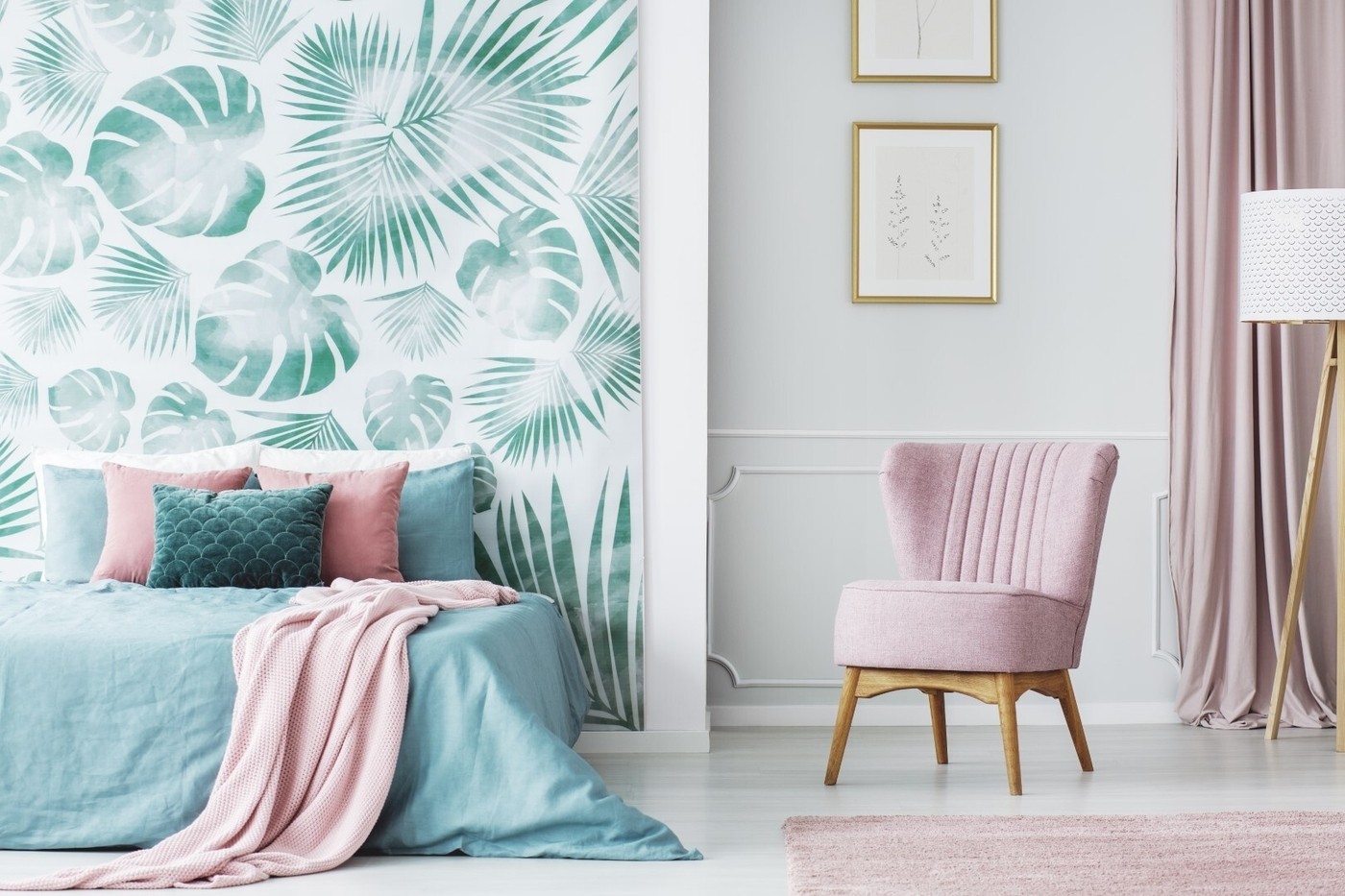 Use as much pattern as you feel comfortable with. If you find patterns stimulating, use them on the wall to make a feature or focal point. Beware that excessive use of prints and bold designs can feel overwhelming. In this case, look for a subtle pattern, or use prints sparsely on soft furnishings.
5.

Pair red and green for a complementary scheme

Before you scroll on and dismiss red and green as a combination reserved for Santa's grotto, let us show you how you can turn it into a statement combination, year-round. Firstly, forget about saturated hues, opting instead for muted tones, like Benjamin Moore's deliciously comforting October Mist and Wild Flower red. Choose one as a dominant color and use the other as a secondary or accent. Then, break them up with a light neutral and add depth with a darker shade.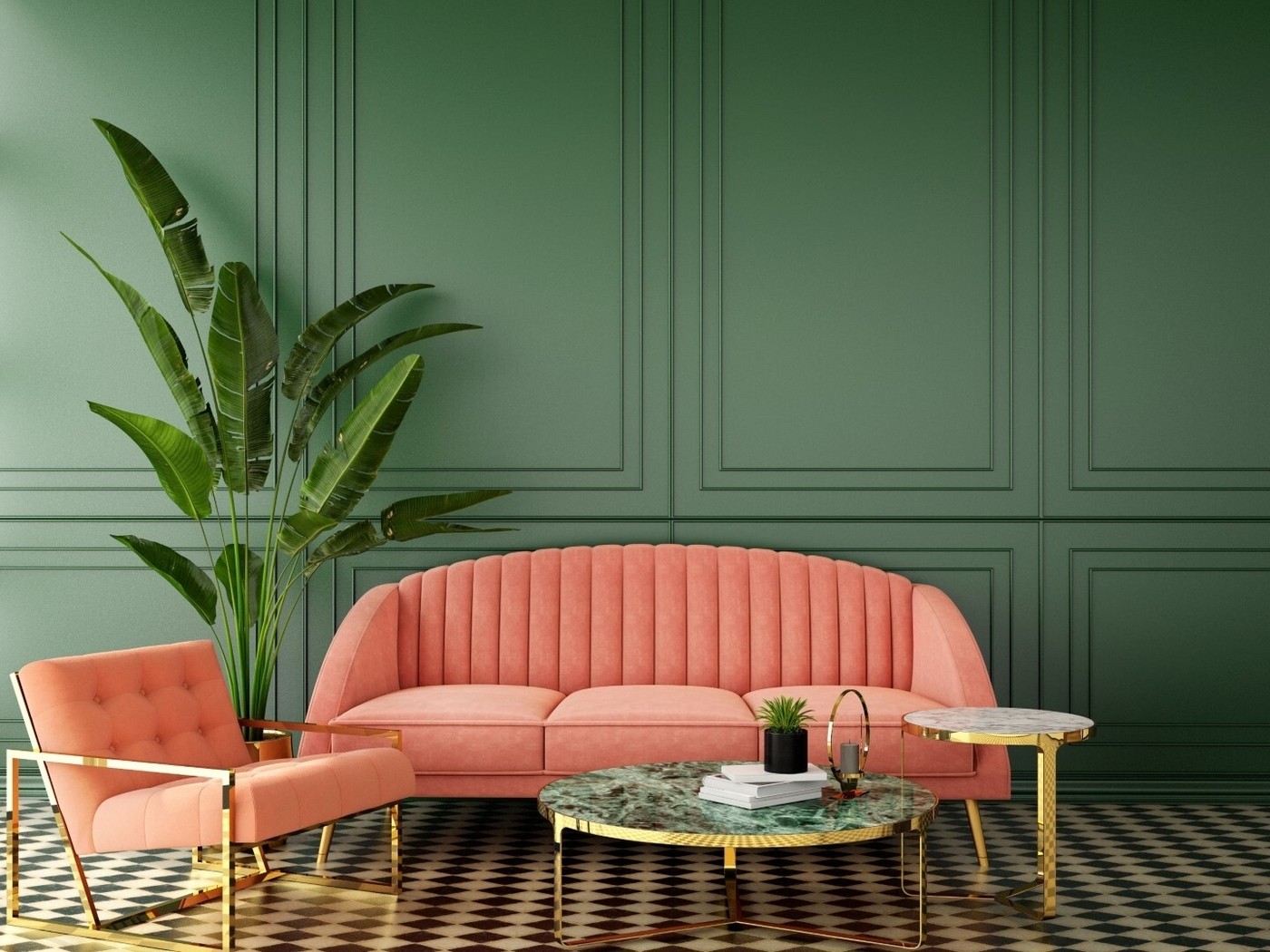 Sitting opposite each other on the wheel, green and pink are a killer combination for a modern or country-style interior, and present the perfect opportunity to introduce florals and botanicals. For a restorative space, pair a dominant mellow sage green with accents of deep pink, or use a baby pink backdrop to make dark green accents pop.