Clothes racks can be a practical and beautiful addition to any bedroom. Whether you're planning on using them to create a capsule wardrobe or to have your all-time favorite items always at hand, they'll allow you to turn your clothes into a stylish decorative statement.
We're going to show you our favorite ideas to use a clothing rack to complement different types of decor styles, but is there anything else that you should consider before buying one?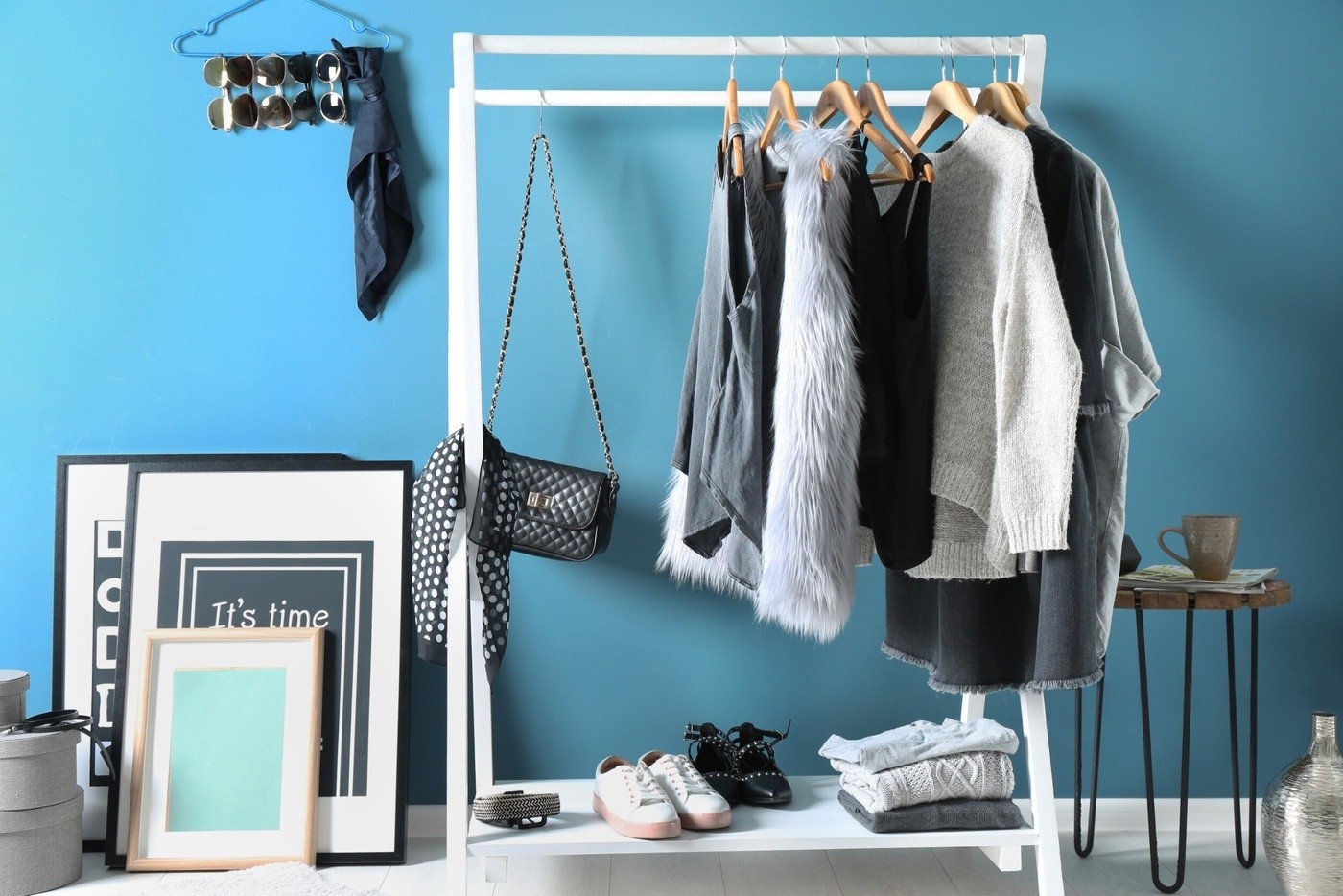 Here are the most important points:
Find the right spot for it and measure that space so that you don't run the risk of choosing a clothes rack that feels a bit crammed

How many garments are you planning on displaying on it? If you can, run a quick inventory and place them next to each other to see how long a rod you'll need (if you already have a wardrobe, that'll be the easiest way to do it)

As well as garments that you can hang, is there anything else that you want to store on it? If so, you can find clothes rack with a lower shelf for shoes as well as some space to display accessories like hats
As for scouting for the right clothes rack for your specific interior style, keep reading!
If you have a contemporary room, you probably know this already: the focus should be on functionality rather than decorative details.
To reinforce this with your new clothes rack, look for a model boasting simple and streamlined shapes.
For example, this contemporary rack consists of a single frame with a practical shelf for shoes and other accessories, but it also incorporates a few hooks without distracting you with excessively ornate lines.
2.

Mid-century modern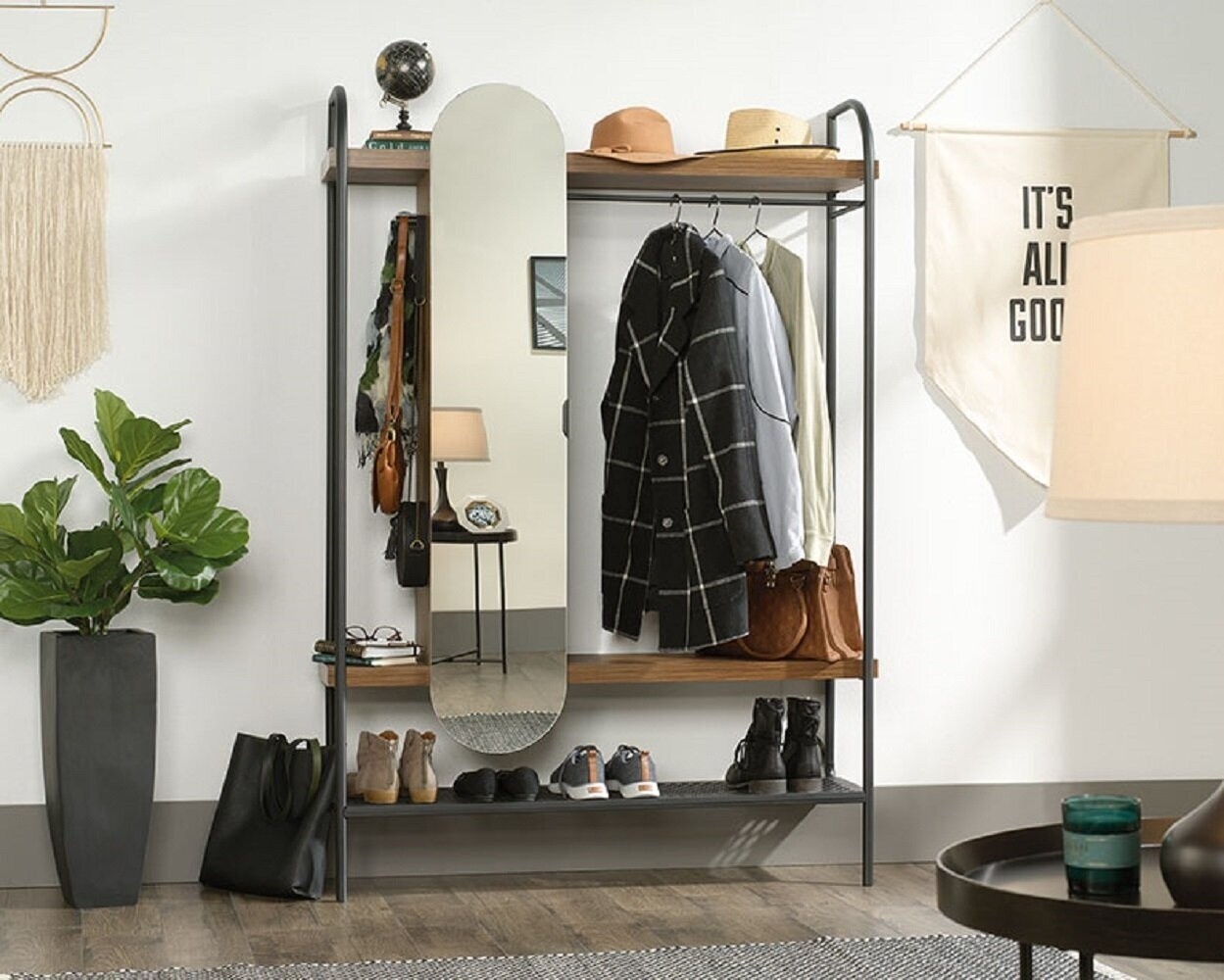 This decor can be a tricky one to complement since clothing racks weren't really a thing in the 50s and 60s. Still, nothing that we can't get around with the right design!
To homage the most common features of this retro style, consider looking for a clothes rack that includes a dark wood finish and elements in long, rectangular, or oval shapes. For example, how about this clothes rack with a practical mirror on the front?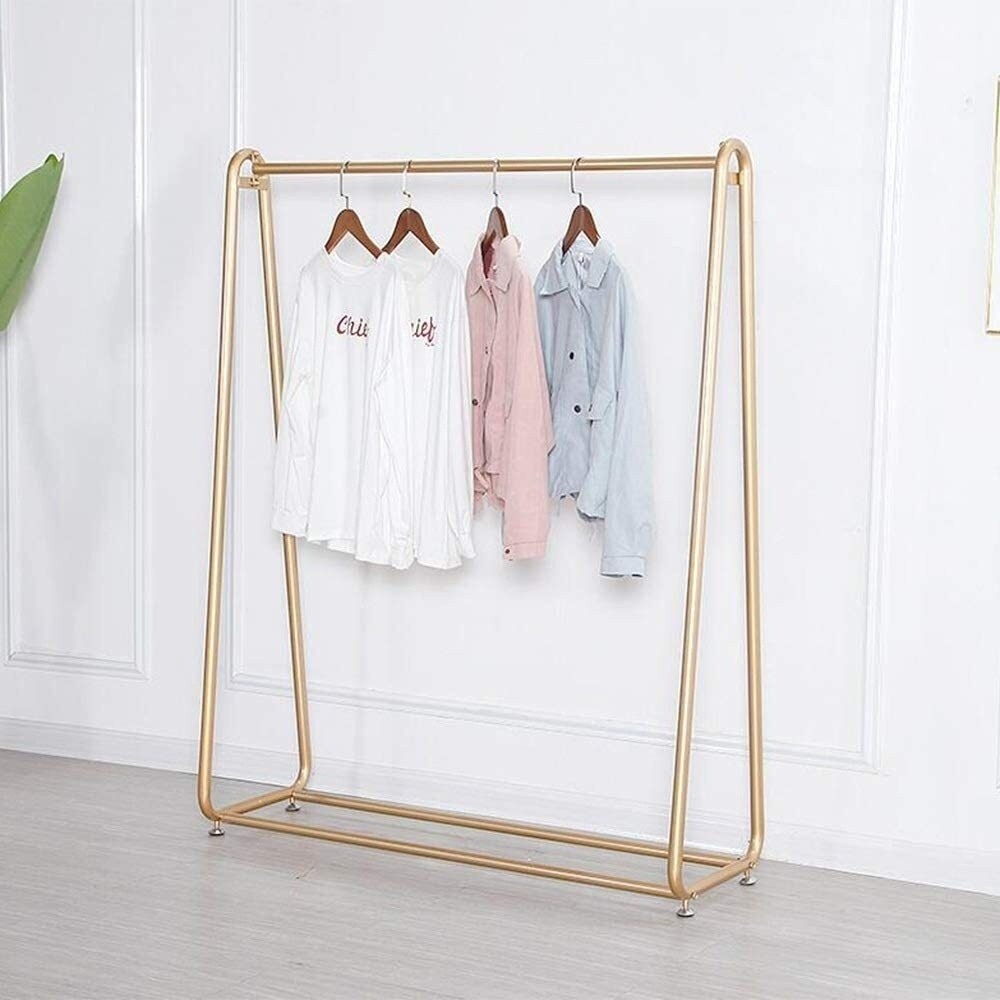 When choosing a clothes rack for your art deco interiors, ask yourself: would this model look out of place in one of Gatsby's parties? If the answer is no, go for it!
The easiest way to scout for the right one is to choose a clothes rack in one of the high-shine finishes that characterize this period.
Metallic touches such as brass or chrome are especially key to emphasize the glitz of this vibrant style.
4.

Hollywood regency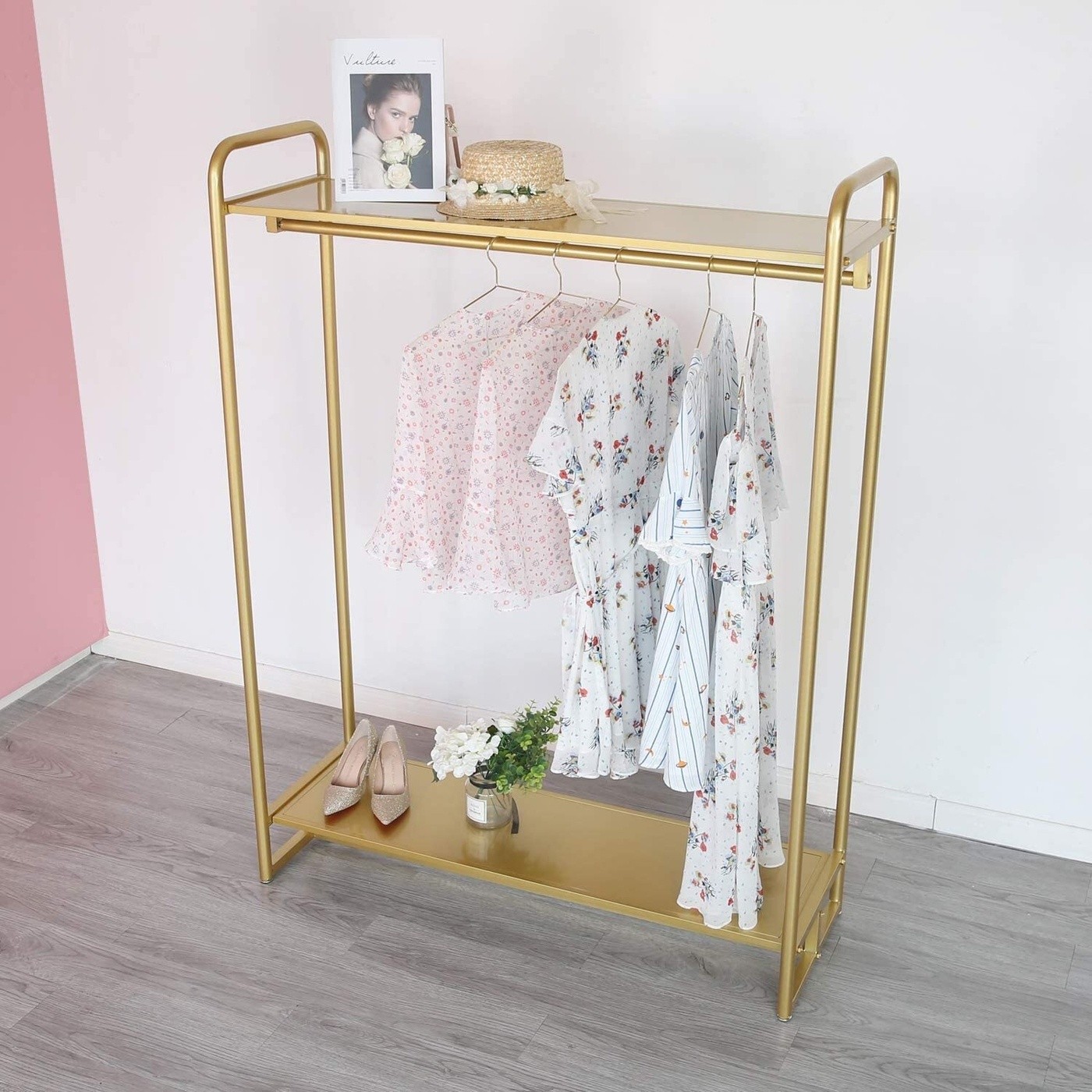 The most liberating thing about Hollywood regency decor is that you don't need to follow rigid rules for your room to look cohesive. In fact, the more eclectic, the better!
What you should focus on instead is finding items that all look as if they were one of a kind and, especially, from different decades in relation to each other.
A Hollywood regency clothing rack could have bold colors, an attention-grabbing metallic or golden finish, or an unusual shape.
Just aim for it to look as if you had stolen it from a star's dressing room and you'll be fine.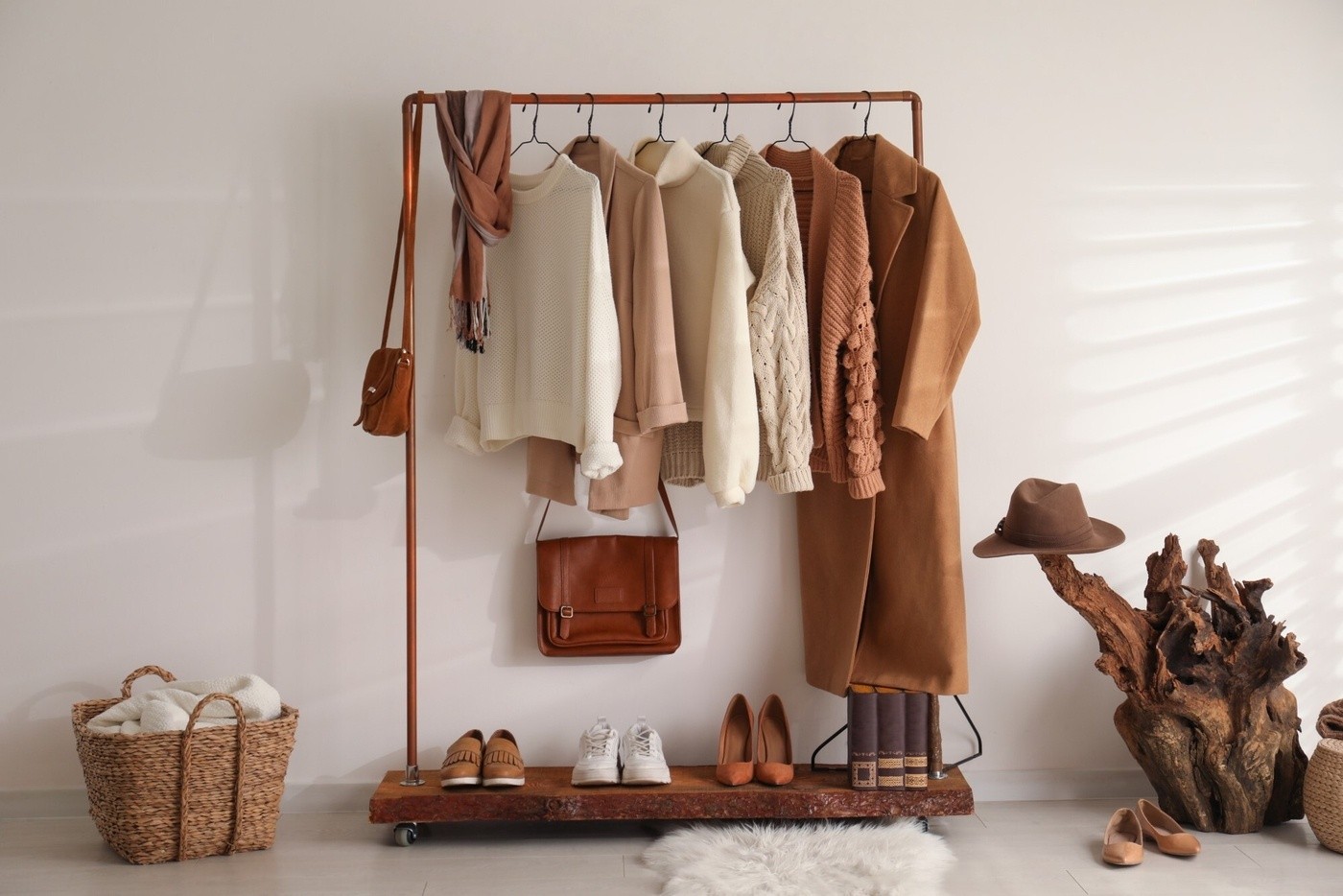 This is one of the easiest interiors to match with your new clothes rack: focusing on a sense of coziness with a few elegant or European elements, traditional bedrooms offer lots of decorative possibilities.
For example, you could stick to good old wood or a frame in a neutral color like black or white but look for an aesthetically pleasing ornate element too.
6.

Minimalist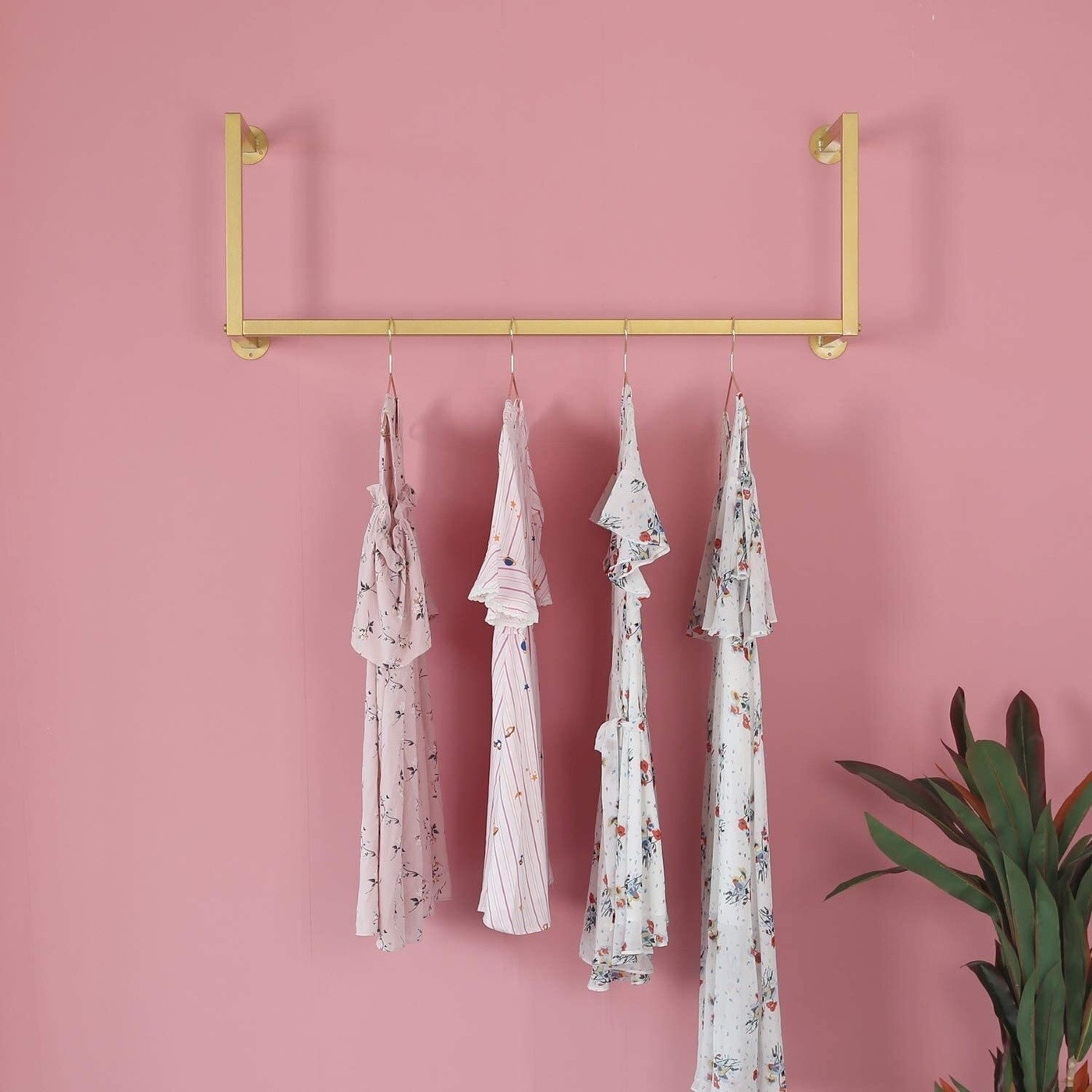 At a first glance, leaving your clothes out with an interior style that prioritizes clutter-free rooms might seem like a faux pas. On the contrary, though, clothing racks are an extremely popular choice in minimalist bedrooms!
After all, they do help you showcase your focus on a smaller selection of garments that matter the most to you.
To do it right, choose a simple clothes rack with a streamlined symmetrical frame. Or, even better, why not get rid of the latter altogether with a rack that you can attach directly to the wall?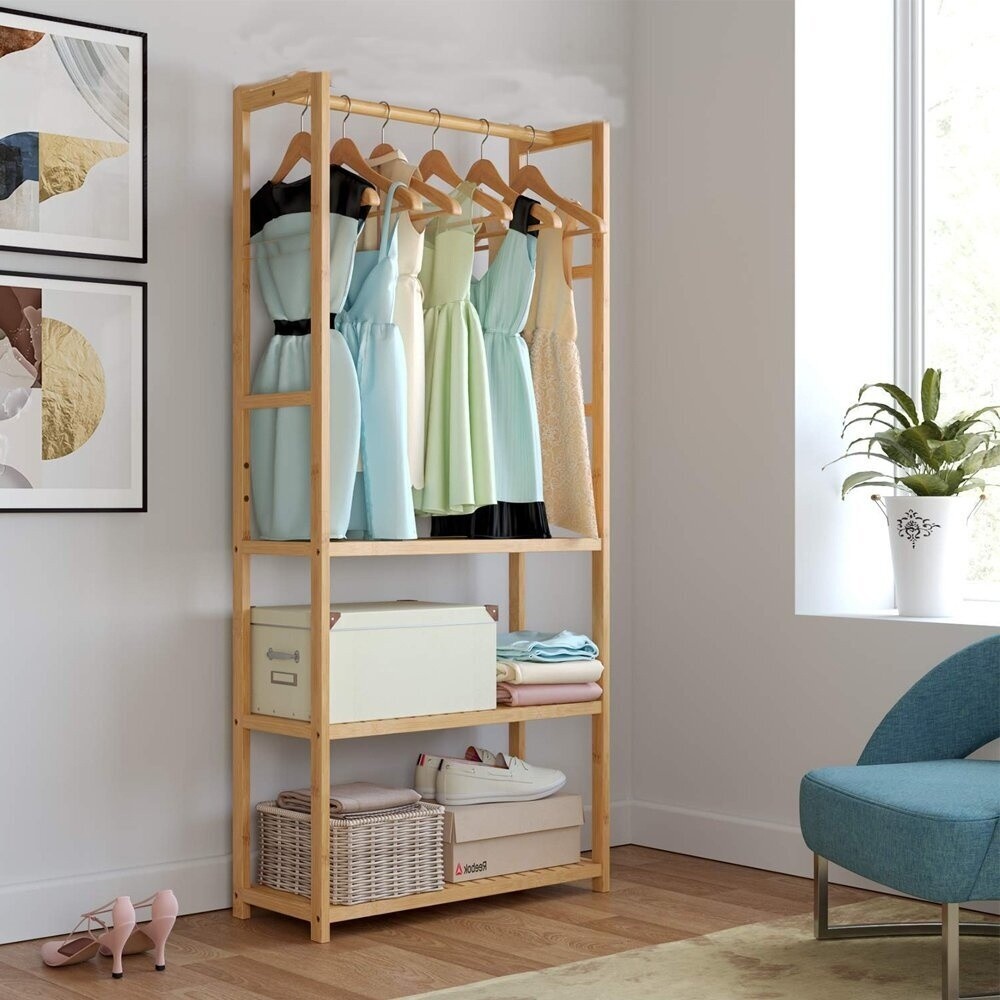 While it's more forgiving when it comes to accessories, Scandinavian style has a lot in common with minimalism, so a streamlined design will work wonders with your Nordic-inspired room, too.
However, the trick here is to add a natural and cozier touch.
With a clothes rack, you can do so by choosing a wooden model in a light finish or sticking to a natural color like white, dark blue, forest green, yellow, or gray.
8.

Industrial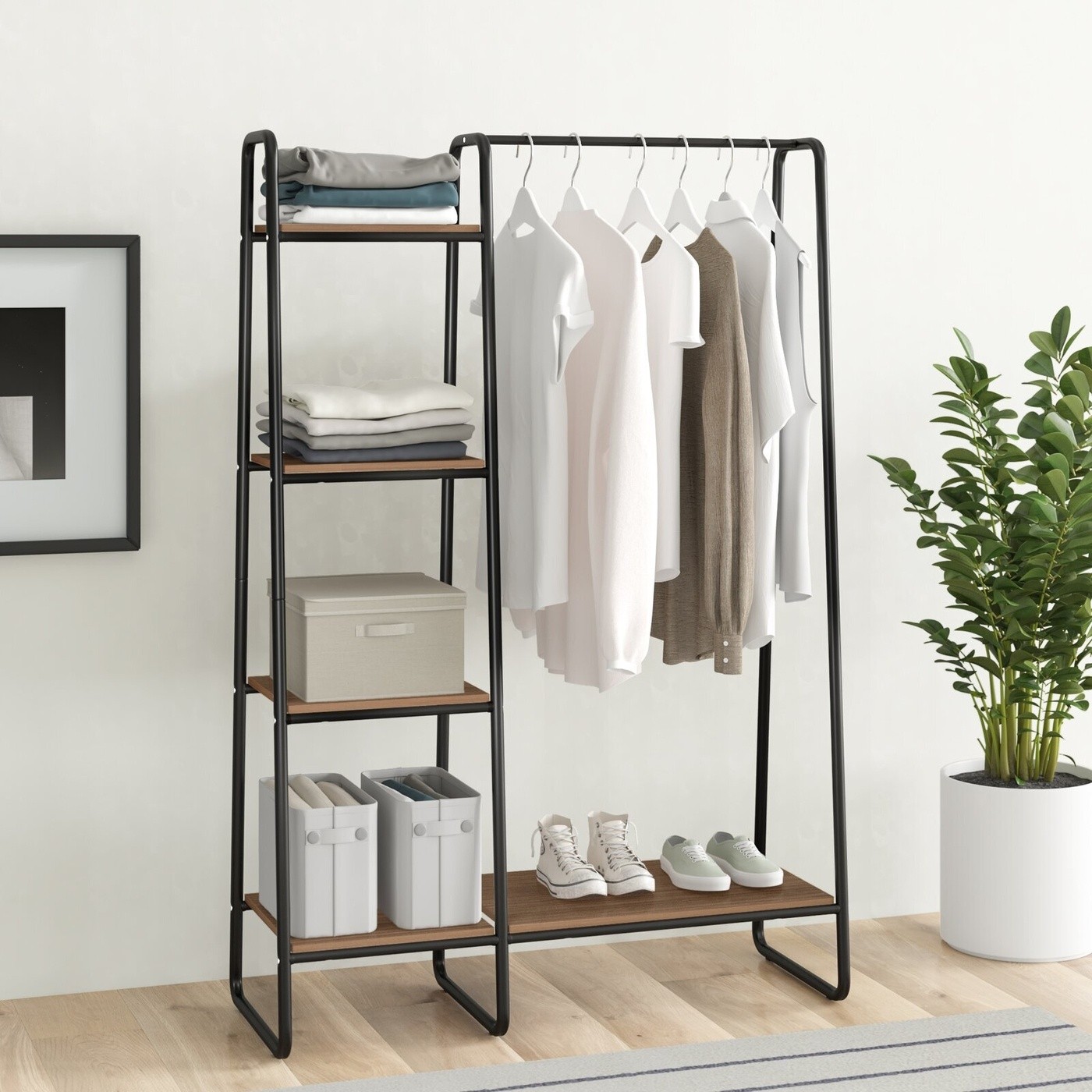 Leaving some of your clothes out instead of hiding them behind the doors of a wardrobe complements the raw inspiration behind industrial decor divinely.
To reinforce it even further, combine its two most popular materials: dark metal and wood.
Of course, do so with a simple design without any decorative details.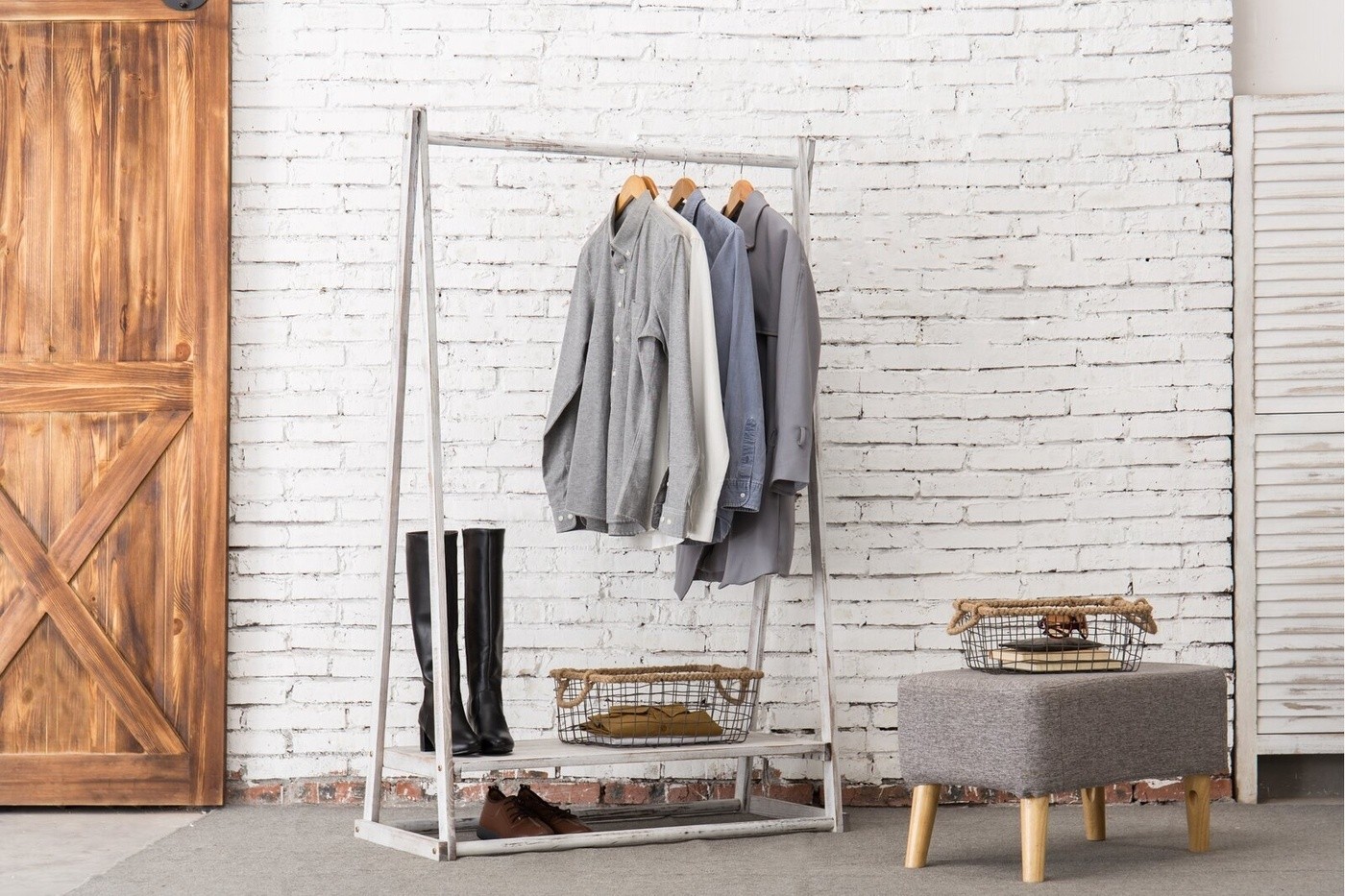 Can you imagine anything more beautiful and delightfully feminine than the chance to showcase your prettiest dresses in your bedroom? Clothes rack and shabby chic rooms are a match made in heaven!
To make it work even better, look for either a white model or one in a distressed finish, whether that's wood or a pastel color. Bonus shabby chic points if it includes some harmonious lines or decorative shapes.
10.

French country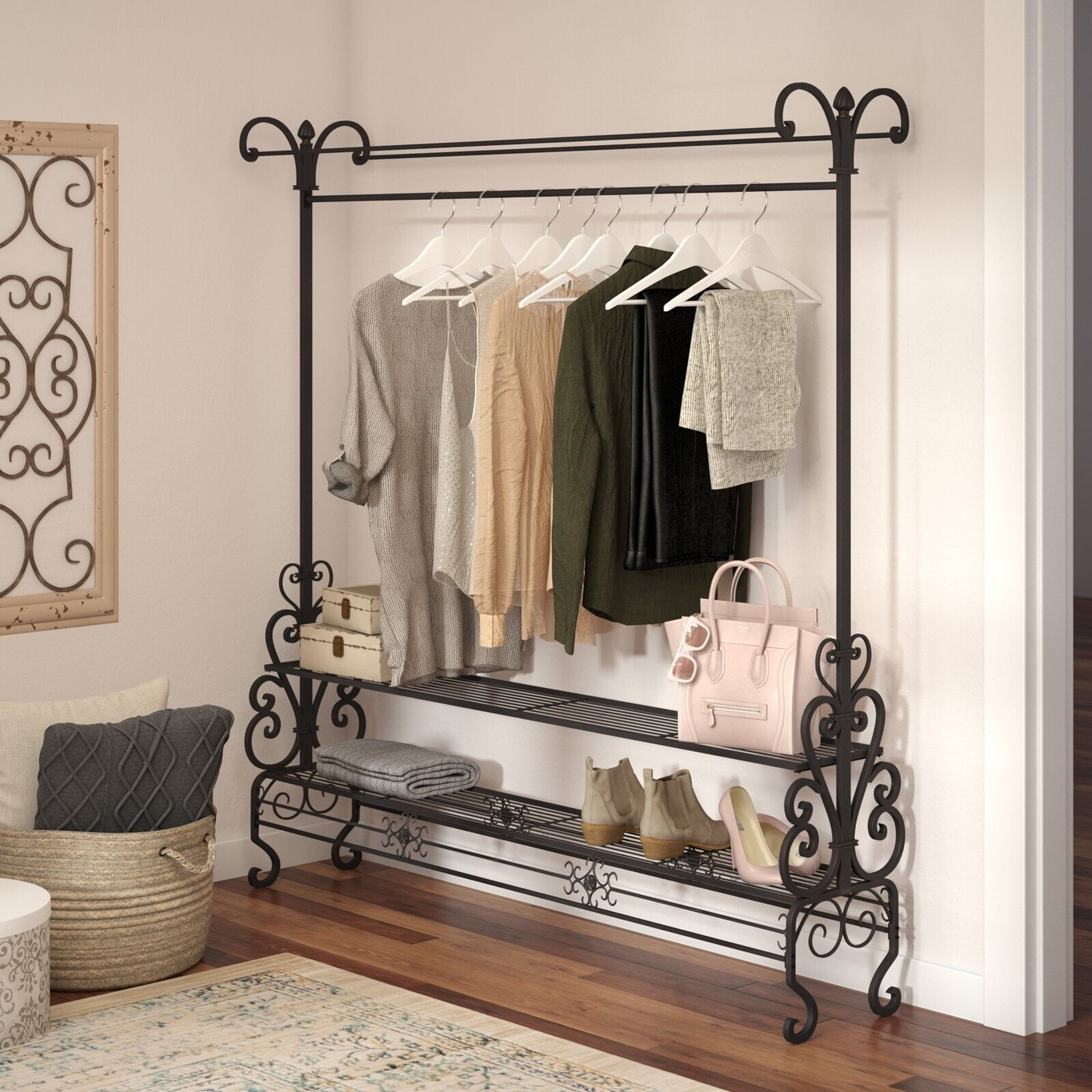 Drawing inspiration from Provençal homes, French country interiors offer several decorative options when it comes to incorporating a clothes rack.
Our favorite is to find a metal or wrought iron model in a black finish and with the most ornate details, just like this gorgeous rack with curved accents and cabriole legs.
Basically, you want it to look more similar to beautiful benches or bistro seats than to a bare, purely functional rod.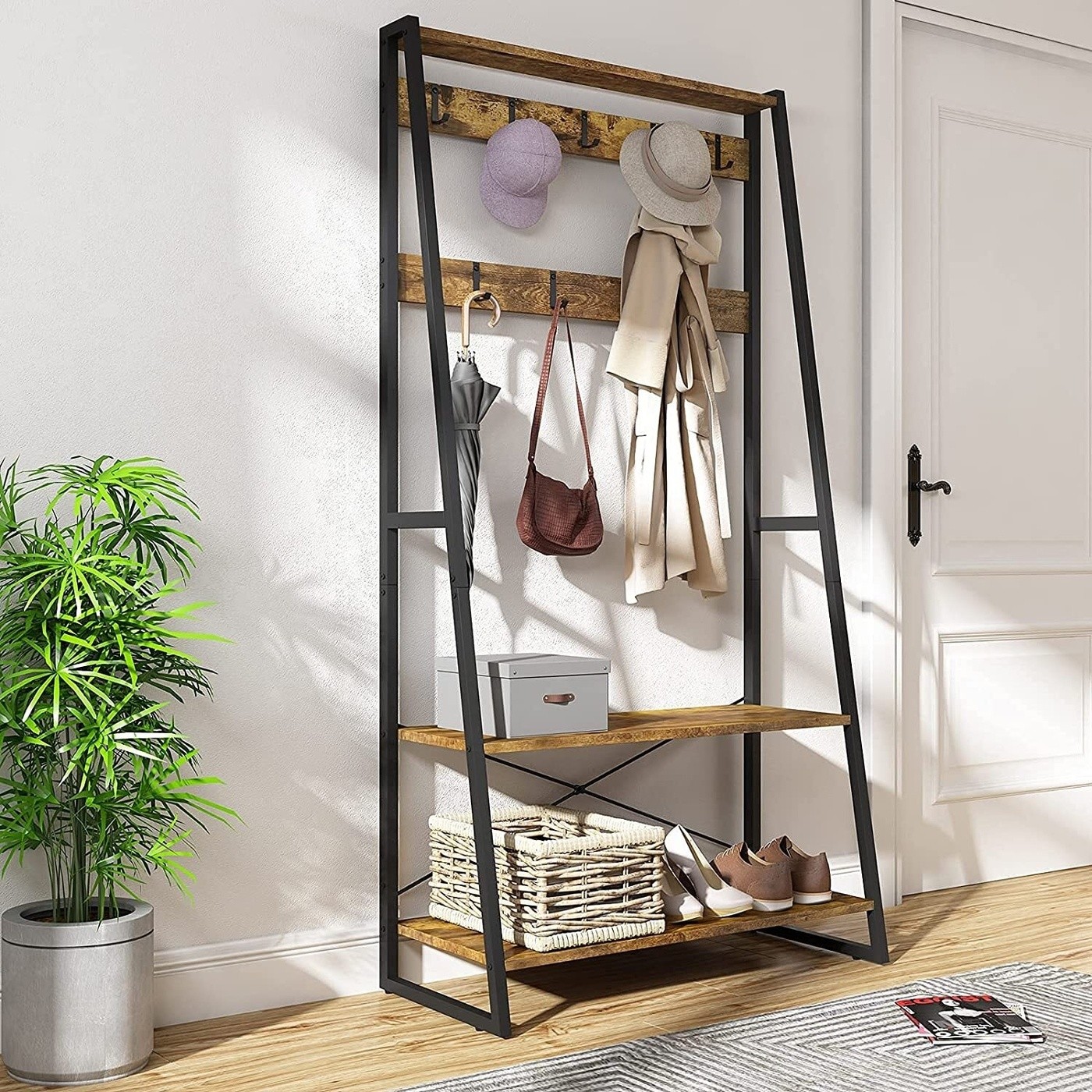 With rustic interiors, you want to blur the separation between outdoors and indoors. Bring nature inside your home by maintaining a spontaneous, casual feel and showcasing different textures as well as the unique veins of your wood finishes.
For example, look at this rustic two-in-one clothes rack!
Complementing the traditional rod with lots of shelves and hooks, it's perfect to maintain your favorite accessories (and a few straw hats) always on display.
12.

Farmhouse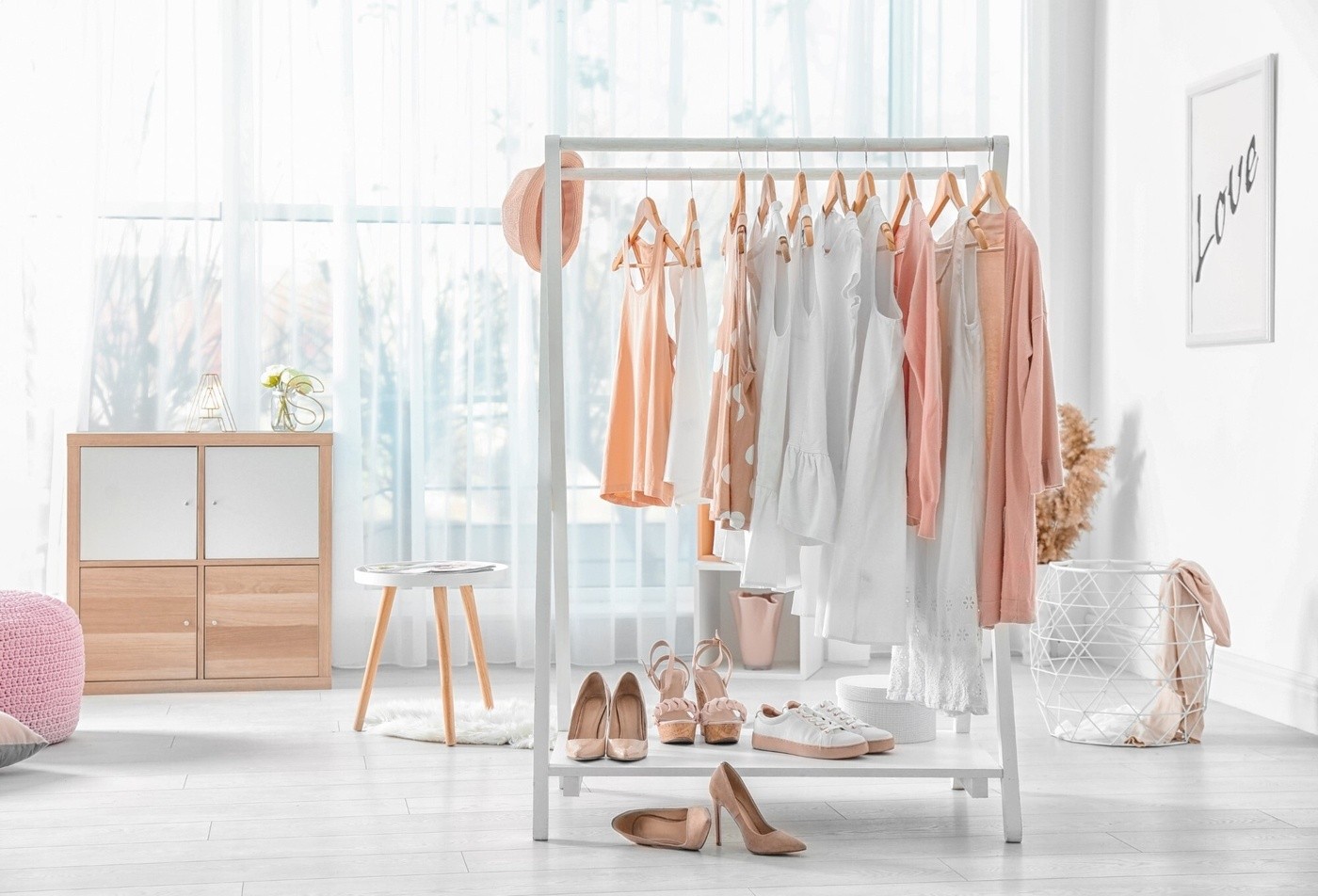 A focus on nature is important for farmhouse style interiors too, but it wouldn't hurt to choose more polished models.
Whether that's a lighter wood finish or one of the neutral and earthy tones that characterize this decor style (such as beige, white, tan, pale yellow, blue, and light green), it won't be hard to reinforce it with the right clothes rack.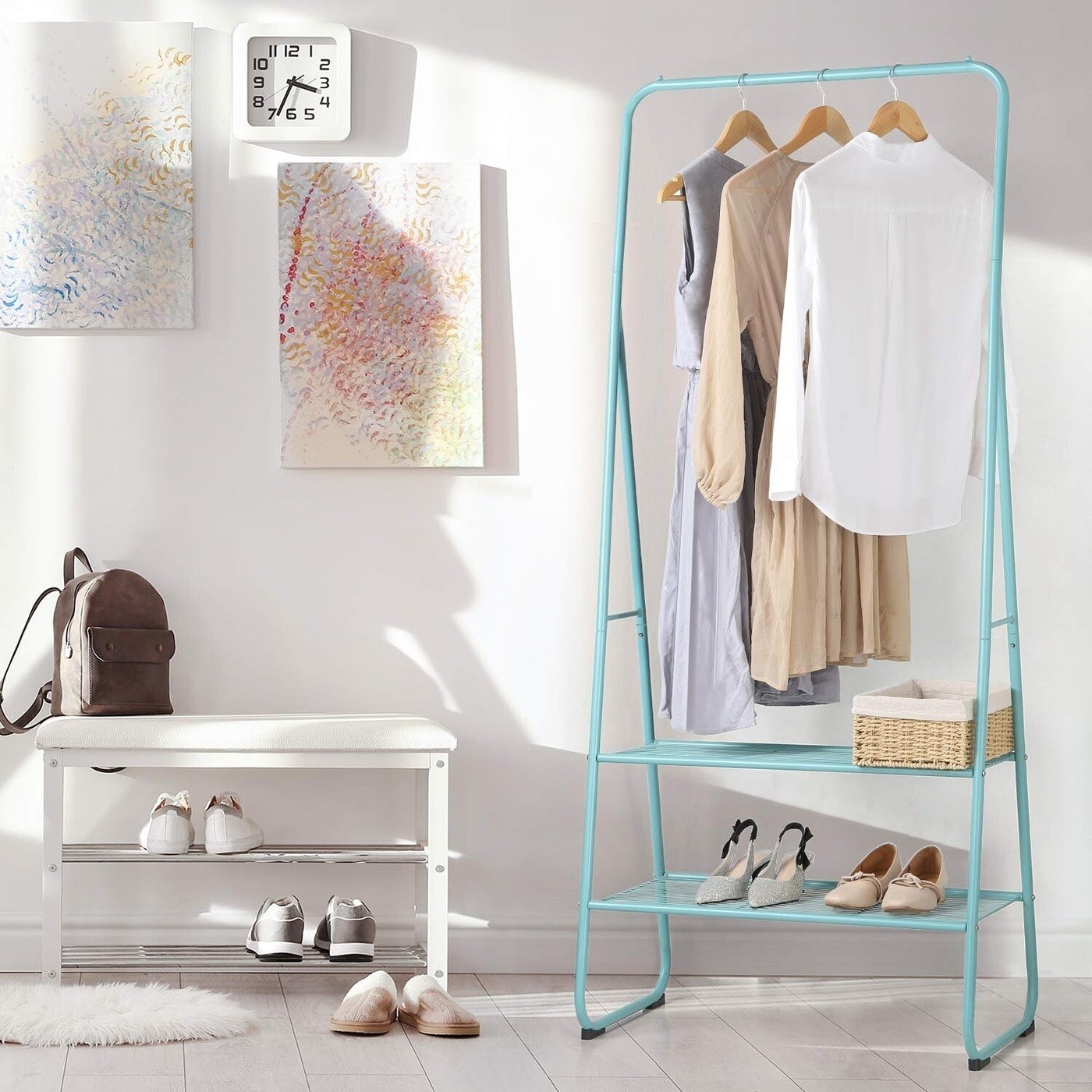 While racks in a clearly identifiable coastal style are a bit harder to come by, the very act of leaving your breezy clothes out will immediately add to this decor's airy feel.
What you can do to emphasize it is look for a simple model in one of the colors of its signature palette, like white, light-blue, blue, or beige.
Oh, and keep your most beachy clothes in the spotlight, of course!
14.

Bohemian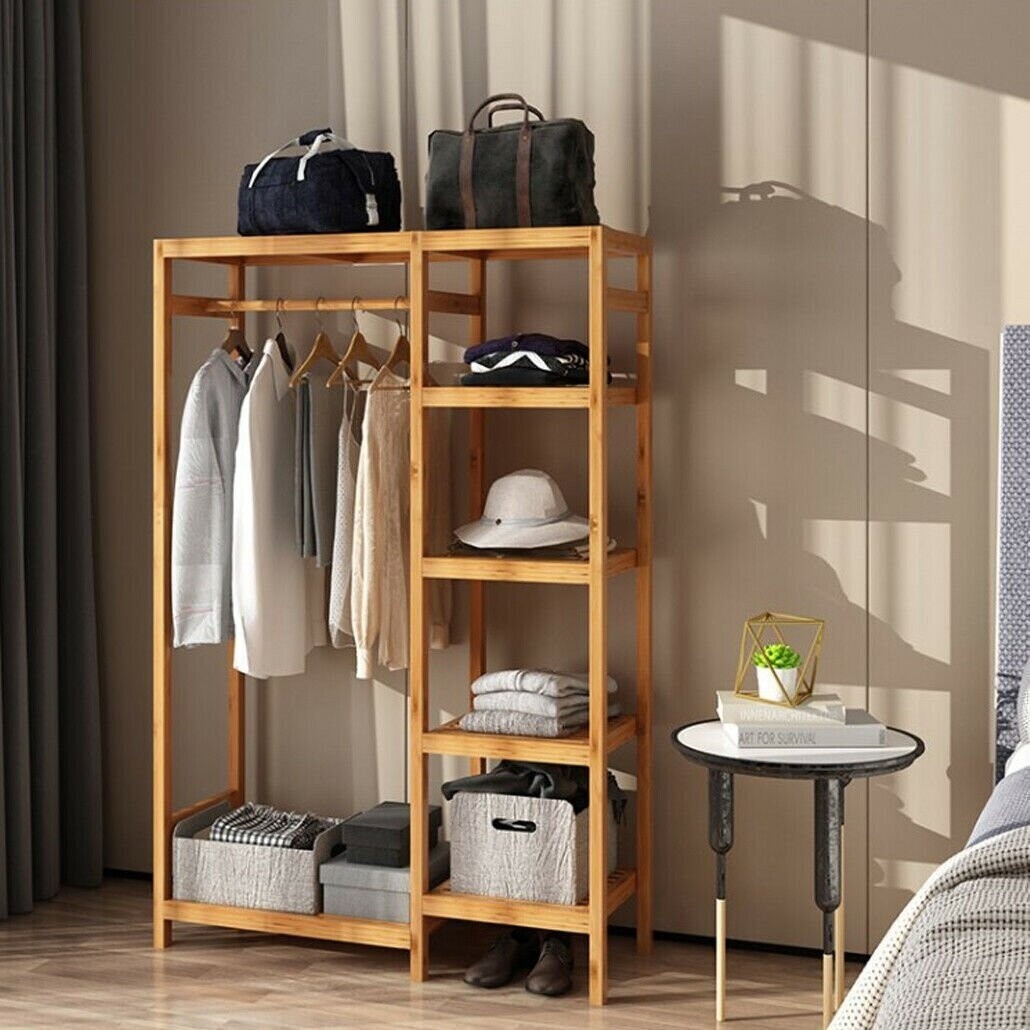 Eclectic and global-inspired, bohemian bedrooms leave you a lot more freedom when it comes to introducing a new item. After all, it doesn't necessarily need to match your other pieces of furniture: the quirkier, the better.
Simple tricks to reinforce your bohemian feel involve choosing a clothes rack with unique carvings and shapes or one in a natural wood finish, just like this handy model with plenty of room for more decorative items and accessories.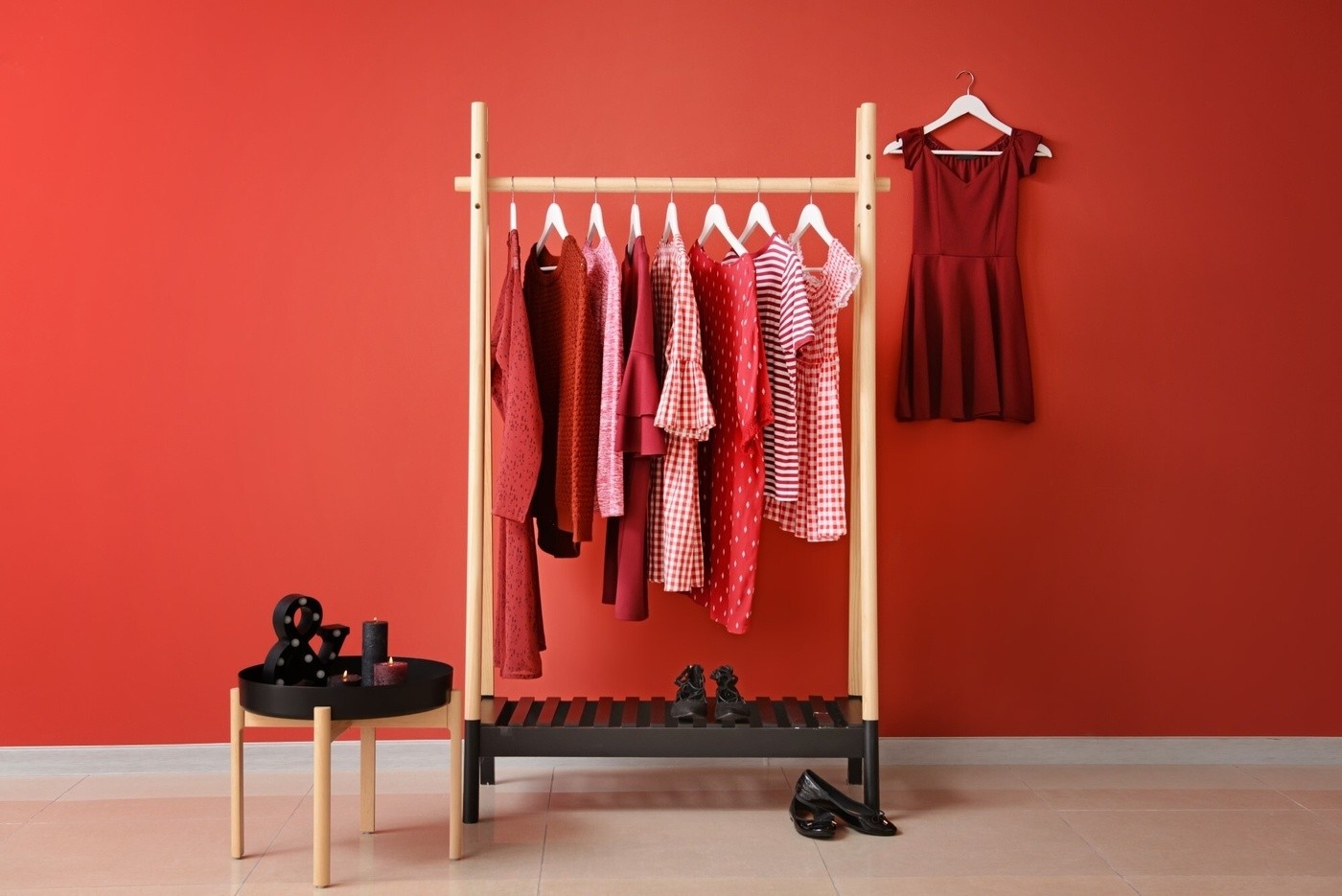 Every item in your Asian Zen home should be essential and meaningful, adding to your sense of relaxation and helping you feel at peace with your surroundings.
A simple way of doing so is to choose a clothes rack with a minimalist look, a wood finish or a natural color, and an open design that emphasizes your room's visual flow.
Most importantly, be sure to use it only for garments that you actually love (a declutter might be needed, first).