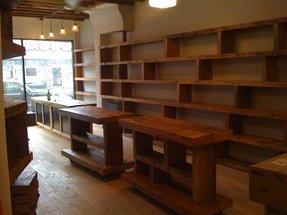 Stark large traditional style 5-tier open shelving unit intended for wineshops to display wines. It stands on the floor and covers practically the whole wall. It's handmade of sturdy reclaimed pine wood with a brownish finish.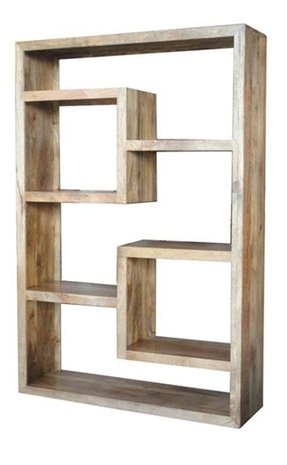 wooden display shelves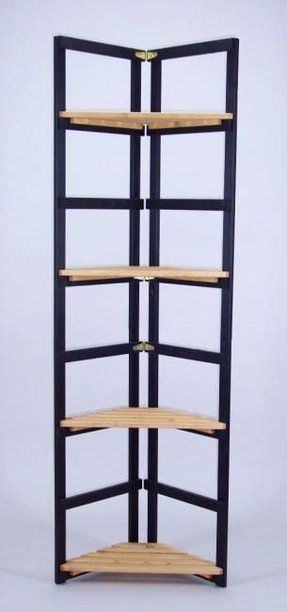 Website for awesome shelving for festival or brick and mortar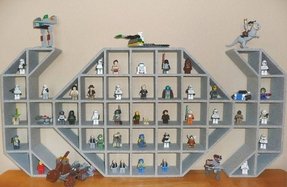 Star Wars Tie Fighter Childrens Wood
A geometric shelving unit sporting a spaceship inspired shape. Multiple cubic compartments are dedicated for showing off collectibles, such as lego minifigures (here: Star Wars). Finished all neutral gray.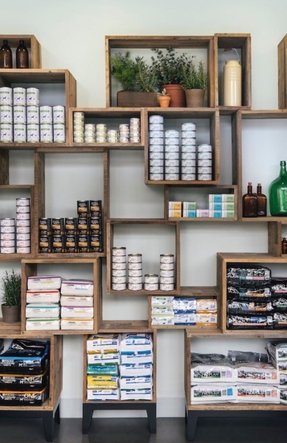 This unique shelf construction is an interesting solution to the confusion of space. The robust construction of wood creates an interesting geometrical whole, which works well in the shops to collect goods.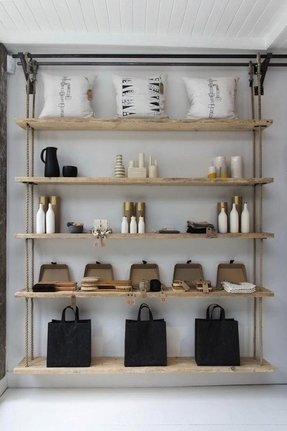 Hanging bookcase mounted on thick rope. It consists of 5 open shelves made of wood. Great solution for storing books, display decorations and more. Modern design for each home.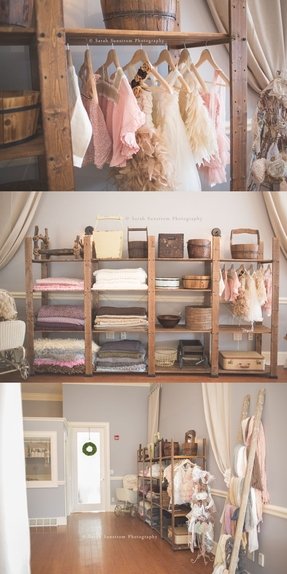 Simple rustic style shelved display unit crafted of reclaimed wood in natural shades. It has 10 upright angular posts joined by 4 long rectangular shelves (1 is shorter) and is equipped with a hanging rod, too.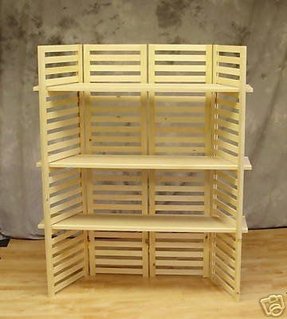 Now you can make your own wardrobe easily and make sure that you get the most original look for your bedroom with this ladder structure. It will offer more than enough space to accomodate your needs and adds some natural appeal and originality.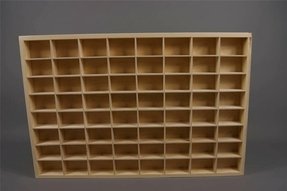 ... ) Display Shelves Plain Wooden Display Unit Trinket Shelf Toy Storage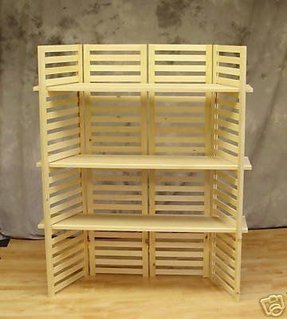 Rack consisting of 3 open shelves arranged vertically. It is completely made of wood and reinforced with solid supports. Perfect for storing books, display decorations and more. Neutral accent for each place.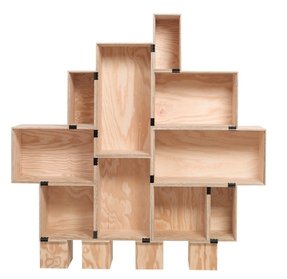 Creative and interesting idea for a DIY project, made out of wine crates and office boxes. The assembly of boxes created with hinges provides a unique, modern way to replace a bookcase or a curio display cabinet.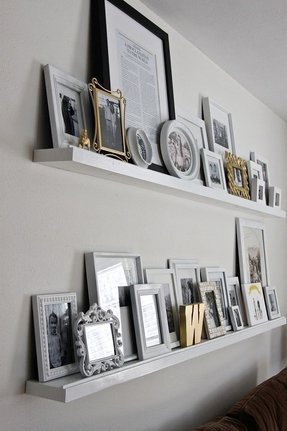 Simple shelves suitable for wall mounting. These are durable wooden elements that serve for display purposes. They feature simple rectangular shapes with straight lines and they are finished in neutral white color.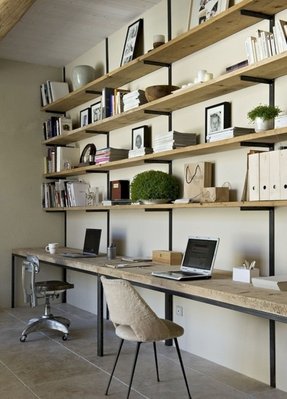 Organize your office space with wooden display shelves. They've got the black metal construction and interesting shade of finish. They fit to modern and rustic space.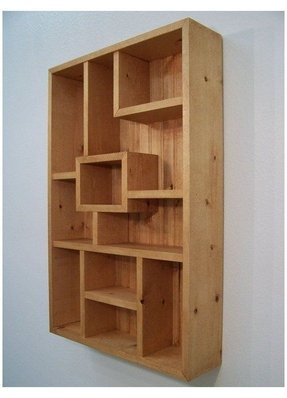 ... Display Shelves Shadowbox, Western Decor Shadow Box Display Case, Wood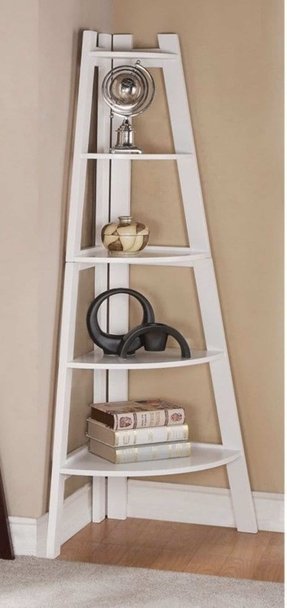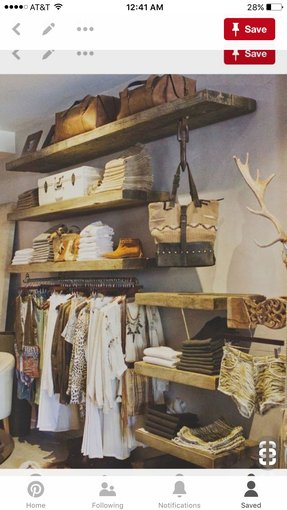 Love the rustic wood shelves. Well have pretty prop storage like this one day. Minus the antlers get more only on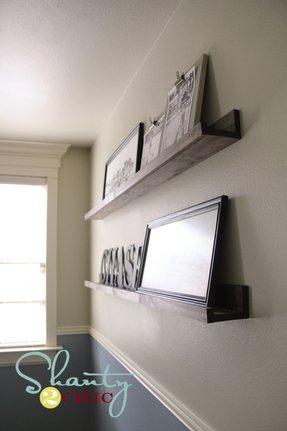 Cool traditional wall-mounted floating shelves DIY made of reclaimed wood finished in browns. A quite long narrow rectangular shelf has a shelf-length rectangular back and a low protective slat along a front edge.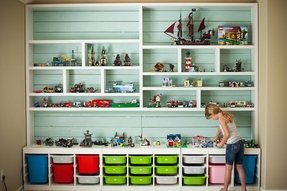 If your kids have the huge LEGO collection, they need to have the storage idea for their room. This large cabinet has got wooden display shelves for toys, books and accent pieces.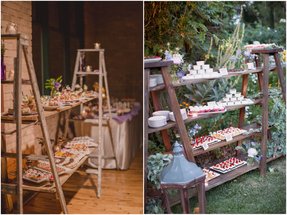 dessert display on wood ladders with plank shelves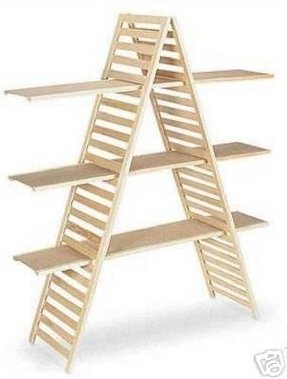 A Frame Display Shelf Portable With 3 Shelves | eBay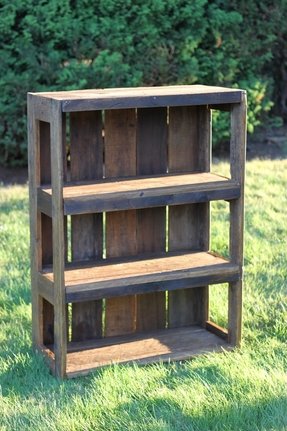 Made entirely out of pallets, this DIY bookshelf shall enchant all, who love handmade projects or rustic decors. It will bring in definitely a strong rustic vibe into the space, fitting well into traditional or vintage decors.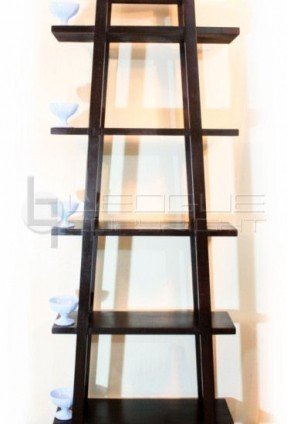 wooden-display-shelves (5)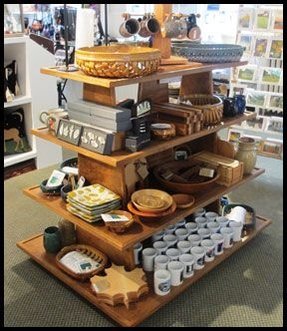 Rustic Wood retail gondola display fixture. Handmade customizable storage and sales display.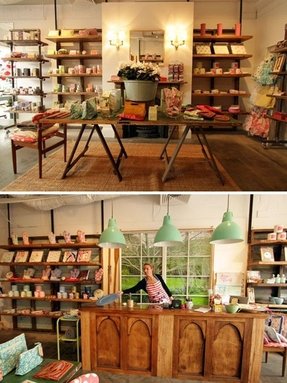 Very simple, but stylish display shelves that are suitable especially for commercial indoors. Their constructions are based on wood. They are durable and attractive in any decor. Brown and black colors are nice and universal.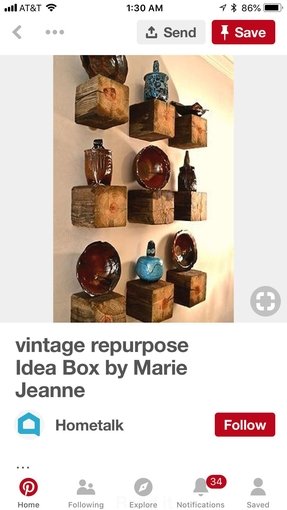 Bring some rustic elements into your house. These wooden shelves are suitable for wall monting. They are perfect for display of different decorations. Their construction is not only attractive, but also very durable.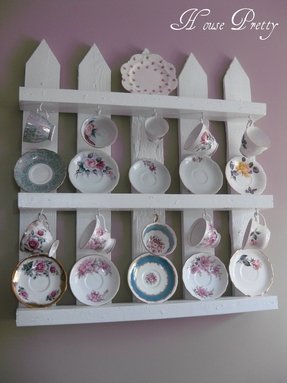 A creatively designed piece for displaying China tea cups and saucers. The whole is made of a traditional white fence crafted from sturdy wood, and it can be mounted on a kitchen wall. The display shelf offers 3 open shelves for placing saucers, and 10 hangers for tea cups.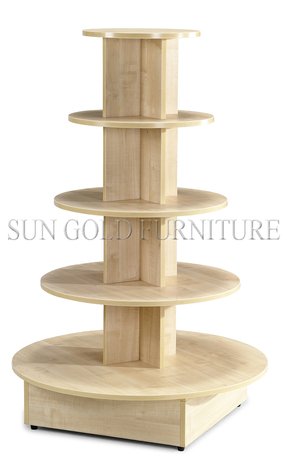 ... home products trade leads wooden display rack display rack shelf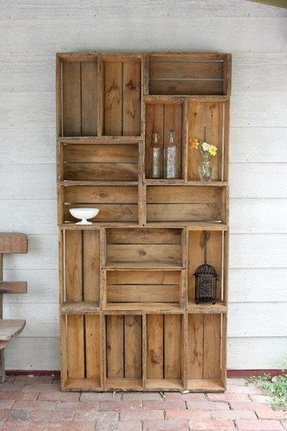 What can one do out of reporposed old wooden pallets? Well, tons of practical and pretty things, including a display book shelf - just as pictured. But, best of all, it's just one of the numerous possibilities. Check them all out.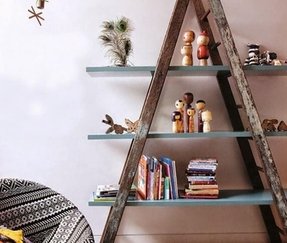 Try this totally simple and easy furniture spruce up that makes an amazingly interesting visual display. Any old ladder will do. In fact, the more beat up it is, the more fun it will look. Add a few pieces of wood or glass and… voila! Instant shelving u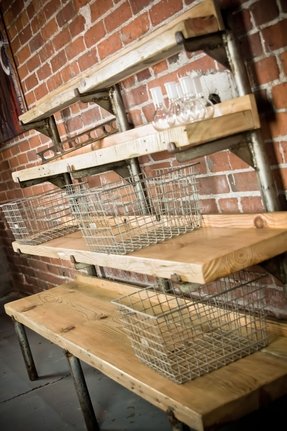 ... Wooden Country Barn Farm Silo Wall Storage Miniature Display Shelves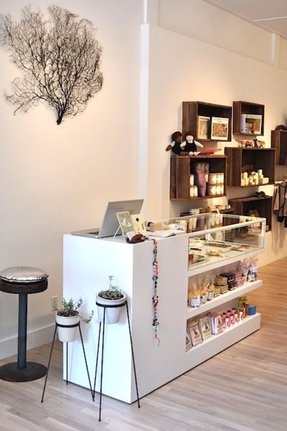 In this place, which perfectly reflects the spirit of this store, there are elements of the past and modernity. The white wood display shelves are made of reclaimed boards, while the second part is glass display shelves that beautifully display products.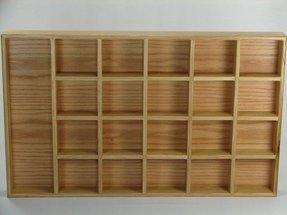 This minimalistic piece of furniture is so useful - it is must-have in every home! It is oak wooden case with a lot of shelves. You can used it optionally - it will play its role perfectly to storage books, frippery or discs.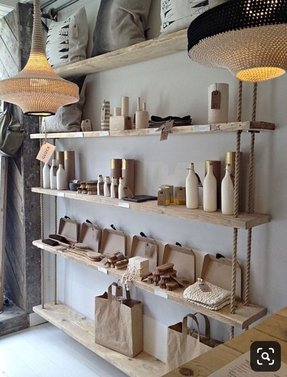 These wooden, classic display shelves add enough spaces to keeps the tidy basement or garage. They are made of wood and rope, so they bring some rustic style.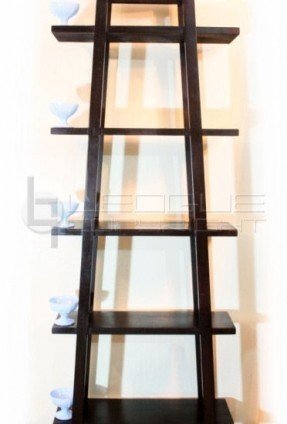 Who said you can't opt for some original choice of shelving? These wooden crates offer the painted and distressed finish and can easily be used to accomodate your decorative objects and making your interior oozing class and charm.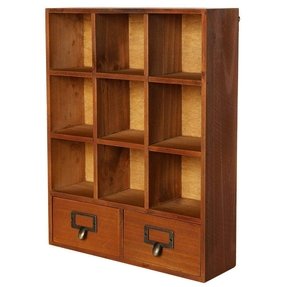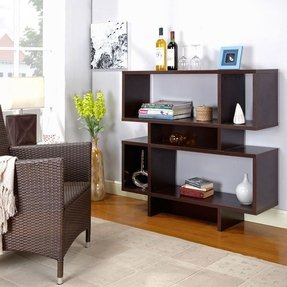 It is a contemporary cube bookcase display cabinet that has got an espresso finish and solid wood construction. It fits perfectly to modern office space, living room, bedroom, family room and other.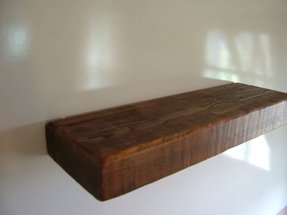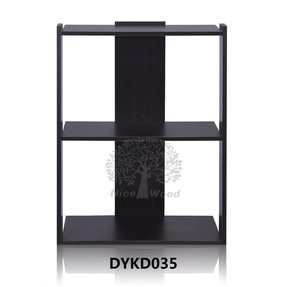 It is a medium ladder shelf that has got a simple and classic design and is perfect for your living room area. It is great for storing books, CDs, DVDs and accent pieces. Everyone will tell you how great this shelf is.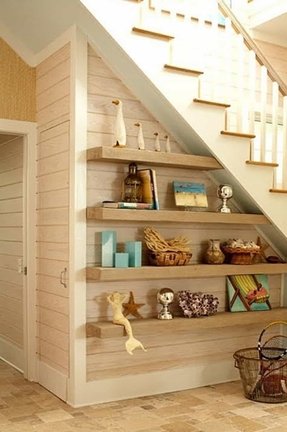 In fact, there is always space for the display bookshelf - they are decorative, fill the empty space and fulfill a functional solution. These are made of pine wooden boards and are adapted to space under the stairs.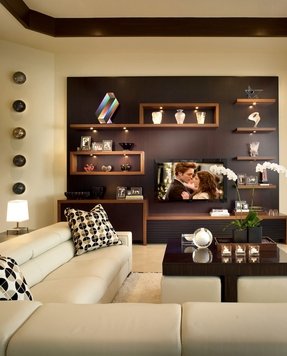 A perfect example of a clean, minimalistic contemporary living room design. The smooth, wooden shelves are a great replacement for a chunky entertainment unit, and the beautiful leather sofa gives an excellent contrast to the dark back wall.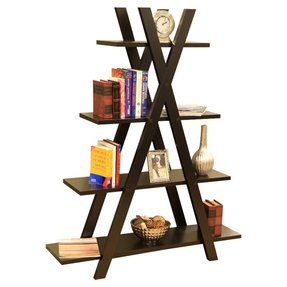 Display 60" Bookcase
This modern and very practical bookcase is unusual combination of solid wood construction and wide functionality. Lovingly done ideally suited to the living room, office or other room.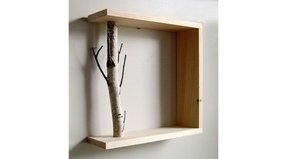 This is such a lovely way to bring the outdoors in. I think I'd use drift wood or something worn instead.