This highly sought-after hue is favored for its elegant simplicity and infinite versatility.
Chantilly lace is a pure and crisp shade of white that is as delicate and refined as the silk lace from which it gets its name. One of Benjamin Moore's best-sellers, chantilly lace is a true white, appreciated for its lack of undertones and brilliant neutrality. Unlike other white shades, chantilly lace isn't influenced by lighting conditions or neighboring colors, awarding it a uniquely reliable and versatile character. Its inherent light reflective quality contributes to its natural brilliance and uplifting nature, justifying its place as a staple in many interior designer's palettes.
What is the Psychology of Chantilly Lace?
In Western culture, chantilly lace holds positive connotations as a shade that symbolizes purity, cleanliness, simplicity, innocence, and peace. Like a blank page, it offers a fresh start and induces a sense of calm, mental clarity, and order. The color white frees our mind from distraction, encouraging focus and sparking creativity.
However, too much chantilly lace can have an adverse effect, evoking negative emotions of emptiness, isolation, sterility, detachment, and disinterest. While some read an all-white space as refreshing and serene, others may find it stark and austere with a clinical feel. As white light contains all the colors of the spectrum, it represents neutrality, inclusivity, and impartiality. In feng shui, white is related to the metal element and symbolizes purity, clarity, and cleanliness.
What are the Best Ways to Use Chantilly Lace in the Home?
Make the most of chantilly lace's highly reflective quality by painting it onto the walls and ceiling to brighten a space visually and energetically.

Chantilly lace is a reliable color for trims, cornices, and window casings, as it pairs effortlessly with any color. It's also an efficient way to instantly update traditional interior architecture.

Make your bathroom gleam with chantilly lace walls paired with white tiles and a glossy trim in the same color.

Encourage mental clarity and creativity by introducing chantilly lace in your home office.

Opt for a white linen sofa for an effortlessly chic living room. (Not recommended for households with young kids or mucky pups, for obvious reasons!)
What Colors Go with Chantilly Lace?
Chantilly lace is sought-after for its versatility and timeless appeal. The color thrives in spaces of all styles and cardinal directions and pairs effortlessly with almost any color. Here's a procured selection of some of our favorite combinations…
1.

Chantilly Lace and Dark Blue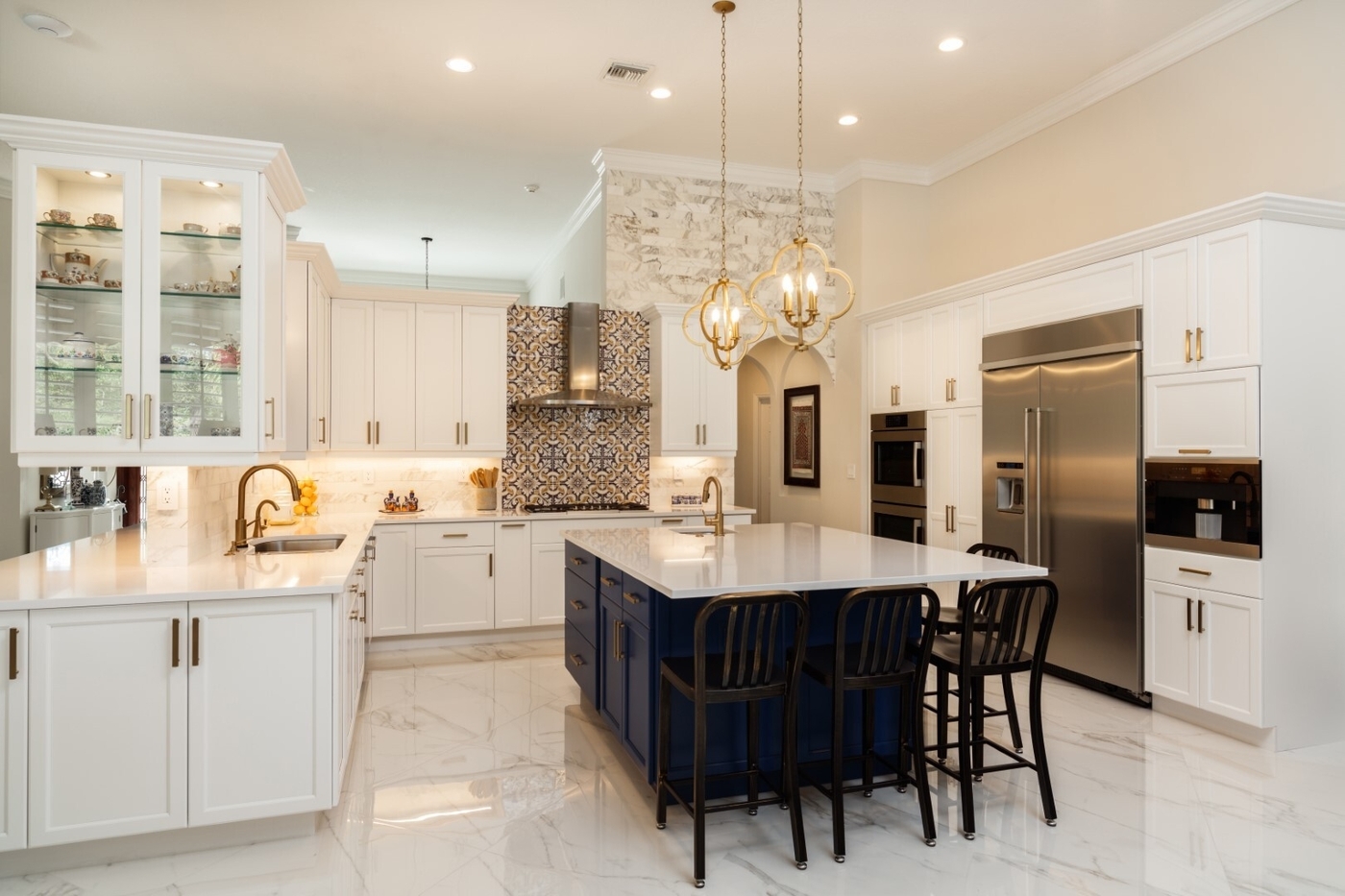 Lighten up a moody dark blue with chantilly lace. The light-dark contrast lends visual weight and balance to a space, while the azure hue offers a softer, more refreshing alternative to stark black. In this open-plan kitchen, the white cabinets celebrate the bright, expansive space and recede into the background, allowing the blue center island to take center stage. Implement this cunning strategy in a small kitchen to create the illusion of more space, drawing the eye into the center of the kitchen, as opposed to the immediate perimeter. Soften the tonal contrast with a mid-tone shade of blue or gray.
2.

Chantilly Lace and Wood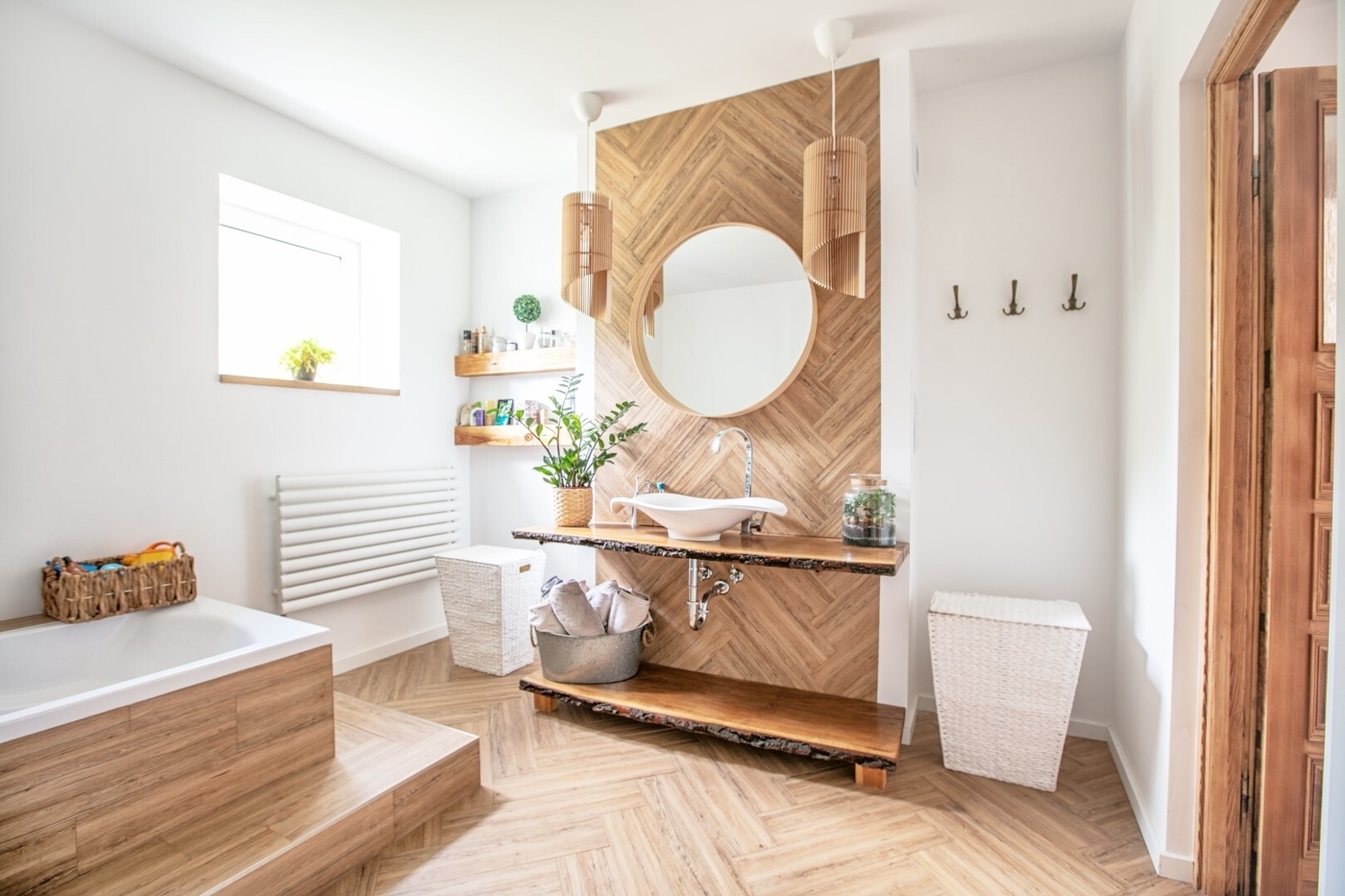 Pair chantilly lace with wood for a pure, organic aesthetic. Wood tones have a natural warmth that balances out the brilliant nature of chantilly lace and immediately prevents a white space from feeling sterile, clinical, and austere. This color combination works particularly well in a bathroom, creating the perfect serene environment to start and end your daily regime. While wood grounds the ethereal nature of chantilly lace, the white shade responds by providing a sense of cleanliness and purity that is integral to the room's purpose. Complete your oasis with bathroom plants that thrive in humidity, like a majesty palm or pothos.
3.

Chantilly Lace and Taupe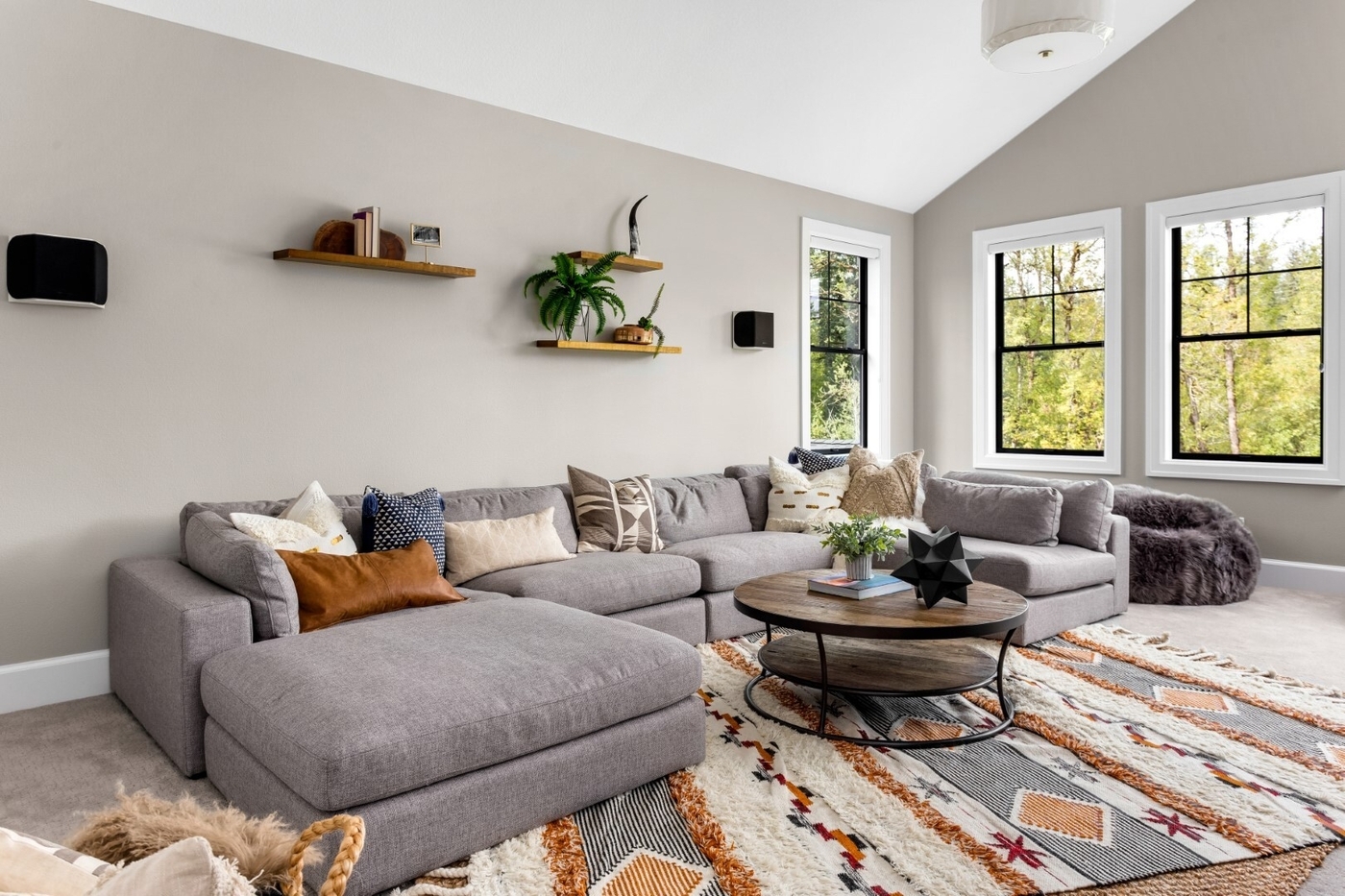 Chantilly lace and taupe offer a soothing and versatile neutral color scheme that you can easily dress up or down to your taste. The brownish-gray shade has an organic and earthy quality that brings a sense of warmth and familiar comfort to a space while retaining an elegant and sophisticated feel. Layer taupe on the walls of a living room or bedroom as a soothing and timeless backdrop, and trace the room's circumference with a glossy chantilly lace trim for a crisp, contemporary look. Throw in some colorful accents to bring the scheme to life.
4.

Chantilly Lace and Teal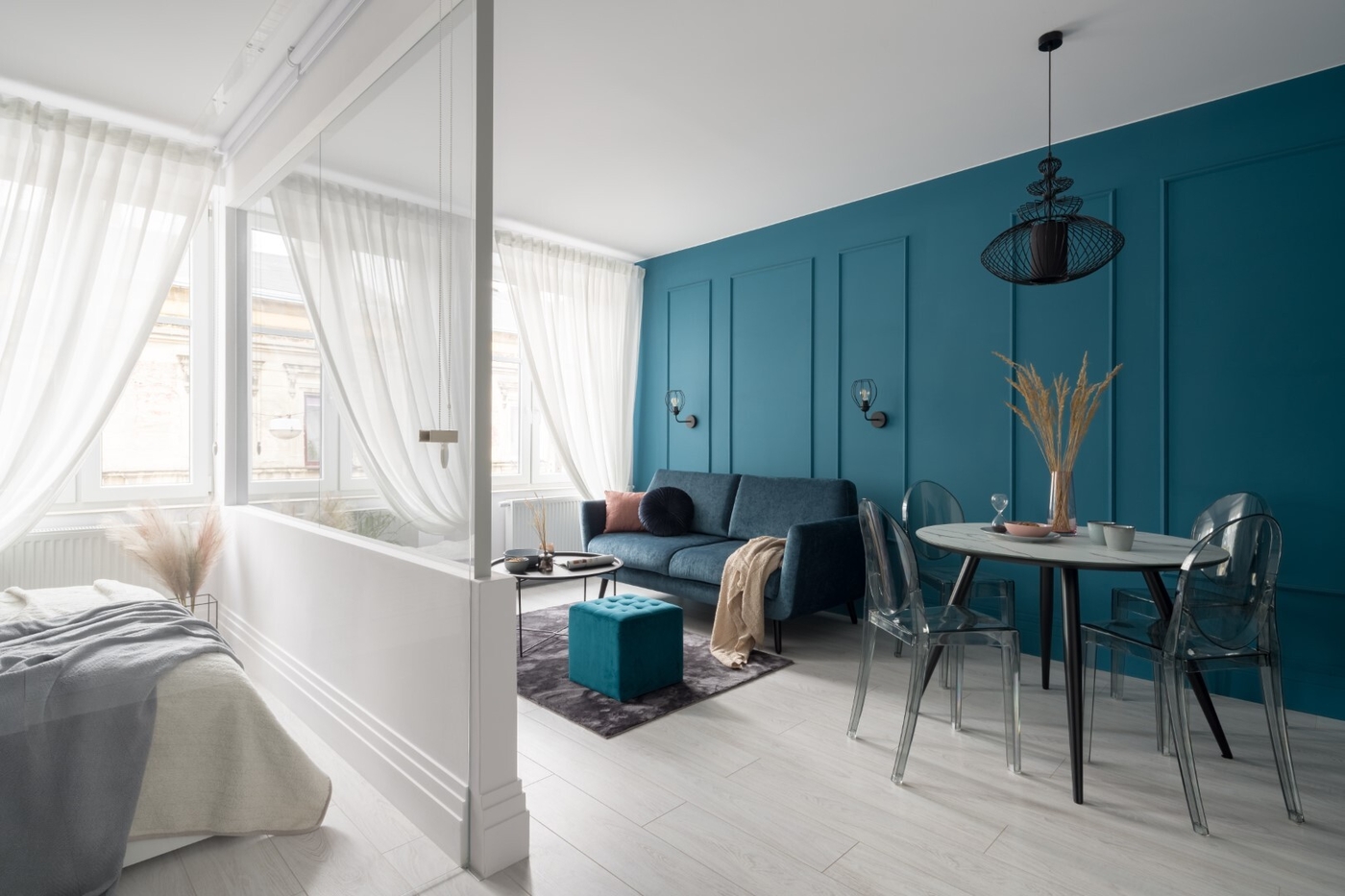 Breathe new life into your home with a chantilly white and teal color scheme. The mesmerizing blue-green shade conjures images of the Mediterranean sea, contributing a simultaneously revitalizing and tranquil energy to a space. Imbue a stark white living room with character with a striking teal accent wall and coordinating soft furnishings for a cohesive and inviting look. Anchor the scheme with black accents for a contemporary touch, or contrast the cool blue tones with glamorous gold detailing.
5.

Chantilly Lace and Charcoal Gray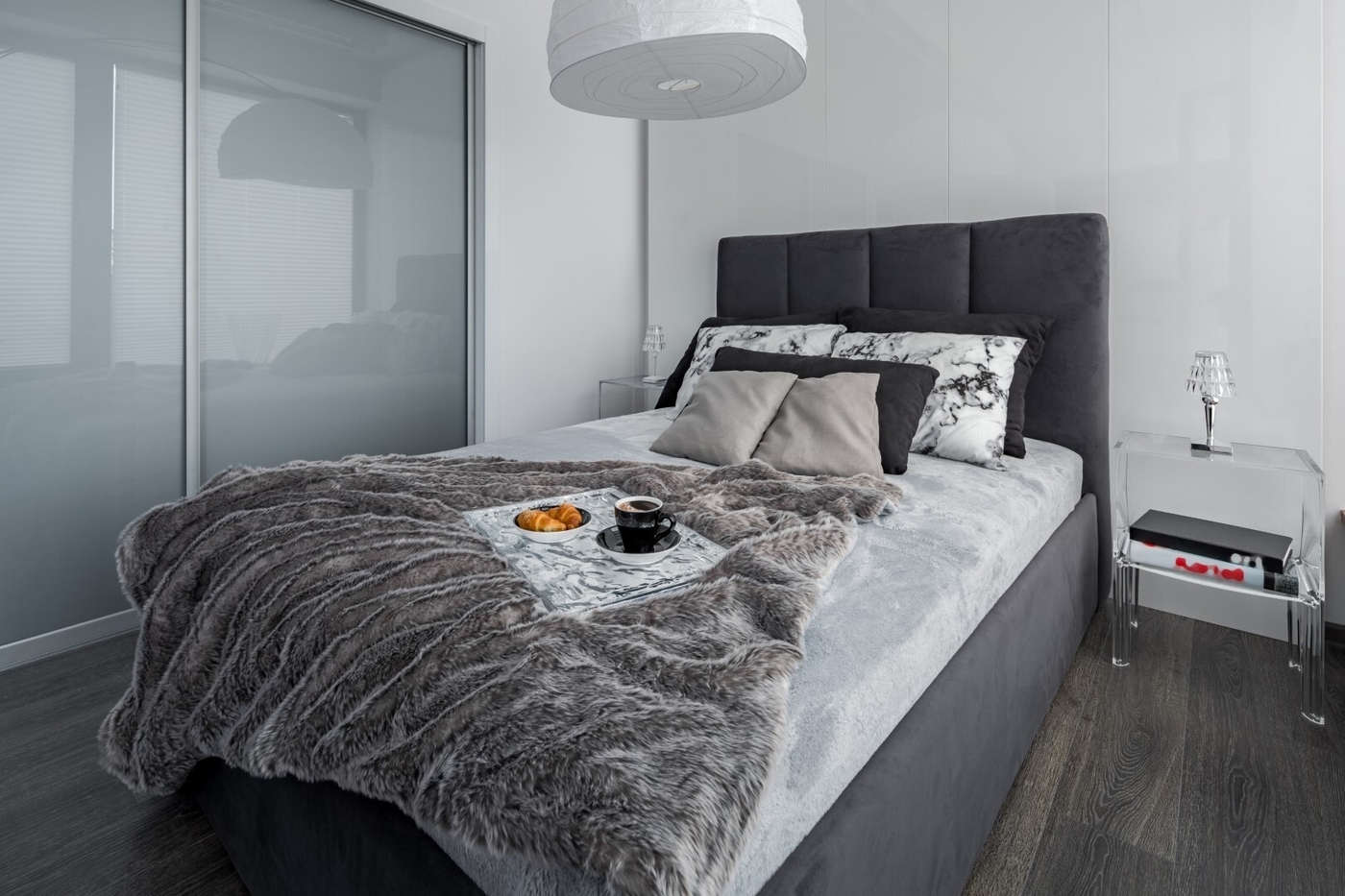 Combine chantilly white with charcoal gray for a sharp modern aesthetic. The dark gray shade acts as a sophisticated alternative to black; it establishes a similar sense of depth and presence but in a way that is softer and easier to live with. The calm and composed nature of this color pairing makes it well-suited to a bedroom. Use the 60-30-10 rule to help you achieve the perfect tonal balance in a monochromatic scheme (or to liven up the somber palette with the perfect pop of color!).
6.

Chantilly Lace and Peach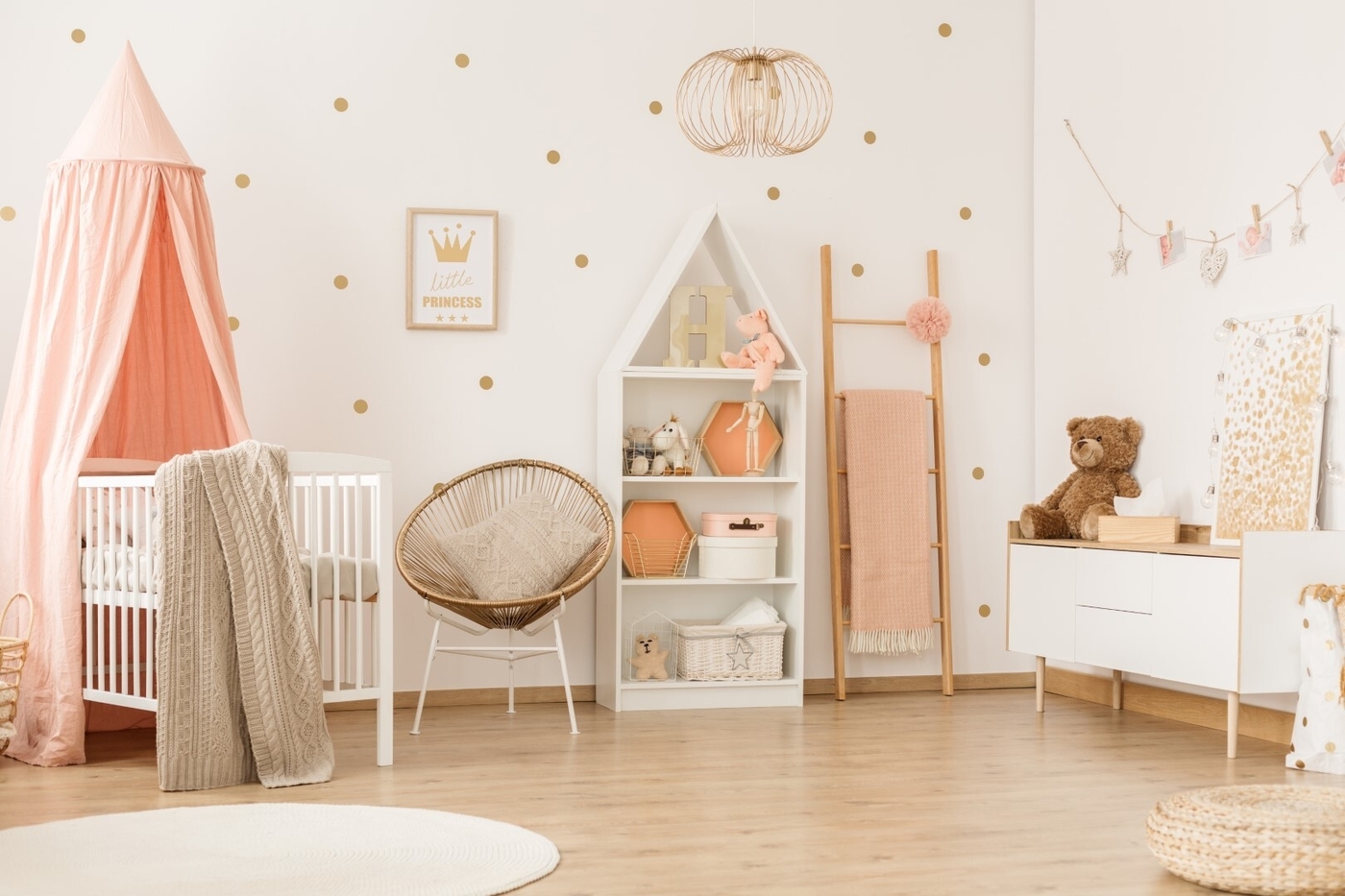 Chantilly lace and peach make the perfect color pairing for a nursery. The pale pinkish-orange shade connotes sweetness, friendliness, and youthful innocence. The color is as playful and optimistic as it is calming and recognized for its positive influence on communication. An overdose of peach can quickly feel too sweet and sickly, so denote it to a secondary color with chantilly lace as the primary shade, as in this bedroom. Complement the dainty scheme with pale wood tones and gold accents for a refined finish.
7.

Chantilly Lace and Pale Blue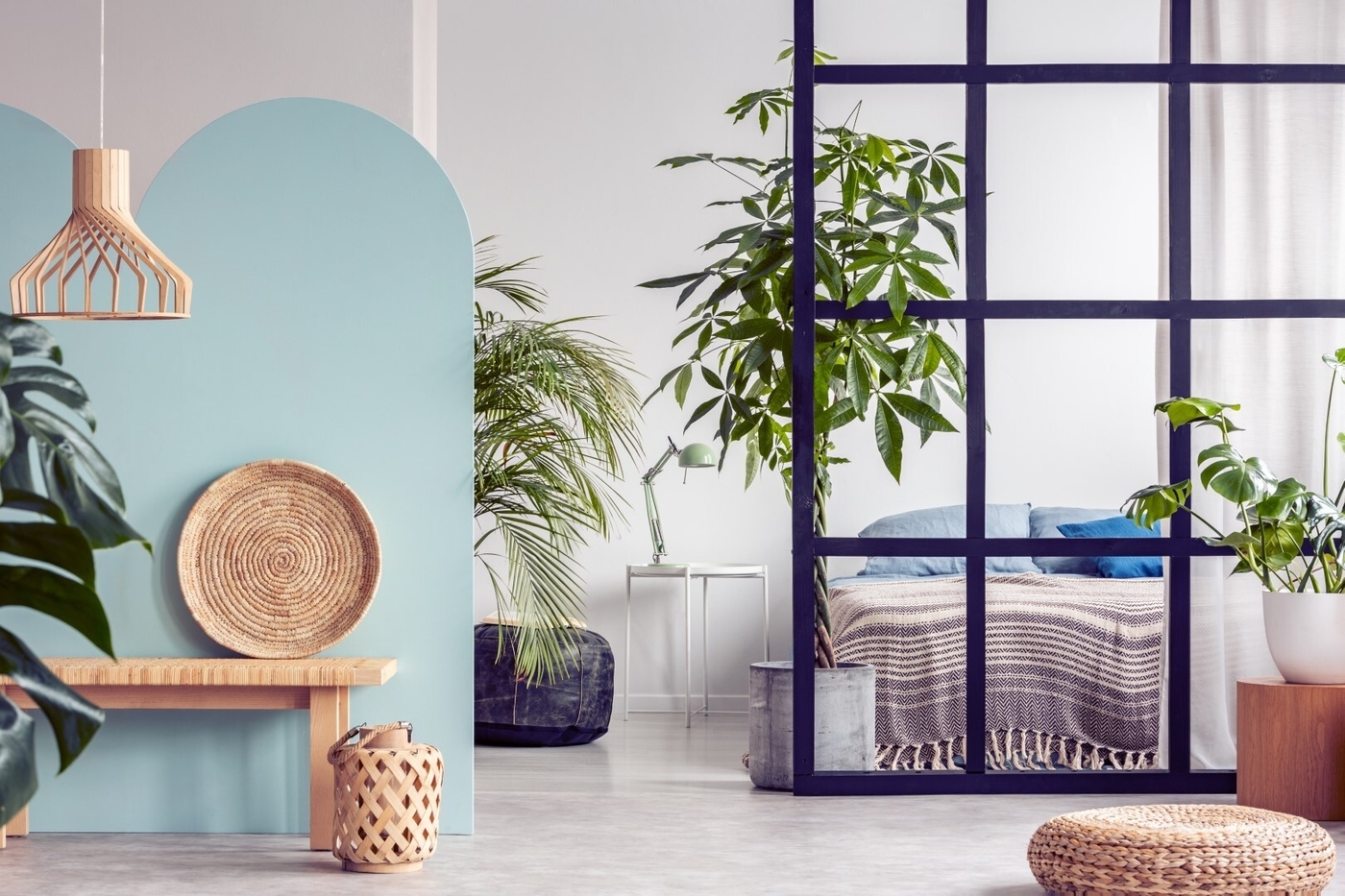 Conjuring images of blue skies littered with wooly clouds, chantilly lace and pale blue have an ethereal quality that can't help but imbue a space with calm.
Like white, pale blue also represents mental clarity, fostering the perfect environment for focusing and creating, or a mindful space for unwinding after a hectic day. Ground the celestial scheme with black accents and add warmth to the icy palette with wooden furniture and natural textures.
8.

Chantilly Lace and Sage Green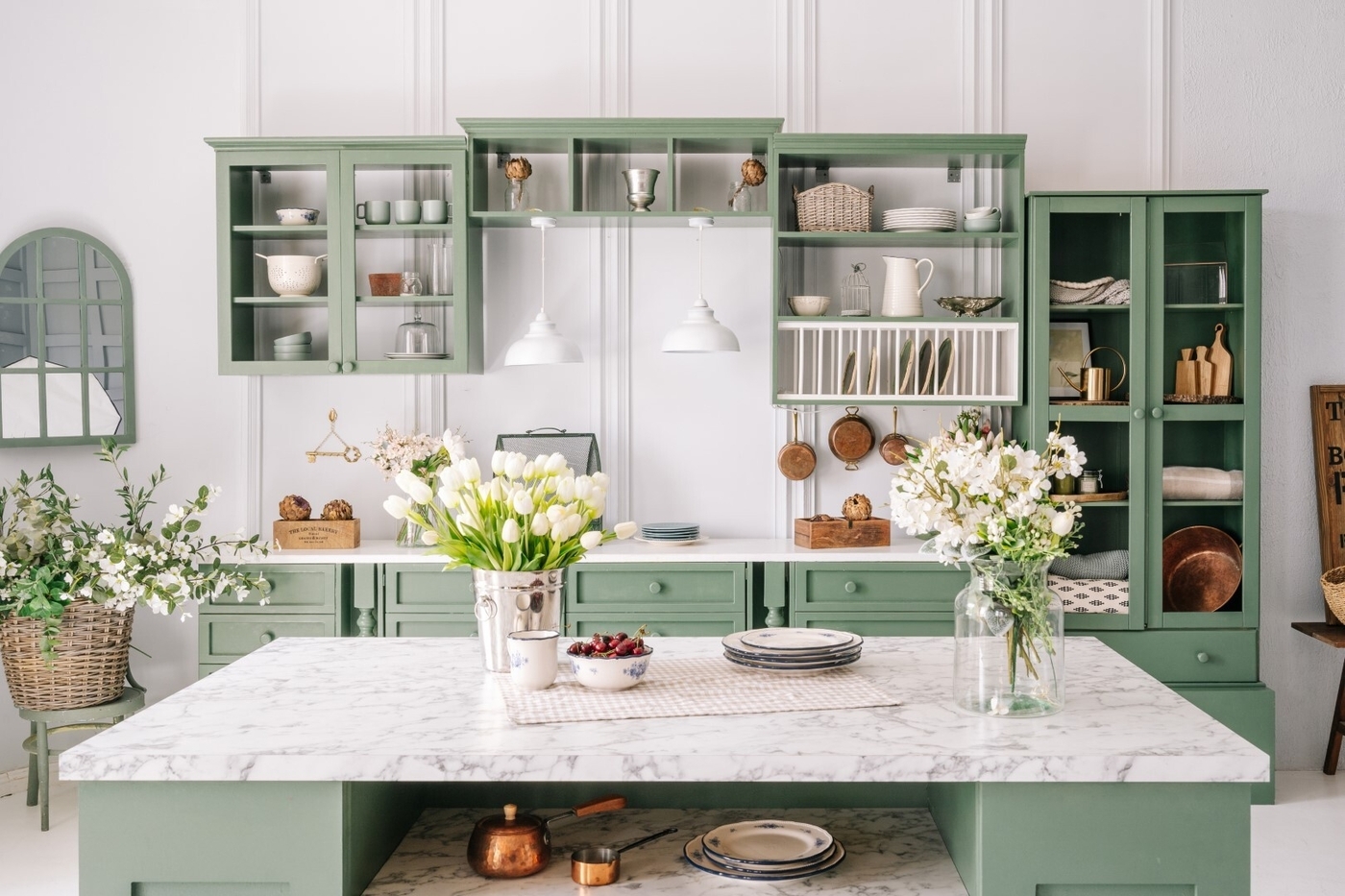 Bring chantilly white in touch with nature with the subdued, earthy tones of sage green. The calming verdant shade has a reassuring quality that is deeply comforting and inviting. Paint the kitchen cabinets sage green in a white kitchen to lend a sense of intimacy and warmth to an otherwise stark and hostile space. Together, the pair feel fresh and clean, ready to inspire tasty and nutritious fare.
9.

Chantilly Lace and Forest Green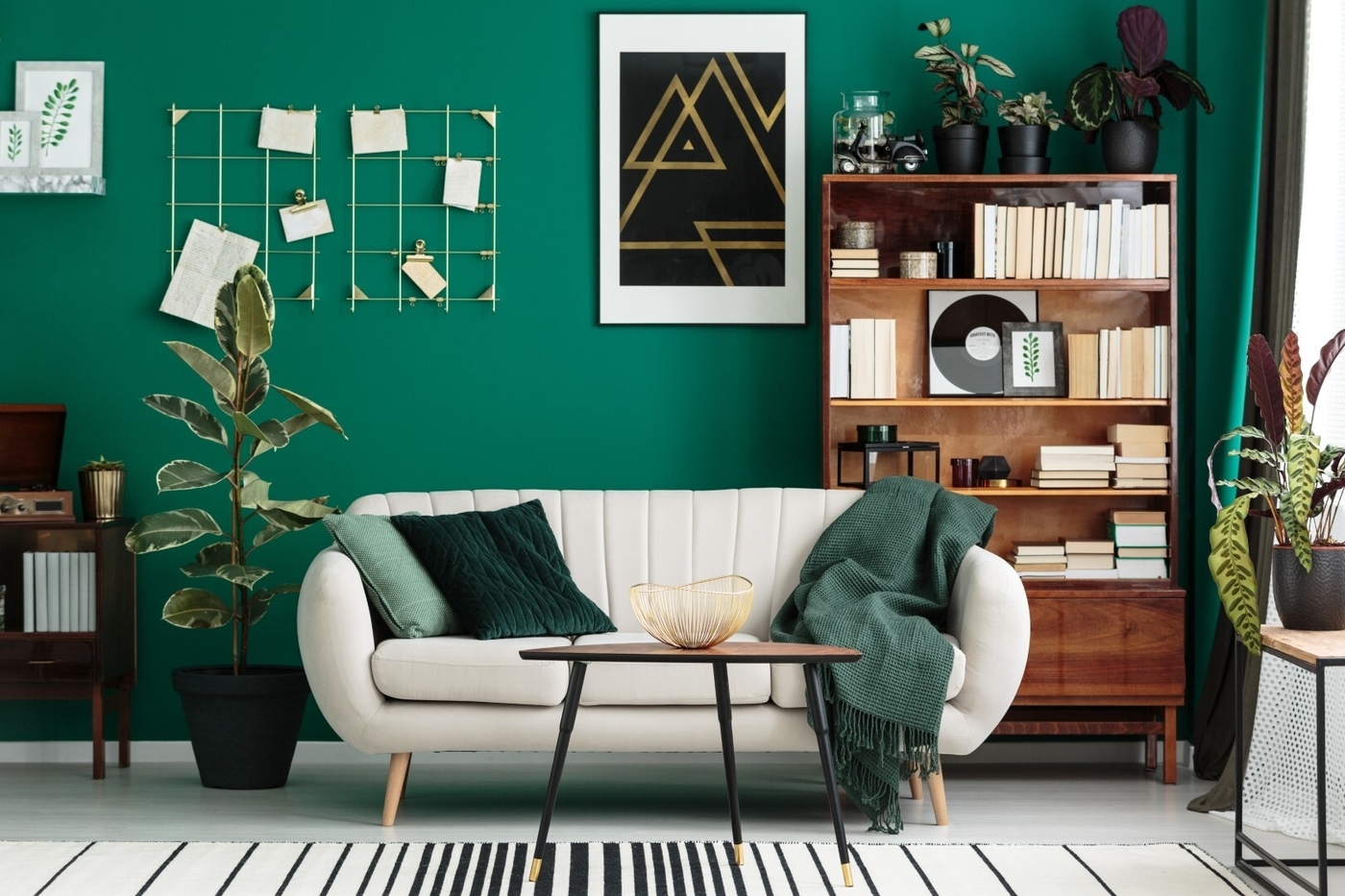 Chantilly lace adds a fresh, invigorating note to a rich forest green shade. The dark green walls recede in this living room as chantilly lace-colored furniture and decor pop to the fore like a light and welcome refreshment. Balance out the depth of the verdant shade with the natural brilliance of chantilly lace with a big sofa, neatly painted trim and window casing, and white framed artwork, for example. This will also give forest green - often perceived as a traditional color - a clean contemporary edge.
Interesting Facts About the Color Chantilly Lace
White is the lightest color. As it lacks hue, white is considered an achromatic color and is not featured on a traditional color wheel.

In Western culture, the color white is often used to represent purity, cleanliness, and peace, commonly seen at weddings and hospitals, for example.

The early Christian church adopted the Roman symbolism of white as the color of purity, sacrifice, and virtue. It became the color worn by priests during Mass.

White wedding dresses only became traditional following Queen Victoria's marriage to Prince Albert, for which she wore a white dress. As white dresses grew in popularity for weddings, they also took on a new symbol of purity, innocence, and virginity.

In many Eastern cultures, white is often associated with death, sadness, and new life. The color is often used at funerals and other mourning rituals.

White noise is called 'white' noise because, like white light is a mix of all color frequencies, white noise is a combination of all audible sound frequencies.