Elegant and sophisticated, yet never glamorous, charcoal gray is a conservative shade situated at the dark end of the grayscale.
Less solemn than black, charcoal gray is moody and mysterious. It is powerfully quiet, asserting its presence without creating visual noise. The dark neutral is undeniably dependable and practical and has a steadying effect on other colors, toning down bright hues and elevating subdued shades. Like all grays, charcoal is well-suited to modern design styles, like industrial, mid-century, and minimalist, or used as an accent in Scandinavian decor.
What is the Psychology of Charcoal Gray?
Gray is a color associated with the type of intellect, knowledge, and wisdom acquired with old age and experience. Like gray hair, it is a symbol of maturity, responsibility, and stability. Not black, nor white, gray is like the no man's land of color; it is innately diplomatic and impartial and represents neutrality, balance, and compromise. However, these qualities can also be perceived as ambiguous, dispassionate, and emotionally detached. Gray is also considered an industrial and 'high-tech' color, symbolizing technological advancement, the future, and modernity.
Gray is an achromatic color, which means that it lacks a hue as well as the energy and emotional charge of chromatic colors. It is this absence of motion and emotion that affords gray its calm and composed nature. Considering charcoal gray is a near-black shade, it comes as no surprise that it inherits some of the color's characteristics. Like black, dark gray oozes elegance and sophistication. It is formal and serious and communicates power and strength. Fortunately, it narrowly escapes the negative associations of black in Western culture, such as depression, pessimism, anger, death, and immorality. In feng shui, black evokes power, mystery, and calm, qualities shared with charcoal gray.
What are the Best Ways to Use Charcoal Gray in the Home?
Choose charcoal gray as a sophisticated alternative to black. The dark shade maintains the same depth and strong sense of presence, yet it has a softer feel that is easier to live with.

If you're not feeling brave enough to paint your whole room in charcoal gray, start with an accent wall instead.

Shade your kitchen cabinets with charcoal gray. The dark backdrop will make everything else pop.

Add personality and purpose to a kitchen, playroom, or home office with charcoal gray chalkboard paint. The novel idea will provide hours of creative fun for kids or a useful place to get strategic and organized for work.

Charcoal gray sofas are a popular choice for modern interiors. Asides from disguising dirt and spills, it's also a versatile color that pairs seamlessly with most schemes. It looks best with lightly textured upholstery and a simple silhouette.

Ground a bright, neutral bedroom with charcoal gray bed linen. This is a great way to introduce the strong shade into a scheme, without it overwhelming.
What Colors Go with Charcoal Gray?
As a neutral, charcoal gray is infinitely compatible.However,it is rarely a clean mix of black and white. The dark gray shade will likely have either cool undertones of blue, green, or mauve or warm undertones of pink, yellow, or green. This helps energizeand elevate the achromatic shade, preventing it from feeling flat and lifeless. It's important to detect whether the charcoal gray is warm or cool so you know what colors it'll pair well with. Hold it next to pure black to help you identify its undertones, or ask your paint provider!
Too much charcoal gray can overwhelm a small space with little natural light. So, if you do want to make charcoal gray the dominant color in your scheme, make sure to use it in a spacious, well-illuminated room, and preferably on the east, south-east, or west side of the house.
Charcoal Gray + White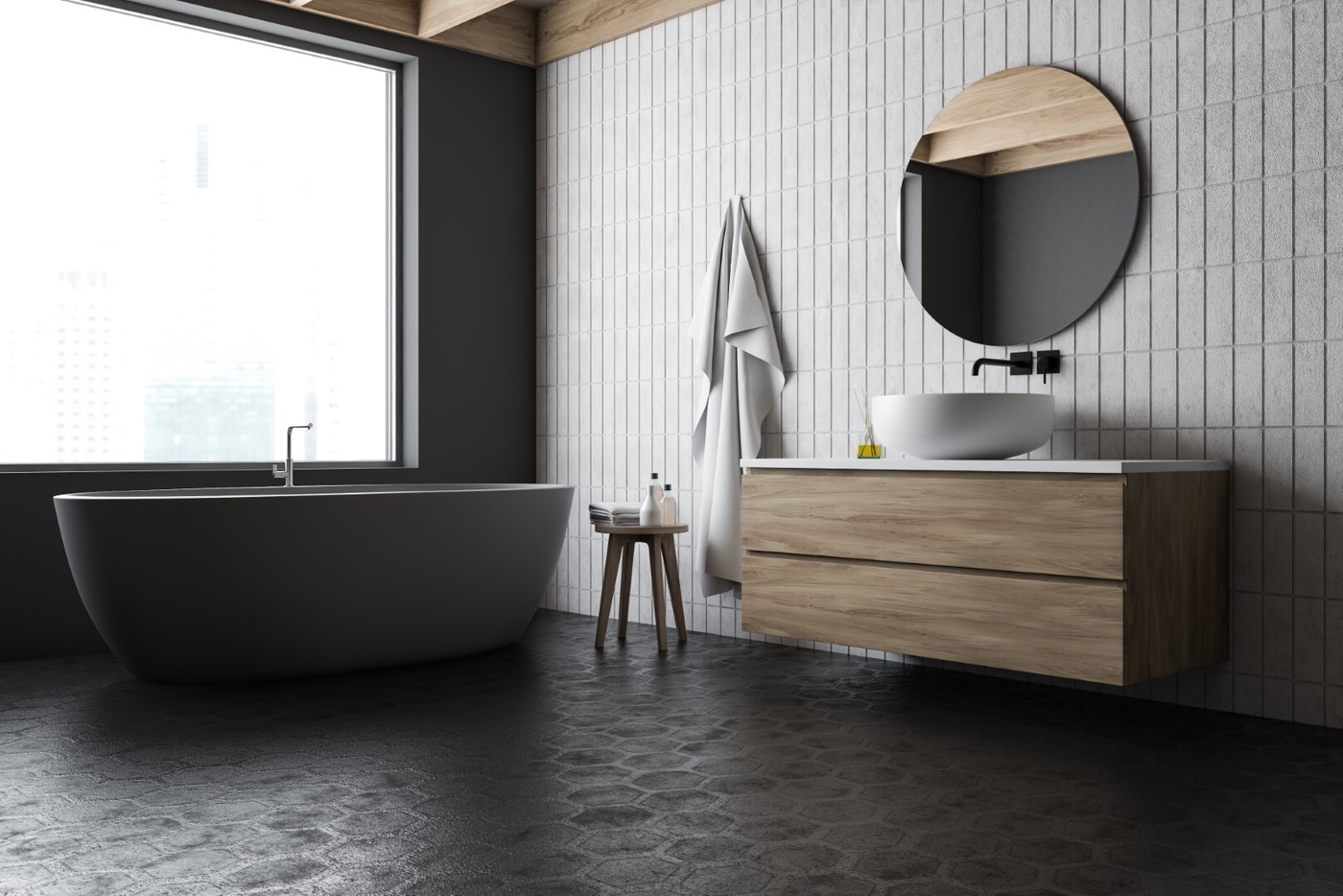 Charcoal gray and white is a tried and tested can't-go-wrong color combo. It's particularly effective for creating a chic spa-like bathroom, especially when the dark gray shade is used in abundance. Shiny white porcelain accents and warm brass hardware will bounce off a seamless charcoal backdrop. For a lighter feel, break up charcoal-painted walls with a white stone wall or some bright marble tiles. The secret to a successful charcoal gray and white scheme is to get the right proportions. Avoid a 50/50 divide as this will feel awkward. Instead, make use of the 60-30-10 rule to achieve a timelessly elegant look.
Charcoal Gray + Ochre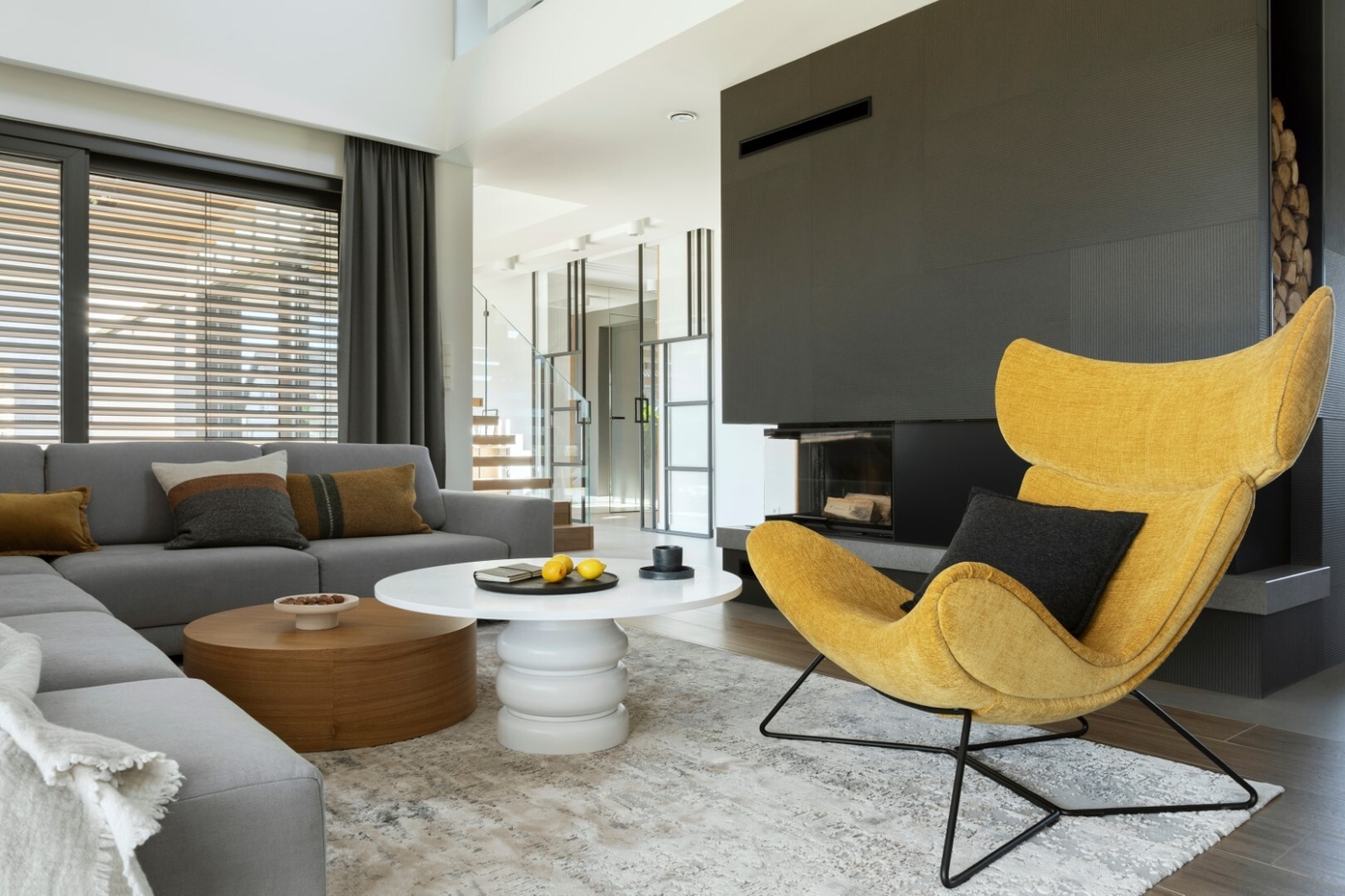 Add a punch of yellowy warmth to a dark, dependable neutral, or vice versa! Ochre is a rich, earthy shade of yellow with hints of deep orange and brown. The invigorating, golden hue is instantly uplifting and exudes positivity making it the perfect balance to the somber gray shade. If you delight in bright colors, use charcoal gray as the accent color to ground the scheme. Temper ochre walls with moody architraves and skirting boards for a crisp, dramatic contrast and a sophisticated look that will particularly appeal to mid-century modernists.
Charcoal Gray + Blush Pink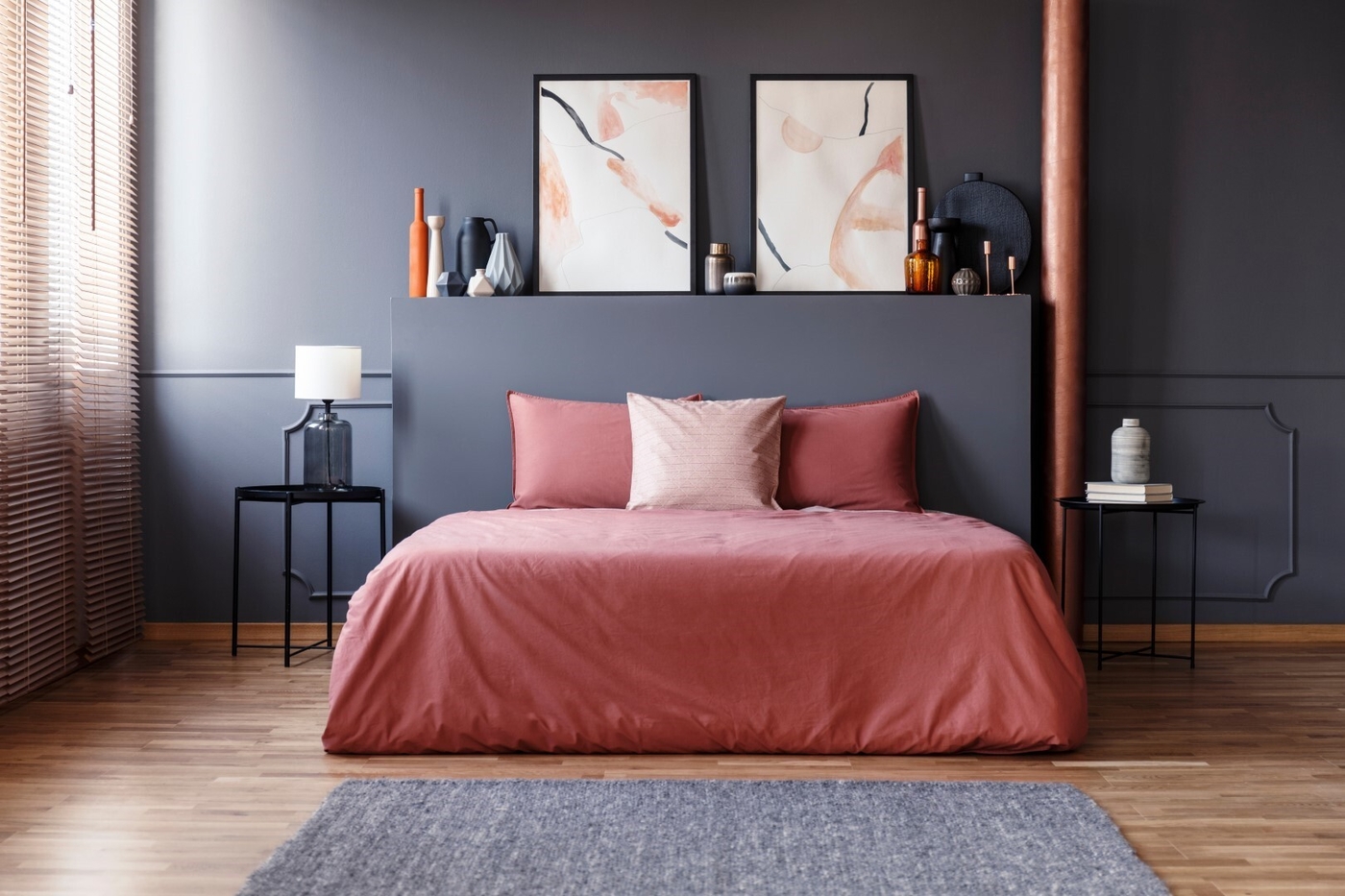 Charcoal gray and blush pink make a chic color scheme for a calm and contemporary bedroom design. The barely there hue is inherently feminine and subdued, making it the perfect color for a room that is intended for relaxing. The delicate pink lifts the heavy charcoal shade and challenges its masculinity. Introduce hints of blush through soft velvety textures to emphasize its comforting influence and dot it around the room inunexpected places such as lamp shades, painted side tables, and artwork. To ease the transition between the contrasting tones, introduce furniture or bedding in lighter shades of gray. The result? A cozy sleep retreat.
Charcoal Gray + Navy Blue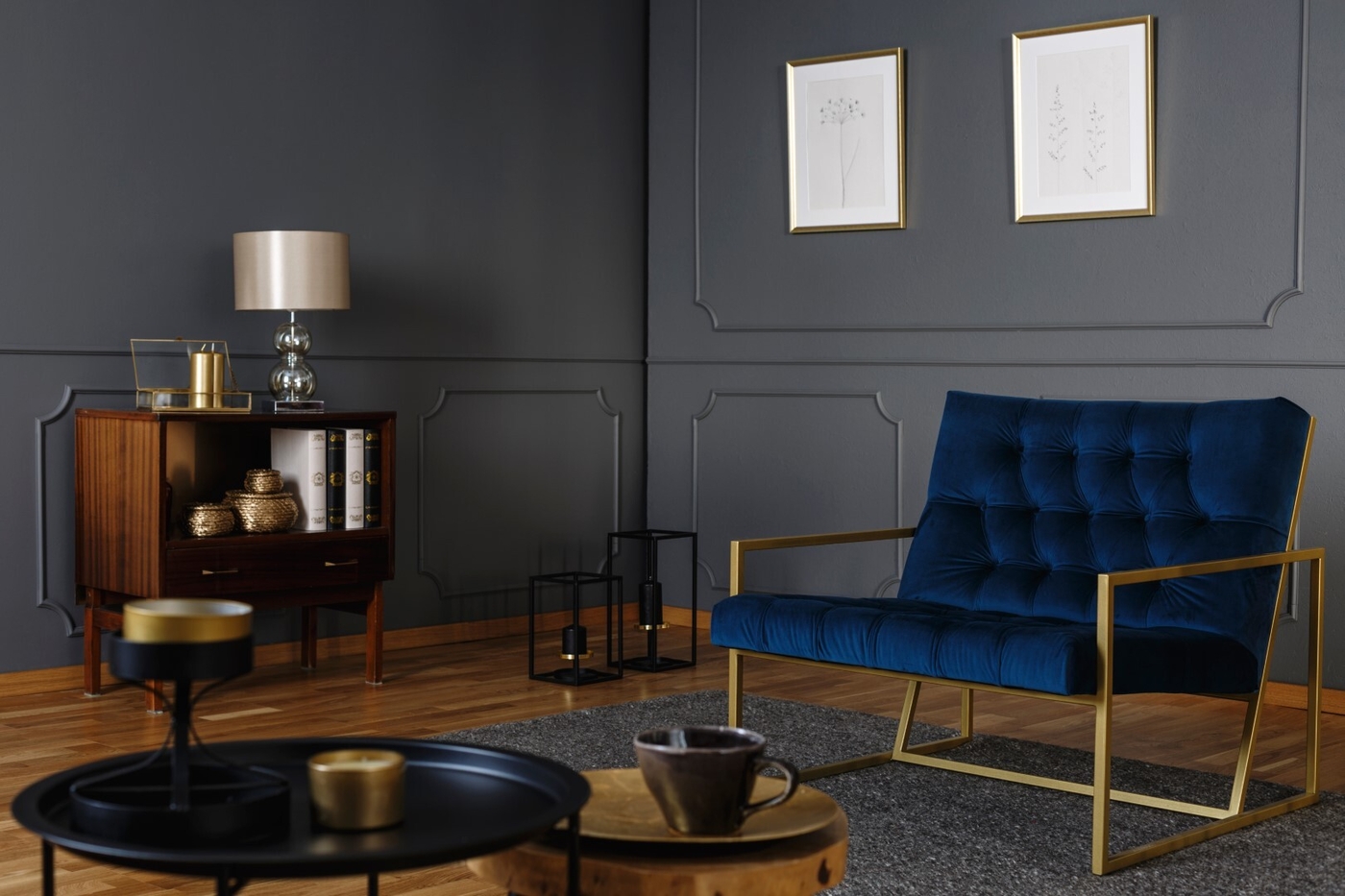 Charcoal gray and navy blue create a satisfyingly moody and dramatic look that is perfect for a bedroom, living room, or study. Like charcoal gray, navy blue evokes a sense of power, authority, dependability, and confidence, so together they make a strong impression. Add visual interest to the dark tonal scheme through texture and pattern. The oceanic shade lends itself to tactile fabrics, such as thick-knit woolen throws or a rich velvet sofa. Combine the pair with dark wooden flooring and furniture and punctuate it with bronze accents for a cool, understated, and effortlessly sophisticated decor.
Charcoal Gray + Burgundy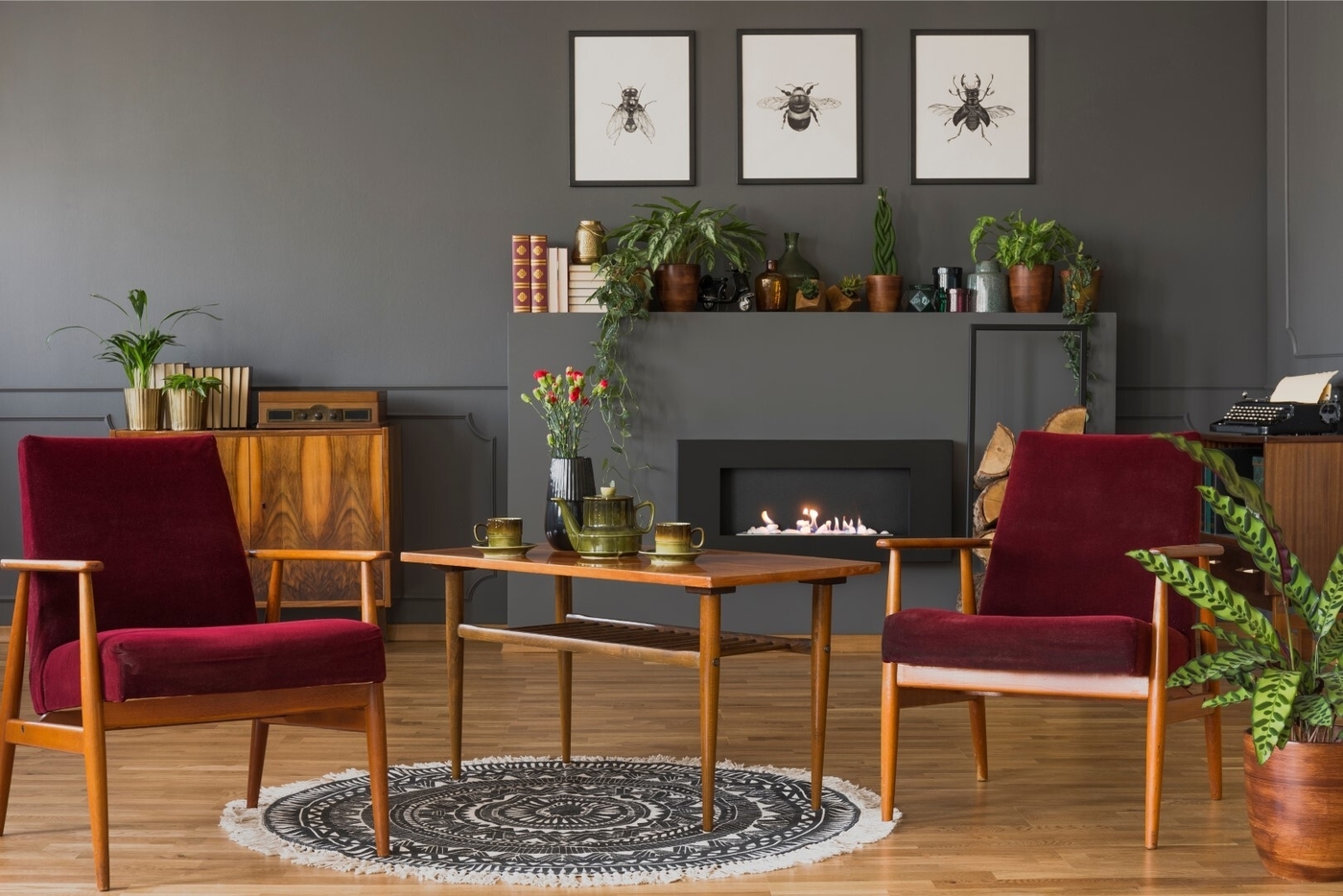 Elevate charcoal gray with a flirtatious splash of burgundy. The deep shade of red oozes opulence, confidence, and sophistication, and boasts the same full-bodied complexity as the fine wine from which it gets its name. The rich color energizes and adds a sense of finesse to dark gray, which in turn tones down the commanding red shade. Together they make a captivating and timeless color palette that can be adapted to a modern or traditional aesthetic. Burgundy is a cool color so it pairs best with a charcoal gray with a cool undertone. Celebrate burgundy's depth with soft, velvety textures that heighten its seductive disposition, such as a lavish sofa or elegant pleated curtains.
Charcoal Gray + Orange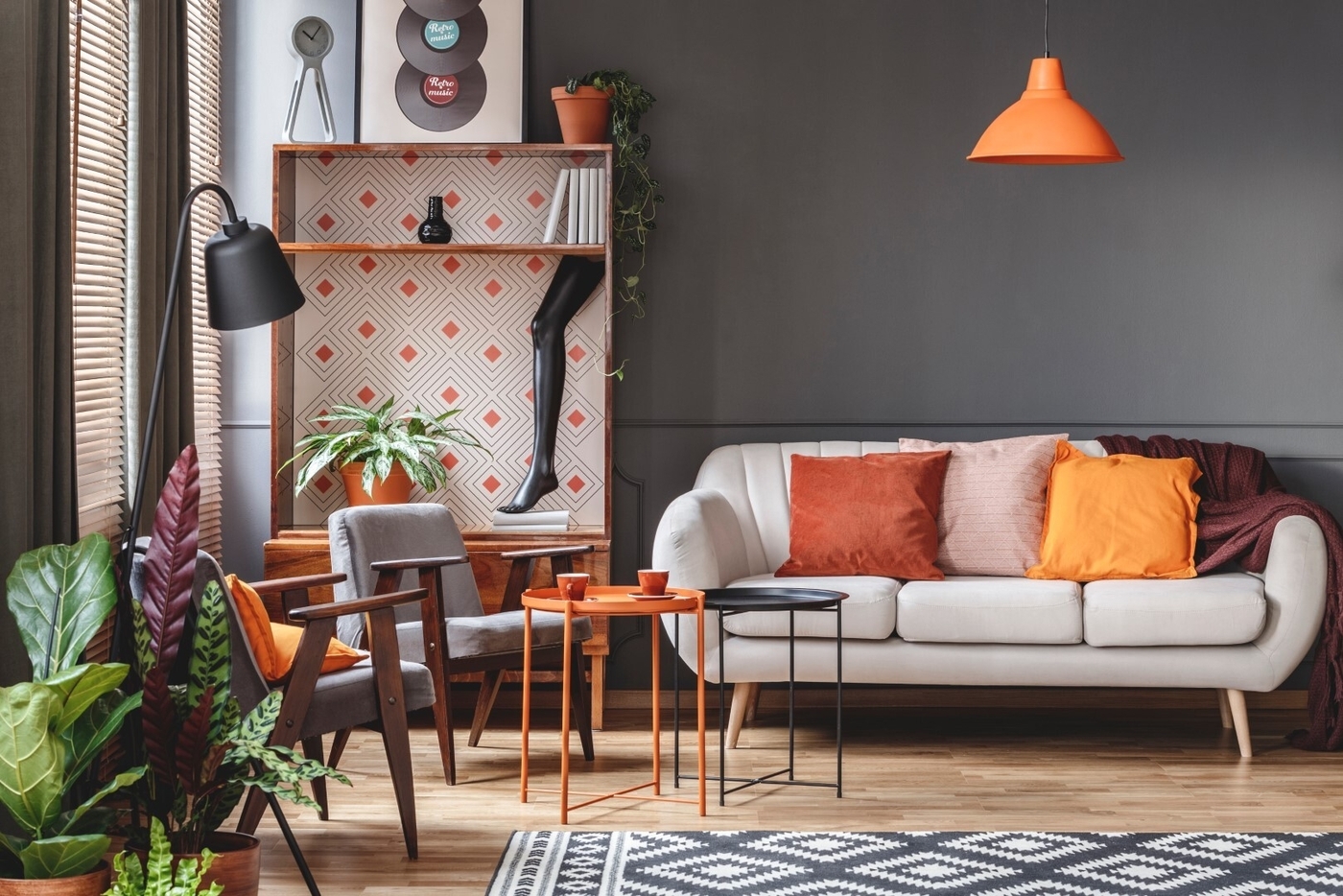 They say opposites attract, and charcoal gray and orange vouch for that. Where gray is considered lifeless, flat, and uninspiring, orange is high-energy, uplifting, and stimulating. Unsurprisingly, they make a striking pair. The cool gray tones counterbalance the zingy warmth of orange and provide a calming backdrop that makes the vibrant hue pop. Too much orange can overwhelm, so implement the 60-30-10 rule to capture the perfect balance. For a fresh, modern scheme opt for a bright tangerine orange, though it's best to avoid this energetic hue in rooms intended for relaxation. An earthy burnt orange is effective for a rustic look and can be a comforting color palette for a bedroom or living room.
Charcoal Gray + Sage Green
If you're thinking you've seen this color pairing before, you'd be right. We complemented charcoal gray's depth and strength of character in our article Colors that Go with Sage Green. The subdued green hue complements the cool undertones and steadying nature of charcoal gray and almost becomes neutral itself. Start and end the day with the serene color scheme in a bedroom or bathroom. Add some wood accents for a touch of warm, natural texture.
Charcoal Gray + Lavender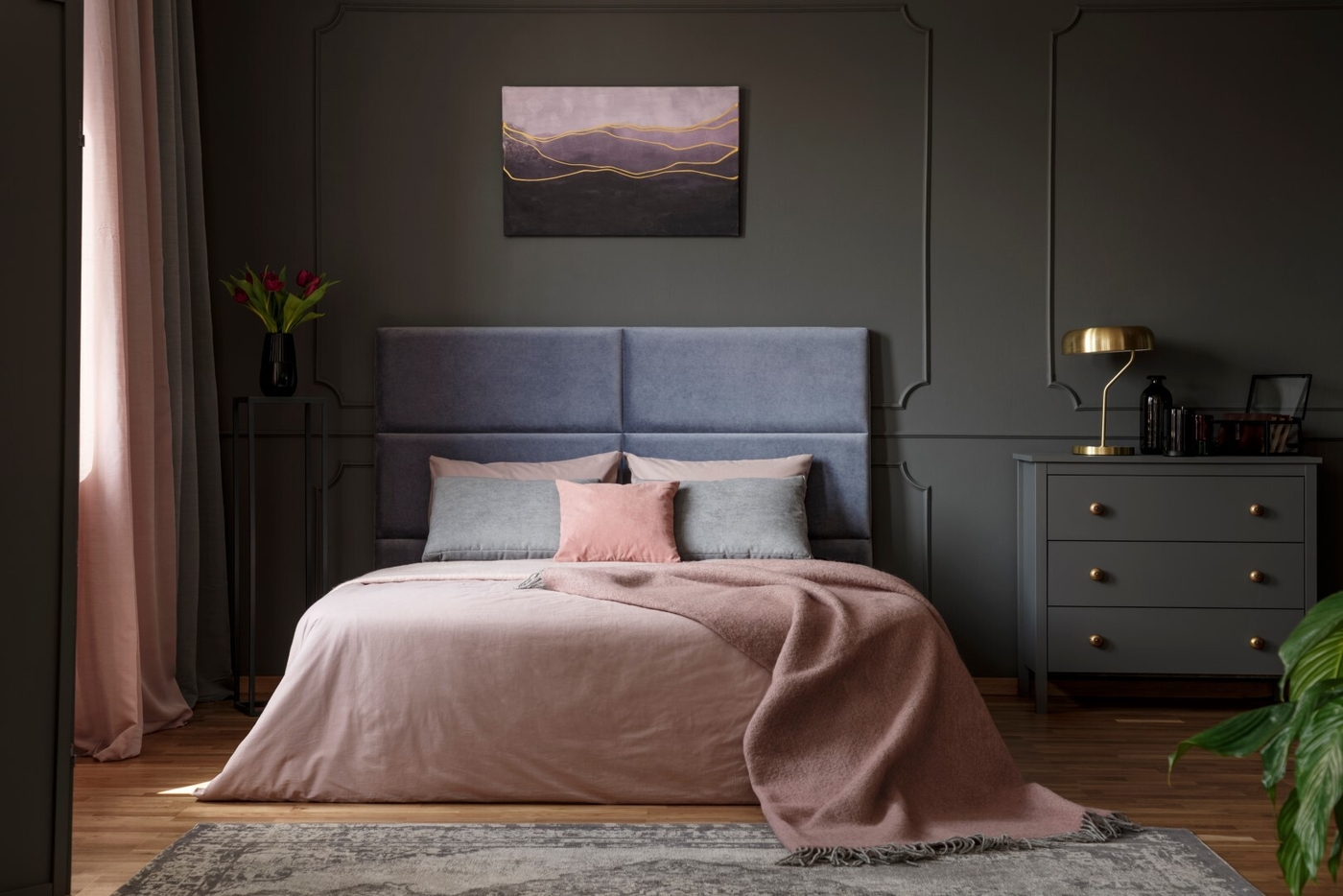 Charcoal gray and lavender are the recipe for a restful retreat. The muted, near-gray shade of purple makes a delicate accent to the somber dark gray, adding a fresh, floral-inspired touch. While lavender can have a therapeutic influence, too much lavender can have the opposite effect and look dated. Rather than paint it on all the walls in a room, limit it to an accent wall, wainscoting, or patterned wallpaper, or thread it into a gray scheme through soft textures, such as an upholstered armchair, a silky cushion, or crisp linen bed sheets. Fill out the color palette by experimenting with drops of darker shades of purple and lighter shades of gray.
Charcoal Gray + Greige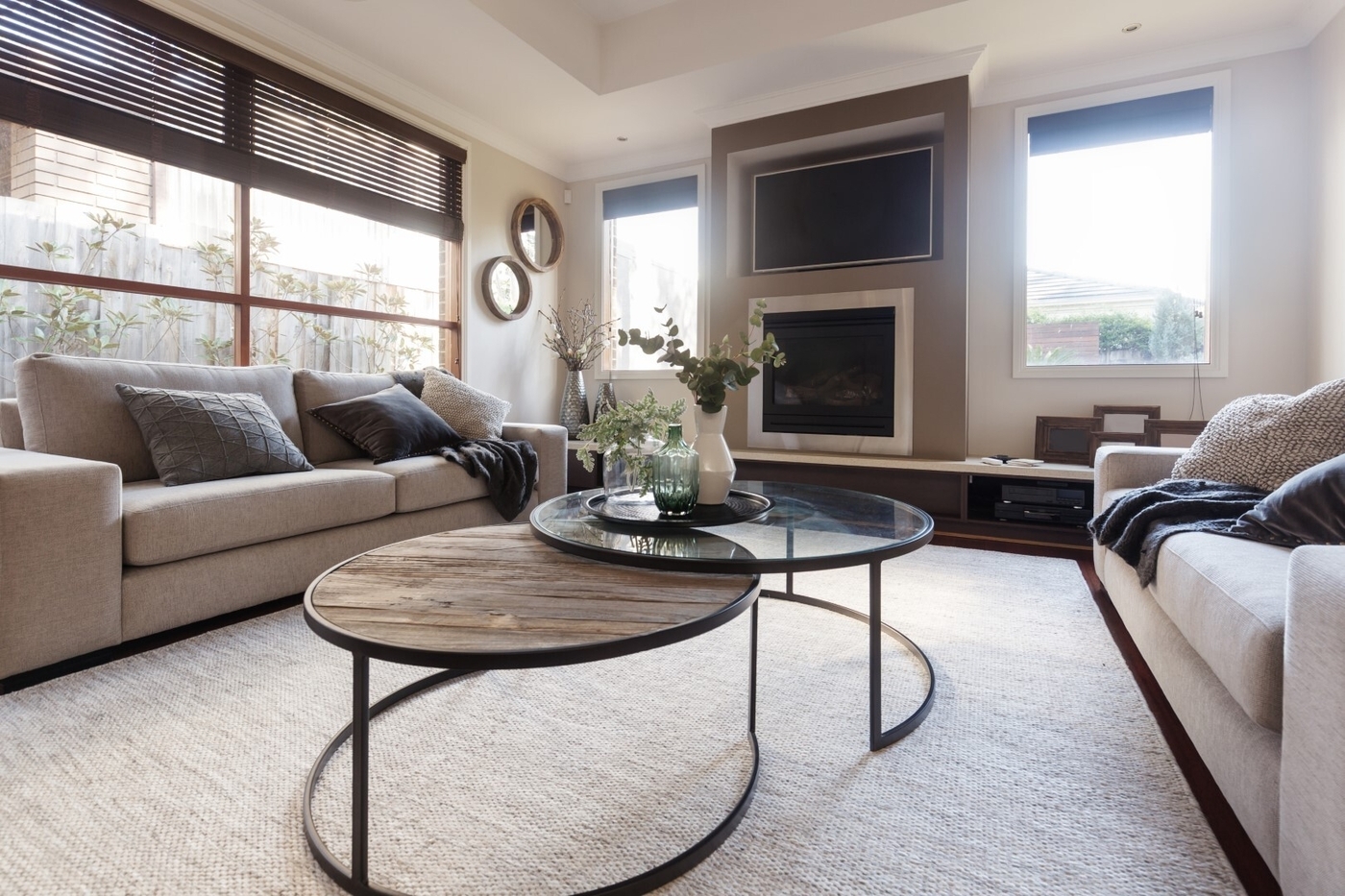 Pair charcoal gray with greige - a mix of gray and beige - for a refined and restful contemporary scheme. The warm neutral provides a versatile backdrop that pairs effortlessly with a range of colors and interior styles. Use greige as the primary color, and anchor it down with charcoal accents; the dark gray shade has a more gentle grounding effect than harsh black. For a warm, organic decor, introduce natural textures, like rough wooden finishes, weathered stone, woven rugs, wicker baskets, and lustrous brass hardware.
Interesting Facts About the Color Charcoal Gray
Gray is the color of Lent, mourning, and repentance in Christianity.

The human eye can distinguish more than 500 shades of gray.

Although gray is associated with maturity and old age, it tends to be more popular amongst young people.

In folklore, the color gray is often used to represent elves, goblins, and other legendary creatures.

Gray is often associated with war. It became a popular color for military uniforms as it is far more camouflage than blue or red.

In Chinese, the word for gray, 'huī sè', also means grizzly, pessimistic, gloomy, dispirited, and ambiguous. This is similar to the Western symbolic meanings of the color.