Gray is a timeless and practical color that pairs well with almost any color on the spectrum. Gray can add depth or help illuminate a space. Gray can have both positive and negative effects on one's moods, so it is important to understand how to best use it within a room.
What is the Psychology of Gray?
Gray is the transition between white and black making it a neutral and unemotional color. As gray gets closer to black it becomes more dramatic and mysterious. The closer gray gets to silver and white the more lively and illuminating it becomes.
Gray does not tend to stimulate or excite because it is quiet and reserved. Lighter grays can have a soothing and calming effect. Too much gray can cause sadness, however, it can also have a steadying effect on one's mood by balancing brighter colors and illuminating softer colors. Furthermore, gray often has elements of other colors that allow it to energize.
What are the Best Ways to Use Gray in Your Home?
Wall paint, rugs or large furniture pieces in gray provide an excellent foundation for any room. Pair with other neutrals to create a timeless interior.

Warmer tones of light gray soften statement patterns. Use warm grays on walls, instead of white, in spaces with lots of colorful accessories to make the room feel less stark.

Pink and gray pair well for soft and feminine spaces.

Add brightly patterned accessories such as pillows and throw blankets to brighten gray furniture.

Too much gray can potentially have negative effects on a person's mood and therefore should be balanced with other colors in a room.
What Colors Go with Gray?
Gray is a universal color making it easy to pair with most colors. To ensure you are using it correctly though, read about the 5 principal rules of color combination, which we refer to in our color suggests for gray.
Gray + Purple
Purple and gray in the right balance create calm and sophisticated rooms. Balance softer gray tones with brighter, deeper purples. Paler purples, such as mauve, provide an excellent backdrop for darker grays. Use lighter shades of purple on the wall or as accent pillows on darker gray pieces of furniture.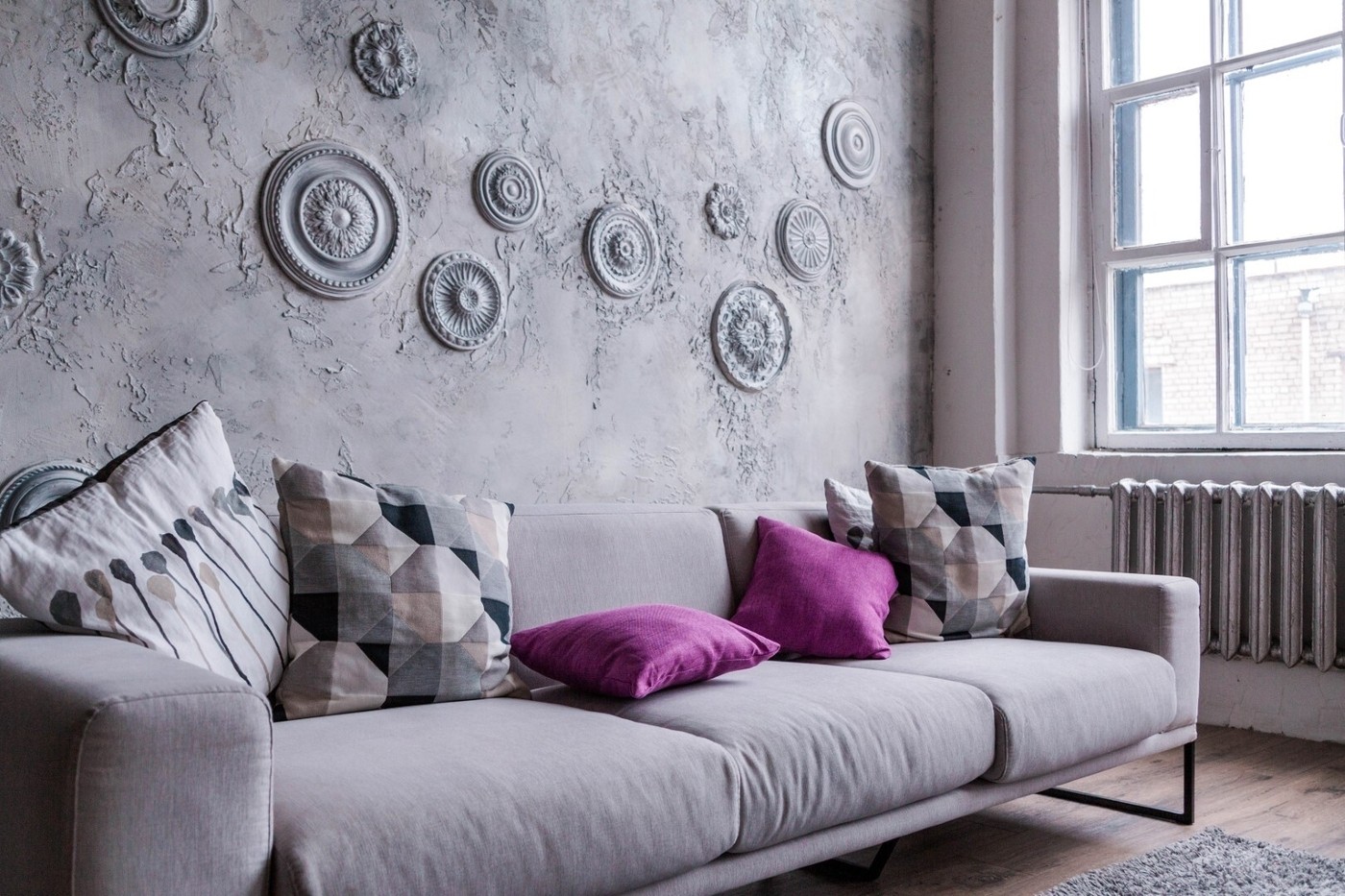 Gray + Pink
Pink and gray are a classic combination. Brighter pinks pop against deeper gray tones adding a bit of fun to a room. For more soft and feminine spaces such as nurseries, pair blush pinks with light grays. Start with a soft gray wall and add in light pink accents in the rugs, furniture and accessories.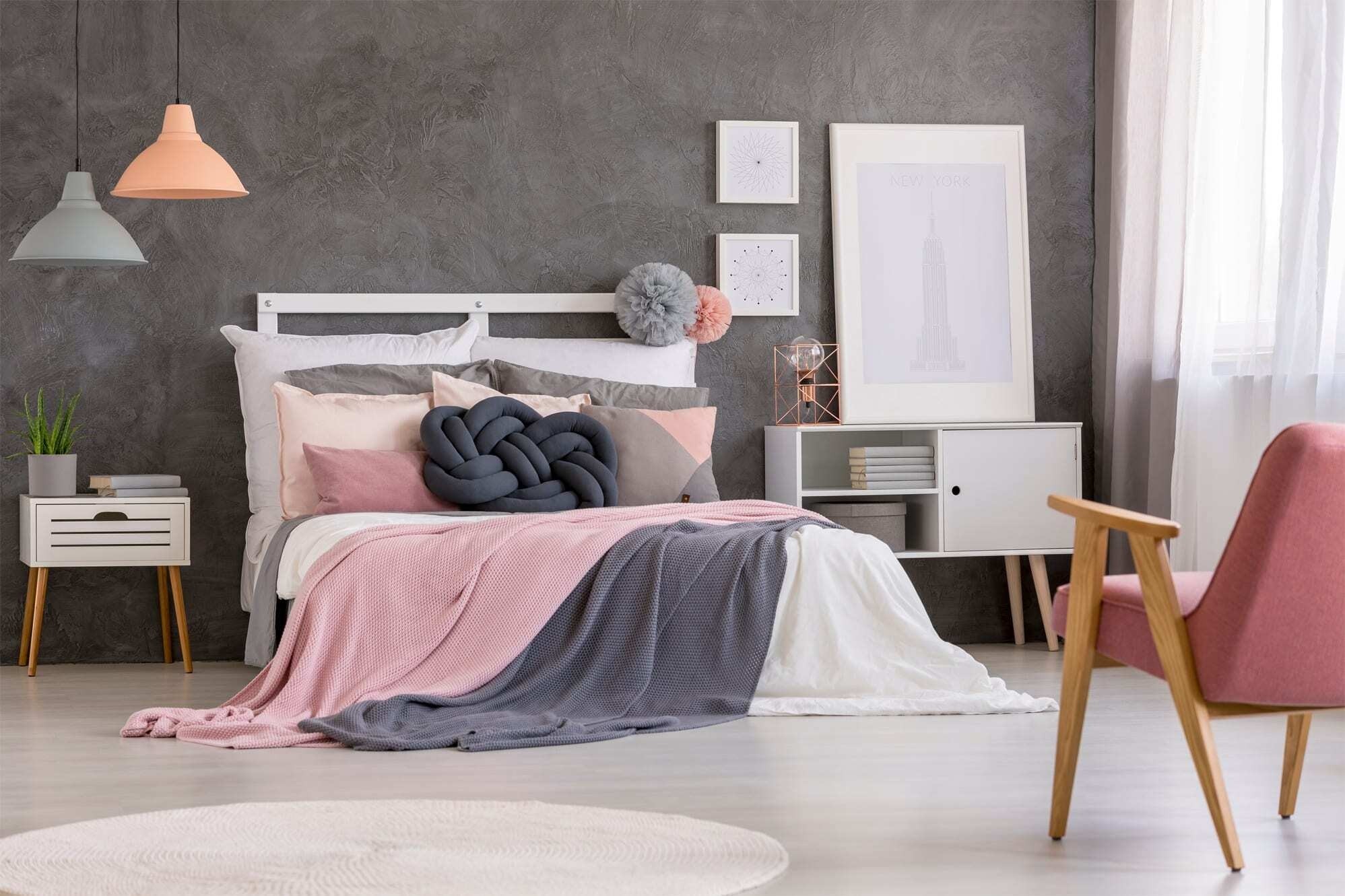 Gray + Yellow
Yellow can brighten otherwise dull gray spaces. Add yellow accents such as throw pillows and blankets to gray sofas for a punch of color. Mustard or golden yellows provide a nice balance to darker gray tones. Be bold by adding a statement furniture piece in a deeper shade of yellow to rooms with gray walls.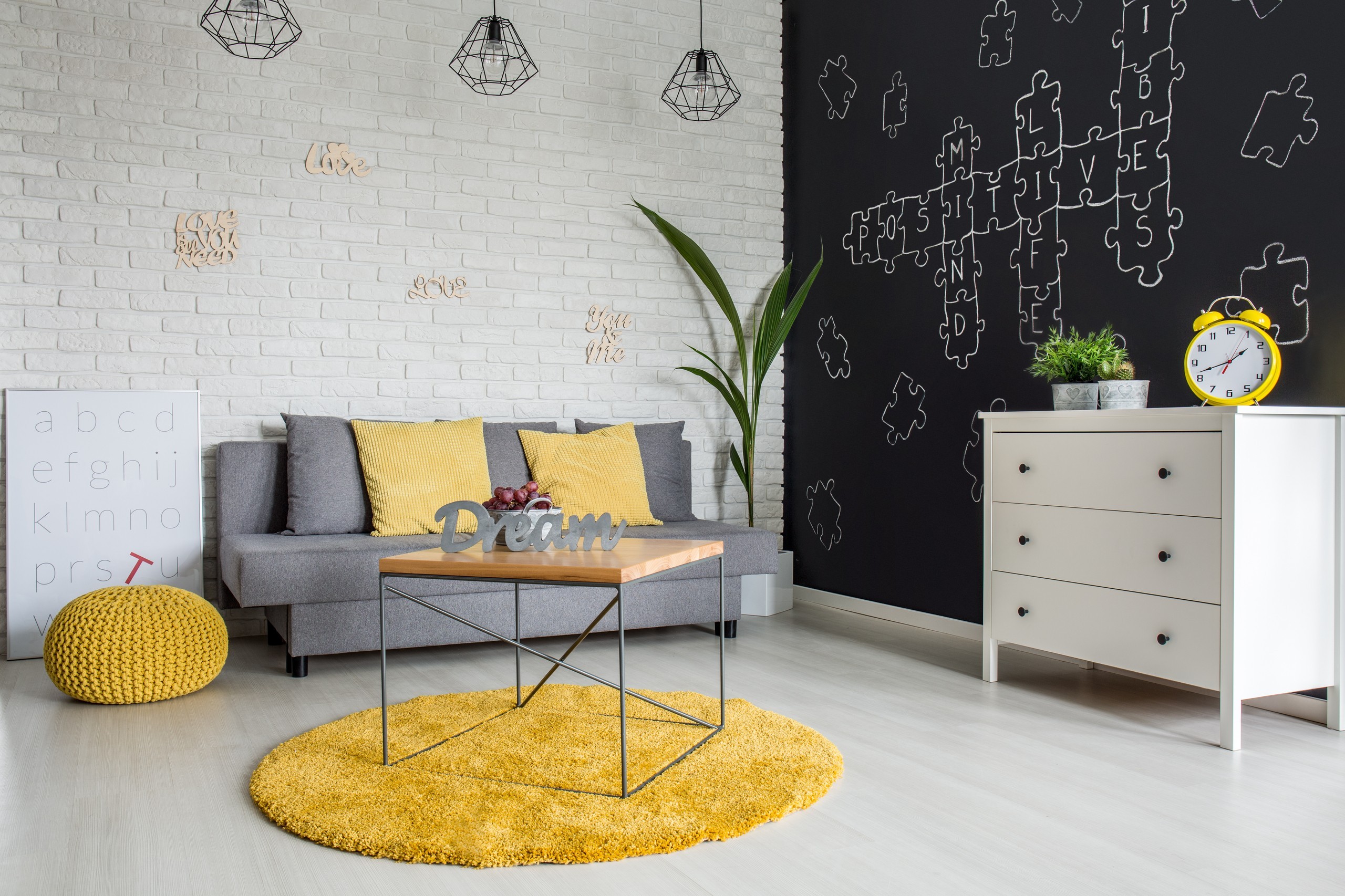 Gray + Orange
Orange and gray create bright and cheerful spaces. Brighter orange accents in a gray room have a youthful feel whereas burnt orange shades have a more masculine vibe. However, orange has an intensity that can overwhelm a room so it's important to follow the 60-30-10 rule when using orange and gray together. Create a foundation for the room with 60% gray, add another neutral at and finish the space with 10% orange accents such as artwork, decorative accessories or throw blankets.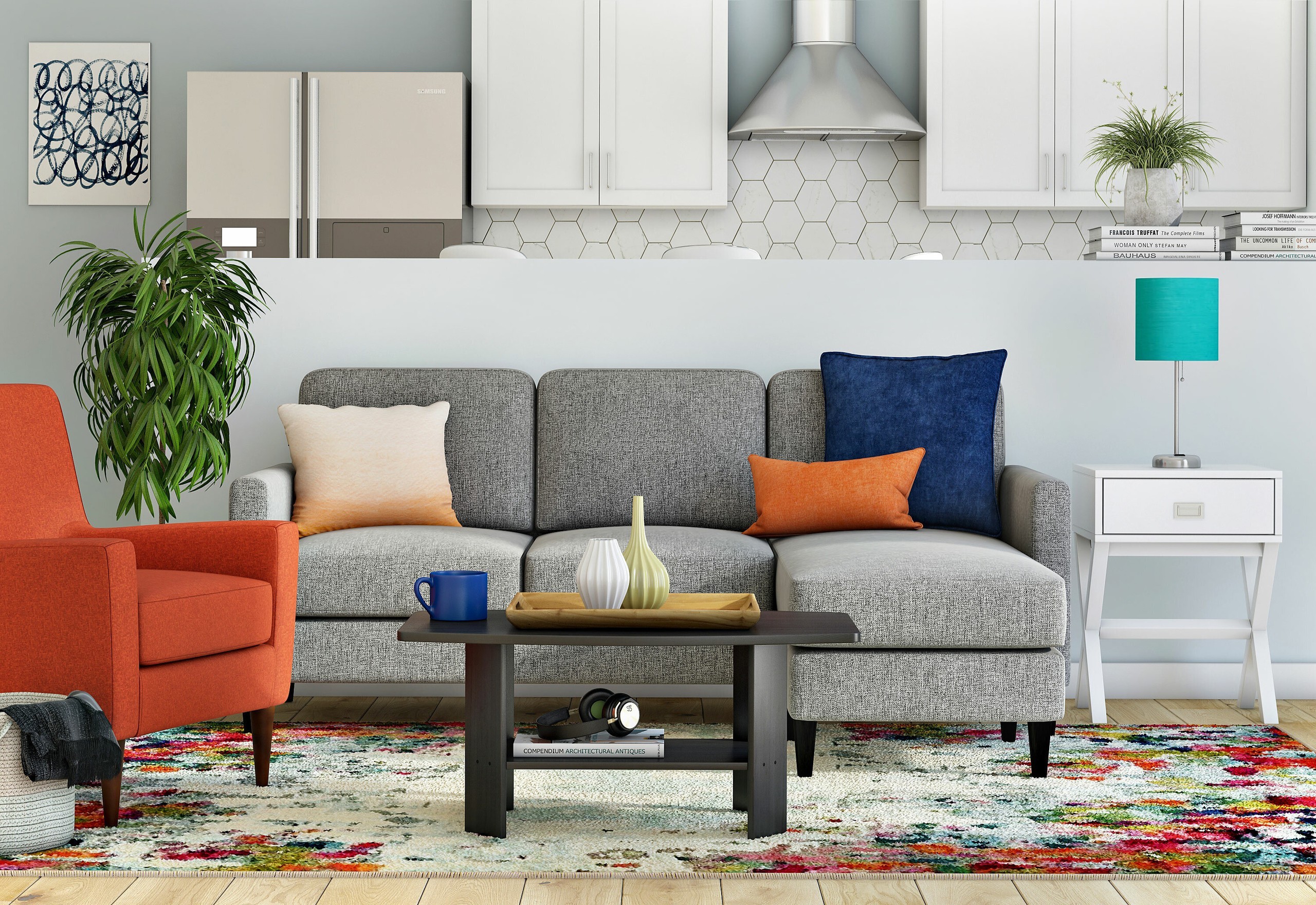 Gray + White
Gray and white are the perfect combination and can be used in both traditional and modern spaces. White helps to illuminate and liven gray. In modern spaces mix shades of gray with white in otherwise monochromatic rooms for depth and interest. White and gray also pair well in bathrooms and kitchens for a clean and streamlined look. Instead of traditional white cabinets, try mixing gray cabinets with white tile for a timeless design.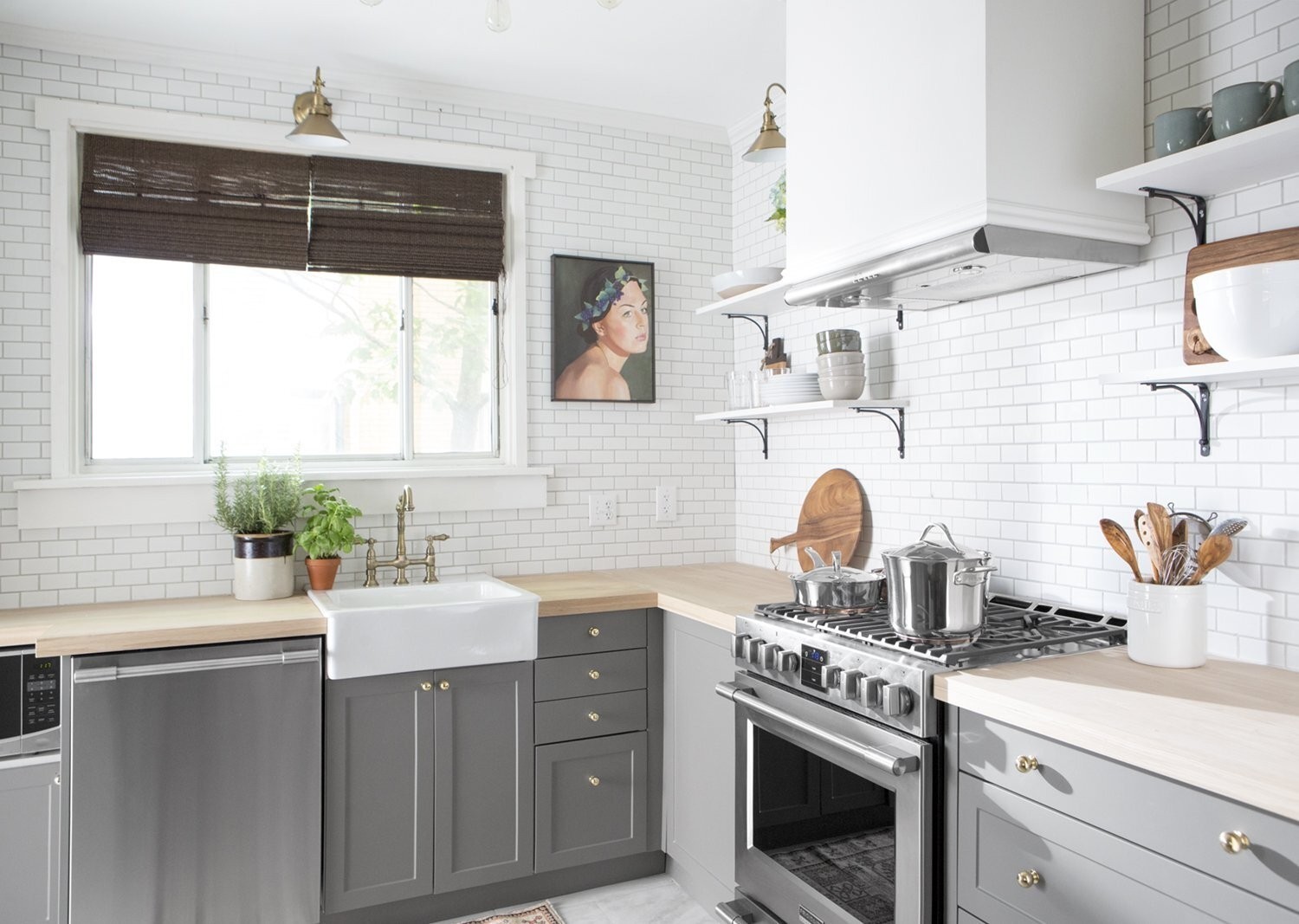 Gray + Green
It is hard to go wrong when pairing green with gray. Brighter greens can liven up a gray room or piece of furniture through the use of accessories such as pillows, art or accent pieces. Lighter greens or greens that have gray undertones provide just enough contrast when paired with gray furniture or accessories in order to build depth and warmth in a room.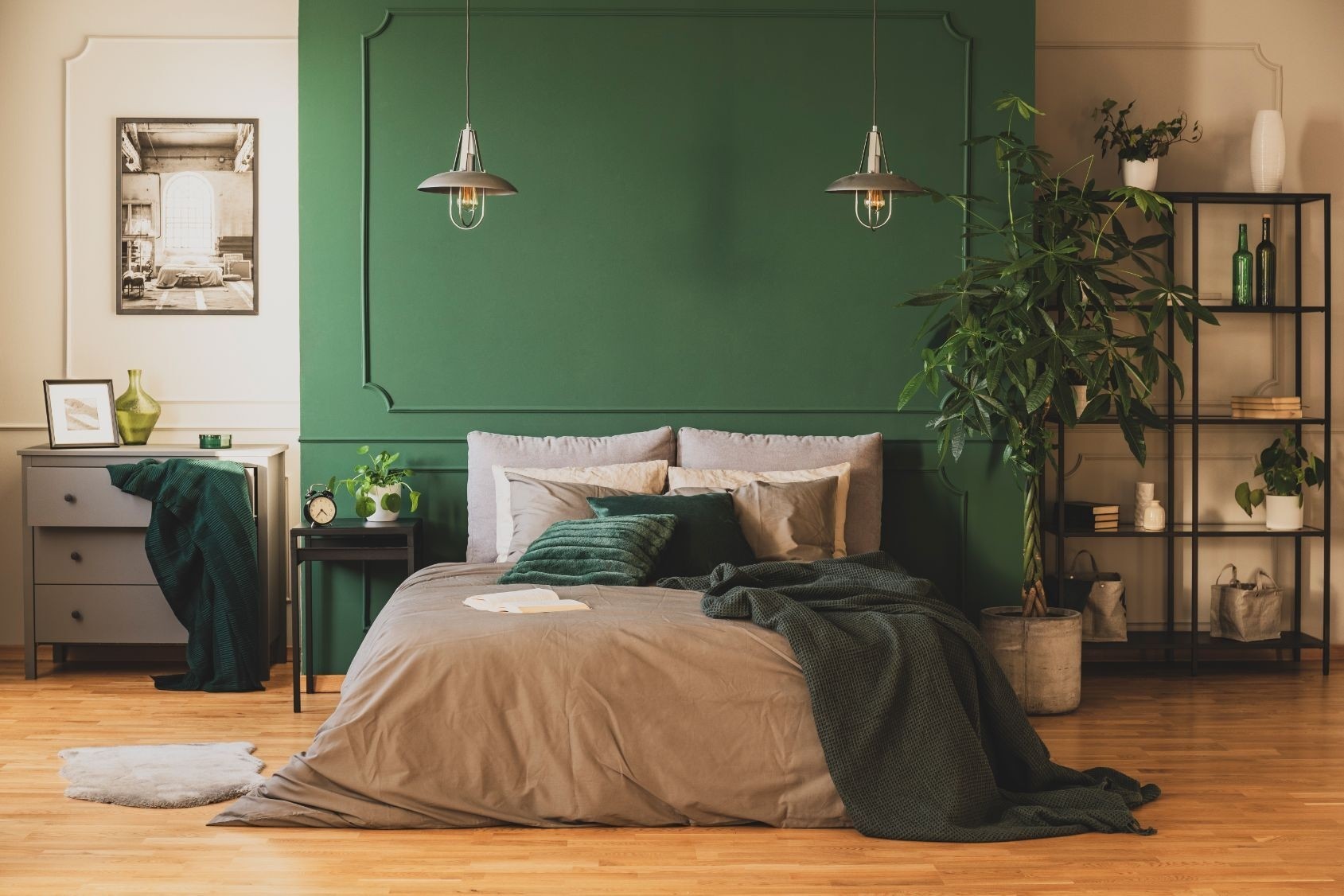 Gray + Gold
Gray and gold often define the resurgence of mid-century inspired interiors. It may seem an odd combination at first, but cooler tones of gray provide an excellent background for gold to really shine. A gold mirror against a pale gray wall or a gold lamp next to a gray piece of furniture provides a nice balance of warm and cool elements in a room.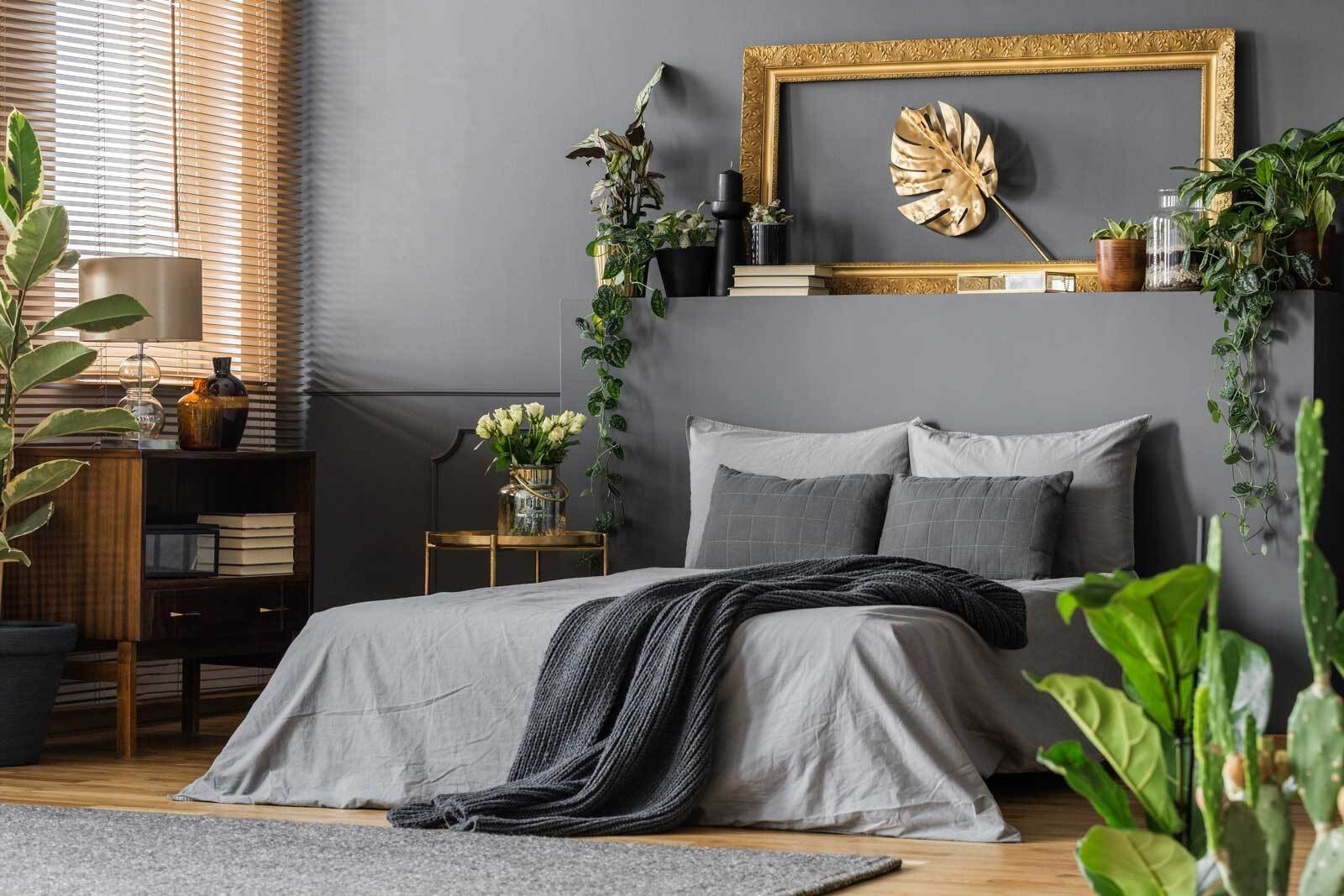 Gray + Blue
Similar to green, blue is an easy color to pair with gray. Often blue has gray undertones so it is important to mix paler and darker shades of both colors to add contrast. Create a masculine bedroom or den using navy blue and medium toned grays. For a more feminine feel, combine soft shades of gray with a cornflower blue.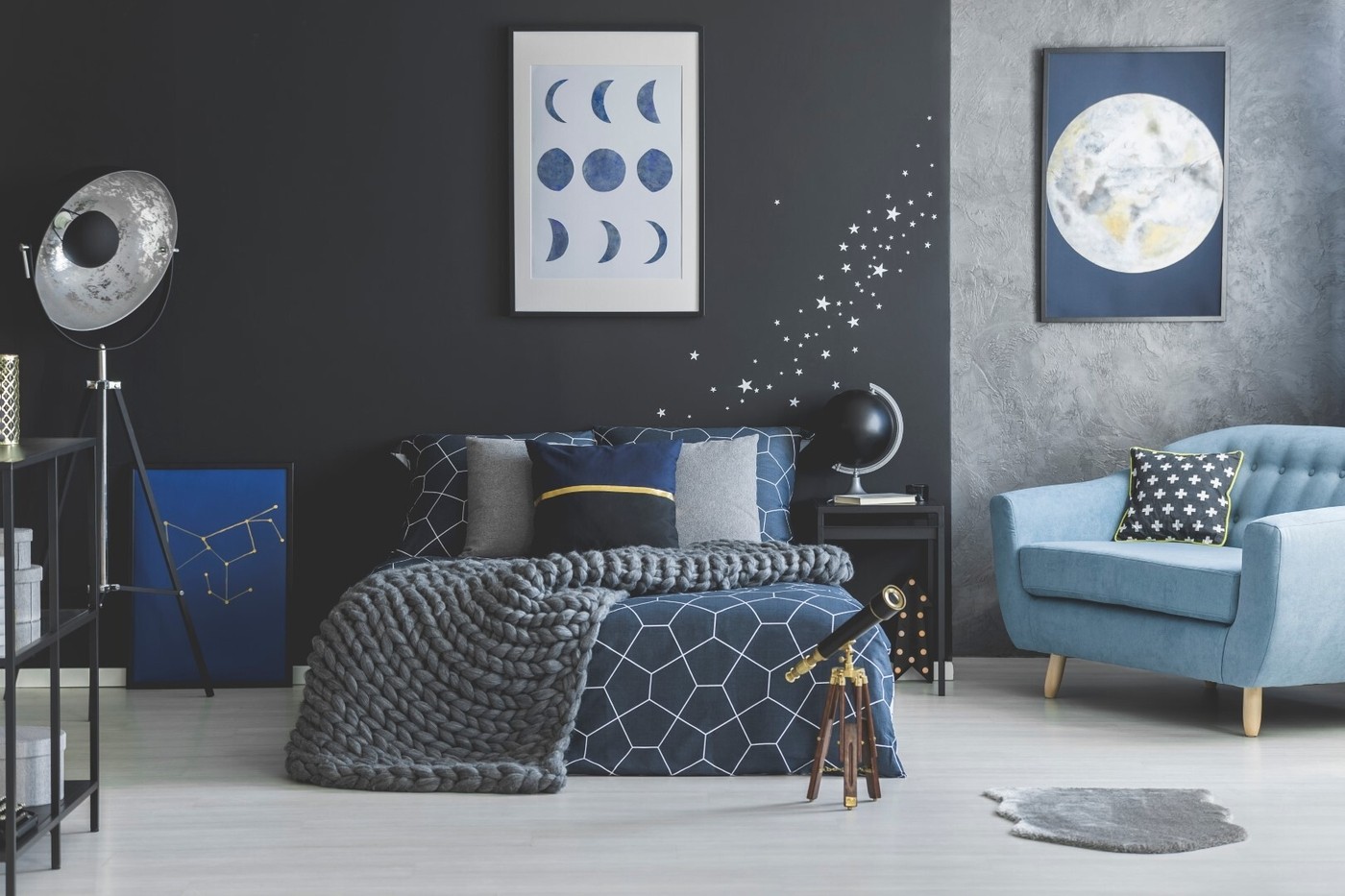 Gray + Black
Gray and black are an easy pairing but can make a space feel heavy if not balanced correctly. To keep black from overwhelming a gray room make sure to mix it with lighter shades of gray and white. Use black accents such as picture frames, smaller pieces of furniture like a side table or light fixtures, which add depth against lighter gray walls and furniture.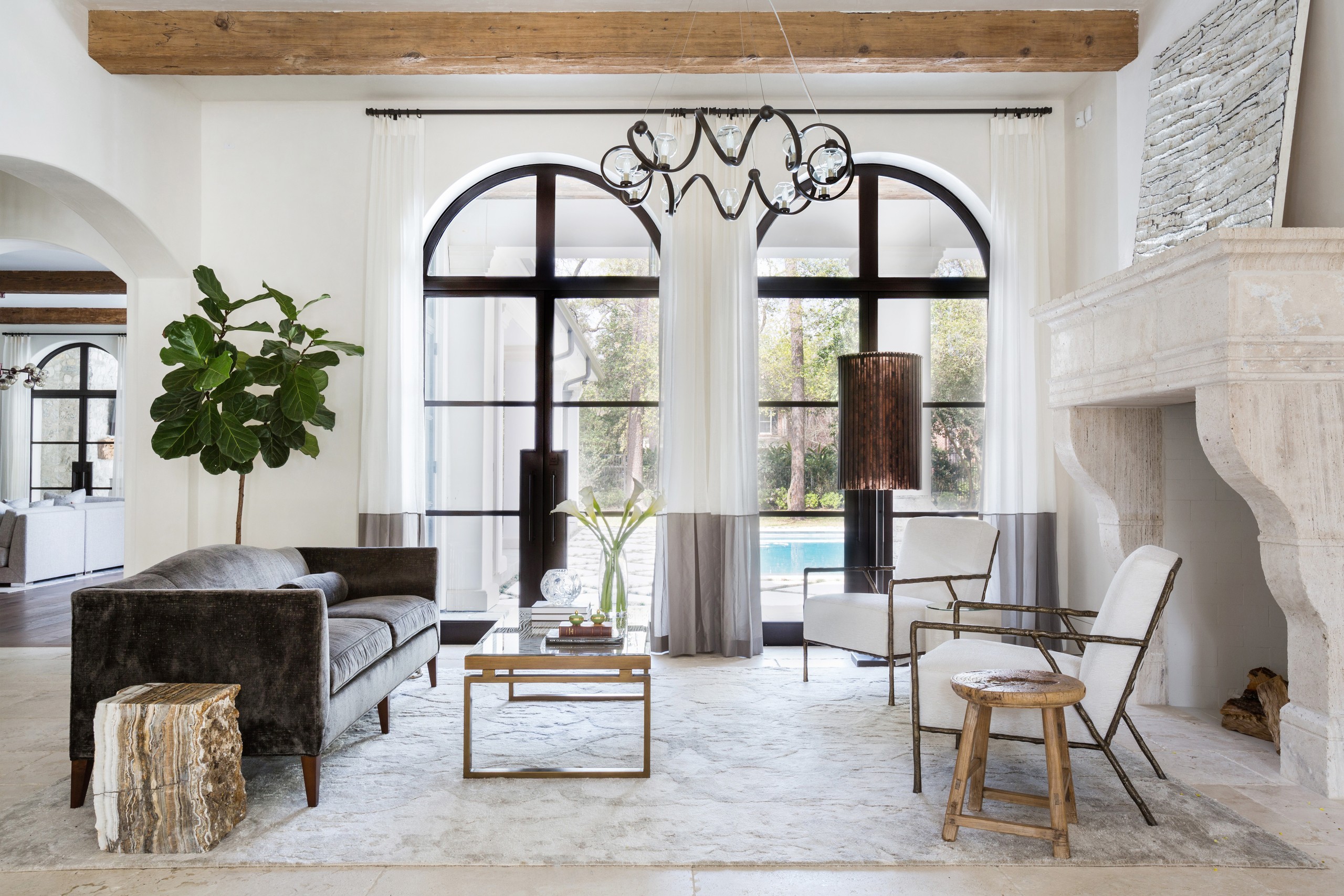 Gray + Red
Gray and red are a staple pairing in modern interiors. However, to get this combination just right, use the 60-30-10 rule as red is a very vibrant color and can overwhelm a space. Start with 60% light gray, add in a complementary neutral like a soft white or light wood at 30% and finish the room with 10% red accents.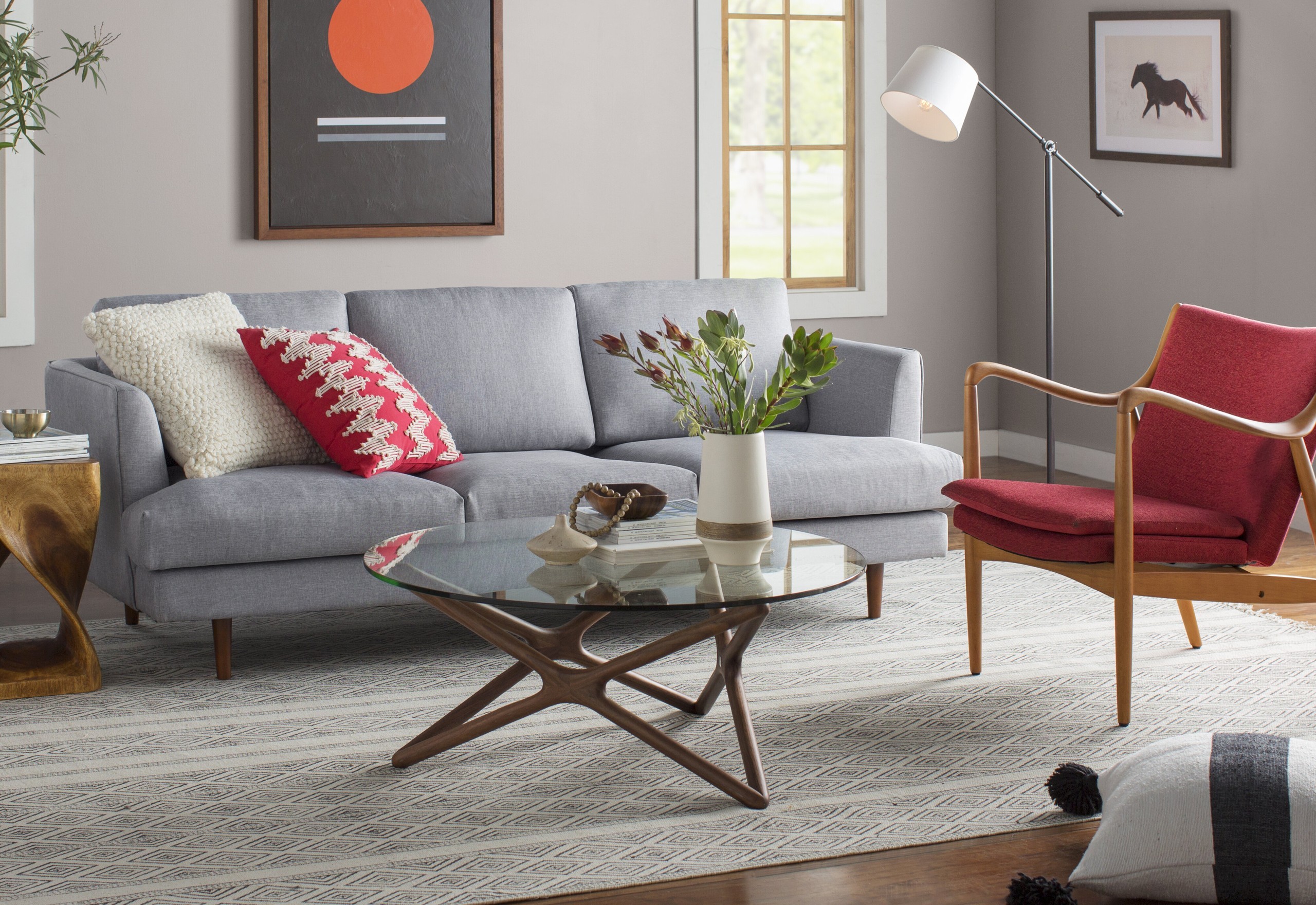 INTERESTING FACTS ABOUT THE COLOR GRAY:
Gray is often associated with elegance and luxury. Swarovski uses it as the color of its logo because it signifies superiority to its consumers.

The term "gray page" refers to text heavy pages with very little contrast or white space

The Crayola Crayon called "gray" was introduced in 1934.