Gold gets its name from a precious metal that is associated with grandeur and prosperity. It is therefore considered the color of wealth. Gold can be bright or somber and have both positive and negative effects on your mood, depending on how it is used.
What is the Psychology of Gold?
The color gold is generally viewed as optimistic and positive. Brighter shades of gold are eye-catching for their brilliance, whereas deeper shades are warm and intense. Gold is often associated with knowledge, loyalty and generosity. Gold can add a bit of extravagance to a space inspiring hope. However, being surrounded by too much gold can have a negative effect on one's mood. Too much gold can give a false sense of power and influence, leading to egotistical and self-righteous behavior.
What are the Best Ways to Use Gold in Your Home?
Use matte gold cabinet hardware in kitchens and bathrooms for a more modern look.

Add gold accent tables or lighting to a space for a touch of elegance.

Frame artwork in gold. For a traditional look use carved wood frames with gold leafing. For a more modern space, use a simple frame with a matte gold finish.

Gold leafing on a ceiling illuminates the space and adds opulence.
Avoid using all gold furniture in a space, as its brilliance can be overwhelming visually. Instead, mix it with other tones of wood to create a bit of interest.
What Colors Go with Gold?
Gold is a warm, brilliant color. It is sophisticated and often associated with traditional interiors but can easily be incorporated into modern interiors too. However, gold can be overwhelming if not balanced correctly with other colors.
Gold + Black
Gold and black are a timeless duo. However, they must be delicately balanced in a space. Both gold and black are visually stimulating so follow the 60-30-10 rules to get this combination just right. 60% of the space should be a neutral color such as white or cream, layer in black accents such as throw pillows and drapery at 30% and keep gold accents to 10% of the room.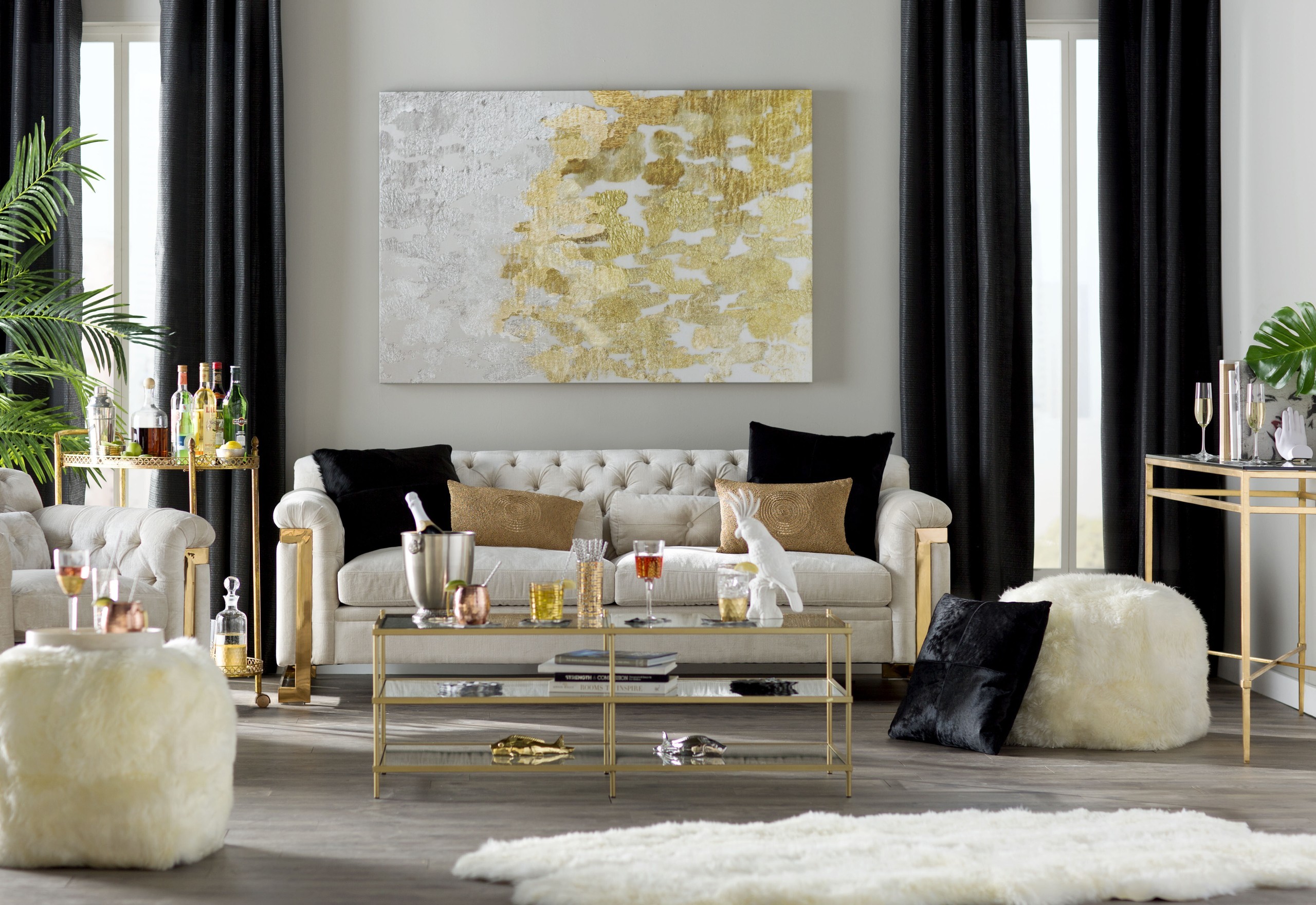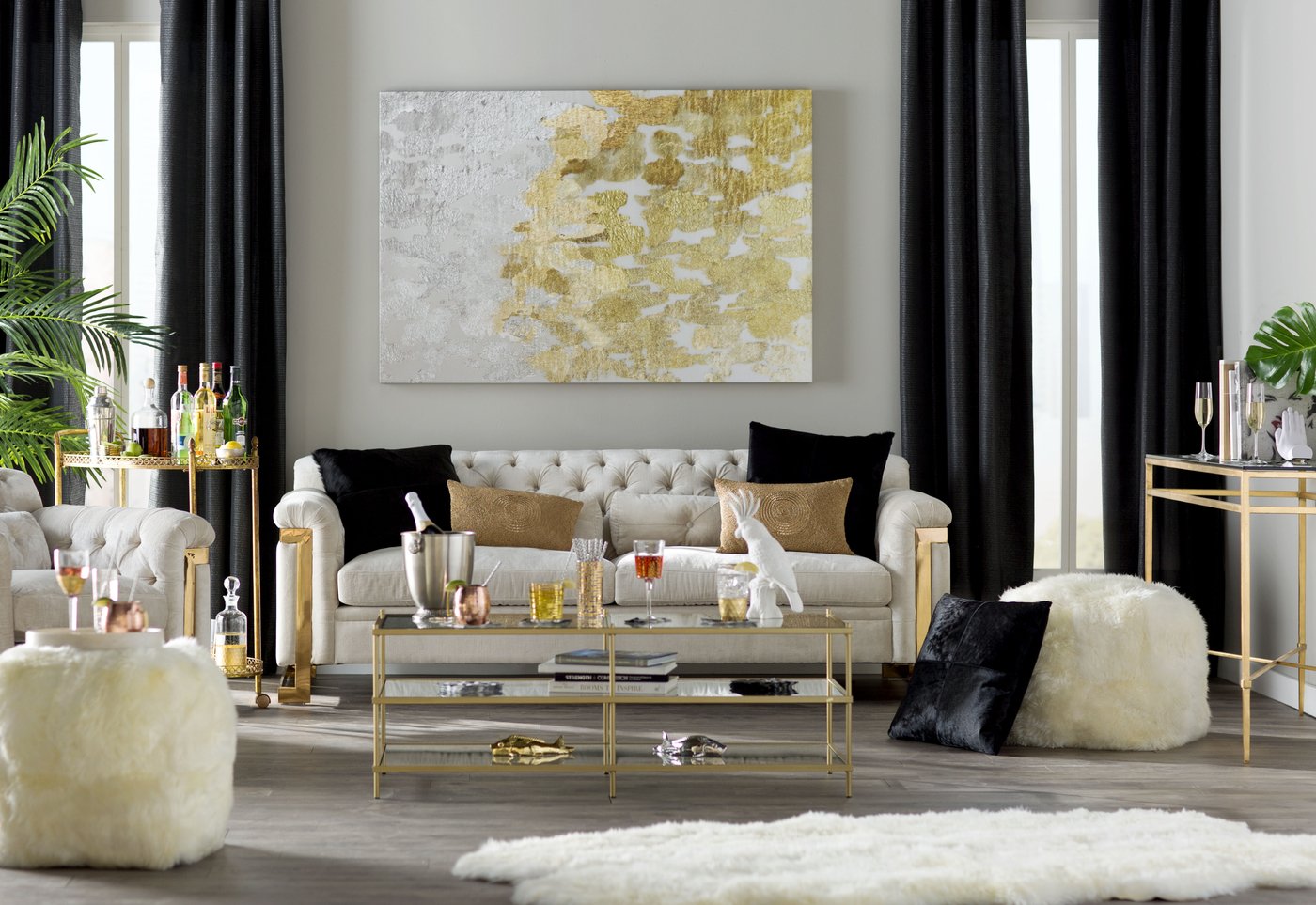 Gold + Pink
Gold and pink typically define soft, feminine spaces. Avoid vibrant shades of pink with bright gold, which can be harsh to the eye. Instead select paler shades of pink like blush for the foundation of the room. Try painting the walls light pink and add in gold accent furniture and lighting.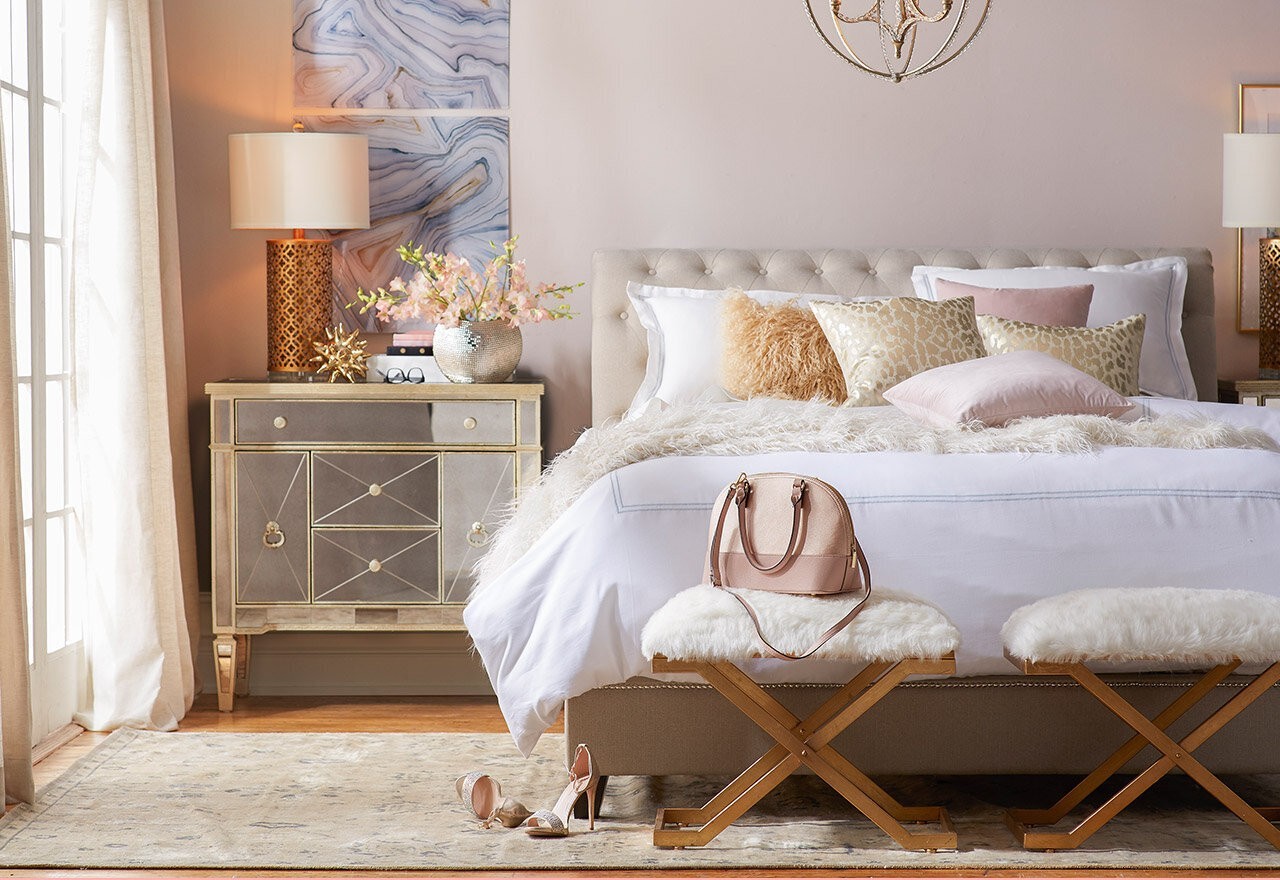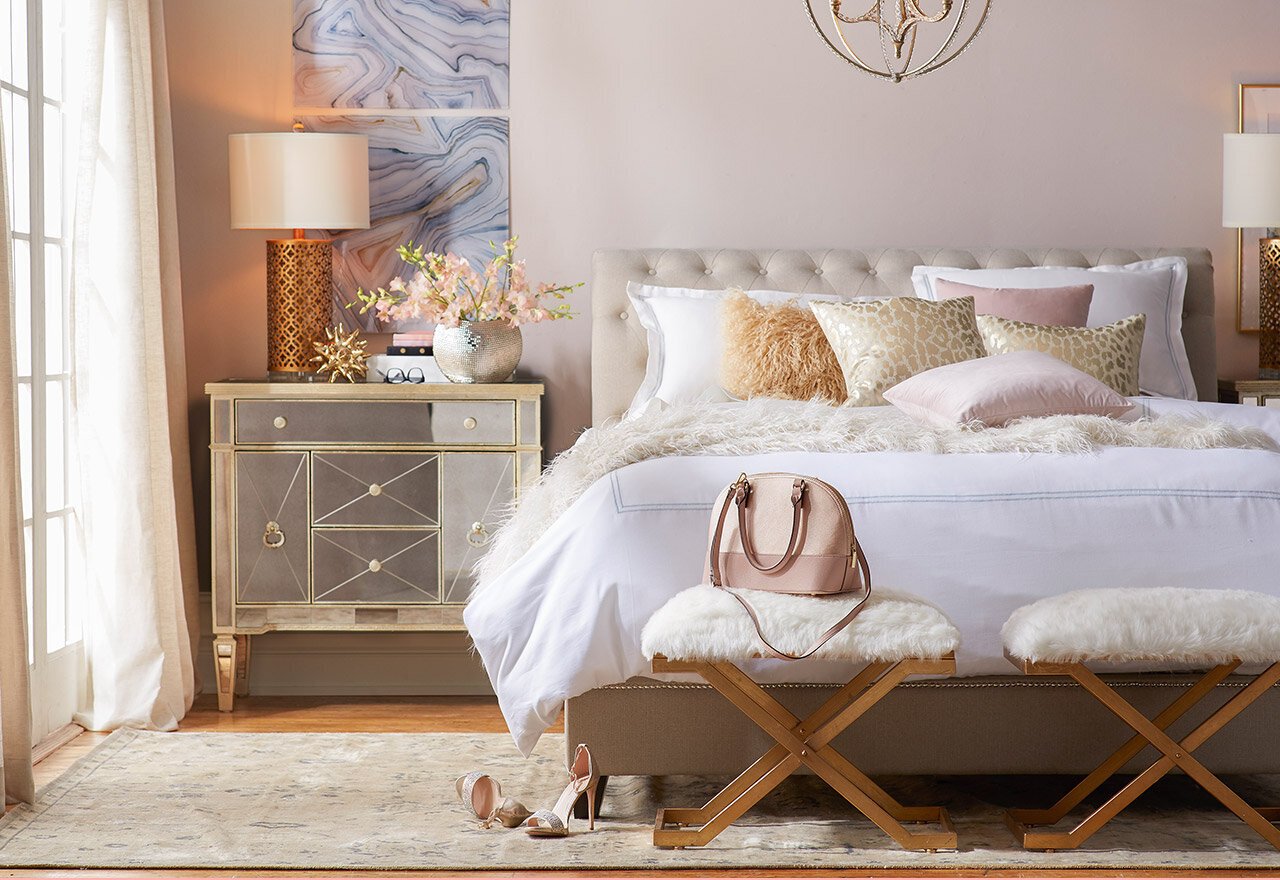 Gold + Brown
Gold and brown may seem like an unusual pairing; however, these two rich colors can make a bold statement when paired correctly. Follow the 60-30-10 rules to make sure neither color overwhelms the room. Start with a warm neutral at 60%, layer in 30% brown in upholstery or wood furniture and finish with 10% gold accents.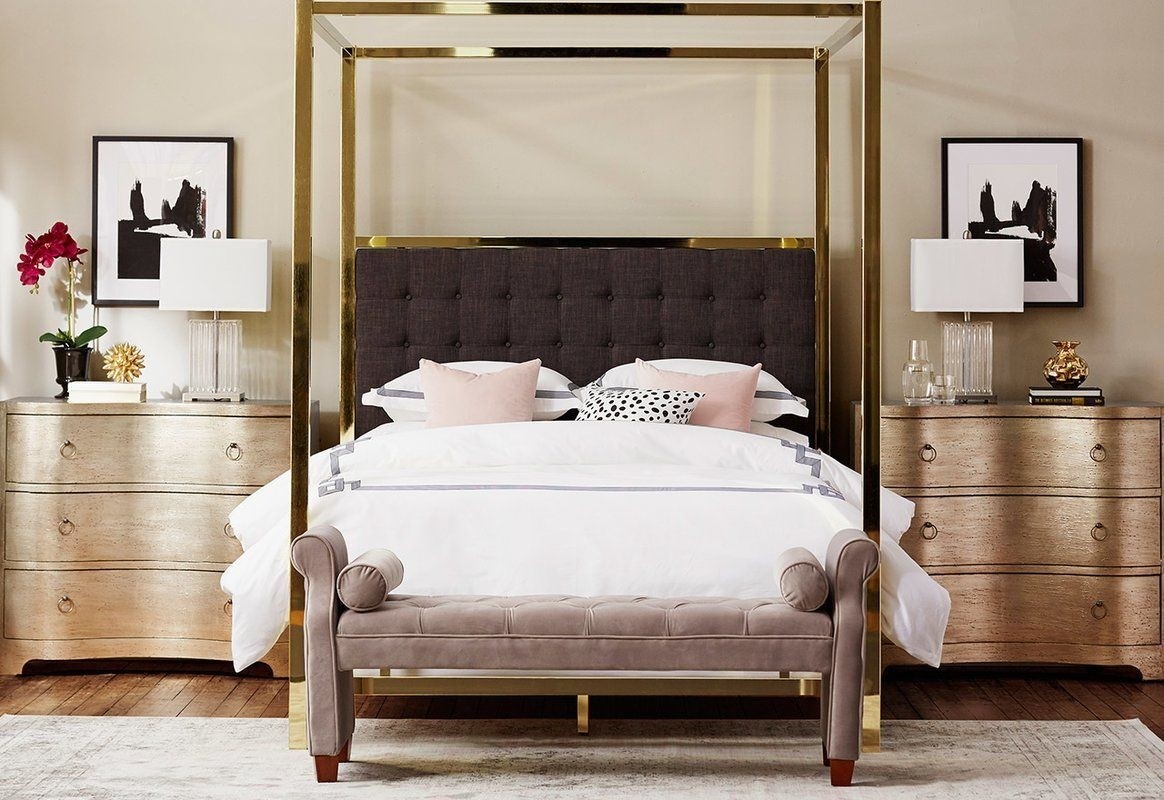 Gold + White
Gold and white are a hard combination to get wrong. They are a naturally occurring pair often found together in marbles. In kitchens and bathrooms select a white marble like Calcutta that has a gold thread running through it. Mix in gold hardware and lighting to highlight the gold undertones in the marble.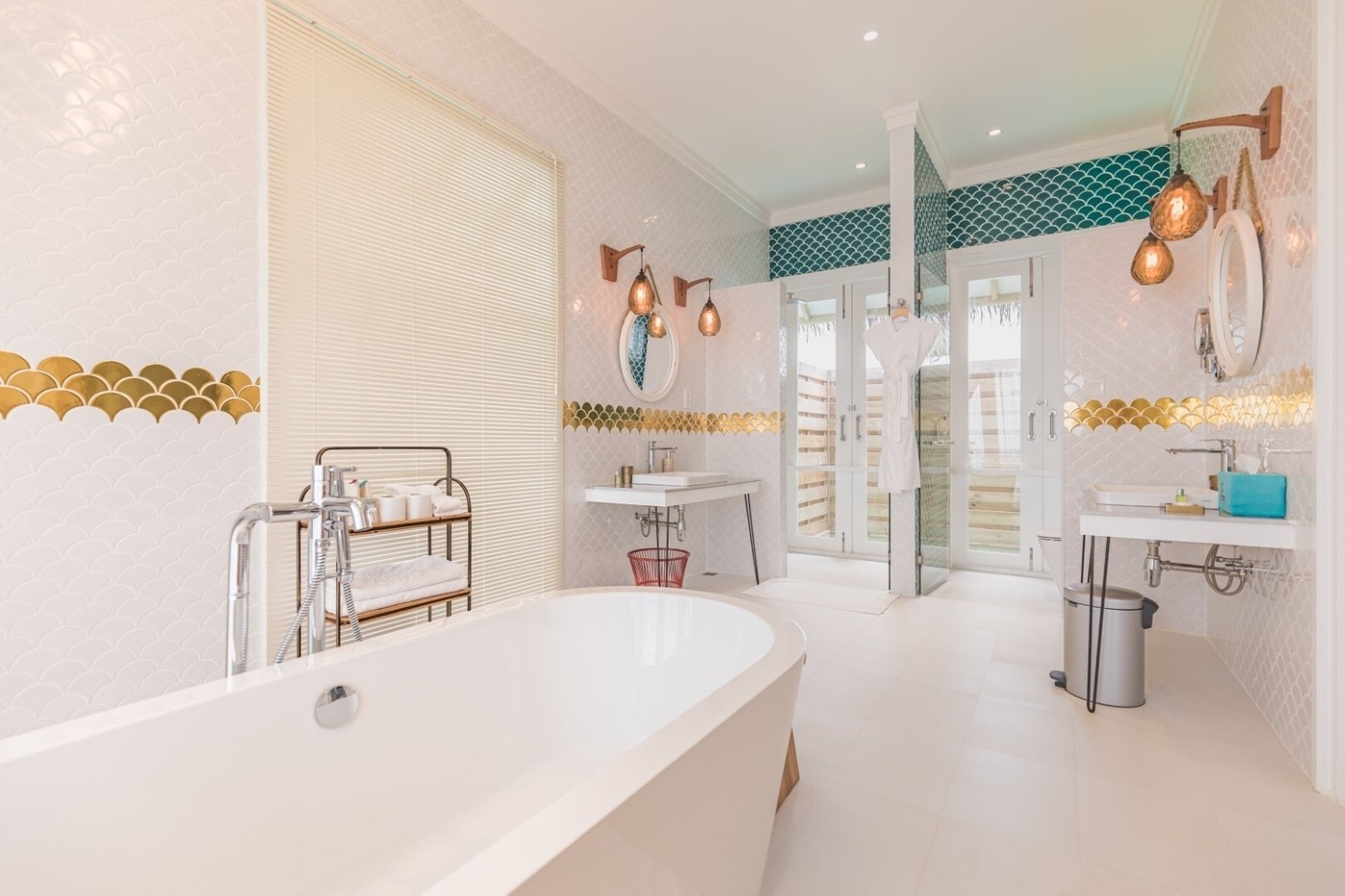 Gold + Aqua Blue
Gold and aqua blue are a serene duo. They work well together in bedrooms or other spaces meant for relaxation. Choose matte or muted tones of gold to contrast the brightness of aqua. Select a wall covering with both colors for the foundation of the room. For a bold look, add in gold drapery. Round out the two colors with a third warm neutral such as cream.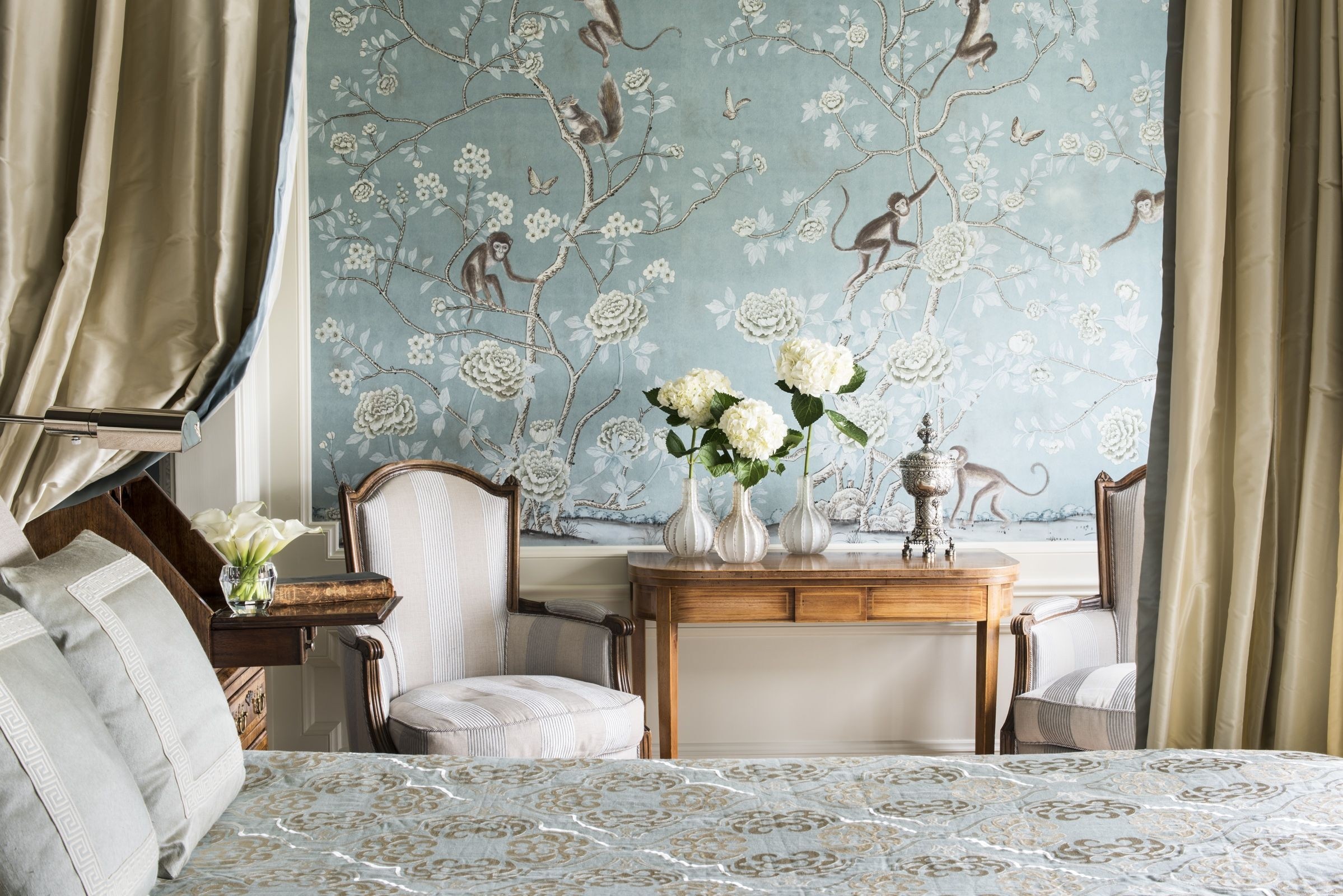 Gold + Purple
Gold and purple are a rich and luxurious pairing often associated with traditional interiors. For a contemporary take on this classic pairing, start with neutral colors for the larger elements of the room such as the walls, rug and upholstered furniture. Layer in purple and gold accents in the room's accessories such as throw pillows and artwork.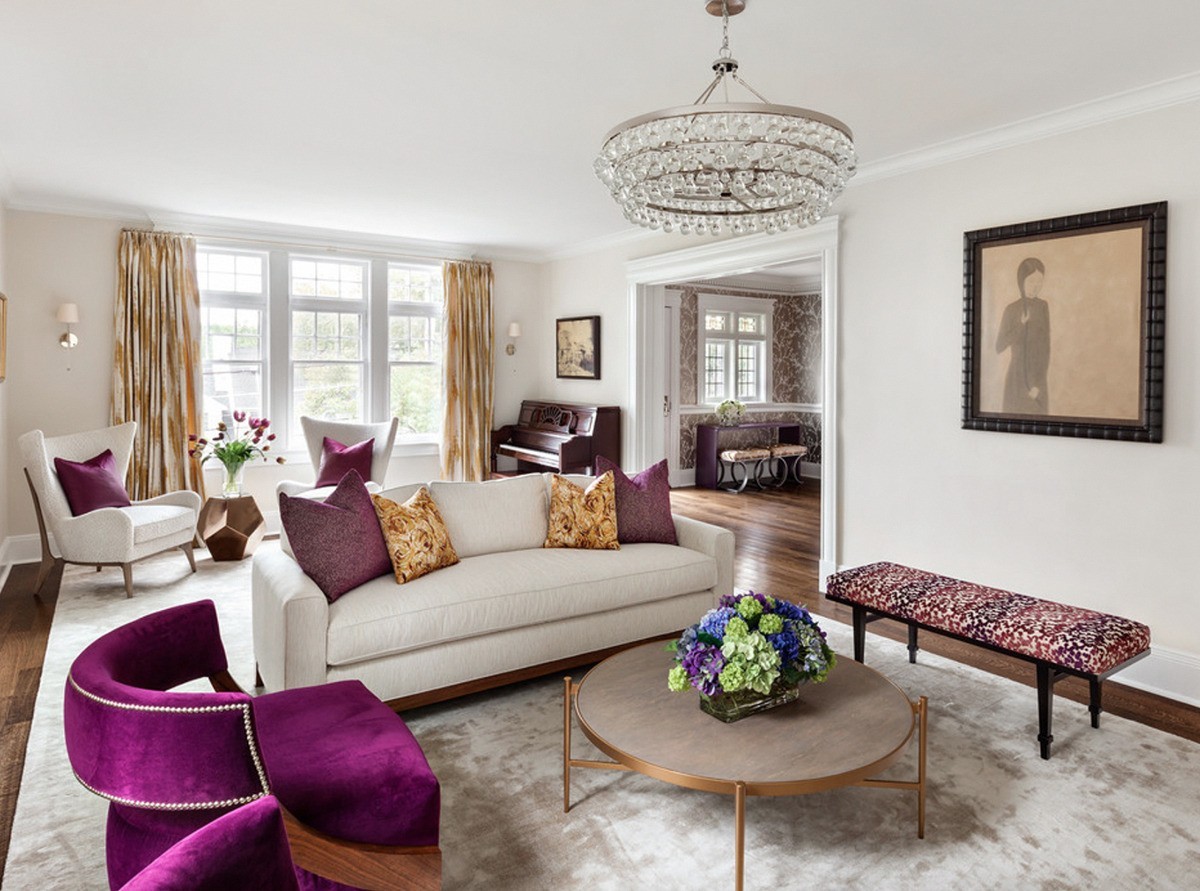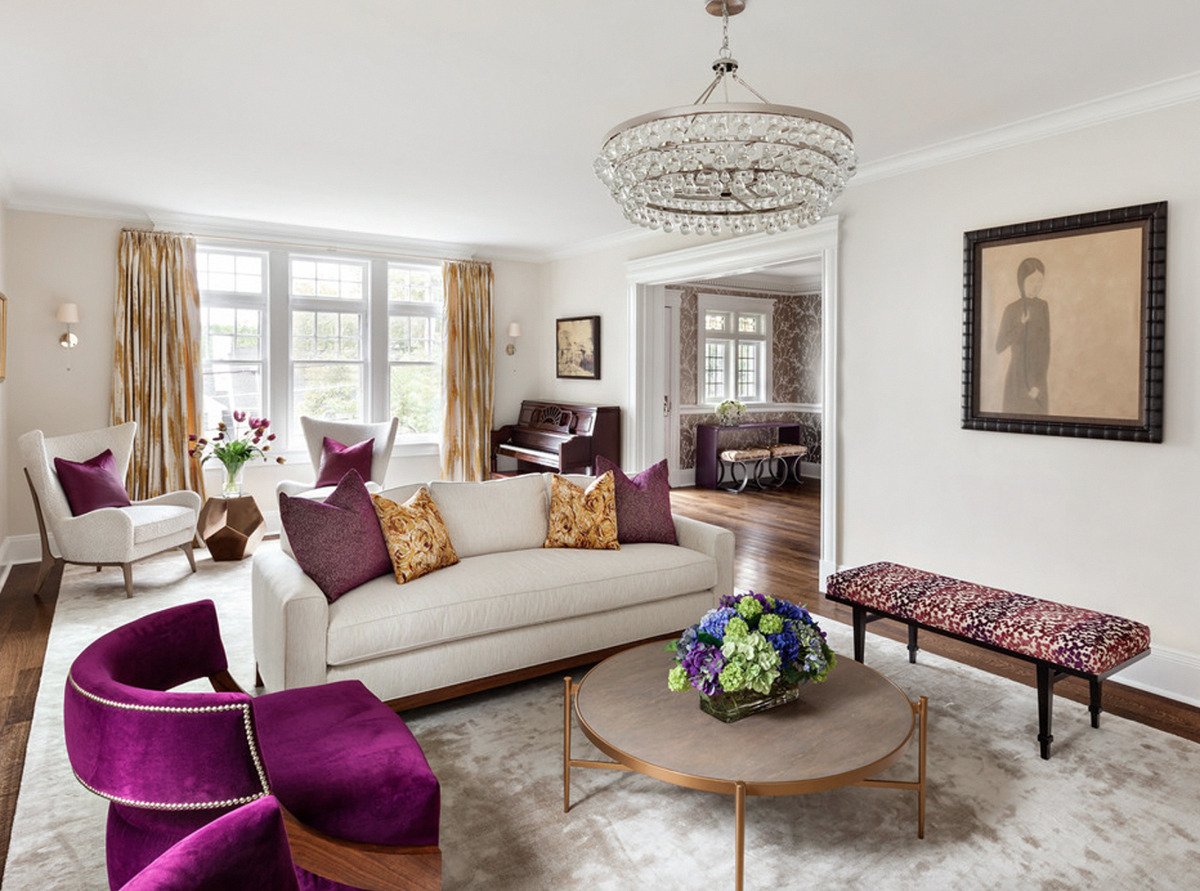 Gold + Navy Blue
For an elegant and sophisticated space, pair gold accent furniture, such as side tables and lighting, with navy blue upholstered furniture. Navy blue walls provide a rich and warm foundation for gold furniture and accents to really shine. To keep navy blue rooms from being too dark, gold leaf the ceiling to help reflect light.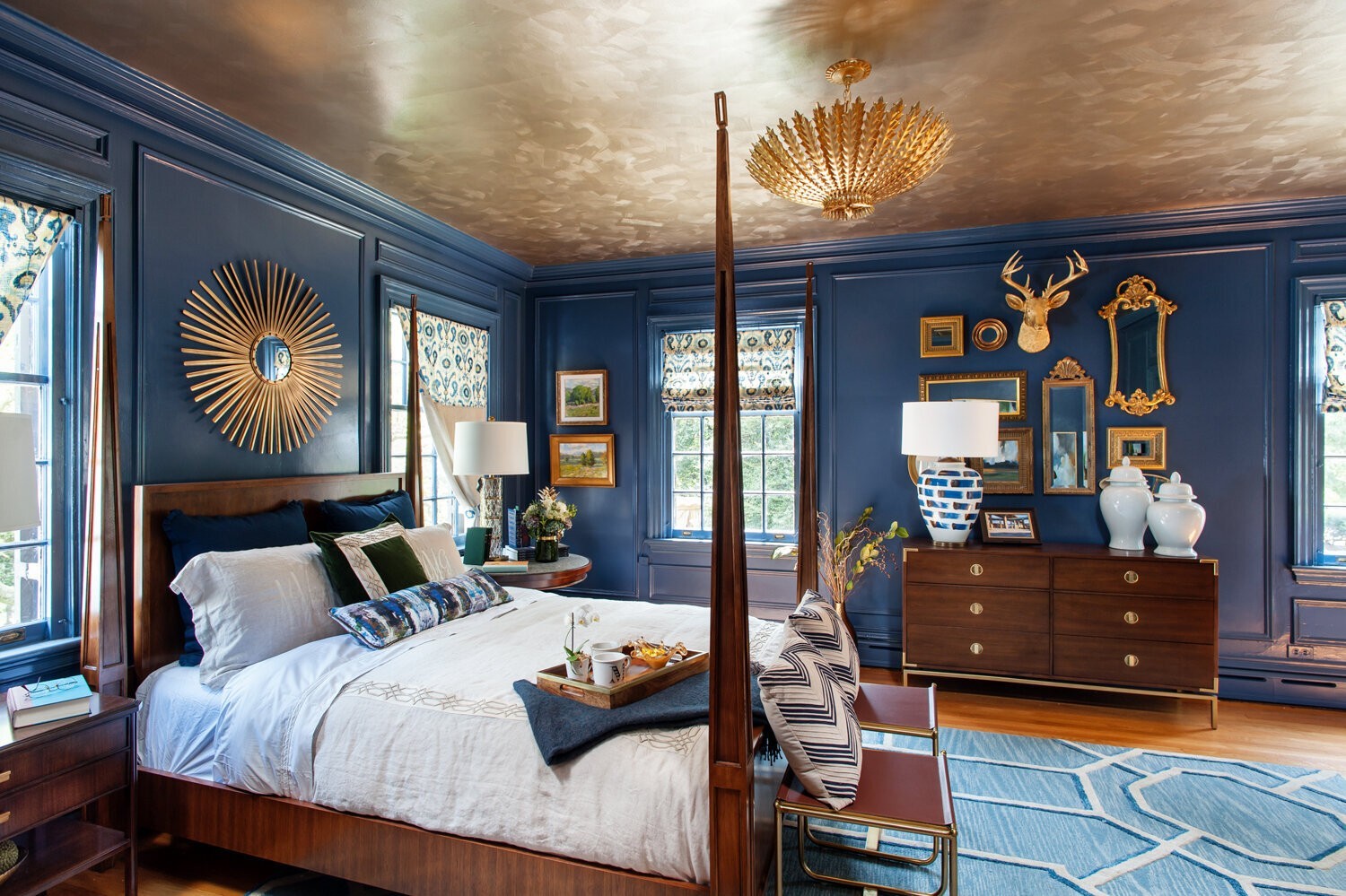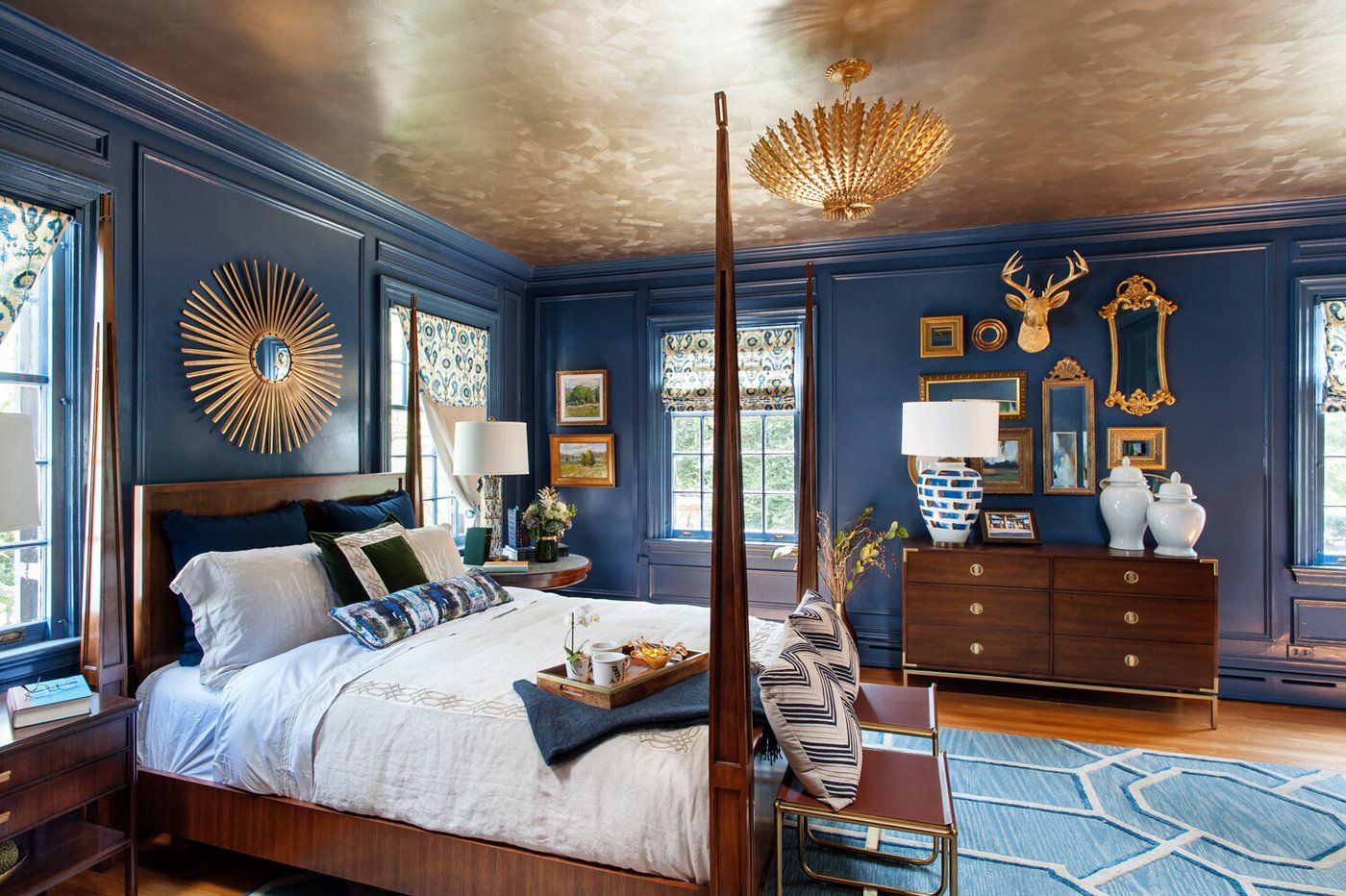 Gold + Red
Red and gold are a timeless combination. Gold is best paired with darker reds with warmer undertones such as burgundy instead of brighter reds like cherry. Gold-framed art, patterned accent pillows with touches of gold and lighting fixtures are all great ways to incorporate gold into red rooms. Mix in a complementary color as well to create depth and interest in a space.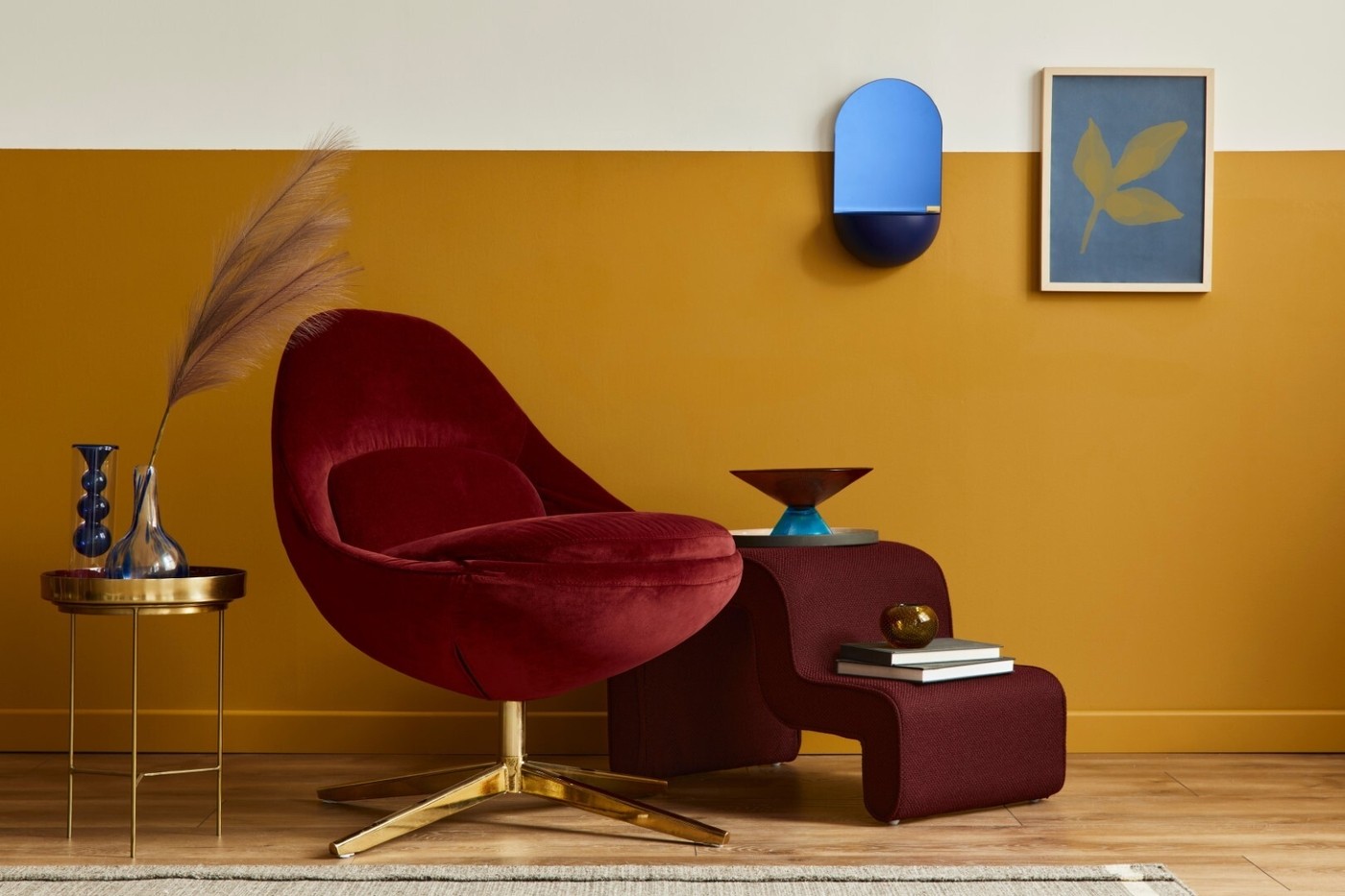 Gold + Green
Gold and green are a classic pairing. Brighter gold pops against deeper shades of green. Dark green painted walls provide an excellent backdrop for gold-framed art, mirrors or lighting fixtures to really shine. For a more serene combination, mix lighter shades of green, such as mint, with matte gold.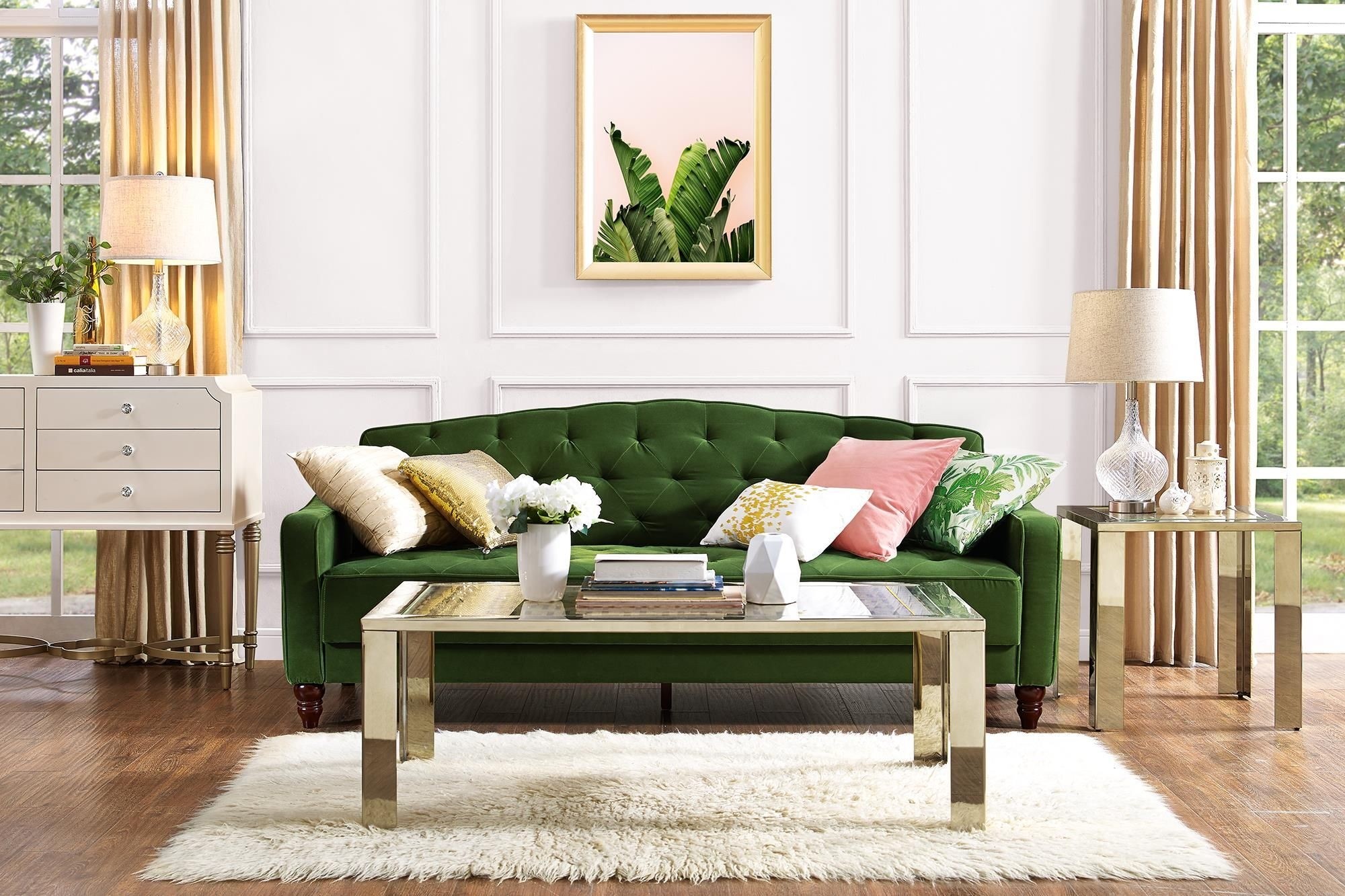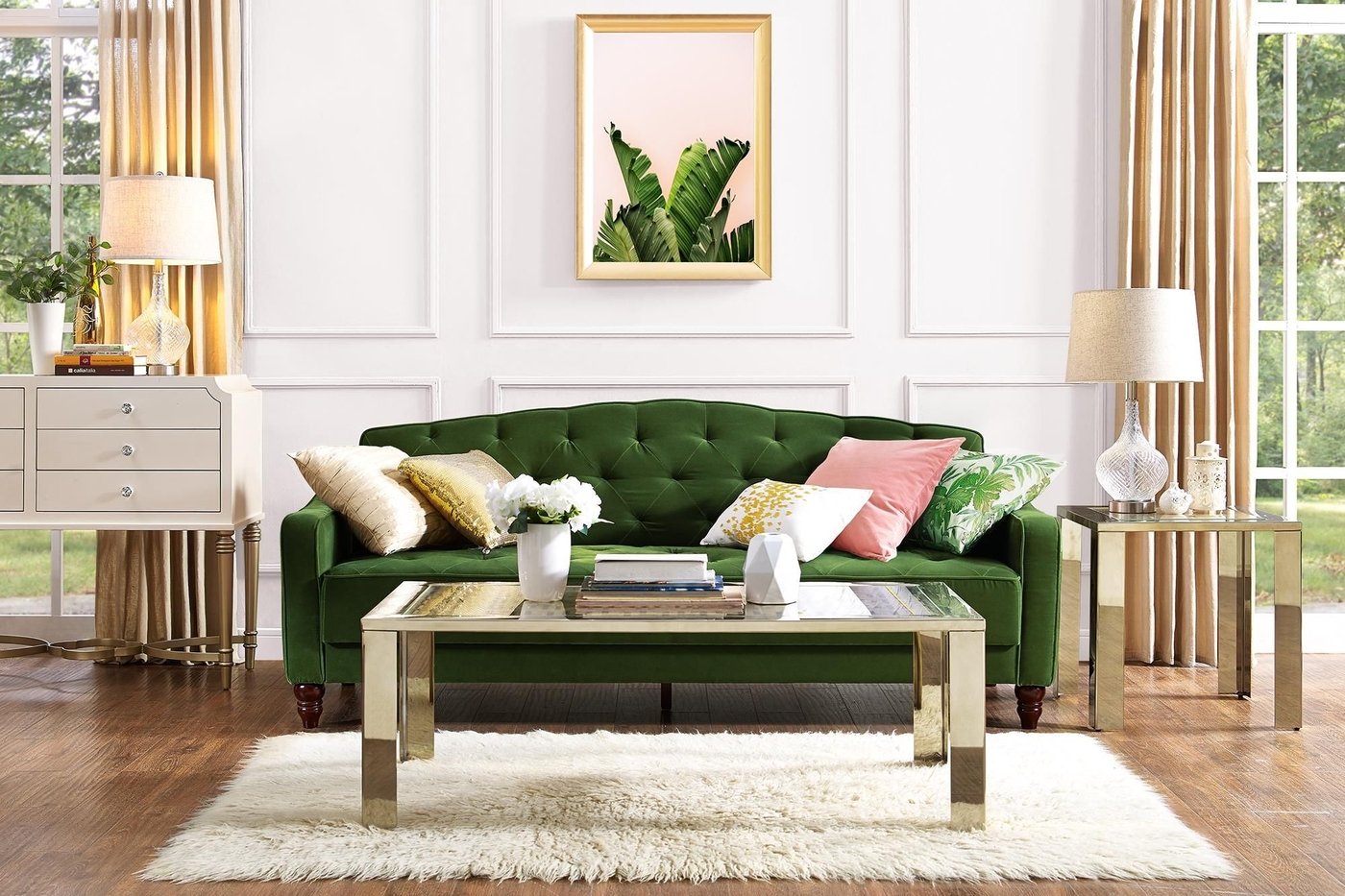 Gold + Gray
The cooler tones of gray provide an excellent backdrop for gold to really shine. Although this duo often defines the resurgence of mid-century inspired interiors, they can also be used together in more traditional spaces. Gold-framed artwork against a pale gray wall or a gold lamp next to a gray piece of furniture provides a nice balance of warm and cool elements in a room.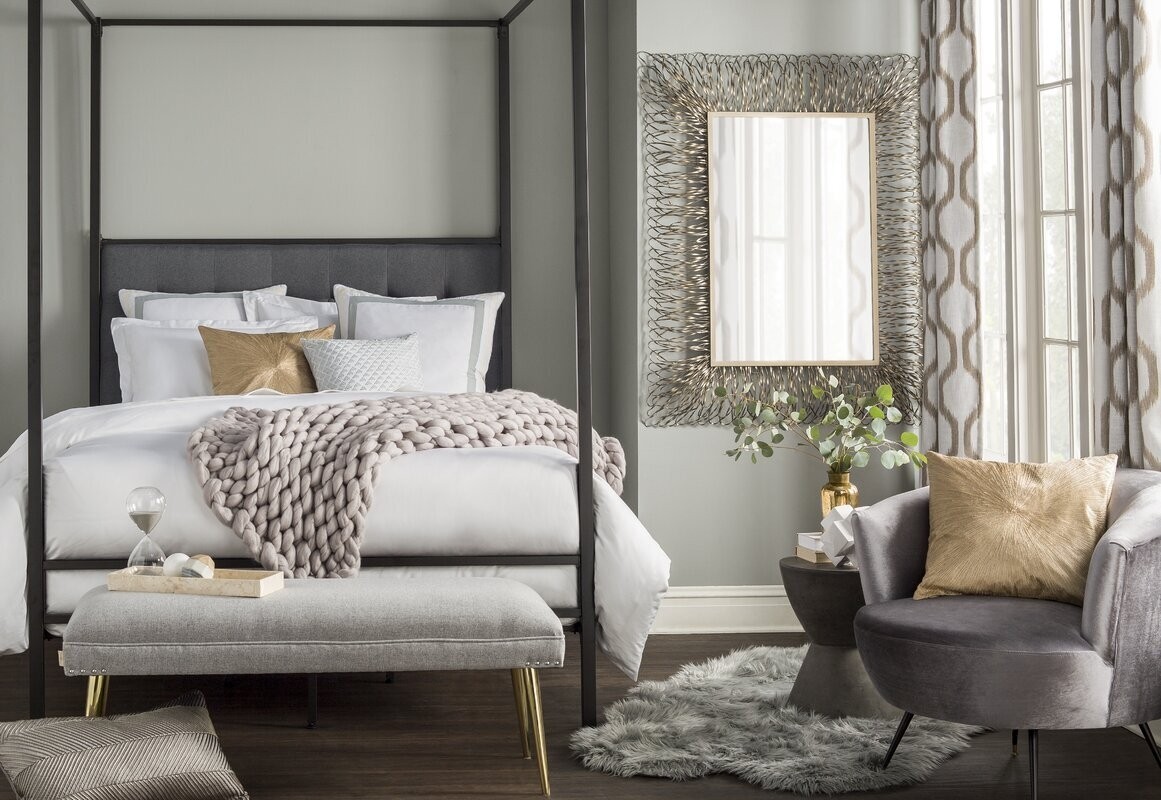 INTERESTING FACTS ABOUT THE COLOR GOLD:
Gold is the only metal that is yellow or 'golden.'

Gold is extremely ductile. A single ounce can be stretched into a gold thread 5 miles or 8 kilometers long.

Gold can be found beneath the earth on all 7 continents.

The term 'fools gold' refers to anything that is mistaken for gold or something that is worthless.