Mint green is as fresh and sprightly as the aromatic plant from which it gets its name.
The cool green tint is made by mixing green with a heavy dose of white and a steady hint of blue. While the pale blue-green hue has inherently serene and calming qualities, it can be equally cheerful, playful, and vibrant. Its surprising versatility, unique character, and capacity to brighten any space have made it a recurring favorite for decades, starting with the Art Deco era in the 1920s and resurging in popularity with the 1950s pastel frenzy. Over half a century later, we're channeling the buoyant vigorand cool, uplifting spirit of the refreshing retro shade into a contemporary context. Here's how…
What is the Psychology of Mint Green?
The pale shade of green celebrates the traits of its color parents. The bright yet subdued hue transmits both the energizing character of yellow and the calming effect of blue. The significant addition of white contributes a feeling of cleanliness, purity, and health, reinforced by the medicinal and anti-bacterial properties associated with the herb.
In feng shui, green represents new beginnings and abundance in health and wealth, so it's no coincidence that mint green is often used to symbolize wellness and the spring season. The light green tint has a fresh and weightless feel, promoting clarity of mind, creativity, and emotional harmony.
What are the Best Ways to Use Mint Green in the Home?
Create a dazzling effect by painting a small room mint green, such as a laundry room or downstairs bathroom. The bright color makes a stronger visual impact in a small space.

Add a small, unexpected pop of color with mint green architraves and skirting boards.

Make a refreshing feature in a white bathroom with minty green tiles. The subtle green tint will infuse the space with vitality.

Use a statement-making piece of artwork with a prominent mint green color palette to guide the rest of the decor in the room.

Highlight shelving units or small pieces of furniture with a coat of mint green to make a refreshing accent.

Give a modern twist to a classic design with mint green chinoiserie wallpaper. The intricate, decorative pattern makes a stunning feature wall.

Elevate your kitchen with mint green cabinets that will be sure to inspire your culinary creativity.
What Colors Go with Mint Green?
A light shade of mint green can be subtle enough to make a soothing backdrop, while a darker shade makes an exciting accent. Its surprising versatility makes it an excellent color for any room. Mix it with soft neutrals for a serene bedroom decor, or pair it with black for a striking and daring scheme.
Mint Green + Blush Pink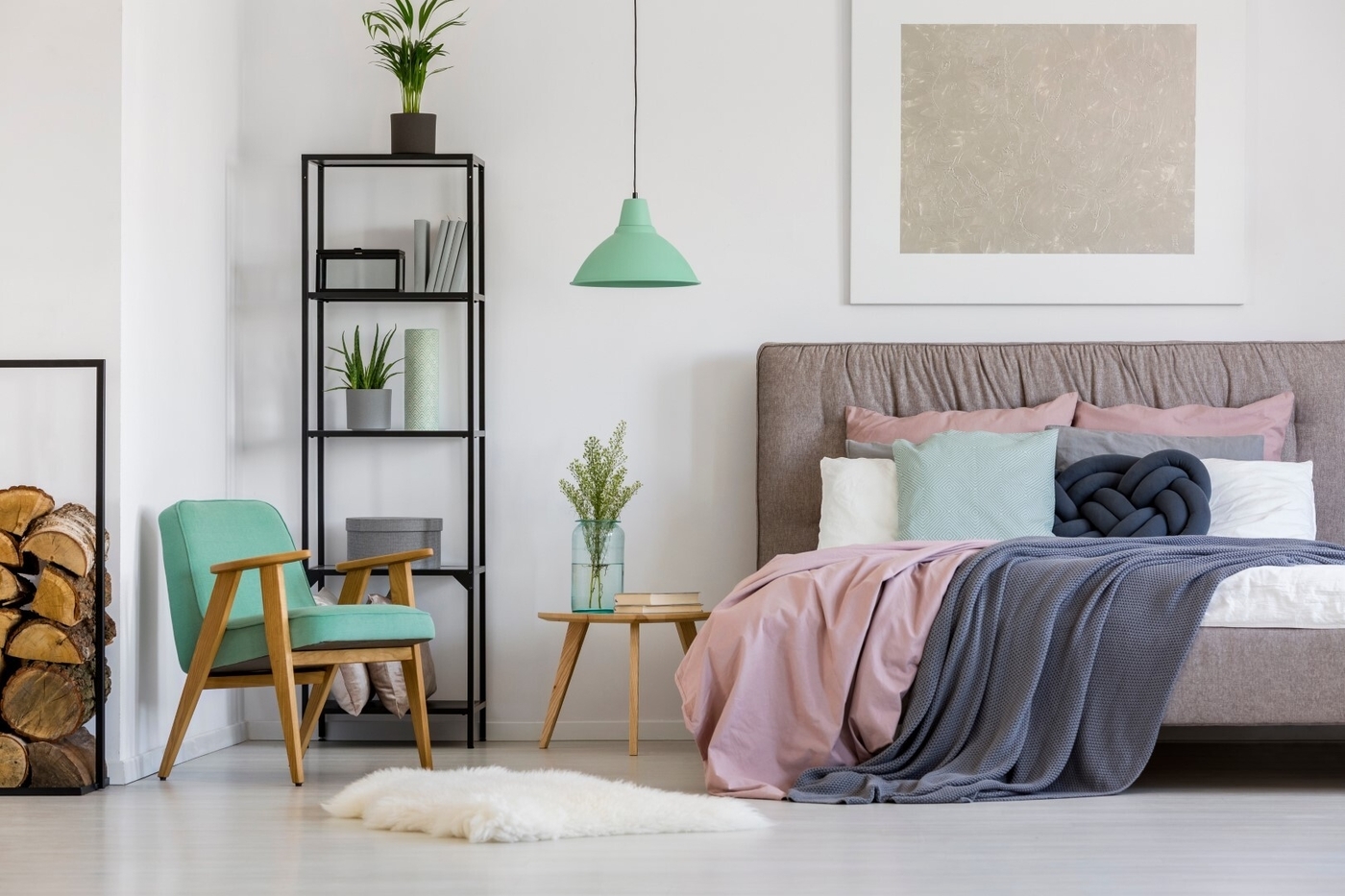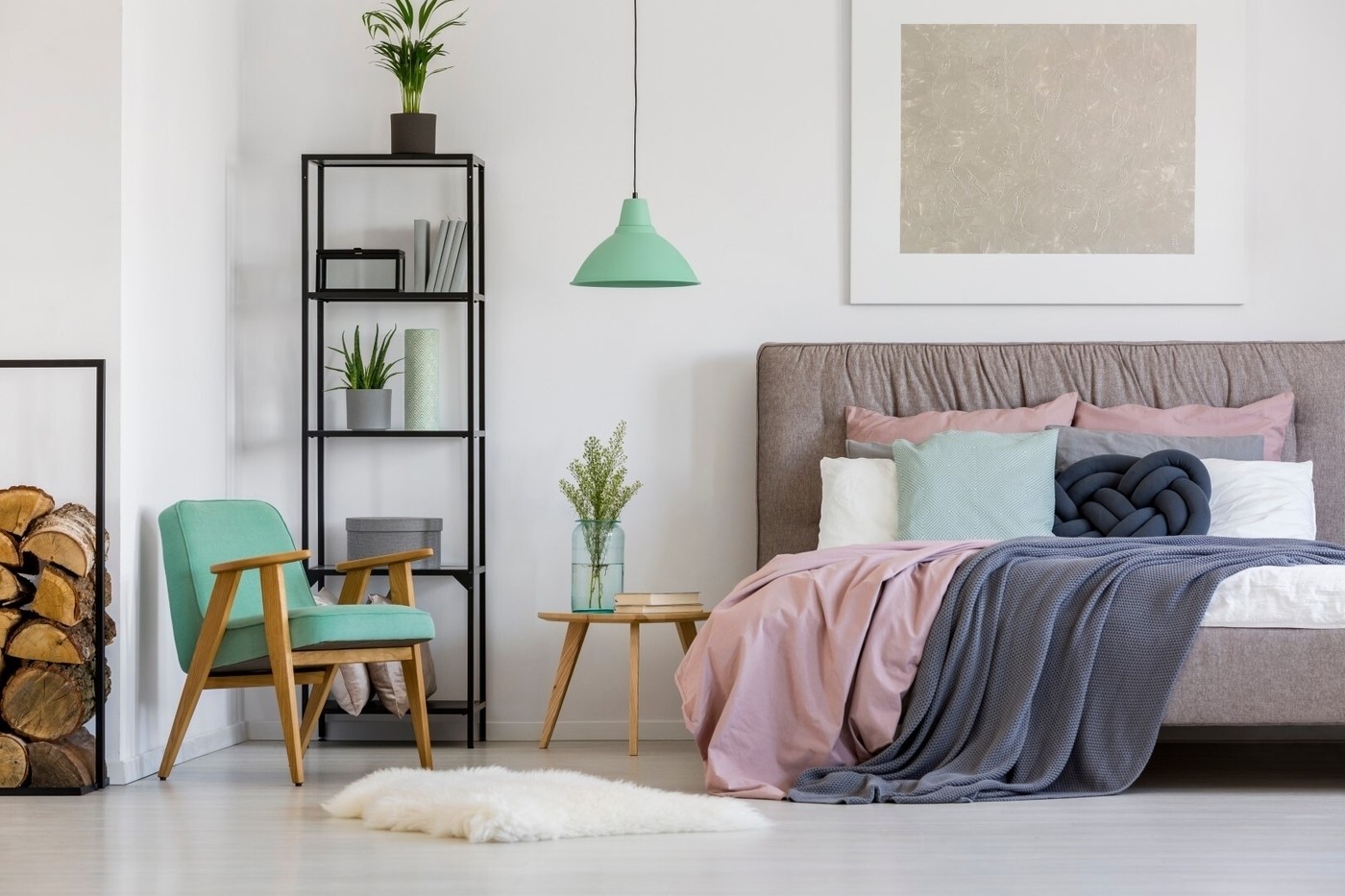 Take inspiration from vintage ice cream parlors by pairing mint green with sweet blush pink. The low-saturation complementary colors make a cheerful and delectable palette that is refreshing to the senses. Prevent the scheme from feeling too sickly by peppering the room with black and white accents and experimenting with layers of texture. Introduce a pale pink splashback with textured tiles to counterbalance clean mint green cabinets in a kitchen. Add a warm, lustrous layer with gold or rose gold hardware, and blend the color palette with enticing pink and green onyx walls. A black floor grounds the scheme with a modern edge.
Mint Green + Pale Blue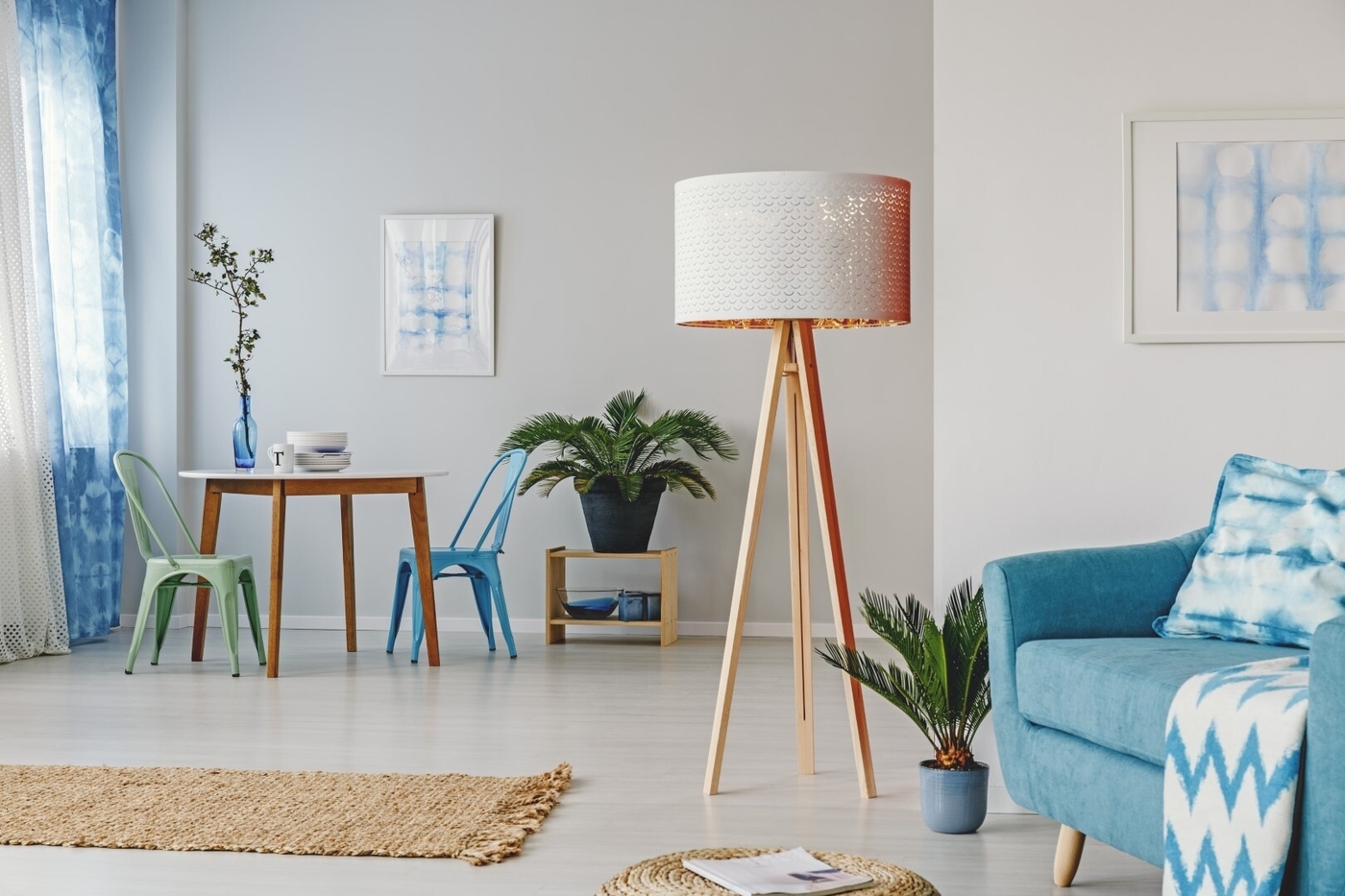 Evoke the calming influence of the waves lapping on the shore with a mint green and pale blue scheme. The analogous colors are naturally harmonious, and their low saturation makes for a bright and breezy atmosphere that is not overwhelming to the senses. Complete the serene analogous palette with a third color, either a blue-violet or green hue, in a darker shade to add movement and create dimension. Apply the 60-30-10 rule to get the balance right. House plants are a subtle and natural way to add a pop of green to a scheme and contribute to a calm and revitalizing atmosphere.
Mint Green + Black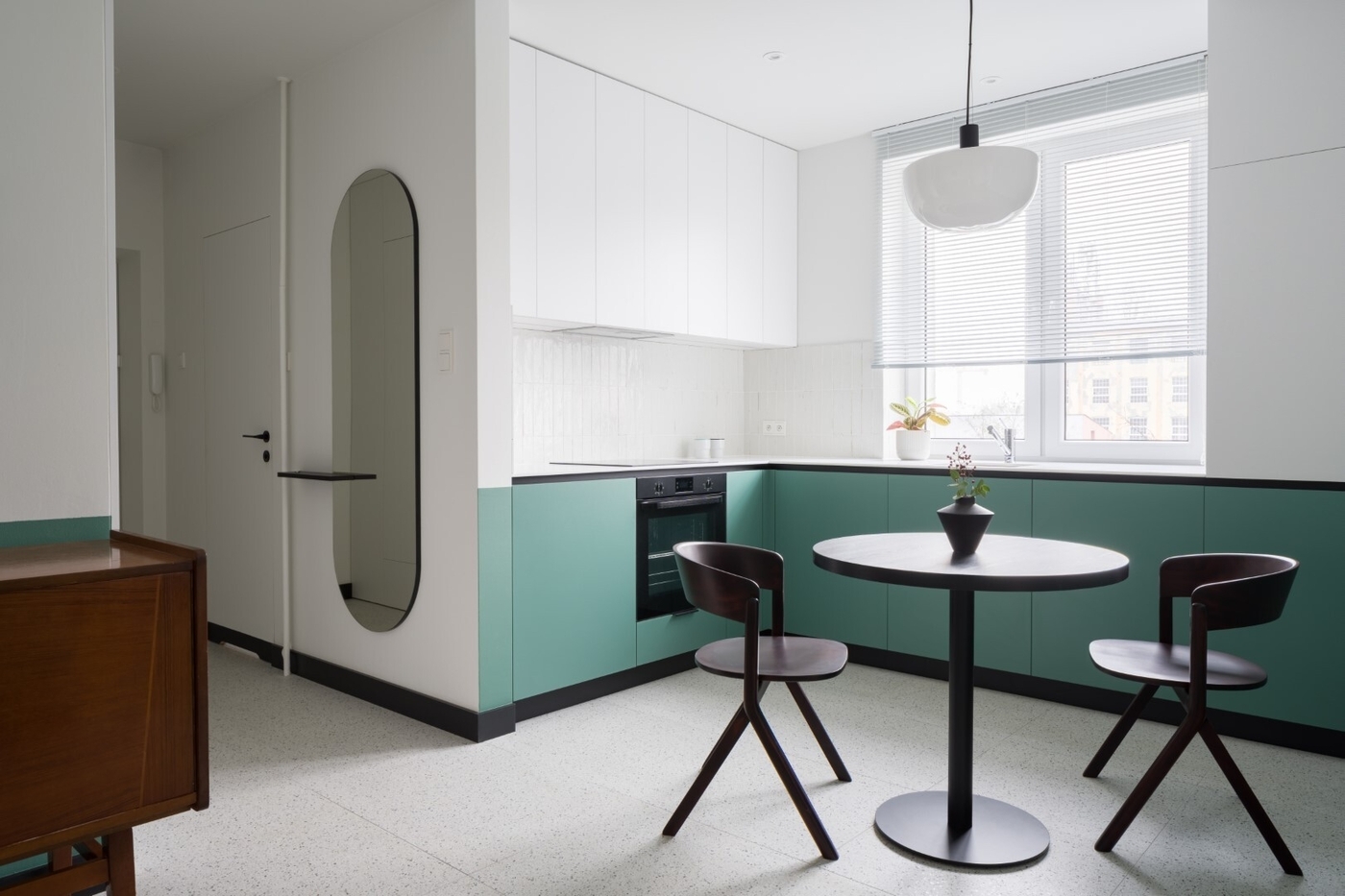 Get inspired by the bold exuberance of the Art Deco period by combining fresh mint green with authoritative black. The retro-inspired color palette is high-impact and makes an attractively striking contrast that oozes with drama, perfect for an entryway, kitchen, or dining room. Begin with a mint green canvas and gradually layer in specks of black with lighting, accent chairs, artwork, and graphic floor tiles. Introduce bronze and gold metallic finishes and hardware to counterbalance the cool tones and create an instantly opulent look.
Mint Green + Gray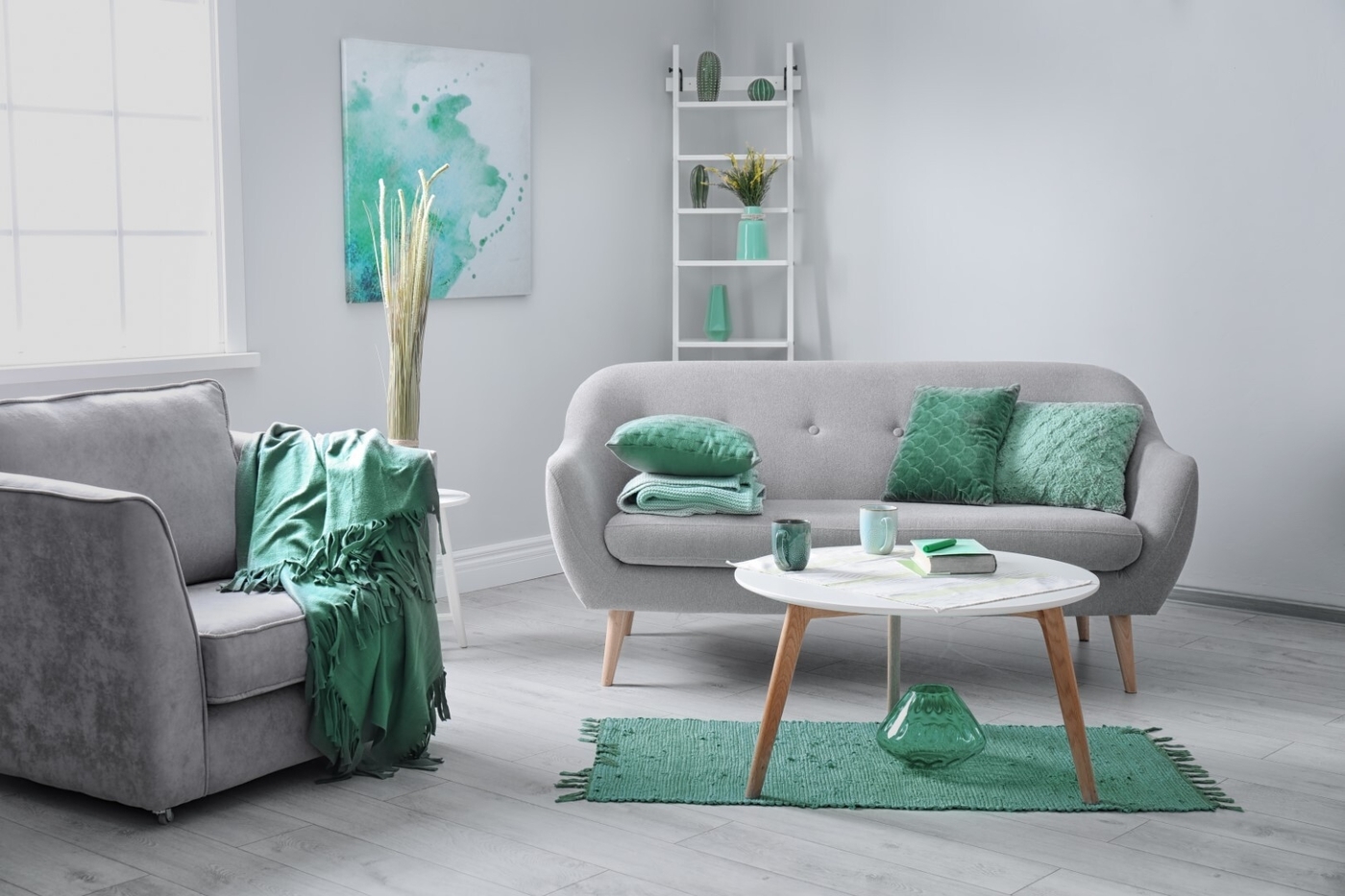 Pair mint green with a spectrum of grays for a gentle and tranquil atmosphere. Mellow light gray shades blend seamlessly with mint green to form a subdued, neutral base. Introduce dark and moody charcoal gray accents as a softer alternative to black that is still dark enough to provide high contrast and anchor the light and airy scheme. The understated color palette forms the perfect basis for a Scandi chic decor. Furnish the room with simple wooden furniture made of light oak or beechwood to promote a deeper connection with nature and warm, organic touch.
Mint Green + White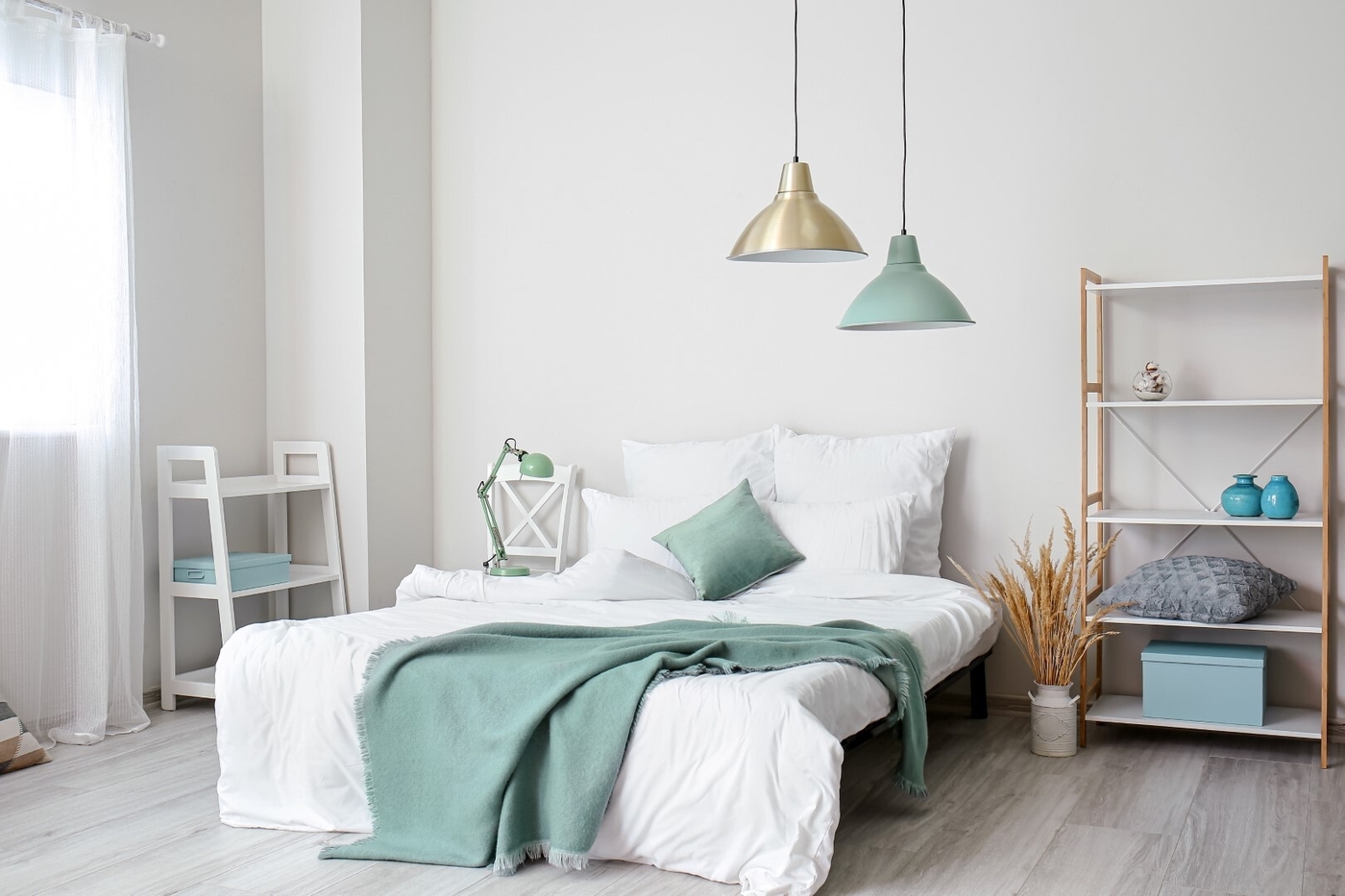 Add a burst of minty fresh color to an otherwise stark white space and create an ethereal scheme. The sense of cleanliness, purity, and health associated with the blue-green hue is amplified against a blank canvas. Avoid the room feeling clinical by adding layers of soft texture with cushions, rugs, throws, and bedspreads, and create visual interest with refined patterned wallpaper or upholstered furniture. For modern decor, introduce pops of defining black and metallic accents or include rattan features for a bohemian look.
Mint Green + Lavender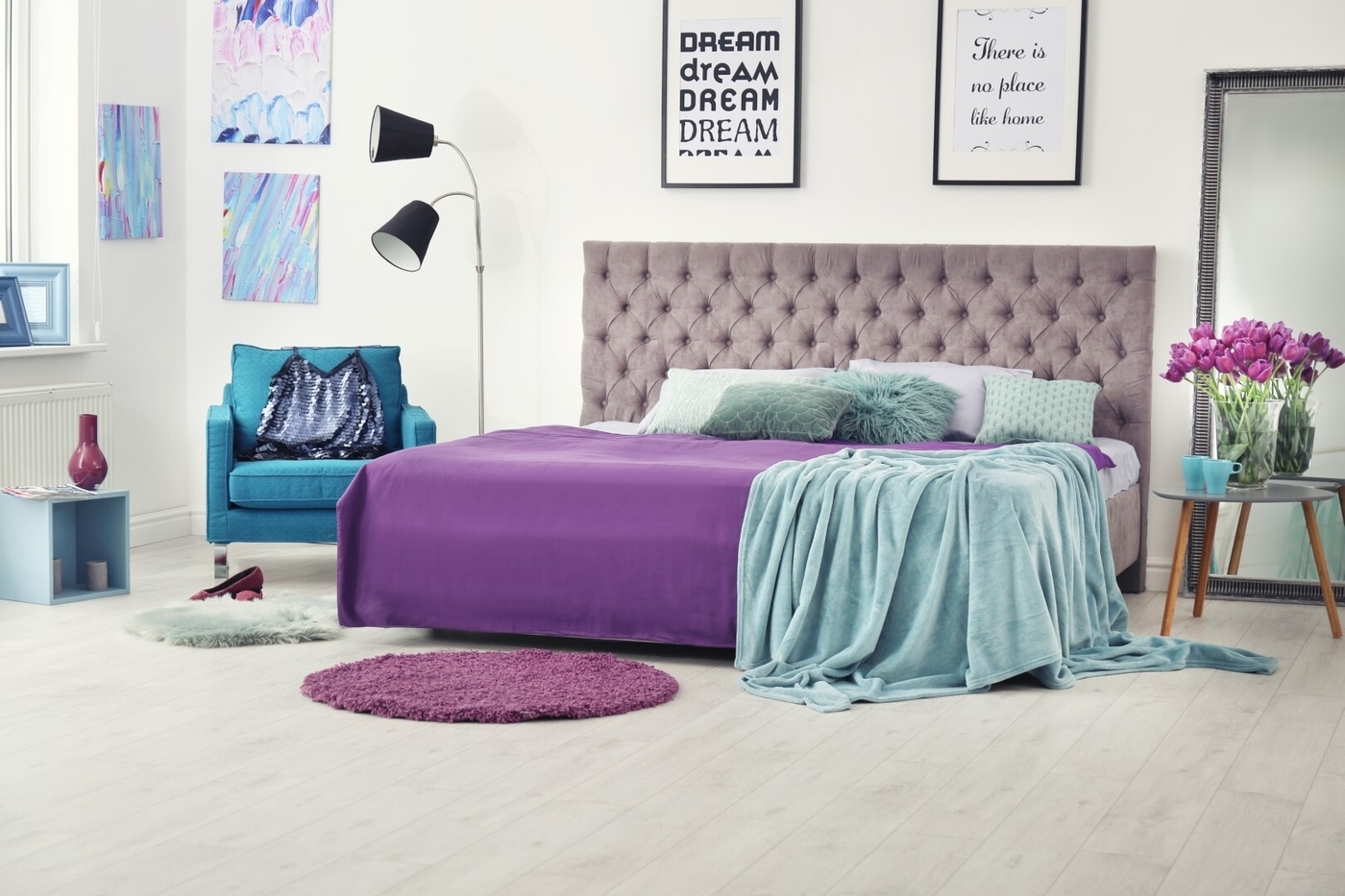 Mint green and lavender are an aromatic couple that conjures bucolic imagery. A common pairing in nature, the subdued green and purple hues are an intuitive match. Like mint, the lavender color is also inspired by an aromatic plant and represents purity and wellness, qualities that intensify with the union of the botanical shades. The soothing hue makes a gentle accent against a bed of mint and introduces a restful quality inducive to a good night's sleep. Both nature-inspired hues have prominent cool blue undertones, so their refreshing spirit makes a welcome addition to a south-facing space.
Mint Green + Navy Blue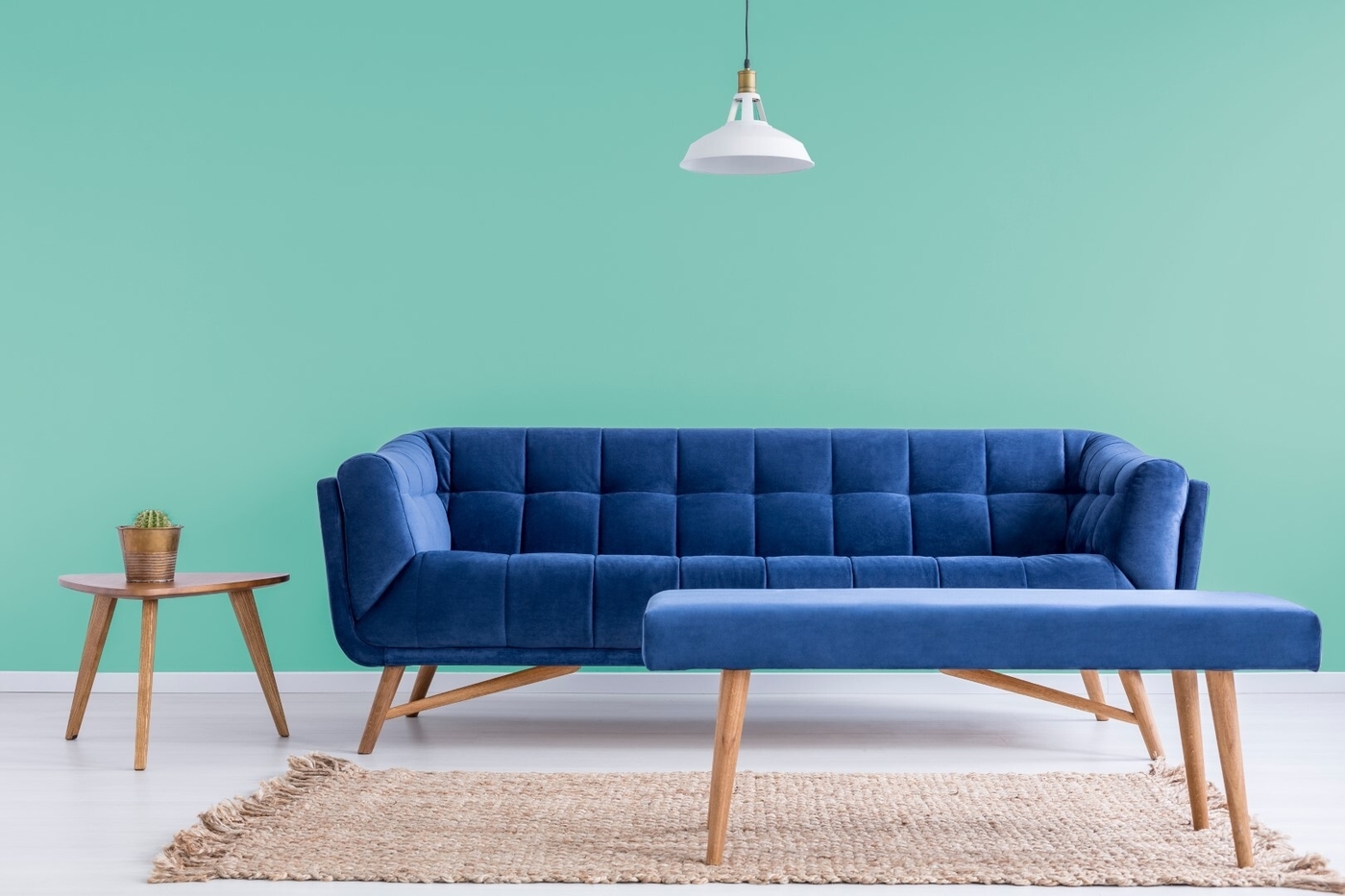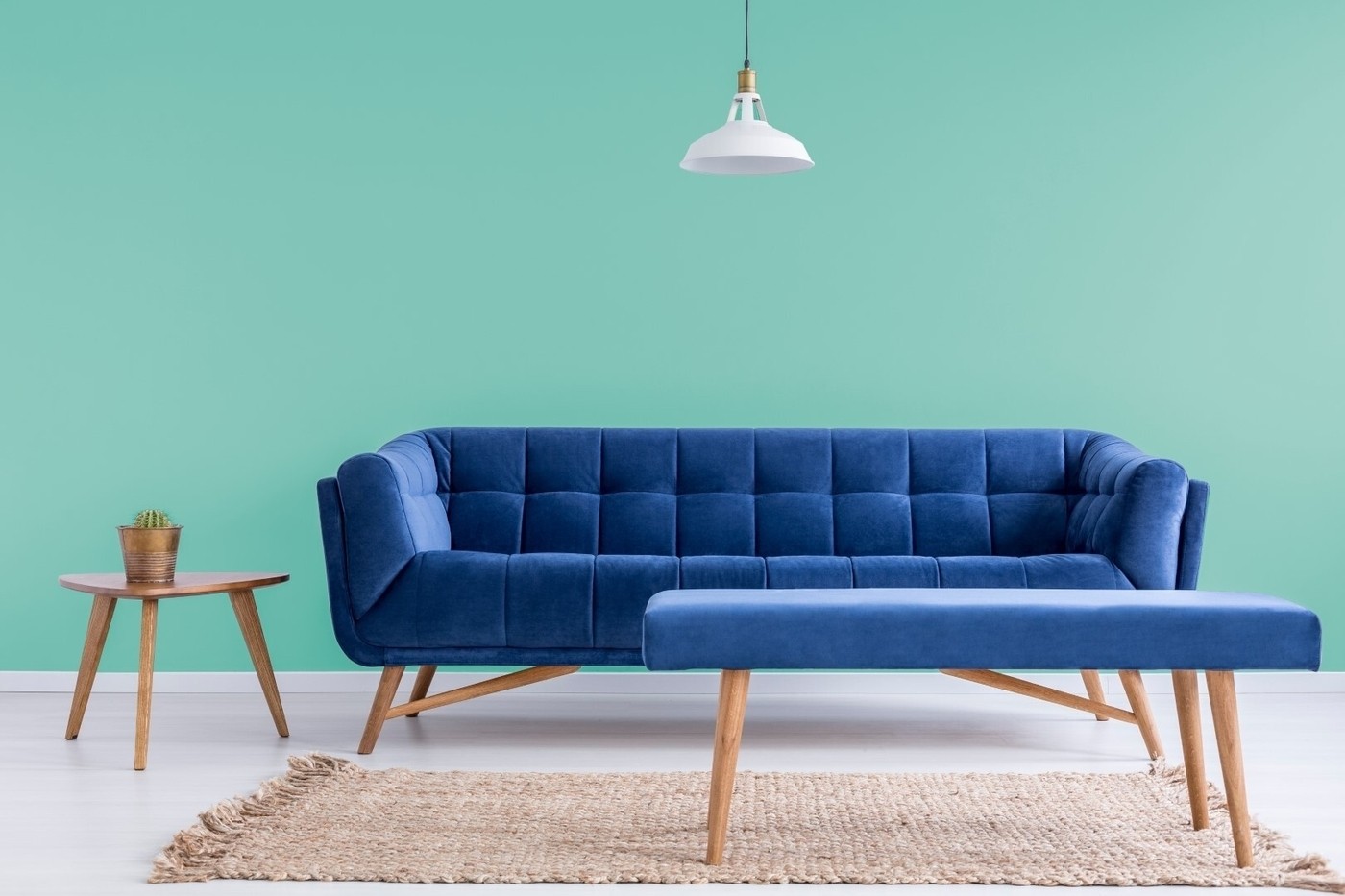 For a dash of sophistication, complement a mint green scheme with navy blue accents. The dark blue shade carries a sense of elegance wherever it goes and dresses up any color it is paired with. Introduce hints of navy to elevate a mint green decor and match its smart and formal essence. The dark shade challenges the light, airy hue with its alluring depth, drawing out its blue undertones and creating a satisfyingly rich azure contrast. A navy blue sofa makes a reassuring focal point in a living room. Its dark tone makes the pale mint green backdrop appear to recede. For a smart, tailored look, opt for a sofa with a clean silhouette and a soft, illustrious velvet finish, and pair it with gold and brass accents for a refined and warming touch.
Mint Green + Taupe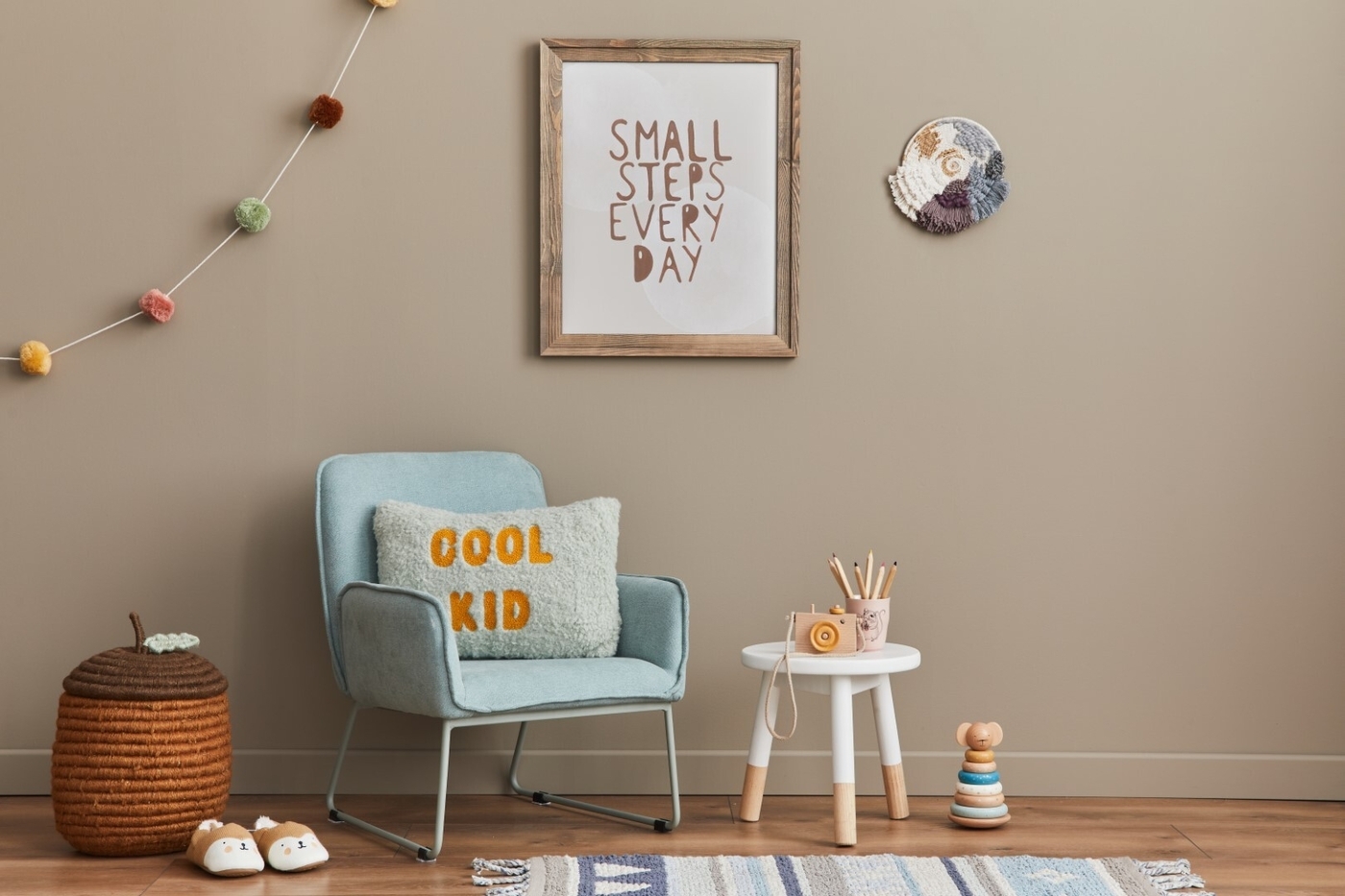 Mint green makes the perfect refreshing accent to an earthy neutral, like taupe. The gray-brown shade is timeless and versatile and comes to life when complemented with livelier, brighter hues. The key to a happy mint green and taupe marriage is to select a shade of taupe with a green or blue undertone to harmonize with the icy blue-green hue. The cool, contemporary palette creates a soothing atmosphere perfect for a nursery or bedroom. For a fresh, modern look, furnish the room with off-white furniture and add splashes of yellow for a cheerful and playful touch.
Mint Green + Forest Green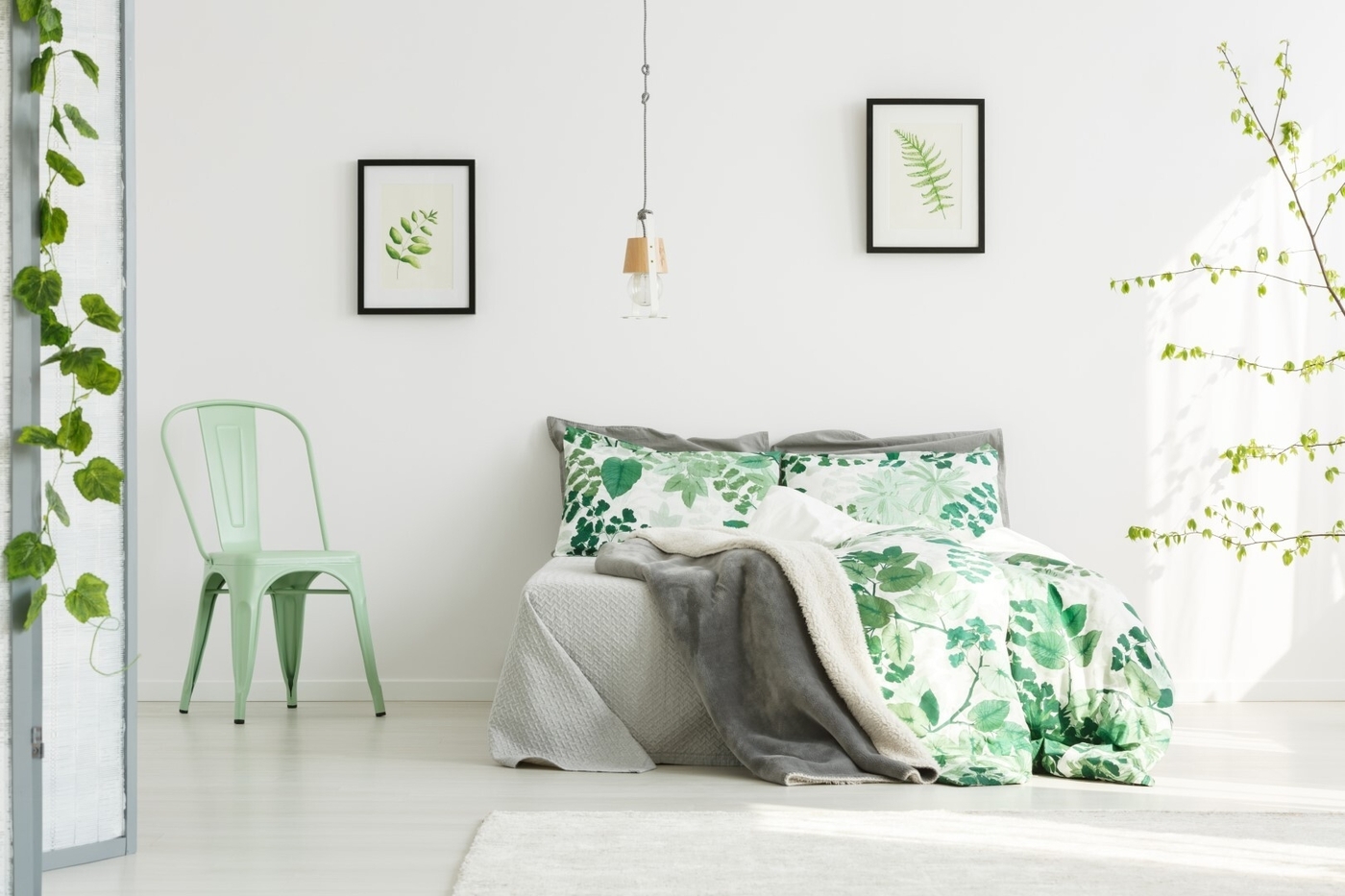 Forge a stronger connection to nature by pairing fresh mint green with deep forest green. The verdant monochrome scheme conjures images of lush woodlands and evokes the same refreshing and revitalizing feeling after a long walk through a canopy of billowing trees. As forest green has a slight blue undertone, it's perfect for the pale blue-green tint, and together they have a profoundly soothing effect. Further allude to nature with biophilic-inspired patterns, natural wooden textures, and a carefully cultivated indoor garden.
Mint Green + Wood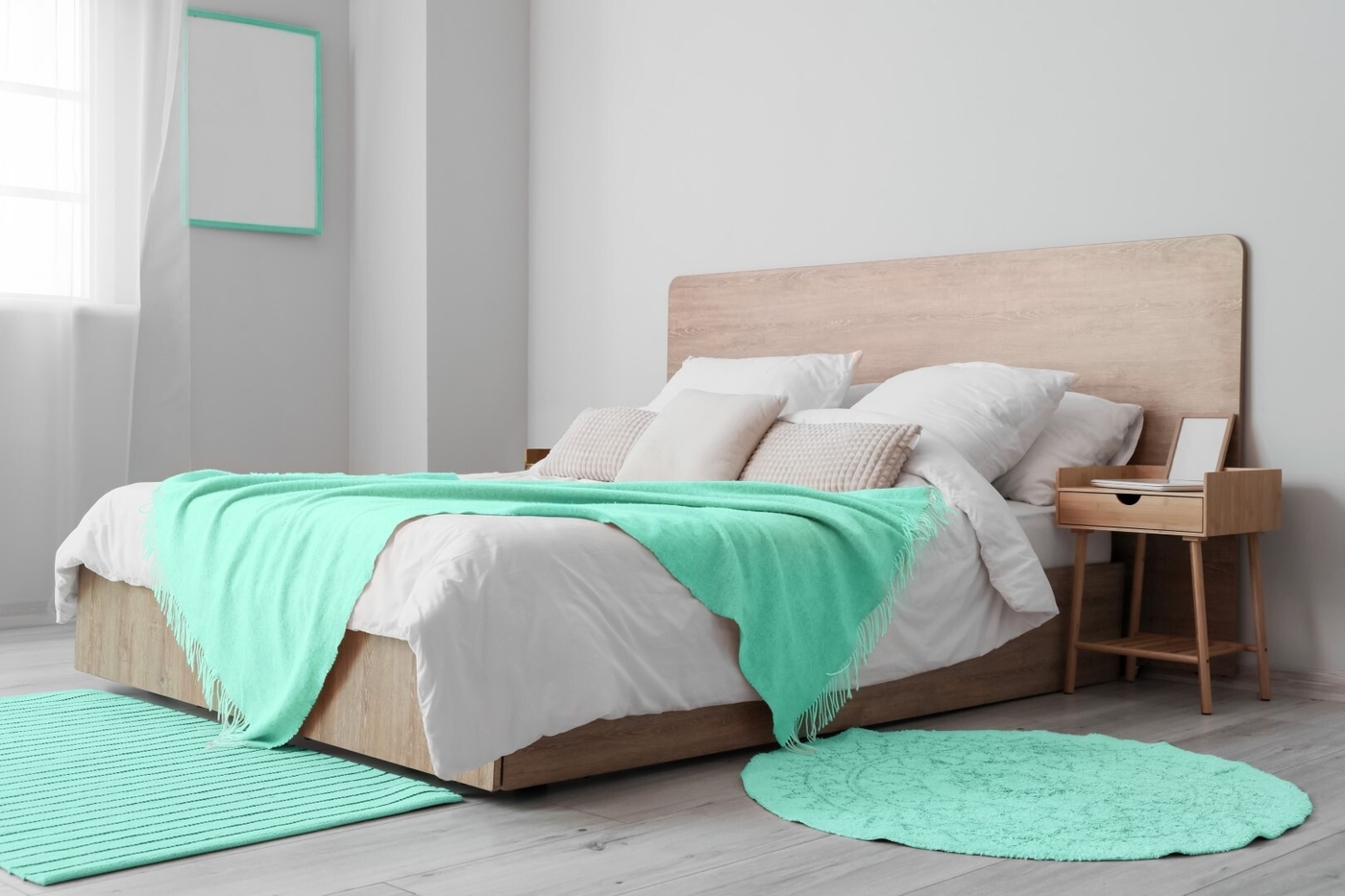 Ground the spirited minty hue with wooden textures. One of the easiest ways to integrate mint into a scheme is by slotting it in amongst wooden features. The natural grainy brown shades forge proximity to nature and a welcoming, homey, and relaxing mood. The tone of the wood dictates the style of the decor. Opt for light timbers like maple, pine, and beech for a contemporary, Japandi, or Scandi-chic style. Mid-tone wood, such as oak and teak, suits a mid-century or rustic farmhouse scheme, while a more traditional-style decor usually features dark timbers, like mahogany, walnut, or cherry.
Interesting Facts About the Color Mint Green
Mint's scientific name is Mentha requienii. Its namewas inspired by the Greek mythological figure Minthe, a nymph whowas transformed into a fragrant plant.

Mint has been used as a symbol of hospitality for thousands of years. Ancient Greeks rubbed tables with mint to welcome guests and clear the air in homes and temples. Mint tea is commonly offered to visitors upon arrival in the Middle East.

Ancient Greeks and Romans used mint to flavor food and drink and scent baths and perfumes.

Ancient Hebrews scattered mint on their synagogue floors so that each footstep would raise its fragrance.

Dried peppermint leaves were found in Egyptian pyramids dating back to 1000 b.c.

Mint is favored for its many health benefits, including improved digestion and relief from nausea, depression, fatigue, and headaches. It is also used to treat respiratory problems and skin issues.