Color theory is one of the most valuable things that you will learn when it comes to interior design, and although it may seem daunting at first, knowing how to properly use color in your home will benefit you for years to come.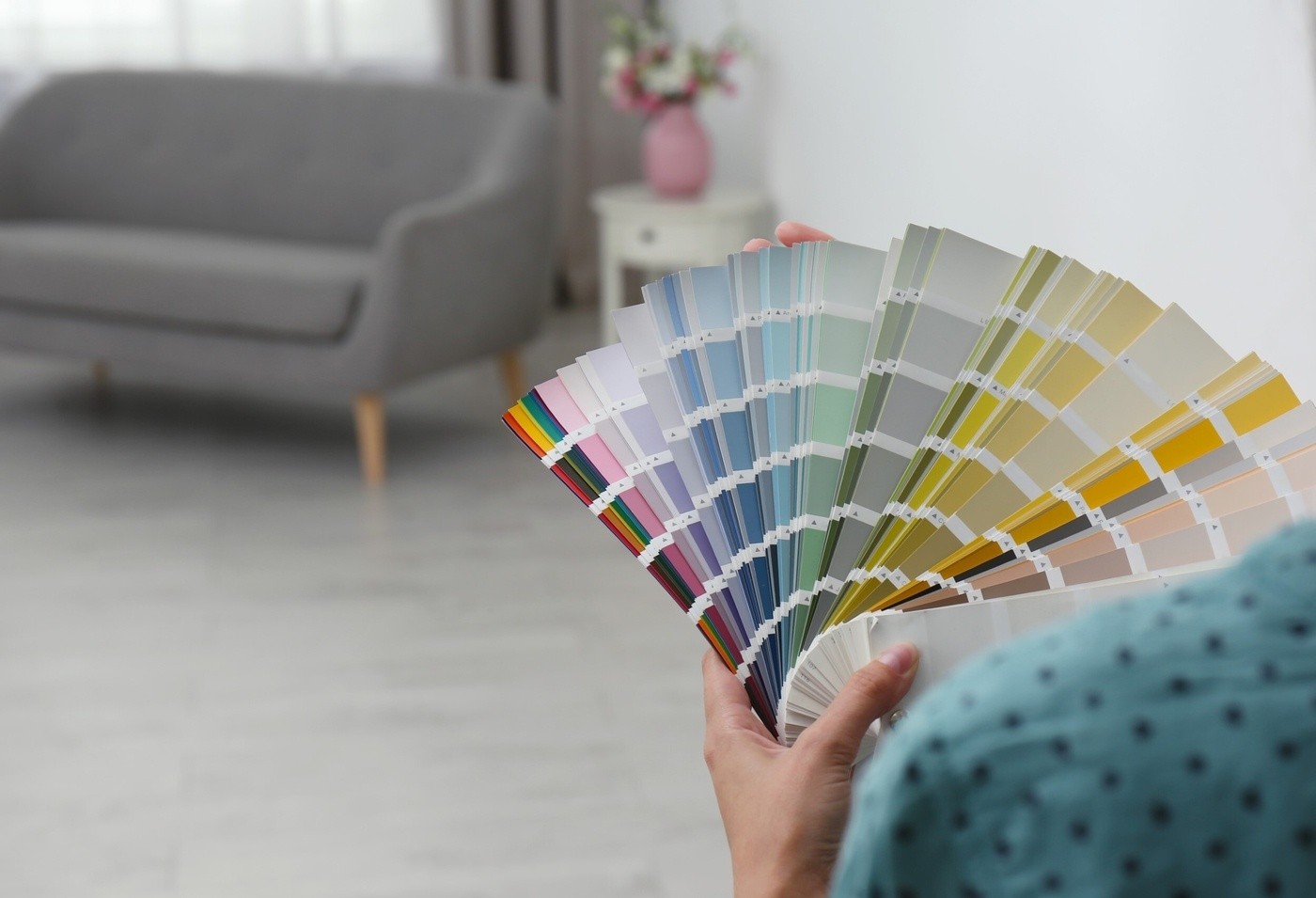 Choosing a color scheme can be tricky, but thankfully there are lots of tools out there to help you get it right. One tool absolutely everyone should be using when choosing a color scheme is the color wheel.
Understanding the color wheel and how it works is the key to creating the perfect color scheme. There are lots of different color combinations to choose from, but in this article, we're going to be focusing on how to decorate your home using complementary colors.
If color theory is all new to you, don't worry! Before we start we are going to take a quick look at the color wheel and go through the basics of how to use it to find complementary color schemes. After that, we're going to be sharing some examples of how incredible a complementary color scheme can be when done right!
The Color Wheel and How it Works
The color wheel is made up of 12 colors, and split into three groups; Primary, Secondary, and Tertiary. The primary colors are red, yellow, and blue. These colors cannot be made by mixing any two other colors, but they can be mixed together in different quantities to create any other color on the spectrum.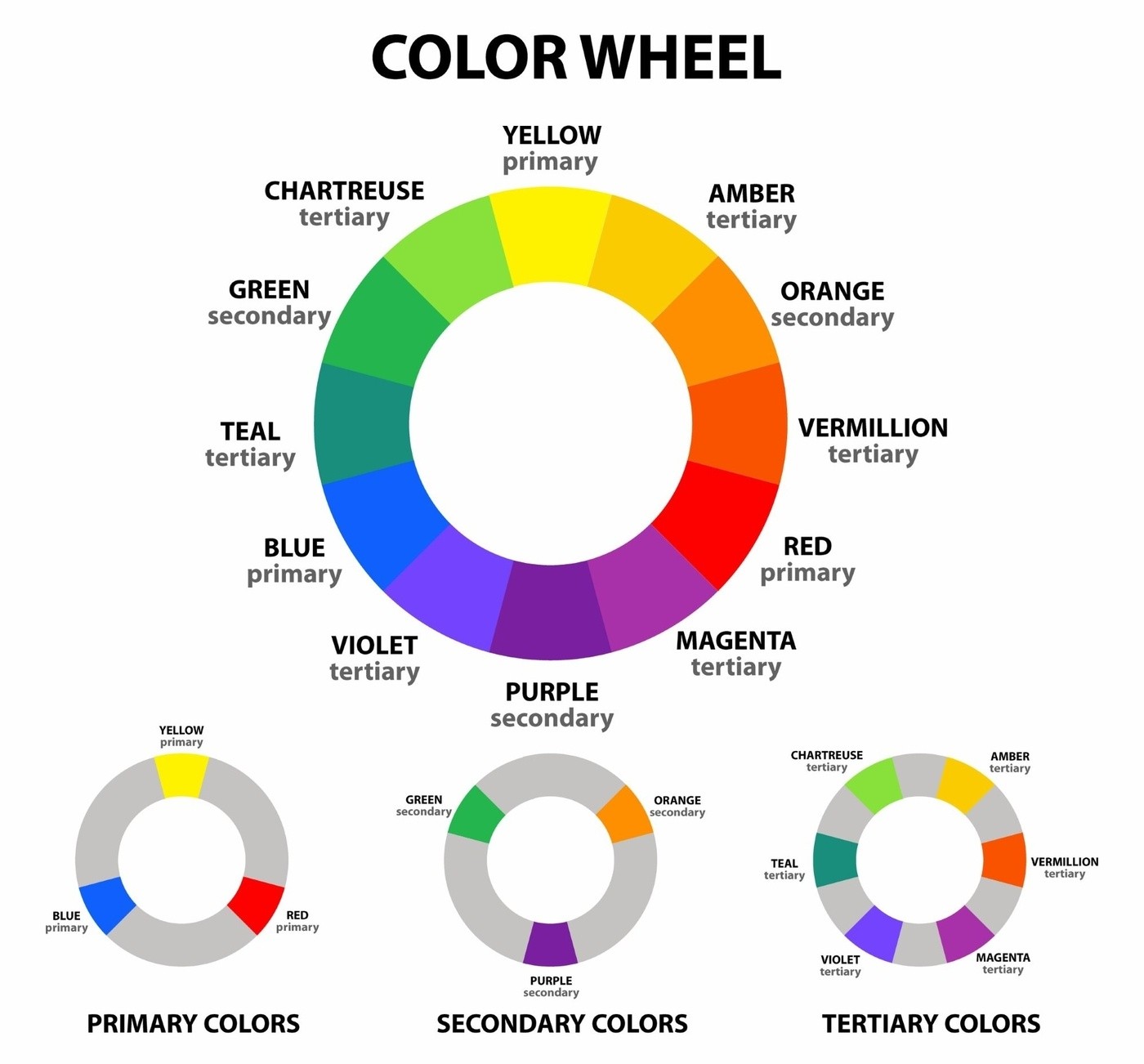 Secondary colors are the colors that are made when you mix two primary colors. For example, if you mix red and yellow (primary colors), you will get orange, which is a secondary color.
Tertiary colors are the colors made by mixing a primary color with a secondary color. So if you mix yellow with orange, you will get a yellowish shade of orange.
What Are Complementary Colors?
Complementary colors are two colors directly opposite each other on the color wheel. Red's complementary color is green, blue's complementary color is orange, and purple's complementary color is yellow. Every color has its own complementary color directly opposite it on the color wheel.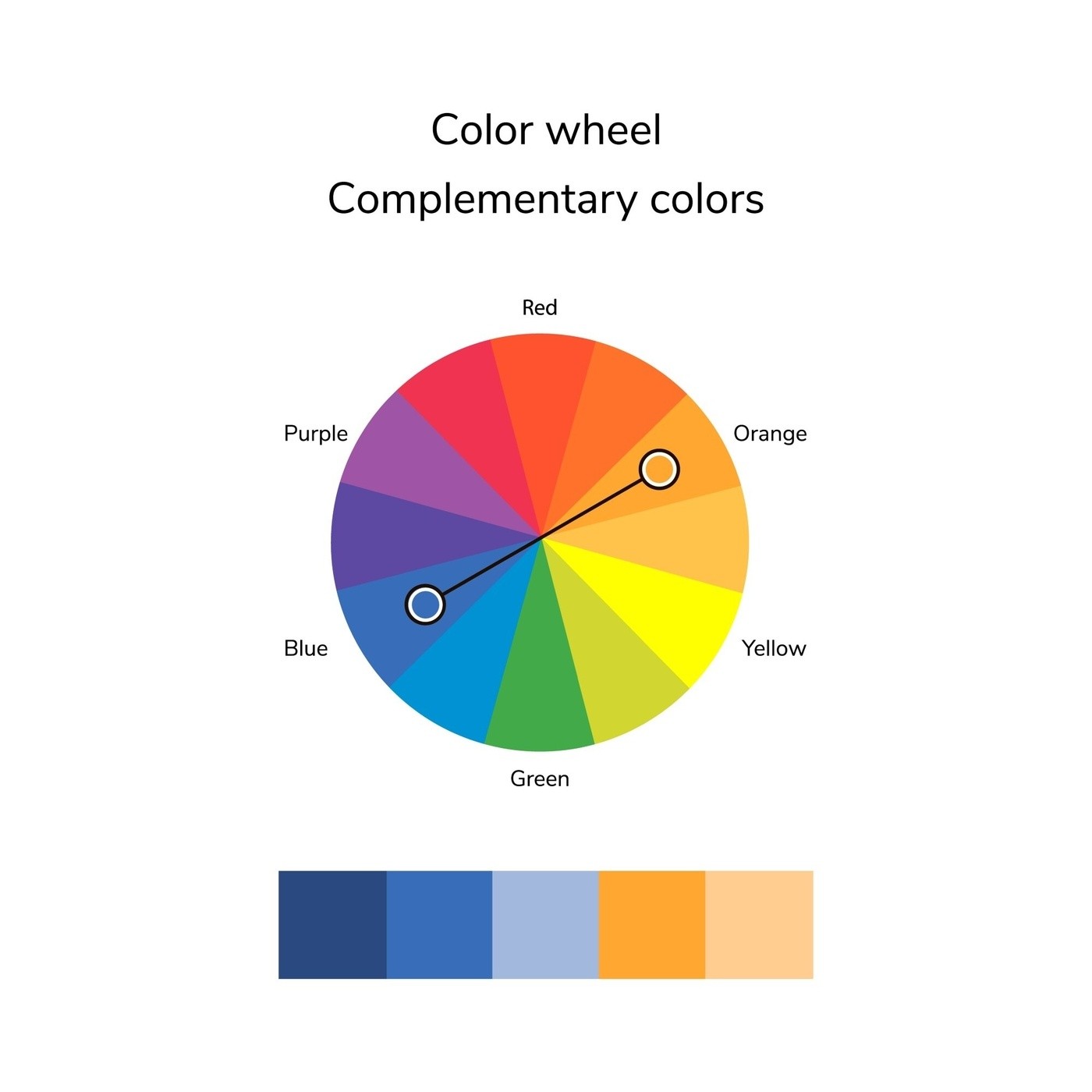 Since complementary colors are opposing colors on the color wheel, they create a strong contrast when used next to each other. This makes them ideal for use as accent colors in a color scheme.
Because the contrast is so high between complementary colors, they have the power to visually enhance one another and add energy to the space they are being used in.
Although it might seem scary using two such contrasting colors together in a color scheme, when it's done right the results can be amazing. Using the right proportions along with the appropriate shades and tones of color is key here; you can have too much of a thing when it comes to using complementary colors together!
Next, we're going to take a look at some complementary color schemes to see how it can be done, and give you some inspiration for your next project.
Complementary Color Schemes: Red and Green
Red and green are two colors you might not immediately think of putting together, but when done right this color combination can really make a statement.
When it comes to color psychology, red is stimulating, and green is calming and relaxing, reminding us of nature and making us feel at peace. It's important to bear this in mind when designing an interior with a red and green color scheme, as the proportions of each color used can dramatically alter how a room feels.
Green With Red Accents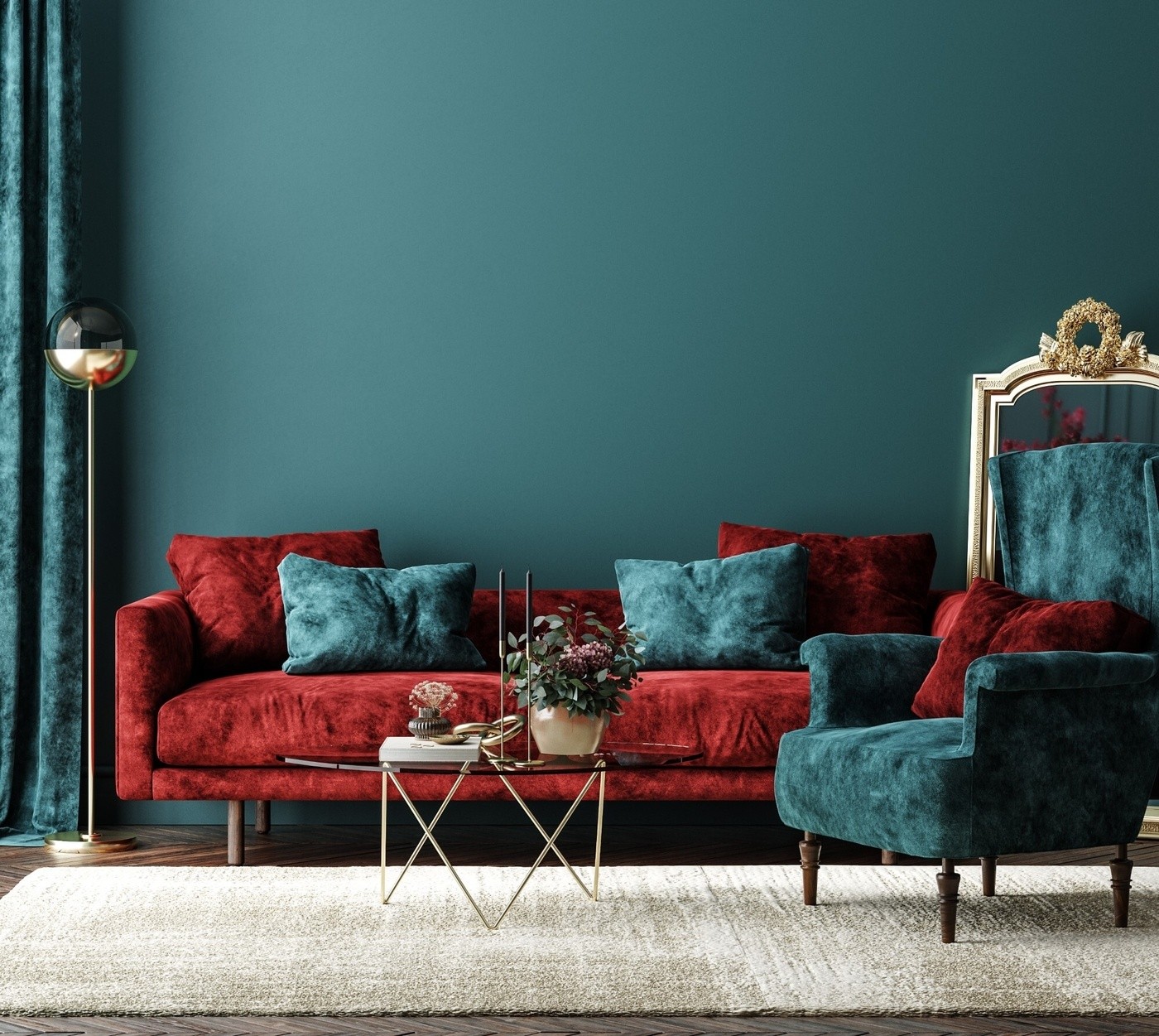 If you want to create a more soothing, relaxing environment, then allow green to be the dominant color, and use red as the accent color. Similarly, if you want to create a bold, confident, passionate feeling in the space, then use red as your dominant color, with accents of green.
As you can see in these images, the complementary colors, red and green, enhance each other and stand out beautifully when paired against one another.
Red With Green Accents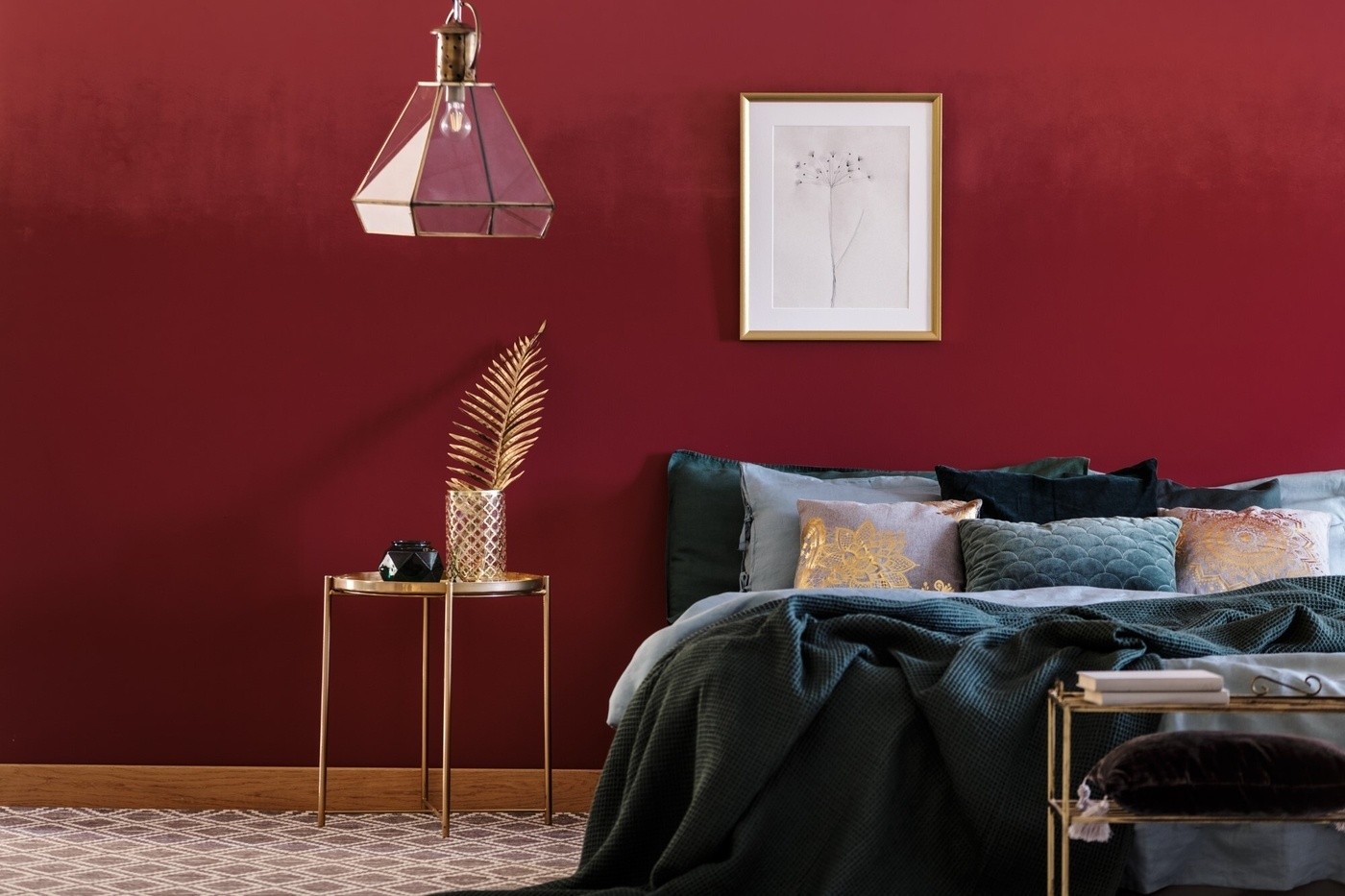 This bedroom is a great example of how red can be used as the dominant color to create a bold and exciting interior. Green accents and accessories add even more energy and life to this eclectic design.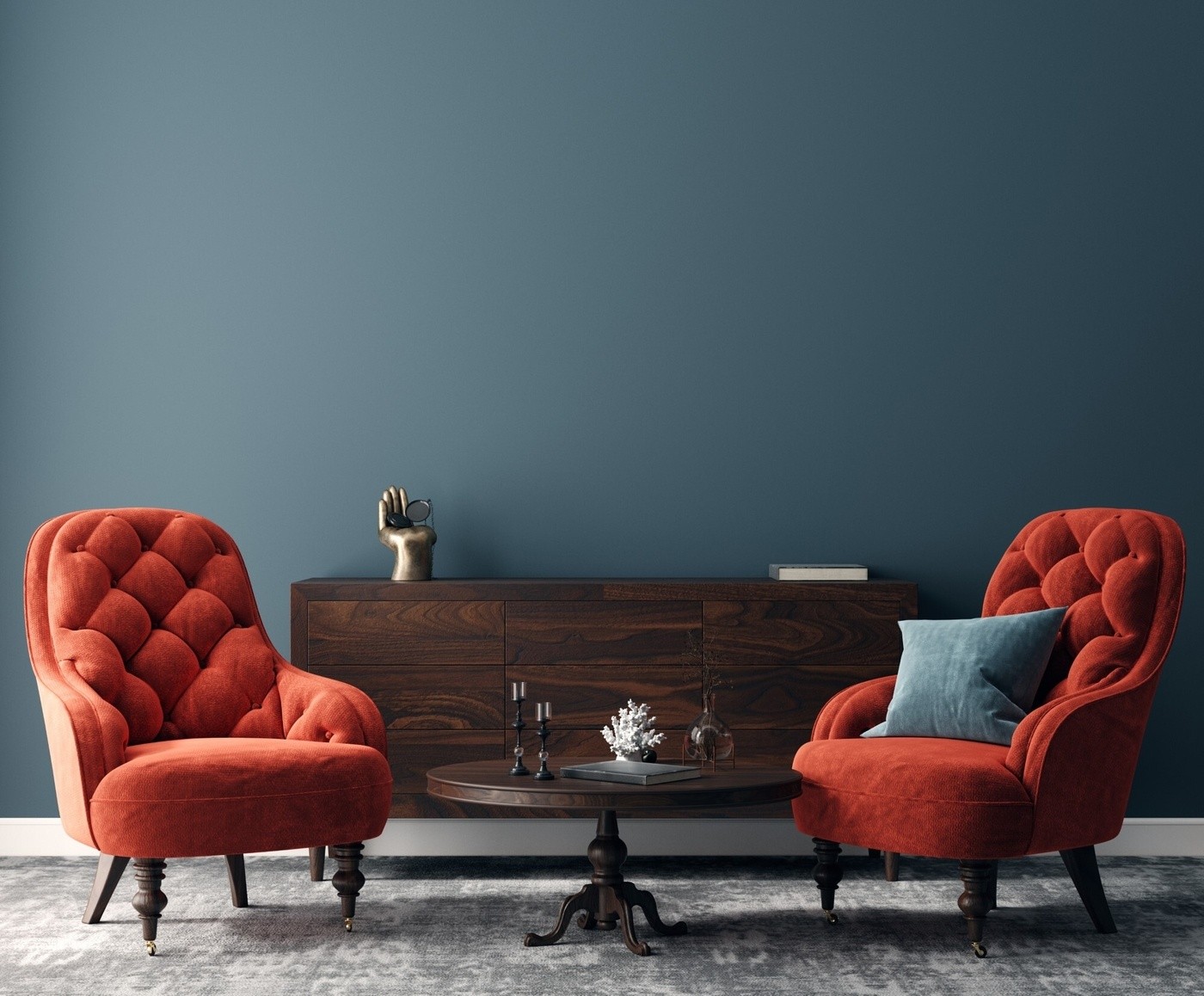 Red and green can work well in more traditional interiors too. This shade of green makes this traditional living room feel welcoming and relaxing, the perfect space to retreat to at the end of a long day. The red armchairs make wonderful accents in this interior, warming up the space and creating a sense of balance in this room.
Pink and Green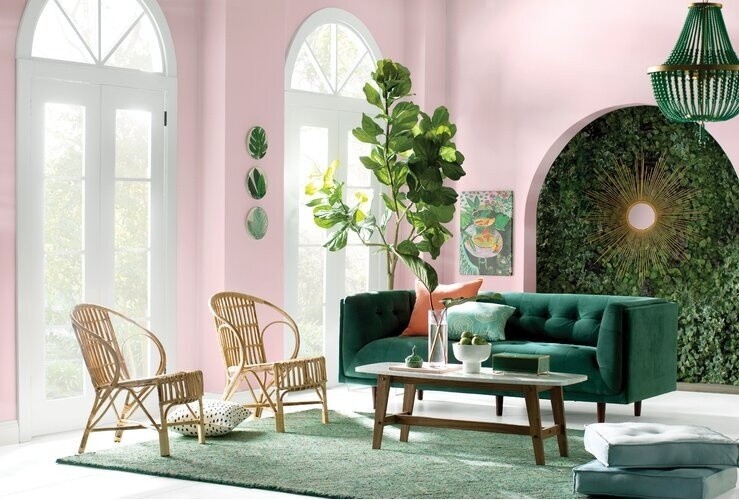 When it comes to creating complementary color schemes, you can experiment by using different tints, tones, and shades of the colors you are using. This is a great example of how well pink can work with green. Since the color pink is essentially a lighter shade of red, it allows the green to stand out and take center stage whilst not being too 'in your face.'
Complementary Color Schemes: Blue and Orange
Orange and blue as a color scheme is ideal for anyone who wants to create a fresh, contemporary design that is just bursting with energy. Blue is a very cool, calming, and serene color, while orange is energetic, happy, and uplifting. This makes them the ideal pairing when it comes to creating a balanced color scheme.
Blue With Orange Accents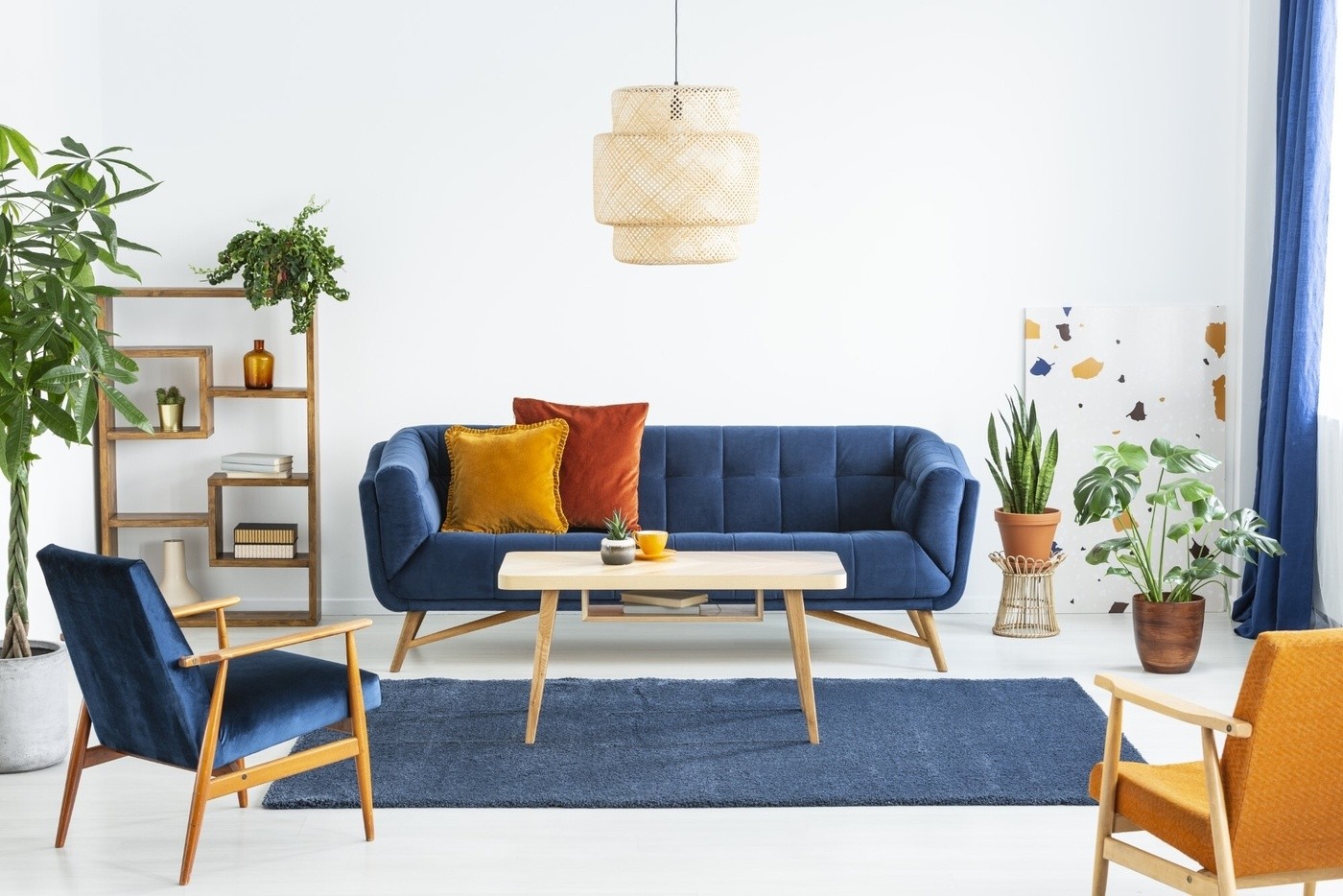 This blue color scheme is brought to life with accents of orange. The shade of blue on its own could be seen as cold and lifeless, but with the addition of this beautiful shade of orange, this scheme becomes sophisticated, warm, and inviting.
Royal Blue and Tangarine Orange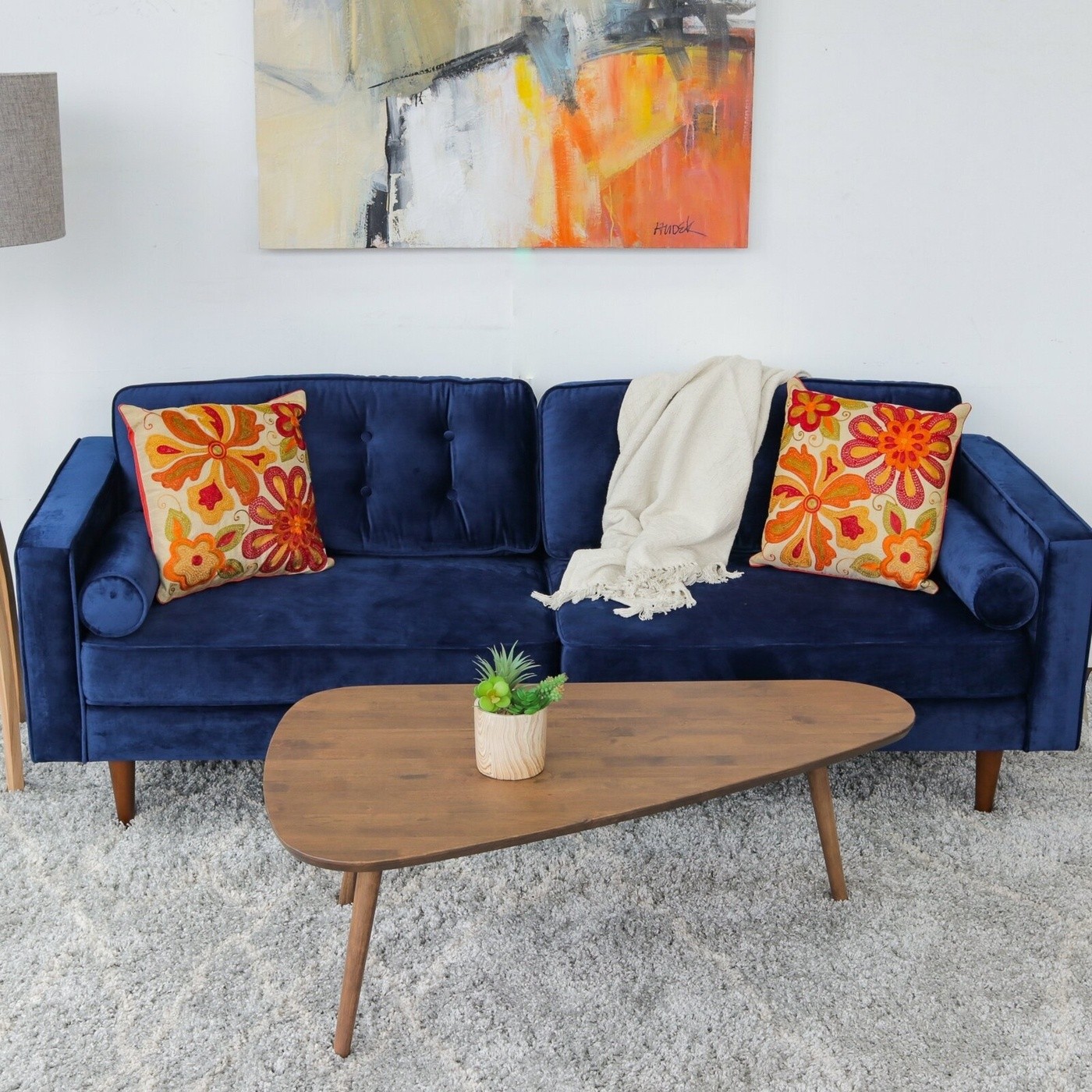 If you want to create a real impact in your interior, then using bolder shades of these two colors will work wonders. This striking combination is perfect for anyone who loves to stand out!
Light Blue with Orange Accents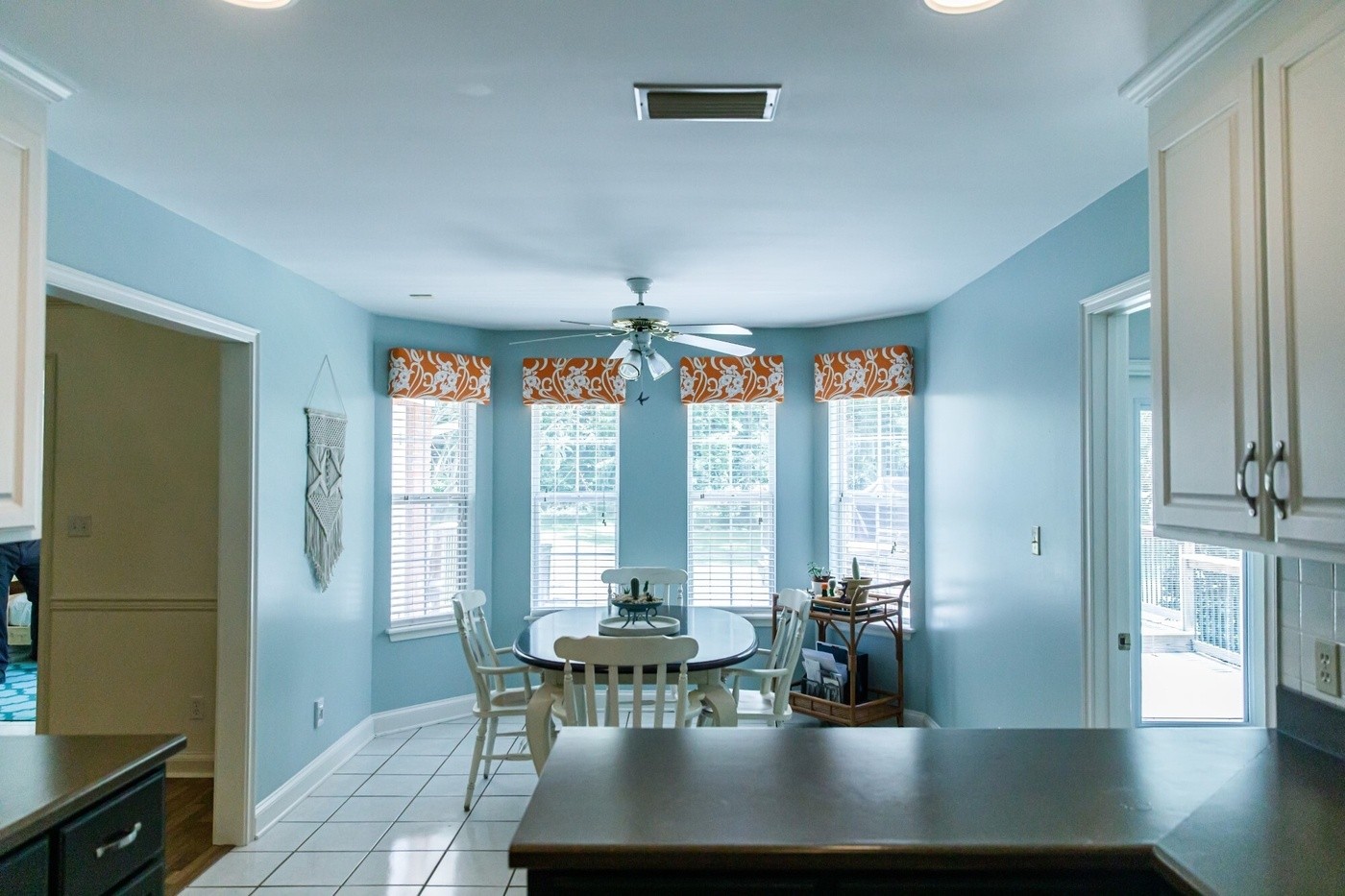 This dining room shows how pale blue and orange can be used together to create a sophisticated design. The tangerine orange of the curtains adds warmth and drawing attention to the beautiful windows they are framing.
Ocean Blue With Orange and Tan Accents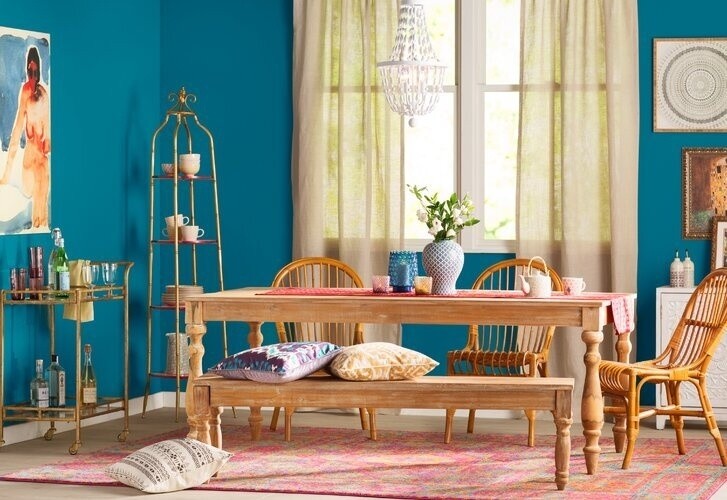 This gorgeous color scheme has some serious fun and energy to it. The natural orange tan colors of the wooden table, cane furniture, and artwork are the perfect contrast to the ocean blue walls.
Vivid colors such as ocean blue can sometimes feel overwhelming when used in large amounts. But with the addition of the orange and tan accents, this color scheme is perfectly balanced and very pleasing to the eye.
Complementary Colors: Purple and Yellow
Purple and yellow together have the power to create an opulent, luxurious color scheme. Purple is strongly associated with royalty, wealth, and extravagance, whilst the color yellow is uplifting, optimistic, and illuminating.
Yellow is also the color of gold, which is also commonly associated with wealth and extravagance, which is why this color combination is a match made in heaven.
Purple and Yellow Accents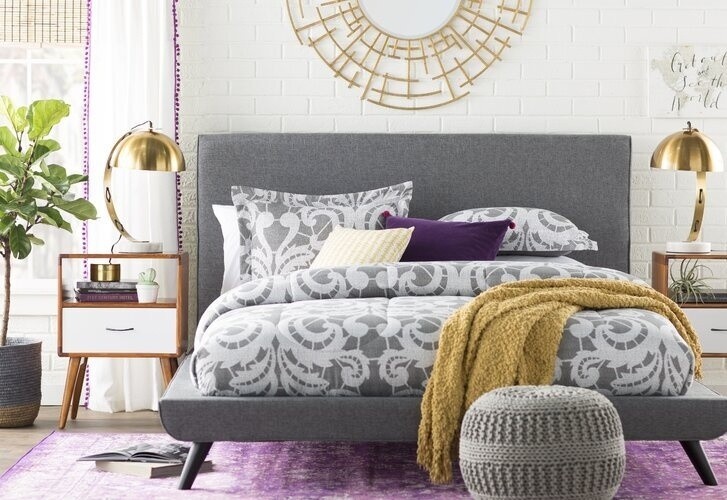 Using purple and yellow together as accent colors is a great way to breathe life into an otherwise plain room. Gold accents and vivid purple textiles add a touch of luxury and opulence, taking this design from something quite ordinary into something rather special.
Purple and Gold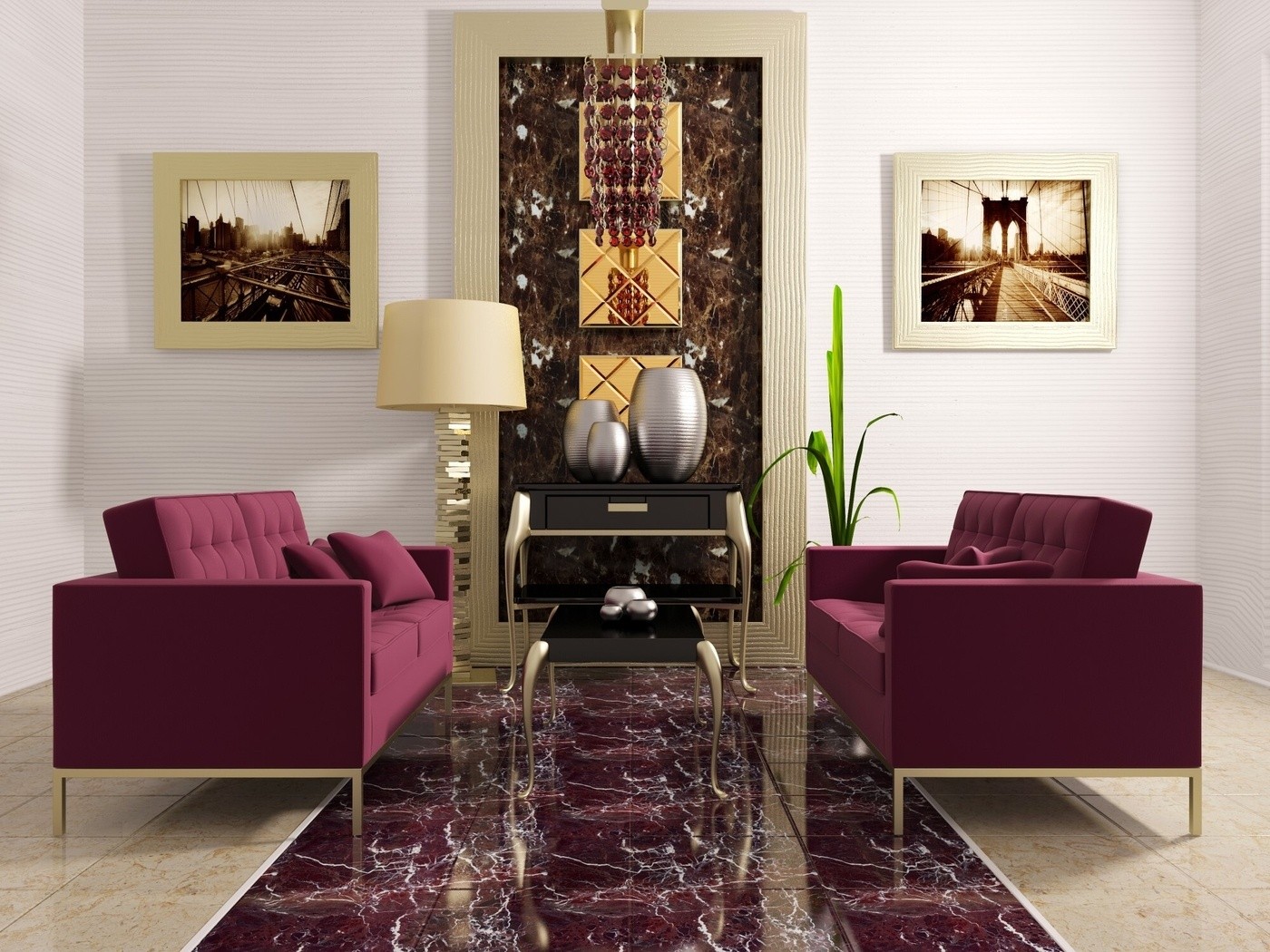 The use of purple and gold accents in this neutral interior really takes things up a notch, making the space feel regal and opulent. Using small amounts of color works well here. Because the color purple is so vivid, overusing it can come across as tacky. This is a great example of how less is more when it comes to such a deep, rich color combination.
Sunshine Yellow and Purple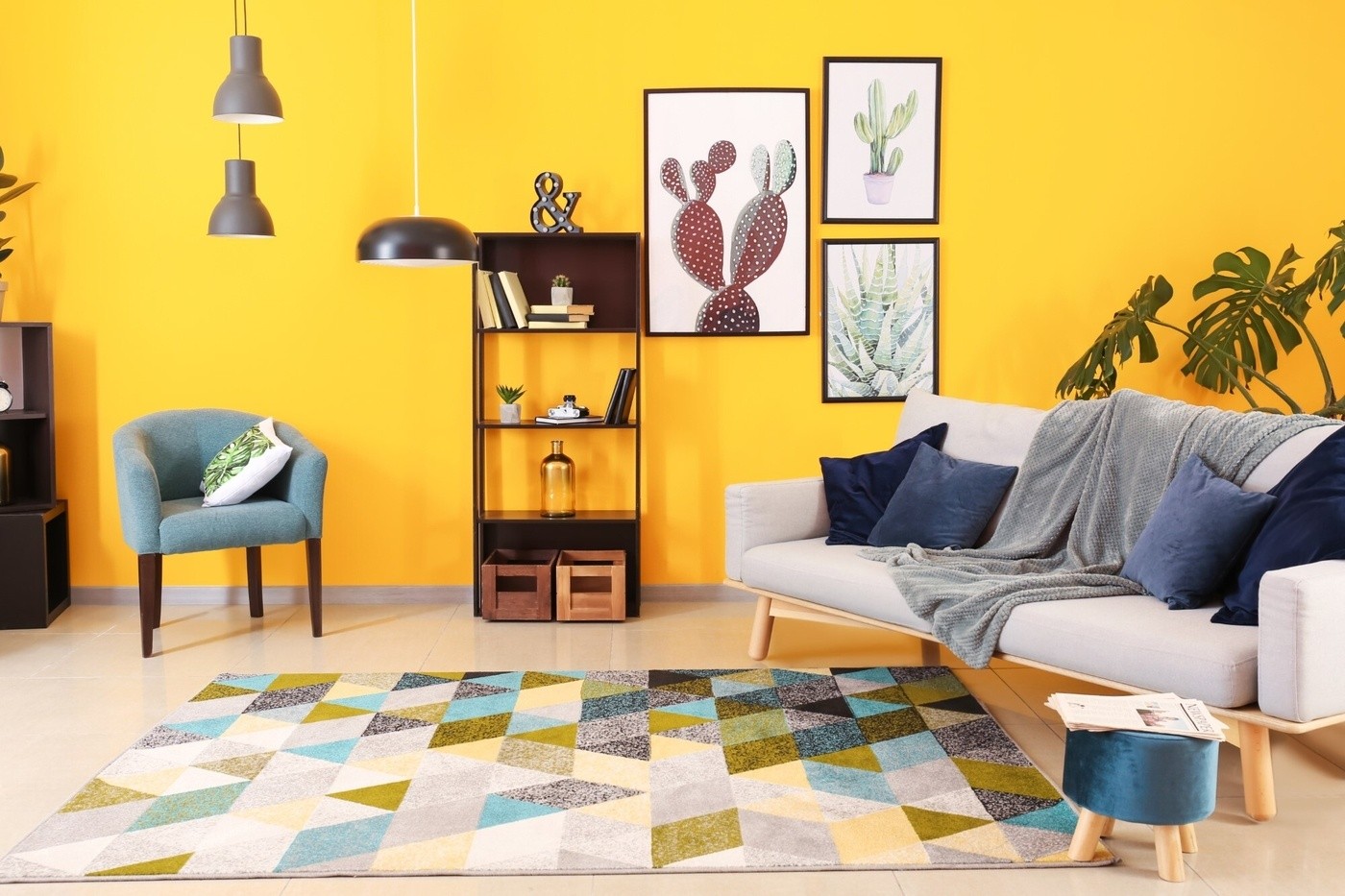 This design is a little more unusual. Lots of sunshine yellow has been used, filling the room with life and light. The purple accents in really stand out against. This keeps your eyes moving around the room and creates a feeling of excitement.
Dark Purple and Gold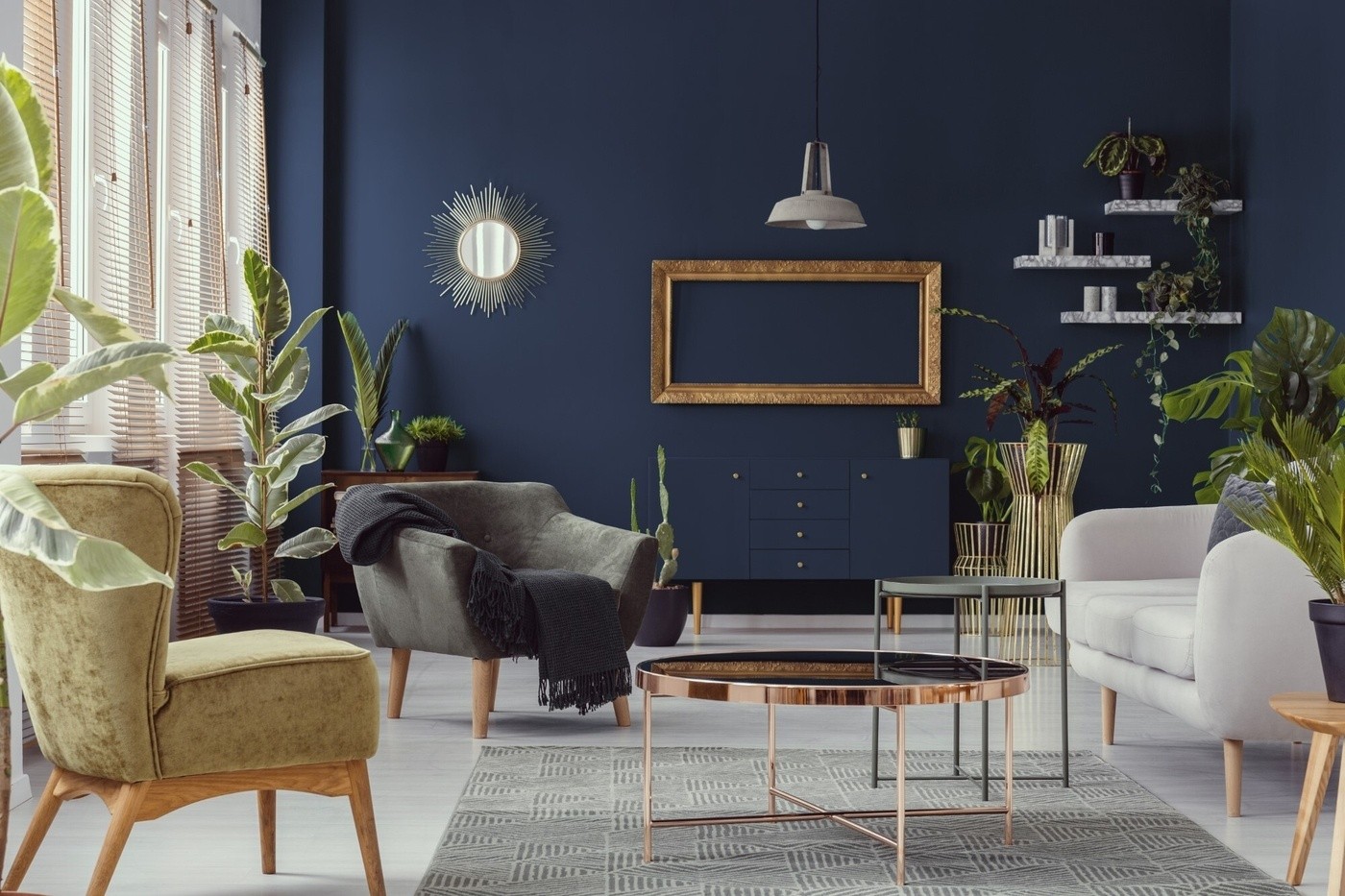 Dark purple and gold work together beautifully in this design to create a stylish, tasteful design out of this complementary color pair. Gold is the perfect accent color to use with purple. Its yellow tones contrast beautifully with any shade of purple, while its gleaming finish adds another element of grandeur to the design.
Making Complementary Colors Work for You
Using complementary colors is a great way to create a vibrant interior that is full of life and personality. Don't be afraid to experiment with different tints, tones, and shades of each color until you have created a color scheme that you fall in love with.
Remember, rather than doing a 50/50 split, it's wise to choose one color as your dominant color, and use its complementary color as the accent. This will allow you to use the accent color to highlight different areas of the room you want to draw attention to, and create focal points where you want them.
If you don't want to be overwhelmed by too much color, then start with a neutral palette, and add your chosen complementary colors in as accents. This will still give you a striking effect without overwhelming you.
Colors That Go With…