Pack a punch in your home with lime green. The zingy hue is fresh, energetic, and full of vigor.
Lime green is a striking yellow-green color named after the popular citrus fruit. The piquant hue has a distinct yellow undertone that affords it its vibrant, high-energy, and attention-grabbing quality. Limes have a tart, acidic taste that can feel overwhelming to the senses when used in excess. The same rings true with the color. A sprinkle of lime green is enough to add zest to an interior and contribute a light, fresh, and uplifting touch. The bright green hue has a warm undertone and looks dazzling when paired with darker shades.
What is the Psychology of Lime Green?
Lime green is a spirited and vivid color that denotes confidence and high energy. Like all shades of green, lime green is associated with nature and has a refreshing, rejuvenating influence. However, the prominent yellow tinge gives it its uplifting and energizing characteristics, in contrast to the soothing effect of dark green or blue-green shades. Yellow promotes happiness and optimism, inspires creativity, and enhances mental agility, qualities inherited by the lime green hue. Conversely, the color's vivacity can give an intense, restless, and aggressive vibe when overused. Bright and daring, lime green is a sure way to assert your bold character and make a head-turning statement.
What are the Best Ways to Use Lime Green in the Home?
Painting the whole room lime green can be overwhelming. Instead, stick to one accent wall.

Add a surprising pop of color by painting the inside of a bookcase or cabinets lime green.

Subtly thread the color into the scheme through patterned wallpaper, furnishings, or woven into a rug or throw.

A lime green piece of statement furniture is a sure way to turn heads.

Use lime green as an accent color with home accessories such as cushions, lamps, lampshades, vases, and crockery.

Center your color scheme around a piece of artwork that heavily features the lime green hue.
What Colors Go with Lime Green?
Lime Green + Gray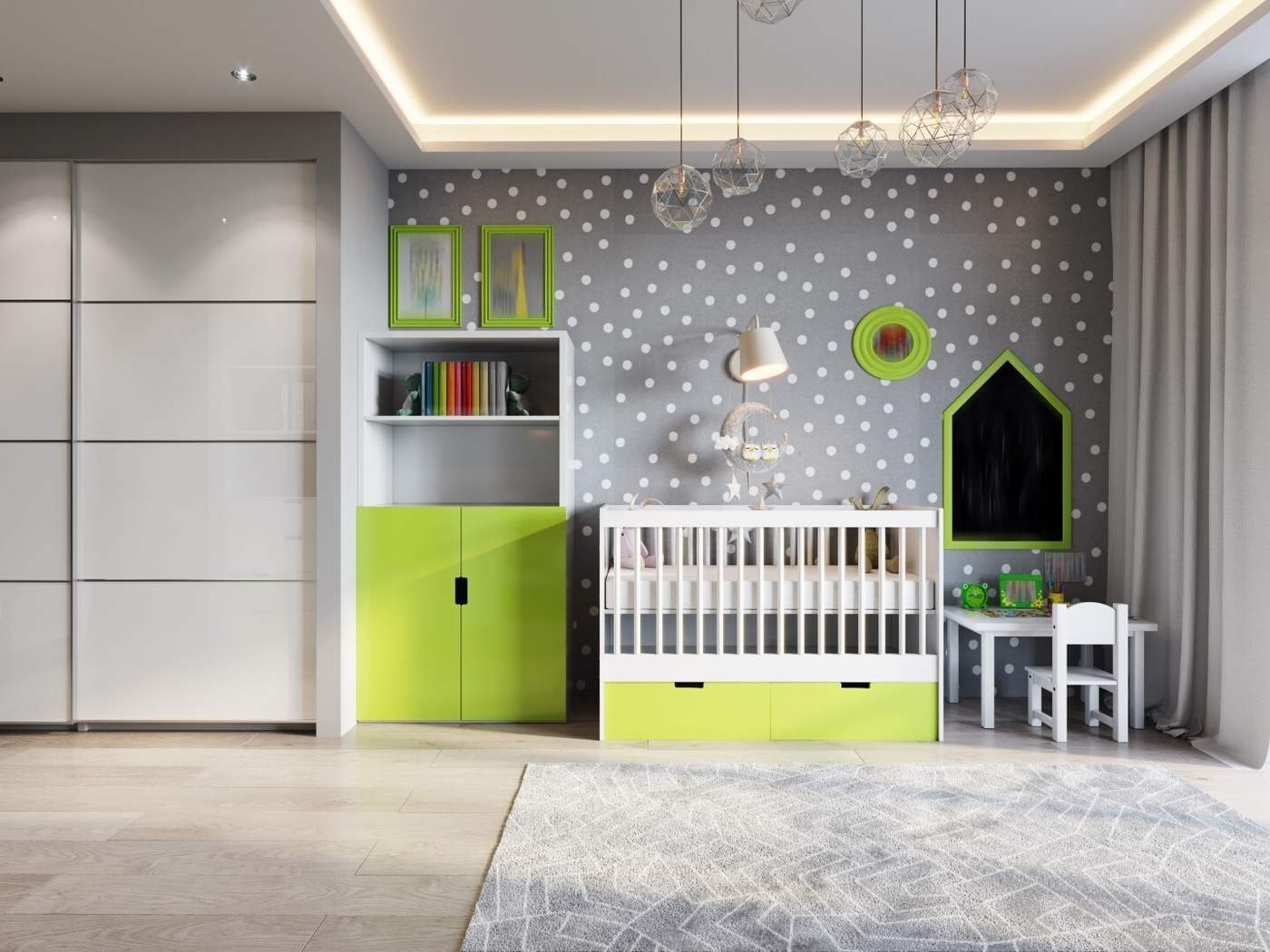 Add an unexpected pop of lime green to a neutral gray scheme. In this contemporary nursery, two worlds collide as the obtrusive, energetic green hue interrupts the modest gray backdrop. As the dominant shade, the pale gray establishes the overall calming atmosphere, while lime green accents enliven the scheme and inspire creativity. Use a darker shade of gray to create high visual contrast and dynamism.
Lime Green + Black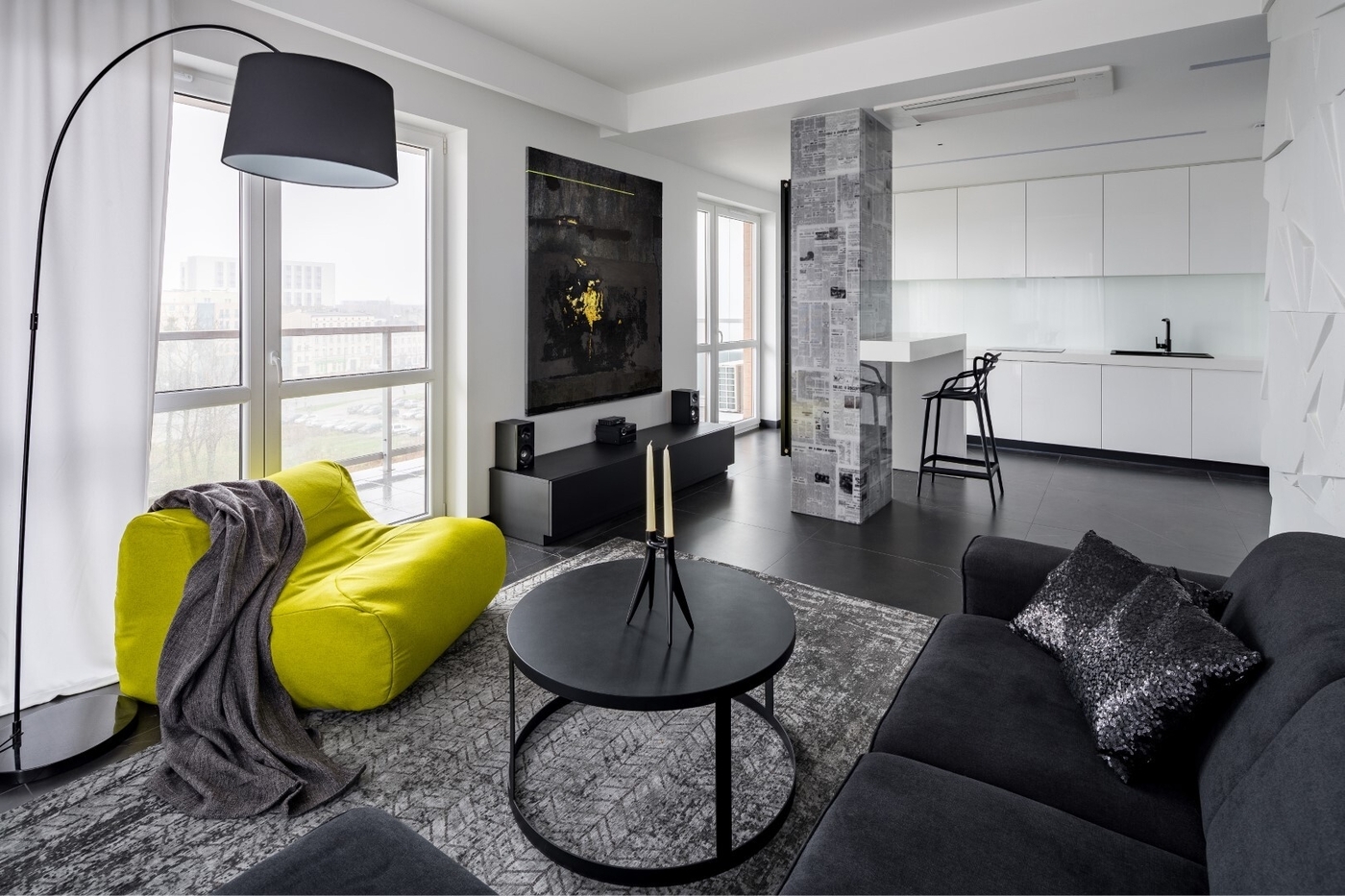 Lime green makes a refreshing and cheerful accent to a sober, moody, and sophisticated black interior. Using a single splash of bold, contrasting color effectively makes a statement in a monochromatic scheme and creates excitement and drama. Here, the lime green chair locks the eye into a sort of hypnotic trance, making it impossible to look away. The inky black furnishings recede into the background, allowing the lime green accent to shine, while the white walls and cabinets temper the daring color combo.
Lime Green + Hunter Green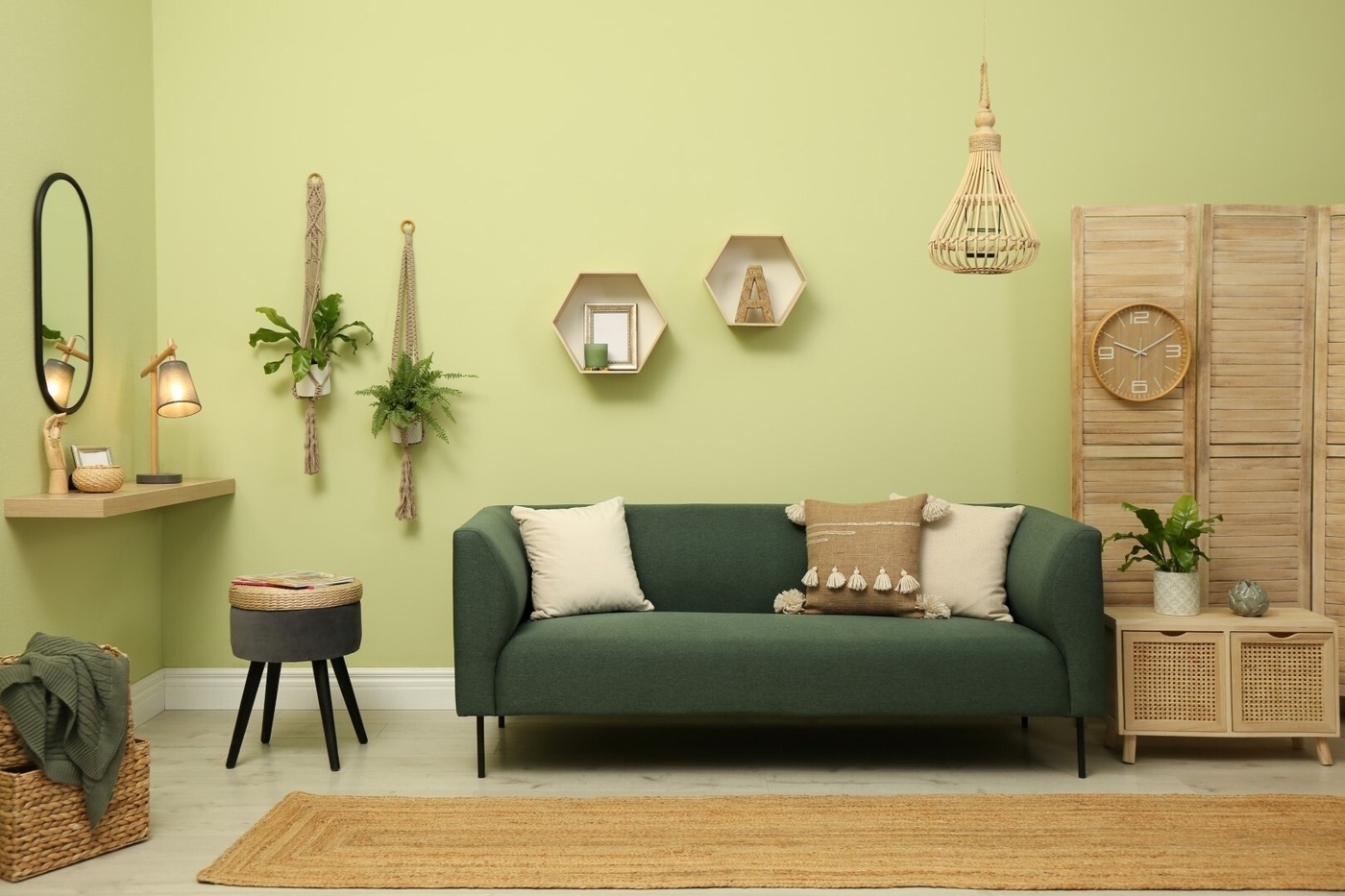 Create a verdant oasis with a monochromatic green scheme. The key to a harmonic monochrome palette is to vary the saturation and tone of the base color while maintaining a similar undertone throughout. A muted lime green tint covers this living room's walls, forming the base color, with a dark hunter green sofa as an accent piece. The dark yellowish-green shade also has a warm undertone, resulting in a harmonic pairing. Add natural textiles, such as rattan, jute, and wood to break up the vibrant shade and add a warm, organic touch.
Lime Green + Pastel Pink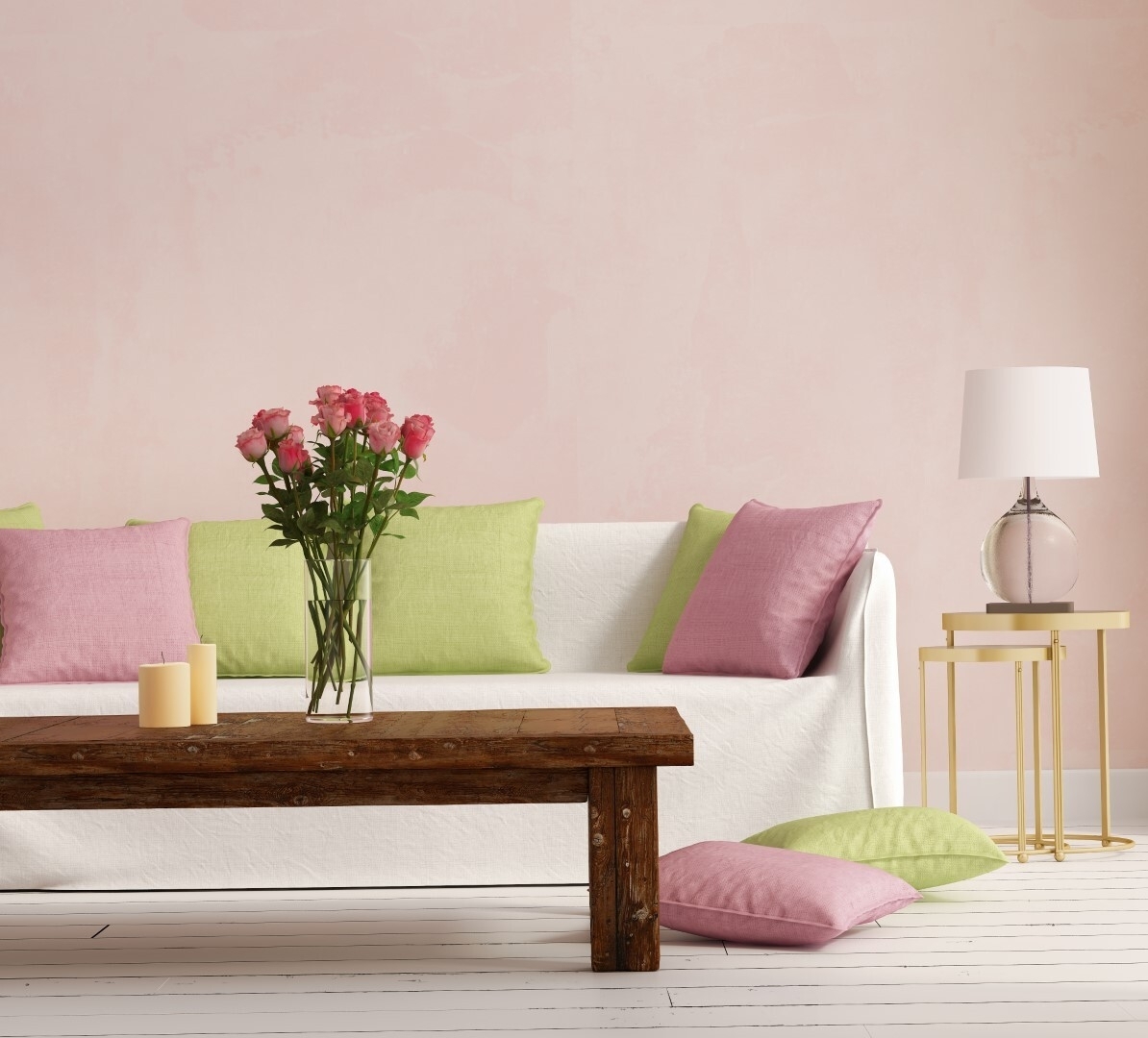 Lime green and pastel pink conjure images of a blooming rose garden in the summer season. Pastel pink evokes a sense of delicate femininity and calm, while lime green has a crisp, refreshing, and energizing effect. The 60-30-10 rule is a safe design method for a complementary color scheme like this one. Here, pastel pink sets a whimsical tone as the dominant color, followed by neutral off-white furniture and flooring. The lime green scatter cushions give a fresh finishing touch.
Lime Green + Yellow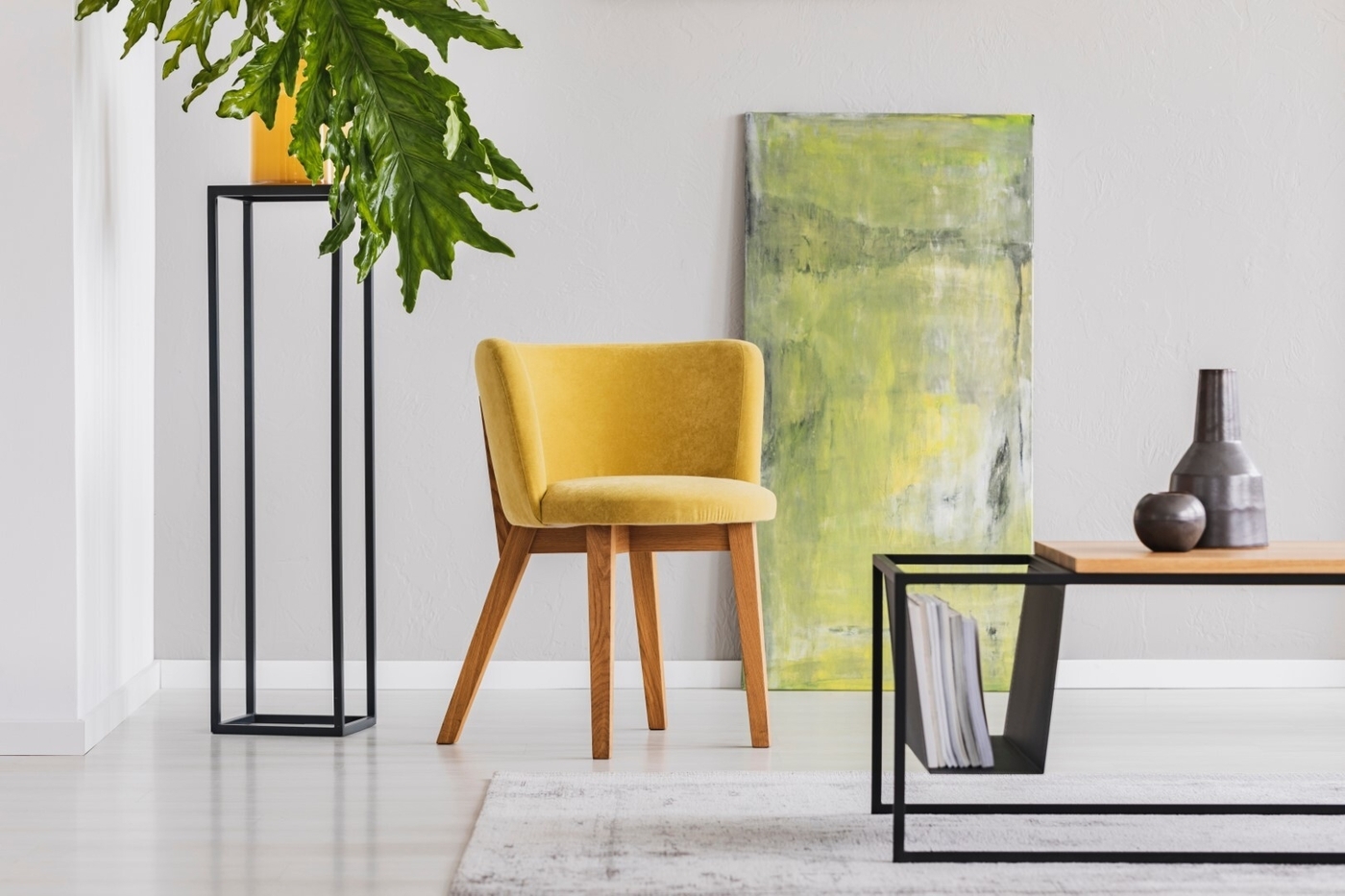 Lime green and lemon yellow radiate joy and happiness. You can count on this citric-inspired pair to warm up and lift a cool, dim north-facing room. Lime green and yellow are high-energy, vibrant colors, so too much of the color combo can quickly feel intense and overwhelming. Instead, introduce the colors as uplifting accent pieces. For example, a yellow accent chair, yellow planter, and lime green abstract painting add a sense of optimism, movement, and vigor to this otherwise flat gray interior.
Lime Green + Light Blue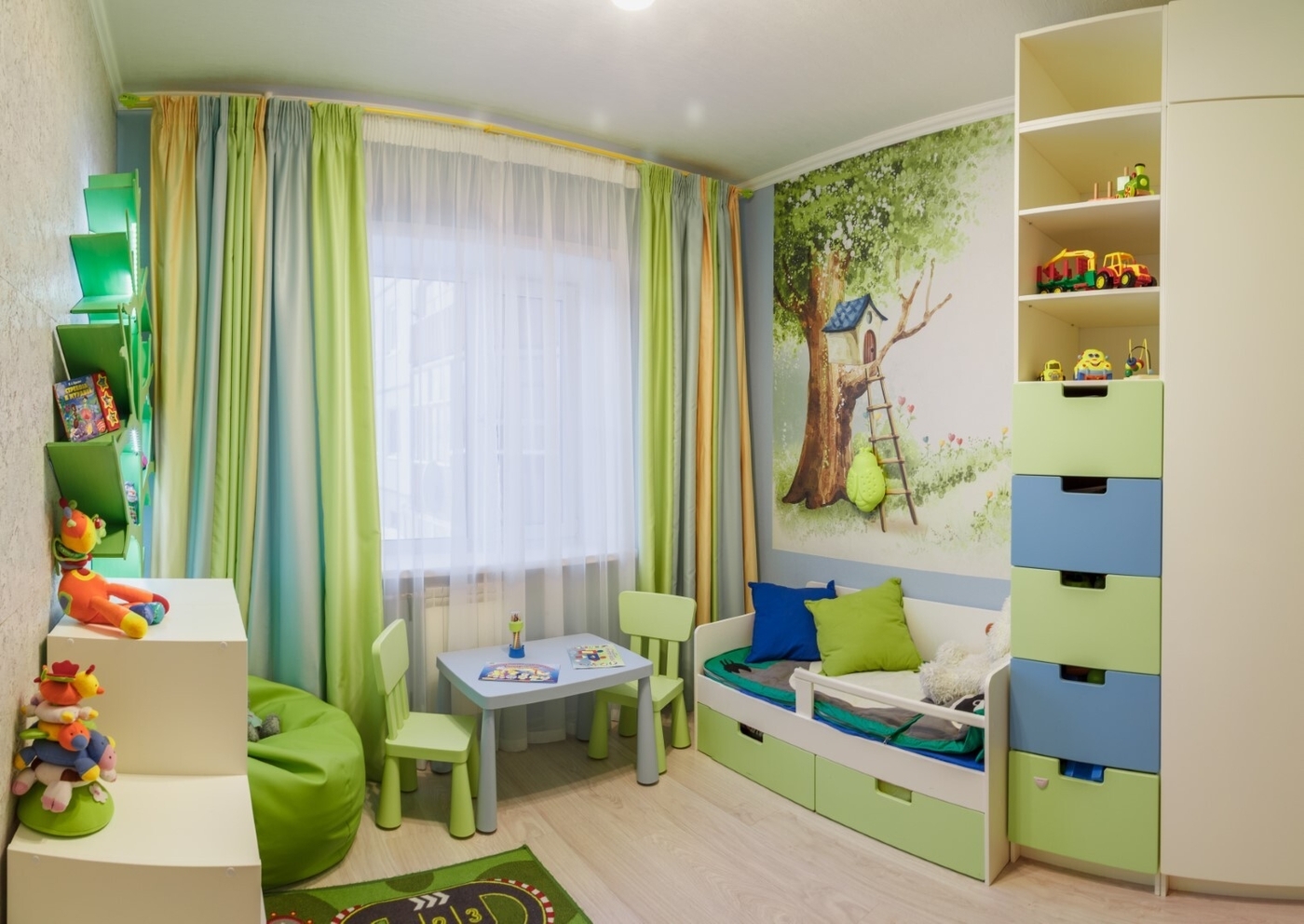 Pair lime green with light blue for a fresh, soothing, youthful color palette, perfect for a child's bedroom. Light blue's cool, calming influence is an effective way to temper the vibrancy of lime green. This child's bedroom is bright and colorful, yet it is suitable for creative play and a place to wind down. The mural is an inspiring way to bring the color palette together.
Lime Green + White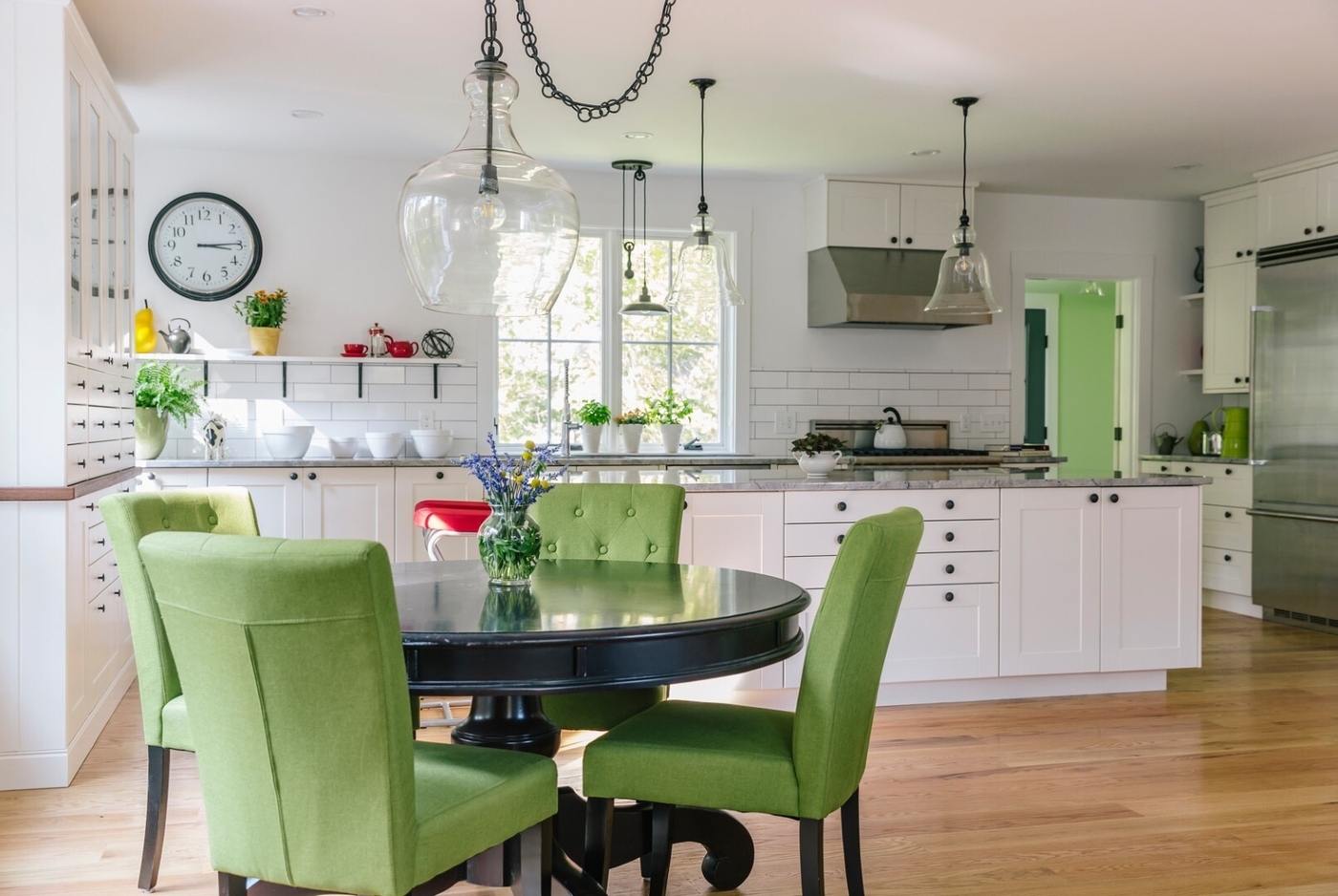 White and lime green make a bright and fresh scheme that works exceptionally well in kitchens. Green symbolizes health and wellness, so what better way to subtly encourage healthy eating habits than to color your kitchen with it? These lime green dining chairs add life and vigor to the otherwise all-white kitchen design. Add sprinkles of lime around the room with other accessories, like a water jug, vase, crockery, or fresh herbs. The wood flooring adds warmth and texture and prevents the space from feeling stark.
Lime Green + Orange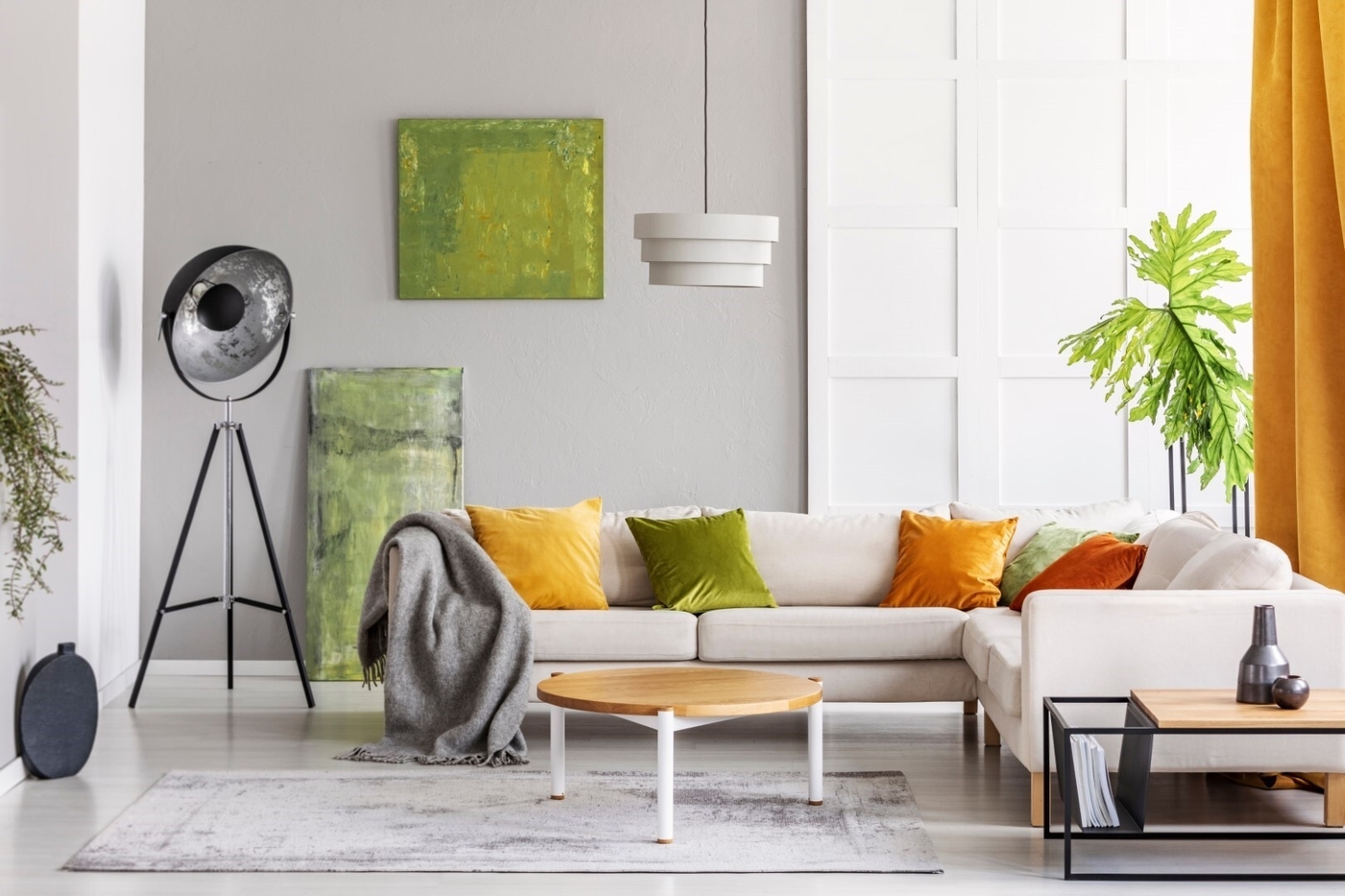 Create a deliciously sharp and zesty citric-centric palette with lime green and orange. The bright, energetic color combo, reminiscent of tropical climates, will make it feel like summer every day! Because they are both bold and vibrant hues, they are best used as accent colors to prevent them from competing. In this living room, lime green and orange add zest to an otherwise neutral scheme through accessories and furnishings, including artwork, curtains, and scatter cushions.
Lime Green + Brown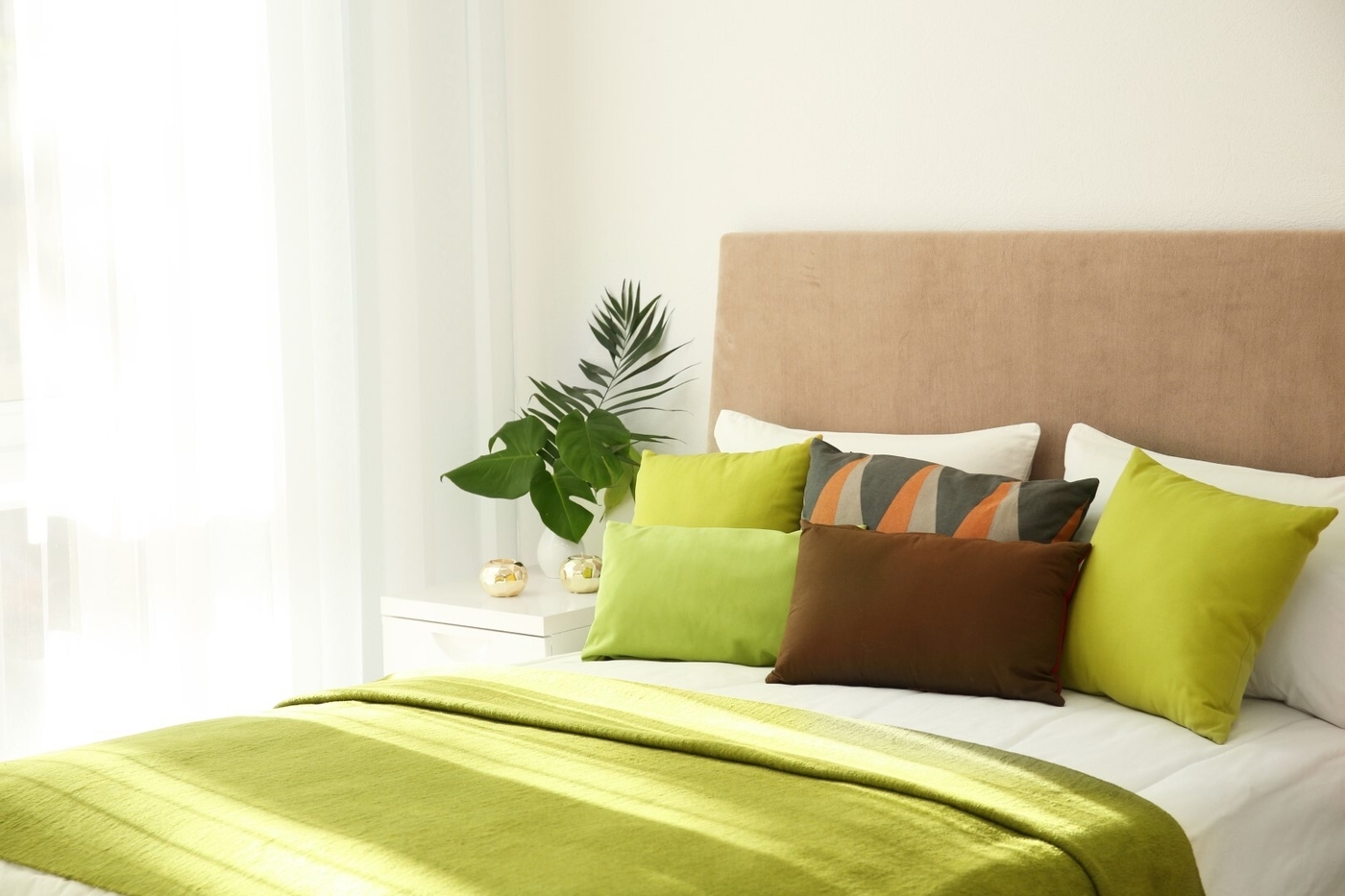 Wrap yourself in the comfort of nature with a green and brown scheme. As the most prevalent color palette of the natural world, it's an obvious color pairing that can be played up or down by varying the tone and saturation of the hues. Brown has a grounding and balancing effect on the vibrant spirit of lime green. Opt for a dark chocolate shade for an intense, high-contrast look, or pick out a pale taupe or tan for a calming influence, suitable for a bedroom.
Lime Green + Purple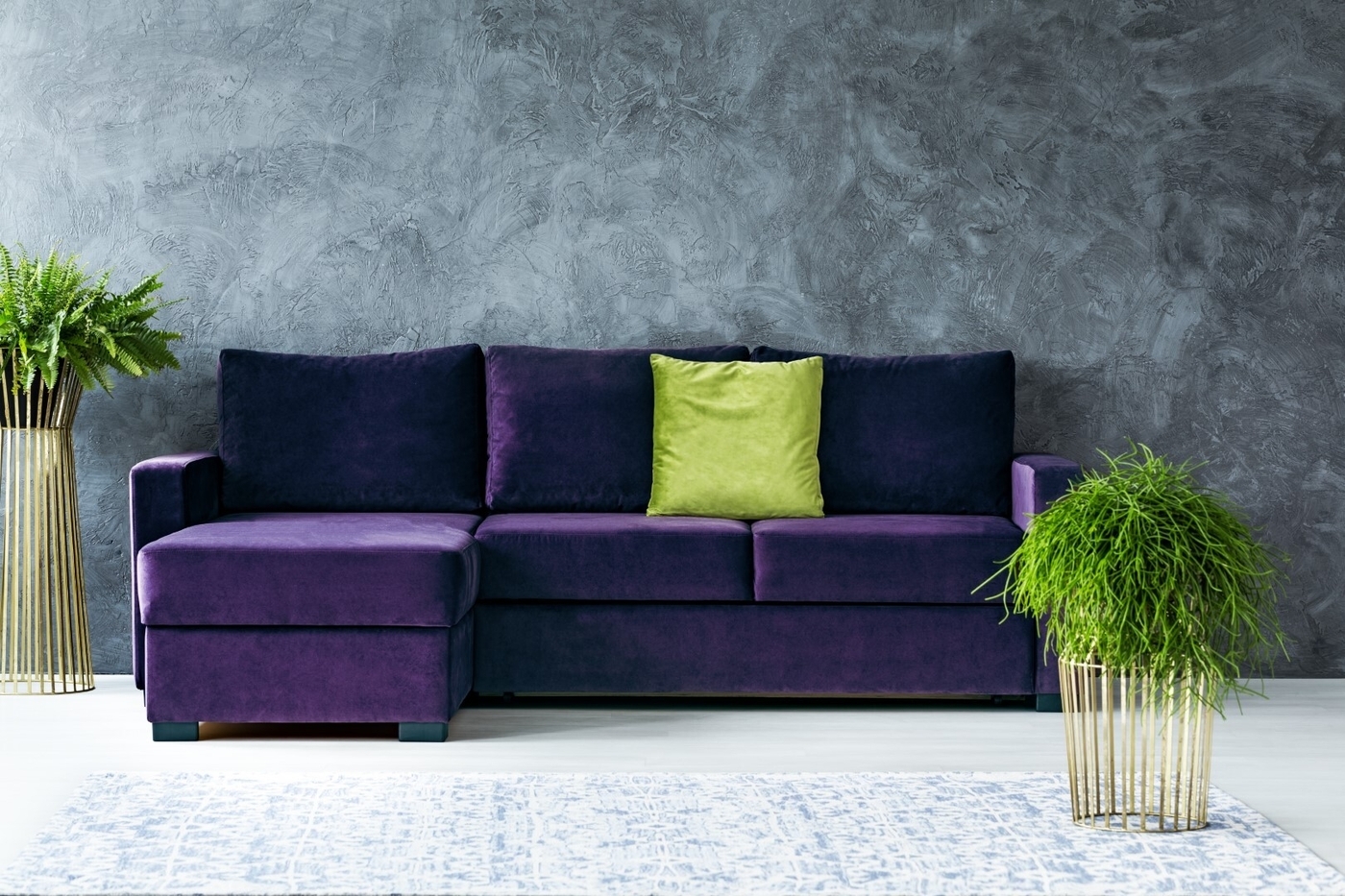 Lime green and purple make a striking pair. The cool undertones and depth of the rich jewel-toned shade contrast the radiant warmth of the vibrant green hue. The near-complementary colorway is perfect for anyone looking to pack a punch in their space, especially when used in abundance - though it's not for the faint-hearted! For a more restrained variation, restrict the vibrant colors to accent pieces and accessories. Here, the lime green scatter cushion adds an unexpected, playful touch to the purple sofa, while the lush foliage adds texture.
Interesting Facts About the Color Lime Green
The first recorded use of the color name 'lime green' was in 1890.

Lime green was a popular color in the 60s for both fashion and interiors, alongside lemon yellow and citrus orange.

Lime green has made a comeback on the runways as one of the colors for spring/summer 2022.

Lime green is Queen Elizabeth's favorite color to wear to her most important engagements. The bright citric hue ensures that people can spot her in the crowd.