Robust yet introspective, indigo is a complex hue that is as moody as it is uplifting.
Indigo is a vibrant hue named after the natural pigment of the Indigofera tinctoria plant. The secondary color straddles blue and violet on the color wheel and is perceived as mainly blue with a violet undertone - though this has been the subject of much debate! Depending on its use, indigo can have a bold and dramatic impact or promote a mesmerizing sense of calm and a moody, contemplative atmosphere. The dark blue shade has a cool undertone, and while its depth lends a sense of luxury and elegance, indigo has a more contemporary and uplifting attitude than darker shades of blue, like navy.
What is the Psychology of Indigo?
Indigo symbolizes integrity, devotion, intuition, insight, and higher knowledge. These qualities are further reinforced by the color's role as one of the seven chakra colors, affording its spiritual connotations. Indigo is the color of the third eye, representing clear thought, spiritual contemplation, self-reflection, and clairvoyance (the concept of the sixth sense or strong intuition). Indigo governs visualization, clarity, discernment, imagination, and creativity, mainly related to the theater and dramatic flair. Indigo is the color of introspection, deep concentration, and quiet contemplation.
What are the Best Ways to Use Indigo in the Home?
Test indigo as an accent color with transient accessories, like rugs, cushions, or throws that you can easily swap out.

Make a statement with indigo as an accent color on a wall, shelving unit, or fireplace.

Create a cozy and inviting nook by painting the walls indigo, and add texture with molding painted in the same color.

Pair indigo with warm, saturated hues, like pink, yellow, or orange, for a modern high-contrast scheme that is bold and energetic.

Add a surprising pop of color by painting furniture indigo, like side tables, chests of drawers, bedside tables, or even your kitchen island. These furniture pieces are big enough to be noticeable without distracting from the rest of the space.
What Colors Go with Indigo?
Indigo + White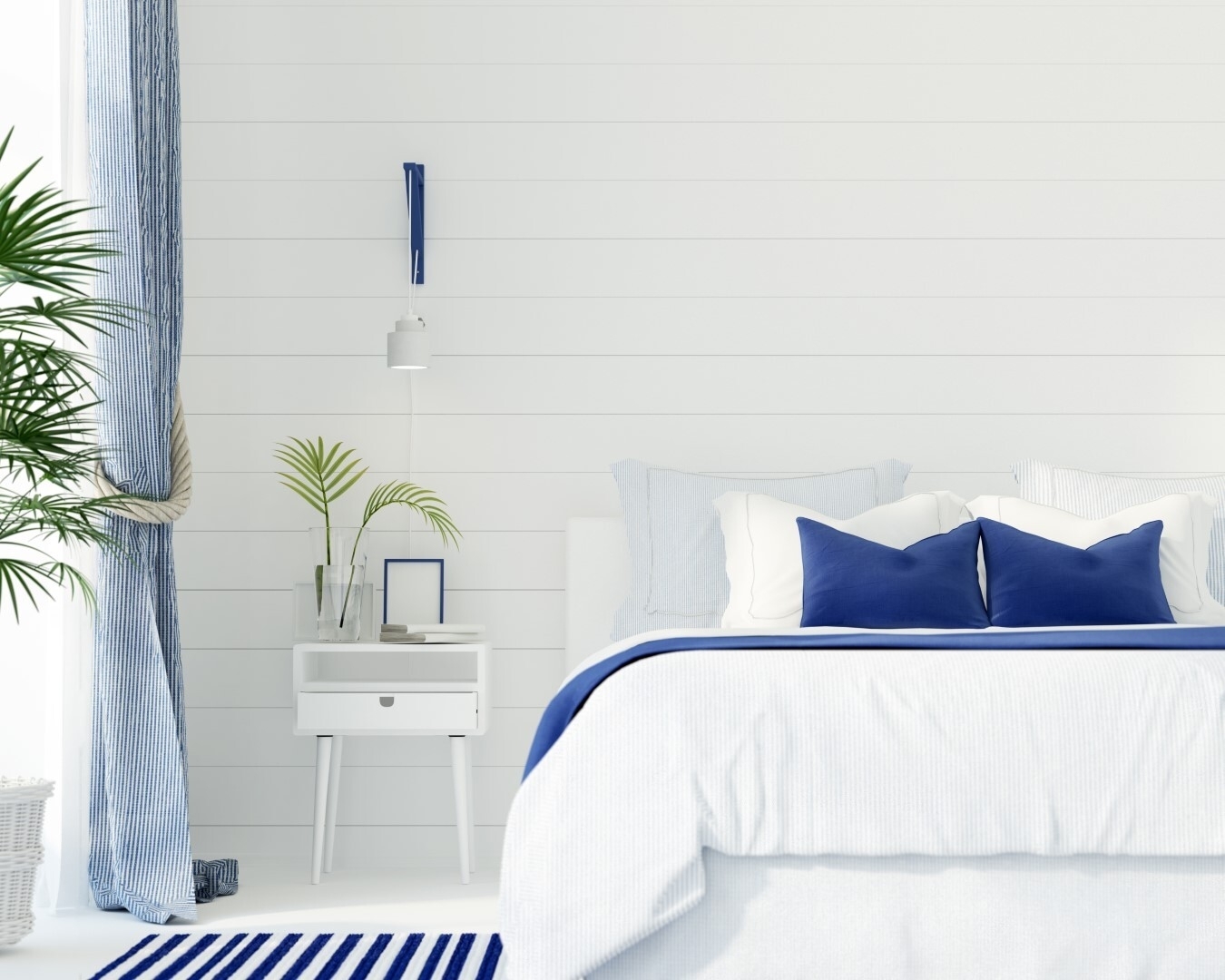 Pair indigo with white for a fresh, sophisticated yet beachy look reminiscent of The Hamptons. Add a splash of the ocean to a crisp white scheme with indigo accents, such as scatter cushions, a throw, a rug, or stripy furnishings. After all, nothing says nautical better than a blue and white stripe! Complete the coastal cliché with some white shiplap to add dimension and texture to the room.
Indigo + Pale Gray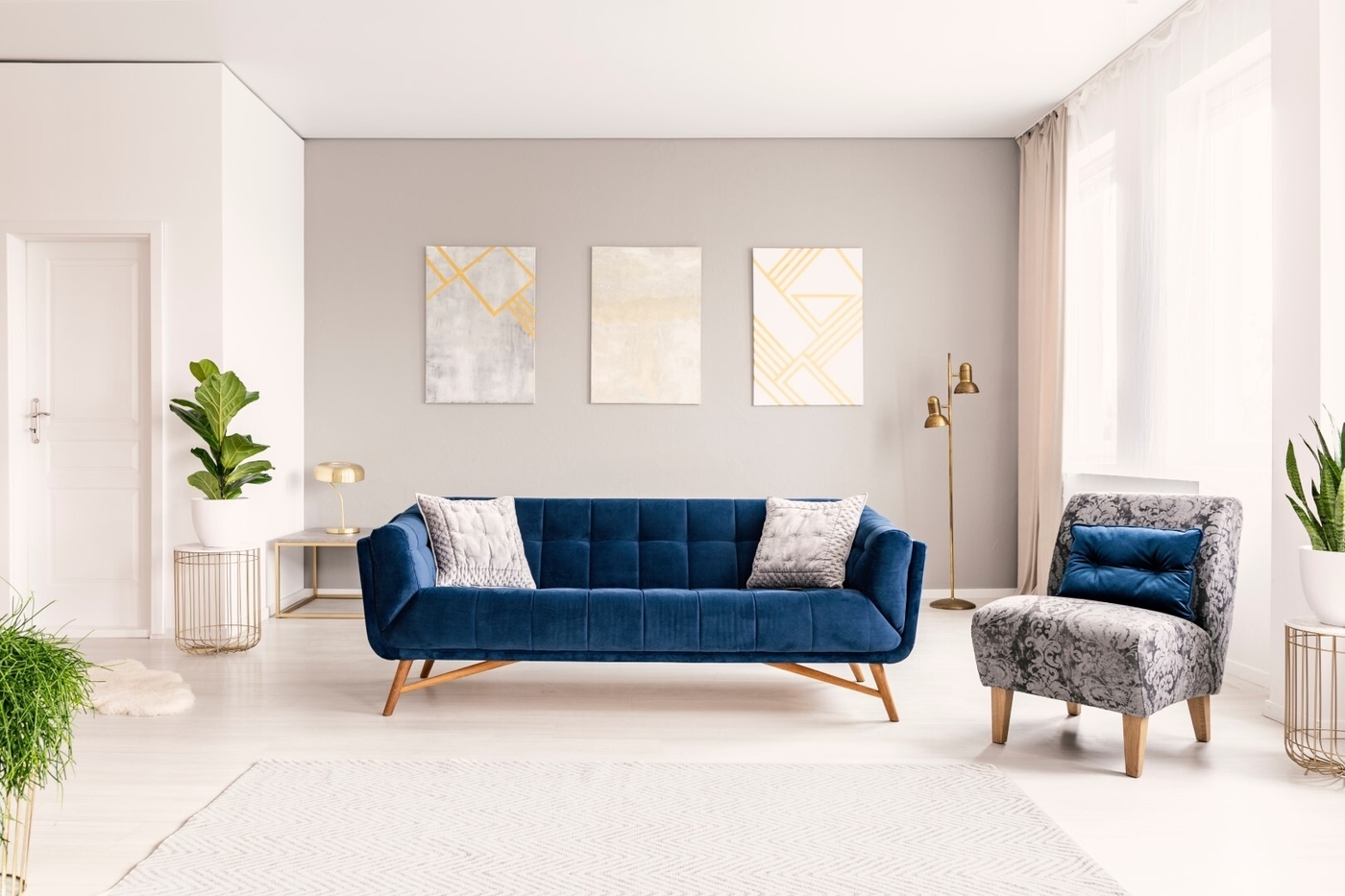 Add depth and interest to a pale gray scheme with indigo accents. The vibrant blue shade pops against the neutral backdrop, creating gentle movement. Look at this indigo accent sofa for evidence. The soothing properties of the shade go hand in hand with a cozy couch to kick back on at the end of the day. If you're not ready for a new sofa and indigo walls feel like a giant leap, start introducing indigo accents with decorative accessories, like lamps, vases, or artwork instead.
Indigo + Yellow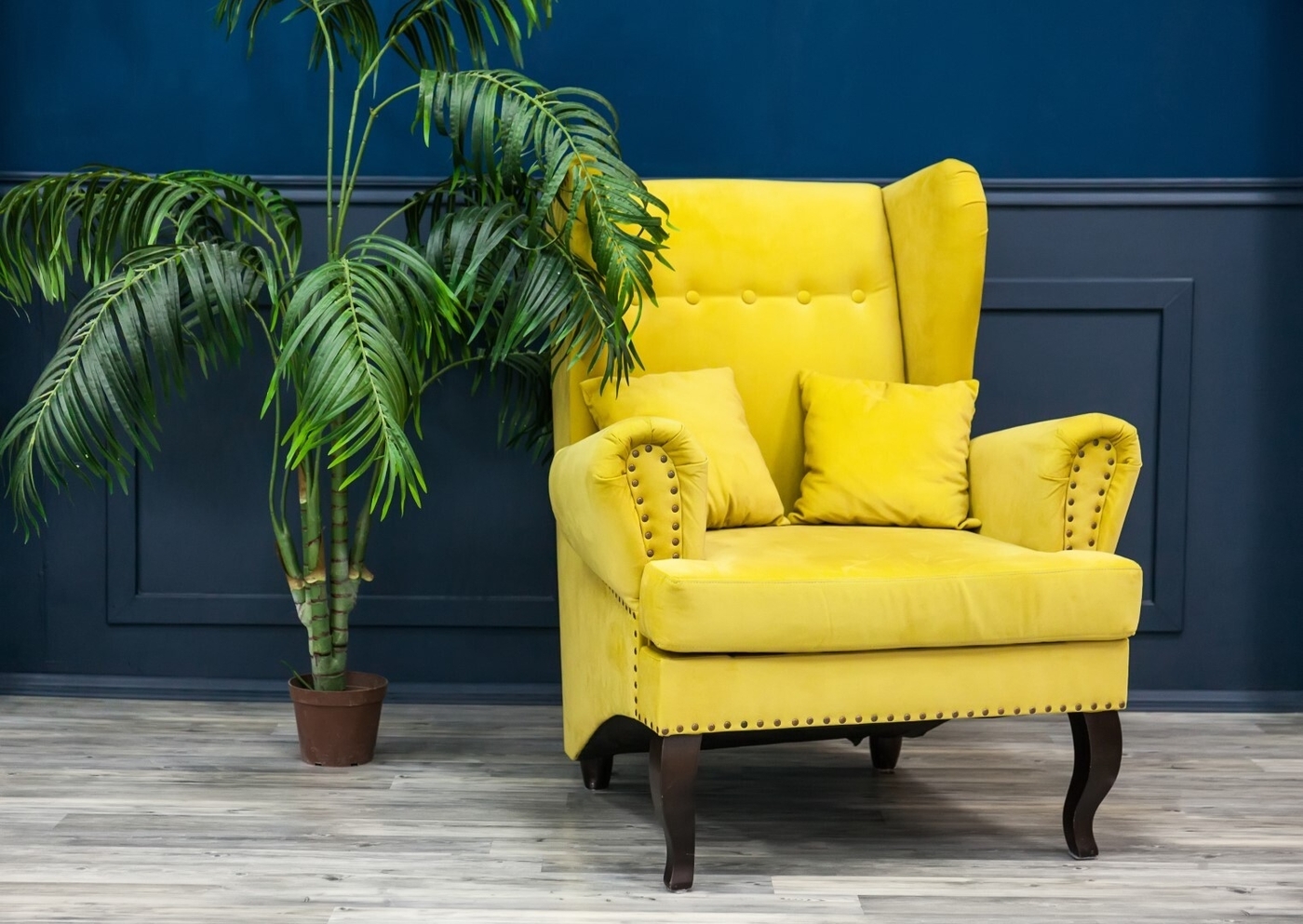 Indigo and bright yellow are a head-turning couple. Yellow is an uplifting, energetic, and sprightly color that challenges indigo's calm, contemplative nature. The high-contrast saturated palette plays to the Pop Art tune, establishing a bold modern aesthetic. A bright yellow accent chair looks striking against a rich indigo backdrop. Play up the scheme with a bright cherry red, or tone it down with soft grays. Alternatively, a pale lemon yellow provides a smart, paired-back alternative suited to a more classic decor.
Indigo + Forest Green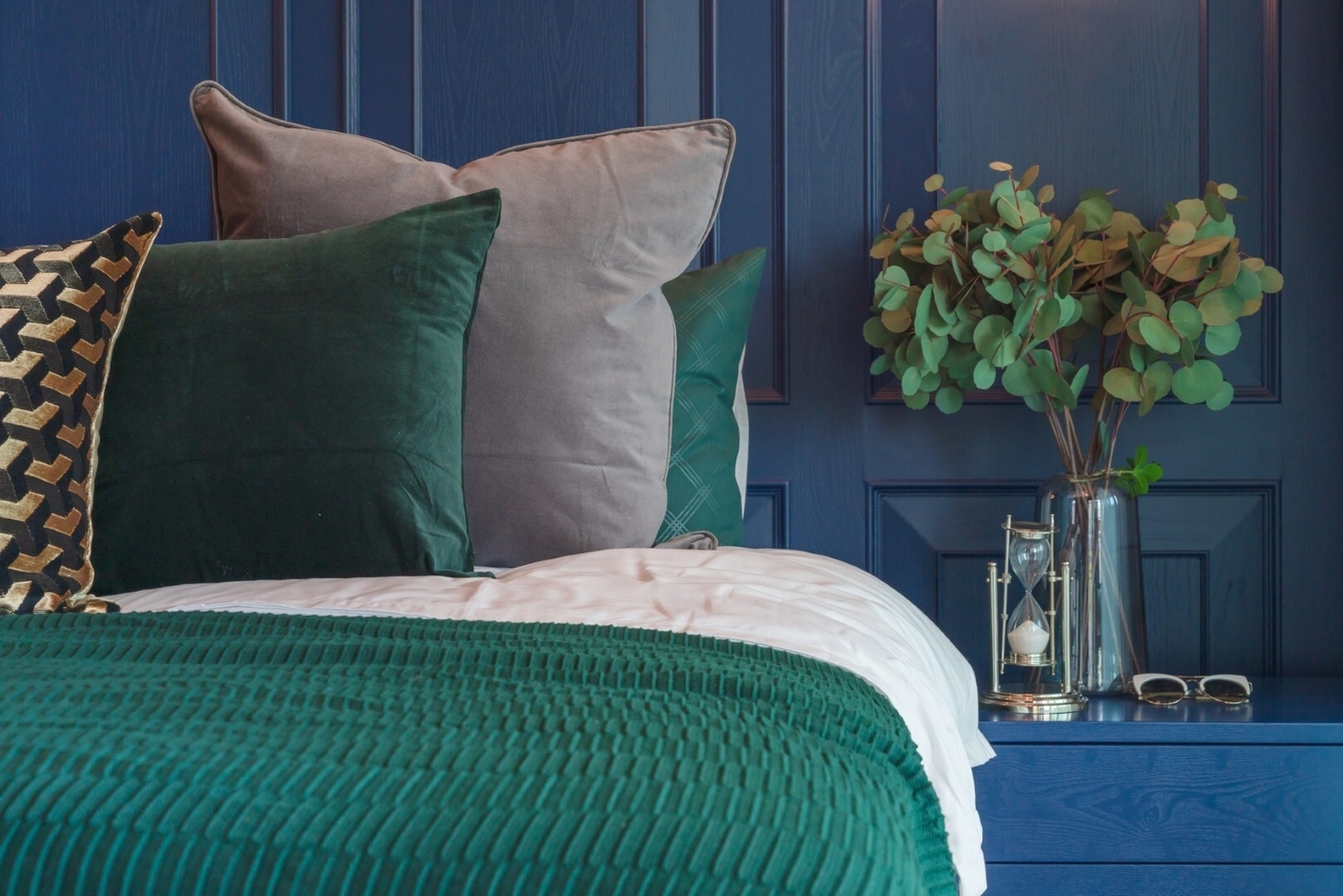 Indigo and forest green are profound and serene. The dark shades are dramatic yet cohesive, perfect for a cocooning, tranquil oasis. Analogous colors like these are naturally harmonious, though the undertones must match for them to work well; forest green has blue notes and a cool undertone, like indigo. The alluring palette is effortlessly elegant and deeply soothing and encourages a calm, meditative state, perfect for a bedroom. Lift a dark scheme with texture - see how these wall panels and velvet cushions catch the light.
Indigo + Gold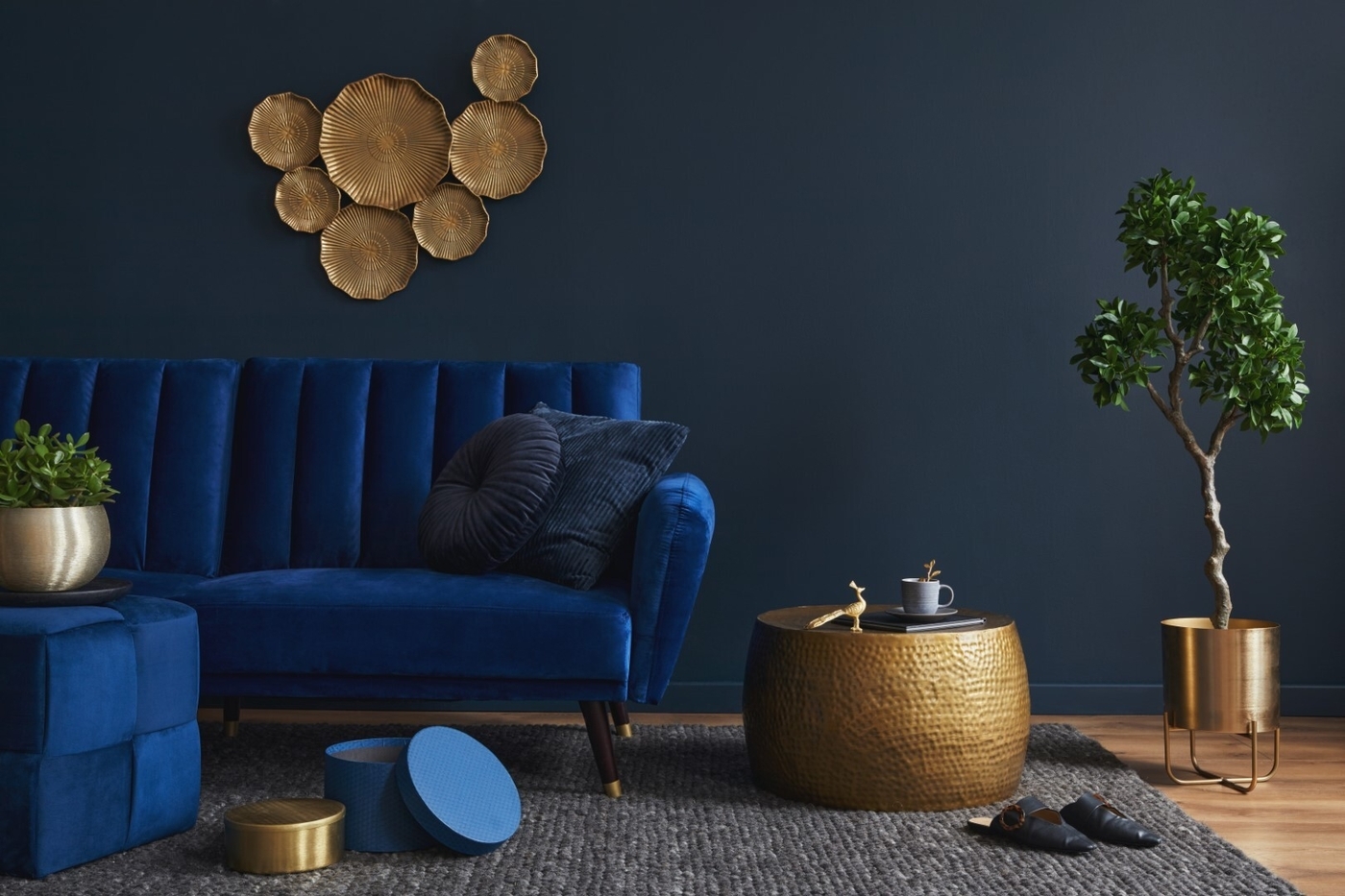 Adorn a tonal indigo scheme with shimmering golden accents. In this living room, warm gold decor creates a striking contrast against the cool indigo tones. The blue-violet shade recedes, and the light bounces off the reflective surface, drawing our attention to the beauty of the materials. Don't limit metallic accents to the actual metals; introduce golden tones through textiles, wallpaper, artwork, or églomisé glass. Mix different metallic finishes, like polished and hammered or antiqued, for an eclectic look.
Indigo + Wood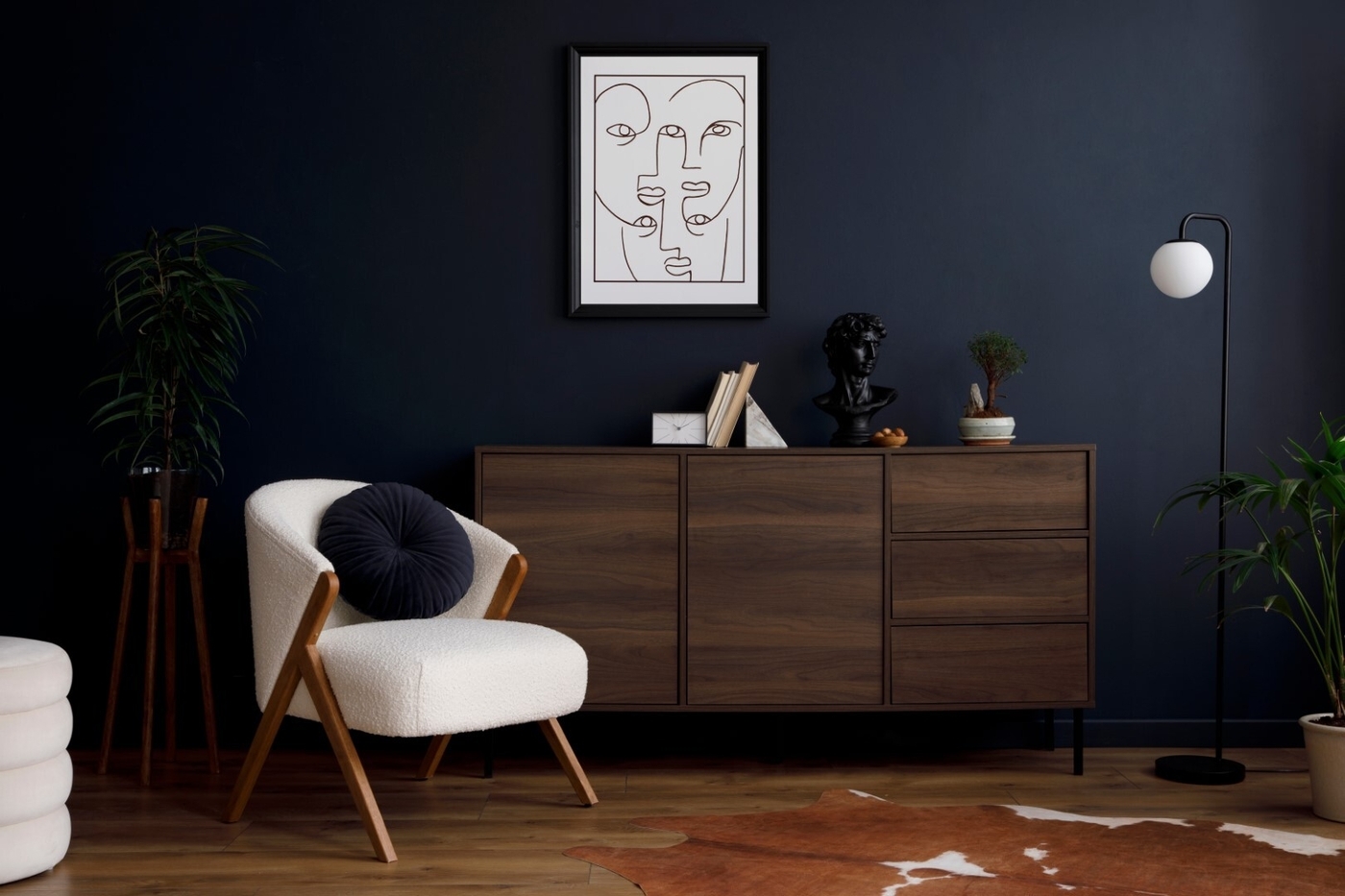 Complement an indigo-dominated scheme with the natural warmth of wood. The grain contributes a natural layer of texture, depth, and complexity to a scheme. Find a wood tone that equals the intensity of the indigo shade to make a subtle statement. In this living room, dark wood furniture and flooring match the depths of the indigo shade, lending a smart, sophisticated, masculine look with a calming and grounding effect.
Indigo + Dusty Pink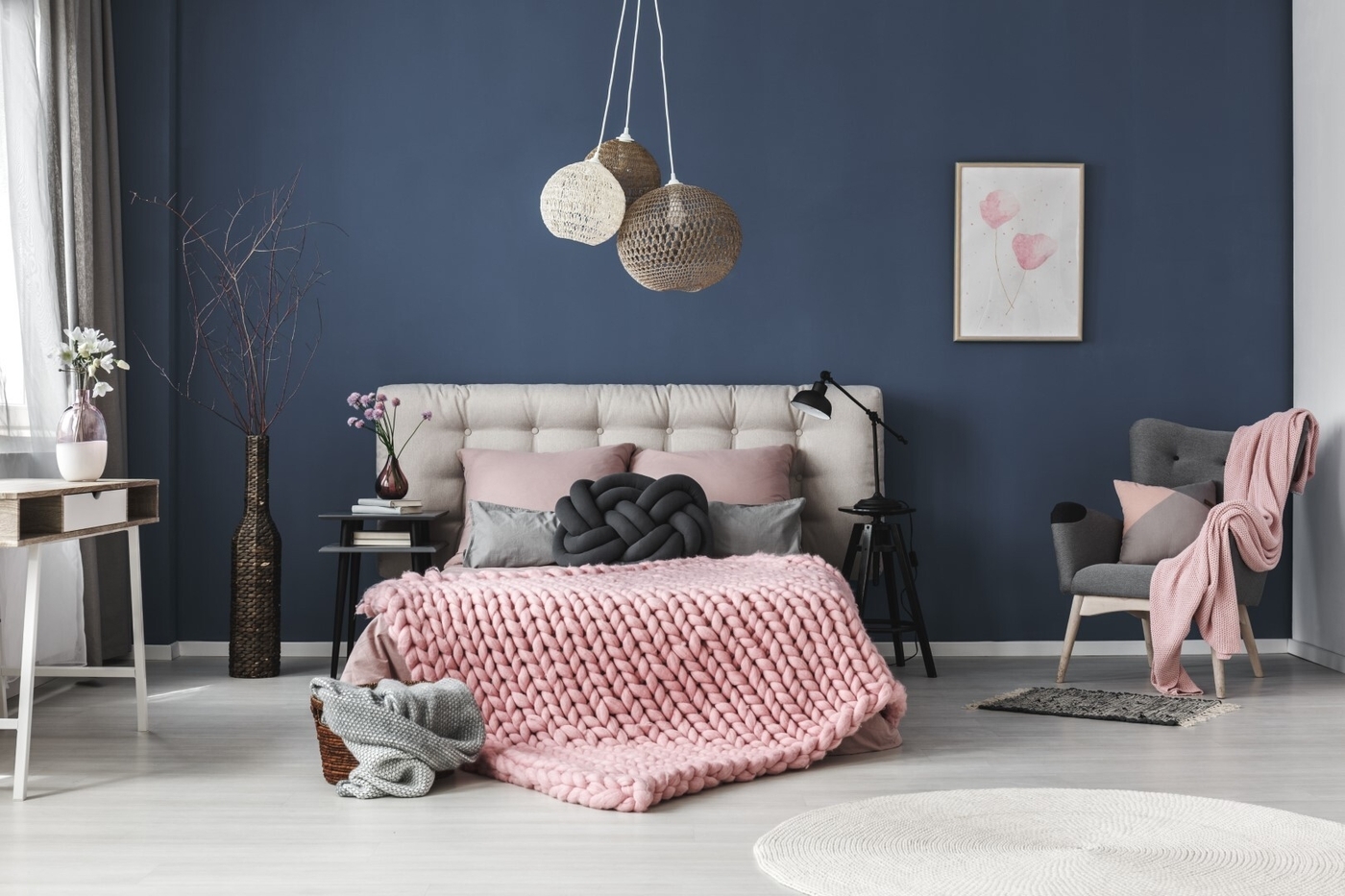 Like yin and yang, dusty pink and indigo represent a dynamic balance of opposing yet complementary qualities; light and dark, unsaturated and saturated, feminine and masculine, casual and elegant, youthful and mature, whimsical and sophisticated… you get the gist! Consequently, the contemporary color palette is exceptionally versatile. Ensure a harmonious look by selecting a shade of dusty pink with a cool blue undertone to match the indigo hue.
Indigo + Black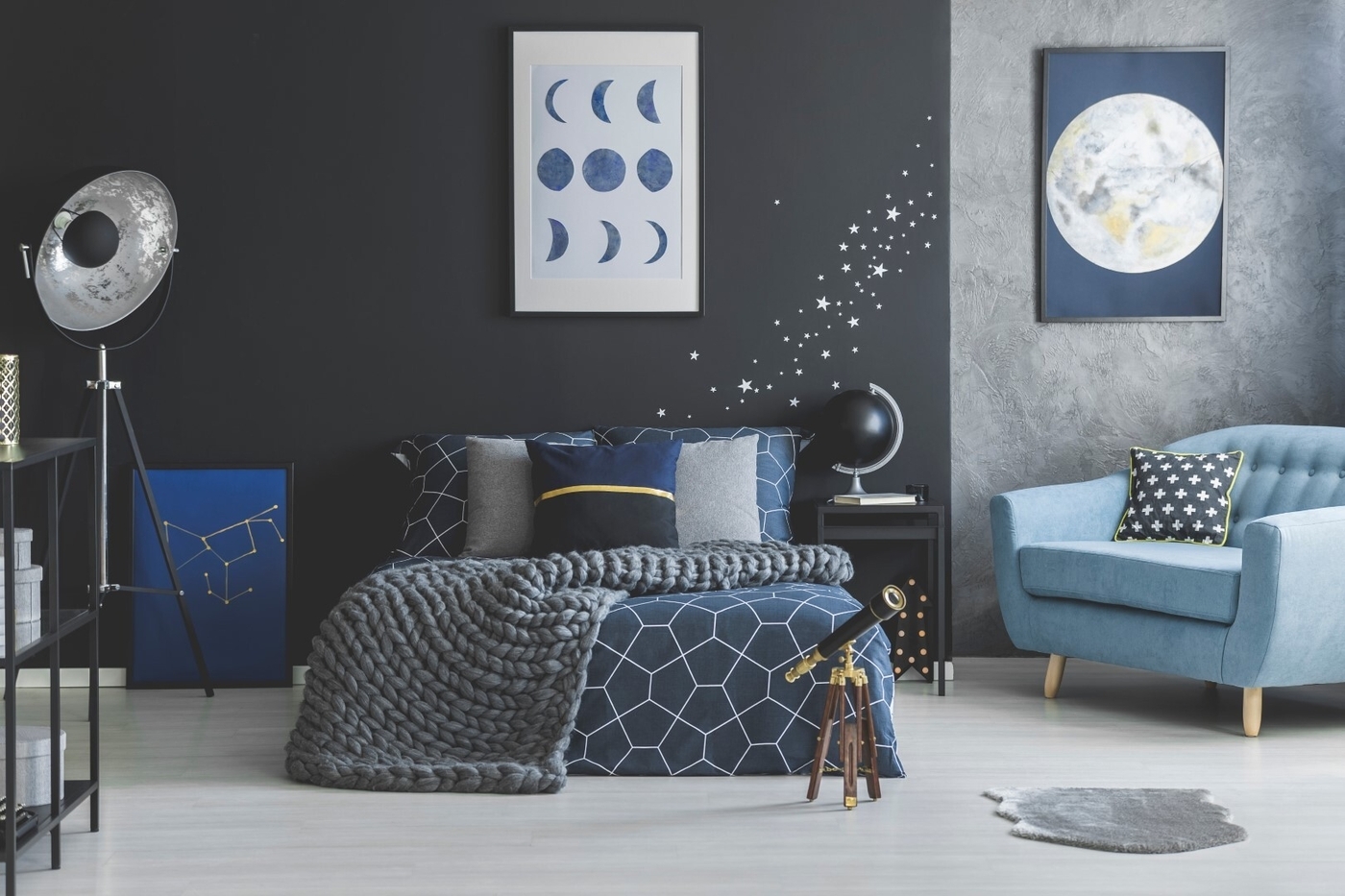 Black and indigo will turn you to the dark side - if you're not there already! Black is an intense shade that lends a sense of drama, luxury, and grandeur to a space. Paired with indigo, the dark shades evoke a cozy, comforting, and cocooning feel that is ideal for a bedroom, as demonstrated by this space-themed scheme. Bring warmth to the cool shades by layering soft textures and introducing warm metallic accents that shine like stars in the night sky.
Indigo + Rust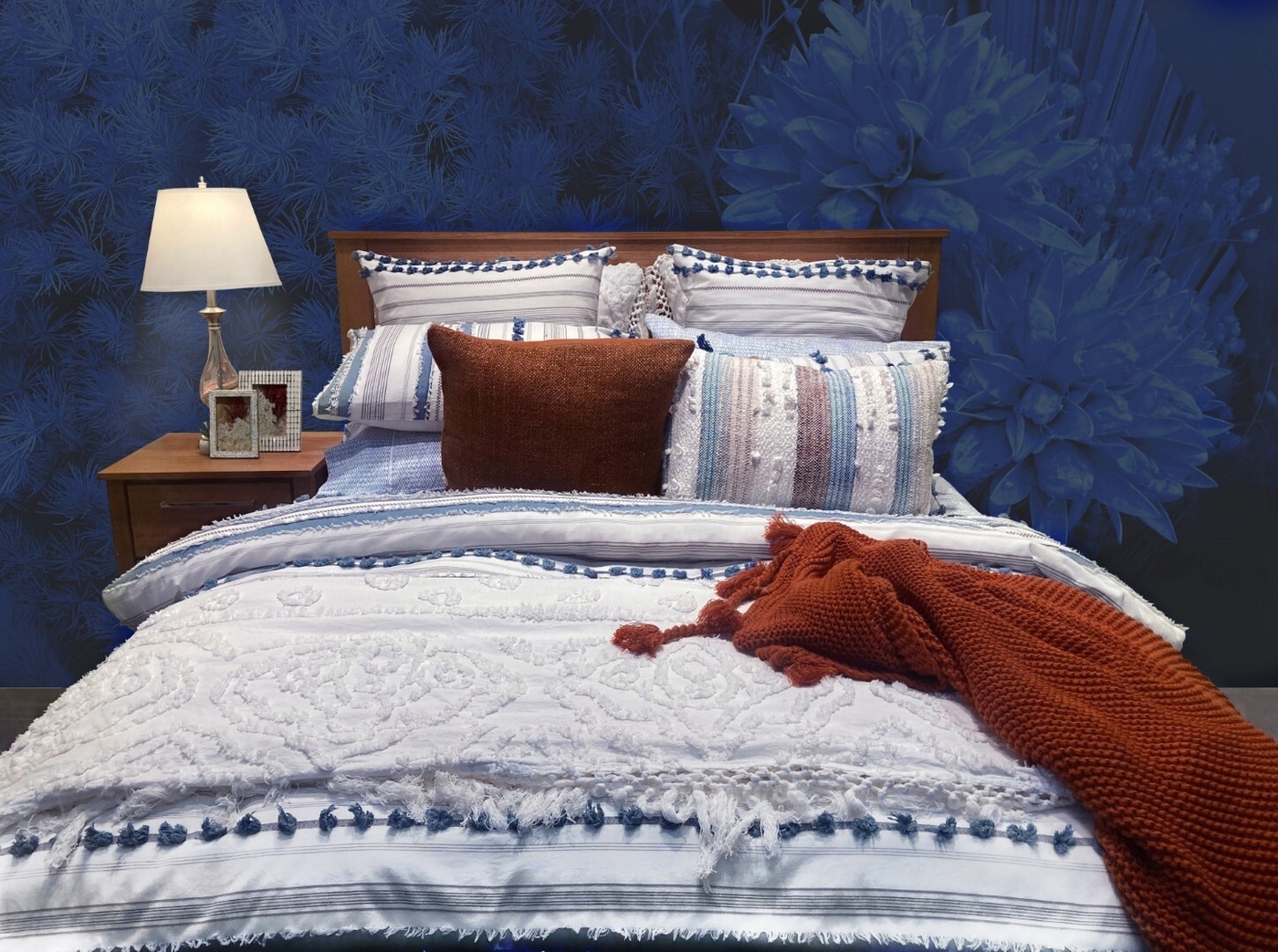 Imbue an earthy warmth to an indigo palette with rust. The reddish-orangey-brown hue offers a rich neutral with complementary shades that counterbalance the cool blue hue. This mostly indigo-colored bedroom is punctuated with rust accents - namely the scatter cushion and throw - that match the tone of the wooden furniture for a cohesive feel. Also, note how the tonal wallpaper pattern contributes a subtle yet effective layer of texture and depth.
Indigo + Taupe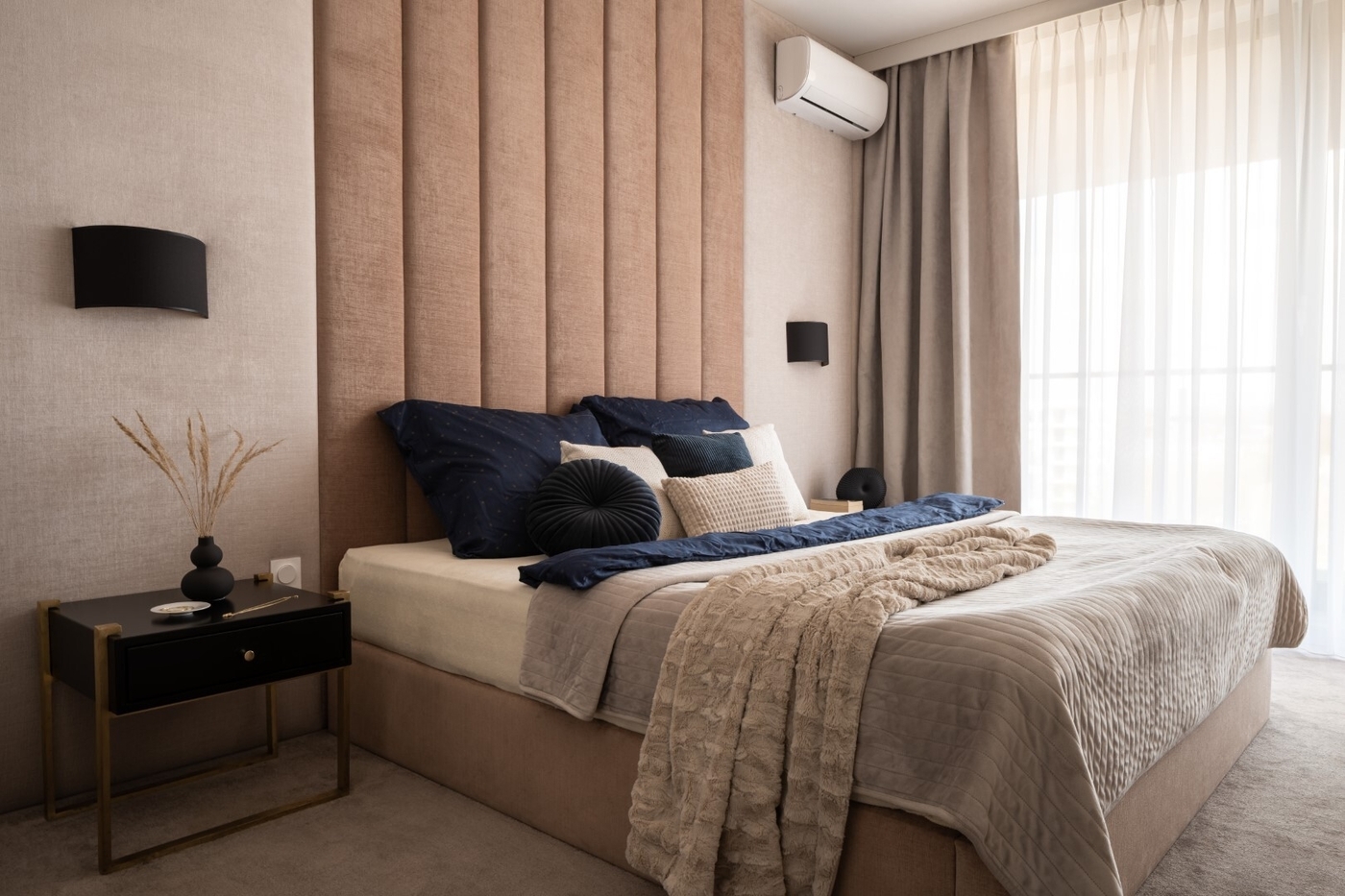 Turn down the drama of indigo by pairing it with a calming neutral, like taupe. The gray-brown shade offers a simple, versatile foundation that lends timeless elegance to either classic or contemporary decor. As its complementary color, indigo makes the perfect partner for a chic, understated scheme that is both sophisticated and comforting in its simplicity. Use indigo to accent a light taupe backdrop, applying the 60-30-10 rule to achieve the perfect color balance.
Interesting Facts About the Color Indigo
The plant Indigofera tinctoria is the plant credited with being the origin of the indigo pigment that has been used to create dyes for centuries.

Indigo is one of the world's oldest natural sources of blue dyes. It was commonly used for textiles, pottery, and frescoes.

The word 'indigo' comes from the Latin word 'indicum,' which means 'Indian' or 'from India,' in reference to the dye's origin.

Indigo dye continues to be used for clothing today, especially denim.

Indigo was used to paint the heavens of Shakespeare's Globe in London when it was reconstructed in 1997.

Indigo was first recognized as a color by Sir Isaac Newton in the mid-17th century.

Indigo is one of the colors of the rainbow and the seven colors of the visible spectrum.

Indigo is the color of the third eye chakra, known as 'Ajna.'