Graphite is an intense, atmospheric gray shade that brings a sense of sophistication to every space.
Graphite is a dark shade of gray created by mixing black, white, and blue. The neutral shade transmits the raw, organic look of the natural mineral, from which it gets its name. Graphite's unique versatility means it combines effortlessly with a plethora of colors and suits both classic and contemporary schemes. Its dark undertone is rich and empowering. However, it has the potential to create both a dramatic and restful space, depending on the colors it is paired with. Graphite is frequently used in luxury decor because of its understated beauty; like a shadow, it blends into space yet has a notable presence.
What is the Psychology of Graphite?
Graphite has a dual symbolism split between its innate diplomatic nature and authoritative air. Like yin and yang, the black and white blend has a balancing and grounding influence. It sits firmly in the middle of two extremes, representing neutrality and compromise, also associated with calm and composure. Graphite is also a symbol of maturity, responsibility, and resilience. While the near-black shade evokes feelings of power and strength, it can also recede and provide a steady base for other colors to thrive.
What are the Best Ways to Use Graphite in the Home?
Use graphite as a softer, easier-to-live-with alternative to black.

Introduce graphite with an accent wall to contrast light-colored furniture or decorative accessories.

Channel graphite's restful energy into your bedroom with an upholstered headboard and knitted throw.

Update your kitchen with graphite cabinets for a sophisticated, contemporary look.

Recreate the serenity of a luxurious spa with graphite tiles and fittings in your bathroom.

If you want to use graphite as your dominant color, reserve it for large, light-filled rooms. It can make a small dark room look smaller and more gloomy.
What Colors Go with Graphite?
As a neutral, graphite pairs well with various colors and accents, from neutrals to pastels and bright saturated hues. Graphite has a hint of blue, so it is considered a cool shade of gray.
Graphite + Bright Orange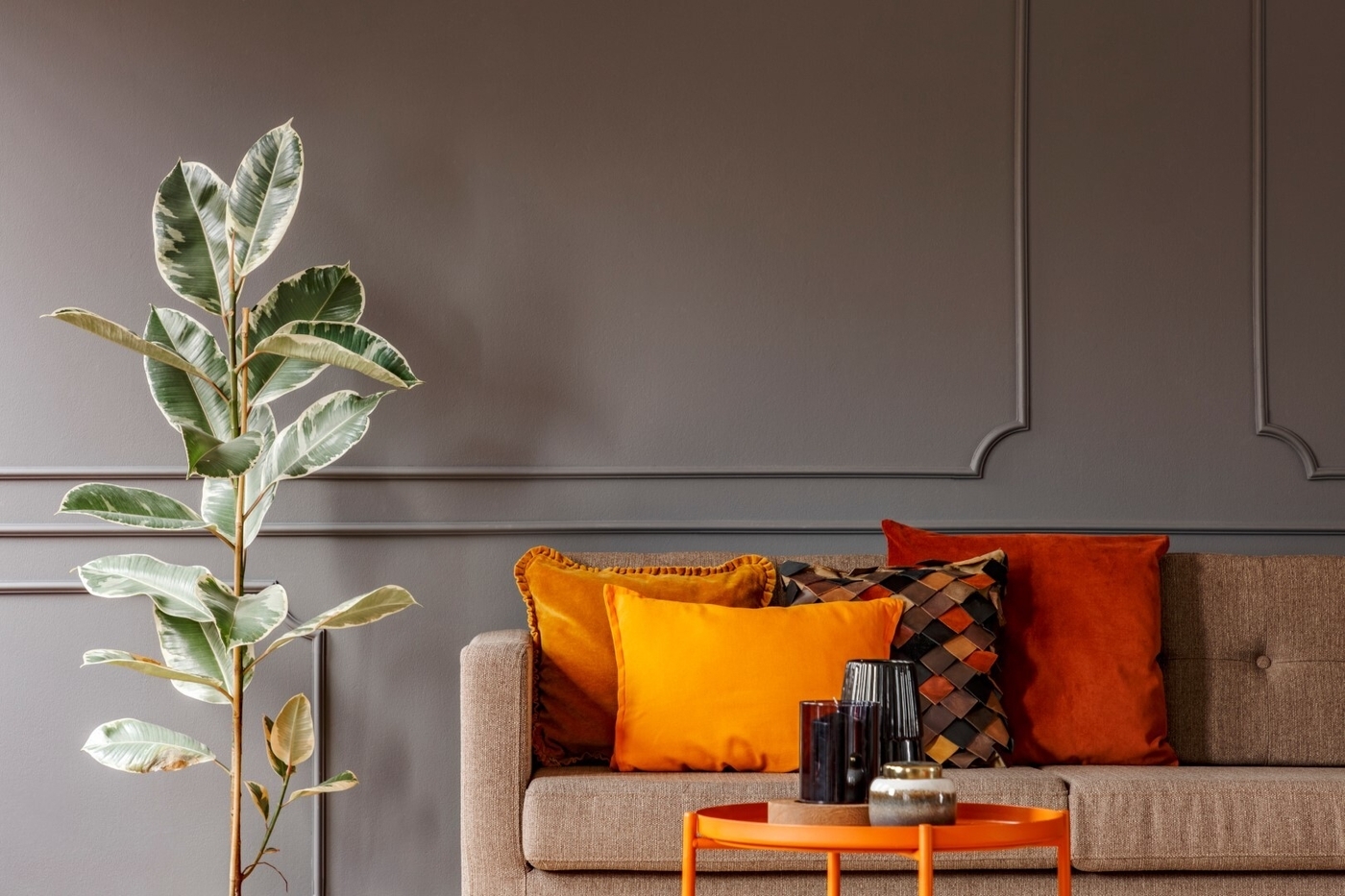 Create movement in a still graphite scheme with energizing orange accents. The stimulating hue adds an uplifting burst of energy to the room, challenging graphite's somber nature. A high-contrast color palette like this makes a statement by injecting the space with drama and excitement. Because of its high energy and intensity, small pops of orange accents will do, like the fun scatter cushions and stylish side table in this living room. Introduce a middle ground with rusty orange to tone down the shock factor.
Graphite + Mustard Yellow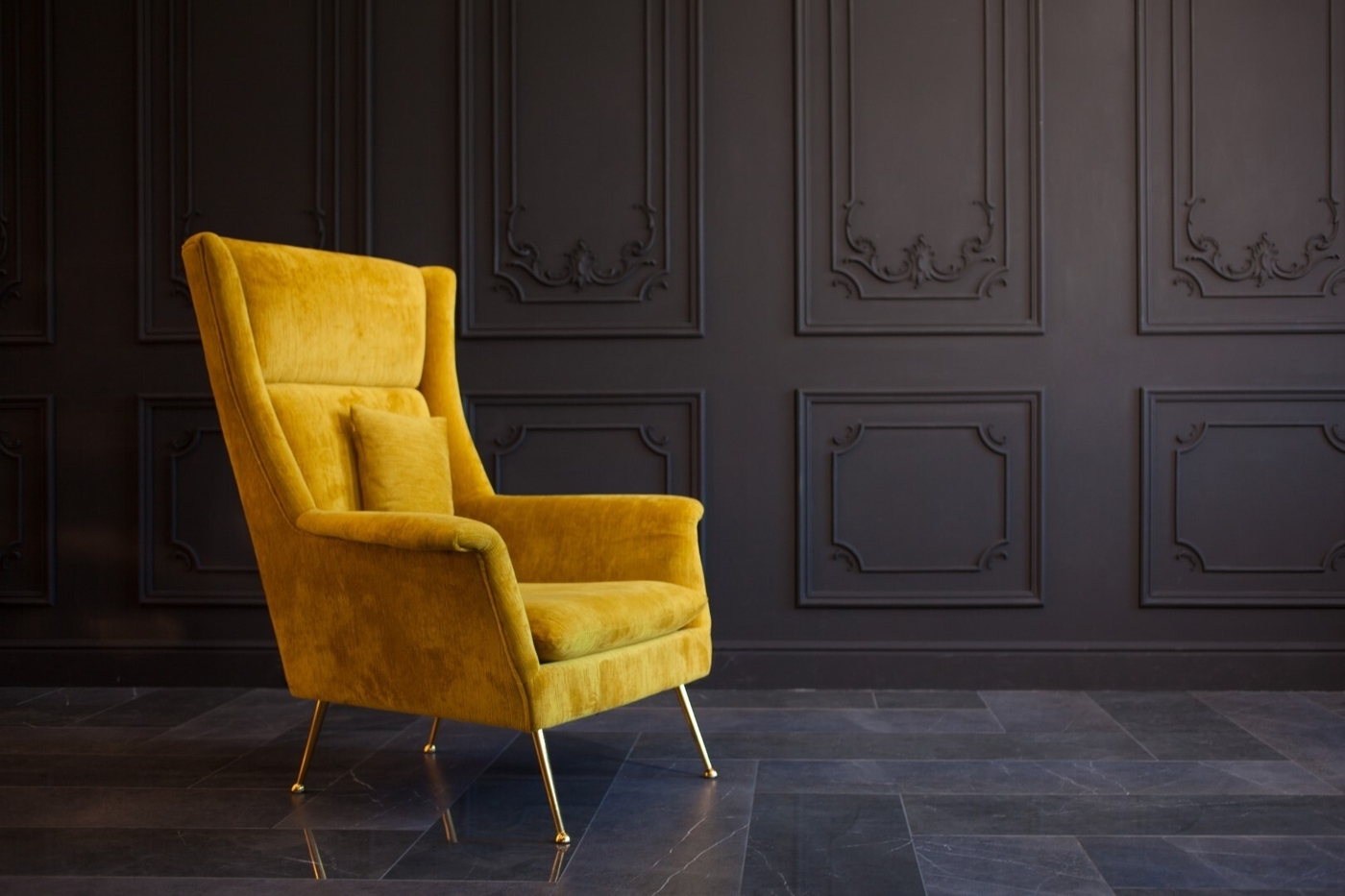 Bring the glowy warmth of a sunset to a cool, shadowy graphite scheme with mustard yellow. The earthy, autumnal yellow shade delivers joy, energy, and a decadent modern scheme. A velvet mustard yellow armchair makes a striking statement against a dark graphite wall. Complete the contemporary look with stylish, bold geometric furnishings in bright, high-contrast shades, like shocking pink, turquoise, and white.
Graphite + White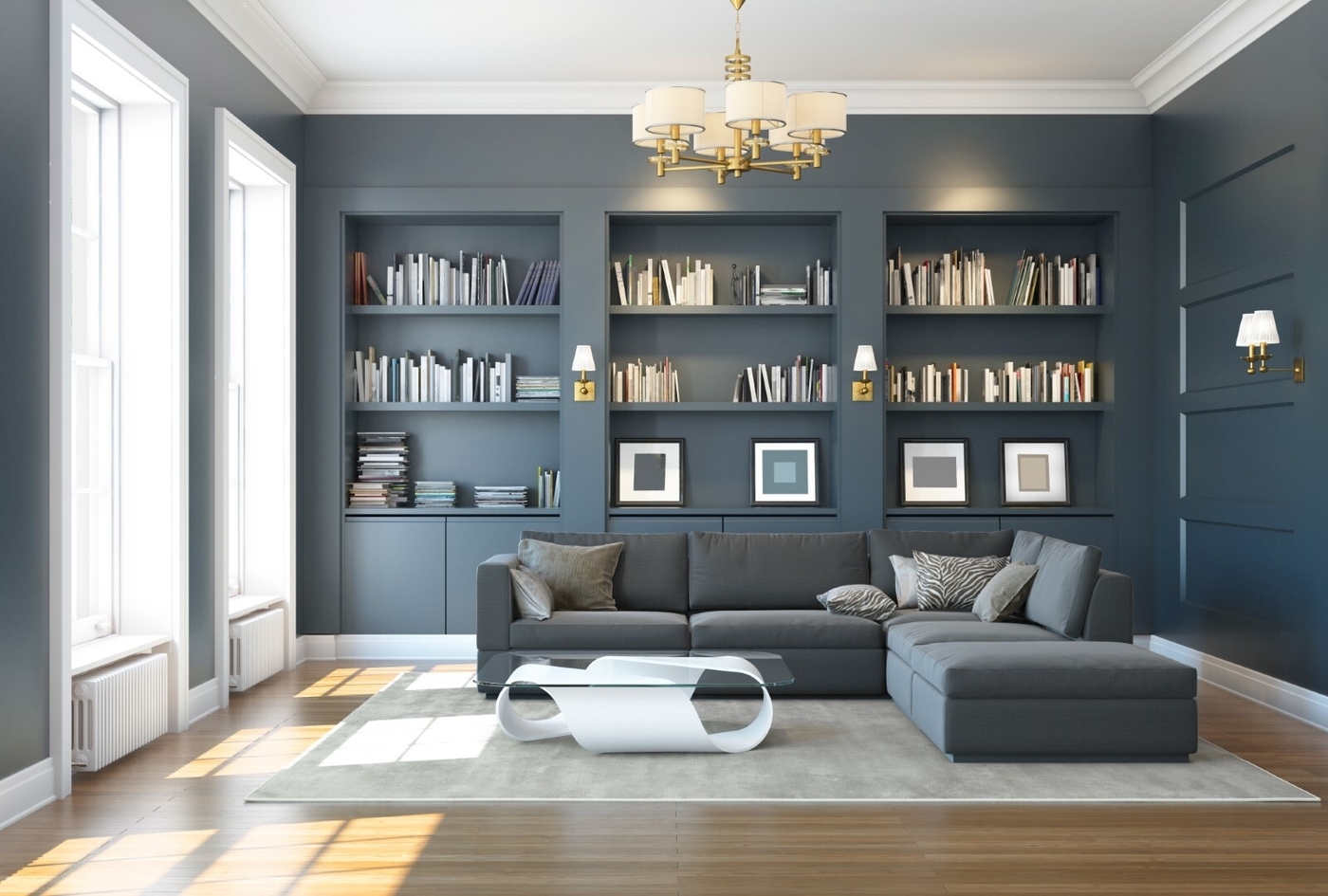 Add a fresh, crisp contrast to a graphite scheme with white elements. Contrary to graphite, white represents clarity, cleanliness, and purity, and thanks to its light-reflecting qualities, it naturally brightens up any space. As a neutral, white is a popular color for interior woodwork, like doors and window frames, as well as ceilings. In this living room, white accents lighten up the moody gray scheme without distracting or disturbing the calm, composed, and balanced energy. Build up a monochrome scheme with furniture and accessories in lighter gray shades.
Graphite + Turquoise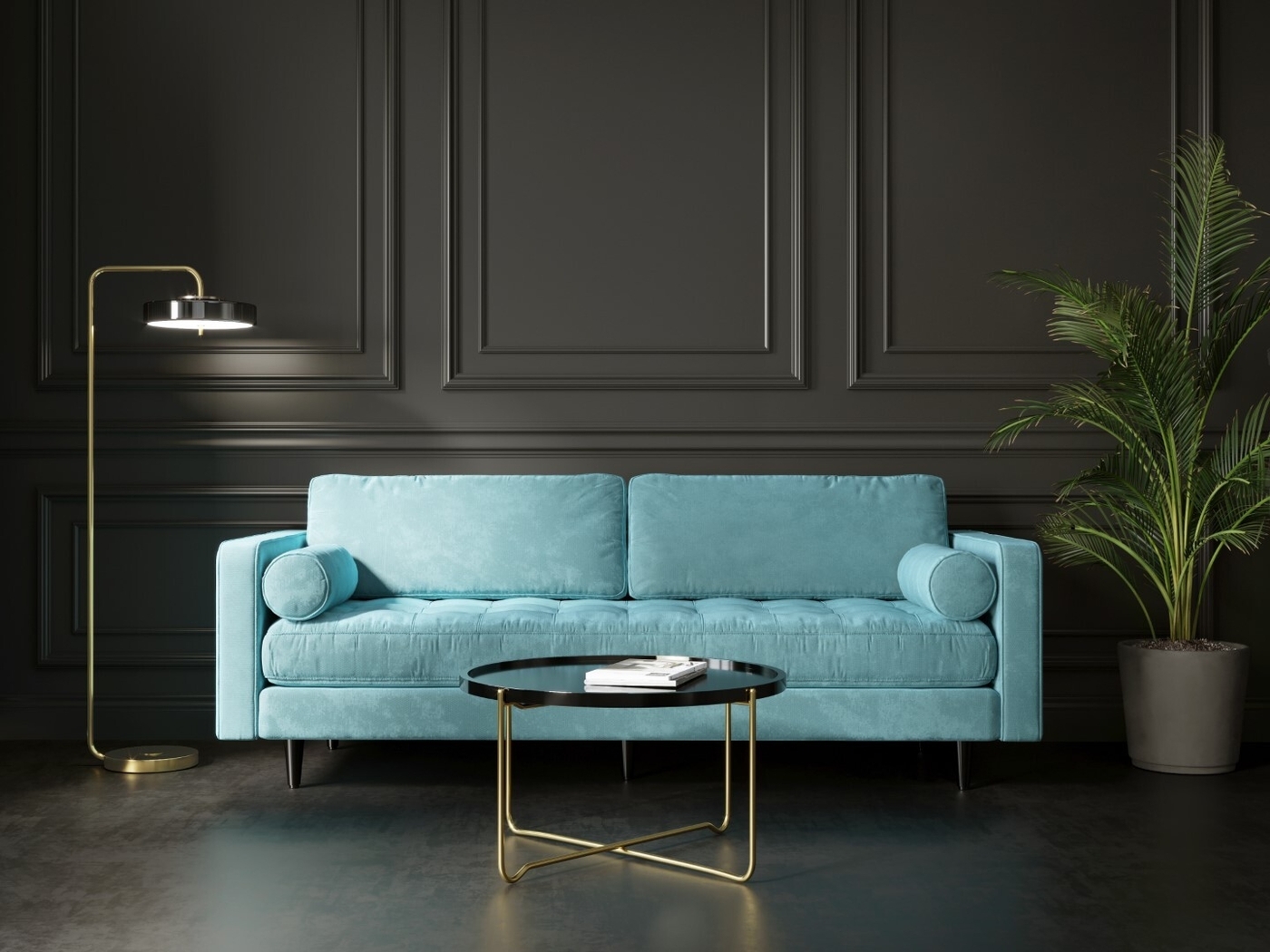 A splash of turquoise conjures images of the crystal clear Caribbean Sea. Like water, turquoise encourages reflection and clarity of mind and spirit. Observe how the sofa extracts the cool blue undertone from the graphite wall behind it and contributes a heightened sense of serenity and stability to the space. The bright blue shade has a youthful vibe, freshening up the dark room. Add warmth to the cool scheme with gold accents.
Graphite + Brown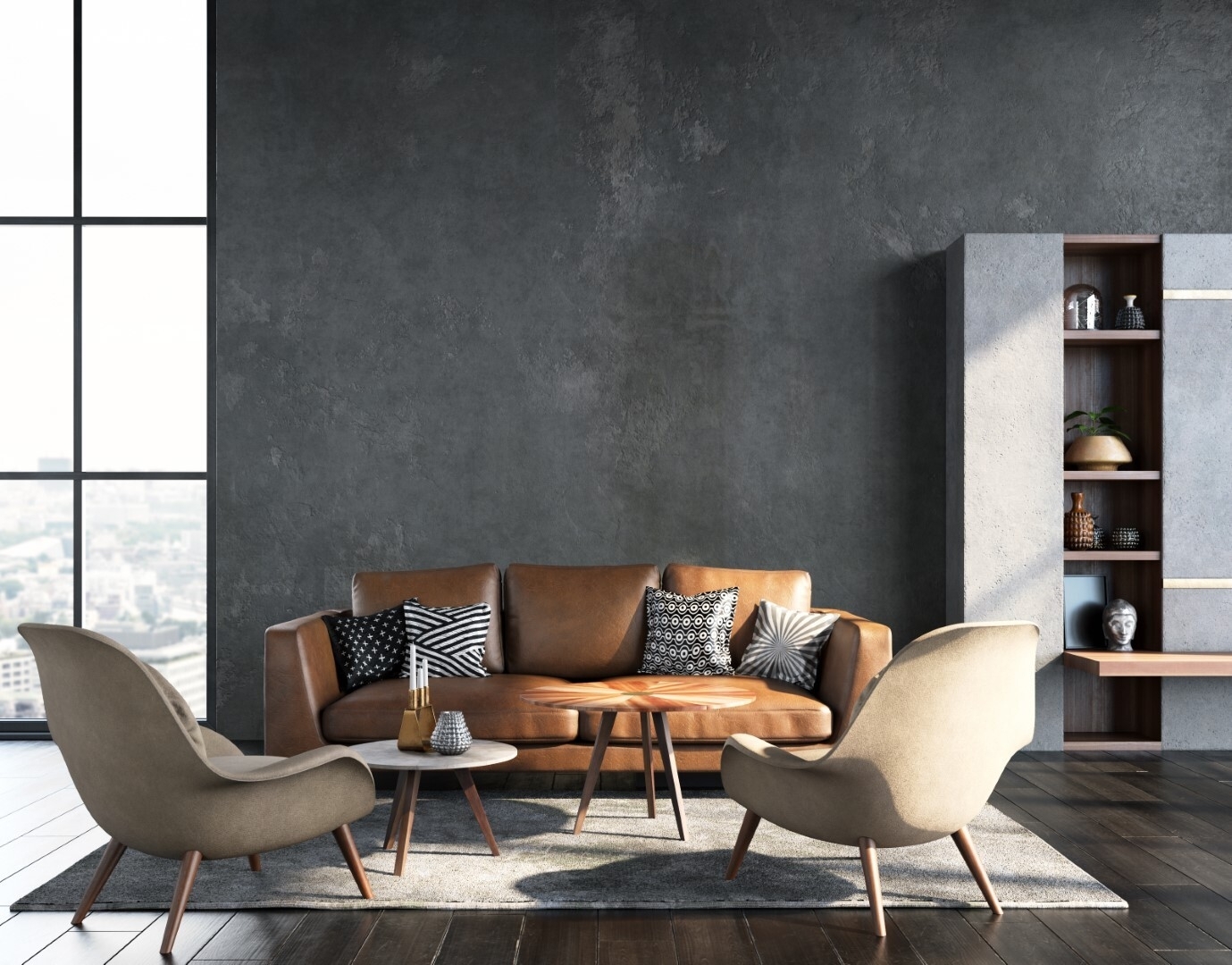 Opposites attract with brown and graphite, creating a rich, grounding, and balancing neutral scheme. Where brown is closely associated with nature and denotes a cozy, traditional, and rustic look, graphite edges towards a more modern and minimalist aesthetic and city-scape scene. Here, the brown leather sofa lends warmth to a cool gray scheme, while graphite cools down the room dominated by brown furniture and wooden features. Create tonal variation with soft beige and light gray furnishings.
Graphite + Gold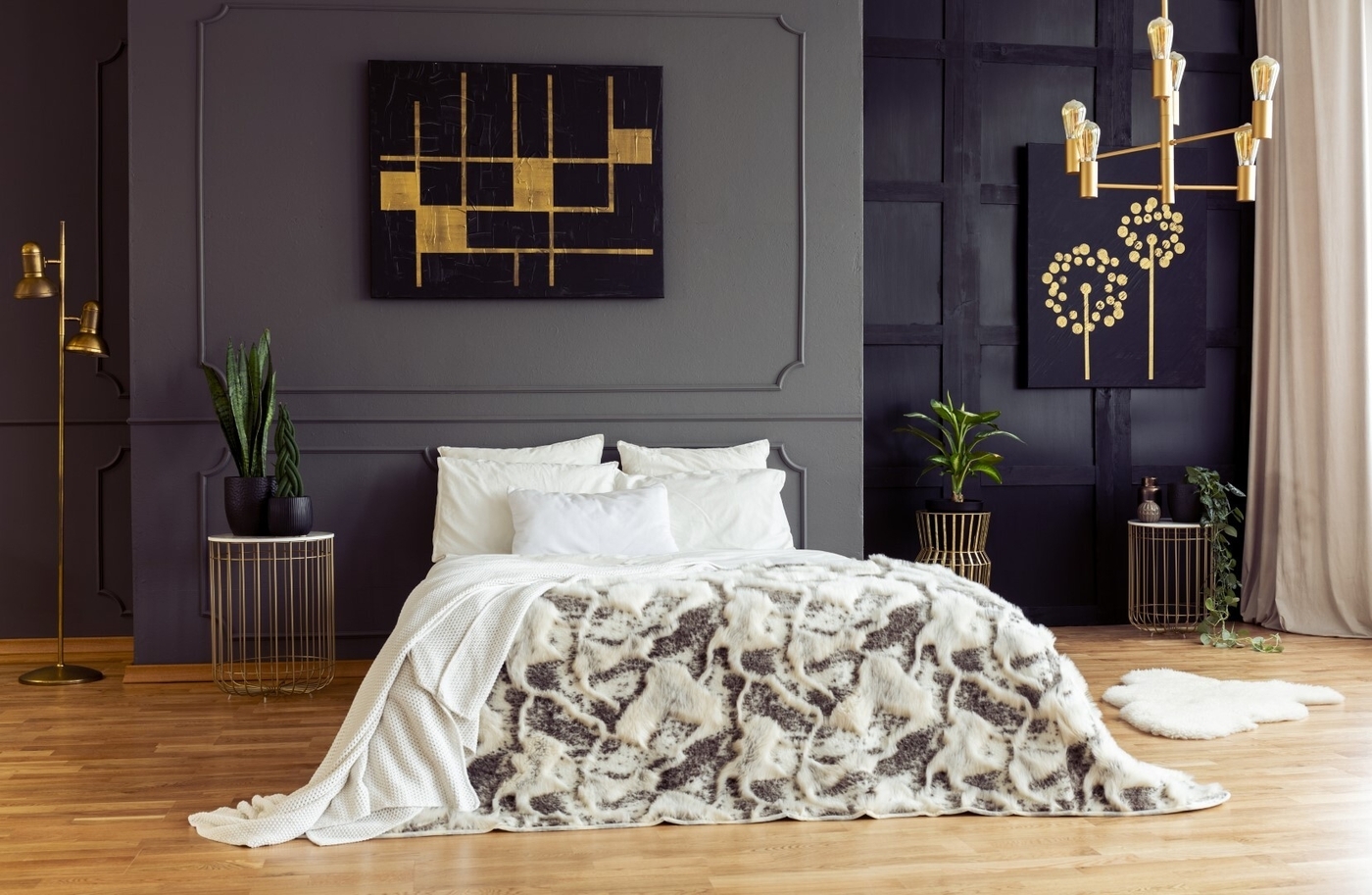 Gold accents add a layer of opulence and glamor to a dark graphite palette. Associated with luxury and wealth, warm metallics, like gold and brass, instantly elevate a scheme and add a finishing touch of je-ne-sais-quoi. Light bounces off its reflective surface, brightening up the space and offering an intriguing contrast against the cool, moody backdrop. Too much gold can look gaudy, so introduce it subtly with gold-rimmed furniture, light fixtures, and decorative accessories.
Graphite + Ruby Red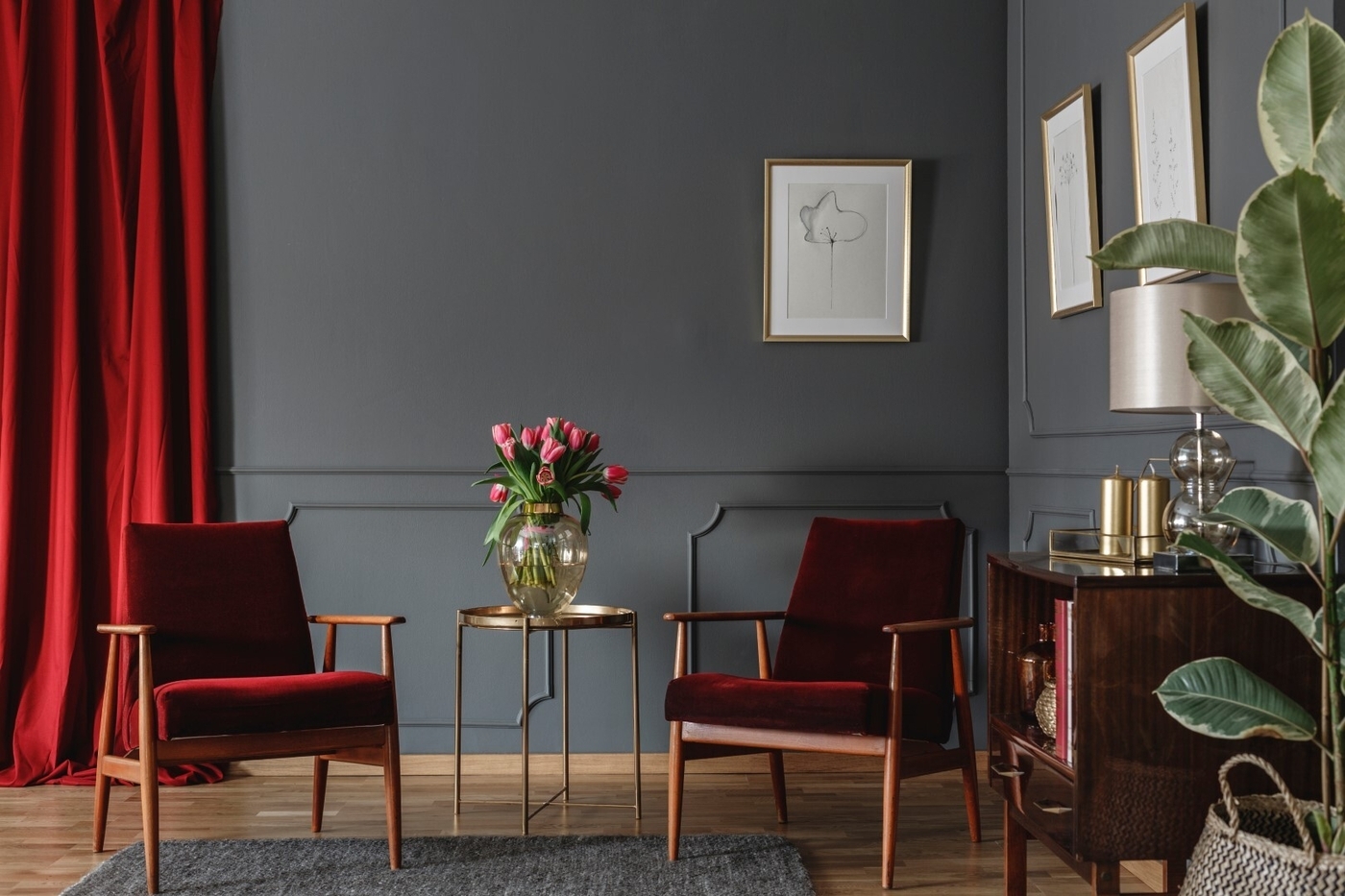 Fire up a graphite backdrop with drops of ruby red. The jewel-like tone exudes passion, power, love, and courage, and together the deep, complex shades create a beguiling and dramatic ambiance. Celebrate the inherent opulence of ruby red tones with luxurious, velvety textures that catch the light. Lacquered-black furniture with gold accents and geometric inlays will inject an Art Deco flair into the space. Or, opt for a more paired-back mid-century modern style with streamlined wooden furniture exposing their hallmark tapered legs.
Graphite + Bright Pink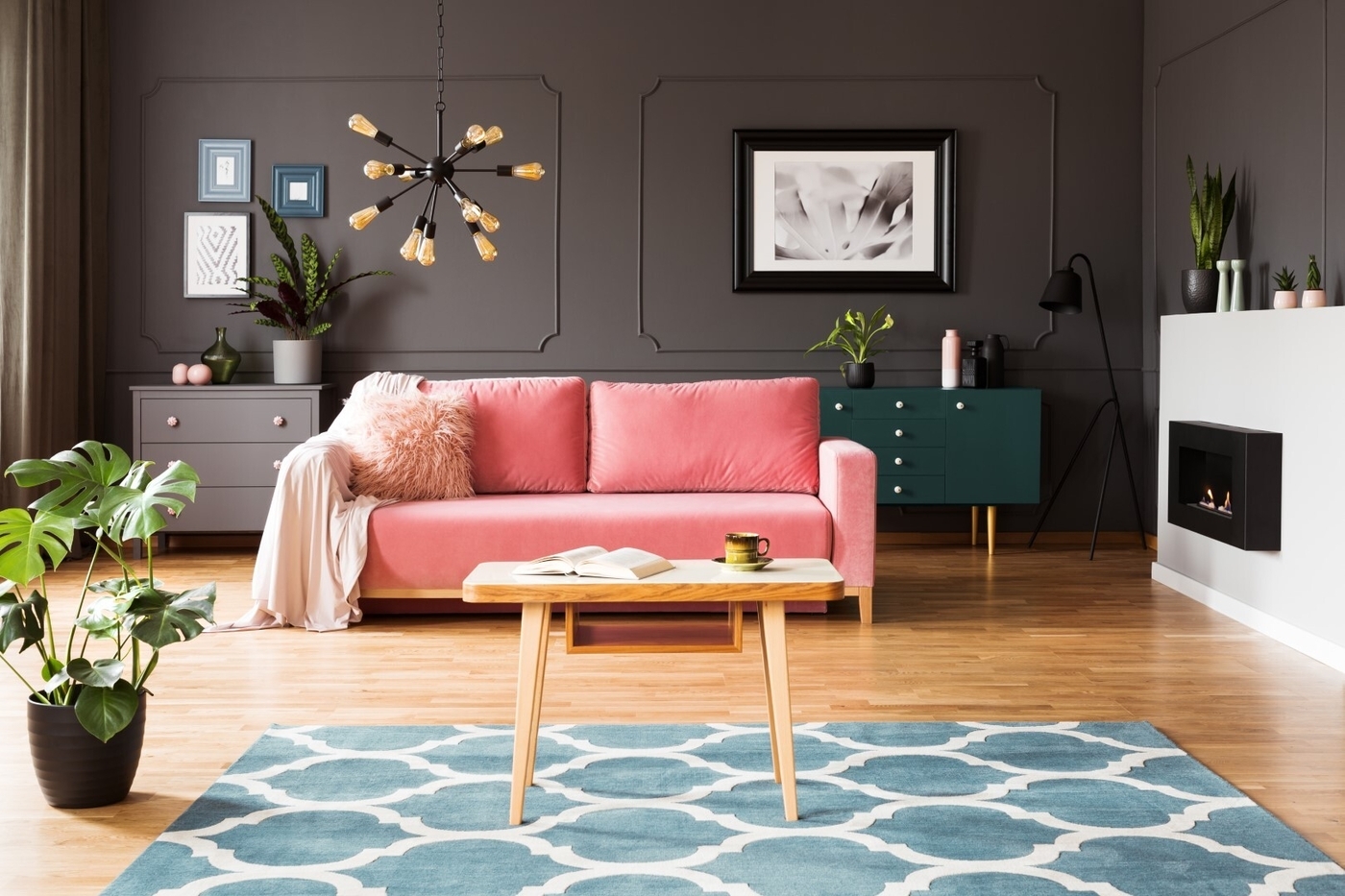 Add a pretty pop of pink to brighten up a somber graphite scheme. The floral-inspired shade lends a fun, whimsical note to the severity of dark gray. For a harmonic pairing, couple graphite with a cool shade of pink to match its blue undertone. Here, the graphite walls recede behind the pink statement sofa, infusing the room with character and establishing the room's focal point. Introduce teal accents for a retro palette that is playful yet inviting.
Graphite + Blue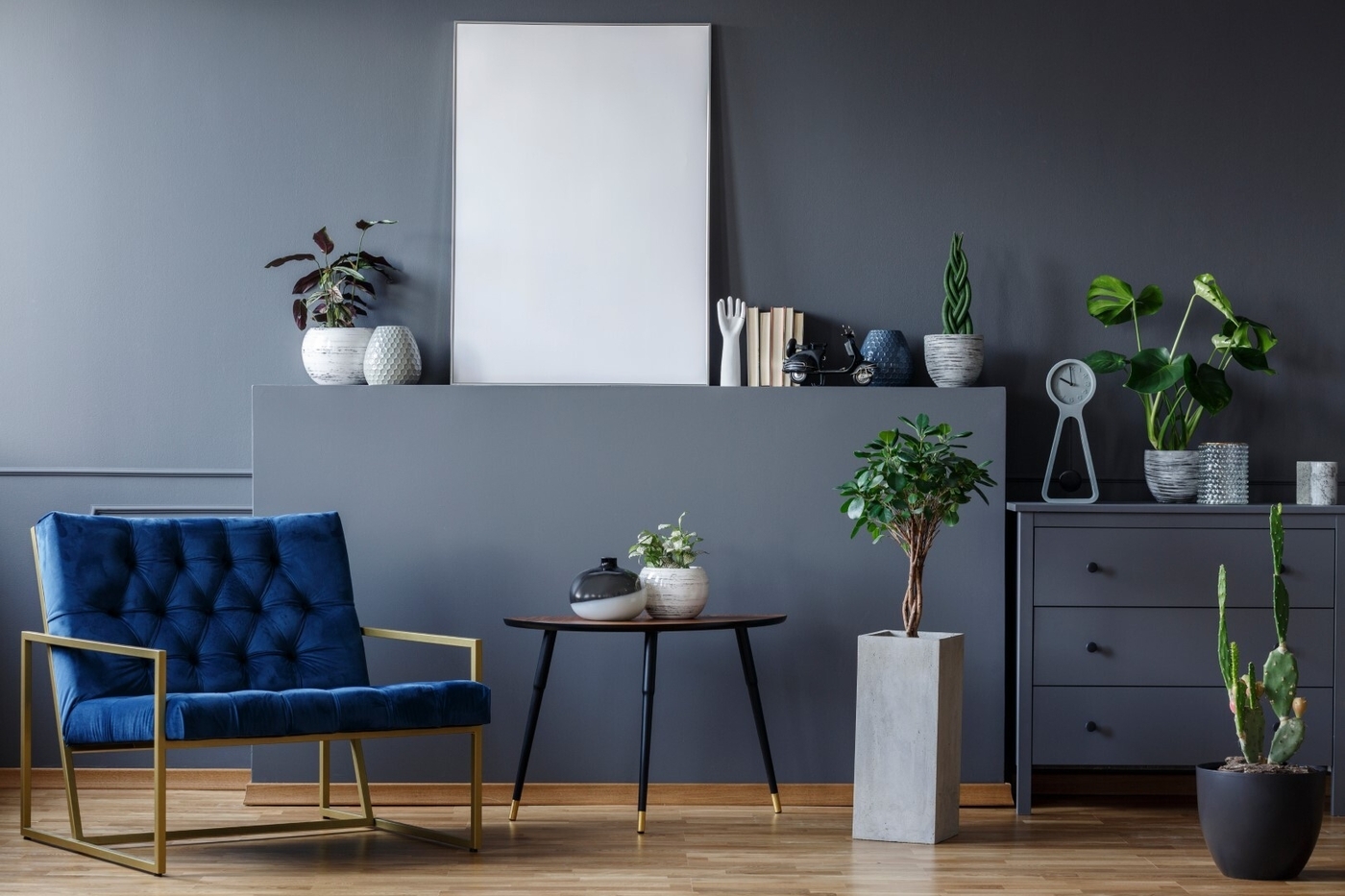 Dark blue and graphite evoke a moody yet serene atmosphere conducive to unwinding. The perfect palette for a living room or bedroom, deep inky blues combined with dark graphite shades absorb the light, creating a cocoon-like effect. Using a dark color palette in a large room with high ceilings effectively makes the space feel smaller and more intimate. Further encourage a calm, restful environment by reducing visual noise, keeping surfaces clear and accessories to a minimum.
Graphite + Sandy Beige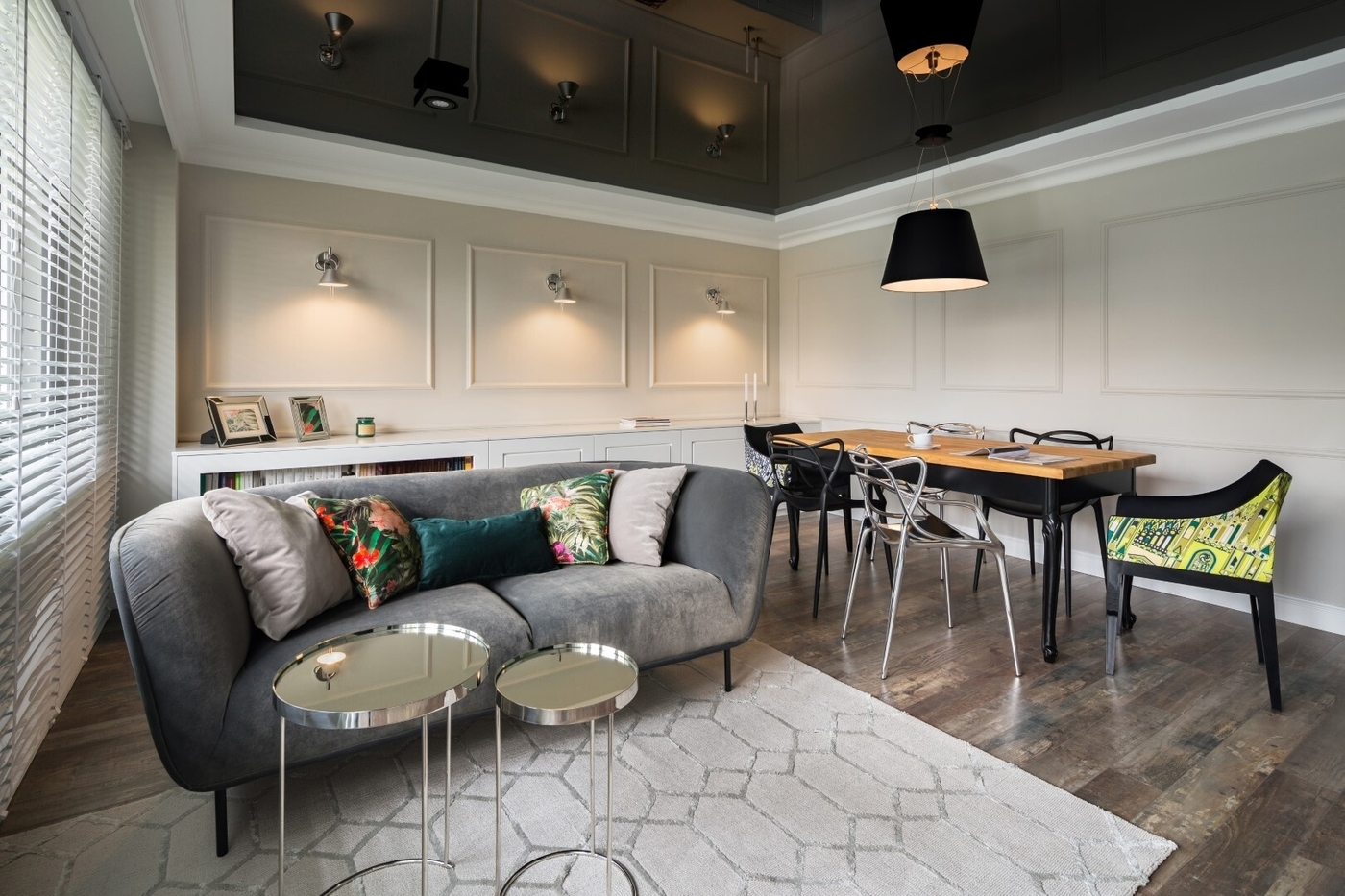 Introduce graphite accents to punctuate a beige scheme. The dark gray shade is a softer alternative to black and is easier to live with. The graphite sofas succeed in adding depth and tonal variety to an otherwise light, neutral scheme. Complete the chic look with natural, woven textiles, exposed wooden furniture, and a jar of freshly picked flowers.
Interesting Facts About the Color Graphite
The word 'graphite' is derived from the Greek word 'graphein,' which means 'to write.'

Graphite has been used as a writing tool since ancient times.

Graphite is a metallic gray material commonly used in pencil form for writing and drawing.

The first graphite pencils were created in the 16th century, shortly after the discovery of natural graphite in northern Britain.

The word 'pencil' derives from the Latin word for brush, 'penicillum.'

Graphite is a mineral form of carbon. It is considered the highest grade of coal, though it is not used as fuel because it is difficult to ignite.