A rich jewel tone, emerald green is inherently luxurious and sophisticated. In interior design, the verdant shade evokes a cozy, comforting, and deeply restorative space.
Emerald green is a brilliant blue-green hue named after the precious gemstone. The striking color has been popular since the early nineteenth century and continues to flourish today, gaining the title of Etsy's Color of the Year in 2022. Brighter than olive green, but darker than a zesty lime hue, the mid-tone green shade is treasured for its versatility and simultaneously soothing, invigorating, and grounding effect. The jewel tone adds a touch of luxury and elegance to any decor and makes for a lively and luxurious accent color, or when applied in large doses, a striking statement.
What is the Psychology of Emerald Green?
Thanks to the precious gemstone it was named after, emerald green symbolizes refinement, prosperity, royalty, prestige, elegance, and luxury. It's no coincidence that in feng shui the color green is associated with new beginnings and abundance in health and wealth.
In color psychology, green is believed to balance emotions and evoke a sense of calm and mental clarity. The secondary color is produced by mixing blue and yellow and therefore carries both the energizing trait of yellow and the calming effect of blue. Scientific studies show that verdant environments have a relaxing effect both mentally and physically, decreasing the heart rate and alleviating depression, anxiety, and stress.
Emerald green has a predominant blue undertone and is a deeply soothing and restorative color choice. The shade symbolizes balance and harmony, making it the perfect choice for spaces intended for relaxation, such as a living room, bedroom, or bathroom. Its clear visual connection with the outdoor environment further enhances these qualities.
What are the Best Ways to Use Emerald Green in the Home?
Make a bold, luxurious statement by going all out and painting the walls emerald green. Create a fully immersive experience by using the jewel tone everywhere, including the doors, trim, and even the ceiling!

If you're not feeling ready to spread emerald green over the walls, start by introducing it as an accent color and threading it into your scheme through accessories, such as a rug, cushions, window treatments, and upholstery.

Liven up a neutral scheme and add interest with a punch of emerald green color in a velvet sofa or accent chair, and repeat pops of the hue in decor around the room.

Use emerald green as a substitute for black. The versatile color combines beautifully with almost any color or neutral and makes them sing in a way that black doesn't.

Feed emerald green into a monochromatic scheme. Mix pops of emerald green with softer green shades to add a layer of depth.
What Colors Go with Emerald Green?
Emerald green is a rich, saturated hue that is deeply comforting, energizing, and unapologetically beguiling. The versatile shade enhances almost every color it is paired with, though the following combinations are particularly satisfying. Here's how to embrace this year's must-have hue.
Emerald Green + Neutrals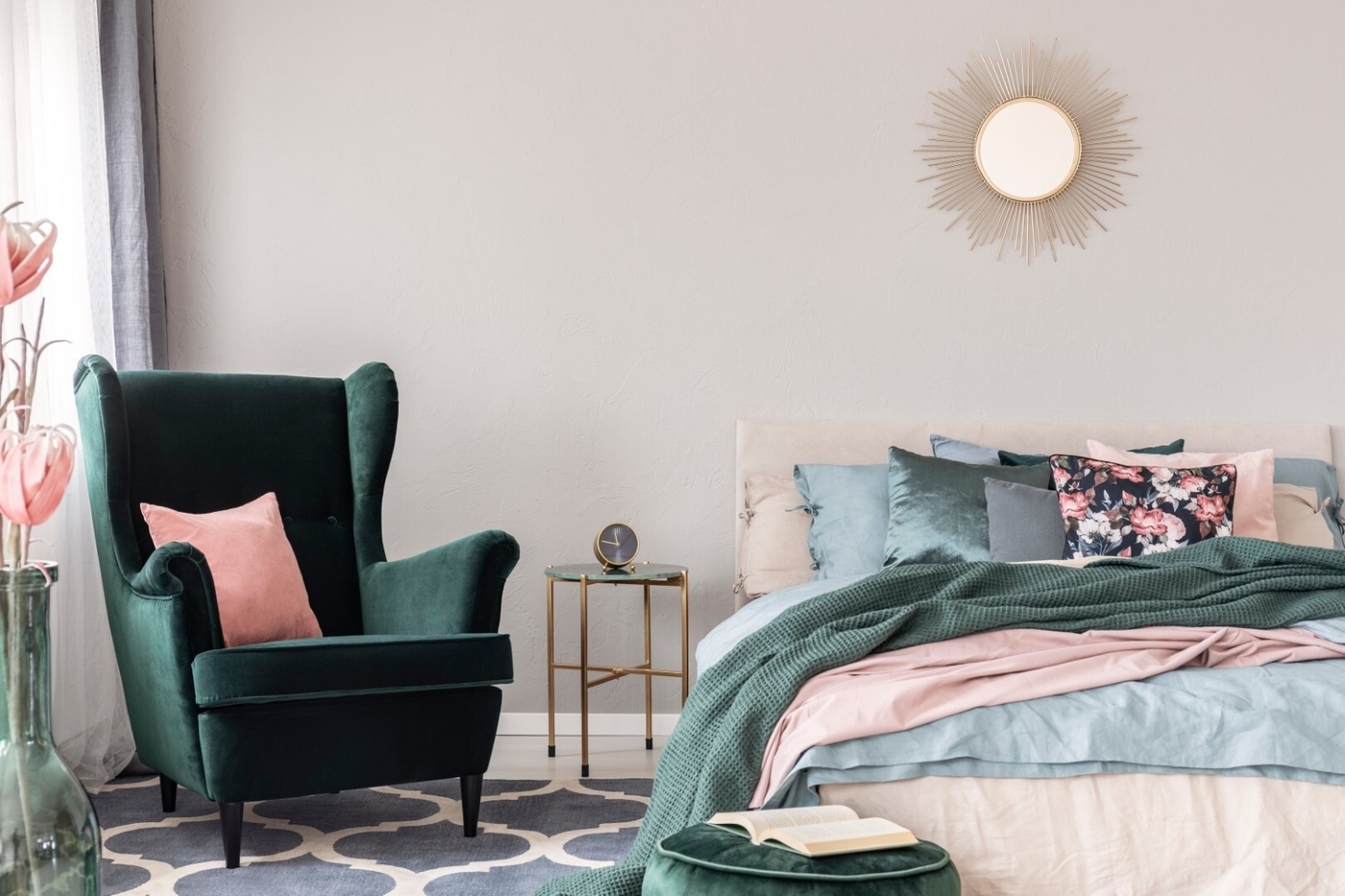 Liven up a neutral scheme with emerald green accents. The rich blue-green shade adds depth and drama and energizes an otherwise bland and shallow scheme. For example, you could adorn a bed with emerald green scatter cushions and a knitted throw and repeat the color around the room with a lustrous emerald armchair, patterned textiles, and other accessories. The same can be applied vice versa, using soothing neutrals to balance out a room overpowered by the vibrant royal green shade.
Emerald Green + Red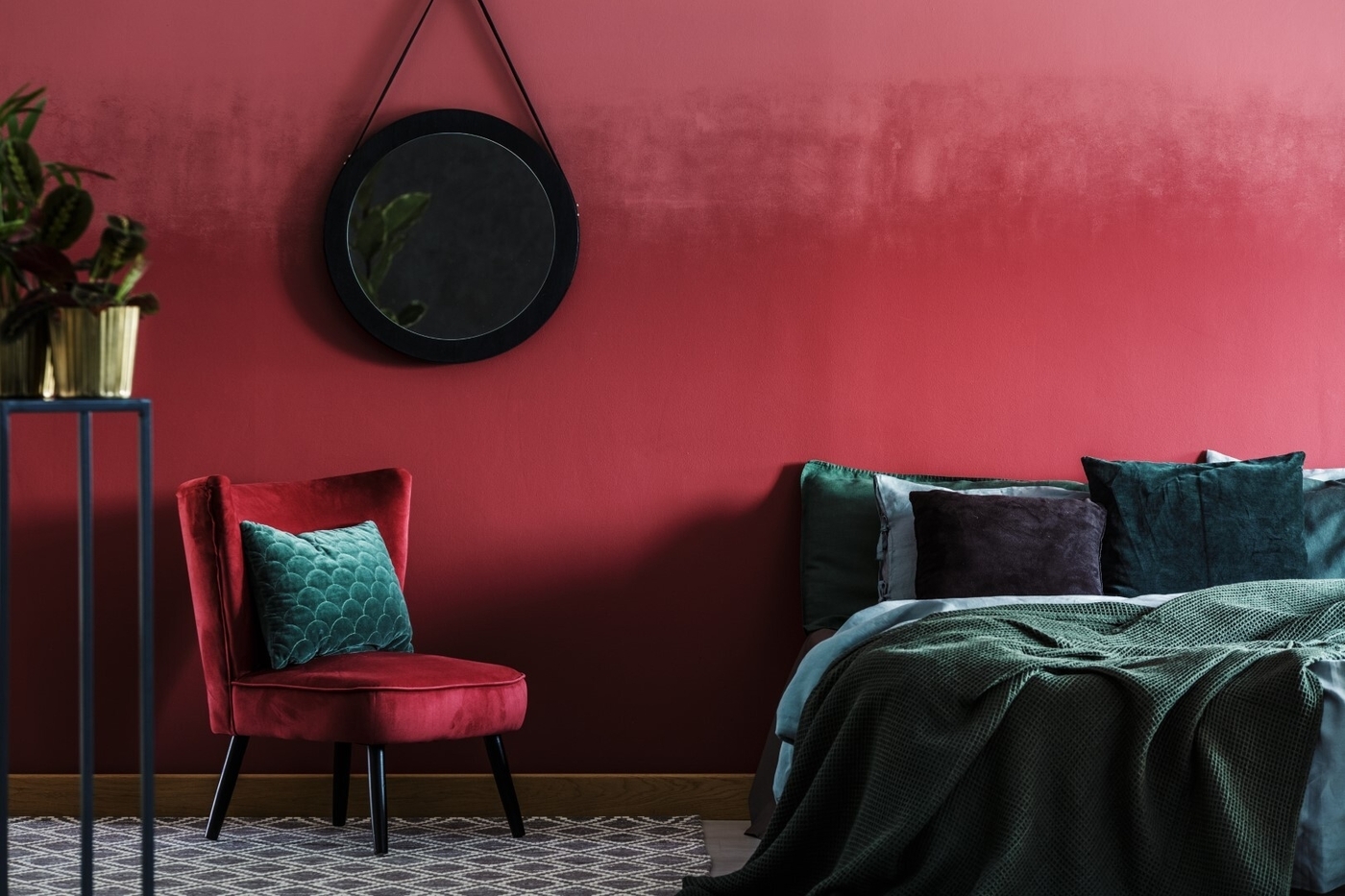 Red and green are one of those color pairings that can be difficult simply because of the connotations surrounding them. In this case, if you don't get the balance right it could easily feel like Christmas every day! The key to getting this color combination spot-on is to avoid the most classic red and green shades in favor of less-common tonal variants. For example, vibrant emerald green and ruby red are two rich jewel tones that together spell opulence. When working with two showstopping hues use the 60-30-10 rule. That way you can be sure the colors won't compete with each other.
Emerald Green + Gray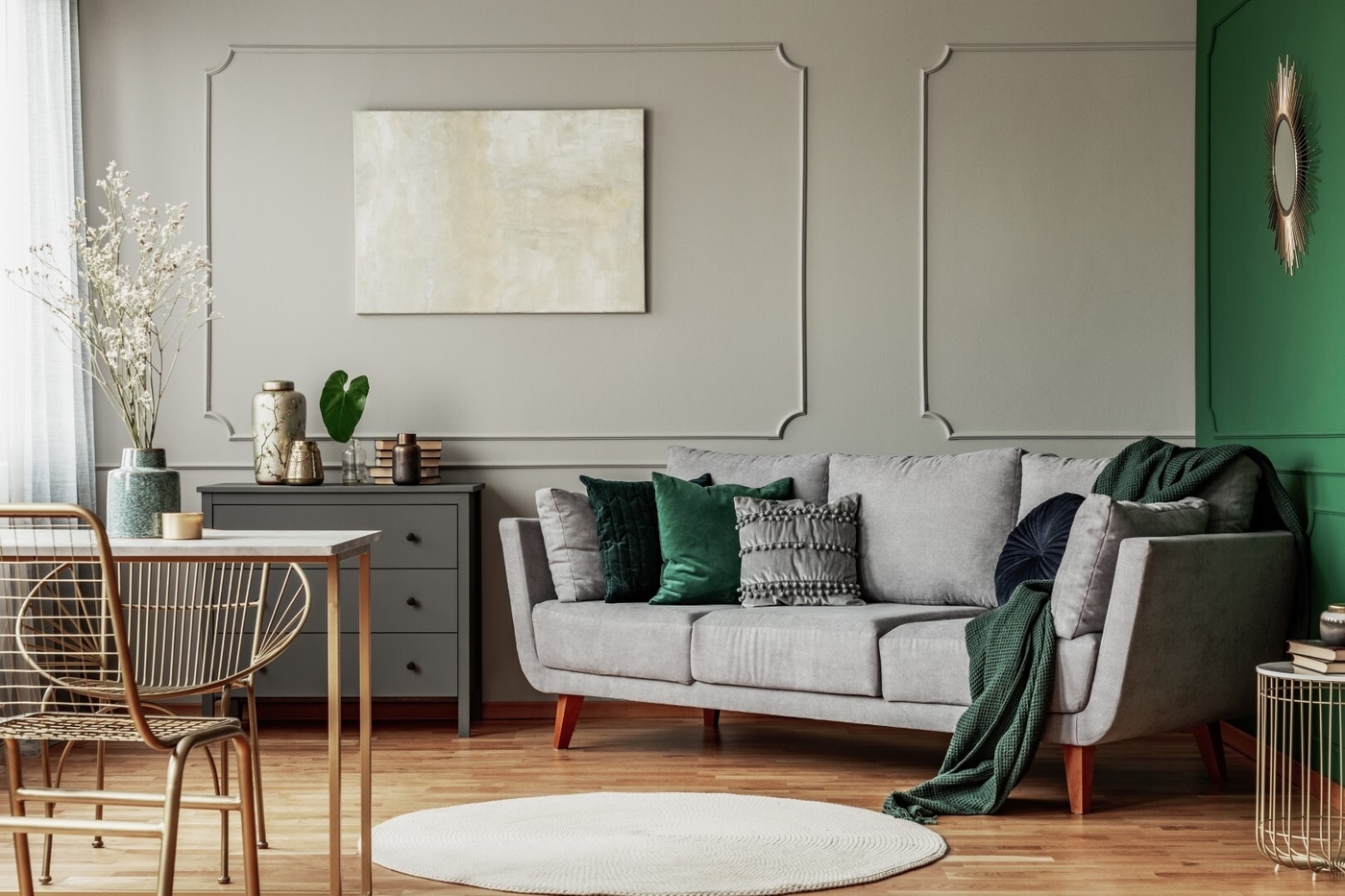 Splashes of emerald green in a gray scheme are the equivalent of trees and parks in a cityscape. It breathes life and dynamism into a predominantly gray decor and serves as a welcome reminder of, and connection to, our natural environment. While gray schemes are smart and sophisticated, they can also be cold and lifeless. Emerald can be paired with light and dark shades of gray, though they will feel very different. Emerald and pale gray will have higher contrast and create a brighter and more invigorating space, whereas dark gray will create a moody and mysterious look.
Emerald Green + Yellow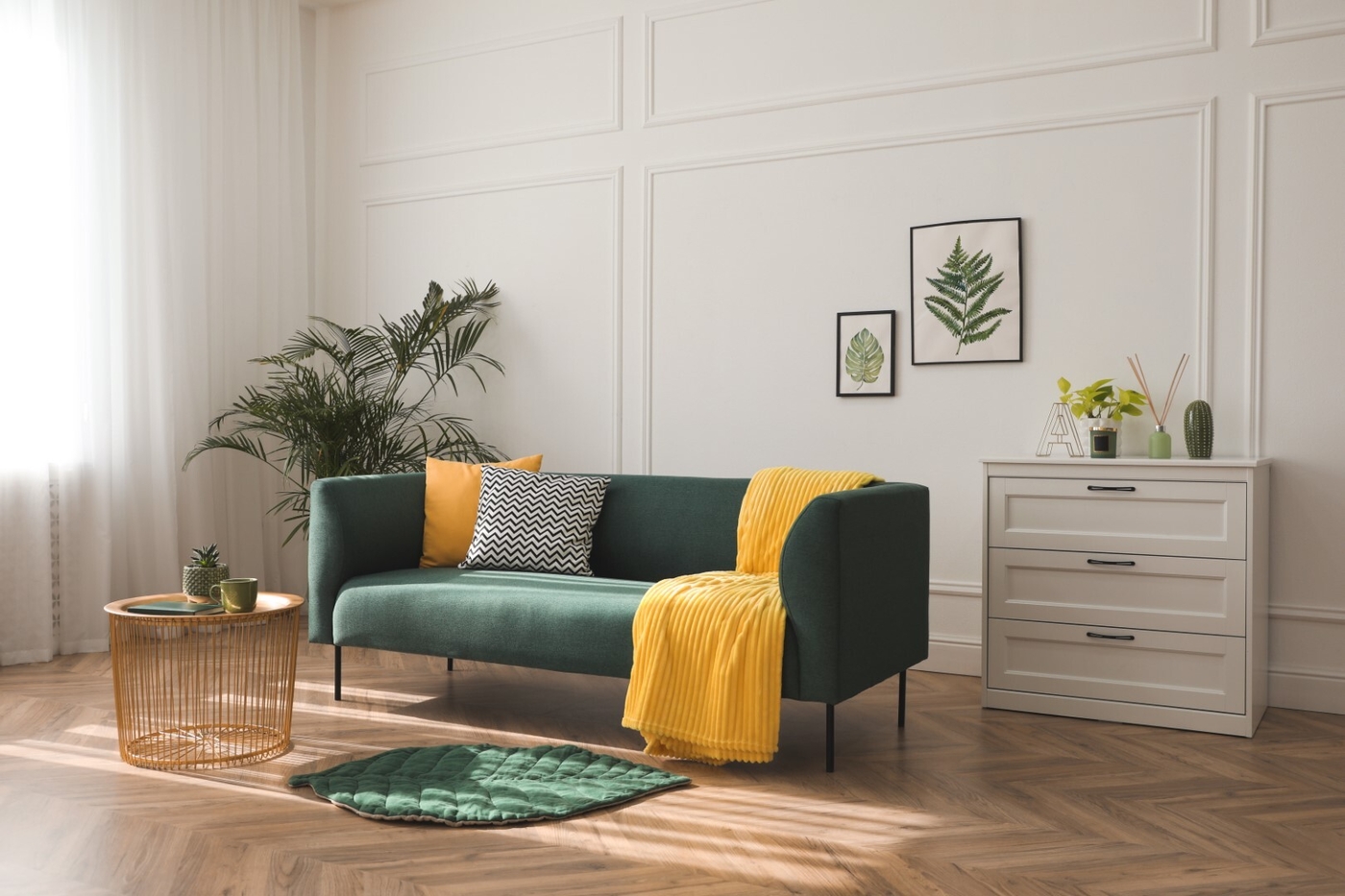 Because green and yellow are adjacent on the color wheel they are considered analogous colors. Yellow is an integral part of emerald green's DNA, so the two hues are naturally harmonious and easy to live with. The simplest way to design with these two colors is to add in a neutral, like white, gray, black, or brown. However, if you're feeling daring you could bring a complementary color on board, in this case, purple or pink. The result will be a happy, fun, vibrant, and eclectic vibe.
Emerald Green + Blue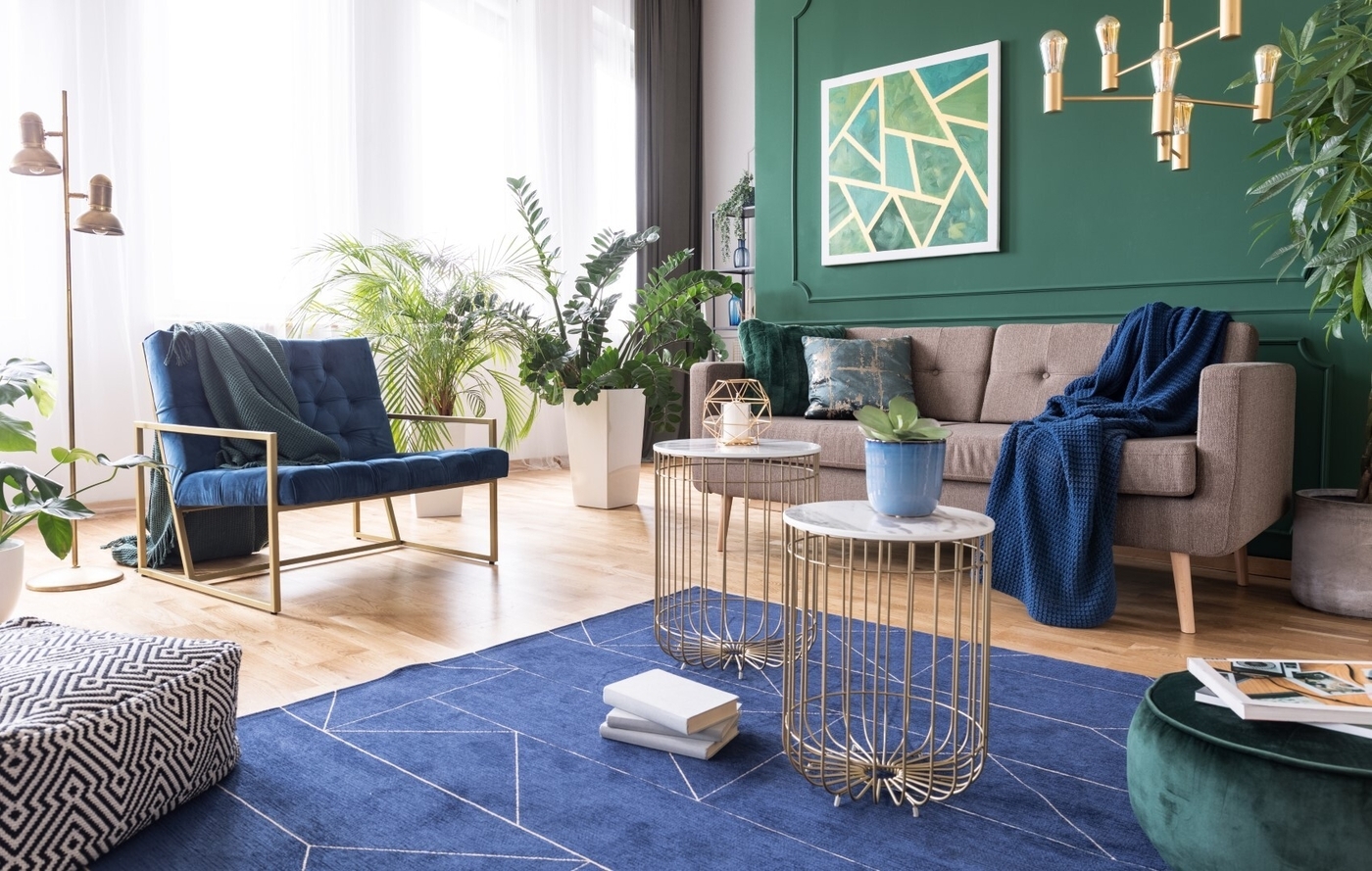 Blue is the other next-door neighbor to green on the color wheel. As blue is the predominant undertone of emerald green the pairing celebrates the hue's roots and creates a mesmerizingly harmonious and soothing environment. Emerald green and sapphire blue are a rich and dramatic combination, conjuring images of the deep ocean. To maximize the effect, thread in a curated selection of soft, tonal shades for a gentle transition between the two hues.
Emerald Green + Pink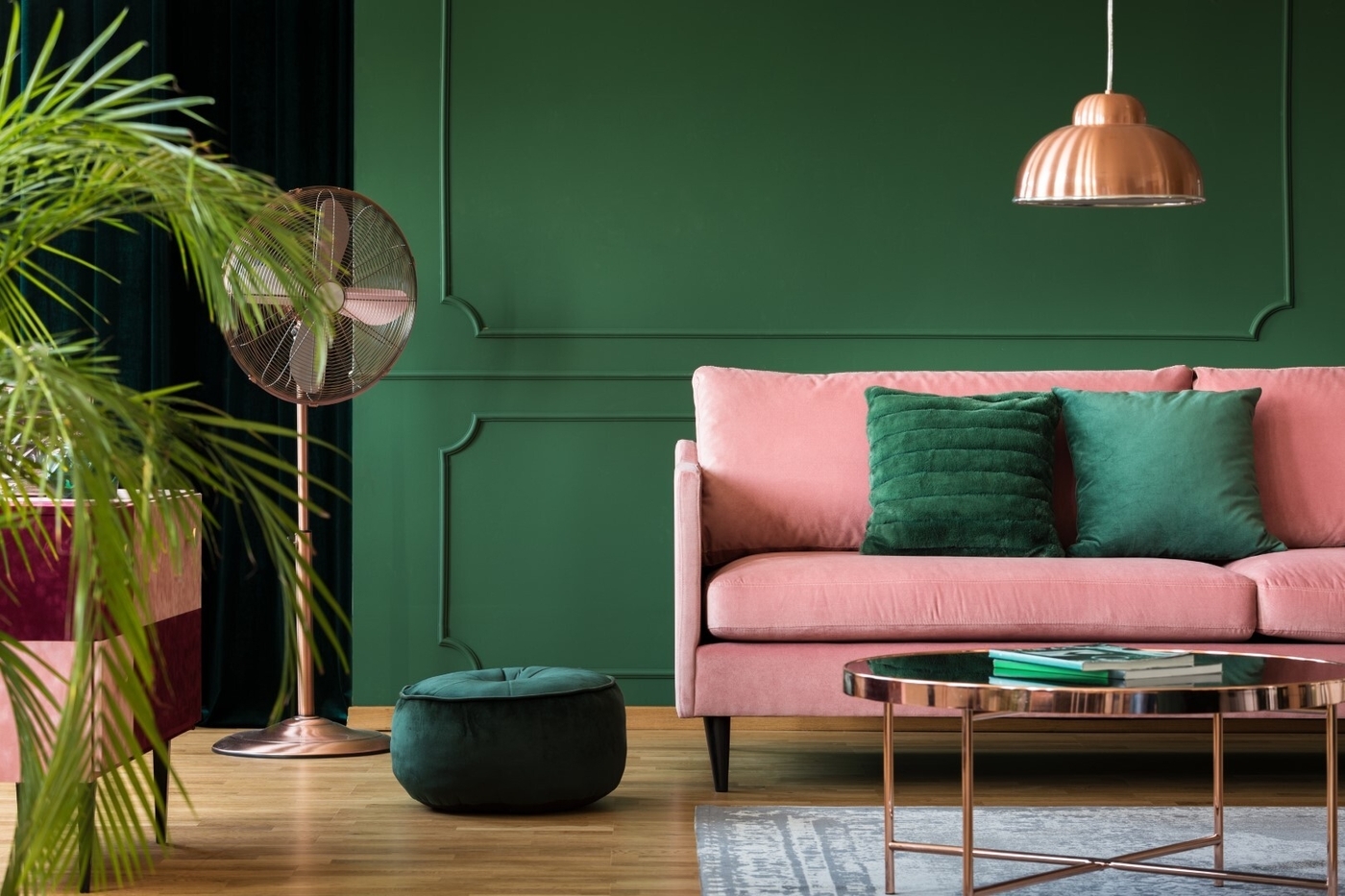 Emerald green and pink is a popular color combination that's hard to mess up! The complementary colors make a high-impact scheme that just feels right. Different shades of pink will elicit different vibes. A softer pink, like champagne or blush pink, will create a soft, dreamy, and comforting decor suited to a bedroom, whereas a more intense pink shade, such as fuchsia or bubblegum, will invite a more vibrant aesthetic. Pink and emerald green is often found in nature-inspired prints, like florals and botanicals. Add elements of black and gold to ground the scheme and introduce a touch of glamor.
Emerald Green + White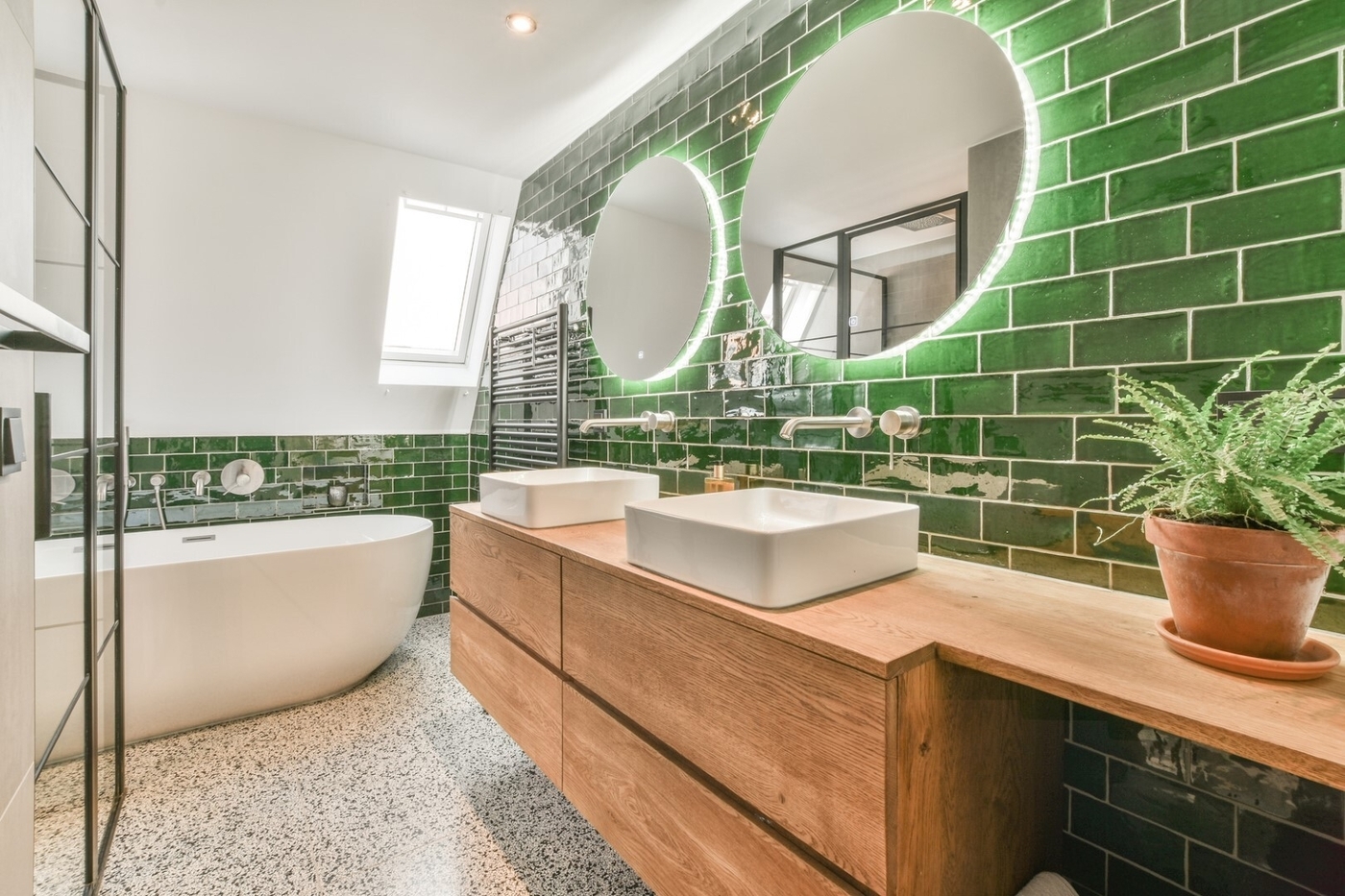 Emerald green doesn't always have to be moody and mysterious. When paired with a crisp true white, it has a refreshing, invigorating, and purifying influence. Use white like a blank canvas on which to celebrate the jewel tone, whether in the form of tiles, cabinetry, or statement furniture pieces. Emerald green and white are a versatile color scheme and base on which to experiment with different accent colors, from subtle monochromatic shades to vibrant complementary hues.
Emerald Green + Orange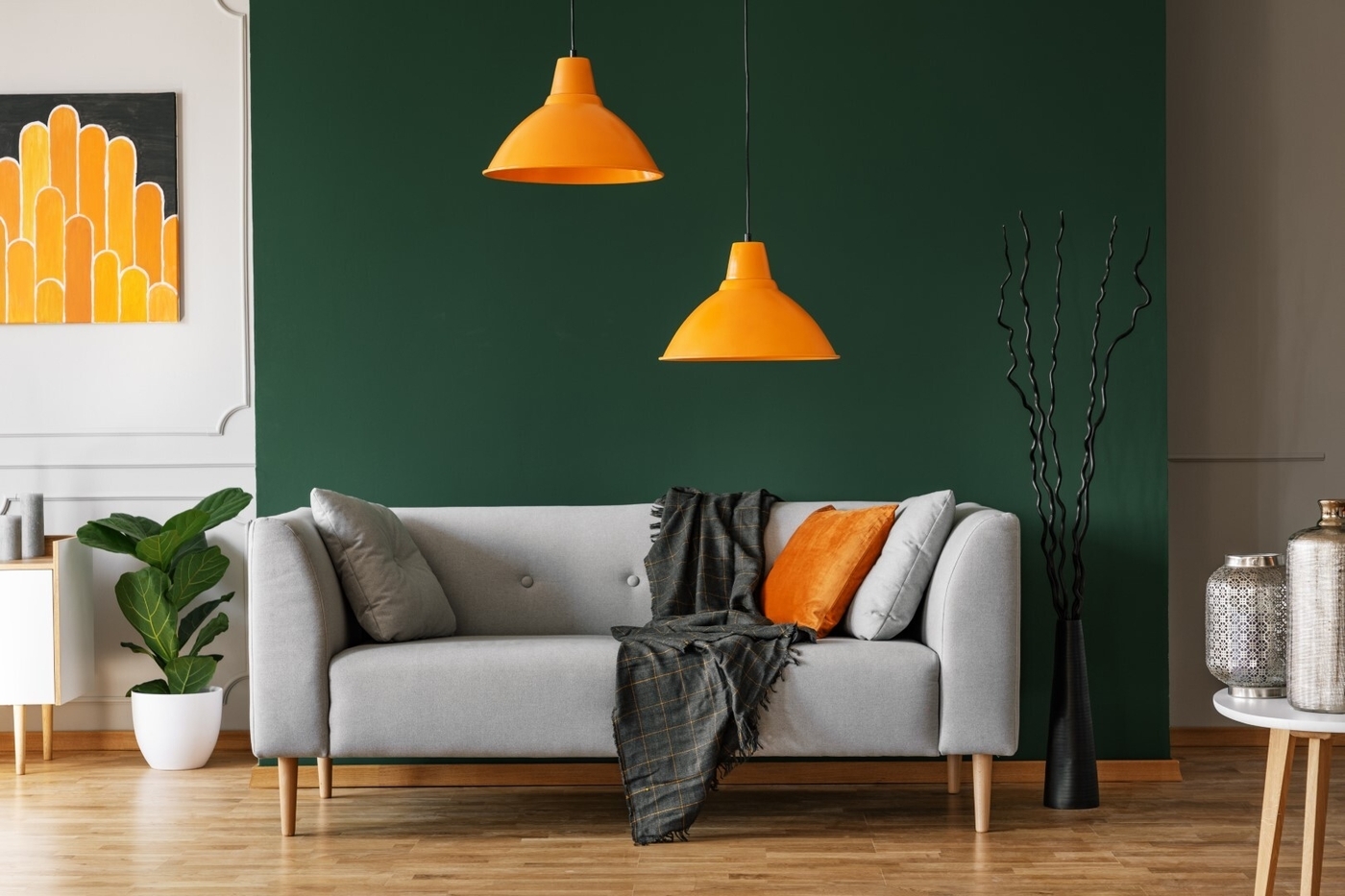 Emerald green and orange are bold, daring, and energizing. The high contrast and saturated hues create a striking contemporary look. This is thanks to the prominent blue undertone in emerald green which is the complementary partner to orange, so both colors bring out each other's best qualities. Add zingy tangerine accents through accessories, such as lampshades, artwork, and cushions, and play it down with some neutrals. For a warm autumnal color scheme, opt for an earthy terracotta instead.
Emerald Green + Purple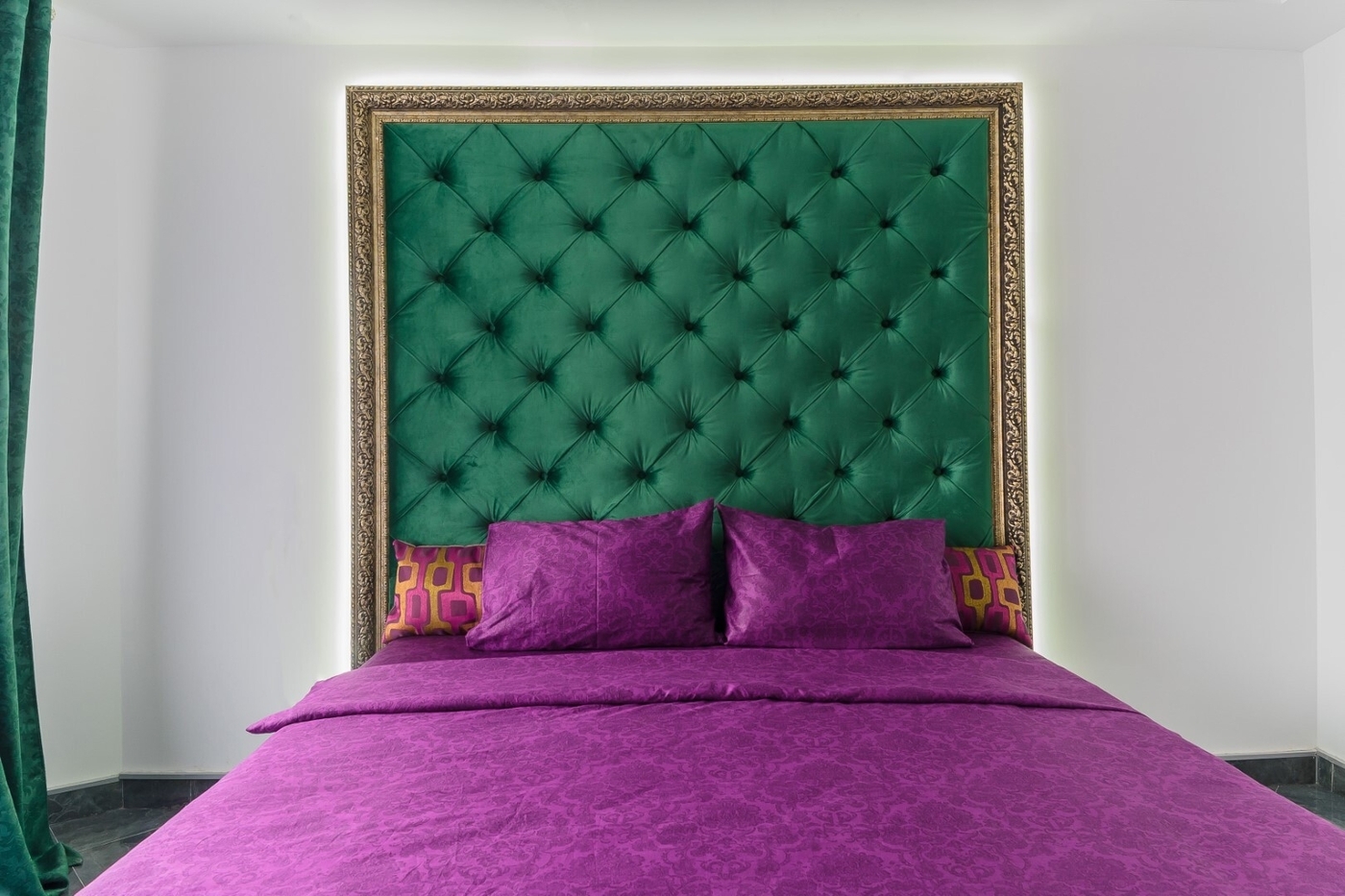 Play up the opulent and luxurious nature of emerald green with purple, a royal color associated with power, nobility, and wisdom. Two hues commonly found together in a flower or vegetable garden, the botanical-inspired pair are a safe bet for freshening up your decor. The beauty of purple is that it carries both blue and red undertones, opening up a plethora of shades, each of which imparts a different feel to the space. Cool down a light-filled south-facing room with a cool lavender tint, punctuated with emerald furniture. Or, create a sophisticated, warm cocoon by pairing emerald green with deep plum and balance it out with some creamy neutrals. For a rich and indulgent scheme, opt for a deep royal purple in lustrous textiles.
Emerald Green + Gold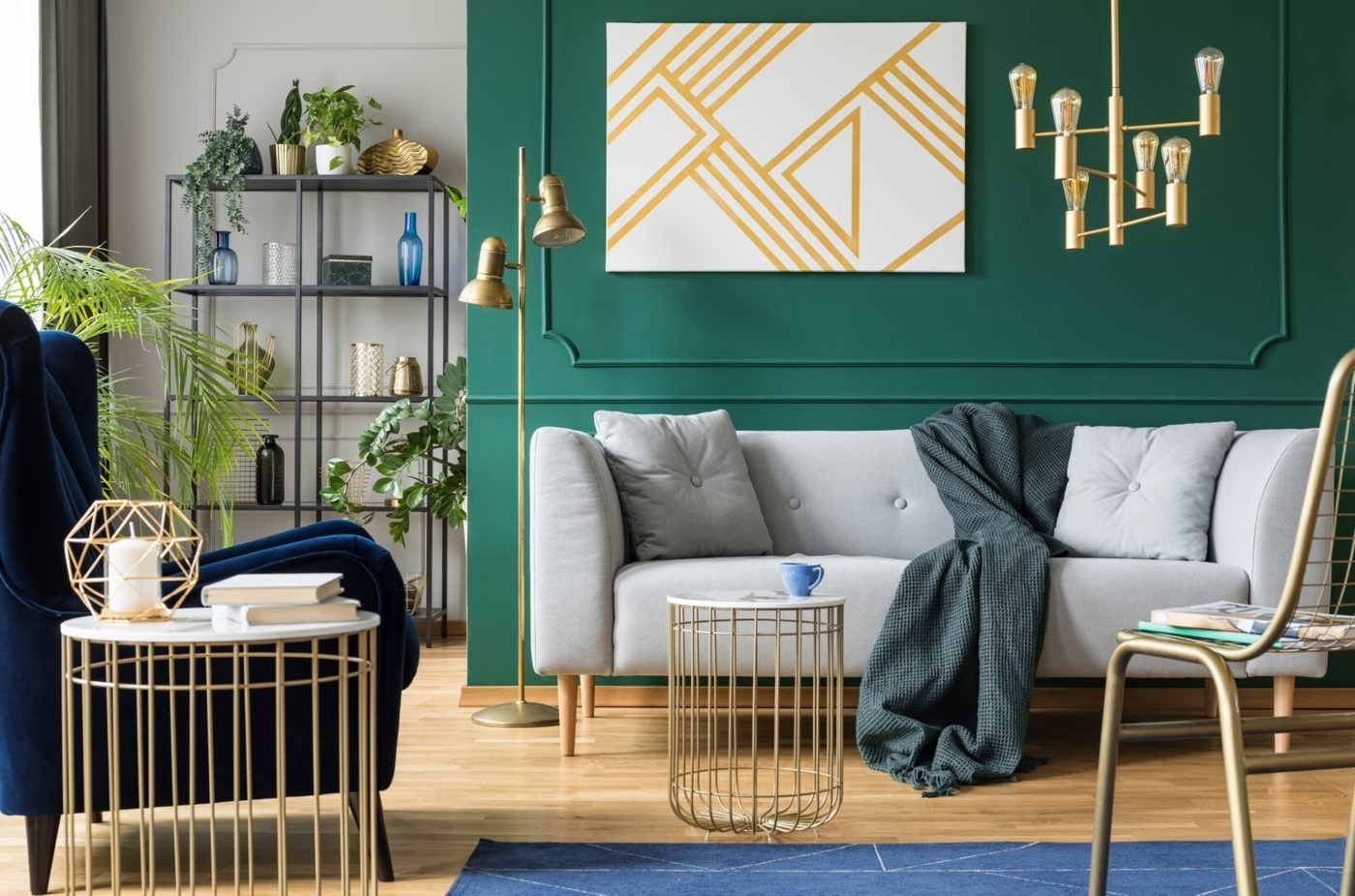 Emerald green and gold are the epitome of luxury. Gold is the ultimate symbol of success and affluence and acts as a striking and glamorous accent to rich green shades, like emerald. Where emerald is the dominant shade, incorporate the warm metallic into your decadent scheme with gold-brimmed furniture, such as coffee tables and lamps, or look for embellished upholstery. Adorn the room with gold accessories, such as a gold-brimmed mirror, painting, or other decorative ornaments. And, demonstrate your attention to detail with gold hardware.
Emerald Green + Wood Tones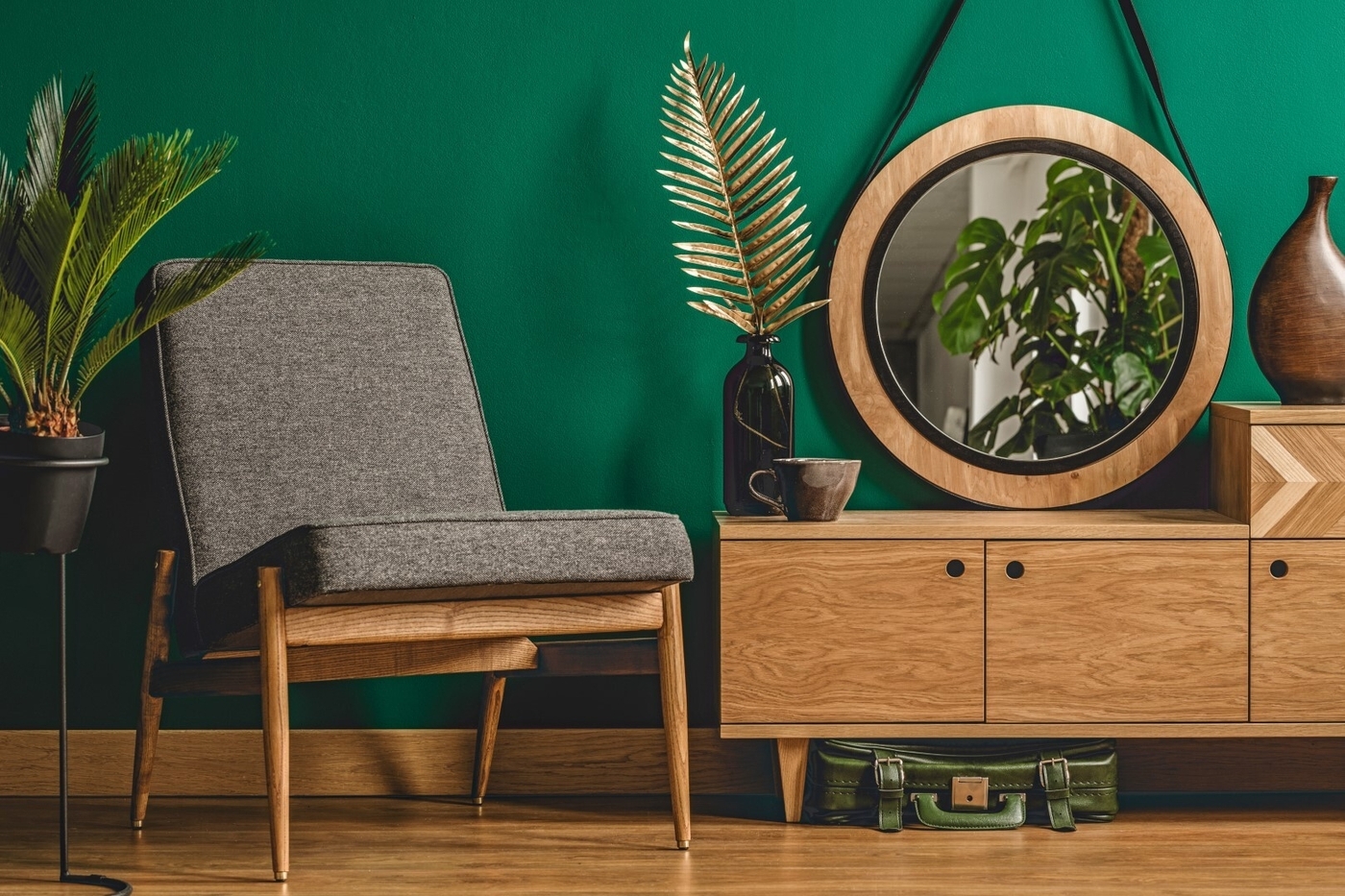 We know, wood is not technically a color, but it just pairs so well with emerald green that we had to mention it. Combining the verdant shade with natural wood tones and textures foments a deeper connection with the natural world. The organic shades ground the scheme and have a comforting, restorative, and soothing effect. Rich, polished mahogany furniture complements a traditional, dark, moody aesthetic, while light wooden accents break up the deep green hue and favor a contemporary, Scandinavian-style decor.
Interesting Facts About Emerald Green
The term 'emerald green' was first introduced in 1598 after the precious gemstone.

Emerald green symbolizes refinement, wealth, and royalty due to its association with the precious gemstone.

Emerald green was a popular color in the early nineteenth century and it was widely used in artwork, interior decoration, and fashion. At the time the pigment was made of arsenic, so it fell out of fashion as quickly as it came in upon discovery of its highly poisonous nature. Luckily nowadays, it is entirely safe to use.

Emerald green is sometimes referred to as Paris green or Veronese green.