Purple comes in a variety of shades, ranging from pale to bold, that are easily complemented with other colors. Purple can be light and feminine or dark and moody. To understand how it is best used within an interior space, it is also a good idea to learn how purple may affect your mood and behavior.
What is the Psychology of Purple?
Purple is created by combining two primary colors, red and blue. Red is known for its intensity while blue is associated with relaxation. It is the balance of these opposing energies that can give purple a calming effect, be uplifting and trigger creativity.
However, various shades of purple have different connotations. Bright purple is the color of nobility and often associated with luxury, wisdom and creativity. Light purple has feminine energy, whereas dark purple can cause sadness and frustration.
What are the Best Ways to Use Purple in Your Home?
Lighter shades of purple, such as lavender and lilac, are perfect for bedrooms to create a sophisticated and feminine retreat.

Deeper eggplant shades of purple are rich and warm. Used as wall color they create rooms that are cozy yet elegant. Accents of deep purple, such as throw pillows, add depth to monochromatic rooms.

Using purple accessories like fresh flowers, art, or patterned throw pillows are quick ways to make a space feel more luxurious.

Pale shades of purple are excellent choices for meditation and relaxation rooms as they have calming effects and induce restfulness.

Due to its potentially negative effect on a person's mood, dark purple should be used in moderation and balanced with neutral colors in a room.
What Colors Go with Purple?
You might be surprised by how many colors you can pair purple with. Here are some of the most attractive pairings. To know more about the right selection of colors, check out this rundown of rules of color combination.
Purple + Gray
Gray is a popular neutral in both contemporary and traditional interiors. Gray walls or furniture, provide an excellent backdrop for purple accents. To avoid a room looking too dull, balance softer gray tones with brighter, deeper purples and darker grays with pale purples. The right balance will create a calm and sophisticated room.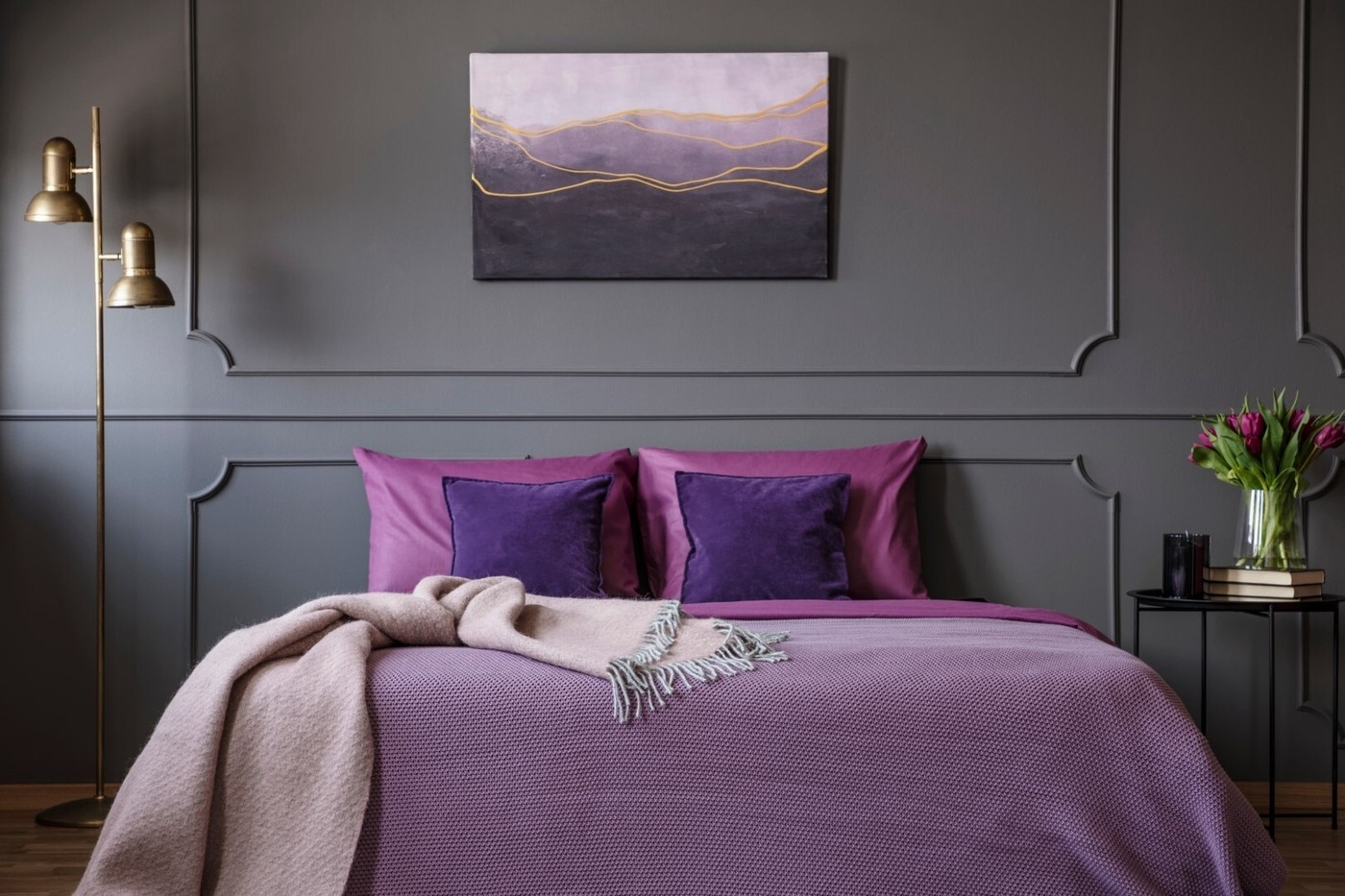 Purple + Yellow
Purple and yellow are both vibrant colors and although complementary, they are often used to create different moods within a space. While purple tends to inspire calm, yellow is more energetic. To create a well-balanced space using these two colors it is best to stick to the 60-30-10 rule, a warm neutral at 60%, a soft purple 30%, and a bright yellow at 10%, to create a visually interesting but still relaxing room.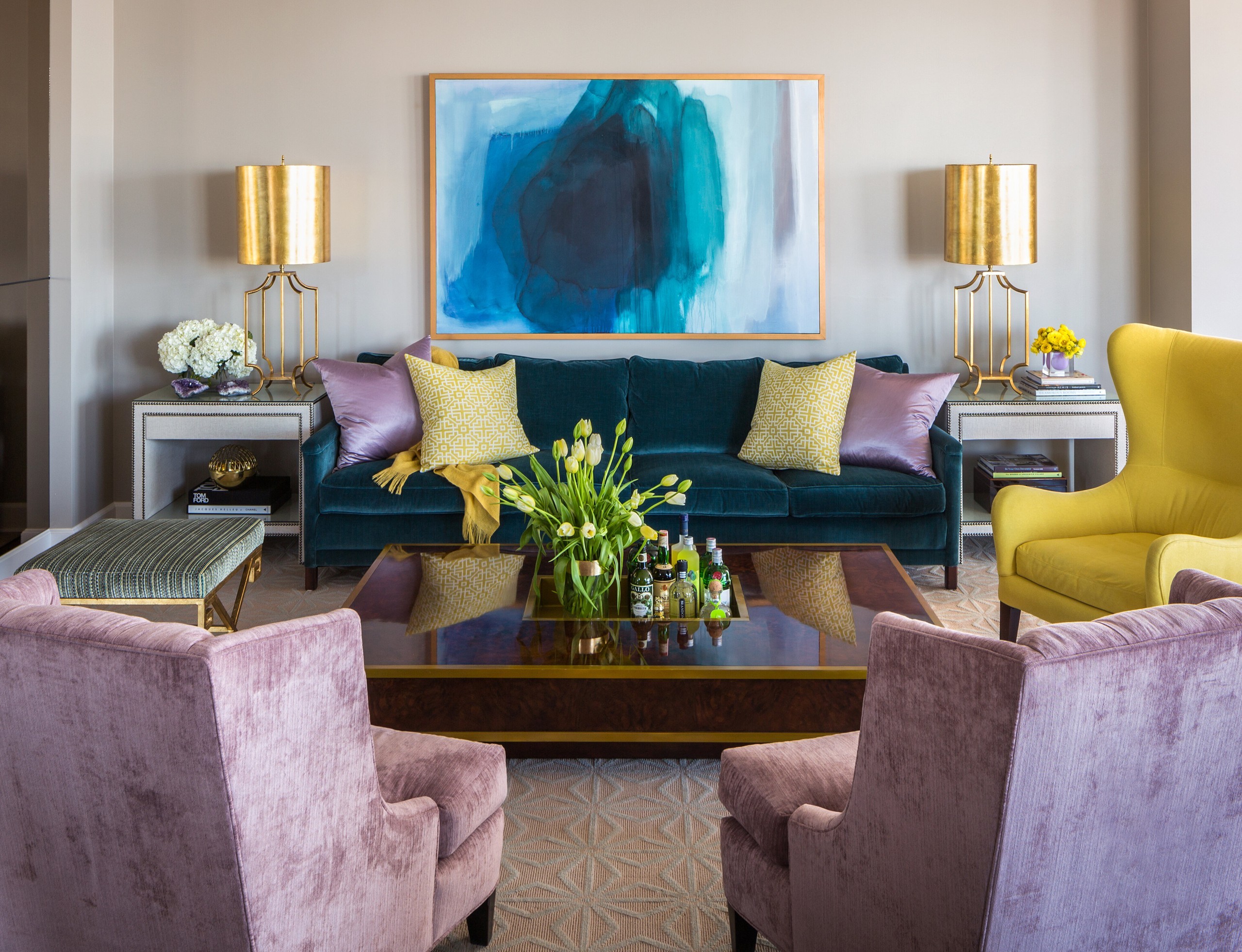 Purple + Black
Purple and black work well paired as accents colors. Purple and black are best used together in interiors where the main elements of the space - the walls and furniture - are monochromatic whites or creams. Black accessories and small touches of purple add interest and depth without overwhelming the room.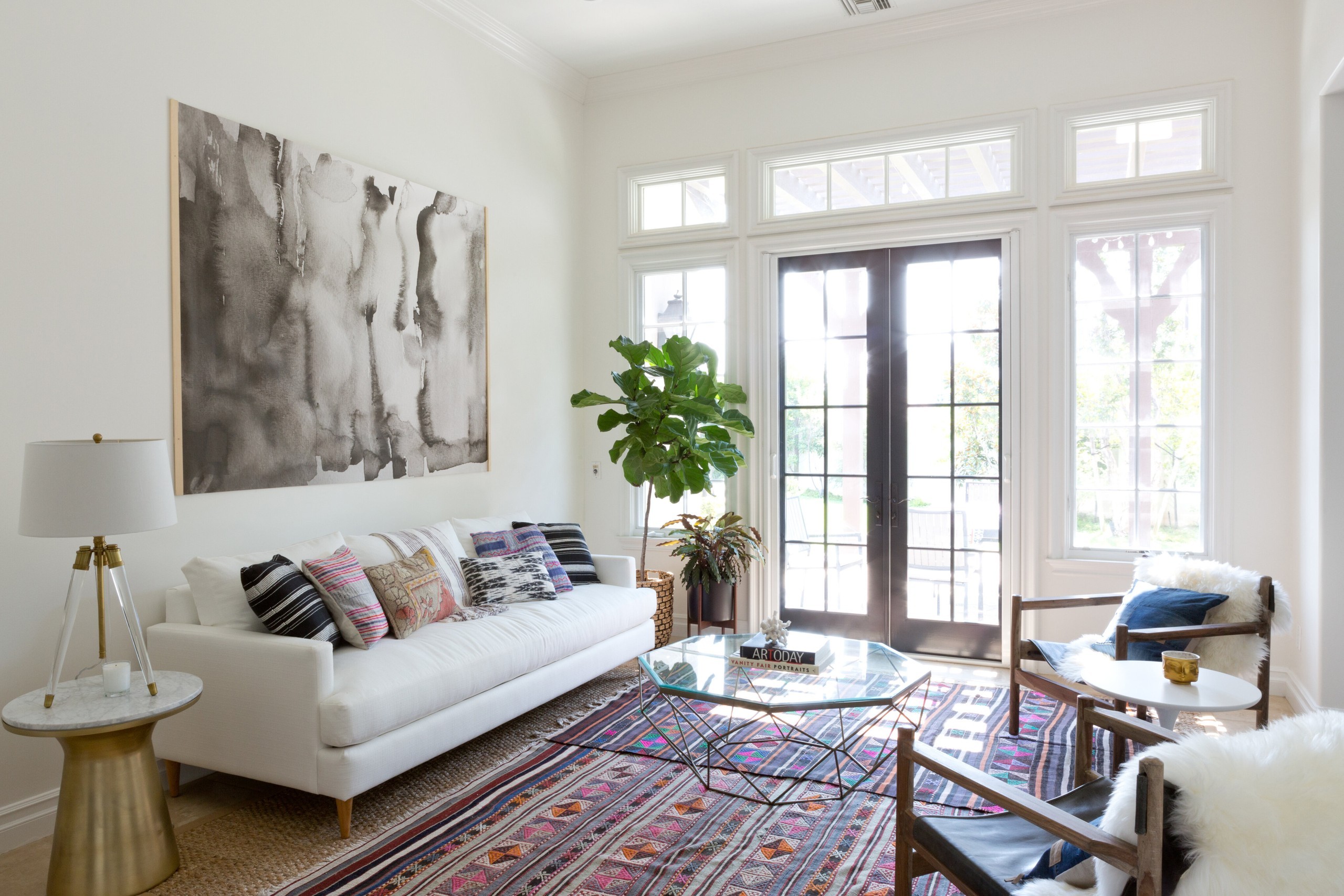 Purple + White
White is the perfect partner for purple as white allows for purple to become the focal point of a room and provides balance to richer shades of purple. For a calm and feminine room, use the 60-30-10 rules, a warm or cool white in 60% of the space, a complementary neutral color in 30%, and purple as your accent at 10%.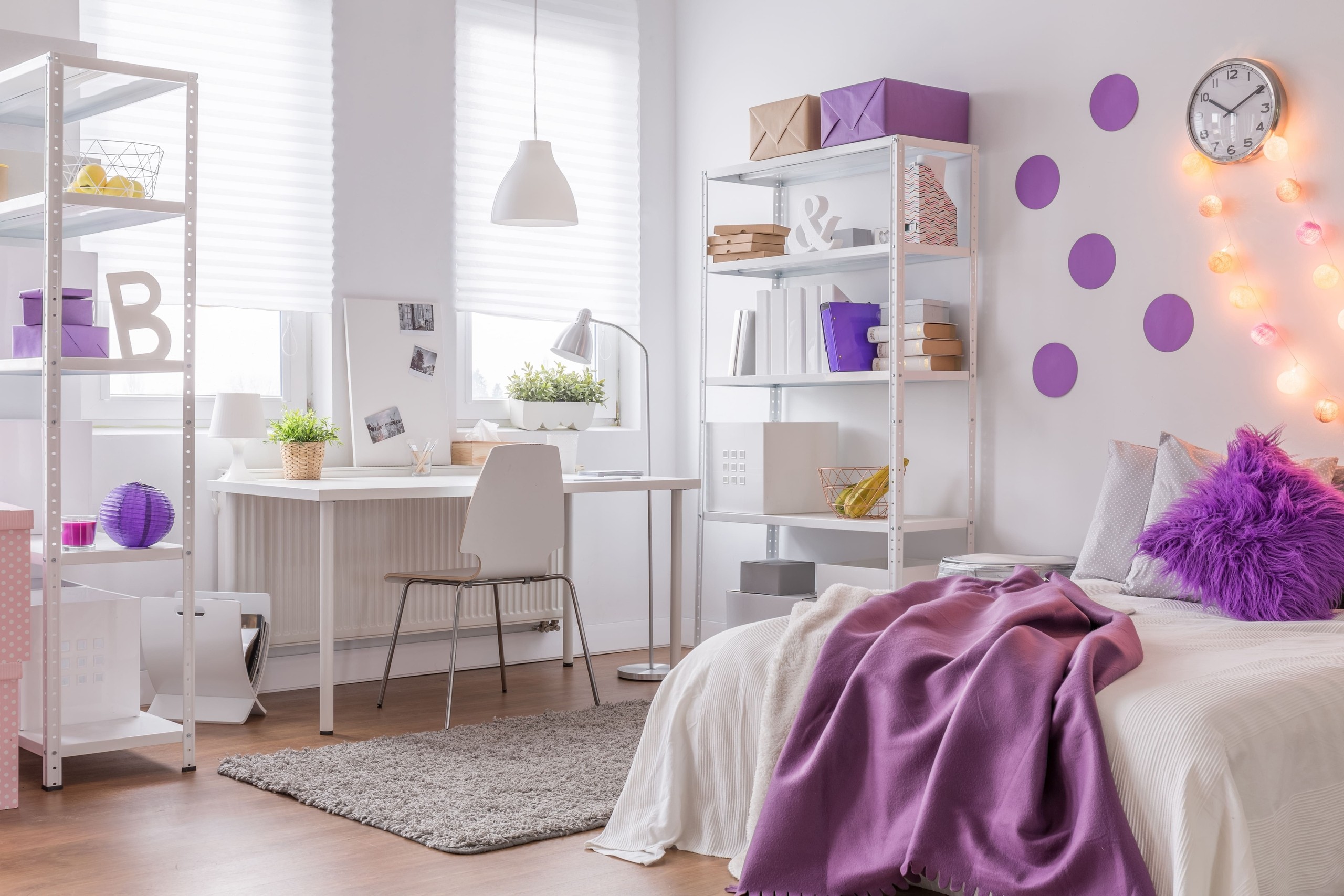 Purple + Brown
Purple is best combined with brown through the use of wood furniture and architectural details. Darker woods, such as walnut, pair well with pastel shades of purple, while lighter woods can be balanced with deeper shades of purple for a farmhouse look. That's not a rule carved in stone, though. Dark shades make an exceptionally elegant pairing as well.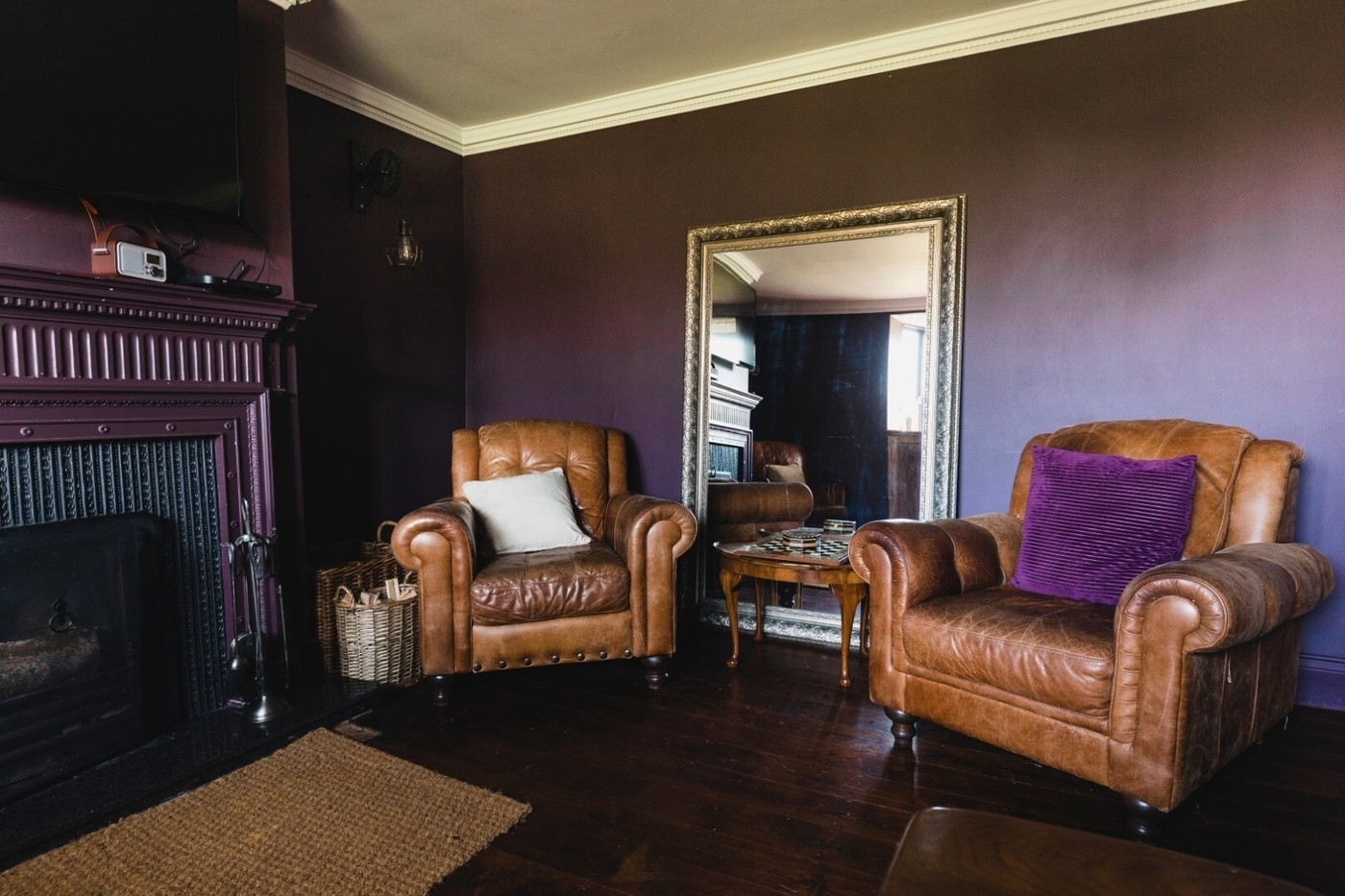 Purple + Gold
Purple and gold are the ultimate pairing for a rich and luxurious room. Create depth in a space by mixing two to three shades of purple with gold accented furniture. Start with a soft purple wall and neutral colors for the larger elements of the room such as the rug, sofa or headboard. Layer in darker purple and gold accents in the room's accessories.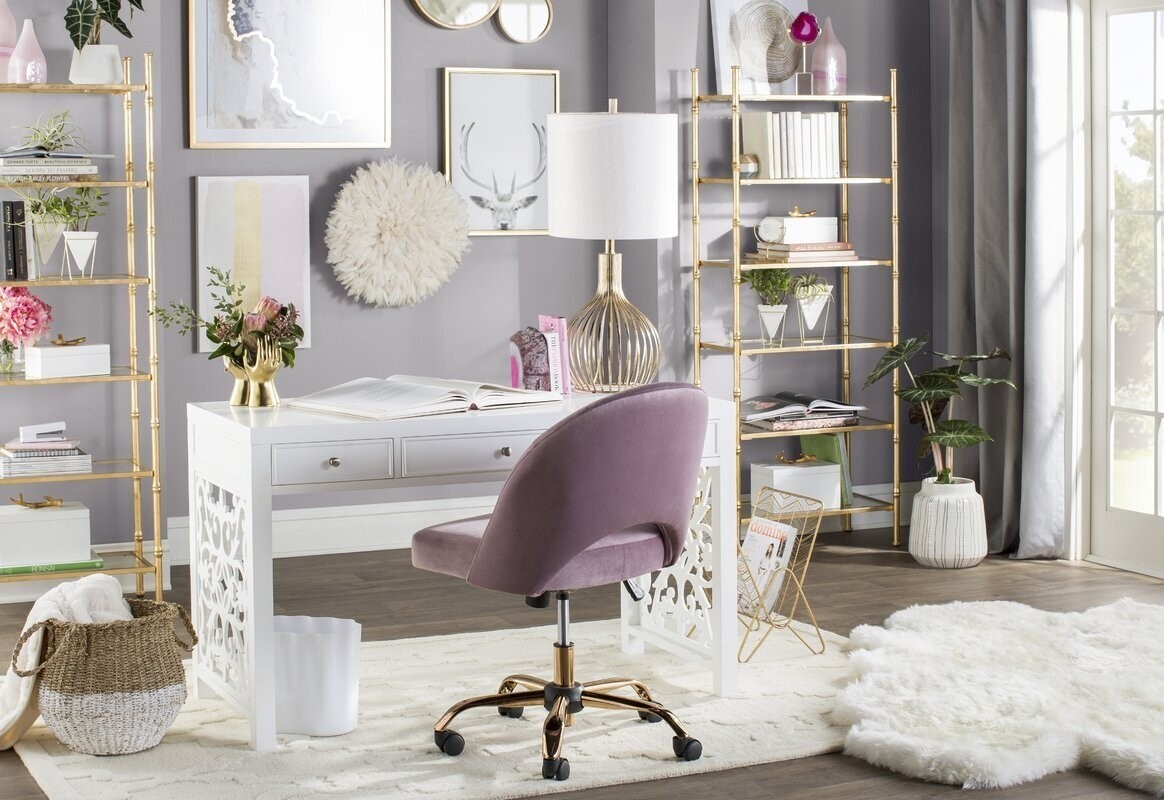 Purple + Green
Purple and green are a refreshing mix, creating rooms that are warm and youthful. Choose a minty or gray green paint color for the walls and pair it with a lighter shade of purple. Or use vibrant purple as the main upholstery color against a neutral backdrop and balance it with a moderate addition of green accents.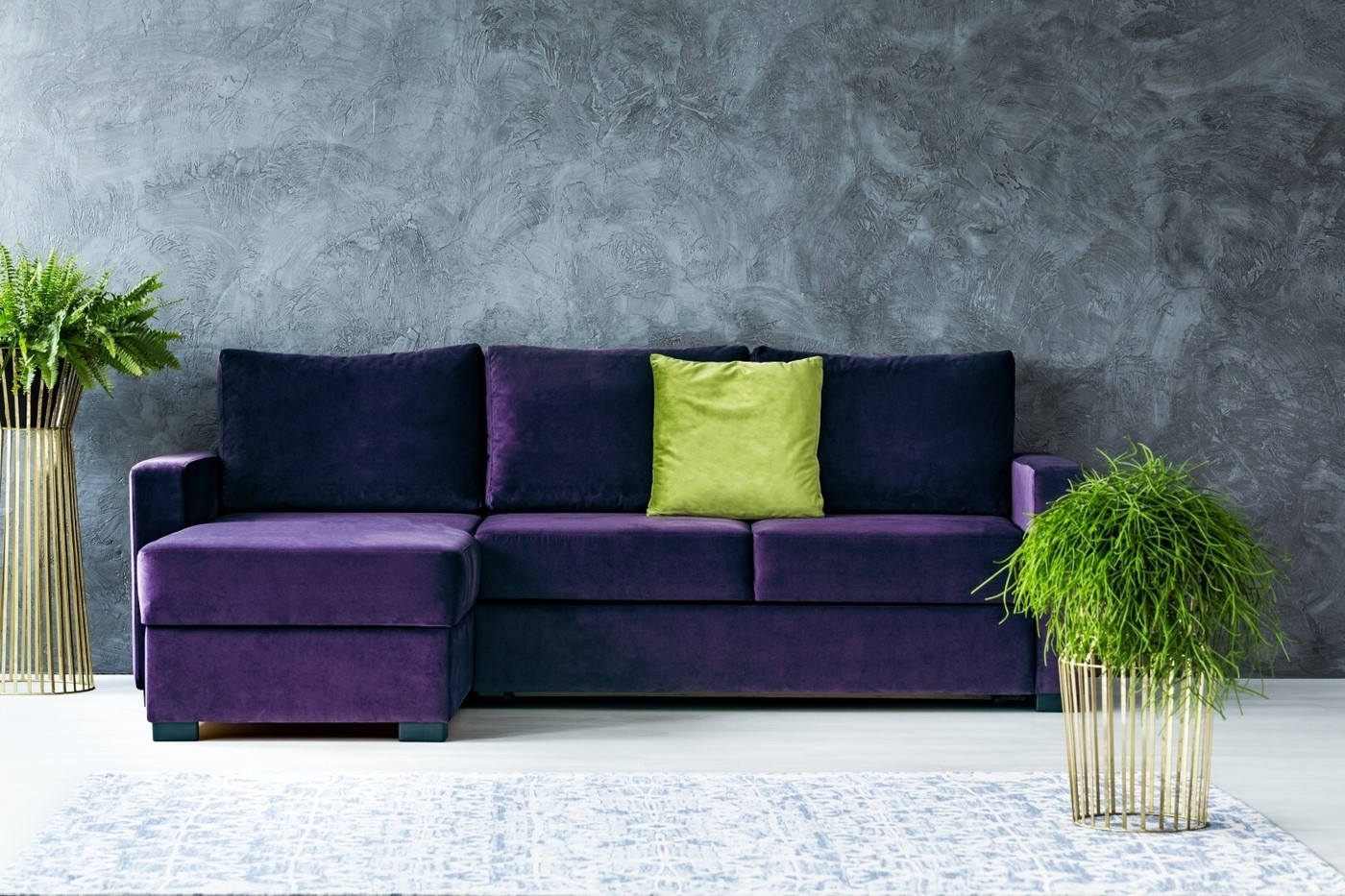 Purple + Pink
Purple and pink are a bold color combination that creates a youthful and feminine room. They work well together when balanced between jewel and pastel tones. In the room, start with white or cream walls and build the colors starting with softer shades. Use pastel purple on larger, more prominent elements, such as upholstery and drapery and add in brighter pinks in the accessories. If you're decoratating a nursery, go for the all-pastel look. Teenage girls, on the other hand, will appreciate bold accents, such as a combination of amethyst and vibrant pink against a neutral background of white walls.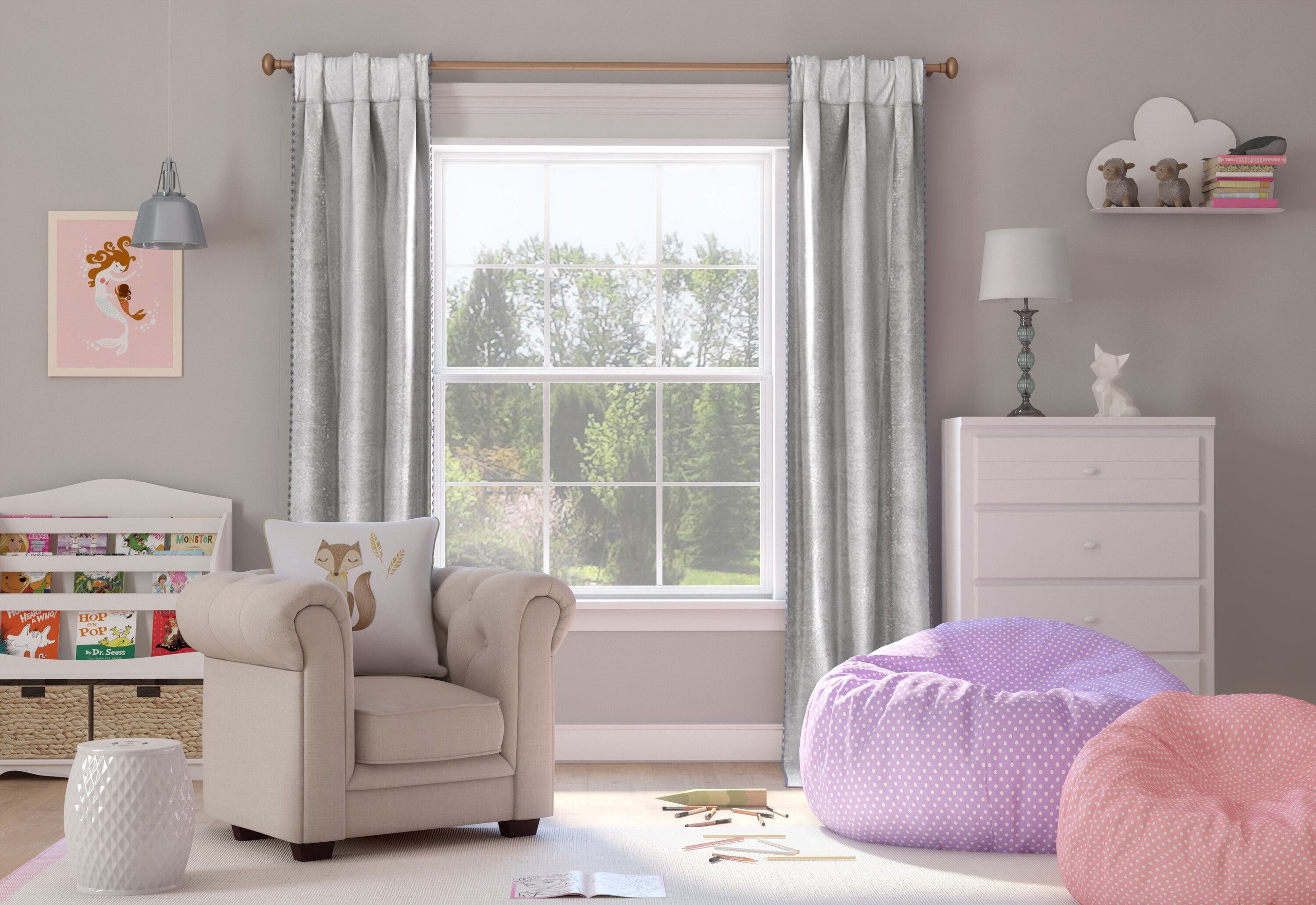 Purple + Blue
Purple and blue are analogous colors meaning they sit next to each other on the color wheel. Together they are very pleasing to the eye, but depending on the shades you choose, they will create different effects together. If you want to add punch to a room, it's important to have tonal contrast in order to build depth, warmth and richness. If blue is used as an accent, a vibrant shade will pair well with soft purples such as lavender. For a soothing, Provence-style look, mix lavender with light blue.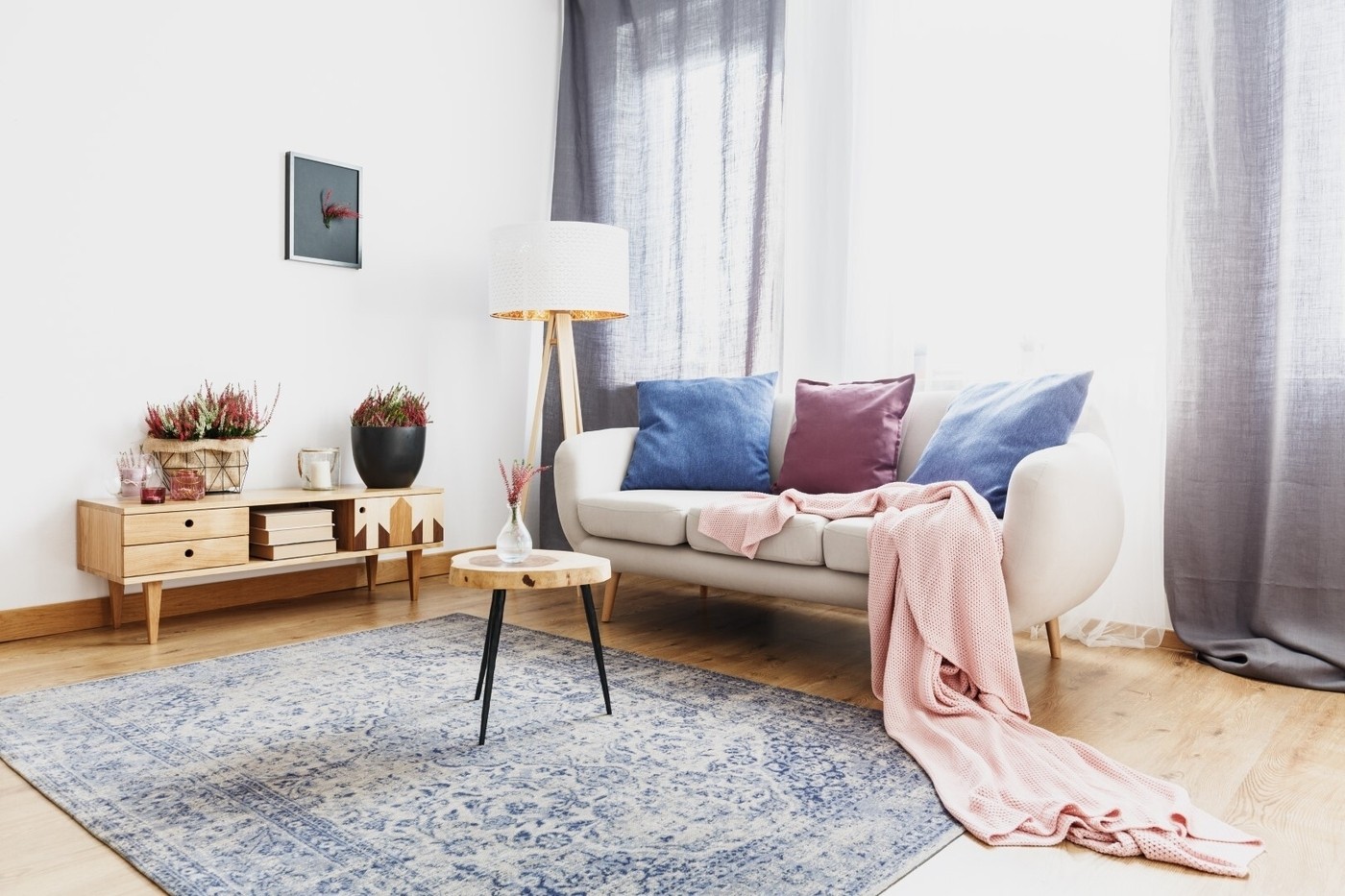 Purple + Red
Like blue, red is an analogous color to purple. This color combination is bold and fun. Red and purple are often found in oriental rugs, which provide an excellent foundation for more traditional interiors. Build on the room by pulling similar shades of red and purple up into other fabrics throughout the room. Add a third color in a varying tone to add depth and interest.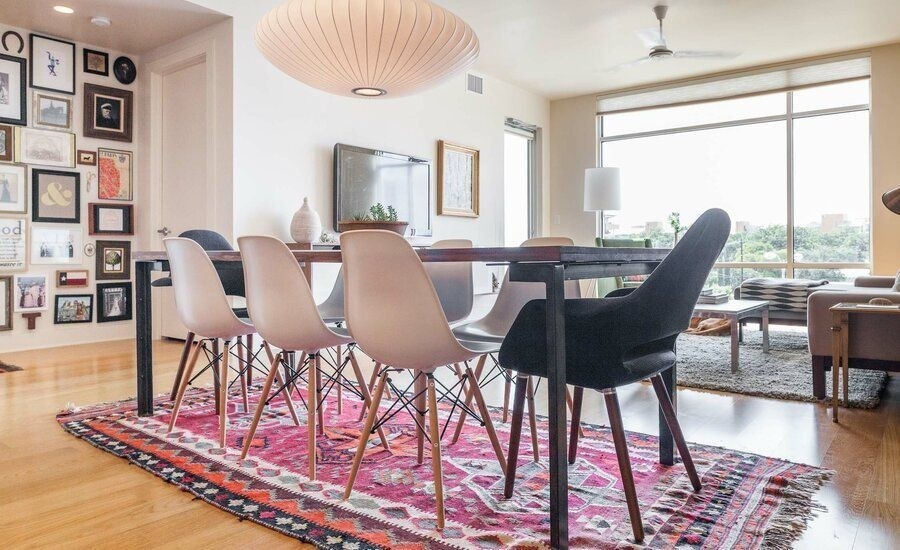 INTERESTING FACTS ABOUT THE COLOR PURPLE:
Purple is used to represent wisdom and spirituality because it is a rare occurring color in nature and often considered mysterious.

Purple became associated with wealth and royalty in ancient times when creating purple dye required a great deal of effort and expense that only very rich individuals could afford.

Visually, purple is one of the hardest colors to discriminate.