The color pink is in the midst of a major glow up. While it once leaned steadfastly feminine, the shade has expanded in versatility. The 2010s in particular revealed the true range of pink. Think the release of the Rose Gold iPhone in 2015, Pantone's 2016 Color of the Year (Rose Quartz), and the rise of Millennial Pink in 2017. And more recently, color trend reports have dubbed pink a "versatile neutral tone" that pairs well with bright, broody, and muted hues alike. (So move over, beige.)
Below, we unpack pink: why it works as a neutral and how to use it to elevate your interior spaces.
Soften pink by tinting it with white.
The most straight-forward and foolproof way to neutralize pink is by lightening it with white. And you can do this with virtually any shade of pink. Desaturating pink with white immediately increases its versatility because a lighter shade is less likely to compete with other colors in the space. At the same time, pink has far more complexity and is more interesting to look at than your average neutral shade. In addition, a soft rendition of pink will also add a subtle warmth to your space, while the white undertones will help to accentuate natural and artificial light.
If you're not quite ready to use pink in a large format way, try it out in a smaller room, such as a powder room, or in a portion of your space. A singular wall painted a muted shade of pink will brighten and individualize your space in an understated, unexpected way. Another way to brighten up your space is to use a light shade of pink for your ceiling.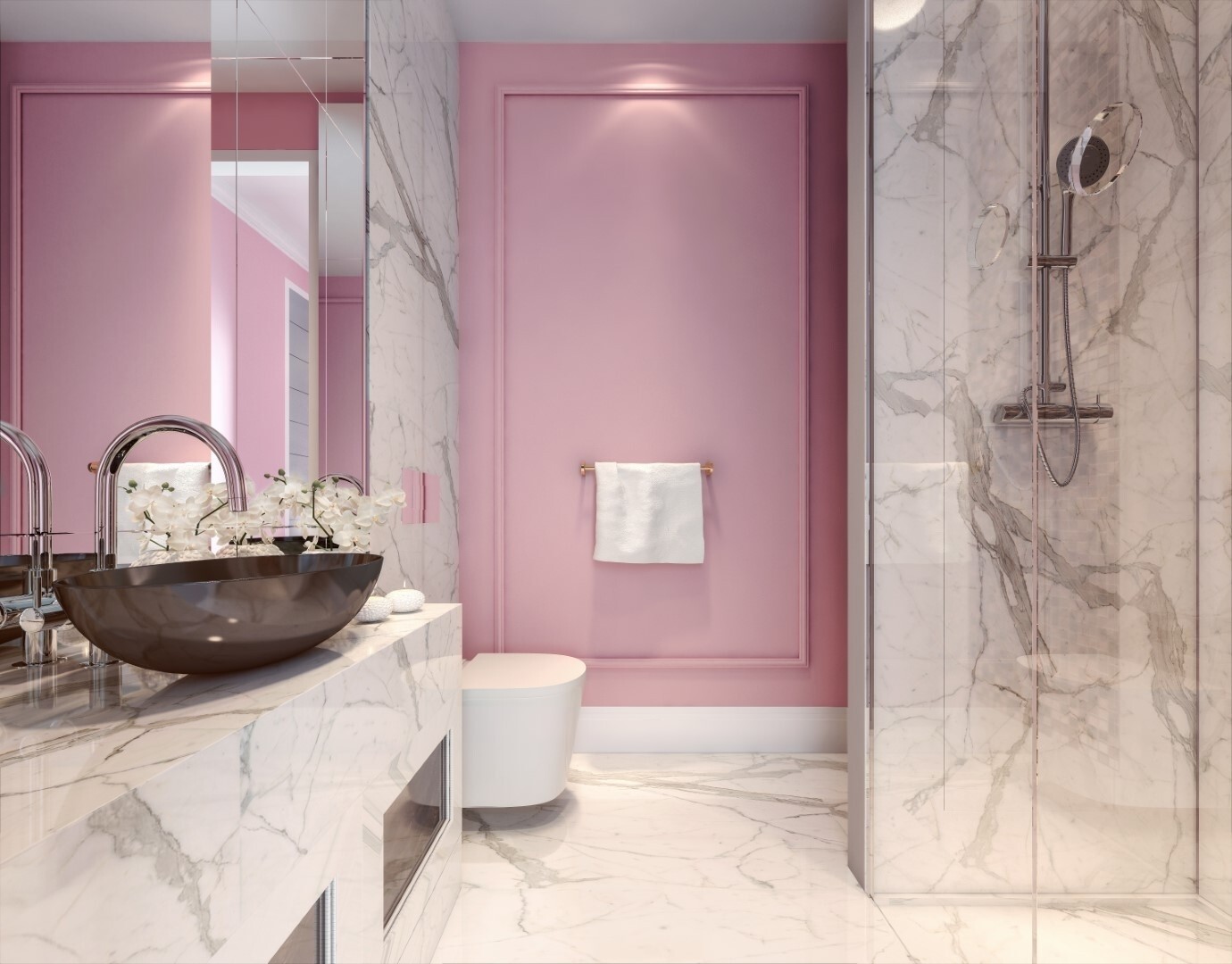 Pair pink with other neutrals…
Pink pairs with neutral colors pretty effortlessly. Pink amidst a predominantly neutral palette will uplift the other colors, lending a sense of vibrancy and youthfulness to the palette. And because there is a slight artificialness to pink, it also adds a nice sense of contrast when paired alongside colors that err organic and earthy. Think pink and taupe, pink and beige, and pink and brown.
Another color partnership that just seems to work is pink and gray. In spaces that are associated with rest and tranquility (for instance, a nursery), the combination of pink and gray exudes a sense of peacefulness and calm.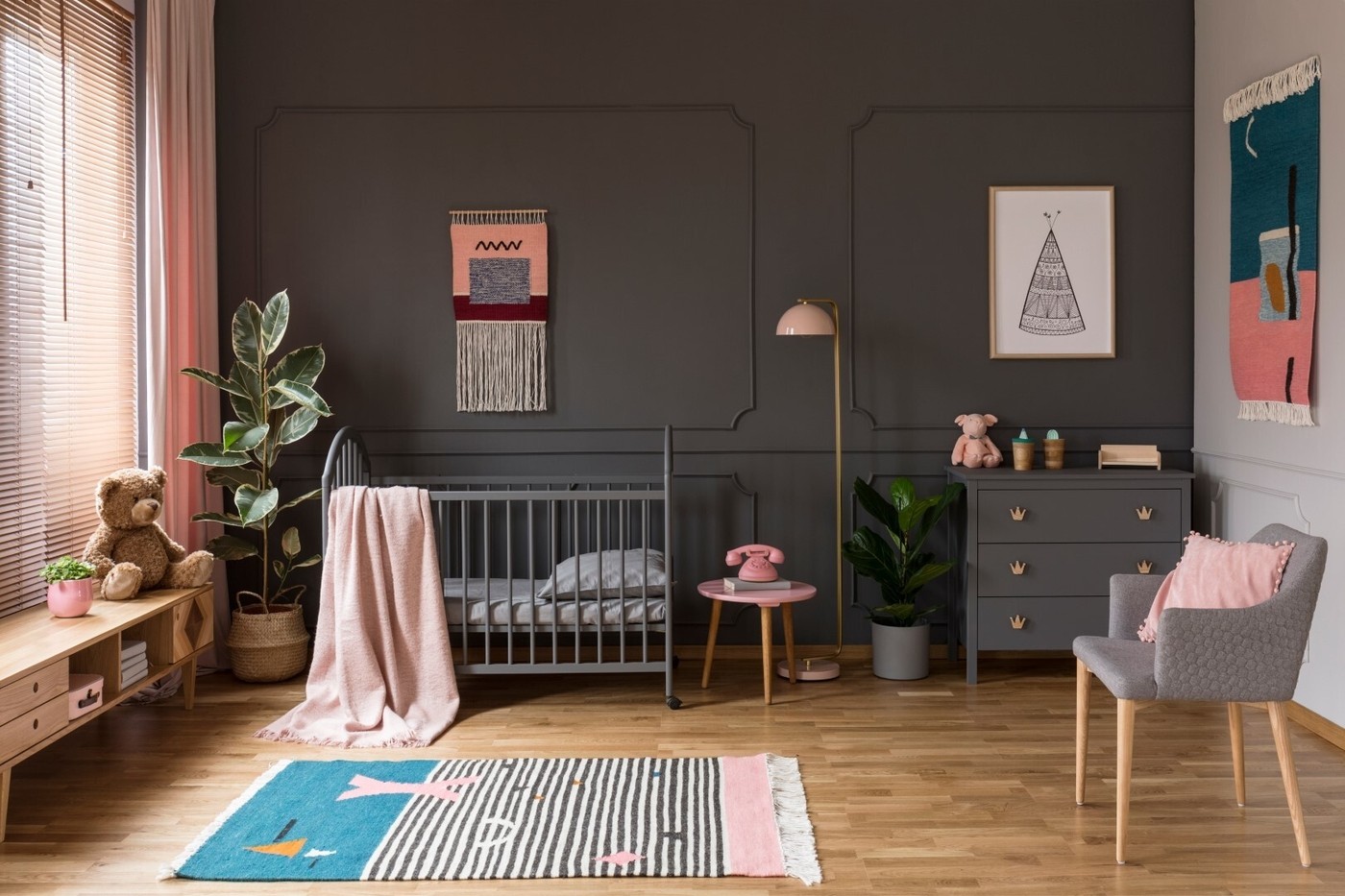 …or with something brighter…
Conversely, pink can help more saturated colors to really pop. In particular, pink pairs well with green tones. This is for a few reasons. First off, we tend to see a lot of pink and green in nature, and as such, the color combo's appeal is somewhat inherent. Additionally, pink and green sit across from each other on the color wheel. Because they are complementary colors, they tend to make a high impact when used side-by-side.
The type of green you use depends on your space. For instance, if you're hoping to dial up the drama of a spacious dining room, you might want to consider the combination of pink and bottle green. Meanwhile, a smaller interior space will benefit from pink alongside a bright shade of green, such as teal or emerald green.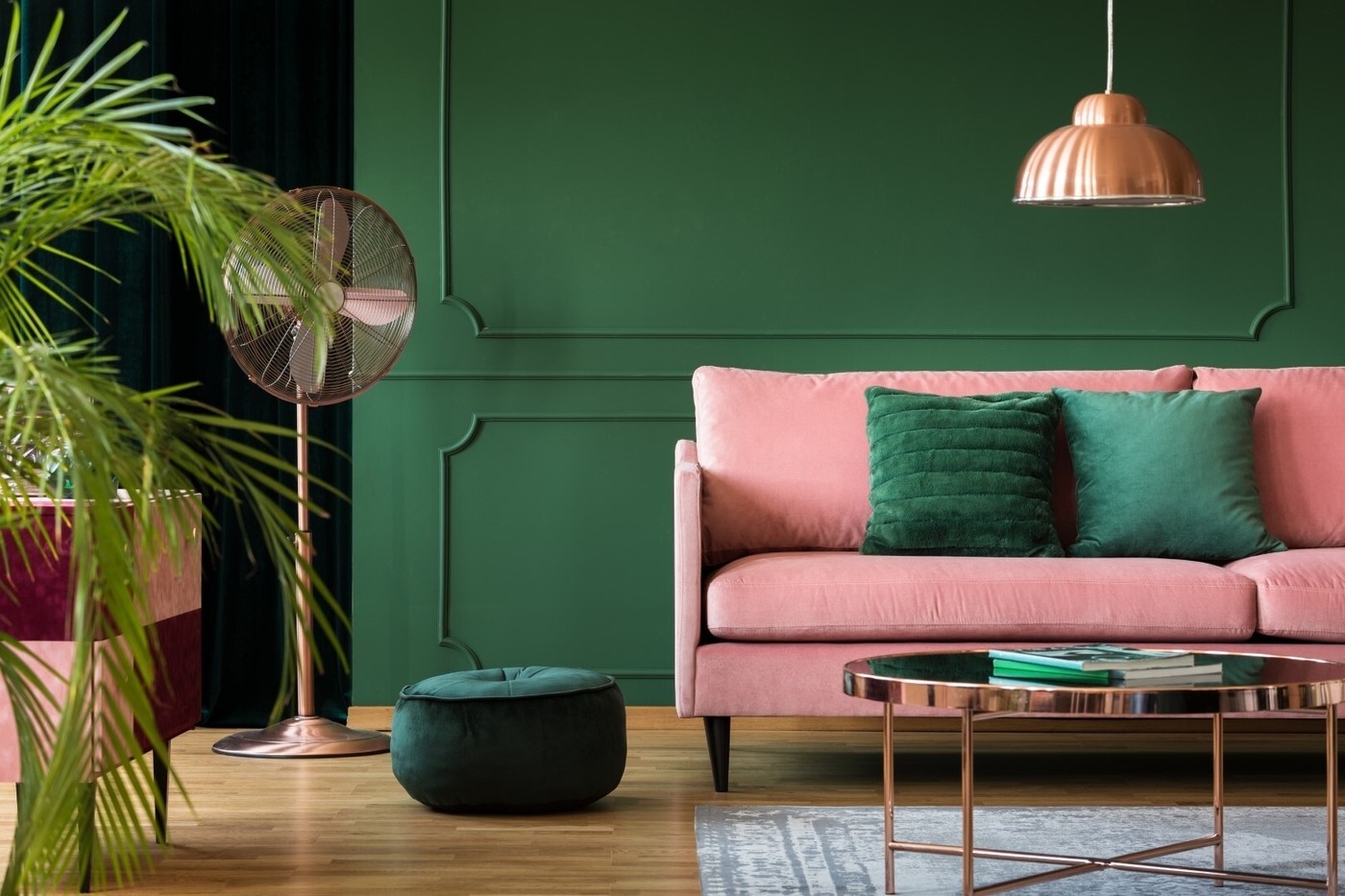 …or with black, but not white!
Okay, now, let's talk about pink and black. Although black probably isn't the color companion that immediately comes to mind for pink, that unexpectedness is actually what makes the color combination sing. In addition to being a striking duo, pink and black have an inherent sense of visual balance. While there's a softness and airiness to pink, there's a hardness and heaviness to black. When used in tandem, each color supplements what the other color lacks.
In a space that utilizes pink in a large-format way, black can be used in an accenting way. For instance, black wainscoting against a blush-colored wall. Using black in selective way will lend a sense of depth and maturity to the pink, without outshining the pink altogether.
Conversely, avoid using too much white alongside pink, if your goal is to use pink as a neutral. When pink is side-by-side with white, it will come off more pronounced, which will undermine pink's neutrality.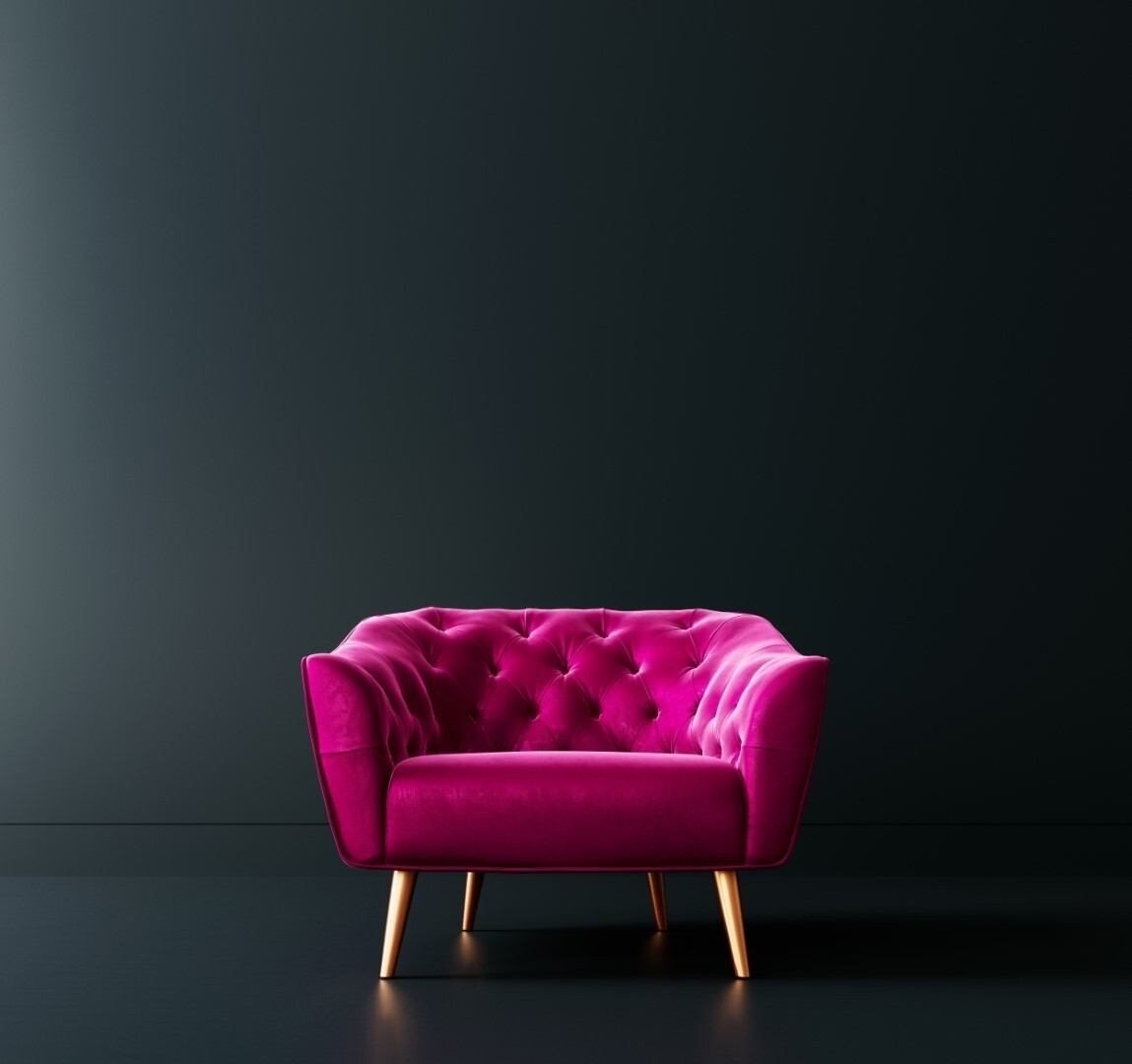 Pink and warm metallics go hand-in-hand.
Similar to how pink can uplift a palette of muted neutrals, metallics can help to uplift pink. And while pink works well with both warm- and cool-toned metallics, warm metallics, such as copper and gold, lend themselves especially well to pink. Think a mirror with a brushed gold border against a blush-colored wall, or copper knobs on a light pink armoire.
To balance the brightness of metallic finishes, you'll want to invite like-toned finishes into your space as well. If you're opting for pink and warm metallics, make sure to use warm neutrals and wood tones to balance the warmth of your copper or gold. On the other hand, cool metallics, such as steel and silver, are best balanced by shades of gray and white.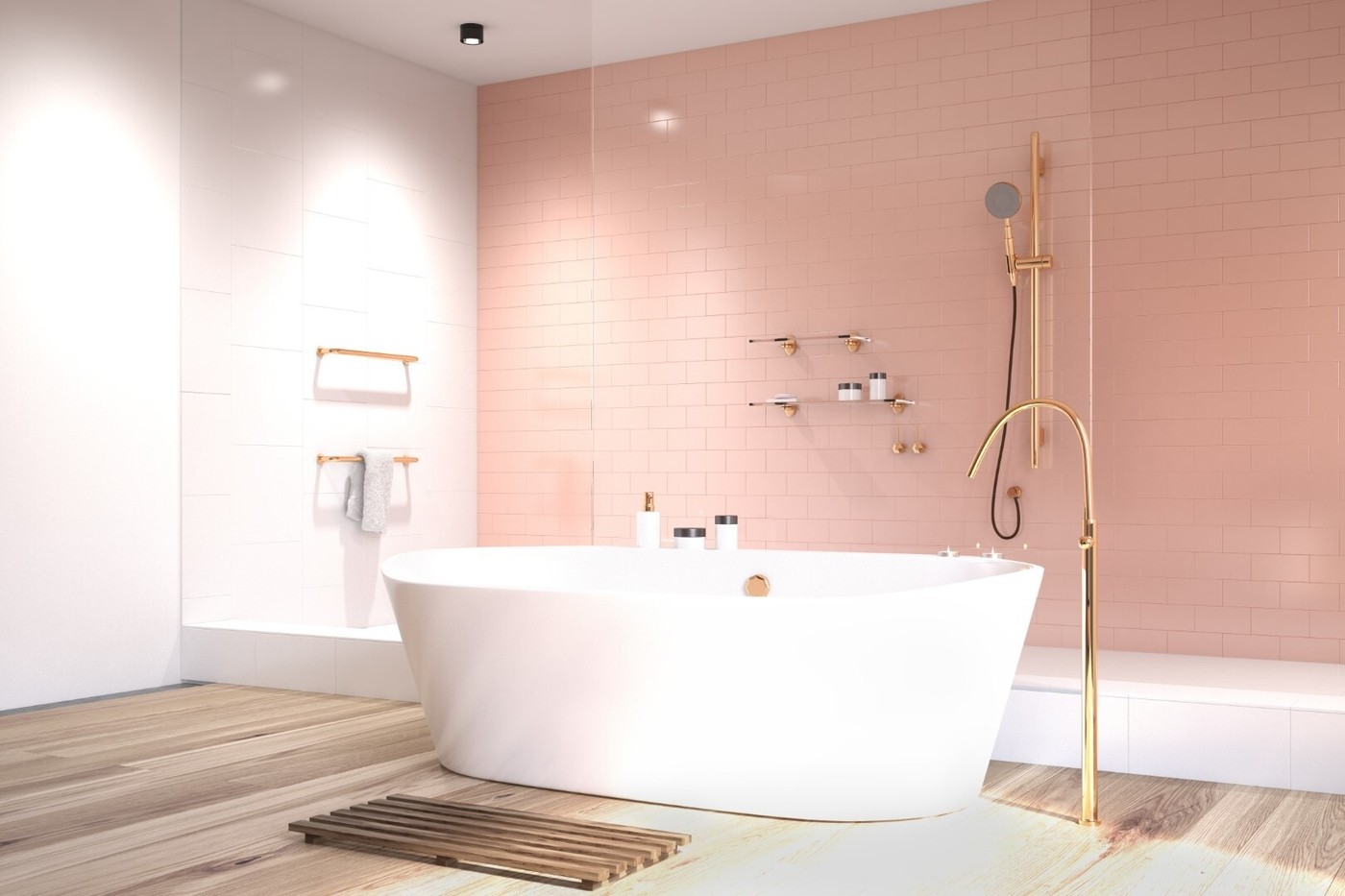 Utilize texture and pattern, but avoid feminine clichés.
Texture-use is a great way to lend tactility and dimensionality to your interior spaces. With that said, pink is a color that tends to read feminine, so unless your goal is to create an overtly feminine space, you'll want to be judicious with your use of things like lace, chintz, ruffles, tassels, and floral patterns. Instead, consider textures and patterns that are clean, sleek, and edgy, such as leather, marbling, and houndstooth.
Additionally, if you're looking for a way to tone down the femininity of pink, consider using a pink with peach tones, and then accenting it with black, gray, and/or olive green.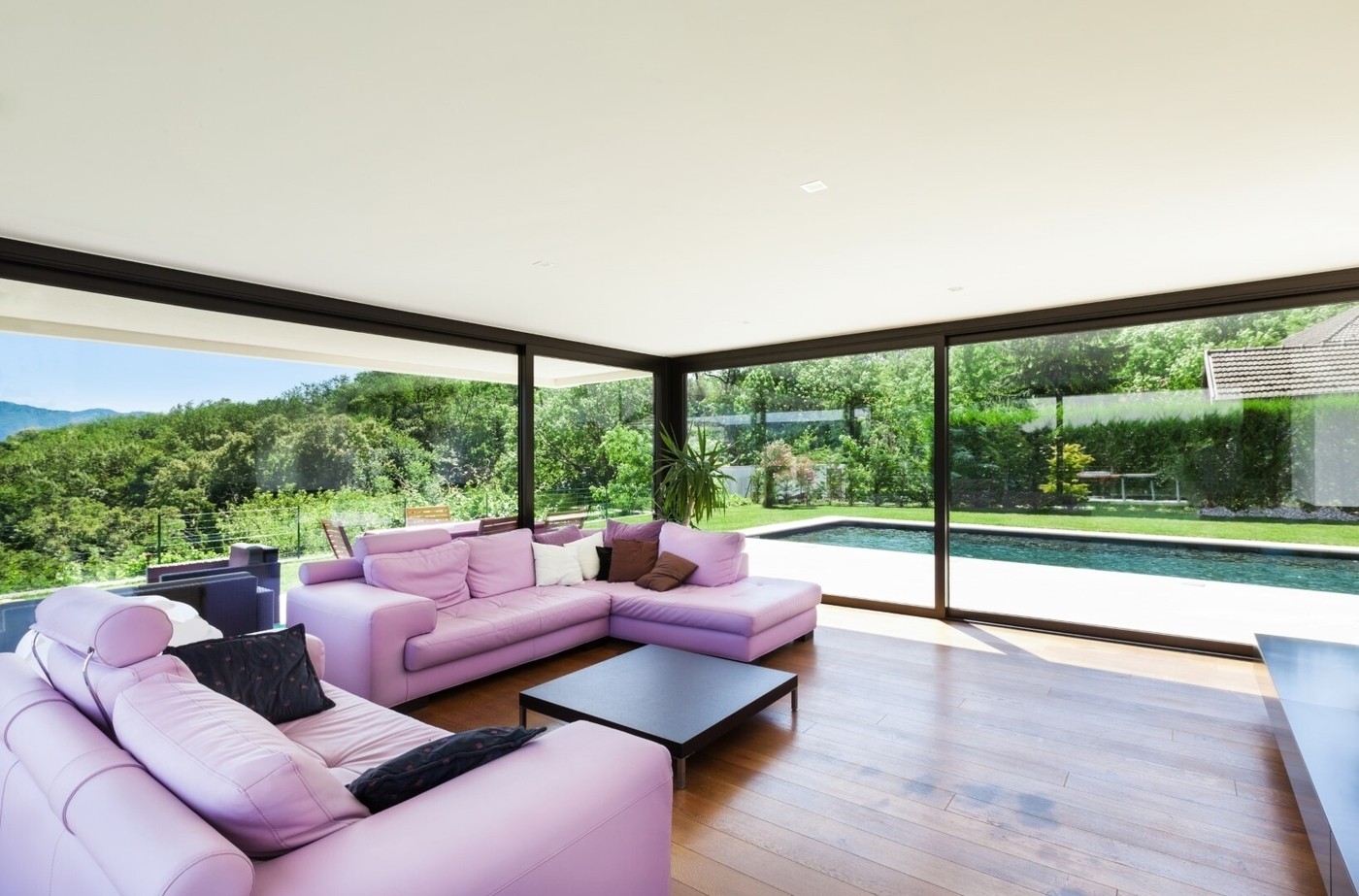 And finally, know when not to use pink.
Because pink is such a versatile color, it can be used generously in practically any interior space. With that said, one space that might not benefit from a large-format use of pink is the kitchen. And this is because kitchens are such a huge component of a home's overall resale value. As such, if you're concerned about your home's marketability right now or down the line, it's almost always better to stick to a classic color palette for your kitchen.
With that said, you don't have to use a lot of pink in order to get the positive impacts of the color. Consider using pink in small and accenting ways within your kitchen—for instance, in the form of linens, cabinetry lining, artworks, or fresh flowers.