A delicate and friendly color with a quiet tone, lavender conjures a sense of serenity and positivity for a deeply restorative space.
Lavender is reclaiming its title as an on-trend, sought-after color in interior design. The captivating tint, named after the aromatic flower, can be described as a pale purple with a prominent blue undertone. This is not to be mistaken for lilac which has a distinctly pink undertone in comparison. The floral shade conjures images of dancing purple fields and a sweet scent floating in the summer breeze. The elegant color is not too stark nor overbearing and makes a soothing backdrop and gentle accent. Its rest-inducing qualities make it the perfect hue for bedrooms and bathrooms.
What is the Psychology of Lavender?
Lavender flowers' pleasurable floral aroma relaxes the body, alleviates tension, and reduces anxiety. Lavender's properties have been used for centuries in herbal medicine, aromatherapy, and spiritual ceremonies. Because of this, our minds have learned to associate the blue-purple shade with healing, relaxation, and purity, evoking the same soothing effect as the plant.
Lavender is often associated with femininity, cleanliness, and purity. Its caring and nurturing essence pairs generously with other colors since it never competes for attention. Lavender's coolness induces sleep, but a stronger shade can be used to add an optimistic and uplifting vibe to any space.
What are the Best Ways to Use Lavender in Your Home?
Introduce lavender textiles, such as cushions, curtains, drapes, and throws, to inject a sense of warmth and coziness into modern interiors.

Add a lavender accent wall. An all-lavender room can feel overwhelming for some. For a more gentle approach, paint one wall and echo the sophisticated shade around the room with lavender accessories.

Lavender is a timeless nursery favorite and gender-neutral color. Use it on walls and ceilings to create an oasis of calm and induce restful sleep.

Inject an element of surprise into your kitchen with lavender furniture, such as kitchen cabinets, countertops, and dining chairs.

Incorporate lavender accessories to add interest and depth to neutral color schemes.

Use a muted shade of lavender as a neutral for an understated yet serene look.
What Colors Go with Lavender?
Lavender is a versatile tone that pairs effortlessly with a wide variety of colors and embellishes both modern and classic interiors. Thanks to its descent from royal purple, lavender exudes sophistication and elegance. Follow these color pairing suggestions to learn how to implement a lavender color scheme into your home.
Lavender + Yellow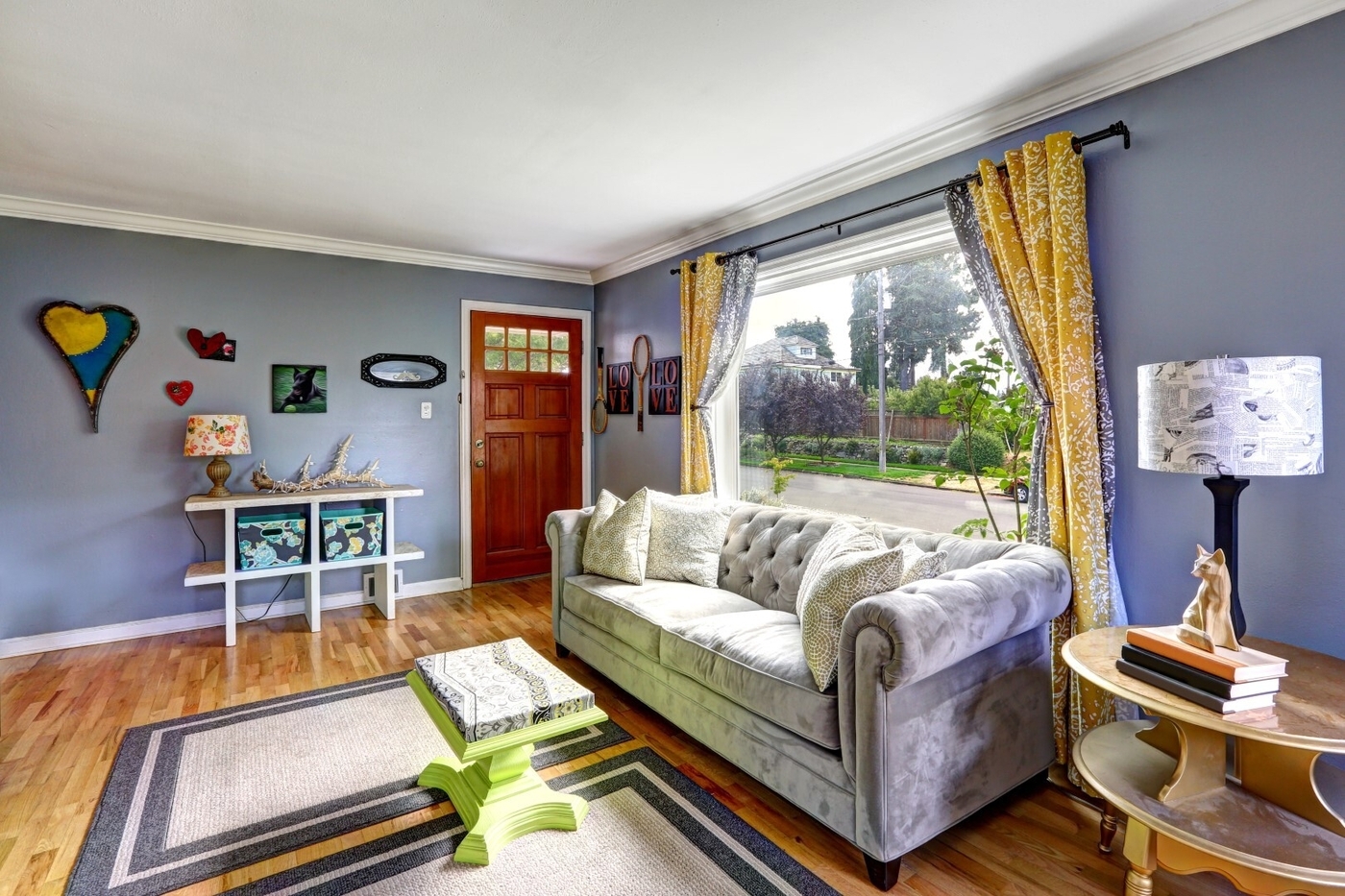 Sat opposite each other on the color wheel, lavender and yellow are complementary colors that create a bright and vibrant contrast. Bright, sunny yellow accents energize a dominant lavender scheme and create a sense of excitement and vigor. For a more serene feel and look, opt for a lower saturation with pastel tones of both colors. Add warmth and texture to the scheme with natural wooden finishes, furniture, and floor panels.
Lavender + Green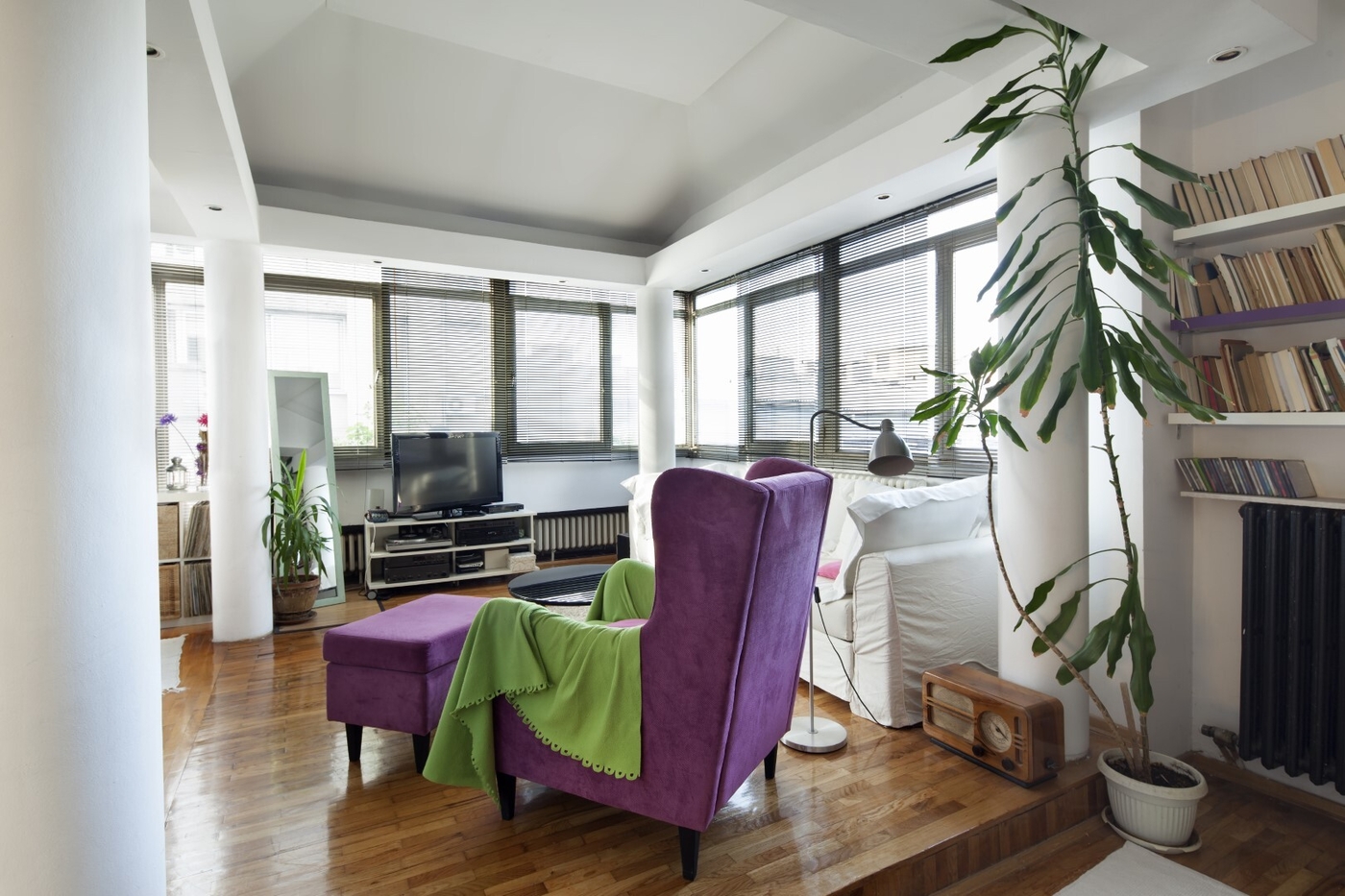 A harmonious pairing by nature, lavender combinesbeautifully with all shades of green, from pale mint or zingy lime to dark forest green. The tertiary colors are sat at opposite ends of the color wheel and balance each other out in perfect harmony. More saturated tones will infuse the space with energy and vigor. Or, if you want a tranquil atmosphere, opt for paler shades. Both colors work equally well as a base or accent, so the prominent hue comes down to personal preference.
Lavender + Pink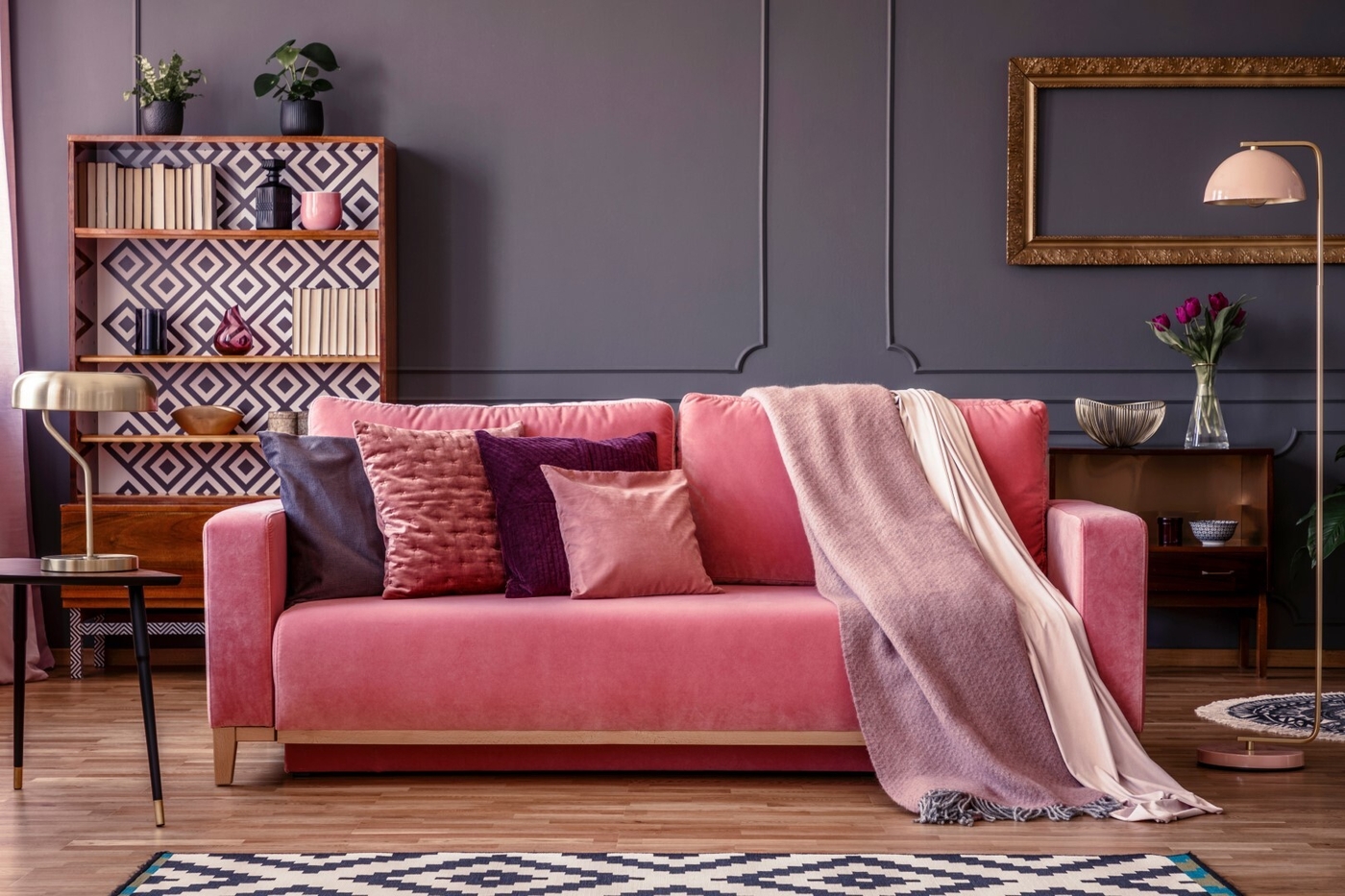 Pink and lavender have a feminine and delicate feel. The 60-30-10 rule is a good way to balance a design with pink and lavender without the colors competing for attention. Start by introducing a misty dark gray as the foundation color, occupying 60% of the color scheme. Then add 30% vibrant pink with a statement furniture piece such as an upholstered bed frame or couch, and top it off with 10% of lavender accents, such as throws, cushions, ornaments, and other accessories and textiles.
Lavender + Turquoise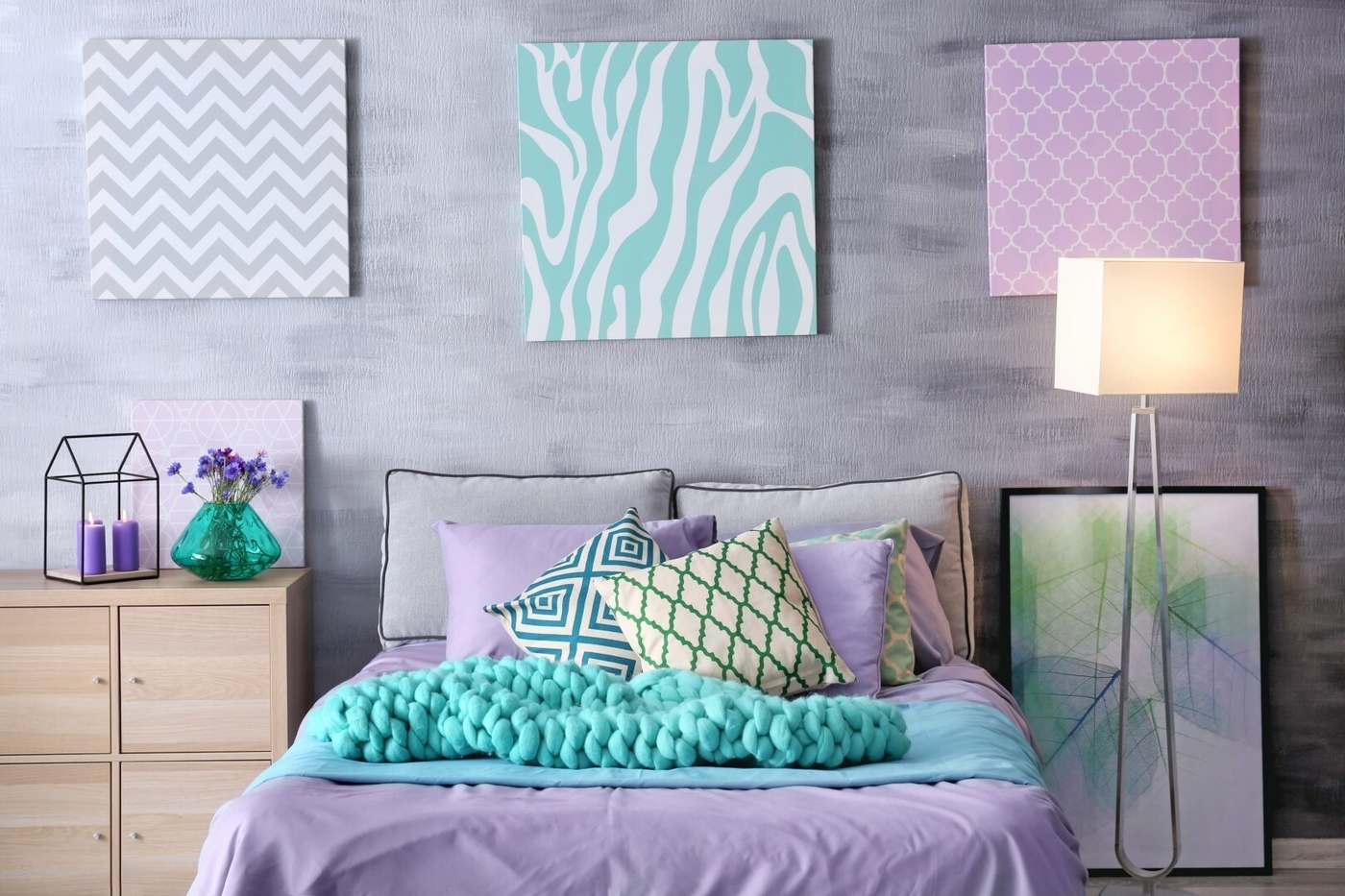 Turquoise and lavender are a refreshing and effervescent combination. The intensity of turquoise livens up the calmer lavender tones. However, turquoise can be overwhelming when used in large proportions. Instead, introduce it as an accent color through accessories and upholstery, such as vases, artwork, bedding, lamp shades, and curtains.
Lavender + Brown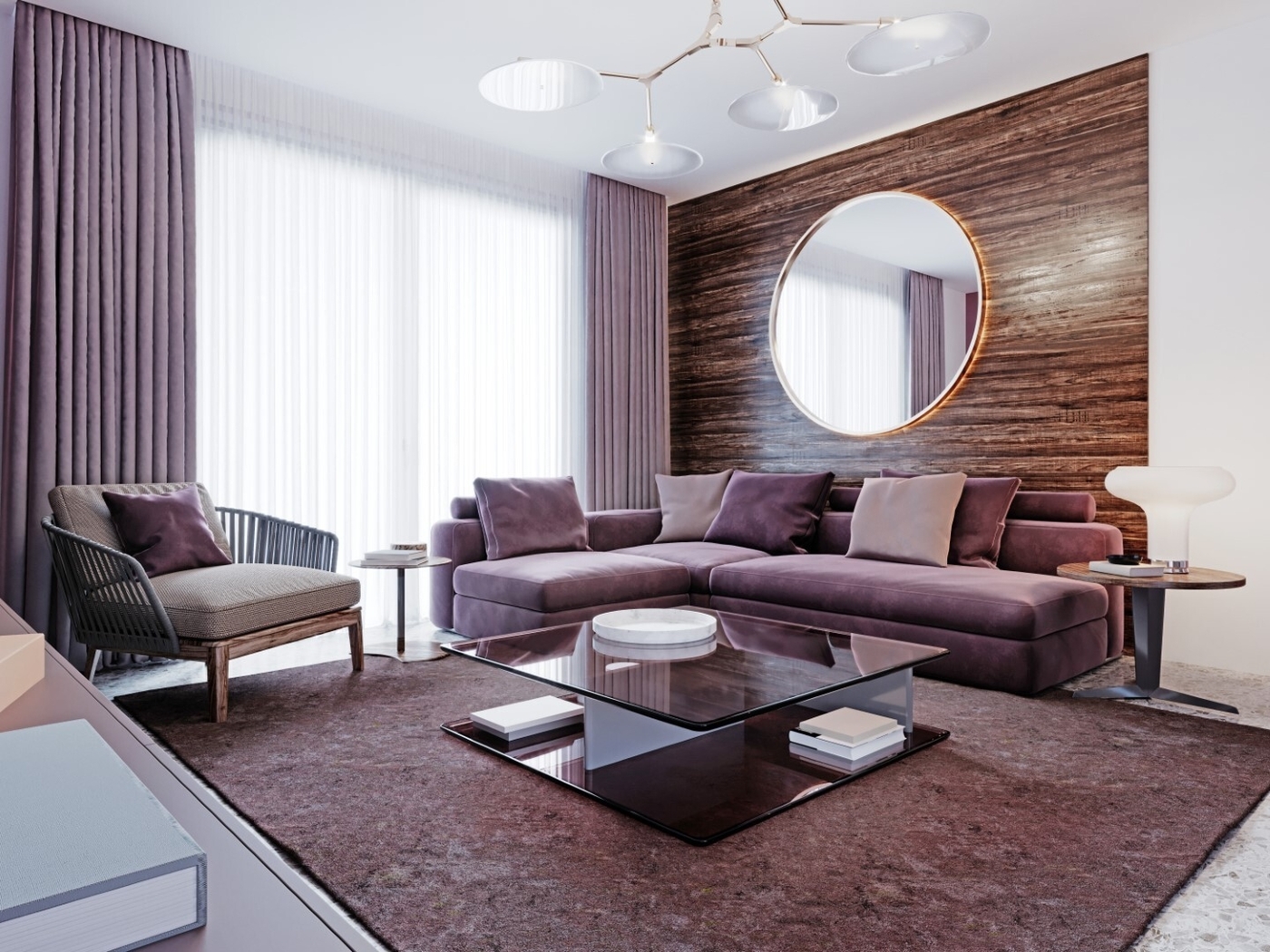 Rich chocolate brown grounds the ethereal lavender shades. The earthy tones balance out the floral hue, creating a welcoming sense of warmth and comfort. Pair dark wood furniture and floor panels with lavender textiles and accent pieces to create a cozy retreat. Use measured doses of brown and throw some white into the mix to keep the space feeling lively, bright, and airy.
Lavender + Blue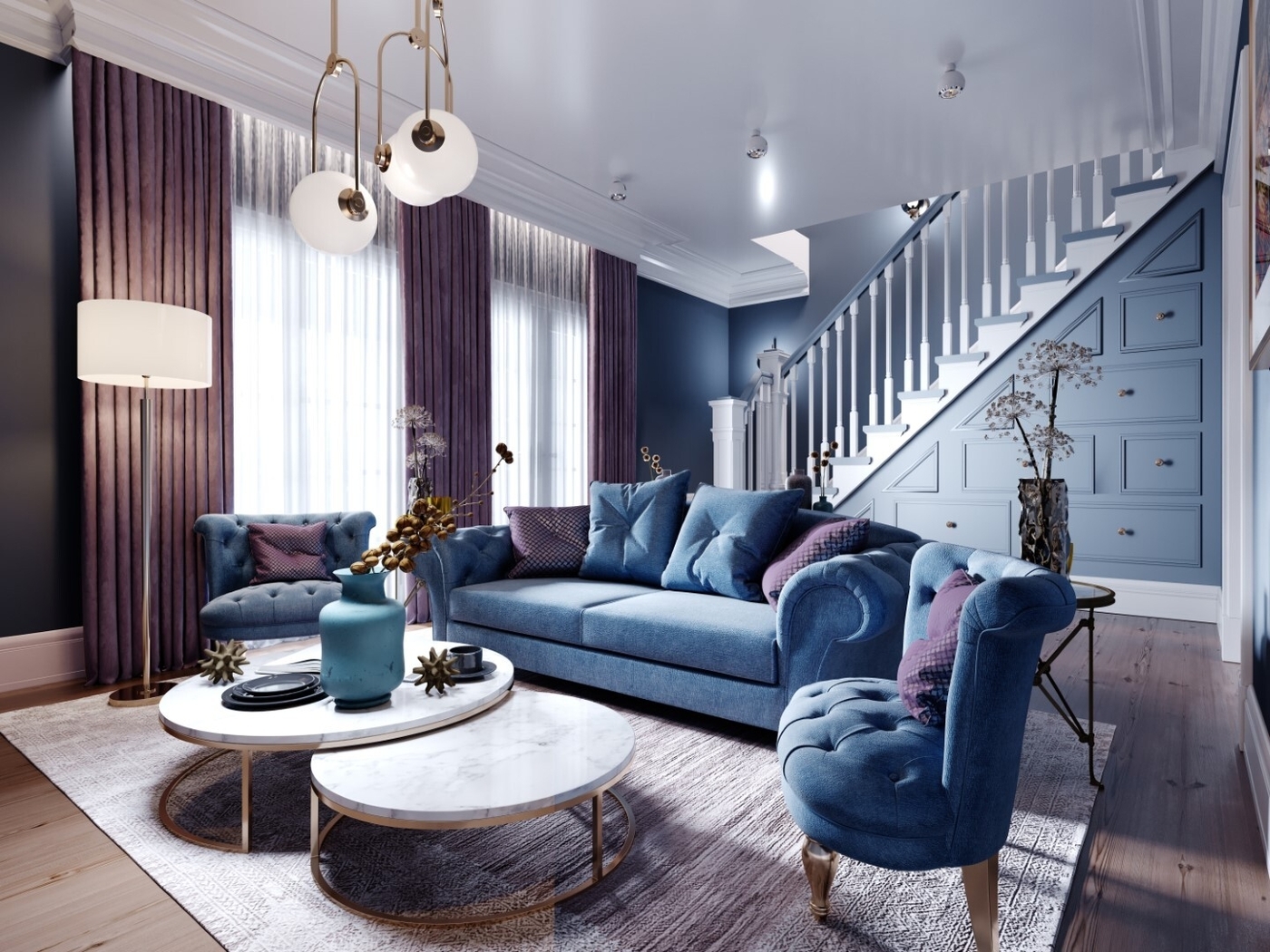 Inspired by an analogous color scheme, playing with tones of blue, violet, and lavender can result in a moody, sophisticated, and relaxing ensemble. To avoid overdoing the winter vibe, add in small touches of white through accessories or furniture, such as a marble coffee table. Pale shades of lavender highlight the depth of navy blue. Play with striped patterns in these tones to add texture and depth to the room. If the room is north-facing natural light will bring out lavender's blue undertones.
Lavender + Classic Beige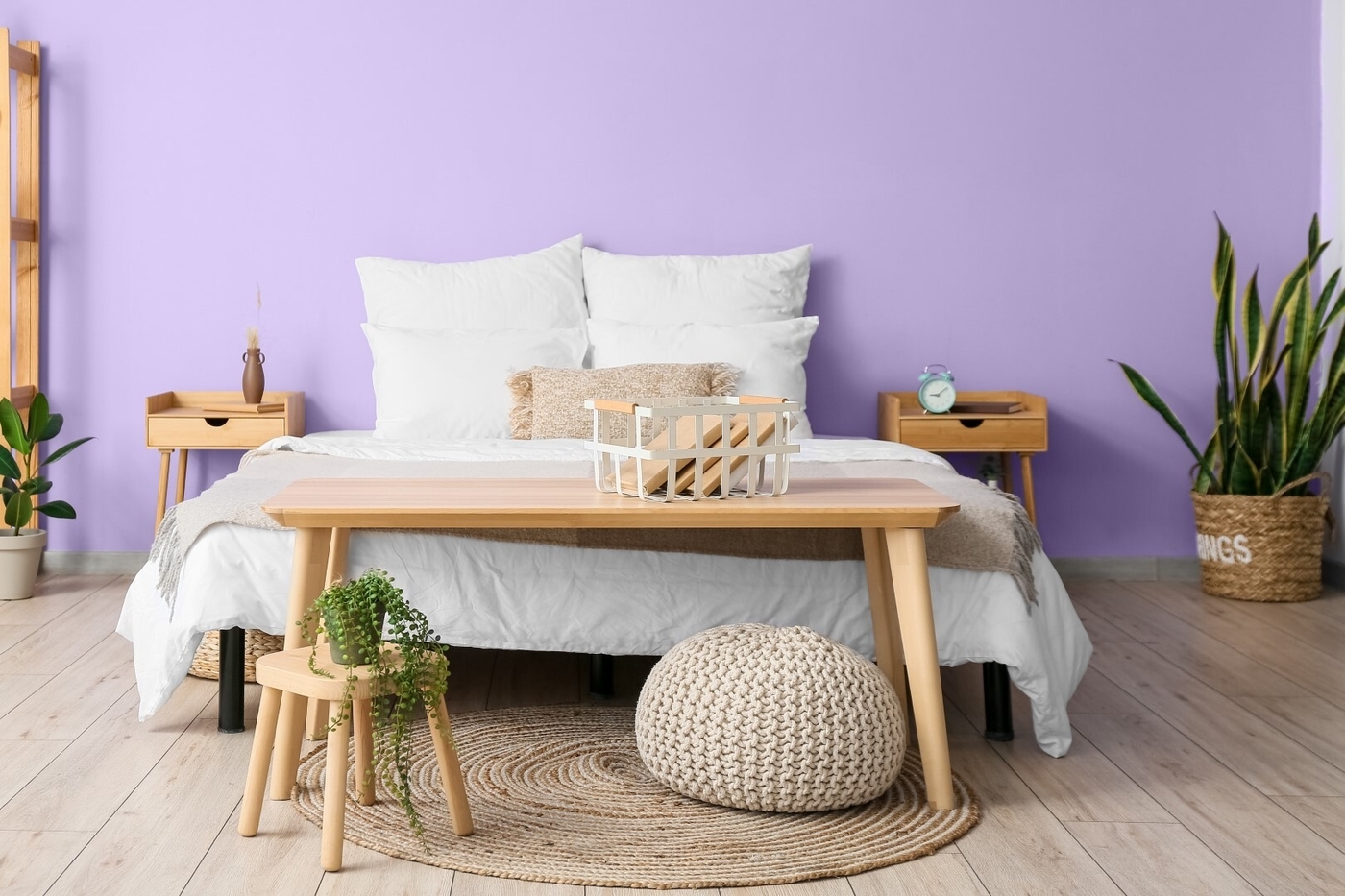 Liven up a neutral scheme with a touch of lavender. Beige schemes often lack character and feel flat and uninviting, so a pop of lavender is a great way to add depth and interest. The color's cool undertones balance out warm neutral shades, though a low-saturation lavender shade could also be used as an unexpected neutral itself. Create a sanctuary of calm with a lavender accent wall and add texture and richness to the decor with rattan rugs and a natural woven blanket.
Lavender + Elegant Gray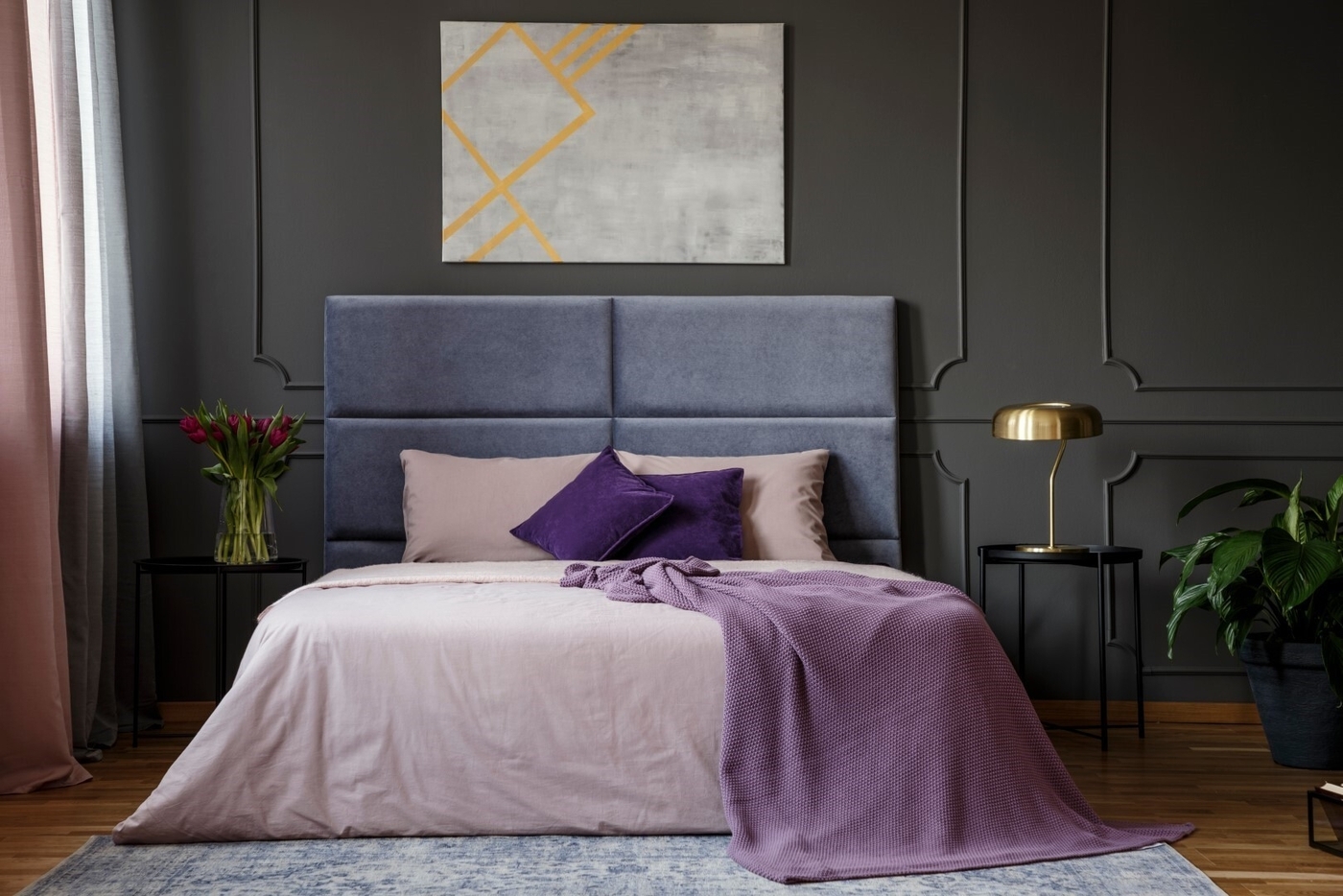 Lavender combined with gray and accents of dark purple creates a luxuriously chic and seductive bedroom decor. Cover the walls in an elegant shade of gray and add contrast by dressing the bed in lavender sheets. Dashes of rich purple will invigorate the space without fighting for attention. The result is a room that lets you exhale the pressures of the day and give in to a well-deserved rest.
Lavender + White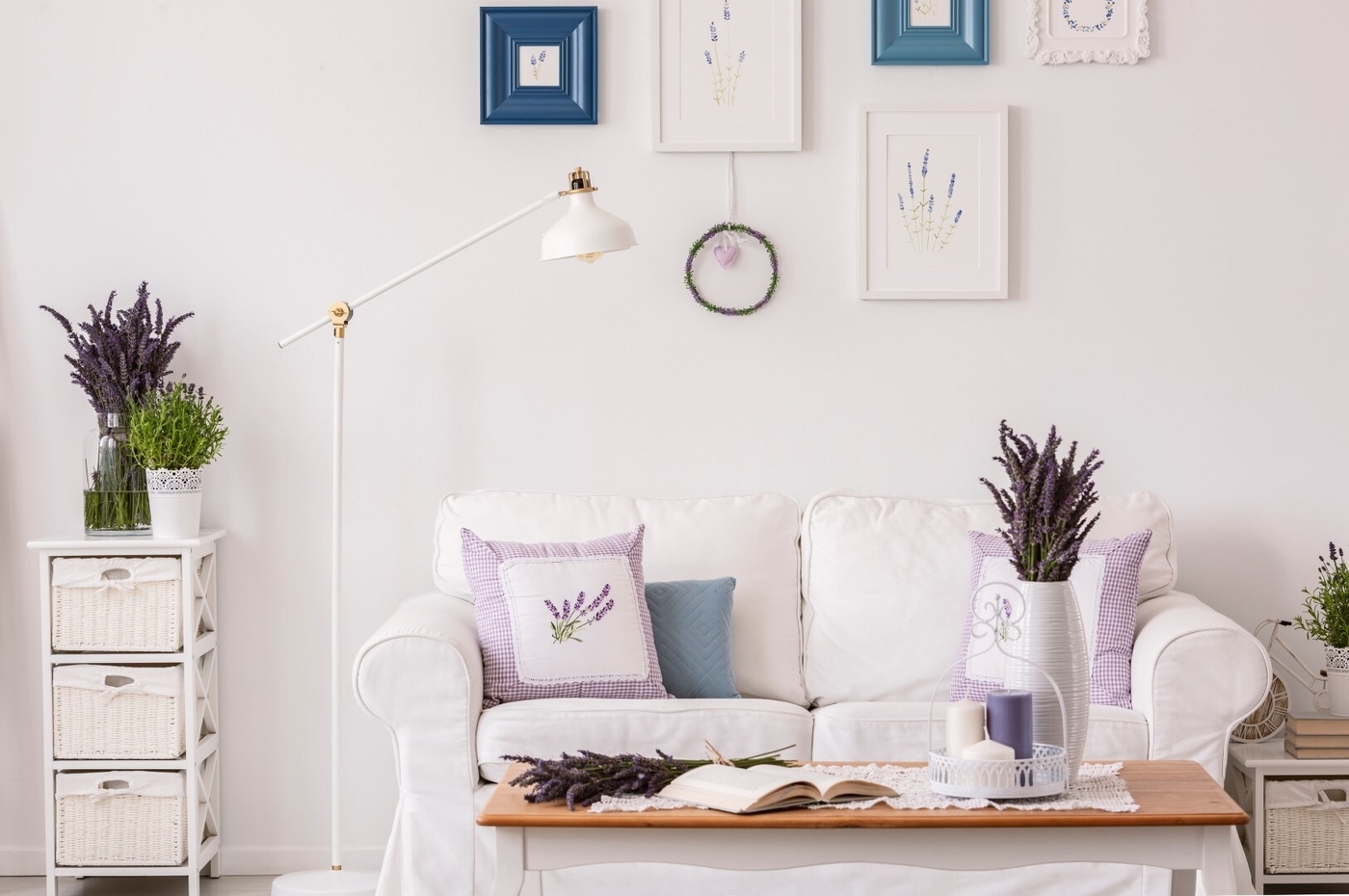 White creates a feeling of spaciousness, freshness, purity, serenity, and peace, and this spa-like aesthetic is further enhanced when coupled with lavender. White walls heighten the awareness of a space's proportions and its inherent qualities and bounce natural light around the room. Lavender accents help to ground the ethereal scheme, such as with scatter cushions, candles, or even a fragrant vase of fresh lavender. White and lavender are delicate color pairings that work particularly well in bathrooms.
Lavender + Silver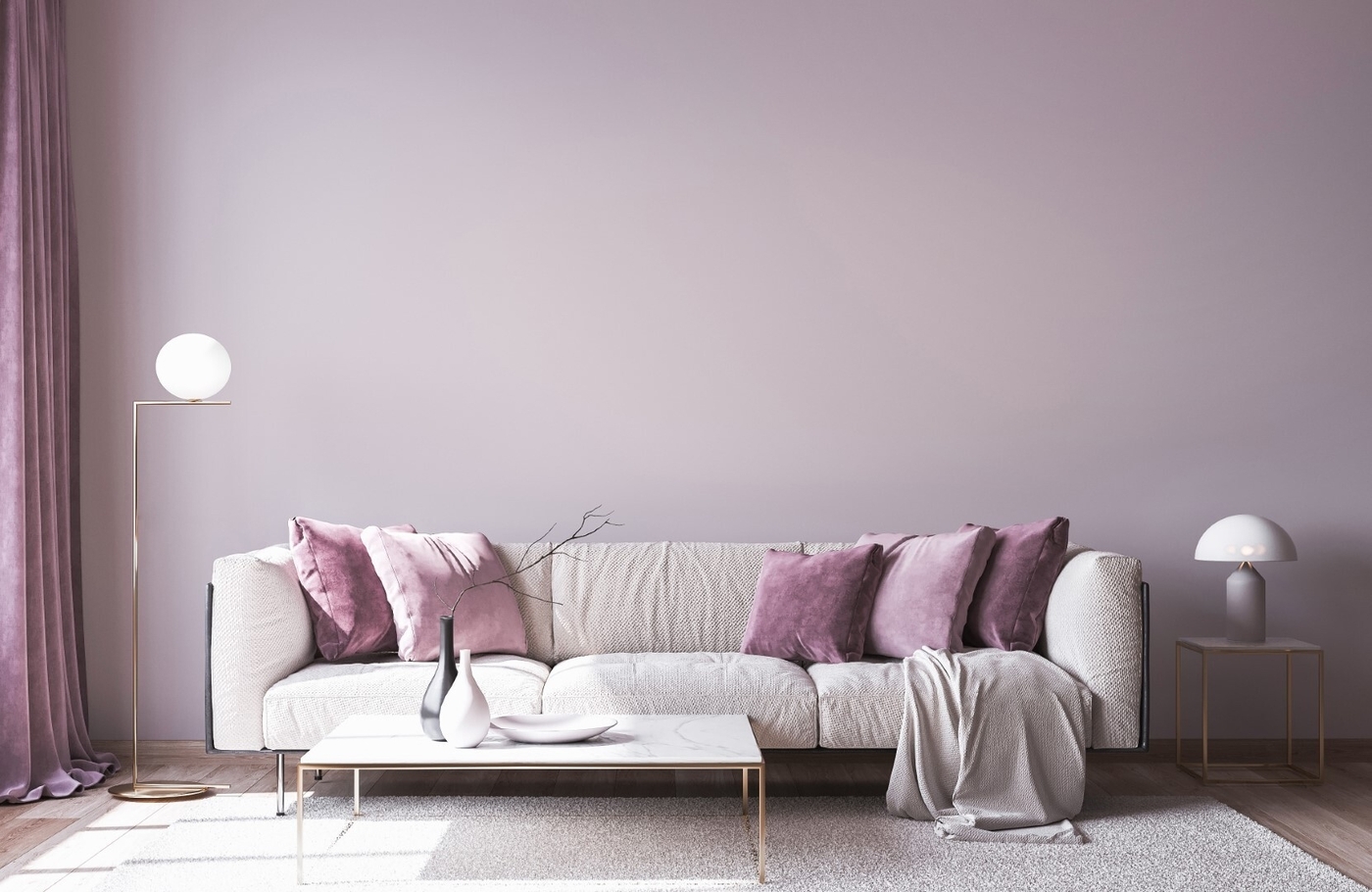 Introduce silver accents to make your lavender decor shine. Apply the 60-30-10 rule when designing with these two colors. For a calming, elegant, and contemporary living room decor, add 60% of a gentle shade of lavender as the base color, then add 30% of white through key furniture pieces, such as a sofa and coffee table. Finally, incorporate 10% of silver accents. Opt for a range of sleek silver mirrors, minimalist ornaments, modern lamps, and silver accented furniture, and strategically place them around the room in equal measure. Add further dimension with luxurious textures like velvet scatter cushions arranged in a gradient of lavender tints.
Lavender + Gold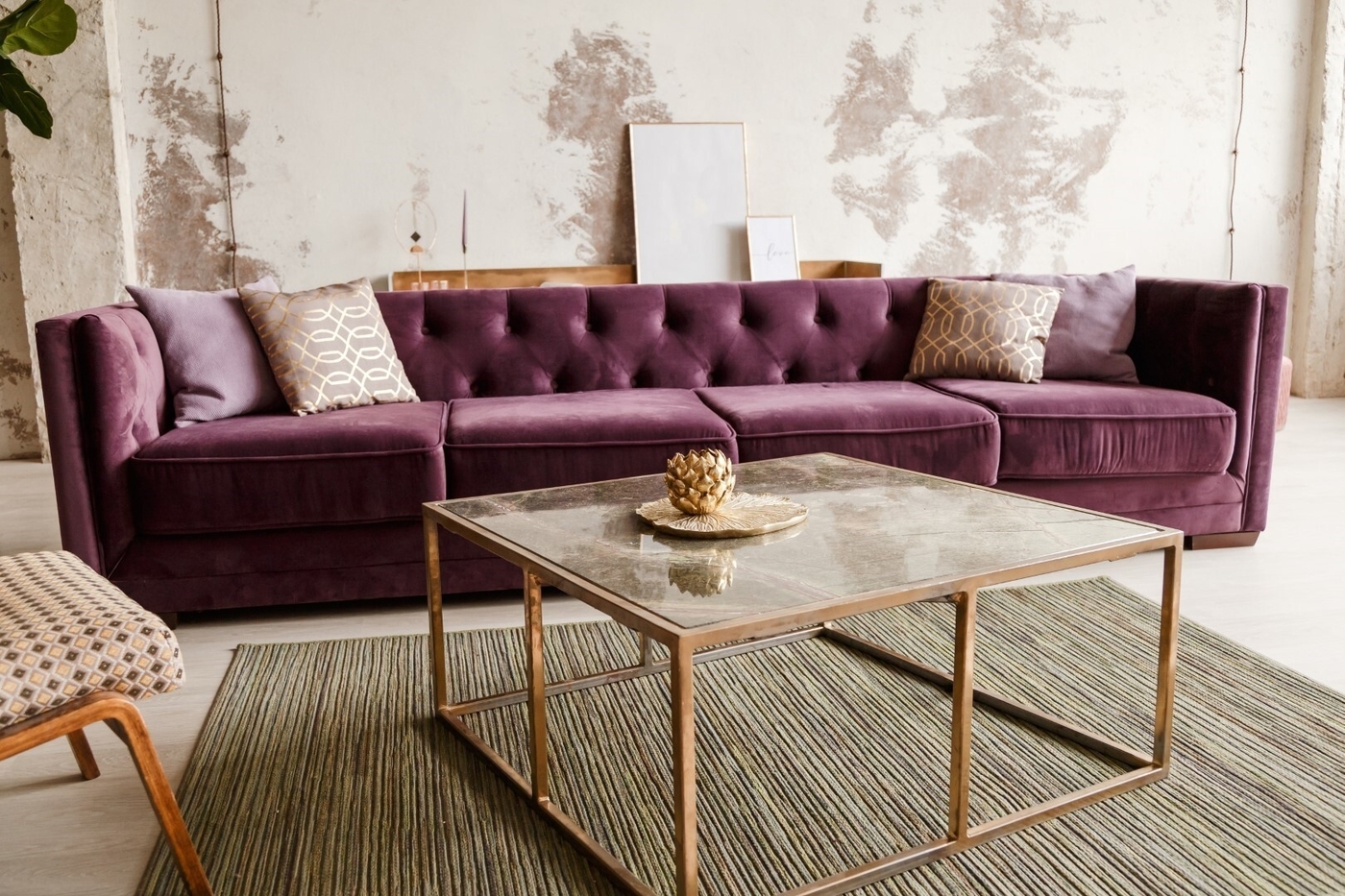 Gold and lavender create a very different feel to a space compared to silver. Golden sheens emit warmth and a sense of glamor that can't help but infect cooler lavender shades. Polished golden accents paired with dark shades of lavender are a charming combination for an Art Deco-style room. A striking velvet sofa in a rich lavender shade is a sure way to bring the wow factor into a space. Make it sing by pairing it with polished golden accents, such as an oversized floor lamp or stylish coffee table.
Lavender + Red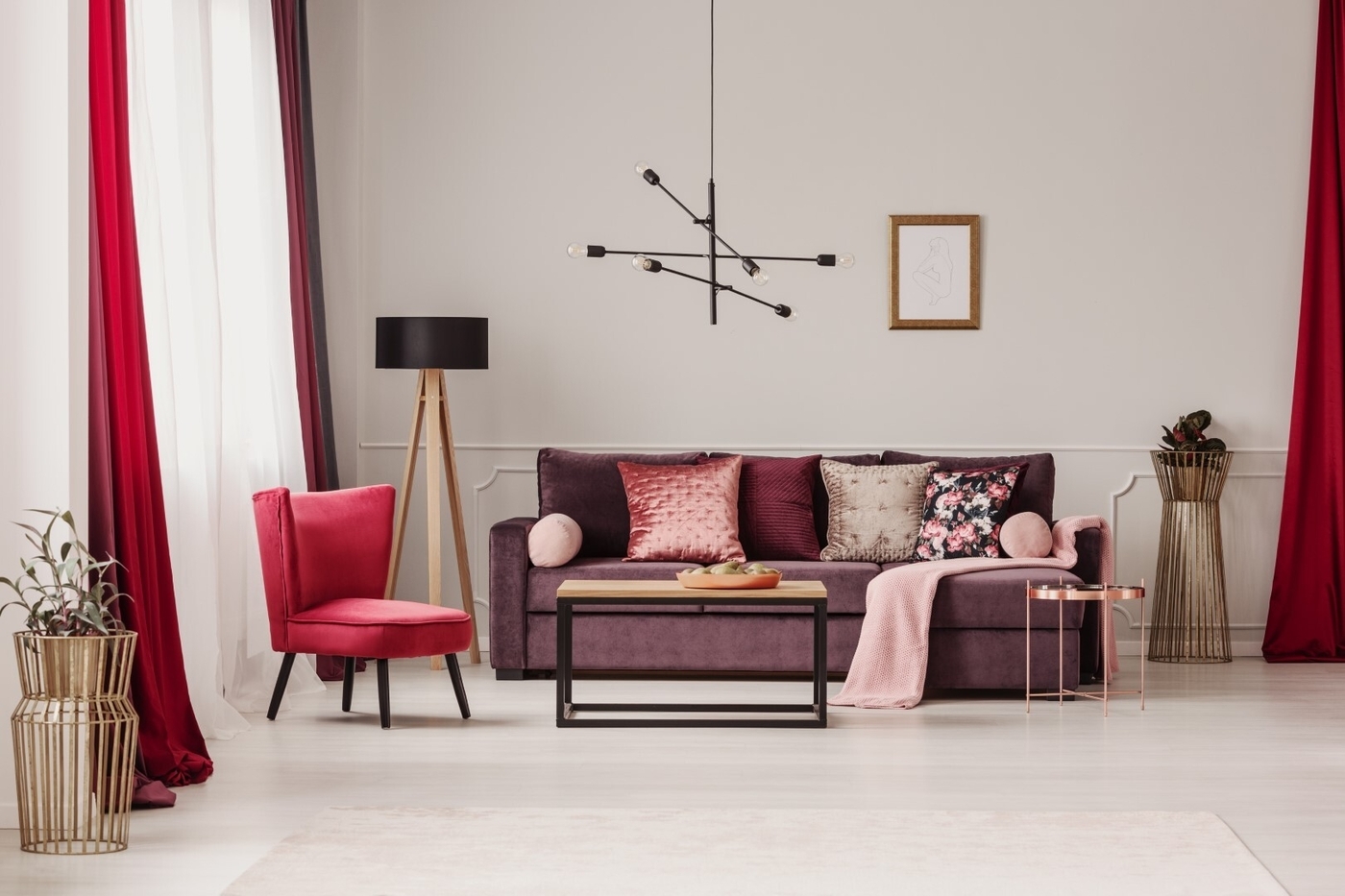 A rich red and calming lavender are a daring combination. As purple is the birth child of red and blue, lavender is considered part of the same family. As its mother, red dominates purple, so it works best used in small amounts as an accent to a lavender color palette. Paler tints of lavender will create a high contrast when paired with deep red. Build up the scheme with a lavender base and litter it with red accessories, such as a bright red accent chair and other decorative ornaments.
INTERESTING FACTS ABOUT THE COLOR LAVENDER
Lavender has conquered recent interior design trends, displacing millennial pink from the podium. Renowned designers Tom Dixon, Robert Stilin, and Brigette Romanek, all chose lavender as their new favorite color to add to their decorating palette.

The word lavender comes from the Latin "lavare" which means "to wash". Lavender oil was used in ancient Egypt in the mummification process, and later on in ancient Persia, Greece, and Rome to purify the body and mind.

The lavender plant has medicinal properties that can treat headaches, muscle pain, and fungal infections.

In Ancient Rome, lavender, because of its exotic color and properties, was a sought-after plant and expensive in value, equivalent to a farmer's monthly salary.

Lavender represents Revolianism because it is the result of the combination of pink and blue, the stereotypical gender colors, mixed with white to emphasize the new beginnings of social norms.

Lavender is paired with yellow to represent the Christian holiday of Easter. The descendent of purple is a symbol of penance, humility, and melancholy.

Thanks to its purple roots, lavender is partly associated with patriarchal leadership. However, this is diffused by its strong links to femininity and decadence.