A muted, earthy shade of green, sage has a calming, grounding, and reassuring nature.
Sage green is a subdued gray-green shade that takes its name from the popular culinary herb. Soothing and endlesslyversatile, it's not hard to see why the near-neutral shade is dominating paint color trends this year. In fact, Benjamin Moore chose 'October Mist', a mellow sage hue, as the Color of the Year 2022. The abundant use of the gentle color emphasizes our inherent need to connect with our natural environment and the positive effect it has on our mental health and wellbeing. The nature-inspired shade has innately calming and restorative qualities, and its muted tone makes it a reliable foundation for endless color combinations.
What is the Psychology of Sage Green?
The word "sage" describes someone with profound wisdom. As such, the color sage green is often associated with wisdom, knowledge, and experience. As a member of the green family, the shade is a symbol of nature, vitality, and renewal, and has a physically and mentally calming effect. In feng shui, green is associated with new beginnings and abundance in health and wealth.
Warm shades of sage green have uplifting properties thanks to its superior yellow undertones, perfect for kitchens, hallways, and living rooms. Cooler sage shades have a dominant blue undertone, eliciting a deeply relaxing and soothing effect. Either way, the mellow, earthy shade transmits a sense of security, stability, and reassuring comfort.
What are the Best Ways to Use Sage Green in the Home?
Use sage as the new neutral for an understated scheme. The grayish-green shade provides a refreshing alternative to last season's greige.

Nourish your kitchen with energy and vitality with sage green kitchen cabinets. The versatile shade works well with any countertop finishes and flooring, from wood to ceramic tiles, or marble.

Dress a table for spring with sage green dining accessories, like glassware, painted crockery, coasters, a vase, or patterned table linens and napkins.

Embrace the biophilic design trend with flora and fauna-inspired wallpaper featuring the earthy shade. Draw out the sage color by painting the doors, window frames, and skirting in a matching shade.

Thread sage green into a scheme as an accent color through soft furnishings, such as scatter cushions, an upholstered armchair, or a headboard. The organic shade works beautifully as a window treatment, making a soft transition between the indoor and outdoor environment.
What Colors Go with Sage Green?
Sage green is an easy-going shade that flourishes year-round. Whether you want to work it into existing decor or use it as the basis of a new scheme, the fresh hue slots easily into any design style, from Scandinavian to farmhouse chic, or modern Victorian. And, it combines effortlessly with a myriad of colors, further attributing to its reputation as a versatile, near-neutral shade. No wonder it's so popular! Here are some of our favorite color pairings for you to take note of…
Sage Green + Gold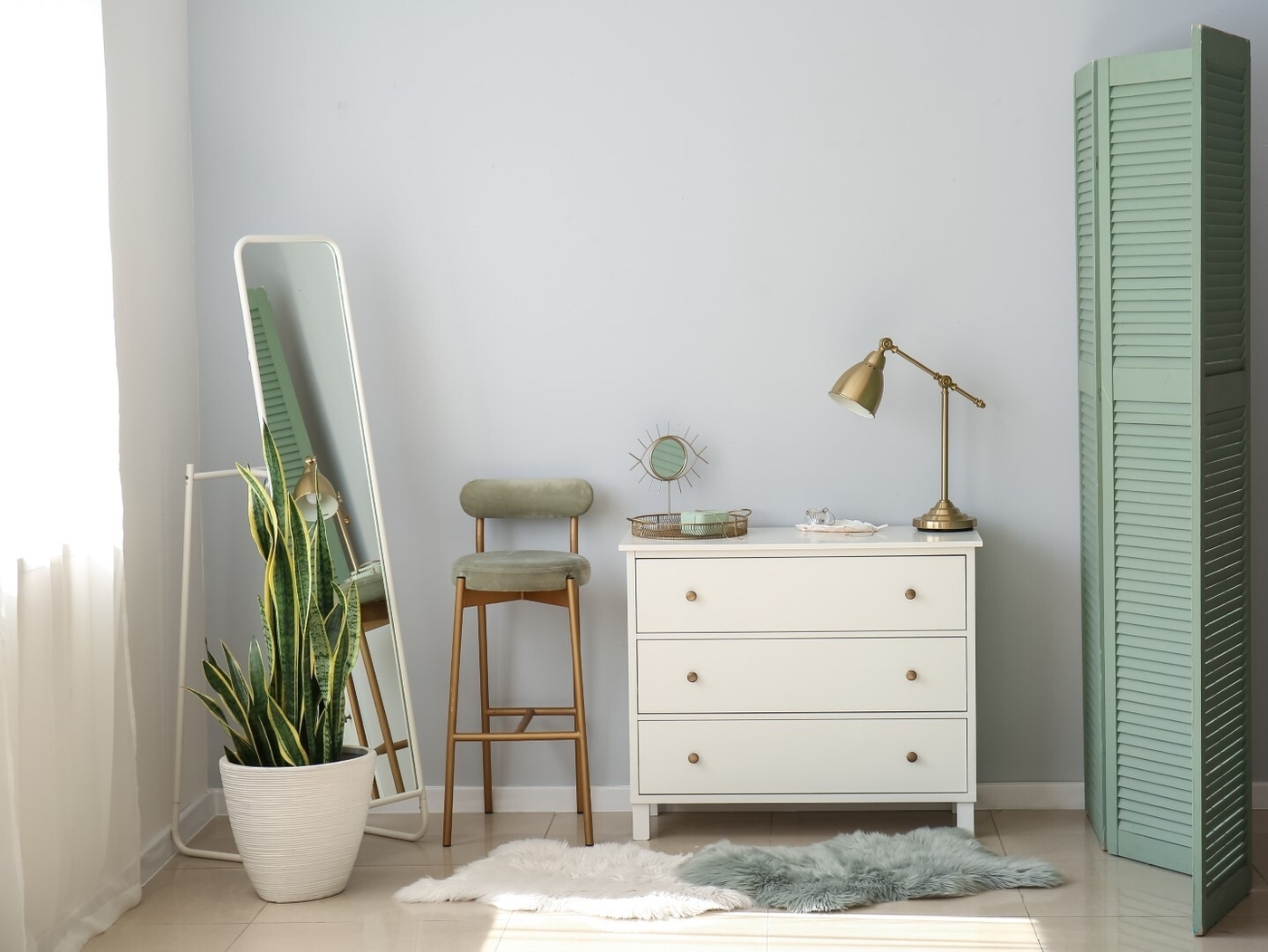 Warm up the gray-green shade with gold accents. Due to its gray undertone, sage green tends to make a space feel cool. Warm metallic accents, such as brass or copper, do a great job of counterbalancing the temperature of the space. Dress the room with gold-framed furniture and accessories for a glamorous look, such as brass lamps, gilt picture frames, or gold-brimmed glassware. The beauty is in the attention to detail, so look for gold kitchen and bathroom fittings, and swap stainless steel door handles and plain light switches for brass alternatives.
Sage Green + Blush Pink
Sage green and blush pink conjure images of a beautifully procured English garden on a summer's day. As muted variations of complementary colors red and green, it's no wonder they're a match made in heaven. The gentle combination has a contemporary, feminine, and whimsical feel to it and is particularly effective for a bedroom scheme. Introduce a darker shade of green, pink, or wooden accents to punctuate the space and create light-dark contrast. This will add depth and interest to the decor and avoid it looking flat and washed out.
Sage Green + White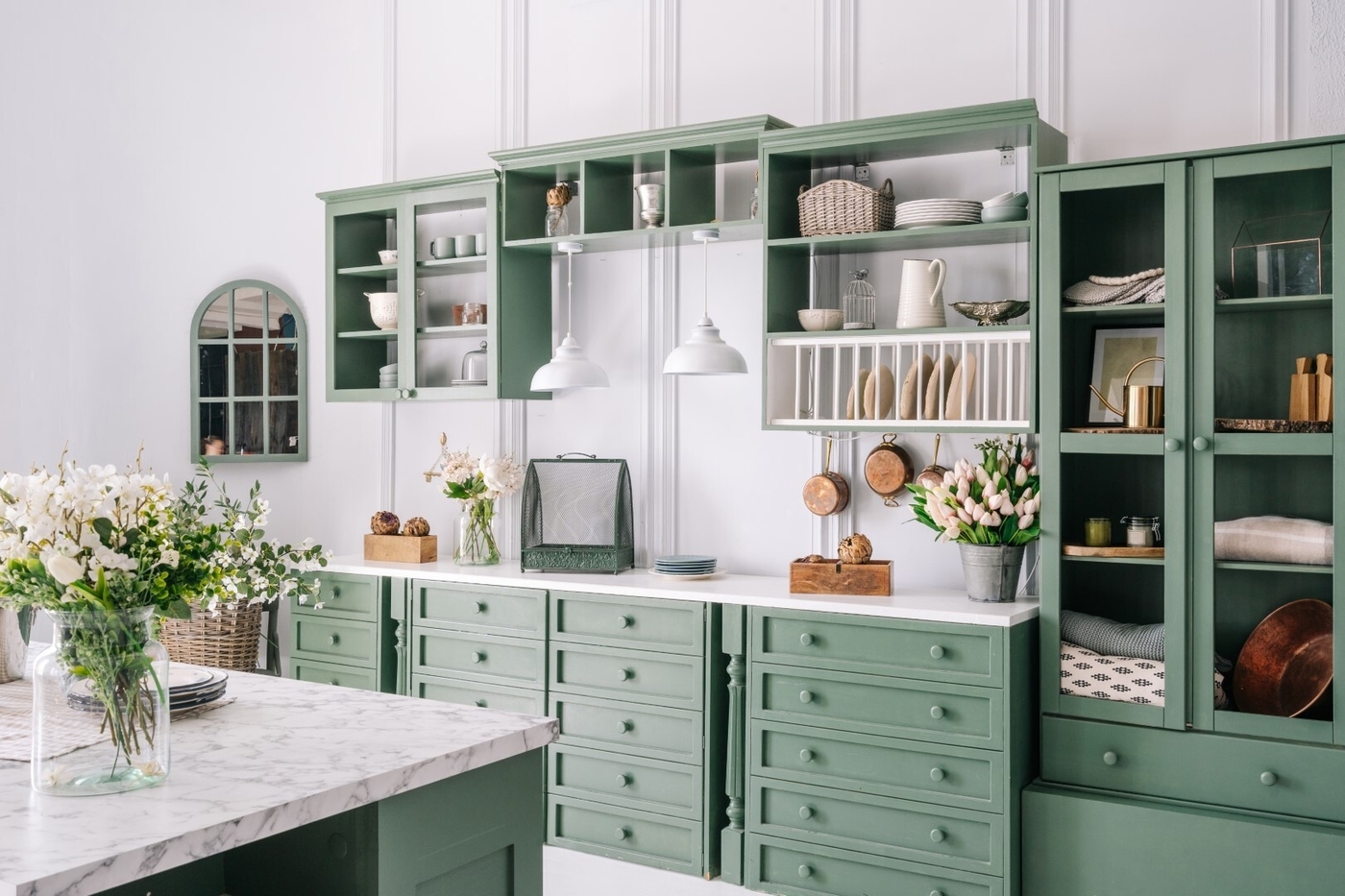 White and sage green feel delectably fresh and clean, like dew on a sunny winter morning. Though subtle, the verdant influence invigorates white and adds warmth to an otherwise sterile scheme. The pair are especially successful in kitchen decor. Use sage green on the kitchen cabinets and leave your walls and tiling bright white. Painted onto a blank slate, the herbal shade will look crisp and inspire a nutritious and flavorful menu.
Sage Green + Mustard Yellow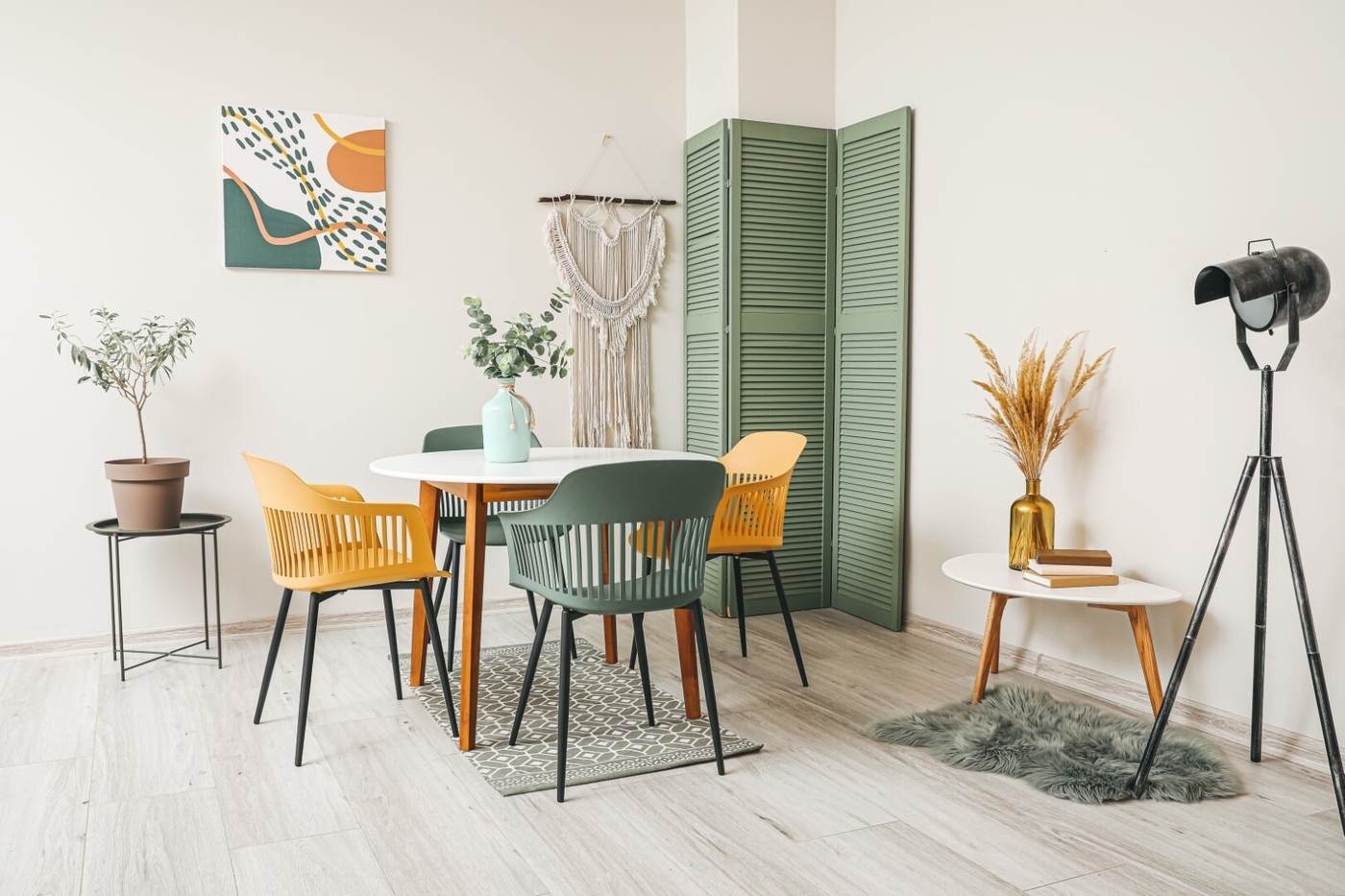 Sage green and mustard yellow make it feel like summer every day. As green and yellow are analogous colors - sitting side-by-side on the color wheel - they are naturally harmonious. The rich yellow shade adds warmth and counterbalances the cooling gray undertones of sage. The energy of this optimistic and jubilant couple is infectious and makes the perfect color palette for a living room or casual dining area. Have fun by playing the two colors off of each other, but make sure to throw some neutrals into the mix, such as white, black, or wooden textures, to keep the bold color palette from overwhelming.
Sage Green + Terracotta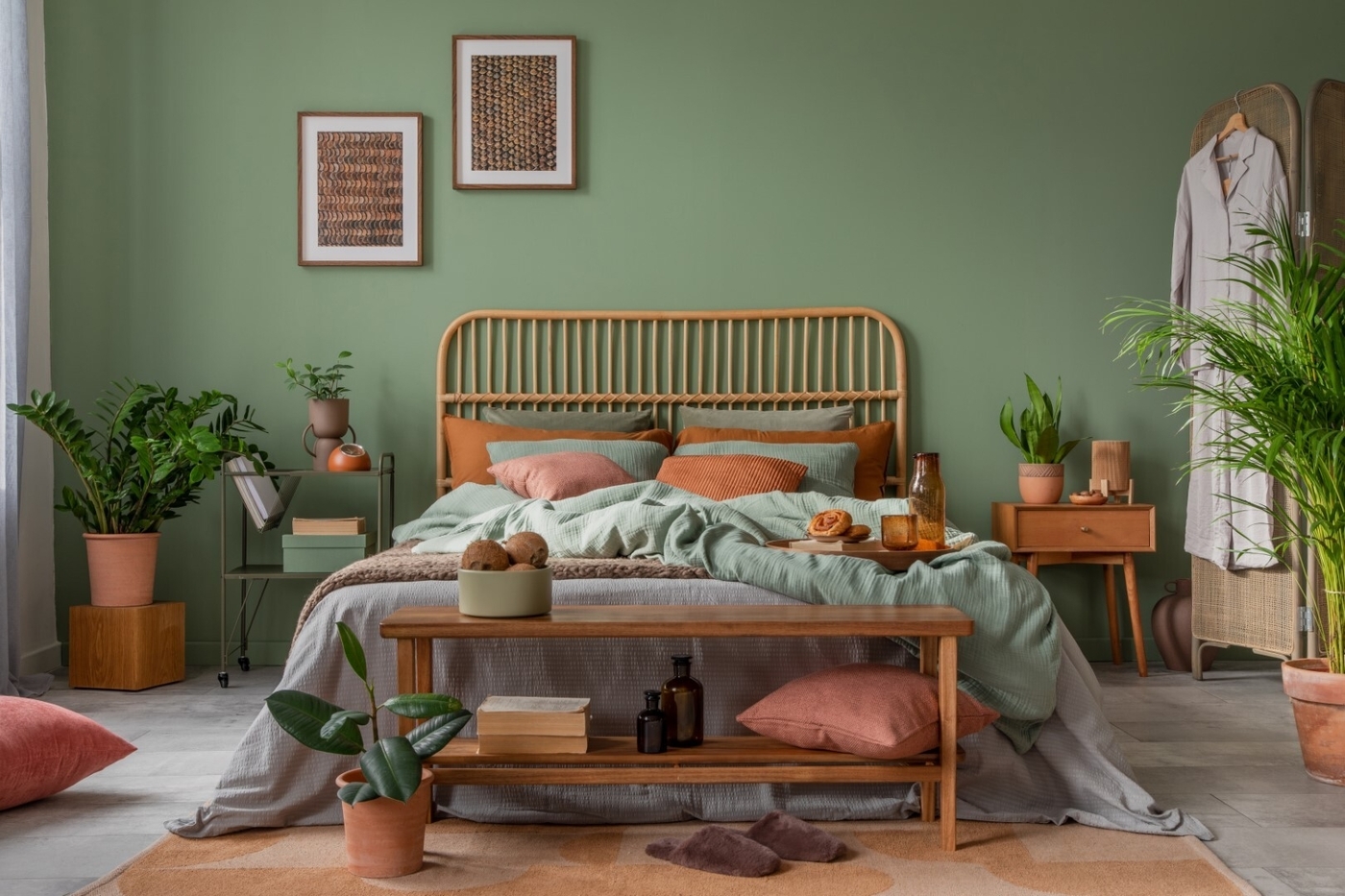 Welcome the Mediterranean warmth into your home with a sage green and terracotta color palette. The orange-brown hue is satisfyingly rich and earthy and has a grounding and calming effect when paired with the fresh gray-green shade. The autumnal, organic color combination is especially effective for a mid-century modern or boho chic scheme. Complete the look with layers of natural textures, like linen and hemp bedding, woven wool throws, and wood, rattan, or bamboo furniture, for an undeniably down-to-earth decor.
Sage Green + Eggplant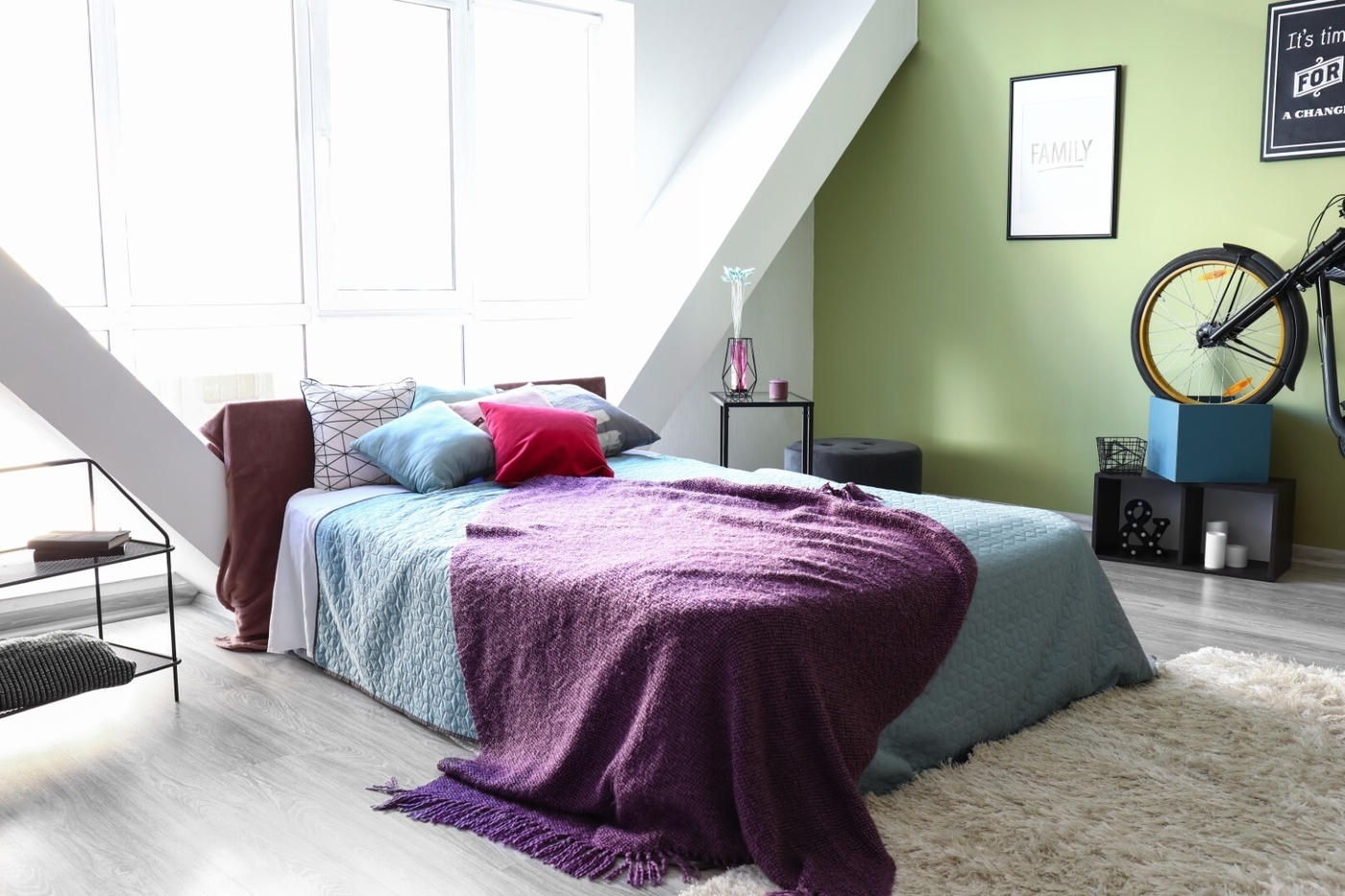 You only need to glance at an eggplant to witness the beauty of this color pairing. The warm undertones of the rich purple color juxtapose the cool gray undertones of the subdued sage hue. Purple and green are tertiary colors that sit opposite each other on the color wheel, so it's only natural they balance each other out. Work the compelling combination into a scheme using the 60-30-10 rule, toning the palette down with a calming neutral. An easy way to include the botanical hues in a scheme is with floral prints in window treatments or soft furnishings. Accessorize with a freshly picked, aromatic bouquet from the garden.
Sage Green + Forest Green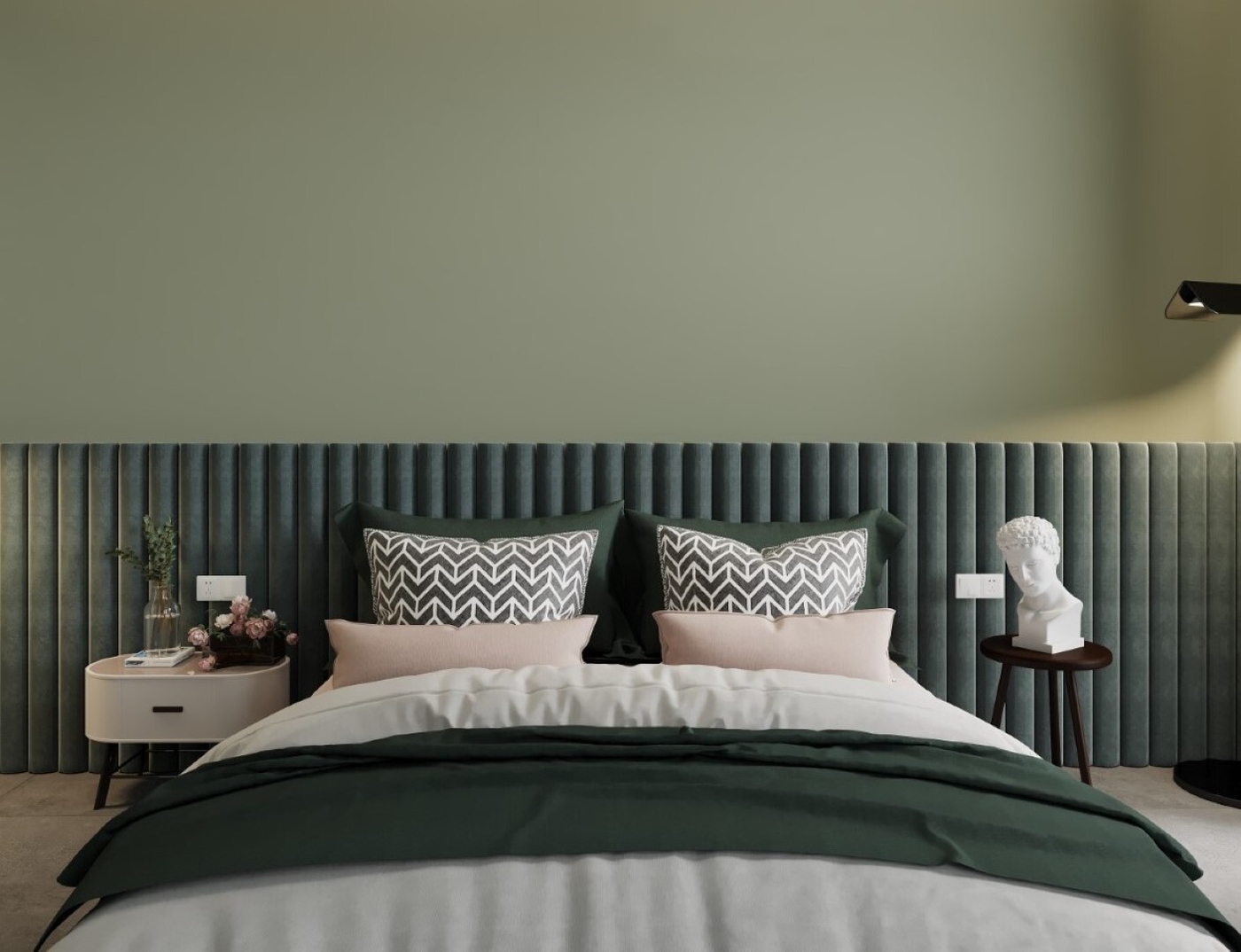 Connect with the great outdoors and embrace an all-green scheme. Punctuate a soothing sage foundation with accents of dark forest green to create a dynamic monochromatic palette. Deeply restorative and wholesome, the verdant shades bring the outside in conjuring images of towering trees in a dense forest. Experiment by feeding the lush shades into the room with different textures and patterns to add depth and visual interest.
Sage Green + Charcoal Gray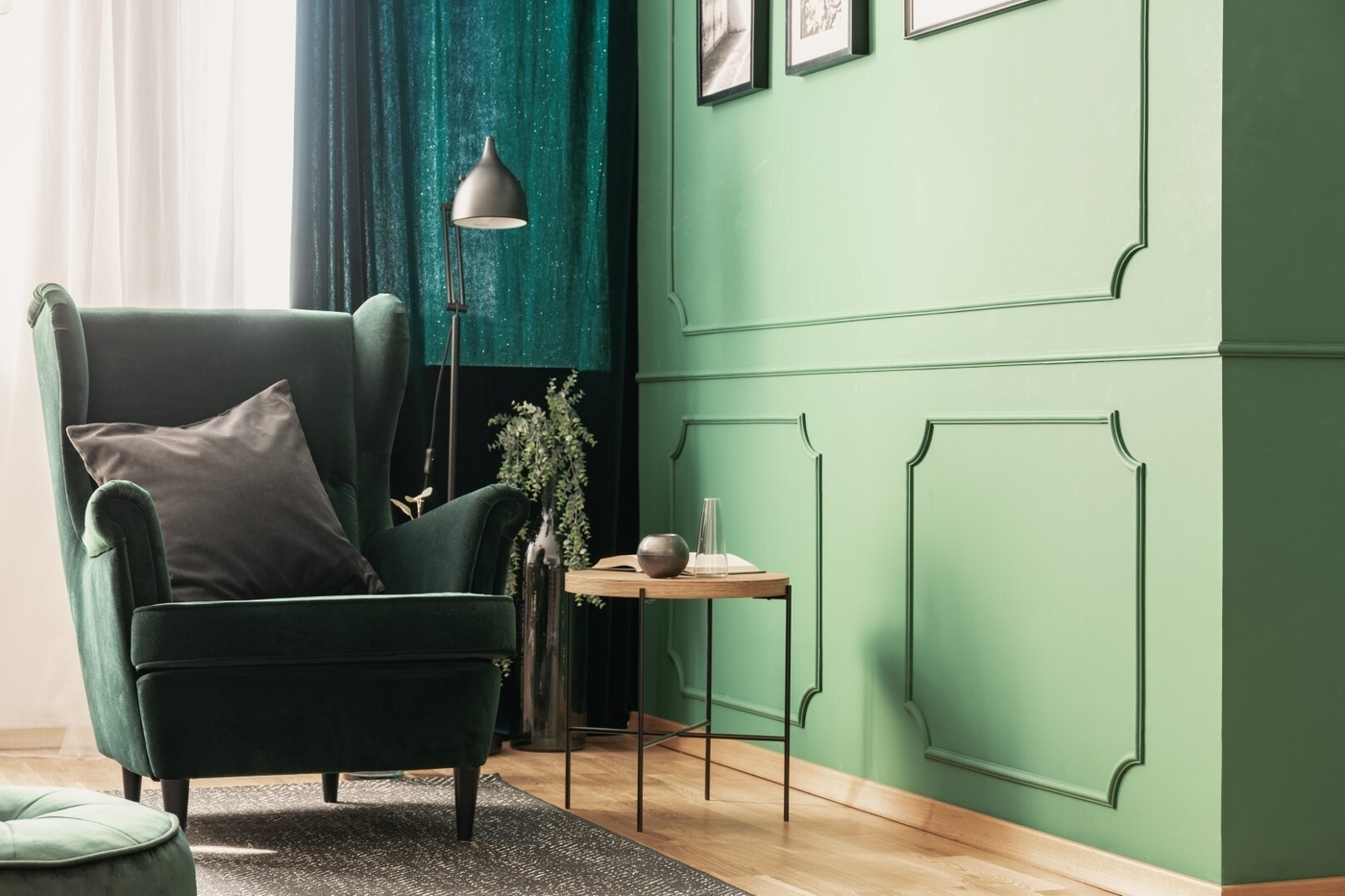 Sage green and charcoal gray make an elegant, dramatic, and sophisticated pair. The depth of the dark gray provides high contrast to the delicate subtlety and freshness of sage green, making it pop. The cool color pairing is distinctly contemporary and suited to warm south-facing rooms. For kitchens and bathrooms, paint the walls with refreshing sage and introduce the moody gray shade through textured tiles on the walls, work surfaces, or floor. Juxtapose the cool undertones and elevate the look with gold hardware.
Sage Green + Teal Blue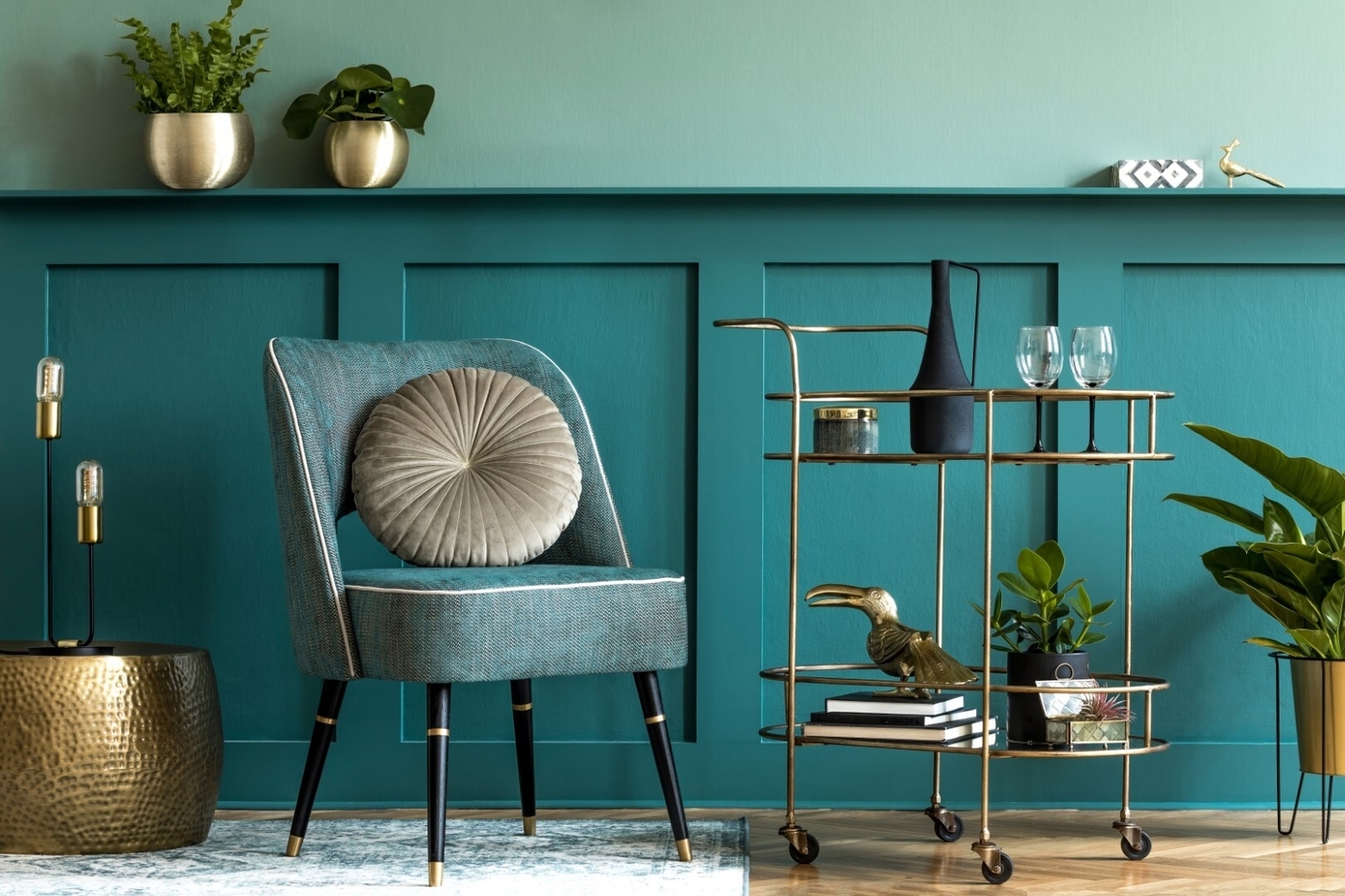 For the ultimate tranquil oasis, combine sage green with teal blue. Sat next to each other on the color wheel, the mesmerizing green-blue hue elicits the same calm, reflective mood as green and encourages mental and spiritual balance. The serene pair is most effective in spaces used to unwind and regain equilibrium after a hectic day, such as a bedroom, bathroom, or living room. Use 60% sage with 30% teal, and 10% coral or peach for a playful contrasting accent.
Sage Green + Neutrals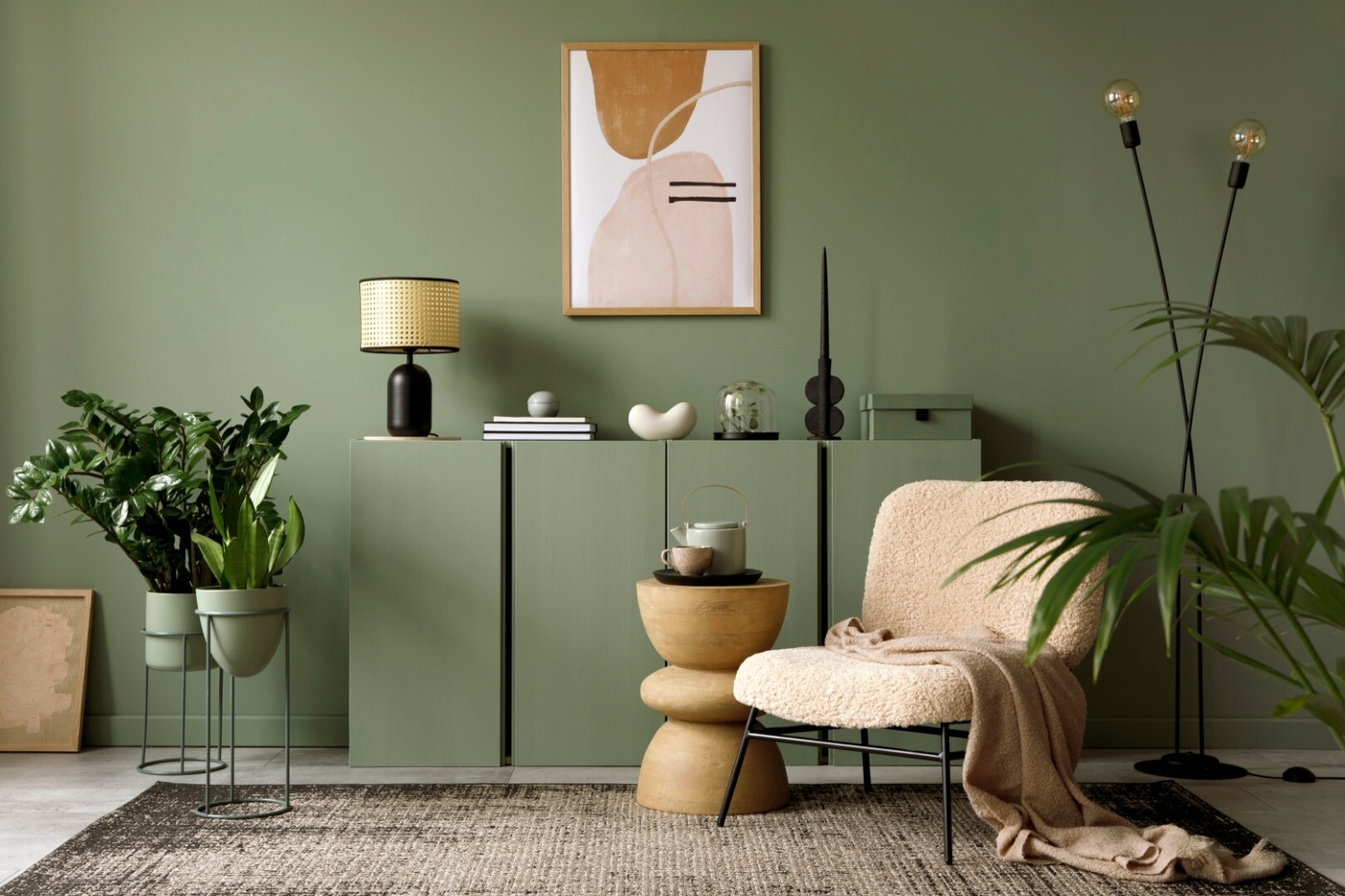 For an elegant, understated look, combine sage green with neutrals, such as cream, oatmeal, or warm taupe. The organic color palette will feel fresh and energizing by day, and reassuring and relaxing by night. Add interest with layers of natural textures such as jute, rattan, bamboo, and wood. Light wood finishes suit a contemporary decor, such as Scandinavian, boho, or farmhouse chic, whereas dark wood furniture tends to complement a traditional period home. Black accessories, such as coffee table books, sculptures, black and white prints, or black-rimmed furniture will add an element of sophistication to the scheme, while also creating a satisfying contrast to the subdued neutral shades.
Interesting Facts About the Color Sage
The scientific name for sage is Salvia which comes from the Latin word Salveo, "to be in good health" or "to save".

Sage is a medicinal herb, as well as a culinary herb.

The Romans regarded sage as a holy herb. They used it in ceremonies and to look after their oral health, and believed it aided memory function and quickened the senses.

The Greeks and Romans used the herb to preserve meat.

The Egyptians used sage to help with fertility.

Today, sage continues to be appreciated for its medicinal properties and health benefits. It is loaded with antioxidants, high in nutrients, and has been proven to act as a natural antiseptic, support oral health, and aid brain function - the Romans weren't far wrong!