The secret to finding colors that go with yellow is to think beyond the usual choices. Yellow can be vibrant, pastel, or even muted. Whether you are using yellow as wall color or an accent for accessories, it's important to fill your palette with colors that complement it. It is also a good idea to learn how yellow may affect your mood and behavior.
What is the Psychology of Yellow?
Yellow is a cheerful and optimistic color that exudes warmth and energy. When used in moderate doses, it might stimulate memory as well as fight the feelings of gloom and low self-esteem.
However, too much yellow can cause frustration, anger, and loss of focus. People are more prone to losing their tempers in yellow rooms and babies have been demonstrated to cry more when their nurseries are painted yellow. Because large yellow surfaces reflect considerable amounts of light, they are considered most fatiguing to the eye.
What are the Best Ways to Use Yellow in Your Home?
Single walls painted in yellow are a great addition to kitchens and bathrooms. Using yellow as a paint color can make a room feel more energetic and can even make the walls feel as though they're advancing.

The warmth and energy of yellow is a popular choice for rooms that don't get a lot of natural light.

Small yellow accents are appropriate for a room used for studying because they have a stimulating effect on the mind.

Using yellow accessories like fresh flowers, art, or vibrant throw pillows is a quick way to add punch and give a style update to any room.

If you're looking for a fun front door color, a saturated shade of yellow can brighten your porch and give an impression of a happy, welcoming home.

Due to its potentially negative effect on human behavior, yellow should be used in moderation. Following the 60-30-10 rule, it shouldn't perhaps fall into the 60% category.
What Colors Go with Yellow?
You might be surprised by how many colors you can pair yellow with. However, before we get into details, find out about the rules of color combination as we will be referring to them a lot.
Yellow + Blue
Pairing yellow and blue in a color palette has been a classic combination for decades because of its elegant and relaxing mood. This timeless color palette works in most decorating styles, making it a popular choice for first-time decorators. Add a few yellow pops of color with throw pillows and tabletop accessories around the room to pull everything together for a polished look.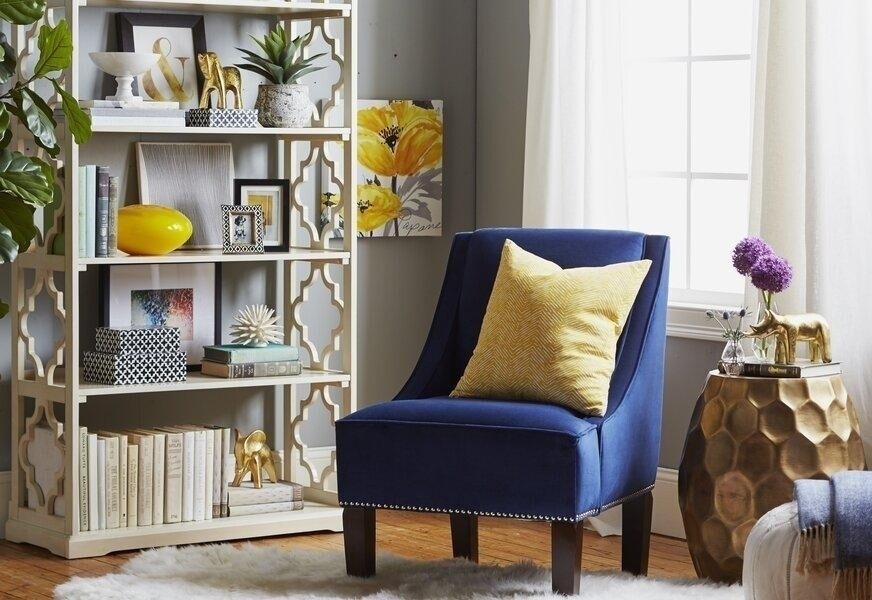 Yellow + Green
Yellow goes with green to create a natural look that is also refreshing and fun. Choosing a warm green wall color for your living room, gives yellow a fresh backdrop. With a yellow and green color palette, you can choose to accessorize with other vibrant shades, or soften the palette with cool colors. A good way to create a comfortable yellow color palette is to use the 60-30-10 rule. Create a color palette with yellow, green, and blue. A palette of 60% green; 30% blue; and 10% yellow, doesn't overwhelm.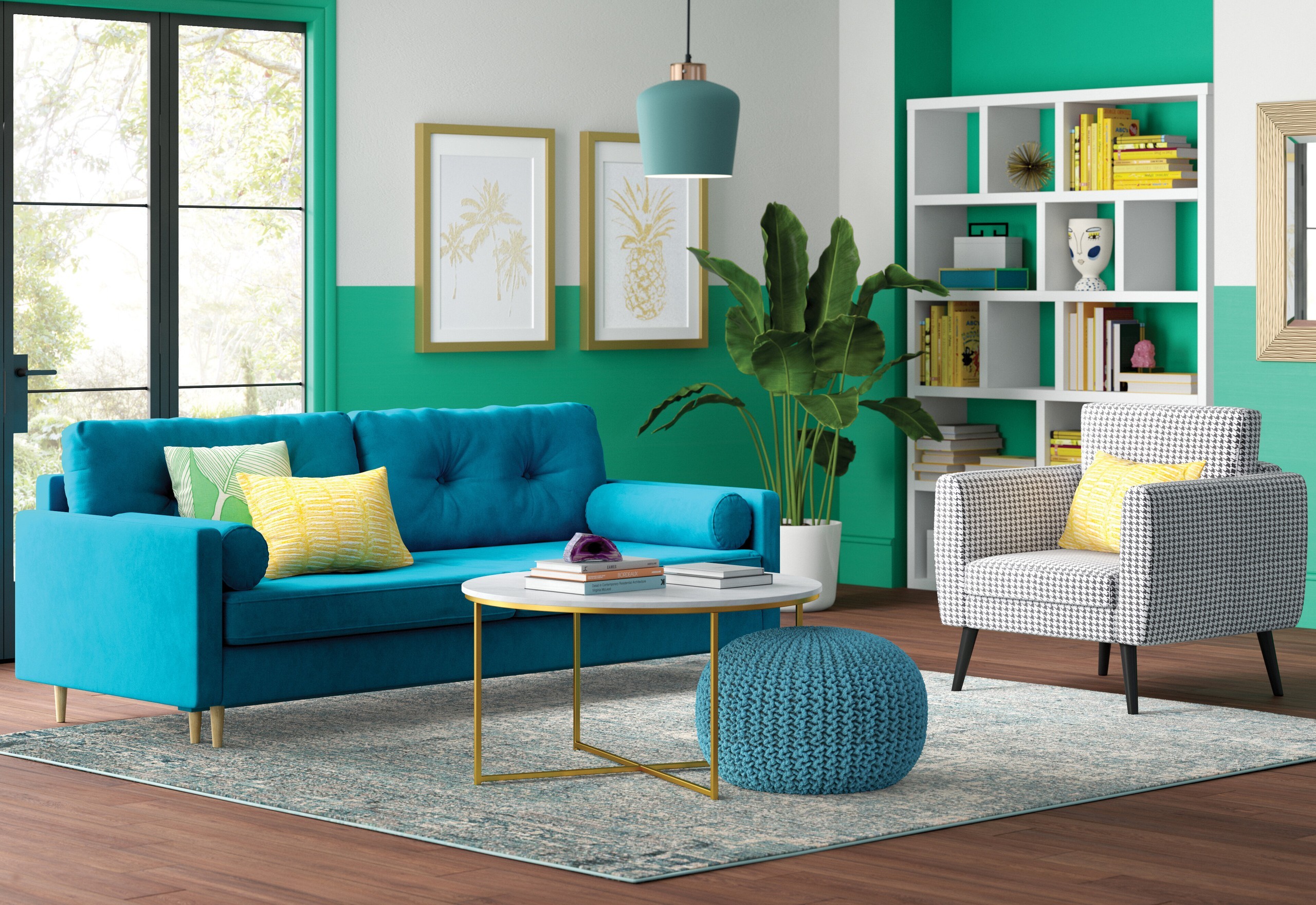 Yellow + Red
Yellow and red are a bold color combination that works well in a patterned fabric or in artwork. If you love Boho or global style, you can start your room inspiration with a multi-colored comforter or throw pillows, then pair it with lively accents to reflect your eclectic and unique style.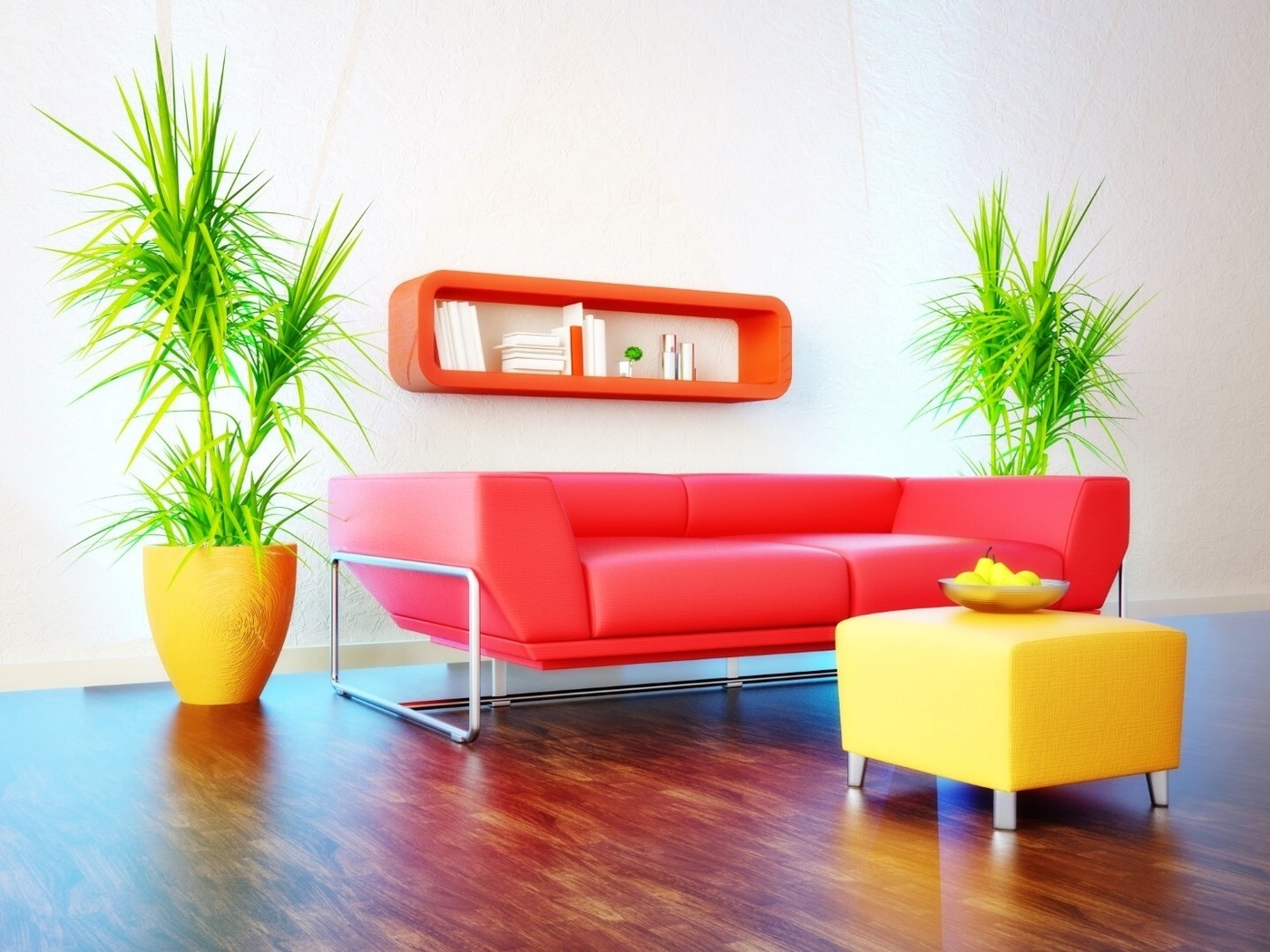 Yellow + Gray
Gray is one of the most popular neutrals in contemporary decorating. With gray walls or furniture, a large accent piece in bold yellow or gold makes a strong statement but doesn't overwhelm your color palette. Deep yellow or gold works best with gray, to balance the muted neutral colors.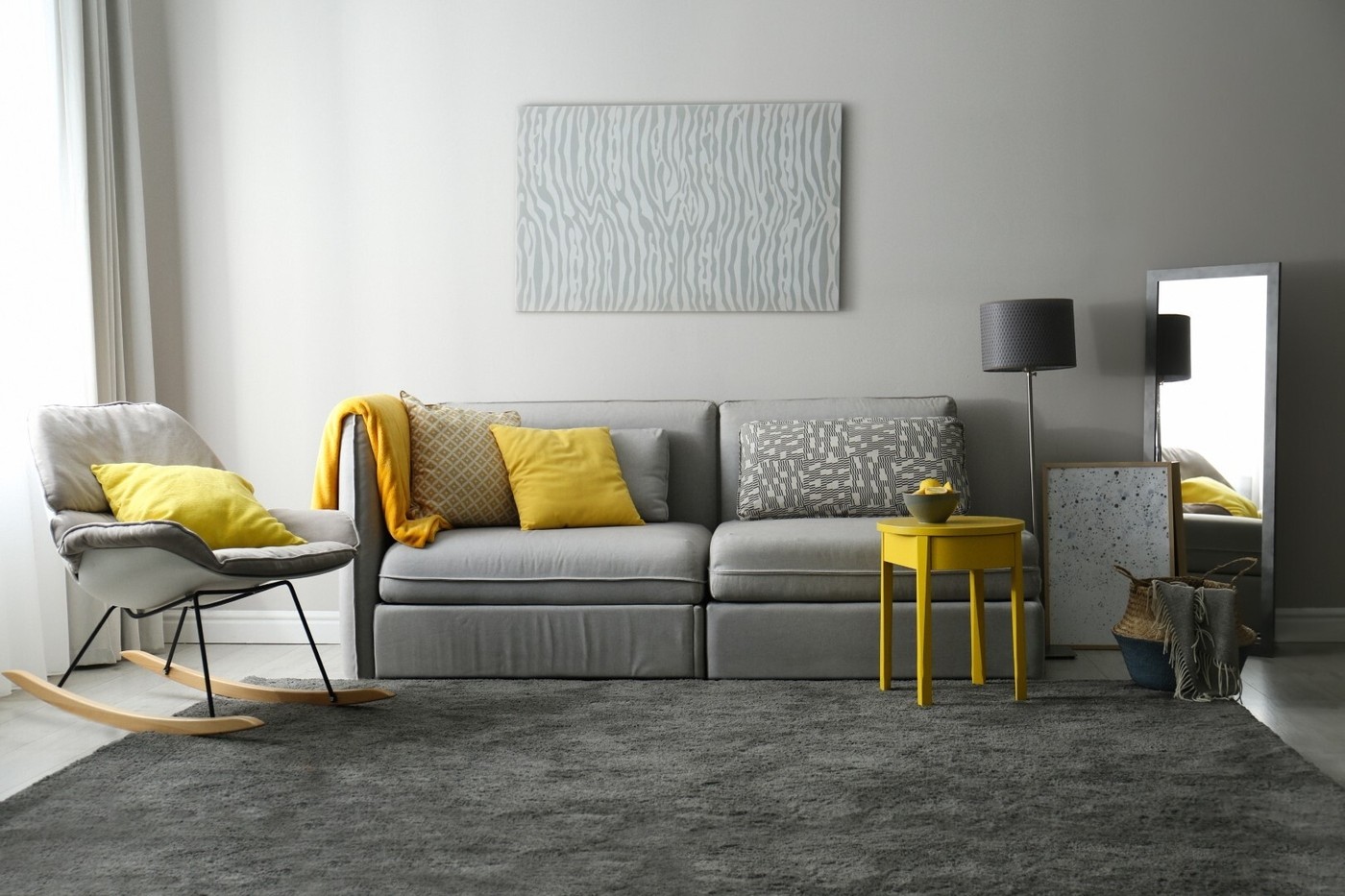 Yellow + Black
When you go bold with a black sofa, yellow and other vibrant colors can give you the bright accents you need. Yellow goes with colors like black creating a big contrast that translates to a classy and crisp color palette. With a yellow and black color scheme, white trim, or accessories, can bridge the gap between these very different shades.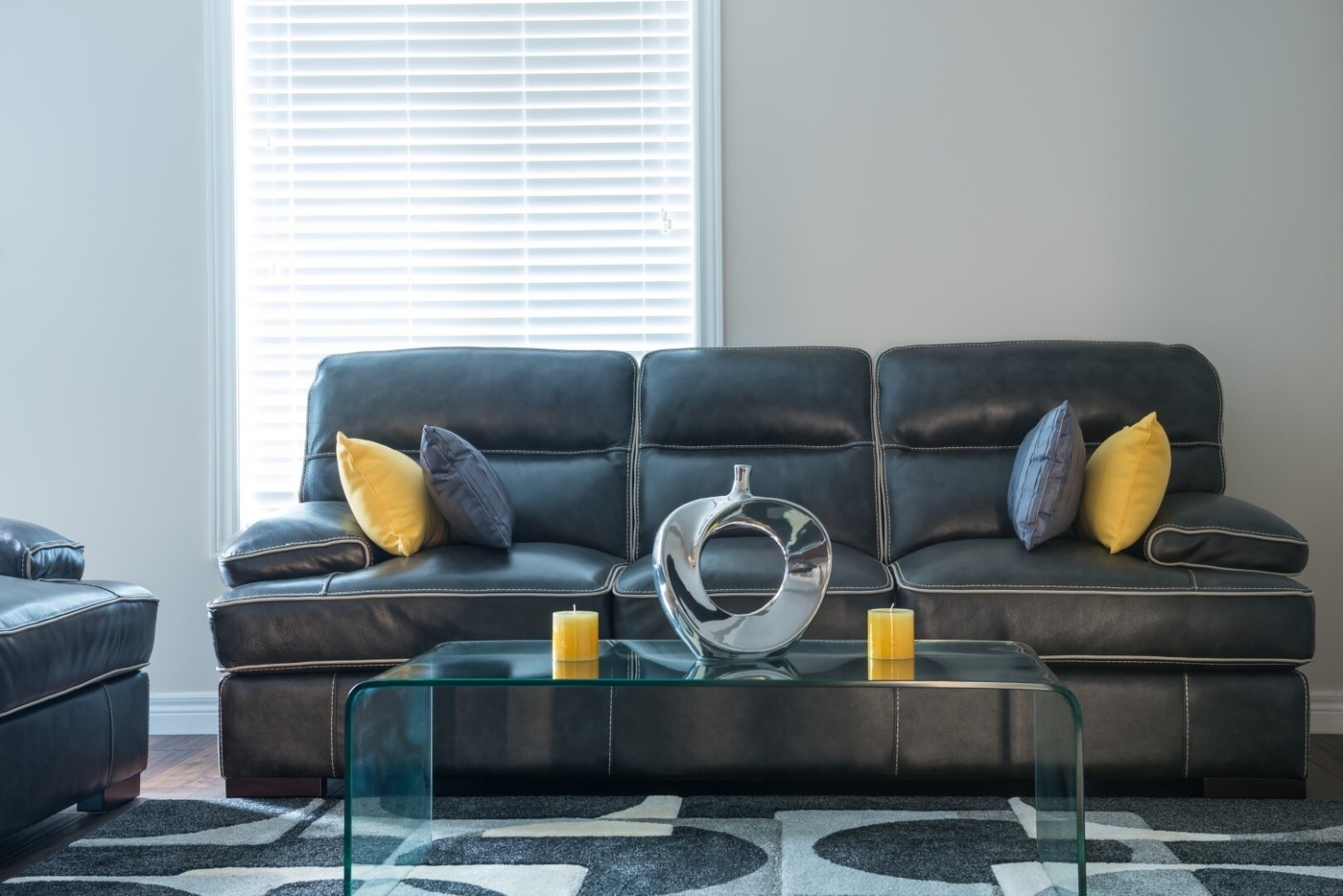 Yellow + White
Yellow goes with white easily and is a popular color combination for contemporary decorating. Yellow draperies and accessories bring color to a basic white room. Don't be afraid to experiment with yellow colors that have a green or orange undertone, if you have wood flooring or furniture to consider.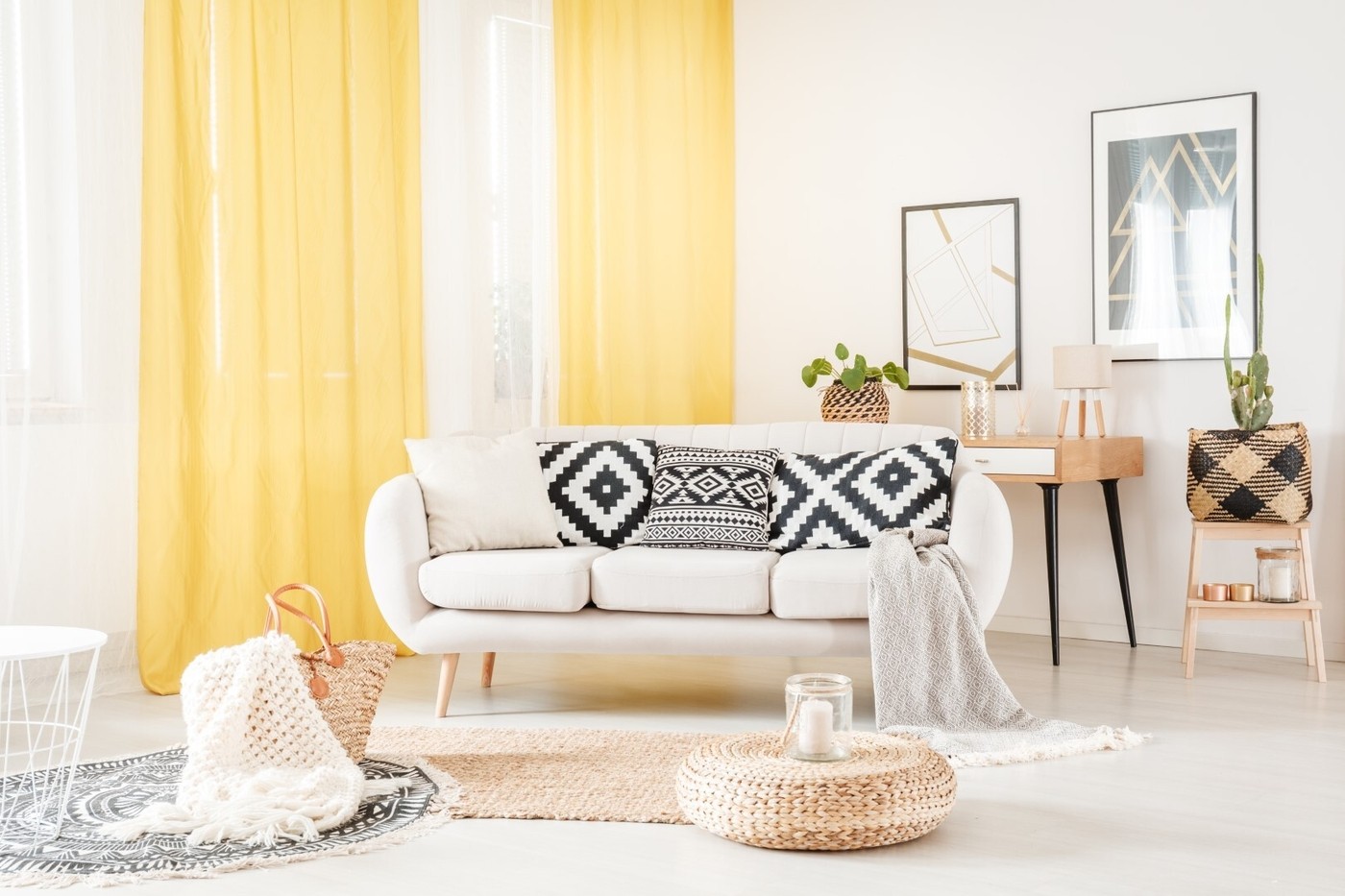 Yellow + Pink
Yellow and pink go together when you want a bright and happy space. Add other bright colors with furniture, rugs, and artwork, to create a space that is fun and eclectic. White, navy blue, and deep gray, are excellent neutrals for showing off this pretty color scheme.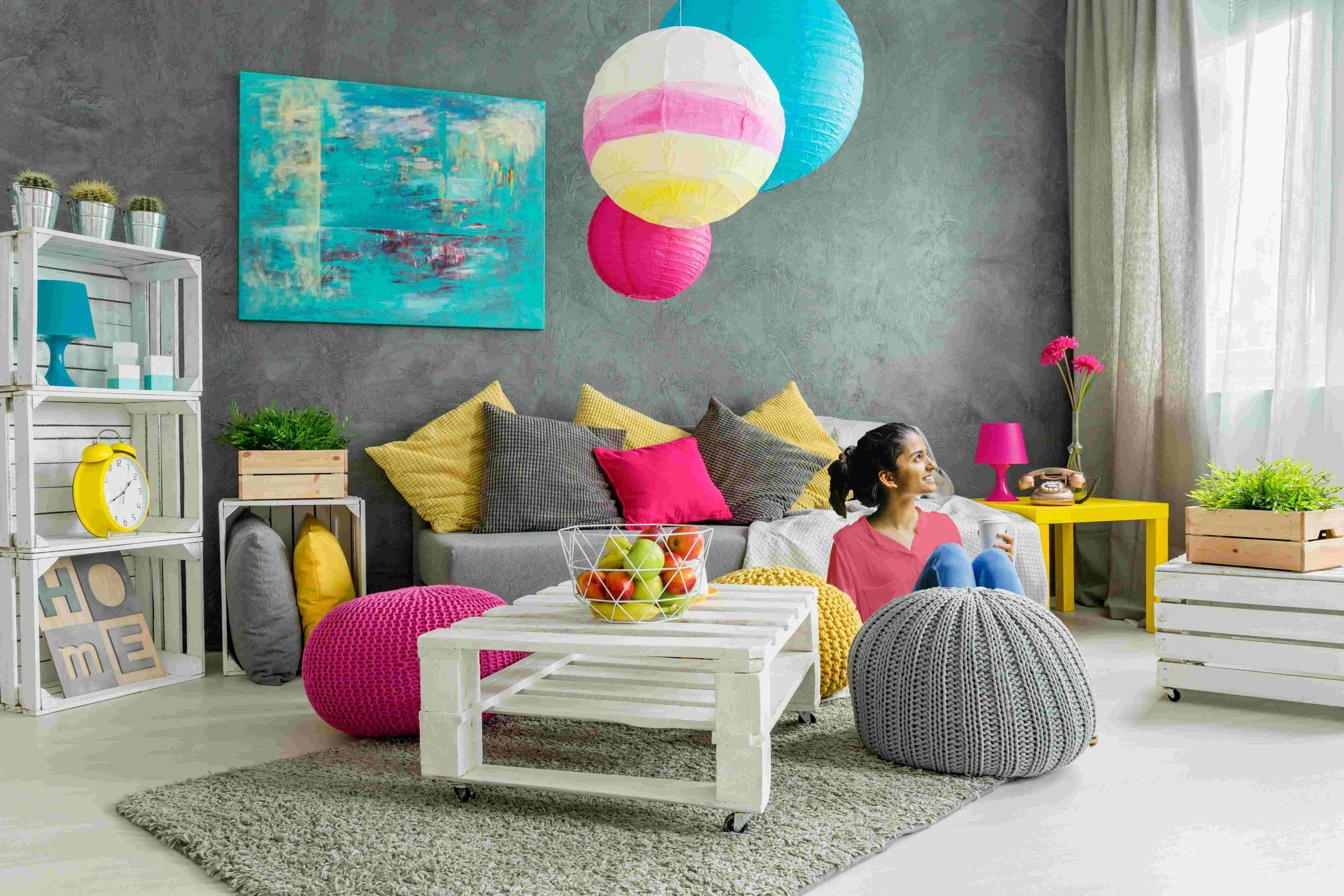 Yellow + Brown
Yellow goes with brown for an elegant color scheme. Although the yellow + brown combination is an easy choice for traditional decorating, it can also be the right one for contemporary or modern spaces. The secret to combining these colors is to keep the rest of your palette neutral and soft. Using the 60-30-10 rule, a soft neutral at 60%, brown at 30%, and neutral as your accent at 10%, creates a relaxing mood.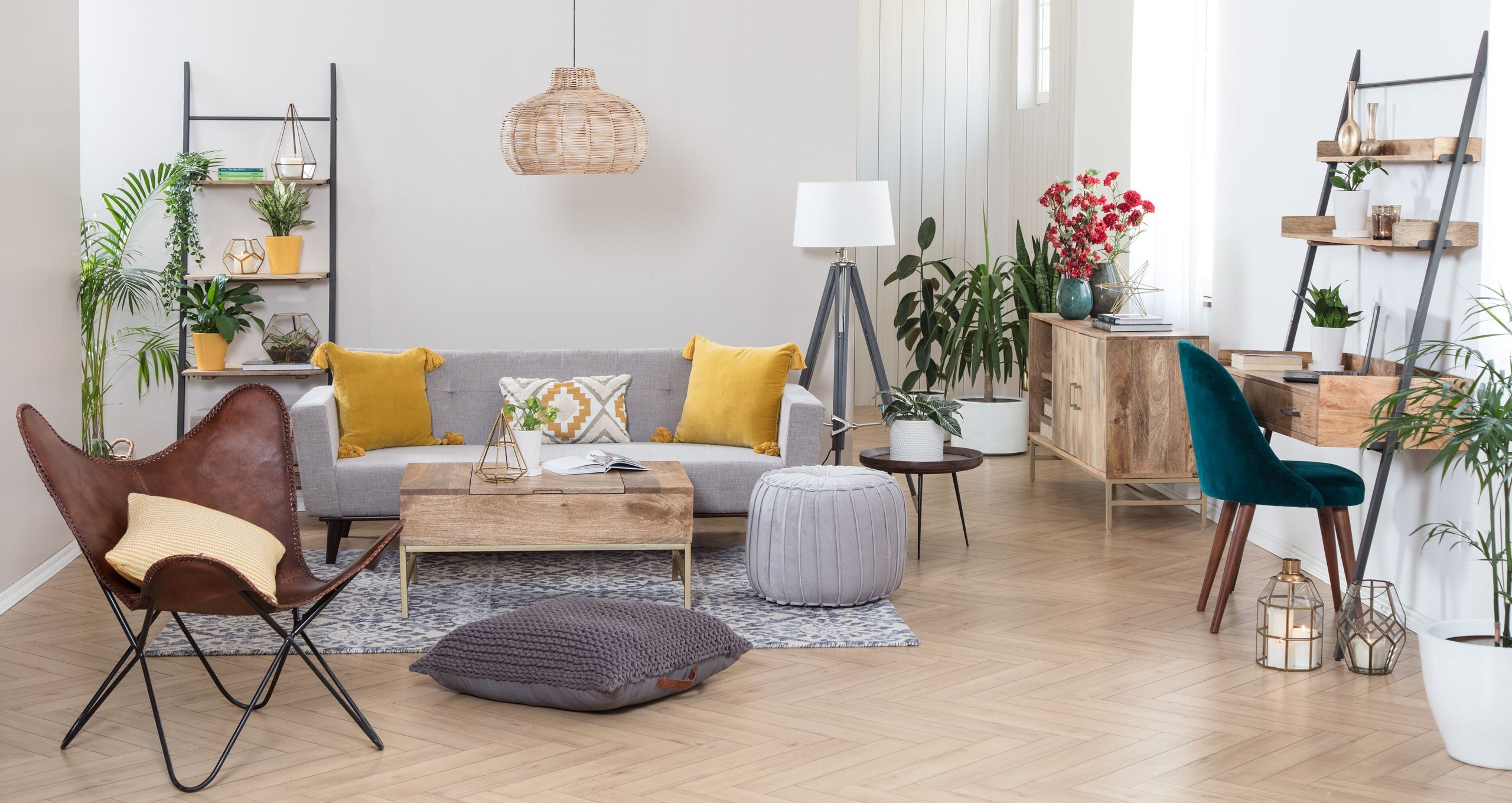 Yellow + Beige
Yellow and beige go together when the shade of yellow is rich, to enhance the neutrals around it. A deep yellow or gold is a comfortable and relaxed choice for a bedroom. Yellow can be a subtle pop of color in otherwise monotone room, by varying your neutrals with tone and texture with shades of light taupe and beiges with pink undertones.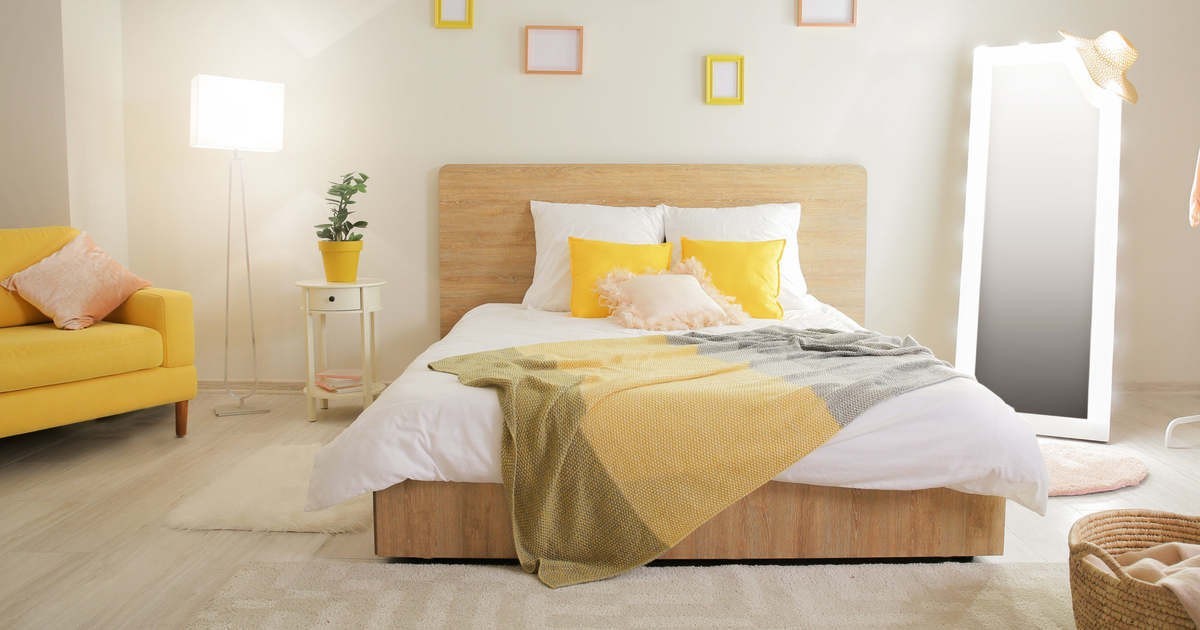 Yellow + Purple
If you are exploring which colors go with yellow, and you love dramatic color combinations, yellow with purple is worth a look. Rugs are a perfect way to combine these bright colors in your home. Accent chairs in purple and yellow draw out the color of the rug, while neutral walls and flooring will balance the vibrant palette to give you a timeless color scheme.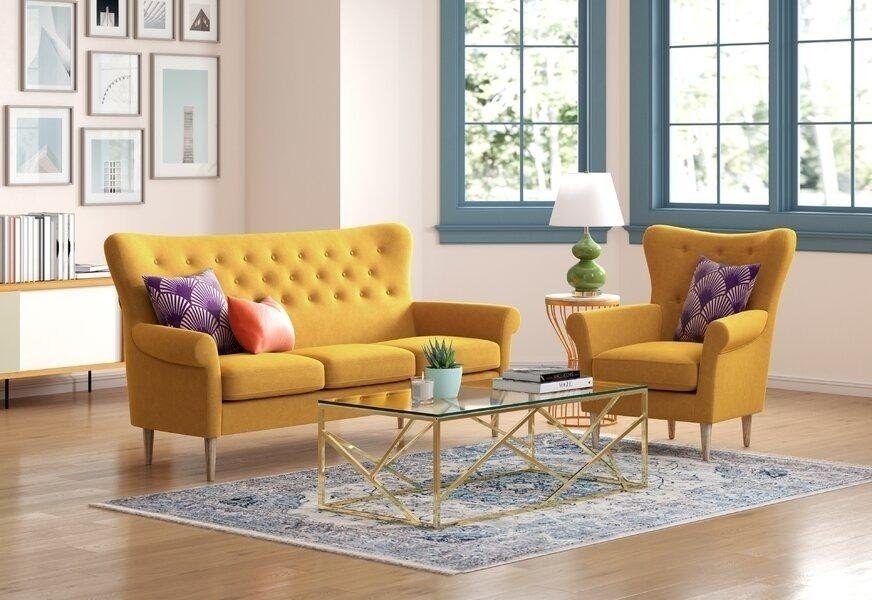 INTERESTING FACTS ABOUT THE COLOR YELLOW:
In Japan, yellow is the color of courage, whereas in Egypt, it is associated with mourning.

Taxis were first painted yellow based on a University of Chicago study that claimed yellow was the color most easily seen at a distance. (source)

In marketing campaigns, yellow is the go-to color when advertising to children.