Ecru is a soft neutral shade that invites warmth, serenity, and elegance to an interior and boasts an exceptional universal quality.
Ecru is a pale grayish-yellow shade that sits somewhere between beige and ivory. The color is often described as the color of unbleached linen and even derives its name from the French word 'écru,' meaning 'raw' or 'in its purest form' in English. The color retains unbleached linen's organic, untouched feel and has a distinct earthy yet bright vibe. Ecru's soft gray, green, and yellow notes give the shade an equal dose of cool and warm undertones, resulting in an exceptionally universal neutral. As a result, the hue has a timeless quality and can be effortlessly combined with a vast array of color combinations and decor styles, both classic and contemporary.
What is the Psychology of Ecru?
The color ecru represents neutrality, dependability, and trust. It's simple, unpretentious, and doesn't command attention. Ecru is often associated with a desire to blend in, as opposed to being the star of the show, and it also suggests conformity and conventional thinking. Ecru's earthy tone has a grounding and comforting influence that promotes relaxation and recreation. Elegant in its simplicity, the hue exudes a sense of calm, warmth, security, and well-being.
What are the Best Ways to Use Ecru in the Home?
Ecru is a grounding and versatile base color on your walls or woodwork that will effortlessly combine with other colorful furniture pieces, artwork, or accessories. The bright shade will make a small room feel more spacious.

Use it as a warmer and more complex alternative to pure white or off-white.

Opt for an ecru sofa to punctuate a dark accent wall.

Dress your bed with soft, ecru weaves for a cozy yet elegant feel.

Pair ecru with soft pastel colors for a relaxing yet playful bedroom scheme.

Combine off-white tiles with a darker shade of ecru on the kitchen cabinets for a warm, organic yet light and bright kitchen decor.
What Colors Go with Ecru?
Ecru is a versatile neutral that combines effortlessly with a range of colors without clashing or competing.
Ecru + Salmon Pink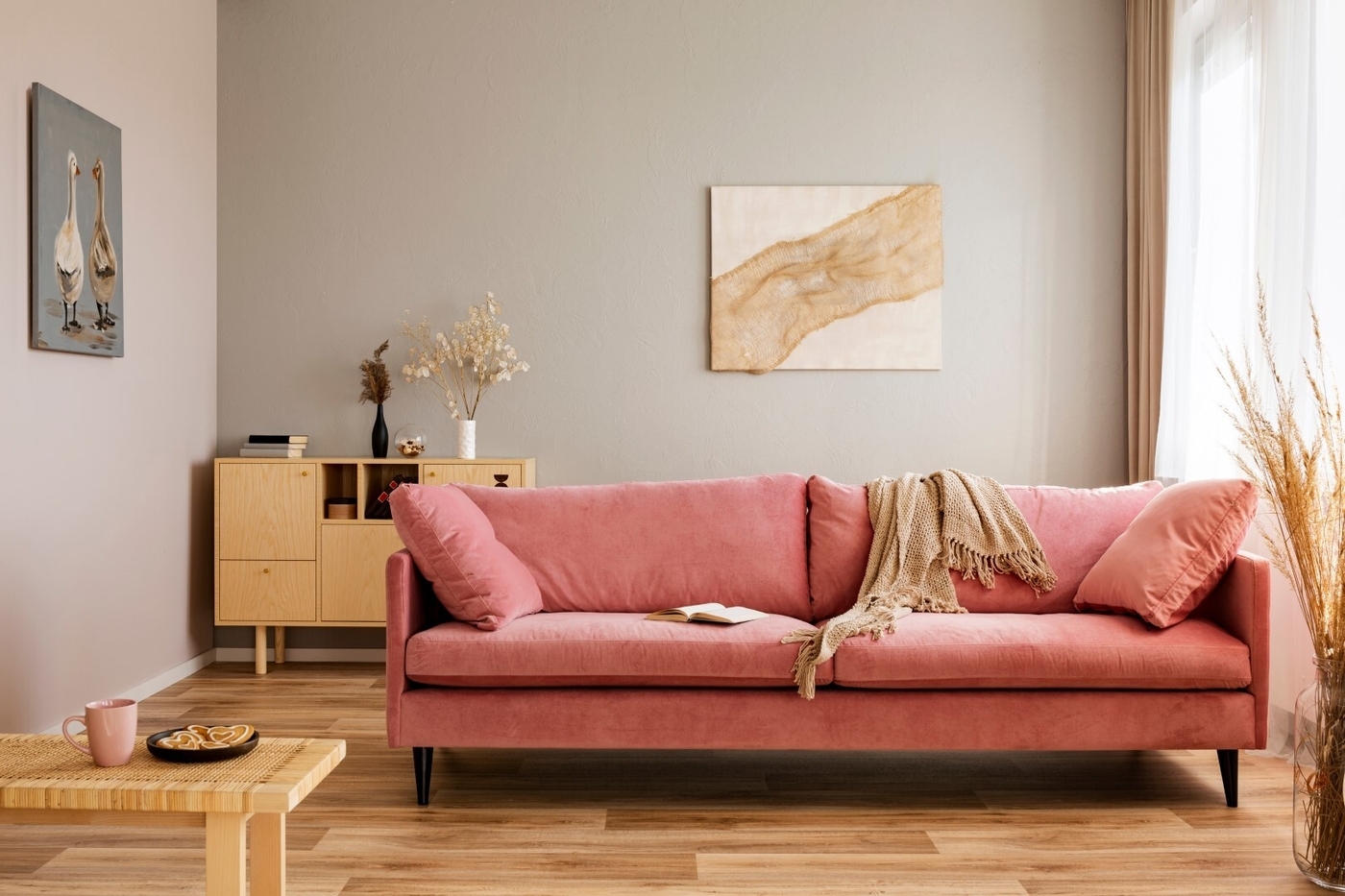 Add a hopeful dash of salmon pink to an ecru room as a symbol of health and happiness. The uplifting rosy accent sofa is bright and playful, while the ecru backdrop lends the shade of pink an elegant air and creates a warm and friendly ambiance. Play up ecru's gentle, organic nature with light wood furniture and an écru linen throw.
Ecru + Olive Green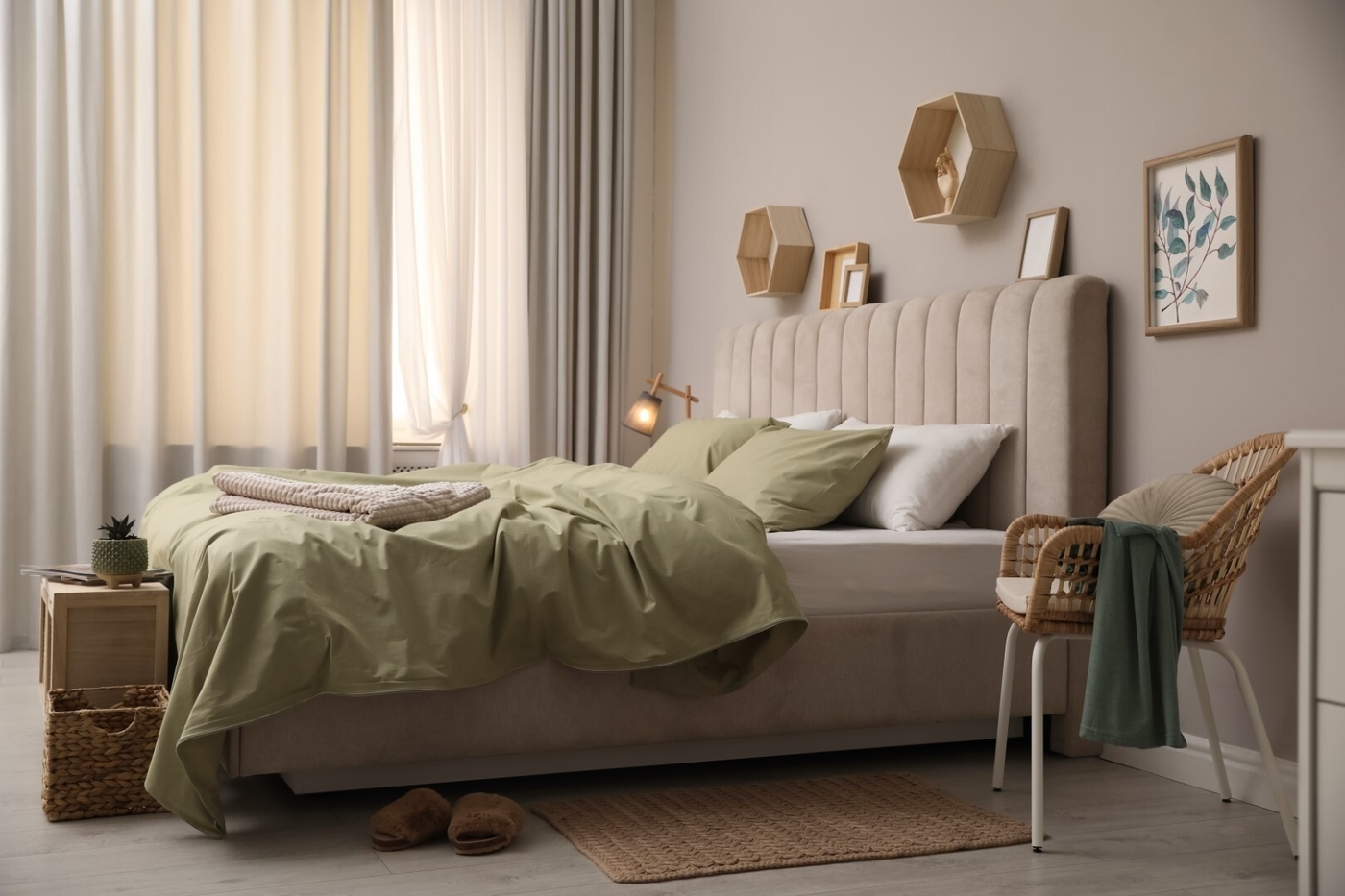 Olive green and ecru are a match made in heaven for creating an earthy, rustic scheme. The nature-inspired shades come to life next to exposed wood and natural textiles, like jute and rattan. Olive green picks up on ecru's yellow-green undertone, creating a space with a welcoming and healthy glow. For a bright and light room, use ecru as the dominant shade, with olive green as the secondary color. Reverse their roles for a cozy, verdant cocooning effect.
Ecru + Charcoal Gray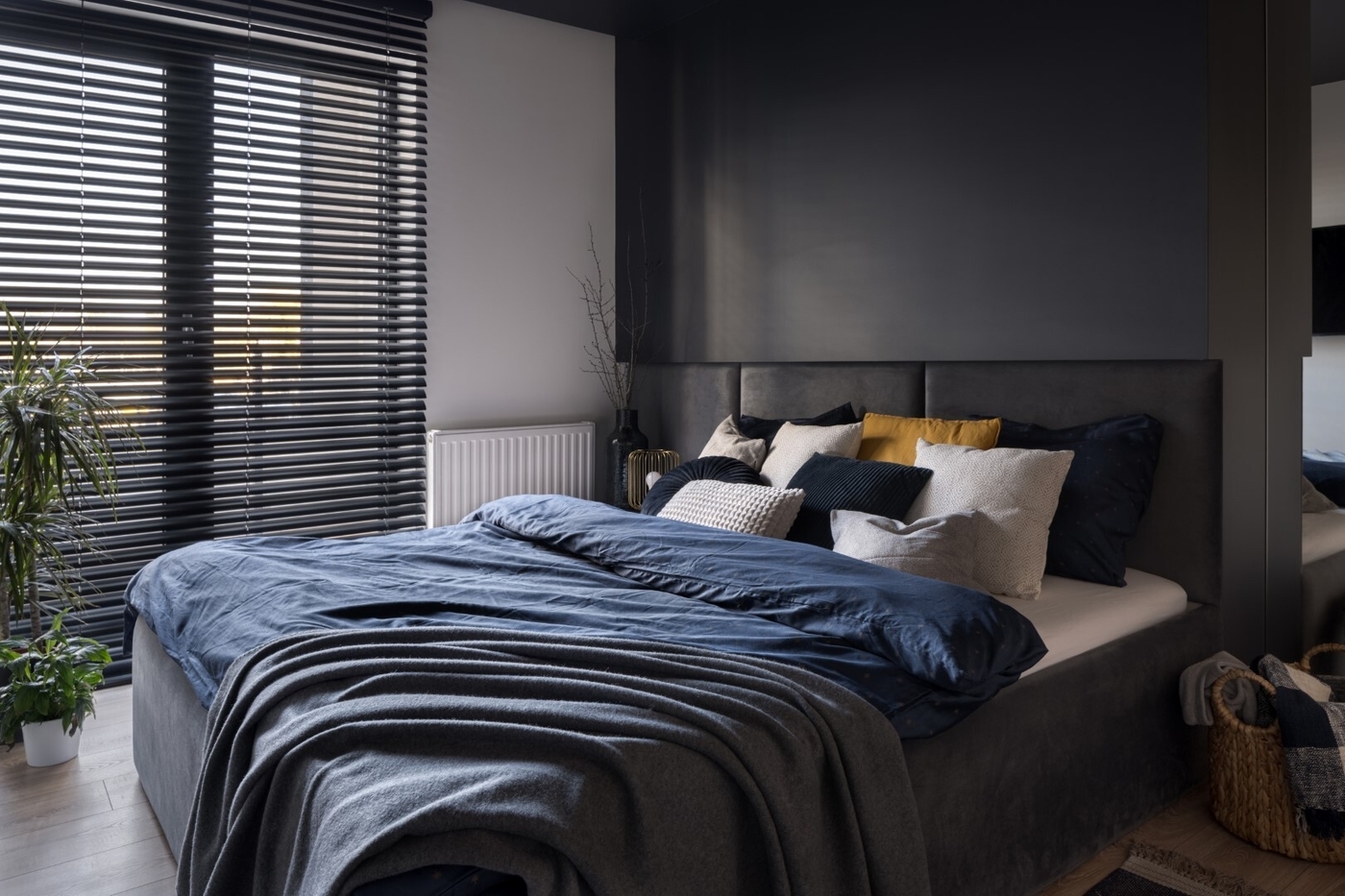 Ecru and charcoal gray are a composed and diplomatic yet exquisite couple. The neutral color palette is understated and exudes a reassuring sense of comfort, security, and calm. The shades share a common balancing and grounding quality, ideal for the home. Stick to light grays and natural wood tones for a refined and sophisticated contemporary look.
Ecru + Dark Green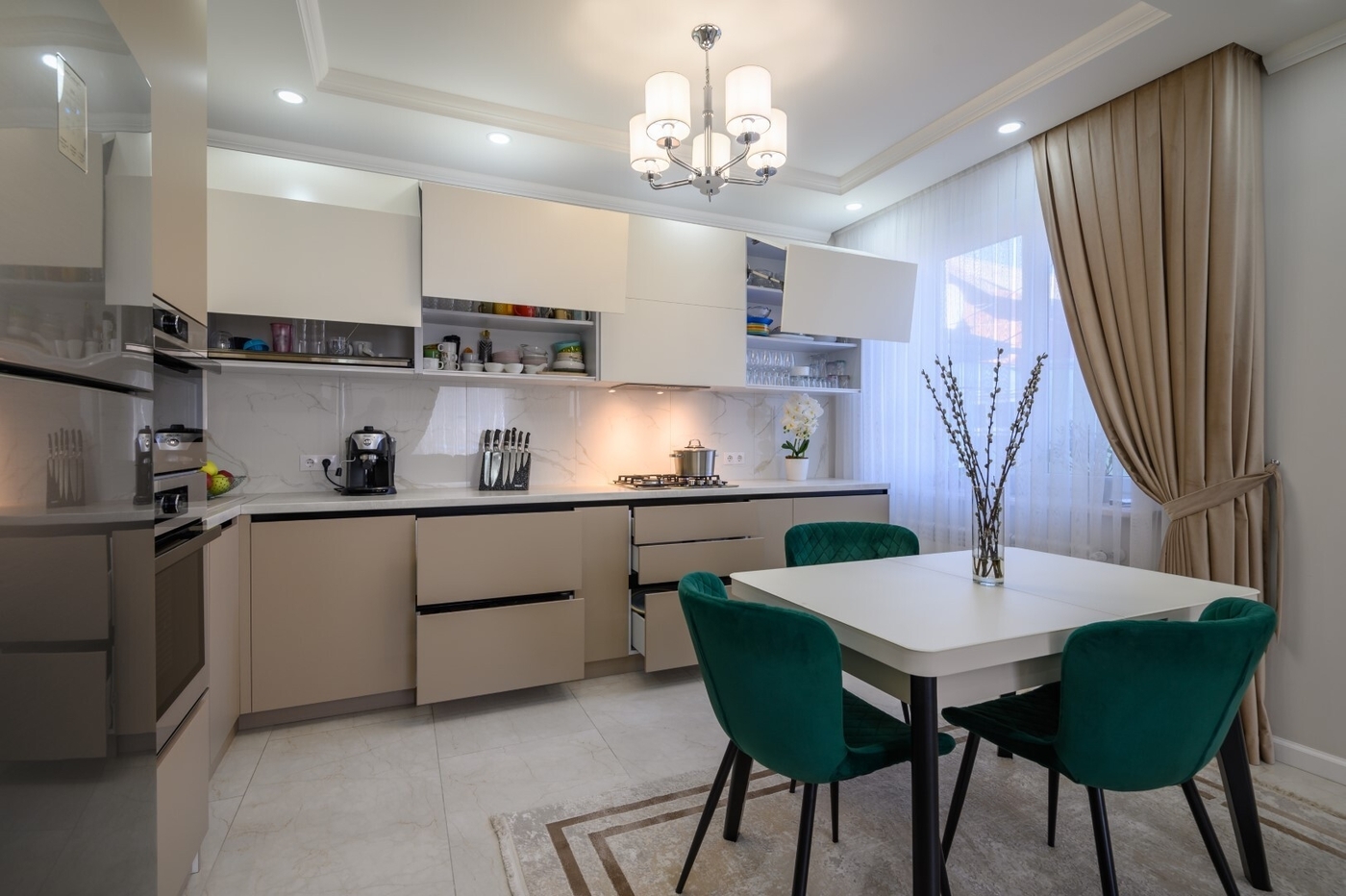 Dark green makes an attractive contrast against a bright ecru hue. The rich verdant shade forges a close connection to the natural world, conjuring images of a thick coniferous forest. The color is deeply relaxing; however, too much dark green can make a room feel gloomy. Instead, introduce dark green to the ecru scheme with a large accent piece. Add other decorative pops of green with house plants, bringing life and movement to the space.
Ecru + Baby Blue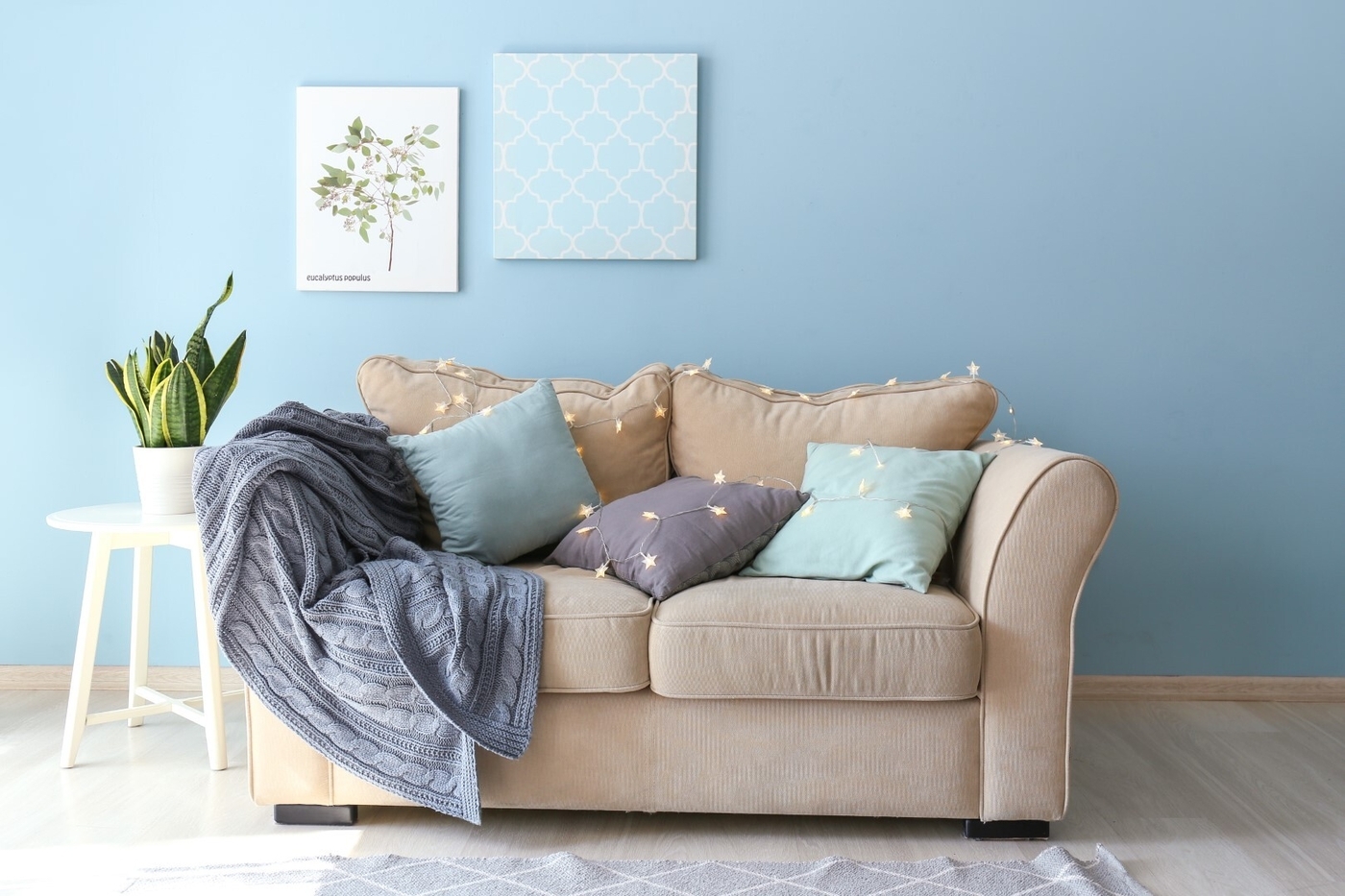 Bring a refreshing coastal feel to your home by pairing ecru with baby blue. Evoking sandy shores and crystalline waters, the mellow color palette is easy on the eye and conducive to rest and relaxation. Cool down a sun-drenched south-facing room with splashes of pale blue, and don't stop at furniture and accessories - an accent door makes a fun feature too. Dream of a tropical island escape with rattan furniture and decorative accessories. Complete the beachy vibe with a collection of seashells to adorn your side table or a painting of a calm ocean.
Ecru + Black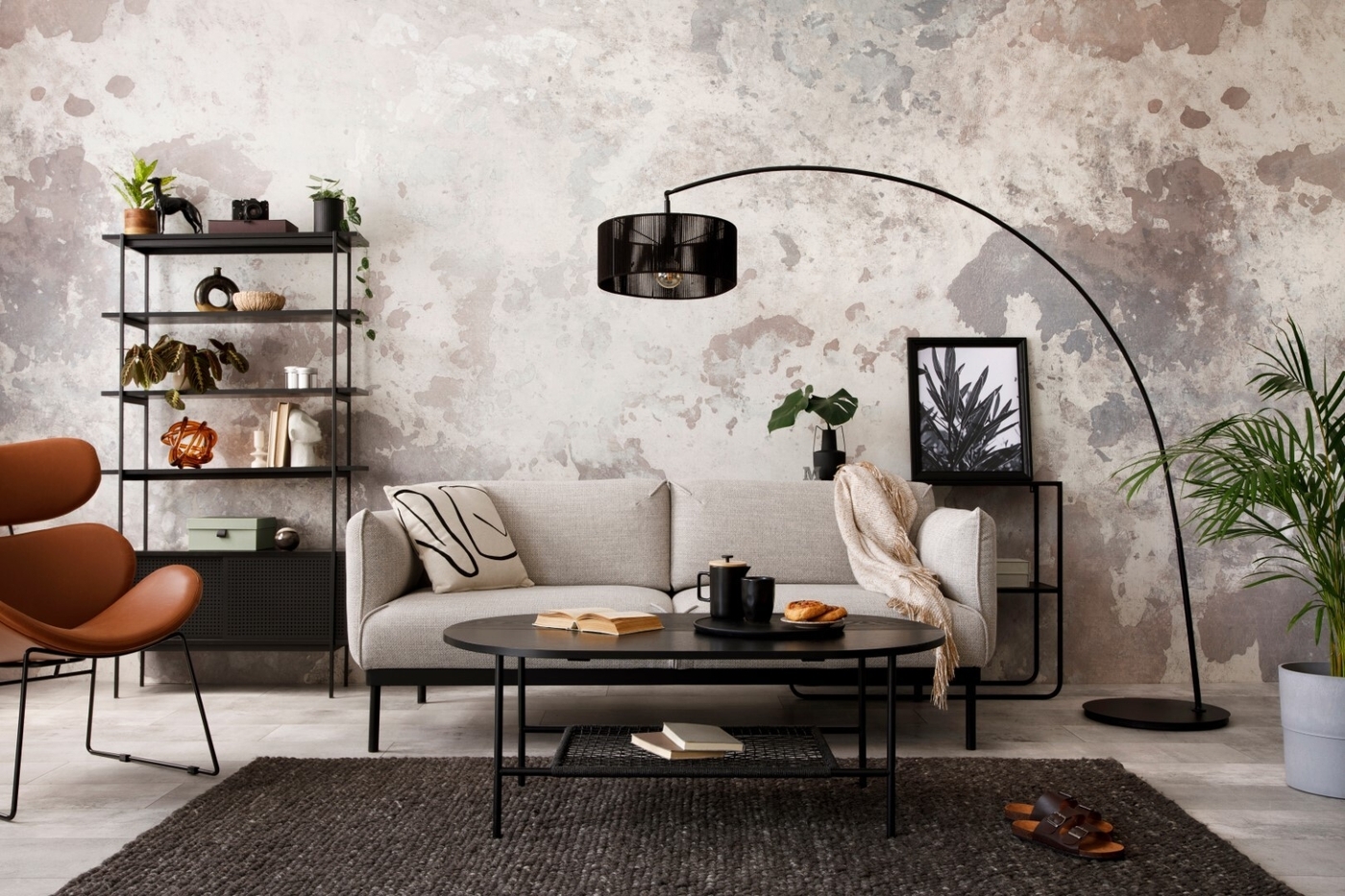 Punctuate an ecru scheme with black accents. Ecru's warm, earthy undertone adds a level of contemporary sophistication that isn't achieved with bright white. Here, the distressed wall and sleek matt black furniture create a chic industrial look. Textured walls add depth and visual interest to a monochrome scheme, and the ecru base color keeps it feeling soft and inviting. Add warmth to an industrial-style interior with reclaimed wood furniture or an accent piece, like this modern chair in tan leather.
Ecru + Mustard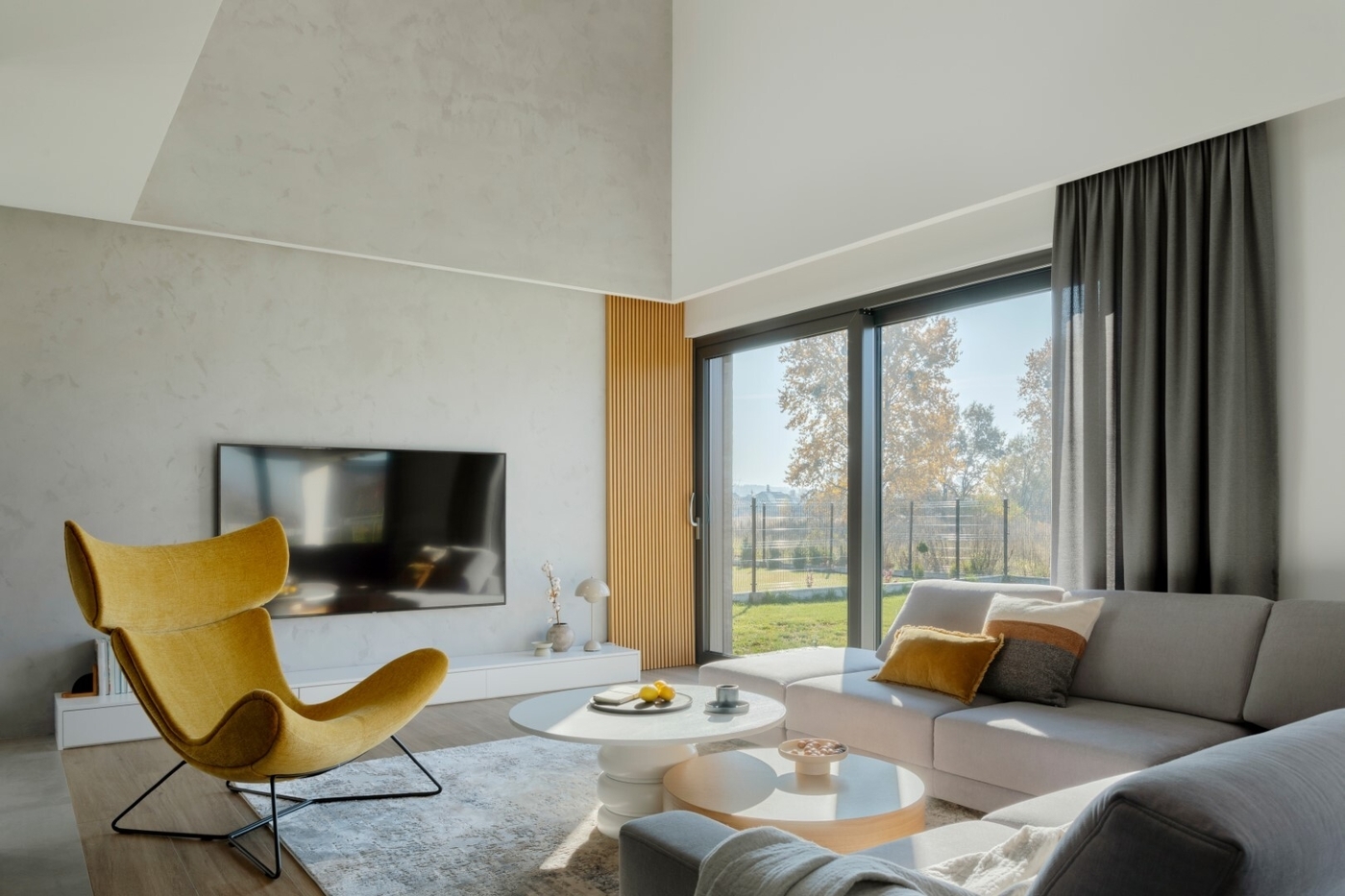 Use ecru to form the basis of a retro mid-century scheme. Mustard yellow is a mid-mod color palette staple. It is warm and earthy yet equally as piquant, lending depth and flavor to a neutral backdrop. Use generous, consistent dollops of mustard yellow around the room, with a star furniture piece and decorative accessories. Admire how this vibrant mustard yellow accent chair adds life and joy to a simple neutral scheme.
Ecru + Taupe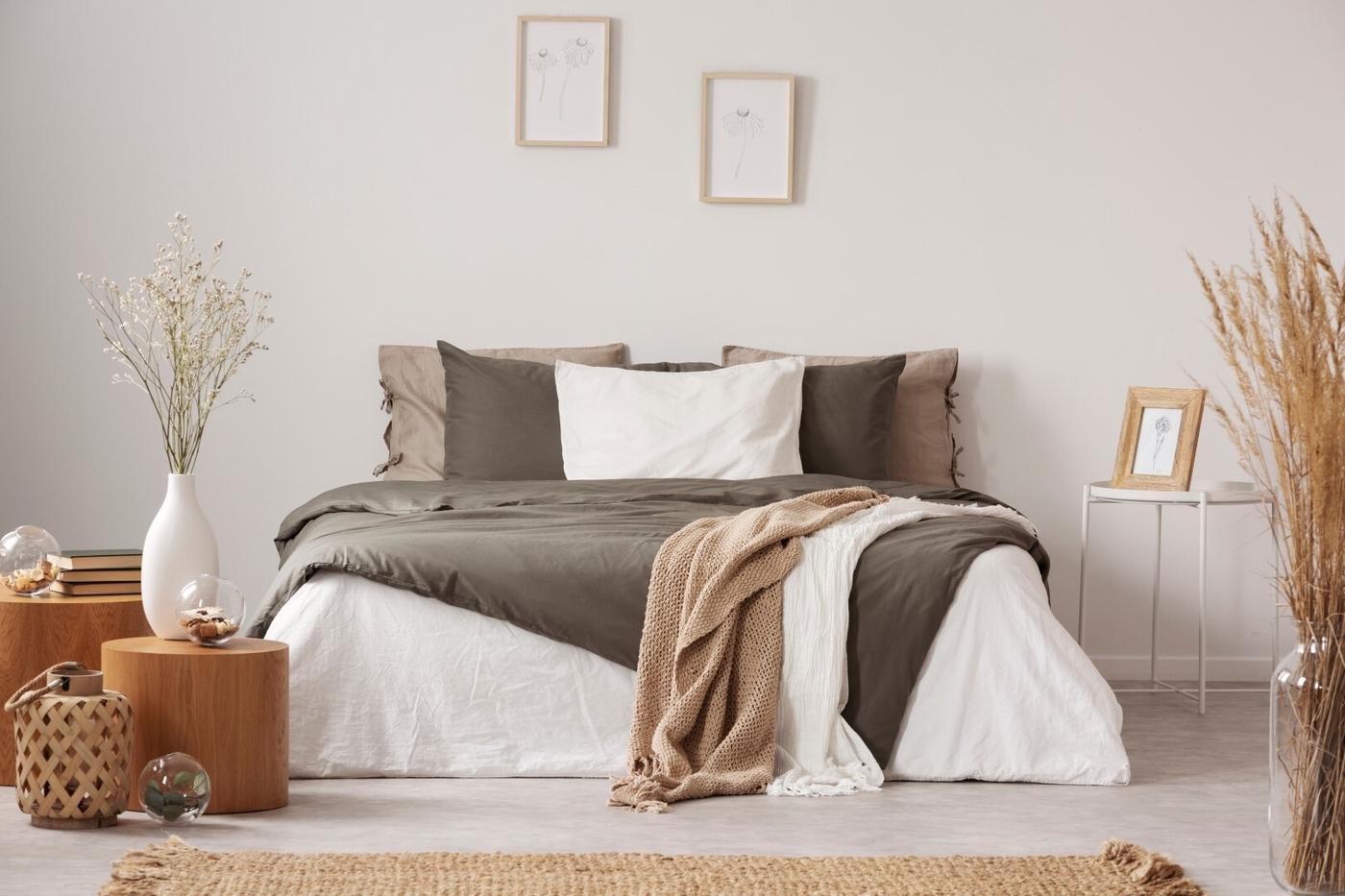 Pair ecru with taupe for a restful monochromatic decor. Taupe is a brownish-gray shade that is equally simple, dependable, and comforting. Like ecru, taupe has an organic and earthy quality that lends an effortless yet chic look. For a triumphant neutral monochromatic scheme, layer texture and create a tonal variation. For example, the dark taupe bedding, mid-shade pillows, light ecru walls, and white sheets create a cohesive, layered look that soothes the senses.
Ecru + Burnt Orange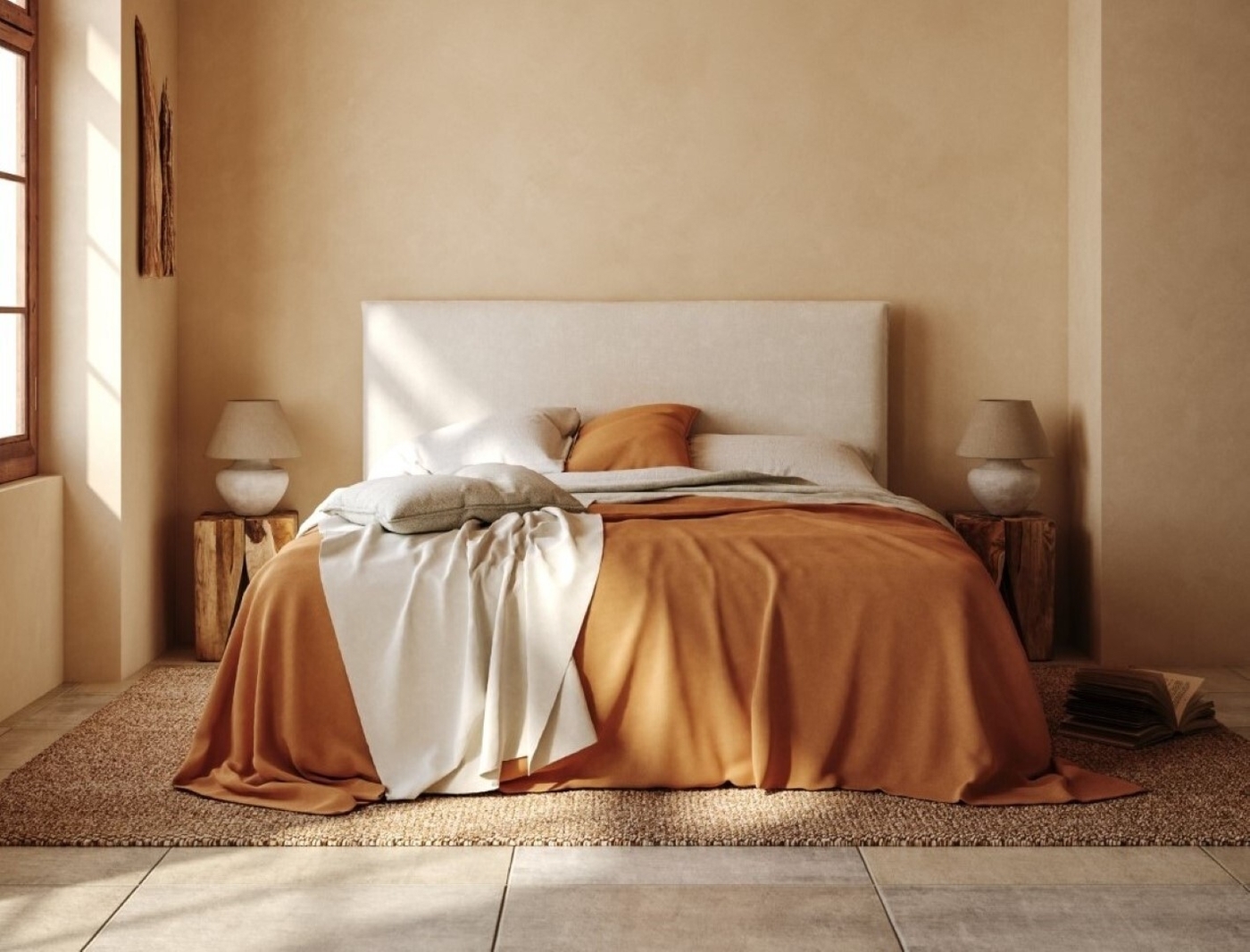 Mimic the relaxed and rustic character of Mediterranean style with ecru and burnt orange. The earthy shade embeds the warmth of the golden hour into a room, brightening your home even on the gloomiest days. Here, the ecru headboard and bed linen are a light accent to the golden scheme. Create consistency with table lamps and a textured accent chair in the same ecru shade.
Ecru + Sustainable Materials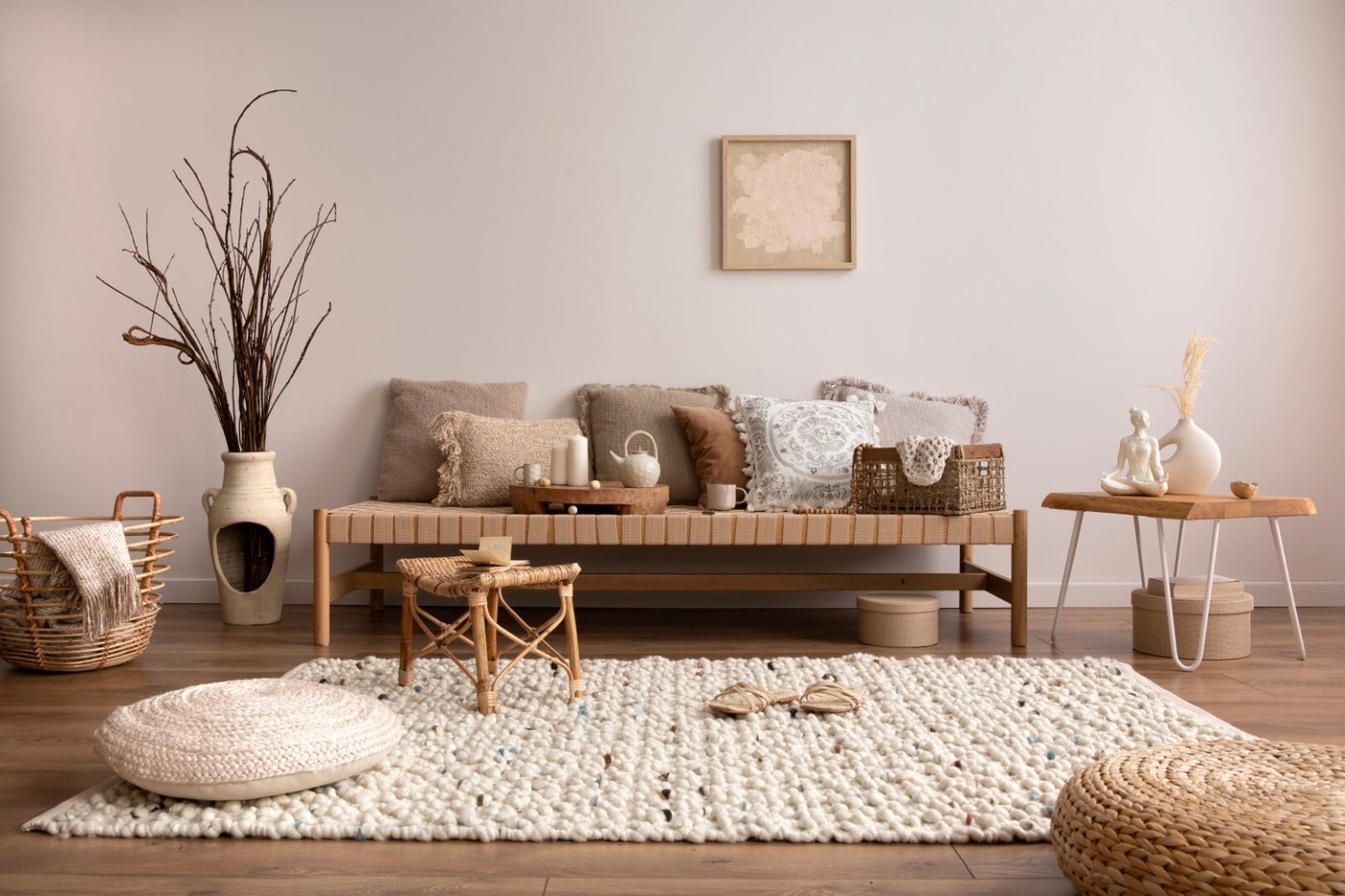 Create an organic, boho haven with an eco-friendly focus by layering sustainable materials over an ecru backdrop. As ecru has an inherent organic quality, it makes sense to pair it with like-minded textures, like reclaimed wood, bamboo, rattan, natural stones, organic linen, hemp, jute, and wool. Go that extra mile with eco-friendly bio-based paint, free from toxic VOCs. The result will be a happy, healthy, and harmonious home.
Interesting Facts About the Color Ecru
The color ecru was traditionally considered a shade of beige.

In the 19th century, ecru became more precisely defined as "a grayish yellow that is greener and paler than chamois or old ivory", though it was still synonymous with beige.

In the 1950s, interior designers started to distinguish ecru as a color.

The word 'écru' is French and translates to 'raw' in English. It is derived from the Latin 'crudus', of the same meaning.