Like a breath of fresh air, this muted shade of blue has a celestial quality that is immediately uplifting, refreshing, and relaxing.
Pale blue is a light and delicate tint of blue made by mixing a significant amount of white into a pure blue pigment. Also referred to as baby blue, light blue, haint blue, pastel blue, or powder blue, the color has a low saturation, making it easy on the eye and conducive to rest and relaxation. Its soft and mellow nature makes it a popular choice for bedrooms, bathrooms, and nurseries. Located at the cool end of the scale, pale blue works well in south-facing rooms to balance the warm sunlight and achieve a tranquil, airy feel. It is also a good color to make a small, dingy room appear brighter and more spacious.
What is the Psychology of Pale Blue?
According to color psychology, blue is commonly associated with serenity, relaxation, calm, trustworthiness, loyalty, and reliability. On the other hand, blue's cool tone can also come off as being icy, aloof, and distant. In today's Western culture, pale blue is frequently associated with baby boys (though this has not always been the case). As a result, lighter shades of blue are often linked to childhood, innocence, and ignorance. Pale blue also represents clarity of thought and mind, and it is a color commonly used to depict clear shallow water and a cloudless sky.
Research suggests that the color blue is an appetite suppressant, so it may not be the best color for a restaurant, dining room, kitchen, or pantry - unless you're on a strict diet! Studies have also shown that blue light lowers heart rate and blood pressure, justifying its common application in bedrooms, bathrooms, and other spaces intended for relaxation.
What are the Best Ways to Use Pale Blue in the Home?
Paint your bedroom walls pale blue for a zen retreat. The gentle shade is versatile and easy on the eyes, so it can be used in large quantities.

Use pale blue as a neutral by opting for a barely-there tint that could almost pass for white.

Elevate a space with a delicate wallpaper pattern in pale blue. The gentle shade adds a thin layer of texture and visual interest to a room and looks particularly elegant in flora or fauna-inspired designs.

Weave pale blue into a scheme as a refreshing accent color with cushions, bedding, rugs, towels, lamp shades, or artwork.

Celebrate the celestial quality of pale blue by painting your fifth wall in the color. A light blue ceiling will make the space feel bright and airy, like a cloudless summer's day.

Create a coastal scheme with classic blue and white striped furnishings. Don't be afraid to mix up the scale of the stripes and break them up with other patterns.

Decorate your bathroom with pale blue tiles for a practical and stylish feature.
What Colors Go with Pale Blue?
Pale Blue + Bright White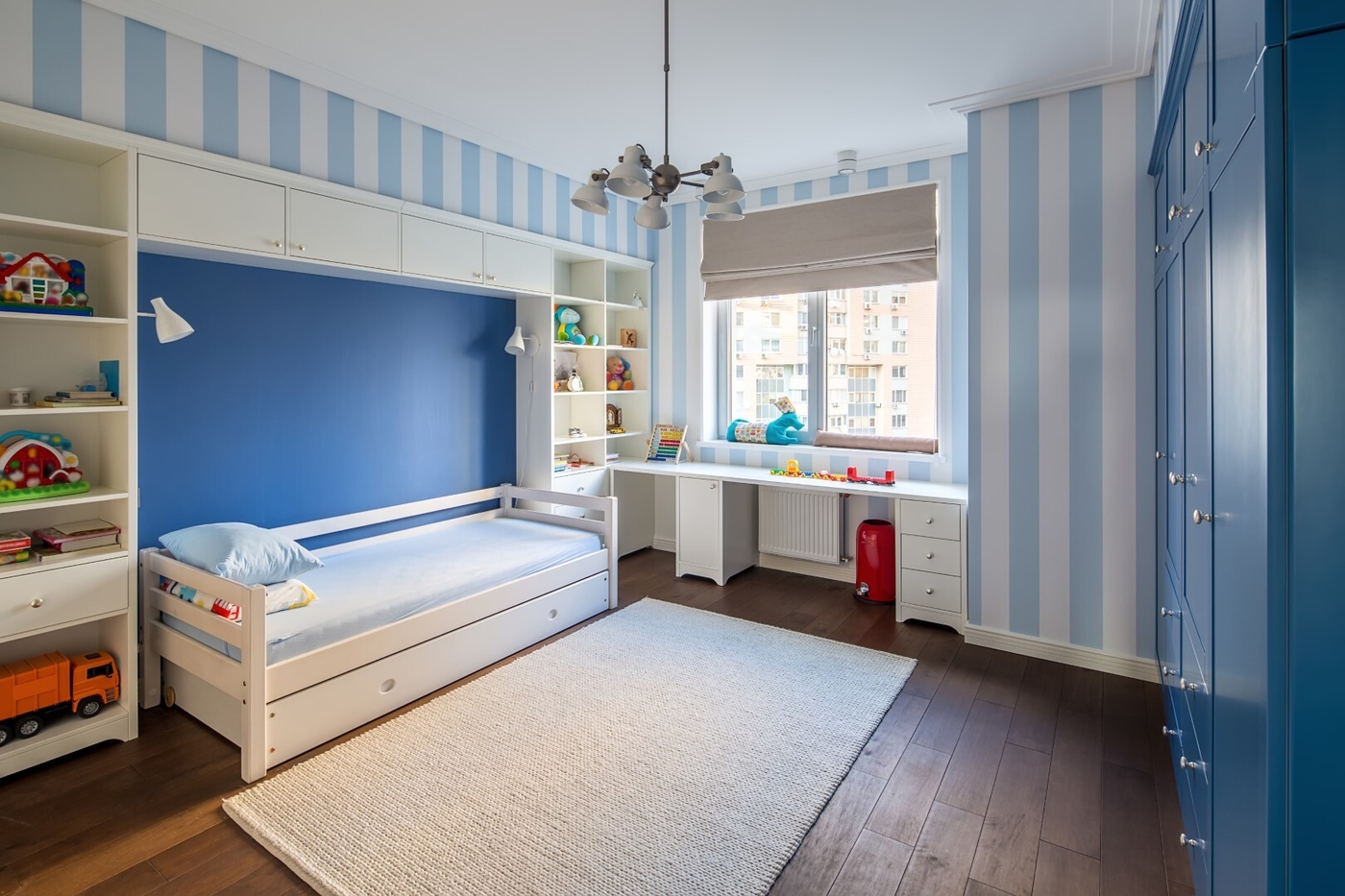 Pale blue and bright white conjure images of blue skies with wisps of white clouds. They make an invigorating, refreshing, and uplifting color palette, that is also likely to feel familiar. Pale blue and white has been in vogue for centuries, though it witnessed a particular spike in the Regency period. Walls were typically painted blue and framed with white wall paneling, dado rails, architraves, and skirting. A tinted azure hue with a crisp, bright white is a classic pairing that is timeless and elegant and lends a fresh and breezy feel to a space. Warm up the scheme with wooden furniture and hints of brass.
Pale Blue + Dark Blue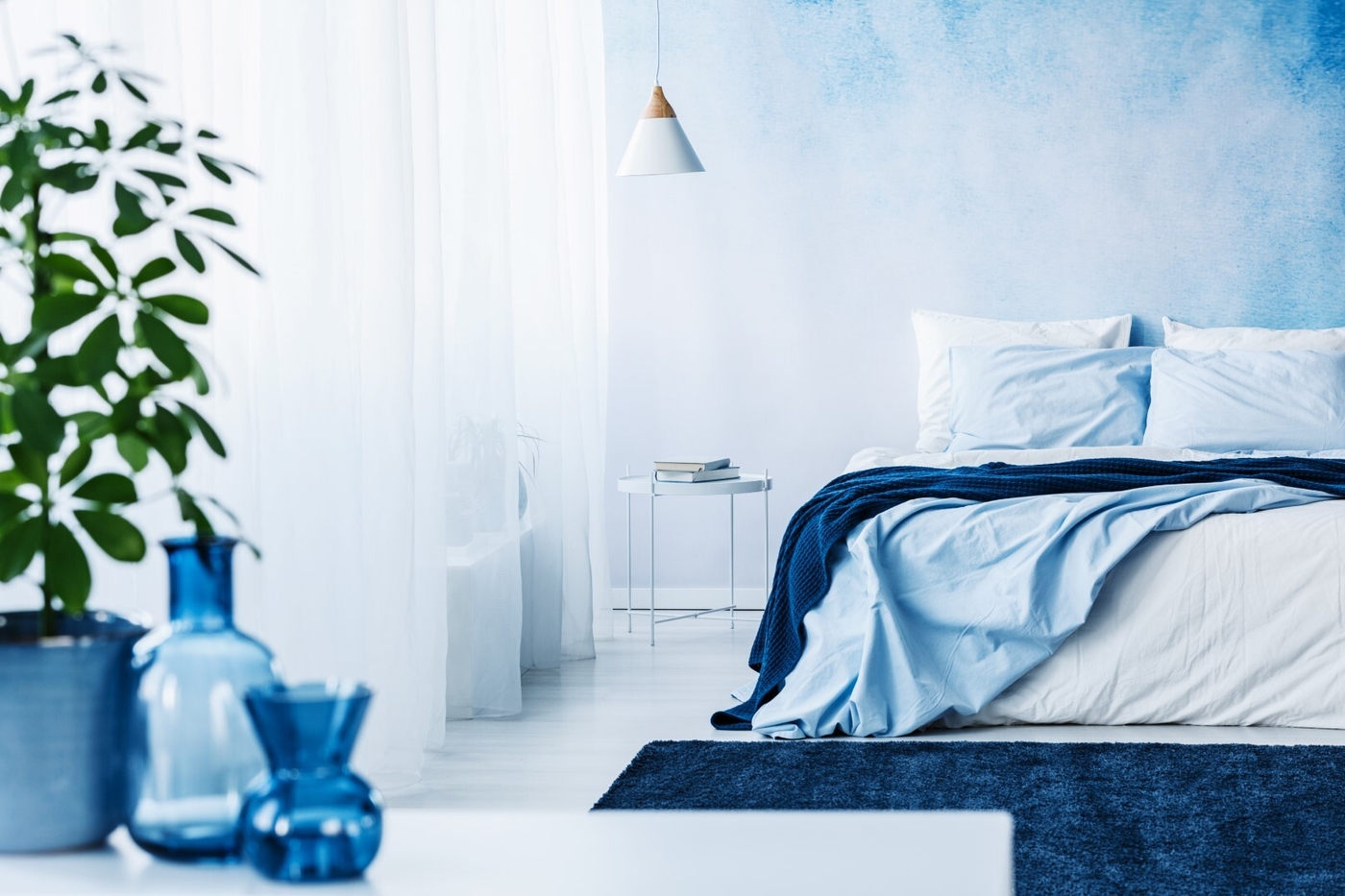 Build up layers of calm with different shades of blue. While pale blue reminds us of bright and breezy skies, dark blue evokes images of deep seas and the night sky, creating a moody yet still and serene atmosphere. The best way to decorate successfully with a monochrome scheme is through a combination of compelling patterns, textures, and silhouettes. Experiment with subtle tonal variations with fabrics in different prints and scales dispersed across upholstery, window treatments, rugs, and accessories.
Pale Blue + Baby Pink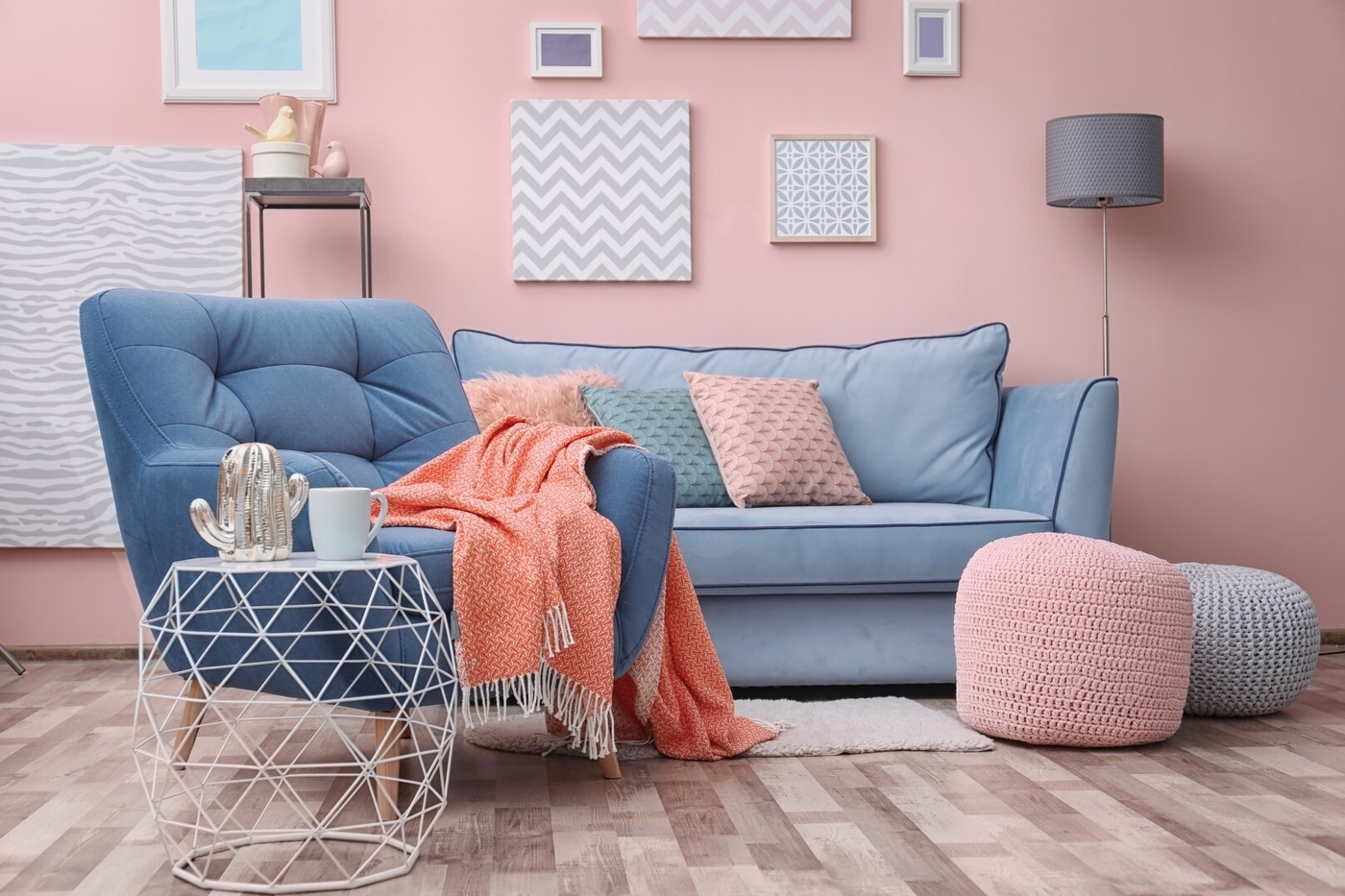 Pale blue and baby pink make a sweet and whimsical color scheme. Though muted in its tone, pastel decor can have a powerful impact on a space. The low-saturated hues evoke the freshness of spring and add an instantly fanciful and playful feel. Often thought of as opposites, pink and blue are also surprisingly complementary. Pick a pink with a cool undertone for a seamless color pairing. For a modern look, play around with clean geometric shapes and pack an unexpected punch with a darker or more vibrant accent. A pop of yellow makes an effective addition, forming a neat triadic scheme.
Pale Blue + Gray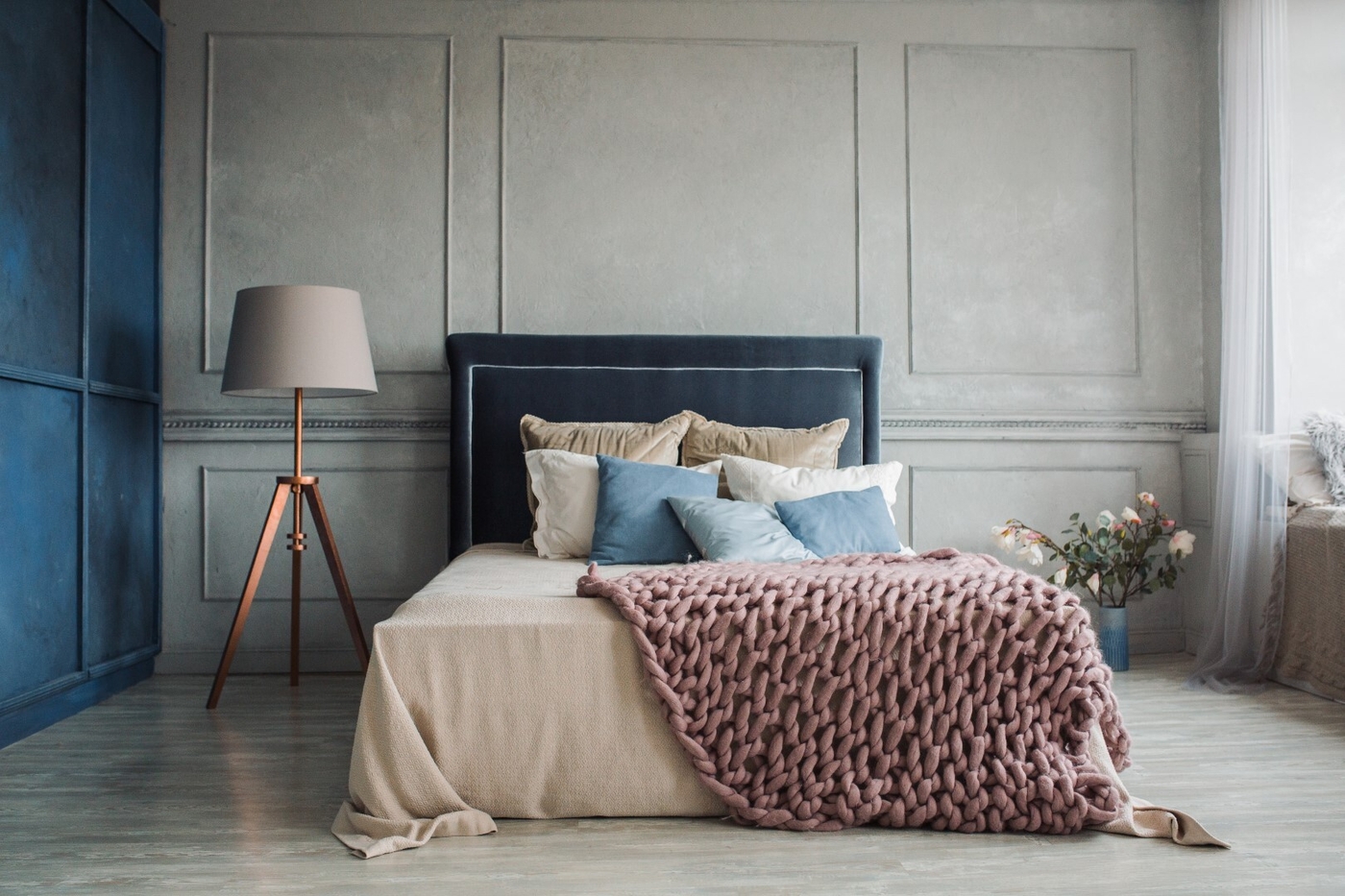 Pair pale blue with gray for a cohesive and sophisticated look. The subdued nature of the two colors makes it a versatile palette suitable for a range of interior styles, from farmhouse chic to minimalist, Scandinavian, or mid-century modern, amongst others. Introduce pale blue accents to a moody charcoal gray scheme to brighten up and soften the look. The dramatic contrast will make the azure hue pop. Alternatively, a light gray shade will blend with pale blue for a seamless look. Just make sure to choose shades with the same undertone, so pair a cool pale blue with a cool gray and vice versa.
Pale Blue + Orange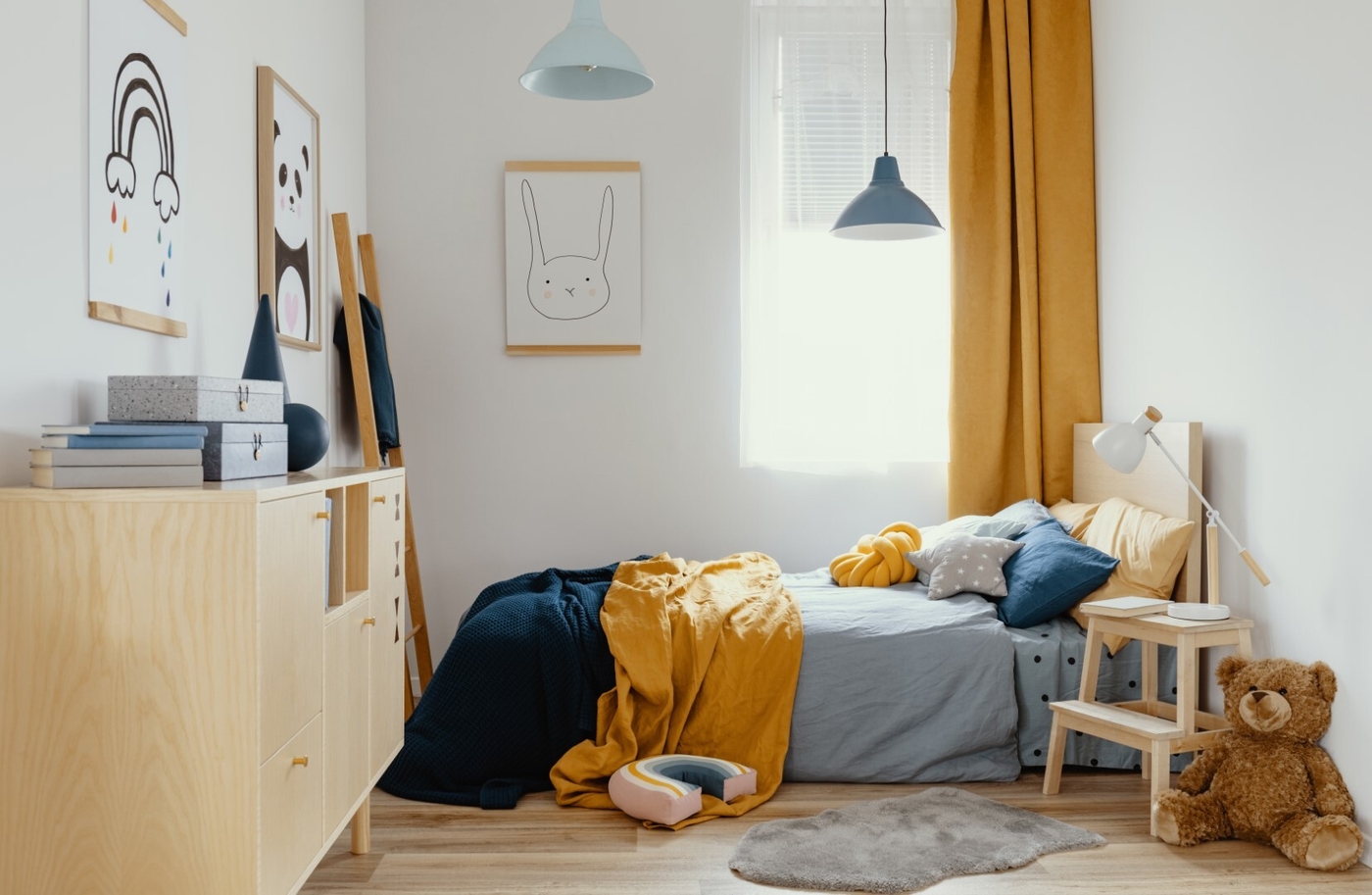 Add some zest to a mellow pale blue palette with a splash of orange. Blue and orange are complementary colors, that sit opposite each other on the color wheel, so they create a fun, high-contrast dynamic when paired together. The polar opposite of calm, composed, and trusty blue, orange is lively, spirited, and vibrant. For an invigorating decor, accent a pale blue backdrop with pops of tangerine, and add a mid-tone gray to mediate. If you prefer a gentle, warmer color palette, swap the zingy tangerine for a more subtle shade of orange, like earthy terracotta, or an autumnal burnt orange.
Pale Blue + Taupe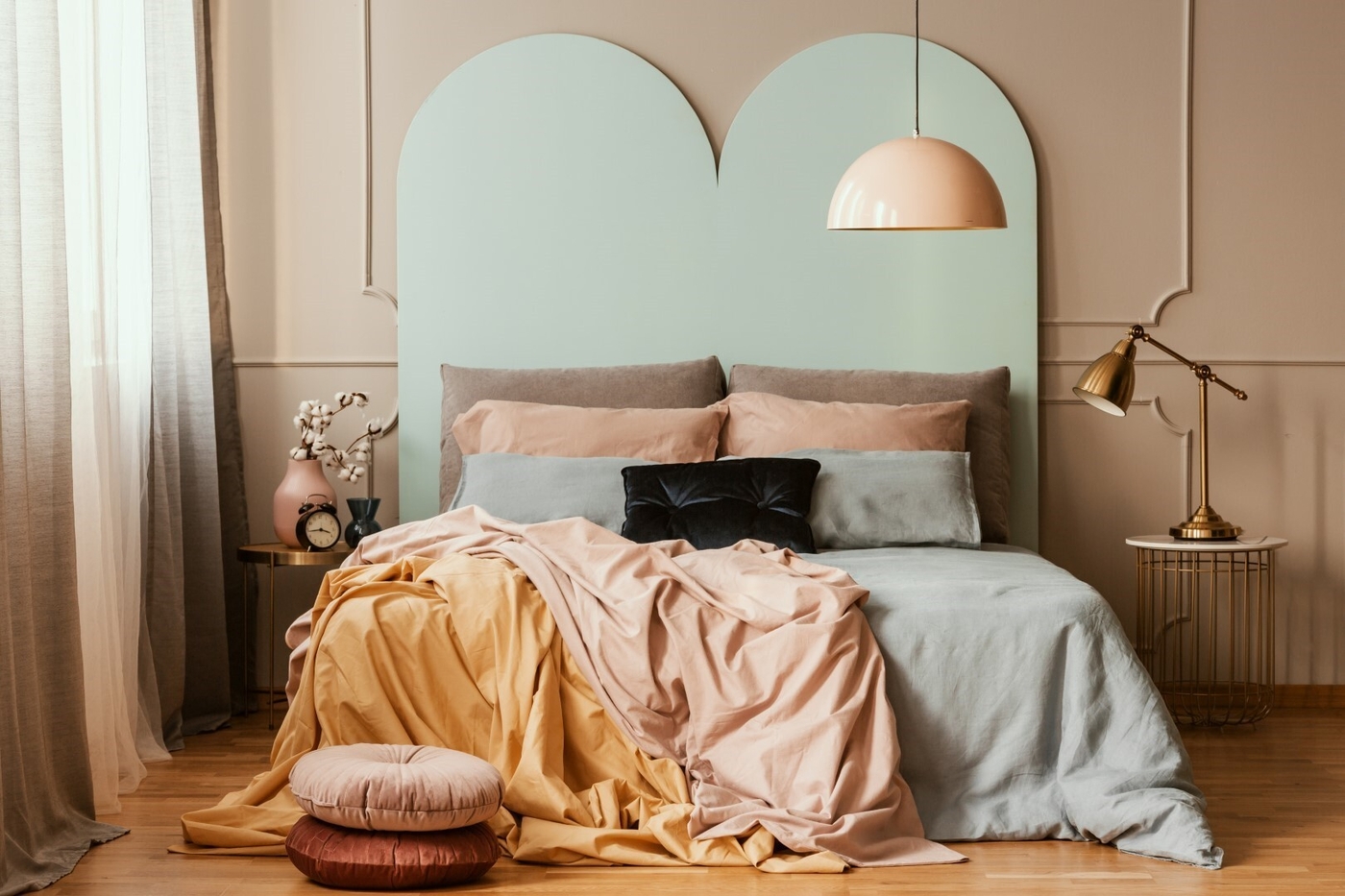 Pale blue and taupe are reminiscent of sandy shorelines and so are naturally a restful color scheme. The gray-brown neutral is an elegant yet comforting shade. It has a timeless quality and is endlessly versatile, making it the perfect backdrop for a celestial accent. Match pale blue with a taupe with a blue undertone and use the colors to cool off a sun-kissed south-facing room. Make a small, dingy space feel bigger and brighter with a light taupe tint, or create a sense of cozy intimacy with a darker shade. Punctuate the scheme with brass accents for a classic look, or introduce black to give it a more contemporary edge.
Pale Blue + Red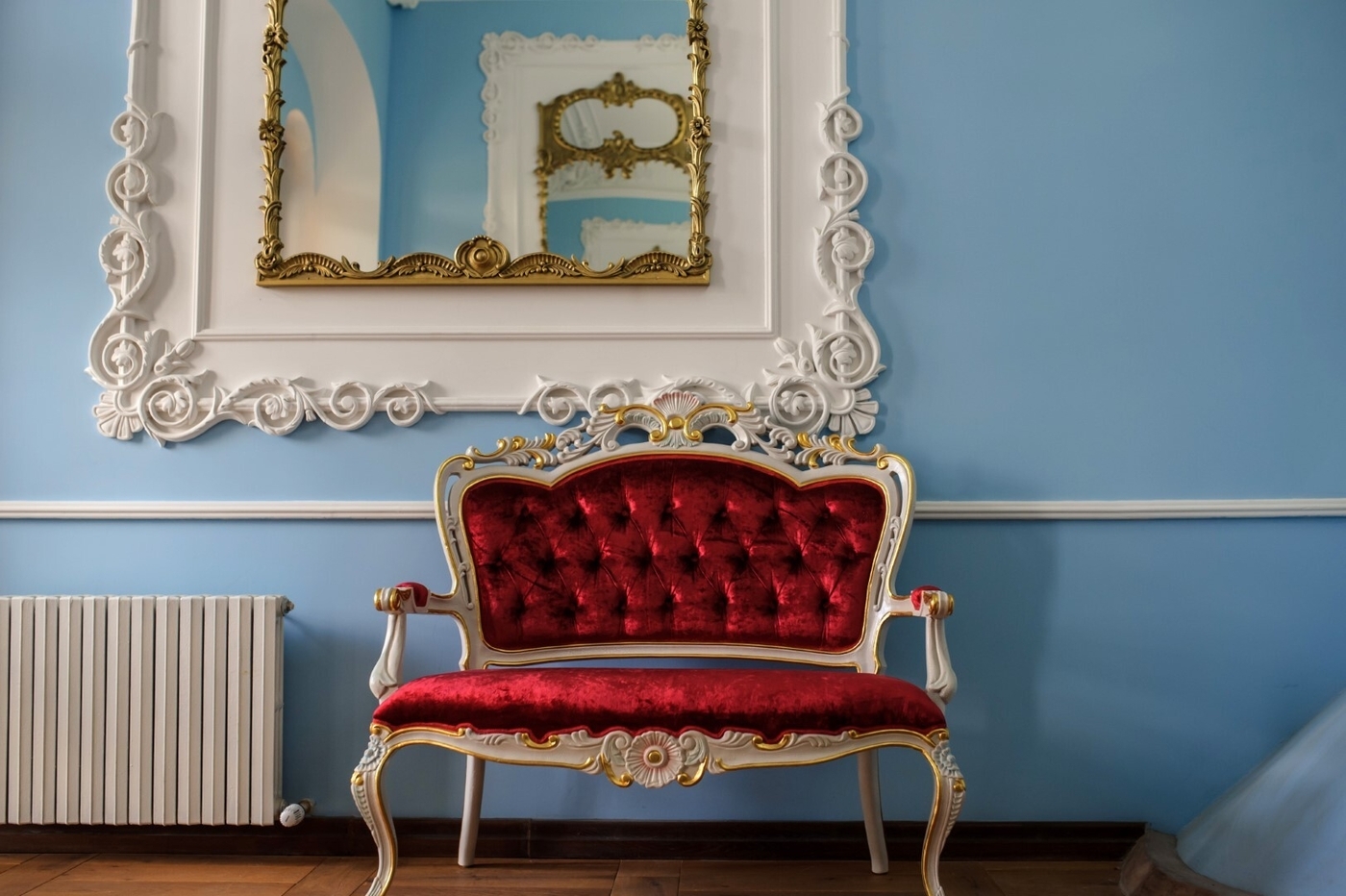 If you're not careful, a blue and red scheme can quickly feel very 'Fourth of July'. Enjoy this dynamic primary color couple by tinkering with the two shades, opting for a pale blue over a classic saturated hue, and a cool, slightly muted red. Though still high-contrast, the quieted-down versions become easier to live with and take on a slightly retro, eclectic vibe. Have fun by mixing and matching patterns, and break up the competing shades by filtering in a warm cream color or light neutral and some rich wooden furniture pieces.
Pale Blue + Yellow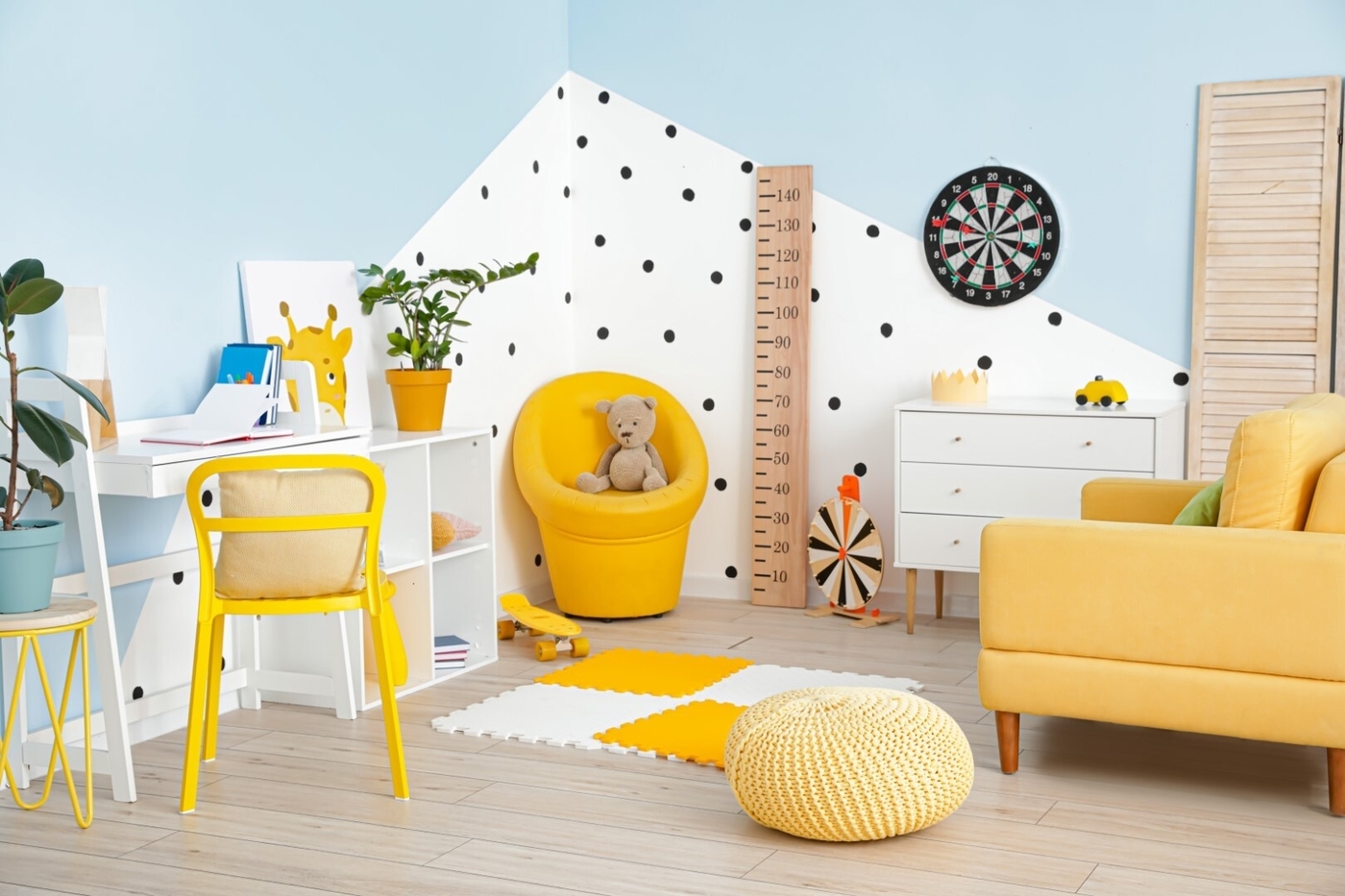 Add some panache to a pale blue scheme with radiant yellow. Even the tiniest dash of the bright color can immediately lift the somber shade and infuse a space with happiness and optimism. If you like strong colors, opt for a pungent mustard yellow and throw in some navy blue accents. Or, for an ultra-modern scheme introduce a soft lemon yellow and pack a punch with a bold monochrome pattern. Create the right balance between the revitalizing, spring-like palette by implementing the 60-30-10 rule.
Pale Blue + Forest Green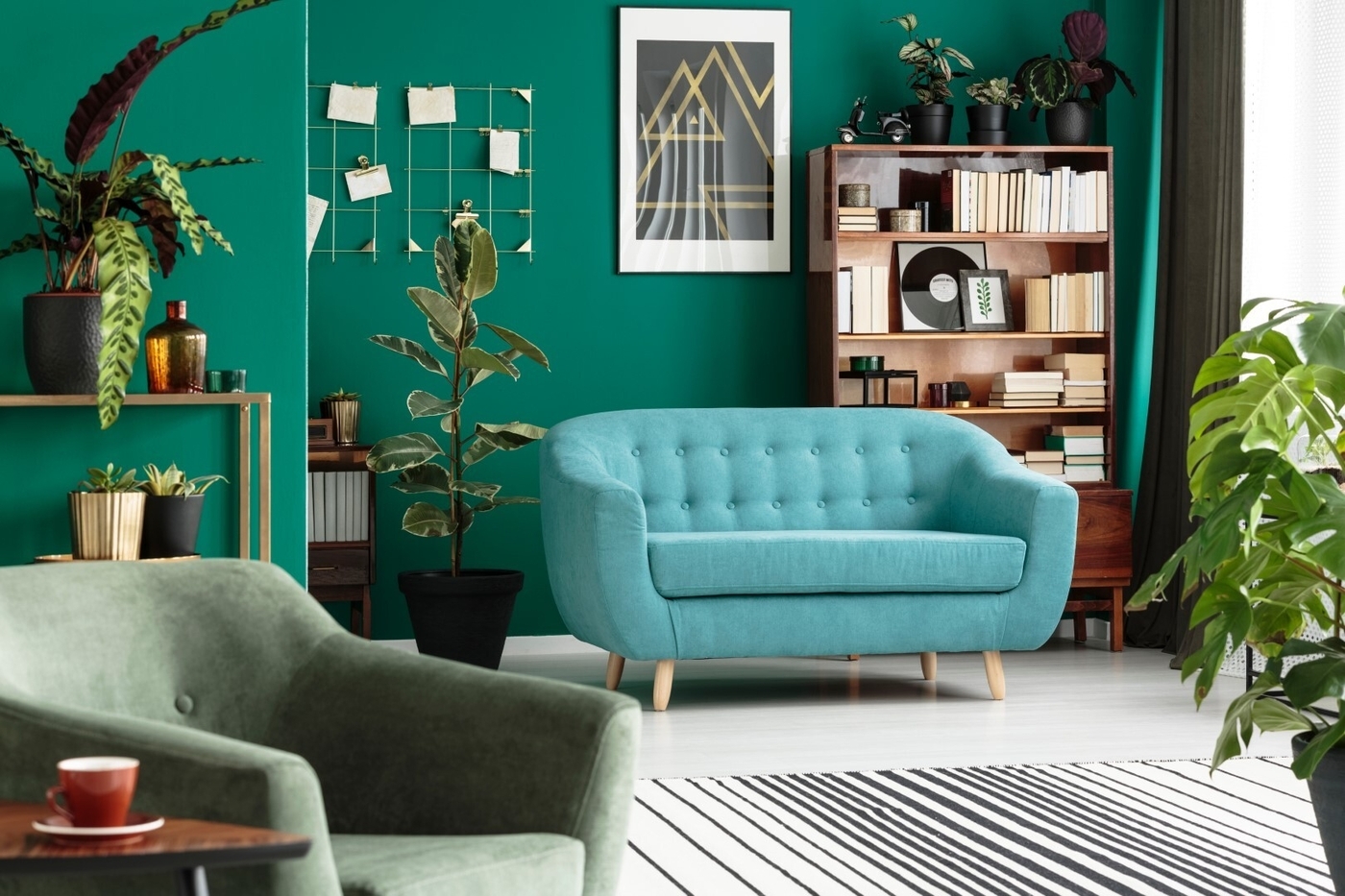 Temper the depth of forest green with the serenity of pale blue. Like catching a glimpse of blue sky through a thick verdant canopy, the tinted azure hue makes an effective and hopeful accent to a moody forest green scheme. Place a textured pale blue armchair, sofa, or headboard against a dark green backdrop. The high tonal contrast creates a striking statement, yet the soothing quality of both shades makes it a deeply relaxing and highly sophisticated color combo. Play up the nature-inspired scheme by dressing the room with a curated selection of indoor plants.
Interesting Facts About the Color Pale Blue
In the southern United States, it is common to paint the ceiling of your front porch pale blue, often referred to as 'haint blue'. The color was believed to ward off 'haints', or evil spirits. Others also believe it has a dual function of repelling insects too.

During the Renaissance, true blue, also referred to as ultramarine, was the most expensive paint pigment and was even prized over gold.

Light shades of blue became popular during the Rococo period of the 18th century.

Pale blue was not always associated with baby boys. 'Sex-specific' colors were introduced by stores in the early 20th century. Pale blue was initially considered more delicate and dainty than pink and, therefore, more appropriate for girls. The color symbols were reversed with the baby boomers in the 1940s.

Argentina, Botswana, and Fiji all use pale blue as the dominant color of their country flags.

Pastels were a popular color trend in the 1950s, including colors like pale blue, pink, yellow, turquoise, and mint green. The subdued shades were used abundantly in both fashion and interior design.