The sets of Netflix's Bridgerton are flush with opulence, glamor, and Regency style—with a contemporary twist. Set in London in the 1800s and inspired by bestselling novels by Julia Quinn, the first season of Bridgerton follows the story of Daphne Bridgerton (Phoebe Dynevor) and Simon Basset, also known as the Duke of Hastings (Regé-Jean Page), and the story of their calculated courtship. Their Regency romance is set against a backdrop of affluence, wealth, and sophistication, and it's these themes that inform the show's stunning decor.
In this guide, we unpack the Bridgerton design aesthetic: the Regency-inspired details that make the show such a visual treat and how to use elements from the show to elevate modern interior spaces.
Pulling inspiration from the Regency era
Although the Regency era spanned only nine years (from 1811 to 1820), interior design from this time had a sense of indelibly. Architecture was awe-inspiring, color palettes were rich, and textiles were sumptuous. It was also a defining time for the decorative arts, and things like paintings, metalwork, and furniture ornamentation were ubiquitous and held in high esteem.
Bridgerton pays homage to the uniqueness of the Regency period. Yes, there are hints of contemporary culture at every juncture, but the sets are a relatively genuine reflection of the Regency era's design style. In fact, some of the properties featured in Bridgerton are real places. For instances, Vauxhall Gardens, where Daphne and Simon had their first public dance, was actually used for gatherings during the Regency era.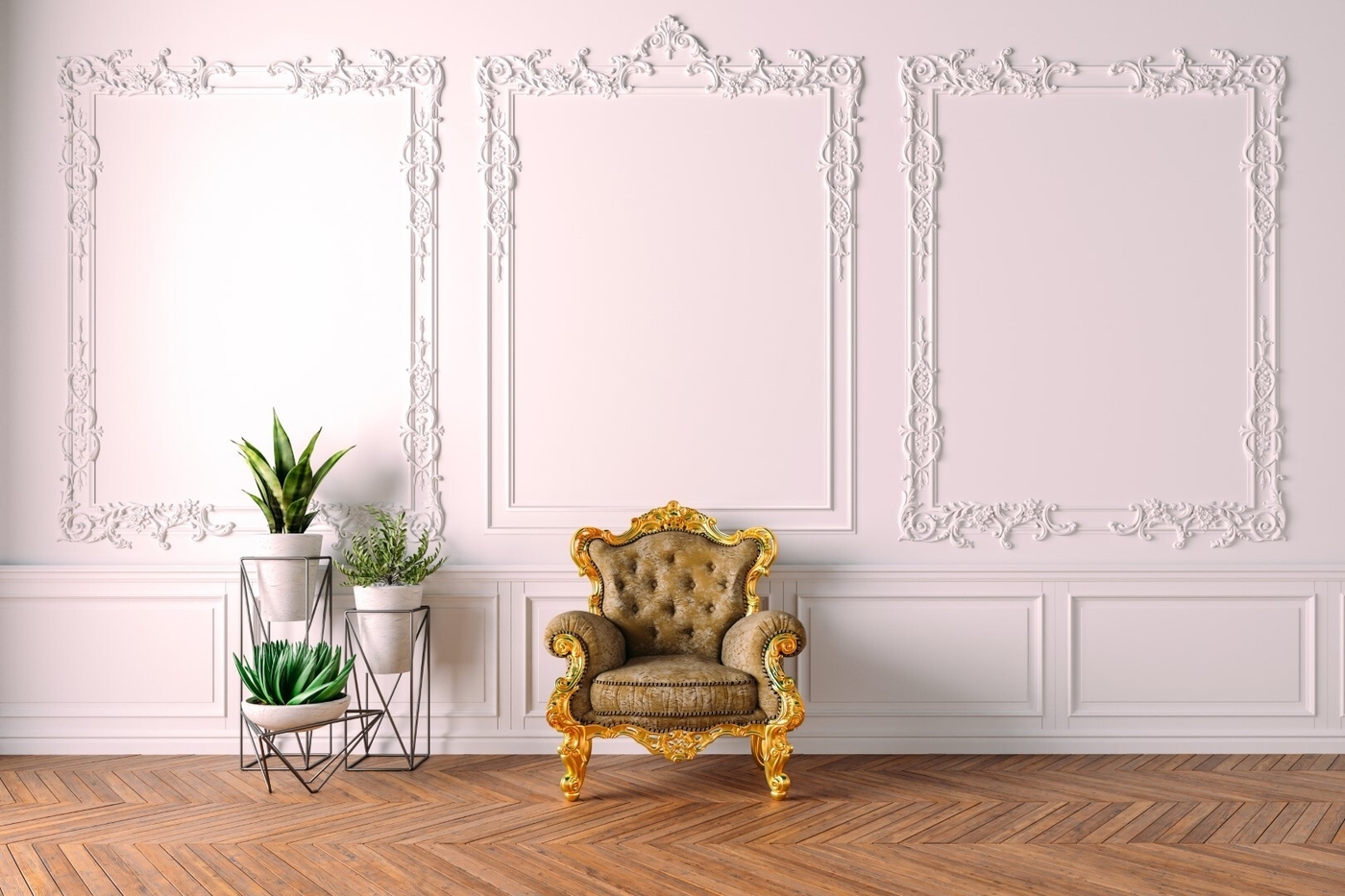 With that said, it's important to note that while Bridgerton draws inspiration from the Regency era, it differs in one major way. Bridgerton pulls from history, as well as the current day, and the intermingling of old and new is what makes the Bridgerton aesthetic—coined "Regencycore"—especially unique.
Pale blue
Even if you've only managed to catch an episode or two of Bridgerton, you'll notice that the color blue—more specifically, Wedgwood Blue—is used in a big way. For those who haven't seen the show, Wedgwood Blue, a serene shade of blue-gray, is the Bridgerton family's signature color. As such, we see this color a lot throughout the series, splashed across walls, ceilings, rugs, linens, and garments.
Like many other elements in the show, Wedgwood Blue has historical roots. The color is inspired by a fine china and porcelain line called Jasperware, which was first developed by Josiah Wedgwood in the 1770s and was popular throughout the Regency era.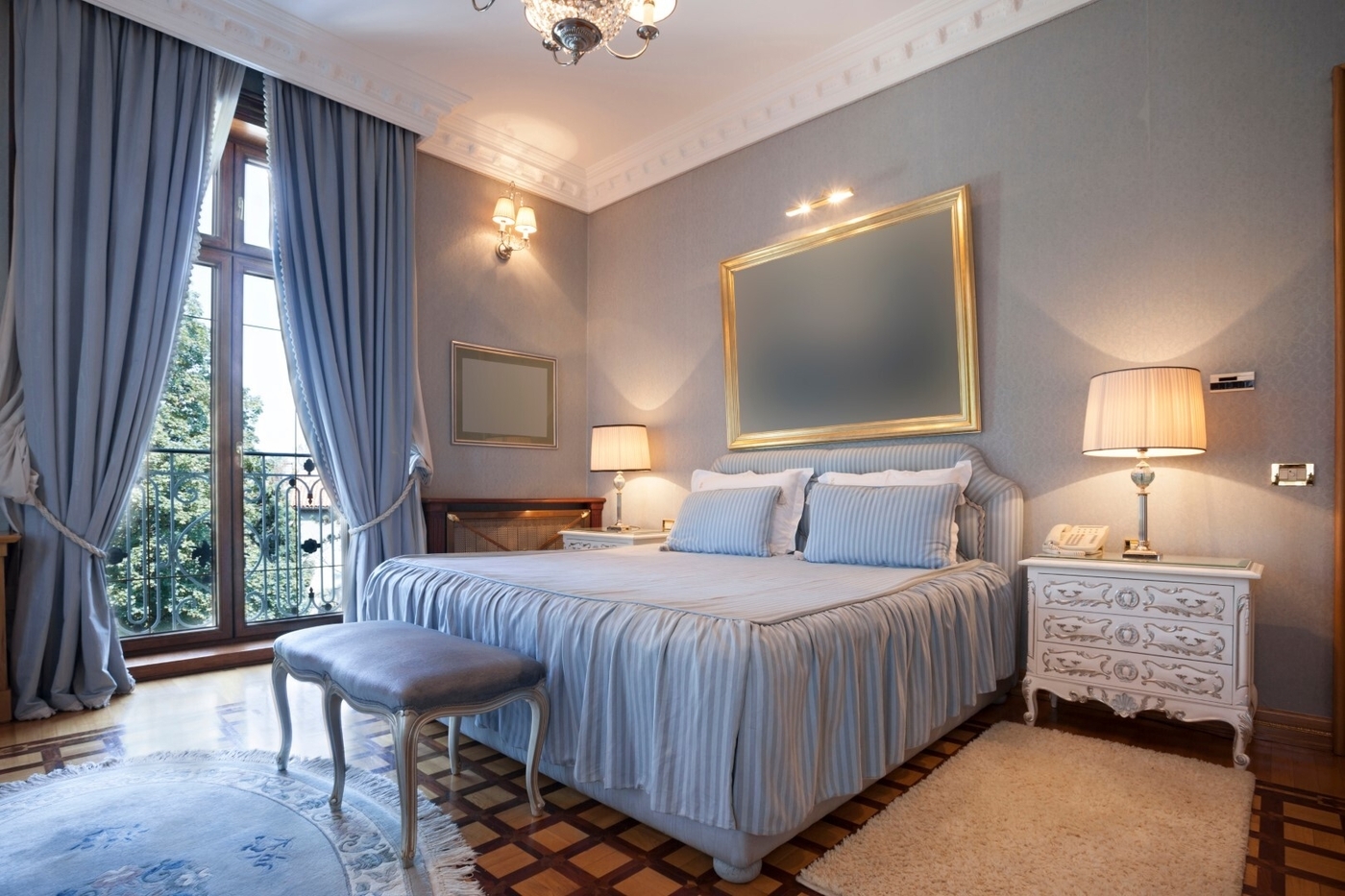 Wedgwood Blue is appealing outside of the context of Bridgerton. It's reminiscent of Pantone's Color of the Year 2016, Serenity, and Behr's Cornflower Blue. Plus, it's just plain pleasing to look at, and for that reason, it lends itself well to interior design applications.
Because of its associations to gray, Wedgwood Blue can be used in a large-format way, as you would a neutral. It's also saturated enough to be used as an accent color. To achieve the true Bridgerton effect, pair Wedgwood Blue alongside cream and a soft shade of gold. Or use Wedgwood Blue to uplift a room with ample white.
Wisteria florals
Throughout the series, we're treated to shots of the Bridgerton family home, draped artfully in wisteria vines. In its blooming state, wisteria flowers are a misty shade of purple that pairs effortlessly with the greenery that occupies the building facade, as well as the brick facade itself.
There might be some color theory at play here. Purple sits across green and yellow on the color wheel, so it makes sense that the wisteria flowers look picturesque alongside plenty of greenery. Meanwhile, the purple of the flower brings out the yellow undertones within the brick.
If you love the look of wisterias, one way to incorporate the essence of the flower into your home is through a wisteria-themed wallpaper. Papering a powder room or an accent wall, for example, with a wisteria wallpaper is a sweet and straightforward way to invite the whimsy of wisteria blooms into your home, without the hassle of actually caring for the plant.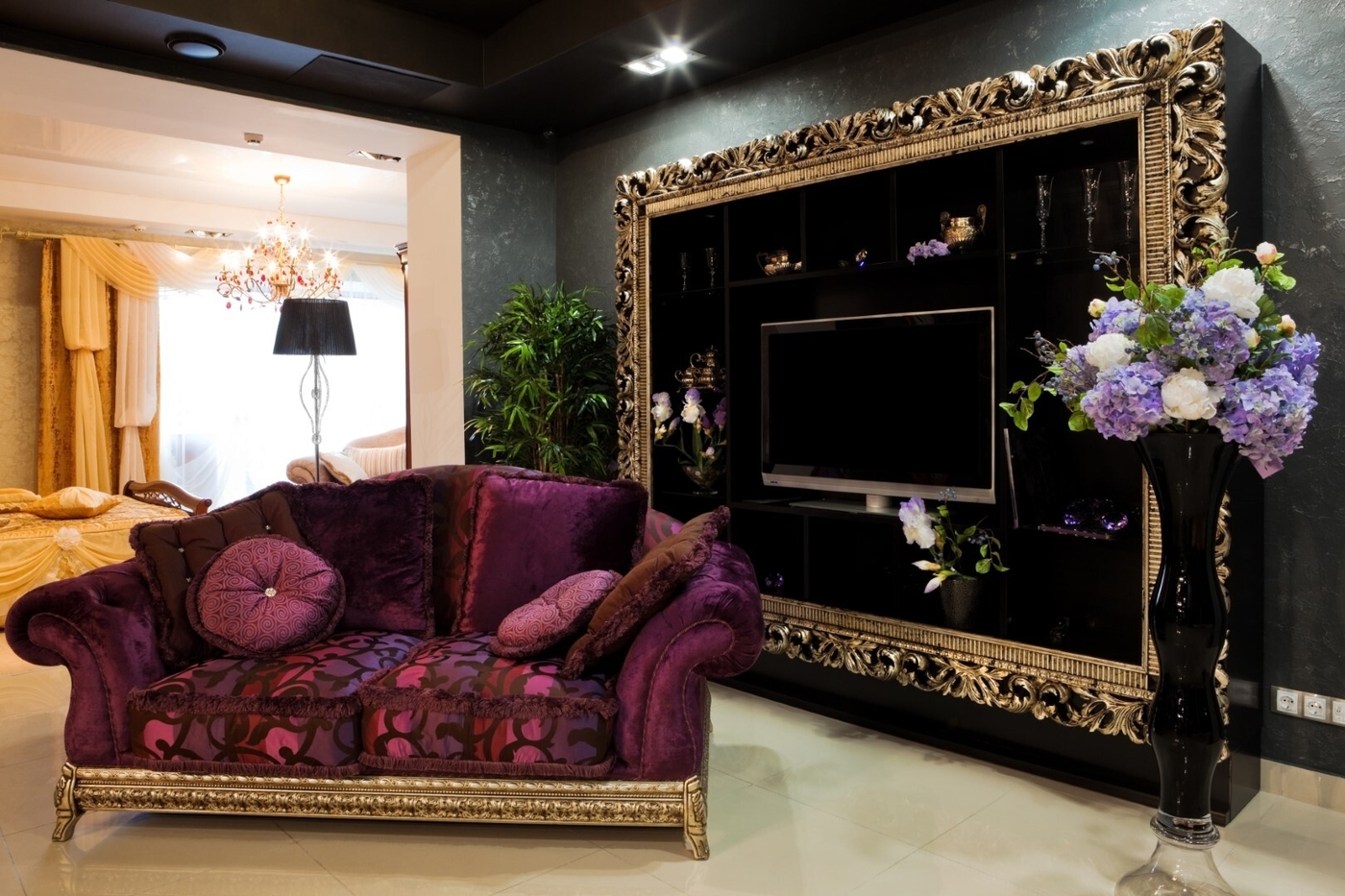 Another idea is to use wisterias to inspire an interior color palette. Purple lends itself to a variety of color palettes because it has both warm and cool undertones. As such, it's one of those rare colors that isn't quite a neutral, but pairs well with just about anything. You can't go wrong with light purple alongside white or gray. For something a little more glamorous, try purple and dusty rose. For a bolder effect, try purple and gold.
Large format artworks
A trained eye might notice that Bridgerton is brimming with larger-than-life artworks that are more fact than fiction. In addition to the fact that the show films in several English museums, allowing for some sneak peaks of famous art collections, some of the artworks displayed in homes and halls are genuine. For instance, the show features pieces by English artists, Anthony van Dyck and Thomas Gainsborough, amongst others. Additionally, many of the prop paintings in the show are based artworks that actually exist.
The art in Bridgerton is typically impressionist in nature, bordered by ornate, gold frames. In the show, we see paintings pretty much everywhere: singular pieces displayed between crown moldings and above wainscoting, as well as gallery walls that span from floor to ceiling. Suffice to say, it's a dramatic effect.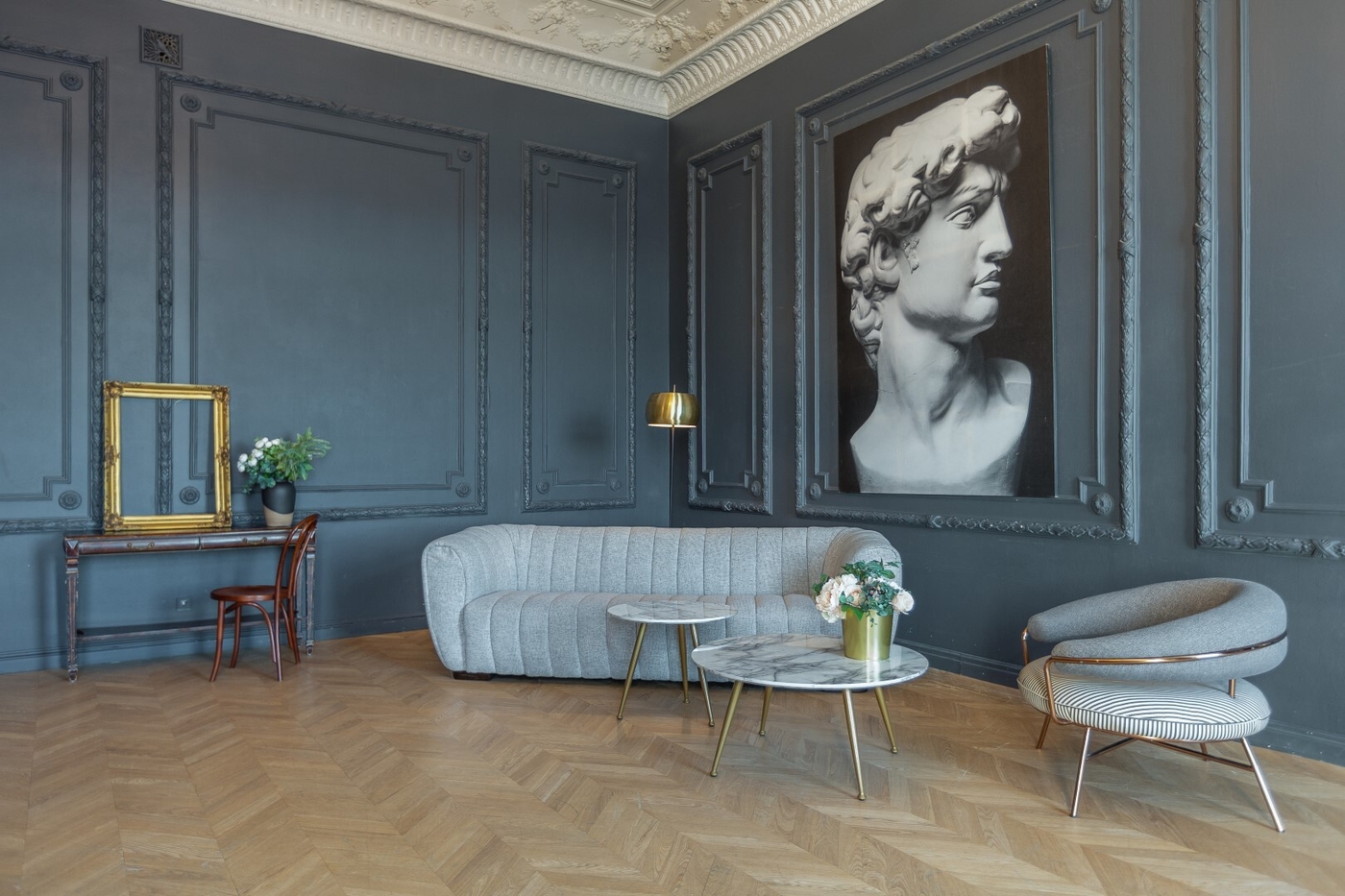 If you have the space for it, large format artwork is a surefire way to make your home look more upscale. That said, to get the most out of your art, you'll want to pay close attention to scale. A piece that's too big for your space will overwhelm the room, making it difficult to appreciate. A piece that's not big enough risks making the rest of the room look and feel off-balanced. As a general rule of thumb, aim for your artwork to take up between 55 and 75 percent of your available wall space.
A large art piece can also end up being your room's focal point. If this is the case, try to avoid decor that will compete with the artwork and confuse the intended focal point.
Antique and vintage homewares
One way to inject Bridgerton's old-world charm into your own space is by investing in period-inspired homewares and decorative pieces. Think tea sets and ornately painted china, gold brushed candlesticks, tasseled curtain tiebacks, and oversized chandeliers. Mirrors are another hallmark of the show and the Regency design style. During the Regency era in London, mirrors were considered a symbol of status and affluence. As such, mirrors with elaborate frames were often featured liberally in the homes of the elite.
Pieces that reflect the opulence of the Regency period may not be easy to come by these days, but it is possible to get lucky with a one-of-a-kind vintage store, thrift shop, or estate sale find. If you can't source the real deal, vintage and antique-inspired items can help to give the same old-world energy to a modern interior space.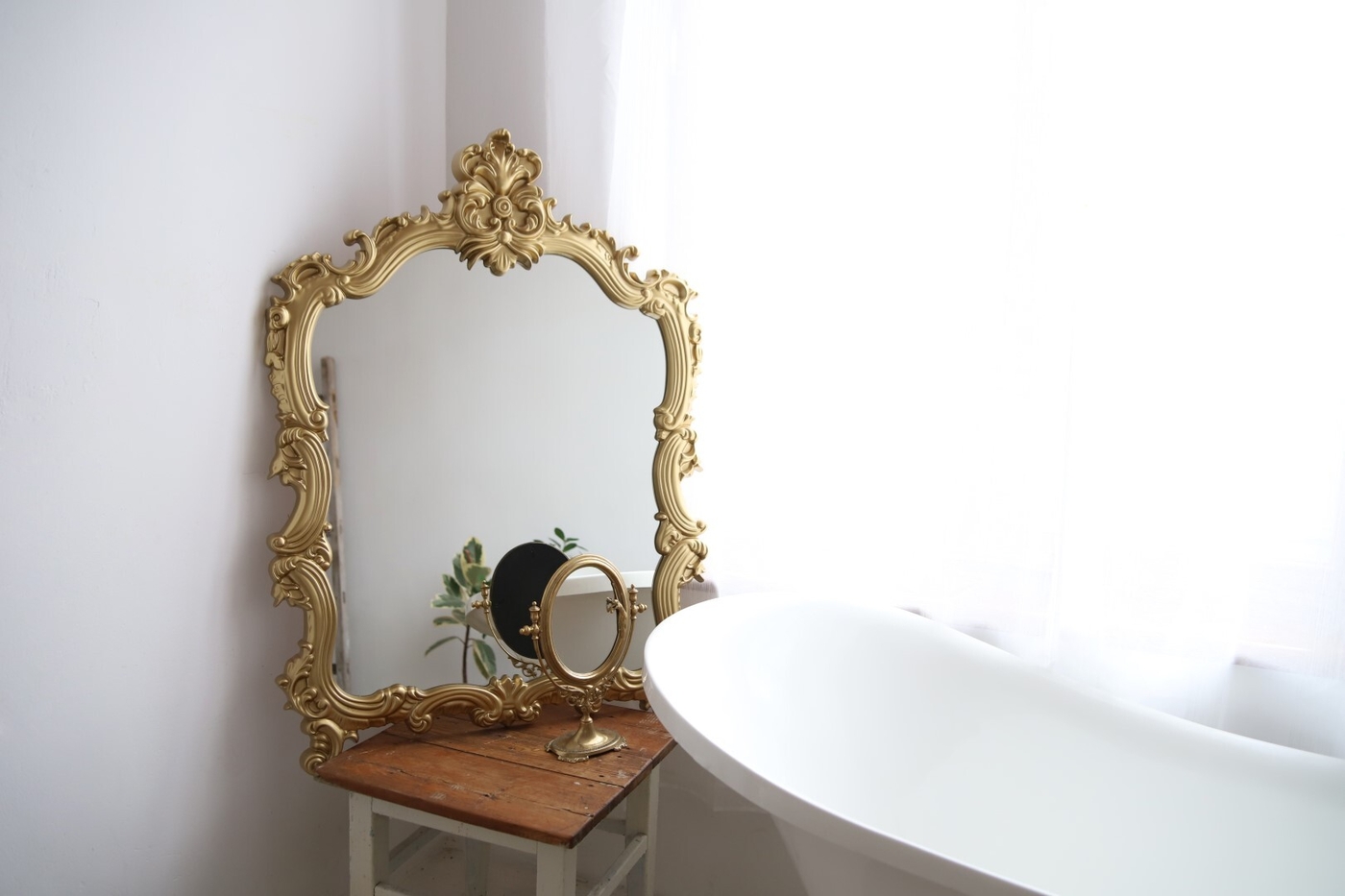 Luxurious textiles
The Regency period was all about layering textiles, and the sets of Bridgerton are a testament to that. In Daphne's bedroom, for example, we see silk and velvet being used in big ways, including what looks like a silk bedspread and canopy, flowing velvet draperies, and a pristine velvet bench. In combination with an ethereal color palette of pastels, materials like silk and velvet help to bring a sense of femininity and sophistication to Daphne's bedroom.
Textiles are often used to give interior spaces a sense of movement and dimension. In Bridgerton's case, textiles serve another purpose: to portray luxury and the affluent nature of the families depicted on the show. That said, you don't necessarily have to spend a fortune to bring a similar sense of luxury into your own home. Silk and velvet can be more delicate than common interior fabrics, such as cotton and leather, so silk and velvet homewares are best used in small doses. (Think velvet throw pillows opposed to a velvet sofa.)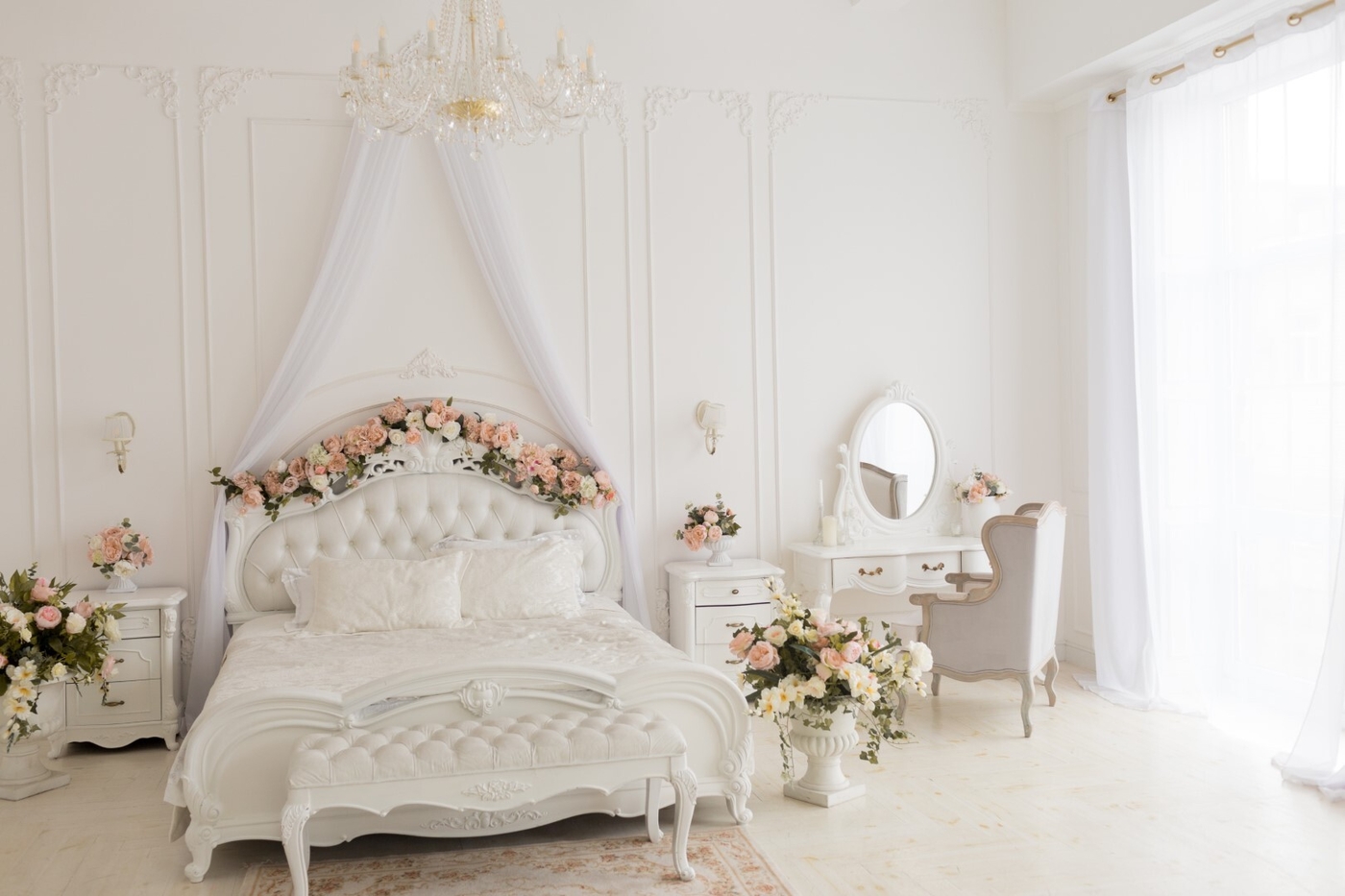 Additionally, the decor featured in Bridgerton is highly detail-oriented. Textiles are often inlaid with ornate brocades and the jabot draperies we see frequently are trimmed with tassels. To mimic this kind of attention to detail in your own home, opt for homewares that are elevated by tassels, fringes, patterns, and embroidery. If you're really into the Bridgerton aesthetic, opt for items embellished with a bee motif, which is the Bridgerton family's symbol, or a butterfly motif, which is the Featherington family's symbol.
Symmetry
Bridgerton's sets are elaborate and layered, but there is an overarching respect for symmetry throughout. Rooms have a clear focal point and certain furnishings are doubled up, giving these extravagant rooms a sense of balance and approachability. And many rooms have crown moldings and wainscoting, creating a grid of sorts, punctuated with artworks and mirrors in a way that's precise, consistent, and tidy.
The importance that is put on symmetry is true to the Regency era. During the Regency era, symmetry was often associated with formality and grandeur. And in rooms dedicated to entertaining and socializing, symmetrical seating arrangements, for instance, were thought to encourage the flow of conservation.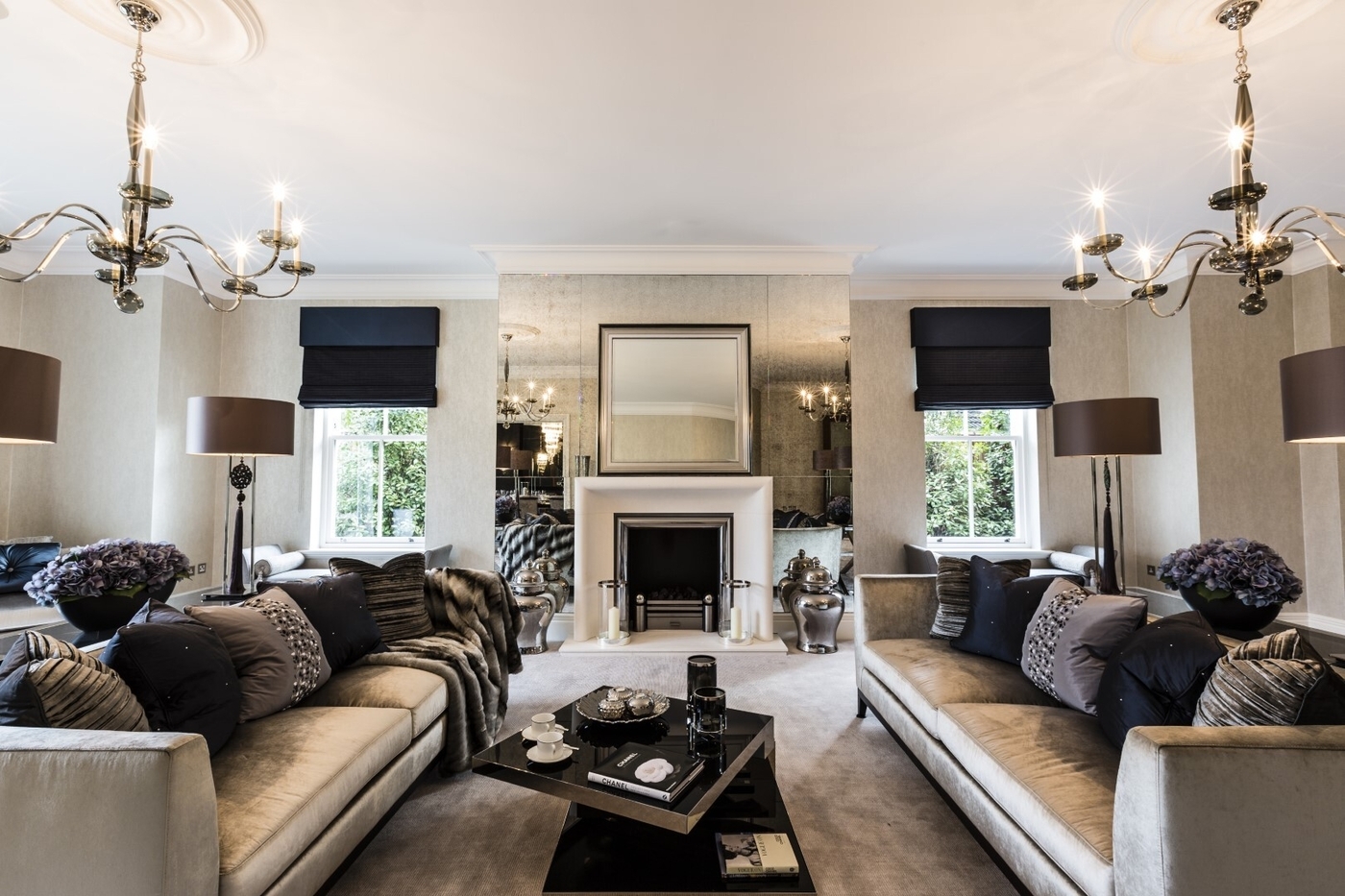 Symmetry is one of those interior design concepts that's not difficult to understand or to implement yourself. That said, you have to be wary of symmetrical rooms becoming overly predictable (and subsequently, uninteresting). In Bridgerton, it's clear to see that the predictability of symmetry is offset by the drama and richness of the design style on the whole.
In your own home, symmetry can be used alongside asymmetry to create spaces that are interesting to look at. For example, if you choose to flank a sofa with identical side tables, consider styling each table uniquely, using objects of various shapes and heights to dial up the visual interest. And similar to what we see throughout Bridgerton, you can add some excitement to a symmetrical layout with bold color and pattern use.