The secret to finding the perfect dining room rug is in its dimensions.
Rugs have the power to bring a space to life by introducing an additional layer of color, pattern, texture, and form. Yet, their capacity to lift up and unify a space is equalled in their ability to pull it down and make a room feel disjointed and awkward, so it's important to get it right! One of the most common mistakes is the size of the rug; an important detail that is too often overlooked. A rug that is too big will make a room feel overwhelmed. Too small and it will look out of place and create an uncomfortable and wobbly dining experience that doesn't reap any of the benefits a dining room rug has to offer. So, let us show you how to grace your dining room set up with a rug that's just right.
Why use a rug under the dining table?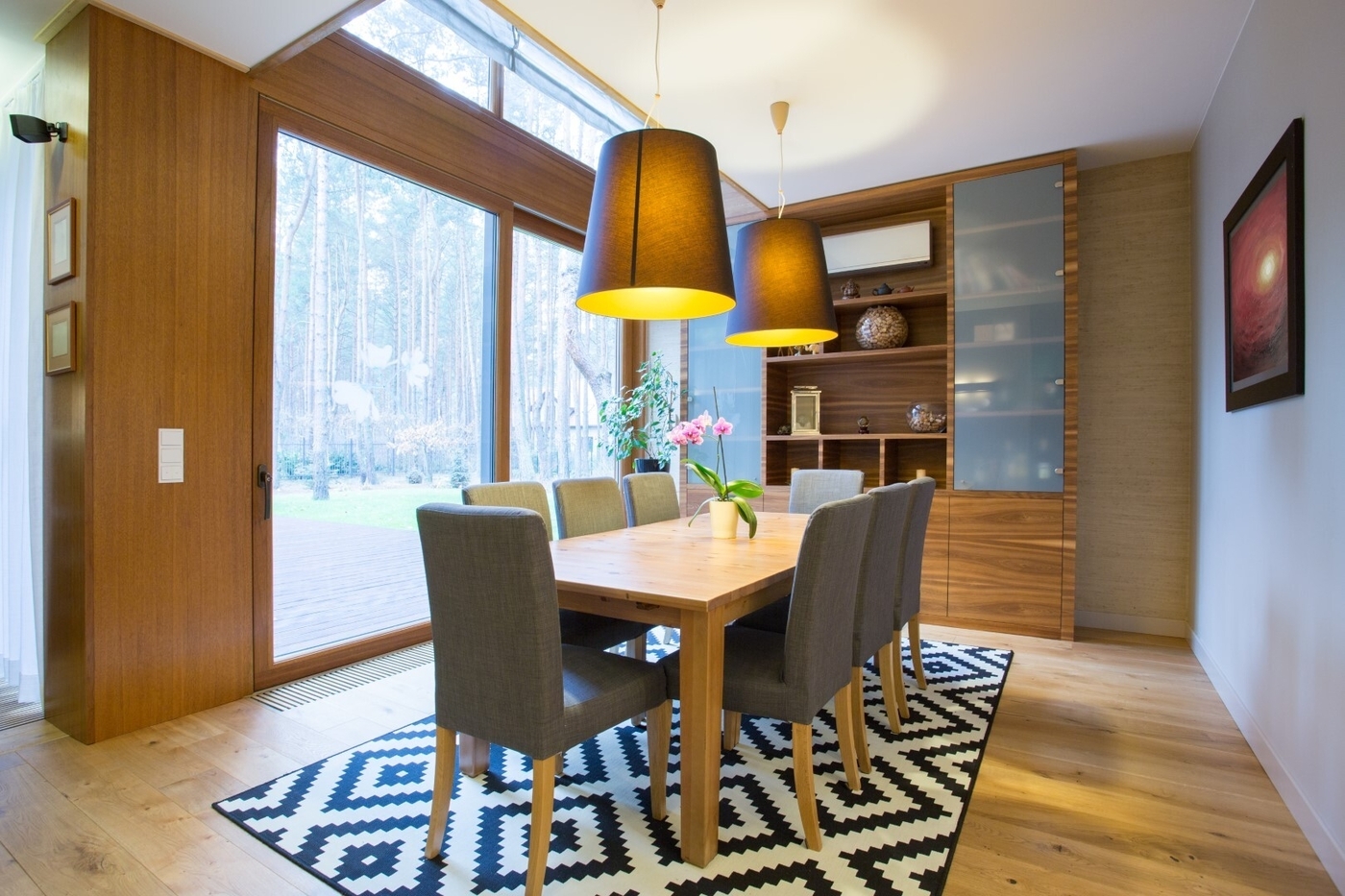 Dining table rugs are a point of contention amongst homeowners and interior designers alike. While some believe they are unnecessary and impractical crumb-collectors, others consider them a non-negotiable practical and aesthetically pleasing design element. There's no right or wrong answer, ultimately it comes down to personal preference. Though, if you've read this far it's likely you're a fellow dining room rug team member too, or at least on the verge of conversion! Either way, here's why we're a fan of dining room rugs:
Protect the floor from scuff marks and spillages: Rugs help maintain the floor in pristine condition. They take the hit of everyday wear and tear, such as the weight of the table, the frequent dragging of chairs in and out, and food and drink spills and stains.

Distinguish the dining area: Rugs are a great way to subtly define the dining area, particularly in an open-plan layout.

Reduce noise and echo: Rugs not only soften hard flooring but also absorb sound and echo, aiding the flow of dinner party conversation.

Provide warmth: As well as feeling comforting underfoot, rugs also provide an additional layer of insulation by trapping cold air and preventing it from cooling the room. This makes them a particularly welcome addition for cold, hard floors in winter.

Pull the scheme together: Rugs contribute an additional layer of depth and texture to a scheme, tying the decor together by drawing on the colors, patterns, textures, and overall style of the room.

Add a pop of personality: Rugs provide an opportunity to add visual interest and dynamism to a space and a chance to add a personal touch through color, pattern, and textural preferences.

Disguise unattractive flooring: Rugs are a great way to subtly cover up unattractive, stained, or damaged floors.
Select the perfect size rug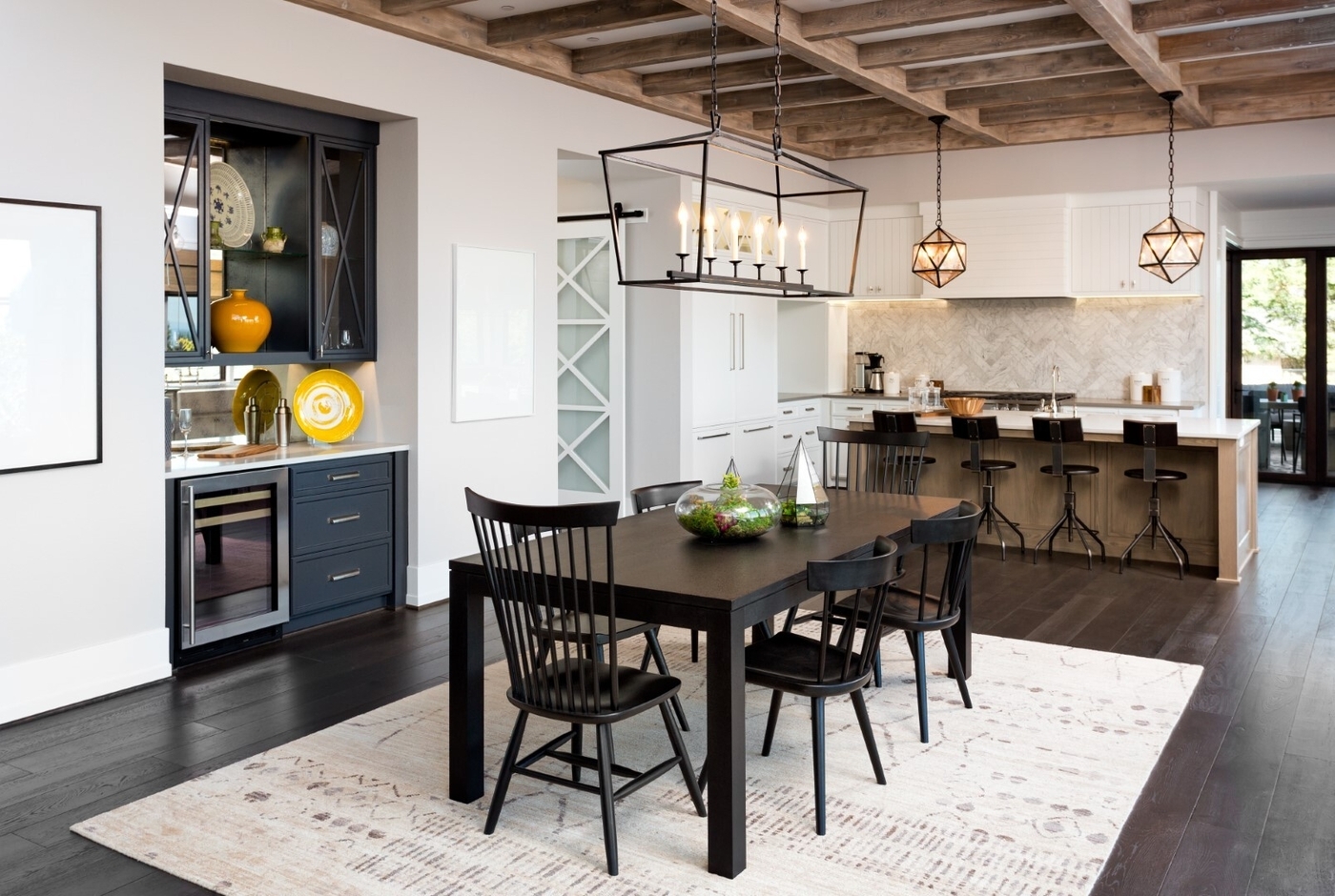 Your dining room rug should be big enough to frame the entire dining set, leaving enough space to fit all four chair legs when pulled back. If the rug is too small, the chairs can scratch the floor, get caught on the edge of the rug, feel wobbly and unbalanced, and the rug will look out of place. To avoid this, ideally, your rug should be 60 inches longer and wider than the dining table, leaving a frame of 30 inches around the table. Where space is limited, a 24 inch frame will do, however, it should not be any smaller than this. And, if the dining table is extendable, always take the largest measurement so the rug caters to the table when it is extended too.
To determine the right size rug for a square or rectangular table, measure the table length and width and add 60 inches to each measurement. For example, if your table measures 36" x 60", the rug should measure 96" x 120".
As a general rule, oval-shaped dining tables are best paired with rectangular rugs. So here, the same rule applies: to determine the best rug size, measure the longest and widest part of the table and add 60 inches to each measurement. For example, if the longest part of the table measures 44" and the widest part 84", the rug should measure 104" x 144".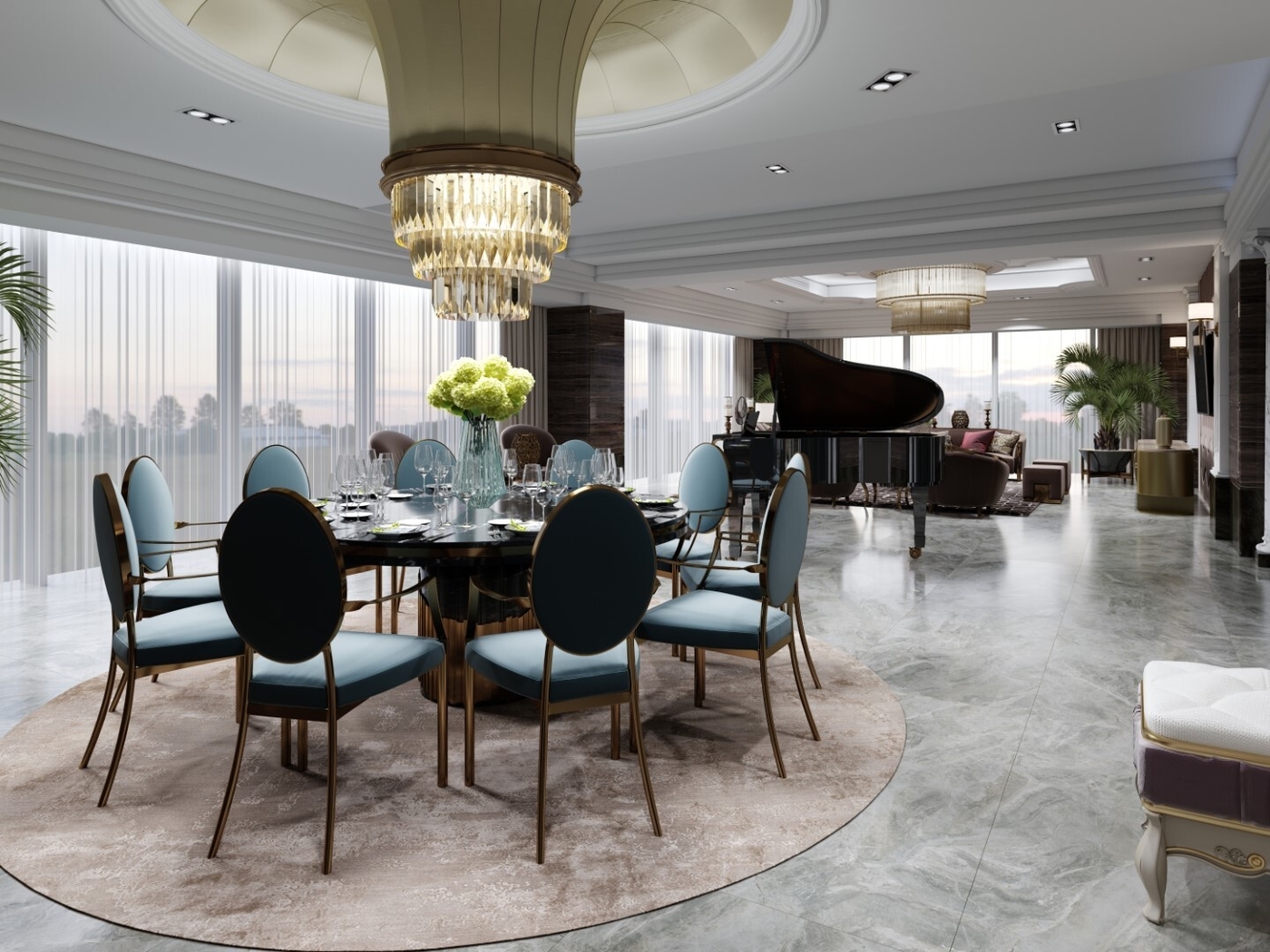 Circular tables tend to suit either a square or round rug. In both cases, measure the diameter of the table and add 60 inches. For a square rug, the new diameter will give you the length and width of the rug. For a round rug, it will give you the diameter. For example, if your round table has a 60" diameter, a square rug should measure 120" x 120", and a round rug should have a diameter of 120".
Once you have the rug measurements, mark the area on the floor with painters tape. Ideally, you want at least 24 inches of floor space around the rug to create a sense of balance and prevent the space from feeling consumed by the rug. If you find you have an excess of floor space around the rug, then why not size up? It's always best to err on the side of big! Though, make sure the rug does not overlap with other dining room furniture, such as side tables and bar carts.
Choose a cohesive rug shape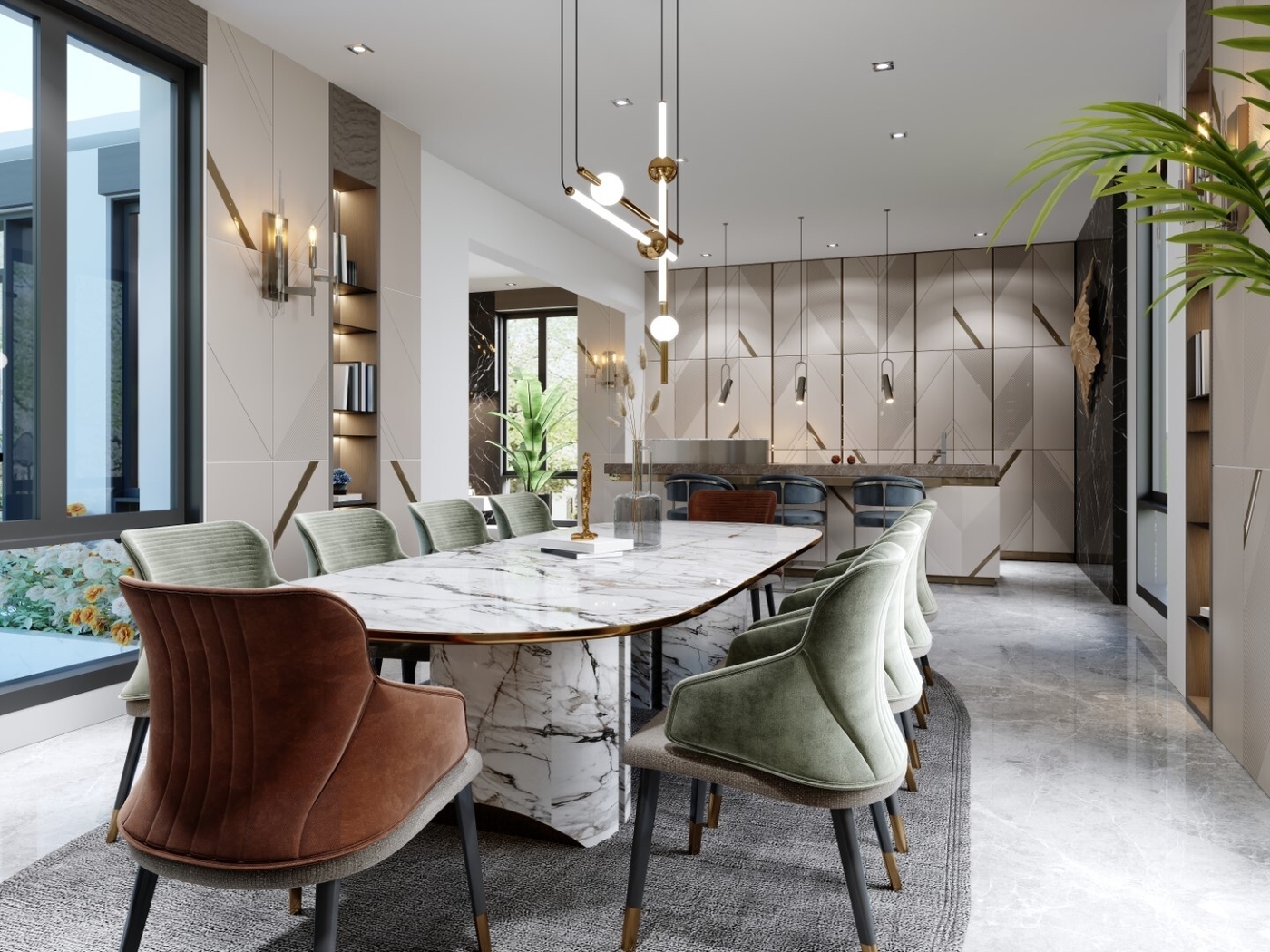 For a harmonious look, match the shape of the rug to the shape of the table. Rectangular dining tables work well with rectangular rugs, as do oval dining tables, due to their elongated form. Square and round dining tables also look great with matching-shaped rugs though using a contrasting shape can add a playful touch, such as a square table paired with a round rug and vice-versa. Alternatively, mirror the shape of the room with the rug for a cohesive feel.
Pick high-resistance rug materials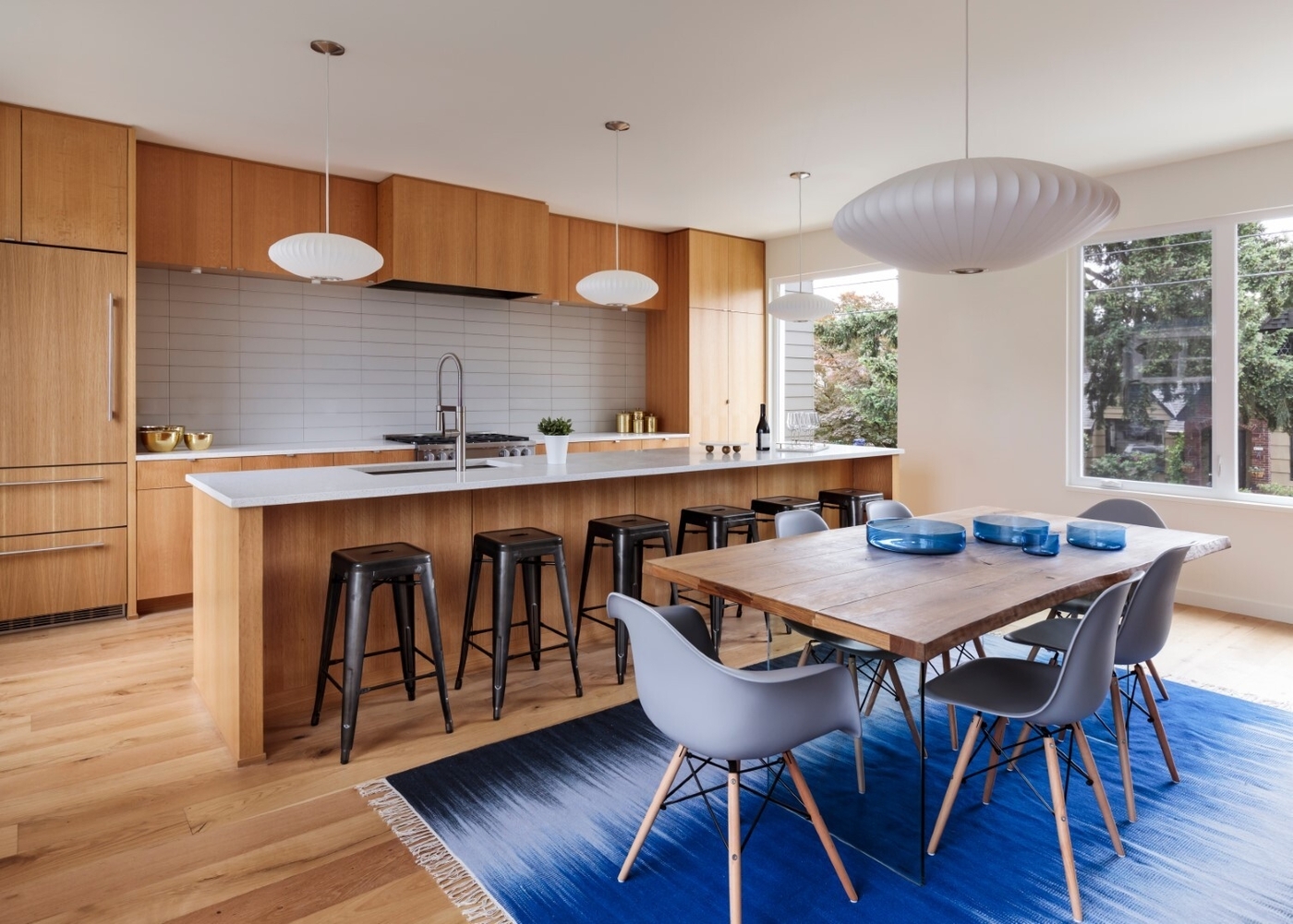 Nowadays, the dining table is a high-traffic area. Not only is it a social hub and center of entertainment, but in many households it also doubles up as a desk for working or studying. The best rugs for underneath a dining table anticipate high foot traffic and spillages. Choose a flatweave or low-pile rug (up to half an inch) made from durable and easy-to-clean materials, such as wool or synthetics, like polypropylene. Natural fibers like sisal and jute are also hardwearing, though they tend to be more prone to staining.
Tie your scheme together with a stylish rug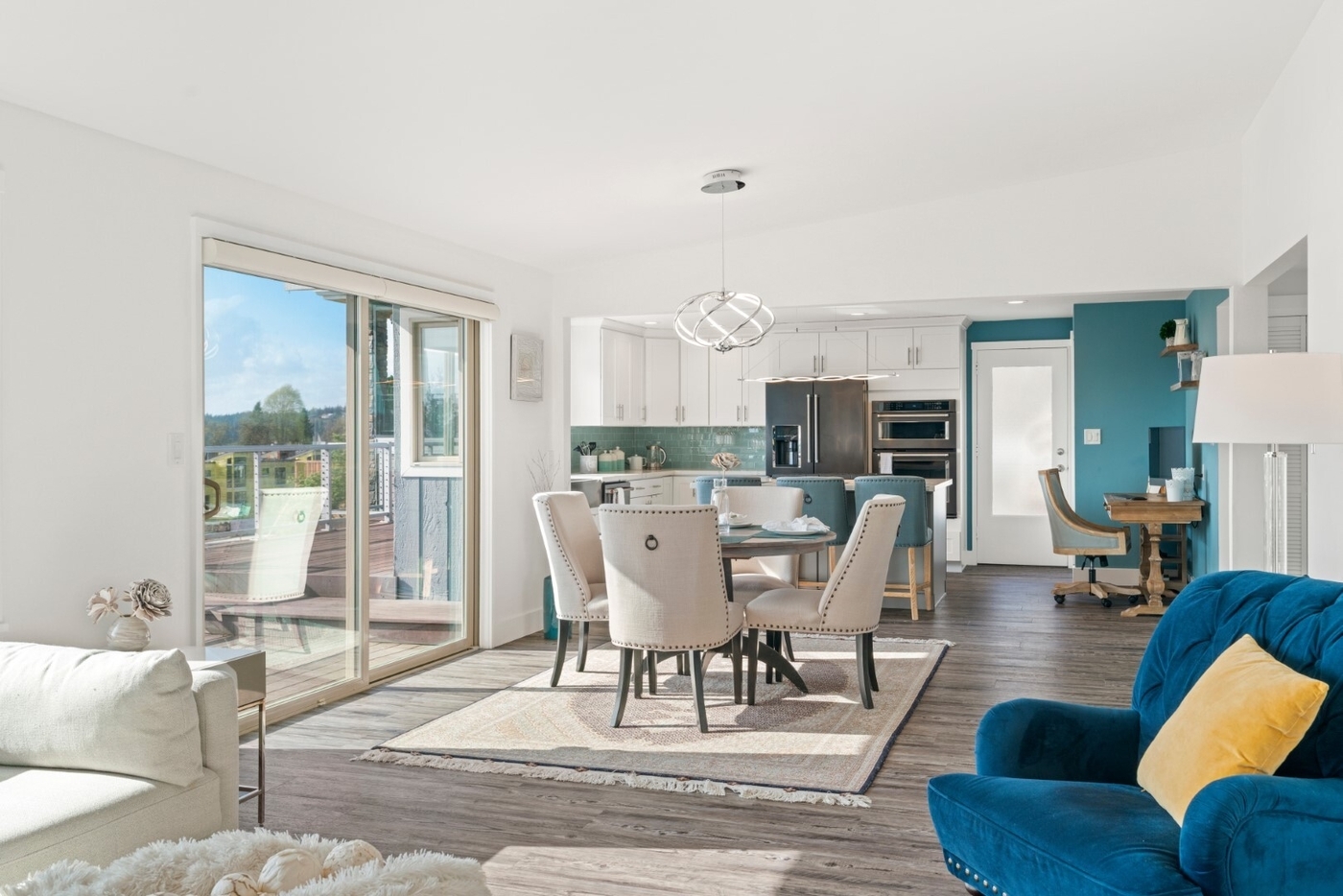 Rugs add visual appeal, texture, and depth to a room. They can provide a starting point for a room's color scheme or tie together an existing decor, and bring a welcome pop of your unique personality into the space. Always ensure the rug has a visual link to other aspects of the decor, whether through pattern, texture, or a repeated color. Dark, patterned rugs are a particularly great option where young kids are concerned as they camouflage stains and spills.
Anchor down your rug with rug pads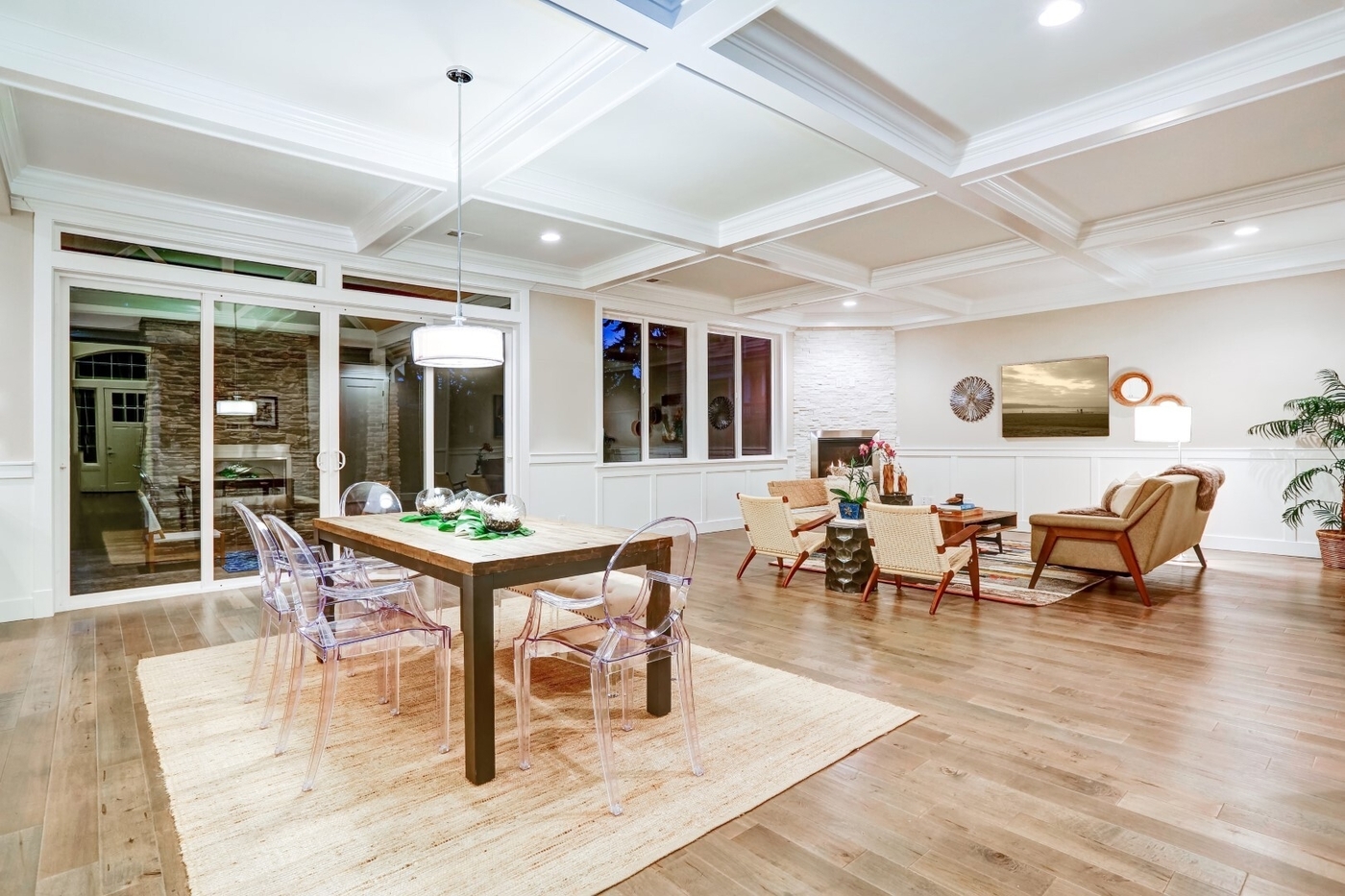 Rug pads are a must for safety, practical, and aesthetic reasons. They anchor the rug to the floor, preventing it from becoming a possible slipping and tripping hazard, and make it easier to clean and vacuum. Dense rug pads are great for low-pile rugs as they provide an additional layer of padding and floor protection, and they make the rug look luxurious and feel plush underfoot.